Looking for a fun and easy crochet bunny pattern? Why not try making your own cute and cuddly amigurumi bunny? We've gathered 30 free crochet bunny patterns perfect for beginners and anyone looking for a quick and fun rabbit project. These bunny patterns include step-by-step instructions, clear diagrams, and even video tutorials to help you create adorable crochet bunnies in all shapes and sizes.
From classic bunny designs to more unique and creative crochet rabbit patterns, there's a free crochet bunny pattern here for everyone. These crochet bunny patterns use a variety of stitches and techniques, so you can practice your skills while creating something cute and fun. Whether you're making an amigurumi bunny for a child or just for yourself, these free crochet bunny patterns will surely bring a smile to your face. So, grab your crochet hooks and yarn and start creating your own crocheted bunnies today!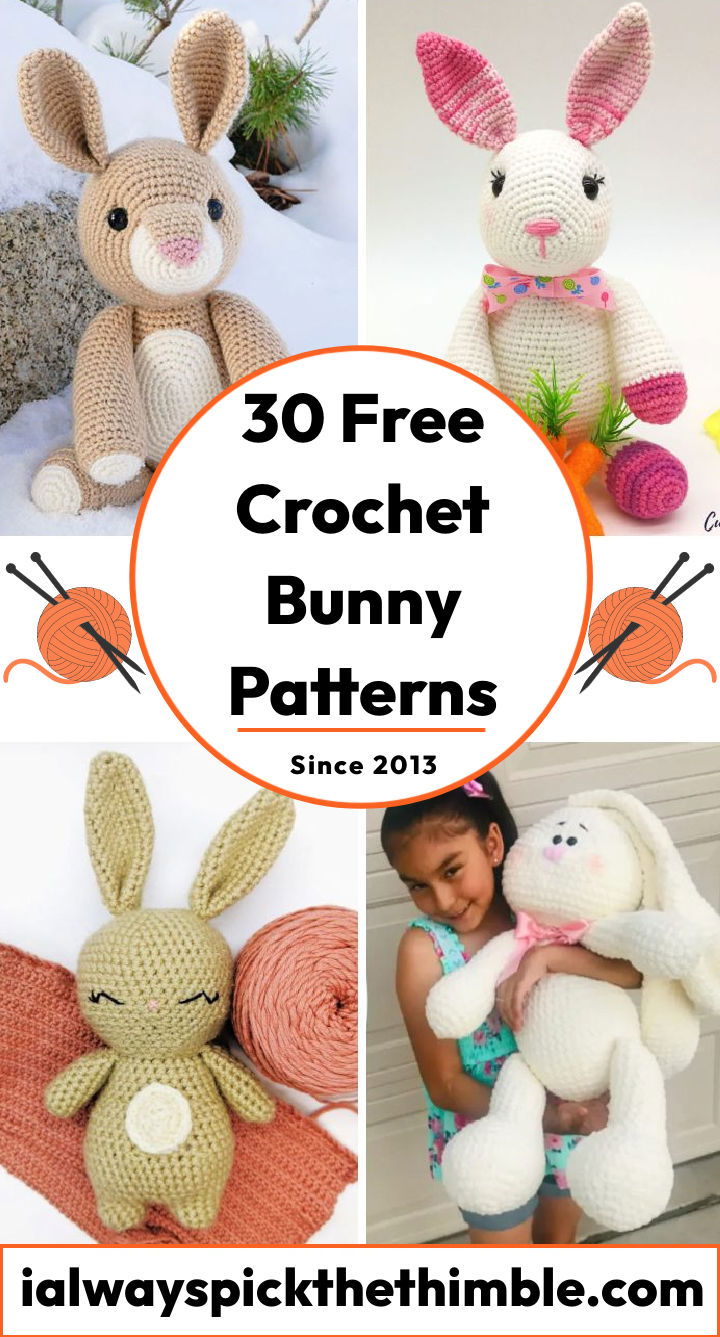 Free Crochet Bunny Patterns
Crochet bunnies are a delightful addition to any home or nursery decor. They are also a popular handmade gift for baby showers, birthdays, or any occasion. With the help of 30 free crochet bunny patterns, you can easily make your own cuddly and adorable bunnies.
Crochet bunnies can be customized in various ways, including choosing different colors, yarn weights, and stitch patterns. Many free crochet bunny patterns also include instructions for different sizes and styles, such as floppy-eared or standing bunnies.
1. How to Do You Crochet a Bunny – Free Pattern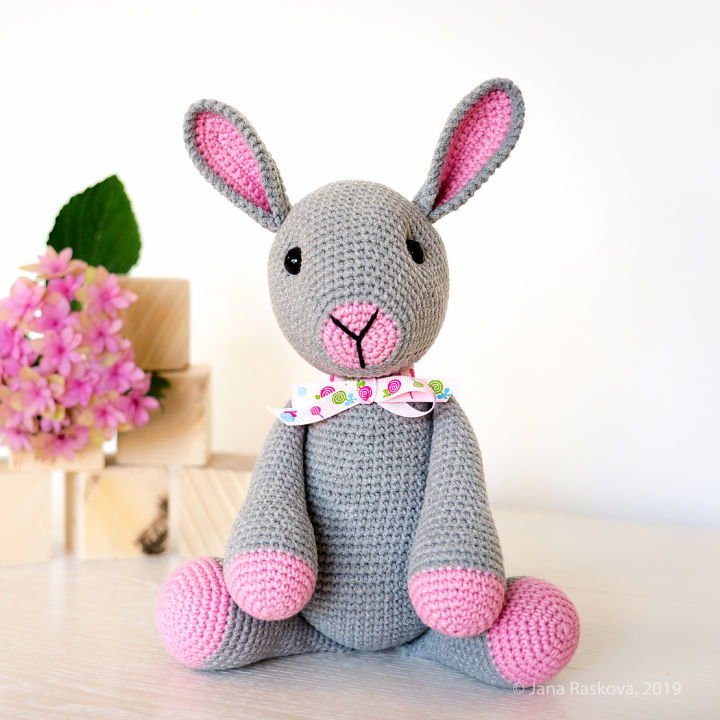 The perfect gift for any child, this adorable amigurumi bunny will surely put a smile on their face! This free crochet bunny pattern allows you to create a beautiful handmade toy with basic skills. The simple design and pink and grey combination make it look so cute that your little one will be delighted by the result! This sweet creation is ideal for Easter or just because – get ready to have lots of crocheting fun with this charming bunny! cuddlystitches
2. Crochet Berry Patch Bunny Girl – Free Pattern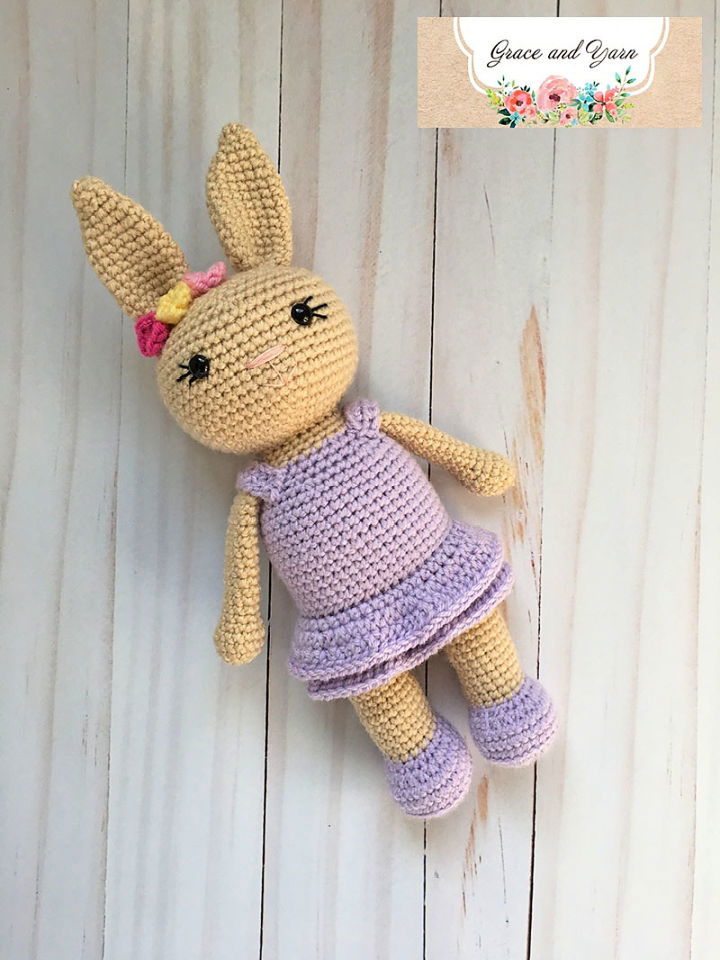 Create something special this Easter or Spring with this free crochet berry patch bunny girl pattern! This amigurumi project is easy to make and quick to complete, perfect for a fun weekend activity.
You will be happy with how the bunnies turned out. All you need is size four worsted weight yarn, black embroidery thread, 12 mm safety eyes, a 3.5 mm crochet hook, scissors, tapestry/sewing needle, stuffing and stitch markers! Download your copy now and get ready for some sweet bunny cuteness! graceandyarn
3. Free Rose the Rabbit Crochet Pattern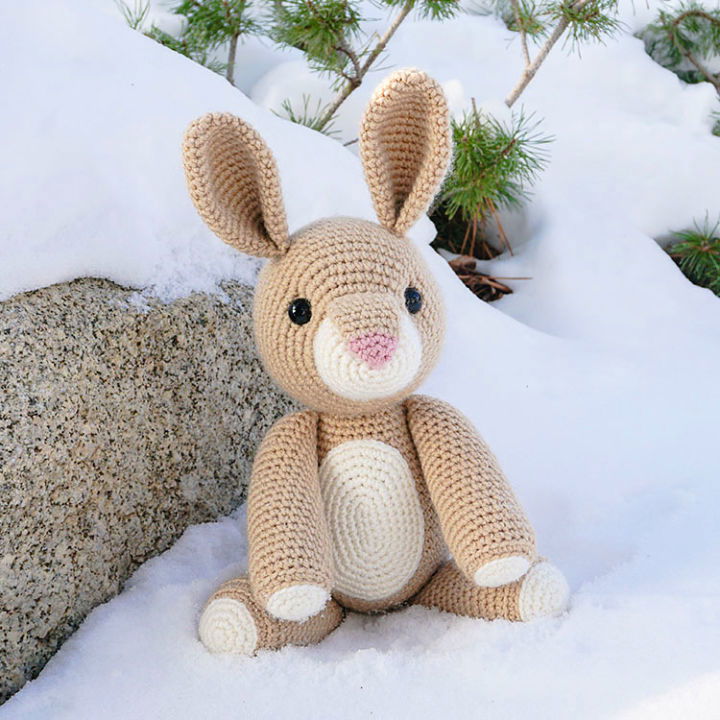 This adorable rose rabbit crochet pattern brings a sweet whimsy to your home. Perfect for children and adults alike, this intermediate-level pattern will surely bring a smile to everyone's face! With a 3.5mm (E) hook, 15mm safety eyes, yarn needle, fiberfill, and disappearing ink marker in hand, you'll be ready to create your cuddly little pal.
This step-by-step guide is easy-to-follow and will quickly help you make the perfect handmade companion! So hop on over and get stitching so Rose can join your family today! jesshuff
4. Free Valentine Bunny Crochet Pattern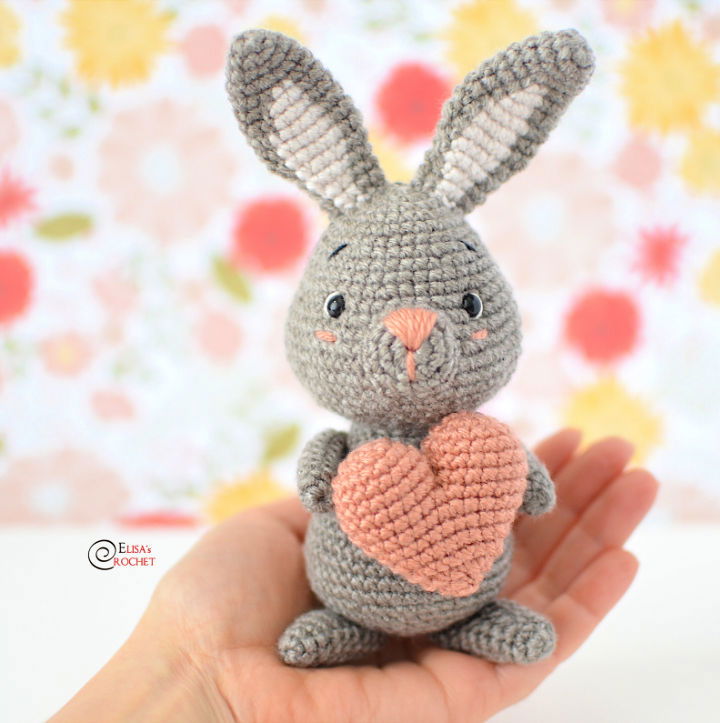 Show your Valentine's how much you care with a handmade gift! Get crafty this year and make the sweetest Valentine Bunny using a free crochet pattern. Perfect for beginner crocheters, these easy-to-follow instructions will make it fun to create your special companion in no time.
Give someone special a heartwarming surprise and let them know just how much they mean to you – that's sure to make their hearts melt this Valentine's Day! The free pattern is the perfect project for anyone looking to give something unique and personal. So get creative and show some love today with the free crochet pattern! elisascrochet
5. Free Crochet Plush Bunny Pattern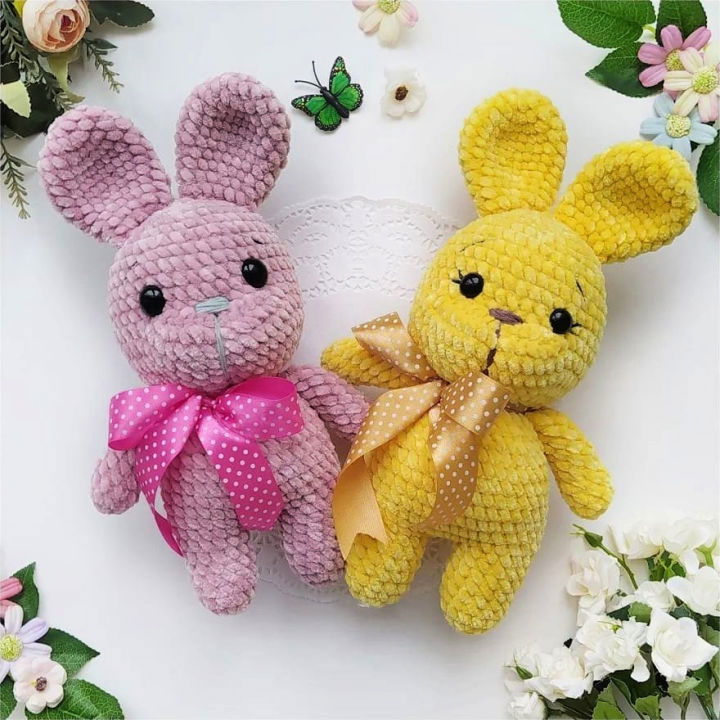 Welcome to the magical world of crochet! Create a cute, snuggly and soft amigurumi bunny with this amazing free pattern. Perfect for gifting to babies or kids on any occasion, this plushy bunny made with YarnArt Dolce and a 3 mm hook will surely bring joy into their lives. It requires just a few materials – Jeans yarn for the nose and eyebrows, dot eyes, satin ribbon for the bow, fiberfill stuffing & more – so you can make it easily at home.
Get creative and customize yours in different colors with your imagination running wild! Download now for an incredible crafting experience that everyone will love! amigurum
6. Crochet Cory the Giant Bunny Amigurumi Pattern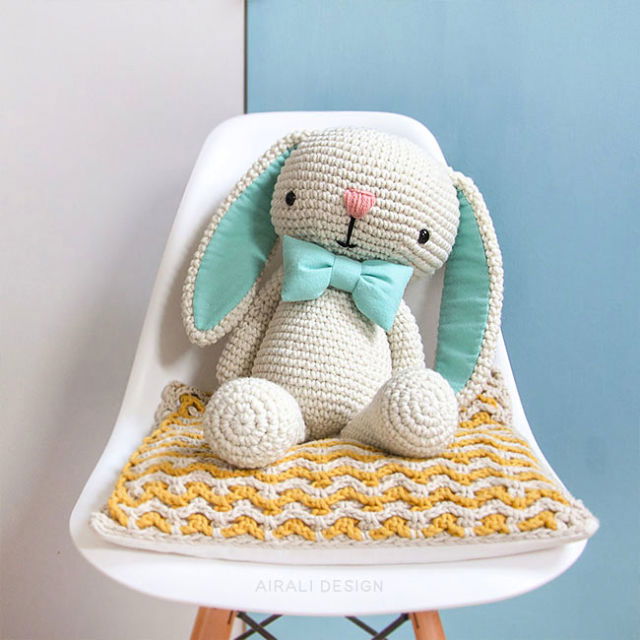 Love crochet and bunnies? Then you'll fall head over heels for Cory the Giant Bunny! Get your free PDF crochet pattern now, with amazing amigurumi details – sweet face, long ears and a soft tail. Bunnies are among the most popular crochet animals, so try it today! A great opportunity to know each other better through some fun crafting time. So download the free pattern now and start making this giant bunny – you won't regret it! airalidesign
7. Beautiful Crochet Bunny Rabbit Pattern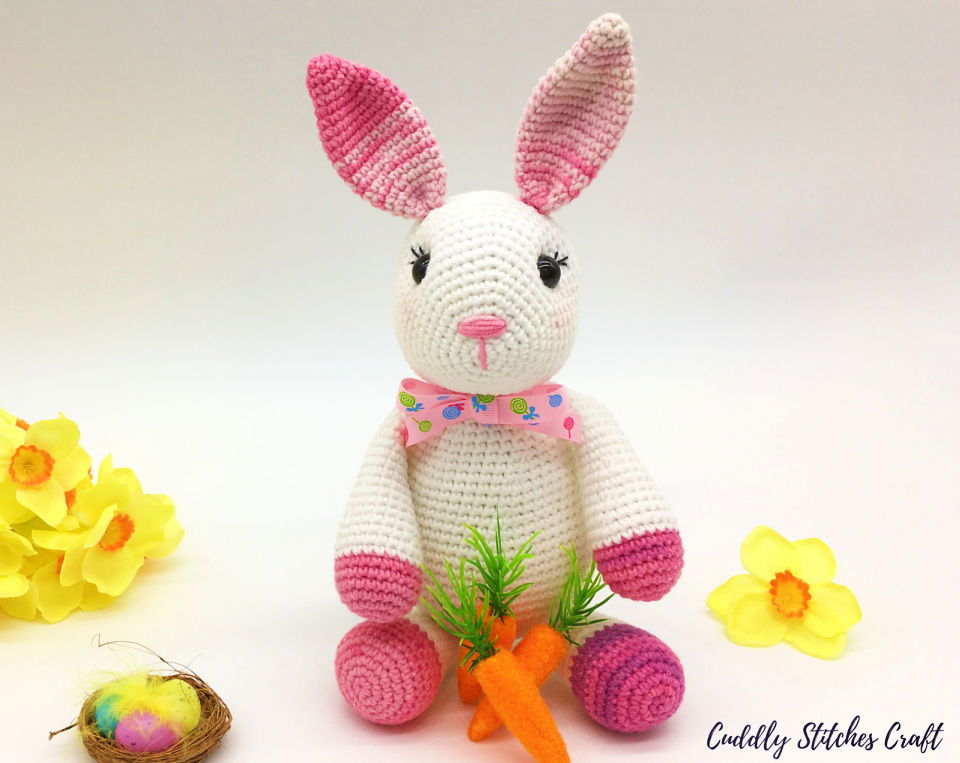 This beautiful crochet bunny rabbit pattern is perfect for any bedroom or living room. It's super cuddly and ideal for beginner crocheters as it's quick and simple. This easy-to-follow guide will give your loved one a unique, handmade gift that will be treasured for years! Create something special today with this beautiful crochet bunny rabbit pattern and surprise your family and friends. cuddlystitches
8. Adorable Crochet Amigurumi Bunny Pattern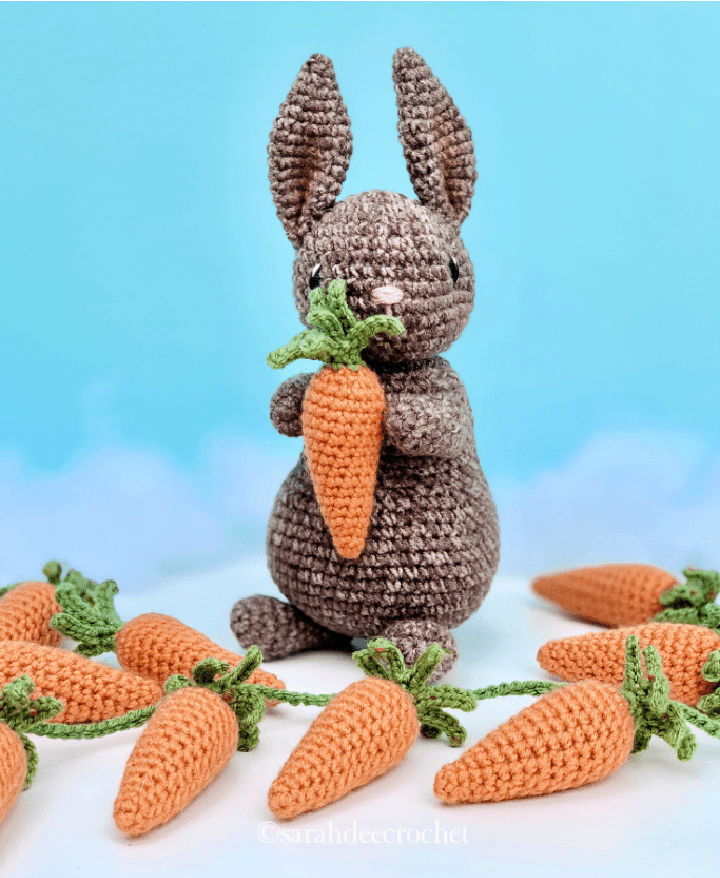 Fall in love with this adorable crochet amigurumi bunny Pattern! Customizable carrot and perfect for spring decor, you can whip up your cute bunny made to hold his sweet carrot.
Plus, the pattern is simple enough for beginners; all you need are a 3.25mm crochet hook, stitch marker, scissors, yarn needle, yarn (I Love This Yarn Walnut/Linen/Desert Glaze/Mid-Green), polyfill and black & white embroidery thread (to add a finishing touch). Get creative by adding extra accessories or personalizing it any way you like! acraftyconcept
9. Easy Miffy Bunny Amigurumi Crochet Pattern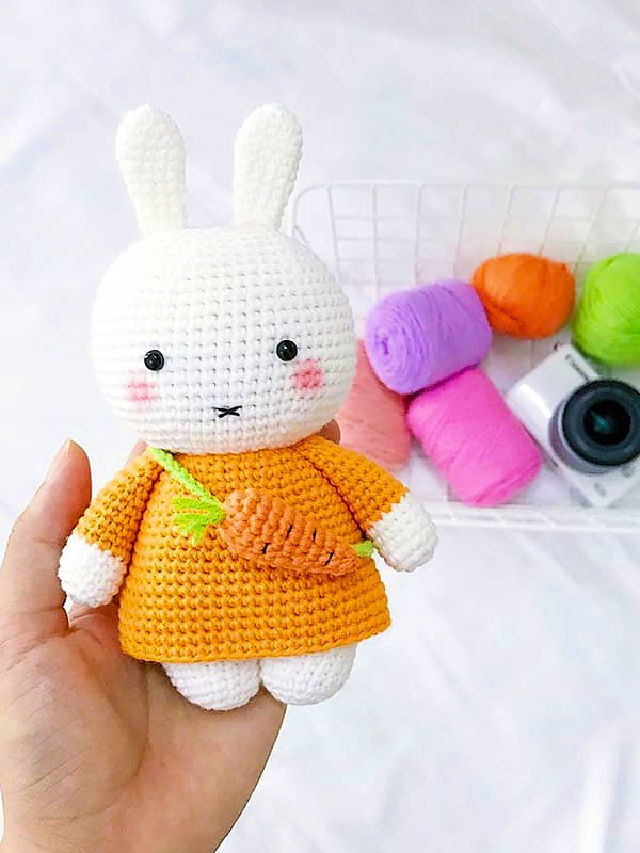 This delightful miffy bunny amigurumi crochet pattern takes your vacation to the next level. Everyone will love this cute bunny with an orange dress and tiny carrot-looking bag! This wonderful pattern is easy to follow and comes with all the materials you need for success: lightweight yarn, a crochet hook, black embroidery thread, fiberfill, yarn needles and safety eyes. What's more? The pattern is completely free – so why not make one today? lovelycraft
10. Free Crochet Barnaby Rabbit Pattern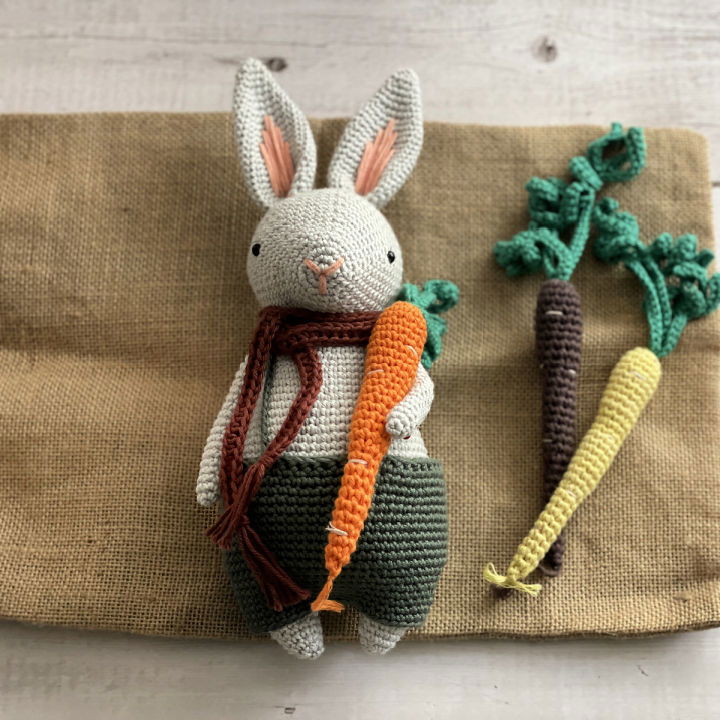 Make your charming little bunny with this free crochet Barnaby rabbit Pattern! This fun and easy pattern is dressed in a lovely pair of trousers and a scarf, perfect for any beginner or experienced crocheter. All you need are the materials listed in the pattern – it's that simple! Show off your completed work in the comments section – we'd love to see them! So, create an adorable bunny companion with this amazing crochet pattern today. beatenhook
11. Gorgeous Crochet Amigurumi Spring Bunny Pattern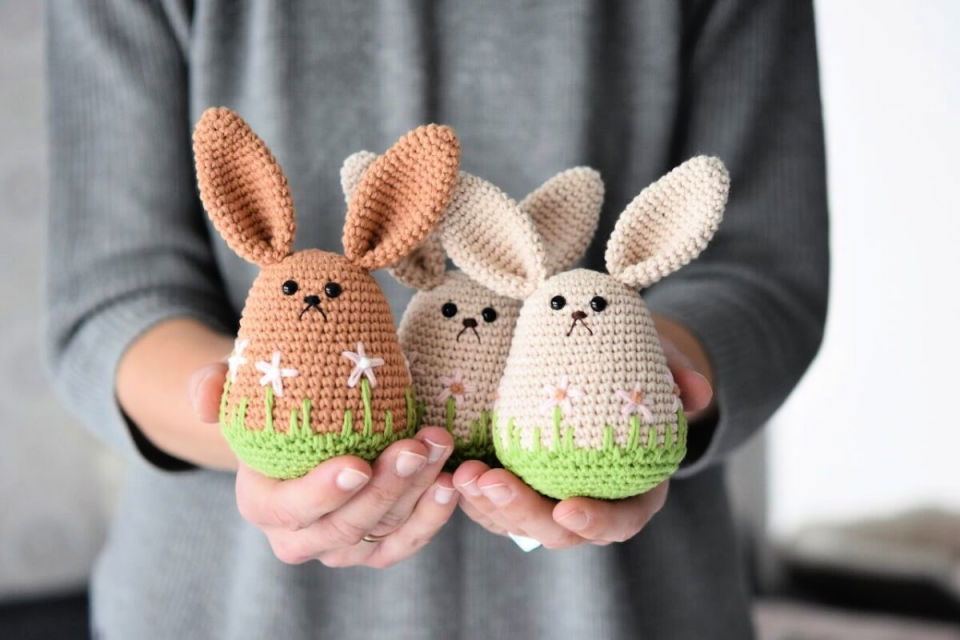 Welcome to the cheerful world of amigurumi! This crochet amigurumi spring bunny pattern is inspired by spring, blooming flowers, bunnies and Easter eggs. This step-by-step pattern will help you create your own Barnaby rabbit – the cutest Easter bunny egg ever!
You only need inexpensive materials such as beige, green, pink, brown and white yarn; a 2.5mm crochet hook; stitch marker; polyester; safety eyes; thread for the nose and pompom maker. Sewing has never been easier or more rewarding: get creative with this crochet amigurumi spring Bunny pattern today and bring happiness to everyone this Easter season! lilleliis
12. Crochet Little Bunny Pattern for Beginners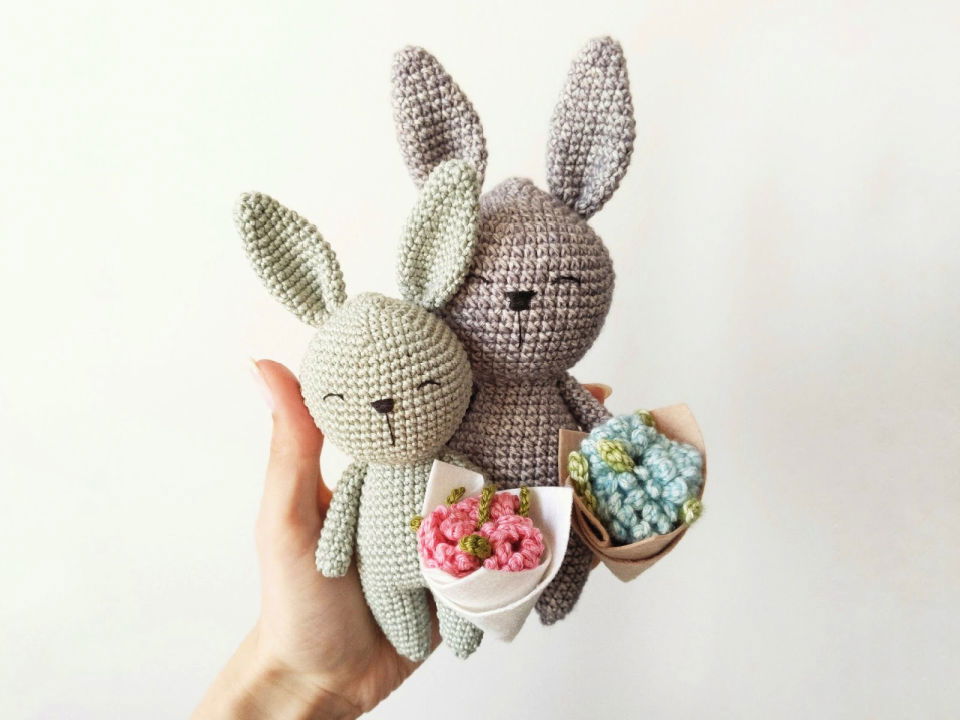 Add some handmade charm to your Easter celebrations and make the cutest little bunny with our free printable crochet pattern. This amigurumi pattern is perfect for experienced crocheters and beginners alike, so everyone can enjoy making this adorable Easter buddy!
All you need are basic materials such as yarn, a needle, scissors, stuffing and safety eyes – everything else is explained in the easy-to-follow instructions of our downloadable .pdf file. Make sure your special day is filled with love and creativity – start crafting this cute little bunny today! knittedstorybears
13. Unique Free Crochet Bunny Pattern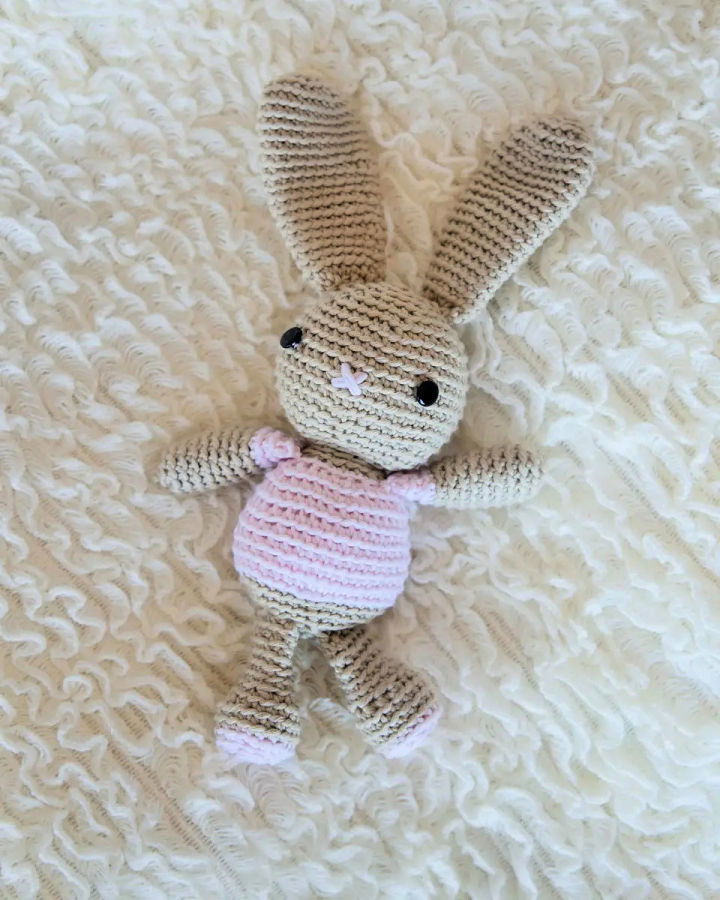 Are you looking for something special to give your little one? Get crafting and create a unique, stuffed bunny companion with this awesome free crochet pattern! Materials like Berroco Comfort Worsted Weight Yarn, crochet hook, safety eyes or buttons, scissors, stitch marker or scrap piece of yarn and poly-fil plus a yarn or tapestry needle – you'll have everything you need to whip up this delightful cuddly critter.
So why not make something that will leave her smiling from ear to ear as she plays with it for hours? Get started now and get creative! leeleeknits
14. Free Crochet Amigurumi Rabbit Pattern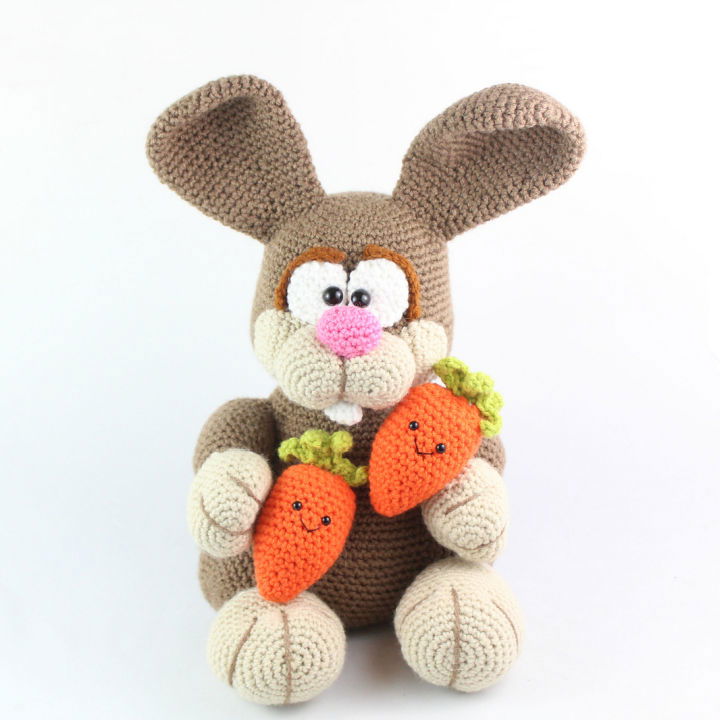 Take advantage of this free crochet amigurumi rabbit pattern! This charming bunny with a carrot will bring smiles to your and your loved ones' faces. The supplies are simple – all you need are a 4mm crochet hook, 4/Medium weight yarn, black embroidery thread, safety eyes, tapestry needles, scissors and stuffing – making this the perfect project for any crocheter of any skill level. Get started on this adorable rabbit today! stringydingding
15. How to Crochet an Amigurumi Bunny – Free Pattern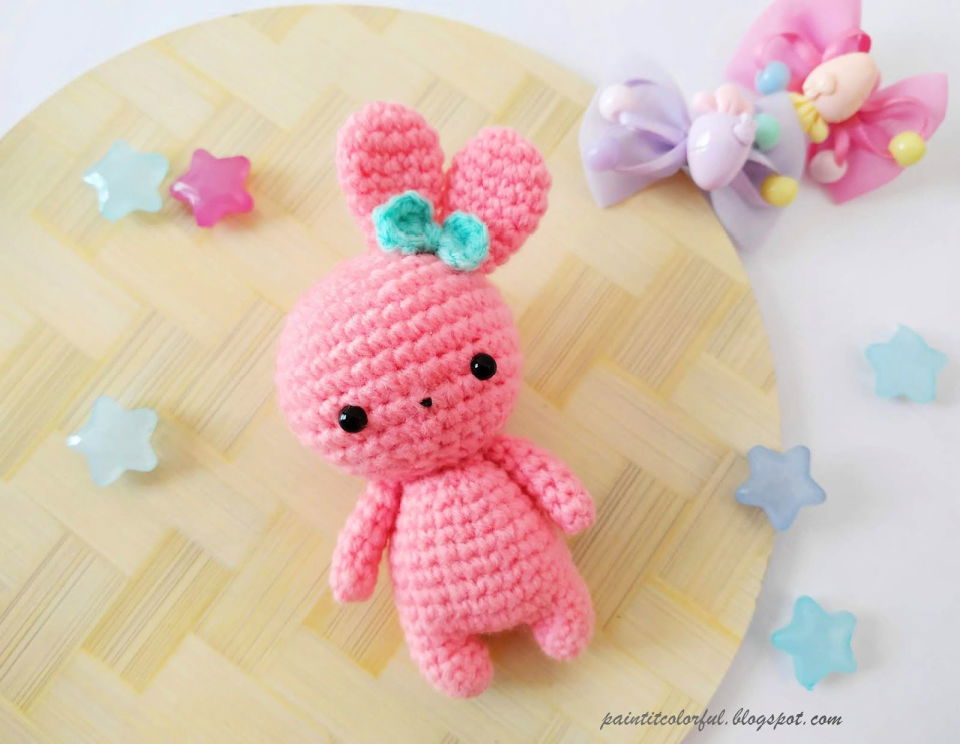 Bring a touch of springtime cheer to your home with this delightful Amigurumi bunny! With its soft little body and cute bowtie, it's sure to bring a smile to everyone in the family.
You can make your adorable bunny using acrylic yarn, a crochet hook, poly fiber fill, a tapestry needle, safety eyes or beads for eyes and black embroidery thread. Follow the instructions carefully and enjoy doing this wonderful project! Celebrate Easter or give them as gifts – either way, all will adore these sweet bunnies. Get started now on creating your own special crocheted buddy. paintitcolorful
16. Crochet Stuffed Bunny and Mouse Pattern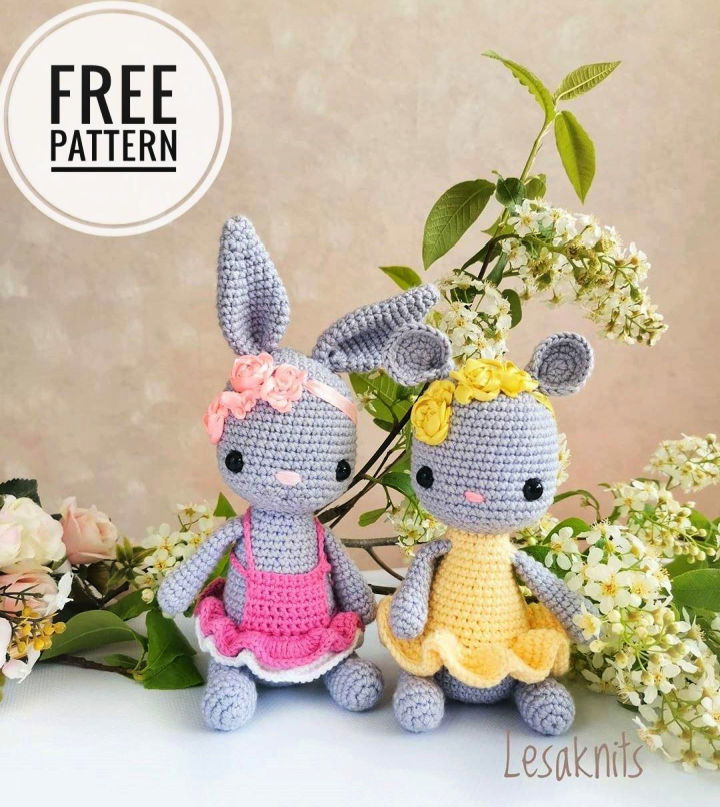 This crochet stuffed bunny and mouse pattern is the perfect way to bring the joy of spring into your home! This free amigurumi pattern features two super cute toys you will love during the season.
It includes instructions on how to make a little bunny and mouse in an easy-to-follow manner. All you need is Alize Cotton Baby Soft yarn, a hook size, pink yarn for embroidering a nose, 6 mm safety eyes, a stitch marker, a sewing needle and scissors, and fiberfill for stuffing. So get creative today and make this cute crochet stuffed bunny and mouse! amigurum
17. Free Stuffed Bunny Crochet Pattern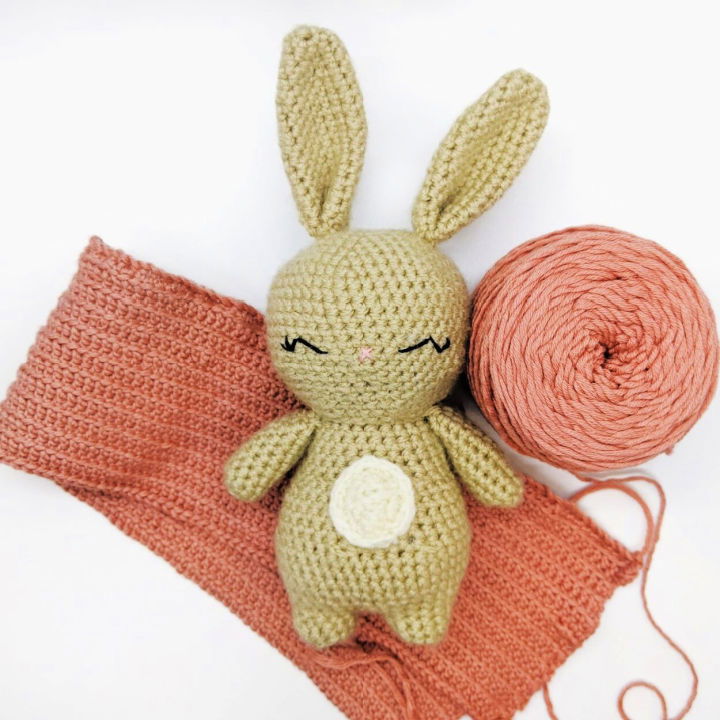 Welcome to the wonderful world of amigurumi and crochet! Get your hooks ready for this free stuffed bunny crochet pattern. Create an adorable animal that will delight you and your children in one day, with only a few inexpensive materials needed. This pattern is perfect for amigurumi beginners because it offers simplicity while still being beautiful – all without breaking the bank. So why wait? Grab your supplies and get started on this easy crochet bunny today! worldofwhimsy
18. New Crochet Bunnies Amigurumi Pattern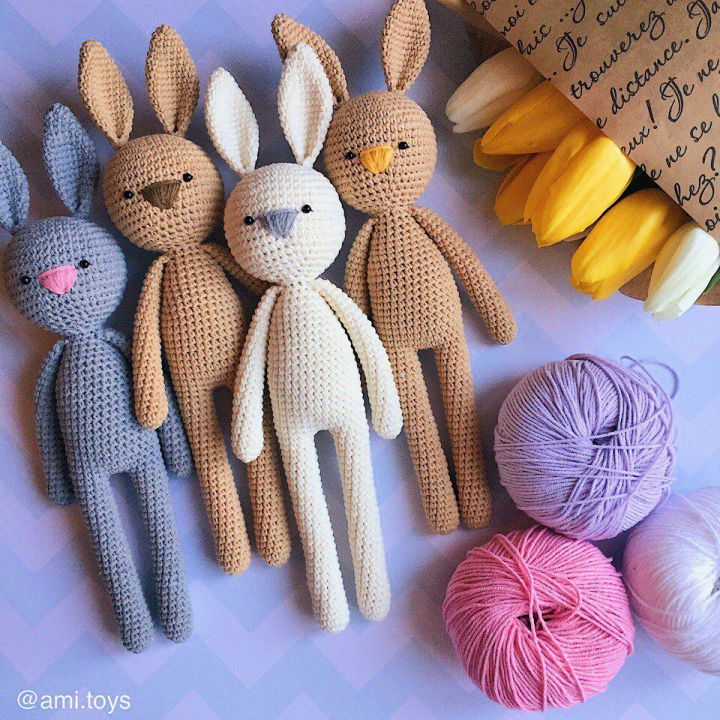 Do you want to make something special and unique for your loved ones this Easter? Look no further than our adorable new crochet bunnies' amigurumi pattern! This free, easy-to-follow guide walks you through creating the cutest little bunnies ever. It's perfect for beginners, as the pattern is simple enough to understand, and the materials needed are relatively basic. So grab a hook, some yarn, and your imagination and get crafty together! Download now before it's too late – these cute little creations won't last long! amigurum
19. Crochet Big Floppy Ear Bunny Amigurumi Pattern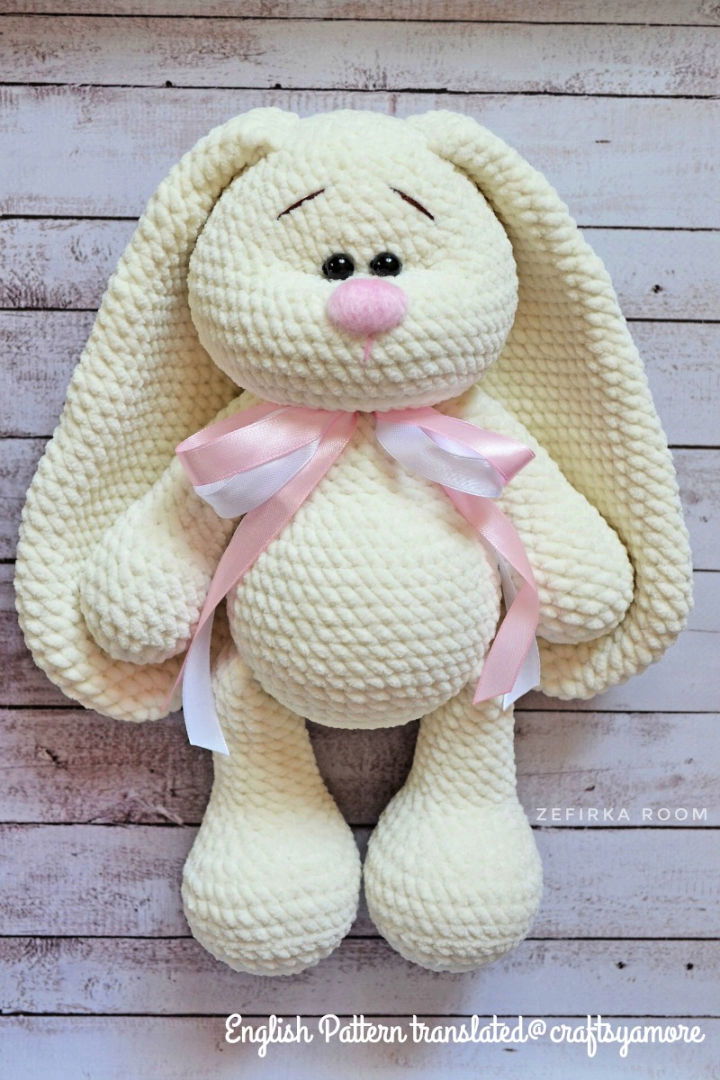 Put a smile on your child with this fun and cozy crochet, big floppy ear bunny! This sweet little bunny is the perfect soft cuddly toy for your newborn or child's special occasion. With this free pattern, you can easily crochet a huggable, lovable companion that will bring joy for years.
All you need are basic materials such as yarn in desired colors, stuffing material and other tools like hook needle etc., and you'll be ready to start stitching away! So don't wait any longer – make this lovely handmade gift today to brighten your child's day! craftsyamore
20. Crochet Soft Bunny Toy Amigurumi – Free Pattern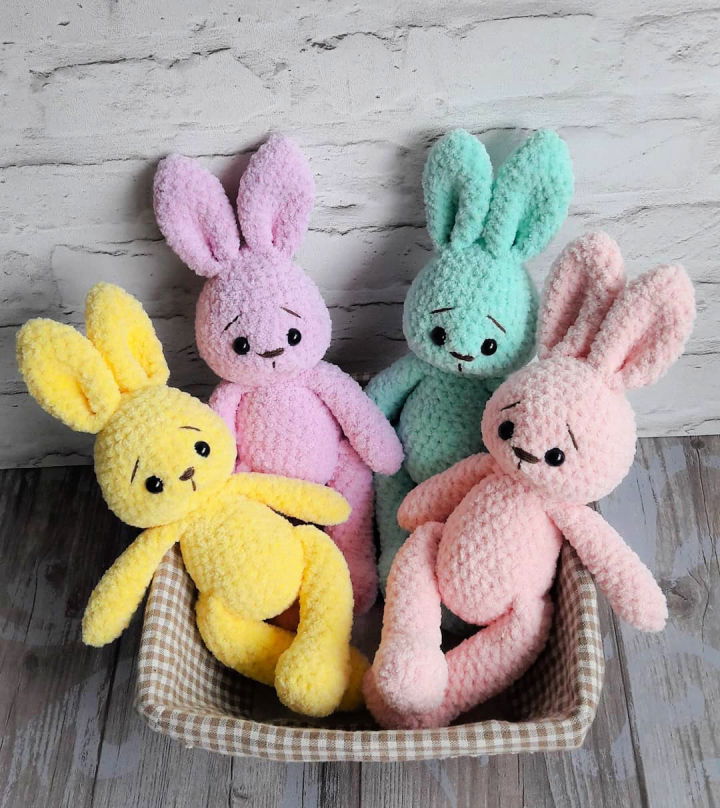 Treat your child to the cutest and most comfortable toy with this crochet soft bunny amigurumi plush pattern! It's easy, fast, and fun to make – all you need is some quality yarn, a 4.5 mm hook for crocheting, safety eyes for decoration, fiberfill stuffing, and a sewing needle. Its irresistibly cuddly texture and softness will surely put a smile on any child's face. Make this special toy today – everyone needs their fluffy friend! amigurum
21. Free Printable Crochet Foo Foo Bunny Pattern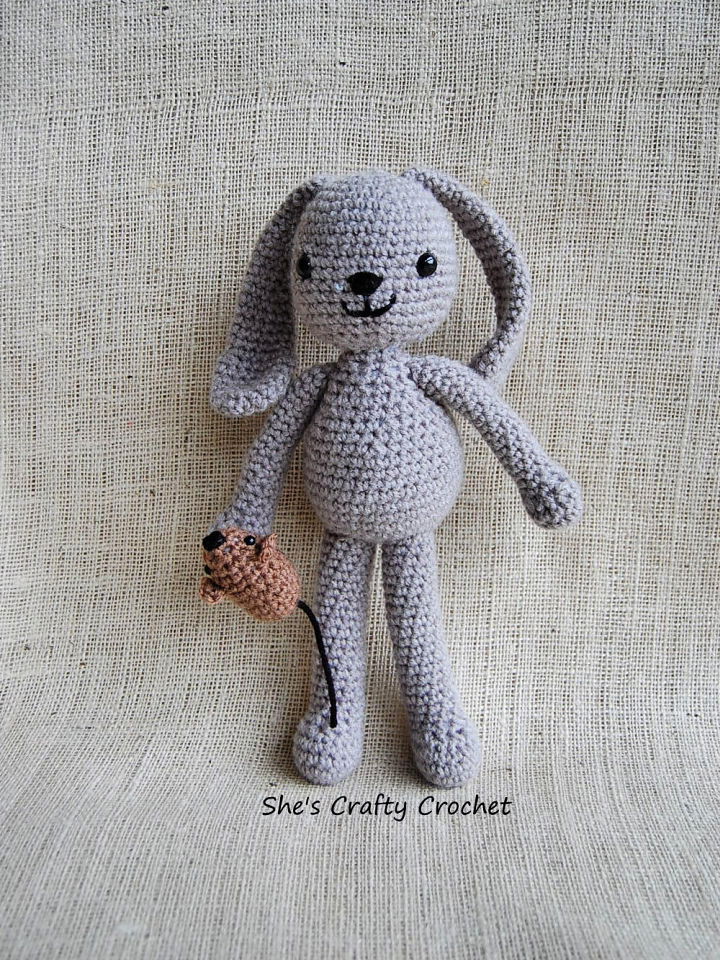 Fall in love with this adorable crochet Foo Foo bunny pattern! This cute little bunny is the perfect addition to your Spring collection, and it will take a little of your time. All you need are basic crochet materials like a skein of yarn, scissors, and a stitch marker.
With this easy pattern, you'll have your own handmade crocheted bunny in no time! Take advantage of this great opportunity to create something special for someone special this spring season. craftycrochet
22. Pretty Crochet Chubby Bunny Pattern
Craft the cutest and most adorable crochet chubby bunny this Easter with this free crochet pattern. Make one for yourself or as a gift for your loved ones, and you can even personalize them with little bows!
The result is an irresistibly cute chubby bunny that is quick to make and so darn cute. With endless possibilities of color choices, you are guaranteed to find the perfect combination of yarns to create a small, crocheted, chubby bunny that will last through all seasons. Get creative and have fun crafting this special piece just in time for your favorite holiday season! amenagerie
23. Crocheted Some Bunny in the Hood – Free Pattern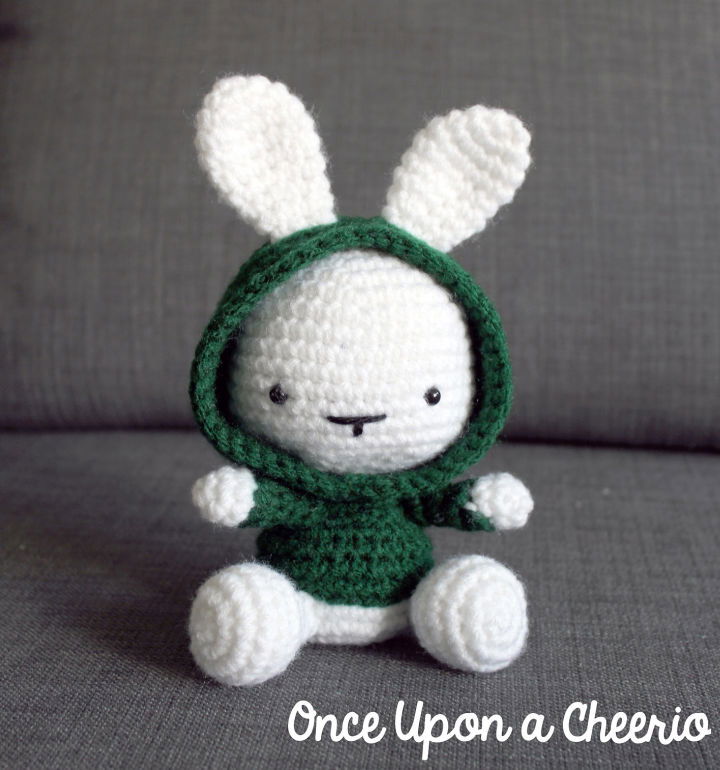 Make your pet bunny look cool and cuddly with this beginner-friendly amigurumi crocheted bunny in the Hood! This fun project is perfect for adding a sprinkle of creativity to motherhood. Materials you'll need include yarn, a crochet hook and stuffing – each sold separately.
Beginners can create this adorable soft hooded bunny quickly and easily. Kids will love hugging their own special pretty amigurumi pal or giving it as the perfect gift! Get creative with crocheting some Bunny in the hood today! acheerio
24. Best Bunny Lovey Crochet Pattern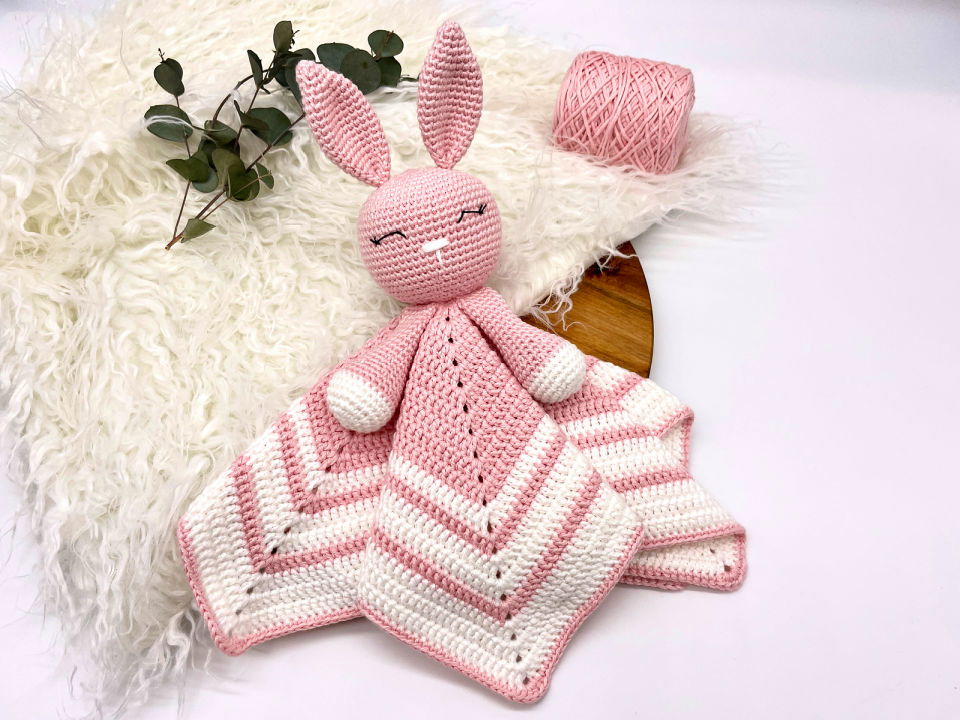 Create the perfect gift for a special little one with this free bunny lovey crochet pattern! This lovely amigurumi bunny lovey is super soft and cuddly, making it an irresistibly huggable companion. With simple instructions and materials that you can find around your home, you'll be able to create an adorable piece in no time.
In addition, it's so easy to customize – choose any color of yarn or add embellishments if desired. You'll surely enjoy creating this sweet piece as much as the recipient will love it! Get ready for lots of snuggles when you make your Bunny lovey crochet pattern today! cuddlystitches
25. Quick and Easy Crochet Bunny Pattern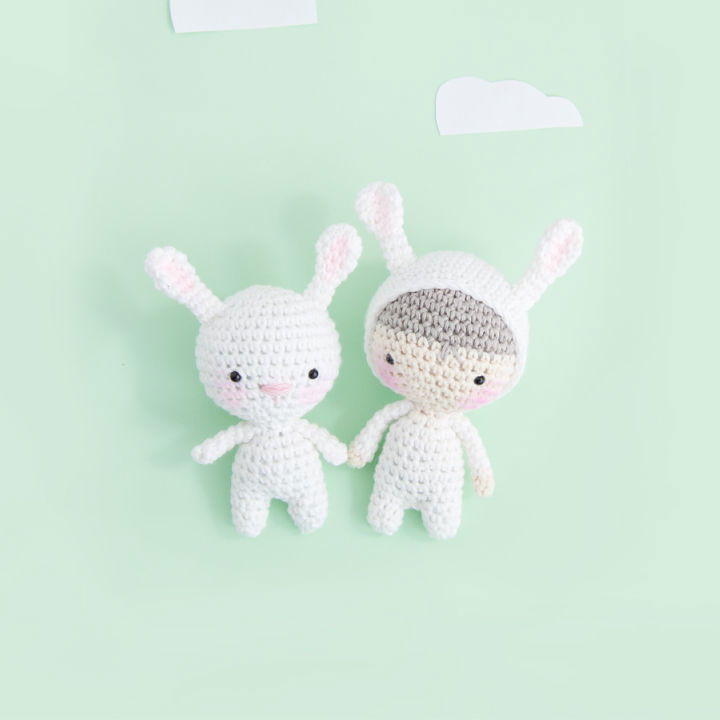 We are looking for an easy and adorable craft project that won't cost you a thing. Look no further than this free crochet bunny pattern! Perfect for using leftover yarn, this project is quick and looks fantastic when completed.
You will need basic crochet materials such as a size 3mm hook, stuffing material, black thread/yarn for eyes or nose and white yarn of your choice. With step-by-step instructions, anyone can create the perfect Easter Bunny to gift or keep! So don't wait any longer – start creating yours today! inart
26. Modern Crochet Bunny Hat Pattern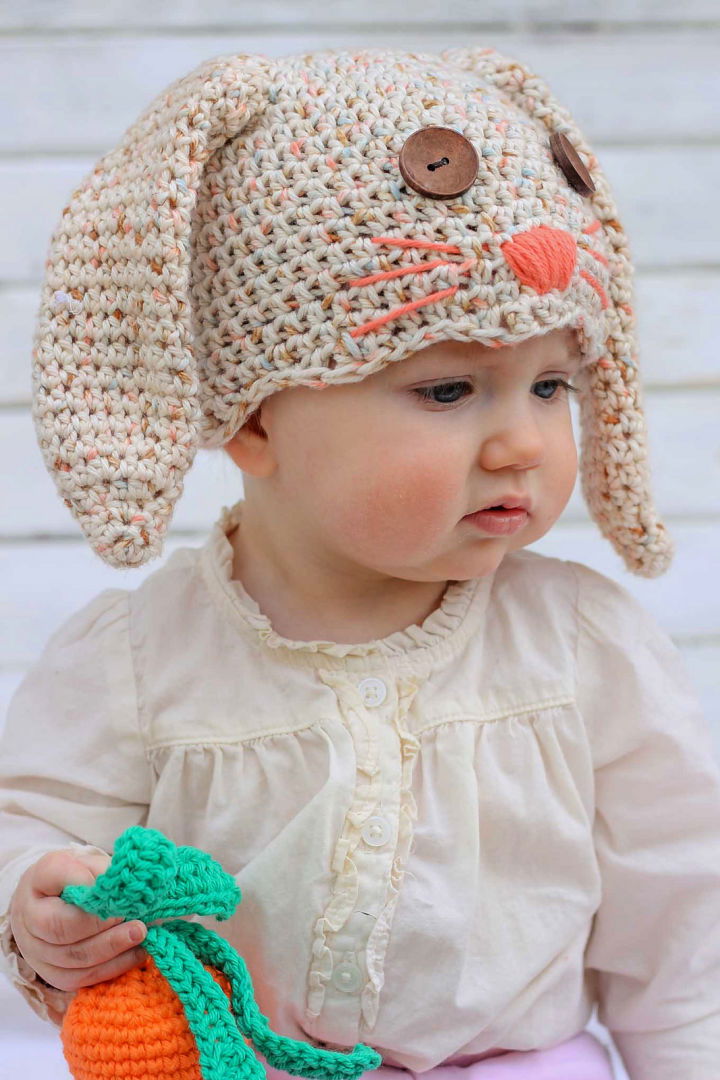 Excite your little one with a handmade modern crochet bunny hat pattern this Easter. Perfect for any beginner crocheter, you'll have fun whipping up this quick and easy project to make the most adorable bunny rabbit look! Not only is it a great non-candy Easter gift, but it also makes a darling accessory for baby showers or winter caps.
All materials needed can be found easily – Lion Brand Ve-luxe yarn and crochet hook will do! The free pattern comes with fluffy ears, ensuring extra cuteness for your favorite kiddo. Let's get started and bring extra joy to their holiday season! makeanddo
27. Easy Crochet Bunny Pattern for Beginners
Make your sweet little bunny with this free, easy crochet bunny pattern! Perfect for both beginners and experienced crocheters alike, this amigurumi animal pattern is sure to delight.
With just a few basic supplies – like chunky plush yarn, medium-weight yarn, 12mm safety eyes, crochet hooks and more – you'll be able to create a huggable friend in no time. So gather the materials needed and get ready for some fun — download your free pattern today!
28. Free Crochet Patterns for Realistic Rabbit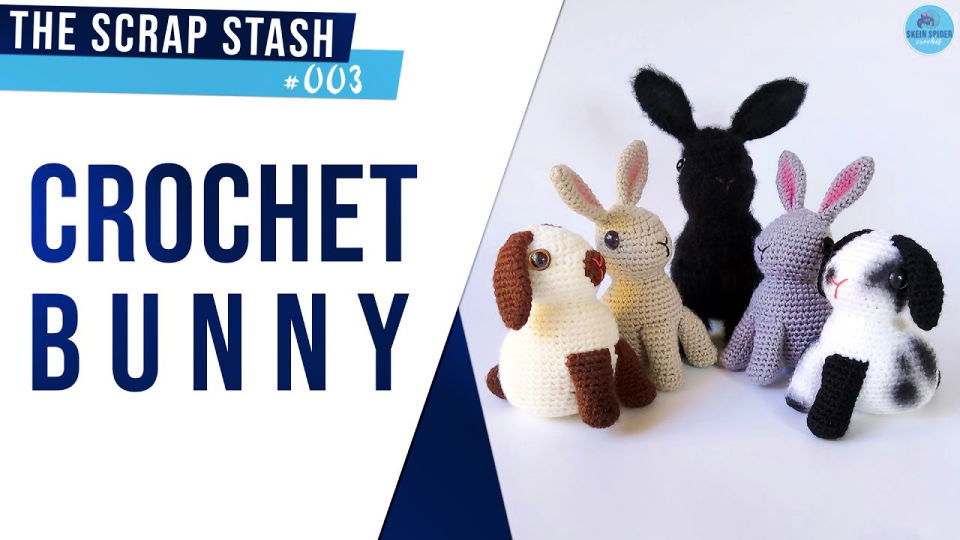 Create your realistic bunny with this crochet pattern! This beginner-friendly tutorial makes it easy to use scrap yarn and create a unique little rabbit.
This simple step-by-step instruction is detailed enough for even the newest crocheters – no special skill is involved! All you need is basic materials like yarn, stuffing, safety eyes, tapestry needle and scissors – everything else comes from us. Try out these fun designs today and start crafting your cuddly bunny!
29. Cool Crochet Dutch Rabbit Pattern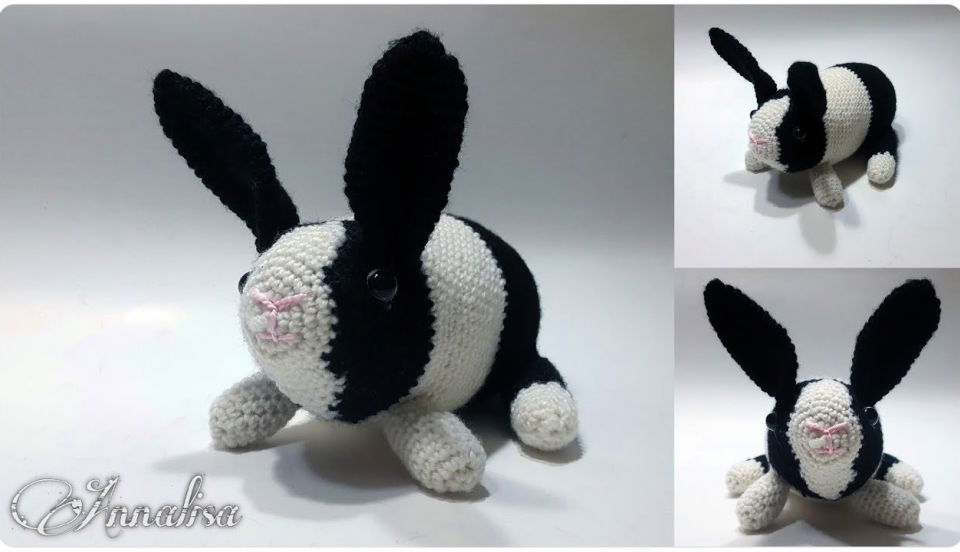 An adorable, handmade addition to your collection of plushies with this cool crochet dutch rabbit pattern! It is as soft and tender as can be, and its sweet face will make it a must-have piece. The pattern features a black-and-white color combination that adds to its charm.
Plus, it comes with detailed instructions that even beginners in crochet can use easily. All you need is the right materials like yarn, stuffing, scissors and more – listed in the pattern. Whether you're looking for a gift or want something nice to add to your collection of knits and crochets, this dutch rabbit pattern is sure to please!
30. Cute Crochet Large Toy Bunny Pattern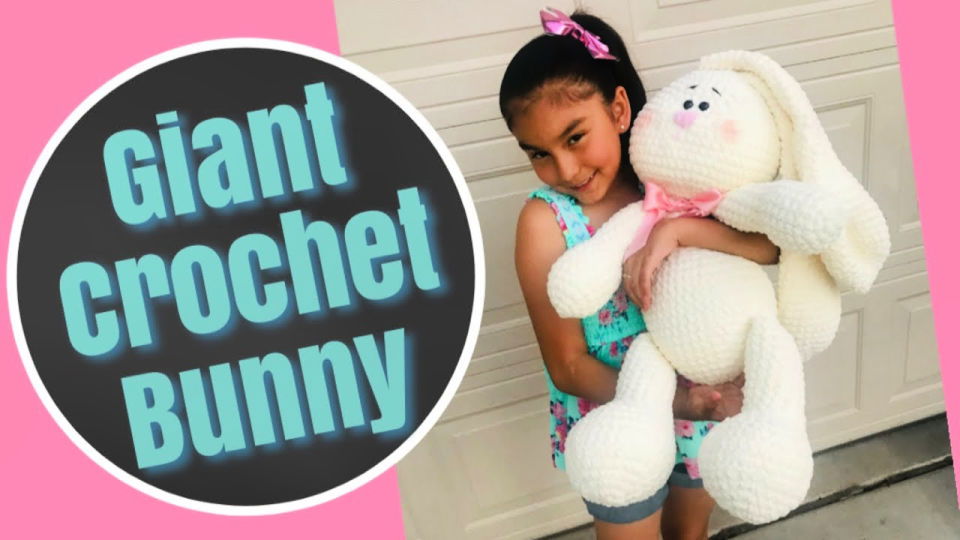 Love crafting? Create something special with this amazing cute crochet large toy Bunny pattern! Perfect for any skill level, this pattern is designed to help you make a giant bunny that looks great and uses smaller size yarn.
It's fun, easy, and handmade – you'll love the look of your finished project! You'll need some basic supplies: yarn, a crochet hook, stuffing materials and a needle. Get started today with this awesome cute crochet large toy Bunny pattern – it's sure to bring a big smile to someone special!
Related Free Crochet Amigurumi Patterns:
Create your own magical world with these free crochet amigurumi patterns! From cuddly critters to anime-inspired dolls, you'll find something special to crochet.
Easy Crochet Amigurumi Patterns:
Conclusion:
In conclusion, 30 free crochet bunny patterns are available above for everyone, regardless of their experience level. These crochet bunny pattern options will allow you to create an adorable addition to any home at a fraction of the cost of buying one elsewhere. There is no limit to the creativity that can go into making your own amigurumi bunny – from adding bows and buttons or incorporating classic complementary colors like pink and white. There are so many avenues for personalizing your crocheted creation! Making a handmade gift for someone is always a wonderful way to show you care about them, and with these 30 free crochet bunny pattern options, this act of love and kindness won't break the bank! We invite you to explore all the possibilities that come along with these patterns and make something special today! Happy crafting!