To create crochet birds, start by selecting your desired yarn, choosing the appropriate hook size, and following a crochet bird pattern with step-by-step instructions. Learn how to realistic crochet birds with 25 free crochet bird patterns for beginners. With a free crochet bird pattern, you can easily create a cute and colorful bird in just a few hours.
We have 25 free crochet bird patterns below to suit your skill level. You'll need a few basic supplies, including yarn, a crochet hook, and stuffing material. Once you have your materials, follow the step-by-step instructions in your chosen crochet bird pattern to create your own unique and adorable bird.
You can create crochet bird amigurumi that can be used as toys or decorations. If you're looking for a more realistic crochet bird pattern, many detailed patterns can help you create a lifelike bird with creative details and realistic features. These crochet bird patterns often require more advanced skills and may take longer, but the results are impressive works of art.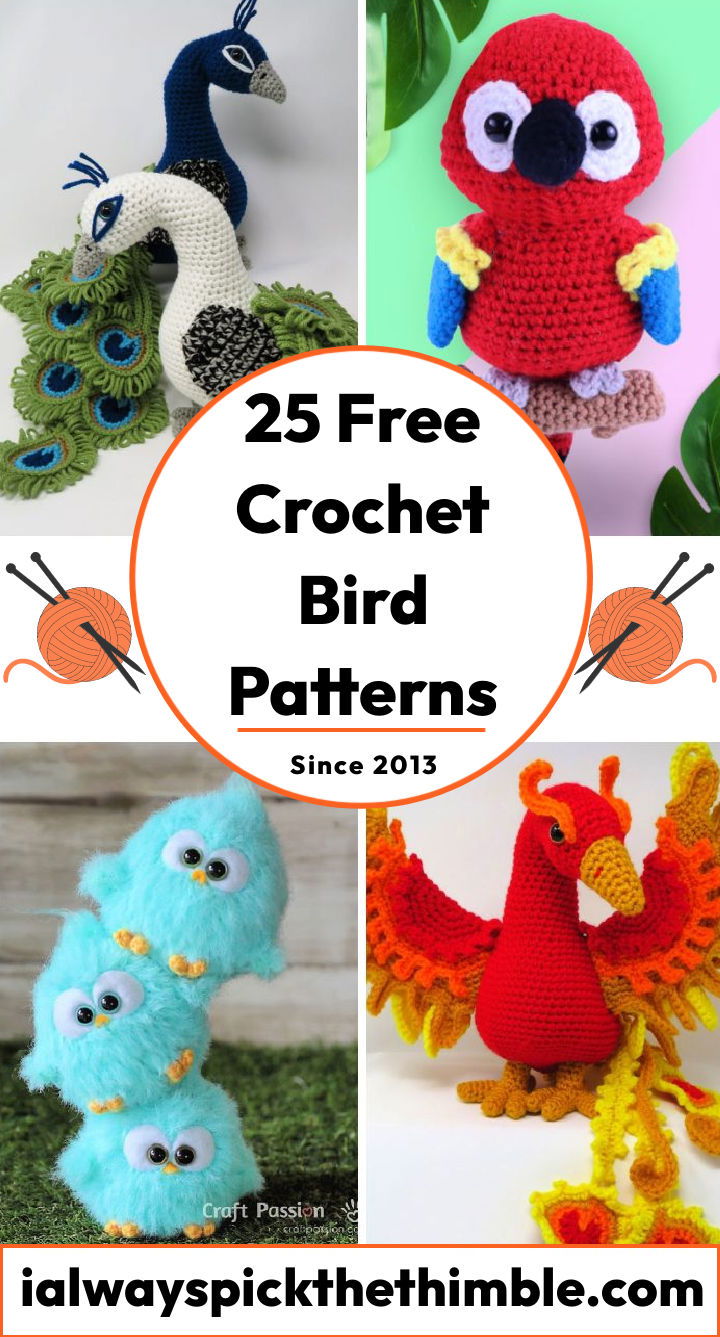 Crochet bird appliques are also popular and can add a playful touch to hats, bags, and other accessories. These smaller projects are perfect for beginners and can be completed quickly and easily. These crochet bird patterns include bird bookmarks, bird hats, bird garlands and more.
So if you're ready to create your own crochet bird project, search for free crochet bird patterns online and choose the one that best suits your style and skill level. With patience and crochet practice, you can create your own adorable and unique crochet birds that will impress!
1. Easy Crochet Parrot Amigurumi Pattern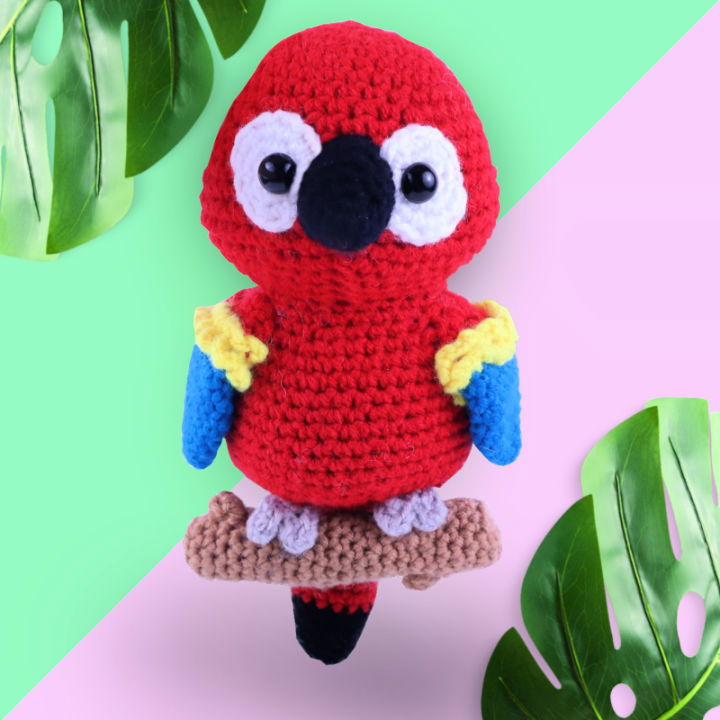 Bring your crochet skills to the next level with this free, easy crochet parrot amigurumi pattern! This pattern is fun and easy to make, featuring a special technique for making the feathers on the two wings. You'll need medium-weight yarn in red, white, black, blue, yellow and brown; a 4mm crochet hook; polyfill stuffing; safety eyes; and metal wire (optional). Create a colorful parrot friend that will surely bring you lots of joy! Try it out today! stringydingding
2. How to Crochet a Goose-Free Pattern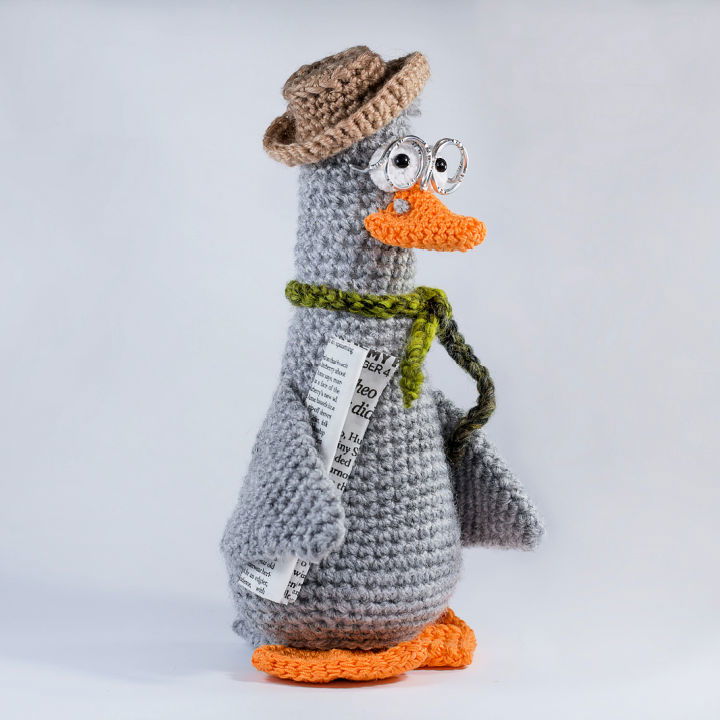 Are you looking for a fun and easy way to make your home more adorable? Why not learn to crochet a cute goose with this free crochet pattern? Whether you're making it as a gift or want to add lovey-dovey decor to your living space, crocheting this charming little bird will bring joy and delight into the atmosphere. It's an easy project that requires only basic knowledge of stitches, so even beginners can try it! Get ready to spread cheer with your handmade creation – let's start learning how to crochet a goose! diy 100ideas
3. Free Crochet Ember the Phoenix Pattern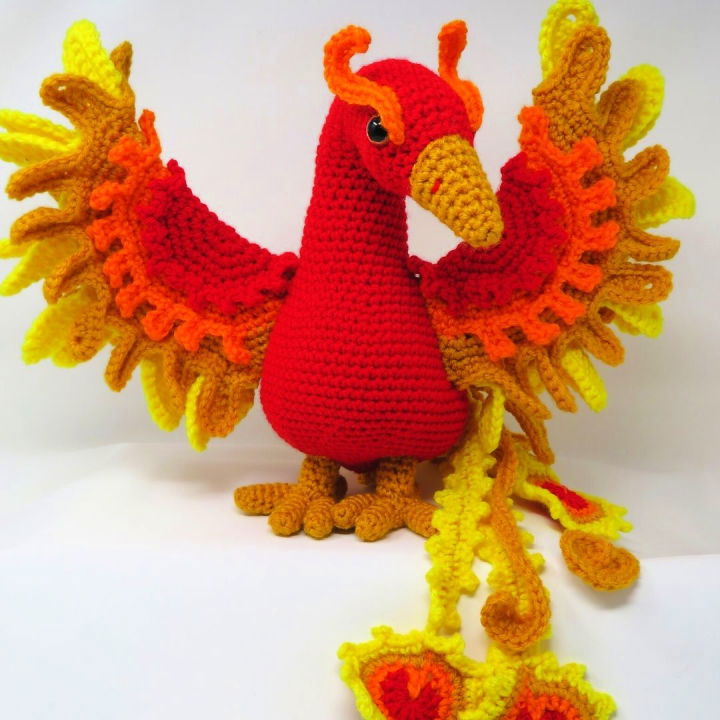 Looking for a unique, fun and free crochet pattern? Look no further than this free Ember the Phoenix crochet pattern! This beautiful mythical creature will bring your amigurumi imagination to life.
Featuring wired wings and stunning peacock-style tail feathers, this advanced pattern is perfect for those with an intermediate knowledge of chaining, slip stitching, single crocheting, half-double crocheting and double crocheting.
Even if you are an expert, this lovely project is easy to get into as it provides detailed instructions with helpful photos. So take flight with Ember the Phoenix today – download the free pattern now! hookedbykati
4. Pretty Crochet European Robin Amigurumi Pattern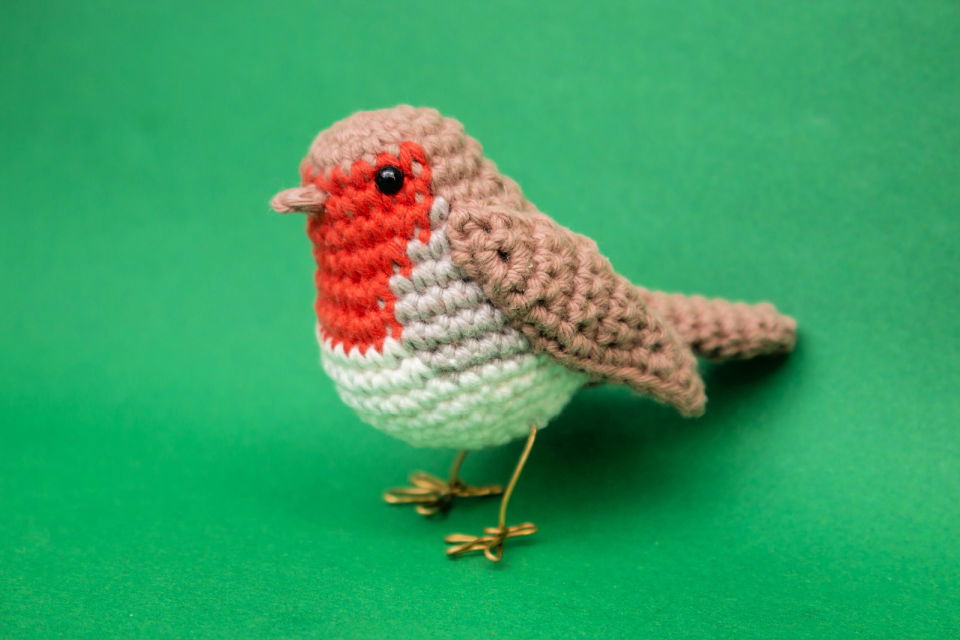 Create a stunningly cute European Robin Amigurumi with this easy-to-follow, free crochet pattern! This chubby robin will delight people of all ages and make a great gift or decoration. With just a few supplies, some yarn and the instructions, you'll have your own super adorable avian friend in no time. That's what makes this European Robin Amigurumi pattern so popular – it's pretty, practical and perfect for making something special for yourself or someone else! stellasyarnuniverse
5. Realistic Regal the Peacock Crochet Pattern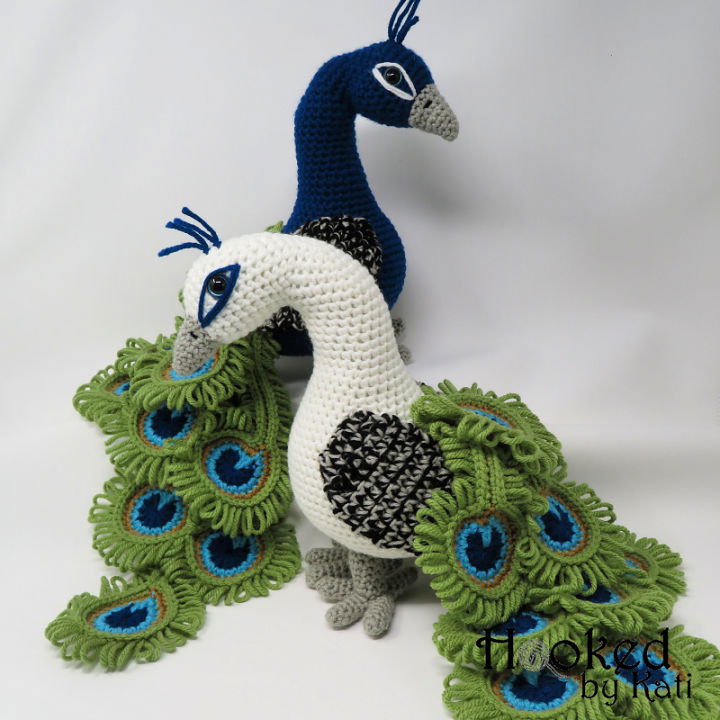 Introducing the realistic regal peacock with a free crochet pattern! Create an amigurumi plushie 11″ tall and 18″ long from beak to tail for a gorgeous display. Unlike many peacocks with their tails in the air, this one has its tail folded into that soft royal train – perfect for adding a touch of royalty to your home.
This pattern includes instructions on creating a slender, curved neck peacock dragging a long, flowing train behind him. Make these majestic creatures as fun decorations or gifts, and show off your crochet skills!
Knowledge of Chains, slip stitch, single crochet, double crochet, increases and decreases, and mattress stitch sewing is required to complete this project. Get started now with this free crochet pattern! hookedbykati
6. Free Crochet Feathers Bird Pattern to Print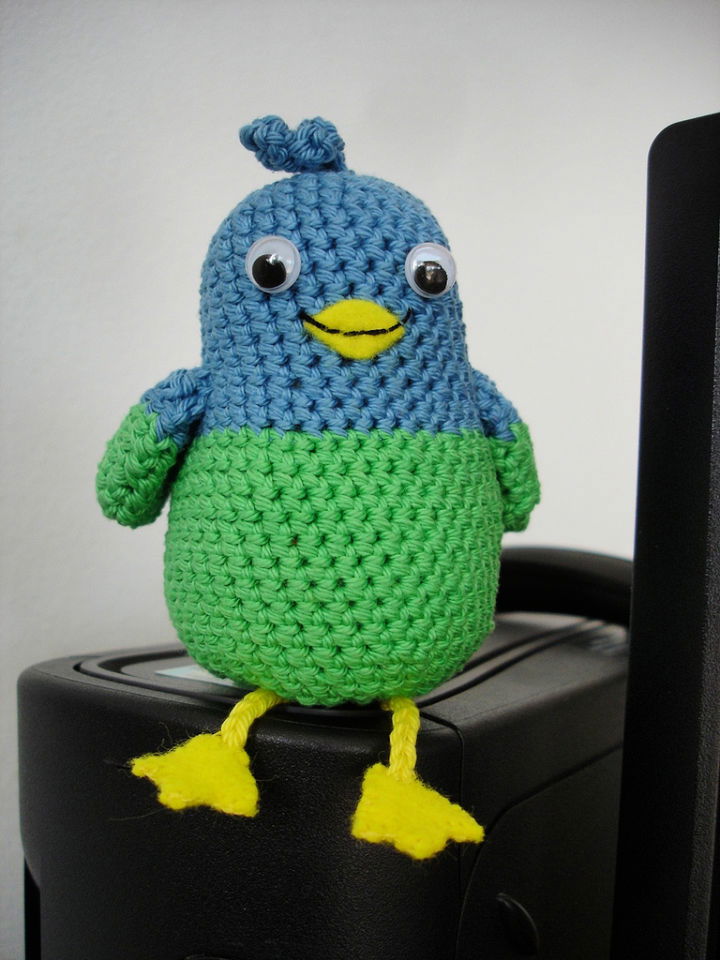 Bring out your creative side with this amazing feathers bird crochet pattern! This free crochet pattern is perfect for creating a cute and cuddly bird. It's an easy pattern, even if you are a beginner, so you don't have to worry about being overwhelmed by the process.
With just single crochet, slip stitch, double crochet and half double crochet stitches used in this design -you'll be able to whip up your own version of this lovely little Bird in no time!
For added safety, when giving it away as a gift or presenting it to small children, adjust the size and construction of the eyes and feet accordingly. Grab some yarn today and get crocheting your very own feathers, bird! isitatoy
7. Free Crochet Amigurumi Bird Peggy Pattern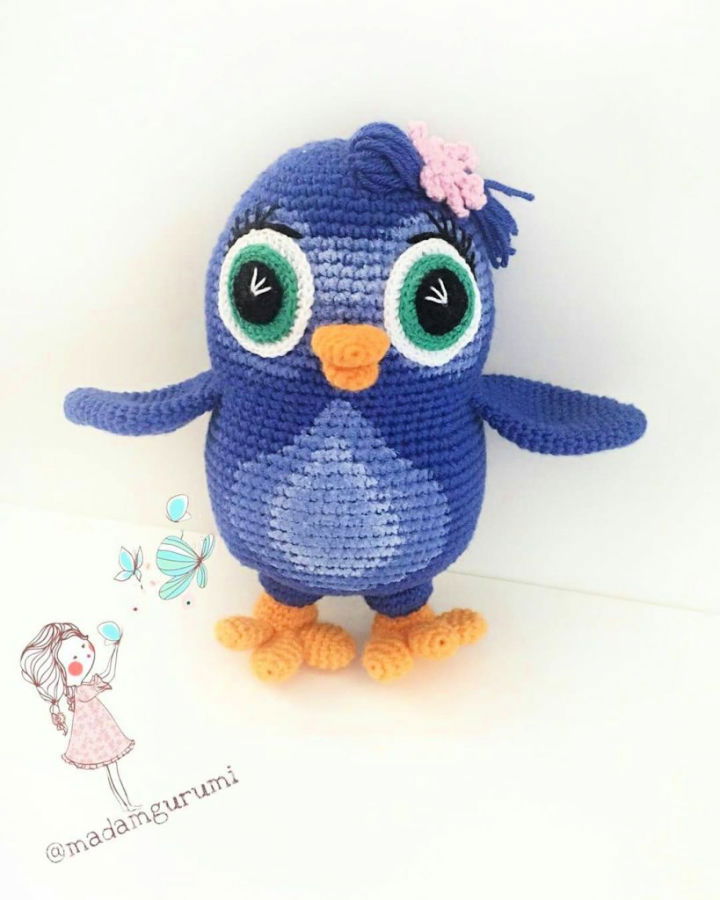 Welcome to this amazing free crochet pattern for a cute amigurumi organic toy: Peggy the Bird! This easy yet satisfying project is ideal for beginners and experienced crafters alike. With just a few supplies, you can create an adorable gift that will be cherished. This comprehensive step-by-step tutorial makes it straightforward for anyone to follow along, so quickly get crocheting today – Peggy the Bird is sure to fly off shelves! crochetfree
8. Beautiful Crochet Zebra Finch Amigurumi Pattern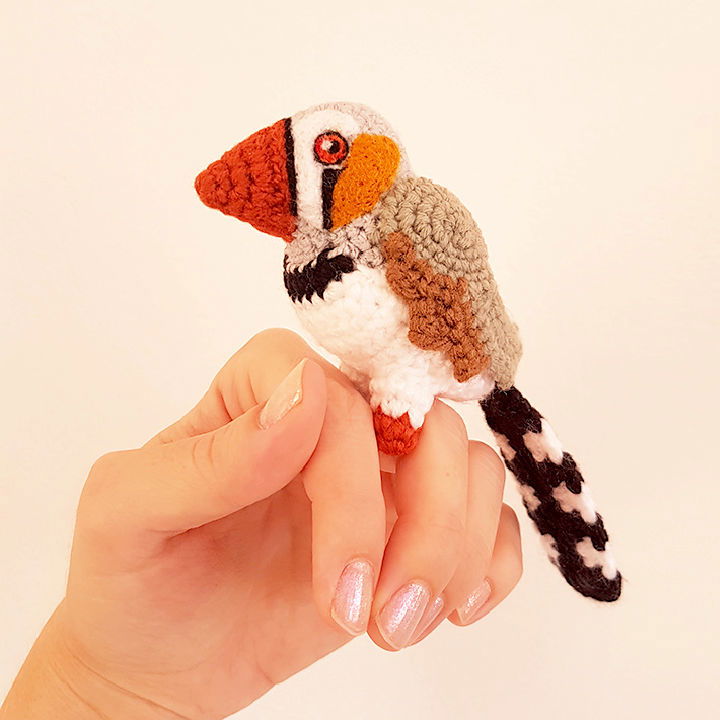 Bring creativity and charm to your surroundings with this beautiful amigurumi zebra finch! This free crochet pattern is perfect for creating an adorable little bird about 9cm tall. It's sure to bring joy and color into your home – the only supplies you'll need are yarn in multiple colors, a 2.5mm crochet hook, a yarn sewing needle, stuffing, scissors, felting needles and felting roving in multiple colors. So grab your supplies today to make an adorable companion for yourself or someone special – it's sure to be the envy of all! projectarian
9. How to Crochet Rooster Amigurumi – Free Pattern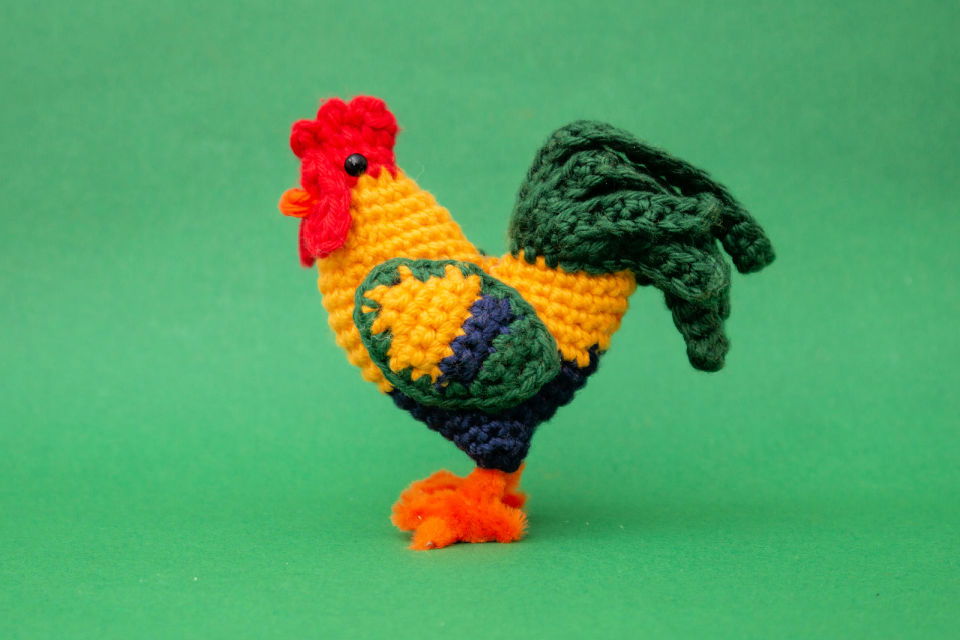 Create your adorable rooster amigurumi with this free crochet pattern! Whether you want a simple or fun, this little rooster is the perfect way to practice working with multiple colors.
Whether you're a crocheting beginner or an experienced craftsperson, this is a great little project that will test and improve your skills.
With this easy-to-follow pattern with a video tutorial, you'll learn step by step how to create your cute rooster that stands about 3 inches tall. Try this great project today – get creative and add some personal touches! stellasyarnuniverse
10. Cute Crochet Snowbird Pattern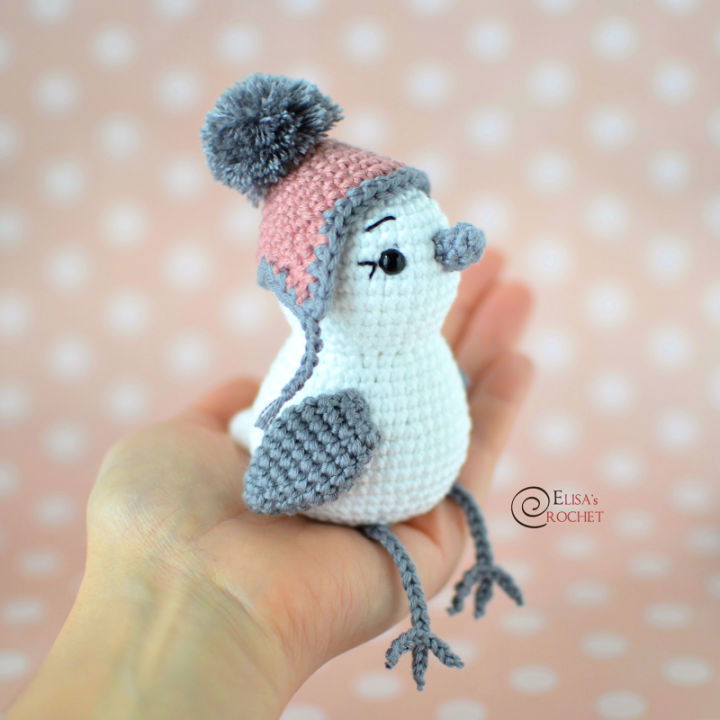 This free crochet pattern for a cute snowbird is the perfect way to add joy and cheer to your holiday season! With its cozy hat, this adorable little cutie makes for an ideal Christmas gift or decoration – hang it on tree branches, set it near the fireplace mantel, or use it as part of your festive decor. Great for all levels from beginner to advanced – complete size-wise in just H. 6.5″ x W. 3″ x L. 3.5″ – and with easy instructions that are simple enough to follow even by those new to crocheting! Get creative and work up your unique version today! elisascrochet
11. Crocheted Sweet Bird – Free Pattern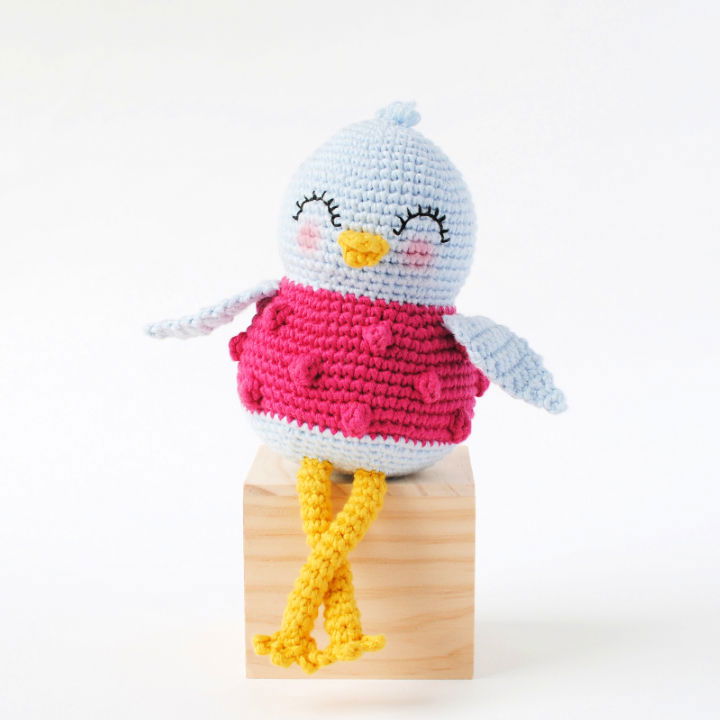 Bring a little bit of nature's beauty into your home with this free pattern for a crocheted sweet bird. Enjoy creating the perfect feathered friend – this beautiful friend will stand 8.5 inches tall and easily be made with any yarn in your stash. Whether you're new to crochet or an experienced pro, the included PDF provides all the steps and instructions needed to make your Sweet Bird at home! Print off the pattern in its ad-free printer-friendly package and start crafting today! tinycurl
12. Best Bob and Betty Bird Crochet Pattern
Welcome to the cutest, most adorable crochet pattern ever – Best Bob and Betty Bird! Download the free pattern to quickly and easily prepare two chubby little birds for spring. They're all dressed up to celebrate the season and make new friends after a long winter away. This is an easy amigurumi bird pattern perfect for beginners, with approximately 3″ tall by 4.5″ wide from wing tip to wing tip. What a fun idea! So don't wait another second; prepare to crochet these cute little friends today! theloopylamb
13. Crochet Pigeon Birb Amigurumi Pattern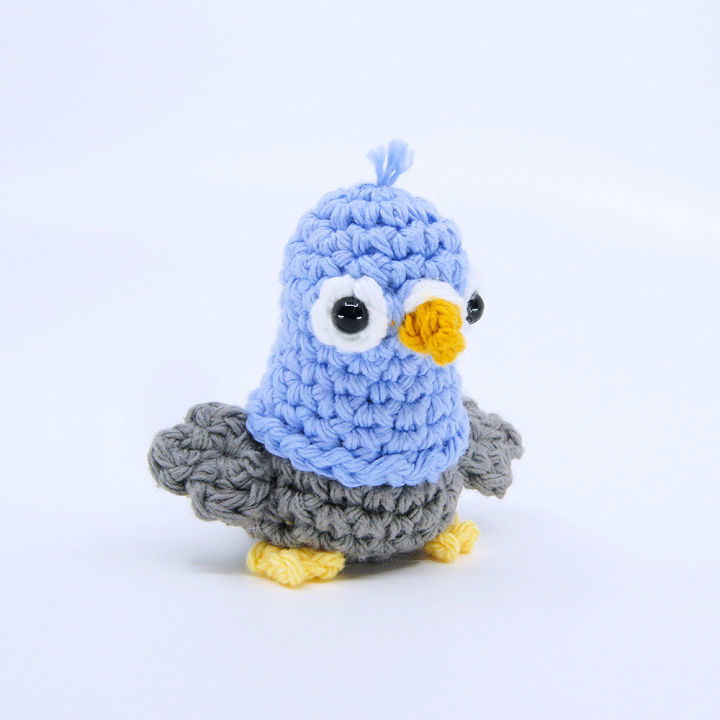 Love crocheting? Here's an exciting project for you – create a pigeon Birb Amigurumi! Show off your creativity by making this one-of-a-kind birdy today! This free crochet pattern will guide you on crocheting all the pieces of a pigeon, including making it magnetic and pooping. With only 2 hours of crafting time and medium-level skills, this is the perfect weekend project that even beginners can easily accomplish. Give your kids or grandkids something special they can cherish forever – grab this free pattern today and start crocheting now! clubcrochet
14. Crochet Kiki Kiwi Bird Design – Free Pattern
Use your knitting skills to make an adorable crochet kiki kiwi bird design with this free crochet pattern! Inspired by a turkey pattern without tail feathers and a longer beak, this cute kiwi will bring life to any room. With easy-to-follow instructions and detailed illustrations, even beginners can quickly create this lovely little cutie. From children's bedrooms to living rooms and beyond – add some personality with this unique yarn project! crochetwizzard
15. Gorgeous Crochet Pipi the Bird Amigurumi Pattern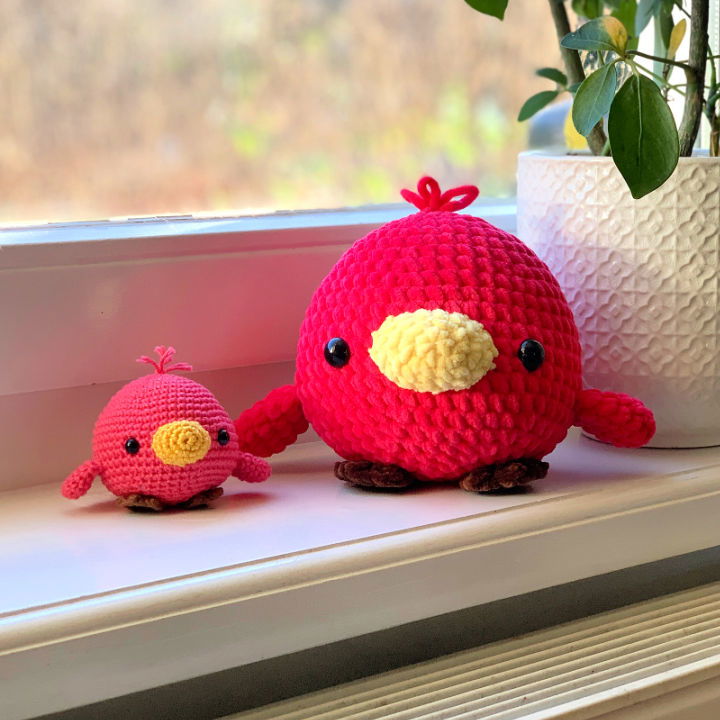 Exciting and unique, this Pipi bird Amigurumi-free crochet pattern will help you create a beautiful avian friend. Make them any size you want – use sportweight cotton yarn for small birds or super bulky chenille for bigger ones! Add details with your favorite colors of yarn. And when it's complete, hug this cute Bird and be ready to show off your new creation to all your friends!
Make these gorgeous birds in whatever color combinations you can dream up. With these easy-to-follow instructions, anyone can craft their cheerful amigurumi pal quickly! mariskavos
16. Crochet Cube Birdie Bird Plush Pattern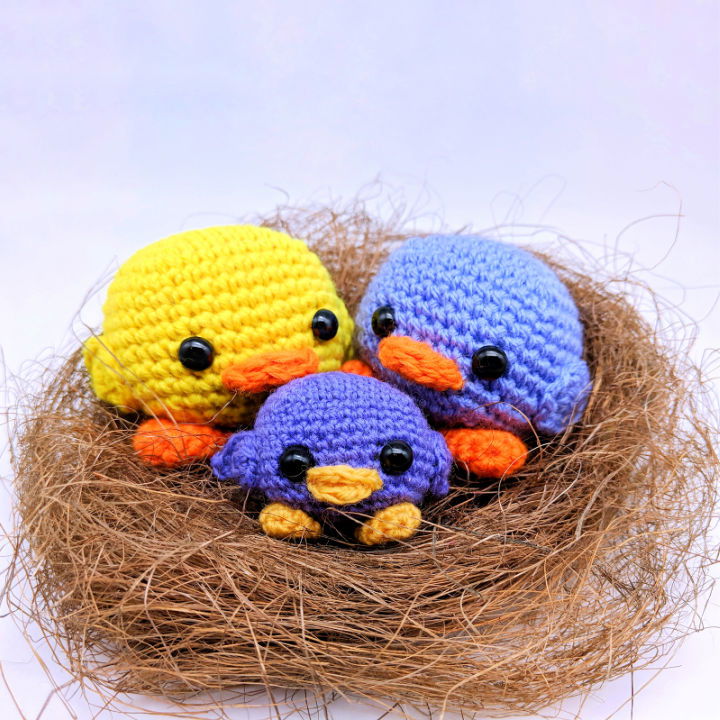 Are you ready to craft something truly special? You can make a sweet cube birdie bird plush with this free crochet pattern and creativity. This cute, free and super easy project will have you starting with the basic cube shape and ending up with a lovely new friend that your kids or grandkids are sure to love!
All it takes is a 3mm crochet hook, yarn in the colors of your choice (including yellow or orange for beak and feet), plus 8mm safety eyes – then let the magic begin! Get started on this fun project today – there's no better way to show how much you care than hand-crafted gifts made from the heart. craftybunnybun
17. Simple Crochet Amigurumi Bird Pattern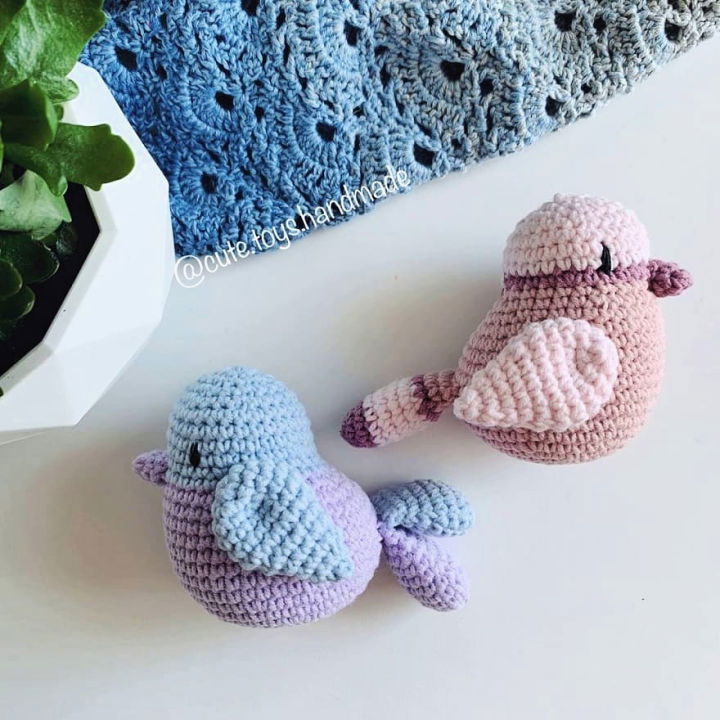 This simple and free crochet pattern brings the magic of a handmade amigurumi bird to life. Whether an experienced crocheter or starting, you can easily make your own sweet little feathered friend. This lovely little Bird is sure to add charm and personality to any room or occasion – perfect as a gift for someone special! Get creative and bring your unique twist to the design. Enjoy the satisfaction of creating something cute, cozy and completely handmade – create your very own crochet bird today! amigurum
18. Free Crochet Pattern for Colorful Furry Baby Bird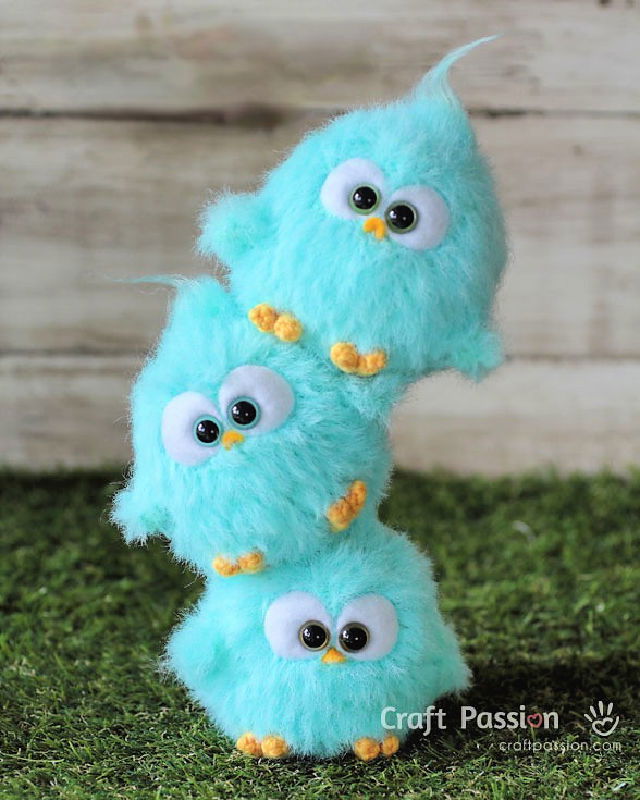 Feel inspired and make your super adorable free crochet pattern for the colorful furry baby bird! With little yellow feet, huge, innocent-looking eyes and colorful and expressive cutie-pie offspring, you can get creative in any way you want with multi-colored yarns and felt. Measuring 4.5″ tall, this project only takes 3 hours and is suitable for intermediate skills. The materials needed range from $3 – $10 – perfect for a budget! So why not grab your supplies to start creating these fun fur birds? craftpassion
19. Free Hoot Owl Crochet Pattern for Beginners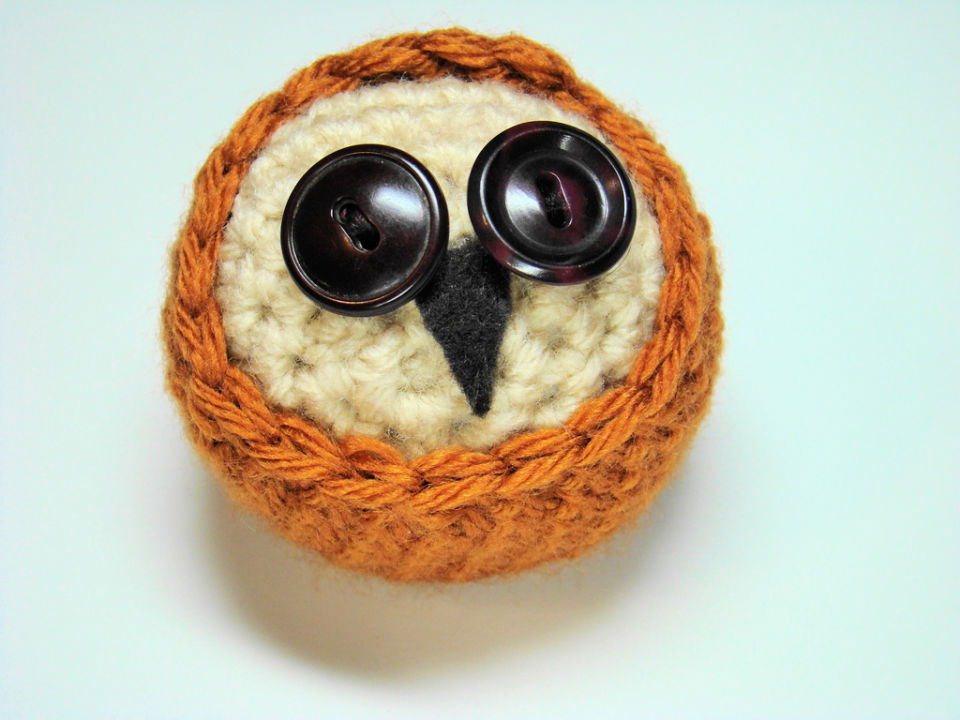 Get ready to have the most fun you've ever had while crocheting. This free crochet owl pattern is perfect for beginners and will bring out your creative side. Whether you want to make a cute gift or brighten your home, this easy-to-follow pattern ensures everyone can enjoy creating something beautiful with their hands. Best of all, when you finish, you can proudly show off your hoot owl masterpiece! sukigirl74
20. Cool Crochet Woodstock Amigurumi Pattern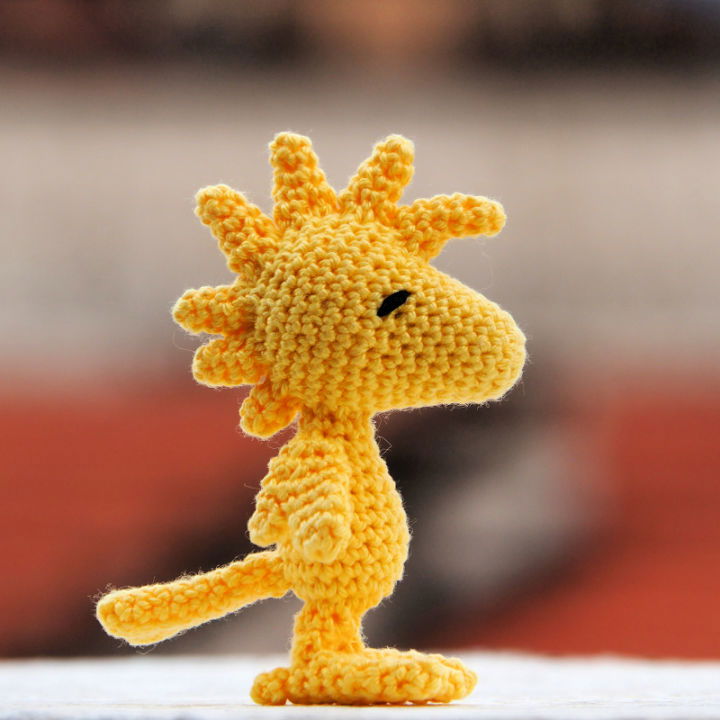 Create a tiny version of everyone's favorite beagle with this free crochet pattern for Woodstock from peanuts! This 10 cm tall Amigurumi is perfect as a keyring or bag charm. You can also stand it up to display it wherever you like, and the baby-friendly design makes it an excellent gift idea too. If you're looking for a larger toy, use a bigger yarn and hook size according to your preferences. It may take some time to assemble due to the small parts, but with good light and toil, you'll have a wonderful finished product at a low price! amigurinos
21. Quick and Easy Crochet Cardinal Amigurumi Pattern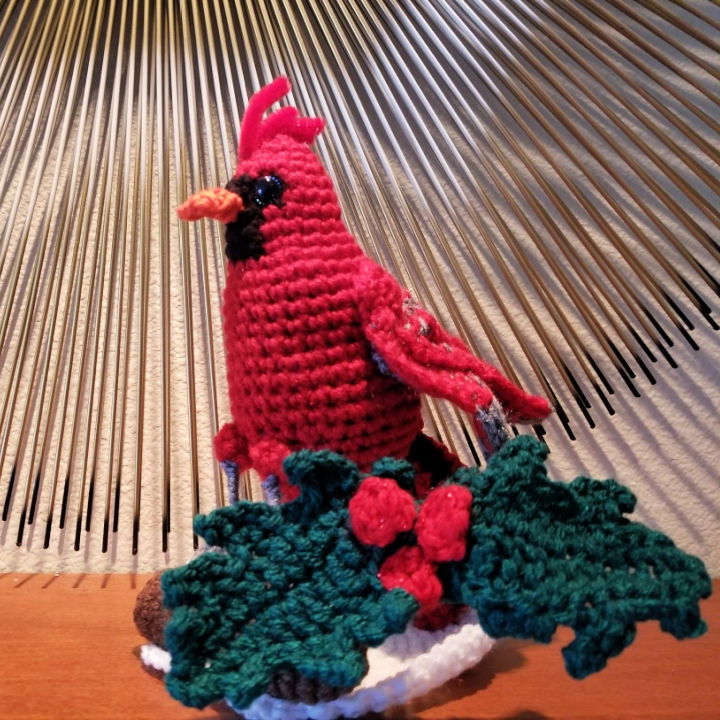 This Tunisian crochet cardinal bird with a free pattern will surely be a show-stopper in your home. The bright red of the cardinal will add a pop of color and cheer, while its intricate stitch pattern creates an eye-catching texture. It is an adorable little project that will bring cheer to your home. It can be a sweet gift for friends, family, and loved ones.
This project uses simple Tunisian crochet techniques, making it quick and easy to make while still creating something beautiful. The result is a soft and fluffy cardinal bird with bright red and green accents that will bring smiles! helenmaycrochet
22. How Do You Crochet a Bird Applique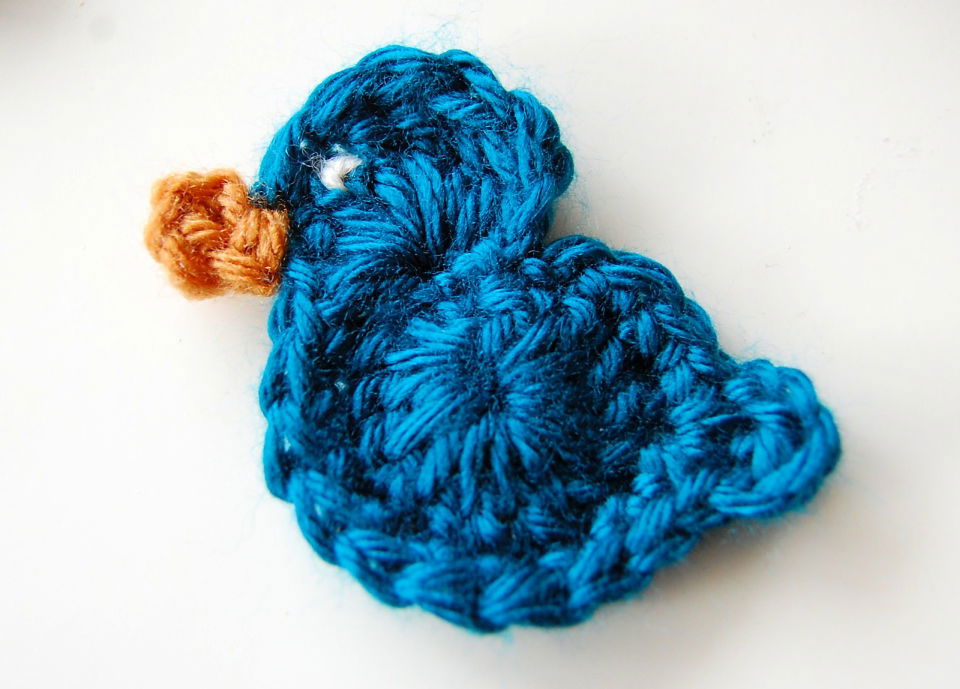 Delight in the joy of crocheting a cute Bird applique with this free crochet pattern! It takes only minutes to make, and you'll need only a few yards of yarn. The results will be gorgeous – plus, the pattern is free, so what are you waiting for? This guide is easy-to-follow and suitable even for beginner crocheters. Experience the creativity, pride, and satisfaction of making your beautiful birds' applique today! jjcrochet
23. Crocheting a Yellow Angry Birds Hat – Free Pattern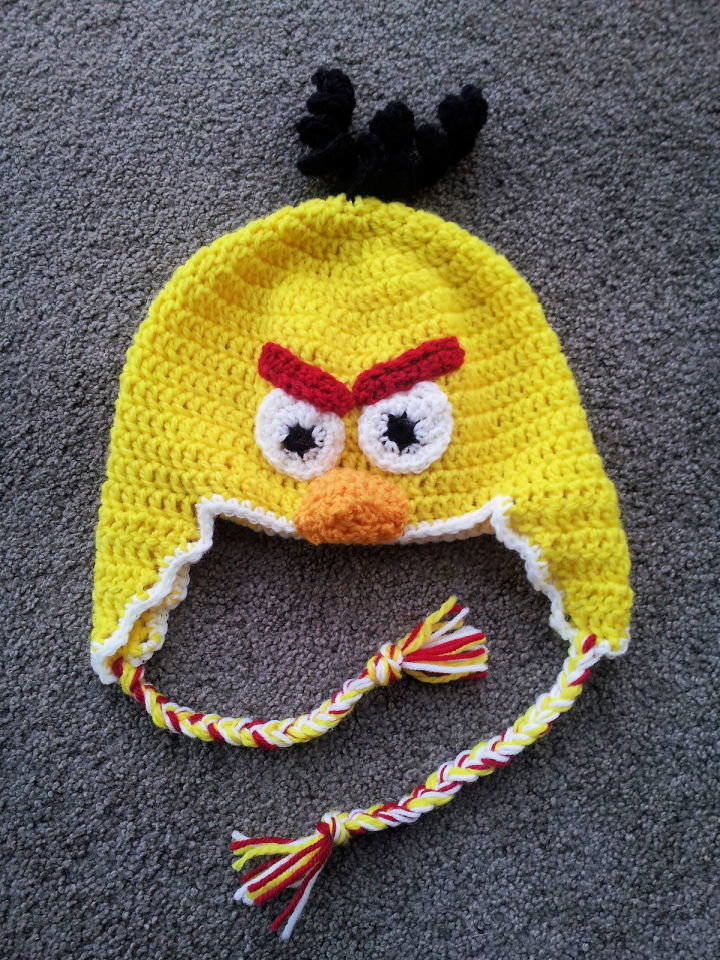 Are you looking for a cute and easy way to show off your love of Angry Birds? Look no further than this crocheting yellow angry birds hat! This pattern is designed for adult size, but it can easily be adjusted to fit a toddler or child. This tutorial offers a downloadable printable version pattern, so you won't worry about losing the instructions. So why wait? Today, show everyone your enthusiasm for this classic game with this fun yellow hat! craftykiwichick
24. Cute Crochet Hummingbird Amigurumi Tutorial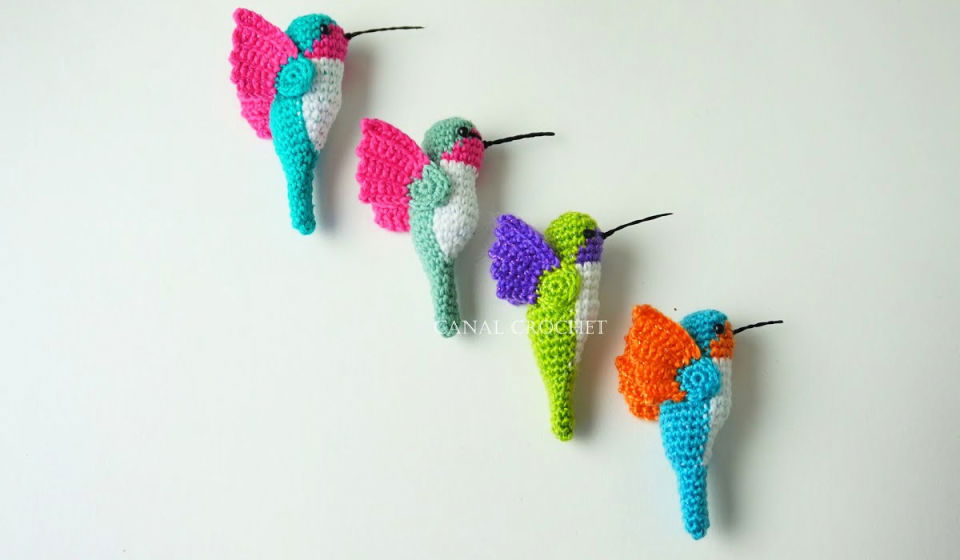 Bring out your inner artist and make something beautiful! This hummingbird amigurumi crochet pattern is perfect for creating colorful, delightful hummingbirds that bring delight to any home.
With the free pattern included, you can easily make an incredible handmade gift – whether you are an experienced crocheter or just starting. This video tutorial also includes a written pattern that you can follow step-by-step. In no time, these little birds with their bright colors will buzz around your house, spreading joy and love everywhere they go!
25. Crochet Tweety Bird – Step-By-Step Instructions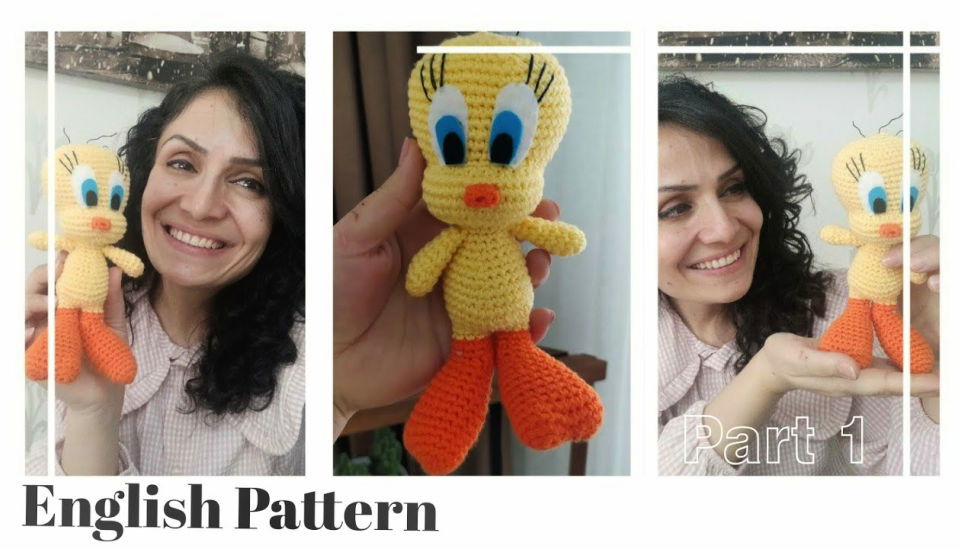 Treat your kids to a new special companion with this super adorable crochet tweety bird! It's an easy project that only requires basic crochet skills, so even beginners will find it fun and simple to make. You'll love the cute design of this little bird, and the best part is – your kids will adore it! Plus, you can customize this creation by choosing colors of your kid's liking. You can quickly create something unique for them with just a few easy steps. Get creative and give your children an unforgettable gift today – crochet tweety Bird!
Related Free Crochet Amigurumi Patterns:
Discover a variety of free crochet amigurumi patterns to create cute and cuddly stuffed animals and other fun designs.
Easy Crochet Amigurumi Patterns:
Conclusion:
Conclusion:
Crocheting birds is a fun and creative craft that allows you to show off your creativity and skills. With 25 free crochet bird patterns available above creating unique and realistic crochet birds is easier than ever. Whether you're looking for a realistic crochet bird pattern, an amigurumi pattern or an applique, there are plenty of resources to help you learn how to crochet a bird.
From detailed PDFs with step-by-step instructions complete guidebooks and videos that make learning easy, these free crochet bird patterns offer everything needed no matter what level of experience in crocheting one has.
For those just starting in this craft, there are even simple beginner-level projects and more complete projects for experienced crocheters who want to add extra detail when creating their crocheted birds. No matter what kind of project you have in mind – from detailed replicas of real species to cute cartoon characters – these 25 free crochet bird patterns will help get your project flying!