Express your crochet creativity and make adorable and unique crochet monsters with these 30 free crochet monster patterns. Each crochet monster pattern has easy-to-follow instructions and detailed tutorials to help you easily create crocheted monsters. With a wide range of designs and styles available, you can create your own monster collection perfect for Halloween, birthdays, or just as fun and cute decorations.
These free crochet monster patterns offer colors, sizes and shapes, from small and cute to big and cuddly. Each pattern includes a list of required supplies, such as yarn, hook size, and gauge, to ensure you have everything you need to start creating. So why wait? Grab your crochet hook, download a free crochet monster pattern, and start making your own unique and fun monsters today!
Crochet lovers, get ready to add some cuteness to your life! This article features a collection of 25 free crochet monster patterns, each with a unique charm and personality. Whether you're looking for a gift for Valentine's Day, Easter, Halloween or any other special occasion, these fun and easy-to-follow patterns have covered you. From crochet monster hats to toy bags, amigurumi and blankets, these patterns offer something for every level of expertise. With colorful yarns, a crochet hook, and some other basic materials, you'll be creating your own unique monsters in no time. So, what are you waiting for? Start crafting today and bring some fun into your life!
1. Free Crochet Blinky Love Monster Pattern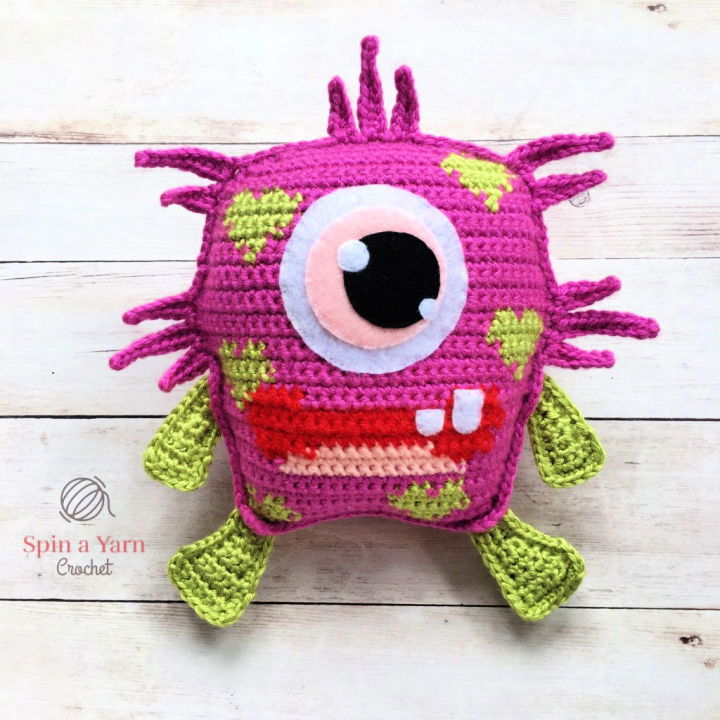 Make your loved ones a wonderfully unique gift this valentine's day with the free crochet blinky love monster pattern! This fun pattern will challenge beginners as it has plenty of color work but is very doable. With a 3.25mm hook and yarn, sewing needle, white sewing thread, black sewing thread and tapestry needle, you can make such a special gift – perfect for both children and adults alike! And who could resist that hilarious grin? Get ready to show some love in style! spinayarncrochet
2. Easy Crochet Monster Toy Bag Pattern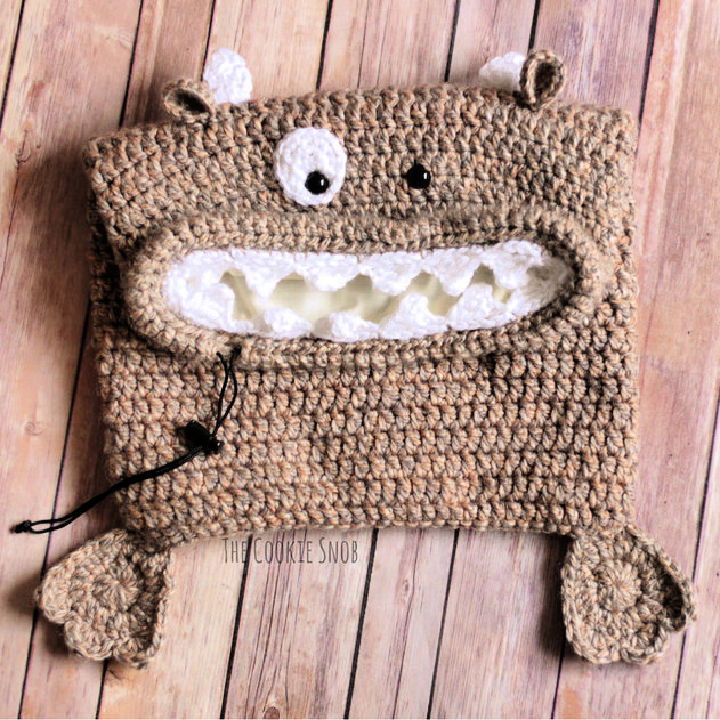 Make a unique accessory for your kids with this easy-to-make crochet monster toy bag! This cute drawstring bag is fun and looks pretty cute when finished. With step-by-step instructions, you can quickly create the perfect home for your child's toys.
Monsters aren't very picky, so you could put just about anything into your creation! To complete this project, you'll need yarn, a size K (6.5mm) crochet hook, a tapestry needle, 15 mm safety eyes (2), and a drawstring. Start creating yours today with this tutorial! cookiesnobcrochet
3. How to Crochet Monster Hat – Free Pattern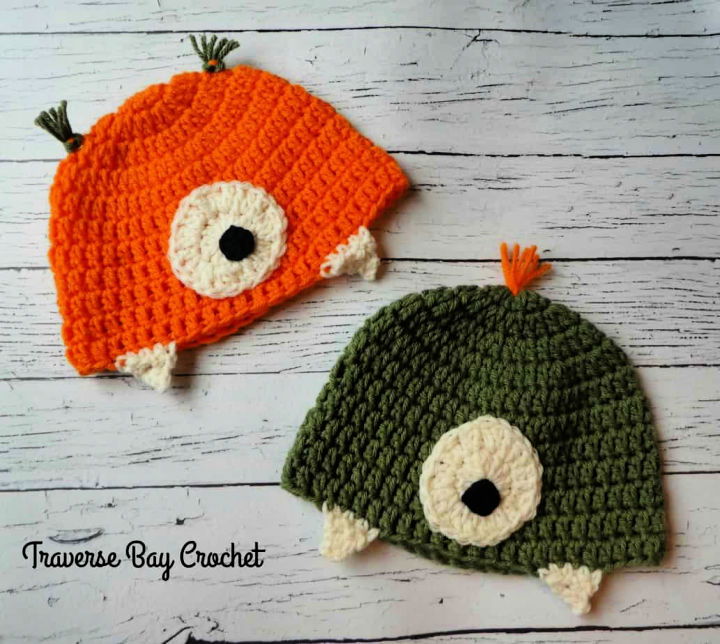 Bring out your little monster's cuteness with this fun, easy-to-make crochet monster hat! This free pattern is perfect for beginners as it works quickly with great results. The step-by-step instructions are simple to follow and will help you craft a unique and beautiful hat that will surely impress.
You'll need some medium worsted weight yarn, size I, a 5.5 mm crochet hook, and a blunt needle to complete the project. You'll have the most adorable monster hat to show off in no time! traversebaycrochet
4. Crochet Kelvin Monster Zipper Pouch Pattern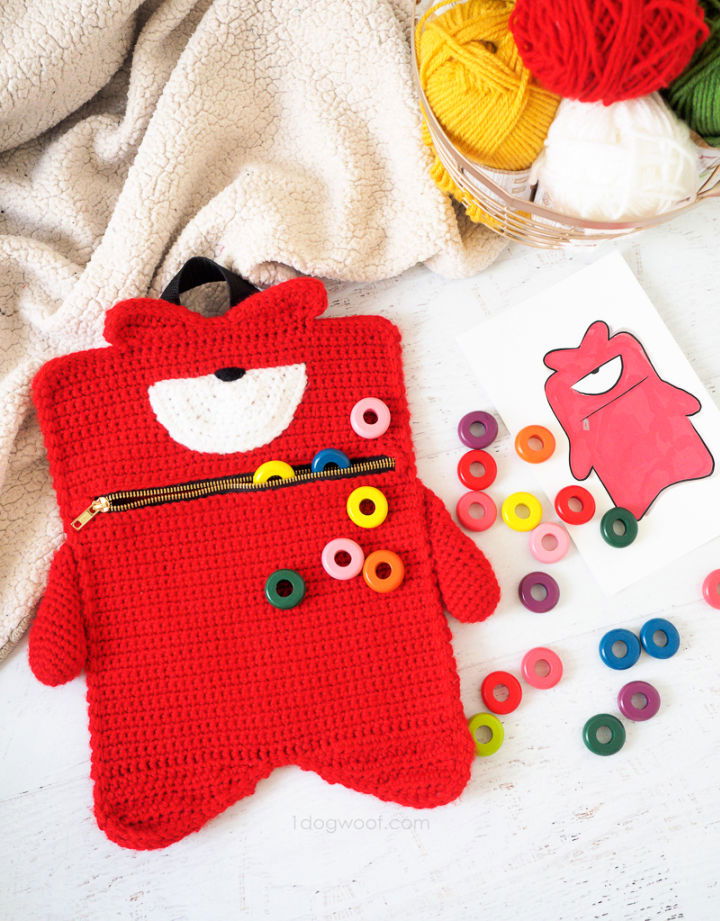 Make your kid's easter one to remember with this cute and fun crochet kelvin monster zipper pouch pattern! It'll be the perfect gift for any child, making a great alternative easter basket. This monster pouch is perfect for candy and trinkets like toy cars, fake food, marbles, or those random plastic pieces.
All you need are lion brand Vanna's choice yarns, H/5.0mm crochet hook, closed zipper, sewing thread & needle, tapestry needle, polyester fiberfill, scissors and scrap length of black yarn. Get started now on this creative project that will bring joy to everyone! 1dogwoof
5. Free Crochet Amigurumi Monsters Pattern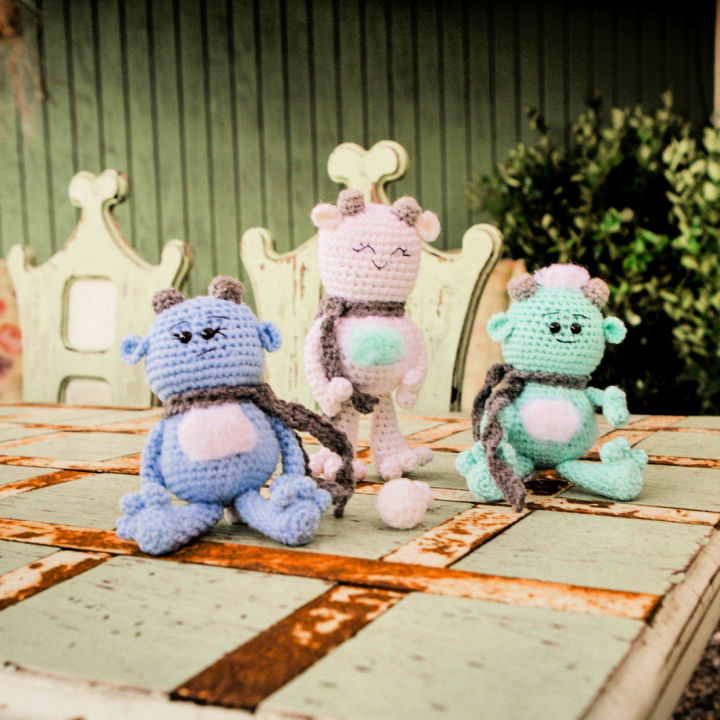 Bring your child's imagination to life with this adorable bigfoot monster amigurumi! Perfect for any special occasion, these crocheted monsters look amazing and will surely be a hit. Easy-to-follow instructions make it an ideal project for beginners. Supplies: Furls 3.25 odyssey hook, red heart super saver yarn, 8mm safety eyes, stuffing, scissors, needle & black thread. Crochet the perfect gift & bring a smile to your little one today! furlscrochet
6. Crochet Purple People Eater Toy Monster Pattern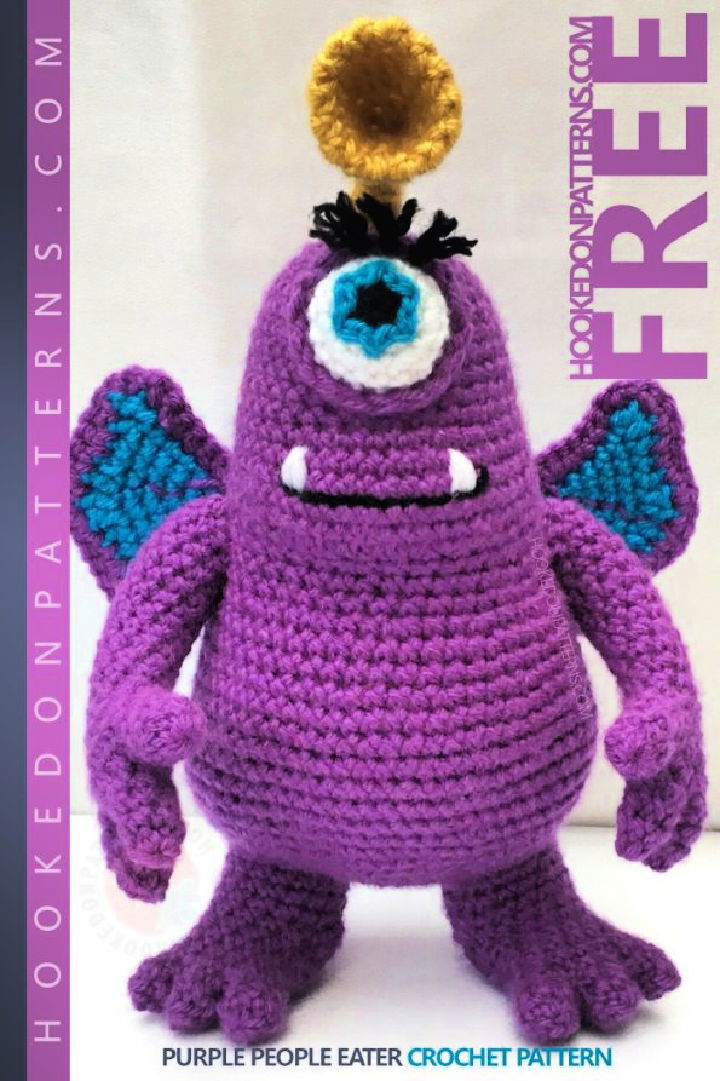 Crochet the iconic one-eyed, one-horned, flying purple people-eater toy monster amigurumi with this easy and fun pattern! Detailed instructions make it beginner friendly, so you can have your own cute little creature to dance with in no time. Plus, you only need chunky yarn, 6mm & 5mm crochet hooks, toy stuffing and a yarn needle! Get creative and make something unique for yourself or someone special today. hookedonpatterns
7. Crochet Monster Blanket With Bernat Pipsqueak Stripes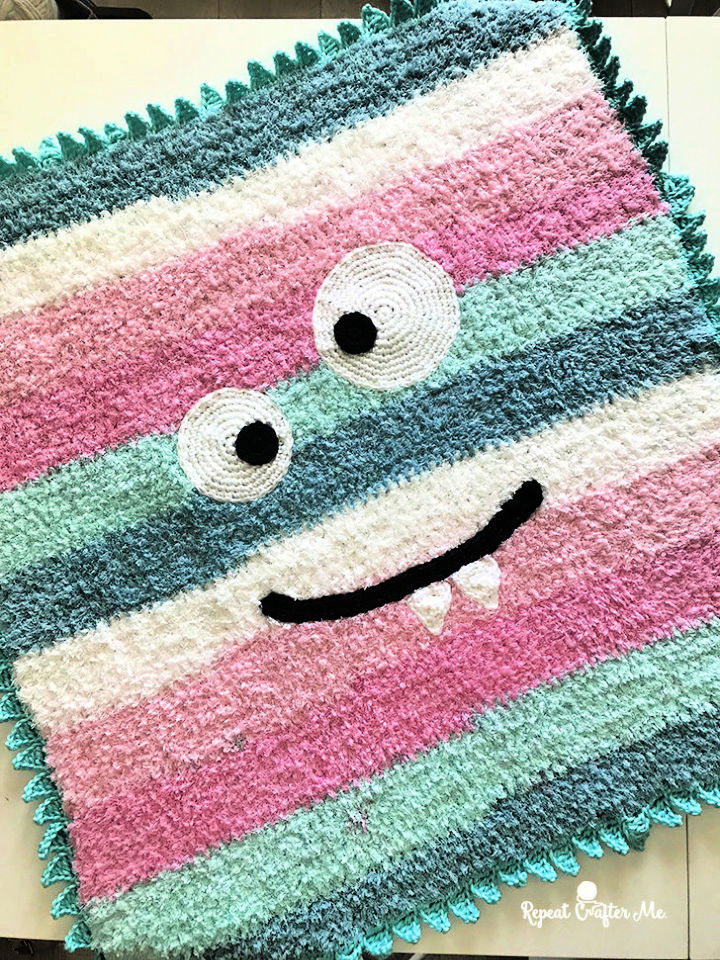 Is your house ready for halloween? Add a touch of whimsy and coziness with this adorable crochet monster blanket! Crafted using Bernat pipsqueak stripes yarn, this unique project is sure to bring smiles. The finished size is approximately 30 inches tall x 27 inches wide and requires a size H crochet hook. You'll have fun creating these monsters that look elegant but are simultaneously warm and comfy – perfect for cuddling up on a chilly evening! Get started now and make an early halloween project you won't forget! repeatcrafterme
8. New Crochet Little Love Monster Pattern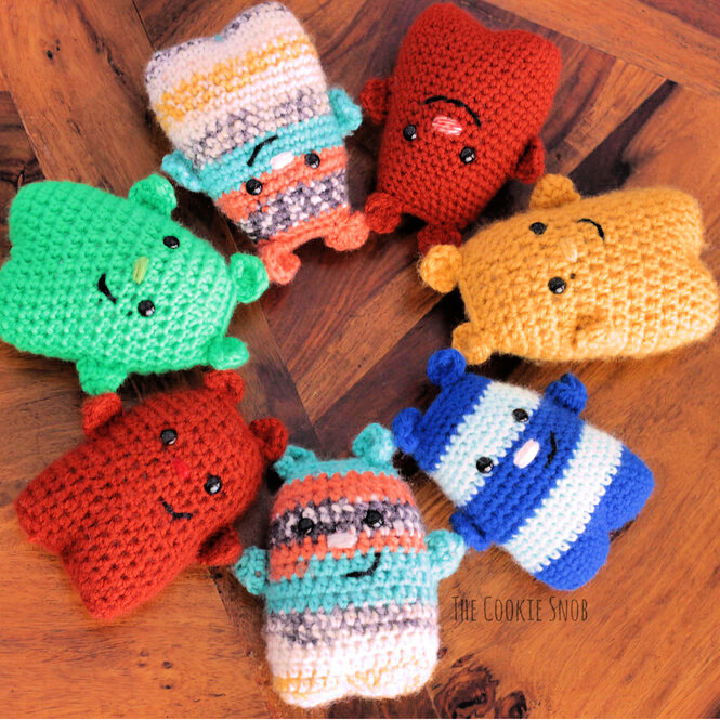 This crochet pattern is perfect for beginner crocheters! With just a few supplies, you can make your own cuddly, furry little love monster in no time. You'll need worsted weight yarn, a 4.0 mm crochet hook, some fiberfill stuffing, safety eyes, and contrasting colored yarn to stitch the mouth and nose. Plus, they're so cute that you'll want to give them to all your friends as gifts or keep them for yourself. Perfect for hugging and fun to play with—A little love never hurts anyone! cookiesnobcrochet
9. Pretty Crochet Silly Monster Beanie Pattern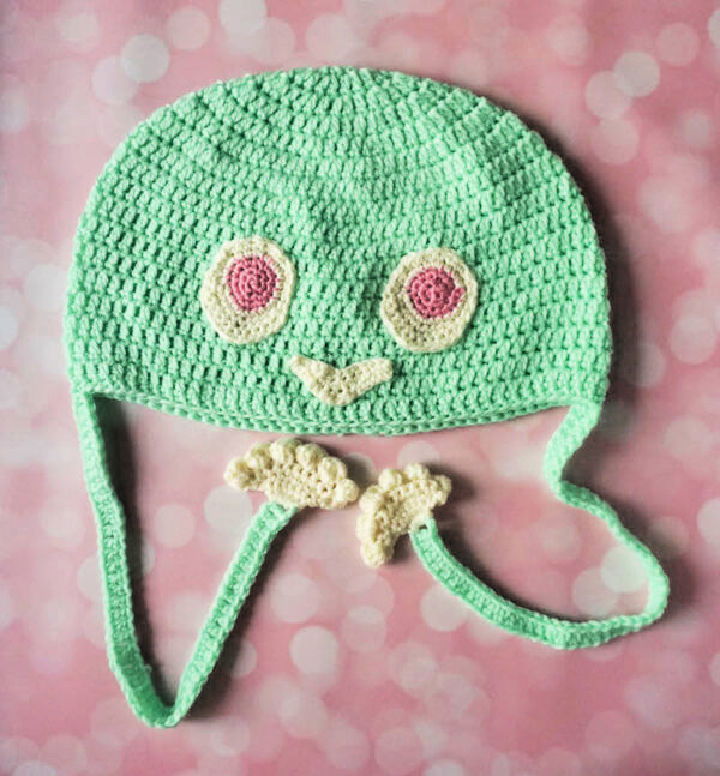 This cute and playful monster crochet hat pattern is perfect for kids of all ages! The lightweight cozy beanie comes in 5 sizes. It's a great gift idea for halloween or any special occasion and will surely put a smile on your little one's face. This super soft yarn keeps them warm while they look cute wearing their handmade creations.
It's an easy skill-level project made with king cole paradise beaches DK yarn, us size g-6/4 mm, f-5/3.75mm crochet hooks, clover quick locking stitch marker & yarn needle- everything you need to make this fun monster beanie! undergroundcrafter
10. Free Crochet Hungry Monster Candy Bag Pattern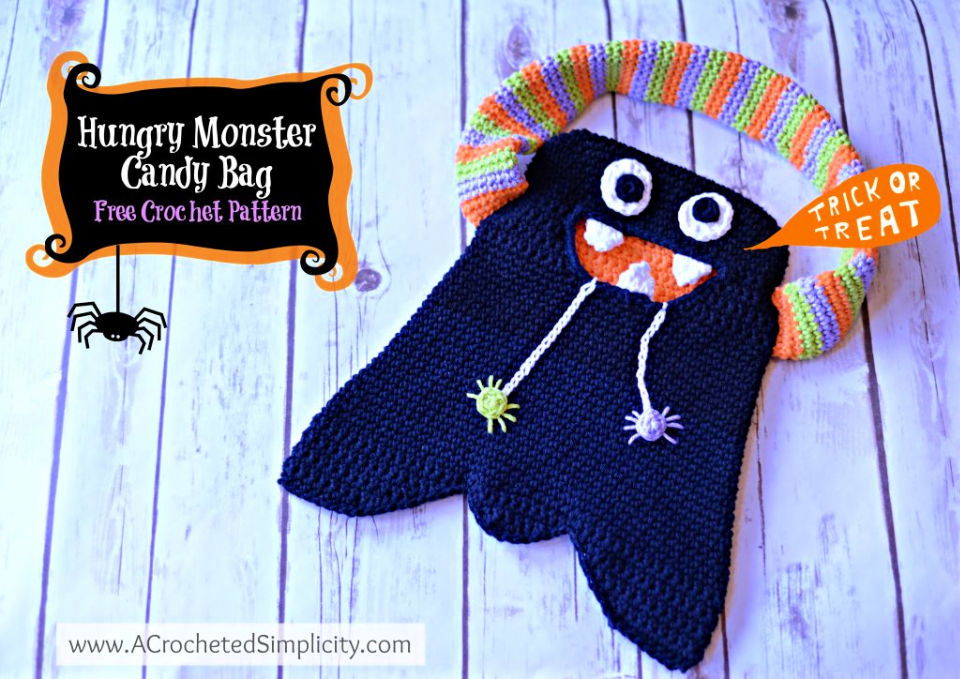 This halloween, make your little one's trick-or-treating experience extra special with this fun and easy hungry monster crochet candy bag pattern! It looks amazing and will be sure to bring lots of smiles. This beginner-friendly project only requires basic materials like yarn, a crochet hook, measuring tape, scissors, and a tapestry needle. Plus, detailed instructions are included to help you get started! So don't wait – gather your supplies today and start crocheting up some fun for your kid's spooky holiday adventure. acrochetedsim
11. Cute Crochet Squishy Monster Amigurumi Pattern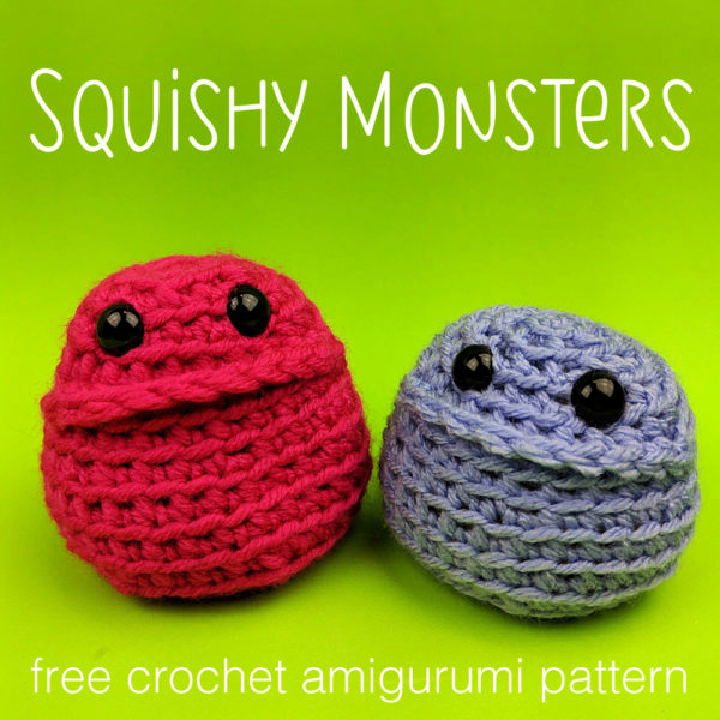 Delight your little ones with this free crochet squishy monster amigurumi pattern. It's a beautiful, fun, portable craft perfect for beginners! With step-by-step instructions, you can make these cute monsters in no time. It features a fun texture made by using ½ cup of plastic poly pellets, nylon knee-high yarn, and twelve-millimeter black animal eyes—your kids will love playing with their own handmade squishy monster. Get started today – it's the perfect project to keep them entertained! shinyhappyworld
12. Crochet Little Monster Easter Egg Pattern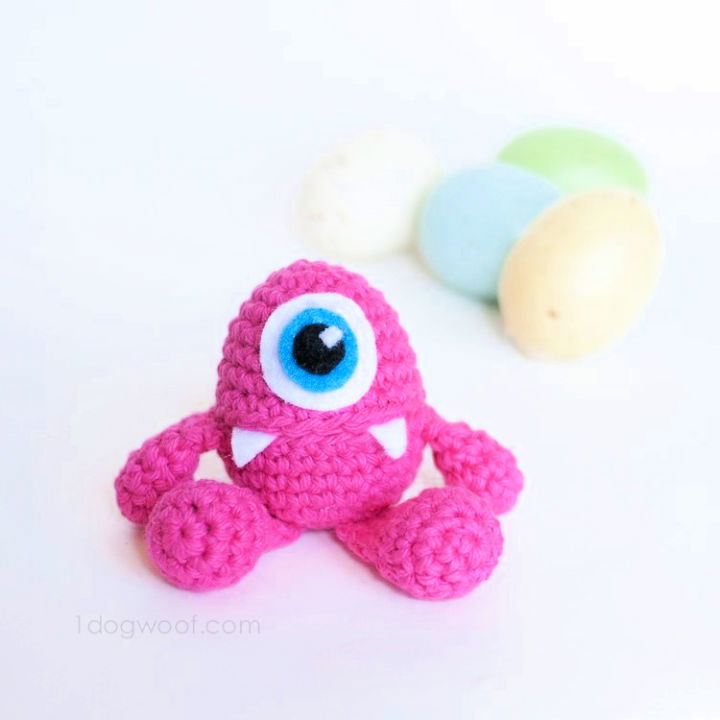 This adorable little monster easter egg crochet pattern is the perfect way to surprise your little one this easter! It's easy to make and filled with treats or a tiny toy. All you need is lily sugar 'n cream cotton yarn, a size F crochet hook, a regular-sized plastic egg, white, blue and black felt pieces for decoration, scissors, a yarn needle, hot glue and some Fairfield poly-fil premium polyester fiber filling. This cute monster will be sure to bring smiles on Easter morning! 1dogwoof
13. Colorful Crochet Hugamonster Pattern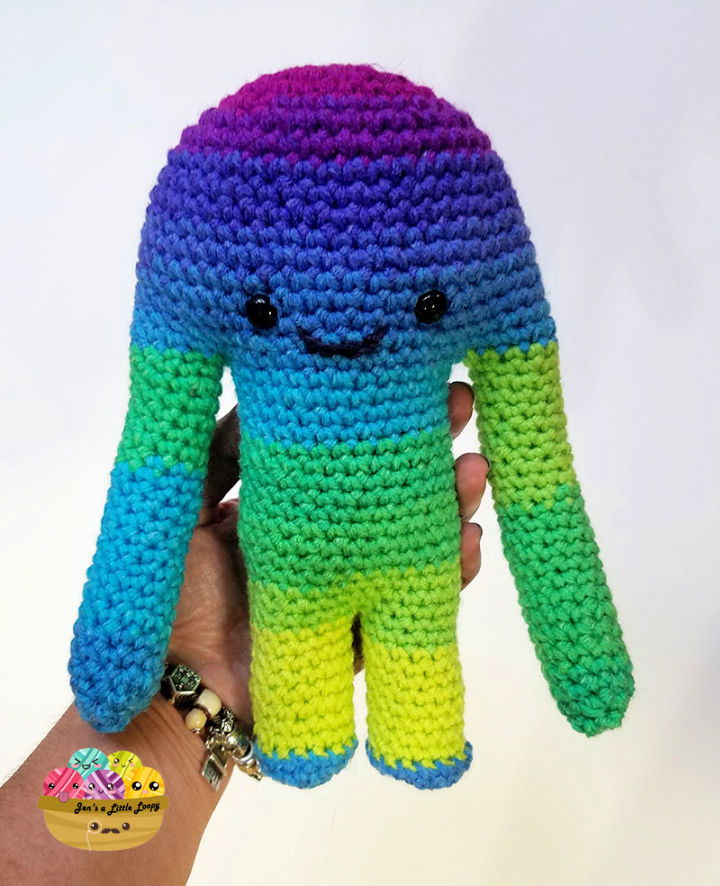 Discover the hugamonster crochet pattern – an easy emergency monster and fun to make! Perfect as a handmade gift for your little one, this adorable amigurumi will look cute with its colorful details. The instructions come with all the needed materials, like red heart super saver stripes, size G hook, Safety eyes, embroidery floss and cardboard. You can even add your own embellishments or beads to give it more of a personal touch. Get creative and try out this hugamonster crochet pattern today! jensalittleloopy
14. Crochet Soozie Amigurumi Monster Pattern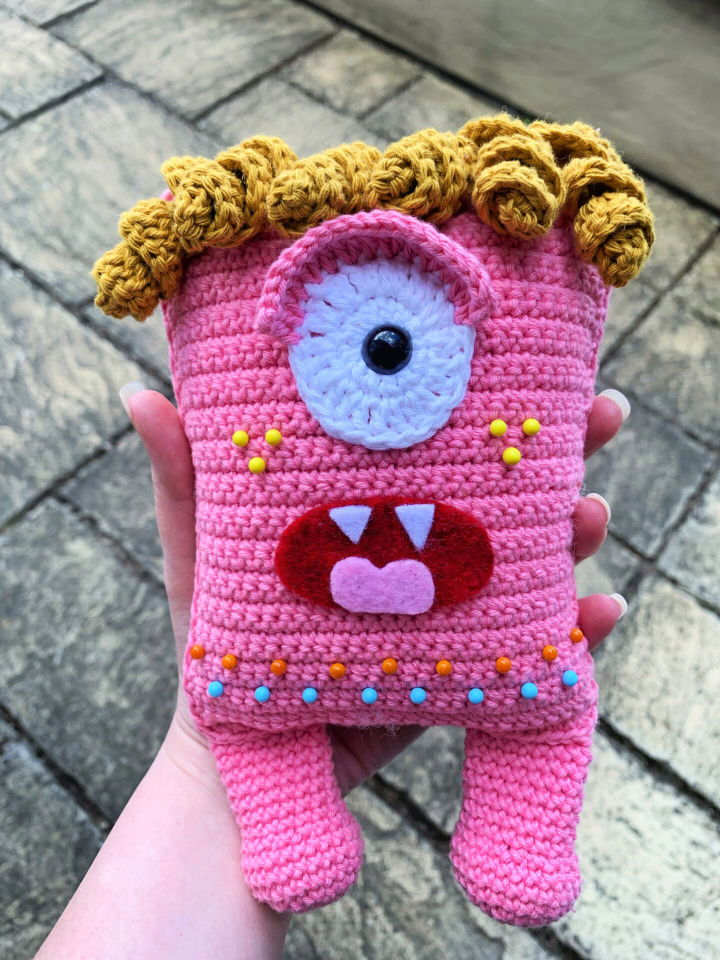 Like an adorable and cuddly monster, Soozie the Amigurumi is here to delight you! This free crochet pattern will give your home a touch of fun with its squishy body. All you need are some basic supplies like an E/3.5mm Crochet Hook, ricorumi– candy pink yarn, 12mm safety eyes and tiny beads for embellishments. Stuffing material, sewing needles, and thread also come in handy when assembling this project. With scissors, glue, a darning needle and tape measure at your side – you're all set to make this lovely creature yours! trulycrochet
15. How to Crochet Little Monster Key Case – Free Pattern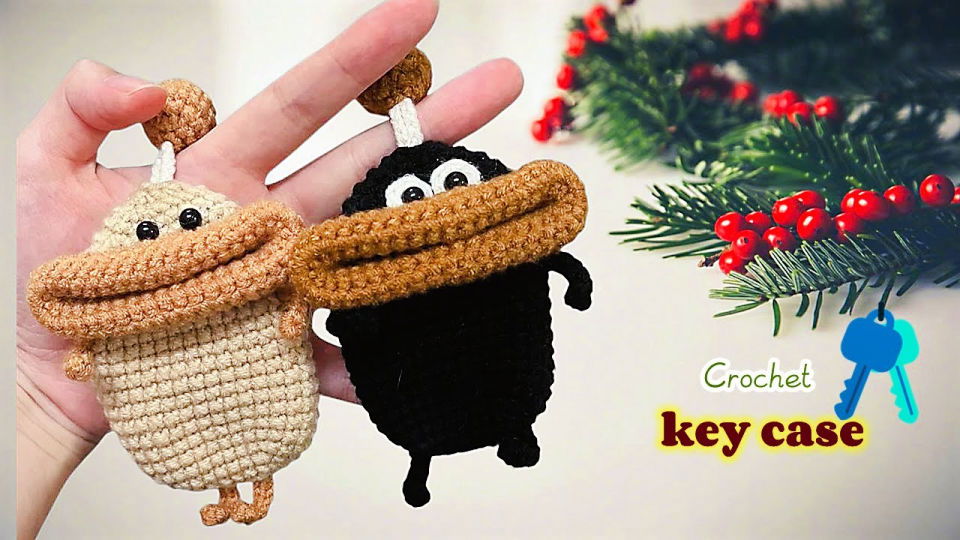 Make a unique, fun gift with this free crochet step-by-step pattern for a little monster key case! This cute key case is perfect for kids and adults alike, making it the ideal present to give. With easy instructions to guide you every step of the way, even those new to crochet can create something special quickly and easily. Get creative with colors or keep it classic – your recipient will appreciate this thoughtful handmade gift!
16. Free Crochet Fuzzy Monster Amigurumi Pattern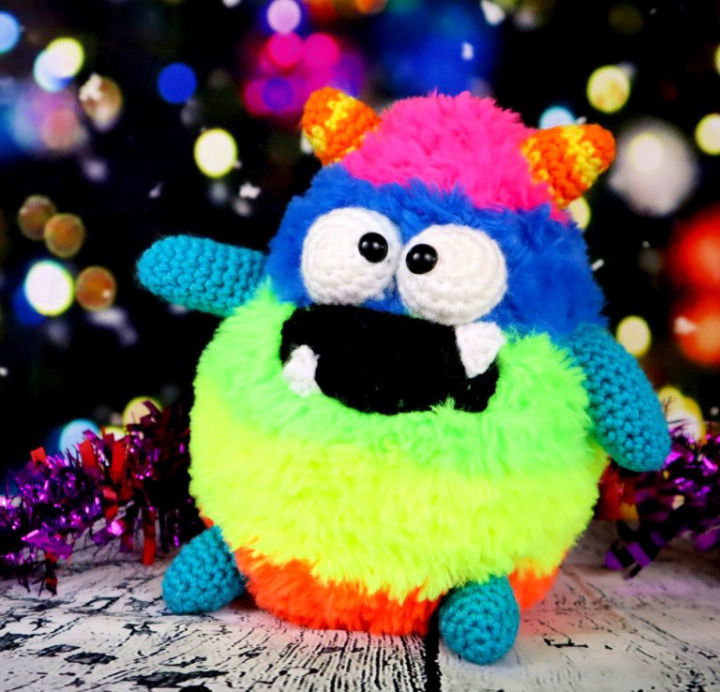 Are you looking for an easy and fun crochet pattern perfect as a gift to your little one or friend? Try this free crochet fuzzy monster amigurumi pattern! The colorful design, beautiful texture, and simple steps make it the perfect decoration. You only need supplies like yarn 4/medium weight yarn, 4mm crochet hook, 7mm crochet hook, 12mm safety eyes, tapestry needle, scissors and stuffing.
This easy project will surely be enjoyed by both beginners and experts alike! Get creative with color combinations to give this fuzzy monster even more character – it's sure to spark joy in everyone who sees it. stringydingding
17. Crochet Amigurumi Monster – Free PDF Pattern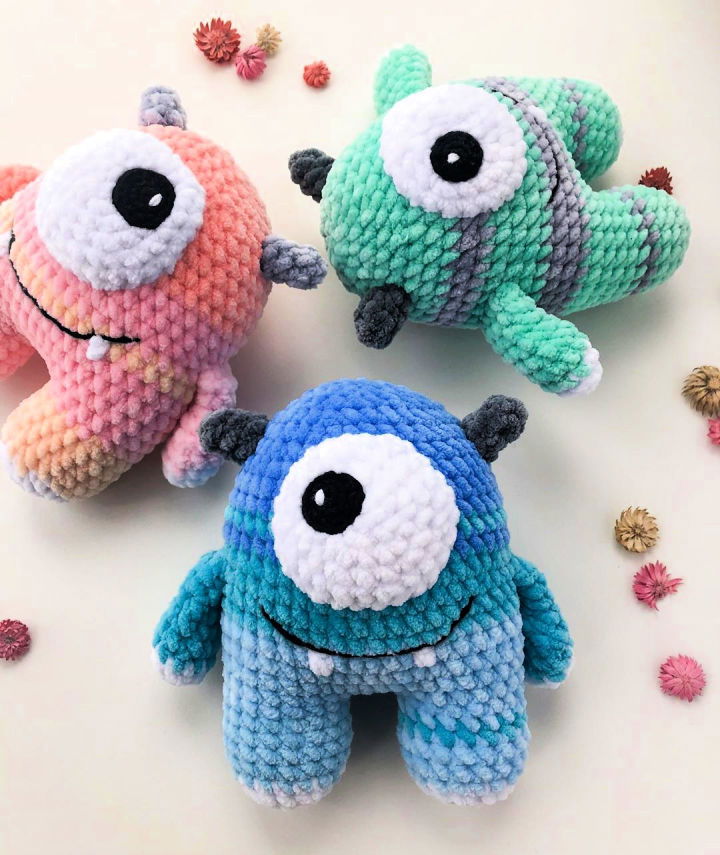 Looking for a fun & simple DIY project? Check out this free crochet amigurumi monster pattern! Perfect for using up leftover yarn, you'll be able to create an adorable plush toy in no time. The finished monster measures 15 cm tall and is sure to look cute & cuddly in any room. All you need are the materials listed – yarn, hook, thin thread, sewing needle & scissors, and fiberfill. Get creative with your design by adding details or changing colors; start crafting your own unique stuffed monster today! amigurum
18. Crochet Big Fuzzy Love Monster Pattern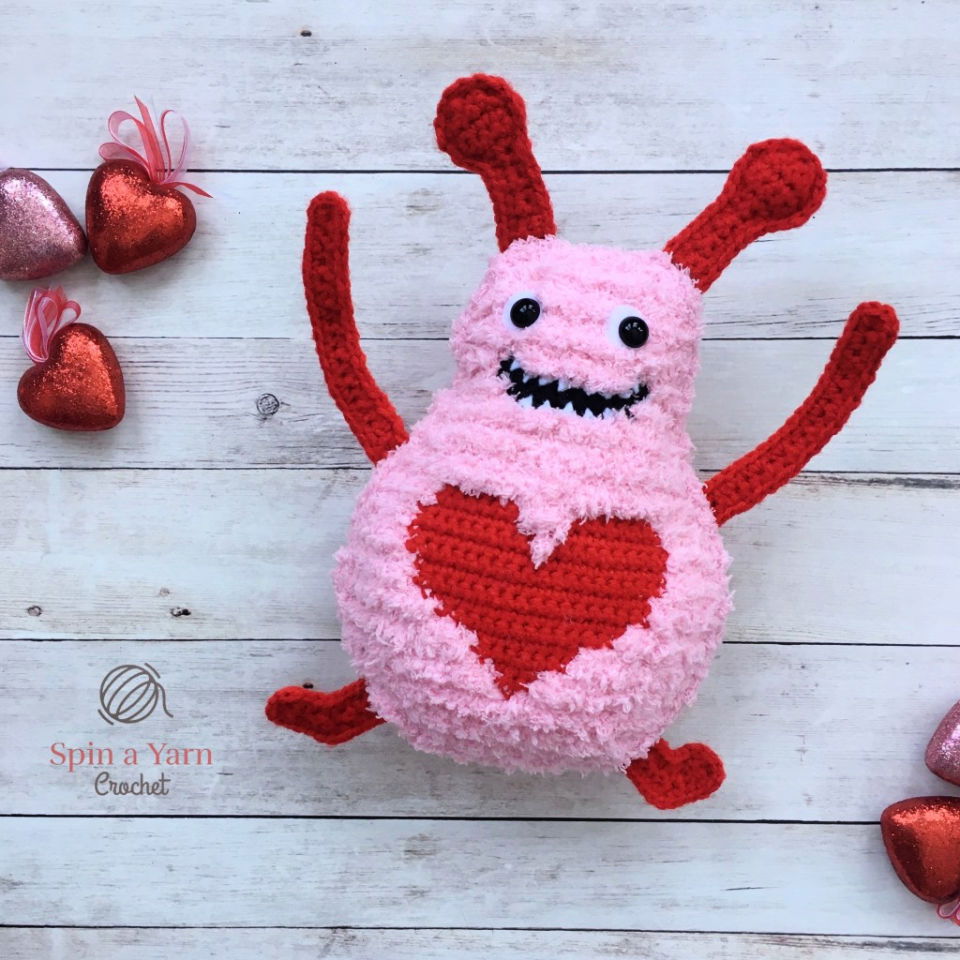 Spoil your little one this valentine's day with a unique gift: the big fuzzy love monster! This free crochet pattern is easy to make and uses red heart super saver, Bernat pipsqueak yarn and a 3.25mm hook. Your little monster will come alive with 12mm eyes, white sewing thread, stuffing and a tapestry needle – all you need to create these cute cuddle buddies! Make it special by adding your own flair of quirkiness; they're sure to be loved by your nieces or friends! spinayarncrochet
19. Beautiful Crochet Love Bugs Monster Pattern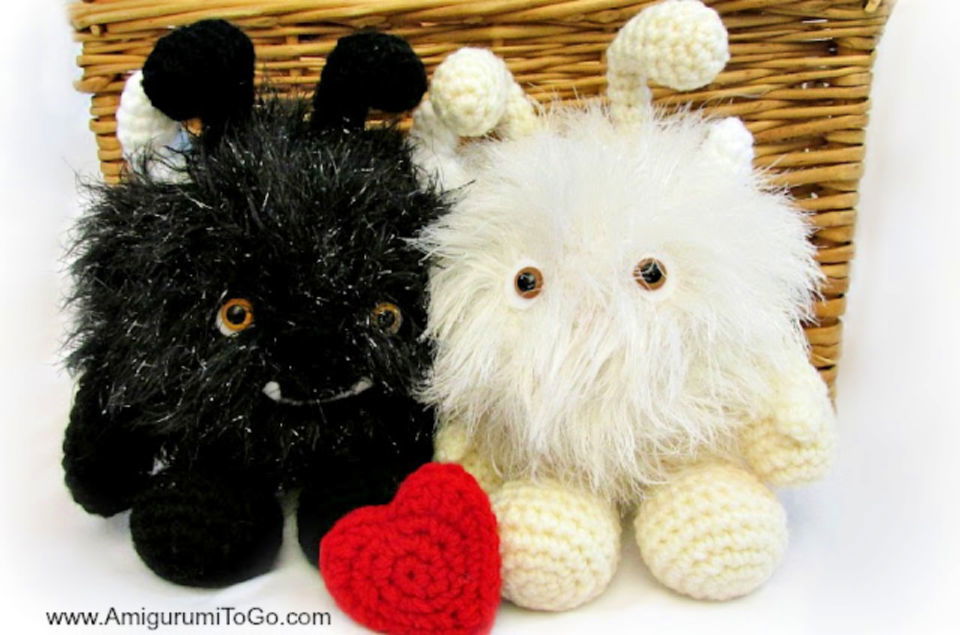 Looking for an adorable handmade valentine's day gift? Try this crochet monster love bugs pattern! Easily follow the instructions to make these pretty and elegant love bugs that are great as decorations too. Supplies you'll need include worsted weight acrylic yarn in colors of your choice, a 4.5 mm hook, blunt end yarn needle for sewing, scissors, 100% polyester stuffing, buttons or felt eyes, glue and pipe cleaners. Once finished, they'll look so cute once finished that you won't resist giving them a big hug! amigurumitogo
20. Free Crochet Halloween Ami Monster Pattern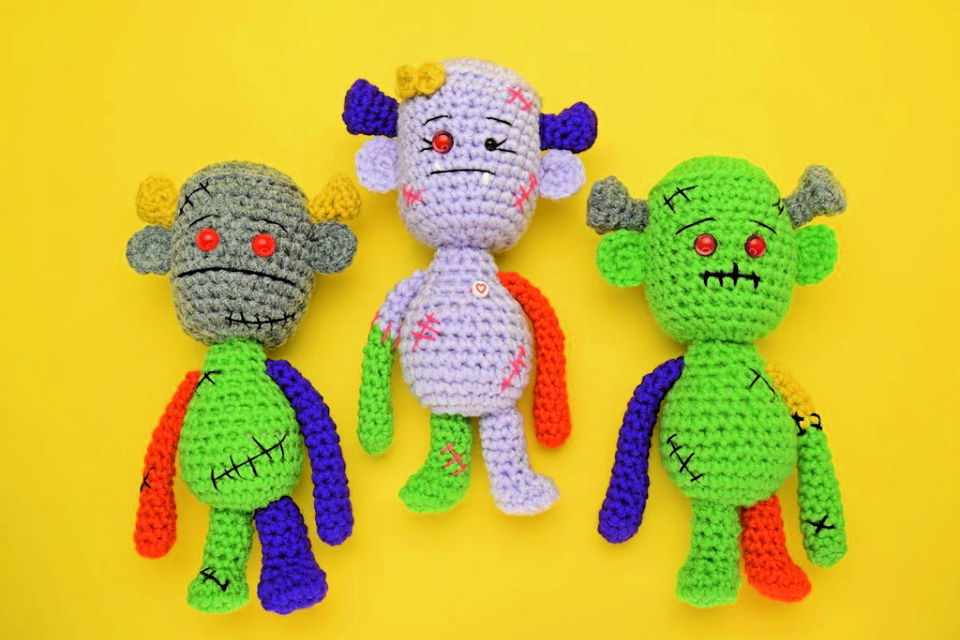 Bring some halloween fun to your home with this free crochet ami monster pattern! These 7.5″ tall and 4.5″ wide monsters are perfect for trick-or-treaters, sure to bring a smile to everyone's face! All you need is Bernat super value yarn, safety eyes, black thread, an E/3.5mm Hook size, stuffing and basic sewing supplies like scissors and needles. Get in the spooky spirit and create something special this season with this easy-to-follow crochet halloween ami monster pattern furlscrochet
21. How Do You Crochet Baby Monster
Bring a smile to your little one's face with this beginner-friendly step-by-step crochet amigurumi baby monster! Perfect for decoration or as a gift, you can use small amounts of worsted weight yarn and size E crochet hook, plastic safety eyes, polyester fiberfill stuffing, embroidery floss, white felt, craft glue, scissors and yarn needle. Embroidery needles may also come in handy. These cute little monsters will sure make everyone look twice! craftyiscool
22. Easiest Monster to Crochet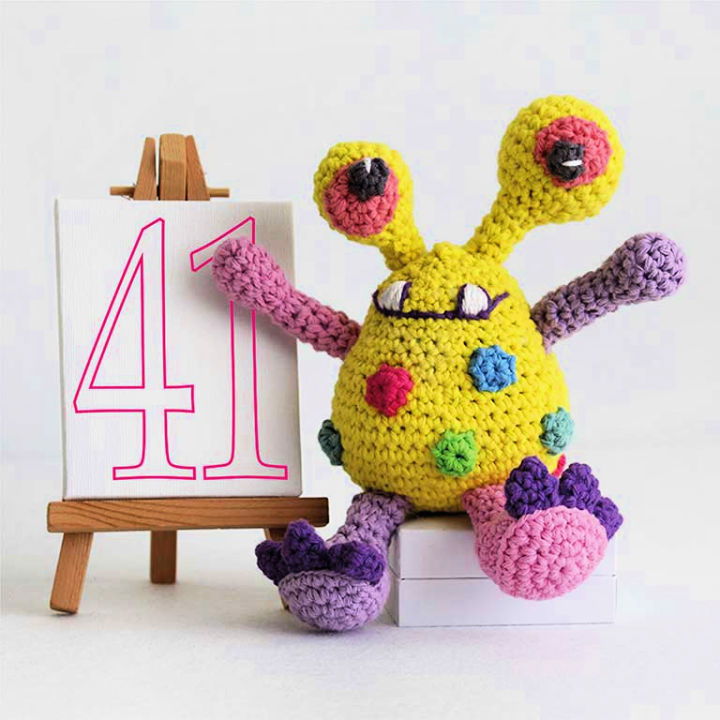 Make your own cute and colorful crochet monster with the aldi so crafty knit & purl amigurumi yarn! This fun craft is easy to follow, making it great for both beginners and experienced crocheters. With an eye-catching texture, it will look beautiful when finished! Get creative with color combinations of your favorite yarns. You'll need a 3mm hook and other supplies such as a yarn needle, toy stuffing, and stitch marker to get started. With easy-to-follow instructions that make this project enjoyable to create in no time – start crafting today! mycrochetchums
23. Crochet Vampire Monster Amigurumi Pattern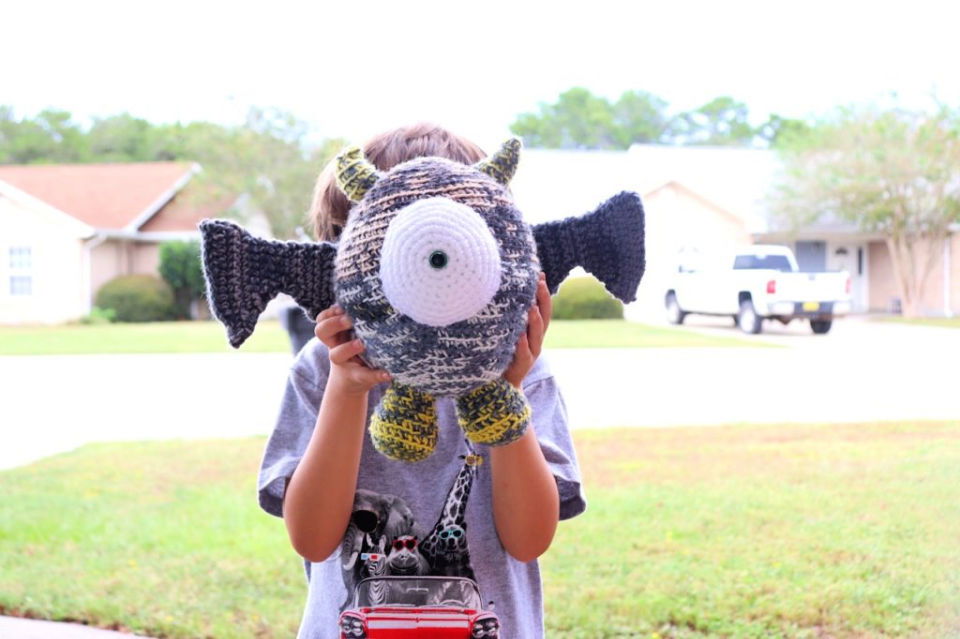 Make your own unique amigurumi vampire monster with this easy crochet pattern! Perfect for a beginner, it works up quickly and makes an adorable gift. Get ready to stitch with lion brand mandala yarn, 5mm crochet hook, tapestry needle, scissors, stuffing, stitch marker and 12mm safety eyes. Even the vampire monster is excited about how cute he'll look! Follow the instructions to create your own special monster today. sigonimacaroni
24. Crochet Mini Monster Amigurumi Keychain Pattern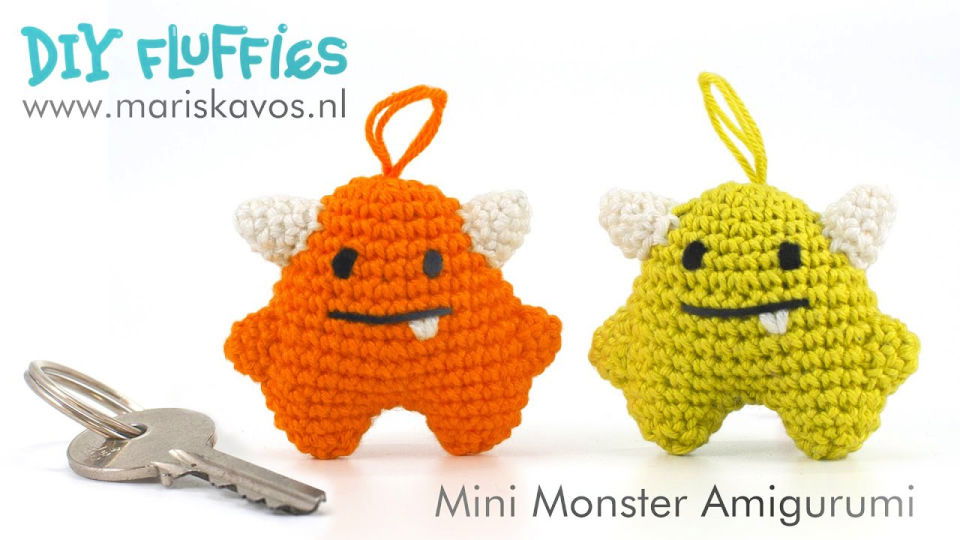 Make your own adorable mini monster amigurumi keychain with this easy and fun crochet pattern. Perfect for beginners, this cute toy only takes 2 hours to make from leftover yarn. Look beautiful as a gift, or keep it for yourself! This fast and simple project can be done using materials such as yarn, a 2.5mm crochet hook, scissors, an embroidery needle, stuffing and pins. With each stitch, you create a unique texture that will brighten up any space in the house – enjoy crafting your very own mini monster amigurumi keychain!
25. How to Crochet Amigurumi Monster – Free Pattern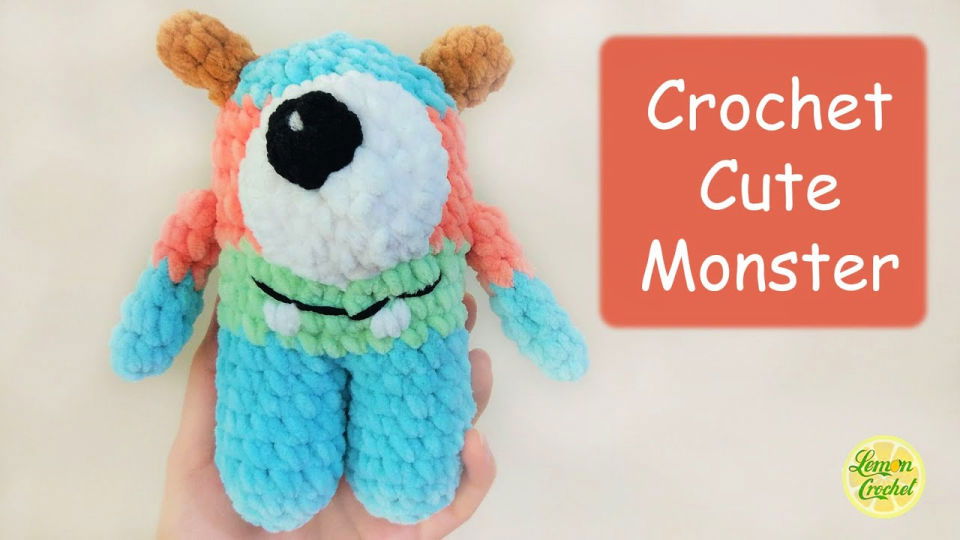 Are you looking for a fun and easy way to make an eye-catching amigurumi monster? Look no further! This step-by-step crochet tutorial is perfect for beginners as it requires no special skills or materials. All you need is some yarn, a 5mm crochet hook and a few other simple materials. Follow the instructions to learn how to create this cute chunky monster that everyone will love quickly. Enjoy the magic of crocheting in no time with this awesome tutorial!
Related Free Crochet Patterns:
Explore our wide selection of free crochet patterns. Find inspiration and instruction for the perfect project. Get started today with step-by-step instructions, videos and more!
Conclusion:
These 25 free crochet monster patterns are great for crocheters of all skill levels! These free crochet monster patterns have everything from detailed, step-by-step instructions and PDFs that are easy to follow. They can be used for beginners or more experienced crocheters alike. Whether you're looking to make a unique gift for someone special or want to show off your creative side, these crochet monsters will bring out the imaginative spirit in everyone. With so many different designs and styles available, there's sure to be one perfect pattern that suits your taste! So why not try something new today with one of these fantastic crochet monster patterns?