Looking for a fun and easy crochet doll pattern that will bring a smile to your face? Why not try making your own amigurumi doll? We've collected 45 free crochet doll patterns perfect for novices and advanced crocheters. These crochet doll patterns include detailed instructions, helpful diagrams, and even printable pdf downloads, making it easy to create your own beautiful amigurumi dolls.
Whether you want to create a classic doll with unique details or a simpler and modern amigurumi doll, there's a free crochet doll pattern for you. With so many options, you can customize your doll's outfit, hair, and accessories to create a unique and personalized toy that will be loved for years.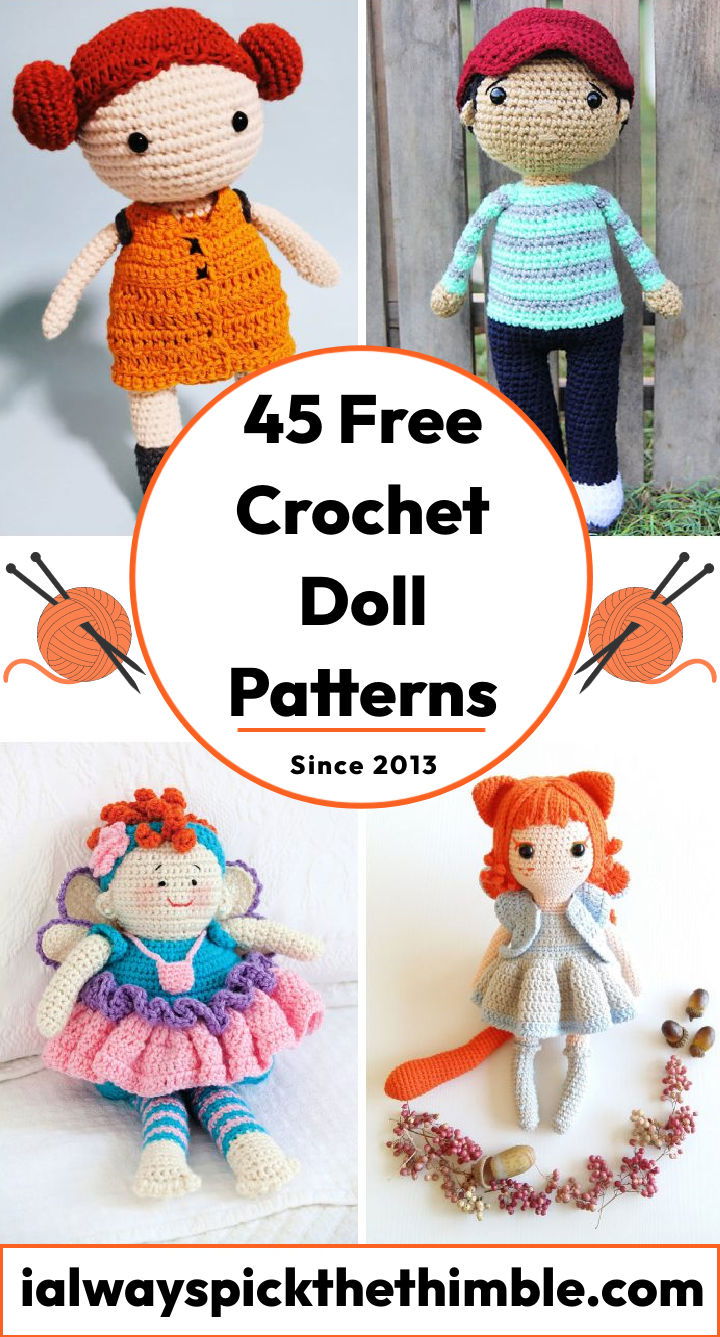 Free Crochet Amigurumi Doll Patterns
Our free amigurumi doll patterns are available in English and easy to follow, making it the perfect project for beginners new to crocheting. You can quickly create a beautiful and cuddly amigurumi doll with step-by-step instructions and helpful diagrams.
So, why not download and print one of our free crochet doll patterns today and start creating your own beautiful amigurumi dolls? With so many crochet doll patterns available, the possibilities are endless, and you'll have a fun and rewarding project to enjoy.
1. Free Doll Crochet Pattern for Beginners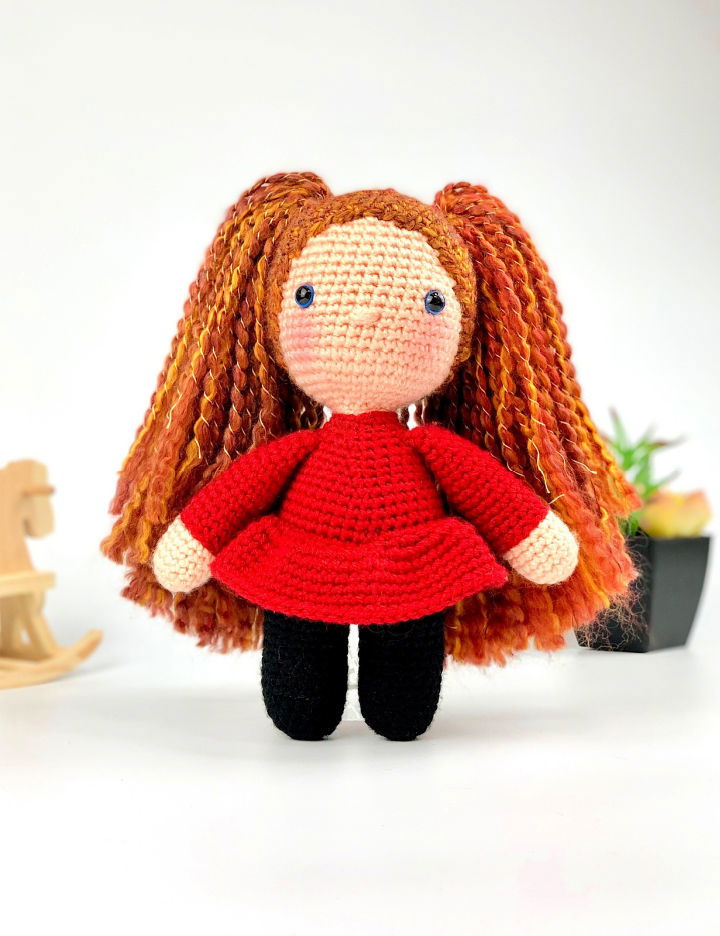 Love creating toys? This free doll crochet pattern is perfect for beginners looking to create something fun and unique! With this easy step-by-step guide, you'll learn how to craft these adorable 3D pieces of crochet work. The only part you need to sew is when attaching the hair cap on the head – otherwise, it's all about crocheting with yarn by hand.
Choose from various colors and textures to customize your amigurumi dolls, making them unique creations. These cute and sassy little dolls will bring smiles wherever they go, whether as a toy or an ornament! Get creative today with this easy doll crochet pattern for beginners! zamiguz
2. Adorable Crochet the Friendly Zoey Doll Pattern
Welcome your little one with this friendly Zoey doll! This adorable doll is just under 9 inches tall, making it small enough for a toddler's hands.
With its classic look, her dress is also fairly simple – perfect for a little look-alike doll! If you want something extra special, try giving her bold colors to make it fun and cute in traditional and modern hues. Plus, this crochet pattern is speedy and sweet – made quickly by following the detailed instructions, including supplies such as size four yarn, a 3.5mm crochet hook, a tapestry needle, Polyfil stuffing and more!
Bring home the friendly Zoey doll today – she'll bring smiles to everyone who sees her! friendlyredfox
3. Crochet Tooth Fairy Doll – Free PDF Pattern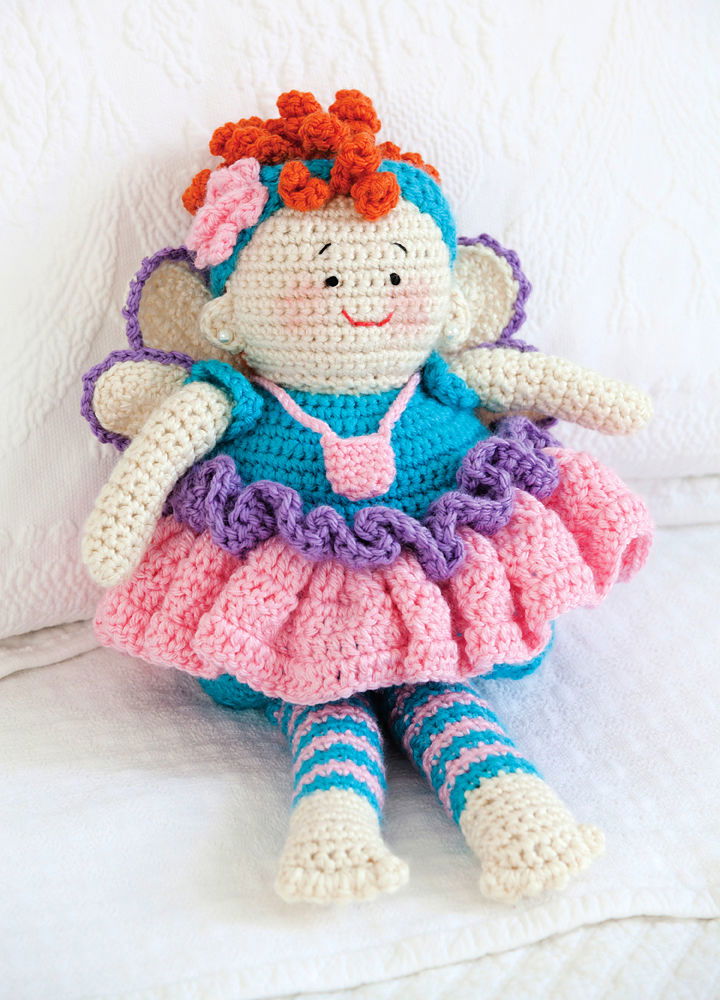 Make the tooth fairy's job easier with an adorable crochet tooth fairy doll! With this free PDF pattern, you can make your unique creation. All you need are some easily-accessible supplies, including a yarn needle, stitch marker, two pearls (for earrings), small amounts of black and red pearl cotton (for facial features), red crayon (for coloring cheeks) and stuffing.
Kids will love finding their lost tooth in this little pouch. Get started on bringing smiles to your child's face with this easy crochet project! yarnspirations
4. Cute Crochet Dida Doll Pattern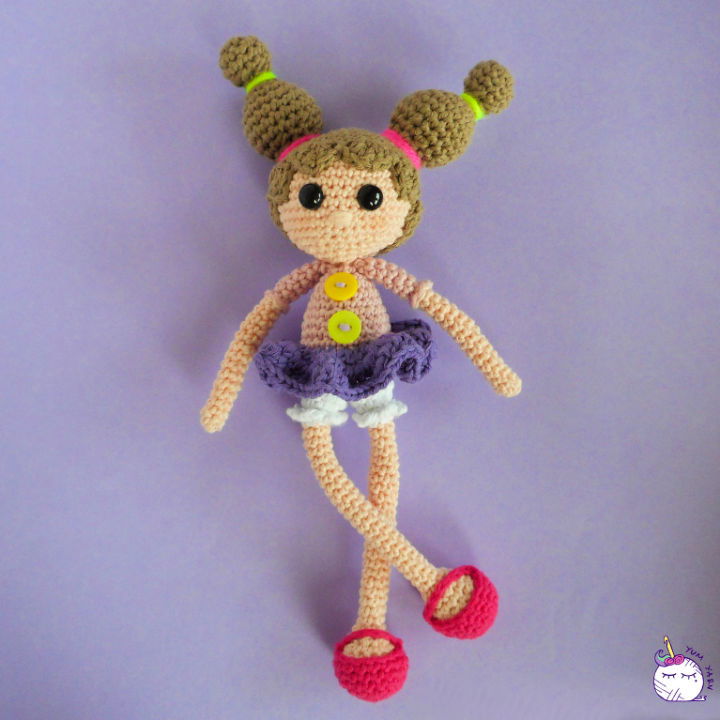 Create a beautiful handmade doll with the free cute crochet Dida doll pattern! This easy-to-follow pattern provides detailed instructions for crafting an adorable 5.25″ crochet doll complete with 10mm safety eyes, two 10mm buttons for her body and DK yarn in skin color, white for underpants, brown hair, light pink shirt, purple skirt and hot pink shoes.
It would be best to start with a 3.25 mm hook and stuffing materials such as a yarn needle, stitch marker and scissors. Get creative with this unique toy that will make a great addition to any special occasion gift or playroom decor! yumyarn
5. Free Crochet Pattern for Autumn the Little Doll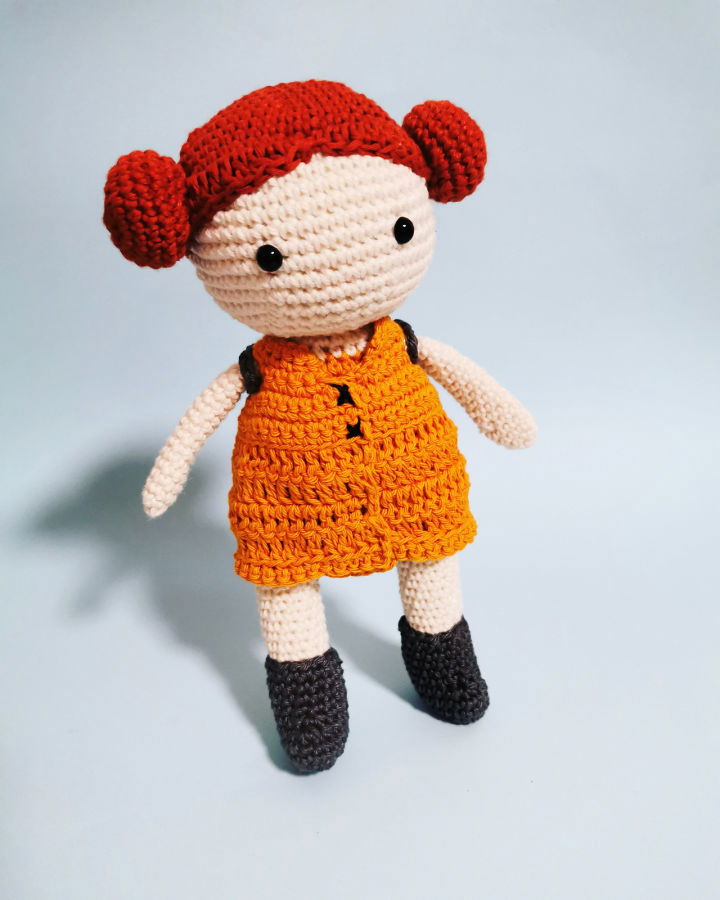 Are you looking for an adorable little doll to add to your amigurumi collection? Look no further than the Autumn little doll crochet pattern! This intermediate crochet pattern includes detailed instructions and is easy to follow.
With basic crochet stitches and techniques, you can give this perfect little doll her unique personality with supplies like 4ply cotton in mustard and rust color. So if inspiration hits, get ready – something special will surely pop up! Download the PDF file today and create your Autumn, the little doll! ravelry
6. Crochet Small Tree Sprout Doll Pattern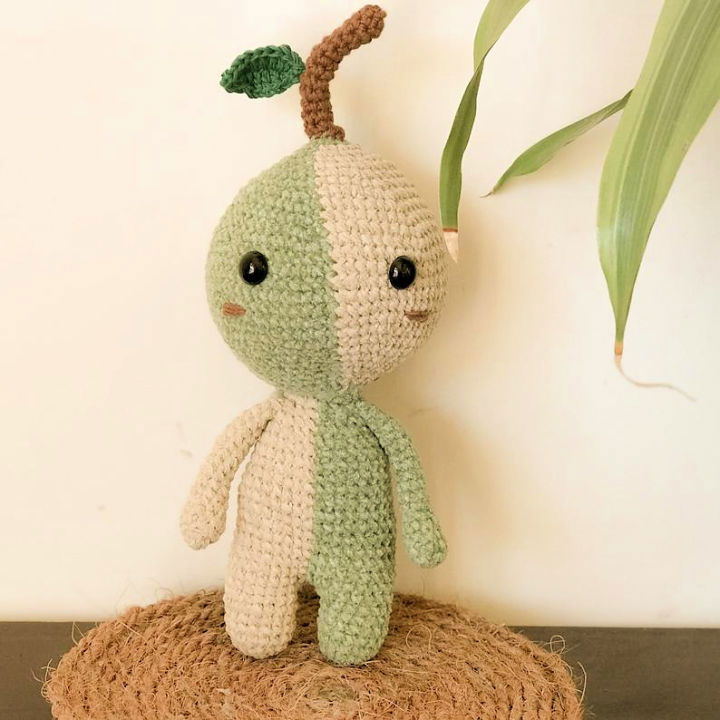 Welcome, crochet lovers! Give your home the natural spirit with this free tree sprout amigurumi pattern. It is easy to make, cute and ideal for nature lovers. Gather your DK yarn in green and bergie plus a 2.5mm hook, yarn needle, scissors, polyfill and stitch marker – you are all set to create this lovely doll!
Enjoy making it as a special gift or just for yourself – however you choose to use it will bring smiles all around. Download this free tree sprout amigurumi pattern now and start creating joy! anvisgranny
7. Cool Crochet Chibi Nana Doll Pattern
Are you a fan of Mobile Legends? Then, get ready for an adventure with this adorable and free printable PDF crochet pattern of the cutest character – the cool crochet Chibi Nana doll. This doll is inexpensive to make and perfect as a gift for game fans.
All you need are yarn in various colors, stuffing materials, plastic safety eyes, and a thin boomerang to make the Feline Wizard, which will be your companion everywhere you go! Get creative with colors and try different techniques – don't forget to share your masterpieces on social media when done! crochethea
8. Colorful Crochet Clara the Clown Doll – Free Pattern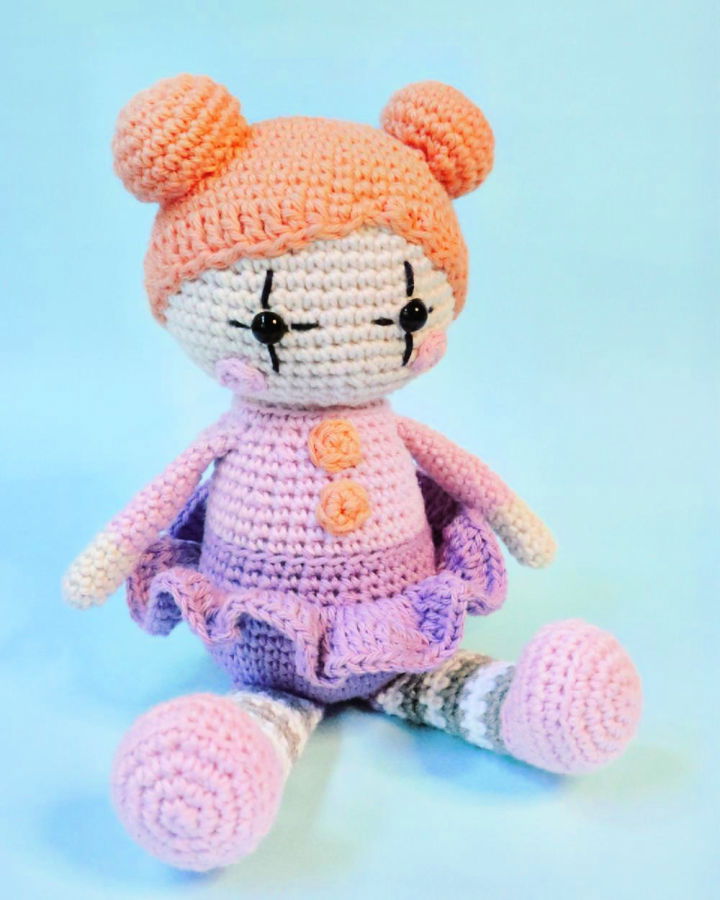 You are introducing crochet Clara, the clown doll! This intermediate amigurumi project is perfect for those with basic crochet stitches and techniques. With easy-to-follow instructions, you can make a cute little doll that will surely make everyone smile.
Supplies include 2.5mm hook/C-2, 4ply yarn/fingering, black 4ply yarn or embroidery thread, a pair of 7mm safety eyes, scissors, tapestry needle, polyester toy stuffing and a stitch marker. Get ready to create something uniquely beautiful and fun – start crafting your crochet Clara the clown doll today! ravelry
9. Free Crochet Denim Doll Pattern to Print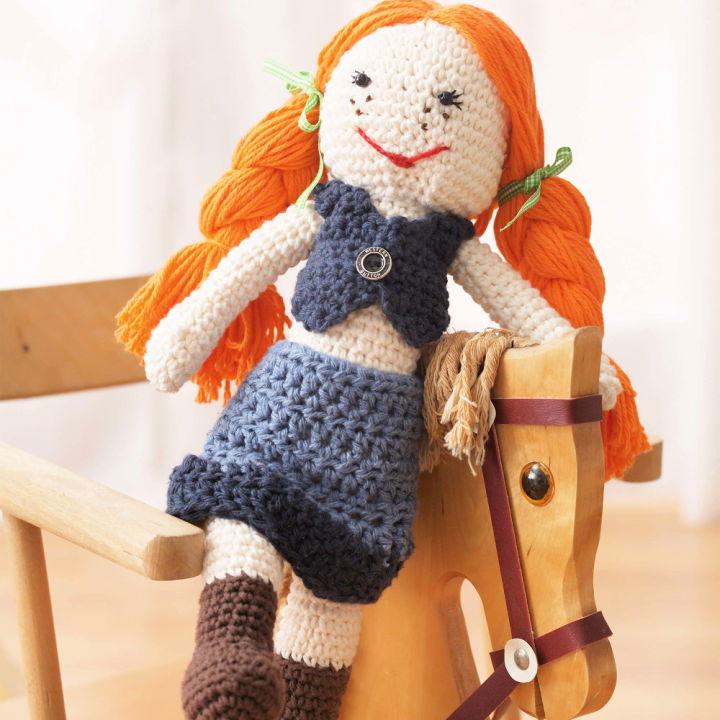 With these free crochet amigurumi doll patterns, you can create your very own adorable dolls in no time! The world of stylish and unique crochet dolls! The crochet denim doll is necessary for any crafter looking to make something special. Create an adorable denim dress and skirt set with this easy-to-use kit containing all the necessary supplies.
Not only will your doll look amazing, but it's also designed to last years of special playtime. With simple instructions included, even kids can start crafting their cherished keepsakes in no time. Get your hands on this one-of-a-kind kit today and add some flare to your sewing room! yarnspirations
10. Best Hazel the Little Doll Crochet Pattern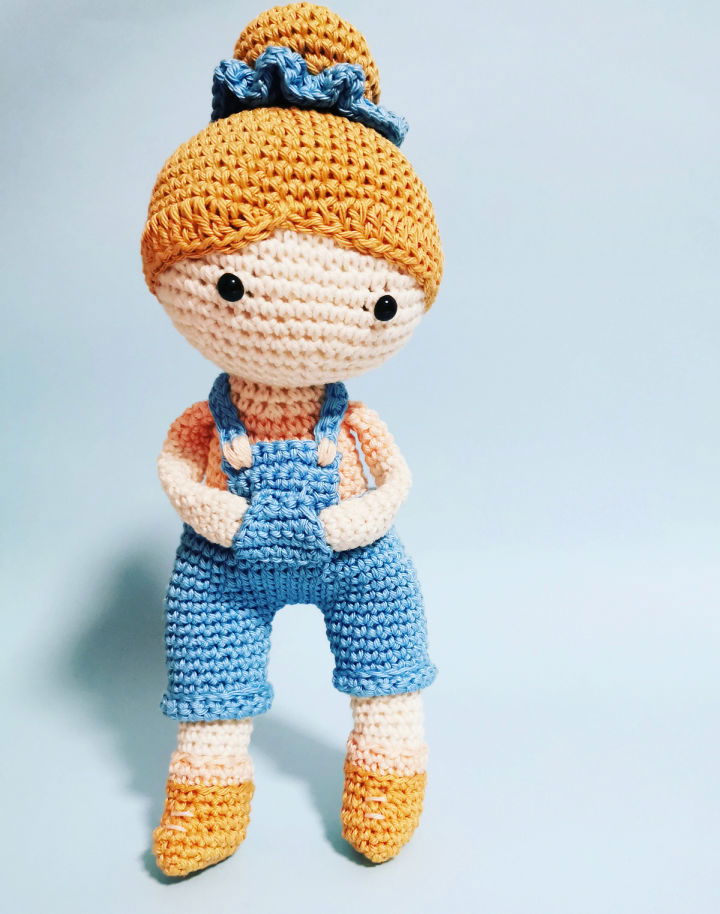 Are you looking for a cute and cuddly crochet project? Meet Hazel, the little doll! This pattern uses basic crochet stitches and techniques to create an adorable little doll with gorgeous blue overalls, pearl-shaped buttons, and a cute bun.
All you need are some yarn, stuffing materials, hooks, needles, scissors and other supplies to make your own Hazel in no time. Get ready to craft something special – it's time to make your own Hazel the little doll! ravelry
11. Crochet Mini Superhero Dolls Pattern to Download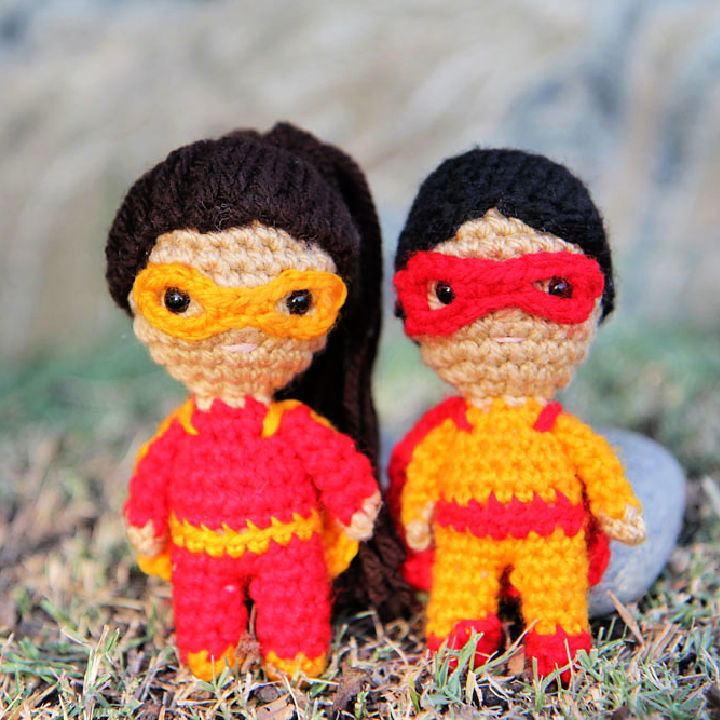 Surprise your superhero-loving friend with an adorable and unique gift they'll never forget! This crochet mini superhero dolls pattern offers a great last-minute idea. This pattern is quick and easy to make, so you can customize the doll's look by adding their initial on the front and using any hair caps from the series.
All you need is a very small amount of DK yarn, a 2.5 mm crochet hook, a tapestry needle, a stitch marker, polyfill stuffing, two 6 mm safety eyes, and embroidery thread to create these lovely dolls that are sure to bring joy! chaicoffee
12. Crochet Large Bluebell Bunny Doll Pattern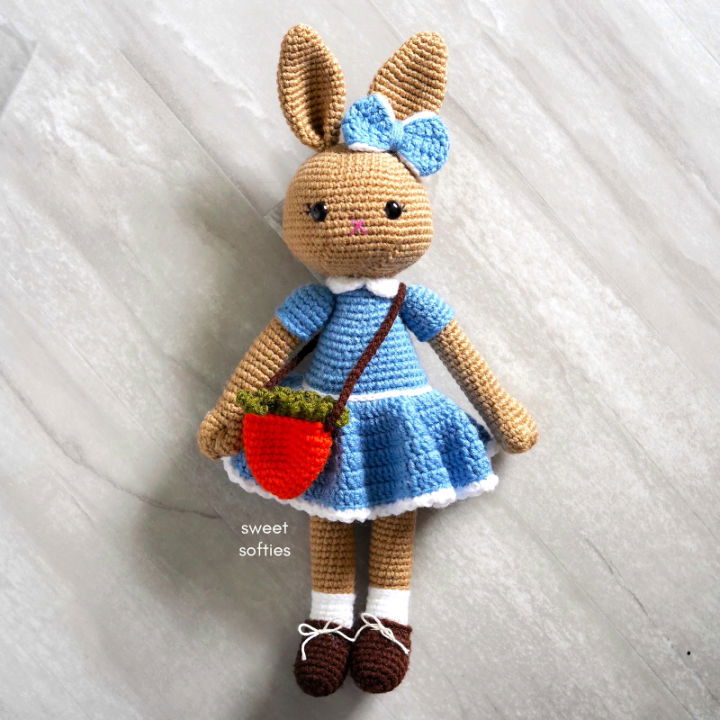 Delight your little one with the most adorable bluebell bunny doll! This delightful crochet pattern features a larger-sized amigurumi doll perfect for cuddles and playtime.
The design offers a minimalist, classic style, making it cute and lovable to everyone who sees her. With removable accessories, children can enjoy creative, imaginative play. Plus, she comes with a cute carrot crossbody bag too! Even better – make it yourself using basic amigurumi stitches and techniques. It's an ideal gift for birthdays, holidays or craft fair products – guaranteed to make everyone smitten by the bluebell bunny doll! sweetsofties
13. Unique Free Crochet Human Amigurumi Doll Pattern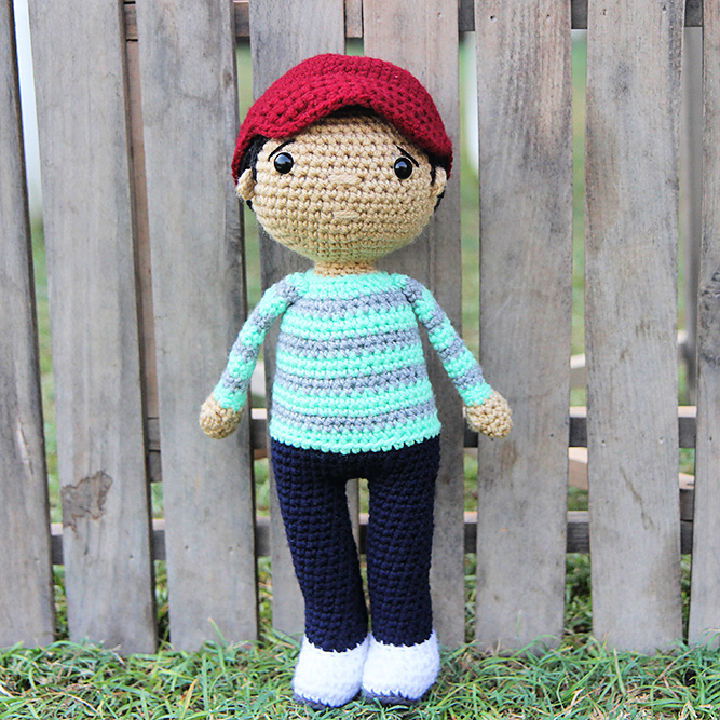 Bring a unique smile to the face of your special someone with this free crochet human amigurumi doll pattern! This adorable and huggable companion is a cute crochet boy doll with a baseball cap and sweet little ears. Are you looking for an extra special gift? Look no further!
With this free pattern, you'll have all the instructions needed to create an unforgettable present that will bring joy to any child or adult. Also, provide a print-friendly PDF version to start creating this too-sweet handmade crochet doll today easily! chaicoffeecrochet
14. Quick and Easy Crochet Fashion Dolls Pattern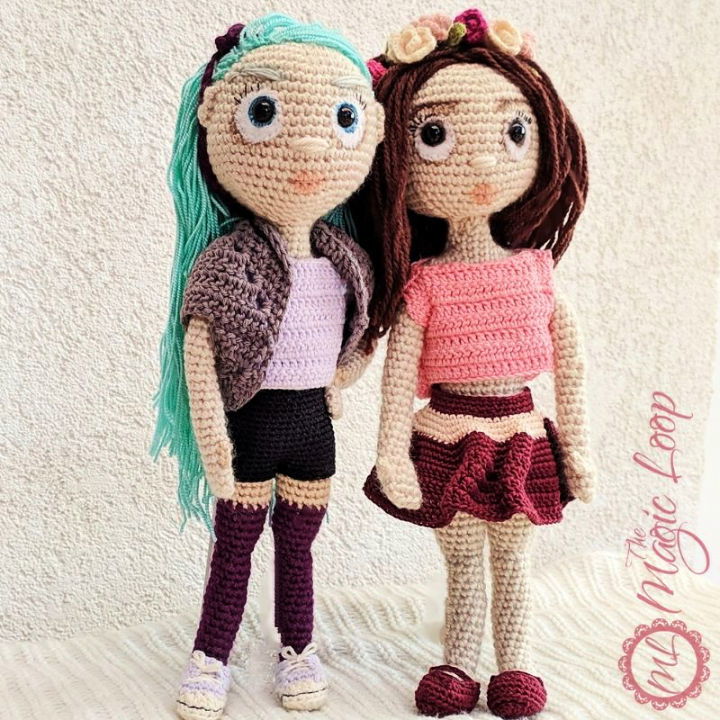 Create adorable crochet dolls with these easy-to-follow free crochet doll patterns, perfect for beginners and skilled crocheters.
Make unique crochet fashion dolls with this free, easy and quick pattern! You can create beautiful dolls with just a few supplies, perfect for any occasion.
These dolls are highly customizable to suit your preferences – all you need is 4mm/US G hooks for the body, 2.5mm/US C hooks for the clothes and 1.5mm for the little flowers! So what are you waiting for? Download this amazing pattern today and let your creativity run wild! magicloop
15. Gorgeous Crochet Lovely Lucy Doll Pattern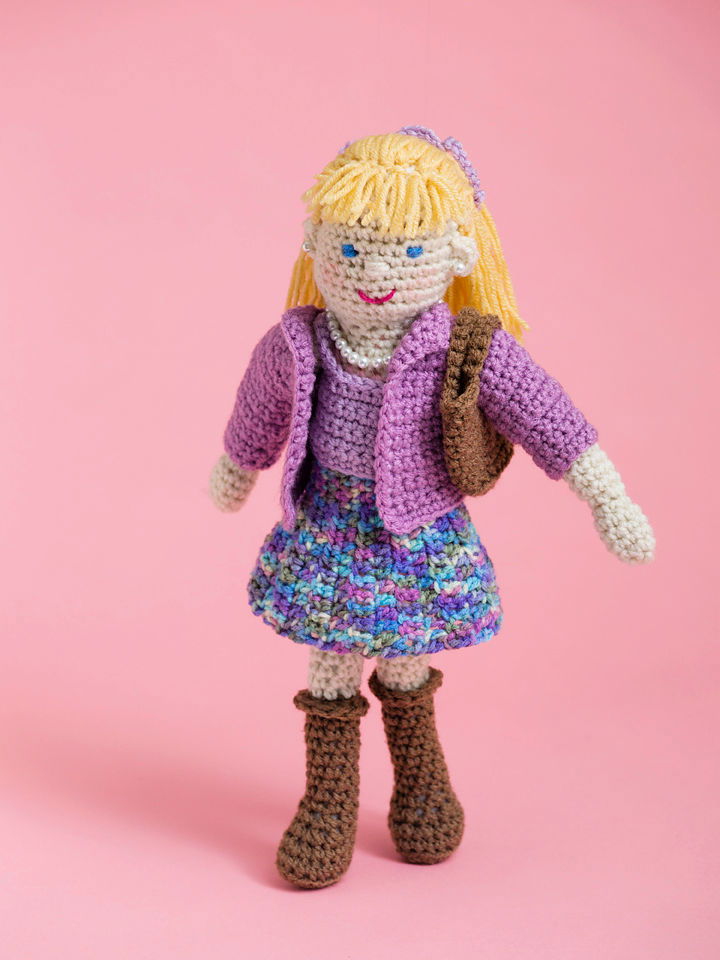 Bring home an all-time favorite with the elegant and timeless crochet lovely Lucy doll pattern! This beautiful doll is perfect for decorating any room, featuring satin stitch couched stitches, a cardie sweater, a pearl necklace and earrings, and a delicate skirt. This classic girl will look cool in any corner of your house – no matter where you place her, she will be an eye-catching addition to your home décor.
Get ready for some crochet fun by gathering these supplies: yarn (4ply baby acrylic), tapestry needle, a small amount of stuffing material, scissors & 2 sizes of safety eyes. Bring the loveable Lucy alive with this captivating pattern! yarnspirations
16. Crochet Joy Doll Amigurumi Pattern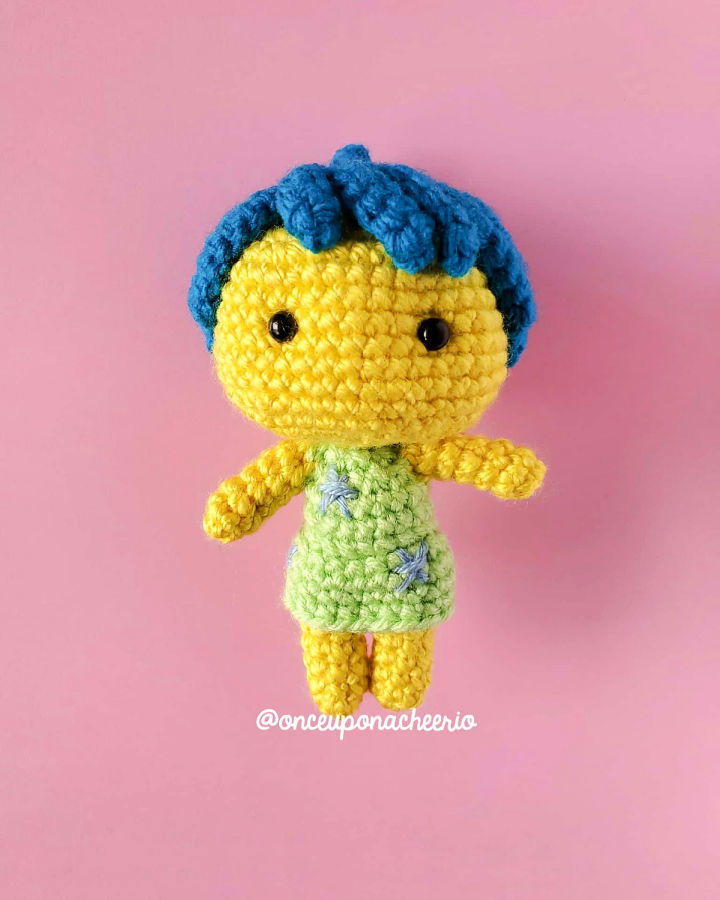 Love introducing a little bit of joy into your life? Get creative while doing it with this amazing crochet Joy amigurumi pattern! With this step-by-step guide, you can make adorable amigurumi dolls for yourself or as gifts.
All you need is the basic crochet supplies, and a sprinkle of creativity will provide you with everything else — all the necessary instructions and tips to ensure that each of these crocheted dolls comes out perfectly every time. So why not start expressing your creativity today and bring some joy into your life? onceuponacheerio
17. New Crochet Sleeping Beauty Doll Pattern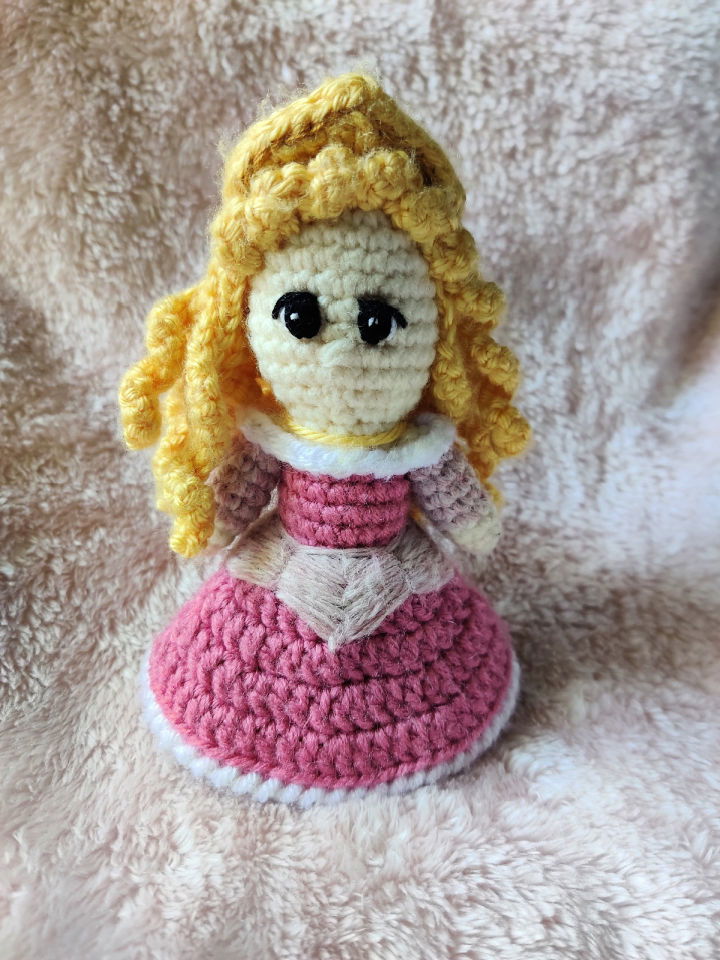 Bring your sleeping beauty doll dream to life with this DIY crochet pattern! Create a beautiful and unique amigurumi version of the beloved fairytale princess.
With only basic supplies such as loops & threads impeccable, Caron simply soft, Lion Brand yarn and embroidery flosses in various colors, your crocheting skills will be tested – but you'll end up with an exquisite doll that comes dressed in her prettiest dress! Get started on crafting this free crochet joy doll amigurumi pattern today! cassidykhadlock
18. Super Easy Crochet Disgust Doll Amigurumi Pattern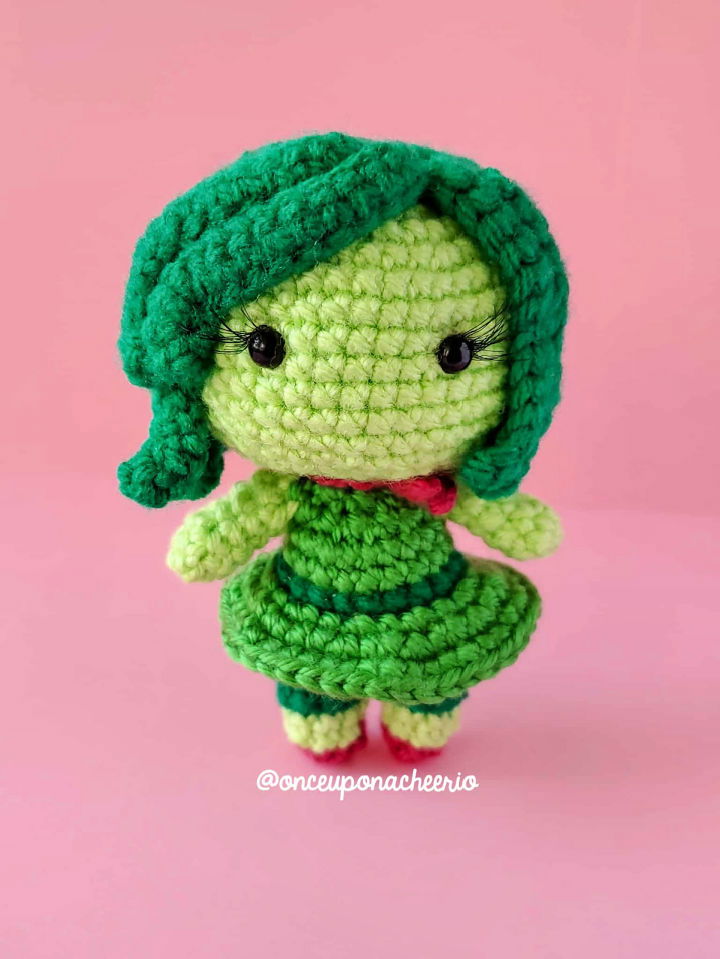 Add a touch of green to your place with this free crochet pattern for a Disgust doll! This amigurumi doll looked like some frog lady, thanks to the perfect shade of green chosen by a very good sense of fashion.
Get creative and add certain details to her outfit as you create her – she'll surely bring out your inner artist. With this easy-to-follow crochet pattern and the supplies listed, you will soon have your own crocheted version of Disgust. Download it now and get started on bringing sunshine into your home! onceuponacheerio
19. How You Crochet a Kartini Doll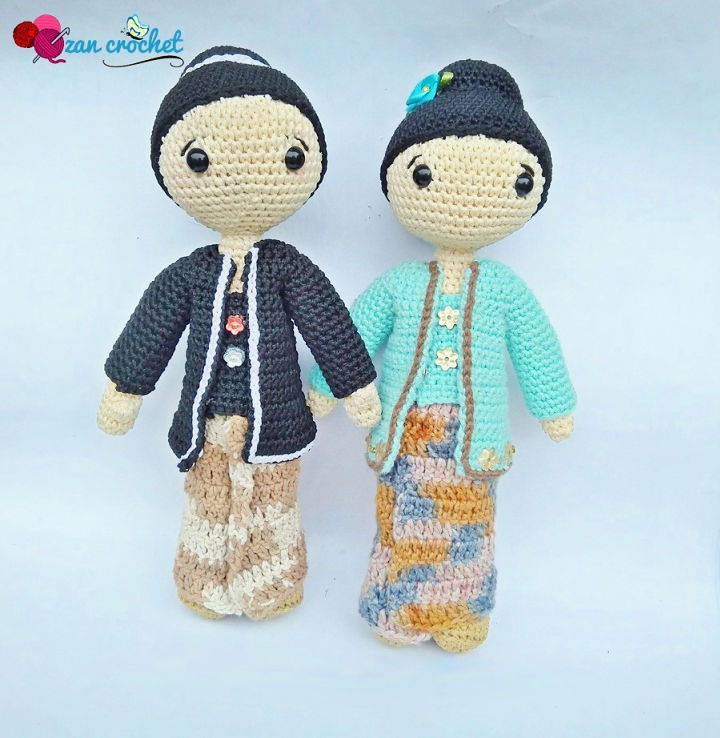 Welcome to the magical world of crocheting! Have you ever wanted to crochet a Kartini Doll?
This traditional Indonesian doll is often seen wearing kebaya, usually combined with a sarong and batik for its skirt and has the simplest design. With just some yarn in skin color, black, Tosca and batik color as well as a 2 mm crochet hook, needle for sewing kinds of stuff, scissors, 8 mm safety eyes and three pairs of press stud buttons – you can now make your very own special Kartini Doll that all will love.
Get creative with it and explore your inner talent! Let's get started on this amazing craft today! zancrochet
20. Crochet Mini Mimi Amigurumi Doll Base Pattern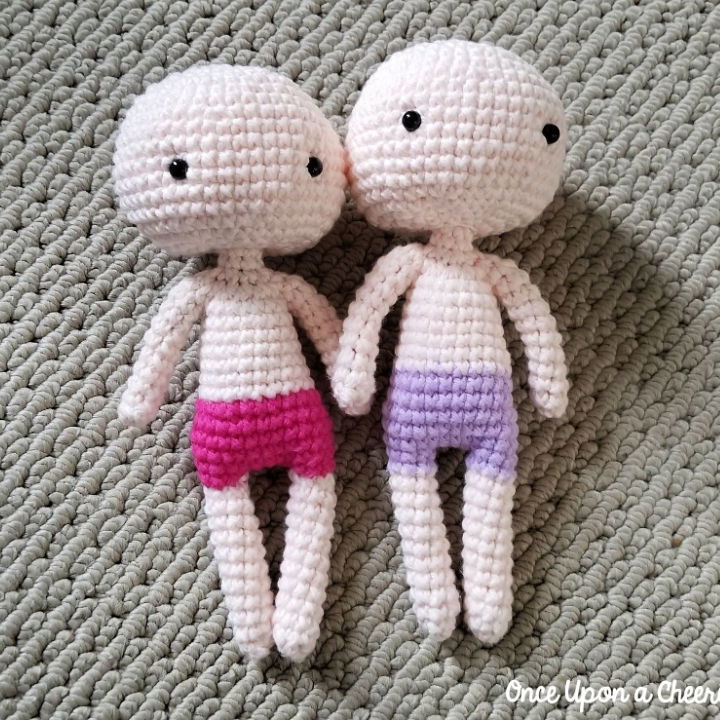 Be amazed by this awesome and adorable mini Mimi amigurumi doll base pattern! Her tiny size is perfect, especially the size of her head, making it a great doll base crochet pattern.
To ensure she has a bit more support in the neck, you can put some pipe-cleaners inside her body – not only will that help her stay sturdy, but it will also make this craft project even cuter. Have fun with your creation, and show off your amazing skills! onceuponacheerio
21. Crocheted Izzy Pirate Doll – Free Pattern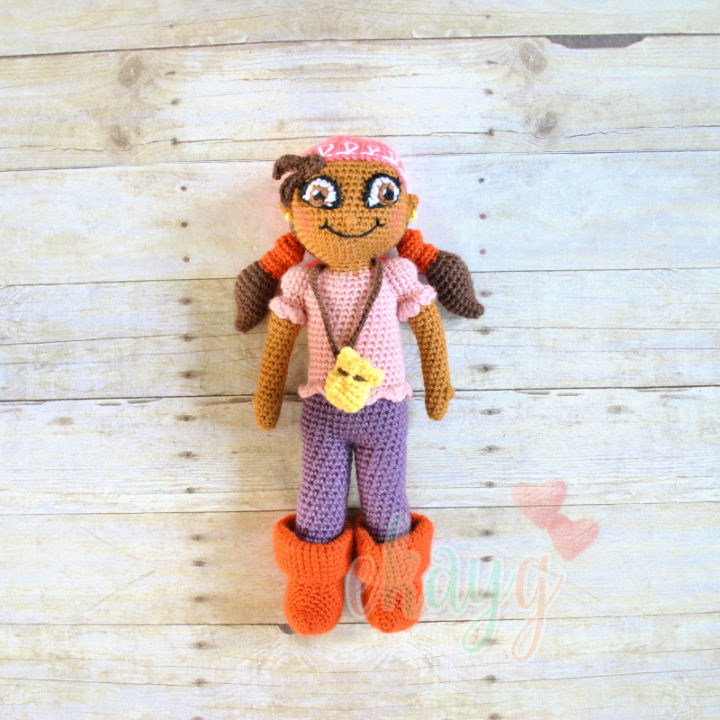 The youngest addition to your toy chest, Izzy the Pirate doll! She's a crocheted doll with an adorable pirate outfit and patch eye that looks delightful.
With this free pattern, you can easily make your own Izzy with just a few supplies: worsted weight yarn, size F (3.75 mm) crochet hook, black embroidery floss and stuffing. Make her for yourself or give it away as a gift – either way, she'll be sure to bring smiles all around! ekayg
22. How to Crochet Watermelon Doll – Free Pattern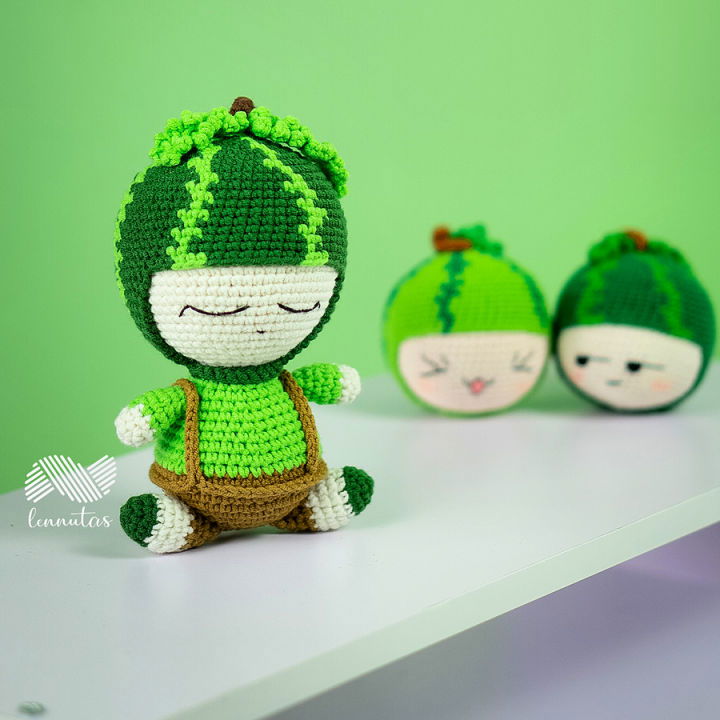 This charming crochet watermelon doll-free pattern brings some fun to the back-to-school season! This cute and playful design will surely bring a smile to any child's face.
You can easily create this adorable doll with 4-ply yarn, scissors, pins, needles, stuffings, and two 10 mm safety eye sizes. Give your kids something special they'll cherish all year – make it today and start the school year off right. lennutas
23. Modern Crochet Cat Fairy Girl Amigurumi Pattern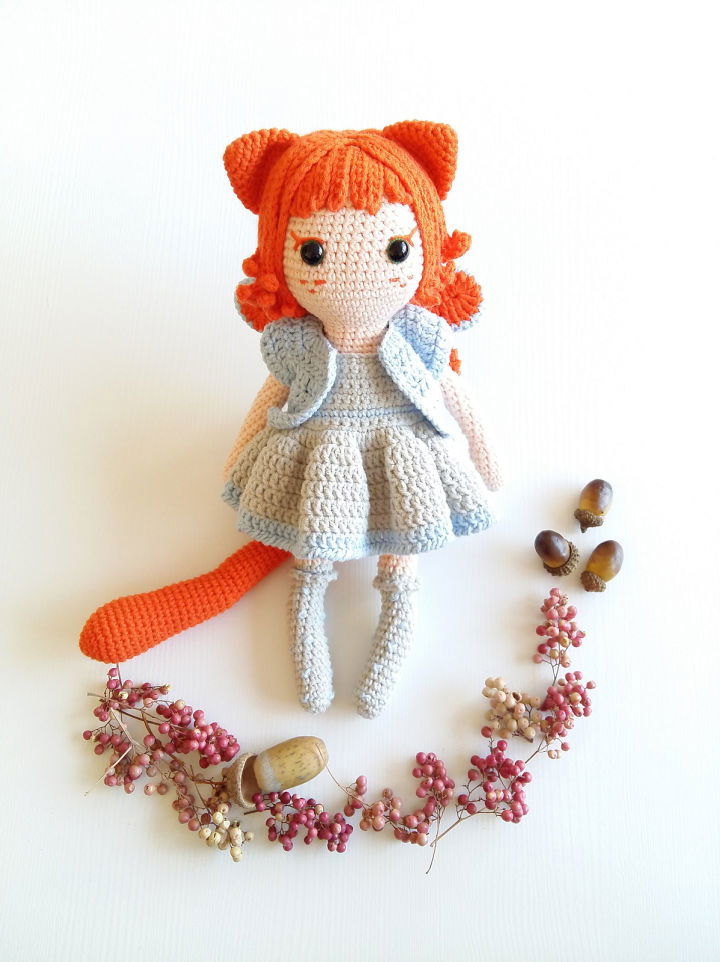 Are you looking for an exciting project? Look no further! This modern crochet cat fairy girl amigurumi pattern is perfect for beginners. Create a beautiful amigurumi with this fun and easy-to-follow step-by-step tutorial.
The result of your work will be a wonderful amigurumi that will look great in any setting or make the perfect gift. All you need to get started are basic supplies like yarn, stuffing, safety eyes and a hook. Get creative and start your journey today with this cute crochet cat fairy amigurumi pattern! lovelycraft
24. Coat and Hat for Dolly Doll – Free Pattern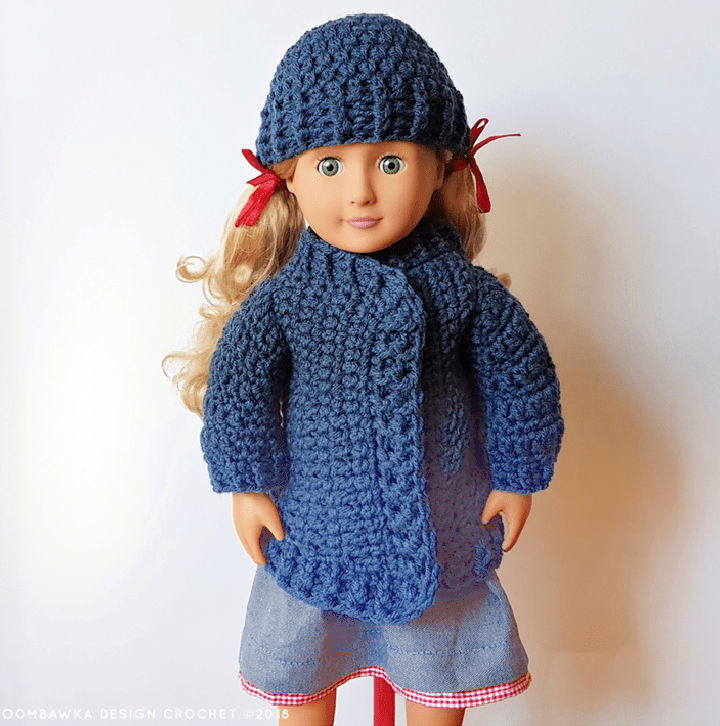 With one of these easy-to-follow crochet doll patterns, you can create your very own collection of adorable dolls in no time! Stay warm and stylish with this easy-to-crochet Coat and Hat set for an 18-inch Dolly doll! Perfect for beginner crocheters, this project is great fun to make using medium-weight yarn and a 5.5 mm hook.
The pattern is tailored to fit your doll perfectly – no need to worry about whether it would fit! This adorable 18 Inch doll clothe pattern also includes instructions on how to customize the hat size and shape according to your preference. Impress your dolls with this unique coat & hat set today – they'll thank you for it later! adesigncrochet
25. Crochet Summer Clothes Pattern for 16 Inch Doll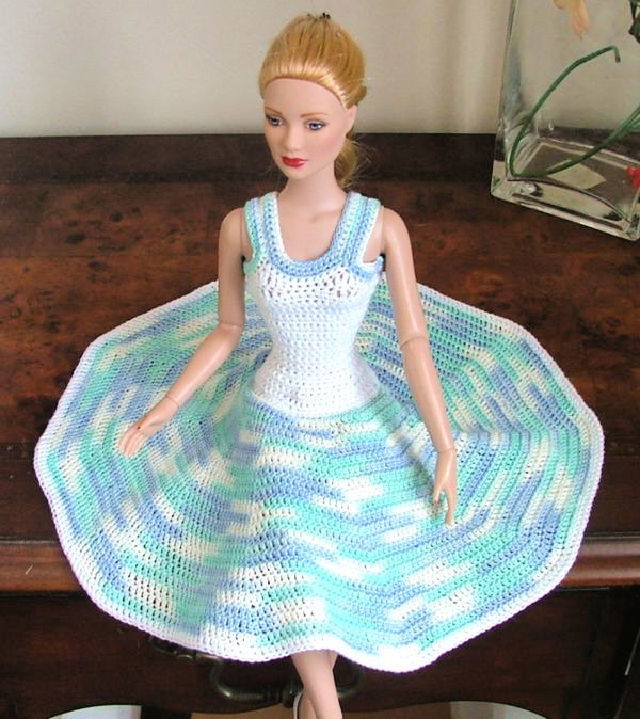 Create a beautiful crochet summer clothes pattern for your 16-inch doll with this free doll dress crochet pattern! The finished project's bright colors and adorable look will surely capture the hearts of all who see it.
With easy instructions and simple supplies, kids will love playing with or displaying their creations. All you need is yarn in two colors, a size E (3.5mm) crochet hook, scissors, measuring tape and a yarn needle. Give your favorite doll that perfect summer outfit – download this free crochet pattern now! knittingpatterns
26. Crochet Summer Flower Fairy Doll Design – Free Pattern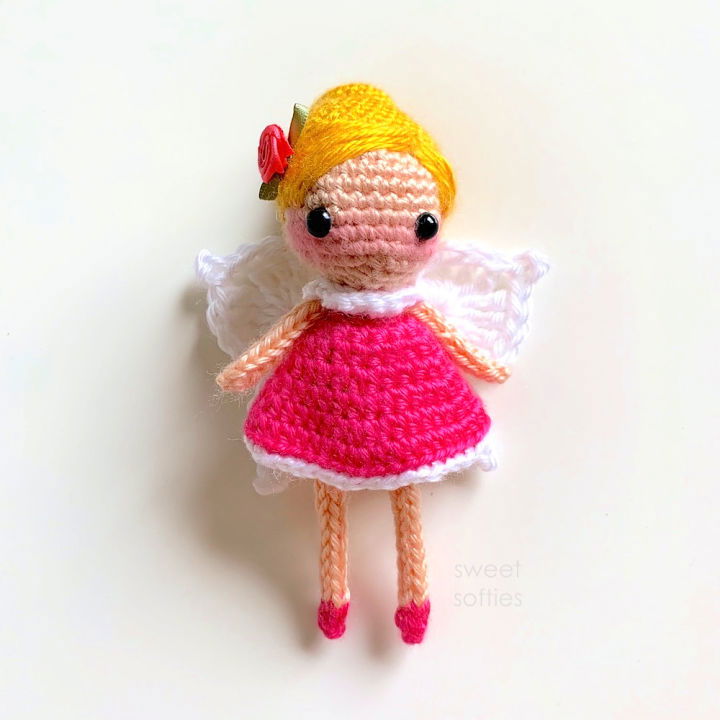 Capture the magic and transform it into something real with this crochet summer flower fairy doll design! Create a pocket-sized gift for yourself or someone special, perfect for those who adore fantasy creatures and faeries.
This free crochet pattern is ideal for adults with a penchant for folklore, featuring a cute dress with lace frills, wings and hair up in a bun. With the right materials – medium weight yarn, 2.75 mm & 5.00 mm crochet hooks, 7mm plastic safety eyes, mini ribbon rose, blush powder, Q-tip and fiberfill stuffing – you'll be able to make your own charming flower fairy doll! sweetsofties
27. Pretty Crochet Bernie Sanders Doll Pattern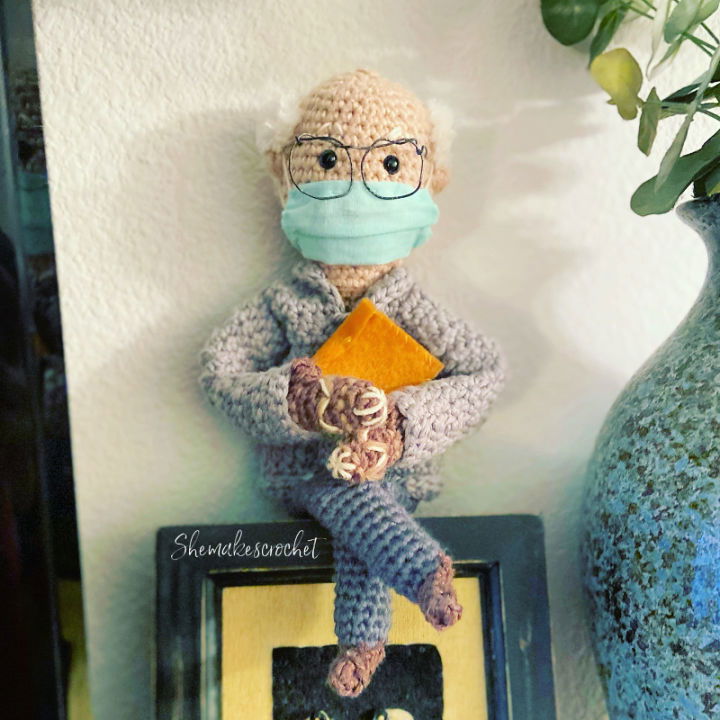 Bring Bernie Sanders to life in your home with this delightful pretty crochet Bernie sanders doll pattern! Slightly more challenging than my usual designs, this classic rag doll construction requires a few supplies and some patience.
But don't worry, the best part is that he is posable, so you can adjust his arms and legs as needed. Featuring a sweet-looking face, glasses, a tuft of white hair on top of his head and even a little surgical mask for safety – you'll have no trouble creating an adorable little crochet doll of Bernie Sanders! astitchwhimsy
28. Free Crochet Athena Amigurumi Doll Pattern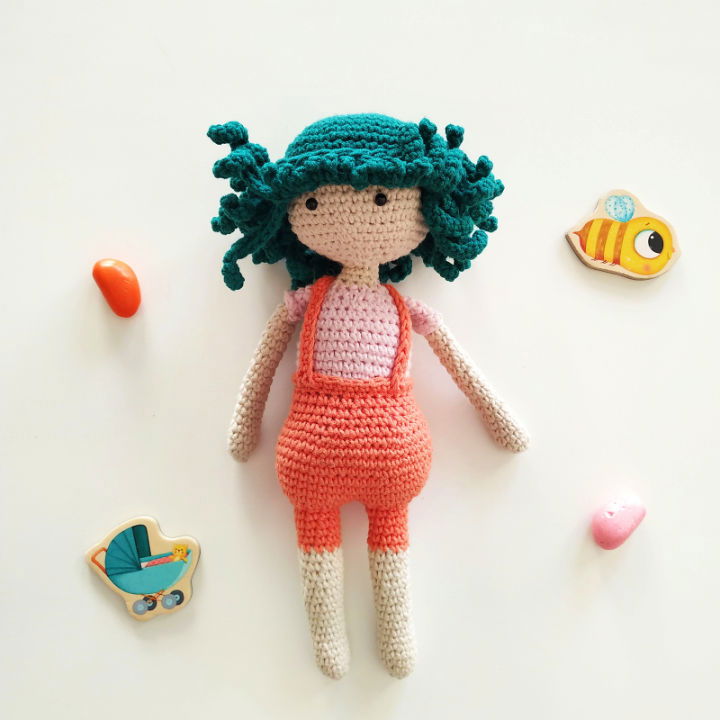 Are you looking for a fun, modern crafting project? Create this free crochet Athena amigurumi doll pattern and bring to life a cute little figure that's sure to be treasured by friends and family alike!
All you need is Yarnart Jeans cotton yarn in pink, teal, beige and coral; a size B crochet hook; two 6mm safety eyes; doll filling; a yarn needle; and scissors. With minimal supplies, it's an easy craft that novice and experienced crocheters will love! akamatra
29. Basic Crochet Masked Superhero Doll Pattern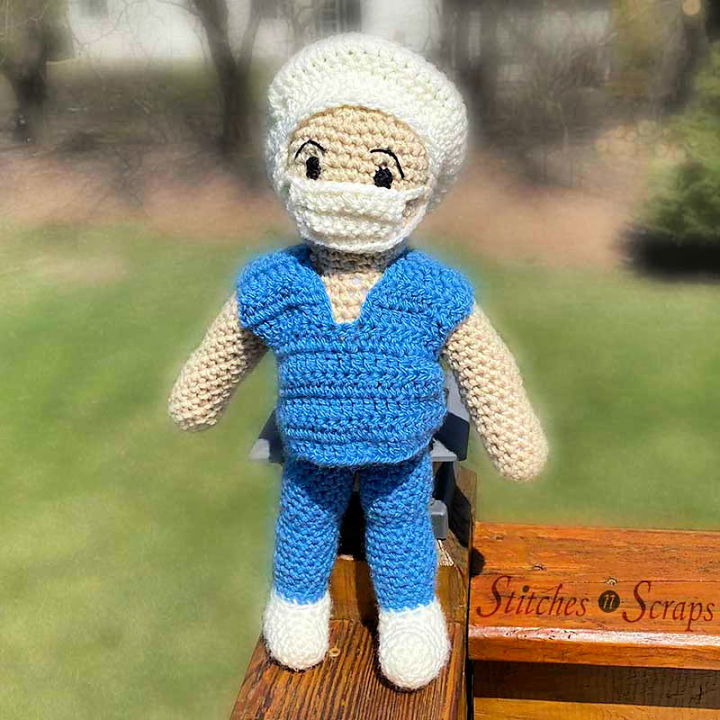 Crochet enthusiasts can create adorable crochet doll patterns by following step-by-step instructions and using a variety of yarn colors to bring their imaginative creations to life.
Bring a little bit of superhero fantasy to life with this crochet masked superhero doll pattern! This fun and imaginative pattern includes instructions for creating a doll with a removable mask and cap. It's the perfect stash-busting project to help you use your yarn collection odds and ends.
Plus, inspiring kids everywhere that real-life heroes wear different masks can be just as powerful. Have some crochet experience? Good news—this project isn't too complex but requires intermediate skills. Unleash your inner hero today! stitchesnscraps
30. Free Crochet African American Doll Pattern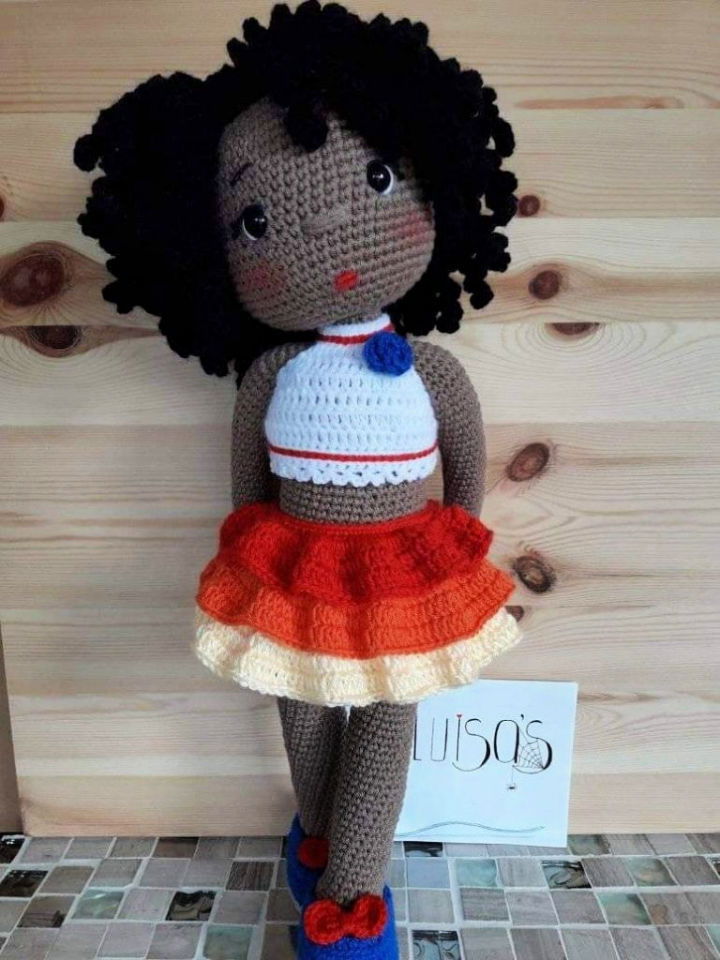 Show off your crochet skills and honor African American culture with this adorable Celia doll amigurumi pattern!
It's free, fun to make, and full of love. All you need is acrylic yarn in light brown, dark brown, yellow, red, white, orange and blue; a hook n°2; safety eyes; craft wire; fiberfill; tapestry needle; point marker; scissors; rubber tube for neck and arms plus blush or a red pencil for the cheeks. Start crafting today – you'll feel joy when you complete it! carmencrochet
31. Free Crochet Haunted Voodoo Doll Pattern in English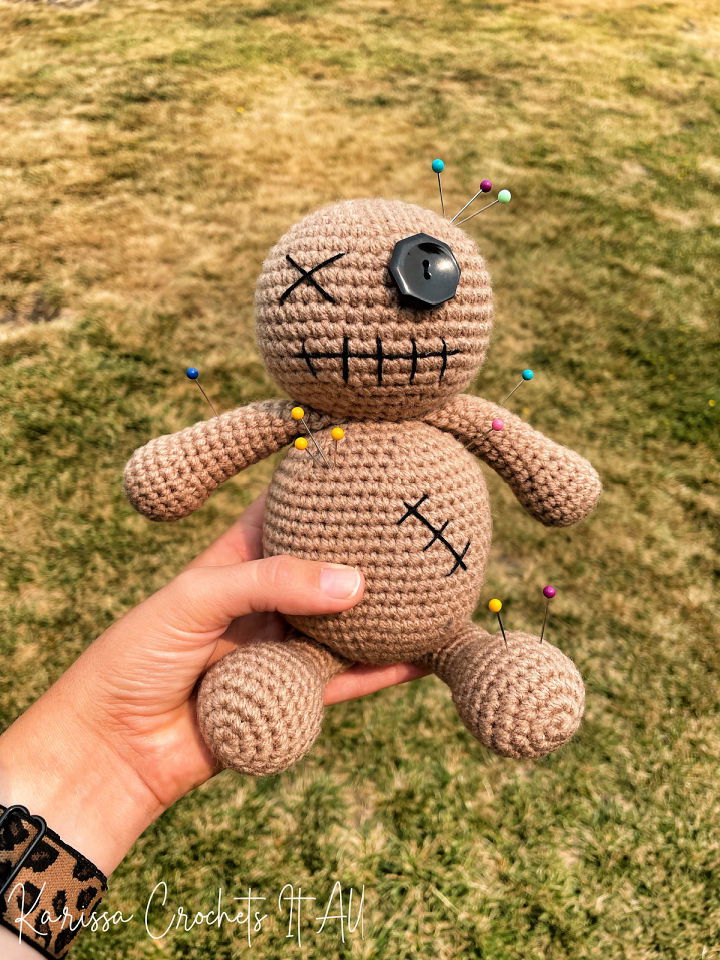 Be ready to give your Halloween decorations a spookier edge with this free crochet haunted Voodoo doll pattern! Perfect for those new to amigurumi, the printable PDF will guide you step-by-step through making a simple Voodoo doll.
Create your sinister twist on traditional Halloween décor with the perfect pattern – no matter if you're experienced at crochet or just getting started. Get creative and make something unique this season with all the supplies needed to be provided in your downloadable pattern. crochetsitall
32. Beautiful Crochet Self-Care Claire Doll Pattern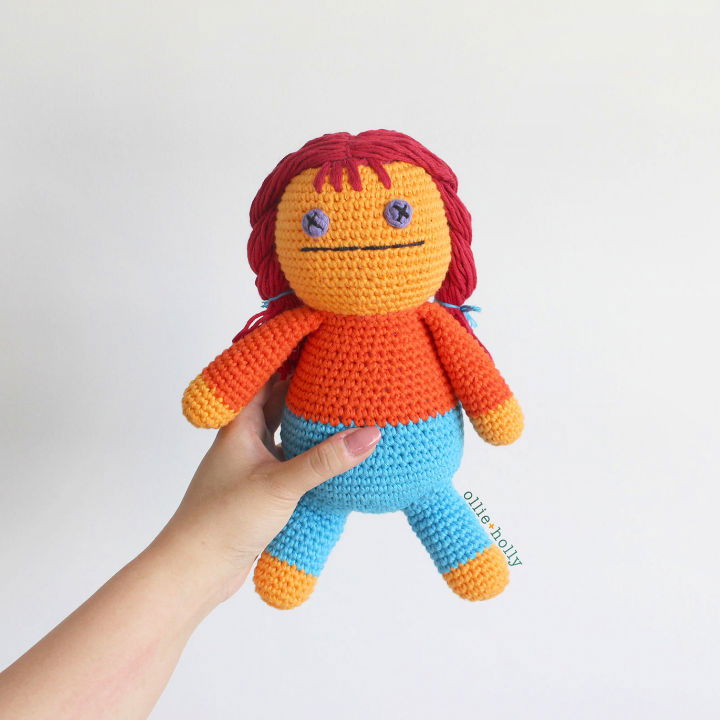 Bring snuggly love into your life with the crochet self-care claire doll Pattern! This fun and cute pattern is free, so you can show yourself a little self-care without breaking the bank.
All you need to make this doll are paintbox yarns, cotton yarn in mustard yellow, blood orange, kingfisher blue, red wine and dusty lilac; 3.5mm crochet hook; scissors; darning needle; locking stitch markers; pins; polyfill stuffing or scrap yarn for stuffing; black embroidery thread for facial features & fabric glue for assembly. Show yourself some love and make your crochet self-care claire today! ollieholly
33. Free Crochet Mermaid Baby Doll Pattern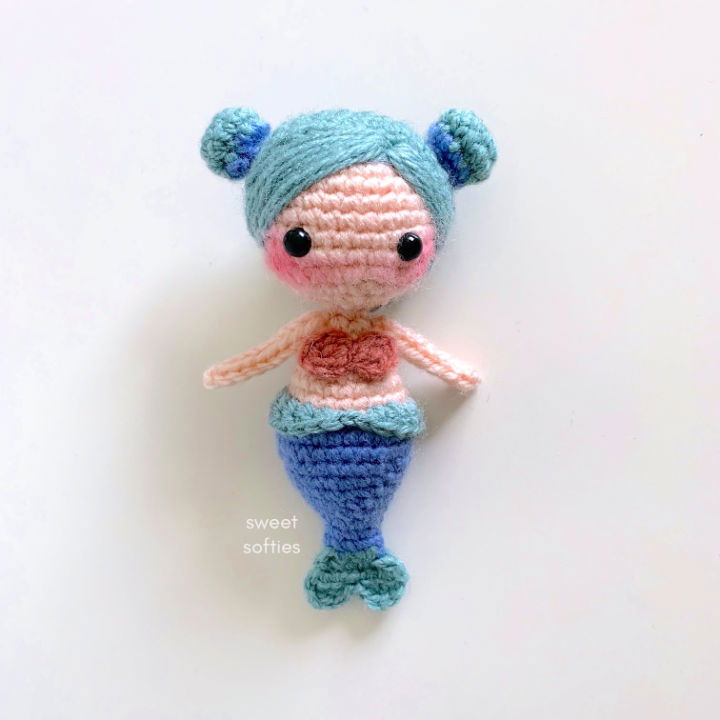 A fantastical touch to your life with this fabulous free crochet mermaid baby doll pattern! Featuring an adorable design, this crochet amigurumi doll has rosy cheeks and a wide-swept look that will bring cuteness overload. She is a juvenile little fishy lady with a chubby tail and tiny flippers for fins, making her perfect for any age group.
Learn how to make your mythical baby mermaid in no time at all with the supplies provided! Get creative and craft something special today – it's sure to be loved by many. sweetsofties
34. Free Crochet Clown Amigurumi Doll Pattern to Print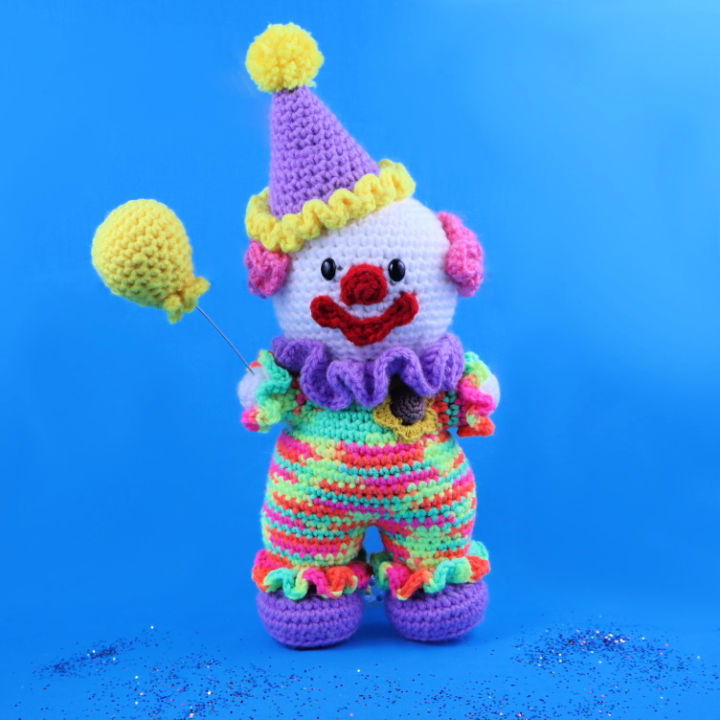 Are you ready to make your very own unique clown, amigurumi? This fun and free crochet pattern will have you creating a captivating creation in no time! The pattern has been crafted carefully, so ensuring every stitch is perfect takes a long time.
Why not add some balloons or a mini sunflower to add something extra special? These little accessories can help bring your amigurumi doll "to life," making it enjoyable for you and others to admire. So get out your supplies, and let's get started on this exciting project! stringydingding
35. How to Make Voodoo Dolls – Free Crochet Pattern
Welcome to the world of simple, huggable and very special Voodoo dolls! These irresistibly cute dolls are perfect for your doll collection or as a fun companion for your little ones. With any yarn of your choice, plus a crochet hook, darning needle or other needle and stuffing, you can easily craft these amazing dolls that bring out the creativity in all ages. Let's make lovely memories with these delightful Voodoo dolls! amigurumibb
36. Awesome Crochet Fruit Girls Amigurumi Doll Idea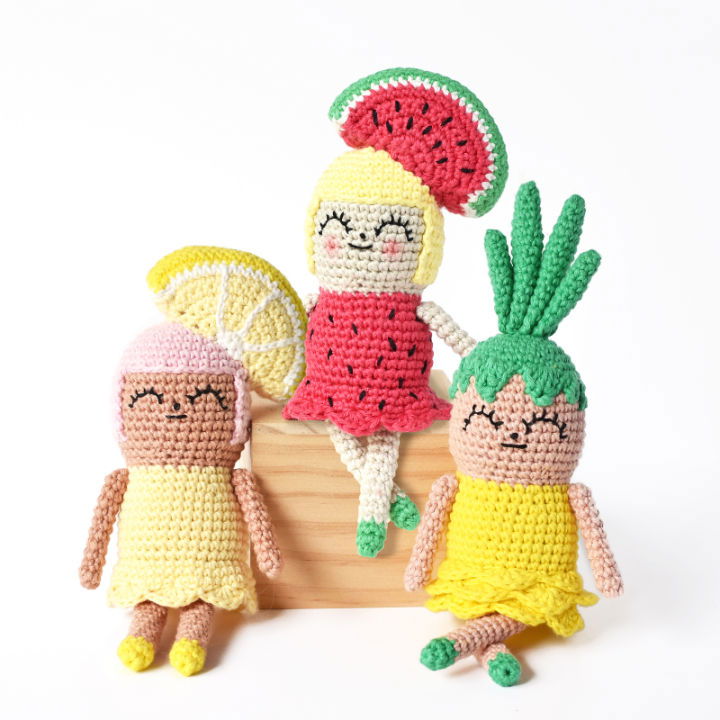 Give some summer joy to your home with this adorable crochet fruit girl's amigurumi doll idea! This cute and comprehensive pattern is perfect for those who love the craft of crochet, providing step-by-step instructions that are beautifully formatted. Plus, it's a free crochet pattern, so you can make all kinds of super cute fruit girls without breaking the bank.
With all these features, this project is ideal for anyone looking to add fun to their summer days! Get crocheting now with this delightful fruit girl amigurumi pattern. tinycurl
37. Crochet Baby Doll Amigurumi – Step-By-Step Instructions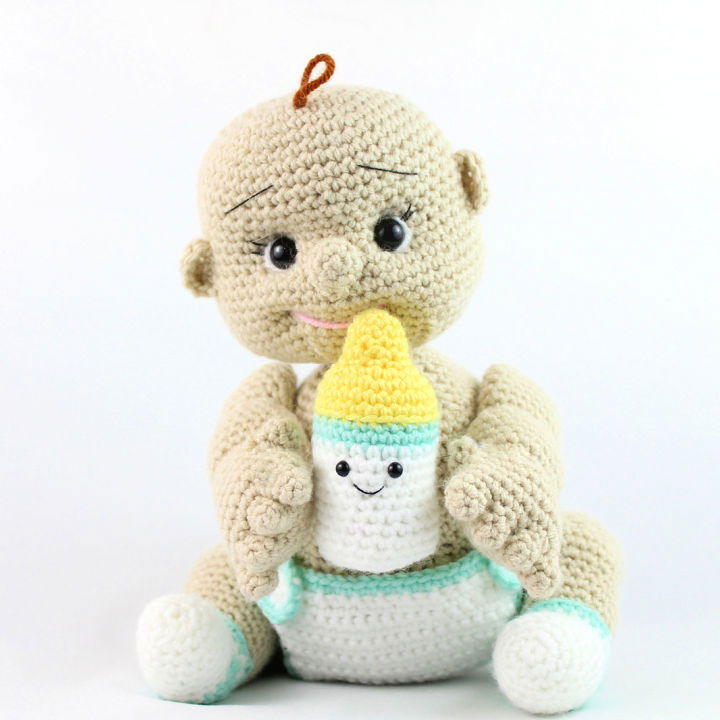 Adorable and cuddly, this crochet baby doll Amigurumi is the perfect project for any beginner. You can make your cute baby quickly with a free pattern and easy difficulty level!
You will need a 4mm crochet hook, 4/Medium weight yarn in skin color, hair color, light pink or light blue, white, and black embroidery thread, 10mm safety eyes, four plastic limb washers for movable limbs, tapestry needle scissors and stuffing to make the bottle diaper looks cute on your baby. Get creative with colors to create a unique, cherished look! stringydingding
38. Crocheting a Spider-Man Amigurumi Doll – Free Pattern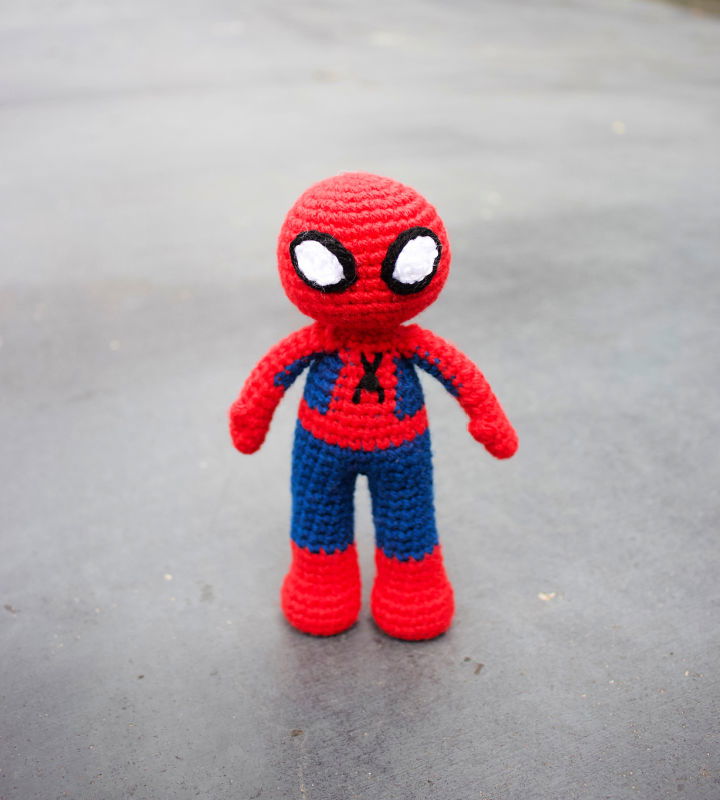 Exciting and rewarding, crocheting a Spiderman amigurumi doll is the perfect project for both beginners and experienced crafters alike! With simple enough stitches to pick up quickly, even those new to crochet can make this beloved superhero come alive.
Some tricky color changes are necessary – but with this free Spiderman crochet pattern, you'll soon be mastering them like a pro! Plus, it turns out that everyone loves classic characters like Spiderman: timeless entertainment and an excellent way to show off your skills! Get all the supplies you need today and start making your one-of-a-kind amigurumi spiderman doll. 53stitches
39. Simple Crochet One Piece Mini Doll Pattern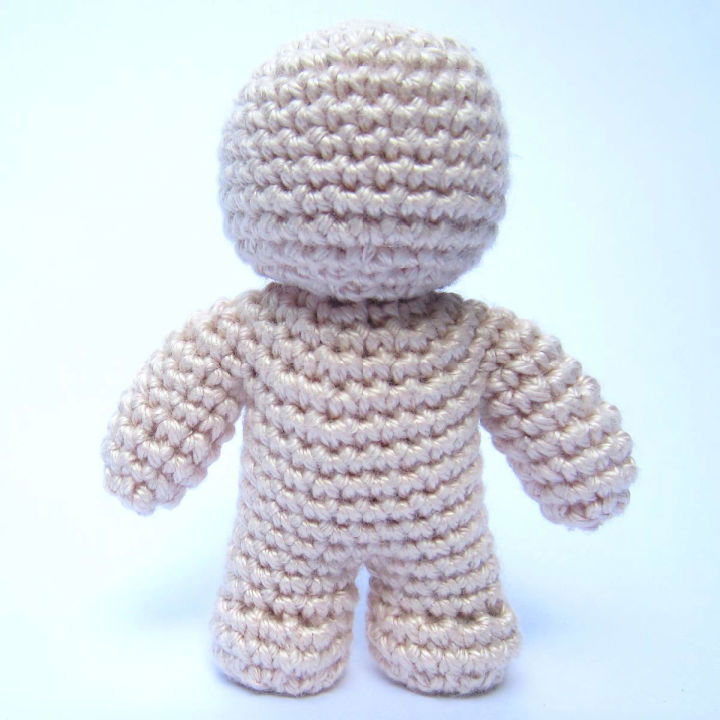 Let your creativity run wild with this simple crochet piece mini doll pattern! You can crochet dolls in one piece without sewing with just a few supplies.
The doll featured here was crocheted using "Schachenmayr Catania" yarn and a 2.5 mm crochet hook for an 8 cm size. Increase the size of your creation by using thicker yarn and larger hooks for endless possibilities – from superheroes to aliens, zombies, animals or robots – make any character come alive with this mini-doll pattern! supergurumi
40. Crochet Miss Understood Doll Pattern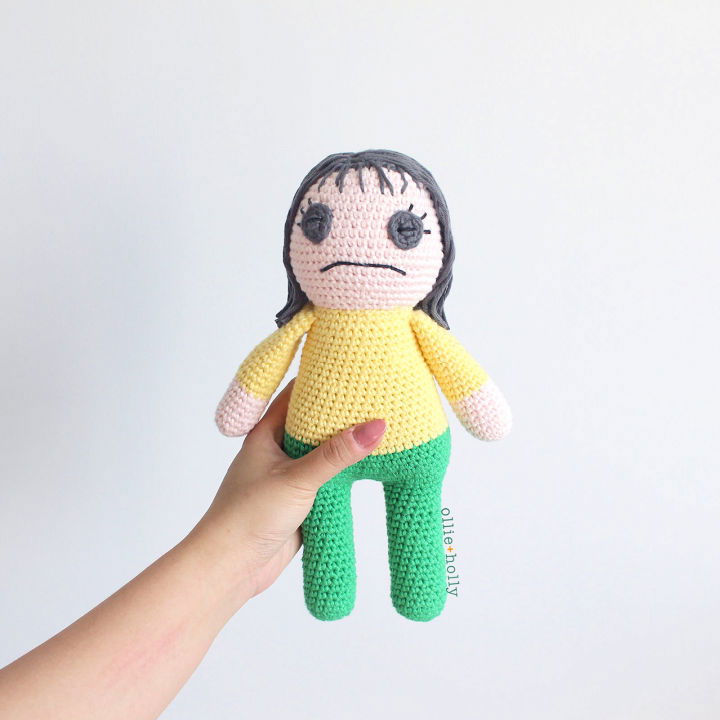 A bit of whimsy and fun to your crochet project with the crochet miss understood doll pattern – it's easy enough for any crocheter to make, even if you're new! This free pattern features an adorable doll made using paintbox yarns cotton yarn in ballet pink, daffodil yellow, grass green, and granite grey.
You'll also need a 3.5mm crochet hook, scissors & darning needle, locking stitch markers & pins, polyfill stuffing or scrap yarn, black embroidery thread and fabric glue. Follow this instruction to create this unique doll that will bring smiles all around! ollieholly
41. Easy Crochet Chimmy BT21 Doll Amigurumi Pattern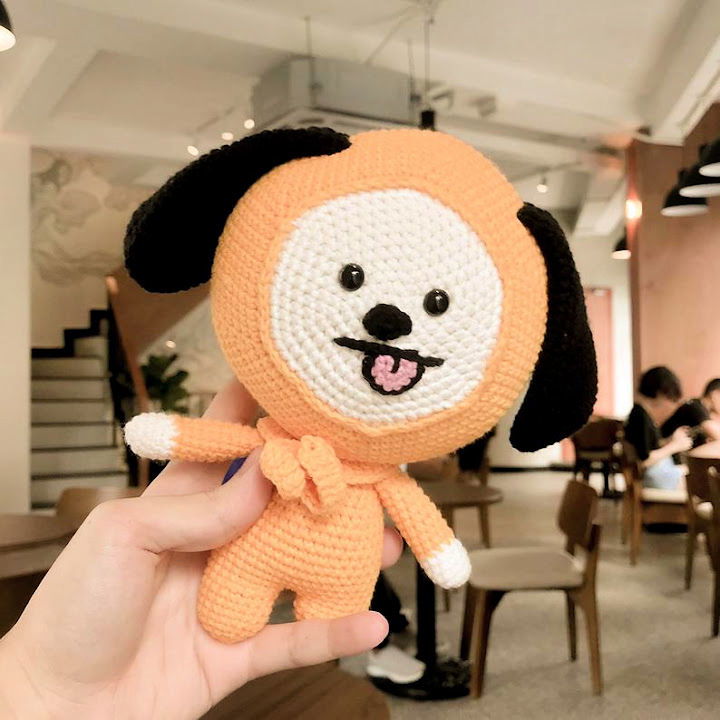 Take your crochet skills to another level with this easy-to-follow, beginner-friendly pattern for making a lovely Chimmy BT21 doll amigurumi toy! Make this beautiful toy a special memento for yourself or someone you love.
This popular BT21 amigurumi pattern is perfect for those just starting on their crochet journey and comes complete with detailed step-by-step instructions and all the supplies required. Create something extraordinary today – it's so simple that even a beginner can make one! anvisgranny
42. Easiest Amigurumi Doll Eyes to Crochet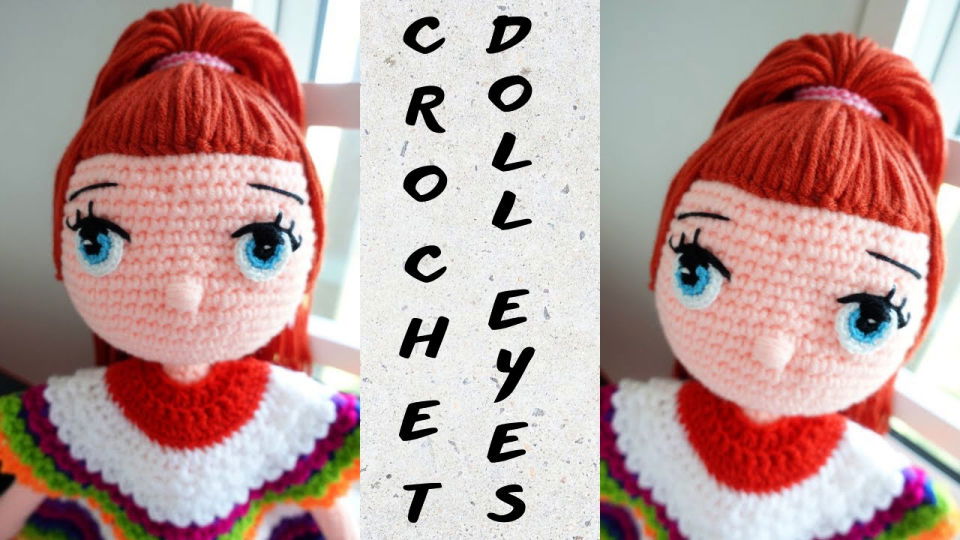 This easy-to-follow amigurumi doll eyes tutorial teaches how to create charming doll eyes. With just a few materials and simple steps like the magic ring, sewing into the back loop, joining the yarns and cutting the yarns, you can create stunning doll eyes that will make your crochet project stand out. This informative and creative tutorial is perfect for crocheters of all levels, providing clear instructions to follow along with. Whether you're a beginner or an experienced crocheter, this tutorial will help you add an eye-catching element to your amigurumi projects.
43. How to Crochet Amigurumi Doll Clothes – Free Pattern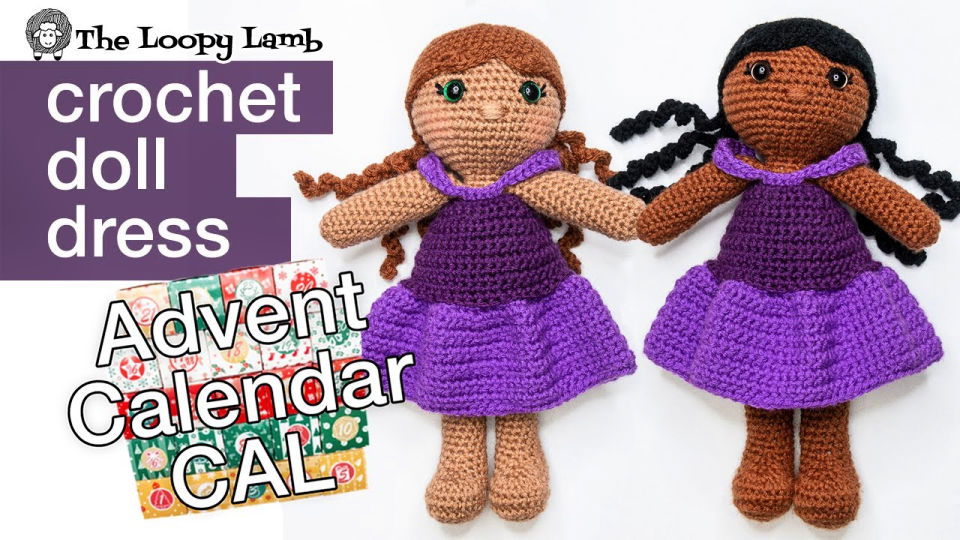 Create a beautiful dress for your amigurumi doll with this easy-to-follow crochet tutorial. All you need is two different colors of worsted weight yarn, a 3.5mm or e crochet hook, two 9mm buttons, a tapestry needle, scissors, and a sewing needle and thread. The pattern includes simple instructions for single crocheting and increasing, resulting in a stunning dress that your amigurumi doll will love. Follow along with the tutorial and create a custom dress for your crochet creation today!
44. 4 Color Crochet Baby Doll Pattern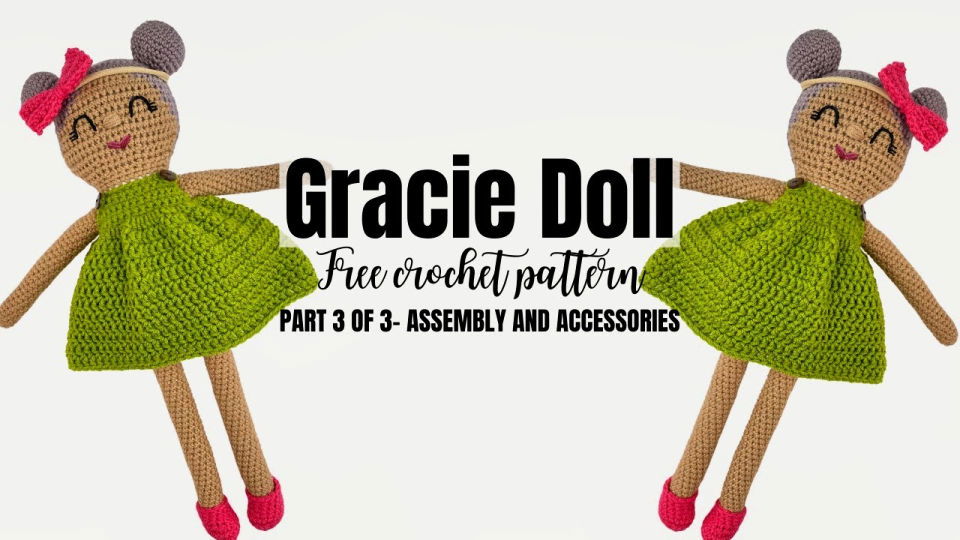 Create your own adorable crochet doll with these easy-to-follow crochet doll patterns, perfect for beginners or seasoned crocheters looking for a fun project.
Create the perfect present for any special occasion with this amazing four-color crochet baby doll pattern!
With an easy and speedy pattern, you can quickly create a beautiful "Gracie Doll" that will become your favorite handmade gift. Plus, no sewing is required! You only need basic supplies like yarn, a crochet hook, stuffing material and safety eyes or buttons.
Get ready to bring joy to an extra special little one in your life – start crocheting up this adorable doll today!
45. Easy Crochet Amigurumi Base Body Person Tutorial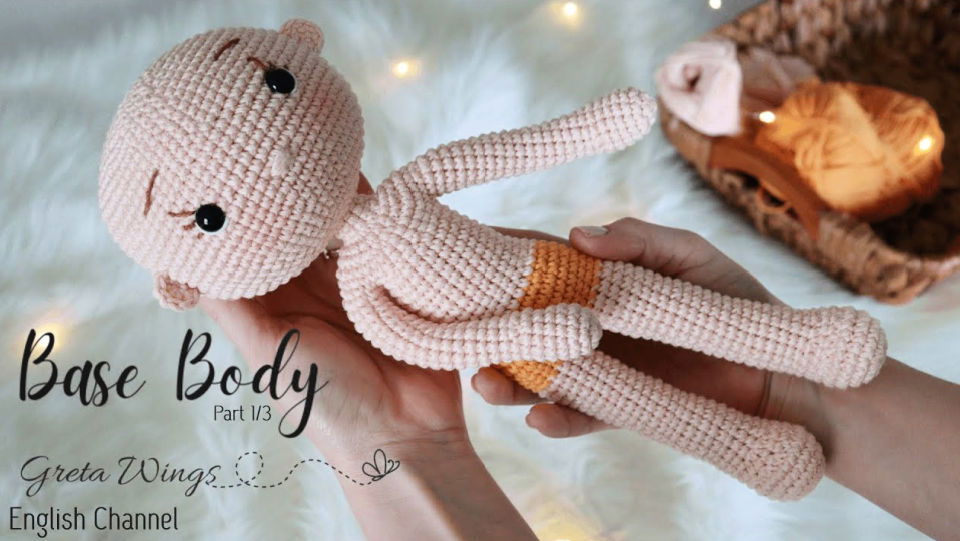 Unleash your creativity and take your crochet projects to the next level with this simple, easy-to-follow guide. With a few supplies, you can create an adorable amigurumi base body that looks cute, is soft and plush, and will bring joy for many years.
This instruction lets you make it quickly – follow the clear steps to make yours look unique! The only supplies you'll need are worsted weight yarn, hook size (4mm), stuffing material, scissors and sewing needle. Let your imagination fly as you create something special with this crochet amigurumi base body person today! youtube
Related Free Crochet Amigurumi Patterns:
Bring your fantasies to life with these amazingly creative and free crochet amigurumi patterns! Craft the cutest characters from animals to superheroes with these easy step-by-step instructions.
Easy Crochet Amigurumi Patterns:
Conclusion:
Creating your own amigurumi doll can be quite a rewarding and creative experience. With these 45 Free Crochet Doll Patterns, beginners can easily create their own first amigurumi dolls by taking advantage of the abundance of resources available to them. Once you have chosen the pattern you want to work with, it's as easy as downloading, printing, and following the step-by-step instructions in English.
If this all seems hard to follow, don't worry. There are plenty of videos above to help guide you through the process of creating your very own free crochet doll patterns! So what are you waiting for? Dive into the crochet world and start making amigurumi dolls today by downloading one of the suggested free crochet doll patterns from above that match your crocheting level!