Crocheting baby mittens is a great way to make a meaningful handmade gift. Find 20 free crochet baby mitten patterns for beginners that are both easy and free. The patterns come with detailed step-by-step instructions and PDFs that can be easily downloaded and printed, allowing even beginners to get started quickly. For newborn mittens specifically, plenty of free, detailed designs feature traditional and more creative styles based on textures and shapes. From simple single-colored designs to more complex looks that involve attaching pom-poms or other playful elements, these free infant mitten crochet patterns will help you make the perfect custom accessory for any baby!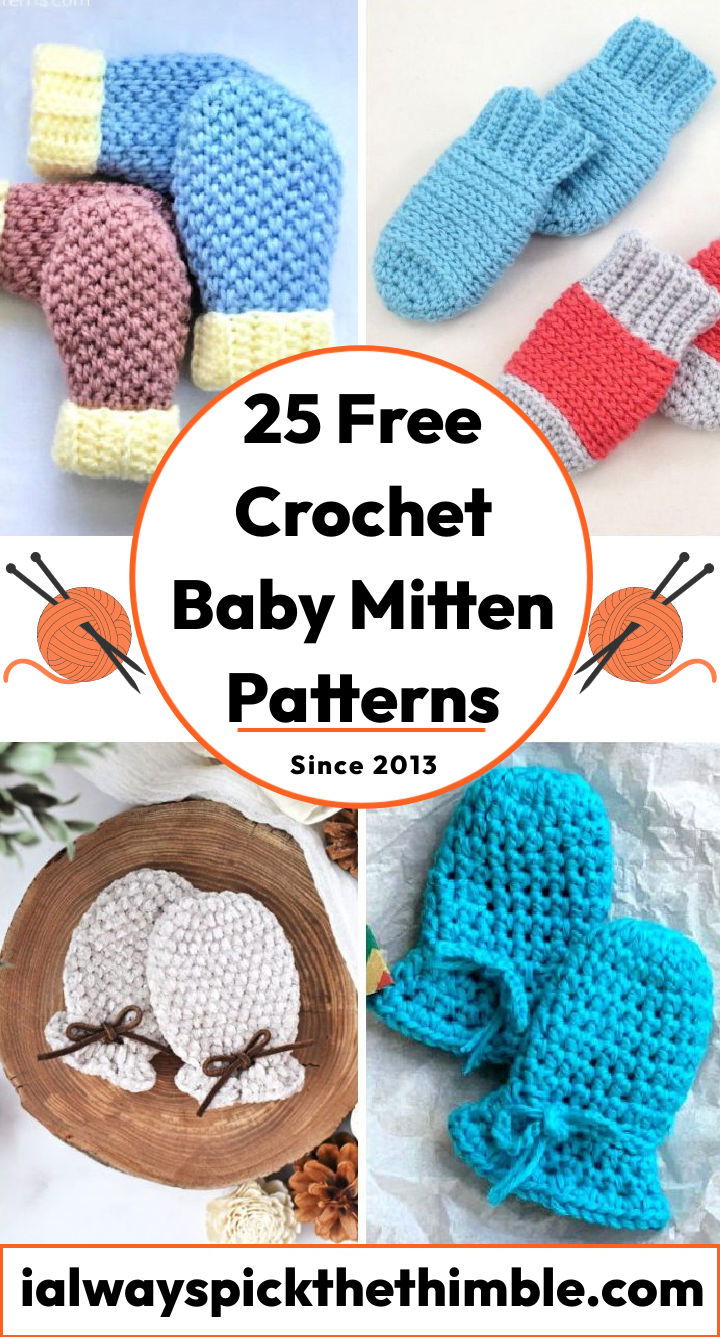 Free Crochet Baby Mitten Patterns
Unlock the potential of handmade clothing with these 20 free crochet baby mitten patterns! From 0-3 month newborn gloves to a crochet baby mitten without a thumb pattern, you'll find all the resources to learn how to crochet your own baby mittens. With easy-to-follow instructions and clear diagrams, these free patterns are great for even beginners looking for a creative outlet or experienced crafters wanting something new. Create adorable accessories that parents and babies love with this free pattern collection!
1. Free Crochet Baby Mittens Pattern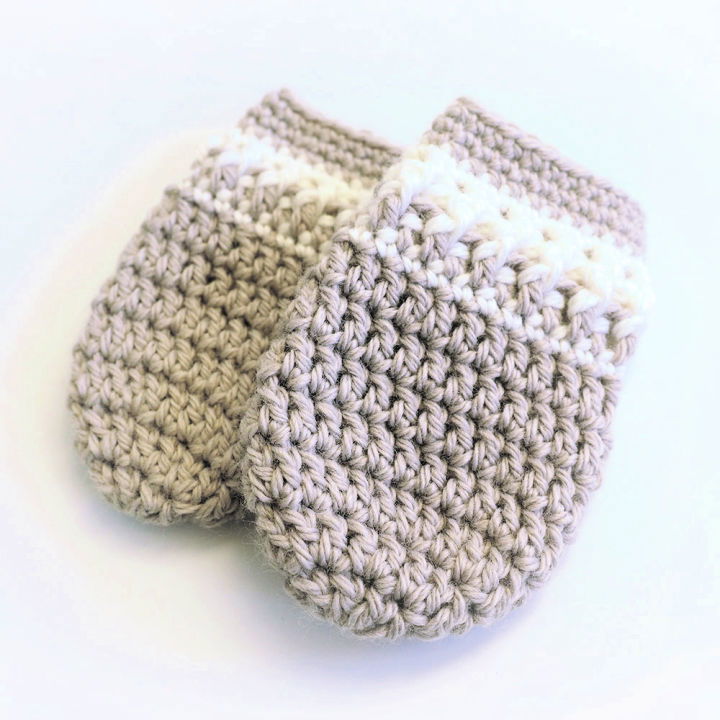 Stay warm this winter with the perfect crochet baby mittens pattern! These cozy and snuggly mittens are sure to keep your little one feeling snug and secure. Not only are they easy to make, but they're also machine washable for easy care. Make a pair of these fast and exciting mittens in no time using size 3 DK weight yarn, G/6 4.00mm hook, F/5 3.75mm hook darning needle and scissors – all you need is basic crochet skill! Keep your baby's hands warm with this easy-to-follow pattern today. dabblesandbabbles
2. Fastest Crochet Baby Mittens Pattern
Stay warm and make your baby look cute with this fast crochet mittens pattern! They are easy to make, beginner friendly and a great way to use up your yarn stash. This free pattern is perfect for making adorable little mittens that will keep those tiny hands nice and cozy. Get the materials you need, like the #5 category of yarn, J (6mm) crochet hook, scissors and yarn needle – then get started on these beautiful, comfy mittens, which will sure be an eye-catcher! Make these fast crochet baby mittens for a friend or loved one today! maisieandruth
3. How to Crochet Newborn Mittens – Free Pattern
Keep your newborn cozy this winter with these adorable crochet mittens! The free pattern is easy to follow, making it perfect for beginners. With materials like 100% mercerized cotton, a size F 3.75mm hook, a tapestry needle, and scissors, you can make sure your little one's face is protected from scratches while looking cute in their new handmade mittens. Get the instructions today and start crafting! daisyfarmcrafts
4. Crochet No Scratch Baby Mitten Pattern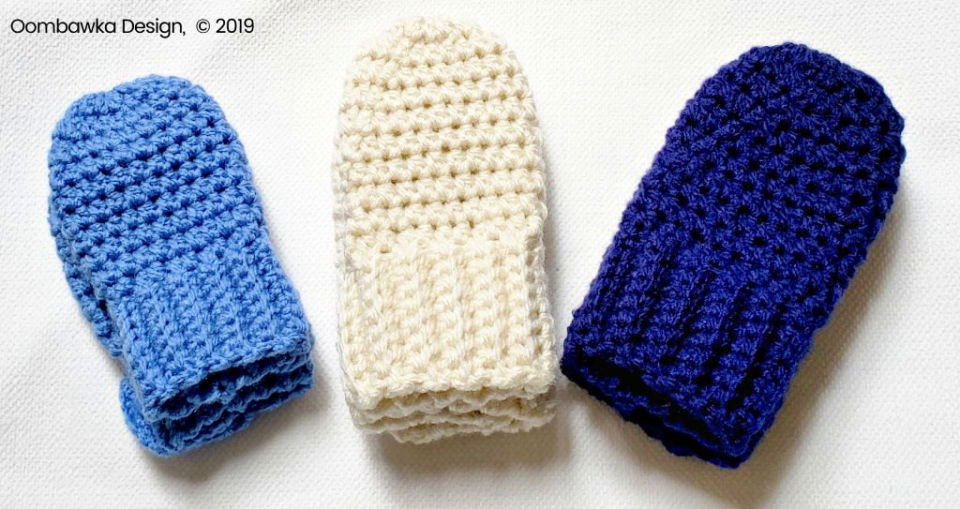 This easy-on, no-scratch baby mitten crochet pattern is the perfect baby gift and fun to make! These cute little mitts feature an adjustable chain-row closure at the wrists for a secure fit. Made with red heart baby hugs light yarn and different sizes of hooks, this beginner project can be completed in no time. With scissors, yarn needle, and stitch marker as supplies, all you need is your creativity to make these beautiful mittens. Get ready to give newborns some extra protection in style! oombawkadesign
5. Simple Crochet Baby Mitts Pattern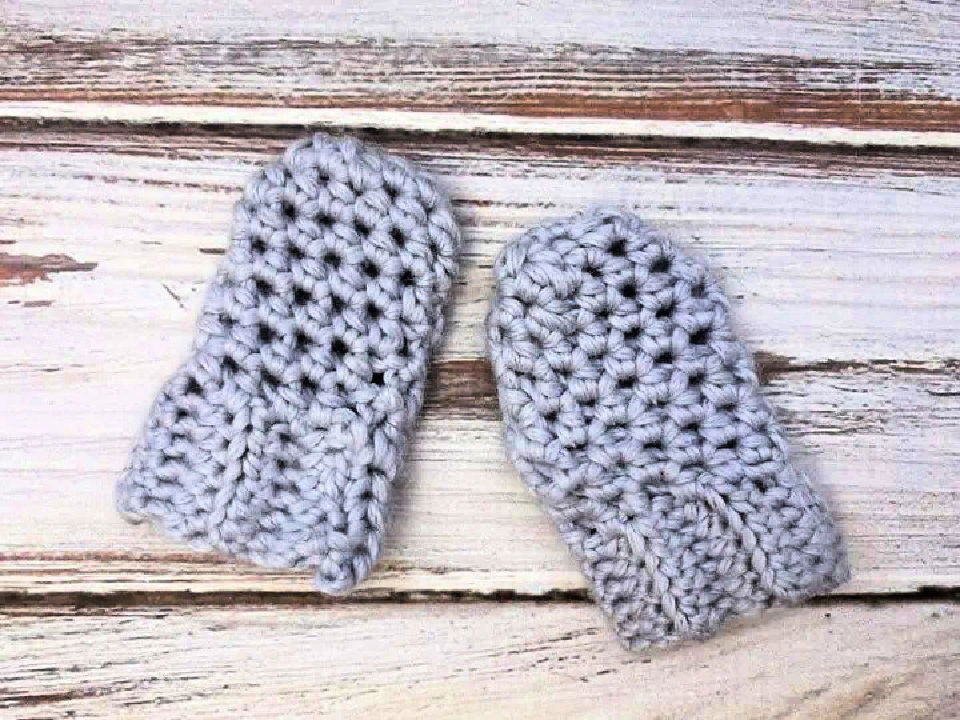 Create a special gift for that new mom in your life with these easy-to-make, simple crochet baby mitts! These mitts work quickly and are great for last-minute gifts and craft fairs. You only need lion brand LB collection mako cotton yarn, size 4.00mm and 5.00mm hooks, a tapestry needle and scissors. With the video tutorial in the instructions, you can make beautiful baby mitts in no time – perfect for any skill level! So grab some yarn from your stash and create something unique today! lovelifeyarn
6. Free Crochet Baby Mittens Pattern for Beginners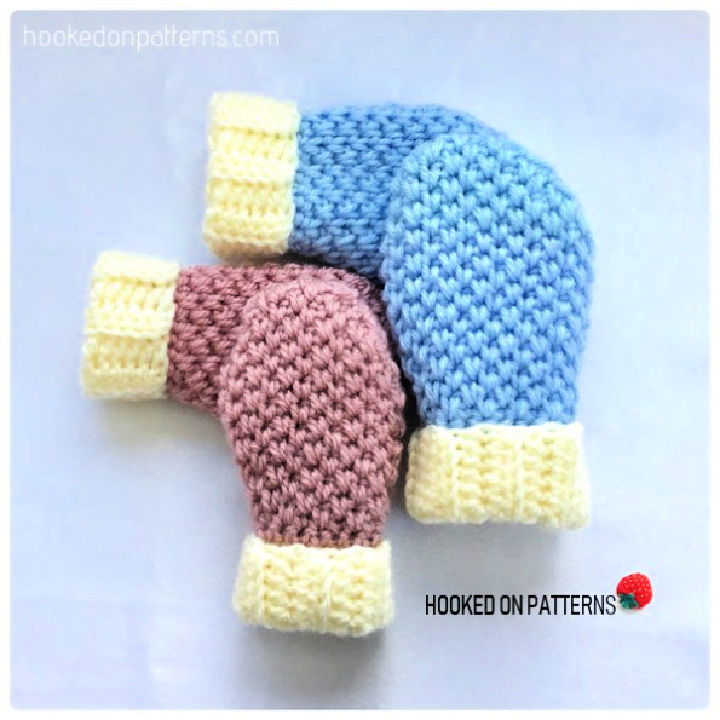 Keep your baby's hands warm this winter with a free crochet pattern for cozy mittens! This easy-to-make pattern features a ribbed double cuff and textured stitch, making it fun to create the perfect pair of gloves. And don't forget mommy – these match the ladies-sized cute & cozy mittens, so you can make a matching set that looks adorable together. All you need is worsted weight #4 yarn, a 5mm hook and a 5.5mm hook as well as a yarn needle and scissors – get started today on creating comfy and cozy mittens for your baby! hookedonpattern
7. Crocheted Warm Baby Mittens – Free Pattern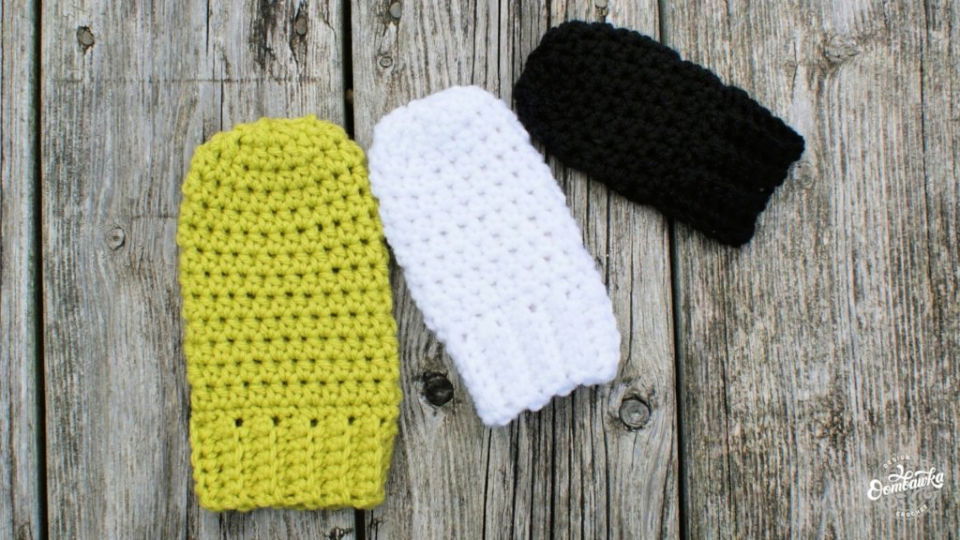 Keep your little one's hands warm and toasty with this free crochet baby mittens pattern! It is beginner friendly, so anyone can make these adorable mittens that look great and feature a wonderful texture. The instructions included in the pattern will help you create the perfect gift for any special occasion. You just need yarn and a 5mm (H) crochet hook to get started on making these amazing mitts. oombawkadesign
8. How to Make Baby Mittens – Free Crochet Pattern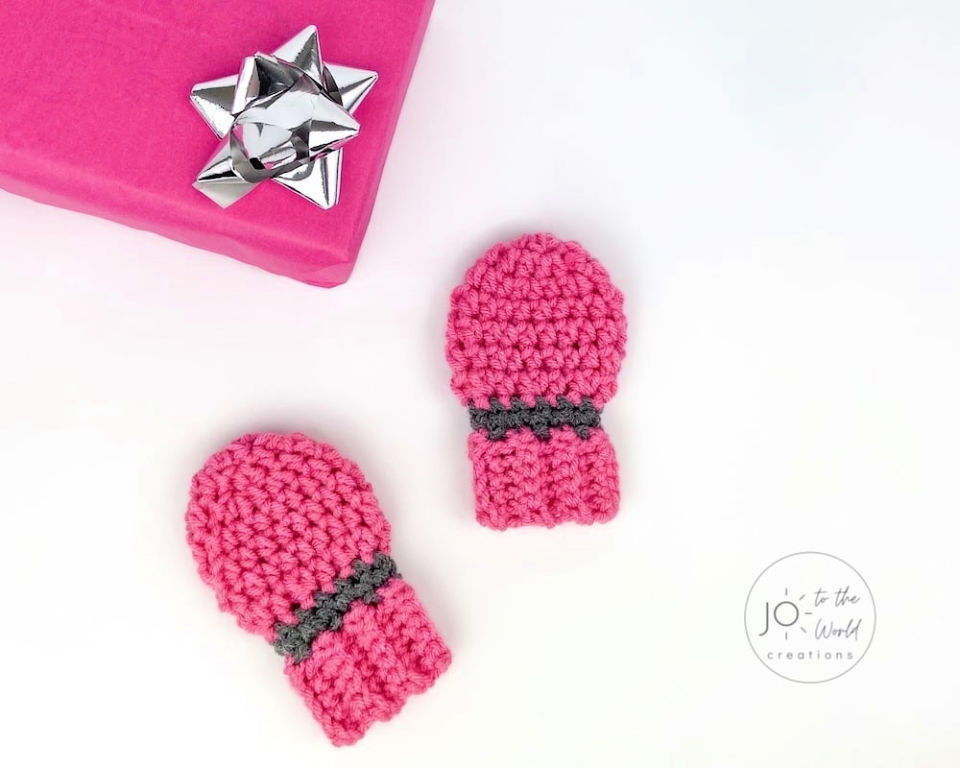 Keep your baby's hands snug and warm with this fast, simple crochet baby mittens pattern! Perfect for beginners, it works up super quickly and is a wonderful crochet baby gift. With just the right amount of cozy charm and that classic look, this pattern includes all the materials you need to get started: worsted weight yarn, size H/8 5.00mm and G/6 4.00mm crochet hooks, yarn needle, scissors – everything to make your little one's hands extra snuggly! So create something special for your bundle of joy. jototheworld
9. Free Crochet Ribbed Baby Mittens Pattern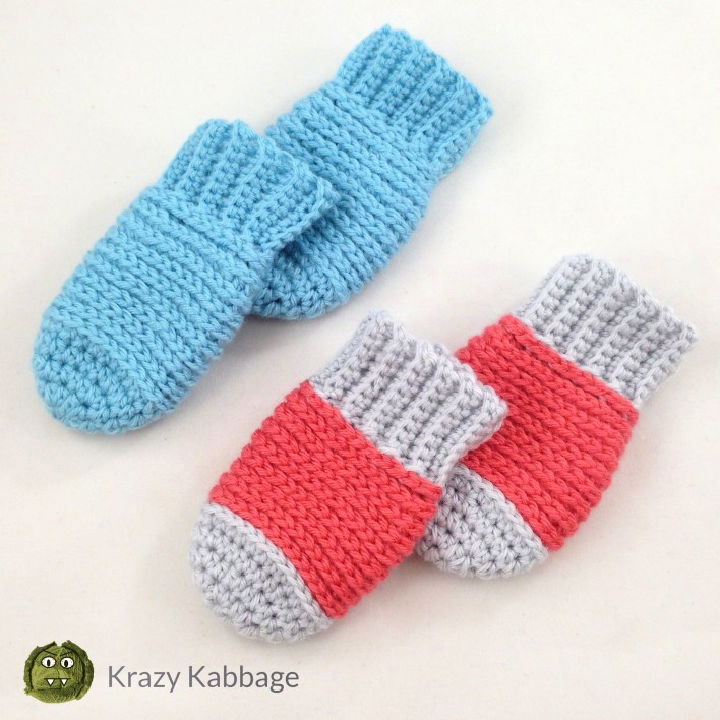 Are you looking for the perfect gift? This free crochet ribbed baby mittens pattern is simple, unisex and looks great. It's soft and cozy, perfect for protecting against those sharp little fingernails while being gentle against the baby's delicate skin. All you need is loops & threads of wellness baby yarn with a crochet hook size D/3 – 3.25mm, along with a yarn needle for assembly. Try this adorable pattern today! krazykabbage
10. How Do You Crochet Mittens for Baby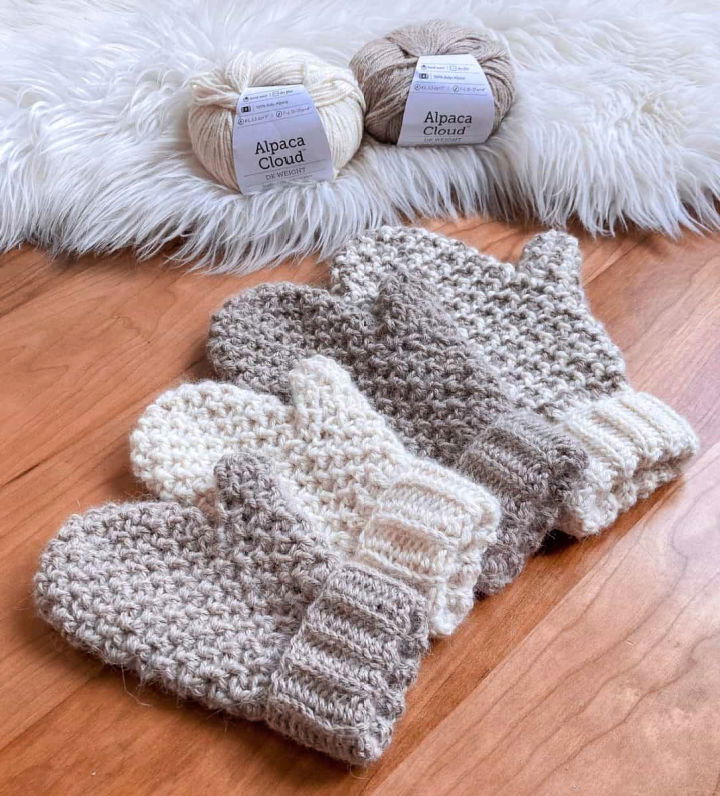 Keep your little ones warm and cozy with this free pattern for crocheting baby mittens! This beautiful, textured style is absolutely perfect for keeping small hands warm during the winter months. Look great as a gift, or simply to add an eye-catching style to your own wardrobe. Instructions and materials required are included: use any #3/DK weight yarn and 3.5mm & 4.5mm crochet hooks. Skill level: intermediate – get creative with colors and textures! nedandmimi
11. Cute Crochet Velvet Baby Mittens Pattern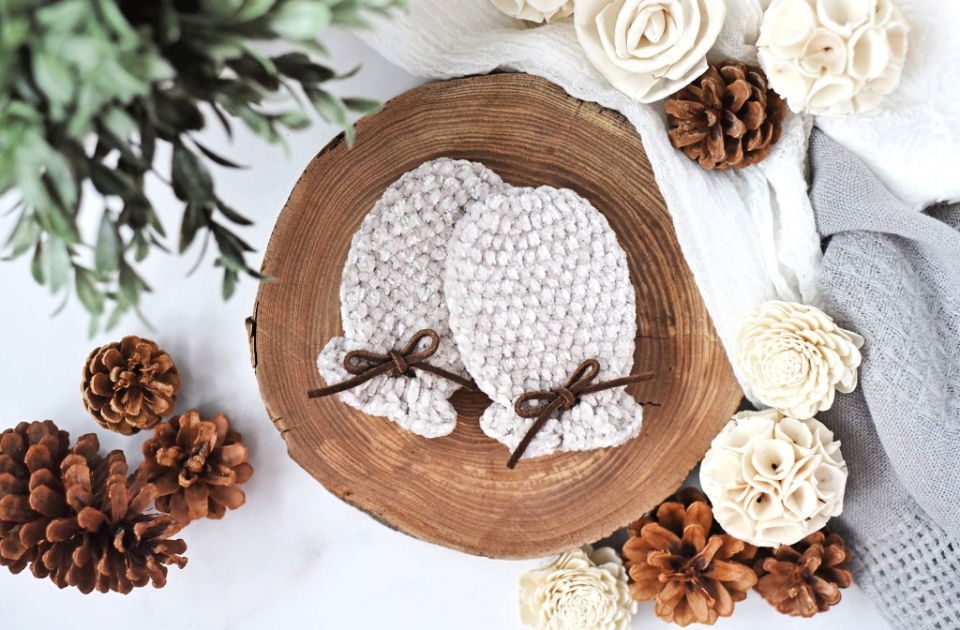 Create your own one-of-a-kind look for a special baby in your life with this crochet velvet baby mittens pattern! This stylish set of mittens is simple to make yet looks elegant. With step-by-step instructions, you can make them in less than 20 minutes with supplies like Bernat baby velvet, 4.00mm (G) hook and yarn needle, scissors and stitch markers. These comfy mitts will be perfect for gifting to the little ones on any occasion and will add unique style to their wardrobe! theturtletrunk
12. Easiest Baby Mittens to Crochet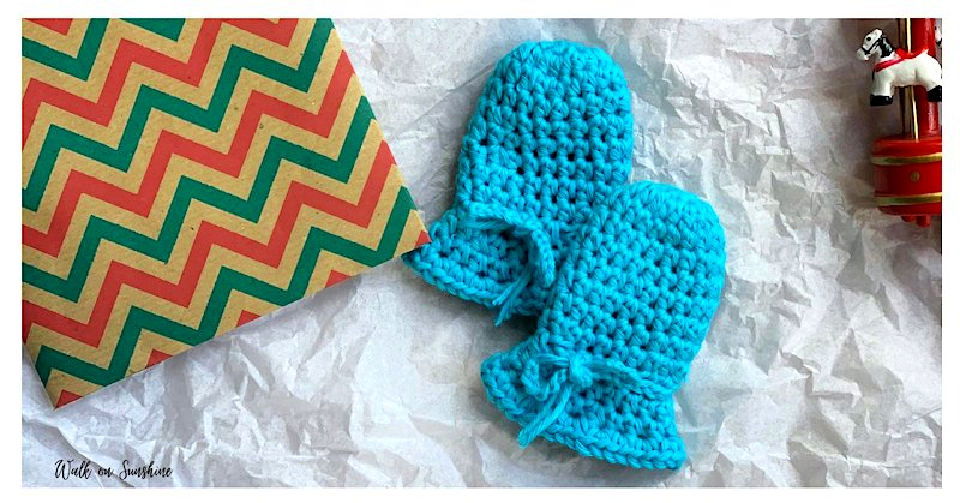 Treat your little one with this adorable pattern of crochet baby mittens. It is super fun to make and a great gift idea for a friend's newborn! This easy-to-follow tutorial will guide you step by step through the process, making it beginner friendly. With the right materials: yarn, yarn needle and crochet hook, you can create the easiest yet cutest looking baby mittens in no time! walkonsunshine
13. Crochet Thumbless Mitten Pattern for Toddlers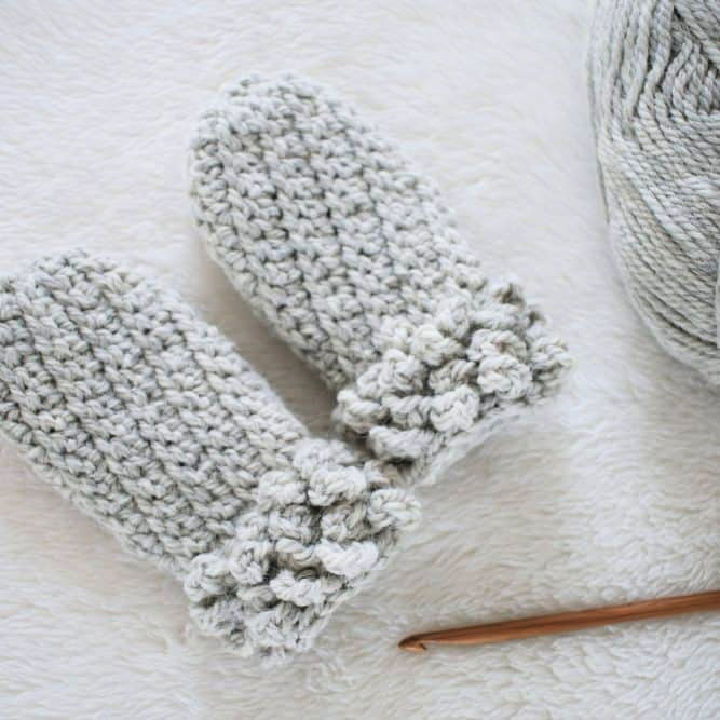 Make your toddler's outdoor experiences easier with these easy-to-make, thumbless crochet mittens! They look beautiful as a handmade accessory for your little one and are ideal for those who don't quite fit fingers in standard gloves. With fun texture and easy-to-follow instructions, even beginners can make them quickly – the perfect last-minute gift! You'll need Aran weight yarn, a size I/9 (5.5mm) crochet hook, an open ring stitch marker, and a tapestry needle. The skill level is rated Easy/Intermediate, so start making today! crochet
14. Free Crochet Little Kid Mittens Pattern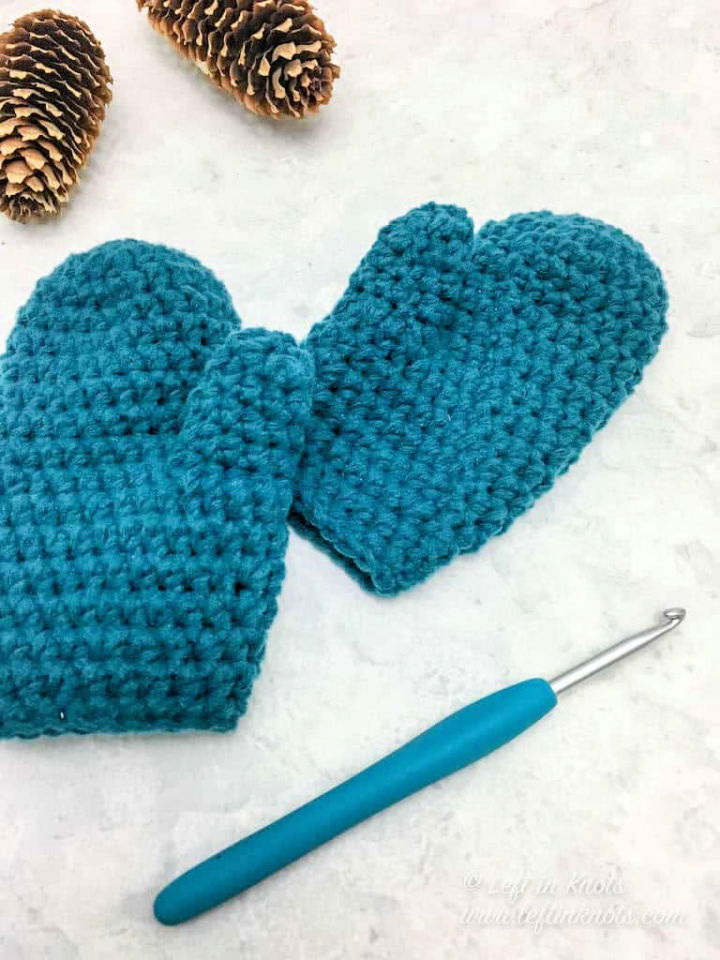 Create a special gift for the little ones in your life with this free crochet pattern for little kid mittens. This easy and fast project uses very small amounts of red heart amore yarn, a 4.0mm crochet hook, scissors, and a yarn needle to make quick work out of this adorable mitten set – great for gifts or donations! Super fun to make, these Little Kid Mittens come together quickly and easily – no need to be an experienced crocheter! leftinknots
15. Crochet Newborn Scratch Mitten Pattern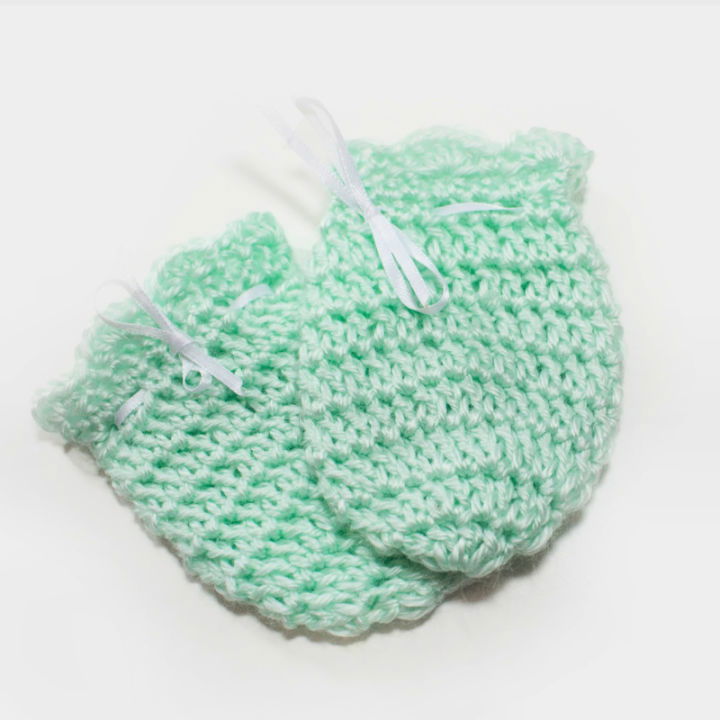 Are you looking for the perfect way to show your love and care? Look no further than this free crochet newborn scratch mitten pattern! These sweet, soft mittens are easy to make with instructions that even a beginner can follow. Not only do they look beautiful, but they will also help keep the baby's delicate skin safe from scratches. This makes an ideal gift for any new mom or baby shower. You need some baby sportweight yarn and a 3.5mm crochet hook to get started on these essential little accessories today! charmedbyashley
16. Free Crochet ESC Baby Mitts Pattern to Print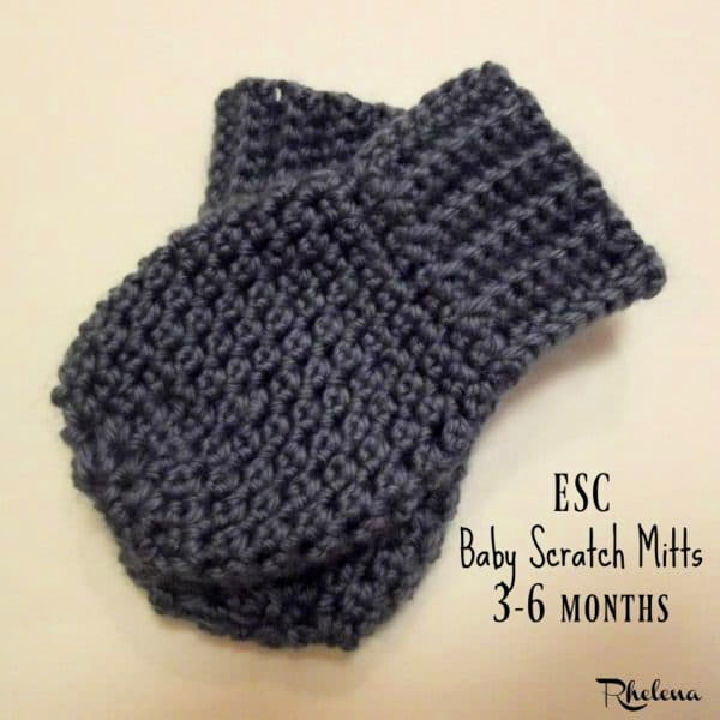 Keep those tiny hands warm and comfortable in the cold weather with these ESC crochet baby mitts! Perfect for babies aged 3–6 months, this free pattern is beginner friendly and looks amazing. Crafted using caron simply soft yarn and 4.00mm or 5.00mm crochet hooks, plus 6″ soft cord elastic to top it off, the mitts measure 2.75″ across the body when laying flat and 4.5″ long – so you can keep your baby from scratching up their face too! Get creative with colors – start crocheting today! crochetncrafts
17. Baby Moss Stitch Crochet Mittens Pattern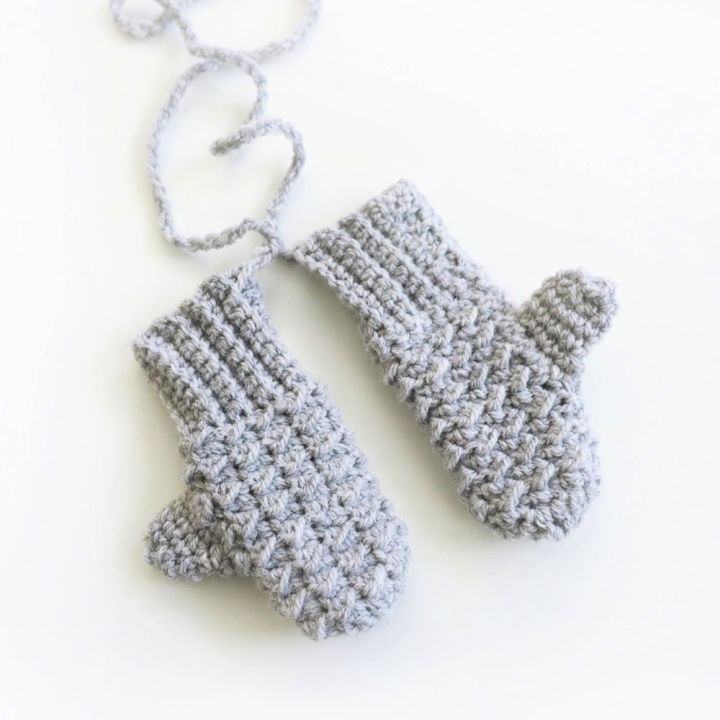 Stay warm this winter with this free crochet baby mittens pattern! This adorable and cozy design is perfect for gifts, making it an ideal project to work up quickly. The moss stitch creates a beautiful texture, and the pattern can easily be adjusted to fit your needs. It's easy, so don't worry if you're a beginner crocheter! All you need is worsted-weight yarn, a 7/4.5 mm hook, scissors, a tapestry needle and a stitch marker. In no time, create something special for someone special during chilly weather! mermaidsand
18. How to Crochet Newborn Baby Scratch Mitts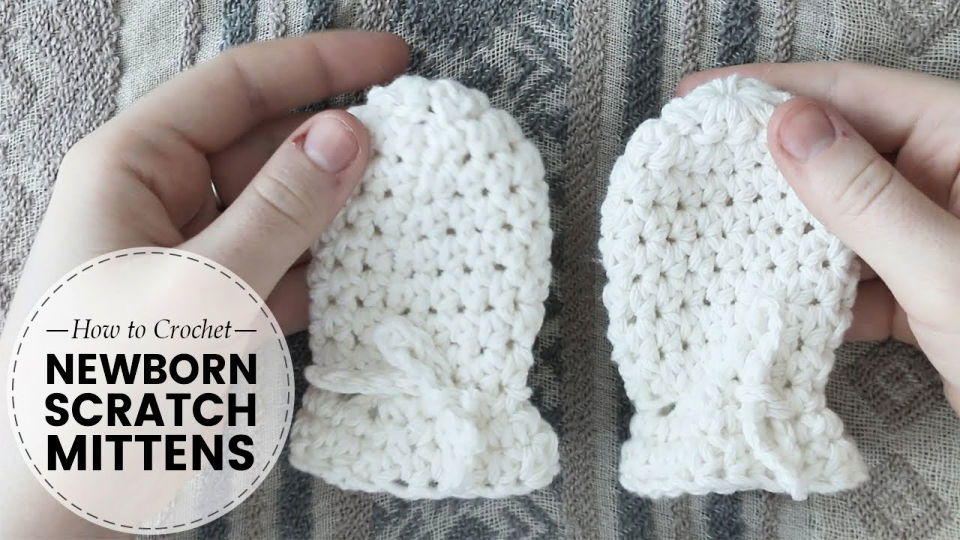 Craft a sweet and useful gift for the newest addition to your family with this free crochet pattern for super cute newborn baby scratch mitts. Perfect for beginners, it only takes 30 minutes to complete. Follow this easy step-by-step instruction, gather supplies like a 4mm crochet hook, scissors, and yarn, then start crocheting! You'll be surprised how quickly you can make these special one-of-a-kind items that any new parent will surely treasure forever. Give the perfect welcome home present today.
19. Easy Crochet Baby Mitts Tutorial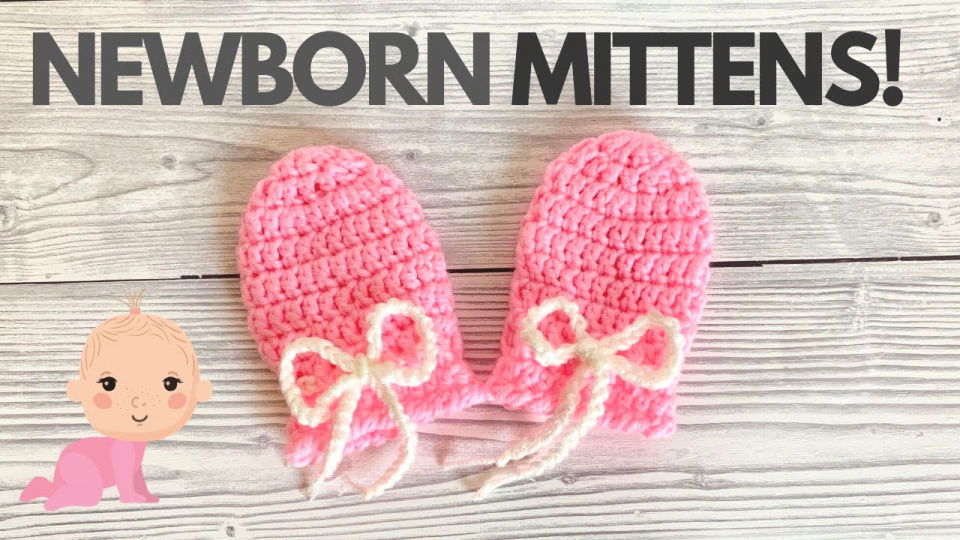 Crochet adorable newborn baby mittens with this free pattern! Perfect for a handmade accessory for your little one, these easy crochet baby mitts are warm and comfy for your precious bundle of joy. With supplies like 100% cotton yarn, a 3mm crochet hook and scissors, it's the perfect project for a beginner crocheter. Even if you're just starting out, you'll be able to make these beautiful mittens as a great gift idea!
20. Beautiful Crochet Baby Heart Mittens Pattern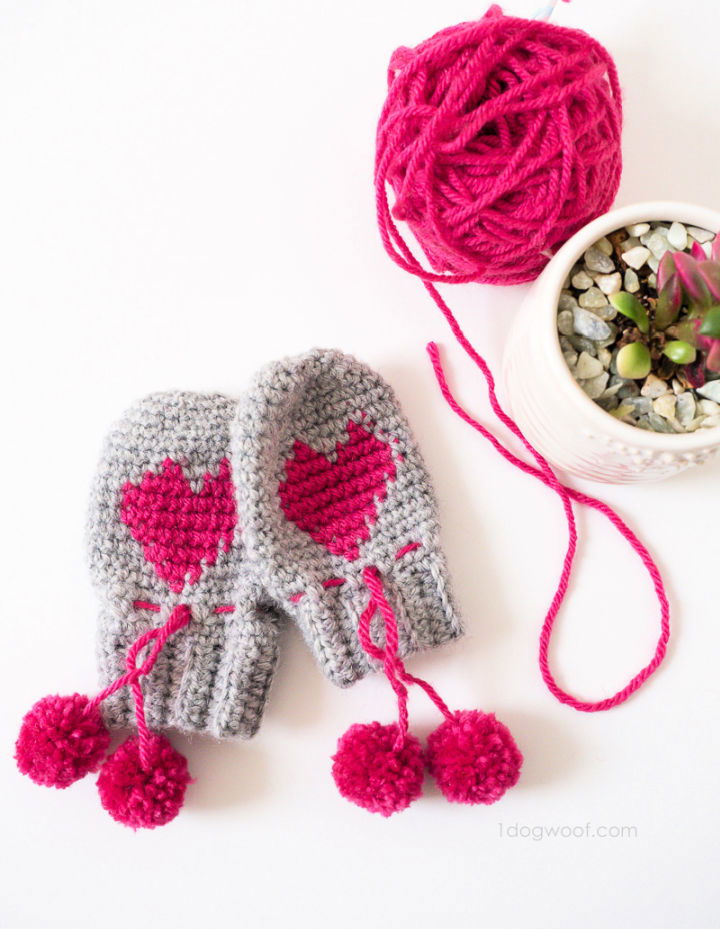 Spread some love this valentine's day with a fun and easy crochet project for the baby in your life! These cute, warm crochet baby heart mittens are perfect for making as a handmade gift. They require only basic supplies such as lion brand wool ease yarn, hooks in sizes F/3.75mm & G/4mm, a stitch marker and other materials like scissors, tapestry needle and fork. Quick to work up, these mittens will look pretty cute on any little one while keeping their tiny hands warm and soft. With detailed instructions, you can complete this amazing project today! 1dogwoof
Related Free Crochet Patterns:
Find free crochet patterns and tutorials to inspire your next project! Learn how to make a variety of homemade items, from clothing to accessories.
Conclusion:
Crocheting baby mittens is a satisfying and enjoyable for any crocheter, from beginner to experienced. With the right pattern and materials, it's easy to make beautiful newborn mittens that can be used as gifts or keepsakes—free crochet baby mitten patterns with instructions on how to crochet them in various styles. The patterns range from simple one-piece designs with no thumb holes to more complex two-piece pairs with attached thumbs. Crochet infant mittens also use larger hooks and thicker yarns for a sturdier finish. For those looking for an easier version of crocheting baby mittens, there are plenty of free toddler glove patterns, too, perfect for little hands just learning to manipulate items like buttons and zippers. Whatever crochet baby mittens you choose, your handmade gift will surely delight you!