If you're a fan of the beloved character Totoro, you'll love our collection of 25 free crochet Totoro patterns with step by step instructions! Whether you're a novice or an experienced crocheter, you'll find a free crochet Totoro pattern to create this cute and whimsical creation. Our crochet Totoro patterns come with detailed instructions, helpful illustrations, and step-by-step tutorials, making creating your own adorable Totoro easy. You'll need a few basic supplies, such as yarn, a crochet hook, stuffing, and some basic crochet skills.
From amigurumi Totoros to larger stuffed Totoro patterns, our collection of free crochet Totoro patterns has something for everyone. You'll even find a free printable pdf and a Totoro amigurumi pattern free for your convenience. Whether you're making a Totoro doll for yourself or as a gift for someone special, these free crochet Totoro patterns will provide you with hours of fun and entertainment.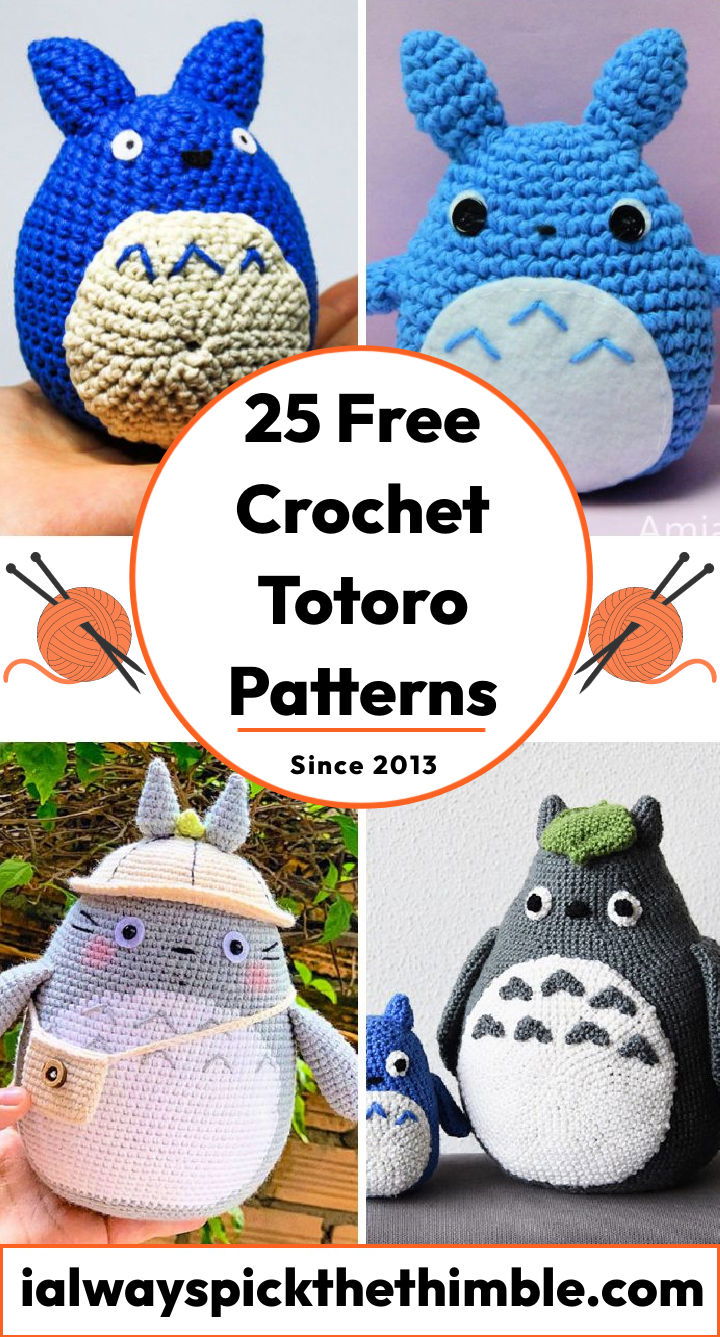 So why not try your hand at crocheting your own Totoro today? With our easy-to-follow crochet patterns, you'll have a blast making your own handcrafted crochet Totoro amigurumi that you can cherish forever.
1. Cute Crochet Totoro and Chu Totoro Pattern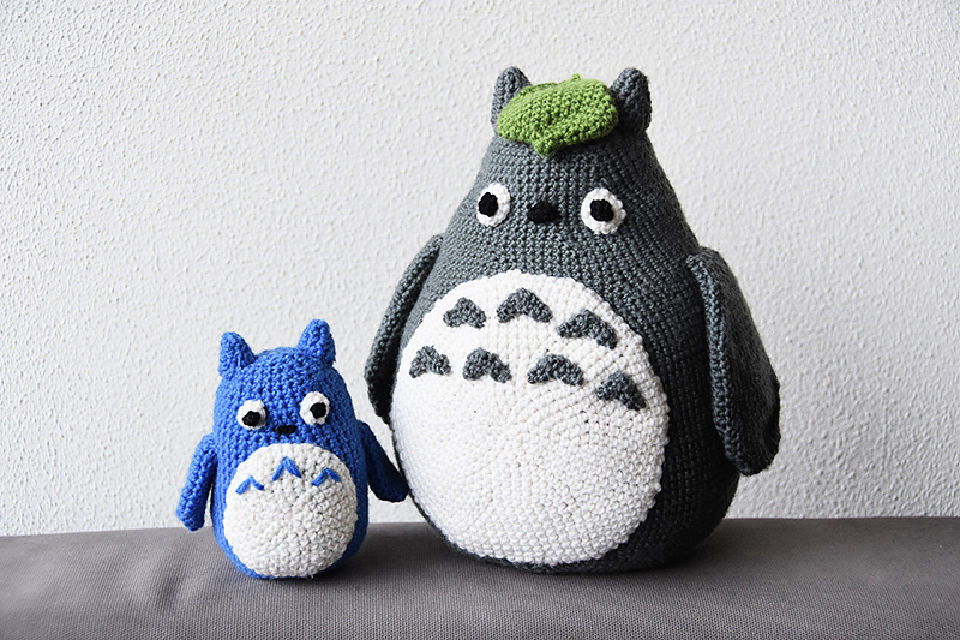 This super awesome free my neighbor Totoro crochet pattern has been designed for advanced beginner skill-level crocheters. With a 3.0mm crochet hook and sports-weight yarn of your choice, you can craft an endearing replica of the beloved Miyazaki character. Make this unique Totoro design today! It's sure to make any kid or adult smile with delight when they see it. Start stitching up magical memories today with this free pattern! flyingdutchman
2. Quick and Easy Crochet Totoro Pattern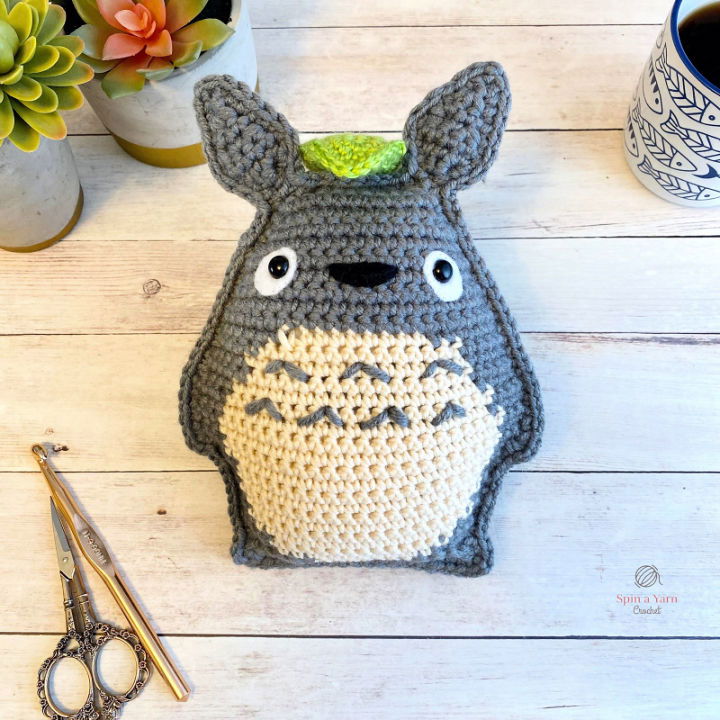 Don't miss out on creating your Totoro with this free crochet pattern! This fun and easy-to-follow design incorporate the tapestry crochet technique and a bit of colorwork, using a 4mm hook for the main. You can use the yarn of your choice too! To complete the project, you will need a 3.25mm hook for the leaf; white felt; 10mm safety eyes; sewing needle & white thread for assembly; and stuffing – all readily available from craft stores near you. So what are you waiting for? Get crafting now with this awesome Totoro free crochet pattern! spinayarncrochet
3. Simple Crochet Chuu Totoro Pattern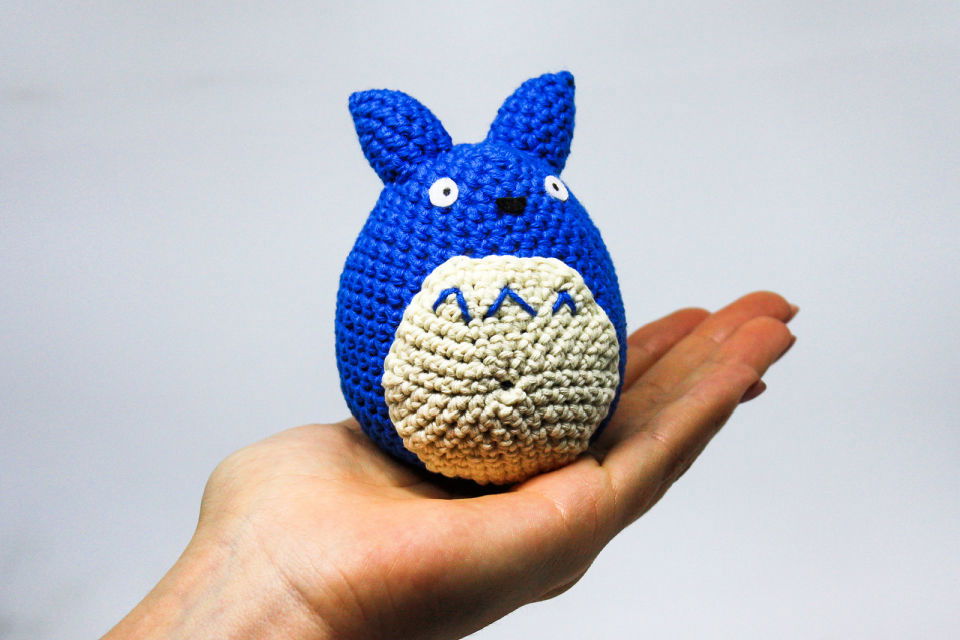 Create your own Chuu Totoro with this easy-to-follow crochet pattern! This middle-sized Totoro is perfect for adding a touch of fun and cuteness to any home. You can easily craft up some furry fun with just a 3mm crochet hook, blue and white yarn, toy stuffing, felt, glue and a scissor! Make one or make many – Chuu Totoro will always bring a smile to your face. amigurumino
4. Beautiful Crochet Blue Chu Totoro Pattern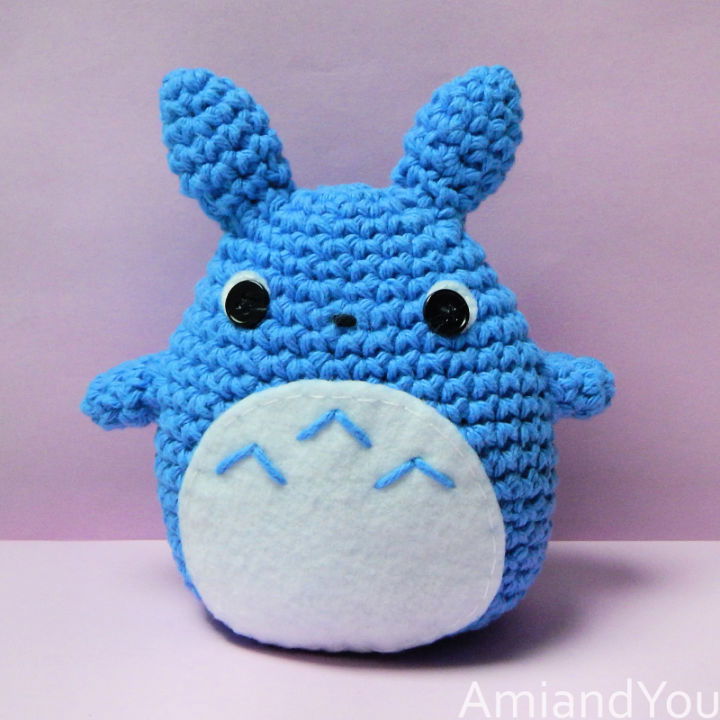 Make your holiday season merrier with this adorable blue chu Totoro pattern! This easy-to-follow crochet pattern is perfect for beginners and includes helpful tips and techniques and a free felt template for easy assembly. With just a few materials, such as blue and black yarn, a 3.5 mm crochet hook, and some polyfil, you can create an adorable Totoro approximately 6 inches high and ready to join you on all your winter adventures. amiandyou
5. Easy Chubby Totoro Crochet Pattern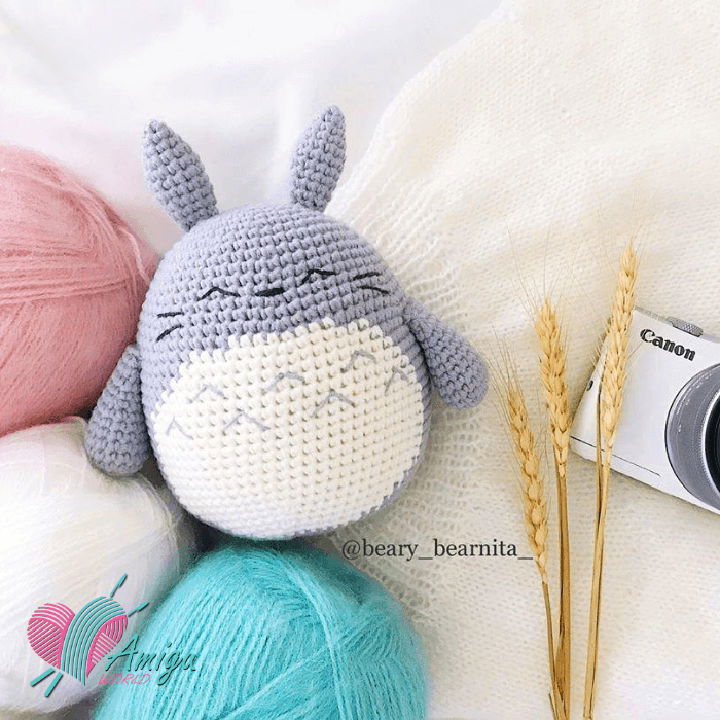 This adorable chubby Totoro amigurumi is a unique and cuddly gift for any occasion! With the free pattern provided, it's quick and easy to make using 4-ply yarn in grey, white, and black, along with a 3-4mm crochet hook. It also requires fiberfill stuffing, sewing needles, and black embroidery thread. This adorable amigurumi will bring smiles to anyone who receives it! Make your chubby Totoro the perfect addition to any baby's nursery or room today. amiguworld
6. Crochet Totoro Amigurumi – Free PDF Pattern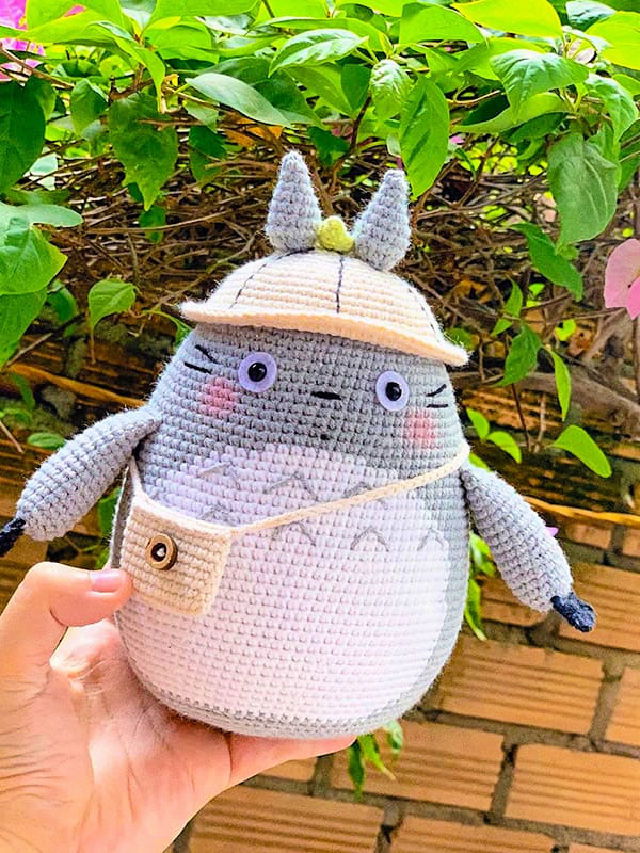 Make your home come alive with this free crochet Totoro pdf amigurumi pattern! With its cute and cuddly appeal, you can use it as a toy or a pillow in your living space. It's perfect for making memories with loved ones, especially children, who will surely be delighted by the adorable design. You'll need materials such as yarn, a crochet hook, black embroidery thread, fiberfill and yarn needles to create this piece. So grab these essential pieces and prepare to bring fun and warmth into any room with this amazing free pattern! lovelycraft
7. Modern Crochet Chibi Totoro Pattern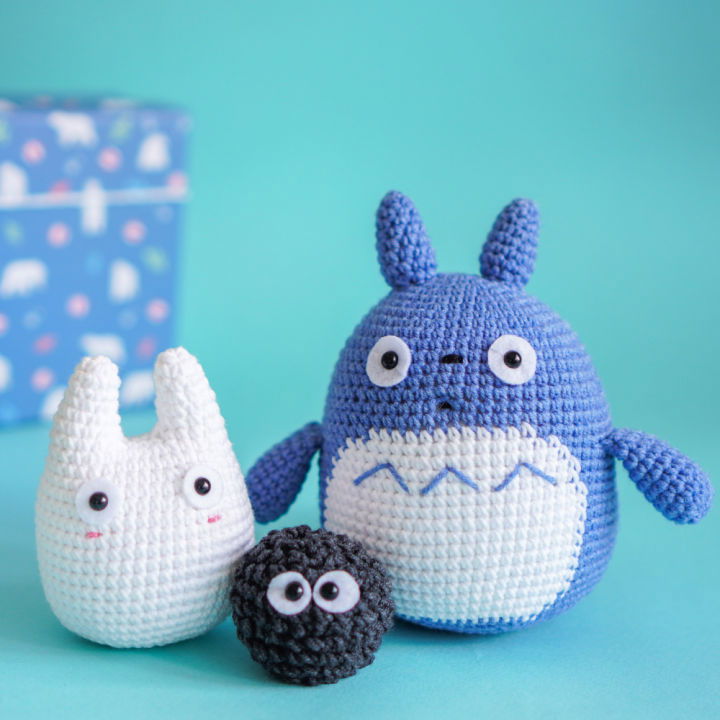 Unlock the magic of childhood memories with this cuddly chibi Totoro crochet pattern! You can quickly bring your favorite anime character to life using only a 2-2.5mm crochet hook, 6mm safety eyes, white felt fabric, tapestry needles, and pins! The perfect gift for any fan or just crafty fun for yourself – this pattern will surely be a great addition to any collection. hstatic
8. Free Crochet Big Totoro Pattern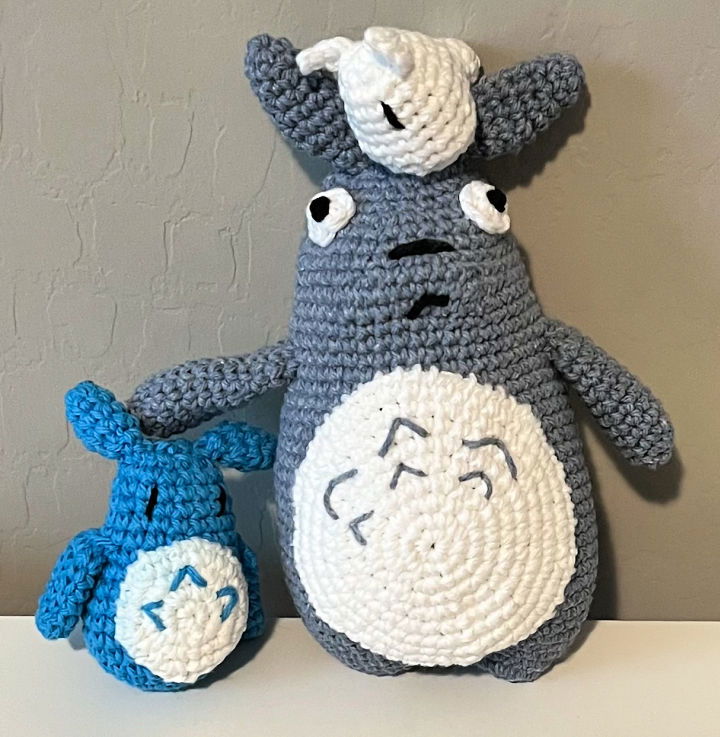 Bring the magic of Miyazaki's Totoro to life with this free crochet pattern! Using a 4.00 mm hook and size 4 yarn, you can make your snuggly Totoro plush – perfect for cuddling & gifting. Get creative by customizing the color & texture of your Totoro using different types of yarn to create a one-of-a-kind creation! Download this big Totoro crochet pattern now & start crafting today! guppydesigns
9. Free Crochet Totoro Amigurumi Pattern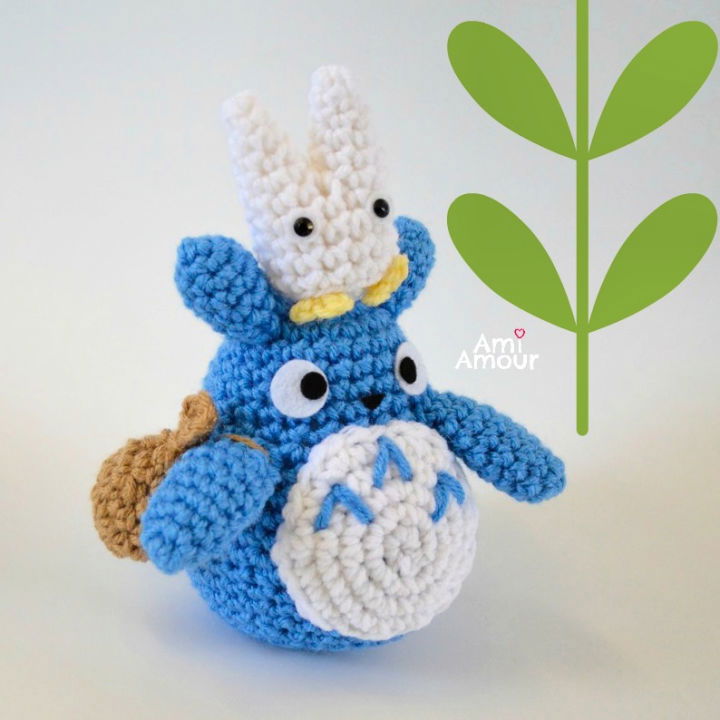 Let the adventure of crafting begin with this Totoro amigurumi crochet pattern! With its easy skill level, you can create this adorable Totoro quickly. You'll need a size H-8 5 mm crochet hook and worsted-weight acrylic yarn in various colors. Follow the instructions and have fun putting together your own little Totoro amigurumi! This crochet pattern makes a great gift or addition to any collection of handmade crafts. Get creative with color combinations, and finish any look with the cutest little stuffed animal! amiamour
10. Best Totoro and Friends Crochet Pattern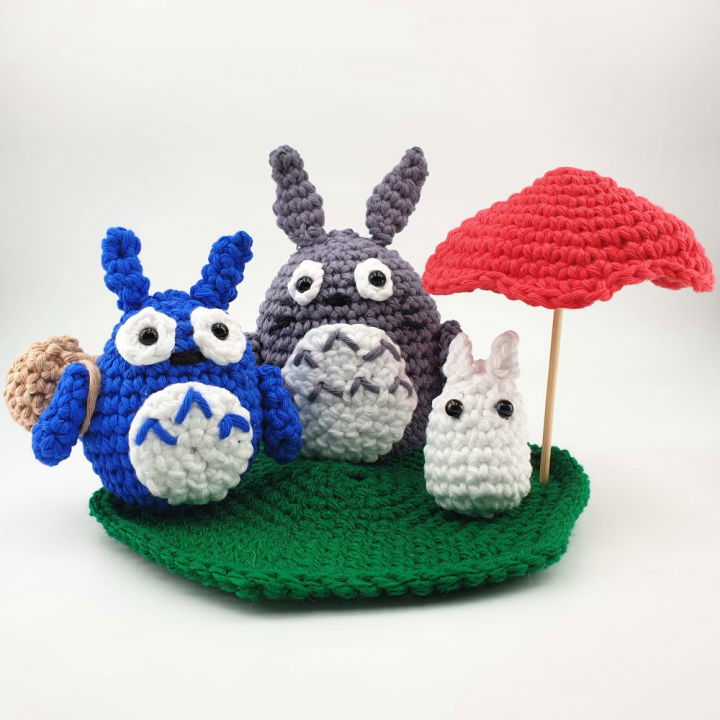 Explore a delightful world of amigurumi with our beautiful crochet Totoro patterns, designed to bring your favorite character to life with every stitch!
Embark on an enchanting journey and explore the wonders of Miyazaki's world with this Totoro and friends crochet pattern! This pattern contains instructions to make your own Totoro, chu totoro and chibi totoro.
You only need Aran yarn, a 3.5mm crochet hook, 6mm safety eyes, pins, yarn needle, stuffing, and a cocktail stick to craft these cute critters. It's an easy pattern perfect for beginners or those who want an enjoyable project in their spare time! Get creative and bring the magic of Totoro into your home with this adorable crochet pattern ninjacatcrafts
11. How to Crochet Huggable Totoro Free Pattern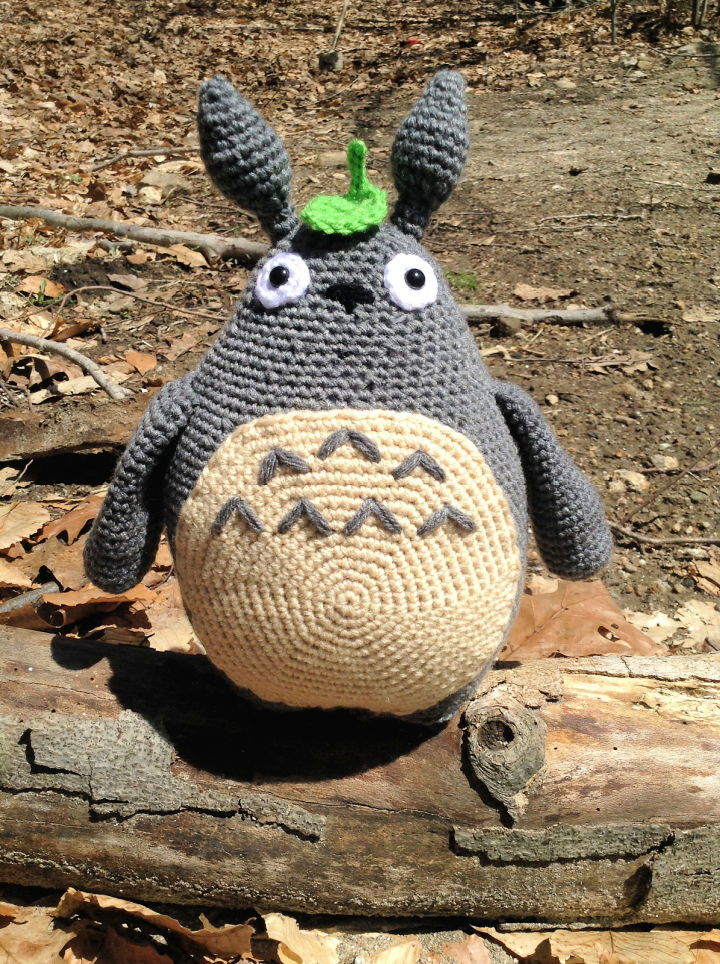 Are you searching for a free pattern to crochet your own huggable Totoro? This easy-to-follow guide will provide you with just that! You only need a G hook, yarn, yarn needle and some poly-fil stuffing. The detailed instructions will help you make this adorable stuffed animal quickly. Create your own cuddly Totoro today and give it as the perfect gift for friends or family – they are sure to love it! hooksandhabits
12. Free Totoro Crochet Pattern for Beginners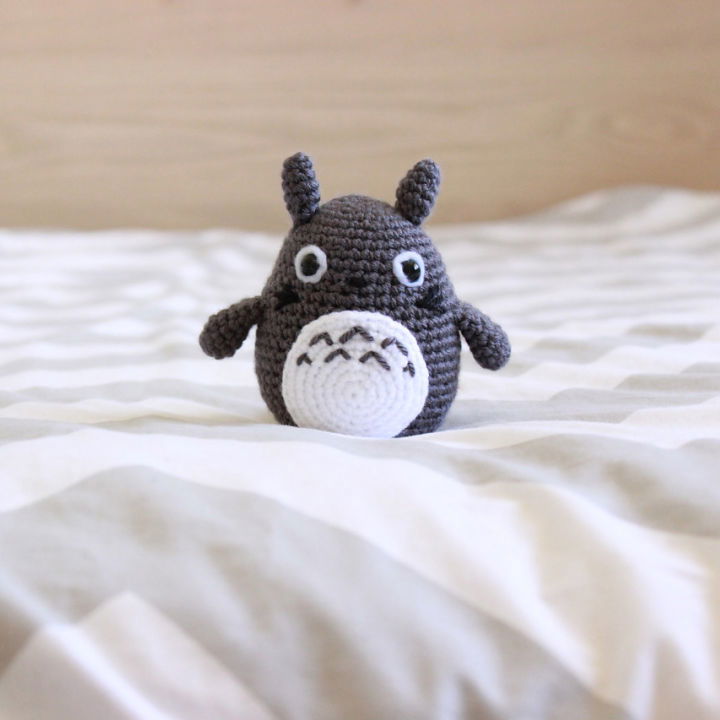 On a hunt for an adorable and easy-to-make crochet pattern? Look no further than this free Totoro crochet pattern for beginners! With only basic materials like a 3.00mm crochet hook, 2 x 10mm black safety eyes, white felt, white yarn, grey yarn, black yarn and polyester fiberfill needed – you can craft your magical creature in no time! This simple guide is perfect for beginners or experienced crafters alike – so don't wait any longer and start making your cuddly friend today! 53stitches
13. Cool Crochet Totoro Plushie Pattern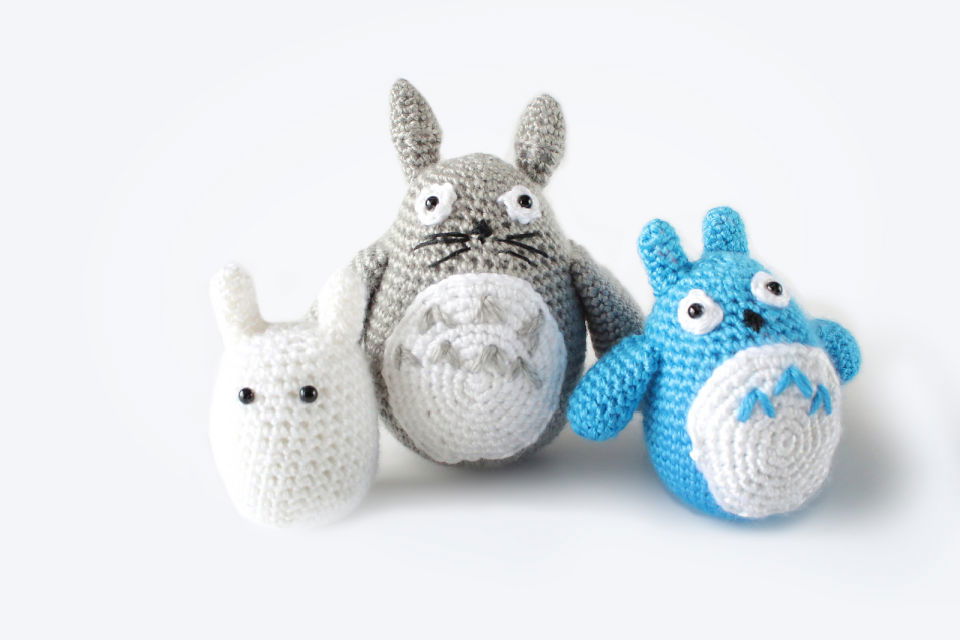 Transform your home into a magical wonderland with this cuddly Totoro! Perfect for beginners, this easy-to-follow pattern will guide you through recreating the 3 famous characters from the movie as crochet amigurumis. With a 3.25mm crochet hook, worsted weight yarn in gray, blue, and white, black embroidery floss, 6mm safety eyes, polyfill stuffing, and a tapestry needle, you'll be able to make these cuties come to life! Start crocheting your new friends today! theblueelephants
14. Crocheted Neighbor Totoro Amigurumi – Free Pattern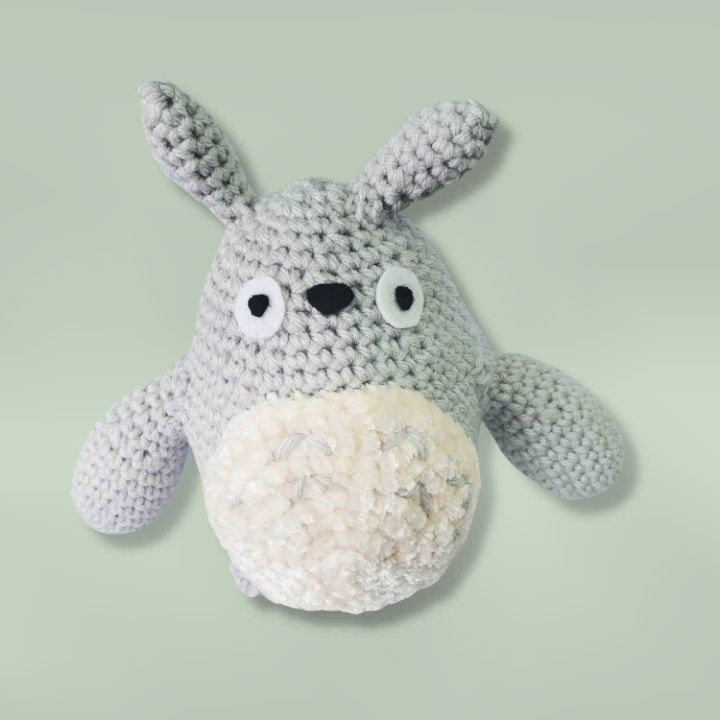 Crochet a cuddly version of the beloved childhood character, my neighbor Totoro! With loops & threads of impeccable yarn in classic grey, Bernat velvet yarn in white and one sheet of black and white felt, you can craft an amigurumi that will delight children for years to come. Don't forget your 3.25mm crochet hook and sewing pins to complete this project – perfect for beginner crocheters! Get creative with colors & designs, then display proudly or give as a gift – it's sure to bring smiles! summerbug
15. Fastest Crochet Neighbor Totoro Pattern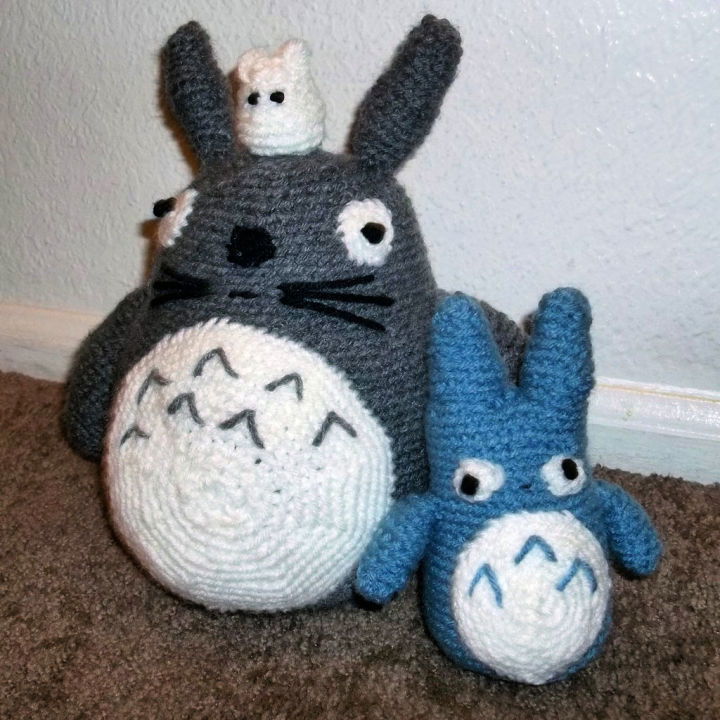 Make the most adorable neighbor Totoro crochet toy with this easy-to-follow pattern! With just three colors of yarn, grey, white, and black and a 5.50 mm crochet hook, you'll have your own cuddly Totoro in no time. The soft polyester fiberfill stuffing makes it perfect for hugging and showing off to friends! Take a few hours to create your fast and fun DIY craft project – the fastest crochet neighbor Totoro pattern is here! instructables
16. Pretty Crochet Anime Totoro Pattern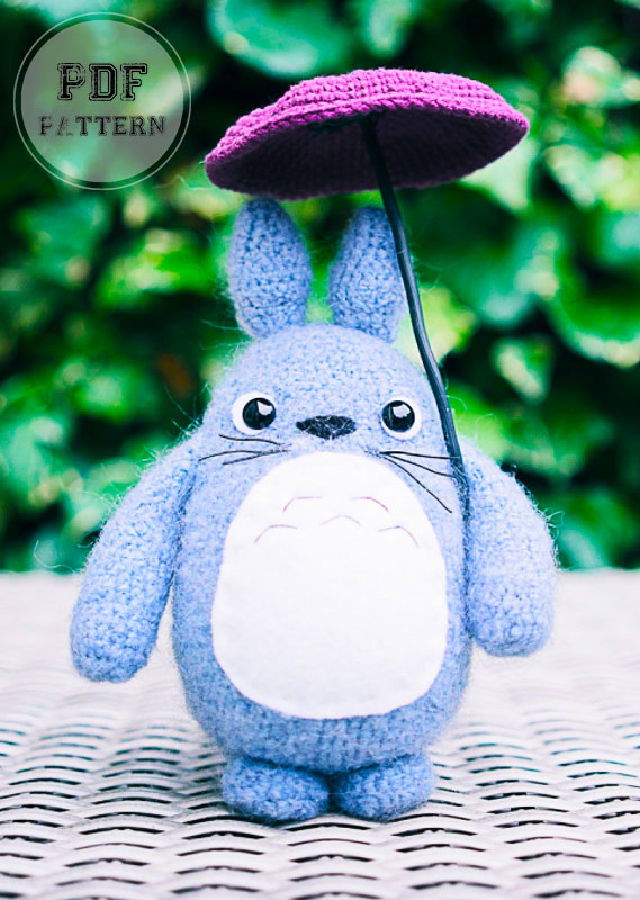 Add a whimsy to your kid's bedroom with this adorable crocheted Totoro pattern! Easily crochet it yourself using basic materials from any local store. Your kids will love displaying the character in their bedroom, which is guaranteed to put a smile on their faces. Get started now and make something truly memorable – perfect as a gift or an addition to your home décor collection. Don't miss out on this fun opportunity – get crocheting today and bring Totoro into your life! amigurumi
17. How Do You Crochet a Mini Totoro Amigurumi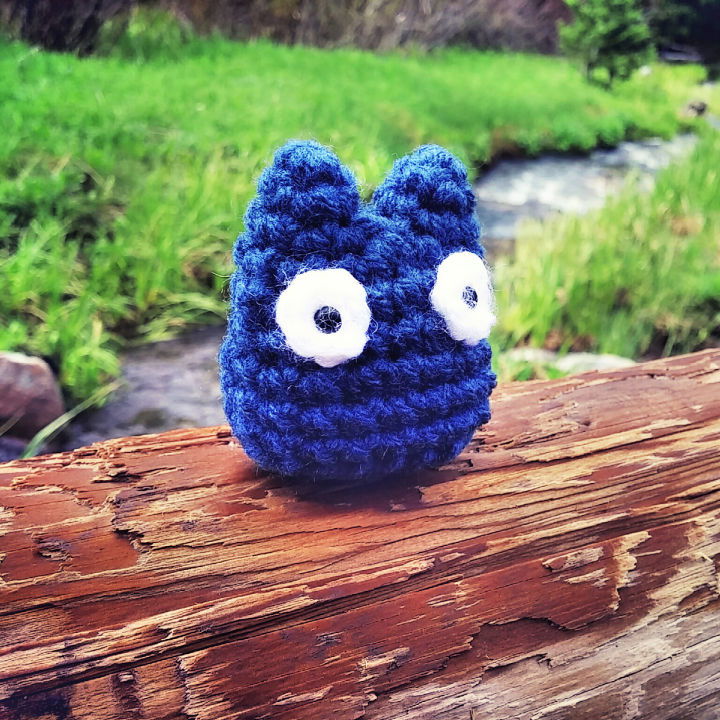 Get a pocket-sized friend on all your adventures with this fun and easy mini Totoro crochet pattern! This tiny toy is crocheted using worsted weight yarn in body color and white, plus a 4mm hook for the body and a 3.25mm hook for the eye whites. Stuffing and 18-22 gauge craft wire are also needed. Make sure you have some silly photo apps ready on your phone to take pics of all your adventures together! Grab this free crochet pattern today to start making your own Mini Totoro! hellohappy
18. Free Crochet Pattern for White Chibi Totoro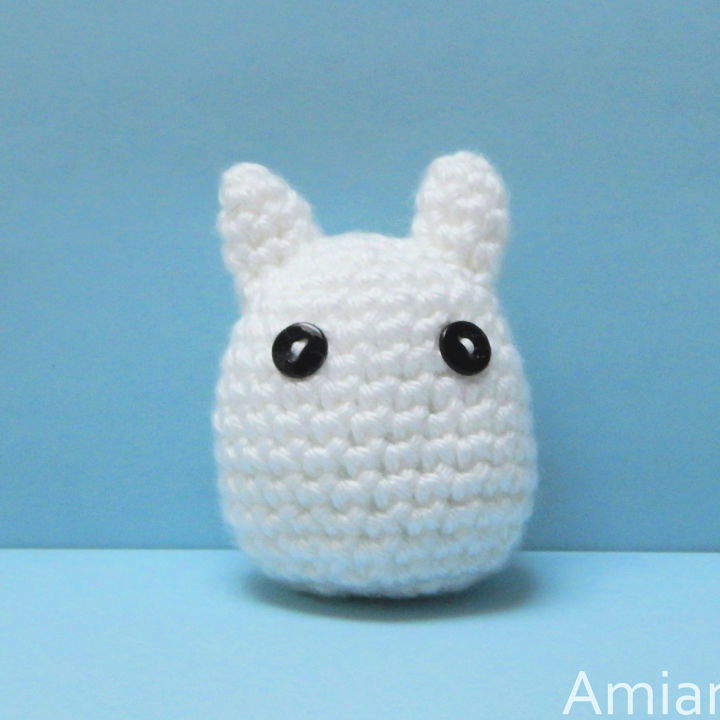 Create your very own Totoro with this easy-to-follow, free crochet pattern! This beginner-friendly pattern provides step-by-step instructions to make an adorable white Totoro approximately 3.5 inches high and 2.5 inches wide. With materials like white yarn, a crochet hook, button eyes, and embroidery thread, you'll be ready to go on adventures with your Totoro quickly. The pattern includes helpful techniques like the magic ring and invisible decrease, making it perfect for crocheters of all skill levels. Give your home or workspace a touch of cuteness with this charming amigurumi pattern today! amiandyou
19. How to Make Crochet Totoro Amigurumi – Free Pattern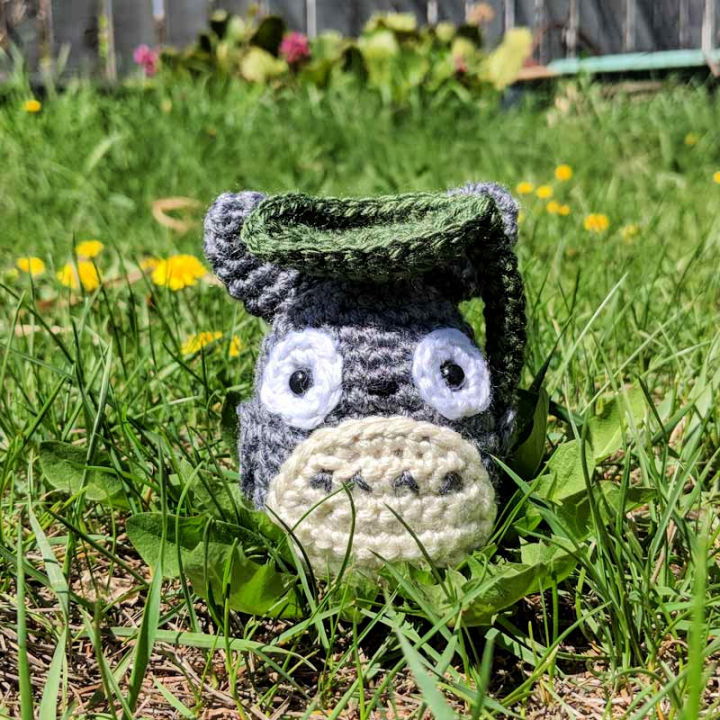 Let the power of imagination bring your own adorable Totoro to life! Whether you're a beginner or an experienced crocheter, the detailed instructions included in this package will guide you through every step of the process. You'll need yarns in various colors, 8 mm safety eyes, polyester fiberfill, and a 4.5 mm crochet hook to finish your Totoro plush toy! With its big belly, cuddly body and cheerful expression, it's sure to bring a smile to everyone who sees it. Enjoy hours of fun crafting your very own lovable Totoro! sirpurlgrey
20. Easiest Totoro Hat to Crochet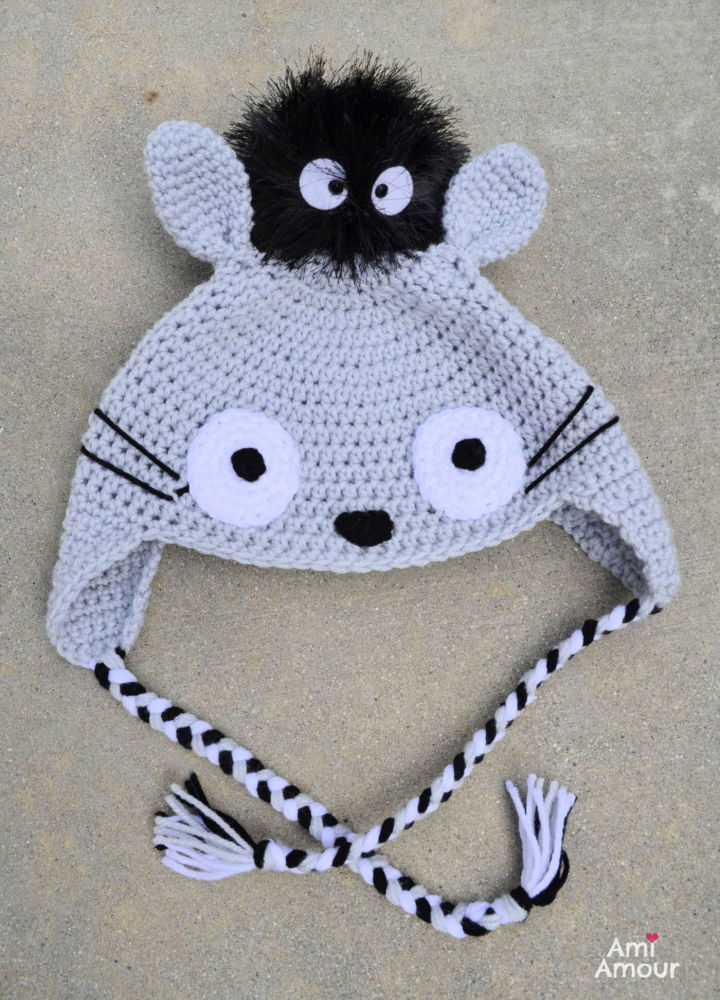 Cuddle up with your Totoro as you snuggle in this handmade crochet hat! This beginner-level project works quickly and easily using red heart super saver yarn and a 5.0mm crochet hook, perfect for cosplay or showing off your love of studio ghibli films. The finished hat features huge eyes and whiskers embroidered into the base – make sure you take lots of pictures while wearing it! Download the free pattern today and start creating your charming crochet Totoro hat! amiamour
21. Crocheting a Mini Totoro – Free Pattern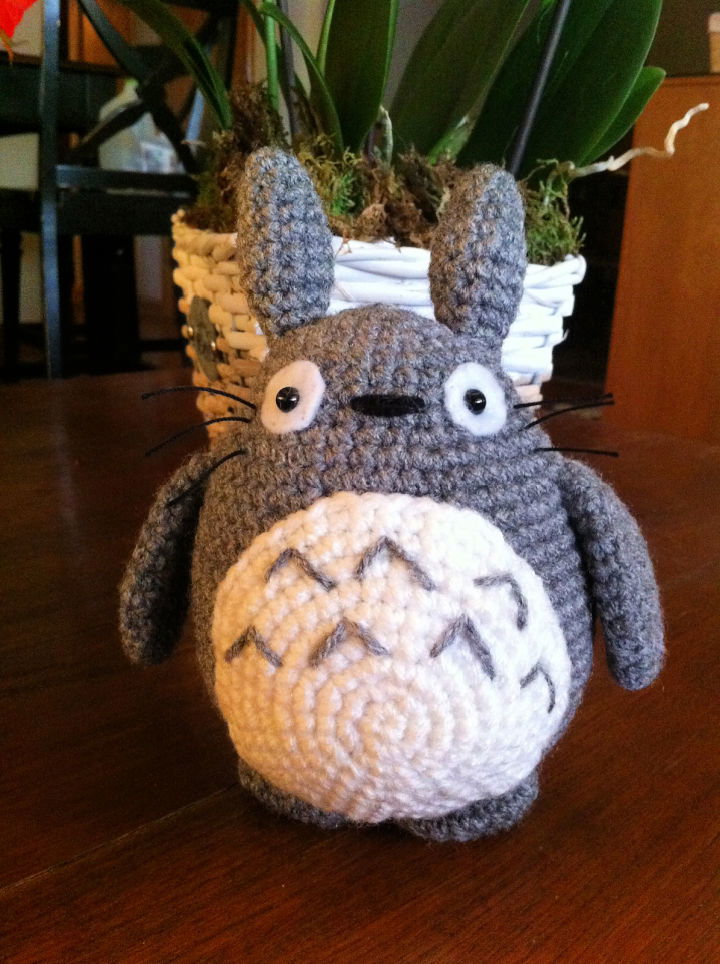 This site can't provide a secure connection
22. Beginner-Friendly Crochet Totoro Plush Tutorial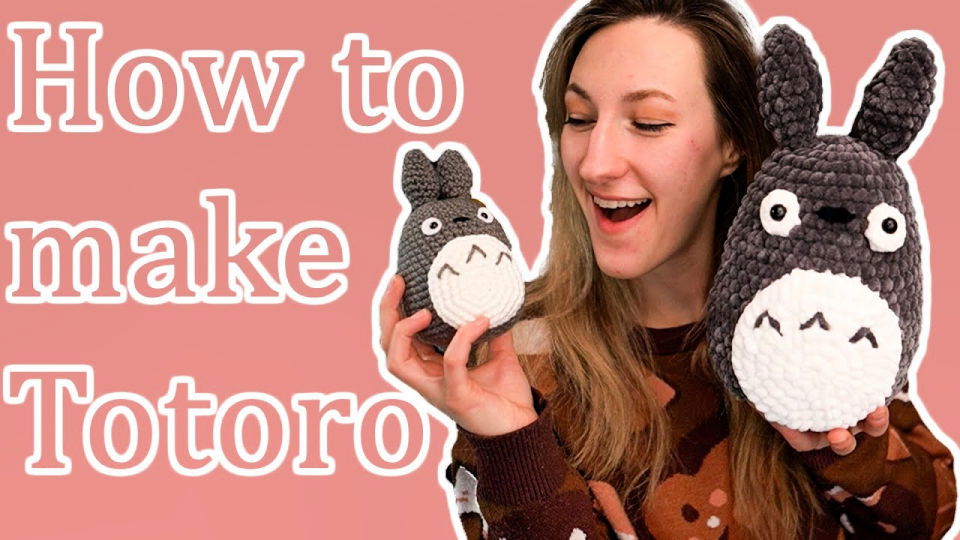 Unleash your creativity and craft adorable Totoro characters with our enchanting collection of crochet Totoro patterns, perfect for a cozy and charming addition to your home decor or as a delightful gift for any Studio Ghibli fan!
Make your home cozier by creating a handmade crochet Totoro amigurumi with this beginner-friendly tutorial! You can quickly make an adorable plush toy even if you have never crocheted. It's an easy and enjoyable way to pass the time when it's raining outside or as a special gift for your little ones who love Japanese anime characters. Get ready to learn how to make a Toroto craft with this easy-peasy tutorial!
23. Gorgeous Crochet Totoro Backpack Pattern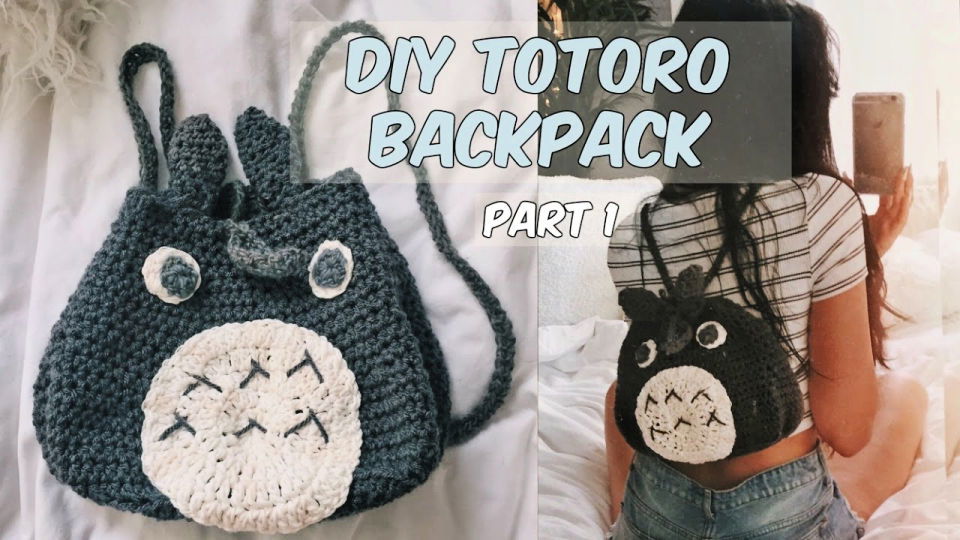 Show your love and appreciation for a special someone with this one-of-a-kind gift – a DIY crochet Totoro backpack! With its adorable design of Totoro, you can make this backpack in your free time with just a few simple materials. Learn how to crochet it step-by-step, and feel satisfied as you create something special with your two hands. Surprise someone today and show them how much they mean to you by gifting them this DIY crochet Totoro backpack!
24. Crochet Totoro Amigurumi – Step-By-Step Instructions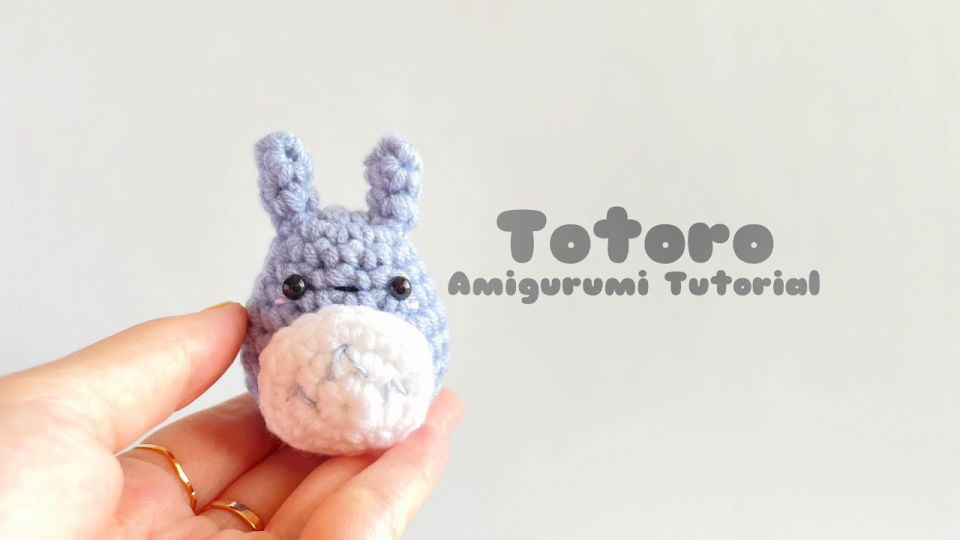 Craft the perfect gift with this free crochet Totoro amigurumi pattern! This tiny Totoro will take just a few moments to make and is a great way to bring a touch of magic into your kid's bedroom. Plus, they'll love playing with it too! All you need is some milk cotton yarn and a 3.50mm crochet hook – don't forget to share pictures of your creations on social media so everyone can enjoy them too!
25. Free Crochet Giant Totoro Pillow Pattern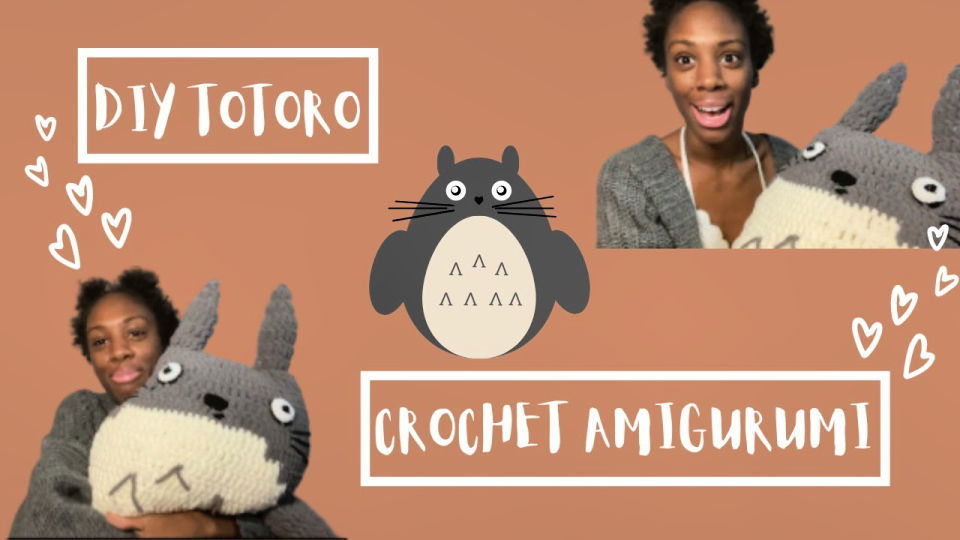 A cuddly Giant Totoro Pillow is just a few stitches away! This simple project is great for using up any leftover yarn. With the help of this guide and detailed instructions, you can make your cozy pillow in no time. Perfect for snuggling up on the sofa or decorating a child's bedroom, this cute Totoro pillow will surely delight everyone who sees it. Start crafting today!
Discover the cutest crochet Totoro patterns and bring your favorite Studio Ghibli character to life with your own handmade creations!
Related Free Crochet Amigurumi Patterns:
Discover the joy of creating handmade amigurumi toys with our wide selection of free crochet patterns. Use your imagination to make something special for someone you love!
Easy Crochet Amigurumi Patterns:
Conclusion:
In conclusion, if you're a fan of the adorable Totoro, you'll be delighted to know that plenty of free crochet patterns are available to make your own stuffed Totoro or amigurumi Totoro. With 25 free crochet Totoro patterns, including a free printable pdf and a free large Totoro crochet pattern, you will surely find a crochet Totoro pattern that suits your skill level and preferences. So why not try making a Totoro doll today with a crochet Totoro pattern? Get started on your crochet Totoro project and bring a bit of whimsy into your life!