If you love all things owls, then you're in luck! We've rounded up a list of 25 free crochet owl patterns that will have you swooping in to create your very own owl amigurumi pattern. From realistic crochet owls to cute and cuddly crochet stuffed owl patterns, there's something for everyone. With easy-to-follow step-by-step instructions and various crochet owl patterns ranging from simple to complex, you can create your own unique crochet owl in no time.
These free crochet owl patterns come complete with all the details you need, including the necessary supplies, stitch abbreviations, and gauge measurements. Whether you're a beginner or an advanced crocheter, these owl amigurumi patterns are perfect for both. You'll be amazed at the variety of crochet owl designs, from tiny keychain-sized to full-sized stuffed owls.
Each crochet owl pattern includes clear and detailed instructions to make assembly a breeze. Some even include helpful illustrations and video tutorials to guide you. So why not try making a crochet owl today? These free owl patterns are a hoot and will make the perfect addition to any collection.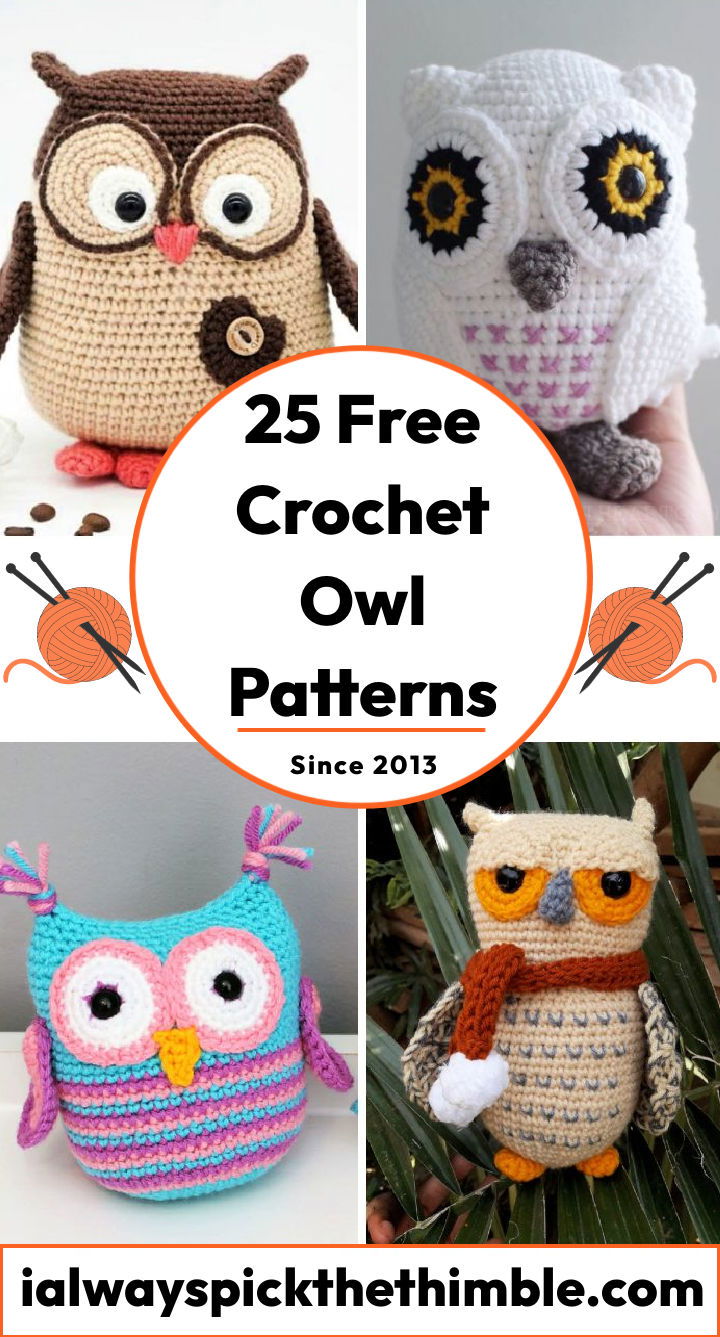 Free Crochet Owl Patterns
Whether you're looking to create a realistic crochet owl or a cute and whimsical amigurumi owl, our collection of free owl patterns has got you covered. So why wait? Start crocheting your own stuffed owl today and discover the joy of creating handmade toys and decorations!
1. Free Crochet Olive the Owl Pattern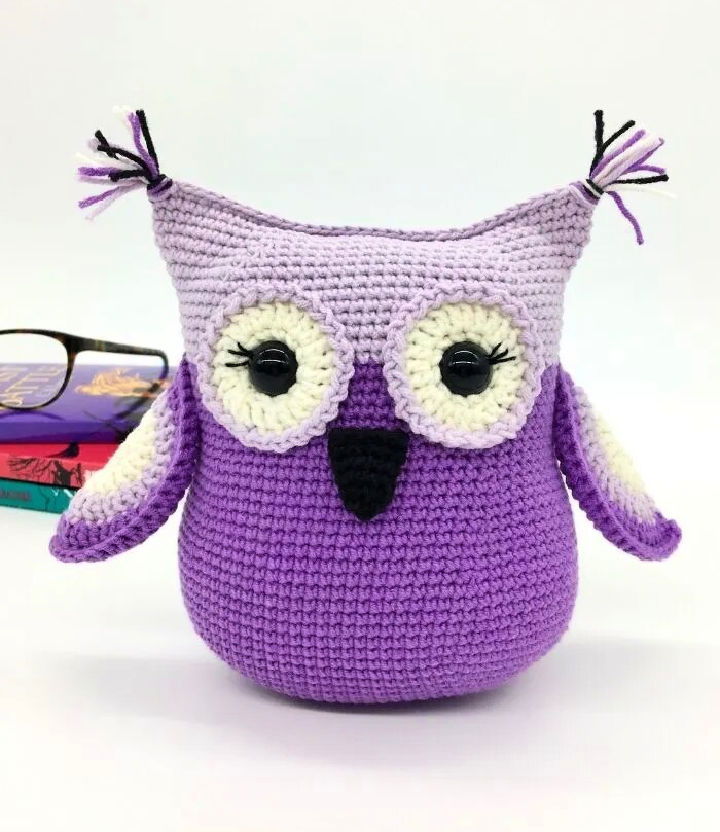 Make Olive the owl with this free crochet pattern! Create a beautiful gift that will impress with Olive's big, wise eyes and delicate wings. This easy-to-follow pattern is perfect for beginner and intermediate crocheters alike. With a finished size of 19 cm high and 18 cm wide, you'll have this adorable owl in no time! cuddlystitchescraft
2. Crochet Owl Amigurumi – Free PDF Pattern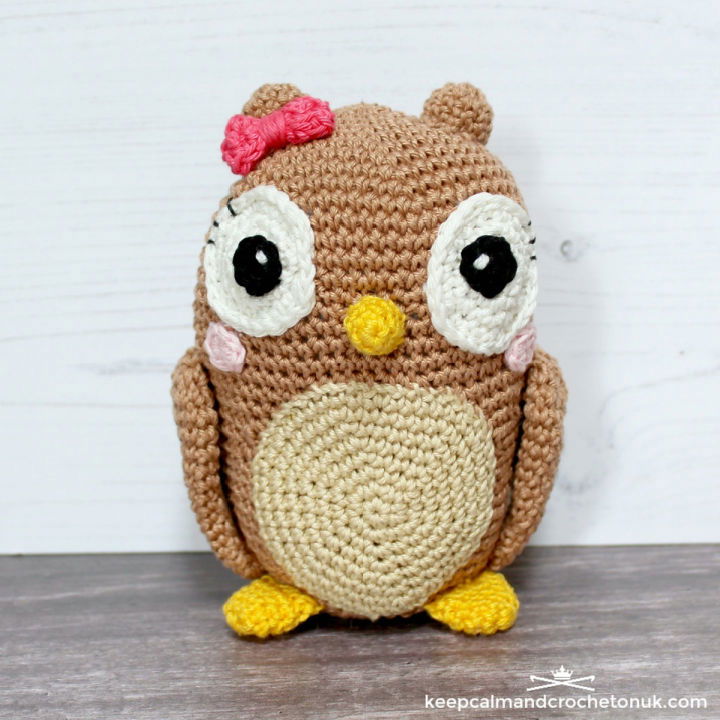 Crochet your owl amigurumi with this free PDF pattern! With just a few supplies, you can create an adorable handmade home decor item or give it as a thoughtful gift to someone special. This easy-to-follow tutorial will have you stitching up the cutest little owl in no time! Whether you're a beginner or an experienced crocheter, this project is perfect for everyone who loves crafting beautiful art pieces. Download the pattern today and start creating your crochet owl amigurumi masterpiece! anchorcrafts
3. Cute Crochet Baby Owl Amigurumi Pattern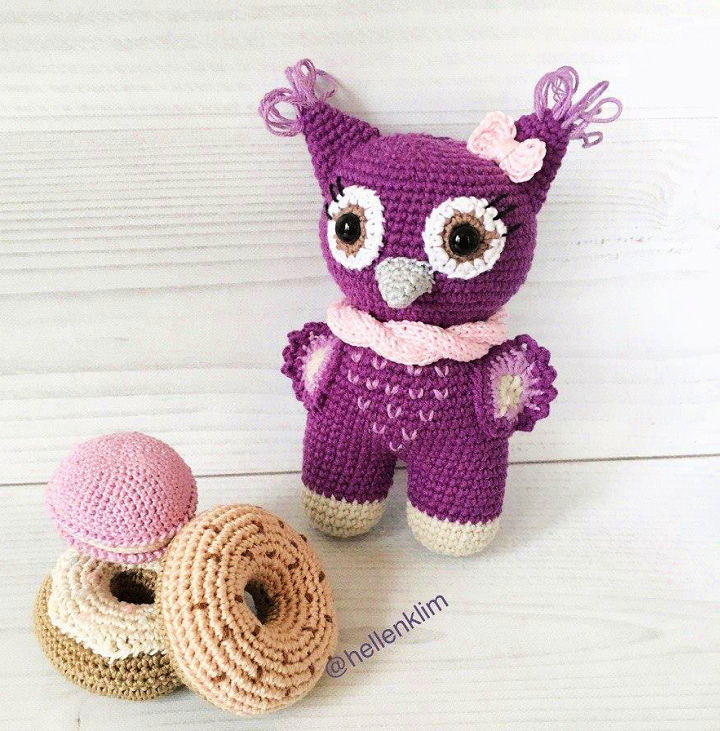 Love crocheting? Now you can make an adorable amigurumi baby owl with this free pattern! This cute little owl is perfect for nursery decoration. All you need are yarn art jeans in purple, lilac, and grey colors; cotton yarn for the eyes; black embroidery floss for the eyelashes; and a 2.00 mm hook to create your handmade masterpiece. Follow the easy-to-understand instructions to start making your amigurumi baby owl today! alwaysfreeamigurumi
4. Crocheting a Macho the Owl – Free Pattern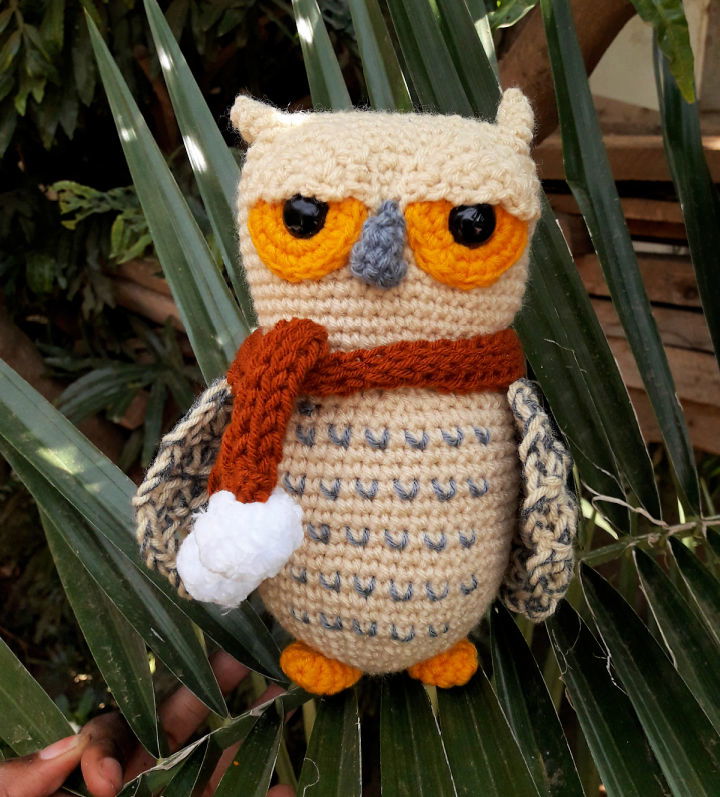 Create your own Macho the Owl with this free crochet pattern! This amigurumi project is perfect for advanced beginner-level crafters and works quickly as a fun playtime companion. You'll need acrylic DK yarn in various colors, acrylic fingering weight yarn, white velvet yarn, 3.5mm and 5mm crochet hooks, plus 14 mm black safety eyes to complete Macho the Owl. Get creative with color combinations and give your new friend a unique look! Download this free amigurumi pattern today to get started on your own adorable Macho the Owl! morinesshop
5. Crocheted Heart Belly Owl – Free Pattern
This free crocheted heart belly owl pattern adds a whimsy to your home or wardrobe! This cute little owl is made using a 4.00 mm crochet hook and Aran/medium/size #4 weight yarn, making it the perfect project for any level of crafter. Stuffing ami gives the finished product extra softness and texture – perfect for snuggling up! Whether you're looking to create something special for yourself or as a gift, let this adorable heart belly owl be your source of inspiration! divinedebris
6. Crochet Large Stuffed Owl Pattern
Bring some crocheting creativity and imagination to life with this free crochet pattern! Create the perfect cuddly friend for your baby's bedtime with Bernat Baby Blanket worsted medium yarn, size E/5 mm hook, polyester fiber filling and 10mm black plastic safety eyes. The Soft Owl will keep your little one company during those sweet slumbers. With such ease of assembly, a wonderful companion is just a few stitches away! elisascrochet
7. Amazing Pocket Pal Owl Crochet Pattern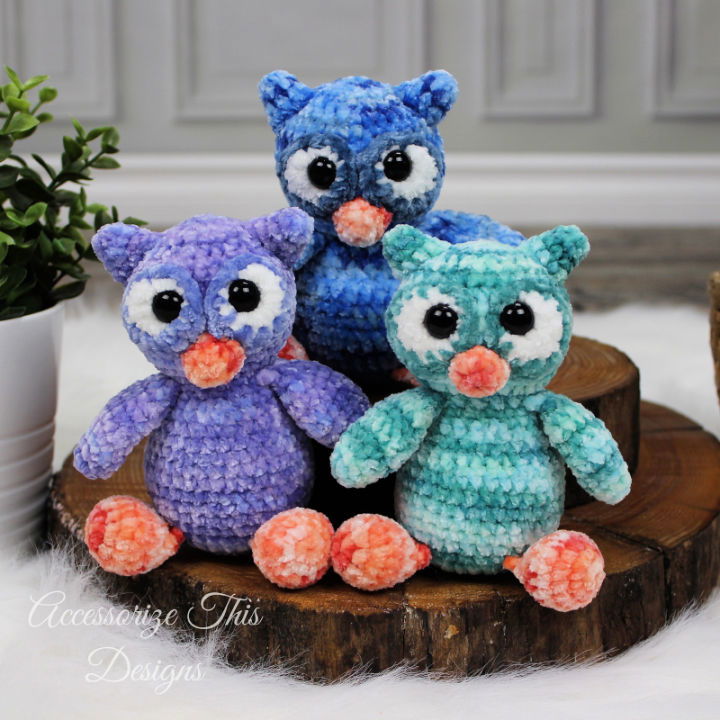 Let your imagination soar and snuggle up with a cozy Pocket Pal Owl made from Bernat Baby Crushed Velvet yarn! This easy-to-follow crochet pattern requires minimal sewing, just a 4.0 mm hook, polyester filling, and 2 – 12mm black safety eyes to make this fuzzy pal come alive! Quickly work up this pocket pal owl crochet pattern today, and enjoy giving your newest bestie lots of love! darlingmapledesigns
8. How to Make Owl Amigurumi – Free Crochet Pattern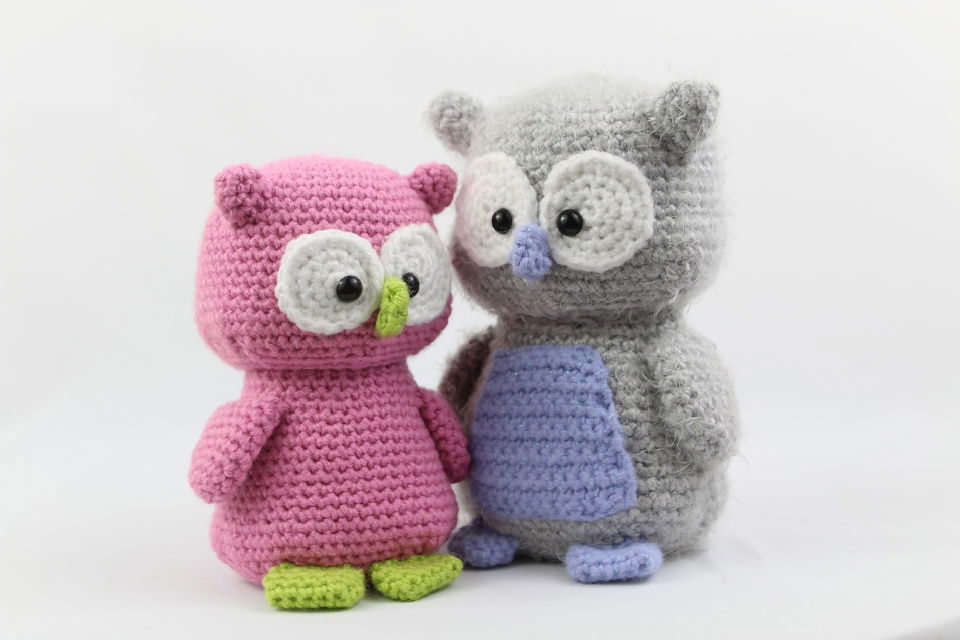 Unlock your inner crafty spirit and make a hoot-taste owl pal! You'll need a 4mm hook and 8mm safety eyes, and Cloud and Star Blue yarn from Red Heart. This easy-to-follow pattern will help you create the cutest amigurumi around, perfect for cuddles or decoration. Give your home some added charm, or make as a special gift for someone you love. Get crocheting today and enjoy your new feathered friend! stringydingding
9. Unique Free Crochet Day and Night Owls Pattern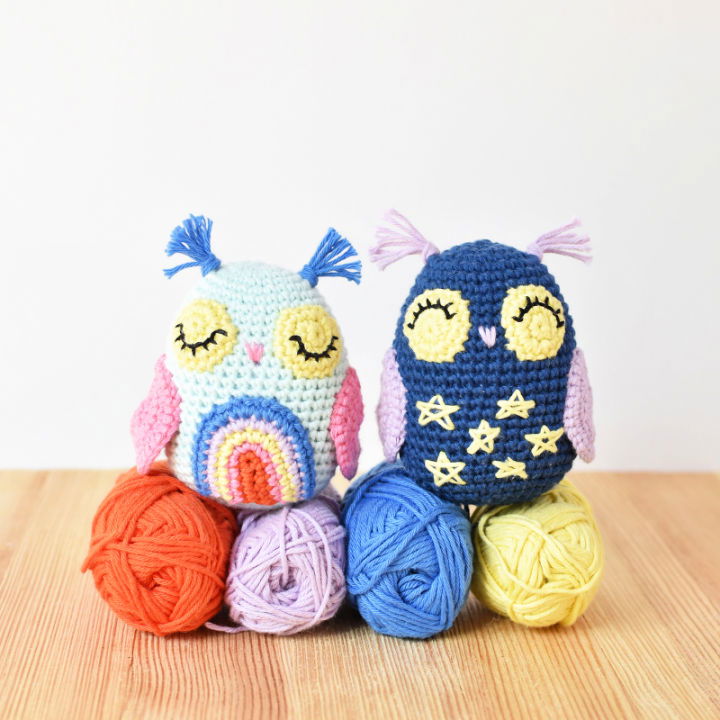 Explore unique and easy-to-follow crochet owl patterns for your next DIY project. Spread your wings and fly away with these enchanting crochet owls! Day Owl has a sweet rainbow on her belly, and Night Owl wears stars. With just lightweight yarn, a 2.75mm hook, toy stuffing, embroidery floss in black and an embroidery needle, you can make these two friends love day or night – perfect for cuddles or decorating your home. Don't miss out on the chance to bring these beautiful owls into your life! tinycurl
10. Adorable Crochet Owl Amigurumi Idea
Are you looking for a fun and unique project to crochet? Look no further than this adorable Owl Amigurumi! This free pattern uses #4 worsted-weight yarn, 12mm safety eyes, a 3.5 mm crochet hook, and stuffing to create an amazing owl plushie that you can keep or give as a gift. Download the pattern today and start creating your huggable friend. Don't wait – get crafting now with this wonderful knitting pattern! loopsandlovecrochet
11. Modern Crochet Wisdom the Graduation Owl Pattern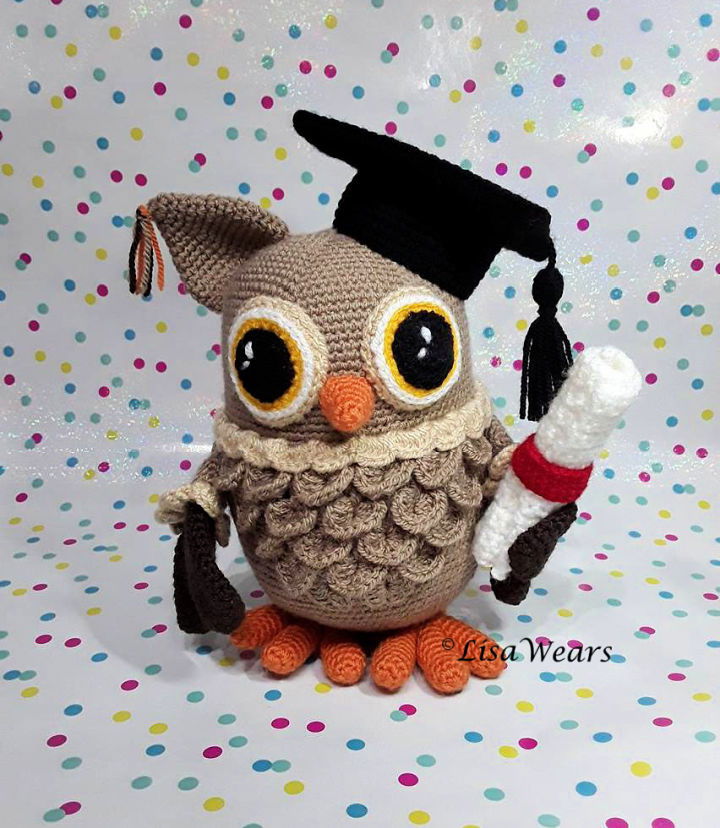 This pattern will make a wise owly friend to celebrate graduation! Using DK yarn and a 2.50mm hook, you can use any weight yarn or hook you prefer, making your own larger or smaller. This pattern requires proficiency with the crocodile stitch, but for color choices, it's up to you – this graduation owl looks great in shades of brown, but feel free to get creative and pick whatever color scheme suits your style. With this easy-to-follow crochet pattern, there'll be time for congratulations before those tassels are turned! ravelry
12. Owl Will Always Love You Caddy Crochet Pattern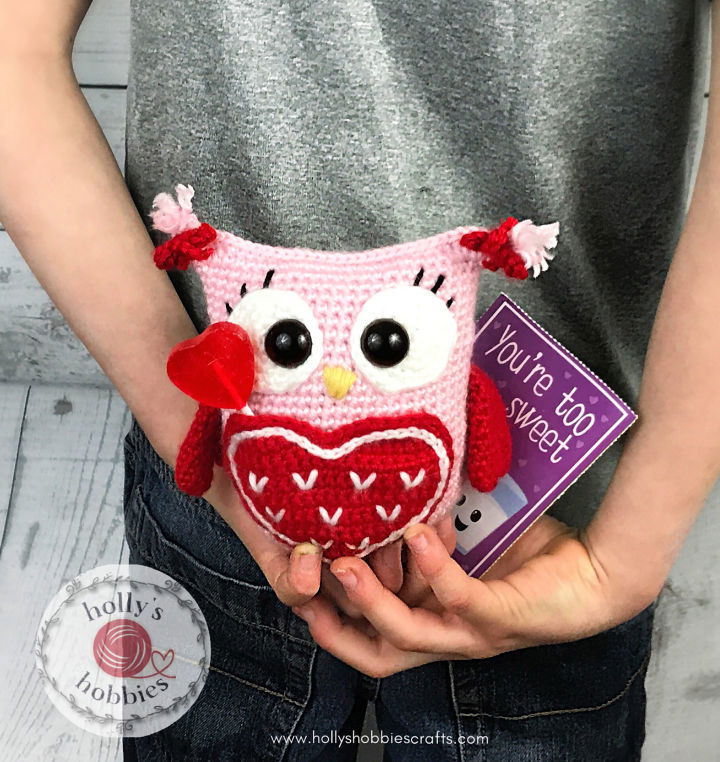 Spread the love with this sweet and huggable Valentine Caddy Crochet Pattern – it's sure to make your special someone feel loved! It's quick and easy to make, so even beginner crocheters can enjoy this caddy. The caddy is great for storing valentines, candies or as a stand-alone stuffy – it also makes an adorable teacher's gift!
All you need are 4.00mm hooks, yarn in various colors of your choice and two 12-15mm safety eyes. Get creative with patterns by always adding your own decorations for a unique design. Show your love this Valentine's Day with the "Owl Always Love You" Valentine Caddy Crochet Pattern! hollyshobbiescrafts
13. Best Crochet Snowy Baby Owl Crochet Pattern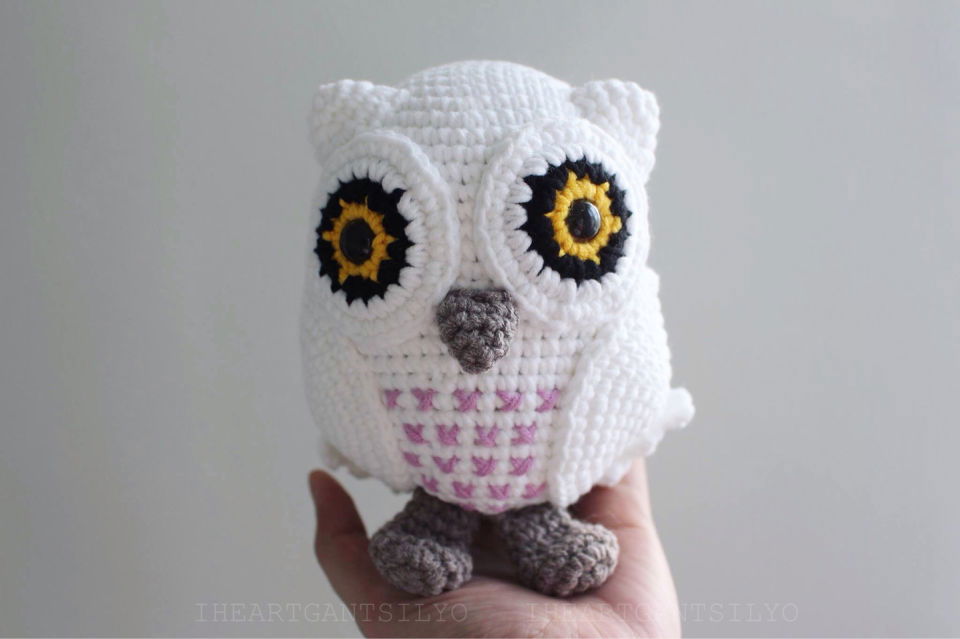 With its precious eyes and soft wings, this snowy baby owl will bring warmth and joy to any special occasion! This adorable owl will be a hit at any baby shower or birthday party. You can easily make this cute little creature with some worsted-weight yarn, a 3.5mm crochet hook, 12mm safety eyes, and fiberfill/toy stuffing! Even if you're not an experienced crocheter, with a few increases and decreases, you can learn how to single-crochet your cozy owl quickly. Make this charmingly soft decoration or gift today! iheartgantsilyo
14. Crochet Plush Owl – Free Pattern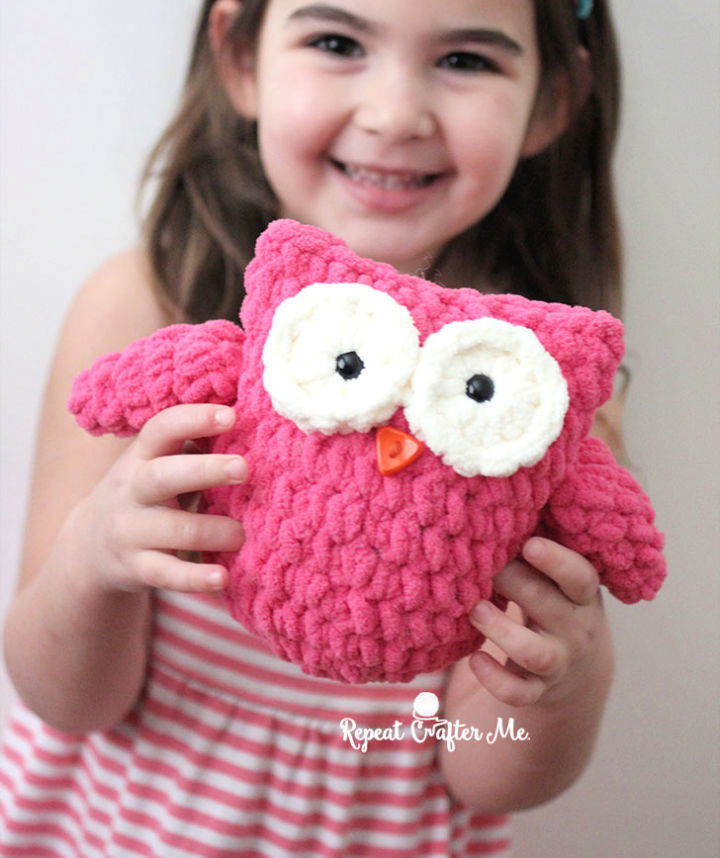 Make your very own cuddly crochet plush owl with just a few supplies! All you need is a size J crochet hook, Bernat Blanket Yarn, 12mm black safety eyes, poly-fil stuffing and a triangle button for the nose. This DIY project is fun, easy and perfect for using up any extra bulky yarn around your house. Create a unique gift or adornment to dress up in any room in your home. Make the cutest little plush owl today with this simple knitting pattern! repeatcrafterme
15. New Crochet Owl Amigurumi Pattern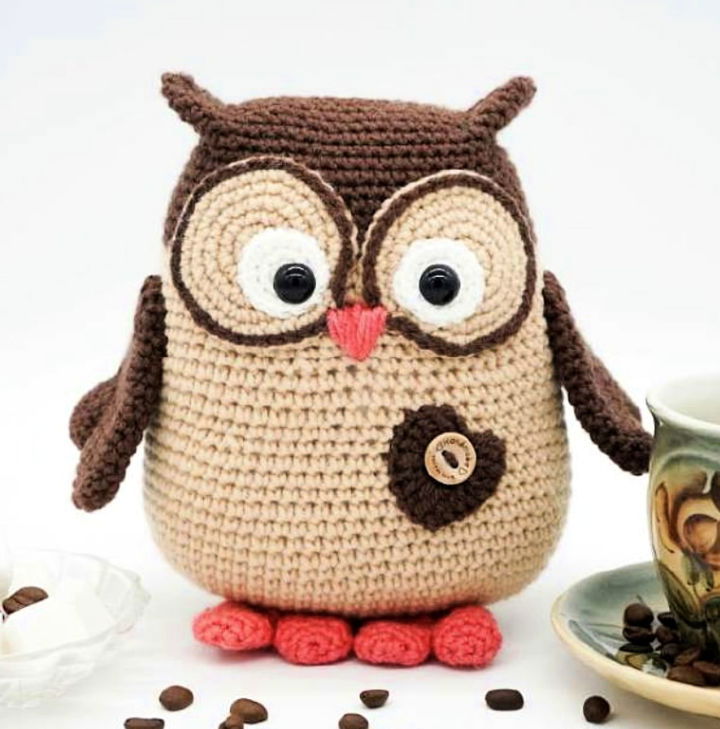 Unwrap your imagination and unravel this delightful crochet owl amigurumi pattern – perfect for bringing a little extra warmth and charm to any home. All you need are a few common materials to get started, and soon enough, your home will be filled with these delightful owls! Make one as an adorable decorative piece or craft multiple as gifts for your family and friends – they'll love it either way! Get creative with this easy-to-follow pattern and create something truly special. amigurumiallfree
16. Cool Crochet Owl Applique Pattern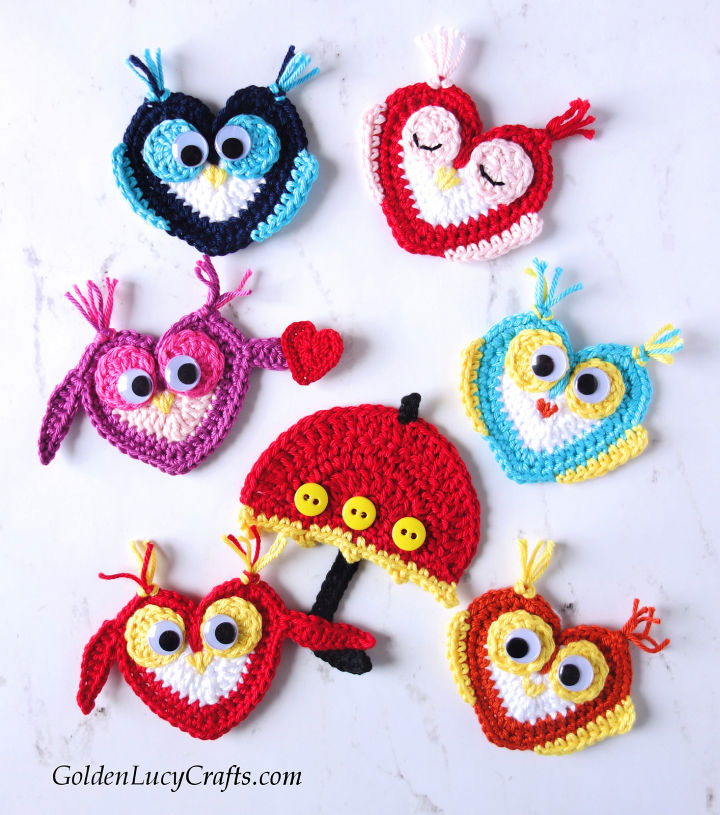 Discover charming crochet owl patterns and create unique and adorable gifts for your loved ones. This crochet owl applique is perfect for anyone looking to add a bit of wisdom and charm to their projects! Perfectly crafted from Paton Grace yarn, the owl measures 2-¾″ and is designed for those with an intermediate skill level. Add googly eyes to give it that extra bit of personality! Ideal for adding some character to clothing items, scrapbooking pages or greeting cards – this crochet owl will surely bring a smile wherever you decide to use it. goldenlucycrafts
17. Beautiful Crochet Owl Purse Pattern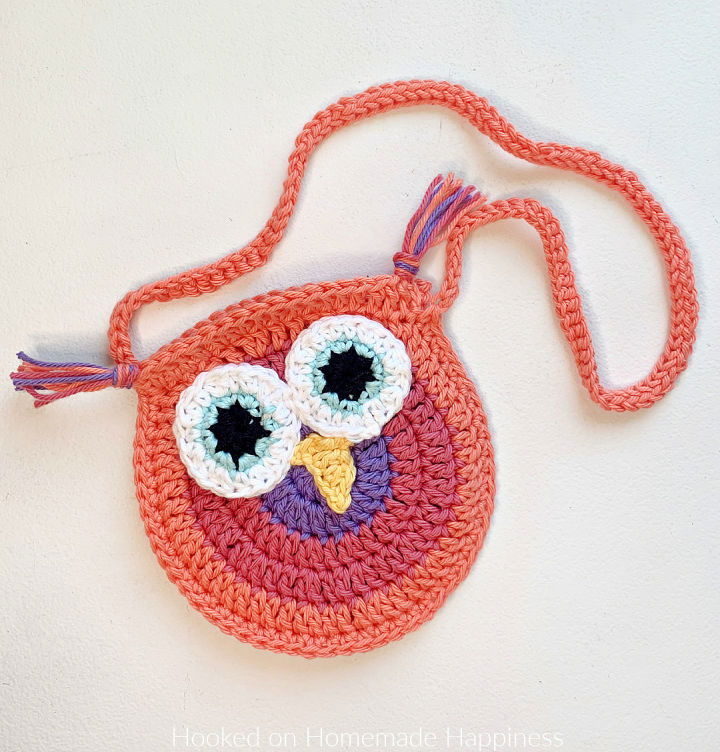 This adorable crochet owl purse pattern brings a touch of whimsy to your wardrobe! You can easily create the perfect accessory for any season using the worsted weight (4) acrylic or cotton yarn and a h/5.0 mm hook. This pattern suits intermediate-level crocheters, but even beginners will find it relatively easy to make. With quick assembly required and adorable results guaranteed, try this owl purse crochet pattern today! hookedonhome
18. C2C Crochet Owl Baby Blanket Pattern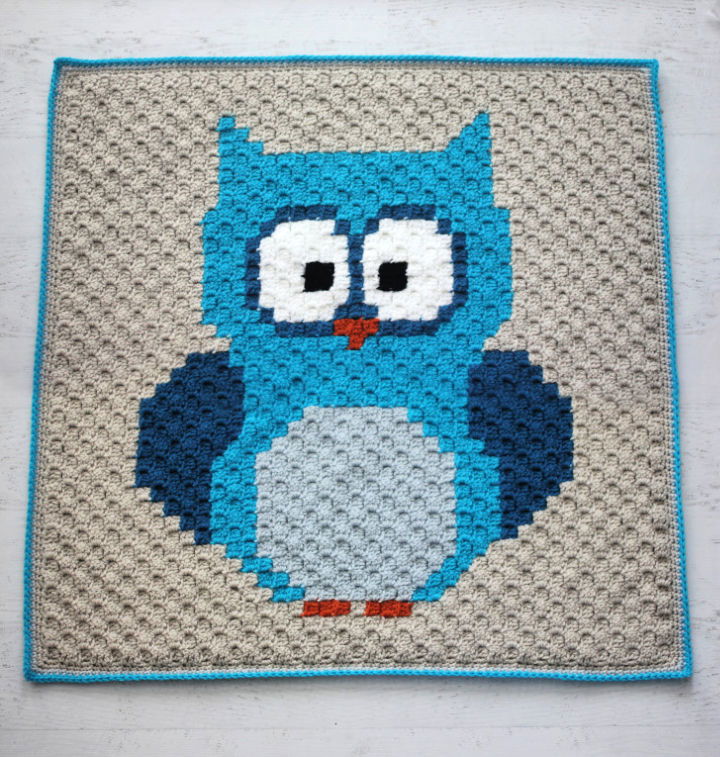 Crochet this adorable Crochet Owl C2C Baby Blanket with Lion Brand Yarn for your little one! This project is perfect for beginners, as the corner-to-corner crocheting technique is easy to learn. Ensure you use consistent lines and minimize color changes to get the most out of this design. The result will be an incredibly snug and soft blanket that your baby will love! Start creating a unique and special gift that can be treasured forever. repeatcrafterme
19. Free Owl Basket Crochet Pattern for Beginners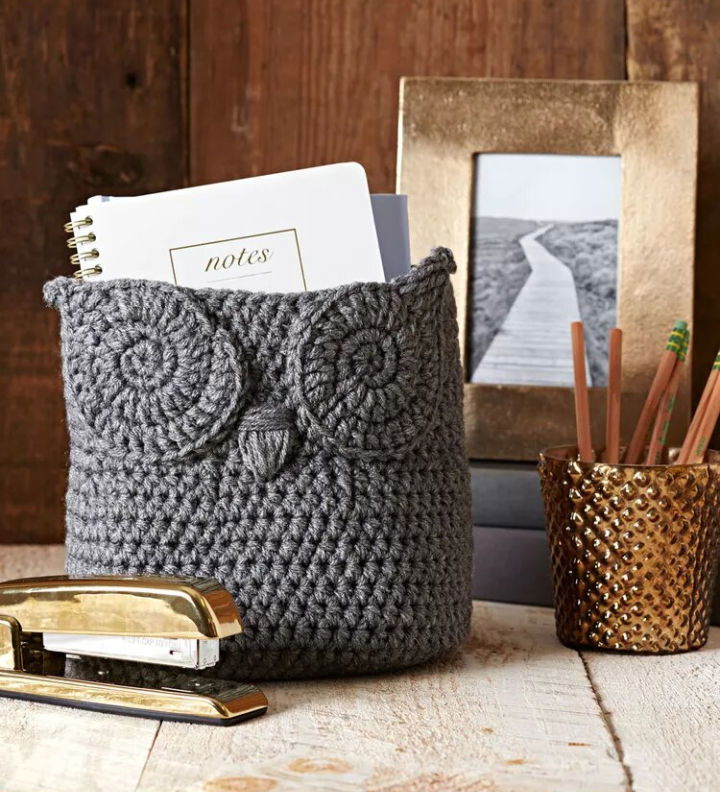 Let your hands bring some magic and craft a one-of-a-kind crochet owl basket! This simple project is perfect for beginners; you only need to learn a few basic stitches. Create an organizer for your desk essentials or give it away as the sweetest homemade gift – either way, this charming stitchwork will surely make heads turn!
Not only does crocheting come with great benefits like improved concentration, memory, and stress levels – but it also offers that warm fuzzy feeling when you create something handmade. Get started on your Owl Basket today with just half double crochet rounds and pieces of embroidered yarn. bhg
20. Gorgeous Crochet Owl Eyes Blanket Pattern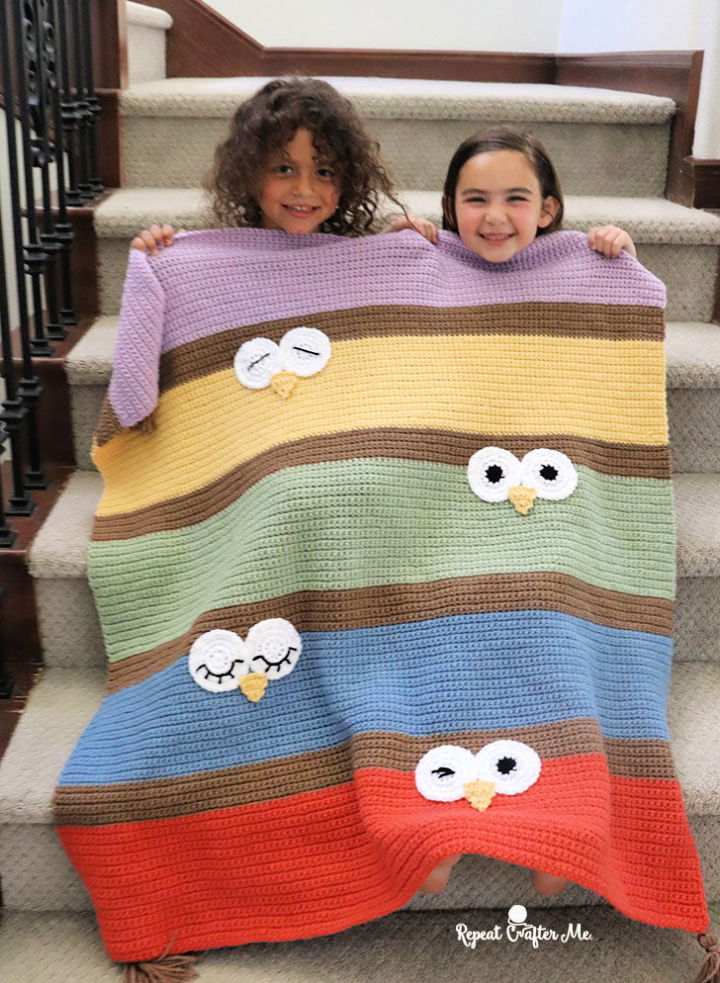 Curl up beneath this warm crochet owl eyes blanket and let the comforting embrace of its coziness take you away. Crafted using Red Heart Super Saver yarn in various colors and a size H crochet hook, this handmade piece of art will surely envy all your friends. Add facial details with fine details, such as a tapestry needle, for an extra special touch. Get creative by changing up the color palette to create something unique! Enjoy cuddling underneath this gorgeous blanket while you watch movies or just relax at home. repeatcrafterme
21. Crochet Owl Design – Free Pattern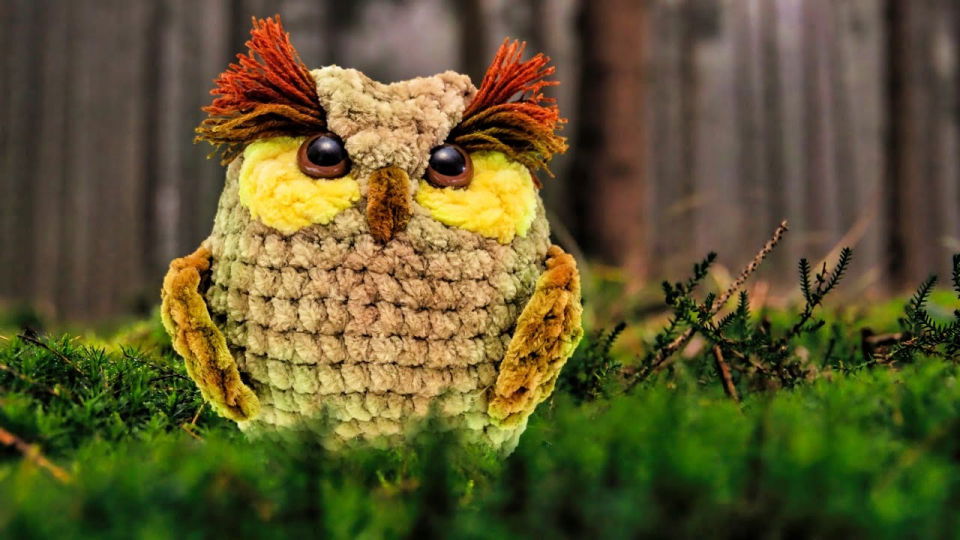 Open your heart to a new friendship, and let an owl be your faithful companion! This cute eagle owl design looks great with Himalaya velvet and brown acrylic yarn. All you need is a 5.0 hook, fiberfill, plastic eyes 0.5″, and a brown pipe cleaner to complete it – the finished size of the toy will be 4.3 inches. Perfect as a decoration or addition to any stuffed amigurumi collection, this attractive crochet design will bring lots of fun and friendship into your home!
22. How Do You Crochet Owl Coaster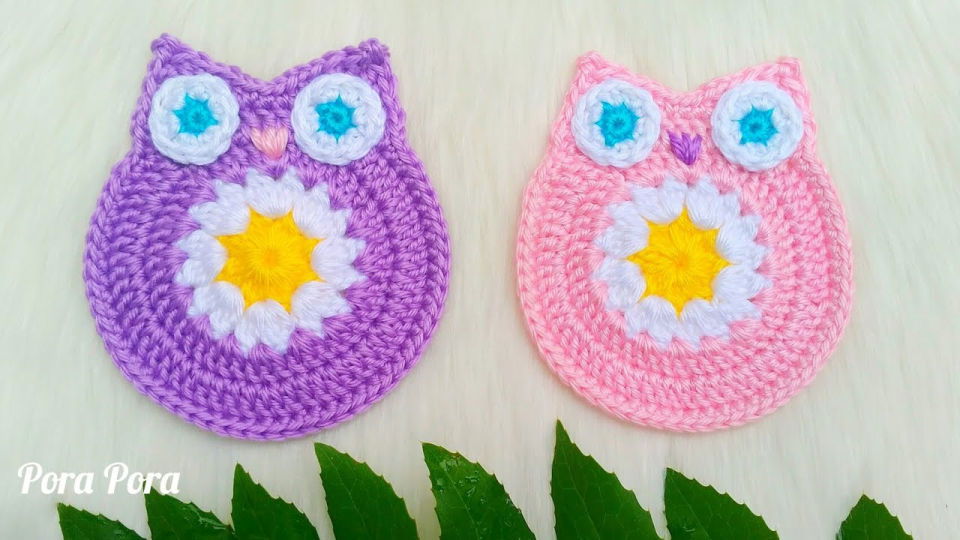 This step-by-step tutorial teaches how to make a cute crochet owl applique and an easy-to-follow crochet owl coaster-free pattern. Perfect for beginners, you'll need medium-size 4 acrylic yarn and a 3.75mm crochet hook. Ideal for baby blankets, bags or other accessories – this simple yet sweet design will surely add some character! Get creative with your color choices, as no two owls are the same – so start crocheting today!
Learn how to make adorable crochet owl patterns with our step-by-step tutorials.
23. Realistic Crochet Owl Pattern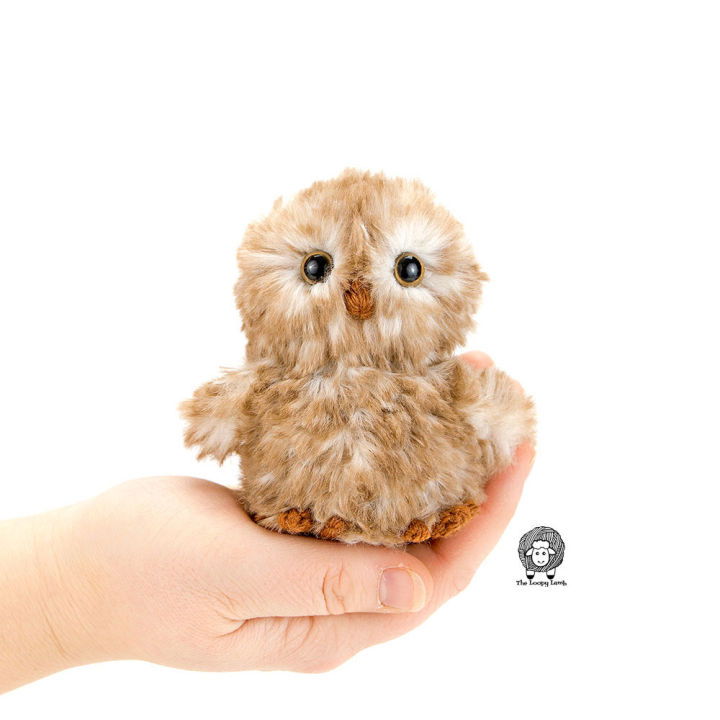 Create an adorable and realistic-looking crochet owl with this free "Otis the Owl pattern." This quick and easy amigurumi design uses faux fur yarn to make a unique crochet toy that's sure to be a hit. Piece together Otis's head, body, and wings in the fur yarn, then finish off with crocheted smooth worsted weight yarn for his beak and feet. Even messy seaming is hidden by the fluffy faux fur, so you can rest assured your finished project will look great! Get started on your own Otis today – use this free pattern as your guide! theloopylamb
24. Easy Crochet Owl Amigurumi Tutorial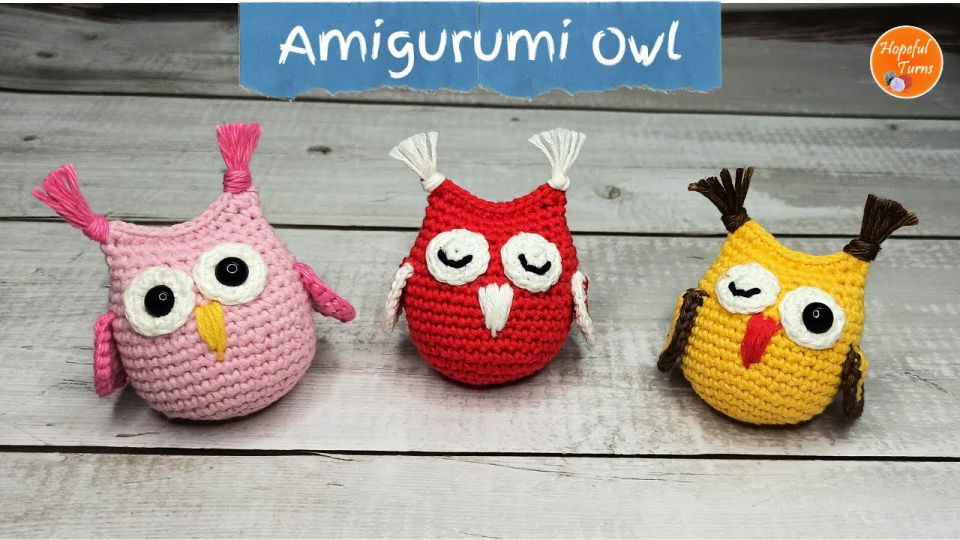 Unleash your inner crafting expert and easily make adorable amigurumi owls – it's as simple as a single crochet stitch! These tiny little owls are great for keychains or as Christmas tree decorations. Easy to make and to work up fast, these amigurumi crochet creations are ideal for emergency gift ideas, stocking stuffers or favors. Get creative and show off your love of crafting today – learn how to make these amazing amigurumi owls now! youtube
25. Simple Crochet Owl Bookmark Pattern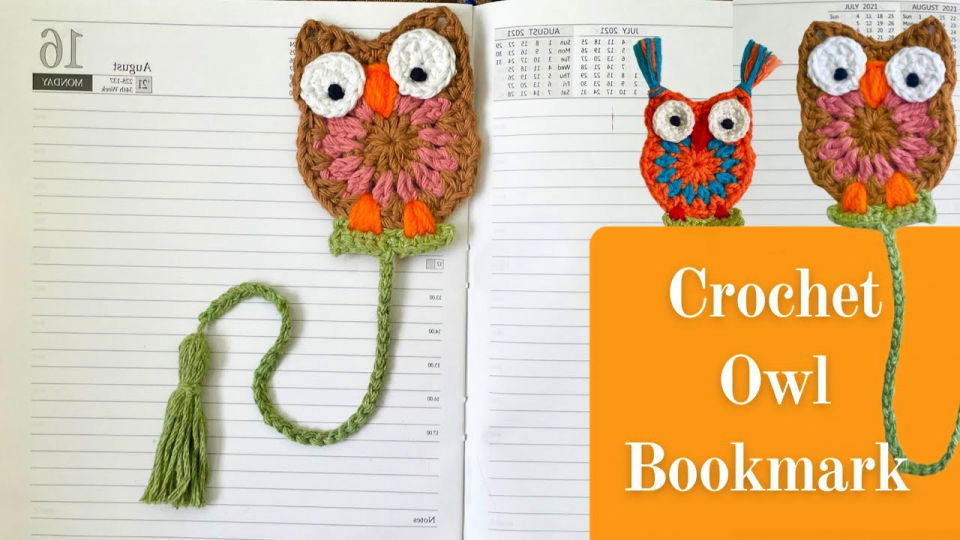 Are you searching for the perfect crochet bookmark tutorial? Here is an easy-to-follow guide to making a crochet owl on a branch bookmark. This project takes only minutes and makes great gifts for book lovers. The same owl appliqué can be used in other crochet projects, too! All you need are 3.5mm and 3.25mm crochet hooks and yarn in brown, pink, white, green and black colors. Get ready to make your beautiful handmade creations with this fun DIY tutorial!
Related Free Crochet Amigurumi Patterns:
Discover the creative world of crochet with our free amigurumi patterns! From cute animals to fun shapes, explore a range of easy-to-follow designs that will bring your projects to life.
Easy Crochet Amigurumi Patterns:
Conclusion:
In conclusion, with these 25 free crochet owl patterns, you can create a variety of adorable and charming amigurumi owls that make the perfect gift or decoration for any occasion. From realistic and intricate designs to cute and whimsical creations, these owl patterns cater to both beginner and experienced crocheters alike. So, pick your favorite pattern, grab your hook and yarn, and start crocheting your own unique and lovable owl today. Enjoy the creativity and satisfaction of making your own handmade crochet toys and decorations!