Are you a fan of cute and cuddly amigurumi octopus? If so, why not try making your own crochet octopus? We've collected 45 free crochet octopus patterns perfect for beginners and advanced crocheters. These free octopus patterns include easy-to-follow pattern instructions, step-by-step diagrams, and even free pdf downloads to create your own beautiful crochet octopus.
Whether you want to make a large octopus to cuddle or a mini one to decorate your keychain, there's a free crochet octopus pattern for everyone. These crochet octopus patterns range in difficulty, from simple designs for beginners to more complex patterns for experienced crocheters. You can choose from various yarn colors and textures to make your crochet octopus unique and personal.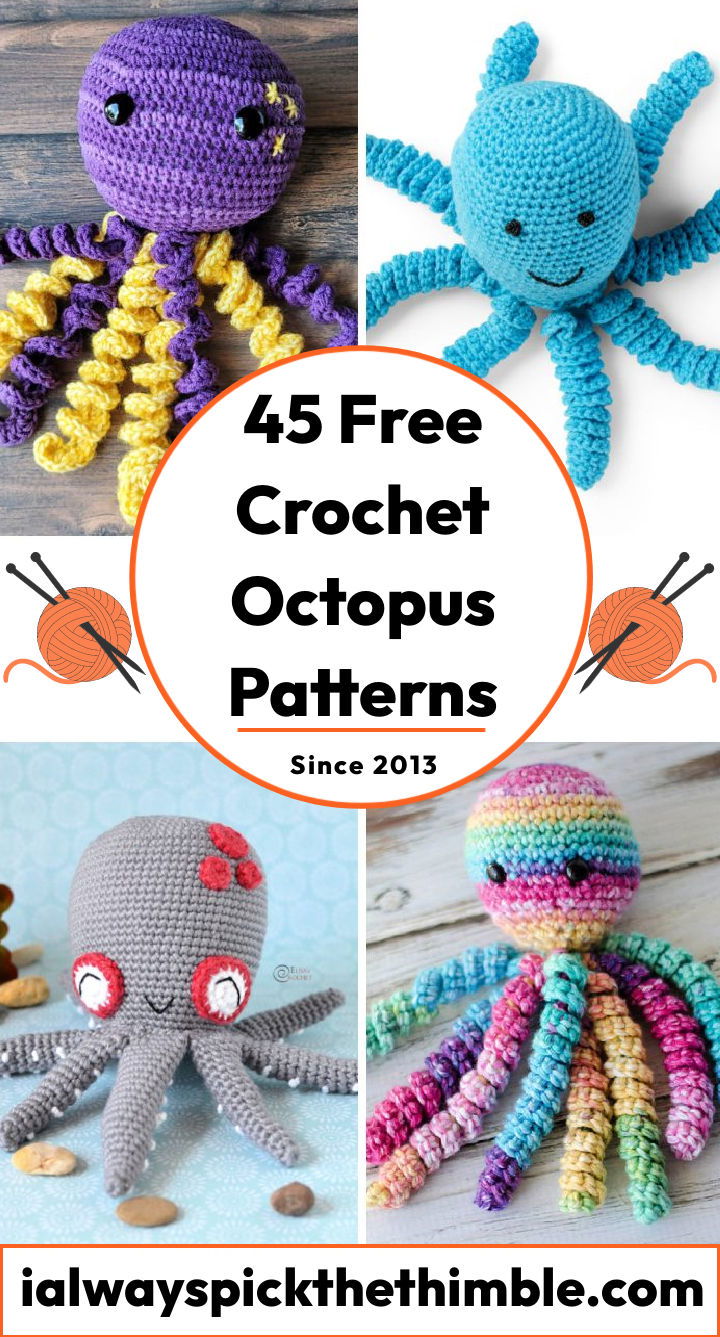 Free Crochet Octopus Patterns
One of the most popular crochet octopus patterns is the baby octopus amigurumi, which makes a perfect gift for a new baby or a child. These cute and colorful crochet octopus patterns are easy to make and provide a fun and safe toy for babies to play with.
So, why not start your next crocheting project today and create your own beautiful and adorable crochet octopus? With so many free crochet octopus patterns available, the options are endless!
1. Cute Crochet Caroline the Octopus Pattern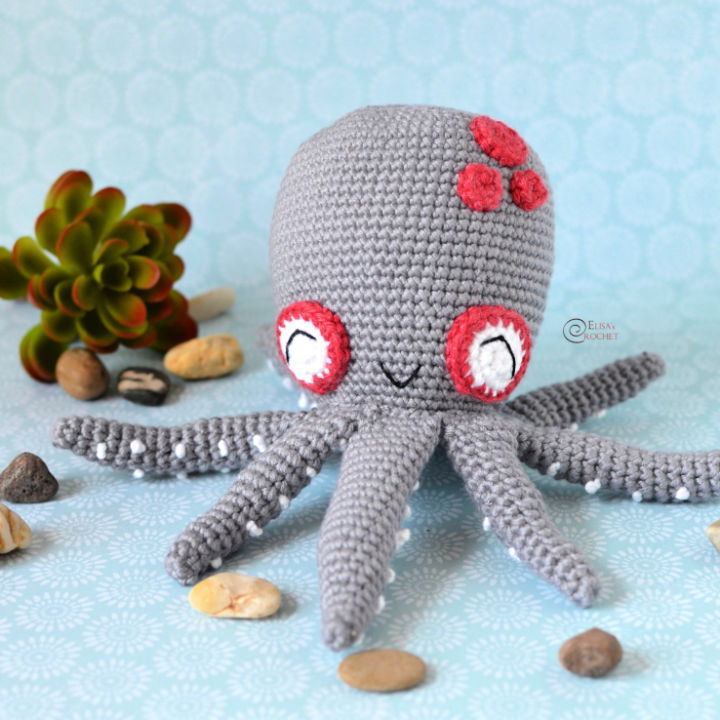 Create a charming ocean friend with this caroline octopus free crochet pattern! Featuring many little suckers made with the french-knot embroidery technique, it is easy and quick to work up. The great texture of the tentacles can be achieved using lightweight yarns in colors blue, white, gray and black. All you need for this beginner-friendly pattern is a 2.75 mm hook – dive into your project's stash and start crocheting! You will have this delightful sea creature ready in no time! elisascrochet
2. Crocheting an Amigurumi Octopus – Free Pattern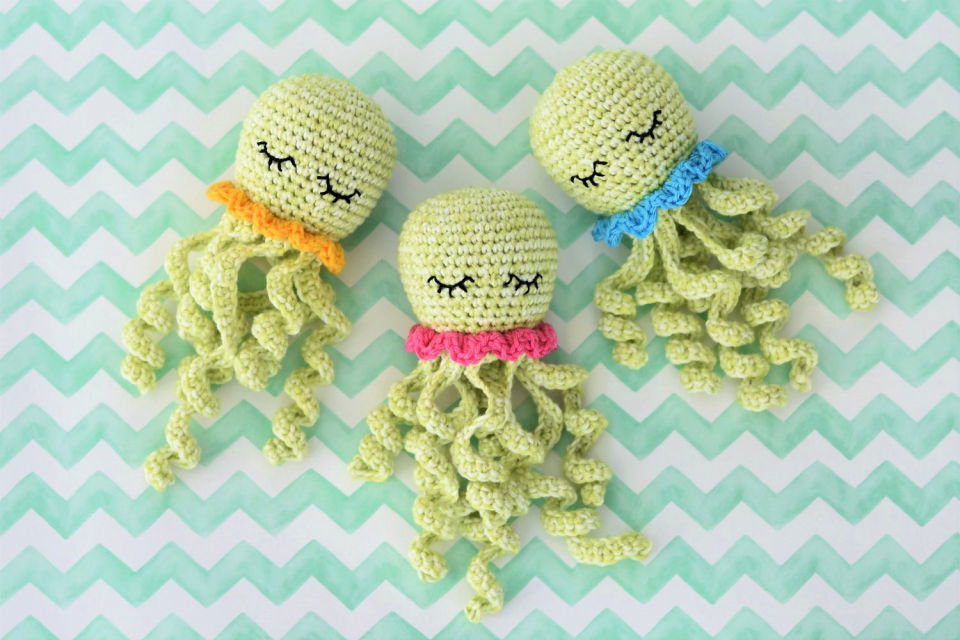 This delightful amigurumi octopus is the perfect project for your next crochet adventure! Made with 8-ply weight cotton yarn and a 2.5mm crochet hook, it features contrasting colors for its ruffled body and crocheted tentacles to the body, making it safer for young ones. Eyes can be embroidered or skipped altogether – no safety eyes are required! Finished size: 17cm/7in and skill level: easy. Plus, you'll only need some polyester fiberfill and black thread for stitching the eyes to complete your snuggly octo-friend! lilleliis
3. Multicolor Crochet Octopus for Preemies – Free Pattern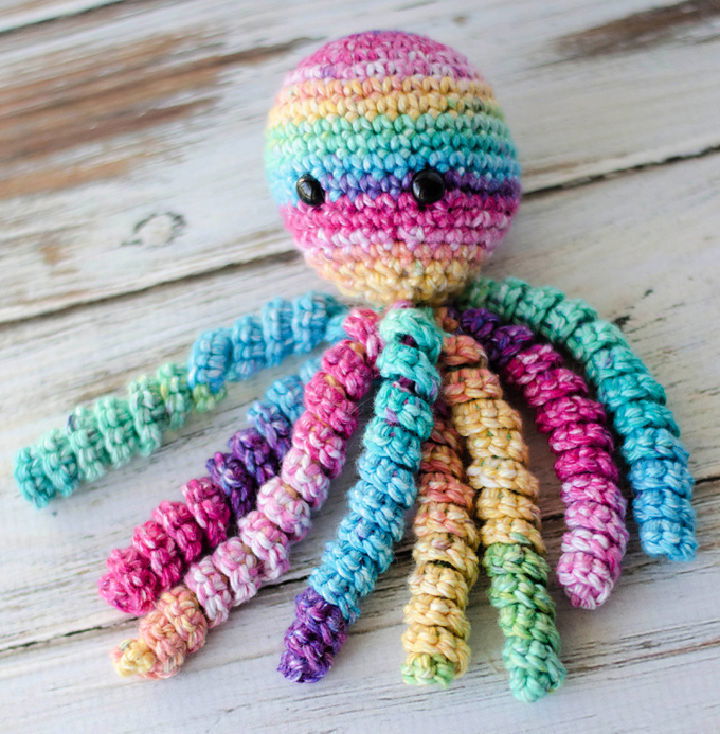 To make a cute and cuddly amigurumi toy, follow these easy-to-follow crochet octopus patterns that will bring joy to kids and adults alike. Crochet an octopus for preemies, young children or yourself! Make a unique and special gift with a 2.50 mm crochet hook, worsted-weight cotton yarn and 9 mm safety eyes. This fun craft is not only enjoyable to make but also provides comfort for babies as well. Give this thoughtful handmade creation that your loved ones will treasure for years! Plus, the possibilities of color combinations are endless when creating your custom octopus amigurumi! crochet365knittoo
4. Gorgeous Crochet the Friendly Mini Octopus Pattern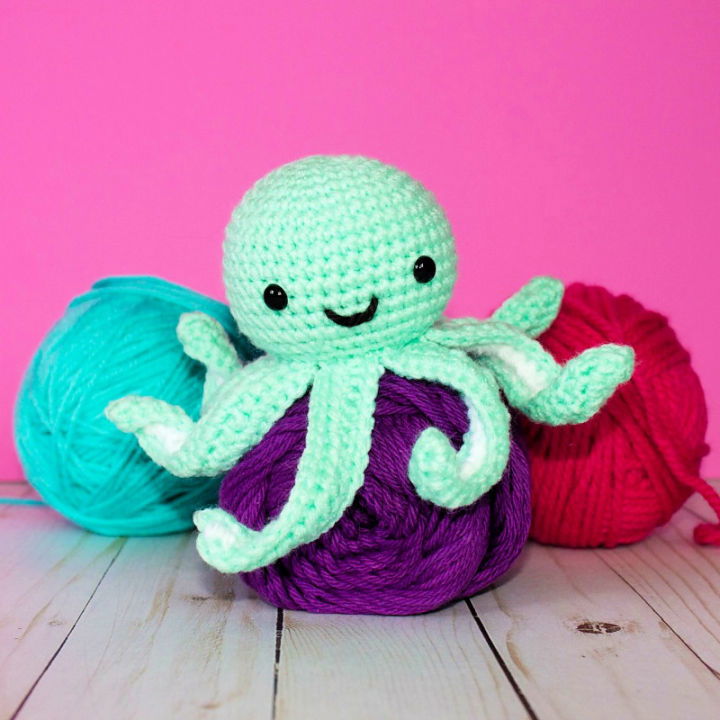 A tiny tentacled companion awaits you with this free crochet pattern! This little guy is just a couple of inches tall and has the personality to spare. With worsted weight scrap yarn, size 4.0 hook, 9 mm safety eyes, black yarn for the smile and polyfill, you'll soon have your miniature octopus to enjoy! Start crafting today, perfect for brightening any room or as a unique handmade gift! thefriendlyredfox
5. How to Crochet an Olive the Octopus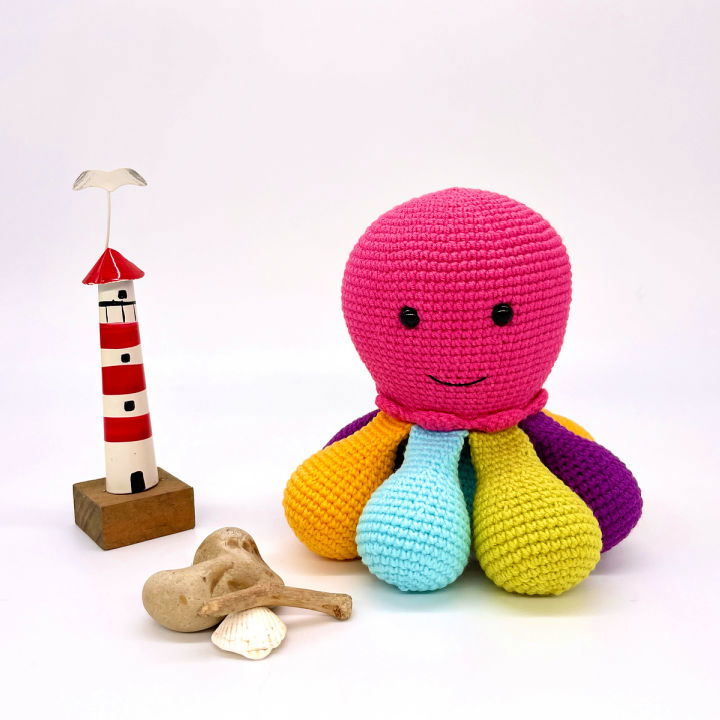 Are you looking for an easy amigurumi project that doesn't require sewing? Then try this free crochet octopus pattern! This octopus will use all your yarn leftovers and be extra colorful, perfect for anyone with basic crochet skills. With a finished height of 10 cm/4 in and a width of 16cm/6.5 in, let your imagination run wild as you create the perfect amigurumi octopus! Download and get started now – no sewing required! cuddlystitchescraft
6. Colorful Crochet Octopus – Free Pattern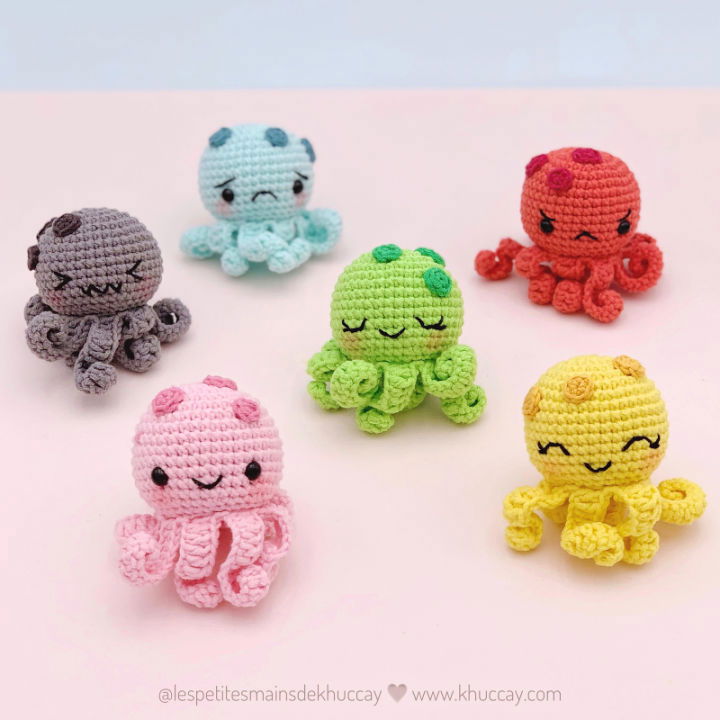 Craft your unique octopus in just an hour with this easy-to-follow tutorial! All you need is some yarn, a 2.5mm hook, two 7mm safety eyes, stuffing and pink blush for the cheeks to make a friendly octopus keychain or desktop companion. With endless possibilities of colors, you can create an octopus that expresses all types of emotion. The step-by-step instructions will have you crafting your colored octopus in no time – try it today! khuccay
7. Crocheted Octopus Squish – Free Pattern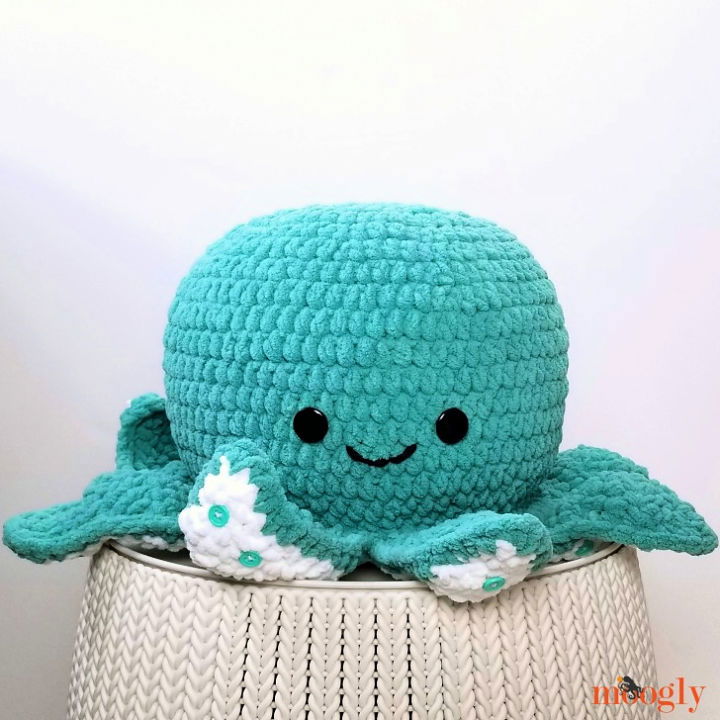 The octopus squish is an irresistibly huggable crochet pattern! This free crochet pattern uses a bernat blanket to create a squishy, cuddly companion perfect for snuggling. Filled with a microbead pillow ball or your choice of fiberfill, this comforting critter works quickly and is as soft as possible. Get the free crochet pattern today and make someone special their octopus squish! mooglyblog
8. Free Crochet Pattern for Octopus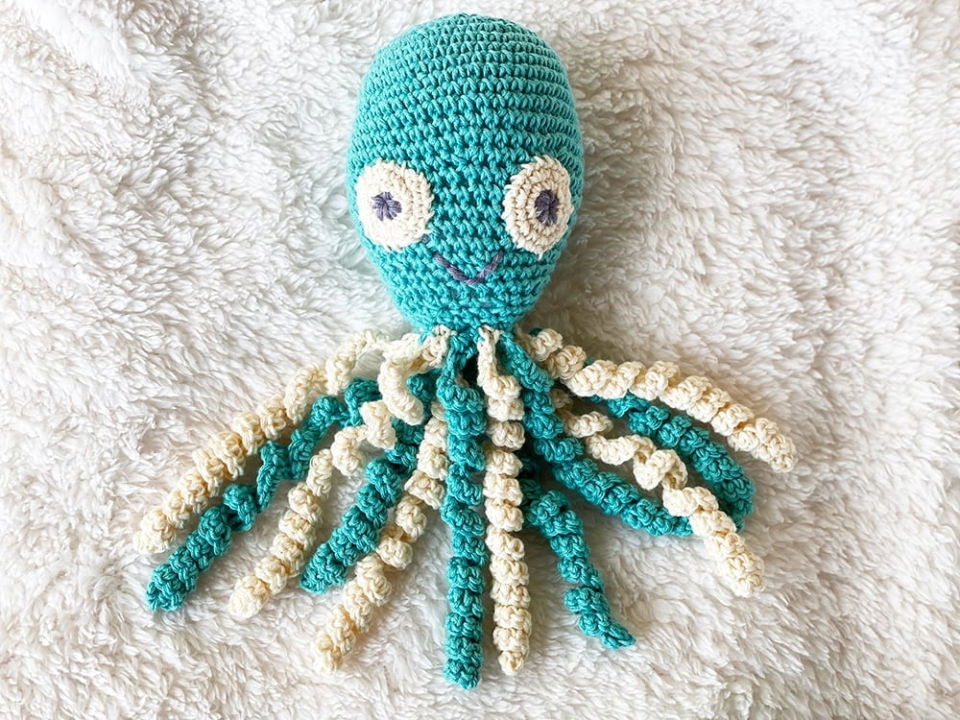 On a hunt for a creative project to use some of your yarn stashes? This free crochet octopus pattern is perfect! Even if you are new to crocheting, the pattern is easy-to-follow and will help you learn new stitches and techniques. Plus, it's great fun! The finished toy measures 10 inches long and 4 inches wide using 4ply cotton yarn with 2mm & 3mm crochet hooks. So why not try this cute little octopus project today – skill level: easy. handylittleme
9. Beautiful Crochet Octopus Pattern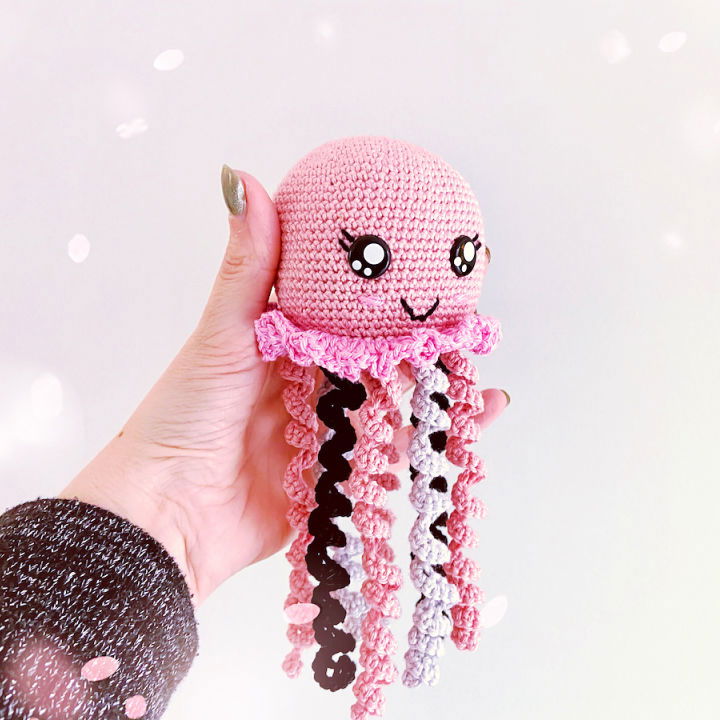 Welcome to this adorable octopus crochet pattern! Create a colorful and cute little octopus with schachenmayr catania in various colors. You only need 1 pair of 12 mm safety eyes, some fiber fill, and a 2.5 mm crochet hook. This pattern is perfect for creating gifts for loved ones or decorations for your home. Get creative with the colors and design your unique octopus today! dutchcrochet
10. How Do You Crochet an Octopus Amigurumi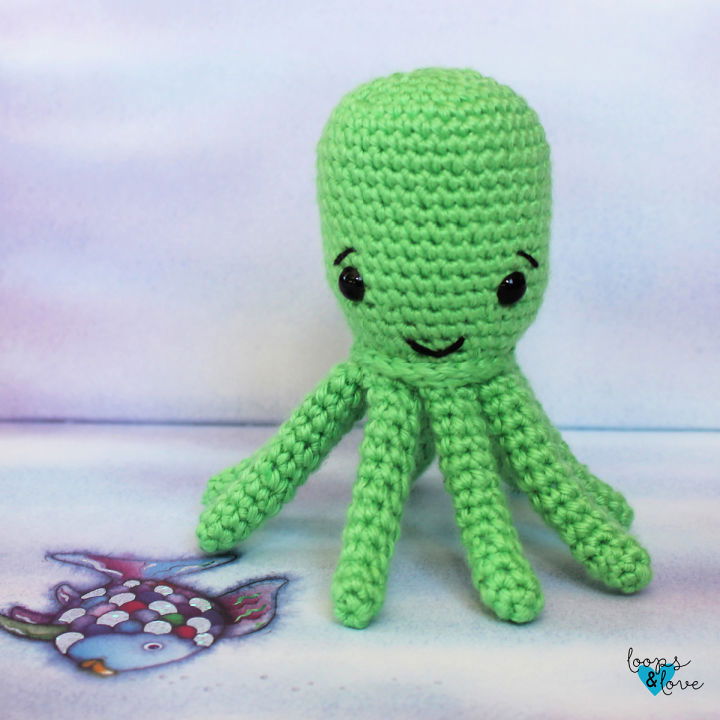 Make this adorable oliver the octopus amigurumi with worsted weight yarn, 9mm safety eyes, 3.5mm crochet hook and polyfill fiber stuffing! This little octopus stands 4-5 inches tall when completed, perfect for cuddling or cute home decoration. He's quick to make and fun, too – don't forget the black embroidery thread for his eyes! Great for novices and experienced crocheters alike. Get ready to make your oliver the octopus amigurumi today! loopsandlovecrochet
11. How to Make No Sew Octopus – Free Crochet Pattern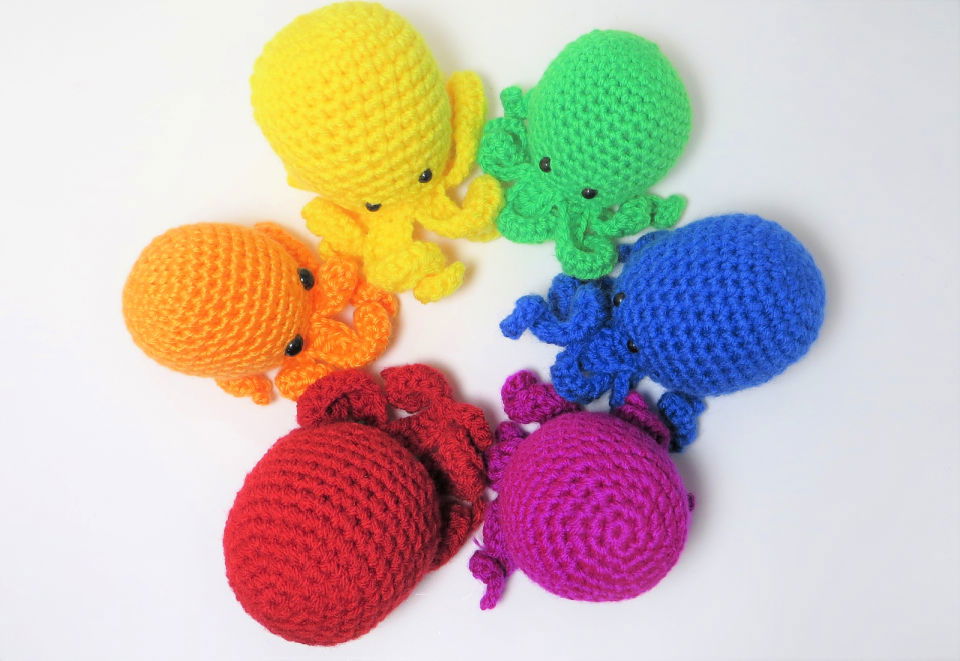 Let your imagination swim free with this amazing octopus amigurumi pattern! No sewing is required as all parts are made in one piece with minimal stitching. Choose any color of worsted weight yarn, a size 4 mm g hook, safety eyes 9mm and fiberfill to make the tentacles take their shape. Crochet these colorful octopuses are so simple and fun – you'll be amazed by the result! Get started today for an easy project that will bring you joy. khookcreations
12. Free Sleepy Octopus Crochet Pattern for Beginners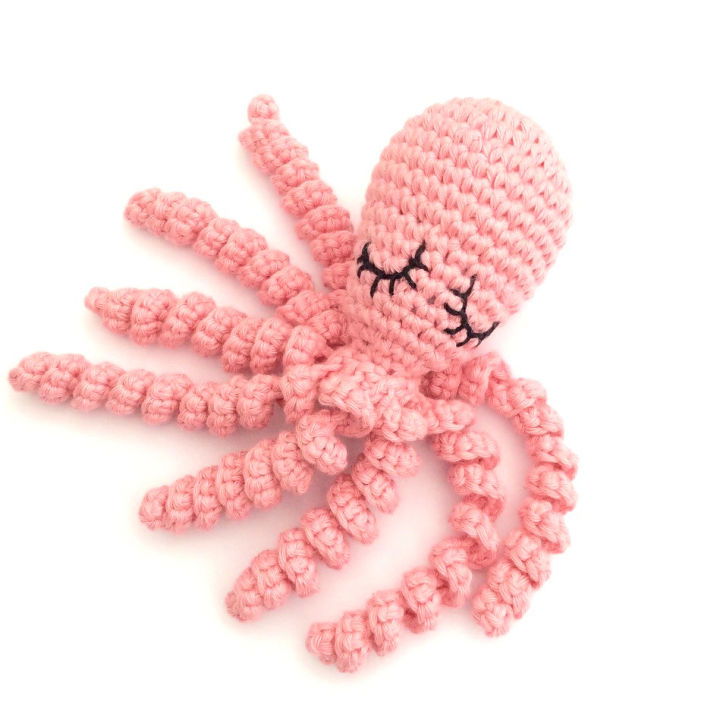 Bring your little one some extra love with this adorable crochet octopus! Perfect for beginners, all you need is a 3.5 mm hook and your choice of yarn to create an adorable amigurumi octopus that will quickly become their best friend. Great for using up scrap yarn or creating something special from new materials, this fun project can be completed quickly! So what are you waiting for? Grab your supplies and start hooking up this sleepy octopus today! ravelry
13. Crochet Octopus – Step-By-Step Instructions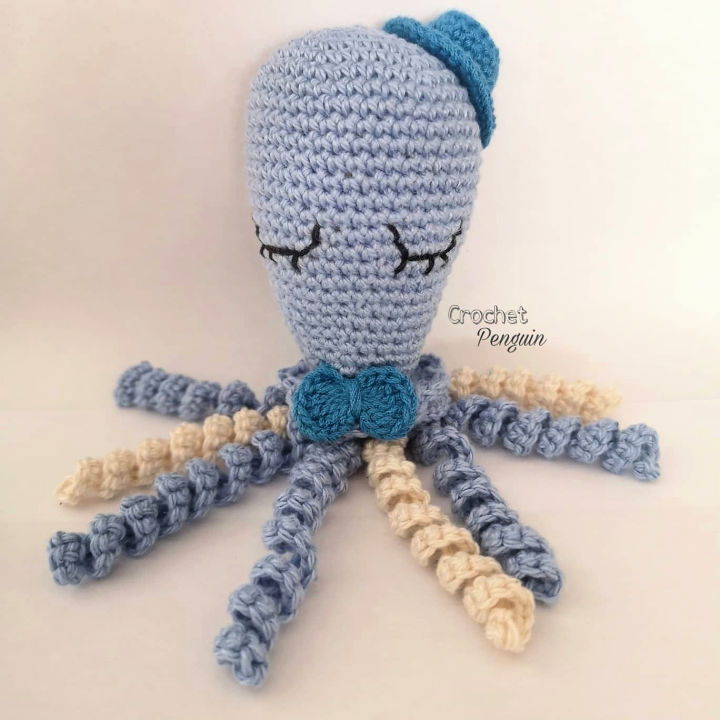 This free crochet pattern for a cute octopus is the perfect easy crocheting project on your sofa while watching your favorite show! All you need are some cotton yarn in the colors of your choice, a 2.5mm crochet hook and a tapestry needle to sew in the ends. This adorable amigurumi will make an excellent gift for any occasion or can be used as wall art! Get creative and customize it with different colors and details – follow this free pattern now and start crafting away! crochet penguin
14. Free Crochet Oliver Baby Octopus Amigurumi Pattern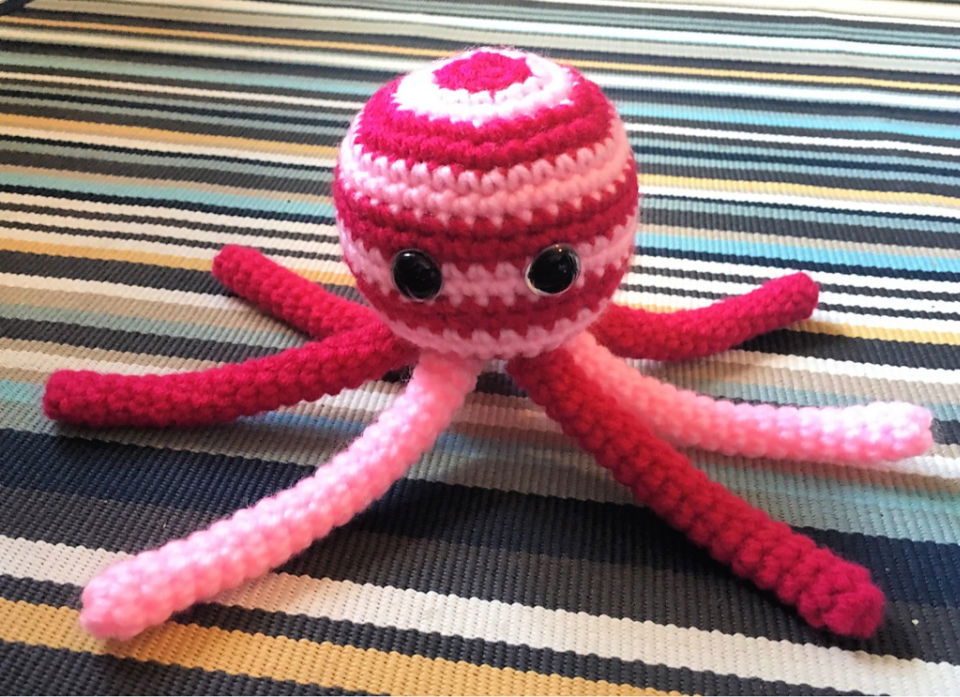 Looking for a unique crochet pattern? Here is this adorable baby octopus amigurumi! You can make your cuddly toy with a 4mm crochet hook, medium/worsted weight yarn 4, 2 safety eyes, and poly-fil stuffing. Perfect as a gift or to brighten up any room, this easy-to-follow pattern will surely delight young and old alike. Make one today and create something special! slipstitchhollow
15. Crochet Friendly Octopus Stuffed Animal Pattern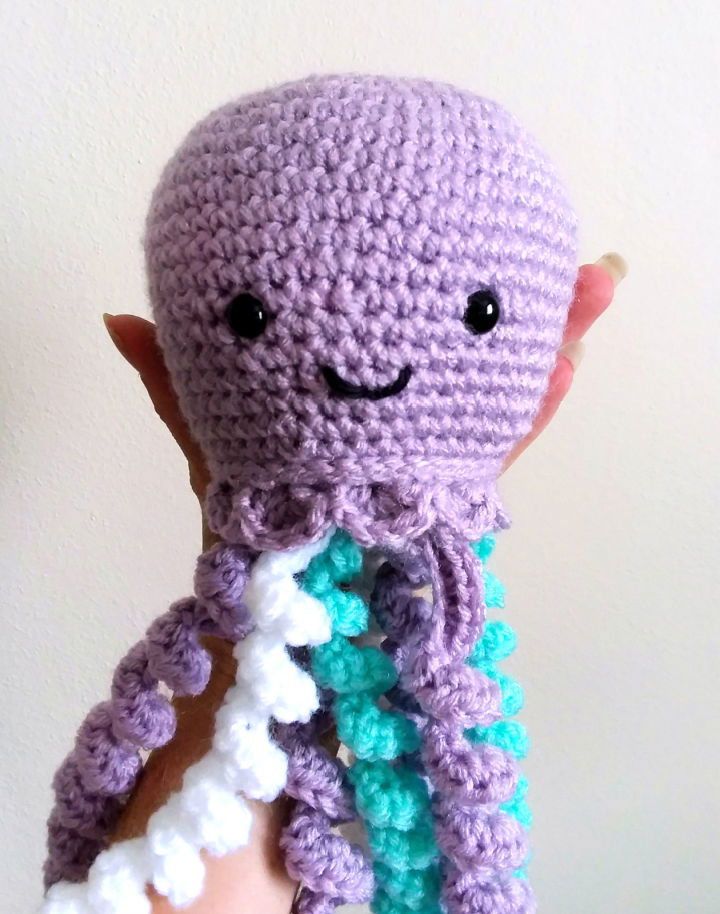 Start stitching and cuddling your octopus pal today! This simple and fun project allows you to experiment with different colors and patterns. You only need a 4.25mm g-hook and 5.00mm h-hook, 9mm eyes, and worsted yarn to start. Create your perfect pet pal with these easy instructions – perfect for those looking for a unique gift or an afternoon of crafting! cuppastitches
16. Crochet Cupcake Octopus Amigurumi Pattern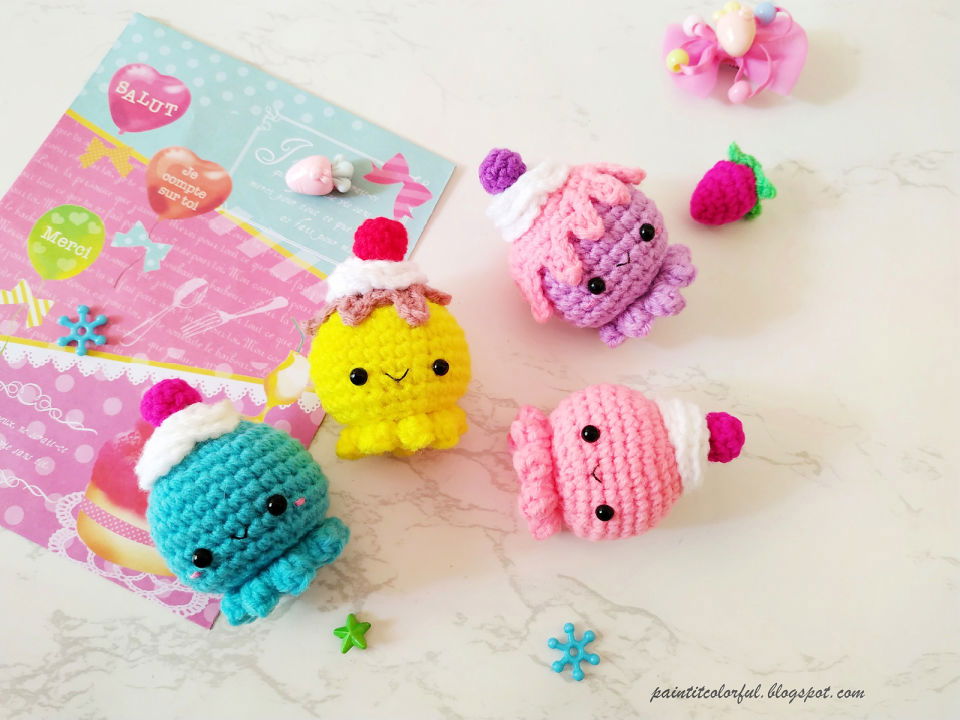 The cuteness of this octopus cupcake amigurumi pattern is sure to sweeten up any craft project! Featuring soft white, light and dark pink yarn, 4mm safety eyes, black and pink embroidery thread, plus a crochet hook and poly fiber fill required for assembly, these fun little octopi make great gifts or decorations. Make one for yourself or as a gift – you'll find it easy to follow along with the detailed instructions. This is the perfect introduction to amigurumi crocheting, get started on yours now! paintitcolorful
17. Free Crochet Large Octopus Pattern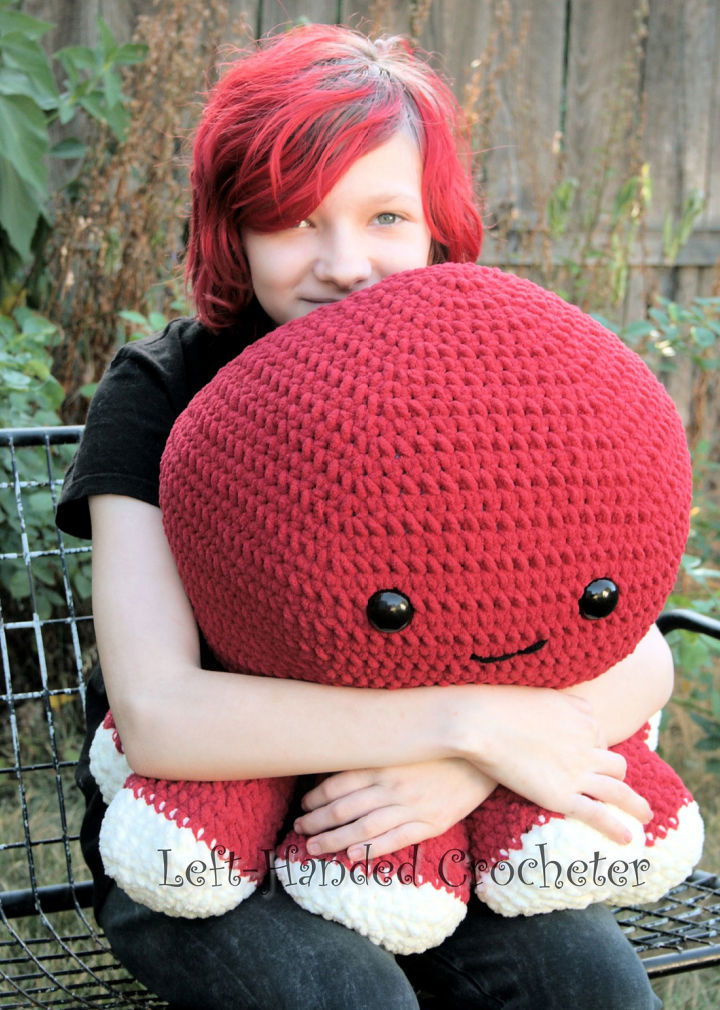 Don't miss out on the chance to make your giant, squishy octopus! This crochet pattern is perfect for beginners and experienced crocheters alike. All you need are a few supplies – an 8mm l crochet hook, bernat blanket yarn in any color of your choice, 30mm safety eyes, black worsted weight yarn and some poly-fil stuffing. Your finished product will surely put a smile on everyone's face! So grab your supplies today and start making an adorable and super cuddly octopus you can call yours. lefthandedcrocheter
18. Modern Crochet Giant Plush Octopus Pattern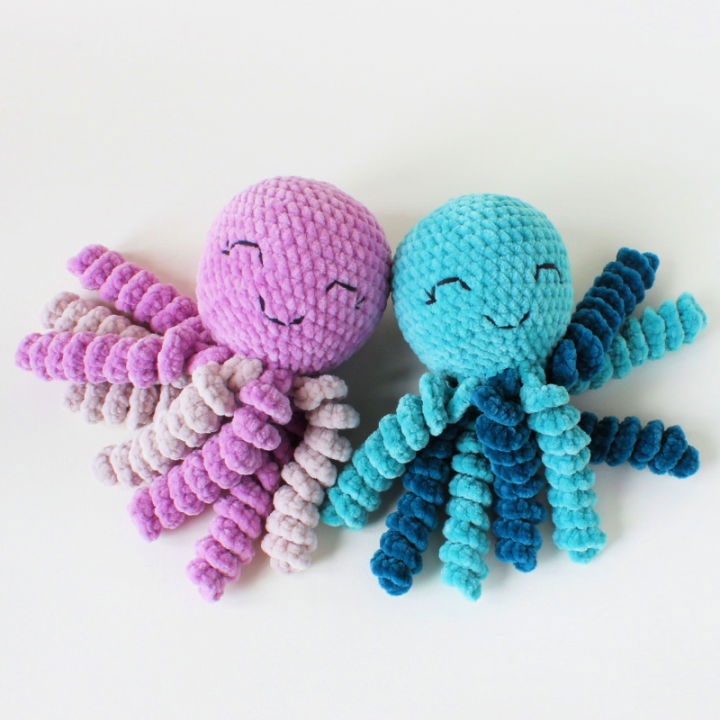 Create your own super soft amigurumi plush octopus in just a few hours with this easy-to-follow crochet pattern tutorial! Ideal for beginners, this modern crochet giant plush octopus pattern will help you make the cutest toy that everyone will love. Even if you are new to crocheting, you can easily complete this project and be proud of yourself afterward. Get yours now and start stitching! ravelry
19. Crochet Small Ice-Cream Octopus Amigurumi Pattern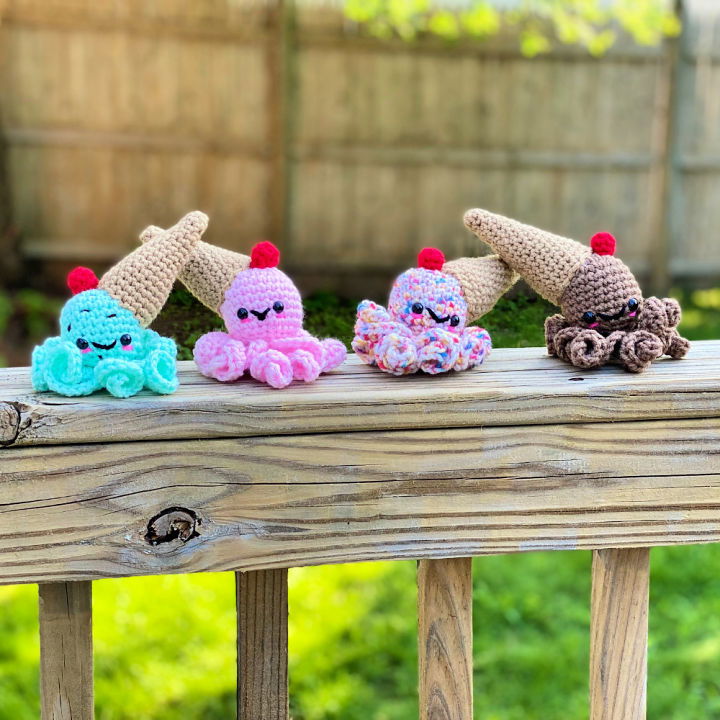 Cute and cuddly, this ice cream octopus amigurumi crochet pattern brings a splash of sunshine to everyone's day! These tiny sea creatures are the perfect combination of food and animal, great for gifting or playing. Quick, easy and free to make, it's a great stash buster too! The sprinkles look celebratory, and the cone looks like a party hat – what an excellent birthday gift! Great for collecting, using as play food toys or just display and decor – these cute critters fit perfectly in the palm of your hand. Get creative today with this unique amigurumi pattern! craftykittycrochet
20. Free Crochet Octopus Amigurumi Pattern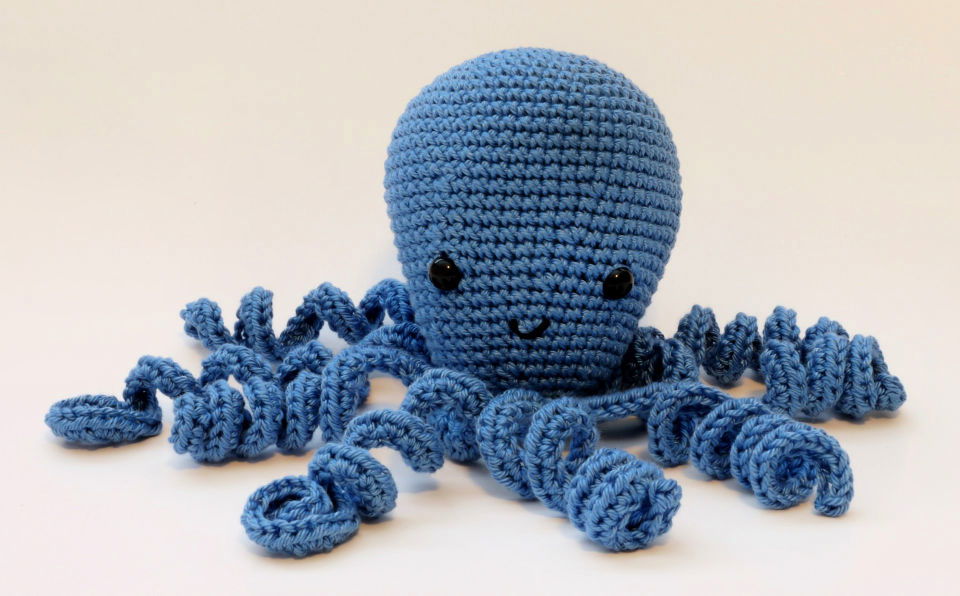 Looking for the perfect project that will bring anyone a smile? Your search has ended here! This free crochet pattern for a cuddly amigurumi octopus doll is perfect. This cozy little octopus can be given to tiny premature babies, helping them feel safe and comfortable and boosting their oxygen levels and overall health. This is a great cause, but it's also simple to make right at home with just a few materials. Check out the free pattern and start stitching today – your efforts will be rewarded by giving these babies much-needed comfort & care. kraftykait
21. Crochet Octopus – Free PDF Pattern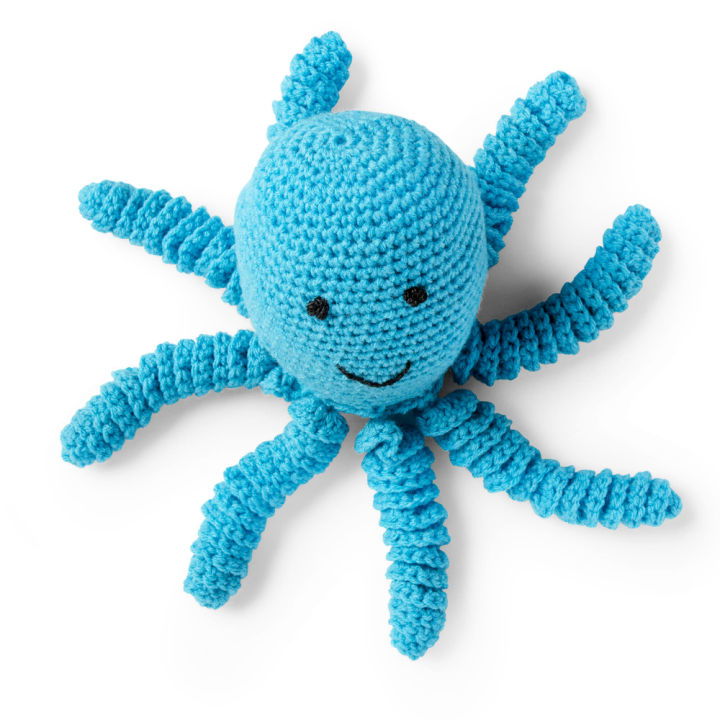 Unleash your inner artist and bring an eight-legged companion into existence with this delightful crochet pattern! This project is perfect for yarn lovers of all levels. All you need to complete it are your desired yarn, a crochet hook or size needed to obtain gauge, stitch markers, stuffing, and black embroidery floss for eyes and mouth. Follow the instructions in the pdf for an adorable cuddly friend that will surely put a smile on anyone's face. yarnspirations
22. Simple Crochet Sir Tentacles the Octopus Pattern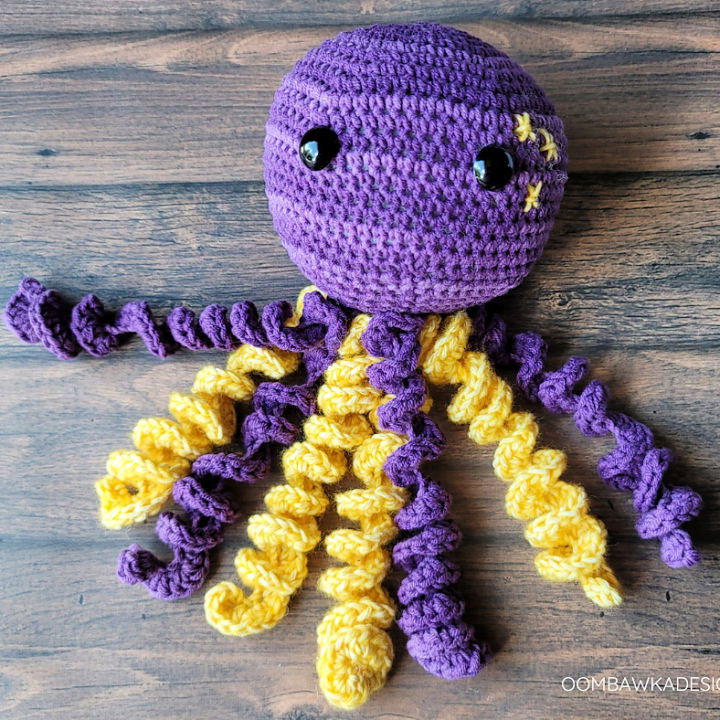 Welcome to the world of sir tentacles, the crochet octopus pattern that will take you on a unique adventure! This playful creature is easy to make with just basic supplies- all you need is some yarn, a 3.75 mm hook and poly-fil, plus 12 mm black safety eyes for that extra bit of character. Whether you're an experienced crocheter or picking up your first project, this fun yet simple pattern lets anyone join in! What are you waiting for? Start your journey with sir tentacles today! oombawkadesign
23. Free Crochet Pattern for Preemie Octopus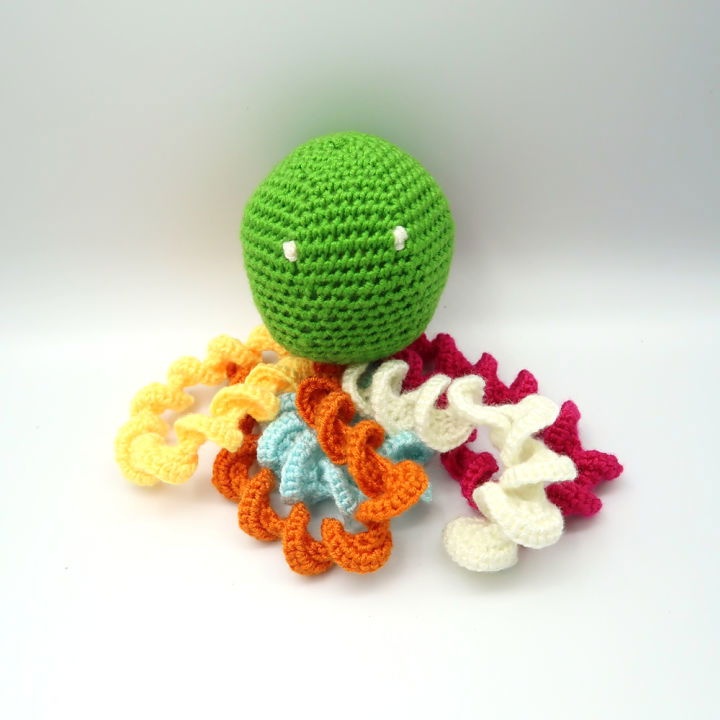 Searching for a special way to help preemies? The preemie octopus crochet for charity pattern is the perfect project! This pattern will allow you to create adorable amigurumi octopuses scientifically proven to soothe and comfort pre-term babies in the hospital. And best of all, it only requires a 2.5mm crochet hook and cotton fingering weight yarn! Give back with this wonderful charity project today and make a difference in the lives of tiny preemies worldwide. knittingwithchop
24. Free Printable Crochet Reversible Octopus Pattern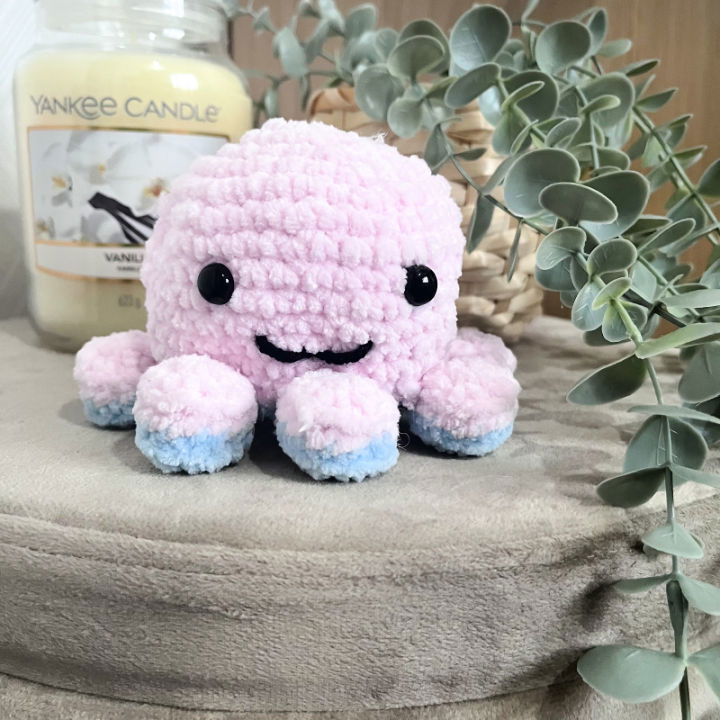 This reversible octopus crochet pattern is perfect for crafting a fun and lovable toy. With two colors of your choice in yarn, a 4.5mm hook, stuffing, plastic eyes and some basic crocheting skills, you can create a unique cuddly friend. This versatile design includes detailed instructions on making the octopus with either one or two sides of color – allowing you to craft an original creation every time! Make this adorable amigurumi as a gift for someone special, or keep it all for yourself! abigurumii
25. Best Osmond the Octopus Crochet Pattern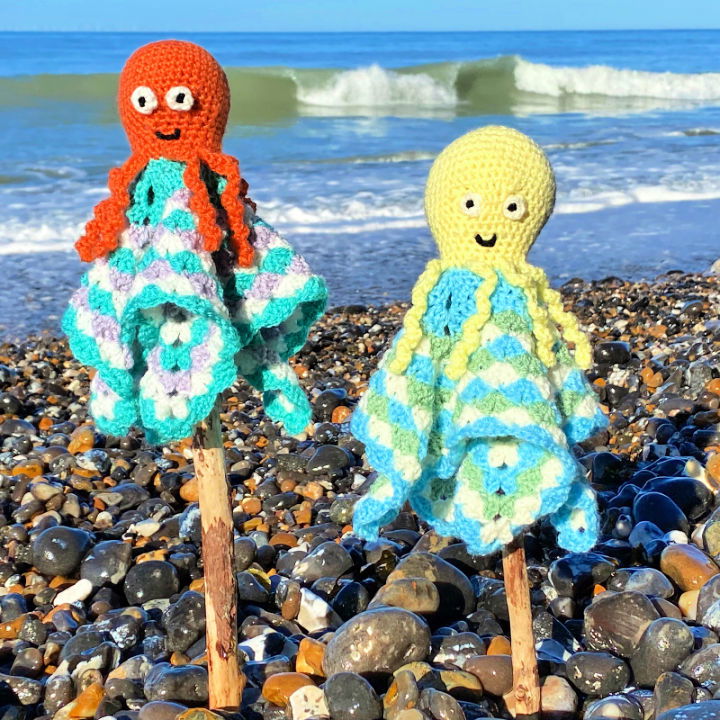 Introducing osmond the octopus, a fun and cuddly baby comforter that will be your child's favorite companion. This free pattern makes giving each octopus its personality easy with just a few simple steps. Use different yarns and eye placement to make your creation unique and special. Get creative while making this adorable octopus-shaped comforter – perfect for snuggling up at bedtime! Download the free pattern now and create something unique for your little one today! coastalcrochet
26. New Crochet Tentacles Octopus and Baby Pattern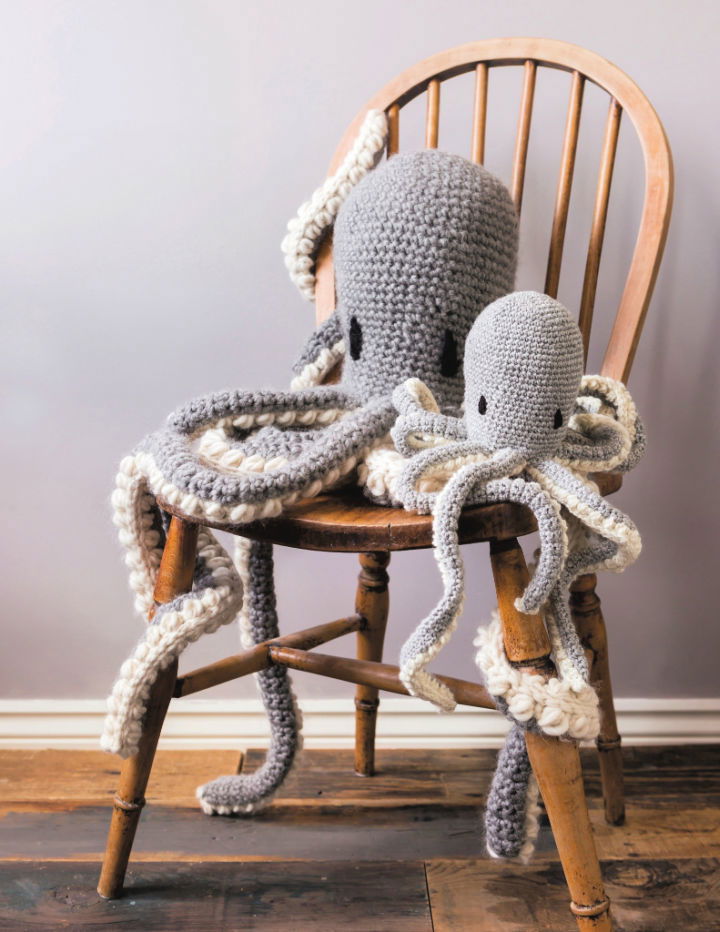 With crochet octopus patterns, start by creating a magic ring and work in rounds to form the head, arms, and body, adding stuffing as you go for a cute and cuddly result. Crochet something special with this new crochet tentacle, octopus and baby pattern. Featuring the super bulky, super chunky merino yarn for the larger version and beau baby yarn – a light worsted merino yarn for the mini version – you can make two sizes of these adorable creatures. The adult size measures 33cm tall with tentacle lengths of 67cm, while the baby is 15cm high with tentacles at 36 cm. Get crafting today! cutoutandkeep
27. Crochet Premature Baby Octopus Toy Pattern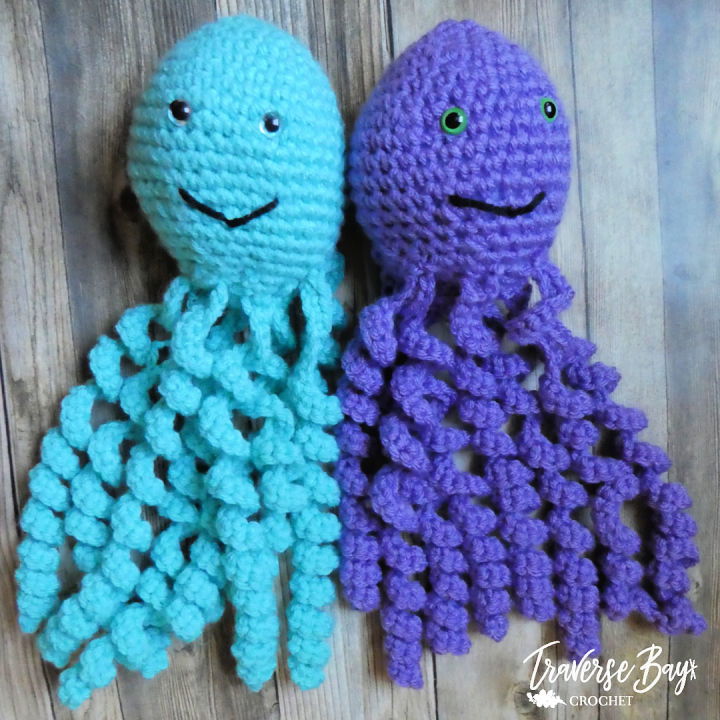 Craft a cuddly companion in the blink of an eye – crochet your octopus toy with a size f hook, medium worsted weight yarn, safety eyes for extra cuteness and safety, small amount of black yarn for the mouth and stuffing. It makes a great baby gift and is perfect for little ones who can't play with toys that have sharp parts. The safety eyes help protect against injuries while adding character to your crochet toy. Give it a try today! traversebaycrochet
28. Easy Crochet Octopus Pattern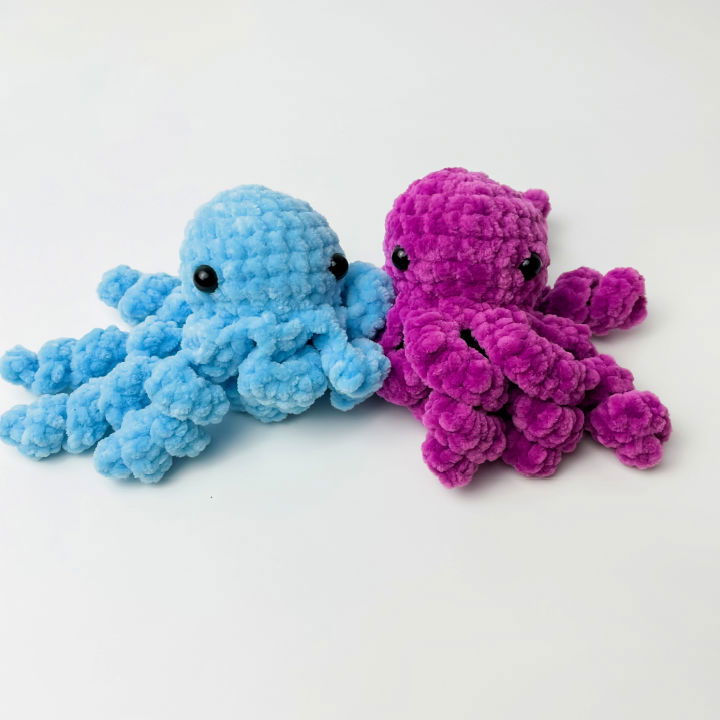 Bring some extra love and warmth to your home with this adorable octopus! You can do this quick project with leftover yarn with just a few materials. This free crochet pattern includes instructions on using a 4.25mm crochet hook, 9mm safety eyes, polyfill, and a small amount of medium-weight black yarn for the mouth. You'll be amazed at how quickly you can create this cute snuggle buddy using the step-by-step guide! roseandlilyami
29. Pretty Crochet Octavia the Octopus Pattern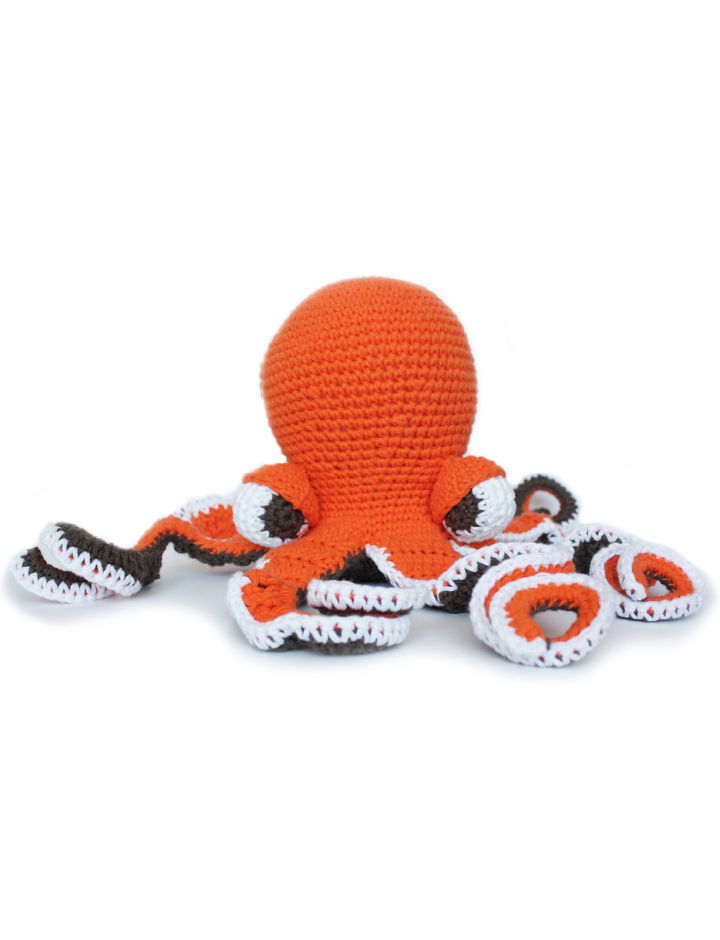 Swirl your crochet hook and watch octavia the octopus come alive! Perfect for a rainy afternoon activity at home, you will need a 4 mm crochet hook or size to obtain gauge and some stuffing. Once finished, use the yarn needle for extra details and enjoy your new cuddly friend! yarnspirations
30. Unique Free Crochet Odd the Octopus Pattern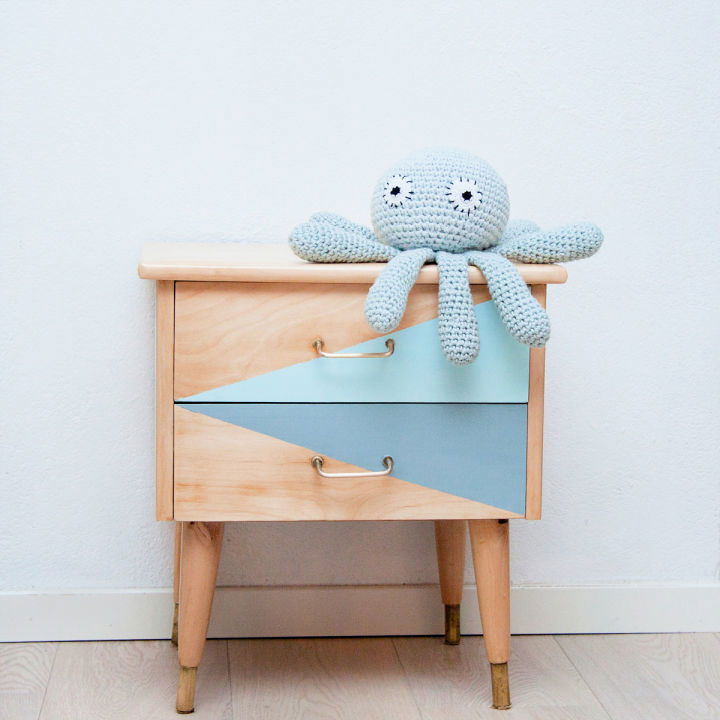 Here is this unique free crochet pattern that makes the octopus odd! All you need is a 4.0 mm crochet hook and pickles of thin organic cotton yarn in any color you choose. To make odd's eyes, use white and black cotton yarn with a 2.0 mm crochet hook for best results.
Adjust your hook using heavier-weight yarn – this will affect the size of your finished octopus! With this simple yet fun pattern, you can create one-of-a-kind cuddly friends perfect for gifting or keeping as decorations around your home. Unleash your creative side and start this fun project today with the free crochet odd octopus pattern! inart
31. Fastest Crochet Baby Octopus Pattern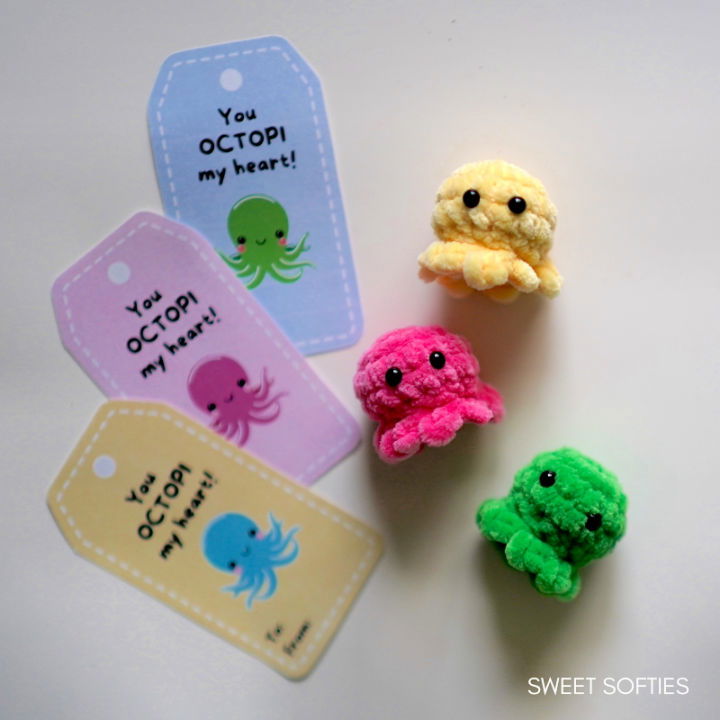 In search of an easy and unique last-minute valentine's day gift for your little one? Here is this fastest crochet baby octopus amigurumi pattern! It only takes 10 minutes to complete, so it's perfect for beginners. All you need is a crochet hook and some yarn of your choice, and you're ready to go – no sewing required! Get creative with the color combinations and make something special that everyone loves. Make this fast crochet baby octopus amigurumi pattern today and spread the love with a handmade valentine's gift. sweetsofties
32. Crochet Amigurumi Octopus Baby Toy Pattern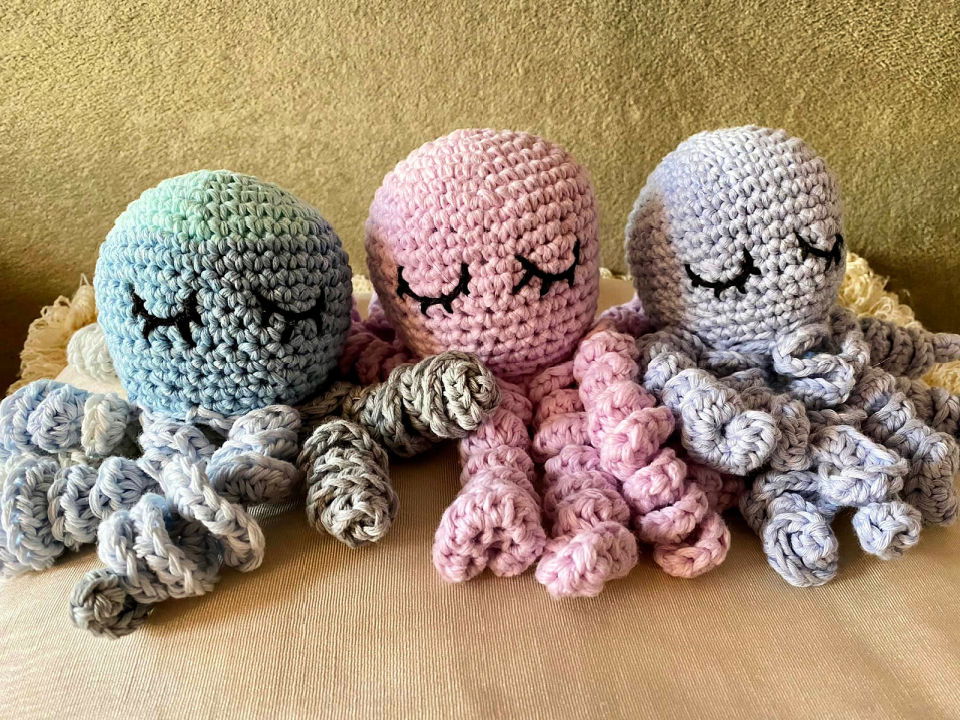 Providing a gentle hug and warm embrace, this crochet octopus baby toy is the perfect companion for any little one. Simple to tackle with some worsted weight yarn and crochet hooks, even a novice can make this comforting little toy. The eight legs are designed perfectly for babies to explore with their hands, providing stress relief for any age! Make your special octopus today and comfort those who need it most. ravelry
33. Crochet Lil Octopus Design – Free Pattern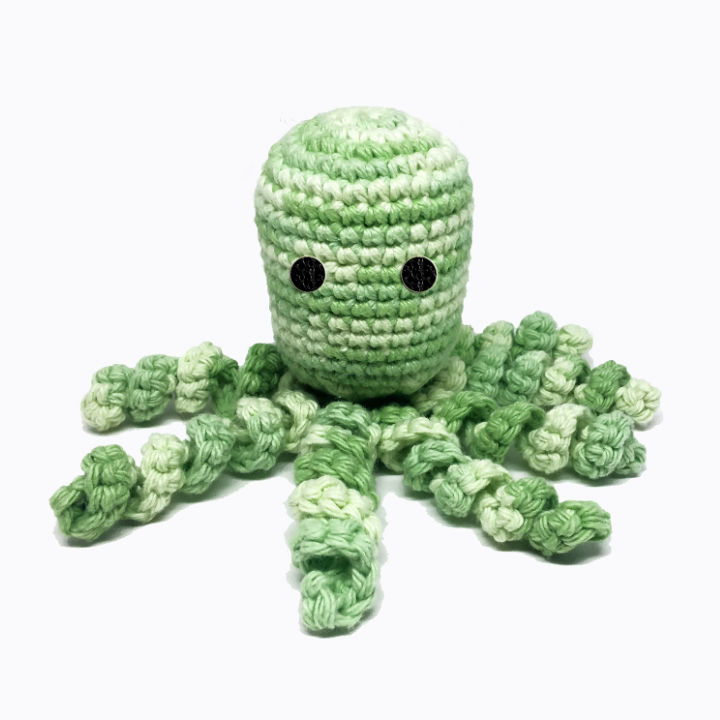 Are you new to crocheting? If so, this free crochet lil octopus design pattern is the perfect place to start! Not only will it help you sharpen your skills, but it will also make a cute handmade gift for your little ones with just some basic materials. This easy-to-follow pattern makes creating an adorable octopus possible even for beginners. You'll be able to see the results of your hard work in no time and watch as the smiles on everyone's faces light up when they receive such a special handmade present! knitandcrochet
34. Adorable Crochet Reversible Moody Octopus Idea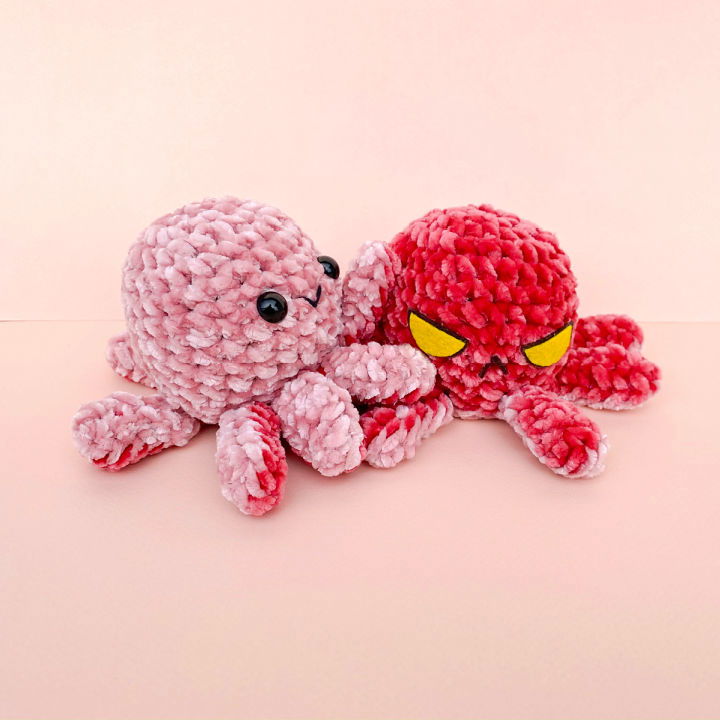 Show your love this valentine's day with a unique, handmade gift! This free crochet pattern provides instructions on how to make your reversible octopus. Inspired by the famous plush toy, you can use velvet yarn in pink and red and a size 6 mm hook to create this cute cuddle buddy. You'll also need either red, yellow or black felt -or- size 16 mm safety eyes and black yarn for the mouth. Easily customizable, it makes the perfect gift that will be cherished for years. curiouspapaya
35. Free Crochet Small Octopus Squish Pattern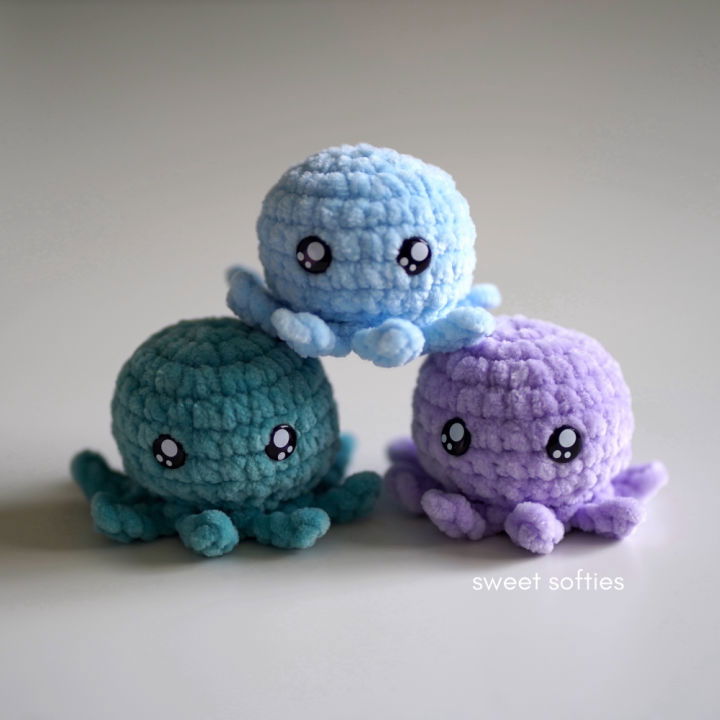 Create the cutest amigurumi octopus squish with this no-sew, free crochet pattern! In just 20 minutes, you can make a fun and unique handmade gift that any recipient will love. This easy-to-follow pattern works quickly to create a perfect plush toy for kids or anyone who loves cute animals. Completely free – it's an unbeatable way to show someone special how much they mean to you! sweetsofties
36. How to Crochet an Octopus Amigurumi – Free Pattern
Unleash your inner artist and bring an adorable crochet octopus amigurumi to life with this free pattern! All you need is 100% cotton yarn, a 3 and 3.5mm crochet hook for the different-sized tentacles, safety eyes to make it look alive, and a small amount of synthetic stuffing to fill it up. Easily follow the step-by-step instructions on how to complete your very own handmade octopus amigurumi! Create something special today with just some simple supplies and an hour or two of your time! crobypatterns
37. Free Crochet Preemie Octopus Pattern to Print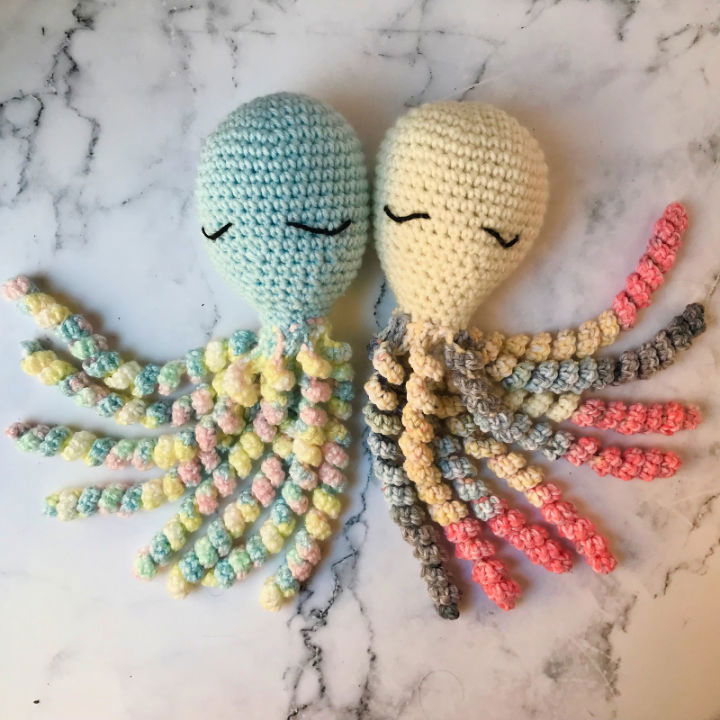 If you are a crochet-lover looking to use your scrap yarn, check out this adorable preemie octopus pattern! You can make these cute octopi for anyone with just a little bit of scrap yarn and some baby fever. Perfect as gifts or decorations, the preemie octopi are great for babies of all ages. Grab your supplies, follow the pattern and easily create dozens of unique soft toys! Get ready to add some cuddly fun with this crochet preemie octopus pattern! crochetwithgab
38. Crocheting a Tiny Octopus Using Scrap Yarn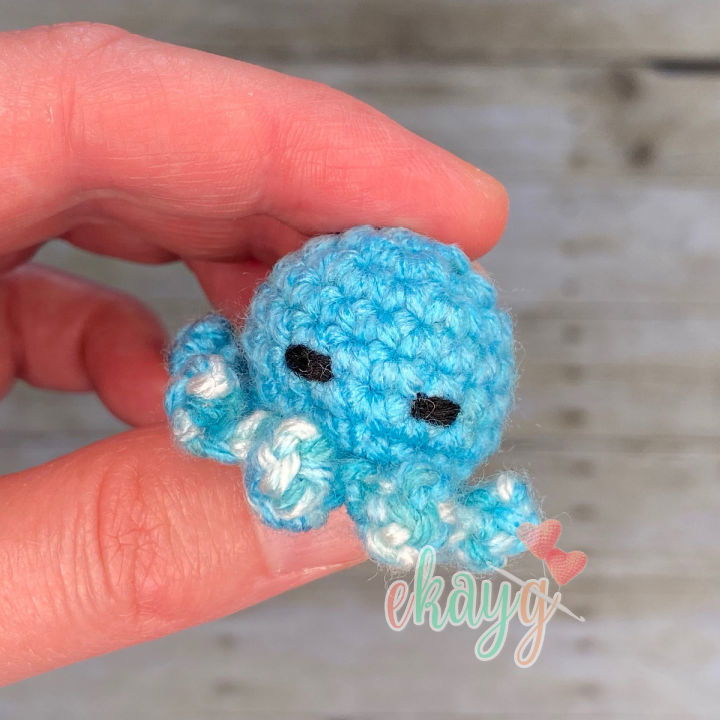 This tiny scrap yarn octopus is the perfect project to use up your leftover yarn! You can make this cute little creature quickly with only a few supplies. It's perfect for class gifts, last-minute markets, or a handheld toy. Attachments allow you to turn it into an adorable keychain – ideal for adding a fun flair to any outfit! Get creative and crafty with these tiny octopuses – they will surely be a hit with everyone who sees them! ekayg
39. Cool Crochet Baby Octopus Pattern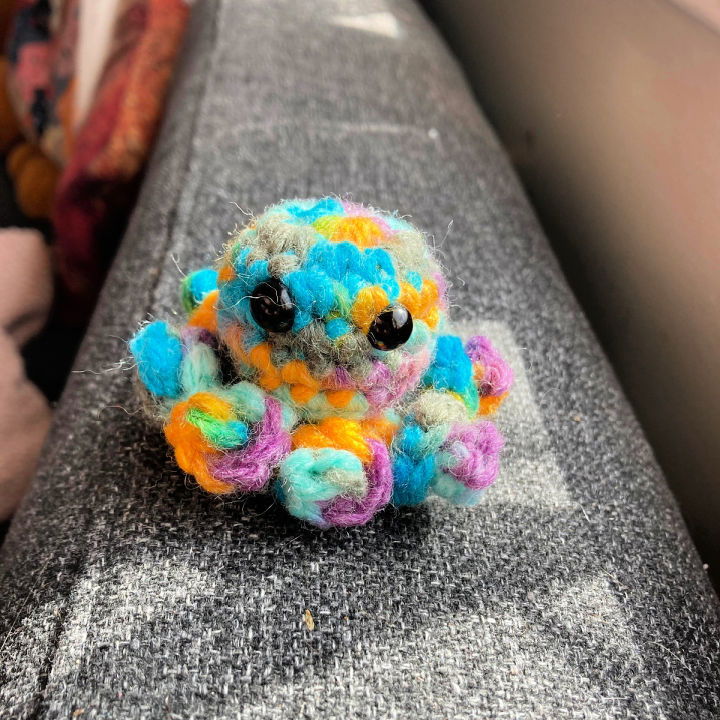 With this free crochet pattern, you can make a baby octopus that will surely be one-of-a-kind and utterly adorable! This easy-to-follow pattern is perfect for any level of crocheter and uses any weight yarn, so you can make the octopus in whatever colors you choose. All you need is an appropriate size hook and some eyes – let your imagination run wild as you craft your little octopus! Whether for yourself or a friend, this cheerful amigurumi is a great gift that will be treasured for years. crochetkindness
40. Quick and Easy Crochet Seamless Octopus Pattern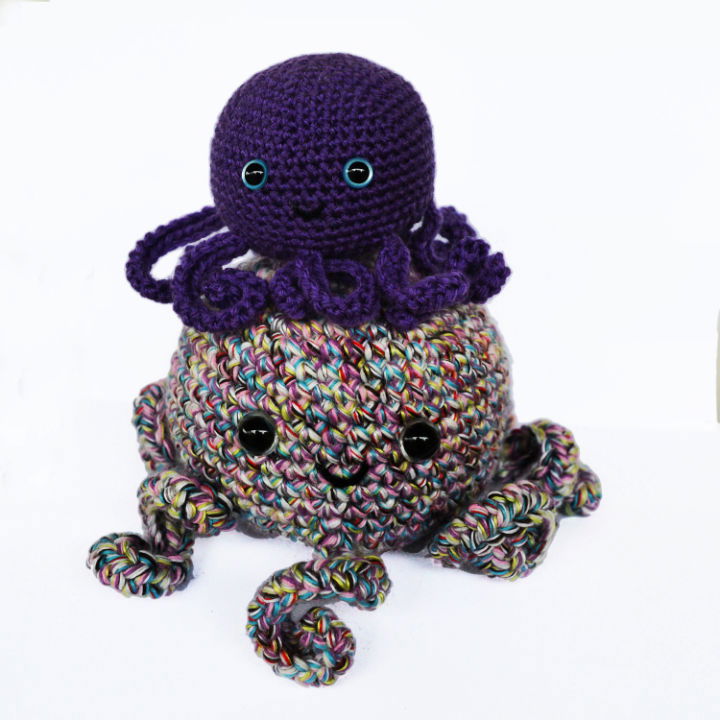 Need a last-minute gift? Make this octopus crochet pattern for your friends and family! It's cute, quick, and requires no sewing/seaming. Plus, it only takes one night to make! Get ready for easy crochet designs that are simple but effective with this seamless pattern. Delight your loved ones with a thoughtful handmade gift without the hassle of complicated stitching or too much time spent on crafting. This is great for any level of crochet lover – beginner or pro! roamingpixies
41. How to Crochet a Mini Octopus Amigurumi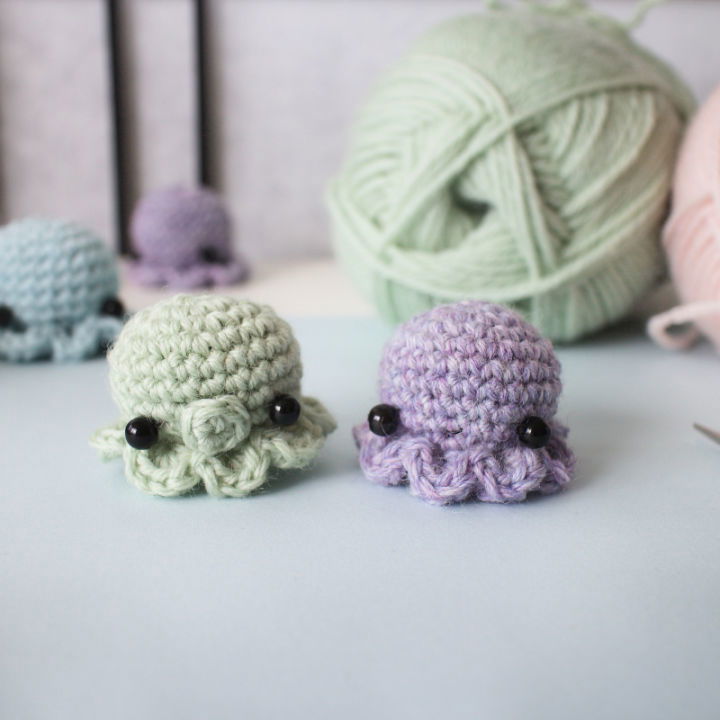 Behold, a tiny tentacled friend to hug and keep – crochet your octopus today! This quick project only takes around 30 minutes to complete making it perfect for using up any leftover yarn scraps. It's worked from the top down, with legs crocheted straight onto the body and minimal sewing. Add eyes and a little mouth to finish off your mini octopus – perfect as a gift or added decoration in any room! Get creative and make your unique amigurumi today with this simple mini octopus pattern. mohumohu
42. Crocheted Octopus Beanie Hat – Free Pattern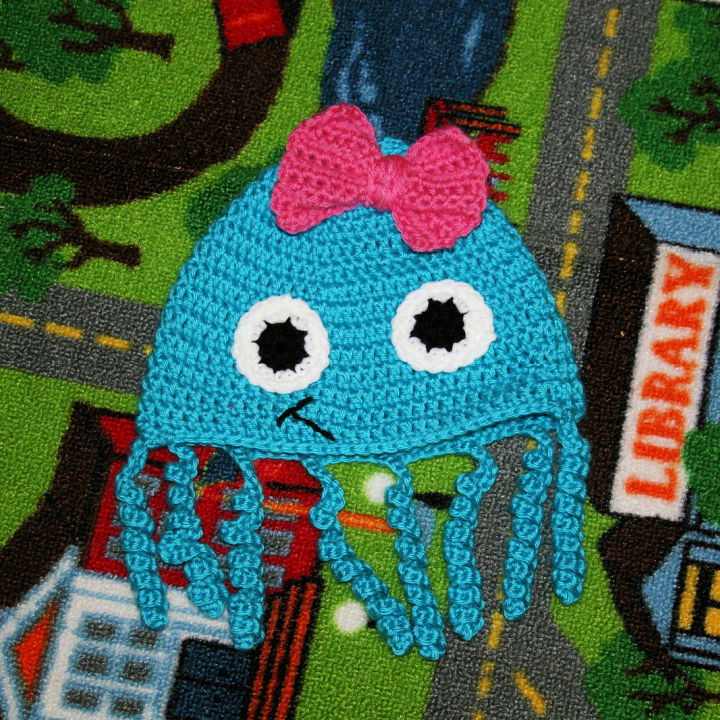 Add a bit of fun and creativity to your outfit with this crocheted octopus beanie hat! This cute hat is surprisingly easy and quick to make – all you need are some worsted weight yarn in black, white, and any color you choose, plus an h hook and stitch markers. Make this free pattern for yourself or a unique gift for a loved one – perfect for kids too! Get creative with the colors you choose so that everyone can be sure to spot your stylish new octopus beanie from across the room! thecraftyflutist
43. Crochet Kawaii Octopus Amigurumi Pattern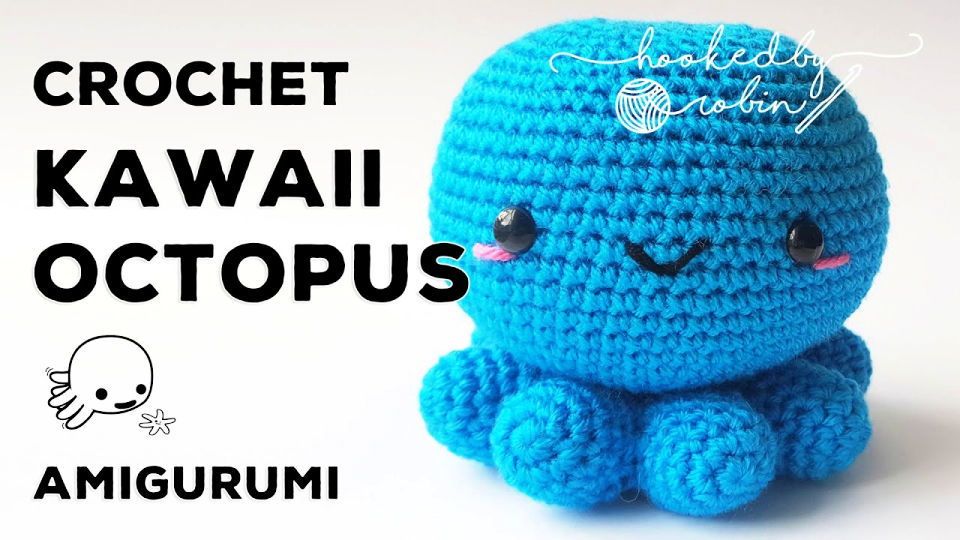 Bring to life your very own whimsical underwater companion with ease! These step-by-step instructions are perfect for those who can't stand the tedious task of sewing together multiple pieces. This 8-legged cutie is crocheted in one piece, which makes it strong and durable enough even for rough play. Get your hands on this chubby kawaii octopus today and make him a part of your family forever!
44. Free Crochet Camille Octopus Pattern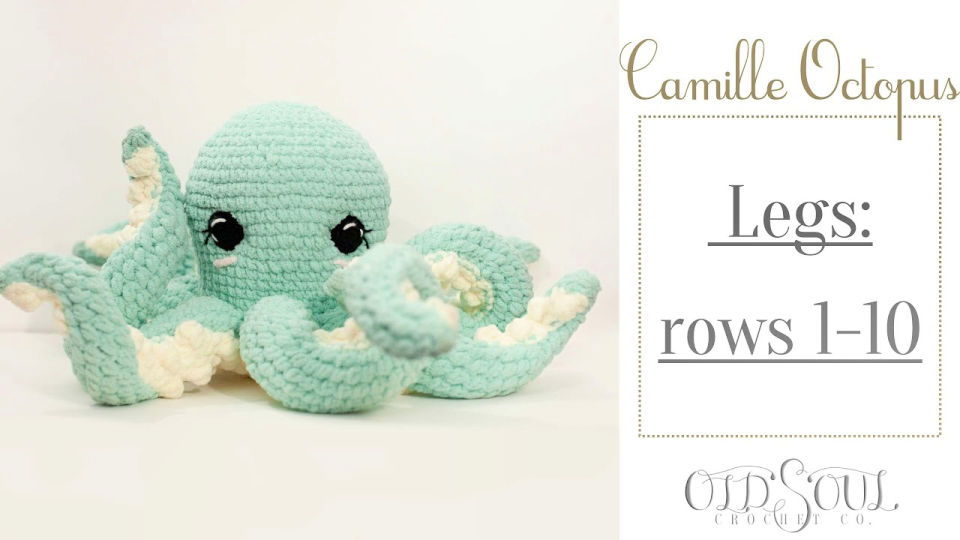 Are you seeking a free crochet pattern to bring your creative visions to life? Look no further than this camille octopus pattern! With this video tutorial, learn the first 10 rows of legs and understand how to start crocheting. Whether you are a beginner or experienced in crocheting, let this amazing pattern fuel your imagination and be inspired by its unique shapes and textures! Get started today – it's free, after all!
45. Easy Crochet Reversible Octopus Amigurumi Tutorial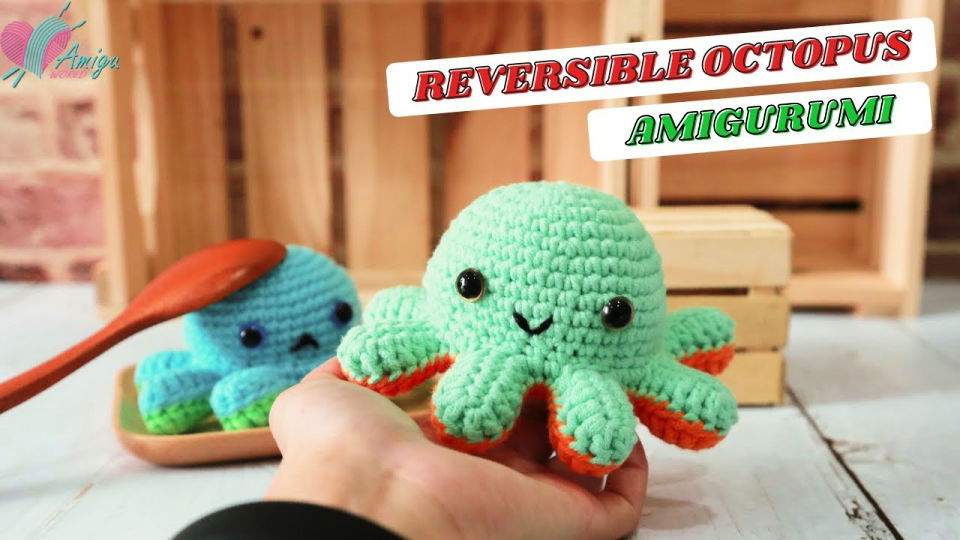 Unravel your creativity and transform it into a magical octopus amigurumi with this special crochet pattern! With just some yarn, a crochet hook, and fiberfill stuffing, you can craft an adorable sensory toy for your little one to play with. Also, this amigurumi's green and orange colors will look great in any room or nursery. Learn how to create this beautiful crochet animal, this expert tutorial helps guide you through every step of the process. Get creative and make something special today!
Related Free Crochet Amigurumi Patterns:
Unleash your creativity with these free crochet amigurumi patterns! From adorable animals to fun characters, find the perfect pattern for your project. Start making something special today!
Easy Crochet Amigurumi Patterns:
Conclusion:
We hope these free crochet octopus patterns helped you understand more about the unique and adorable craft of making octopus amigurumi. It's easy to get started if you're a beginner, and if you're an expert, there are plenty of advanced options for making stunningly beautiful and creative crochet octopus patterns. From large amigurumi octopi and simple baby octopi to mini patterns and free printable PDF instructions, we believe the perfect crochet octopus pattern awaits everyone who searches! Before we go, here is a final call to action – don't forget to explore your options and find the best free crochet octopus pattern for you! Get inspired by free crochet octopus patterns and try something new today!