Creating a crochet elephant is a fun and rewarding project that can be enjoyed by both novice and expert crocheters alike. If you're looking for a free crochet elephant pattern, look no further! We've compiled a list of 25 easy and free crochet elephant patterns that include step-by-step instructions, detailed tutorials, and helpful tips to guide you along the way. These crochet elephant patterns range from easy and basic designs to more unique and detailed elephant amigurumi patterns, giving you plenty of choices.
Whether you're making an amigurumi elephant for a child's toy or creating a crochet stuffed elephant for decoration, there's a free crochet elephant pattern for everyone. With our free printable crochet elephant patterns, you can easily create your own unique elephant amigurumi in just a few simple steps. You can even experiment with different colors, materials, and stitches to make your elephant amigurumi unique.
If you're new to crocheting, don't worry – our easy-to-follow instructions and helpful illustrations will guide you through creating your very own crochet elephant. So why not give it a try? Whether you want to make a small and cute elephant or a large and cuddly one, these free crochet elephant patterns have you covered. Start your crocheting journey today and create your own crochet elephant masterpiece!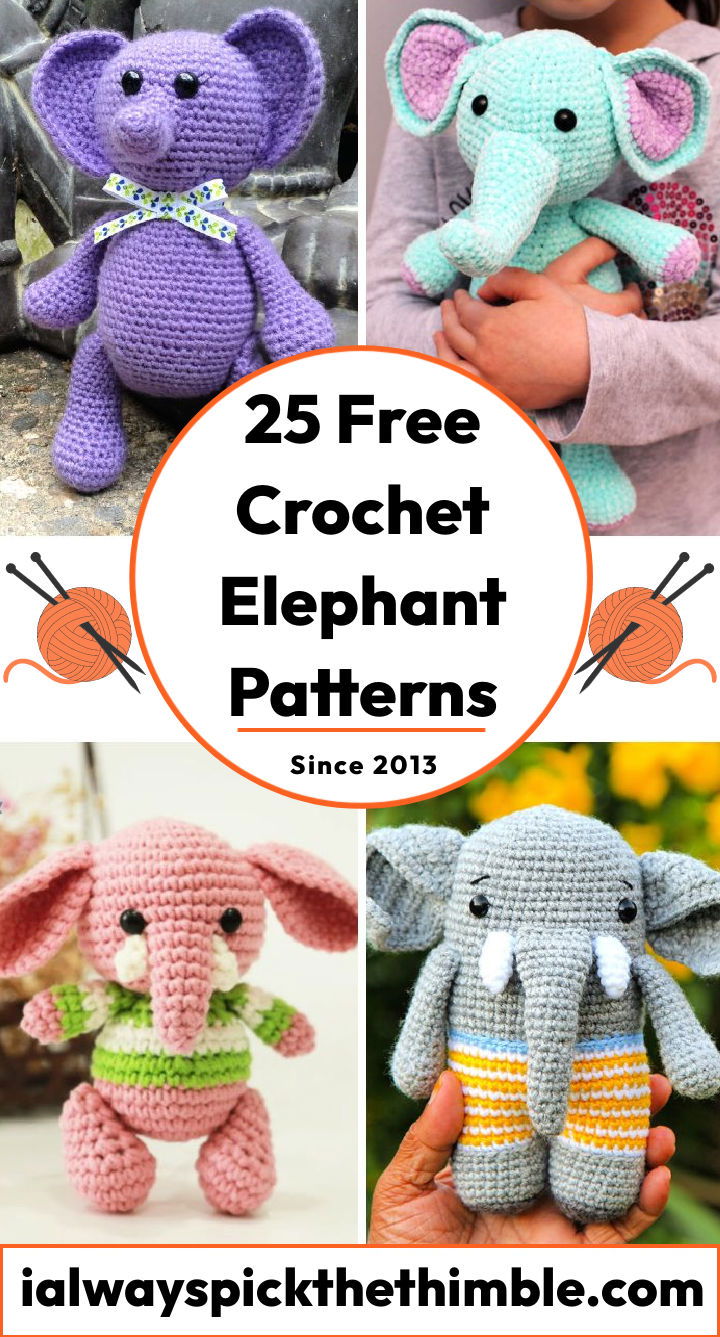 Free Crochet Elephant Patterns
Elephants are majestic animals that have inspired countless art and crafts, including crochet patterns. Whether you're looking to make an adorable stuffed animal for a child or a decorative piece for your home, elephant-inspired crochet patterns offer a fun and clever way to show your love for these gentle giants.
From crochet elephant amigurumi to blankets and hats, a wide variety of patterns are available to suit any level of experience. These patterns come with easy-to-follow instructions, detailed stitch descriptions, and even video tutorials to make the process as simple and enjoyable as possible.
One popular elephant-inspired pattern is the crochet elephant amigurumi, a cute and cuddly stuffed toy perfect for children and adults alike. These patterns often include sizes and styles, from mini keychain elephants to larger stuffed animals.
If you're looking for a practical project, you can try crocheting an elephant-inspired blanket in different designs and color schemes, perfect for snuggling up on a cold day or as a decorative piece in your home. You can also try crocheting an elephant-inspired hat or scarf.
With so many elephant-inspired crochet patterns available, the possibilities are endless. So why not grab your crochet hook and start creating your own unique elephant-inspired pieces today?
1. Free Printable Crochet Elephant Pattern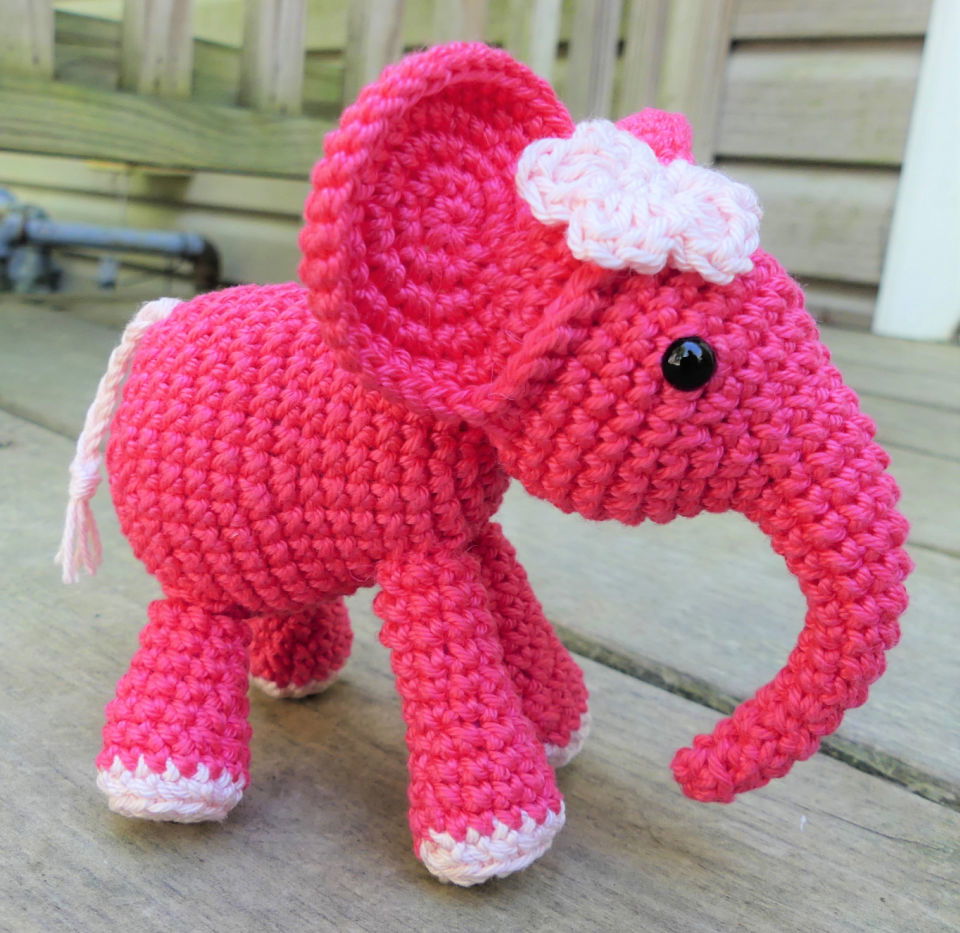 Looking for a free crochet pattern to make something special? Look no further! This free printable crochet elephant pattern is the perfect project. This cute amigurumi elephant is adorable and will make a lovely gift for friends and family. Plus, you can use very lightweight, mercerized cotton yarn so your little elephants won't be too heavy! And if you want to make them even bigger, try using thicker yarn with a larger hook – they'll look even more stunning. Download the free pattern today and start crafting your unique creations! kraftykait
2. Crochet Esther Elephant Amigurumi Pattern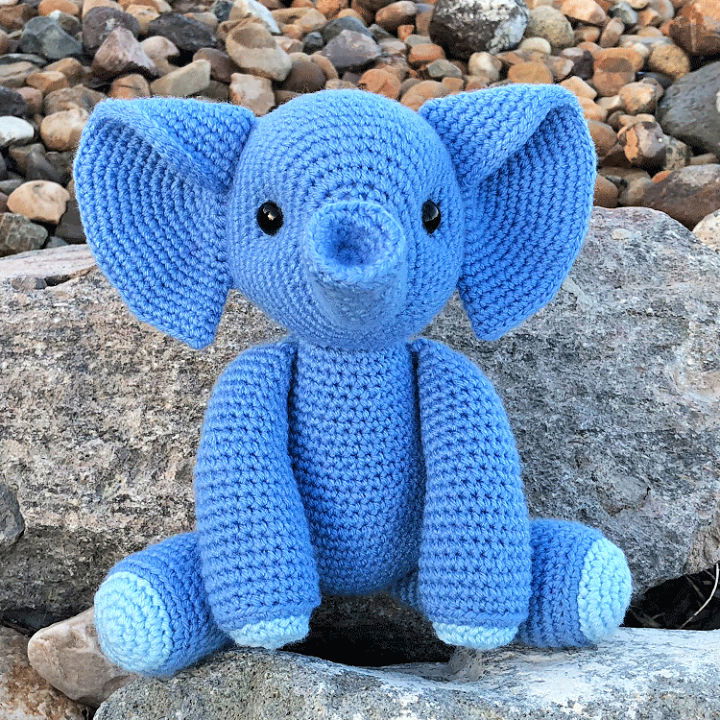 Discover the best crochet elephant patterns to create your own adorable stuffed animal. Welcome to the crochet world with this delightful free amigurumi pattern for a cute safari animal! Create an Esther elephant that your kids will love having. It's easy to make, even if you are a beginner – this tutorial will guide you through all the steps. You'll have your homemade version of this adorable toy soon! With its big ears and long trunk, it is sure to bring joy and delight. Get creative and surprise someone special with this one-of-a-kind handmade gift from you – they will cherish it forever! jesshuff
3. Adorable Crochet Gracie the Elephant Idea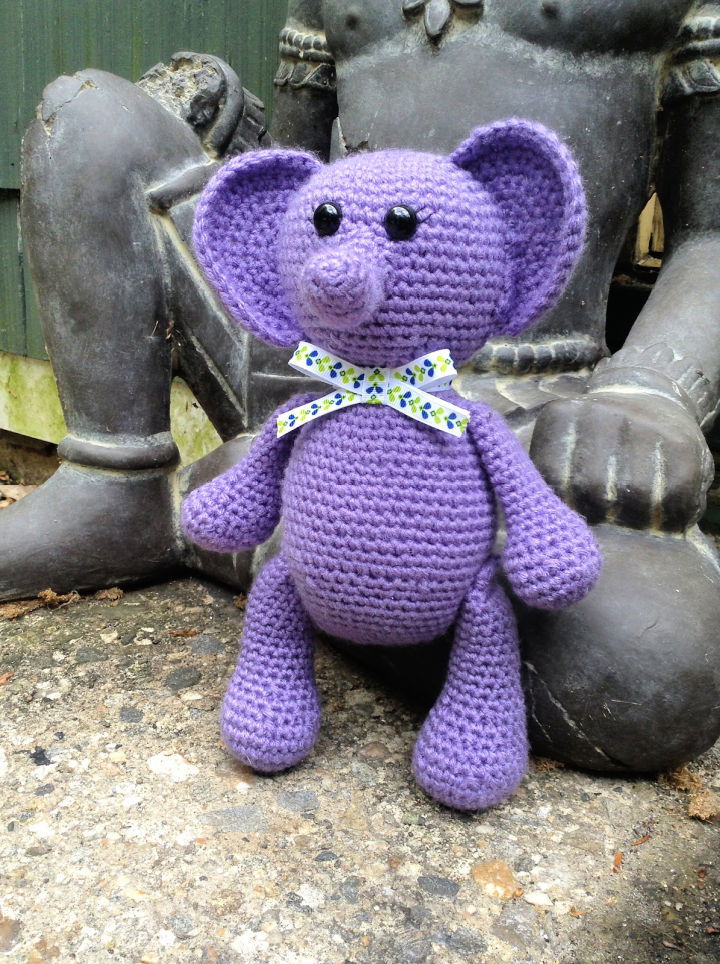 Introducing gracie the elephant – an adorable 7-inch crochet toy that will delight any child. From the cuddly body to the gorgeous trunk and eyes, this tiny elephant is perfect for snuggling and carrying around. You will need worsted weight yarn, a G hook, polyfill stuffing, safety eyes, or embroidery floss to create your happy little friend. Let your kids explore their imaginations while playing with their cute new plush pal! hooksandhabits
4. Cute Crochet Elephant Amigurumi Pattern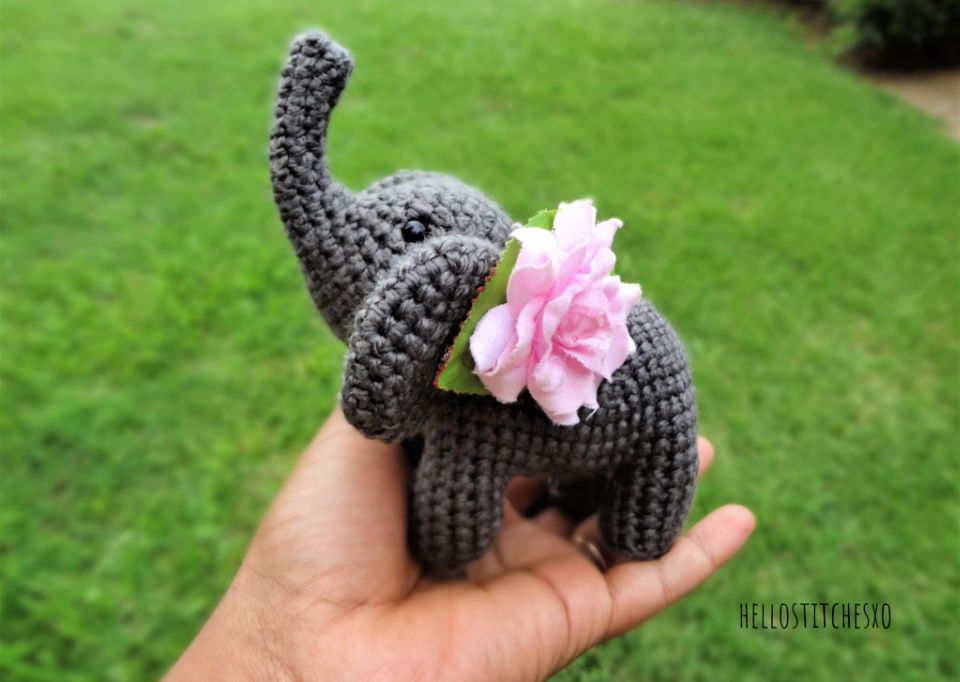 Create your own adorable, palm-sized crochet elephant amigurumi with this free pattern! This fun project works quickly and uses less yarn than other projects so that you can finish it quickly. It features a cute design that stands on four legs and fits perfectly in the palm of your hand, making it the perfect gift or decoration for any room. With its intermediate difficulty level, this crochet elephant amigurumi will surely bring joy to anyone who enjoys crafting. Get started today and make one now! hellostitchesxo
5. Crocheted Amigurumi Elephant – Free Pattern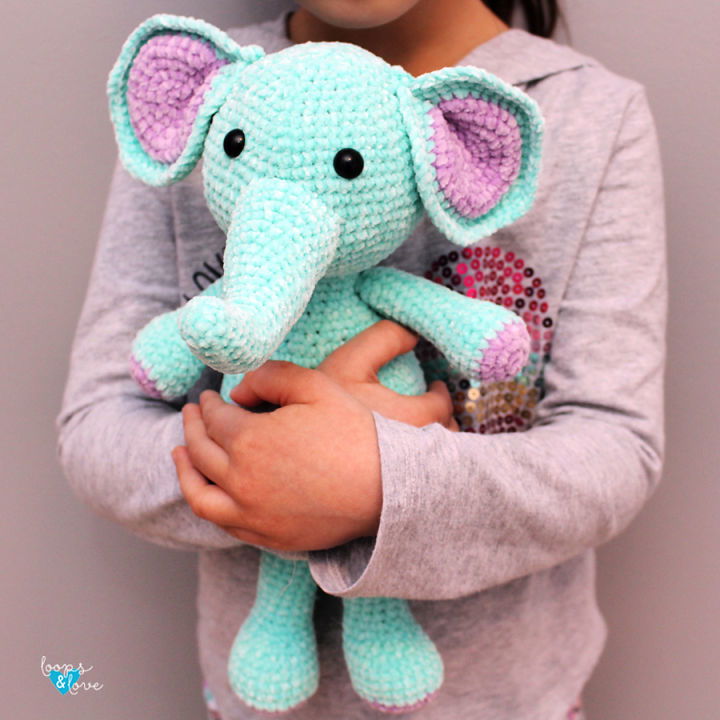 Are you searching for a super fun and cute stuffed elephant toy? This crocheted amigurumi elephant is perfect! This adorable toy, approximately 12″ tall from head to foot, is the perfect size for playing with and cuddling. It's fuzzy, cozy and sure to bring joy to your kids as it becomes their new best friend. Plus, with the free pattern, you can easily make one yourself – or even make a smaller version using a smaller crochet hook. Indulge in the joy of creativity today! loopsandlove
6. Gorgeous Crochet Stuffed Elephant Pattern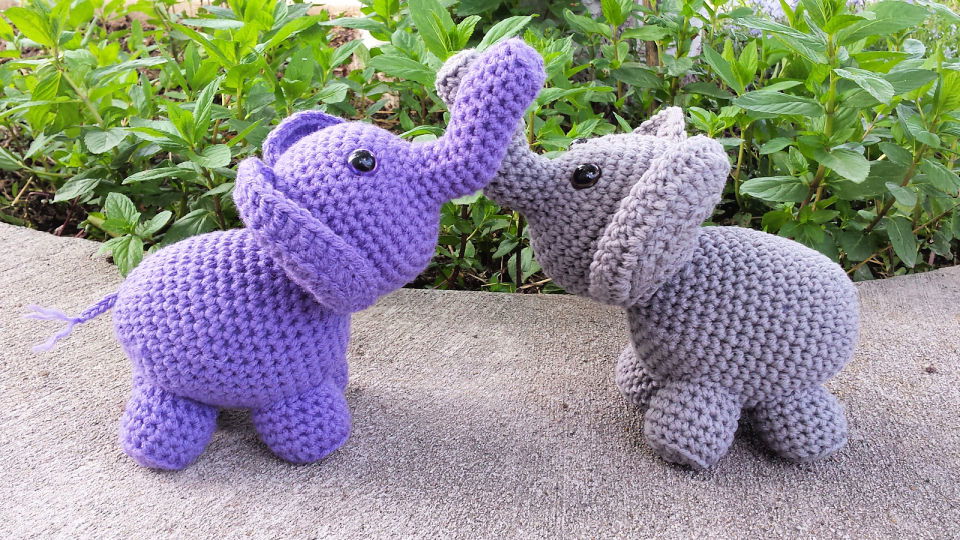 Create a stunning and unique piece of art with this free crochet stuffed elephant pattern! Its gorgeous and sweet little face will look adorable on a baby mobile or as the centerpiece of any nursery. Even beginner/amigurumi learners can make this cute little trumpeting elephant since the curve in the trunk is built right into the pattern – no extra pieces are needed! Standing at 9 inches tall at the tip of his trunk, you'll be sure to have fun making him, plus your finished product will be something that any recipient will treasure for years to come. hookedbykati
7. Easiest Elzo Elephant to Crochet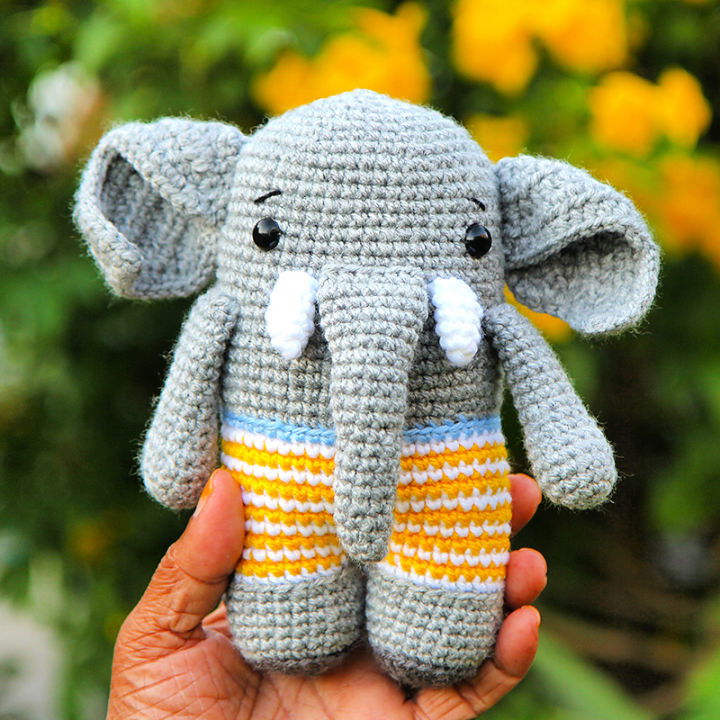 Welcome to the cutest crochet project, you'll ever make! This easiest Elzo elephant with a free pattern will show you how to create an incredible creature that is sure to cool off from a hot summer's day. This cute little guy measures approximately 8 inches tall and features striped swim shorts, making it an adorable addition anywhere in your home.
The easy pattern makes this amigurumi elephant truly one of a kind and so fun for both beginners and experienced crocheters alike. Don't miss out on creating the cutest soft-stuffed toy around – get started on this free pattern now! chaicoffeecrochet
8. Colorful Crochet Elephant – Free Pattern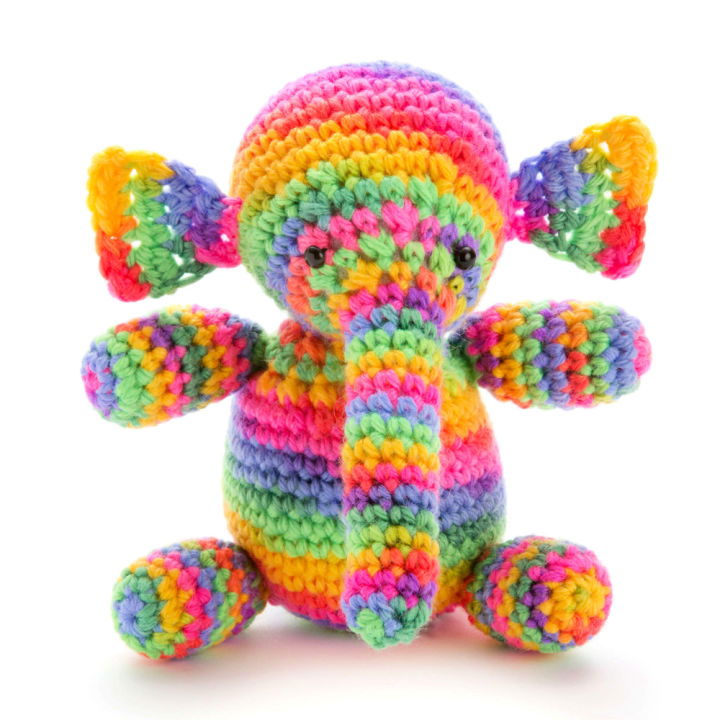 Discover adorable crochet elephant patterns and create your own cute and cuddly elephant toy with ease. This free crochet pattern features a friendly and colorful elephant, perfect for tiny hands to hold. Made with red heart kid's yarn, this easy project is perfect for beginners and can be customized in any color. The finished elephant stands 6.5 inches tall and can be made with simple supplies like a crochet hook, sewing needle, and polyester fiberfill. Follow the detailed instructions for fun and inspired crochet toy that will bring joy to kids of all ages. yarnspirations
9. Easy Crochet Elephant Amigurumi Pattern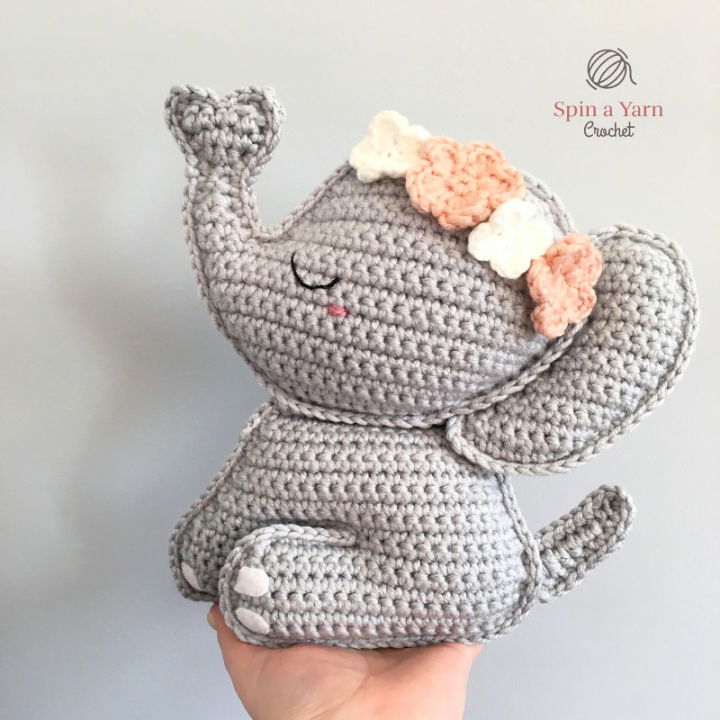 Capture the spirit of nursery decor with this delightful and unique 2-D easy crochet elephant amigurumi! This free crochet pattern features eight separate pieces (not including the flowers and accessories), a fair amount of sewing, and assembling for an adorable wall hanging or even as a sweet cushion in a rocking chair. The finished measurement is approximately 25cm/10″ from top to bottom, though you can make it smaller if needed. Create your magical creature today with this fun project – perfect for any home! spinayarncrochet
10. Crocheting a Misfit Spotted Elephant – Free Pattern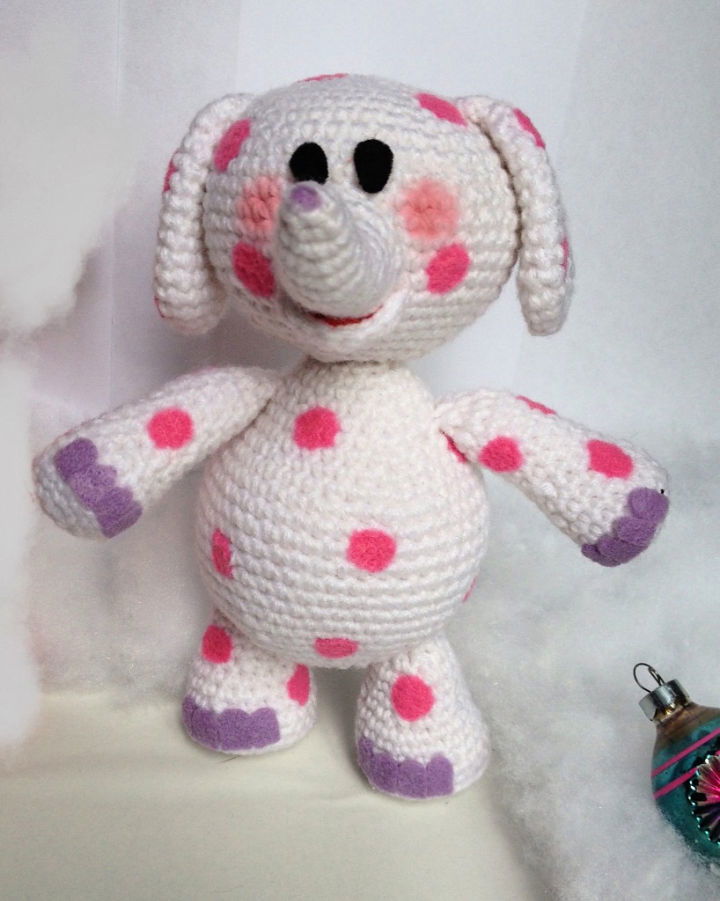 Get a unique and whimsical gift or decoration with this free crocheting pattern for a misfit spotted elephant! This adorable project is so easy to follow that you can whip one up quickly. With its bright colored spots on the body and charming design, your new creation will make the perfect present for any animal lover.
You can also keep it as an eye-catching home accent piece! Add some extra flare to your living space with this cute crochet project; sure to add a cheerful atmosphere wherever it's displayed!
And don't worry; it's an easy-to-follow pattern that even beginners can complete! So get creative and brighten someone's day with this fantastic handmade piece you can create yourself! hooksandhabits
11. Simple Crochet Elephant Amigurumi Pattern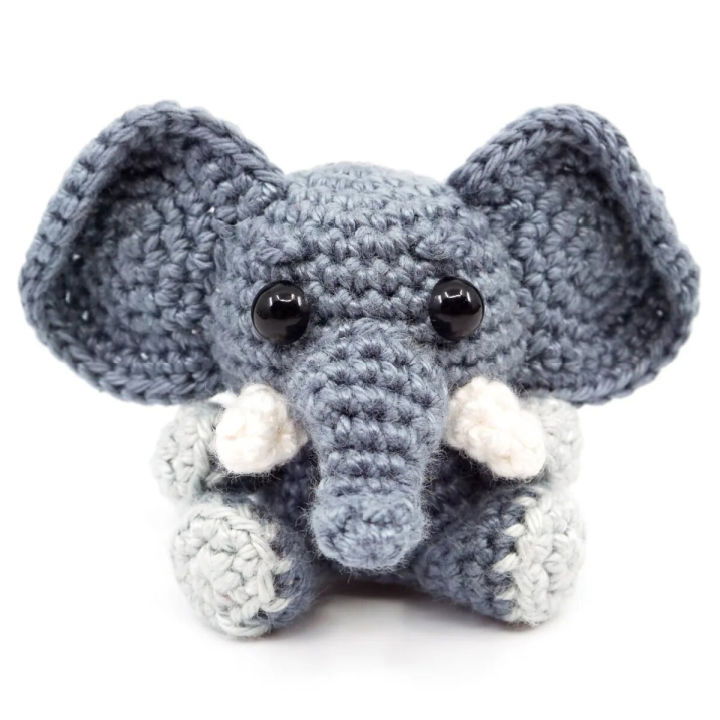 This simple crochet elephant amigurumi pattern brings your family a unique and adorable addition! This cute, peaceful giant is easy to make – use chain stitches, slip stitches and single crochet in spiral rounds and rows – for a little plush toy that stands 5 cm tall. Your kids will love it! And with the printable PDF pattern included, you'll have plenty of ease to create something truly special that you can cherish forever. Start crafting today and bring home your very own cuddly elephant friend! supergurumi
12. Beautiful Crochet Chubby Elephant Pattern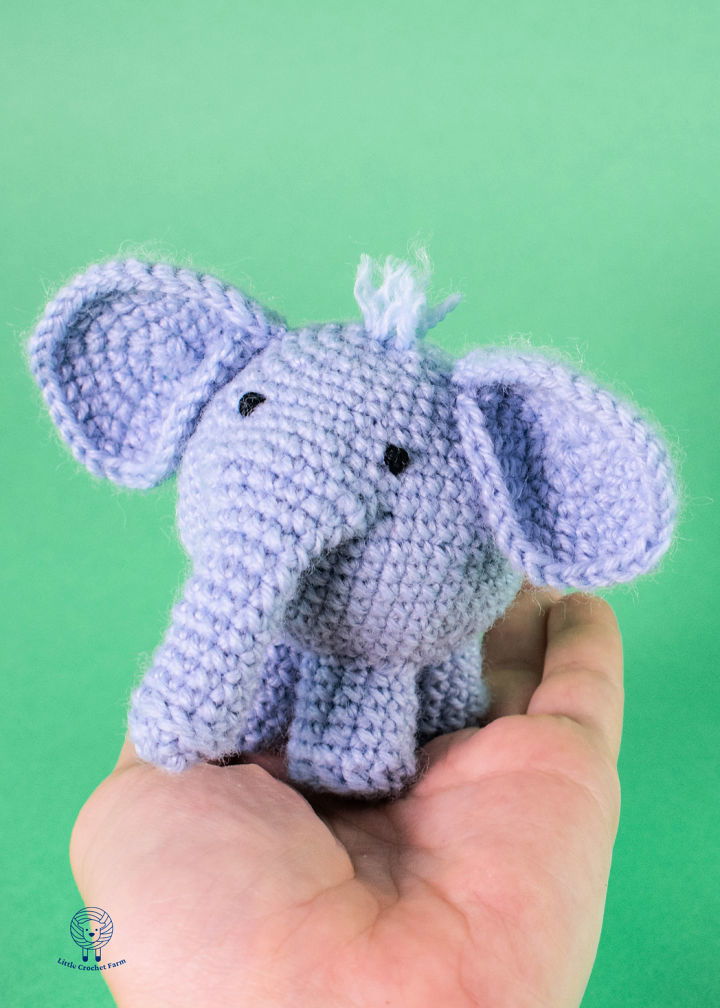 Be inspired to create something special with this free crochet pattern for a chubby elephant. This crochet toy is perfect for nursery or bedroom decor or a unique baby shower gift! It's great for amigurumi beginners, too, because it can be crocheted in no time. Even if you're starting – you'll find easy and helpful steps in this tutorial to guide your journey. Let's get creative and start making that adorable chubby elephant today! littlecrochetfarm
13. How to Crochet Mini Elephant Amigurumi – Free Pattern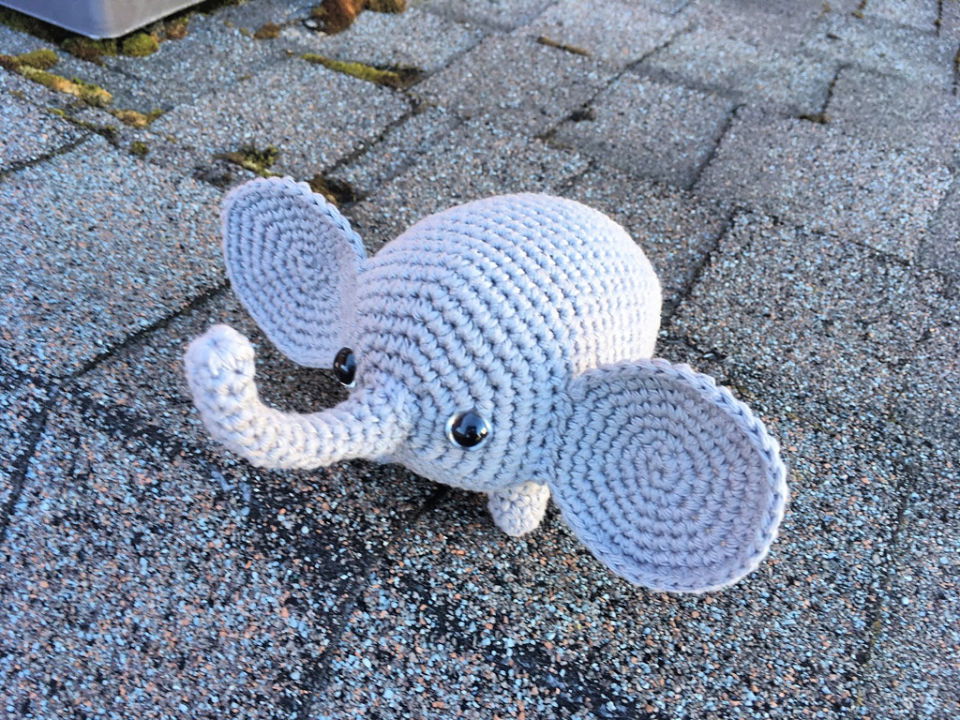 Bring a smile to everyone's face with this cute and cuddly mini elephant amigurumi crochet pattern! With this free pattern, you can have an adorable little friend that is guaranteed to put a smile on the faces of children, your friends who love elephants, or even keep it for yourself. This easy-to-follow pattern will help you create these magical mini-elephants in no time – perfect for any occasion.
Crafted with soft yarn and stuffed with love, these tiny elephants make the perfect gift that anyone would cherish. Get ready for some fun when you start crocheting these charming little critters today! slipstitchhollow
14. Best Elephant Baby Hat Crochet Pattern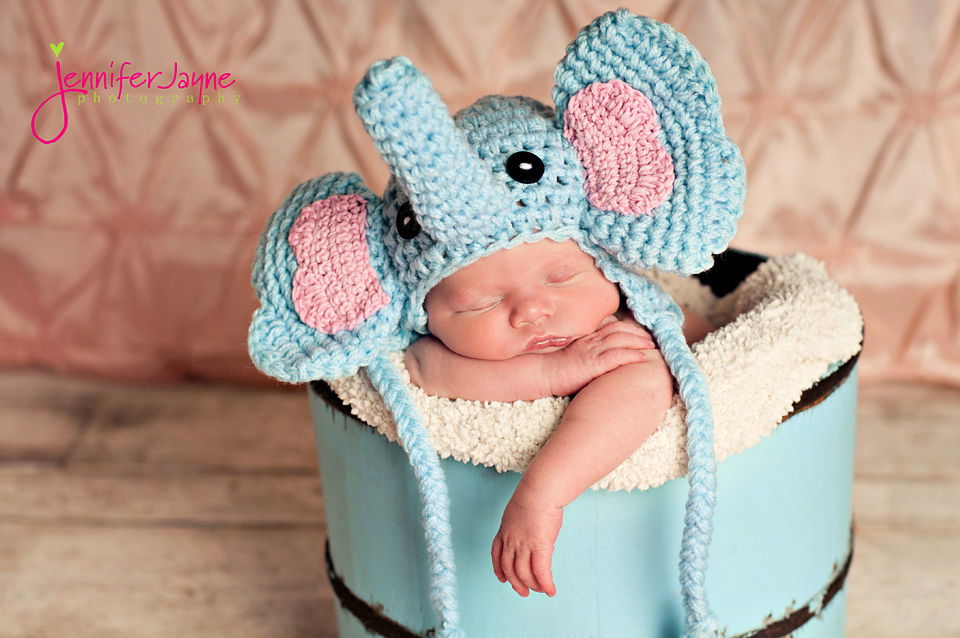 Make your little one's first photo shoot even more memorable with this free, adorable crochet elephant baby hat pattern! With step-by-step instructions and an in-depth video tutorial, you can transform a few simple stitches into the cutest accessory for newborns up to 3 months old.
Keep their tiny ears extra cozy by adding earflaps – or pair it with this soft elephant toy for maximum cuteness overload! This tutorial also includes a handy sizing guide chart to ensure your creation is perfectly tailored to them.
Try this best elephant baby hat crochet pattern today and capture some beautiful memories of your little one! jennyandteddy
15. Simple Crochet Elephant Pattern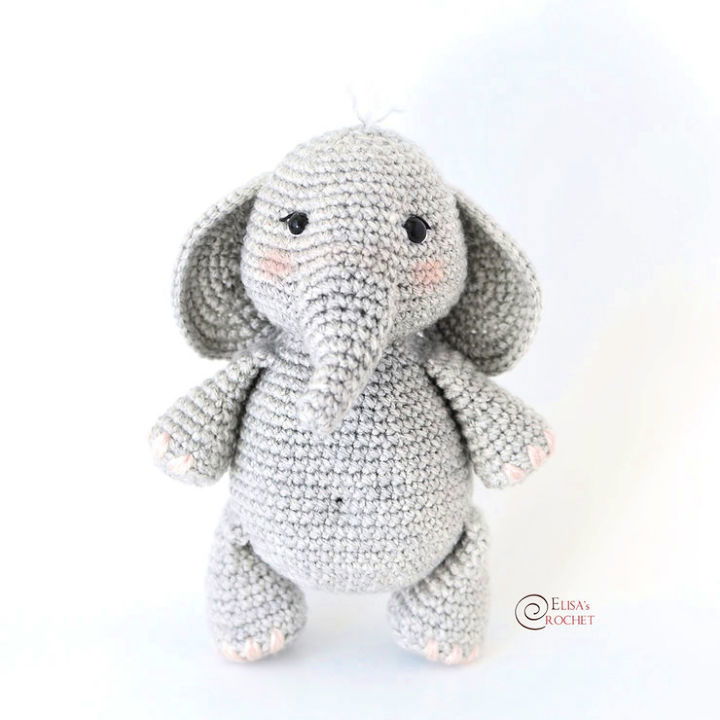 Get ready to create a huggable friend! This free crochet pattern for George, the elephant, is perfect for anyone looking to make something cute and sweet. With its adorable baby elephant look, you'll want one of these in every room of your home! Plus, this beginner-level pattern requires very little sewing since all major parts – legs, arms, ears and trunk are crocheted together with the body. Finished dimensions measure 7″ x 5″, so get crafting now and bring a smile to someone's face with this wonderful creation! elisascrochet
16. Crochet Elephant Rug – Free PDF Pattern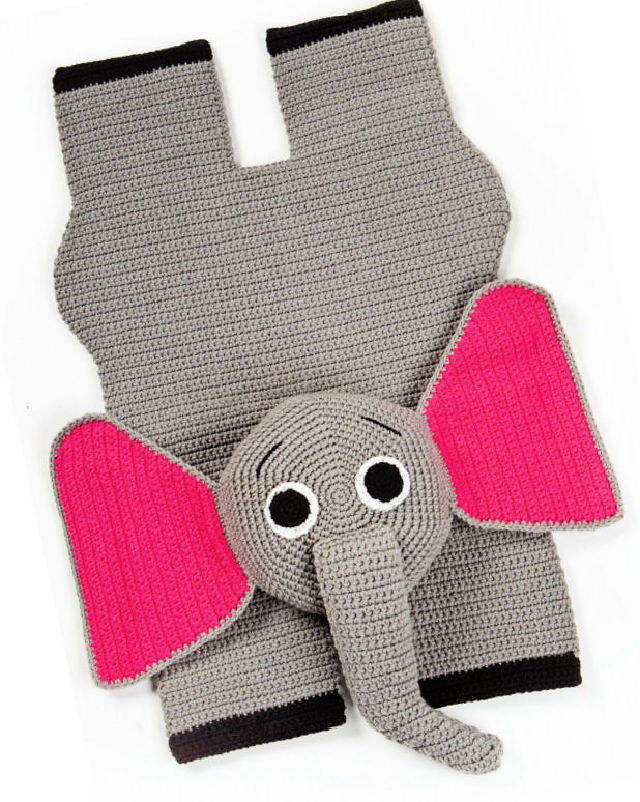 This crochet elephant rug pattern creates an adorable and cozy addition to your home decor! Measuring 22 inches wide by 30 inches long, this rug requires only a few materials, including red heart super saver medium weight yarn in shocking pink, white, and black, red heart classic medium weight yarn in nickel, a size f/5/3.75mm crochet hook, and fiberfill. With detailed instructions, stitch markers, and a free downloadable PDF pattern, even beginner crocheters can make this unique and playful piece. Transform your space with this charming elephant rug today! crochet world
17. Unique Free Crochet Big Elephant Pillow Pet Pattern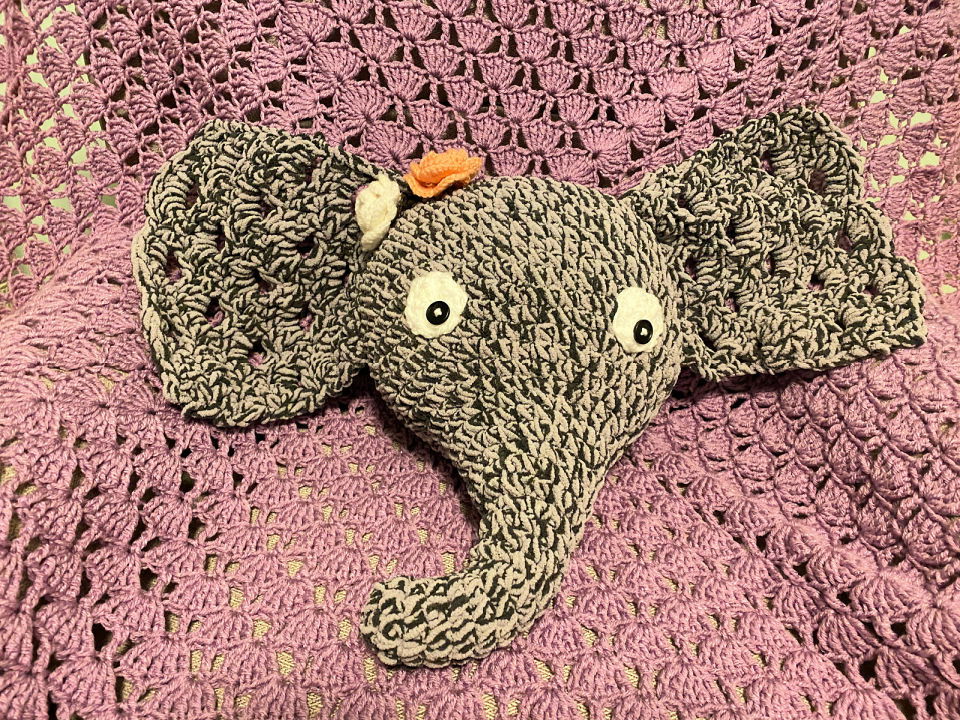 Add a lasting impression in your nursery with this unique and adorable big elephant pillow pet! This free crochet pattern helps you create an eye-catching, chunky statement piece that will become the centerpiece of any room. You can make it even more special by adding a bow or rosette to the top of one ear for a girl elephant or a bow tie under the trunk for a boy! Make this lovely pillow pet today – it's sure to be treasured and adored by kids and adults alike! springintofall
18. Easy Crochet Elephant Ear Tutorial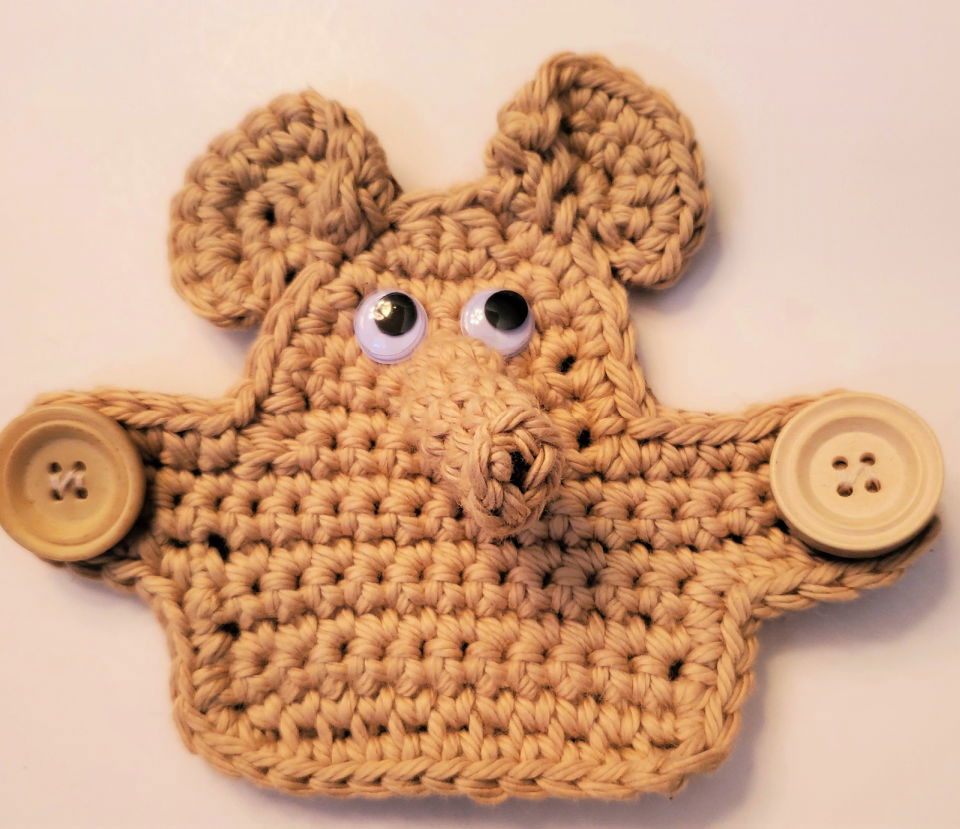 Add a whiff of cuteness to your next grocery run with this easy and free elephant ear-saver crochet pattern! Perfect for both kids and adults, this fun pattern is ideal for gift-giving as well. Make it in cotton worsted yarn using a G (4.0 mm) crochet hook, two googly eyes, two buttons, adhesive-backed felt and a yarn needle – supplies you can easily find at any craft store. The finished product will be lovely and thoughtful – the perfect way to show someone you care! Get creative with colors or use the same colors as in the pattern: start your crochet journey today! myfingersfly
19. Easy Crochet Elephant Applique Tutorial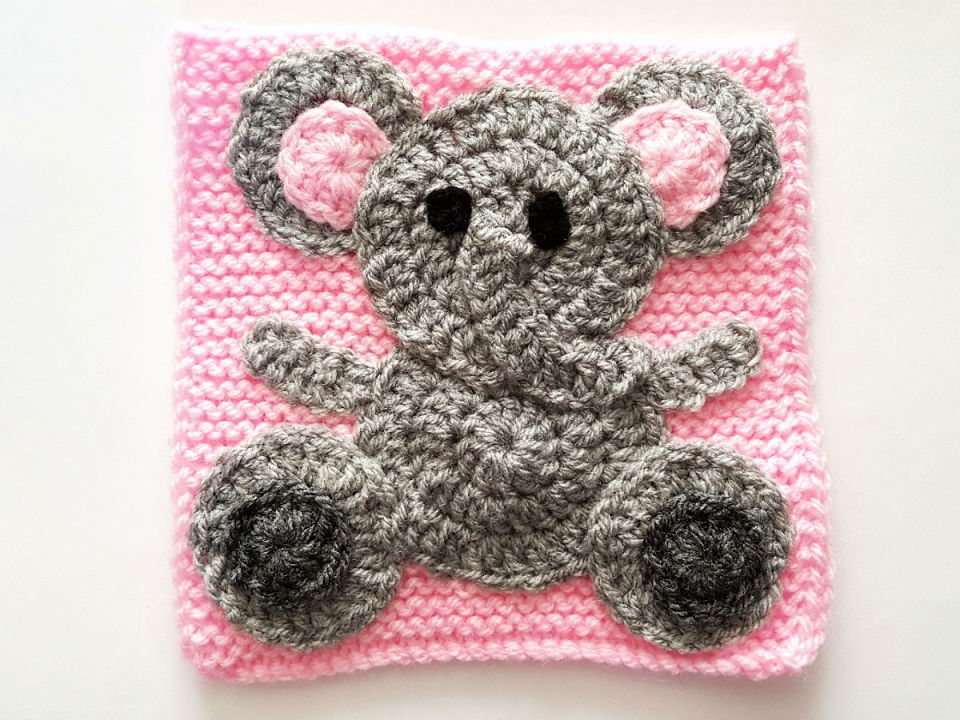 Calling all crocheters! Ready to take your skills up a notch? Create this adorable elephant applique in just a few simple steps. Using basic stitches, you'll create small circles that make up the shape of an elephant. With every round, you'll add extra stitches to keep it growing until it's the perfect size for your project. It's easy and fun – so start stitching today! Be sure to share your finished circle-tactic elephant with your friends! thefatedknitter
20. Crochet Elephant Applique Pattern – Step-by-Step Instructions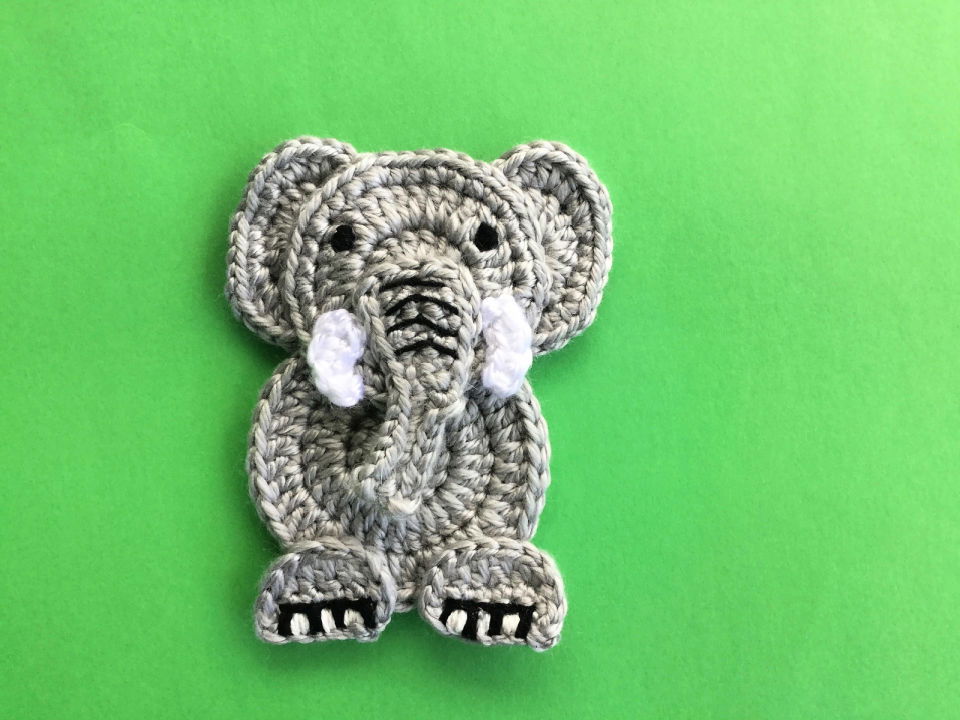 Crochet an adorable and unique decor piece with this free elephant applique pattern! Perfect for cute animal-themed blankets, projects, and more. This easy step-by-step pattern will help you along the way. Get creative by integrating your colors or adding different elements to make it a personal favorite. You can quickly have a lovely elephant applique with just a few supplies and basic crochet knowledge! Let's get started on the journey of making something special that everyone can enjoy. kerriscrochet
21. Free Crochet Elephant Applique Pattern to Print
Love crocheting amigurumi animal? This tutorial has a perfect free pattern for you! This step-by-step tutorial on crocheting an elephant applique is easy, quick and perfect even for beginners. With the pattern, you can create a cute applique that would be great for baby blankets, items or bags – it will bring joy and color to your life. So don't hesitate any longer – start crocheting now and get creative with our amazing amigurumi animal!
22. How to Crochet Amigurumi Animal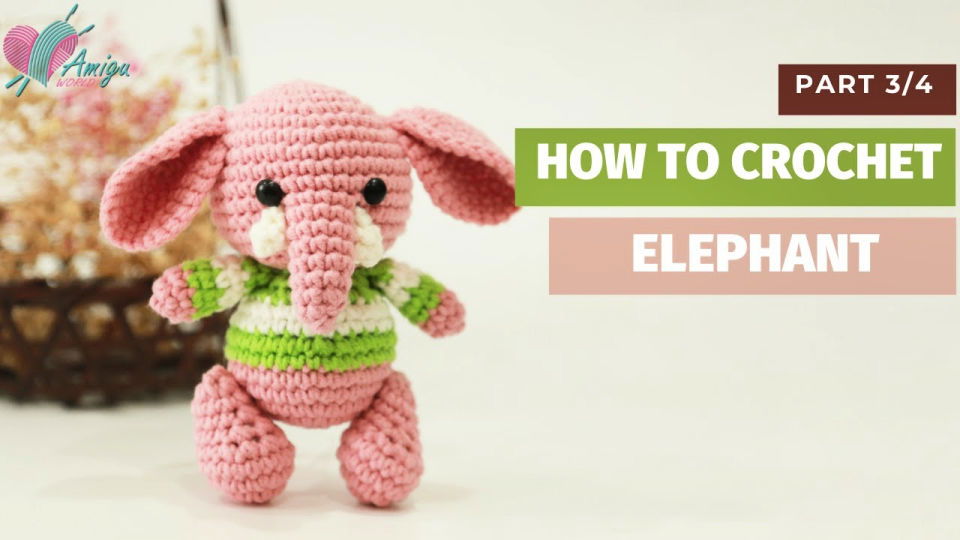 Unleash your creativity with our collection of crochet elephant patterns and make your own cuddly elephant toy. Crochet your adorable amigurumi elephant with this free, easy pattern. Soft and cuddly, this lovely toy would make a perfect gift for any child or animal lover! You can whip up your crochet elephant amigurumi in no time, which will delight family and friends alike. Get creative with different colors and styles to make the perfect keepsake you'll treasure forever. With this free crochet pattern, creating an amigurumi elephant has never been so fun or fast!
23. Quick Crochet Elephant Amigurumi Pattern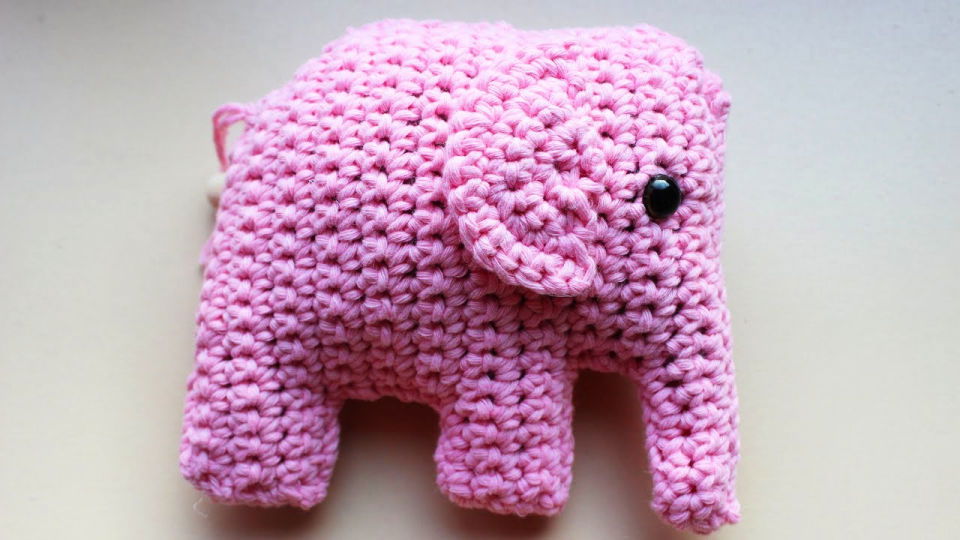 If you love crafting and have been looking for a quick, easy project that will result in an adorable toy, look no further than this crochet elephant amigurumi pattern! This tutorial has a free pattern (including clear written instructions) and easy steps perfect for those new to crochet. In just a few hours, you can create the cutest little elephant – perfect as a gift or to keep yourself! The soft yarn makes it a comfy companion your loved ones will cherish forever. Get the supplies now and enjoy making this lovely elephant toy!
24. Crochet Amigurumi Elephant – Free Pattern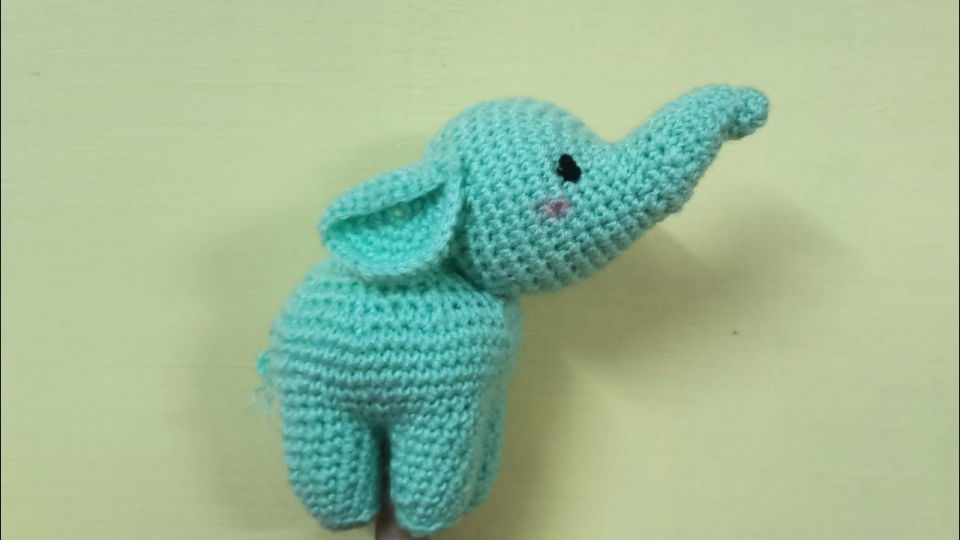 This playful little crochet elephant amigurumi is sure to bring smiles to everyone. Create a precious gift that kids will love with this crochet amigurumi elephant tutorial. This cute and cuddly toy is easy to make, even for beginners! You can have your handmade elephant with detailed instructions, this simple video tutorial, and the required basic crochet skills in no time. Make someone smile today with this lovely gift they'll adore forever!
25. Fastest Crochet Elephant Application Applique Pattern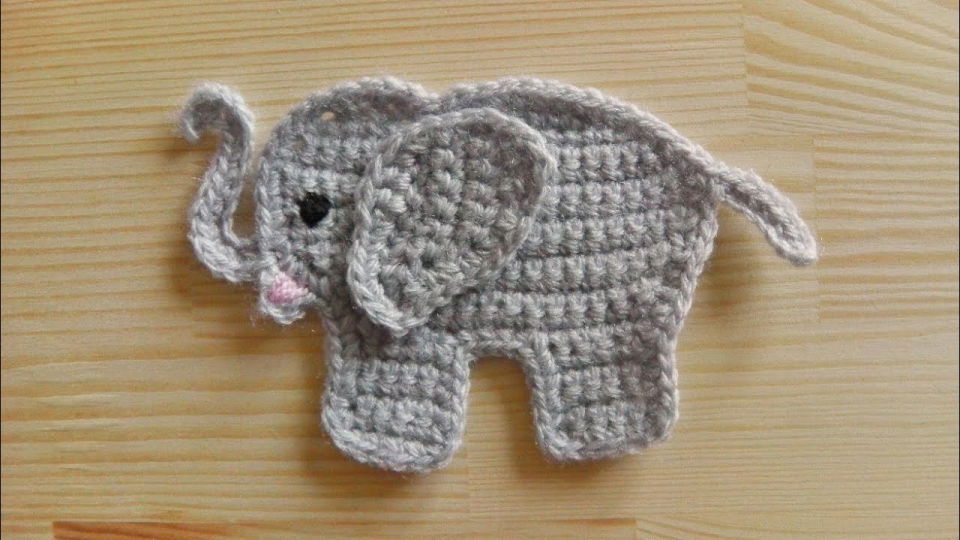 Are you looking for a fast and easy way to create a beautiful crochet elephant applique? Look no further! This crochet elephant applique tutorial is perfect for any beginner. From creating the foundation chain stitch to adding colorful details, this tutorial provides step-by-step instructions that are sure to help guide your project from start to finish. With this tutorial, creating an elephant applique will be fun and stress-free! Get started today and add some extra sparkle to your creations!
Related Free Crochet Amigurumi Patterns:
Easy Crochet Amigurumi Patterns:
Conclusion:
We've gone on a journey to find the best 25 free crochet elephant patterns, and we hope this blog post has provided you with lots of creative and helpful knowledge. Whether you want a crochet elephant pattern, an elephant amigurumi, or a stuffed toy, we have all the resources here. Our roundup of free elephant amigurumi patterns includes beginner to advanced challenges with creative and unique outcomes. Plus, our collection includes some great printables too! With these 25 exclusive free crochet elephant patterns, your creation will be beautiful and special. Take your time; be patient and have fun with it! When you're done, pick up one of our free crochet elephant patterns and immediately start doing some amazing elephants.