Crochet cacti are a fun and unique way to add a green touch to your home decor. With 25 free crochet cactus patterns, you can easily create your own crochet cactus garden, individual cacti, or cute and cuddly amigurumi cactus that will last forever. Each crochet cactus pattern comes with detailed and easy-to-follow instructions, including stitch counts, gauge, and material recommendations. You can choose from various styles, colors, and sizes, from simple and basic designs to more complex and intricate ones.
You'll need a few basic supplies, including yarn, a crochet hook, and some stuffing material to start. Once you have your materials, follow the step-by-step instructions in your chosen crochet cactus pattern to create your own unique and adorable crocheted cactus.
Cactus amigurumi are also a popular choice and can be used to add a playful touch to your home decor. These small and cute crochet cactus patterns are perfect for beginners and can be completed quickly and easily.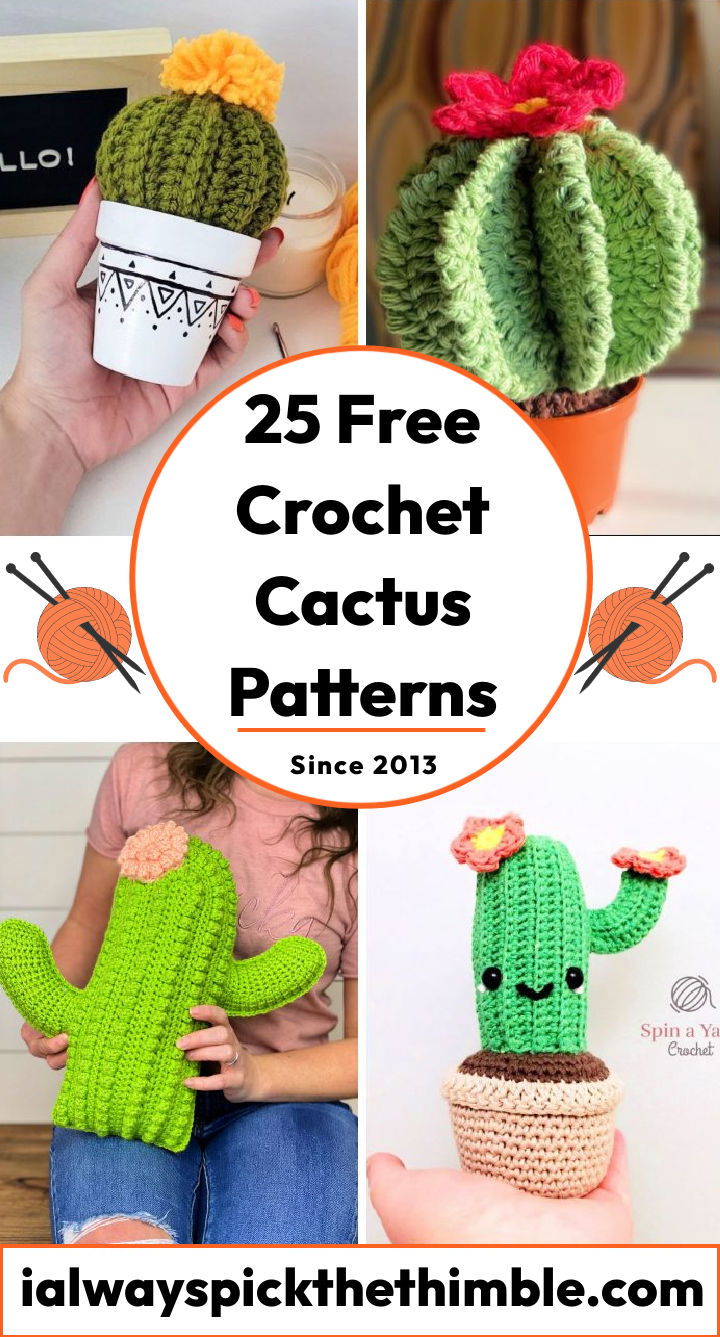 So if you're keen to get started on your own crochet cactus project, search for free crochet cactus patterns online and choose the one that best suits your style and skill level. With some patience and needle practice, you can create unique and beautiful crochet cacti that will impress you!
1. Pretty Crochet Succulent Cactus Pillow Pattern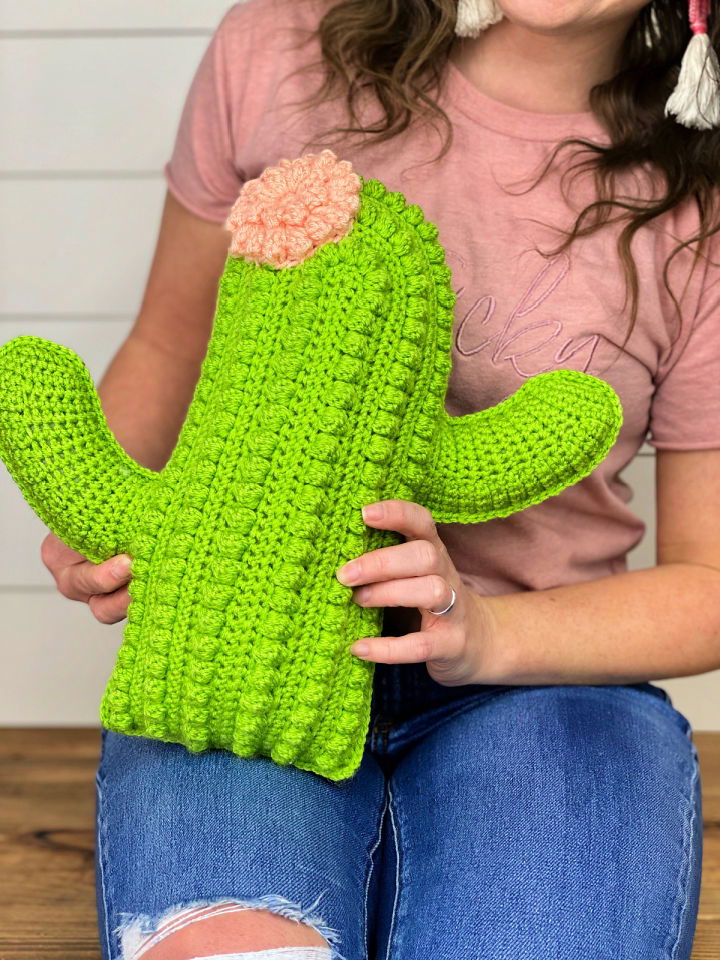 Spruce up your home decor with this delightful crochet succulent cactus pillow! It's surprisingly easy to make and looks simply stunning. It has a step-by-step video tutorial to guide you through the process.
Whether you're an experienced crocheter or a beginner just getting started, you can use this free pattern to create something unique for any room in your house. Brighten any space with this pretty yet practical crochet succulent cactus pillow – it makes for beautiful home décor that adds cheer wherever it goes! acraftyconcept
2. Simple Crochet Cactus Pattern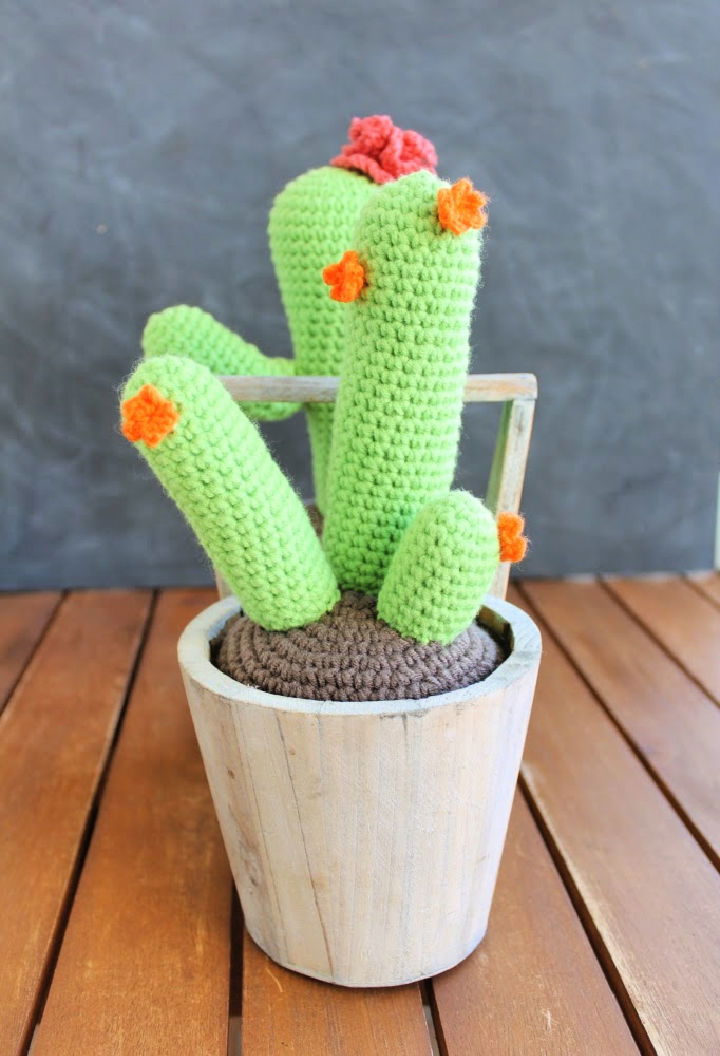 Make your charming crochet cactus with this free, easy-to-follow pattern! This adorable design features simple stitches making it the perfect project for both beginner and experienced crocheters. Spend time crafting something special that you can be proud of – not to mention add a touch of relaxing greenery to any room in your home.
With just basic supplies and minimal effort, create an item that will draw attention and make anyone smile! Start crocheting this cute cactus now and bring home a unique addition no one else has. not2latetocraft
3. Easy Crochet Penny the Bunny Cactus Tutorial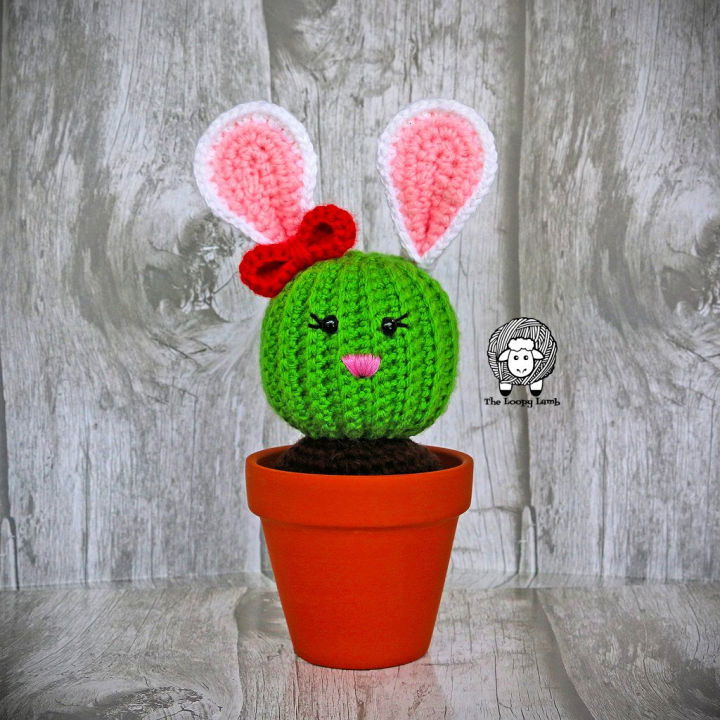 Bring the perfect combination of cuteness and fun into your home with this free pattern for crochet penny the bunny cactus! Featuring an easy-to-follow clean, simple design, you'll be delighted by the adorable look of this cute cactus. Although intermediate skills are required to make it, creators of all skill levels will love bringing penny the bunny cactus to life. Standing approximately 5.5″ tall, bring a touch of whimsy into every room with your one-of-a-kind creation today! theloopylamb
4. Crochet Cactus Adjustable for Any Small Pot
Looking for some modern and fun decor to spruce up your home or office? This free pattern crochet cactus is the perfect project! It's adjustable for any small pot, making it a great fit for your desk or shelf. It will add a touch of style to your space, and you can customize it with different colors and designs. Plus, follow along with the step-by-step instructions for an easy project that won't take too much time out of your day. Don't miss out on this cute crochet cactus project – get started now! paperand
5. Gorgeous Crochet Camilla Cactus Pattern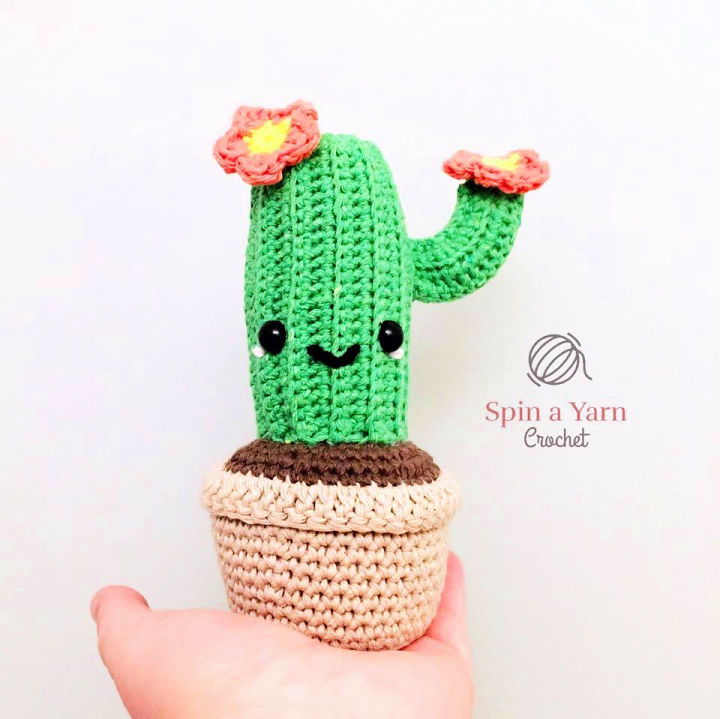 This gorgeous crochet Camilla cactus pattern adds a unique touch to your home office! This free pattern is perfect for those who are not particularly "green" with their thumbs yet would love to have an adorable cactus in their workspace. It also makes the perfect thoughtful gift, as it can be used as a housewarming present! The pattern is simple and easy for beginners to follow, so don't worry if you haven't tried crocheting before – this project will be no problem! Add colorful yarns of your choice; brighten up any room with this charming crochet design today. spinayarncrochet
6. Free Crochet Randy the Reindeer Cactus Pattern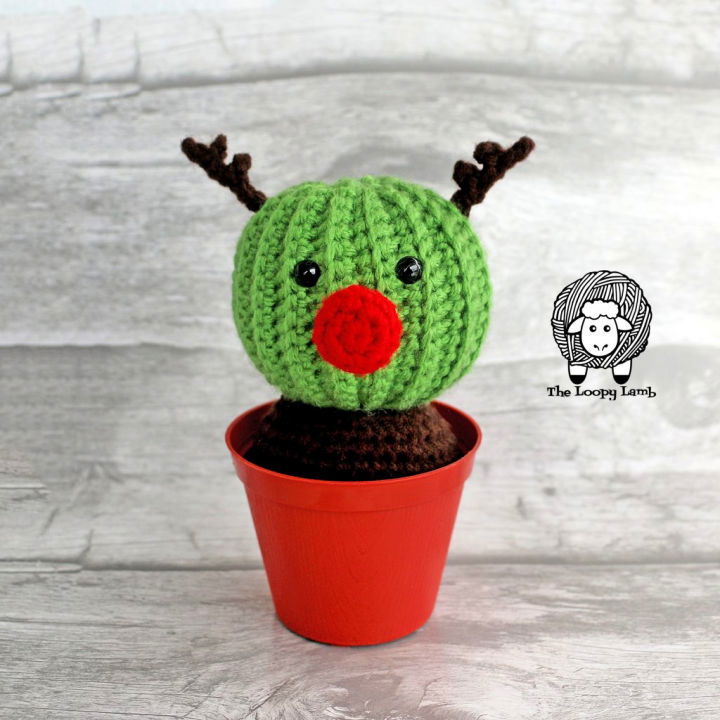 Are you looking for an awesome, unique and free crochet pattern? Look no further! Introducing Randy the reindeer cactus – an adorable cactus reindeer made of a single small barrel cactus, a red nose and some antlers. With this free crochet pattern, you can create a team of 5.5″ tall reindeer from the bottom of the soil to the top of the head with Intermediate skills.
Best part yet: soil instructions are also included in the pattern! Don't wait any longer – get creative and start crocheting your new favorite Christmas decoration today! theloopylamb
7. Quick and Easy Crochet Cactus Scrubby Pattern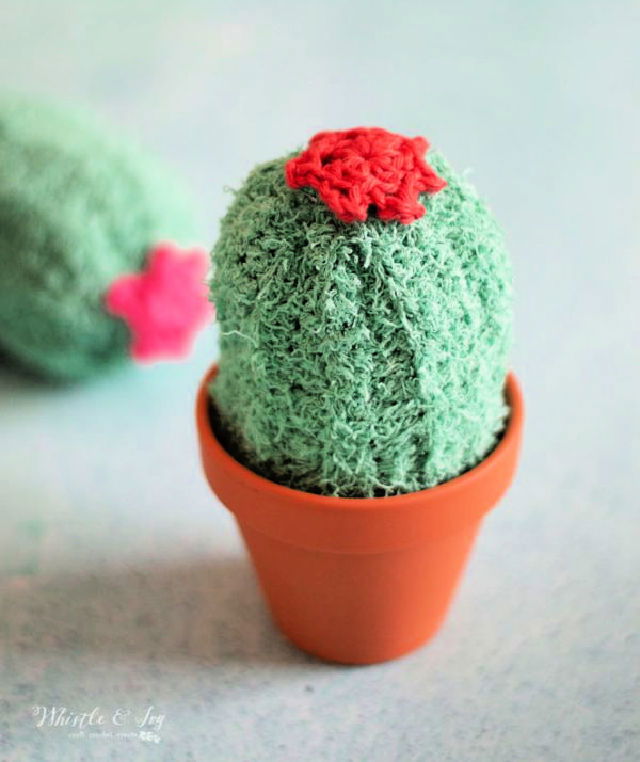 Welcome to this free crochet pattern that will brighten up your home! This crochet cactus scrubby pattern is the perfect addition to any kitchen and will bring a smile. Plus, it's quick and easy – great for beginner crocheters. The best part? It's so simple, yet incredibly cute! In no time, you'll have made a lovely cactus scrubby that makes an ideal housewarming or Mother's Day gift or keep it for yourself as a lovely little reminder of home sweet home. Get creative with different colors and add some personality to your sink! whistleandivy
8. Free Cactus Pincushion Crochet Pattern for Beginners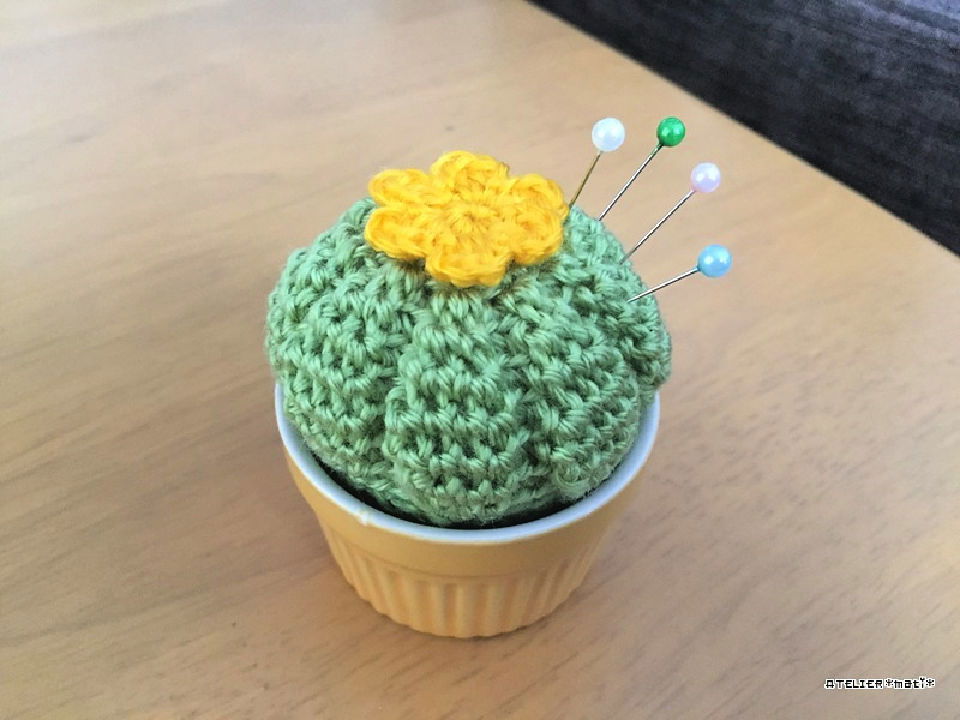 Enjoy making this unique and cute cactus pincushion crochet pattern, perfect for beginners! This free crochet pattern uses acrylic yarn to create a beautiful home decoration that looks like a green tea cupcake without the flower on top.
All you need are some basic supplies – yarn, a 3.00mm crochet hook, yarn needle, ramekin about 5.5cm in diameter and polyester fiberfill – to get started with this creative activity. Make one or several of these great cacti pincushions and decorate your home with them – it's easy to learn to make these adorable decorations! atelier mati
9. Crochet Easy Little Cactus – Free PDF Pattern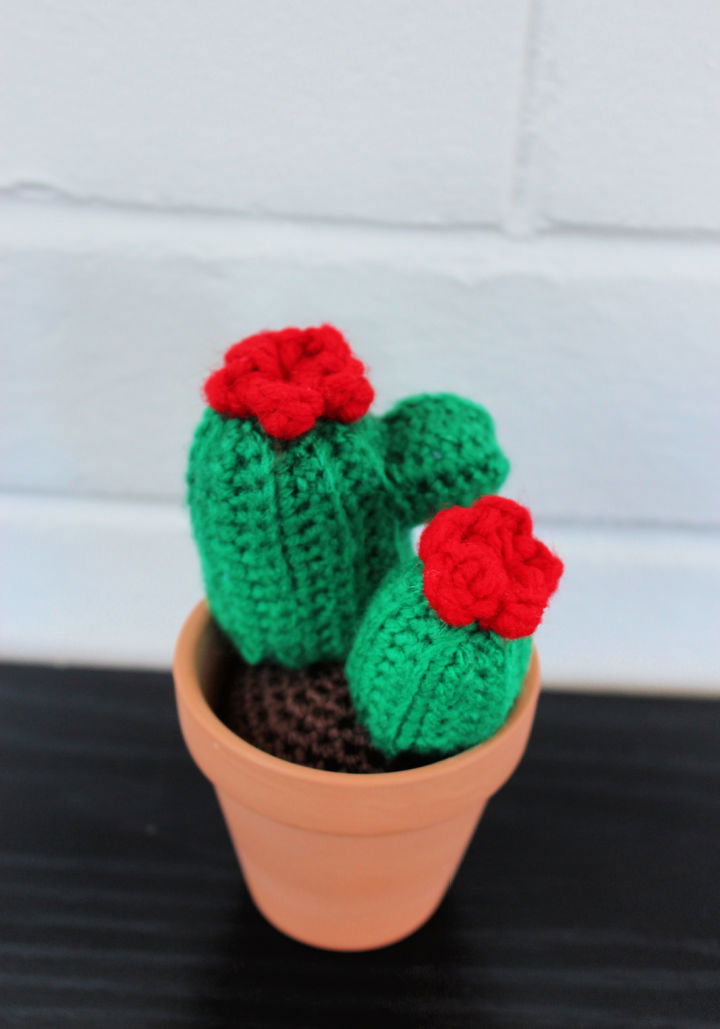 Looking to make a sweet, thoughtful gift? Look no further than this free pdf pattern for crocheting little cactus! It's the perfect way to show someone you care and doesn't require any advanced technique. Plus, it's so cute; who wouldn't love getting one of these little cacti? They're super simple but utterly charming – anyone would be delighted with this lovely handmade gift. So get your hook and some yarn, and get ready to whip up something special! Download the free pattern now and start creating your crochet, easy little cactus! cozylittlemess
10. Modern Crochet Heart Shaped Cactus Pattern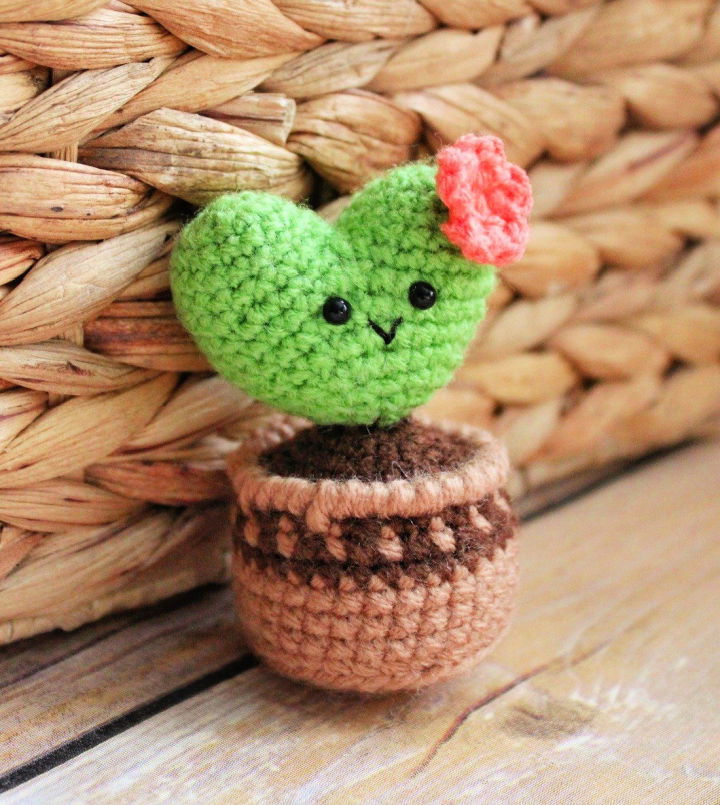 Love to crochet? Looking for a cute and meaningful gift to give on Valentine's Day? Look no further! This modern crochet heart-shaped cactus-free pattern is perfect for all levels of crocheters. With this quick and straightforward project, you can make one of these lovely, tiny cacti for everyone you love – without worrying about watering it ever!
Bring extra joy into your loved one's life and show them how much they mean with this special handmade gift. Get creative – use special colors or add accessories – the endless possibilities with this free pattern! furlscrochet
11. How to Crochet Cactus – Free Pattern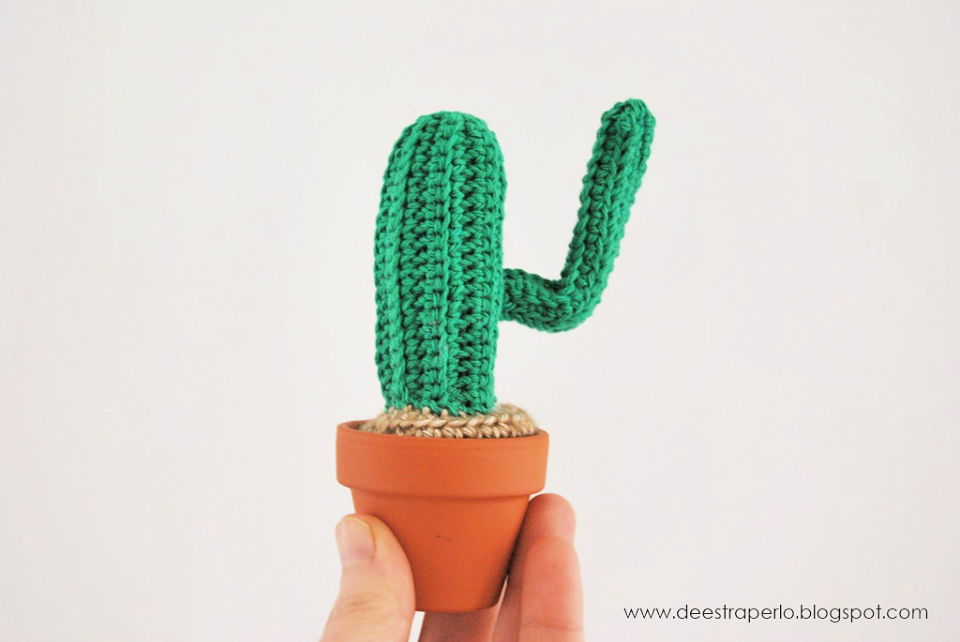 Are you seeking a fun and creative way to express your green thumb? Look no further than this free crochet cactus pattern – perfect even for beginners! With easy-to-follow instructions, making these beautiful little cacti brighten any room is simple. Whether you're just starting or an experienced crocheter, this pattern suits all skill levels. So grab some yarn and prepare to create the most delightful crochet cacti of your dreams! deestraperlo
12. Beautiful Crochet Cactus Pattern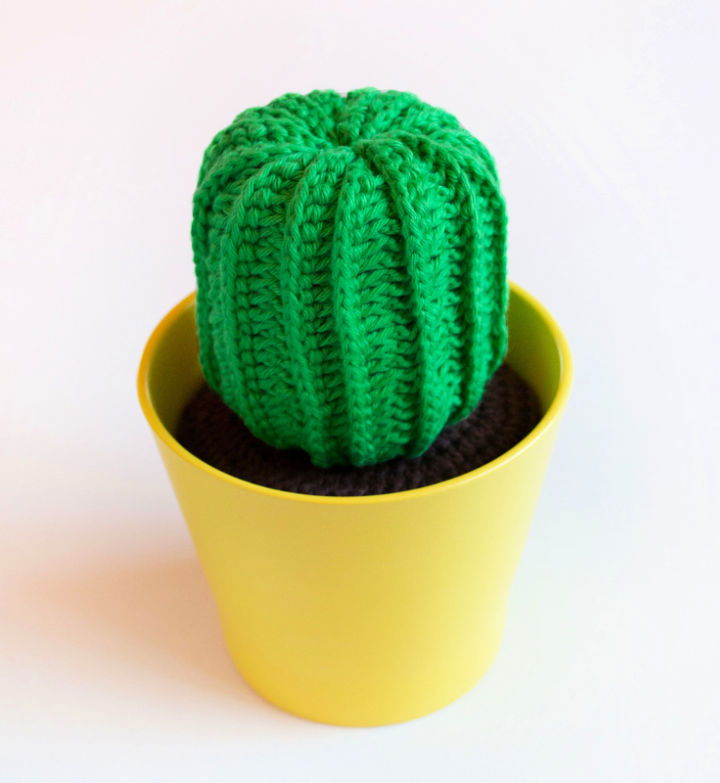 This free and beautiful crochet cactus pattern brings your home a touch of desert flair! Perfect for adding a cute and unique piece of home decor or as an amazing gift for any friend or family member. This 4×4 inch (10×10 cm) crochet cactus is easy enough even for beginners, making it a great way to learn the basics of crocheting while creating something special and one-of-a-kind. Download the free pattern now and start crafting the perfect addition to your living space! crobypatterns
13. Adorable Crochet Cactus Ice Cream Cone Idea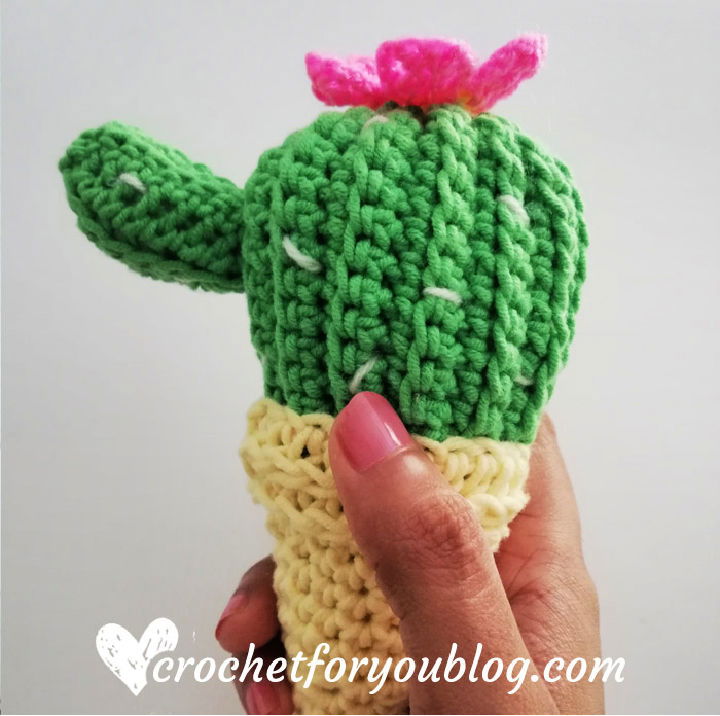 Summer's here, and it's time to beat the heat with something fun and unique! Make your crochet cactus ice cream cone with an adorable amigurumi pattern to make everyone smile. Combining two of the season's best elements – ice cream and cactuses – this unbeatable combination is perfect for hot & dry summer days. Plus, it's easier than ever to make: even beginners can pick up this small crochet project! You'll have a blast making your cactus ice cream cones with the free pattern. Get creative — what other delicious combos could you think of? crochetforyou
14. How to Crochet Cactus Amigurumi – Free Pattern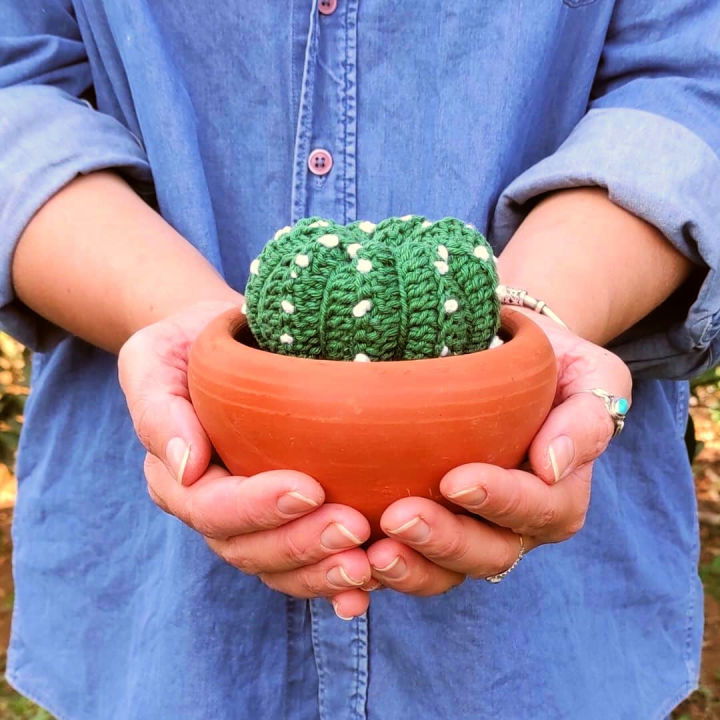 Lovely and life-like – crochet the perfect cactus with this free amigurumi pattern! The easy-to-follow instructions use simple crochet stitches plus French Knot embroidery stitches for resulting true beauty.
You can use any yarn size of your choice with the matching crochet hook, and you may even increase the side of the chain to make a larger cactus if you wish.
In no time, you'll have an adorable creation that will bring joy to your home – without fear of it wilting away. Cute little gifts or decorations, learn how to crochet these beautiful cacti with our free pattern today! moaracrochet
15. How to Make Cactus Garden – Free Crochet Pattern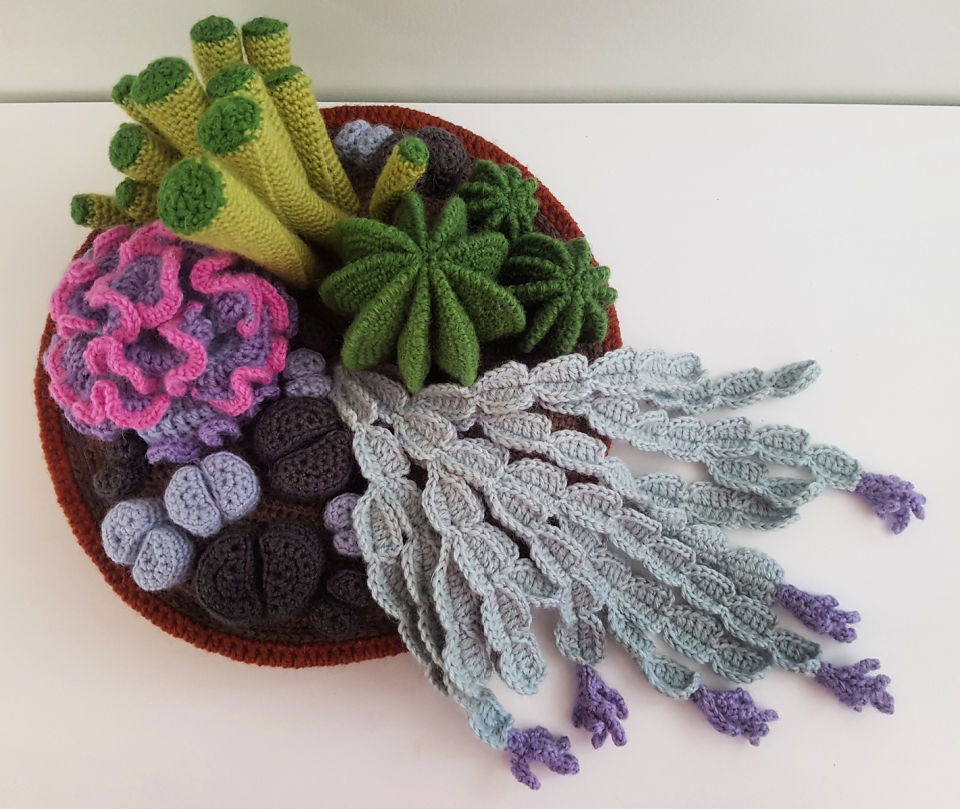 Create a charming cactus garden with this easy and free crochet pattern. You will need '4 seasons' pure wool 8ply yarn in various colors, a 4mm crochet hook, and polyester fill. With the help of special stitches like crab ST and FLTR, you can create a cactus garden approximately 28cm in diameter across the top of the pot. Bring the beauty of the desert indoors and impress your guests with your crochet skills! spotlightstores
16. Easy Crochet Cactus Tutorial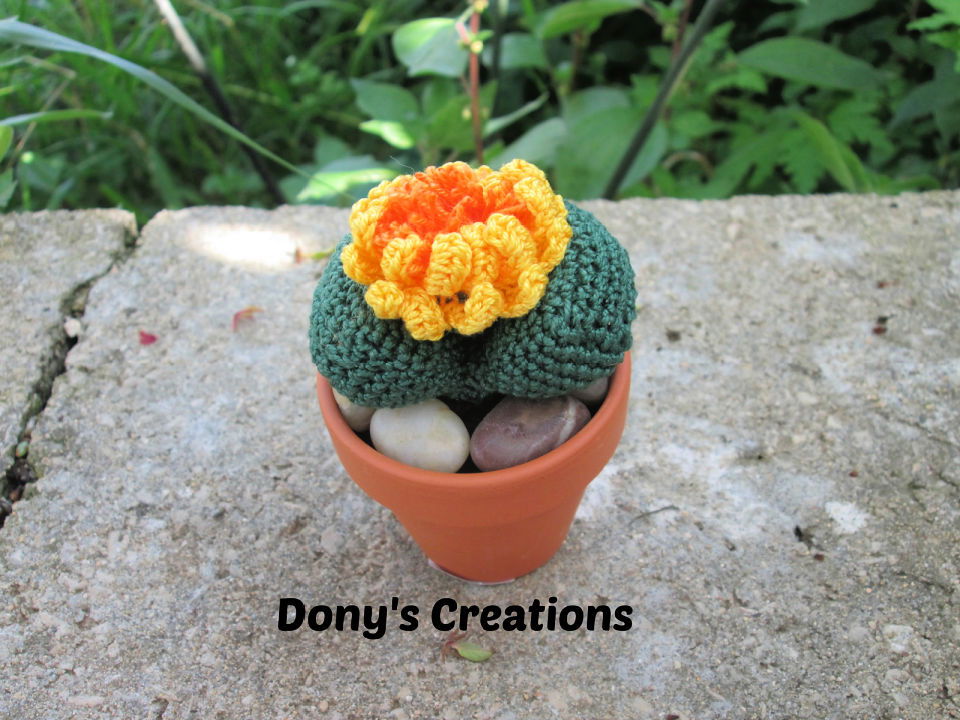 Bring a vibrancy of nature indoors with this stunning easy crochet cactus pattern! Crafted with care and attention to detail, it will bring life and beauty to your home décor. Crocheting this stunning cactus is a fantastic way to enjoy the compliments you will receive on its unique beauty!
Its gorgeous yellow flower, complete with orange pistils, adds a unique splash of color that will have you looking for more excuses to show off the cacti around your home. Make it a beautiful gift, or keep it to add some cheer to your own living space. This free crochet pattern is perfect for both, whether as an eye-catching decor piece or a pretty gift for someone special! Get started on making one today and enjoy its colorful beauty tomorrow. donyscreations
17. Best Cactus Flower Crochet Pattern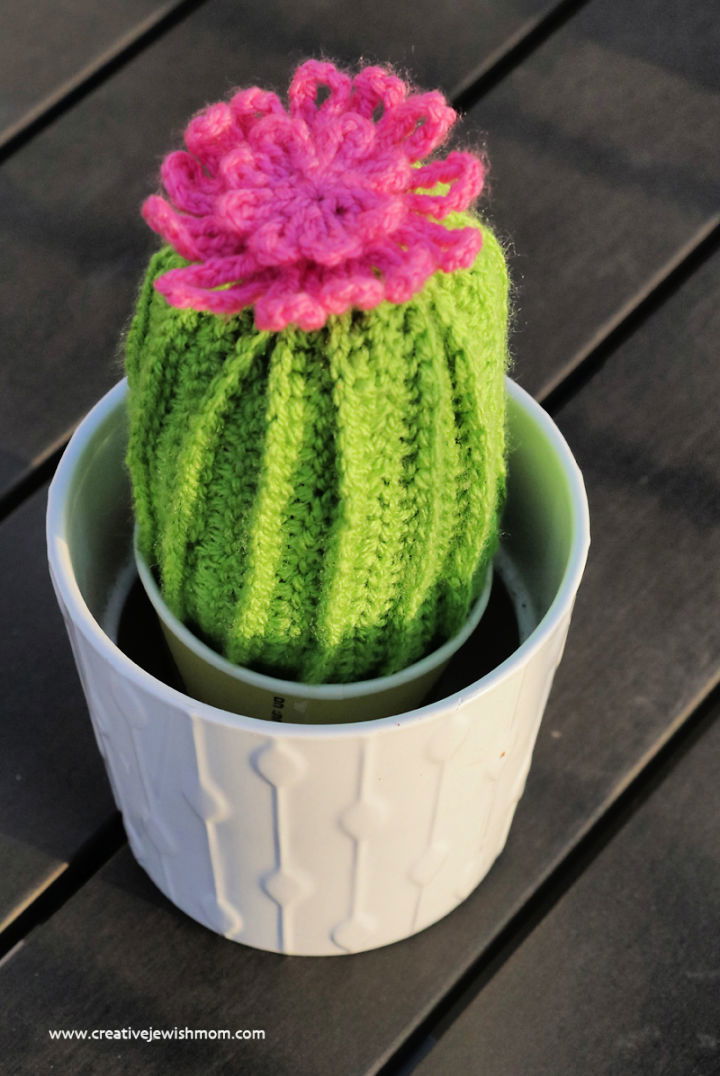 Are you looking for a fun, trendy and unique project for your home decor? This best cactus flower crochet pattern is the perfect solution! This free pattern provides simple instructions to create an impressive crocheted cactus in bloom. It's quick and easy to whip up – no water or light is needed! All you need are the following:
Yarn
A Crochet Hook
A Ceramic Pot or Container of Your Choice
A Smaller Cup (Optional)
Moreover, you can make cacti of all sizes using this pattern – tall, wide and short. Get creative with this cactus flower crochet pattern now! jewishmom
18. Cool Crochet Camel Stitch Cactus Pattern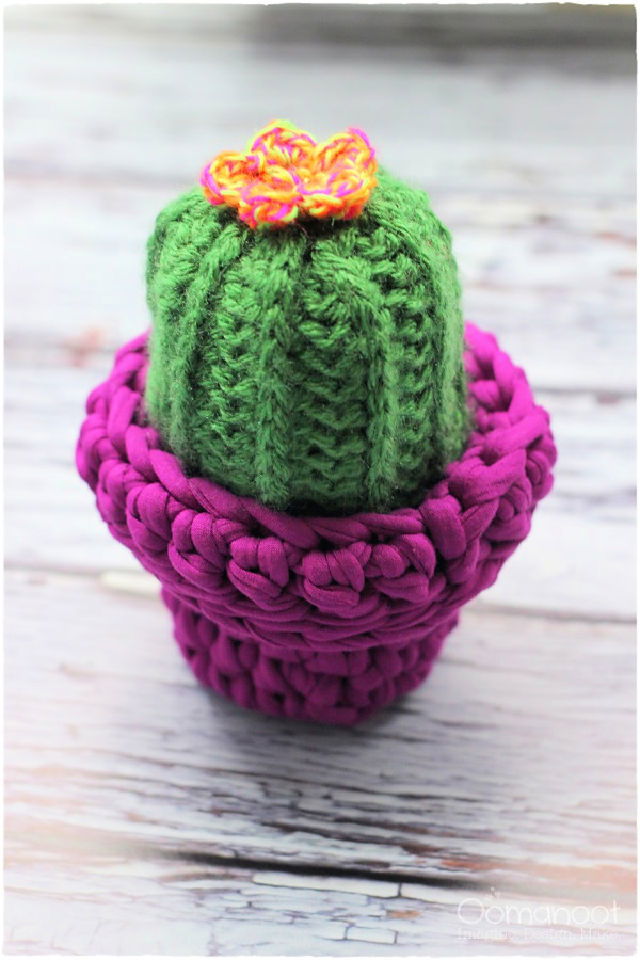 Welcome to the crocheting world with this fun and easy crochet camel stitch cactus pattern! This free pattern is perfect for those looking for a cool, soft, stretchy project that won't last only about an hour. It's excellent as a last-minute gift, and it looks great too! You'll love working up this cute camel stitch cactus and impressing your friends with the results. Make one today with this crochet cactus pattern! oomanoot
19. Easiest Mini Cactus to Crochet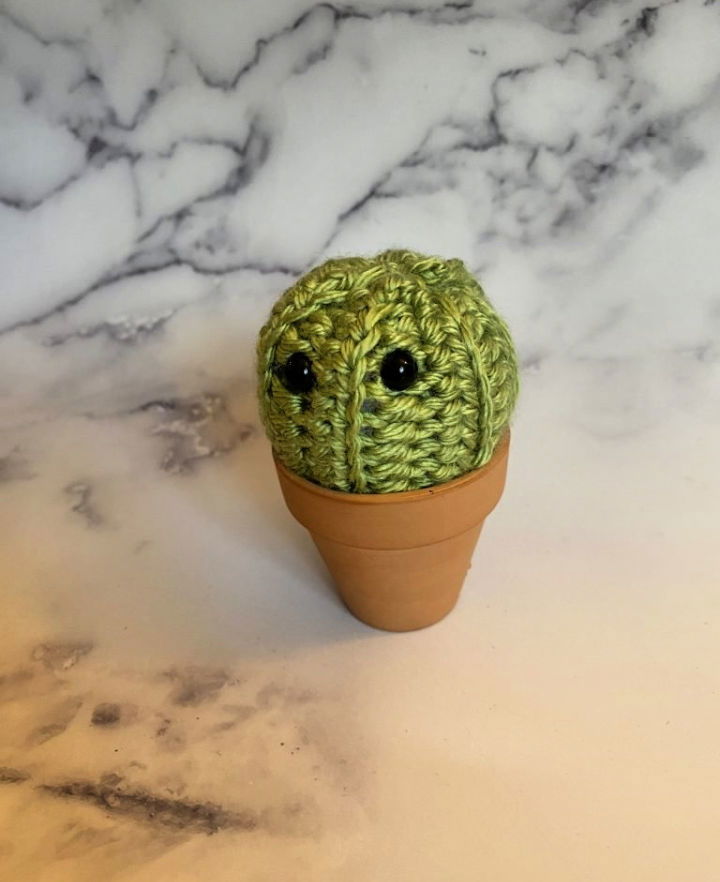 Are you looking for the easiest and cutest mini cactus to crochet? Look no further! This free pattern is perfect for anyone who wants to keep plants alive but lacks time or space for a bigger one. Plus, with its pretty pistachio color, this tiny little cactus will surely add some cute charm to any room of your home. All you need are supplies such as an H (5.0mm) crochet hook, worsted weight yarn-Pistachio, a yarn needle and scissors – so grab them today and get ready to make the cutest mini cactus that everyone will love! caitscrochet
20. New Crochet Cactus Beanie Pattern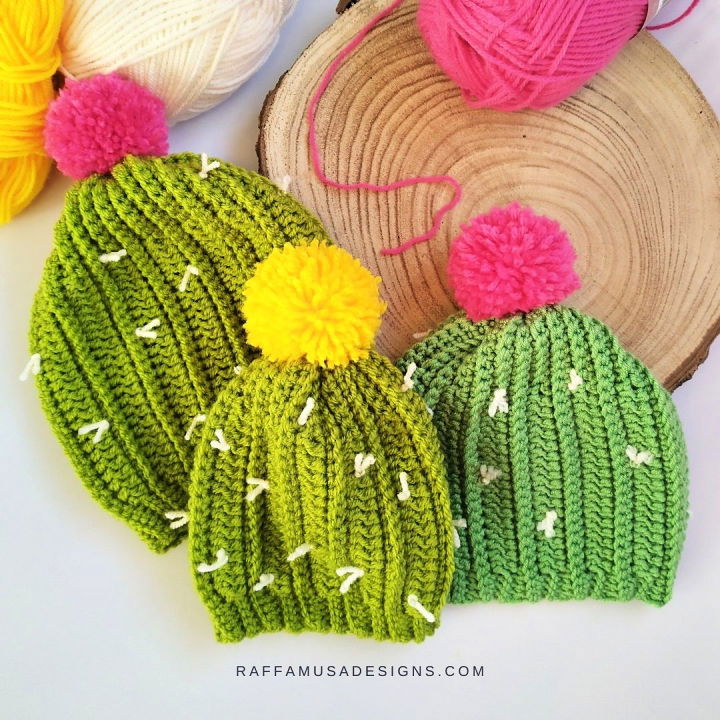 Delight your little one with this super cute and fun crocheted cactus beanie! Perfect for newborns to toddlers, this easy pattern will help you create the softest and most adorable cactus around. Whether it is called "Cactus Beanie Prototype" or just a cool baby hat, you'll surely make many squishy good memories wearing it. And if you need larger sizes for older children or adults, we have an adaptation of the pattern that can easily adjust the size. Try out this lovely crochet cactus beanie today – your little one will love it! raffamusadesigns
21. How to Crochet Cactus and Flower Pot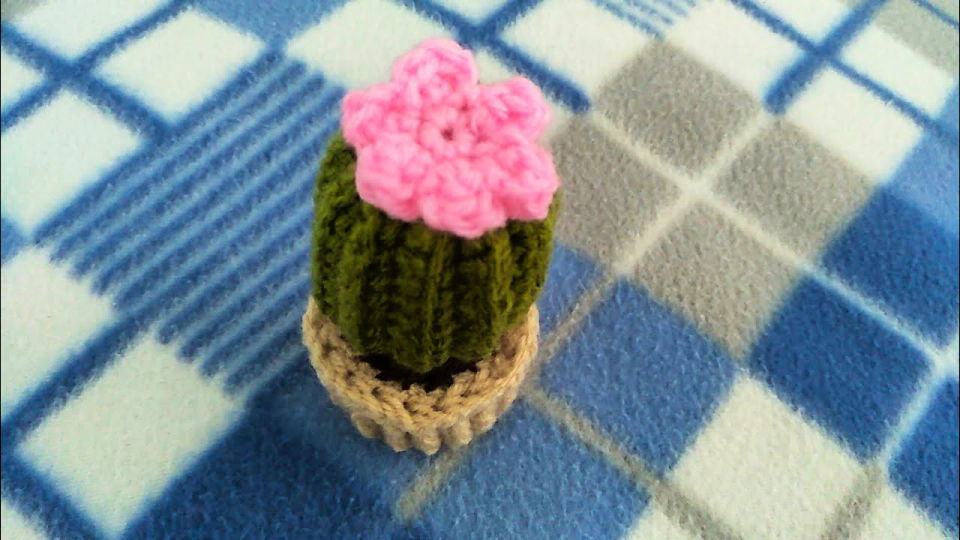 Bring natural charm to your home with this cute and lovely free crochet pattern for cacti and a flower pot. Whether a beginner or an expert, you can easily create these plants with step-by-step instructions. With the right yarn choice and simple stitching techniques, you can make a fun addition to any room in your house. Make one or several crocheted cacti to add texture, color, and warmth while bringing nature inside!
22. Easy Crochet Cactus Amigurumi Tutorial
Fetch a little desert beauty into your home with this easy crochet cactus amigurumi! This adorable and unique crochet pattern is perfect for starting or experienced crocheters who want a quick project. With the step-by-step video tutorial and a free pattern, you can create a lovely gift – or keep it yourself! In no time, your cactus will brighten up any space and show off your creative skills. Start crafting today with this easy crochet cactus amigurumi – it's sure to become one of your favorite projects!
23. Pretty Crochet Amigurumi Cactus Kawaii Pattern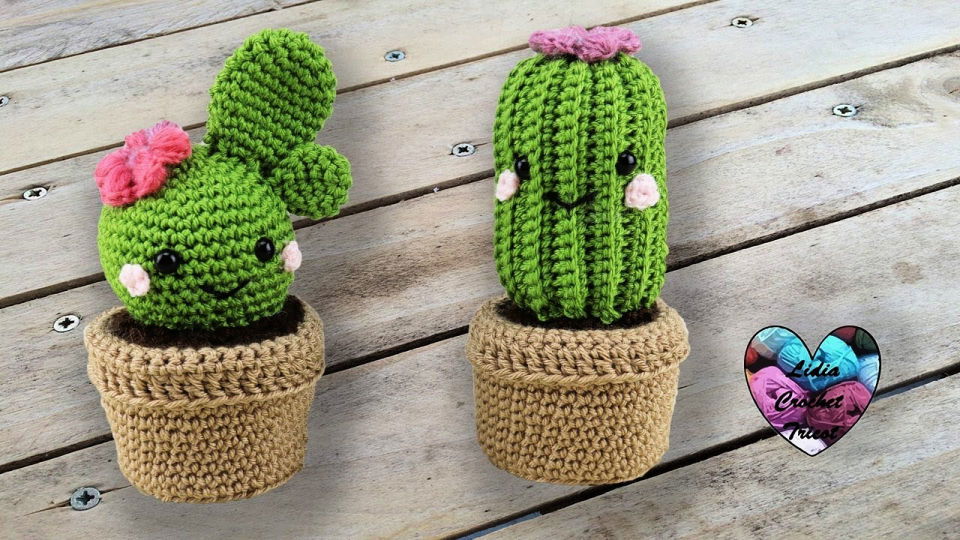 Create a cute collection of amigurumi cacti with this easy-to-follow guide. You can create adorable and unique cacti using a number 2 hook, Vivaldi yarn for the pot, silicone foam for stuffing, and a small piece of cardboard. The tutorial includes a sequence to follow, and you can work in a circular with closed eyes and a half hook. This kawaii crochet project is a charming addition to your decor or a fun gift for friends and family.
24. Color Crochet Ball Cactus Pattern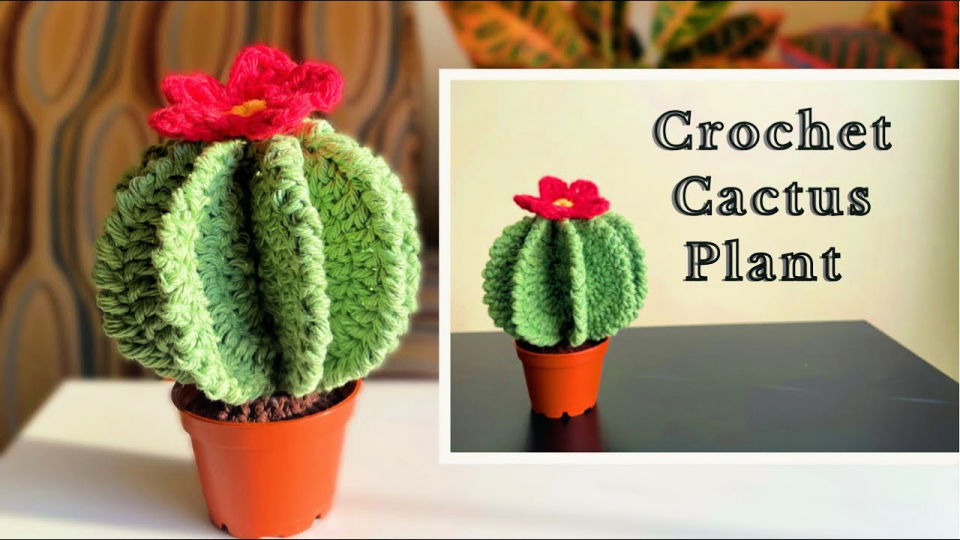 Engage your creative side with a free pattern to craft a beautiful, realistic ball cactus! This simple crochet project is perfect for beginners and experienced crafters alike. With this delightful little plant, you can show off your skills in style – it looks super cute and makes the perfect home decor piece. Learn how to make an eye-catching color crochet ball cactus today! Get inspired by this pretty pattern that will add personality and charm to any room. Enjoy bringing joy into your life with this adorable mini cactus – grab the pattern now!
25. Free Cactus Crochet Pattern for Beginners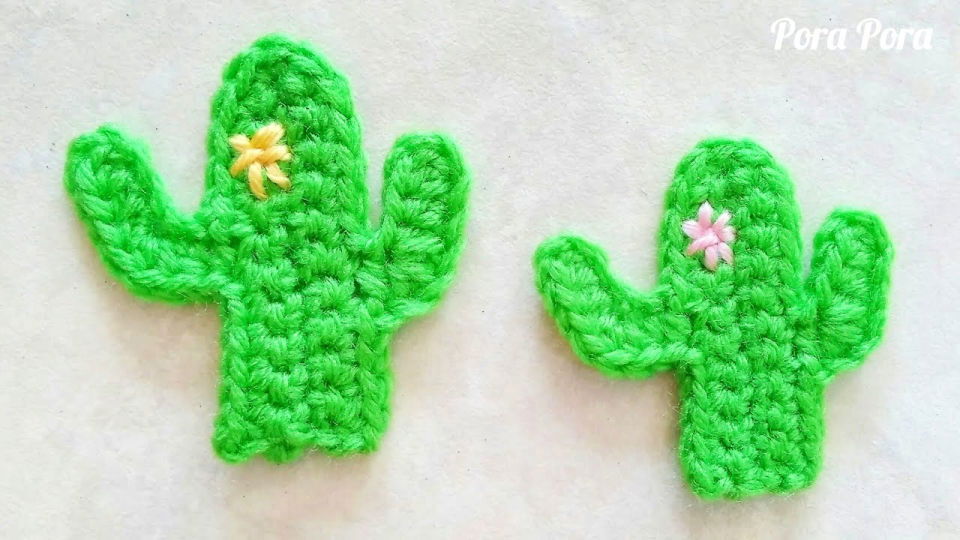 Get some desert style to your crafting with this free cactus crochet pattern! Perfect for beginners, this easy-to-follow pattern uses medium-sized four acrylic yarn and a 3.75mm crochet hook. You'll have a cute, prickly cactus in no time – great as an applique on blankets, hats or bags too! And don't worry if you're new to crocheting; it's easy enough that even the novice crafter won't have trouble working up this fantastic project quickly and easily. Get creative with color and make a unique piece of art today!
Related Free Crochet Patterns:
Explore a wide range of free crochet patterns and create beautiful handmade items for yourself, your home, or as gifts for loved ones.
Conclusion
Crocheting is a perfect way to express creativity and make something special. With all the free crochet cactus patterns available above, finding the perfect cacti pattern is easy and—more importantly—fun! For those feeling brave enough, why not attempt to mix and match several patterns to create their very own unique cactus design? Don't be afraid to think outside the box and make something unique! After all, that's what crocheting is all about. Therefore, if you want some creative pastime this season, try one of these 25 free crochet cactus patterns! Have fun and enjoy experimenting with these colorful, cheerful creatures. Who knows – you might even find yourself hooked on loving the prickly crochet cactus!