Crochet mushrooms are a fun and creative way to add some fancy and charm to your home decor or to make a cute toy for someone special. Find 25 free crochet mushroom patterns, including mushroom amigurumi and crocheted mushrooms of various sizes and styles. Each free mushroom crochet pattern includes detailed instructions and a step-by-step guide to help you create your own unique crocheted mushrooms.
These free crochet mushroom patterns are perfect for beginners and advanced crocheters alike. Whether you're looking to make a simple and easy mushroom amigurumi or a more complex crocheted mushroom, there's something for everyone. Each pattern provides a list of supplies and materials needed, including yarn, hook size, and gauge. Many patterns also come with helpful illustrations and pdfs to simplify the process.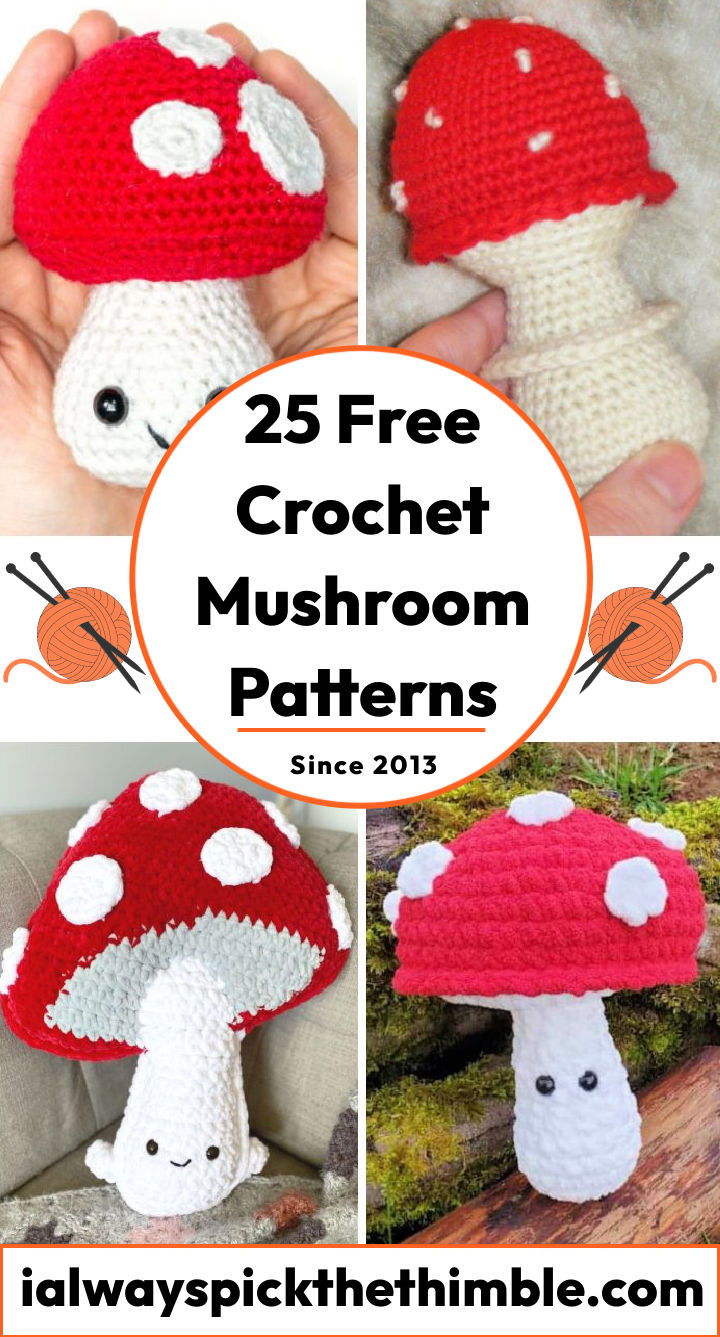 Get creative with these free crochet mushroom patterns and create your own unique crocheted mushrooms. They make great decorations or gifts for anyone who loves mushrooms or nature-inspired decor. So why not start crocheting your own mushroom amigurumi or crocheted mushrooms today?
1. Free Giant Crochet Mushroom Pillow Pattern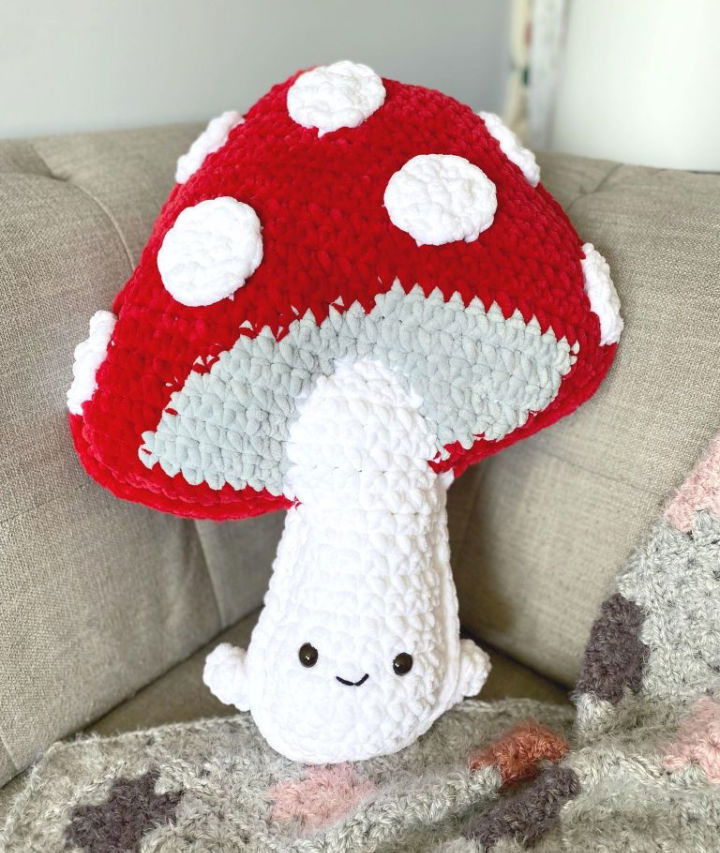 Are you craving something big, soft, and squishy to hug or decorate your home? Look no further than this free giant crochet mushroom pillow pattern! Don't let the name fool you—this ultra-plush mushroom is as cute as it is comfortable and can be made in any size.
Perfect for cottage-core art lovers, this adorable cushion comes with a 9.0mm hook, Loops & Threads Sweet Snuggles yarn, 18mm safety eyes, black worsted weight yarn for the mouth, stuffing and tapestry needle—all you need to do is crochet. Get on trend today with this cuddle, buddy! spinayarn
2. How to Crochet Mushroom – Free Pattern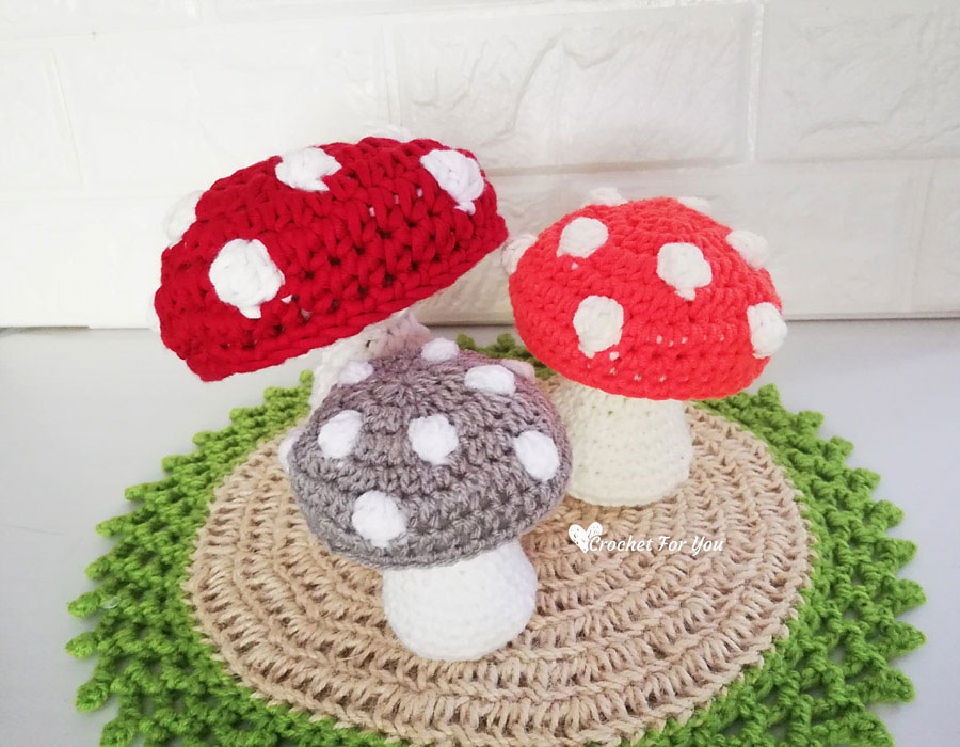 Bring a touch of whimsy to your place with this crochet mushroom! This fun and easy project require three different yarn weights, making crochet in three sizes possible.
Choose from various colors or opt for the classic white bobbles that make these mushrooms too cute not to love. And don't worry – they may look real, but they won't take long; you can craft one in less than an hour! Get creative and add a unique piece to your decor today. crochetforyou
3. Valentine's Day Toadstool Crochet Pattern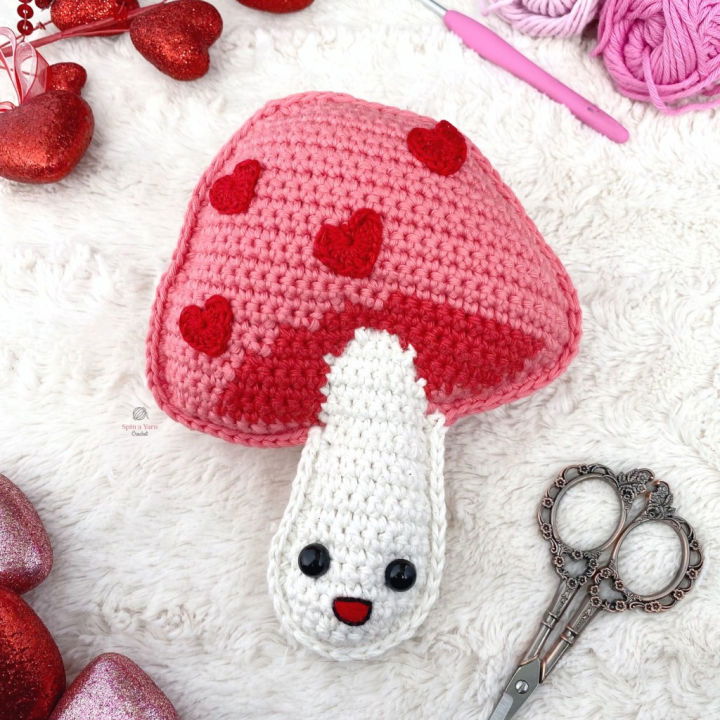 Do you love crafting and want to make something special for Valentine's Day? Then this adorable toadstool crochet pattern is perfect!
Create a unique, lovable design with hearts – an excellent gift or decoration. All the necessary supplies are just a click away: 3.25mm hook for the main, 1.5mm hook for hearts, Bernat handicrafter cotton in off-white & red; hobbit 8/8 rainbow cotton color; red embroidery thread; 10mm safety eyes; a small amount of red yarn and black crochet thread; stuffing & tapestry needle.
Get creative and make your personalized toadstool – nothing says 'I Love You' more than homemade gifts! spinayarncrochet
4. Free Mushrooms Crochet Pattern for Beginners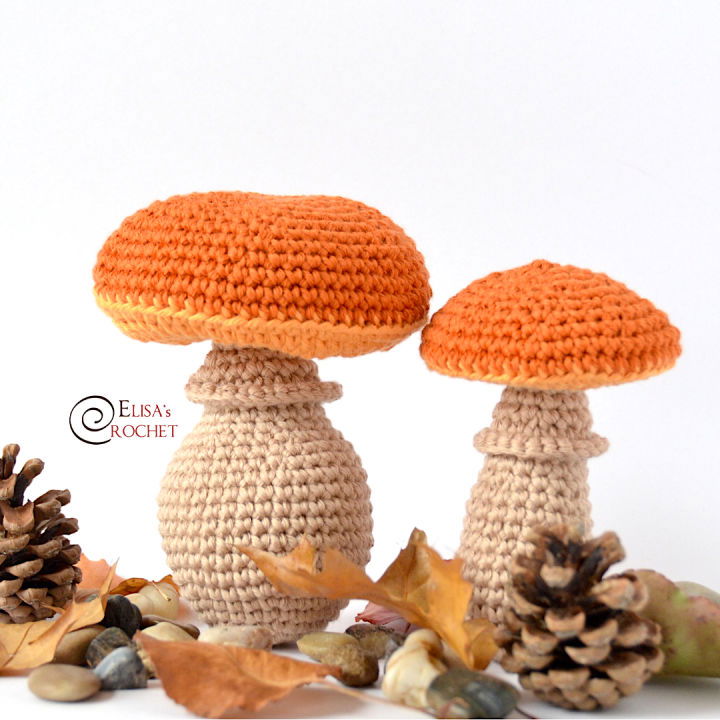 Are you looking for a fun crochet project to add a special touch to your Fall décor? This free mushroom Crochet pattern is the perfect addition! This adorable mushroom pattern is ideal for beginners, even if you are starting with crocheting. You can make an eye-catching decoration with minimal supplies and straightforward instructions to make a beautiful centerpiece on any table. Download this free mushroom pattern today and prepare to create your unique piece of art! elisascrochet
5. Quick and Easy Crochet Mushroom Pattern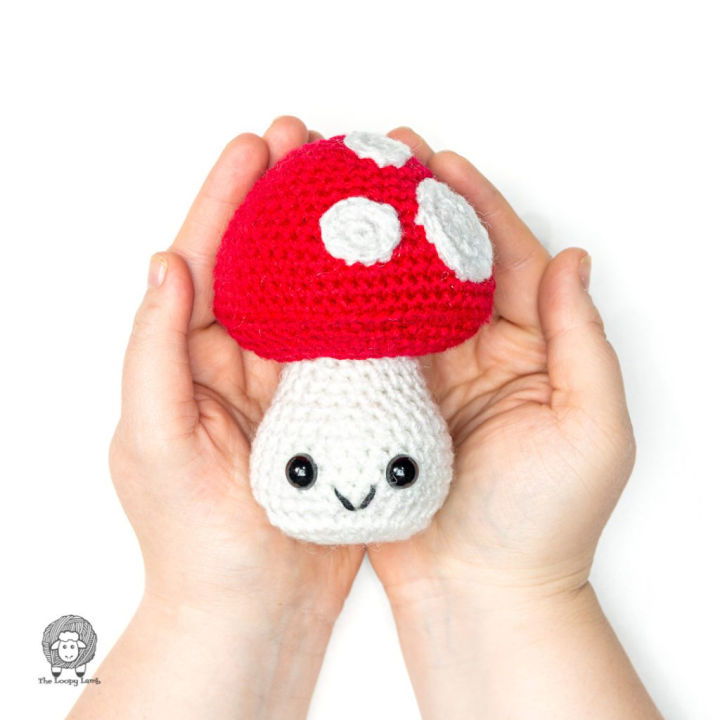 Do you want to make something special and unique in the evening? Look no further! This easy crochet mushroom pattern is perfect for crochet enthusiasts of any level. It's quick, easy, and fun to create – getting it done in a single evening!
And best of all, you can customize it however you like. With just a 3.5 mm Furls Crochet Hook; 1 skein each in white & red; 10mm black safety eyes; black embroidery thread; stitch marker; poly-fil stuffing; tapestry needle & scissors, you will have your cute mushroom pattern ready for gifting or self-pampering! So why not take this opportunity to explore the crafting world with this highly addictive yet simple project? loopylamb
6. Crocheting a Victor the Mushroom – Free Pattern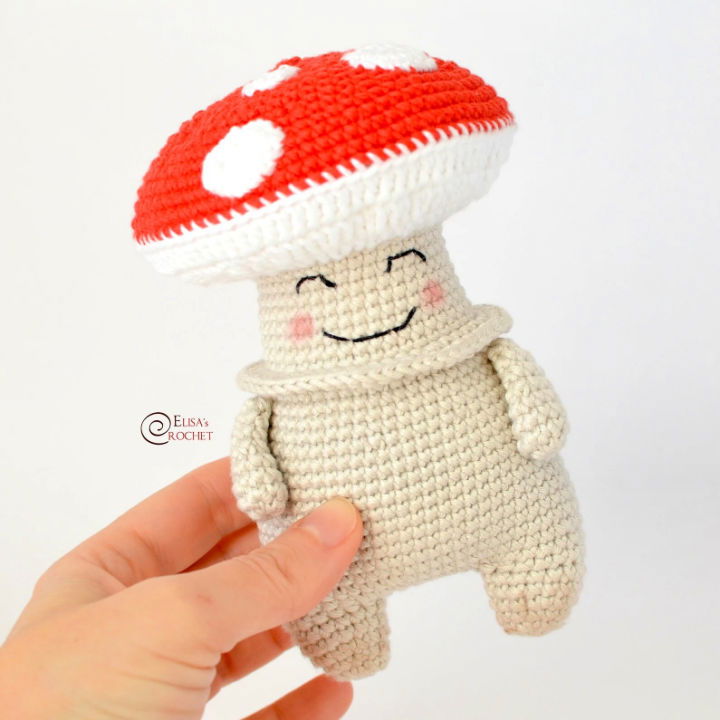 Make your masterpiece with this easy crochet mushroom pattern! Personalize Victor the mushroom and make him unique by adding some creativity. This fairly quick project requires just some supplies but can give you hours of fun designing.
Plus, when you're done, you'll get to admire Victor's amazing colors and texture in all his glory as he best looks at the nature around him. All it takes is seven simple steps – so what are you waiting for? Start crocheting now and bring Victor to life! elisascrochet
7. Cool Crochet Mushroom Pattern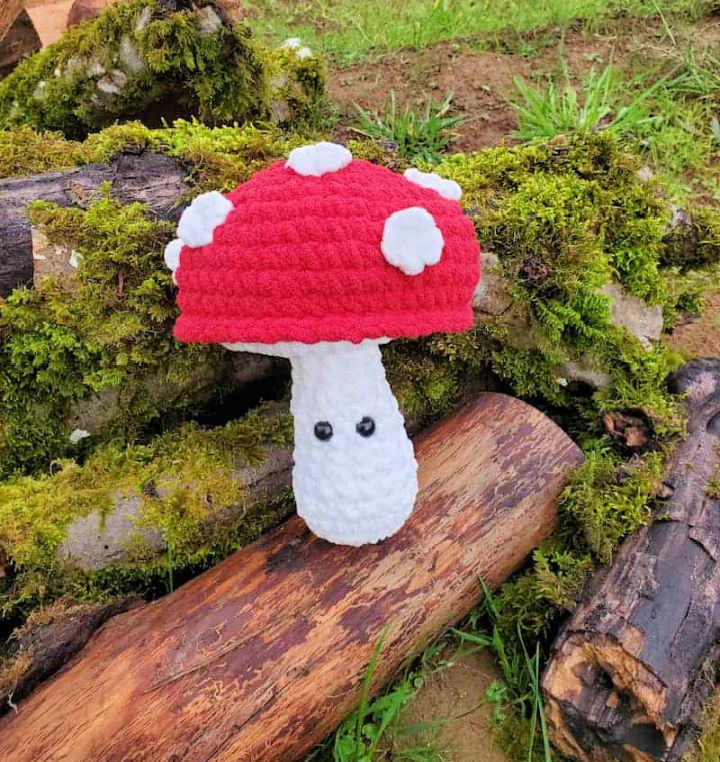 Be ready to make the cutest mushroom ever – Steve the Shroom! This adorable crochet pattern is perfect for crocheters of all levels, with a simple design that works up quickly in super bulky yarn. You'll need 80-100 yards of Bernat blanket yarn, a size l/11/8.0mm. Crochet hook, Fairfield poly-fil premium polyester fiber fill, a yarn and tapestry needle and 12mm safety eyes.
Whether you are looking for an amigurumi project or want something fun and easy to design, this cool crochet mushroom pattern will surely be super entertaining! underground
8. Colorful Crochet Mushrooms – Free Pattern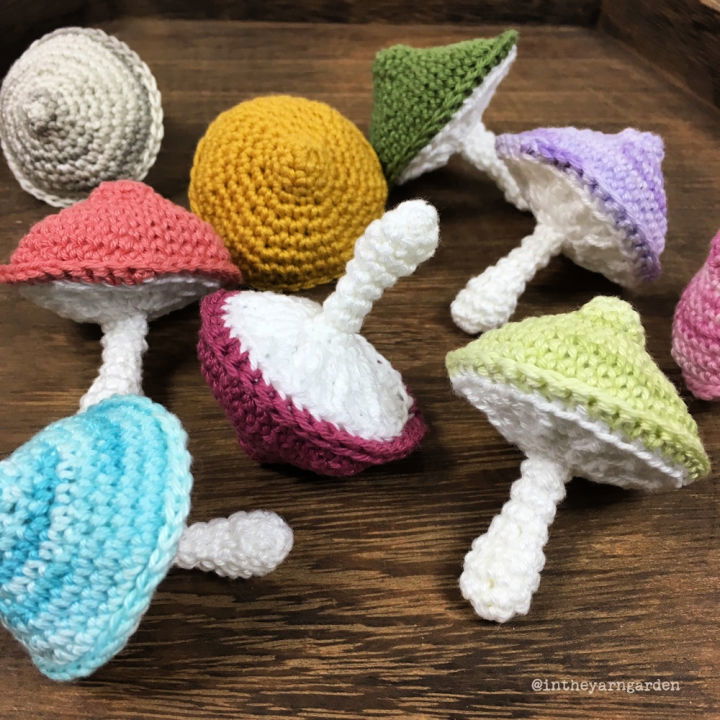 Bring the beauty of autumn into your home and create a unique piece of art with the colorful crochet mushroom pattern! This fun and the easy-to-follow project will give you an addictive feeling as you craft these lovely mushrooms.
With a few supplies, including Järbo 8/4 yarn in several colors, a 2.5mm hook, stuffing, scissors and a needle – there's no limit on how many colorful mushrooms you can make! Add some pizzazz to your surroundings by bringing nature inside with this creative pattern – it's sure to bring lots of color into any room. intheyarngarden
9. Crochet Little Mushroom Amigurumi Pattern
This crochet little mushroom amigurumi pattern is perfect for adding a touch of cuteness to your house! It's amazingly straightforward and fun to make. The best part is that you can adjust the size of your mushroom according to your preferences. All you need are the following:
Some sport-weight yarn in off-white or red.
A thread of white yarn.
A 2.5mm hook.
Fiberfill.
A tapestry needle.
So why not get creative with this delightful little amigurumi pattern today? Grab the supplies for an upbeat craft project to make everyone smile! ravelry
10. Crocheted Mushroom Amigurumi – Free Pattern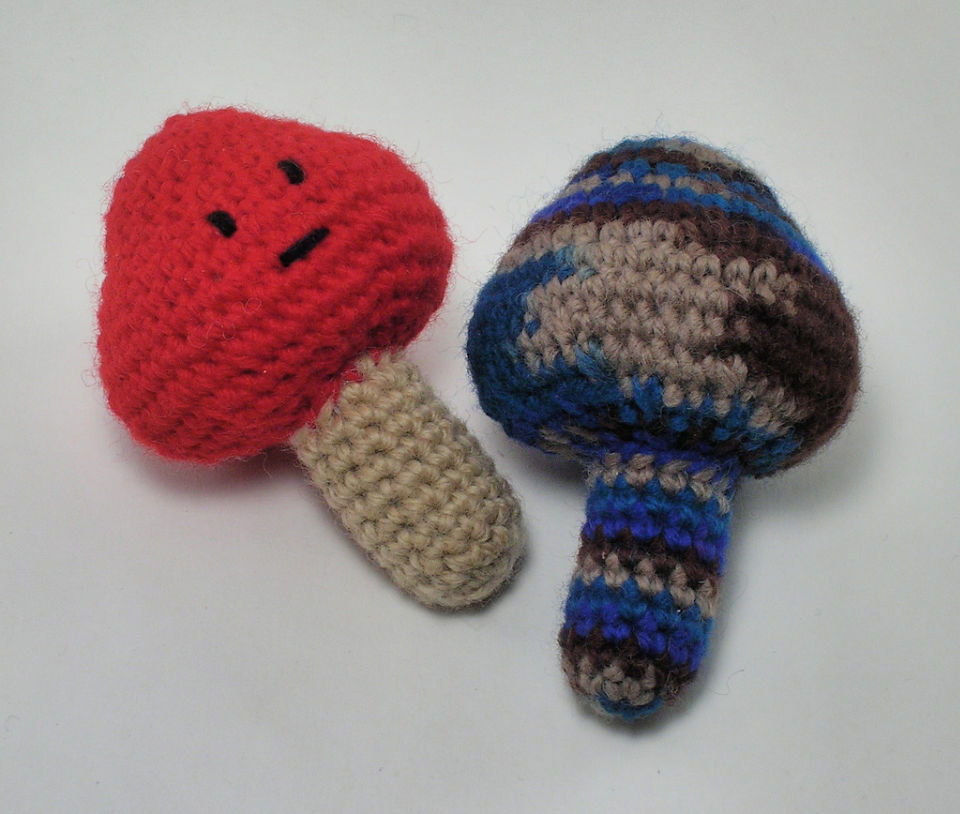 Bring endless fun and cuteness to your home with the crocheted mushroom amigurumi!
This charming crochet pattern is perfect if you love making something unique and special, as it's easy enough for even beginner crocheters. With materials like yarn, stuffing, safety eyes, felt, and a crochet hook, you'll have everything necessary to craft these delightful little mushrooms that kids will find adorable to play with!
Whether adding a touch of whimsy or plenty of charm to a nursery room or bedroom décor – these pretty amigurumis make an excellent choice. grasshopper
11. How to Make Mushroom-Free Crochet Pattern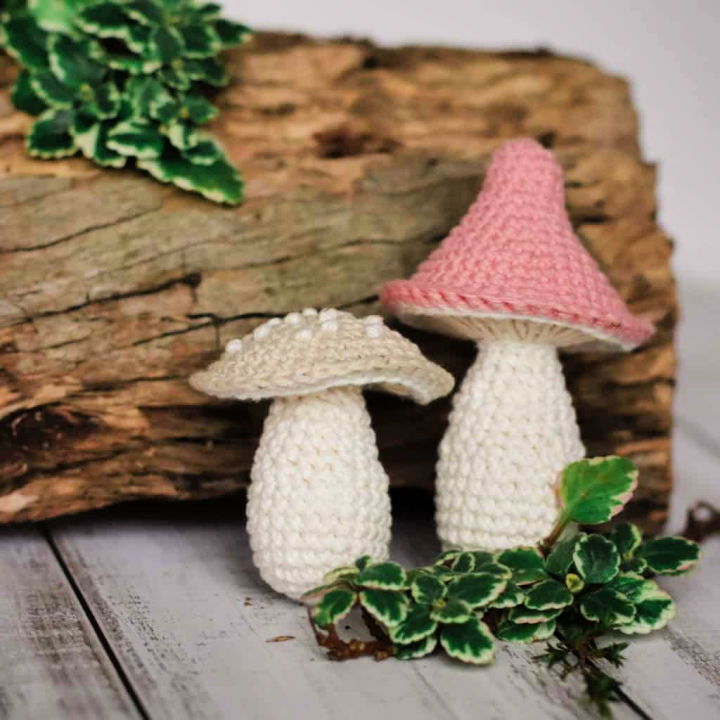 A one-of-a-kind woodland gift with this unique crochet mushroom pattern! This free amigurumi pattern is full of vibrant colors, texture and detail. Add an optional small rattle insert for extra fun, and it would fit in perfectly with a nursery theme or hung on a Christmas or Easter tree.
Great as a lovely surprise for your forest-loving friends. Get creative with the 2.75 mm/size C crochet hook, yarn needle, embroidery needle, stitch marker and stuff you'll need to create your magic mushrooms! thoresbycottage
12. Easy Crochet Super Mario Mushroom Pattern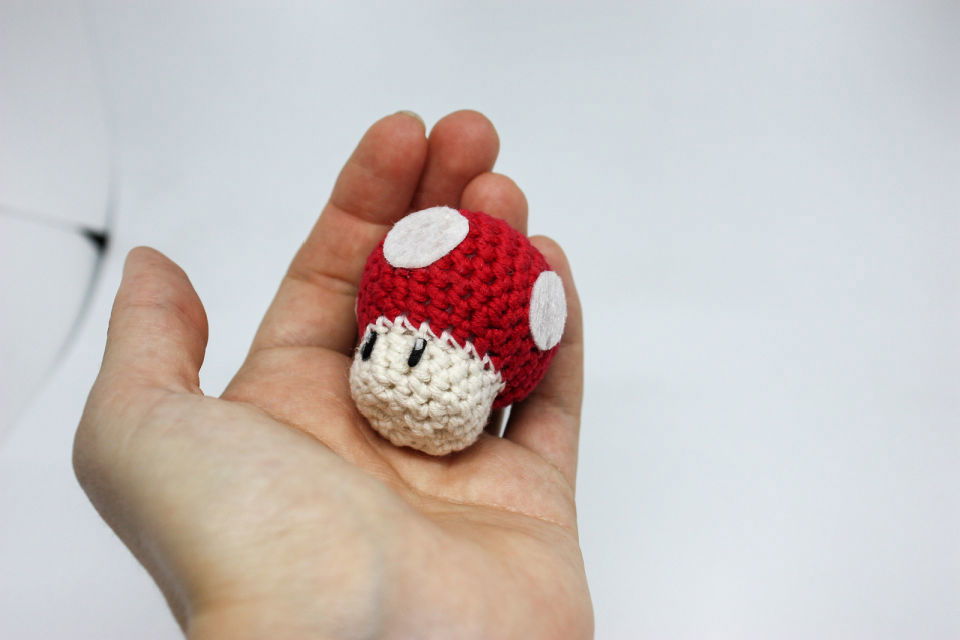 Are you looking for an adorable crochet project to start with? Look no further than this crochet super Mario mushroom pattern! This tiny little mushroom is perfect to create with materials you already have at home, and it's quick and easy to follow.
The pattern includes instructions on how to make the mushroom and a list of the materials needed, such as yarn or thread in two different colors, a 3mm hook, scissors and stuffing. With this fun pattern, you can create something special that brings joy to your home, whether made into a pillow, toy or wall art piece. Get ready for some crochet magic! amigurumino
13. Crochet Mushroom – Step-by-Step Instructions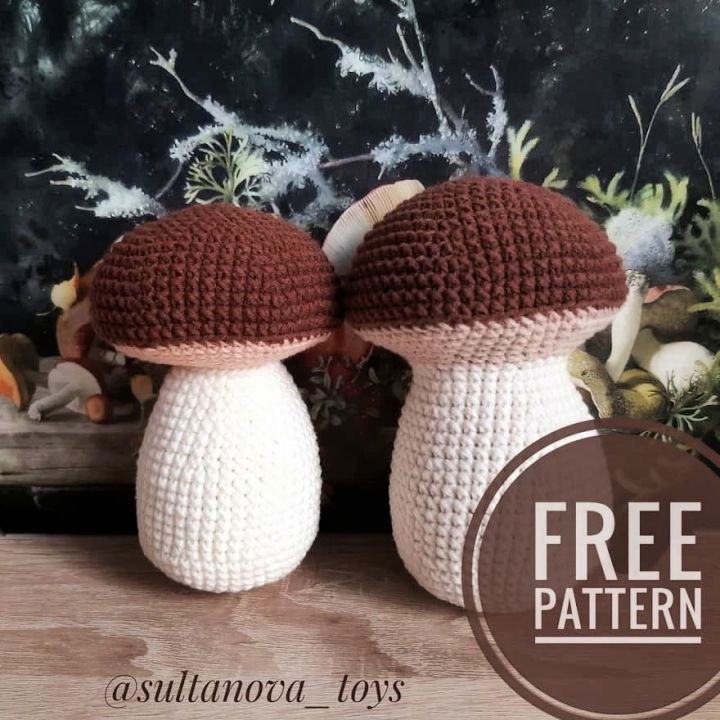 Make your fun and unique crochet mushroom with this easy-to-follow, free pattern! This project is perfect for working on beginner-level skills and doesn't require any sewing. The cap and stem of the mushroom are crocheted as a single piece using YarnАrt Jeans yarn, 2.0 mm hook size, tapestry needle, scissors, and fiberfill stuffing.
Make a one-of-a-kind decoration or give it away as a lovely handmade gift to someone special – all in no time! Whether you're an experienced maker or just starting in crochet projects – don't miss out on creating your adorable little mushrooms today. amigurum
14. How Do You Crochet a Chubby Mushroom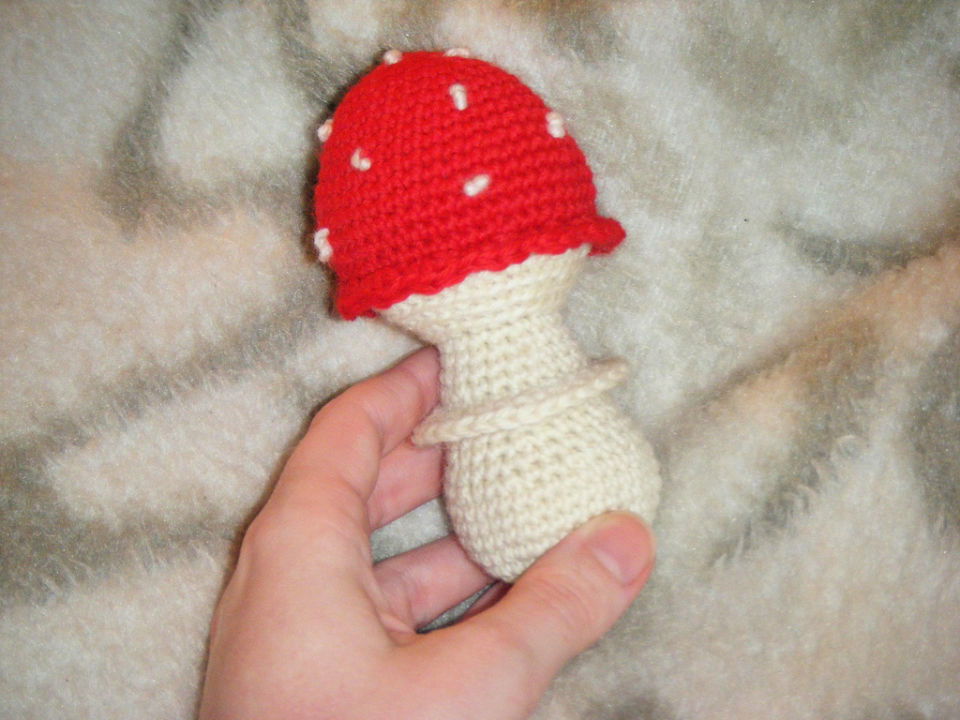 Would you like to make a cute little mushroom that even small children can help? Look no further than this free crochet pattern to make an adorable chubby mushroom! This easy-to-follow, step-by-step guide takes only a few simple materials and some basic knowledge of crocheting skills and stitches.
You can quickly create this cute little mushroom with yarn and stuffing! This charming creation will surely bring smiles wherever it goes, whether for a special gift or simply as a hobby. Get started on your chubby mushroom today! littlethings
15. Unique Free Crochet Mushrooms Set Pattern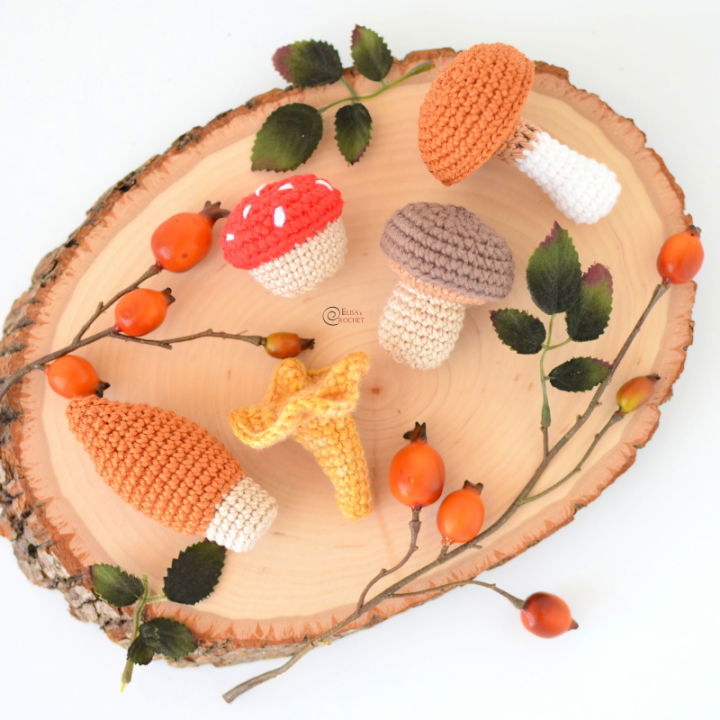 Welcome to this unique free crochet mushrooms set pattern! As fall approaches, enjoy a delightful crafting experience with this set of crocheted mushroom patterns. Featuring stitches that look nice and neat, and well-defined, each piece will be soft to the touch and shiny when finished.
Create your cute little mushrooms in varying sizes for your home decor or as additions to any crochet project – add them as new pieces in an existing blanket, use them as mini garland and wreath attachments, or simply as play food for your kids! Materials needed: worsted weight yarn, 3mm crochet hook & stuffing. Download this free pattern now, and start creating it right away! elisascrochet
16. New Crochet Mushroom Boy Pattern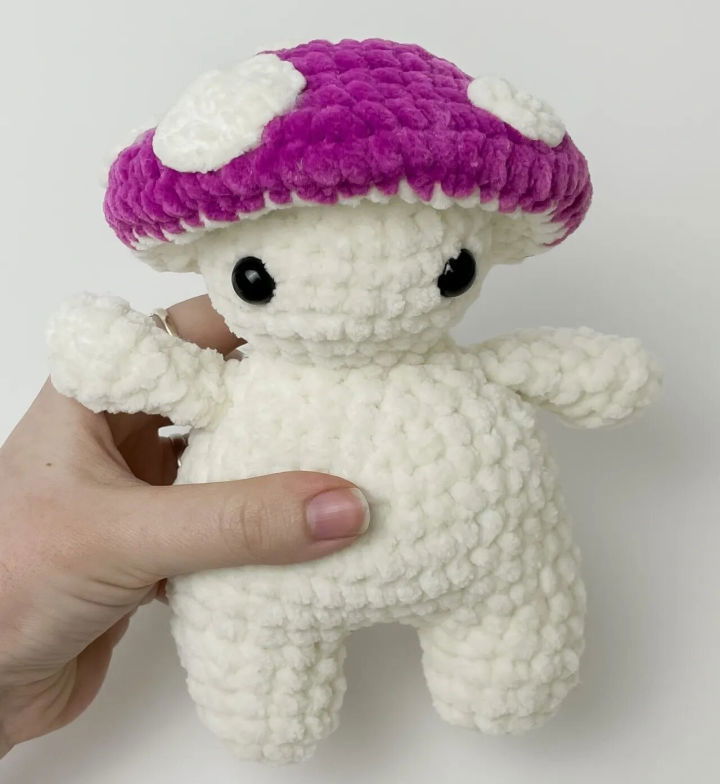 A new cuddly friend, the crochet mushroom boy! Create a chubby little fellow with his pink or red mushroom cap – or choose any color you prefer. This pattern uses a 4.25mm crochet hook, safety eyes and Hobbii baby snuggle yarn to give him a super soft texture. Moreover, all needed materials, such as yarn needle, scissors and polyfill, are included for complete convenience. Enjoy making this adorable little guy just in time for the holidays! roseandlily
17. Cute Crochet Baby Mushroom Pattern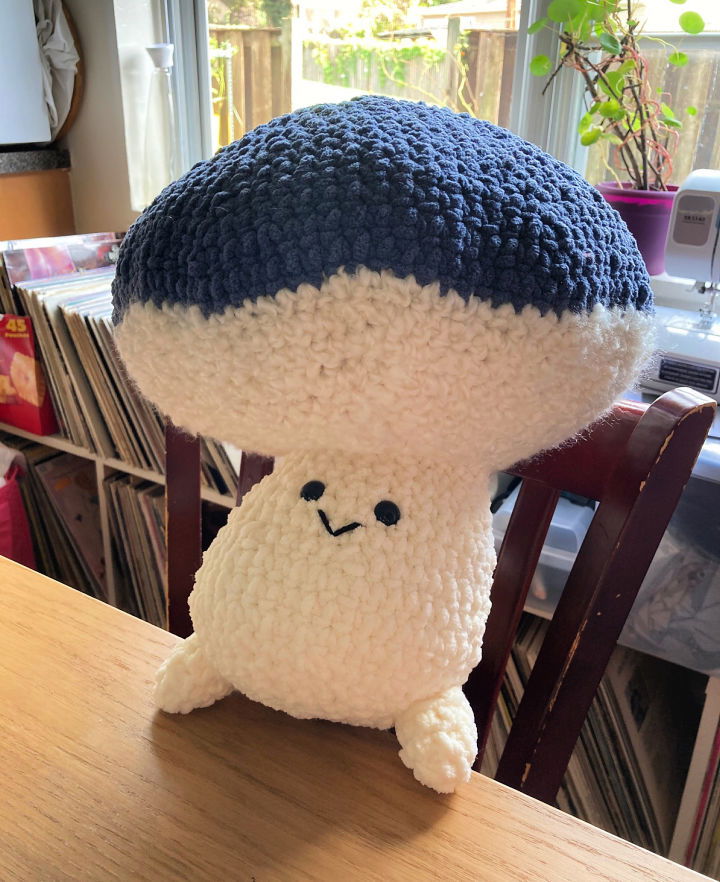 Brighten up your nursery with this adorably cute crochet baby mushroom pattern! This big-headed little Fella can be customized to any color, creating a unique look that will amaze all your friends and family.
All you need is Bernat blanket yarn to make it come alive – so pick out the perfect colors today for your personalized creation. The result will bring a smile to anyone's face and be an adorable addition to any room in the house! pastelsweater
18. Lovely Crochet Mushroom Appliques Pattern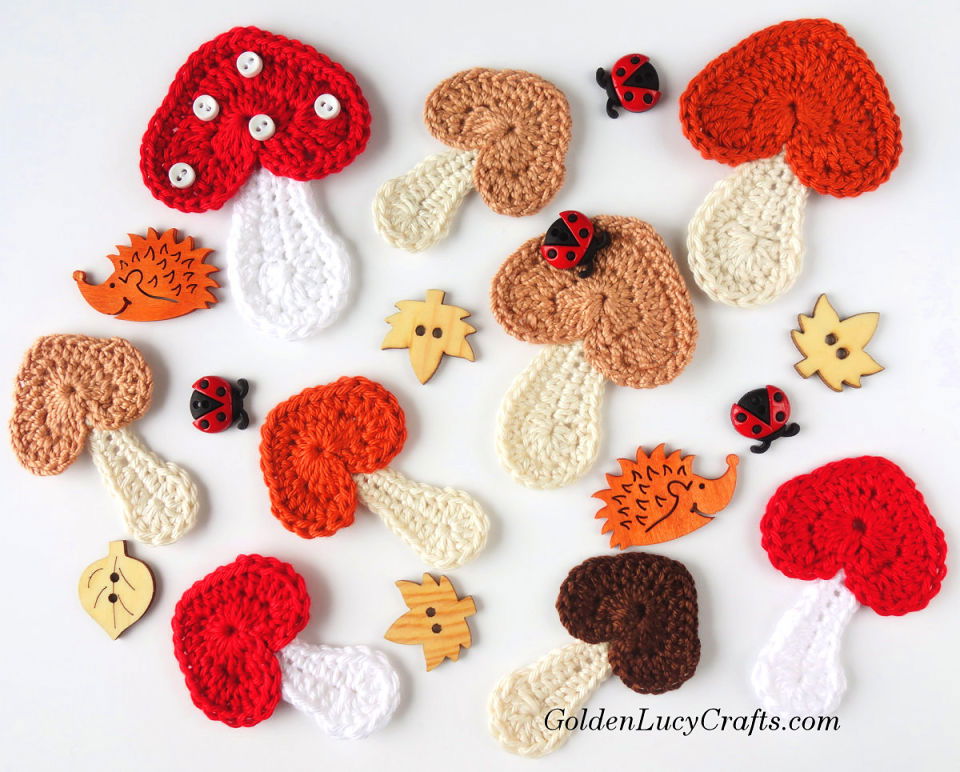 Be creative with this fun crochet mushroom appliques pattern! Make your beautiful woodland garland by crocheting these adorable mushroom appliques that are perfect for embellishing kids' clothes, blankets, hats, and more.
The best part is that you'll have a free crochet pattern to follow! With just a few materials like worsted weight yarns in assorted colors and a 3mm crochet hook tip, you can create a stunningly unique cap of my crochet mushroom made from heart-shaped designs – try it today! goldenlucycrafts
19. Best Mushroom Bag Crochet Pattern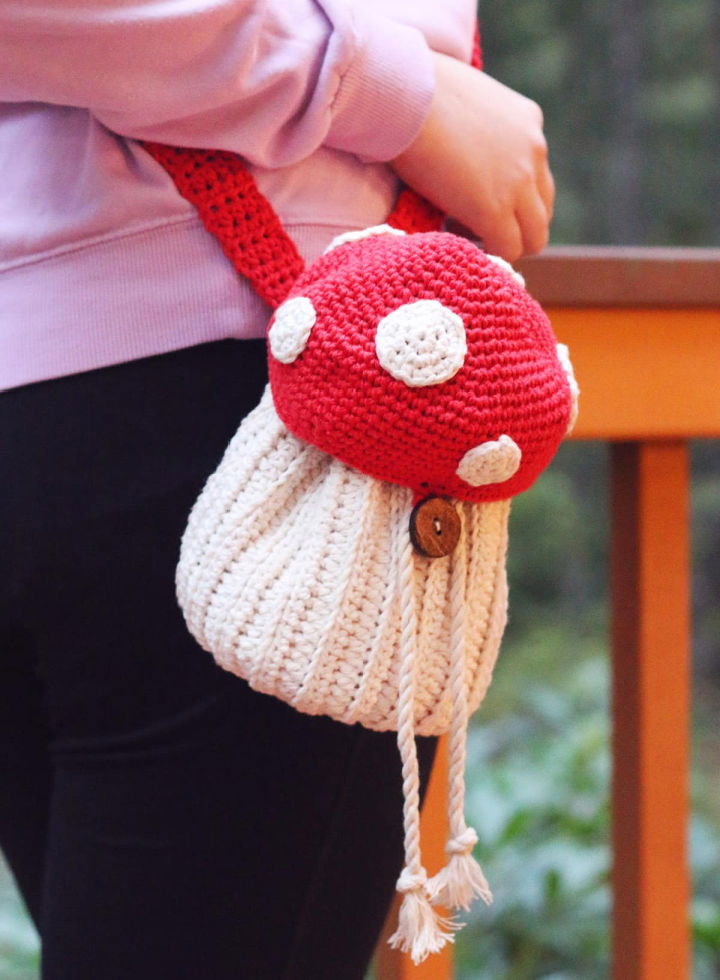 Love the cottage-core aesthetic? Looking for the perfect gift for babies, kids, and teens? Create something special with this mushroom bag crochet pattern! This cute little crossbody bag is the right size to hold all your essentials. What's more – it comes with a free pattern!
So grab your crochet hook and prepare to make magic with this fun project. With its whimsical design and versatile function, you can bet that this mushroom bag crochet pattern would be a hit. persialou
20. Best Big Mushroom Crochet Pattern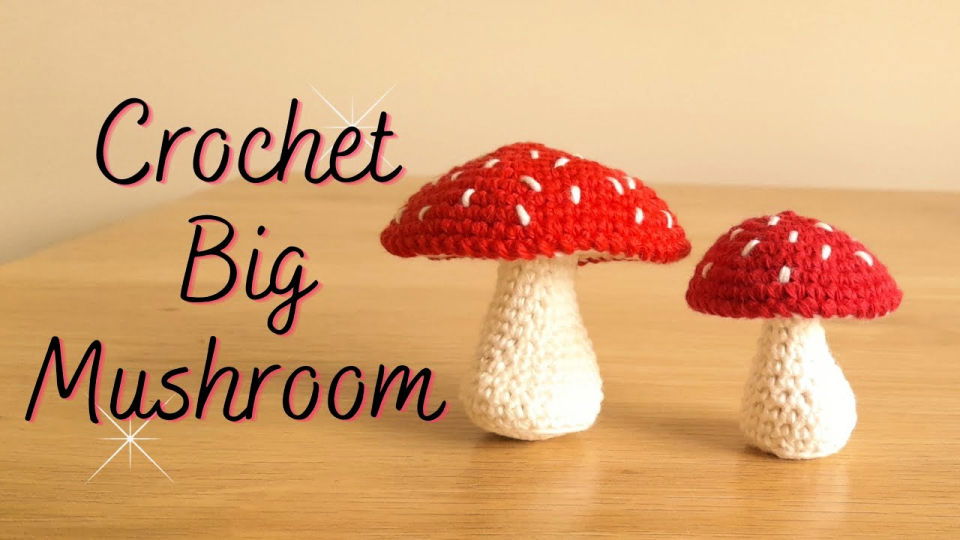 Make your next project extra special with this big mushroom crochet pattern! It's the perfect pattern for beginners looking to kickstart their crochet journey. Plus, it's a great way to use scrap yarn, making it fun and economical.
This crochet mushroom pattern will have you creating beautiful and unique toadstools in no time. The materials needed are easy to find: worsted weight yarn in two colors, an H hook, stuffing and safety eyes or embroidery thread/yarn. Get ready for crafting cuteness that is sure to bring a smile.
21. Simple Crochet Mini Mushroom Pattern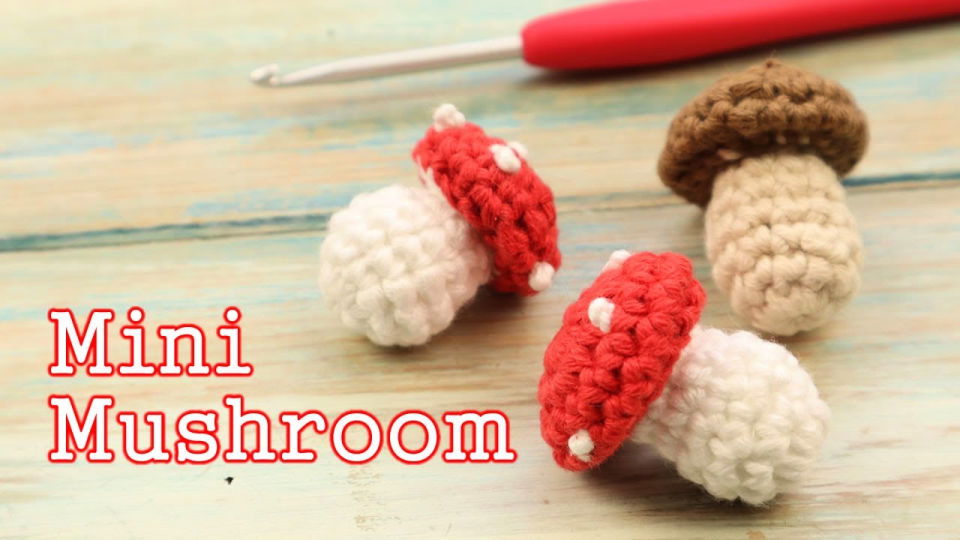 This crochet mini mushroom pattern is the perfect project for crocheters of all levels! You can easily make these tiny Agaric mushrooms using thicker yarn and a bigger hook, making them look adorable.
Whether you want to make one or ten, this pattern will provide step-by-step instructions so you can scale it as much as you need. It's an easy but rewarding way to add a unique touch to your home decor or special gift. So grab your supplies and start crafting these delightful mini mushrooms today!
22. Easy Crochet Mushroom Amigurumi Tutorial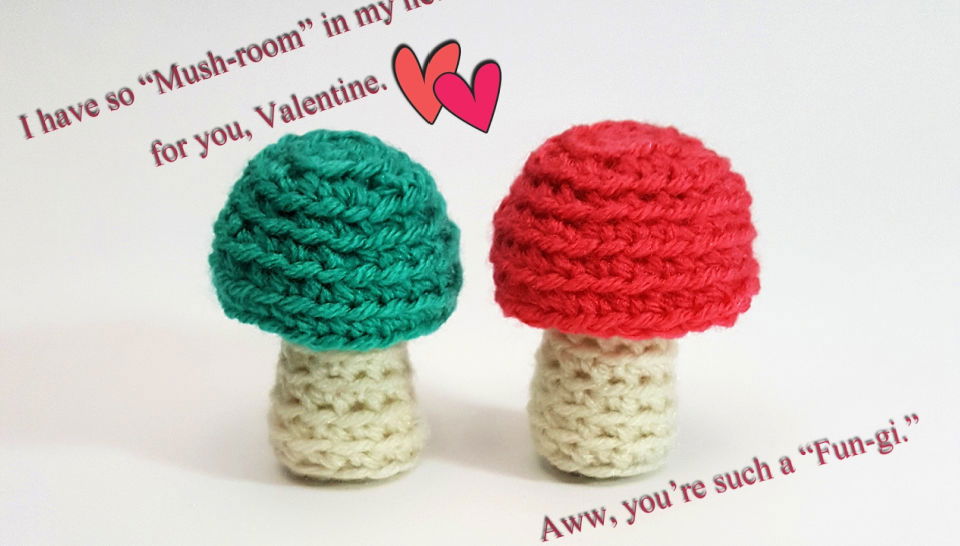 Here's a fun crochet amigurumi project for you – complete with instructions and all the materials you'll need to get started! With this pattern, you can create your very own adorable little mushrooms! Whether you're a beginner or an experienced crocheter, this project will surely be enjoyable for everyone who takes part in crafting these little guys. So get creative, and enjoy this crochet tutorial – you won't regret it!
23. Crocheting a Mushroom Bucket Hat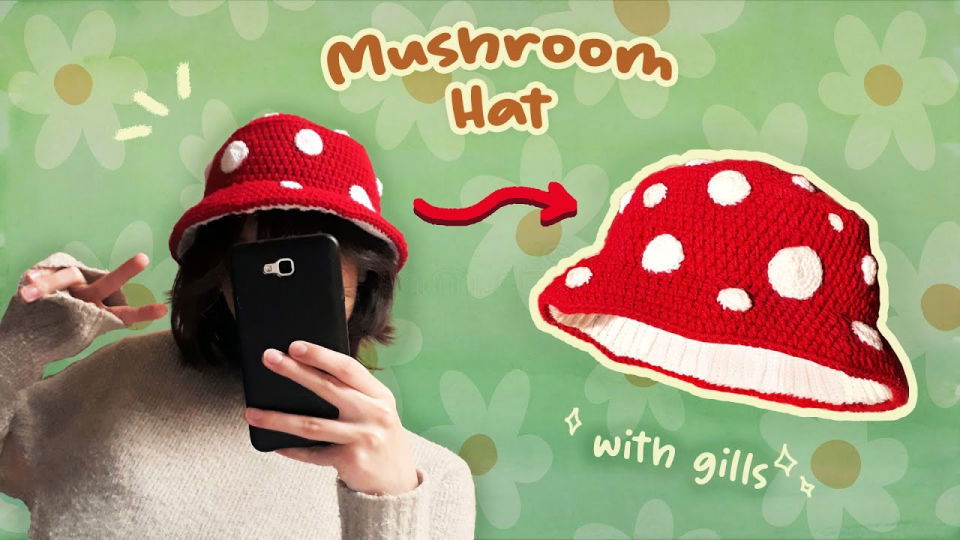 Take your look to another level with this crochet mushroom bucket hat! This project is perfect for beginner and intermediate crocheters, with a pattern included for easy-to-follow instructions.
Made from white and red yarn, you can create an extra touch of beautiful girls that will have everyone asking where you got it from! Complete your goblin core aesthetic by gathering all the necessary materials: 2.5mm & 4mm hook, yarn needle, measuring tape scissors and a stitch marker. In no time, you'll be wearing this trendy hat to take on every adventure that comes your way!
24. Adorable Crochet Amigurumi Mushroom Idea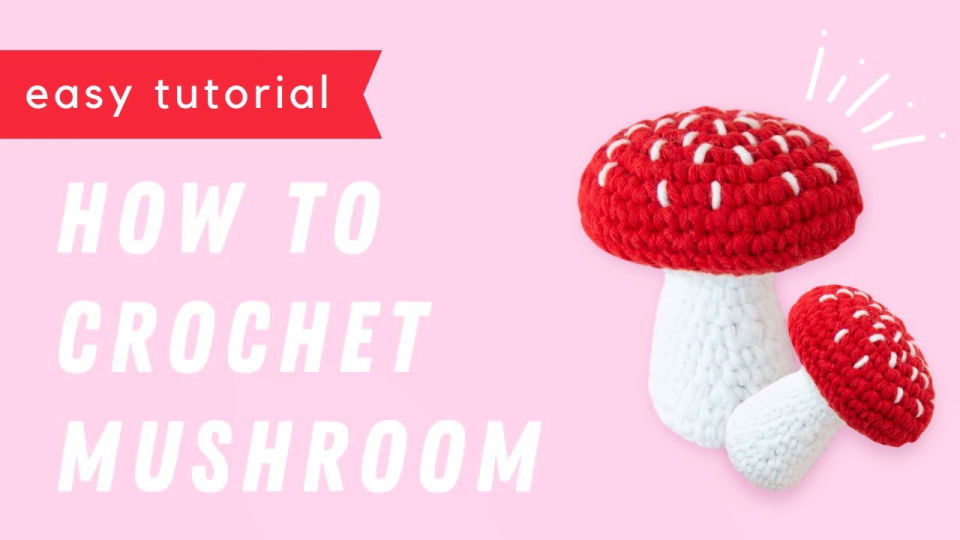 Lovely and cuddly, this adorable crochet amigurumi mushroom from Garnknuten will make an incredibly cute addition to any home.
The easy-to-follow step-by-step instructions allow you to create a delightfully smooth and fluffy amigurumi mushroom without too much difficulty. This kit has everything you need for your unique design, providing all necessary materials, such as high-quality cotton yarn, one crochet hook and stuffing filler. So why not try your hands at creating something fun and adorable? With Garnknuten's adorable crochet amigurumi mushroom kit, it's never been easier!
25. Free Crochet Pattern for Mushroom Plush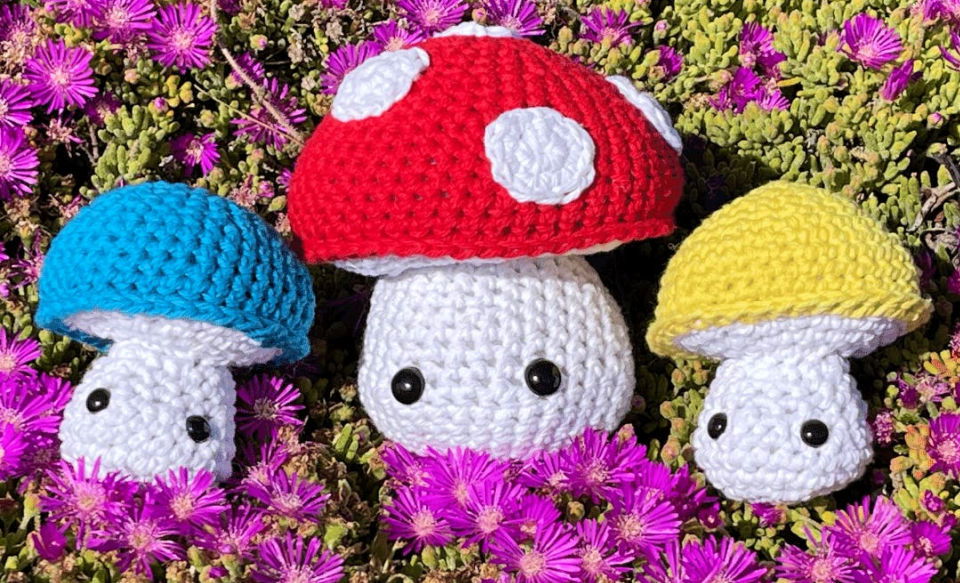 Be the trendiest crafter around and get your game on with this highly fashionable crochet pattern for mushroom plush!
Perfectly suitable for beginners, it's incredibly easy to crochet with a free pattern included. This cute mushroom plushie stuffed toy is tiny enough to fit in the palm of your hand but will make a big statement as part of any home décor or playroom collection. All you need is one skein each of 2 colors of Premier home cotton Yarn, size H/8 (5.5mm) crochet hook, needle, scissors, polyfill and safety eyes – everything else you can find right in your own home!
Get started crocheting today and bring some fun into any room with this delightful mushroom plushie!
Related Free Crochet Amigurumi Patterns:
Put your hook to the test with these totally free crochet amigurumi patterns! From bunnies and bears, to cats and dogs – find one that inspires you today!
Easy Crochet Amigurumi Patterns:
Conclusion:
In conclusion, whether you're a novice or a seasoned crocheter, these free crochet mushroom patterns offer endless options for creativity and fun. From giant mushroom pillows to cute amigurumi designs and versatile appliques, there's a free crochet mushroom pattern for everyone. The patterns use various materials and can be customized to suit your preferences, making them perfect for adding a touch of whimsy to your home decor, gifting to loved ones, or even just for a relaxing evening of crafting. So why not download your favorite crochet mushroom pattern today and start creating your unique piece of art?