Crochet frogs are a fun and easy amigurumi project for crocheters of all levels. Here, we've compiled a collection of 25 free crochet frog patterns, complete with step-by-step instructions and printable patterns, to help you create your own adorable crocheted frog. From cute and whimsical to realistic and detailed, there's a crochet frog pattern for everyone.
These free crochet frog patterns range from small and simple designs, perfect for beginners, to more complex and realistic patterns for advanced crocheters. Each pattern comes with a list of supplies needed, such as yarn, crochet hook, and stuffing, and clear instructions to guide you through the process.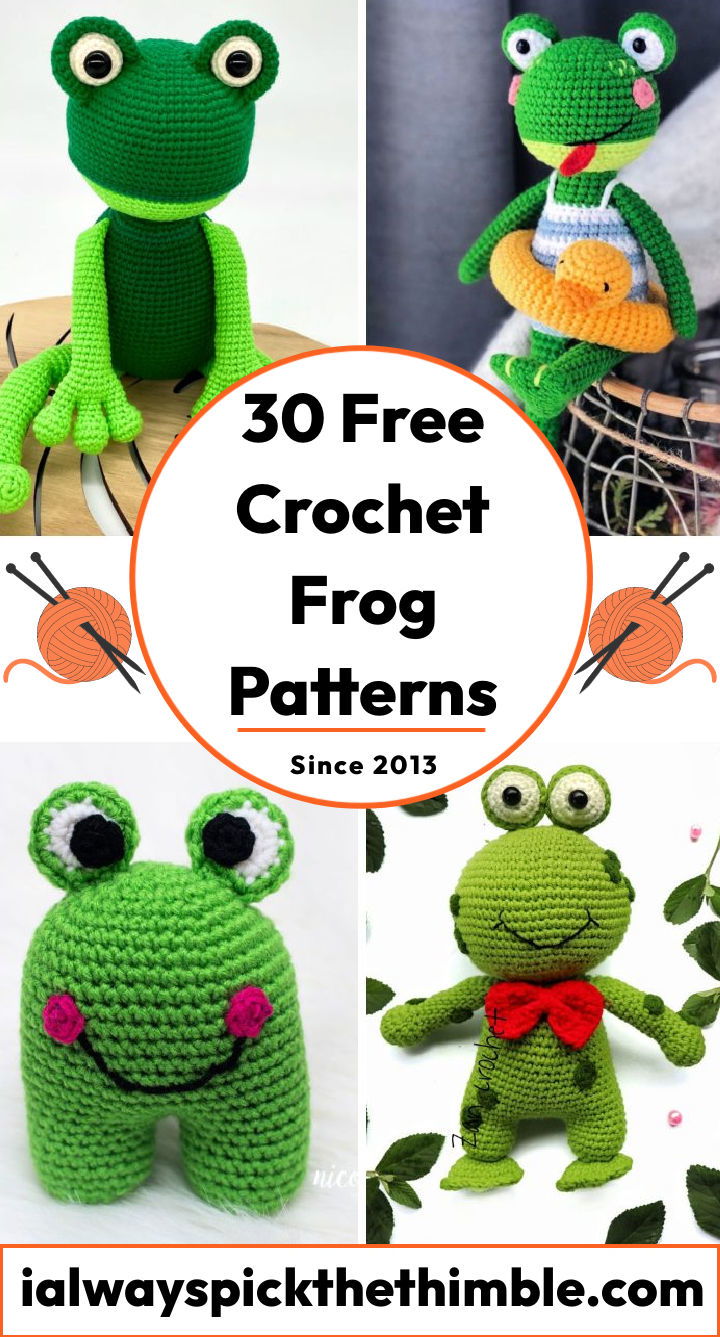 With these free crochet frog patterns, you can make a cute crocheted frog to gift to a loved one or to keep for yourself as a charming decoration. So, whether you want to create a realistic frog plush or a whimsical crocheted frog, grab your yarn and hook and start your next crochet frog amigurumi today!
1. Free Crochet Frederick the Frog Pattern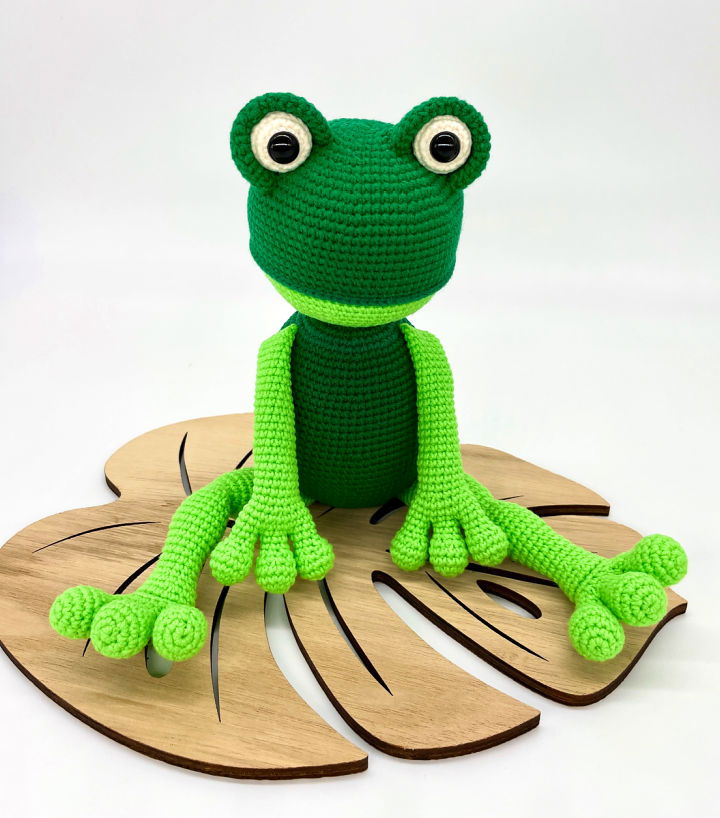 Crochet frog patterns offer a unique way to bring some froggy fun into your life! Are you seeking a unique crochet pattern to take your skills to the next level? This free crochet Frederick the frog pattern is perfect for intermediate and advanced crocheters!
Making this cuddly frog will be fun; enjoy every step of creating it. This amigurumi crochet frog pattern will become an excellent companion for his new dart frogs – what's not to love about it? Download this free crochet Frederick, the frog pattern, and have hours of creative fun crafting something special. cuddlystitches
2. Beautiful Crochet Stuffed Frog Pattern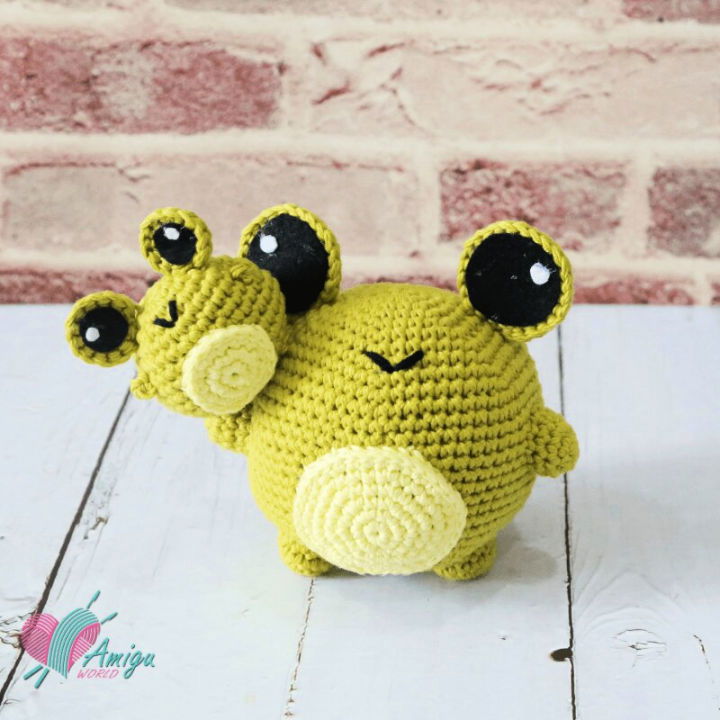 Delight in the fun of creating with this crochet stuffed frog pattern. This pattern is perfect for any beginner starting their crochet journey, and it will make an adorable gift for babies or little kids.
The big amigurumi frog is so cute and easy to make with supplies such as yarn of green and yellow color, a 3 mm crochet hook, fiberfill stuffing, a sewing needle and scissors. Enjoy the joy of making something special like this stuffed frog that anyone would love! amiguworld
3. How to Crochet Flippy the Frog – Free Pattern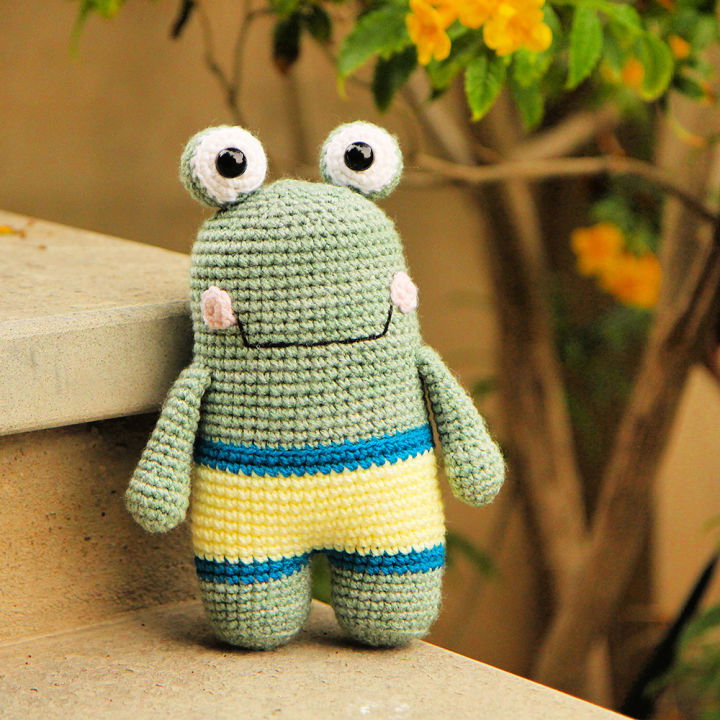 Create a cute and unique addition to any child's toy collection with the crochet Flippy the frog pattern! This easy amigurumi pattern is perfect for beginners, so you can start crocheting quickly. Getting the desired result will be a breeze; your frog plushie will look cute without any clothes.
With this fun-free pattern, Flippy is sure to jump into your heart. The materials needed are DK yarn in green, light pink, and white; a 3mm crochet hook; tapestry needle; stitch marker; polyfill stuffing; two 12 mm safety eyes plus embroidery thread in black for the smile – everything you need to make an adorable little frog toy! chaicoffee
4. Cute Crochet Baby Frog Pattern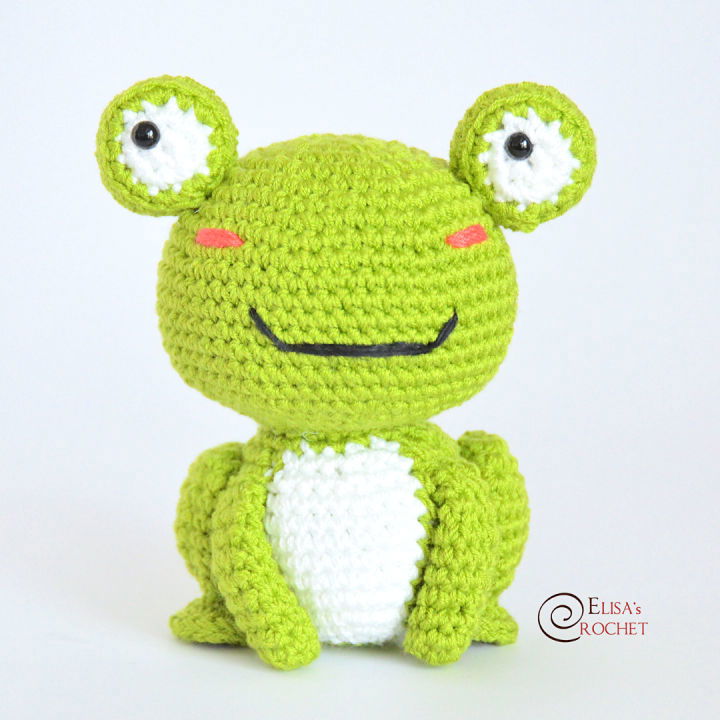 With just a bit of yarn and imagination, bring to life an array of cute creatures using any of our creative crochet frog patterns!
Make an adorable nursery decor piece with this free cute crochet baby frog pattern! You can make a sweet little guy perfect for your precious baby's room with simple crochet instructions.
The pattern includes all the supplies you need – grab your hooks and get crocheting! This cute frog is sure to bring smiles of delight to everyone who stops by. Show off your creative side and surprise everyone with this super-cuddly frog decoration today! elisascrochet
5. Free Printable Crochet Mia the Frog Pattern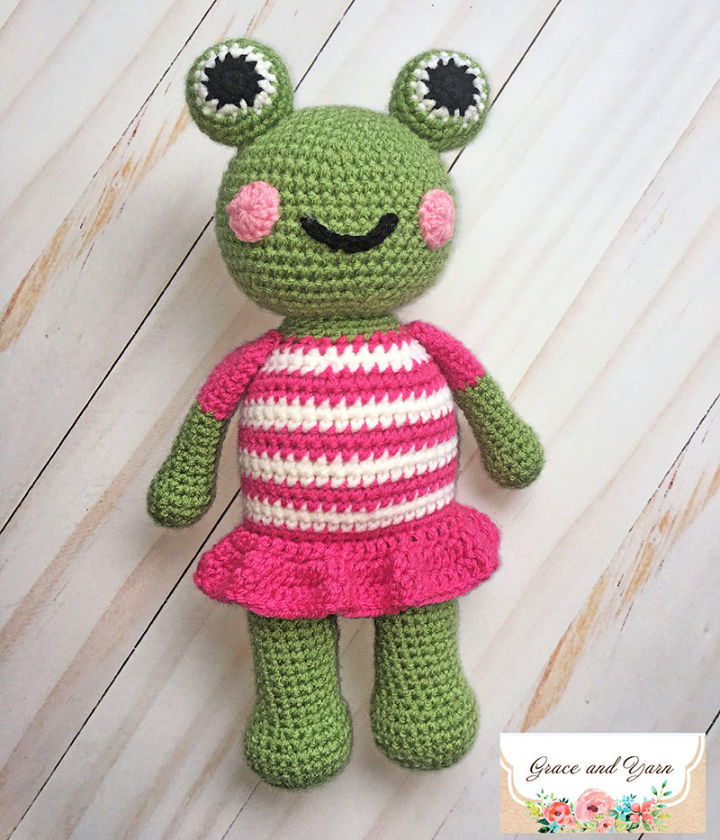 Welcome to the wonderful world of crocheting! This free printable crochet pattern allows you to create your own Mia the frog – a gentle and fun leaping friend. This easy project is suitable for beginners and only requires size four worsted weight yarn, a 3.5 mm crochet hook, scissors, a tapestry needle, stuffing and stitch markers.
Get creative with color combinations, or follow the example page to make something special with your hands that will bring everyone a smile! Have fun crafting this cute frog as an adorable gift or decoration for yourself! graceandyarn
6. Pretty Crochet Froggy Friend Pattern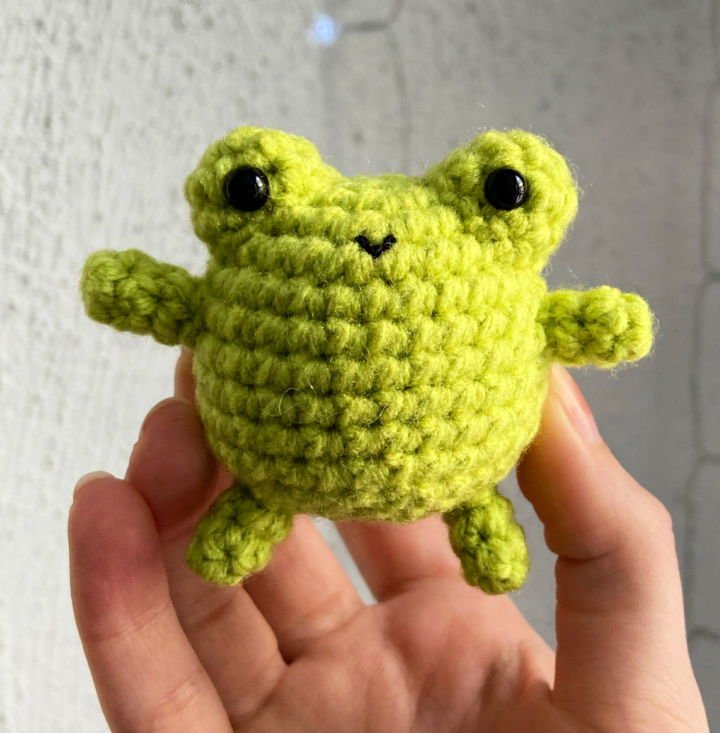 Spread the froggy love and crochet a cute, slimy friend with this pretty crochet froggy friend pattern! With this simple frog amigurumi pattern, you can make your round froggy friend of your own.
Create glorious frogs that you would have so much fun playing around with. All you need are some basic supplies such as yarn, hook, stuffing and eyes for decoration for an amazing crocheting time! Share your creations with us on social media – let's celebrate these amazing amphibians together! toristorycreations
7. Crochet Pocket Pal Frog Pattern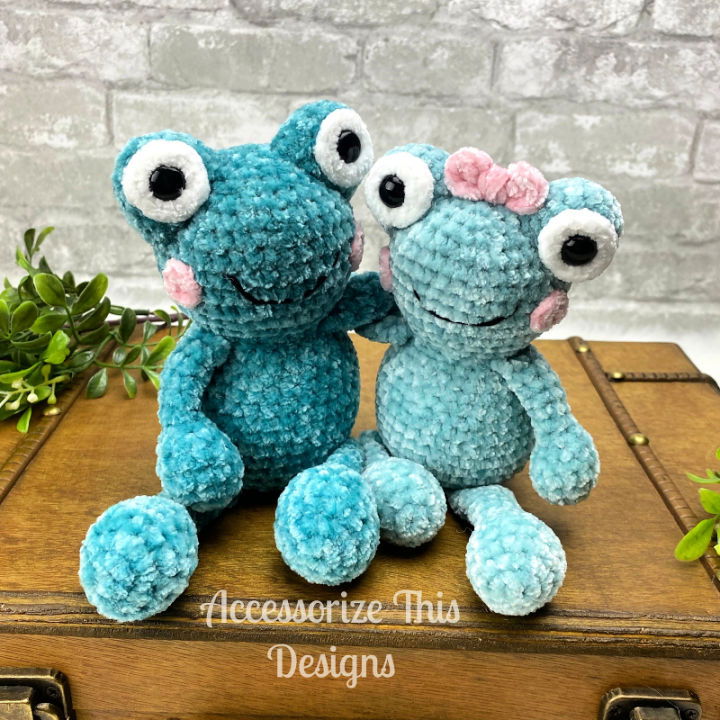 Bring your craft table to life with the crochet pocket pal frog pattern! This inexpensive pattern is quick and easy to follow, making it perfect for beginners. With minimal sewing required and Bernat Baby Velvet Yarn, you can instantly whip up a cute friend that anyone would love.
As a bonus, this free pattern comes with instructions on making a happy little guy that's great as a gift for any special person. Make this pocket pal frog today–it will bring joy and smiles for years! accessorizedesign
8. Best Frankie the Frog Crochet Pattern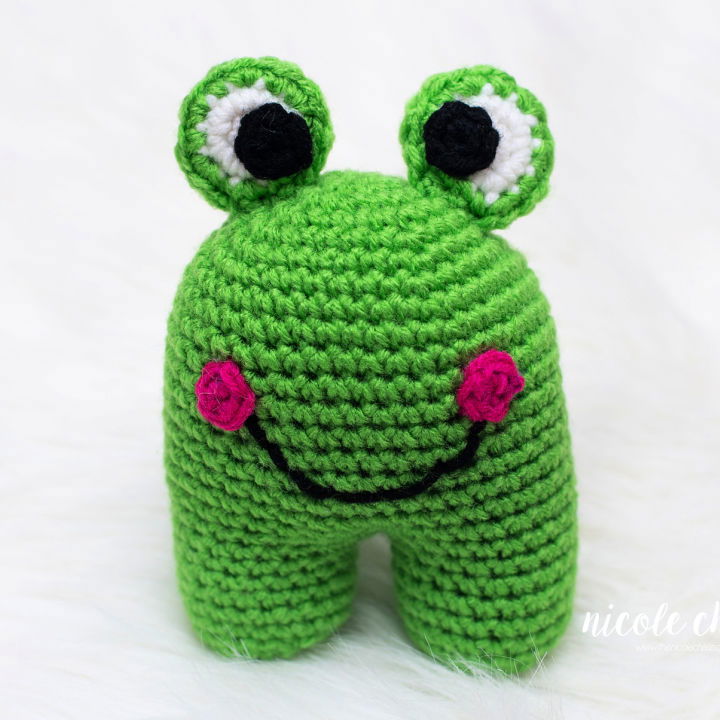 Inspire your inner crochet master with the Frankie the frog pattern! This adorable amigurumi frog is perfect for those who have had some experience with crocheting, as well as those just starting.
You can make this cute little friend at home with a craft needle, stitch markers and poly-fil. And remember – give him a personality of his own by choosing bright colors to add even more delight! We used red heart super saver in spring green but feel free to mix things up with other shades– it's entirely up to you. No nursery should be without one – Frankie the frog would make an excellent addition with his size that's easy for tiny hands to hold on tight! nicolechase
9. Crocheting a Frog Amigurumi – Free Pattern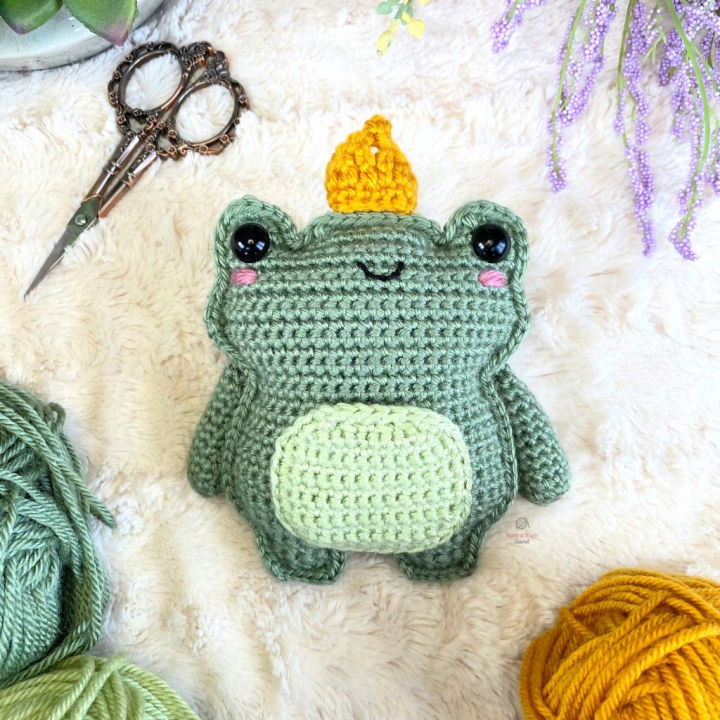 Bring your imagination to life with this adorable crocheted frog amigurumi! With a unique two-dimensional look, it will be the perfect addition to any space. And remember that very royal-looking finishing touch: the teeny crown! Plus, there's a sneaky little secret pocket where you can hide some snacks in its belly.
All you need are 3.25mm and 2.75mm hooks, patons Canadiana in medium green tea and cherished green yarns, loops & threads color wheel gold yarn, pink yarn, black crochet thread, 12mm safety eyes, stuffing and a tapestry needle. Get creative with your little frog today! spinayarncrochet
10. Free Crochet Pattern for Swimming Frog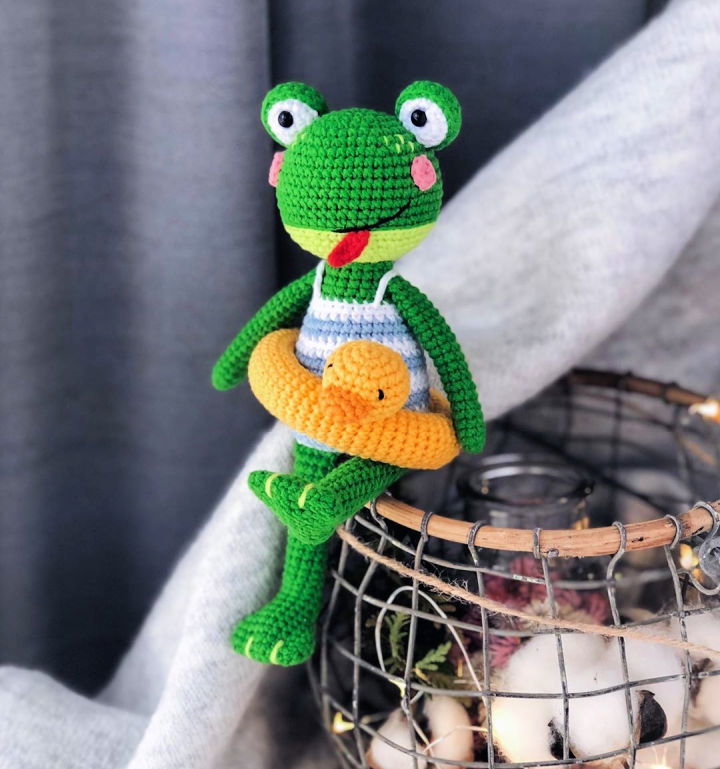 Let your child's imagination explore the pool's depths with this adorable free crochet pattern for swimming frogs! This free amigurumi pattern PDF will have your little one jumping in to create an amazing swimmer frog.
With a swimming ring to feel safe and crocheted from Alize cotton gold yarn, this friendly frog amigurumi loves to swim at the pool. All you need is 2.0 mm and 1.75 mm hooks, black safety eyes, black embroidery floss for the mouth, sewing needles and scissors, and fiberfill stuffing – perfect for imaginative playtime! amigurum
11. Unique Free Crochet Frog Amigurumi Pattern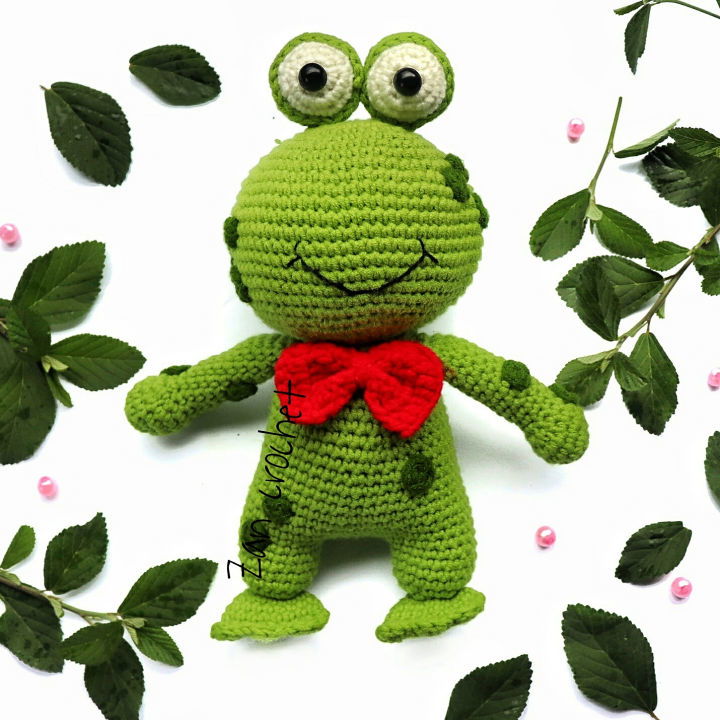 Give a special gift that'll stand out from the crowd – choose from any of the fabulous crochet frog patterns available!
Lovely and unique, the Koko the frog amigurumi pattern is a must-have for any crochet enthusiast! Standing about 25 cm tall, this cute frog will bring cheer and joy. There's no need to worry about buying expensive supplies, as this free amigurumi pattern comes with everything you need!
So why not give it a go? With its detailed instructions, you can create your own Koko the frog in no time – perfect for crocheting gifts or adding character flair to your home decor. zancrochet
12. How Do You Crochet a Mayor Snack Frog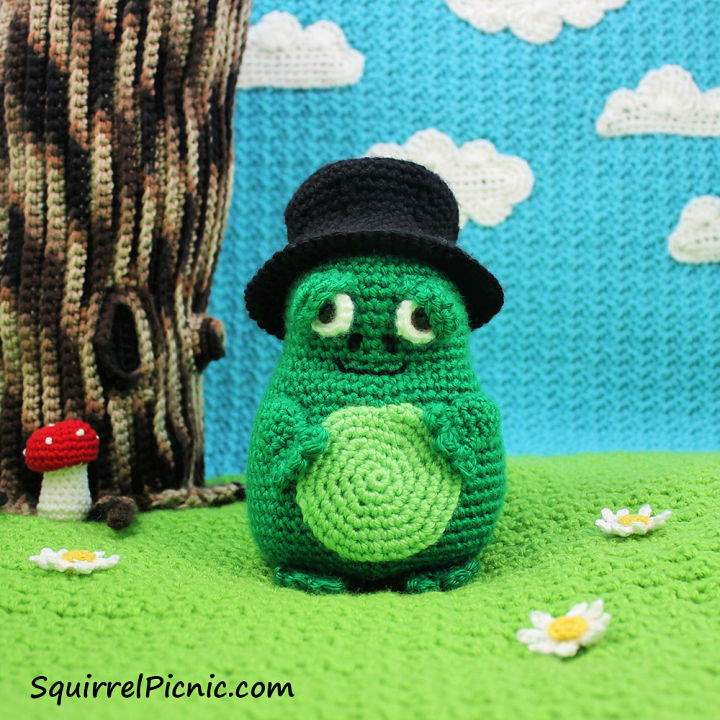 Welcome to the world of animal Clan! A bunch of easygoing, fun-loving party animals and love to crochet.
This signature creation is the Mayor snack frog – an adorable, fat animal that brings joy and laughter to any home. Crafting this cute critter requires only basic crocheting supplies such as yarn and stuffing materials – it's simple enough for beginners yet challenging enough to keep experienced crocheters entertained!
Get creative with your color palette or follow this pattern exactly; however you choose to make him, one thing is clear: This fat little frog is guaranteed to be a hit at any gathering! squirrelpicnic
13. Crochet Boris the Frog – Step-by-Step Instructions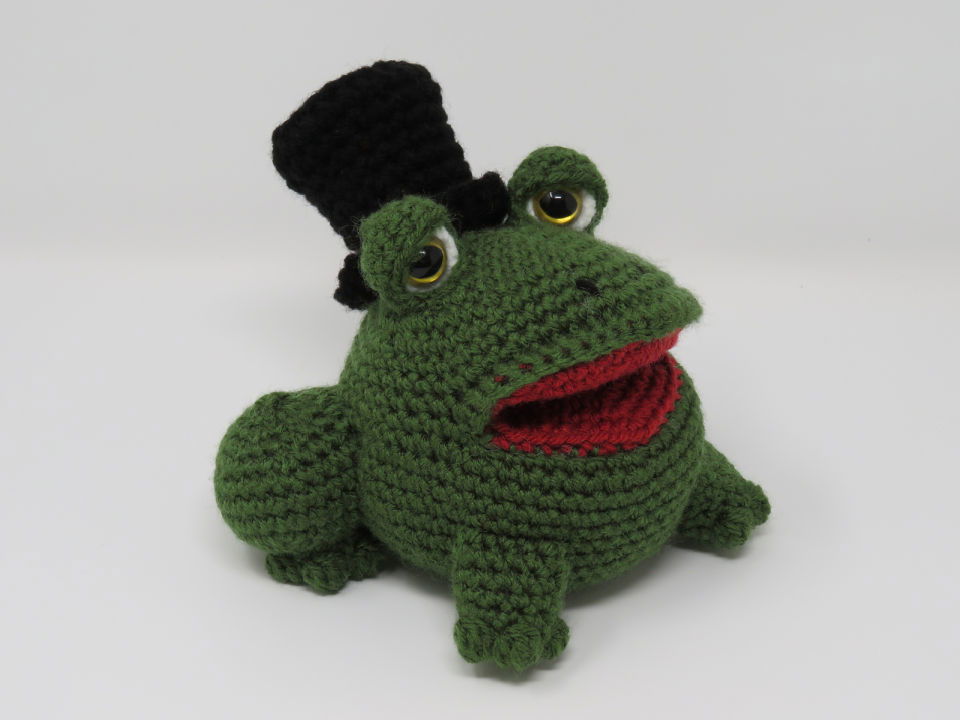 You are introducing Boris the frog – an irresistibly cute crochet pattern with derpy crossed eyes and free-floating eyeballs in his lids! This chubby frog has a lovely open mouth, making him a great element for your next project.
Get creative using a free crochet pattern to create your Boris the frog today! Materials needed: red heart super saver yarn, furls odyssey g (4.00mm) hook, polyfil, two 15mm slit pupil safety eyes, tapestry needle, stitch markers & straight pins. Start crocheting this unique amigurumi frog now! hookedbykati
14. Modern Crochet Wizard Frog Amigurumi Pattern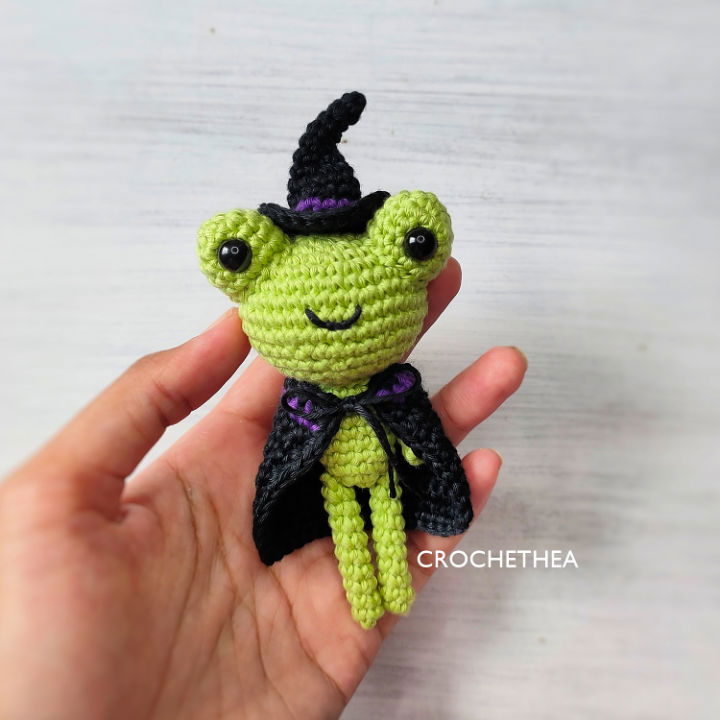 Embrace your inner wizard with this adorable modern crochet wizard frog amigurumi pattern. A perfect project for Halloween, you will love this free crochet pattern's fun and easy design. Make a frog ready to learn new magic to help others by adding a coat and hat – which looks plain but cute in green color!
The size is small for a quick finish so that you can bring this little creature to life quickly. With supplies available at any craft store, you can use your imagination and add accessories such as buttons or yarn pom-poms to make it even more special. Get creative with this beginner-friendly pattern today! crochethea
15. New Crochet Fred the Frog Amigurumi Pattern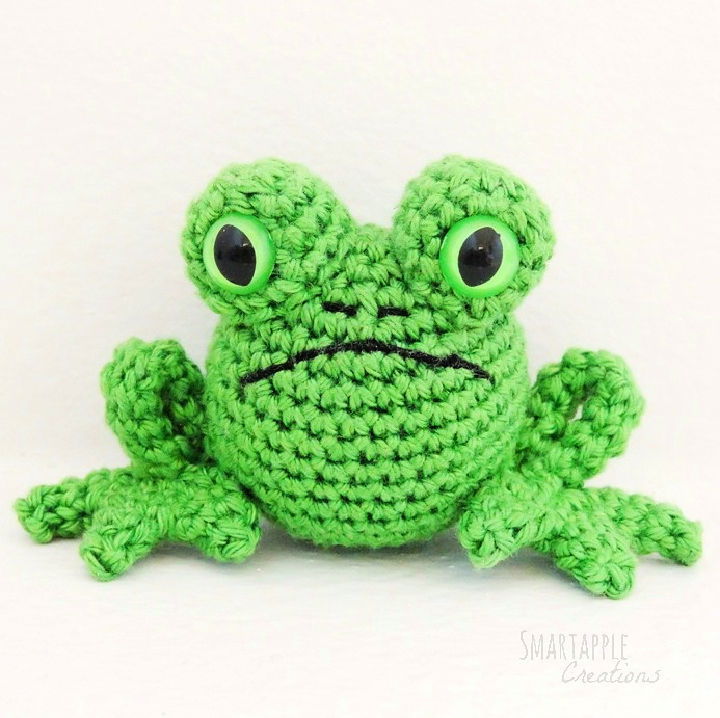 Are you looking for an adorable and friendly amigurumi companion? Meet Fred, the frog! A grumpy but cute with a green body and red cheeks. And the best part is that he's easy to make – even a beginner crocheter can try it! You'll need basic crochet skills, cotton yarn in two colors, safety eyes, fiberfill and other supplies.
This free pattern gives you all the instructions to create your frog. Put him on your key chain or bag charm as a reminder of how amazing handmade items are, or keep him as a toy for someone special – he fits perfectly into little hands! Why don't you give it a try today? applecreations
16. Fancy Frog Amigurumi Crochet Pattern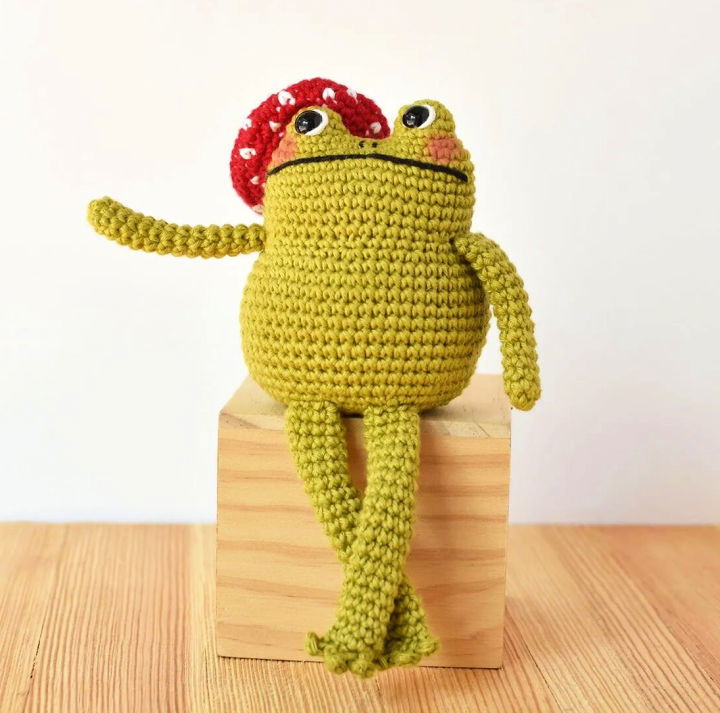 Let your imagination soar with these unique and creative crochet frog patterns! Create a unique and charming frog with this fancy frog amigurumi crochet pattern! This sweet softie pattern is filled with character, from their quirky smile to their toadstool beret.
Make your own crocheted friend with this easy-to-follow amigurumi pattern that requires basic stitches such as single crochet and slip stitch. You'll need yarn in two colors, polyester fiberfill stuffing, a tapestry needle, scissors, and two safety eyes of 12mm size or black felt for sewing the eyes & nose. Assemble this one-of-a-kind stuffed frog toy and enjoy the satisfaction of making something special by hand! tinycurl
17. Cool Crochet Felicity the Frog Pattern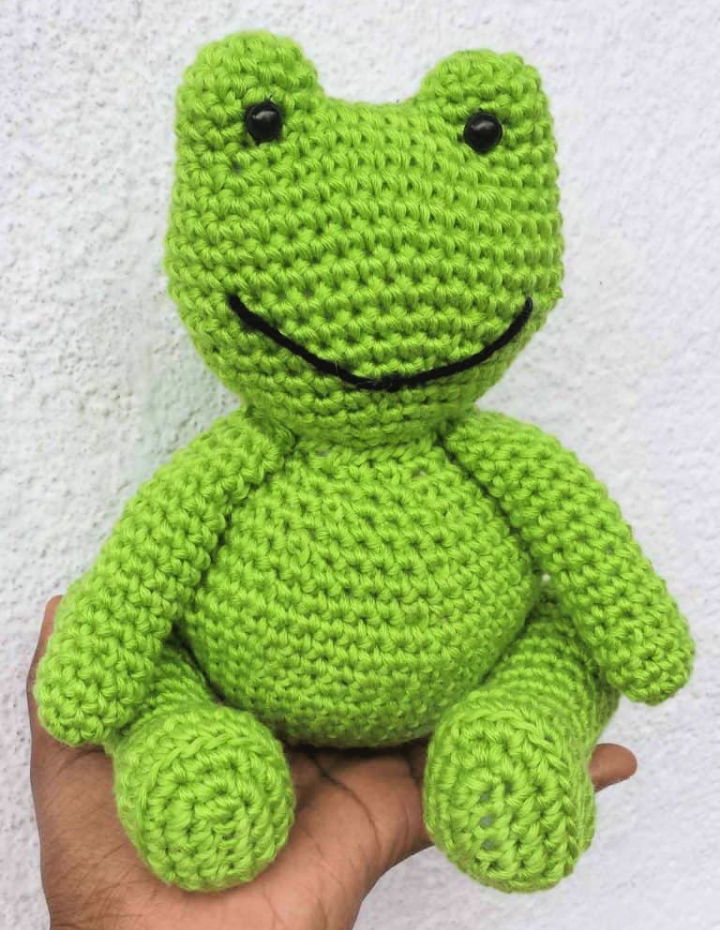 Make your own super cute crochet frog with this cool crochet felicity, the frog pattern! This amigurumi pattern only requires simple supplies with a few amigurumi techniques and single crochet stitches.
You'll also need a 3.5mm hook for DK weight yarn, a 4 or 4.5mm hook for worsted weight yarn, an 8-mm black safety eyes, fiber filling & a yarn needle & stitch marker to complete the look. Create an unforgettable gift that's sure to be loved by all! desertblossom
18. Crochet Small Frog – Free Pattern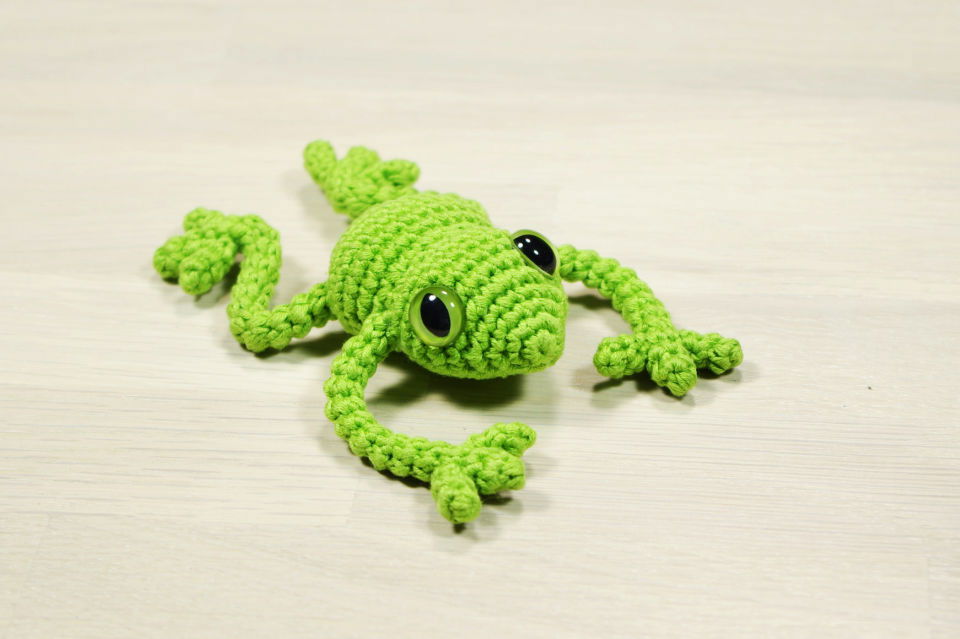 Let your creativity shine with this incredibly cute small crochet frog! Its finely detailed and fiddly design makes it the perfect project for an experienced crocheter. Despite this challenge, there's no need to be intimidated as it is simple to make.
And when you have all the supplies – yarn, 2.25-3mm hook, fiberfill and 12mm safety eyes – you'll turn out a tiny tree frog that will bring smiles wherever it is seen! So come on in and give crochet a go – let your creative side show with this fun and rewarding project! kristitullus
19. How to Make Frog Amigurumi – Free Crochet Pattern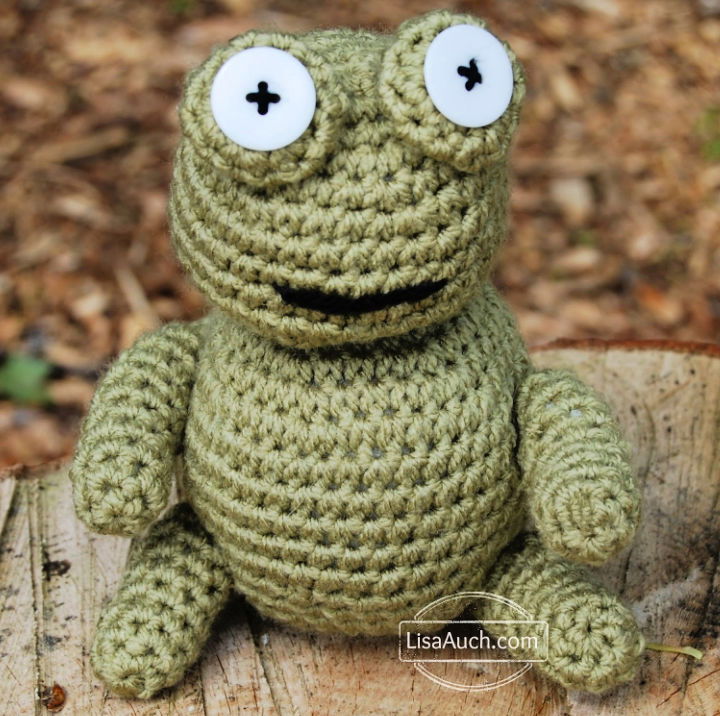 Fall in love with this adorable little guy! Make your crochet amigurumi frog, Gilbert the crochet frog, with this free crochet pattern. Provide all the supplies needed to make this lovable stuffed toy (including yarn, stuffing and safety eyes).
This friendly frog can be made in one night and will surely make everyone smile. Get started on making your very own Gilbert right away! crochetpatterns
20. Crochet Frog Hat Pattern for Adults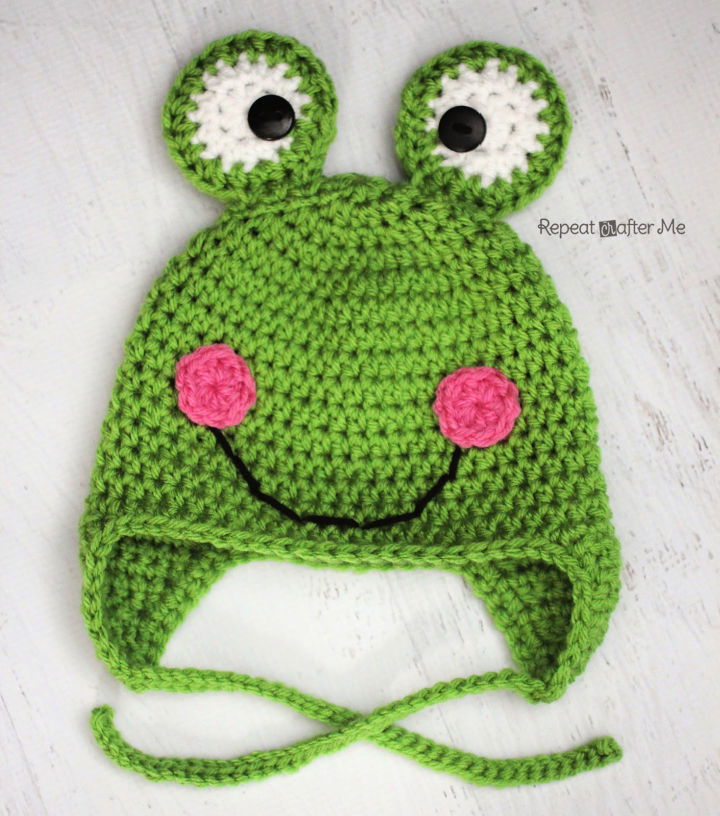 Warm up your little one with this crochet frog hat pattern! Perfect for a boy or girl, this cuddly design quickly creates and uses only one color – making it the perfect way to introduce kids to new yarns. You will love adding an extra-special touch with a tiny crown for a frog prince or princess or even a little red tongue.
With just two buttons for eyes and worsted weight yarn needed, you can do this cute crochet project in no time – great for keeping them cozy during cool spring weather. Grab your supplies now and start crafting! repeatcrafter
21. Adorable Crochet Frog Bucket Hat Idea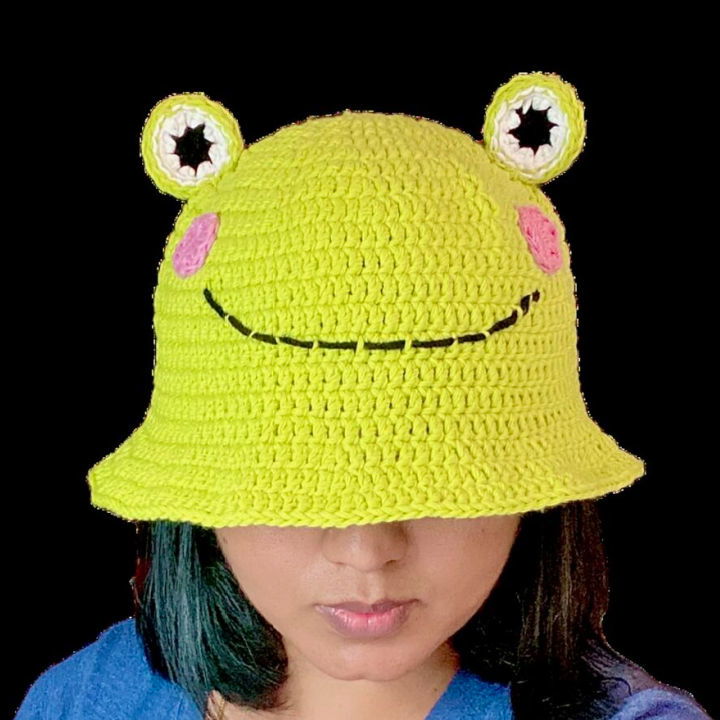 This adorable crochet frog bucket hat is the perfect free pattern for any crochet beginner to attempt. It's a simple and fun hat that you'll love making! It includes hot green, white, black, and rose pink yarn to create an eye-catching frog bucket hat with flair.
All you need is a 4mm crochet hook, scissors, stitch marker and some yarn for this easy project that can be easily completed. Get creative and make this crochet idea come alive – your friends will be in awe of your skills! bowlcrochet
22. Crocheted Mini Frog Amigurumi – Free Pattern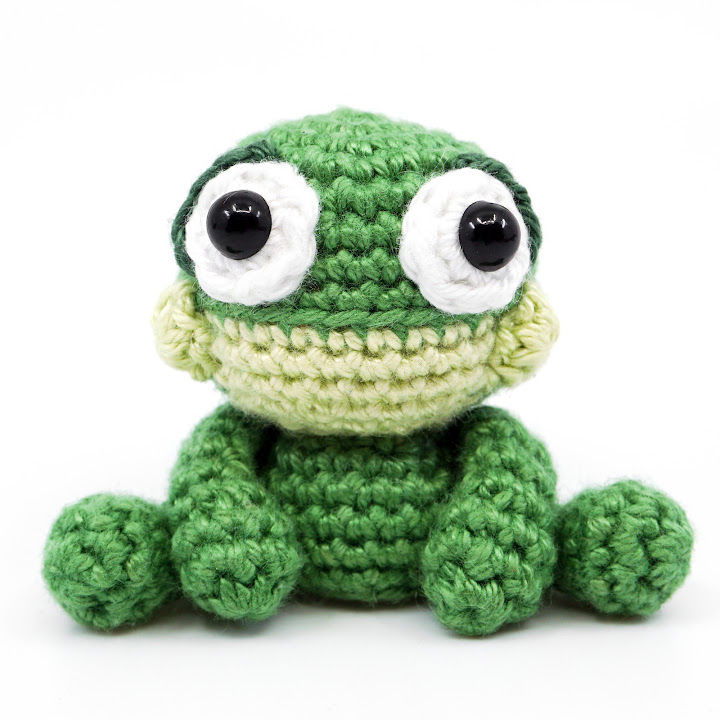 Love to crochet but need more time? This crocheted mini frog amigurumi is the perfect project for you! With supplies like "Schachenmayr Catania" yarn and a 2.5mm crochet hook, this friendly inhabitant will come to life in no time.
Measuring 4.5 cm when sitting, you can use it as a keychain or an embellishment; the possibilities are endless! So why not bring home this little frog today and get creative with your crochet skills? supergurumi
23. Best Froggy Ear Flap Hat Crochet Pattern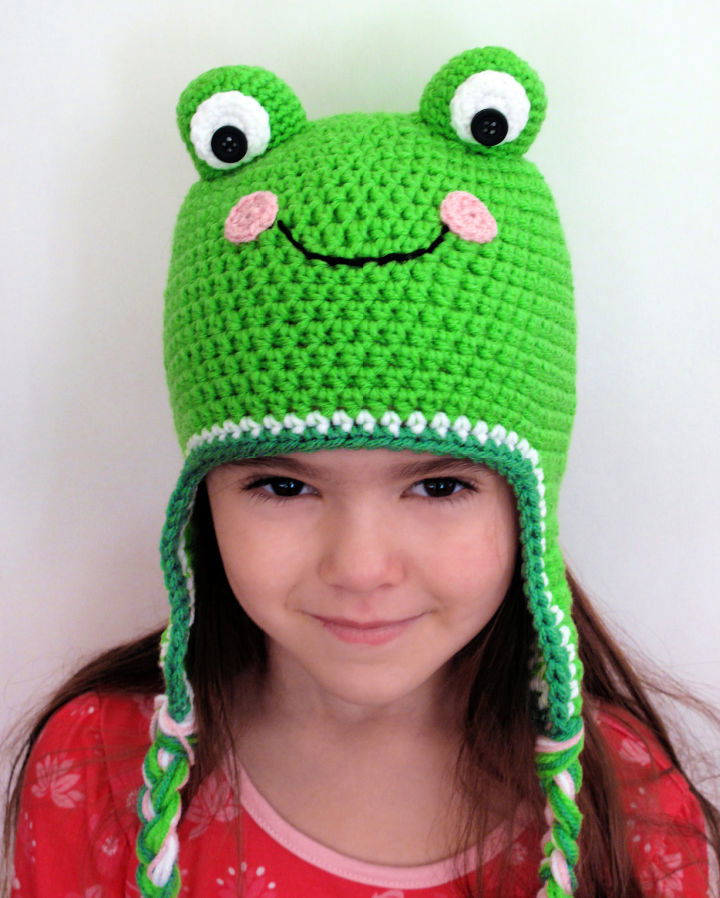 This froggy ear flap hat crochet pattern gives your child a unique and adorable look! This free pattern is sure to be the hit of the playground, featuring toys and frogs that are sure to draw attention.
This crochet hat looks cute on kids, from colorful green yarn to tiny details like eyes and noses. All you need is some yarn, needles and stuffing; we provide all the instructions to complete this fashionable accessory. Let your little one show off their froggy flair while staying warm in winter with this froggy ear flap hat crochet pattern! enchanted
24. Simple Crochet Freddie Frog Pattern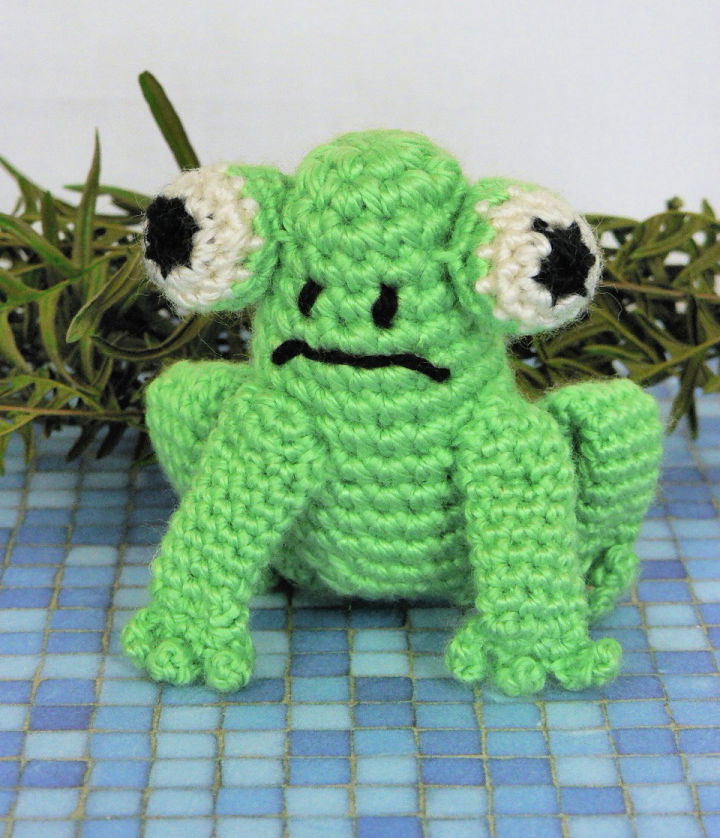 Make your next crochet project come to life with this adorable Freddie frog pattern! This cute little guy will surely bring a smile to any face – perfect for kids and adults alike! Using amigurumi techniques, Freddie is an incredibly friendly frog who will fit in anywhere. When you're done creating him, he'll be there when you need comfort or want someone to talk to.
You can create your little buddy today with the right supplies, like yarn and stuffing. So why wait? Get crocheting with this simple crochet Freddie frog pattern now! naturallycaron
25. Gorgeous Crochet Rainbow Frog Pattern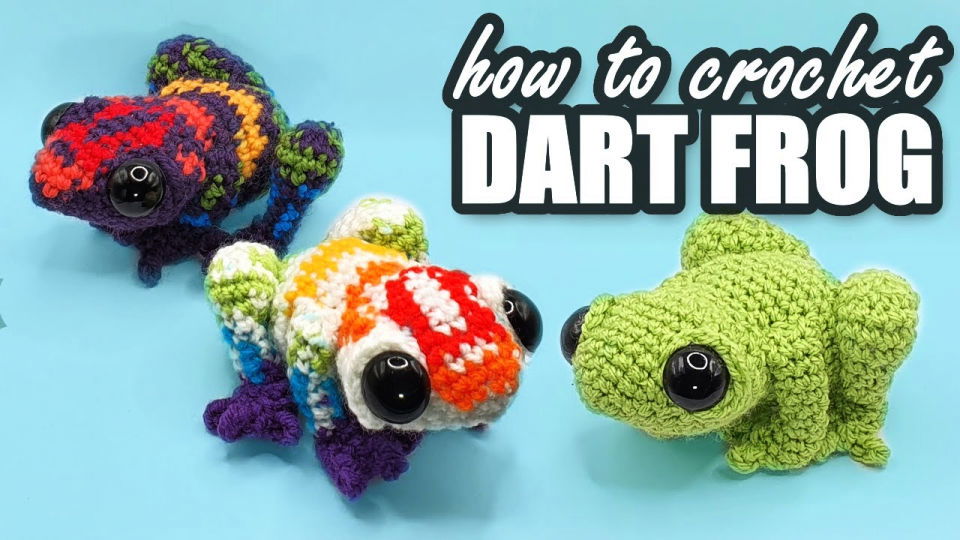 From small to large, create your own custom froggy friend with one of our unique crochet frog patterns! Brighten up any room with this unique crochet rainbow frog! This adorable little guy can be made in whatever colors you'd like so that you can match your decor perfectly.
Plus, it's the perfect project if you're short on time — these frogs take less than an hour to make, and they look cool when finished! All supplies needed for this crafty creation are included, and easy-to-follow instructions are available. Get creative and bring a pop of color into your home with a one-of-a-kind crochet rainbow frog today!
26. Free Frog Beanie Crochet Pattern for Beginners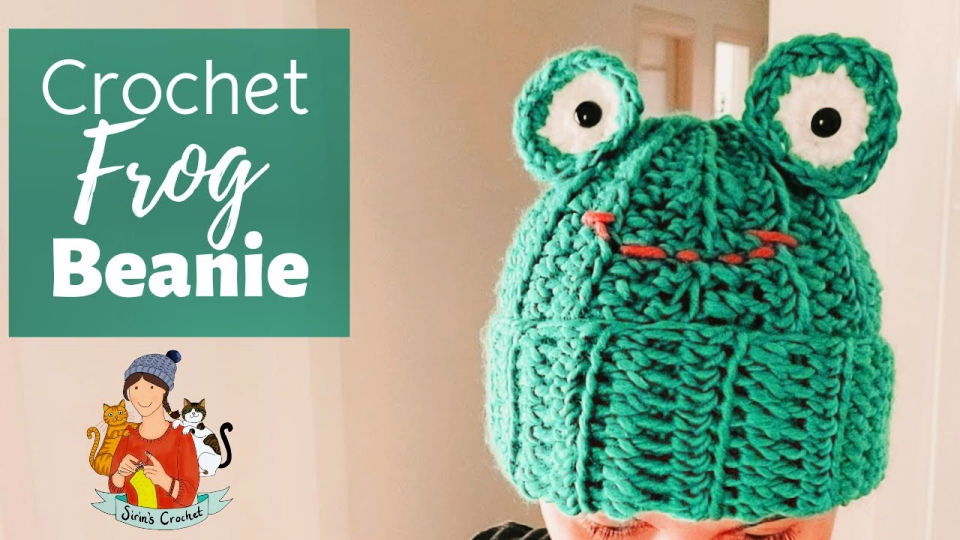 Start crocheting your very own frog beanie today with this easy-to-follow pattern. The adjustable design lets you easily adjust the sizing for an adult version of a cute frog hat! Even if you're a beginner, there is no need to worry – this pattern was designed with beginners in mind, and all the supplies are available at your local craft store.
So what are you waiting for? Start crafting your unique beanie now and show off that inner creativity!
27. Crochet Frog Amigurumi Design – Free Pattern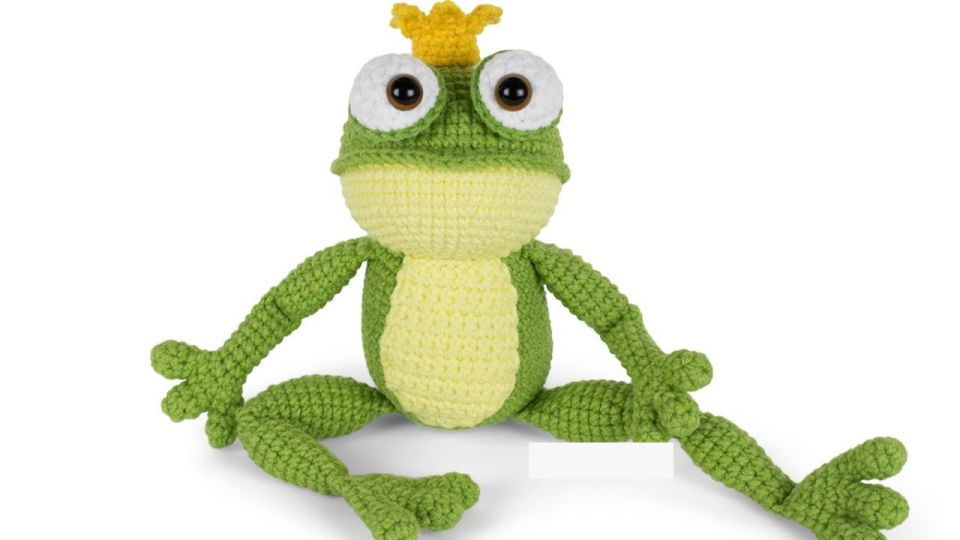 If you're looking for an adorable and fun project, check out our selection of crochet frog patterns! Unlock your inner wizard with this magical crochet frog amigurumi pattern! Create a unique and modern handmade crochet design step by step – perfect for any level of a crocheter, from beginner to advanced.
The pattern will provide you with all the necessary supplies to make a one-of-a-kind piece that no one else has ever seen. With its detailed instructions, each stitch is easy to follow and manage – so what are you waiting for? Get ready to cast your spell and start crafting today!
28. Easy Crochet Frog Amigurumi Tutorial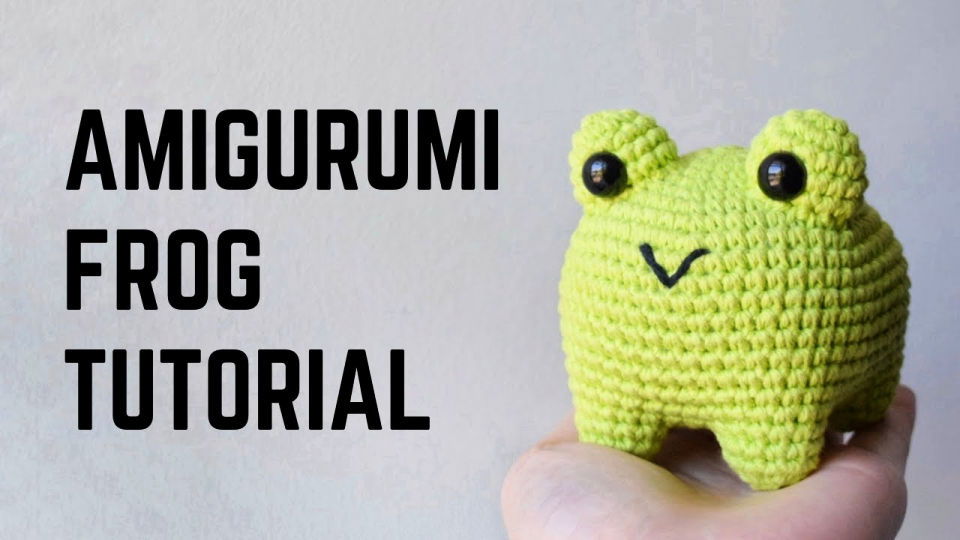 Excited to learn how to make your unique amigurumi frog? Look no further than this amazing mocha stitch crochet frog amigurumi tutorial! You'll have fun creating a cute and fluffy chubby design, and the best part is that it's completely free.
All you need are basic supplies like crochet hooks and yarn, so get ready to bring your crochet project to life with this easy-to-follow tutorial! With just a few steps, you can make an adorable frog that can become a much-loved family member or even be given as an unforgettable gift.
29. Crochet Frog Amigurumi With Hat and Scarf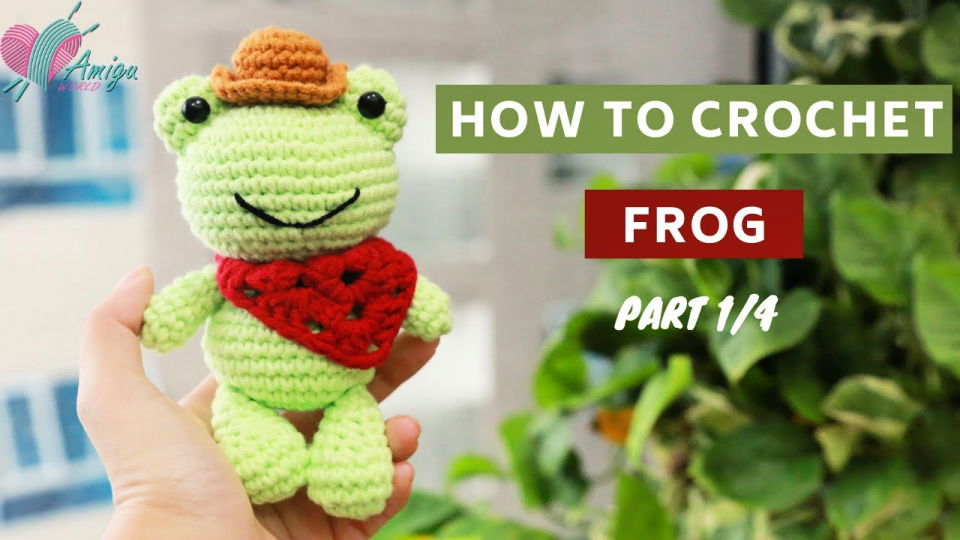 Welcome to the world of fun and cuteness with this adorable crochet frog amigurumi with a hat and scarf!
This amigurumi crochet animal is perfect for any age, from young children to adults. The free pattern includes a list of supplies: yarn (4 plies) in green, red, brown and dark brown colors; 4-5 mm crochet hook; fiberfill stuffing; sewing needle; and scissors. So grab your supplies now and start crafting this amazing frog amigurumi that will bring joy to anyone who sees it!
Create something special today – you can make a unique gift or add color and charm to your home decor.
30. Quick and Easy Crochet Frog Amigurumi Pattern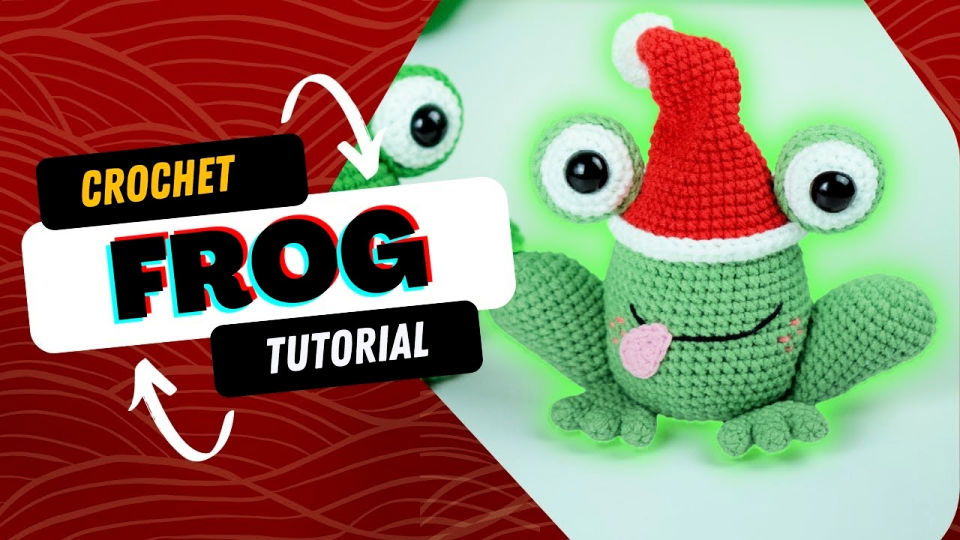 Are you looking for a fun, quick and easy crochet project? Why not make your adorable frog amigurumi? This PDF pattern includes easy-to-follow instructions to help even the most novice of crafters create their very own super cute animal friend.
You only need basic supplies like yarn and a few other materials to start. The perfect beginner's level tutorial will show you how to stitch this delightful little fellow in no time! So grab your yarn and crochet hook; it's time to start making your new favorite little buddy – the friendly frog amigurumi!
Related Free Crochet Amigurumi Patterns:
Create your own adorable characters with these free crochet amigurumi patterns! Put your imagination to work and have fun crafting cute little friends that are sure to bring a smile to anyone's face.
Easy Crochet Amigurumi Patterns:
Conclusion:
Crafting can be fun and engaging to bring a unique piece of art or decor into your household. A great craft for beginners is crocheting frogs! With 25 free crochet frog patterns from simple amigurumi to realistic plush creatures, there are plenty of designs to choose from. From small patterned items for keychains to larger decor pieces for pillows or wall hangings, you'll be able to find the perfect project.
Don't forget that learning something new is always exciting, and creating an outcome can provide lots of satisfaction. So if you're looking for the right craft that's fun and easy enough even for children, troll no further – let your hands get productive with crocheted frogs! Take advantage of our link offering free crochet frog patterns and frog amigurumi patterns!