Learn how to crochet a bee pattern with these 25 free crochet bee patterns with detailed patterns! Each crochet bee pattern lets you make an easy, crocheted bee character in various sizes and styles, whether a crochet amigurumi bee, crochet bumble bee pattern or even an adorable crochet tiktok bee. The free crochet bee patterns include a range of crocheting abilities and come in PDF form or written instructions.
You can go for the standard yellow amigurumi bee or try something more creative like a giant crochet bee, a honey bee crochet pattern, or even a crocheted version of everyone's favorite pixelated critter in Minecraft. Don't hesitate – to check out these free crochet bee patterns today!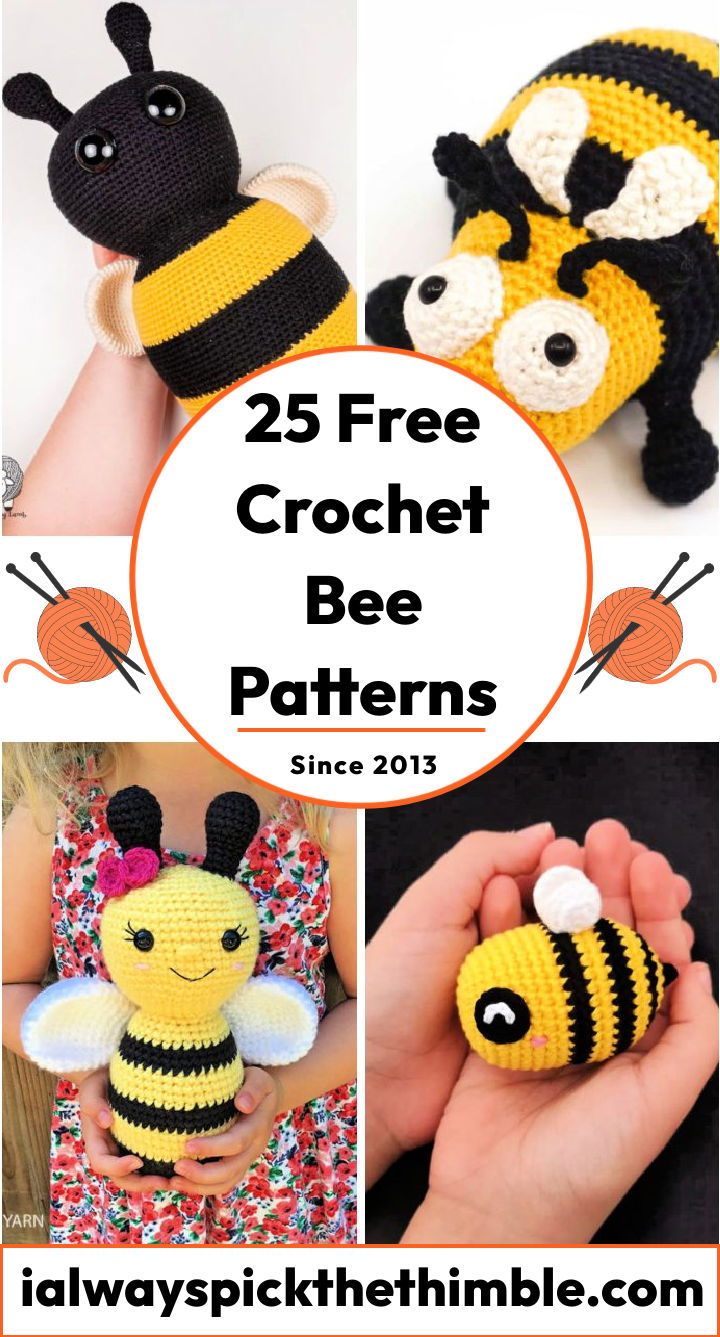 Free Crochet Bee Patterns (Amigurumi Pattern)
Bring a touch of nature to your home with these 25 free crochet bee patterns! This collection will provide the perfect crochet bee pattern for beginners. From how to make a basic crochet bee plush to intricate 3D amigurumi designs, find the best and cutest ways to create these buzzing pollinators. Follow step-by-step instructions and quickly bring life into any room while learning a new skill simultaneously. Enjoy crocheting adorable crochet bees today!
1. Free Crochet Bumble Bee Pattern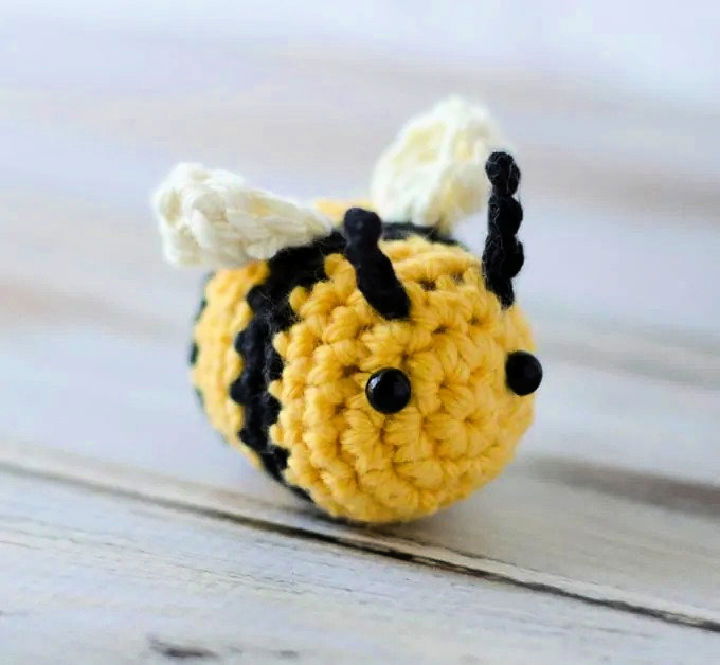 This free crochet bumblebee pattern brings a little of the outdoors into your home! This adorable design is very quick and easy to make, so you'll have it done in the evening. The easy-to-follow instructions include what materials you need: a 4mm crochet hook, worsted weight yarn, tapestry needle, and scissors. So much fun to crochet – the bee looks pretty cute when finished – bring some cheer into your home today with this cheerful bumblebee! crochet365knit
2. How to Crochet Bee – Free Pattern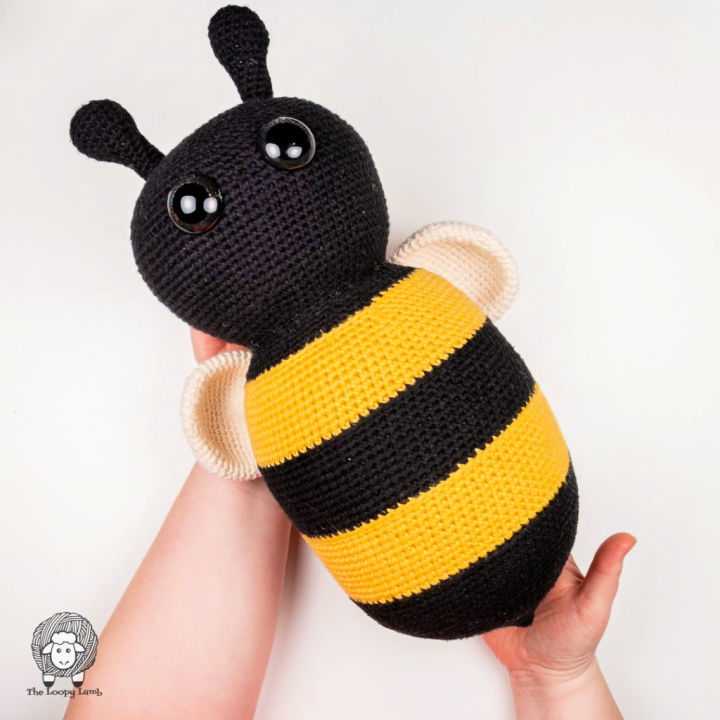 Welcome to the world of amigurumi! With this easy-to-follow crochet pattern, you can create a super cuddly and oversized barnabee bumbles bee. Perfect for beginners, it features simple stitches and nearly seamless color changes.
All you need is a 3.5 mm furls crochet hook, wecrochet snuggle puff yarn, 30mm safety eyes, stuffing material like poly-fil stuffing, stitch marker and a tapestry needle for accessorizing your finished piece. What are you waiting for? Gather your supplies and get started with this free crochet bee pattern today! theloopylamb
3. Free Crochet Pattern for Bumblebee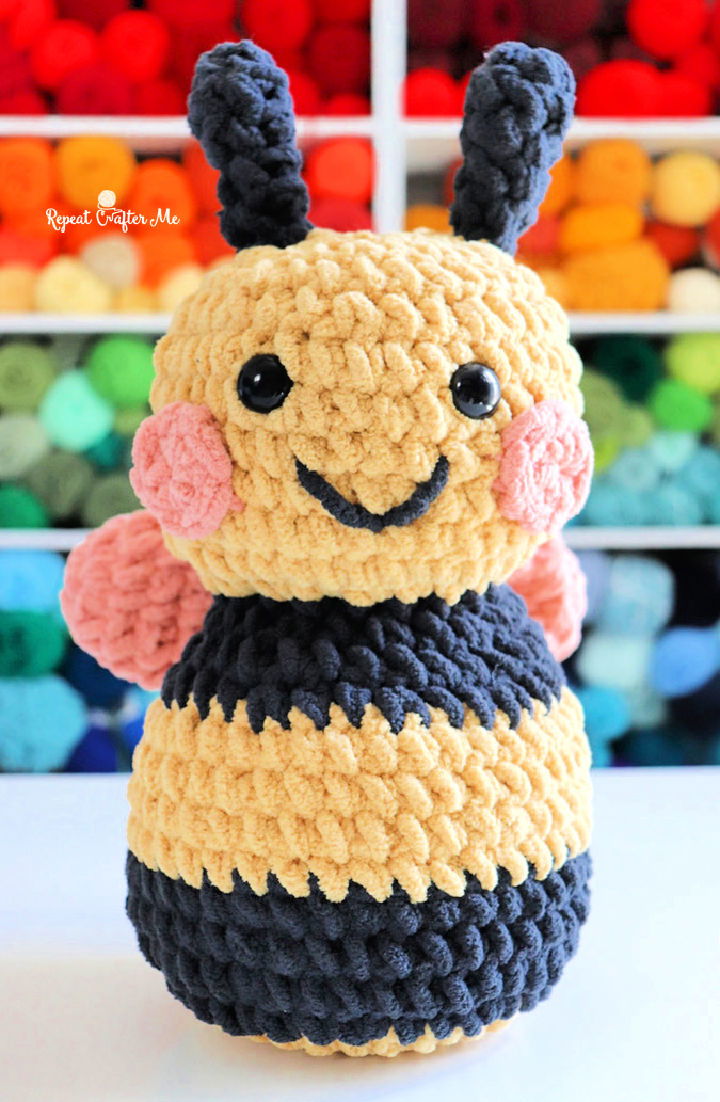 Be the talk of your next crochet gathering with this crochet o'go bumblebee free pattern! This busy little bumblebee is cute and squishy, with very simple details you will get the hang of in minutes. Embellishments like the wings, rosy cheeks, and antennae make it look much prettier!
You only need Bernat blanket o'go yarn, a size K crochet hook, two large black safety eyes, poly-fil fiber stuffing and a tapestry needle to complete this project. So start crocheting now and add some buzz to your home decor collection. repeatcrafterme
4. Pretty Crochet Bee Stacking Toy Pattern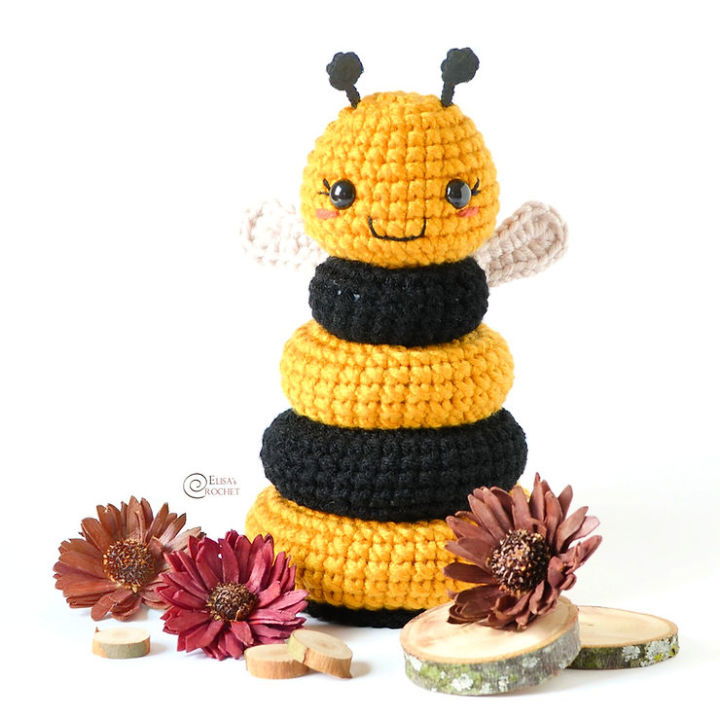 Create an adorable amigurumi with this free crochet bee stacking toy pattern! Even if you're a beginner, the instructions are so easy to follow that they'll make the project really quick and simple. The cute design will look beautiful when gifted or used as a fun and unique stacking toy for your little one. The materials needed include bulky (5) yarn, 5 mm / 3.5 mm crochet hooks, and poly filling – everything you need to craft this delightful item is included in this free pattern! elisascrochet
5. Crocheting a Bumble Bee – Free Pattern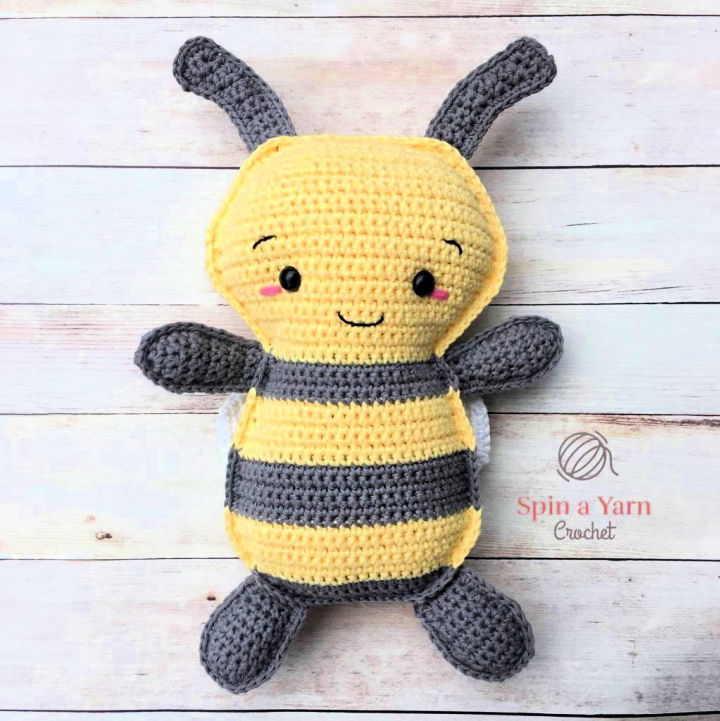 Create a unique, handmade gift with this bumble bee free crochet pattern! It's perfect for any nursery and makes a great baby shower gift. The instructions are easy to follow – even for a beginner – and all you need is a 3.5mm hook, Bernat handicrafter lightweight cotton yarn, black crochet thread, 12mm safety eyes, stuffing and a tapestry needle. Bring your little bee to life in no time with this fun project that looks so cute when complete! spinayarncrochet
6. Crochet Little Bumble Bee Amigurumi Pattern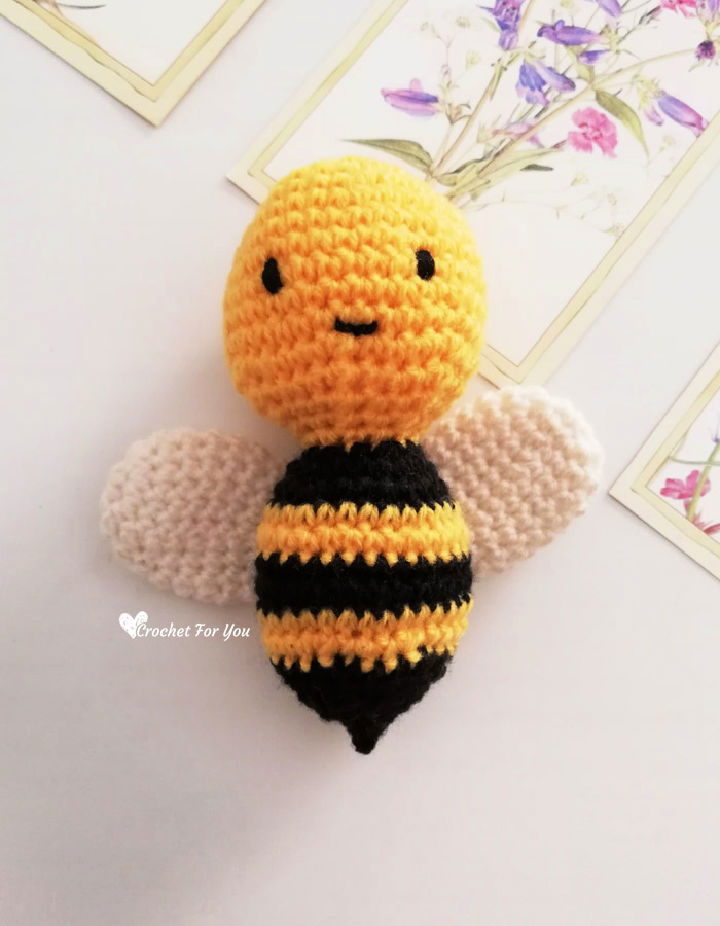 Make your own little bumble bee amigurumi with this easy and fun-to-make free crochet pattern. It's a great project for the nursery decor and mobile, making an adorable companion for kids to go on their adventures.
With only DK weight yarn, a small amount of white color yarn, an E-4 3.5mm crochet hook, a tapestry needle, fiberfill and the basic skills required, you can create something so cute in just a few hours! Skill level is Easy, and finished sizes are about 5″ tall. Get crafting now and download the free pattern today! crochetforyou
7. Crocheted Flora the Bee – Free Pattern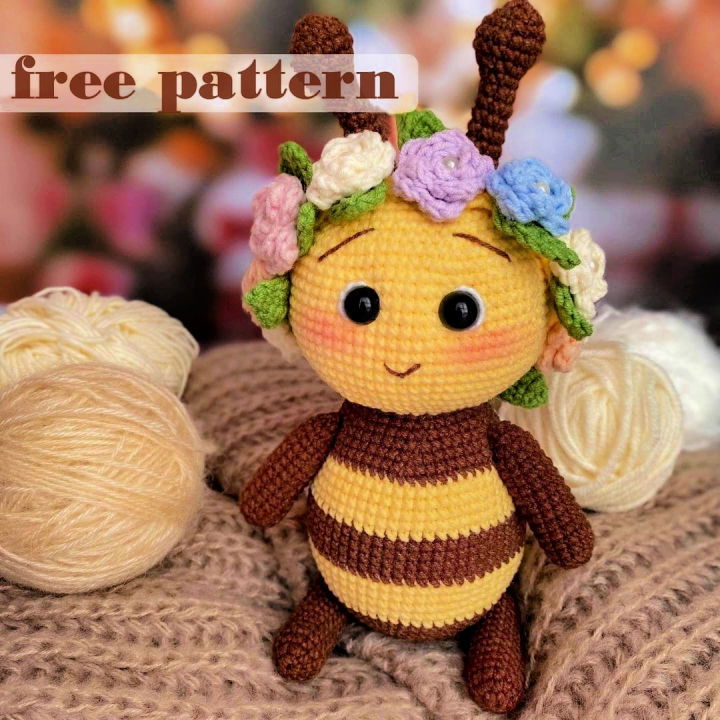 Create the cutest amigurumi bee with this flora the bee crochet pattern! This adorable little spring honey bee is wearing a wreath of flowers, making a wonderful gift for any occasion. The finished size of this fun crochet pattern is approximately 22 cm, so it's sure to look beautiful in your home as a true friend for children or adults alike.
Follow this step by step instructions to create flora the bee yourself – you'll need yarnart jeans yarn, 2.25 or 2.0 mm hook size, 10 mm safety eyes, some beads for flower decorations, dry pastel crayon for cheeks and sewing needle & scissors, pins knitting needle fiberfill and other materials too! amigurum
8. Free Crochet Bee Pattern for Beginners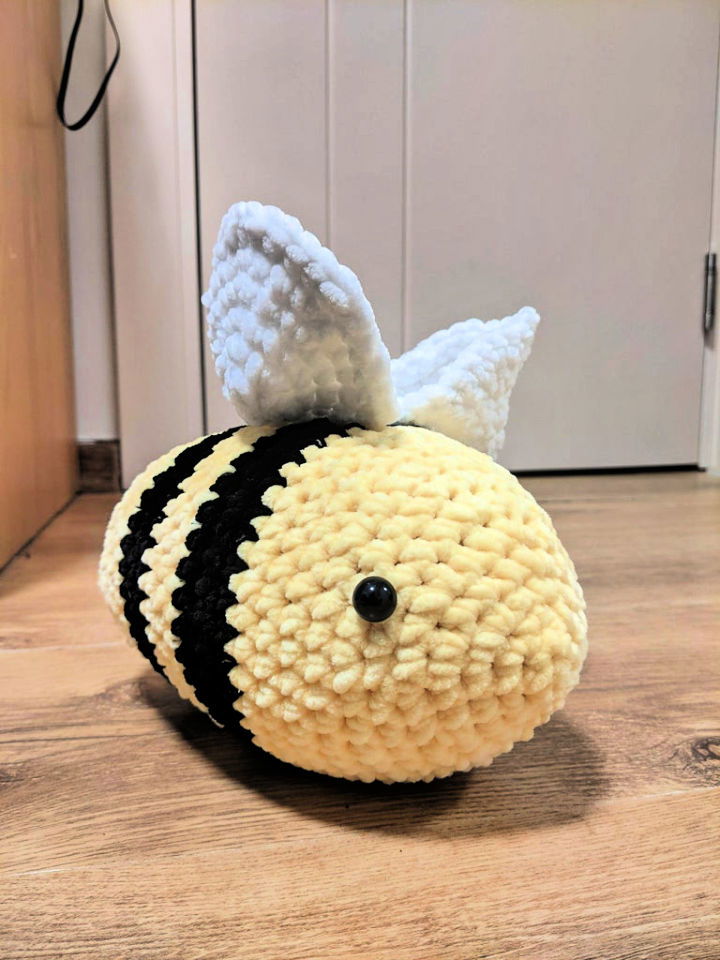 Create a simple and adorable crochet bee with this easy-to-follow pattern! The bee is adjustable to fit any size and looks amazing. Make it even cuter by attaching a clip or keychain! You will need yarn, a matching crochet hook, polyester fiberfill, amigurumi eyes or buttons, needle and string, and a thick needle for assembly. With great texture, you'll be sure to love the end result of your own cute little bee. Give it as a gift or keep it for yourself – either way, everyone will adore this crafty creation! instructables
9. Cute Crochet Chubby Bumble Bee Amigurumi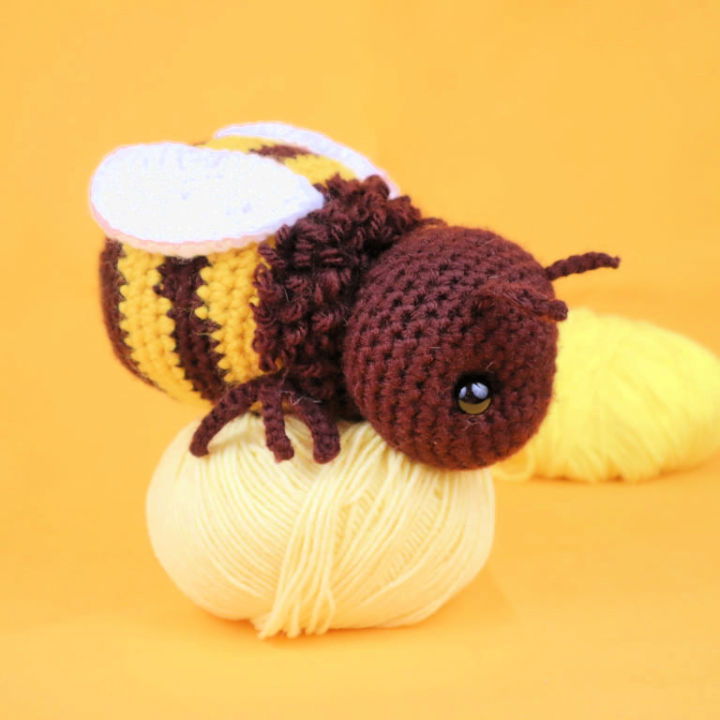 Create the perfect gift for any occasion with this free crochet pattern of a chubby bumble bee amigurumi! Quick and easy to make, this adorable amigurumi will look 'so cute' in its fuzzy yellow-and-black finish. The included instructions feature an easy difficulty level, so even beginners can enjoy creating these bumble bees as gifts. Complete the project using 4/medium weight yarn, 4mm crochet hook, 12mm safety eyes, tapestry needle, scissors, and stuffing – all readily available supplies. stringydingding
10. Gorgeous Crochet Busy Bee Pattern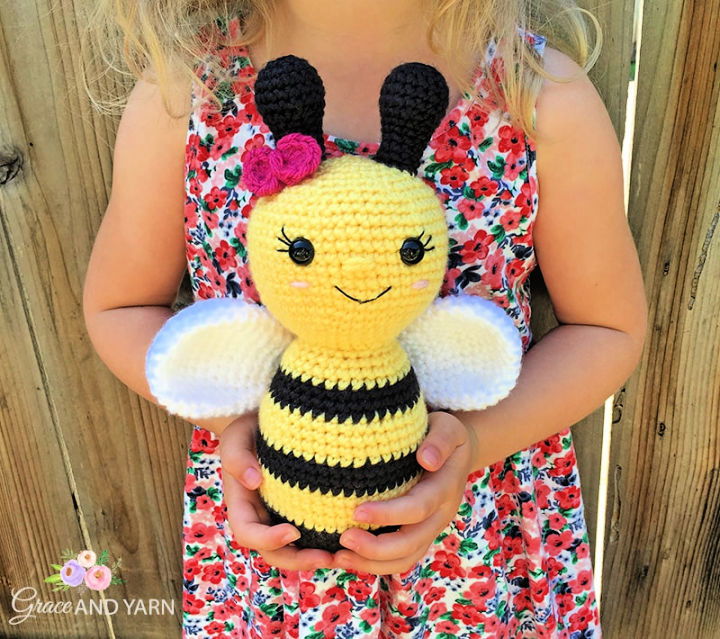 Jump into spring with this adorable free crochet bee pattern! Perfect for all skill levels, even beginners can make a fun and cuddly bee in the afternoon. With detailed instructions and minimal sewing required, you'll have a buzzin' around in no time. Gather your supplies of size 4 worsted weight yarn, 3.5 mm crochet hook, 12mm safety eyes, crochet thread, scissors, tapestry needle & stuffing to get started. This super cute 9.5-inch tall toy is perfect for decorating or snuggling – so grab your hook, and let's start buzzing! graceandyarn
11. Crochet Amigurumi Bee Pattern to Print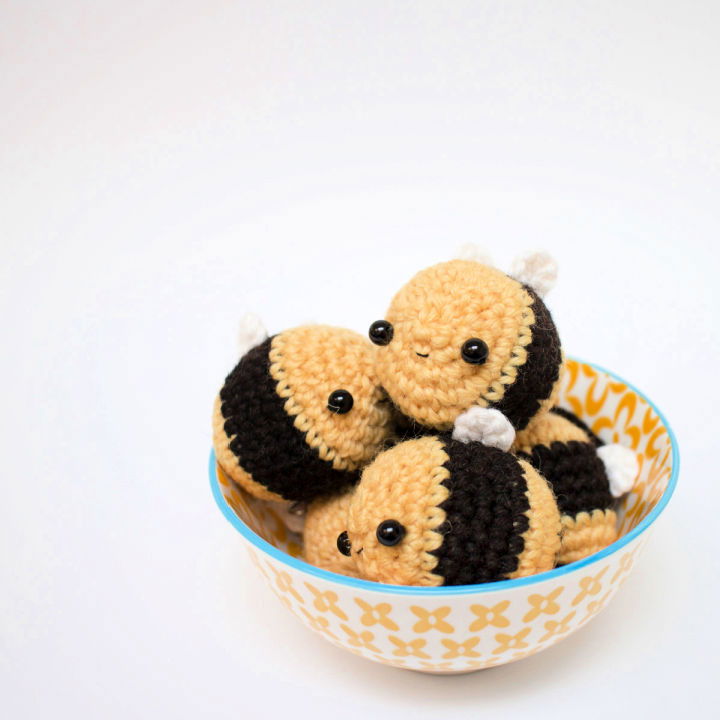 Make your own adorable amigurumi bee with this free crochet pattern. This quick and easy project can be finished in an hour or less and will look cute as decorations, gifts, or even a functional keychain! You'll need medium-weight yarn, 6 mm round black beads, black sewing thread, toy stuffing, a 3.5mm (E) crochet hook, a sewing needle and a yarn needle to get started. Whether you are new to crocheting or just looking for something fun, give this amigurumi bee pattern a try today and enjoy the eye-catching results! mohumohu
12. Crochet Bee Amigurumi – Step By Step Instructions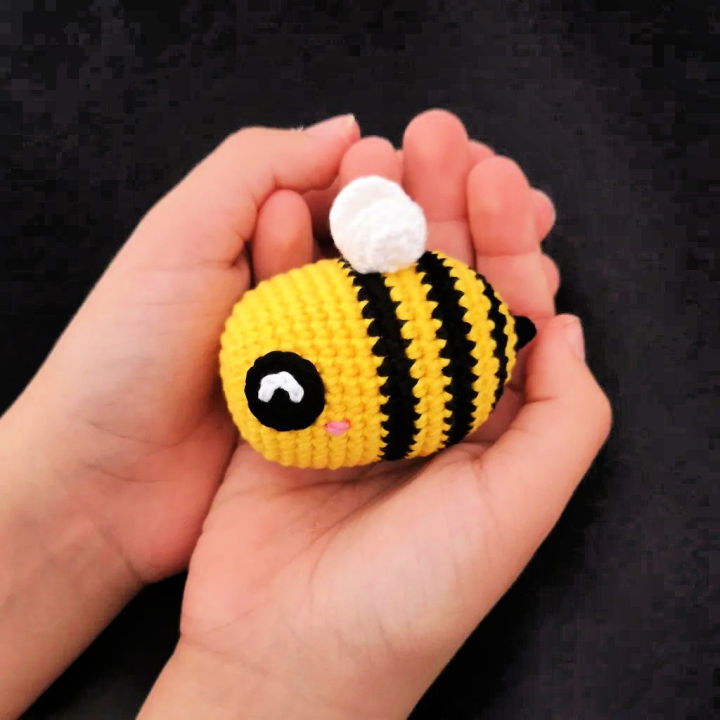 Welcome the summer with this super cute, easy-to-make bee amigurumi crochet pattern! Use your favorite DK yarn and 2.5mm crochet hook for a fun project that looks great with just basic stitches. Don't forget to add some extra charm with crochet eyes – perfect if you're making it as a handmade gift or decoration.
The step-by-step instructions are simple enough; any crocheter from the beginner level can follow them easily! Get creative and use this bee pattern for valentine's day gifts, decorations, or just to show off your crafting skills. Let's get buzzing into Summer! stitchbyfay
13. How Do You Crochet a Bee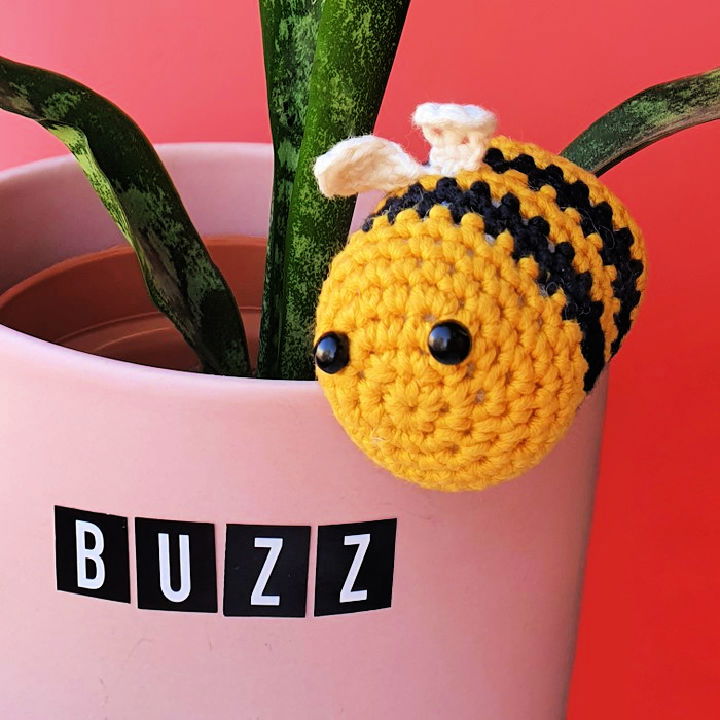 Looking for a quick and easy crochet project that will look amazing? Look no further! This free bee crochet pattern is perfect for beginners and for those looking to perfect their amigurumi skills. You'll need a 3mm crochet hook, DMC Natura Just Cotton, 6m safety eyes, and toy stuffing to make this cute decoration with ease – it's bound to give you a buzz! Get crafting now with this super-easy-free bee pattern today. gathered
14. New Crochet Amigurumi Bumblebee Pattern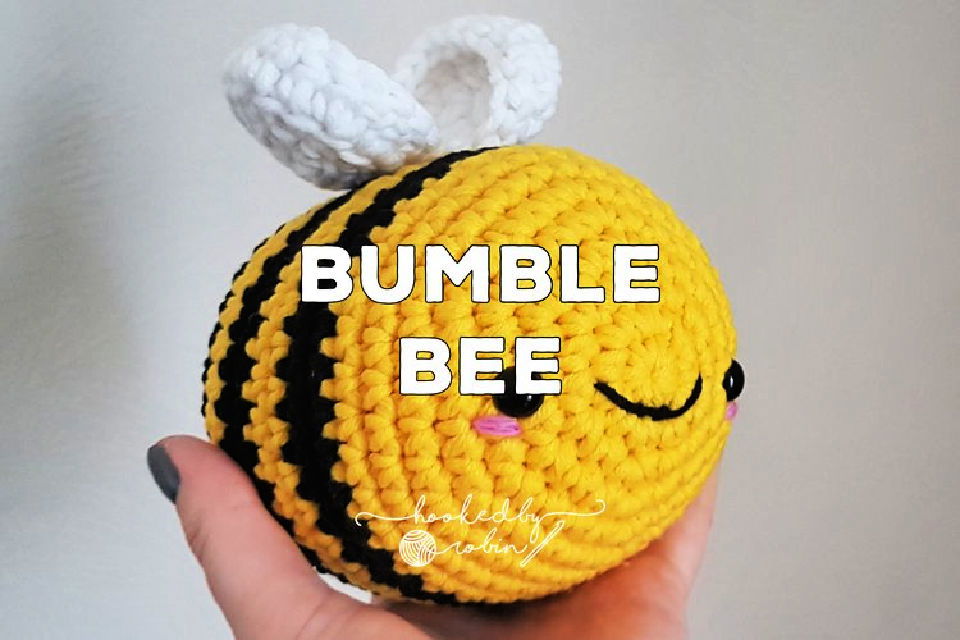 Are you looking for a fun and easy amigurumi pattern? Look no further than this adorable crochet bumblebee! This fat little lozenge shape is simple to make and only requires basic counting skills. The instructions come with an accompanying video tutorial, so if you're unsure how to progress, it makes the learning process easier. All that's needed to complete him are chunky yarn, 10mm safety eyes, stuffing and a 4.5mm crochet hook – what more could you want? Get ready to have a happy little ray of sunshine in your home! hookedbyrobin
15. Crochet Bumble and Queen Bee Pattern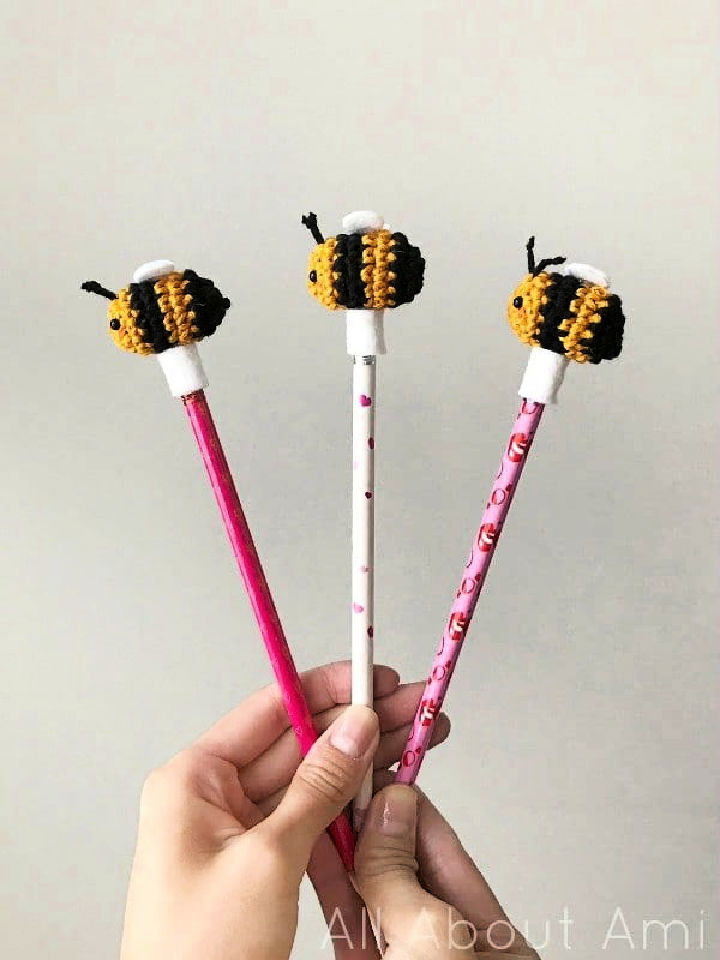 Bring some cuteness to your stationery with this free crochet pattern for amigurumi bumble and queen bee pencil toppers! Perfect as a gift for your little one and their friends, it's also great as a stash-busting project. Step-by-step instructions with the materials needed – lightweight yarn, 2 mm crochet hook, fiberfill, safety eyes & felt – ensure you get everything ready before crafting. With these colorful bees buzzing around in hand, they'll add a touch of whimsical fun when writing or drawing! allaboutami
16. Easy Crochet Small Bee Pattern for Beginners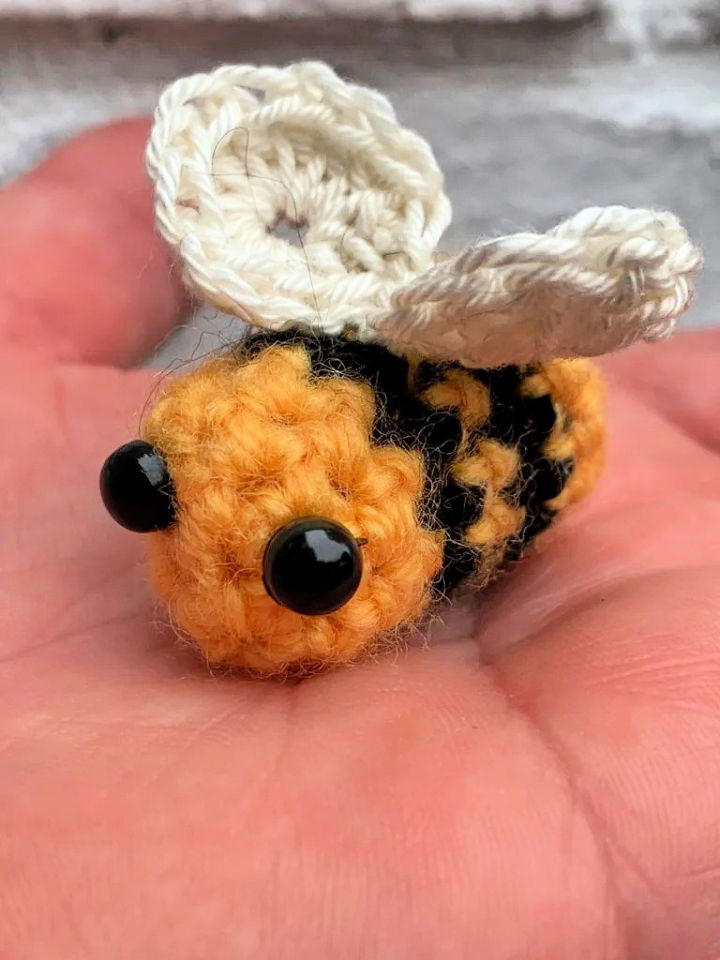 This is the perfect pattern for crochet beginners! Make this really small and quick 2.5 cm x 1.5 cm amigurumi bee in just 10 minutes with double knit weight yarn and a 3.25mm hook. They would make the perfect keychain, too, so easy to make that experienced crocheters won't even sweat! Get the instructions and materials you need to create your own tiny little bumblebee now – they'll fit right in the palm of your hand! offthehookforyou
17. Simple Crochet Bee Applique Pattern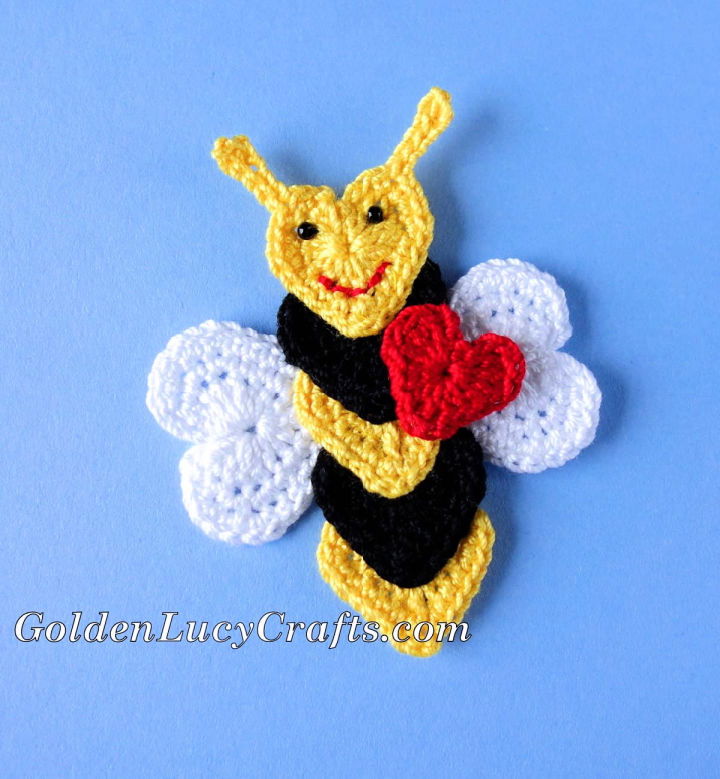 This cute bee applique is perfect for valentine's day craft projects. Make it with hearts, and add it to your handmade cards or scrapbooks for a beautiful embellishment. Instructions are easy enough for someone of an intermediate crochet skill level, and the materials you'll need are cotton crochet thread size 10, a 6/1.8 mm crochet hook, black 11/0 glass seed beads, and red embroidery floss. Get this free pattern now to make something sweet that will bring smiles to everyone who sees it! goldenlucycrafts
18. Easiest Honey Bee to Crochet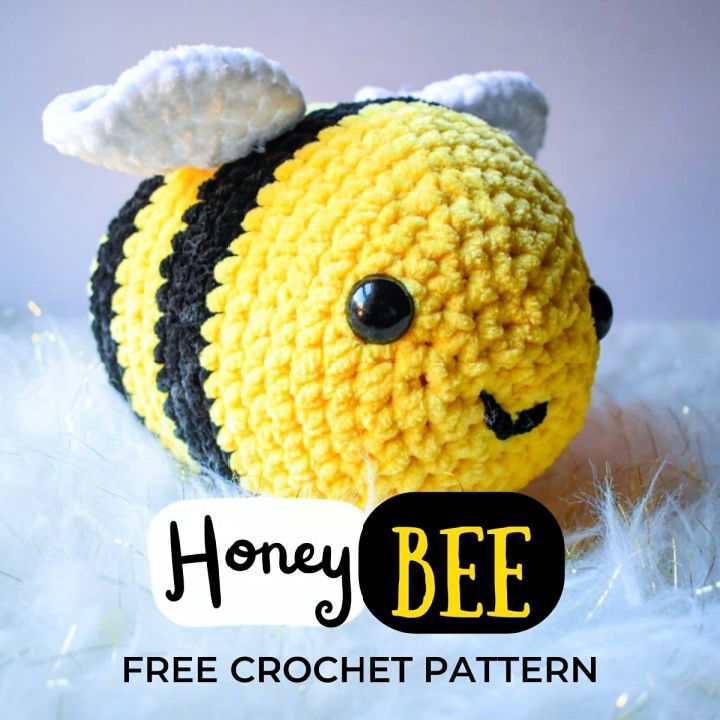 Bring home your very own hive with this easy crochet honey bee pattern! Perfect for confident beginners, you can make your bees in any size you like. Follow the simple instructions and helpful diagrams to look beautiful. With premier parfair chunky yarn, a 4.5 mm (USA 7) crochet hook and other materials such as scissors, tapestry needle, toy stuffing and stitch marker provided – it's sure to brighten up your day. Whip up a whole hive of these cute little honey bees today! stardustgold
19. Crochet Bumble Bee Hat and Tushie Cover Pattern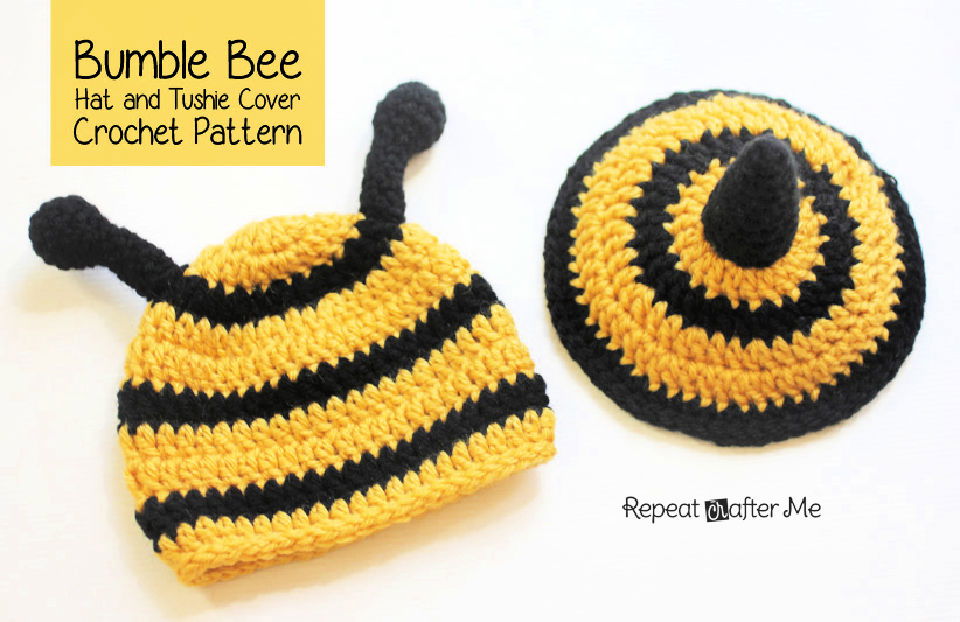 Make your baby look adorable with this crochet bumble bee hat and tushie cover pattern! This easy-to-follow project includes great textured details and is perfect for beginners as a handmade gift. Made with lion brand Vanna's Choice yarn, a size H crochet hook, a small amount of poly-fil, and a tapestry needle, it is sure to be both fun and easy to make. Your little one will look pretty cute in their new outfit! Get the materials you need now and start crafting today. repeatcrafterme
20. Crochet Burnie Bee Idea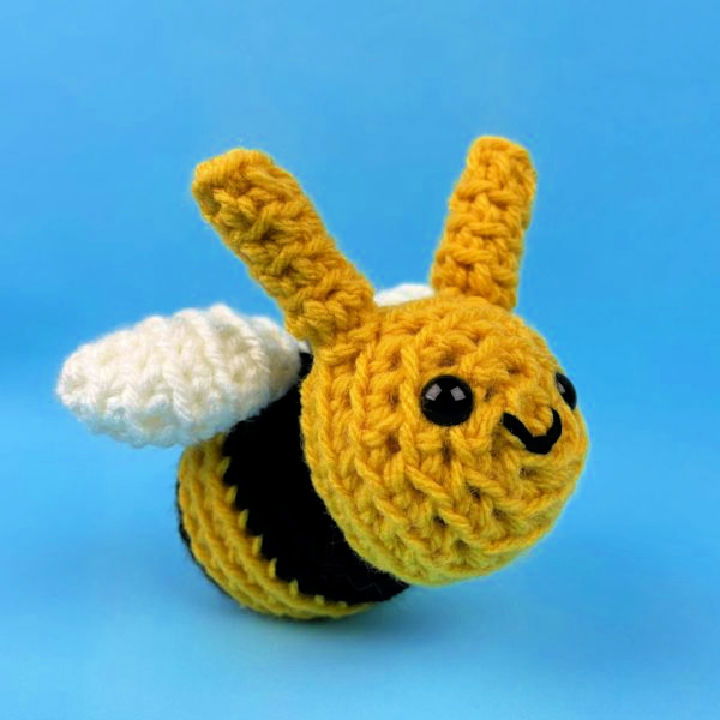 Bring a bit of nature indoors with the burnie bee crochet pattern! This adorable bumbler bee is 3" tall and 4.5" long when made with worsted weight yarn, making it super quick and easy to stitch up – perfect for gifting or home decor! You'll also need two 9 mm black animal eyes, a tapestry needle, some stuffing and three colors of yarn. With this step-by-step guide, even beginners can make this cute little bee that looks beautiful in any room. Download the free burnie bee crochet pattern now and create something special today! shinyhappyworld
21. Unique Free Crochet Bumble Bee Pillow Pattern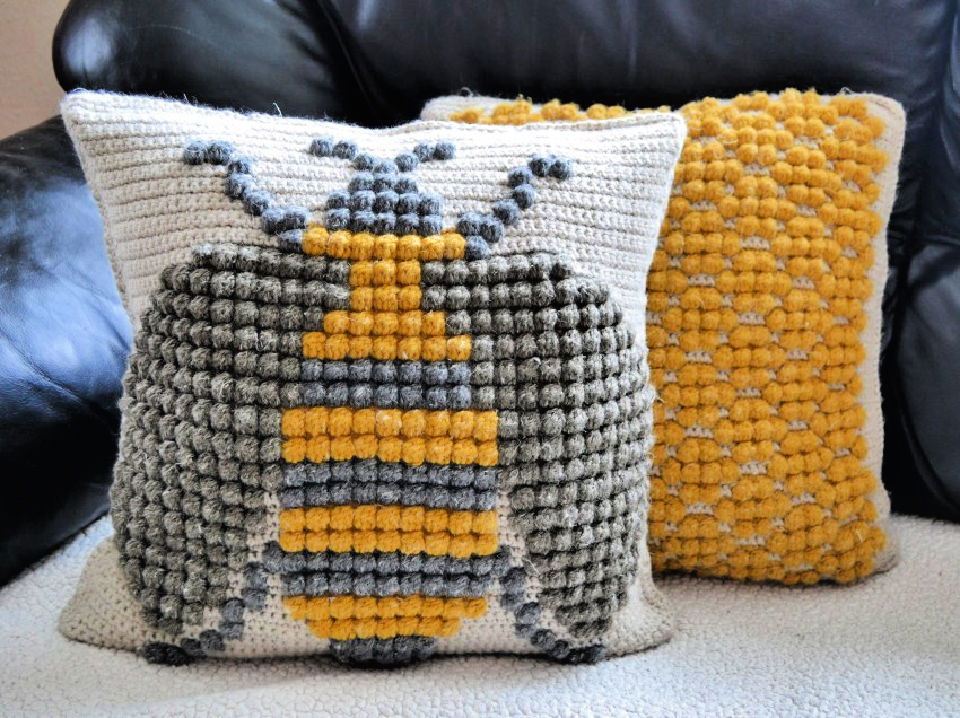 Beautify your home with a unique, handmade bumble bee throw pillow! This free crochet pattern uses bobble stitches to create an amazing textured throw pillow. It's super fun to make and makes for a great accessory in any home. Intermediate crocheters will find the instructions easy to follow with materials such as crochet hook size: h/8 – 5mm, yarn and optional 14″ zipper needed for completion. Make sure you have a 16″ x 16″ pillow form ready too! Get creative and start making this beautiful cushion today. whiletheydream
22. Free Crochet Chubby Bee Pattern
This amigurumi crochet bee pattern is the perfect project for anyone looking to make something cuddly and useful. It's a fun and easy pattern that uses "schachenmayr catania" yarn, a 2.5 mm crochet hook, 6 mm safety eyes, polyfill, scissors, a tapestry needle and a stitch marker so you can craft your own bee! It's great as a toy or even as an aerodynamic projectile to defend your own honey bread. Make it today for hours of fun! supergurumi
23. Crochet Amigurumi Queen Bee Pattern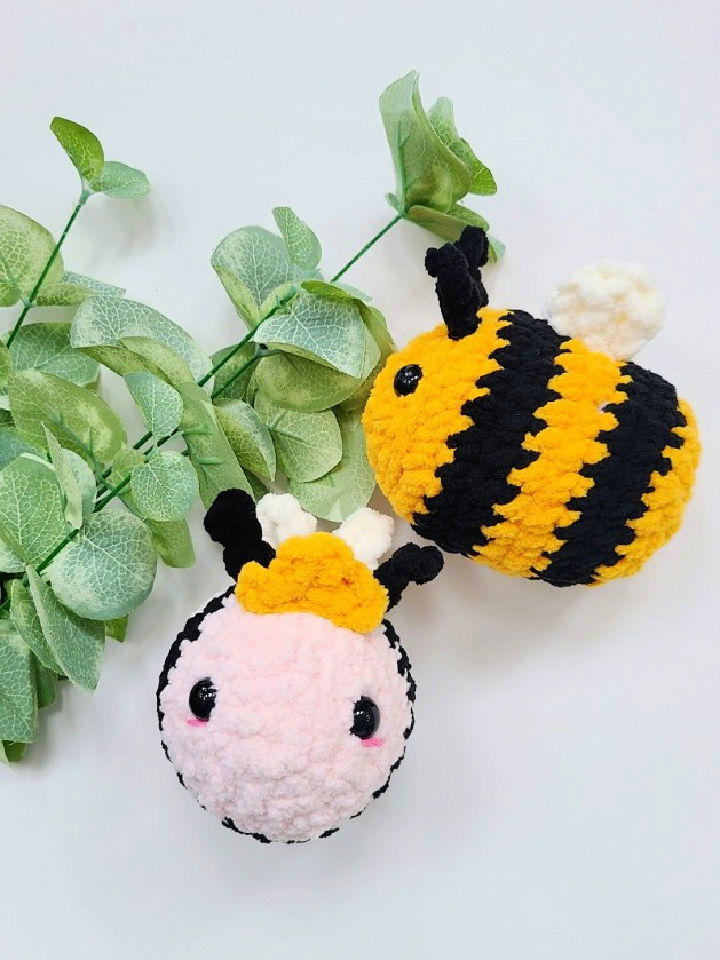 Make a friendly queen bee with this free amigurumi crochet pattern! Perfect for beginner crocheters, the pattern is simple and fun to make. You'll need Bernat blanket big ball yarn, a 7.0mm crochet hook, a tapestry needle, pink embroidery floss, polyfill stuffing, 12mm safety eyes and stitch markers to complete your bee. When finished, it will be approximately 4 inches long and perfect for decoration or as a gift for the deserving royal in your life! moonbeamstitches
24. How to Crochet a Bumble Bee – Free Pattern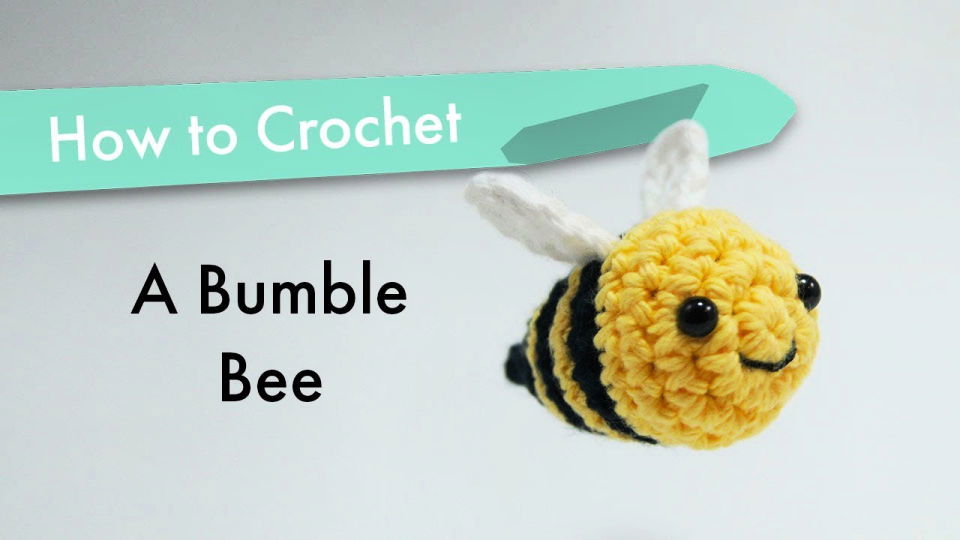 Are you looking for an easy and fun way to decorate your home with something cute? Try crocheting a bumble bee! This free step-by-step pattern will provide instructions for making this tiny bee. All you need is worsted weight yarn, G6/4.00mm hook, plastic safety bead eyes, stuffing, and a needle – then you can start crocheting away! Look at how precious it looks when completed – perfect for adding charm and character around your house while creating something unique that friends and family will admire!
25. TikTok Inspired Crochet Bee Pattern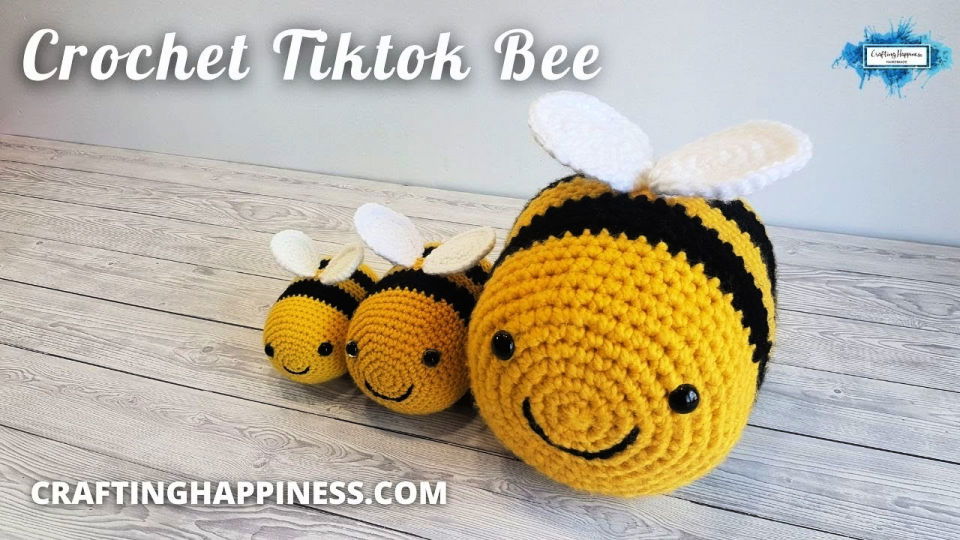 Crochet your own little bee family with this fun and easy tiktok free crochet bee pattern in 3 sizes. With step-by-step instructions, you'll create beautiful bumblebees that look amazing! Supplies needed: DK yarn & a 3.5mm hook for the small bees, aran yarn & a 5mm crochet hook for the medium ones, super chunky yarn & an 8mm hook for the larger ones; toy stuffing and safety doll eyes will be required as well as a sewing needle with an eye big enough to fit your yarn.
Make smaller bees – they'll look great when used as baby mobiles – or hang them under the bigger one – it's gonna be really cool looking! Enjoy crocheting these adorable bugs!
Related Free Crochet Patterns:
Discover a wide range of related free crochet amigurumi patterns and bring your favorite characters to life. Find detailed instructions and learn how to make them!
Conclusion:
In conclusion, 25 free crochet bee patterns bring to life the amazing creatures of nature. These detailed and easy-to-follow patterns come in PDF format. They include instructions for crocheting a bee pattern, bumble bee pattern, amigurumi bee, honey bee crochet pattern, yellow amigurumi, giant crochet bee, Minecraft Bee and more.
All these free crochet bee patterns provide an opportunity to make cute little bees that can be used as decorations or even gifted as keepsakes! With so many variations of color and style, finding the right type of crafty project you're looking for is relatively straightforward. Crochet bees can also make great gifts – they may not provide much buzz, but they will certainly put a smile on any recipient's face!