Crochet animal patterns are a fun and creative way to make your own cuddly and adorable stuffed animals. With our list of 25 free crochet animal patterns, you can create your own handmade menagerie of creatures. These crochet animal patterns are suitable for all levels of crocheters, from beginners to advanced, and come with easy-to-follow instructions and diagrams to help you create the perfect animal.
Our collection of free crochet animal patterns includes many animals, from farm animals like cows and sheep to jungle animals like lions and monkeys. You can choose from various shapes, sizes, and colors to create animals as unique and creative as you are. These crochet animals make great gifts for children and adults alike and are a fun and whimsical addition to any room.
Each free crochet animal pattern includes a list of supplies needed, such as yarn and crochet hooks. Some crochet animal patterns also come with video tutorials and pdf downloads to help you visualize the process. Whether you're looking to make a small and simple animal or larger and more complex crochet animals, our collection of free crochet animal patterns for beginners has something for everyone. So, why not start crocheting your own menagerie of cute and cuddly crochet animals today?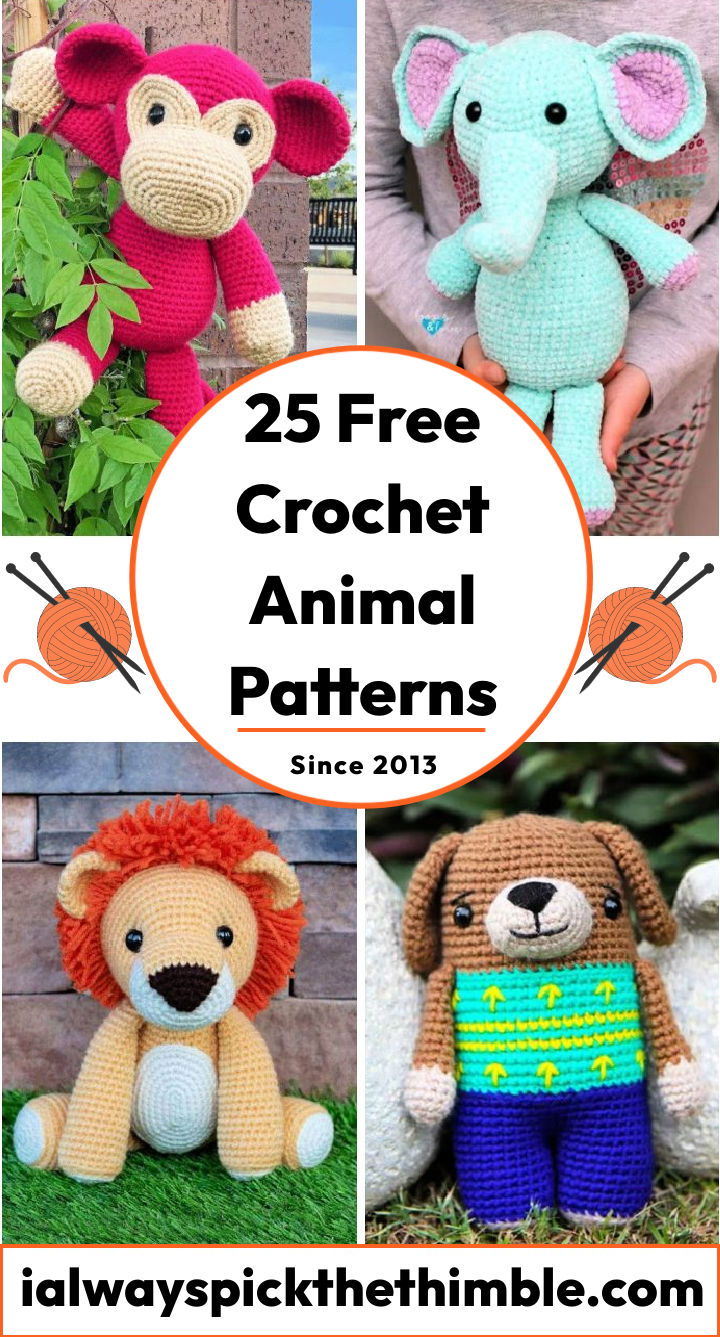 Free Crochet Animal Patterns
You can find free crochet patterns for amigurumi animals of all shapes and sizes, from chunky plushies to tiny amigurumi characters. Whether a master crocheter or just starting, free crochet toy patterns allow you to create charming creatures ranging from large stuffed animals to cute little critters. Discover a variety of free crochet animal patterns with clear pictorials and concise written instructions that are ideal for beginners ready to learn how to crochet animals.
Uses and Benefits of Crochet Animals
Crochet animals, also known as amigurumi, have become increasingly popular over the years due to their cute appearance. Here are some of the uses and benefits of crochet animals:
Decorative purposes: Crochet animals can decorate various spaces such as bedrooms, nurseries, living rooms, and even offices. They can add a touch of whimsy and fun to any room.
Gifts: Crochet animals make great gifts for kids, adults, and even pets. They are personalized, unique, and often have sentimental value.
Stress relief: Crocheting can be a therapeutic activity that can help reduce stress and anxiety. The repetitive motion of crochet can be meditative, and the end product can be rewarding.
Education: Crochet animals can be used to teach children about animals, shapes, and colors. They can be used to create stories and encourage creativity.
Fundraising: Crochet animals can be sold to raise funds for a charity or organization. They can be used as a way to give back to the community.
Keepsakes: Crochet animals can be made to commemorate special occasions such as birthdays, weddings, and graduations. They can be kept as a keepsake to remember the event.
Entrepreneurship: Crochet animals can be sold online or at craft fairs, allowing individuals to start small businesses.
Therapeutic benefits: Crochet animals can provide a sense of accomplishment and boost self-esteem. Creating something from scratch can help individuals feel more confident and capable.
Improved motor skills: Crocheting can help improve fine motor skills, coordination, and skill. This can be especially beneficial for seniors or individuals with disabilities.
Crochet animals have a wide range of uses and benefits, from decorative pieces to therapeutic benefits. They are versatile and customizable and can bring joy to both the creator and the recipient.
1. Free Crochet Jellyfish Pattern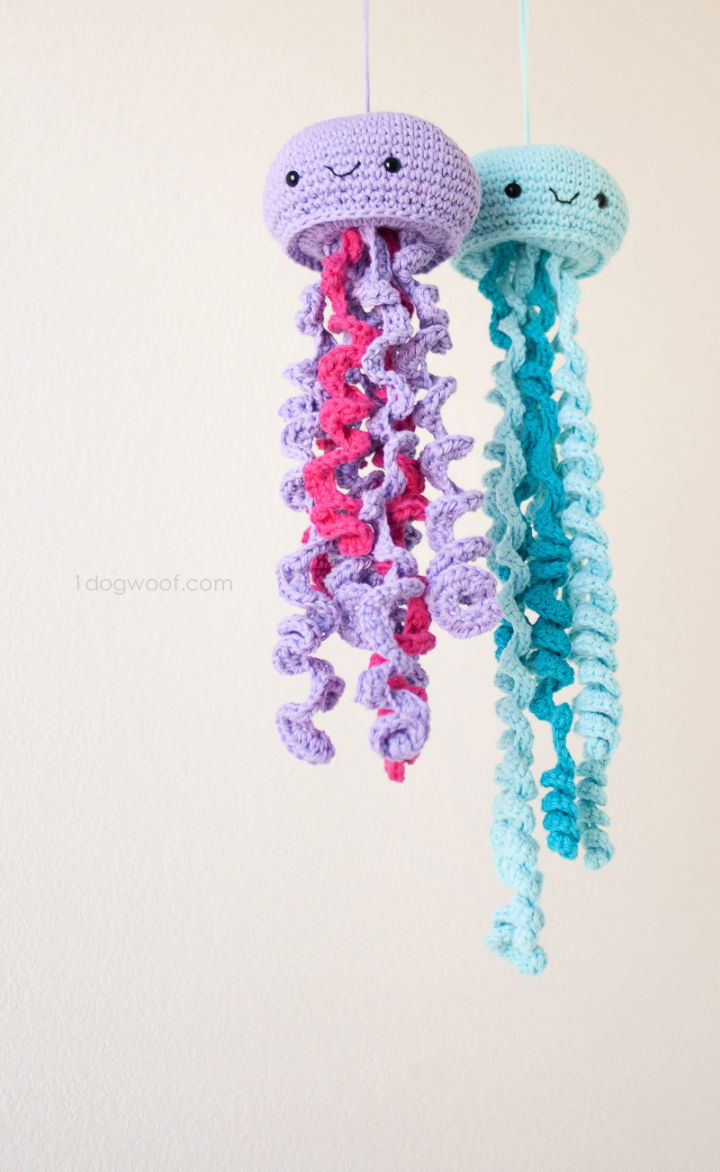 Make your own bright, friendly Jellyfish to hang around with! Crochet jellyfish are fun and easy to make. With vibrant Bernat handicrafter cotton yarn colors and 9mm safety eyes, you'll have an adorable friend that's soft enough for cuddling! Plus, the joy of hand-crafting will bring a smile to everyone's face. Gather up supplies such as a clover amour hook*, yarn, safety eyes, embroidery thread and needle, scissors, and fiberfill and follow the instructions to create one or many crochet jellyfish friends. They're perfect for gift giving too! 1dogwoof
2. Cute Crochet Penguin Amigurumi Pattern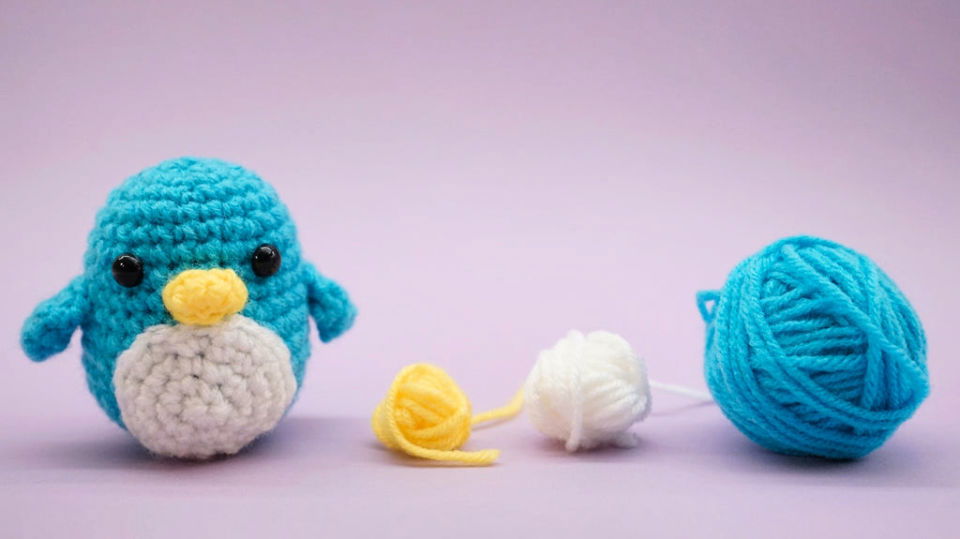 Are you looking for a cute, fun way to make your own gift or decoration? Look no further than this free penguin amigurumi crochet pattern! Perfect for complete beginners, this simple step-by-step instruction will take you through the entire process.
All you need is a 4mm crochet hook, stitch marker, poly-fil stuffing, red heart super saver Yarn, 10mm safety eyes and some other basics like scissors and pins. You'll be amazed at how beautiful your handmade penguin will look – easy to make and delightful to give away as presents or use as home decorations. Start crafting now with this fantastic free design!
3. How to Crochet Amigurumi Mouse – Free Pattern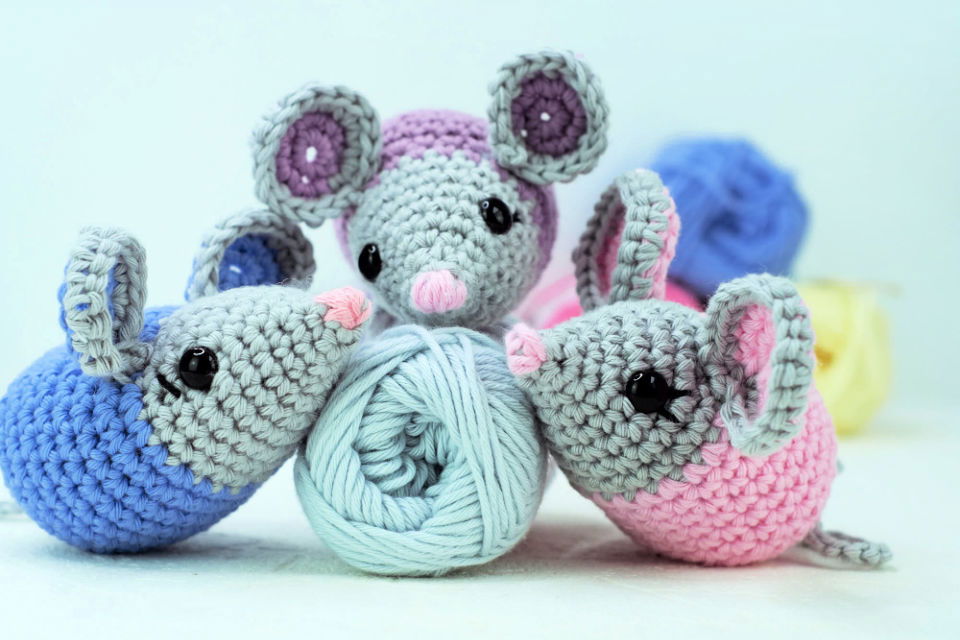 Make an adorable crochet amigurumi mouse pattern in no time with easy-to-follow instructions! Perfect for using up those yarn scraps, it's great to stash buster and looks incredibly cute. Fill it with cat nip to make it more attractive for your cat, or use it as a handmade gift for your little one. You need sports weight yarn, a 3.5 mm crochet hook, filling materials, scissors and a stitch marker. Get creative and start making this super cute pattern today! yarnhild
4. Crochet Mimi the Monkey Amigurumi Pattern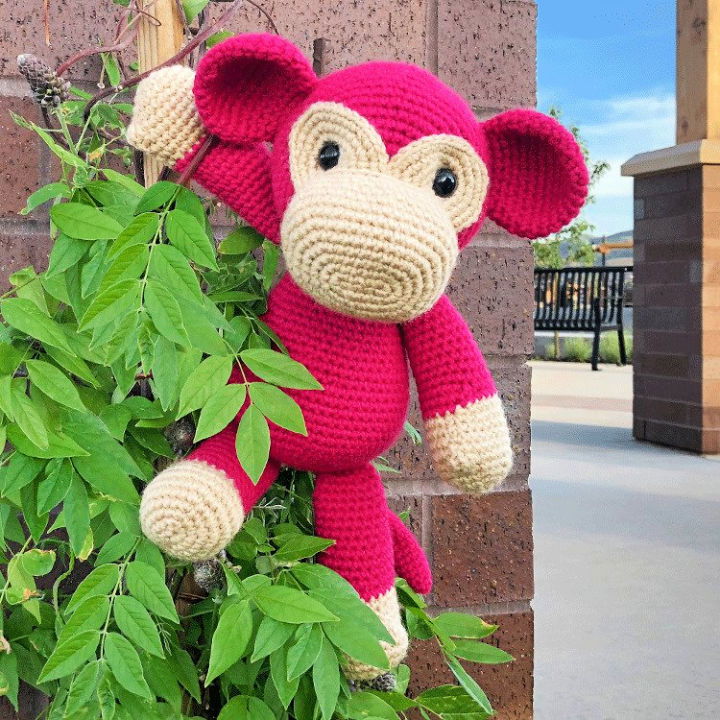 Stay ahead of the curve with this adorable Mimi the monkey free amigurumi pattern. Whether you're a beginner or intermediate crocheter, you can make this fun and easy project that looks amazing! Follow this step-by-step instruction to make your own monkey toy for yourself or as a gift. You'll need a 3.5mm (E) hook, 15mm safety eyes, yarn needle, fiberfill and acrylic weight 4 yarn to create your very own monkey friend! Get creative and start crafting today with mimi, the monkey! jesshuff
5. Cool Crochet Laurence the Lion Amigurumi Pattern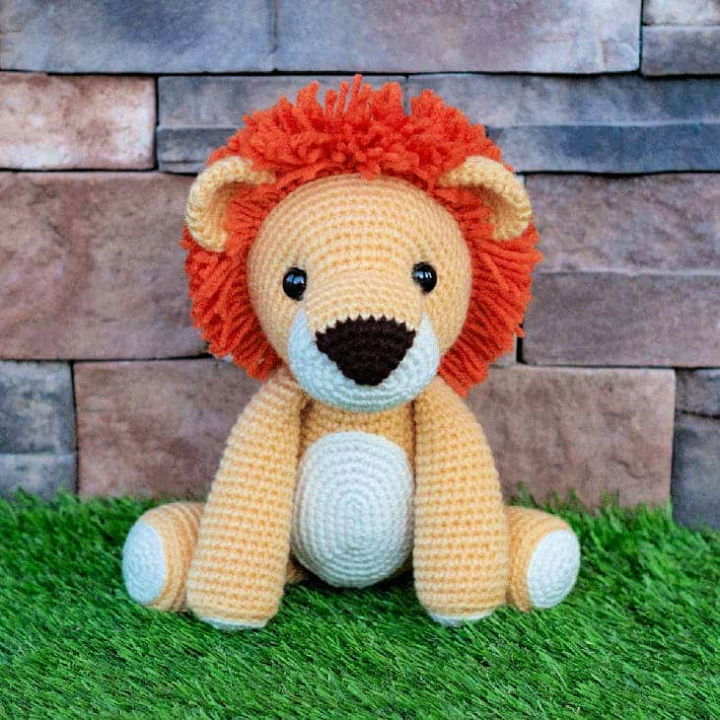 Meet Laurence the Lion – a wild-maned, big-nosed lion who'll be your favorite handmade gift! This free lion amigurumi pattern is easy and fun yet produces an incredibly beautiful result. With detailed instructions and supplies like a 3.5mm (E) hook, 15mm safety eyes, stitch markers, yarn needle, fiberfill and acrylic yarn weight 4 – this pattern is suitable for an intermediate-advanced level crocheter. Make Laurence now and bring him to life with your own two hands!
6. Free Crochet Elephant Amigurumi Pattern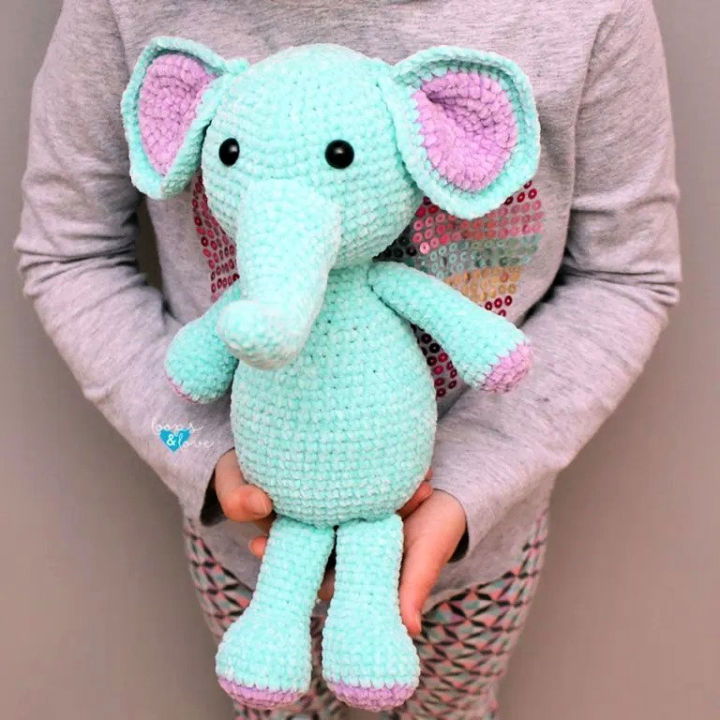 Crochet animal patterns provide endless possibilities for creating unique and personalized gifts. Make an adorable elephant amigurumi with this free crochet elephant pattern! This extra soft and cuddly design is perfect for playing and cuddling for any skill level. With easy-to-follow instructions, it's a fun project that will look amazing. All you need are some basic materials: worsted weight yarn (#4 Weight), 4mm crochet hook, 12mm safety eyes, fiber stuffing, and a yarn needle to weave in the ends – so grab your supplies and start crocheting today!
7. Crochet Dash the Dog – Free Pattern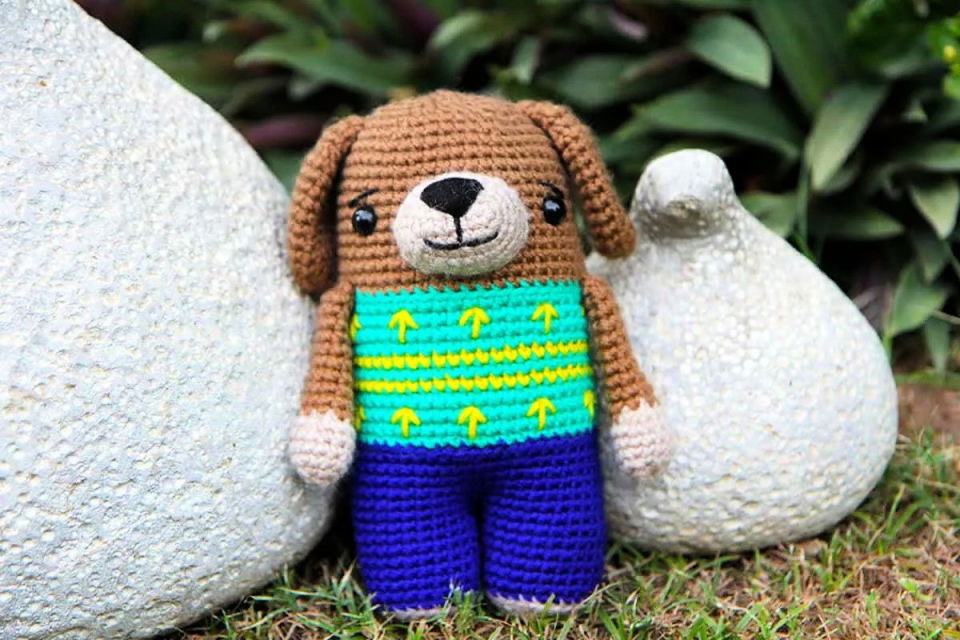 Make your dog-loving friends and family members smile with this free crochet pattern for a dash of the crochet dog! This adorable amigurumi is perfect for beginners. The easy-to-follow instructions will guide you through all the steps of creating this cute little cuddle companion. Match the coloring on their favorite pet or create something unique – it's up to you! You'll need DK yarn, a 3mm crochet hook, a tapestry needle, a stitch marker, polyfill stuffing, two 10 mm safety eyes and lots of enthusiasm. So why not get creative today? Make that special someone in your life a one-of-a-kind gift they're sure to love! chaicoffeecrochet
8. Cool Crochet Dewey the Dinosaur Pattern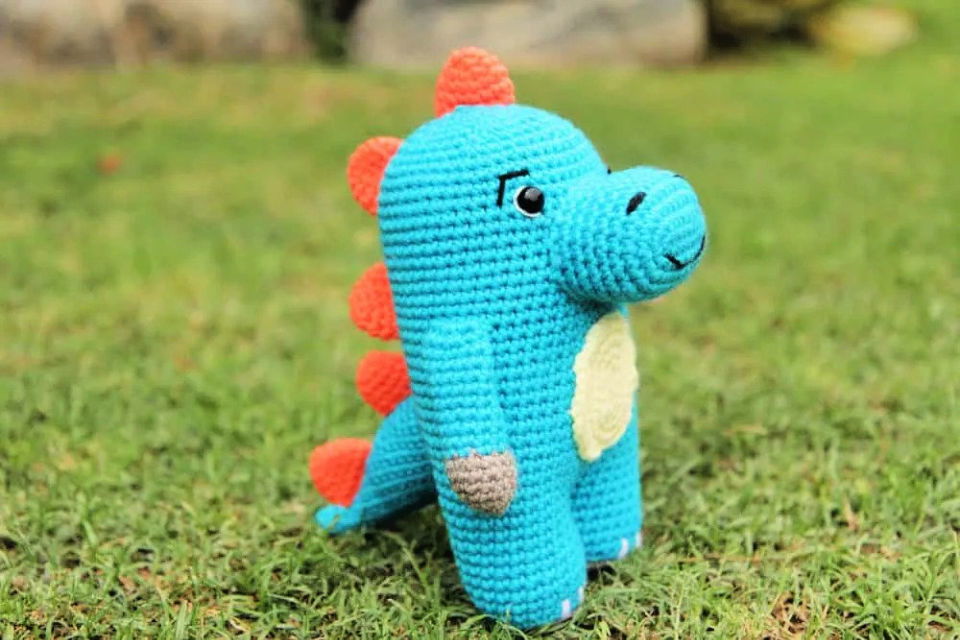 Looking for something special to make for your little one? Try the Dewey the crochet dinosaur free pattern! This sweet and adorable dinosaur crochet pattern is really fun to make with any color combination that you like. Tools & materials needed include DK yarn, a 3mm crochet hook, a tapestry needle, a stitch marker, polyfill stuffing, two 10 mm safety eyes, and embroidery thread. Make this very simple but amazing-looking design as a gift – it will look great in any room! Get dewey the crochet dinosaur free pattern today and bring a smile to your loved one's face. chaicoffeecrochet
9. Crocheting a Dog – Free Pattern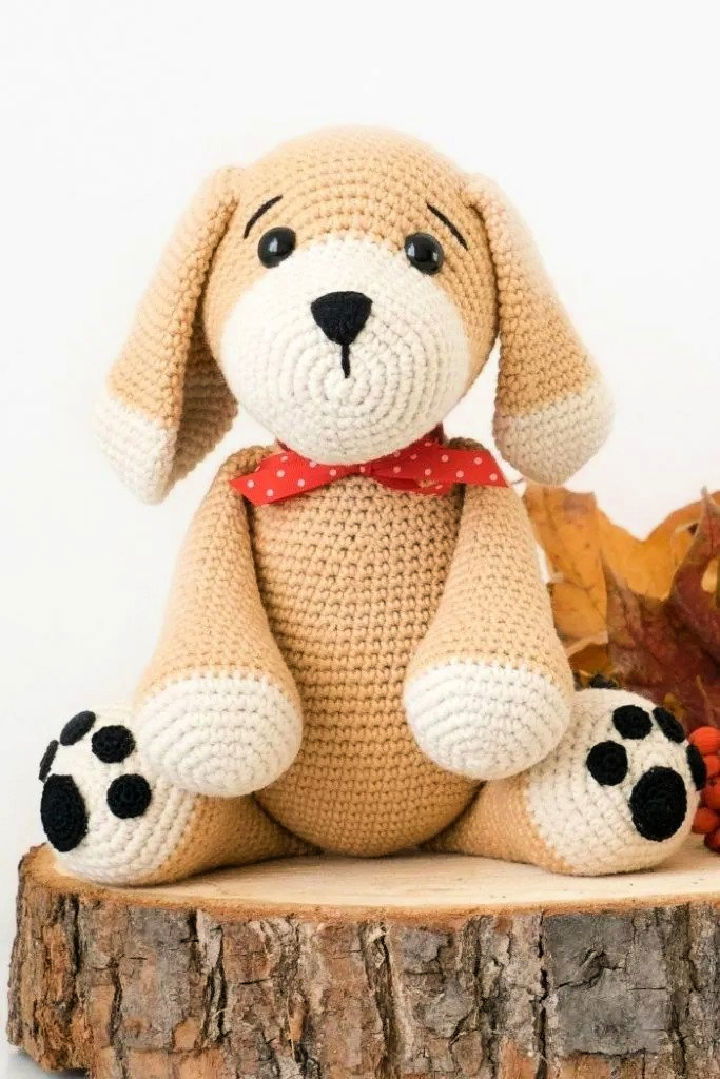 Welcome to dusty the dog! He will be your loyal and playful companion who is always there for you. With this free crochet dog pattern, you can make a beautiful pup of your own to love. Easy and fun to make with step-by-step instructions, this project is suitable for basic/intermediate crocheters with a 1.25mm hook size and 100% cotton yarn. Bring him home today and enjoy his big puppy eyes and cute little nose! cuddlystitchescraft
10. Classic Crochet Bunny Pattern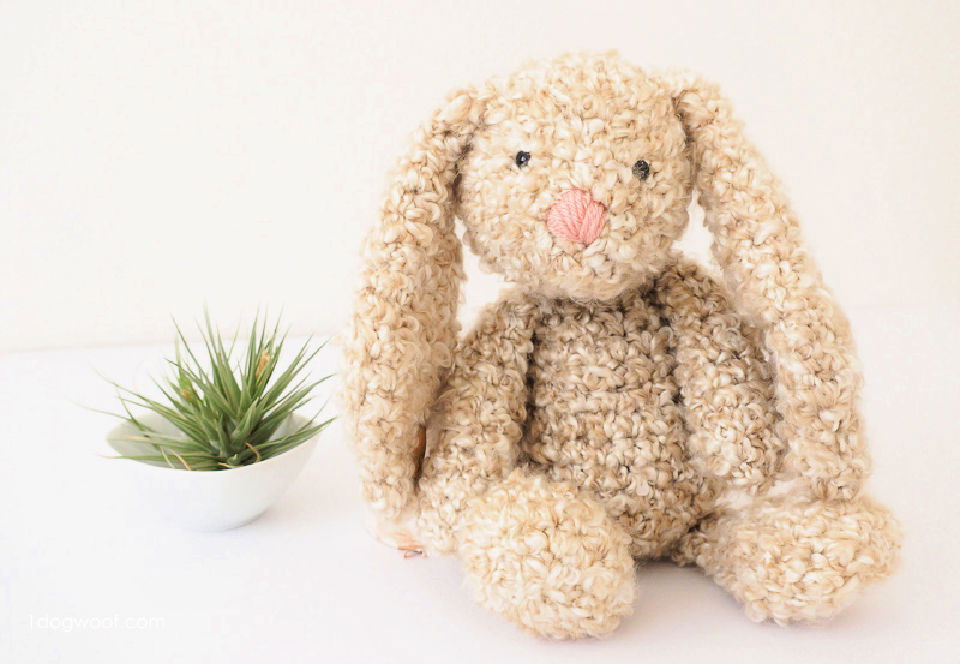 This classic crochet bunny is a timeless favorite for easter, baby showers, or birthdays. Beautifully simple and plain yet perfect in its own special way. This free crochet bunny pattern comes with easy-to-follow instructions and all the supplies you'll need: lion brand homespun thick & quick yarn, 1 clover USA crochet hook L/8.00mm*, 9mm safety eyes, clover quick locking stitch marker set, polyfill stuffing, scissors, tapestry needle. Dress up your soft and huggable, floppy ear bunny however you like! Make one today — it's an unforgettable gift that little ones will always cherish!
11. Free Crochet Pocket Fox Pattern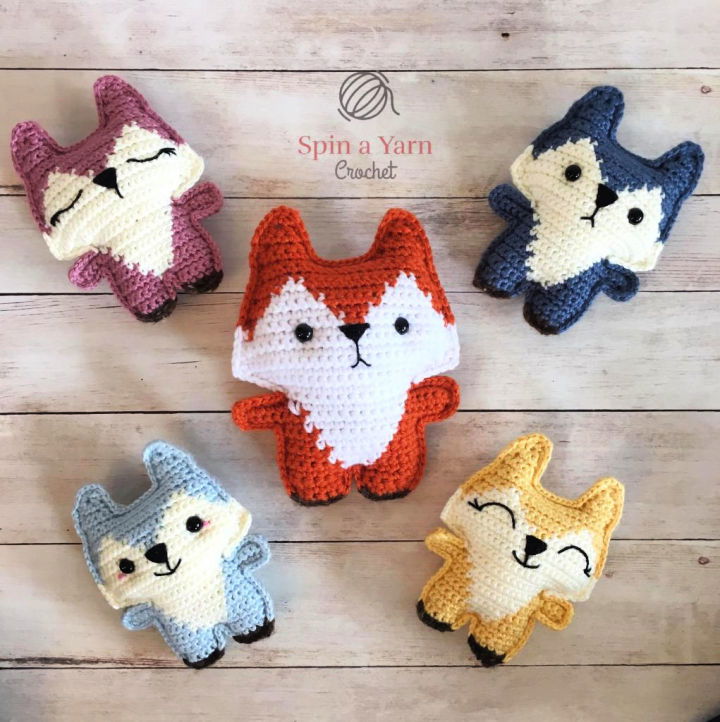 Let's create some cute stuffed toys with these crochet animal patterns! Make something special for your little ones with this free crochet pocket fox pattern! Create cute and cuddly little foxes that look so pretty and tiny enough to fit in small hands. Step-by-step instructions, plus materials like a 2.75mm hook, caron simply soft yarn, Bernat premium yarn, 9mm safety eyes, black crochet thread, stuffing & tapestry needle, are all you need. These pocket foxes make perfect gifts as they can be taken anywhere – a great companion to keep your kid's company wherever they go!
12. Crochet Amigurumi Schnauzer Dog With Fur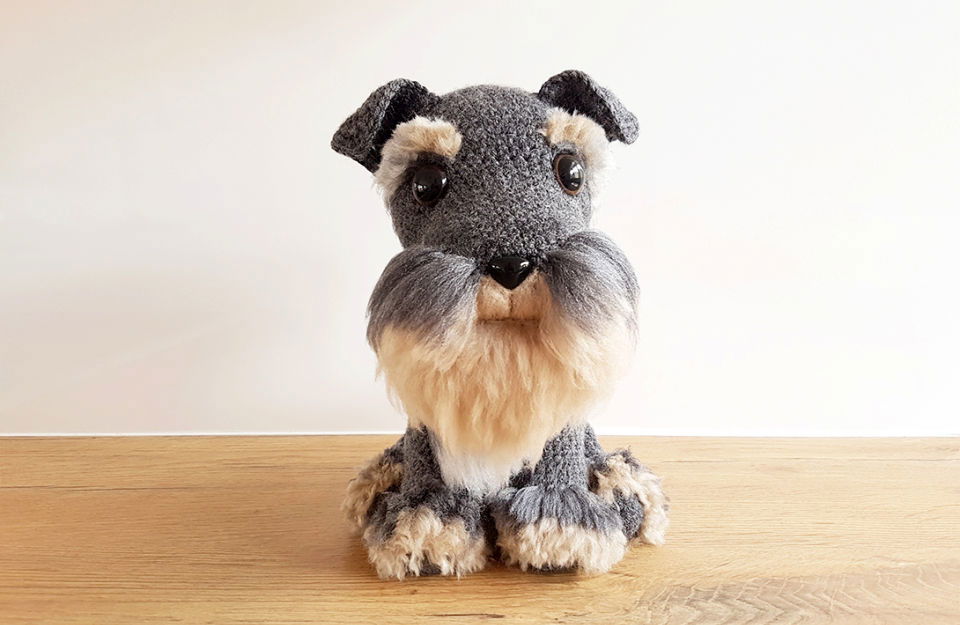 Make your little one a special handmade gift with this free crochet amigurumi schnauzer dog pattern! It's easy to make and looks beautiful when done. The eye-catching design will surely draw attention, perfect for display or cuddles. Supplies needed are yarn in the main body color, a 3mm (Size 11) crochet hook, a yarn sewing needle, sharp scissors, safety eyes 21mm and a safety nose 18mm W x 15mm H plus stuffing. So gather your supplies and get ready for some creative fun – you'll have your new pup in no time! projectarian
13. Free Crochet Owl Amigurumi Pattern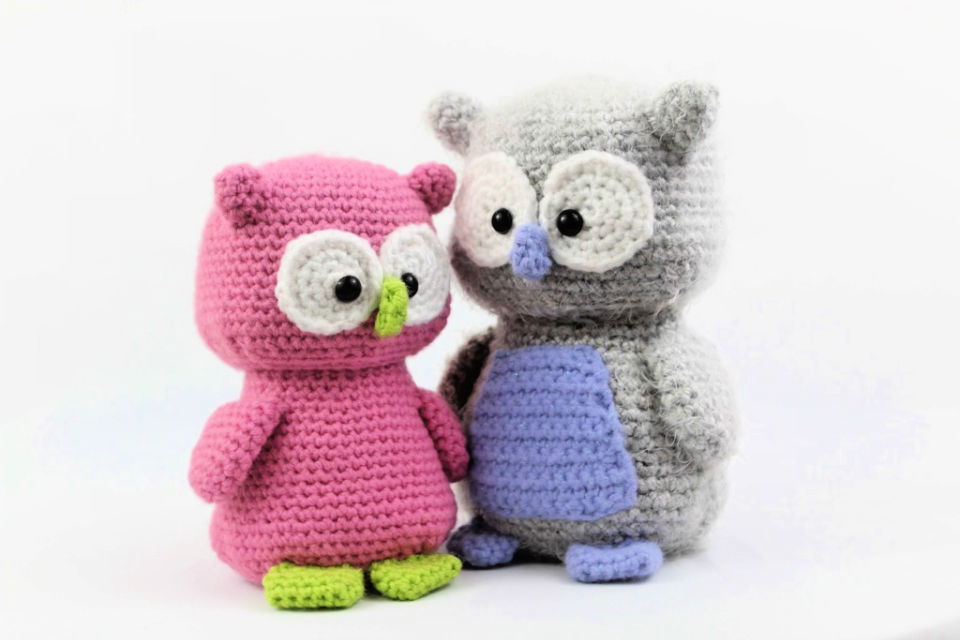 Finding the perfect crochet animal patterns is now easier than ever before! Unlock your inner creativity with this free crochet owl amigurumi pattern! This beautiful amigurumi is great for handmade gifts, perfect for any little loved one. The finished result will look adorable, and the texture created is simply stunning. Plus, it's a great beginner project, as step-by-step instructions are provided to help you along the way. All you need are basic supplies, including a 4mm Hook, 8mm safety eyes, tapestry needle, stuffing and yarn of your choice. So why wait? Get creative today with this amazing free crochet owl amigurumi pattern!
14. Simple Crochet Lily Animal Crossing Pattern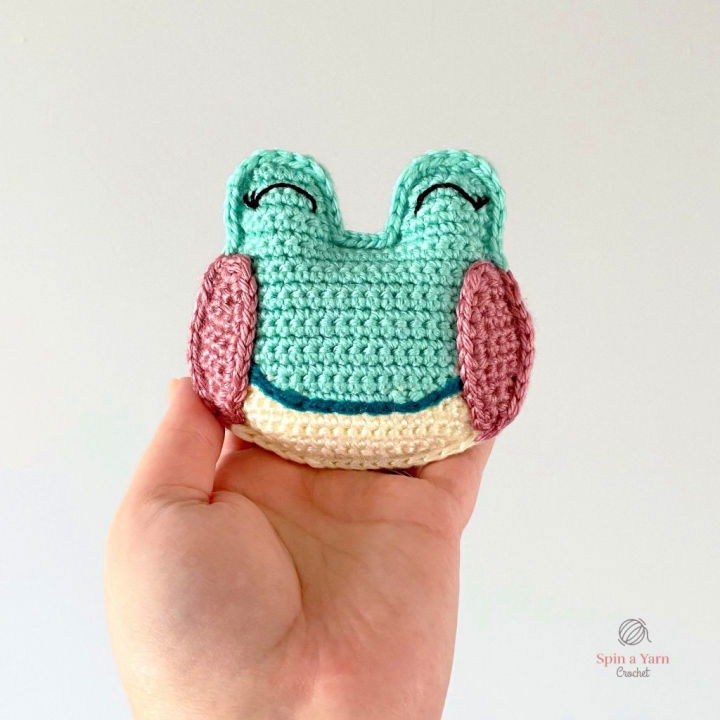 Welcome to the "lily: free crochet animal crossing pattern"! This pattern is super fun and easy to make, perfect for beginners and more advanced crocheters. Your little one will surely love this eye-catching design with its unique look and beautiful texture. The pattern includes easy-to-follow instructions and all the necessary materials, such as a 2.75mm hook, Caron Simply Soft yarn, light/DK weight yarn, stuffing, and a tapestry needle. Bring some life into your home with lily: free crochet animal crossing pattern! spinayarncrochet
15. Crochet Little Bunny Applique Pattern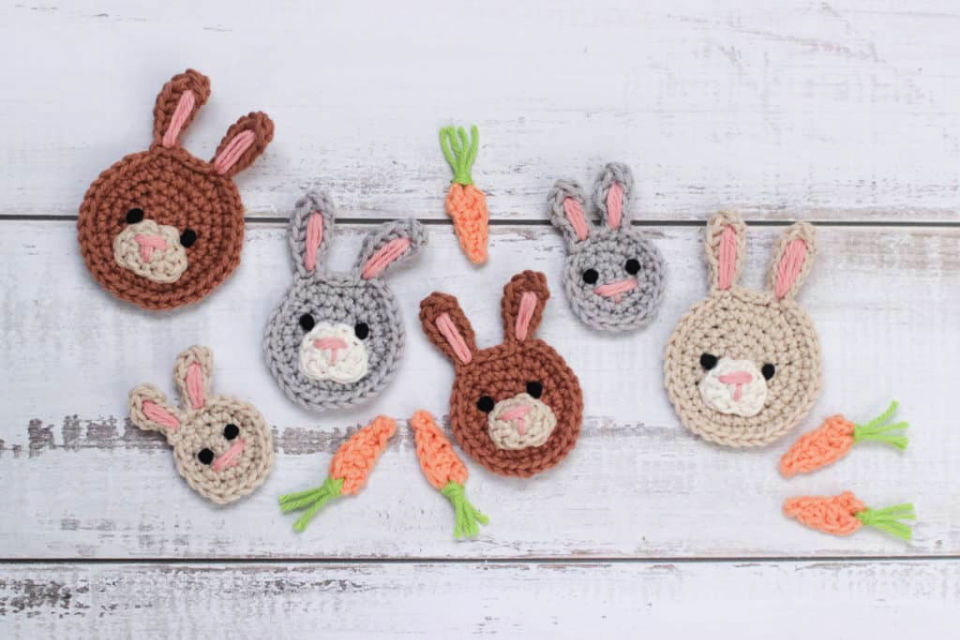 Welcome to this sweet and simple crochet little bunny applique pattern! Looking for an easy easter project? This free pattern is perfect for using up yarn scraps, resulting in a cute little bunny family. It's suitable for beginners – all you need are a crochet hook, DK cotton yarn, scrap black & pink embroidery cotton and a yarn needle. The instructions are easy to follow, so your bunnies will look amazing in no time! So why not gather your supplies and get crafting one (or more!) of these adorable little bunnies today? thoresbycottage
16. Free Crochet Monkey Lovey Pattern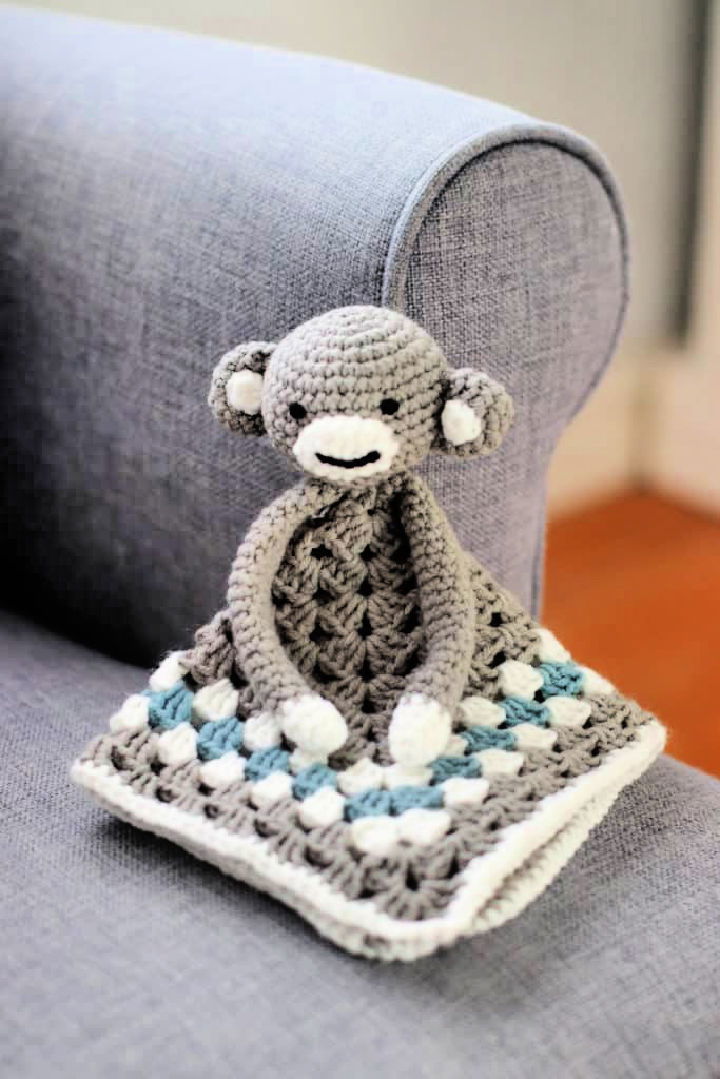 Make a delightful and sweet homemade gift for an upcoming baby shower with this free crochet monkey lovey pattern! Easy-to-follow instructions make the process fun and simple while still looking beautiful. All you need is DK/ light worsted yarn, embroidery thread, crochet hook (F / 3.75 mm), stuffing, safety eyes (optional) and a yarn needle to create your own pair of monkeys that will look gorgeous! So why not show someone special just how much you care by giving them something unique? Start crocheting today with this amazing free pattern! thoresbycottage
17. How to Crochet Duck – Free Pattern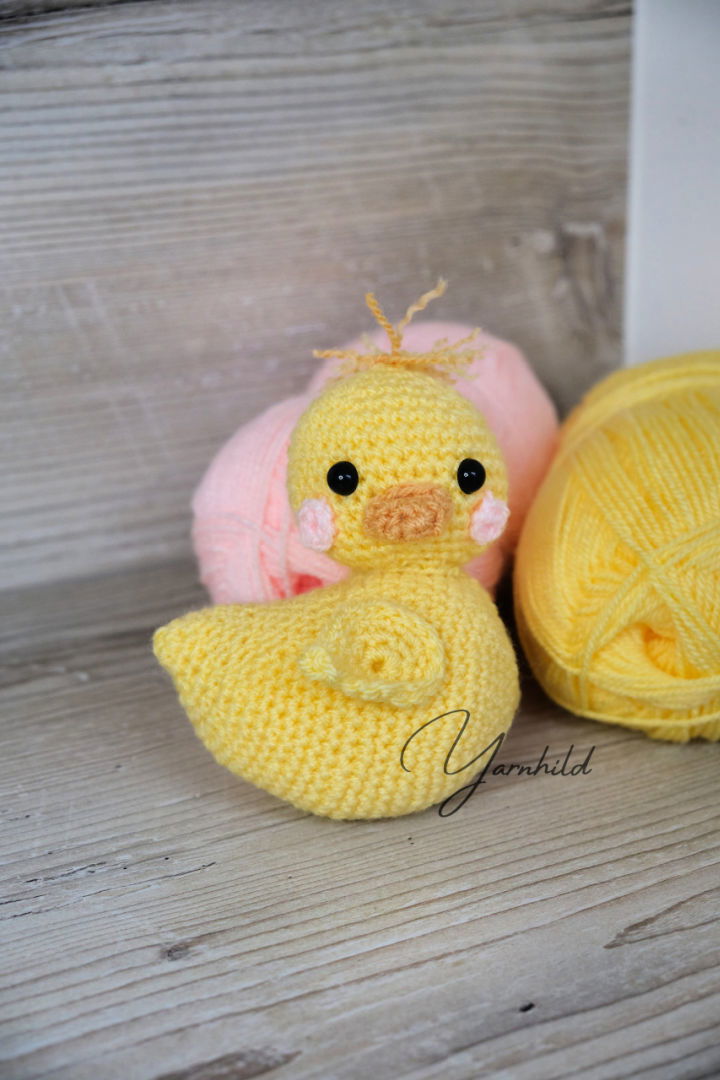 Create your own adorable duck with this free crochet pattern! Eddy the duck is a fun and quick project that even an advanced beginner could master. With just a few materials like DK weight yarn, 9 or 10 mm safety eyes, stuffing materials and more, you can easily make this cute crocheted companion for your little one. You'll love how amazing it looks and feel proud of yourself for making something so special in no time at all!
18. How Do You Crochet a Plush Turtle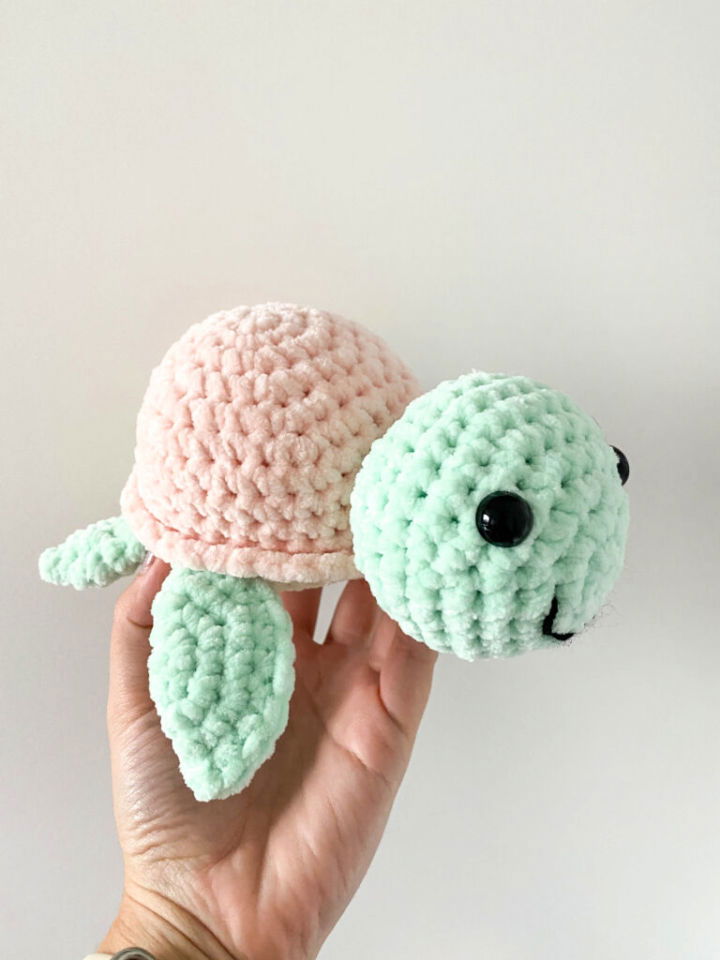 Make your own adorable little plush turtle with this free crochet pattern! Perfect for amigurumi beginners as long as you are familiar with basic crochet terms. Create a beautiful eye-catching gift or decorations in any color combination you like! Step-by-step instructions and all needed materials will be provided, including chunky chenille yarn, a 6mm crochet hook, 10mm plastic eyes, a sewing needle, and scissors. This free pattern makes it fun and quick to make cute soft turtles! abigurumii
19. Crochet Ice Cream Octopus Amigurumi Pattern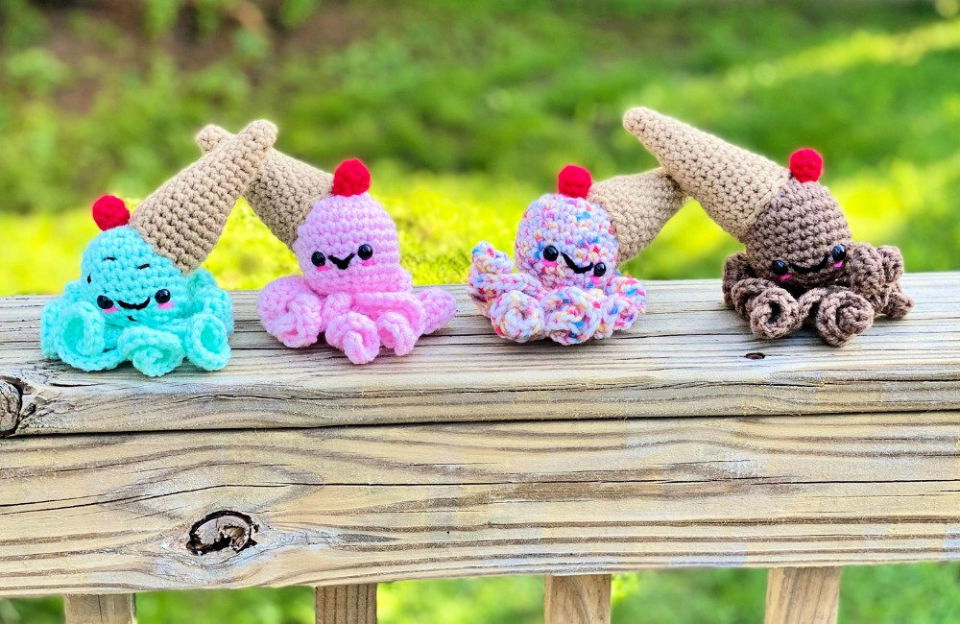 Make this adorable, sweet and fun ice cream design with this crochet octopus amigurumi pattern for a perfect gift for the summertime or any birthday! Quick and easy to make with supplies like size D/3 crochet hook, medium weight yarn, yarn needle, scissors, fiberfill stuffing & 9mm safety eyes. With endless possibilities of use as play food toys, display or decor pieces, it's also a great stash buster. Instructions available – start creating today!
20. Gorgeous Crochet Snake Amigurumi Pattern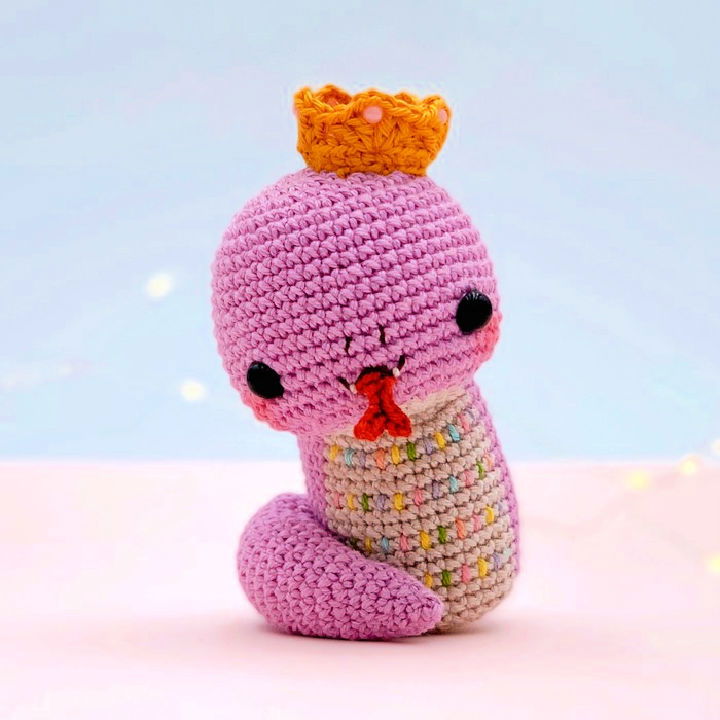 This free amigurumi snake crochet pattern makes your little one's day extra special! This gorgeous handmade toy is perfect for any occasion and super fun to make. Detailed instructions and materials needed are included, so you can easily recreate this beautiful texture. The final result will look pretty cute – it's sure to bring a smile to everyone around! You'll need yarn, a 2.25mm (US B/1) hook, safety eyes, toy stuffing, makeup blush and small beads. Start crafting today for an awesome gift that will be cherished forever!
21. Crochet Owl Pattern – Free PDF Pattern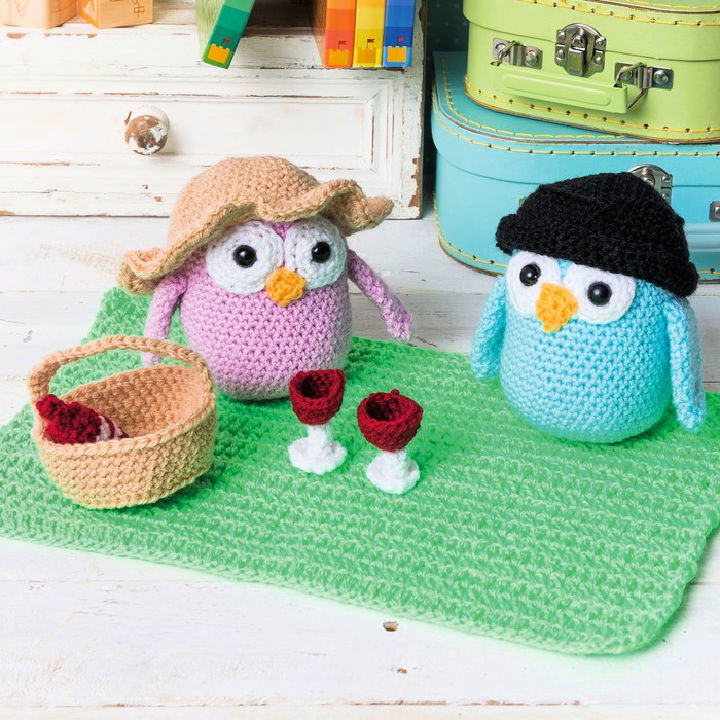 Looking for some cute crochet animal patterns? Get ready to up your crafting game with this free owl crochet pattern! Create a sweet picnic scene with hats and accessories for these completely adorable owls. Not only are they quick to make, but the design is super simple yet still looks beautiful when finished.
This set of owl crafts would make an excellent gift for any couple or as part of a larger project. The instructions include all the materials you need: style craft special DK, 4mm (US G/6) hook, 3mm (US C/2 or D/3) hook, embroidery needle, stitch markers, toy stuffing pins, 4x10mm black safety eyes. Get creative and give them some extra character today! gathered
22. Cute Crochet Chick Lamb and Bunny Pattern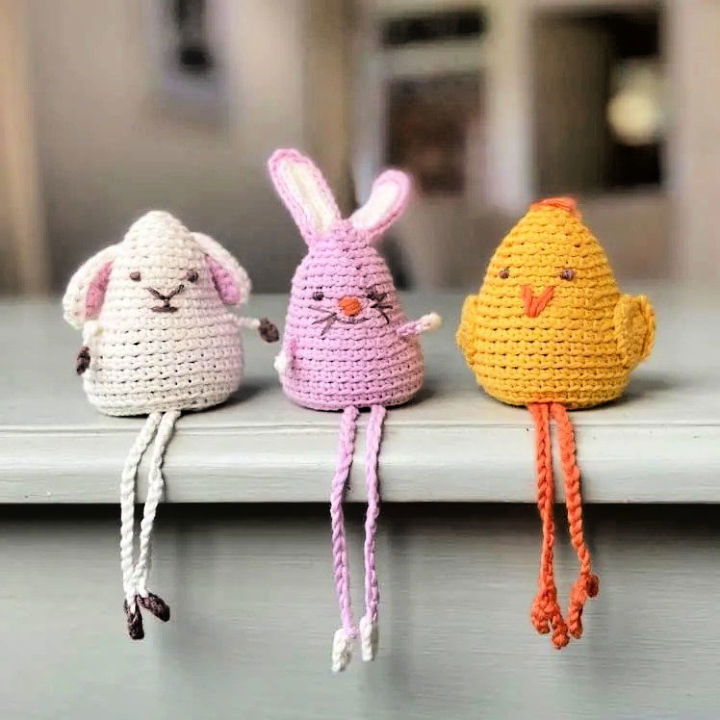 Welcome to the cutest corner of easter – these three amigurumi crochet animals! This pattern features an adorable chick, lamb and bunny that make just the right shelf buddy you want hanging around.
Perfect for a little easter home decoration or a super cute gift for a little one, you know, these guys won't take long to make with comfy fingering yarn and 5mm/US H crochet hook plus tapestry needle, scissors and stitch markers. Brighten up your space this easter, or give someone special an alternative to chocolate with this unique baby shower nursery gift today! hanjancrochet
23. Crochet Amelia The Giraffe Amigurumi Pattern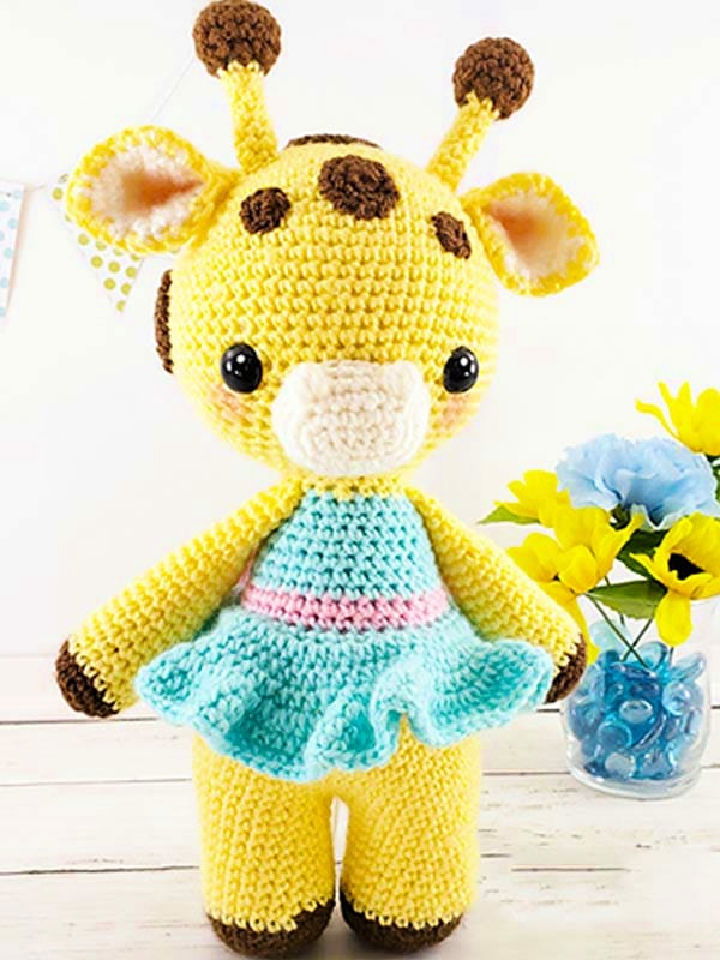 Find this beautiful crochet giraffe amigurumi pattern that is perfect for crafting a cute little giraffe that will look great and make an amazing gift for your children, grandchildren or any other special person in your life. With fun texture, this pattern includes step-by-step instructions with detailed images. The skill level needed is Intermediate; you will need approx. 100g of red heart yarn, safety eyes, stuffing, a 3.25mm hook, and a tapestry needle to get started!
24. How to Crochet a Unicorn – Free Pattern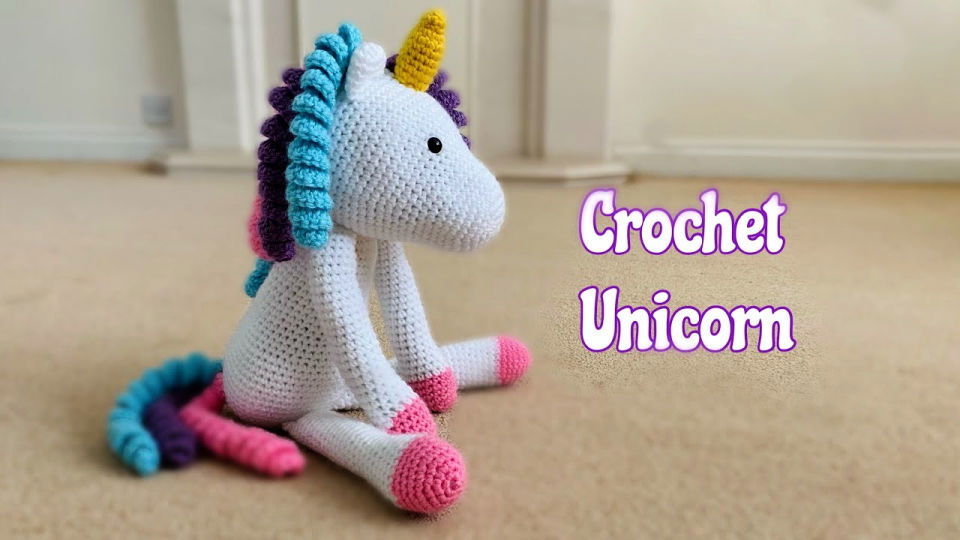 Unicorns are beautiful, magical creatures and making your own with crochet couldn't be easier! This step-by-step guide provides everything you need to know to craft your dream unicorn. All it takes is some standard DK yarn, a 3.5 mm crochet hook, and patience! They make the perfect gift or home decoration and look fabulous whether given away as presents or kept to yourself! Make a beautiful, easy-crochet unicorn full of wonder – perfect for little ones or even grown-ups who want something fun to craft.
25. Fastest Crochet Small Mouse Pattern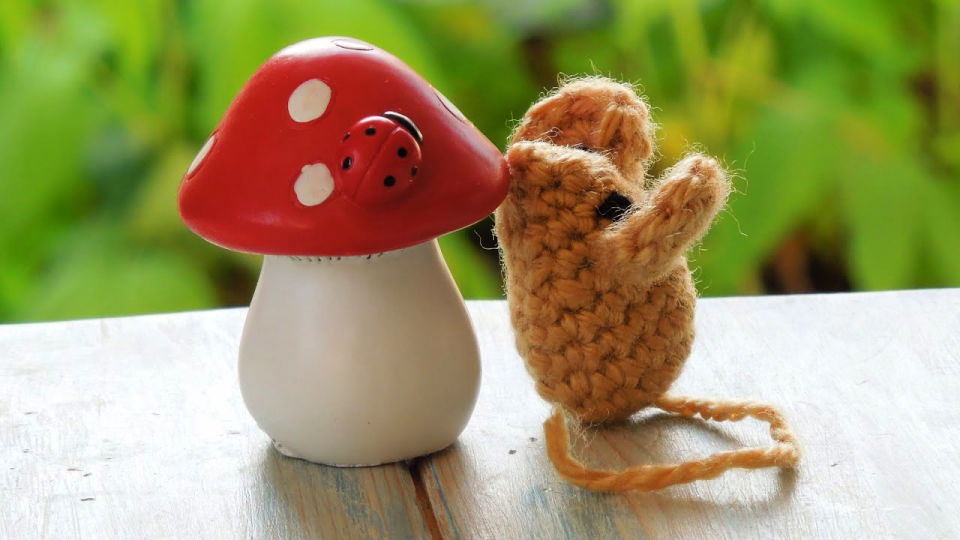 Learn how to crochet a small mouse that's super fun and looks pretty cute! Equipped with just a 3.0mm crochet hook, some DK/Light weight worsted yarn, toy stuffing, scissors, and a yarn needle – you can easily create this cute little mouse as either a great stash buster or a handmade gift. Even beginners can master it in no time – it measures just an inch and a half in length, after all! Follow this step-by-step tutorial for instructions on making your own adorable tiny mouse.
Conclusion:
In conclusion, 25 free crochet animal patterns can be a great way to start making your own unique stuffed animals. These detailed and easy-to-follow pdf instructions are perfect for beginners and experienced crocheters, with step by step instructions that allow you to create plushies, small animals, large toys, chunky amigurumi creatures or tiny critters. With these free crochet animal patterns and ideas on making simple crochet snippets come alive as adorable-looking stuffed animals, it is an excellent craft project for anyone who loves creating cute things out of yarn.