Get ready to slither into fun with our 25 free crochet snake pattern collection! Whether you're a seasoned pro or just starting to learn how to crochet, there is a free crochet snake pattern perfect for you. This collection has everything from cute and cuddly snakes to more realistic snake patterns. Our crochet snake patterns come with easy-to-follow instructions and step-by-step guides, making creating your very own amigurumi snake easy.
You'll find a variety of snake patterns, including large stuffed animal crochet patterns free, cuddly snakes, and even a snake winning pattern. These crochet snake patterns can be made in various sizes and colors, so you can create a unique and personalized toy that's perfect for you or your little ones. With detailed images and instructions, you can learn how to crochet a snake and have fun doing it.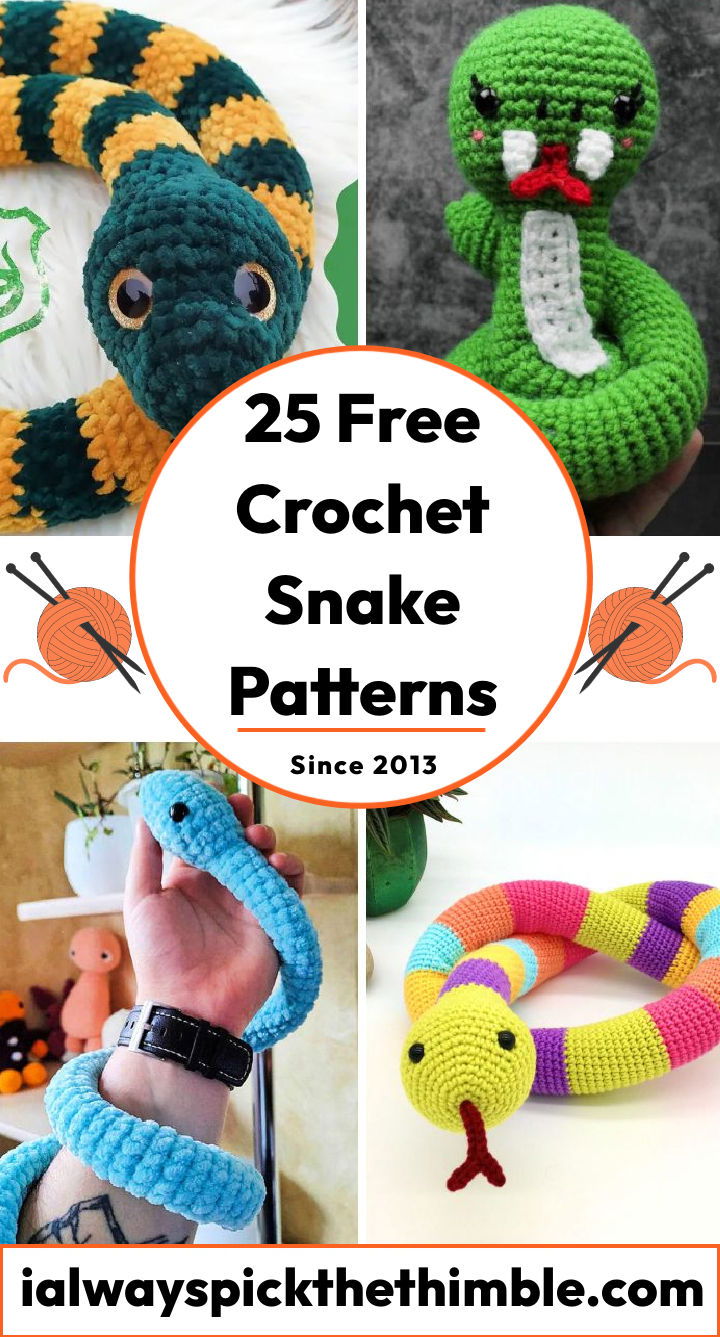 Crochet snakes are a fun and unique addition to any collection, making great toys or decorations. So, grab your crochet hook and yarn, and start making your very own crochet snake amigurumi today! Whether you're looking for an easy crochet snake pattern or a more complex design, this collection has it all.
1. How to Crochet Sibling Snakes – Free Pattern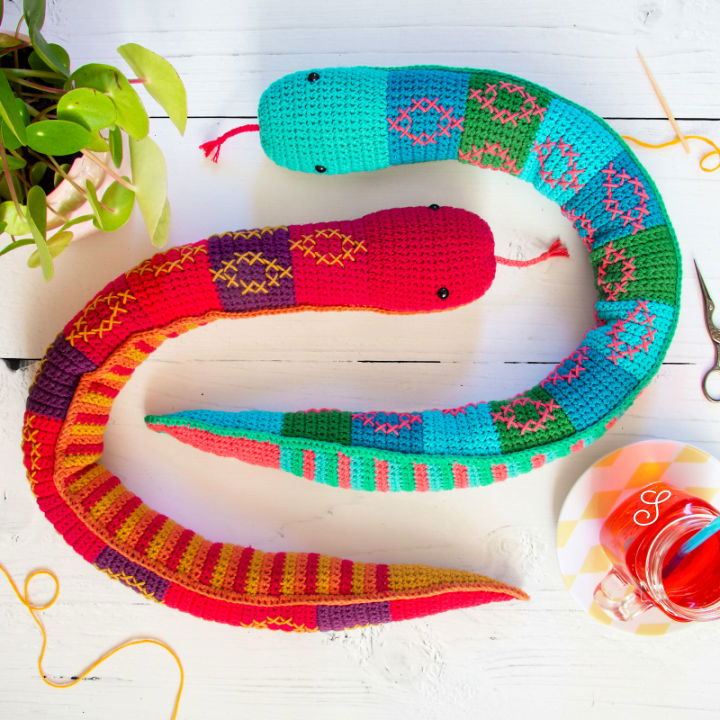 Looking to create adorable stuffed animals? Check out our collection of crochet snake patterns for a fun and unique addition to your crafting repertoire! Looking for an easy yet fun crochet project? Here is this dibling dnakes Pattern! Perfect for beginners or to slip in-between larger projects, this pattern is a great way to brighten up any grey winter day. One softfun minis colour pack can create two sibling snakes, allowing you to grow your snake family from multiple packs. Share them with your siblings, children, friends or 'chosen family' and make someone's day even brighter – all free of charge! simysstudio
2. Realistic Crochet Snake Pattern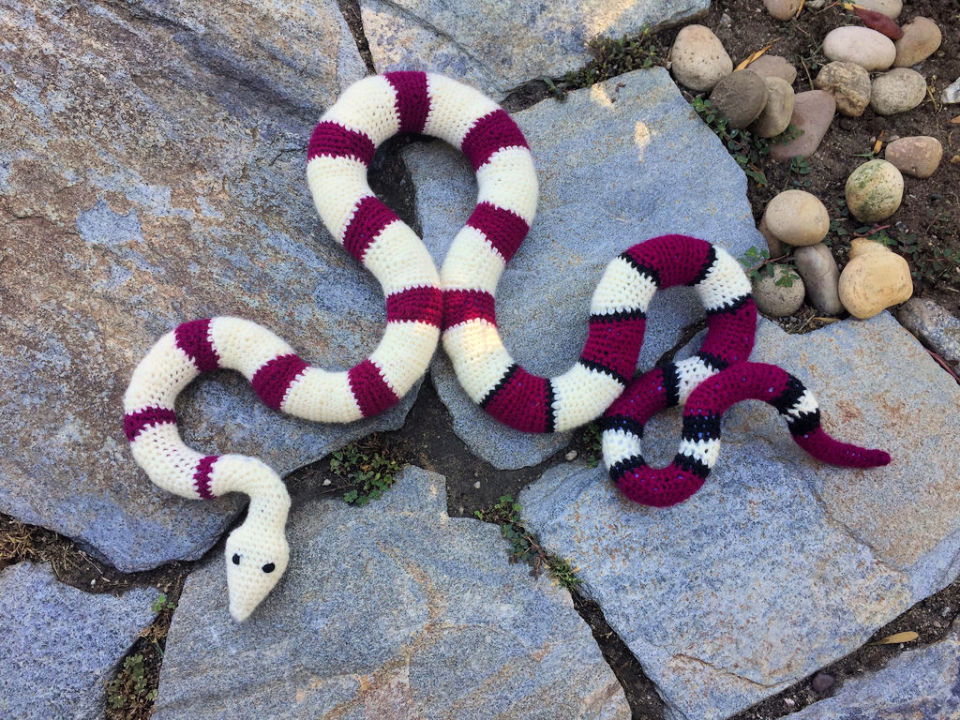 Craft a realistic-looking red-tailed boa constrictor with this free crochet pattern. Using a 3.75mm hook and light worsted weight yarn in various colors, you can create the snake with amazing accuracy in size and coloring. This project is sure to impress any lover of these majestic creatures! suviscrochet
3. Free Crochet Sammy the Snake Pattern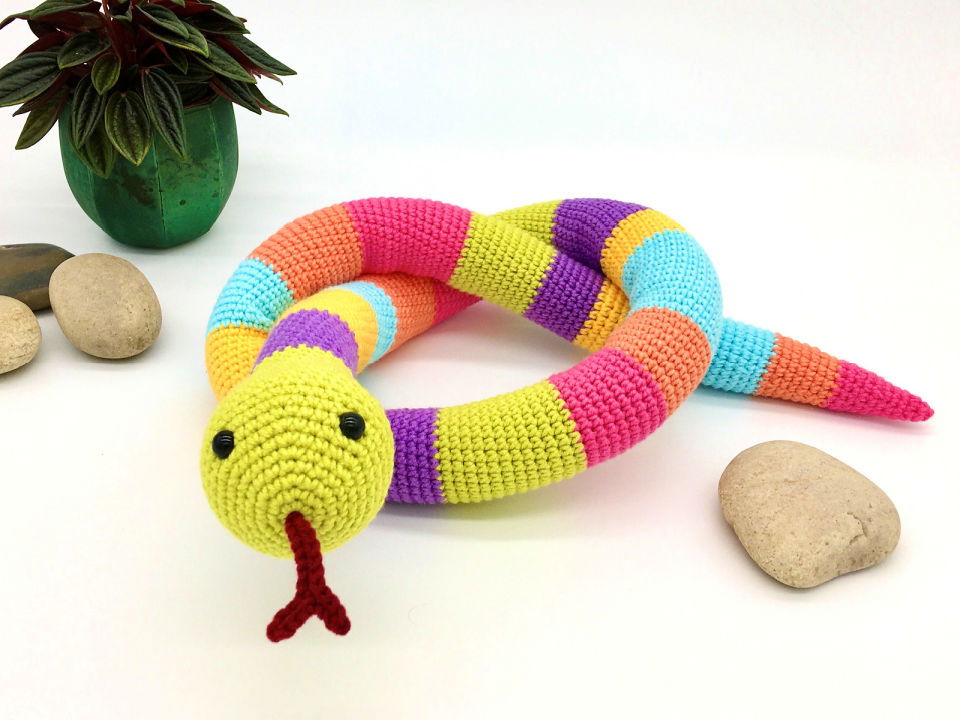 This free crochet snake pattern is an ideal project for any amigurumi beginner. With basic crochet skills and knowledge, follow simple instructions to create your unique piece! When finished, you'll have a 92cm long and 6cm high snake that can be adjusted in size by adding or removing rounds of 4-ply yarn with a 3mm crochet hook. Start your next DIY project today with this fun and easy-to-follow pattern! cuddlystitchescraft
4. Crocheted Ayame the Snake – Free Pattern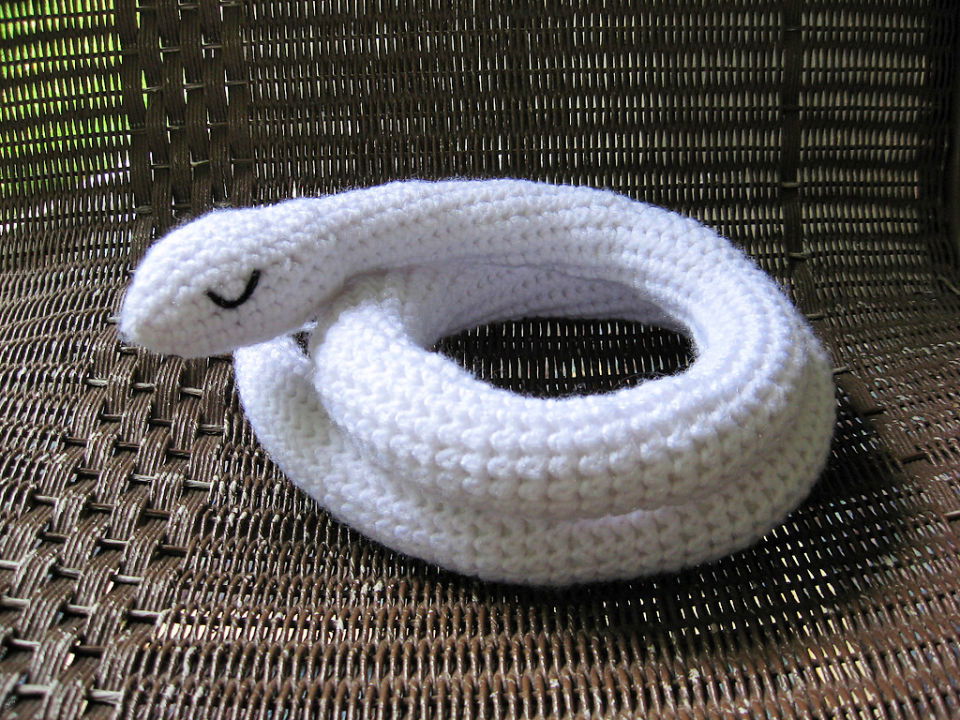 Make a unique and fun toy for your kids with this free pattern for crocheted Ayame the Snake! All you need is a few materials from your local store, which won't take much time to make. Your children will love playing with this white, gorgeous snake to frighten their friends. Get creative and surprise them with an original handmade gift they'll never forget! mescrochet
5. How to Make Snake – Free Crochet Pattern
If you want to create a fun project, you are at the right place. Make your snake with this free crochet pattern! Complete the project in five hours with any yarn, plus a 4.00mm crochet hook and some stuffing for the body. Follow along step-by-step for an easy way to make an adorable stuffed animal that will become an instant favorite! Get started today and bring this cute little critter to life. bumpyduey
6. Crochet Amigurumi Snake – Free PDF Pattern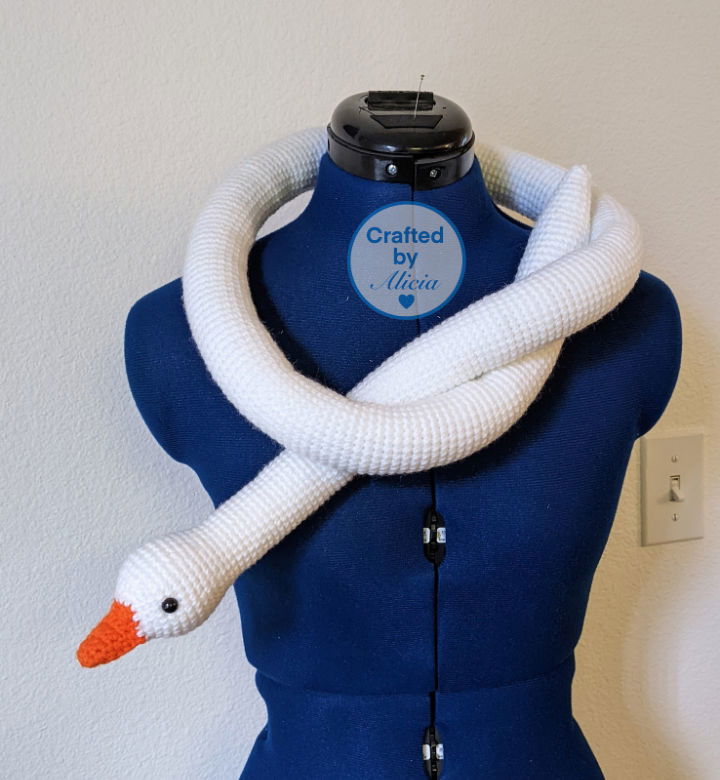 Introducing the amigurumi snuck – a fun combination of a snake and duck measuring 4.5 feet from beak to tail. Add additional rounds to increase length, or vary the size depending on your tension, hook and yarn used! Complete this project with worsted weight yarn in white and orange, 9mm safety eyes, polyfill stuffing and an E 3.5 mm crochet hook. Whether you're just starting with amigurumi or looking for a unique challenge, the amigurumi snuck is perfect! ravelry
7. Crocheting a Sis the Snake – Free Pattern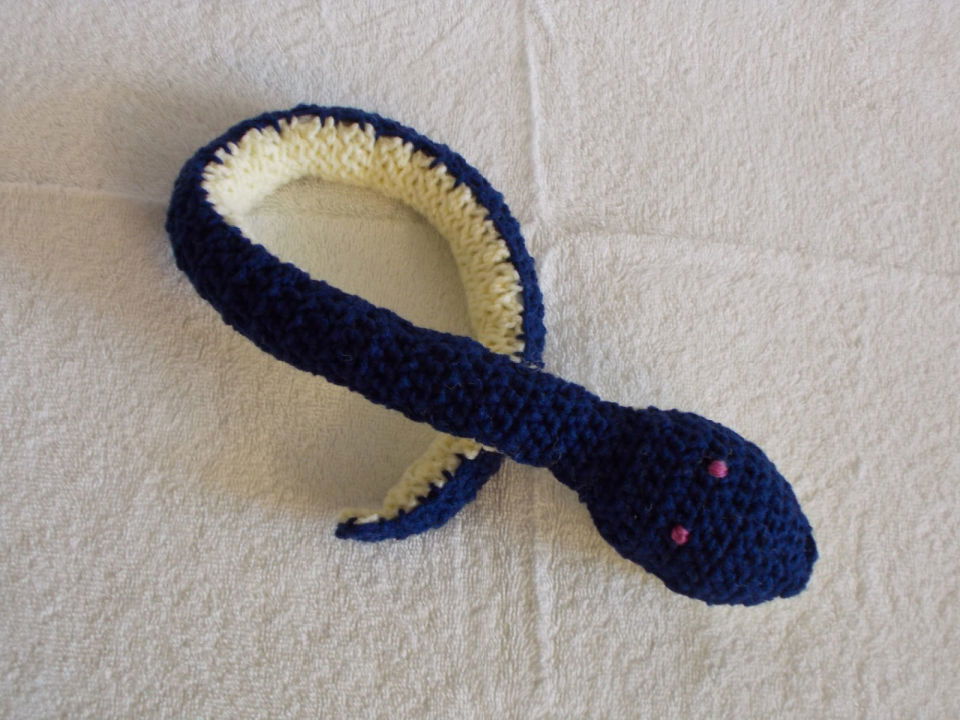 This free crocheting pattern for Sis the Snake creates a friendly snake companion! With just a 5.00 mm crochet hook, blue and white worsted weight yarn, and some extra yarn to stitch eyes and stuff material, you can easily follow the tutorial to make your unique snake friend. Have fun as you learn how to coil up Sis into a life-like movement and practice creating new relationships with your adorable new friend! stitchinthenight
8. Easy Crochet Snake Pattern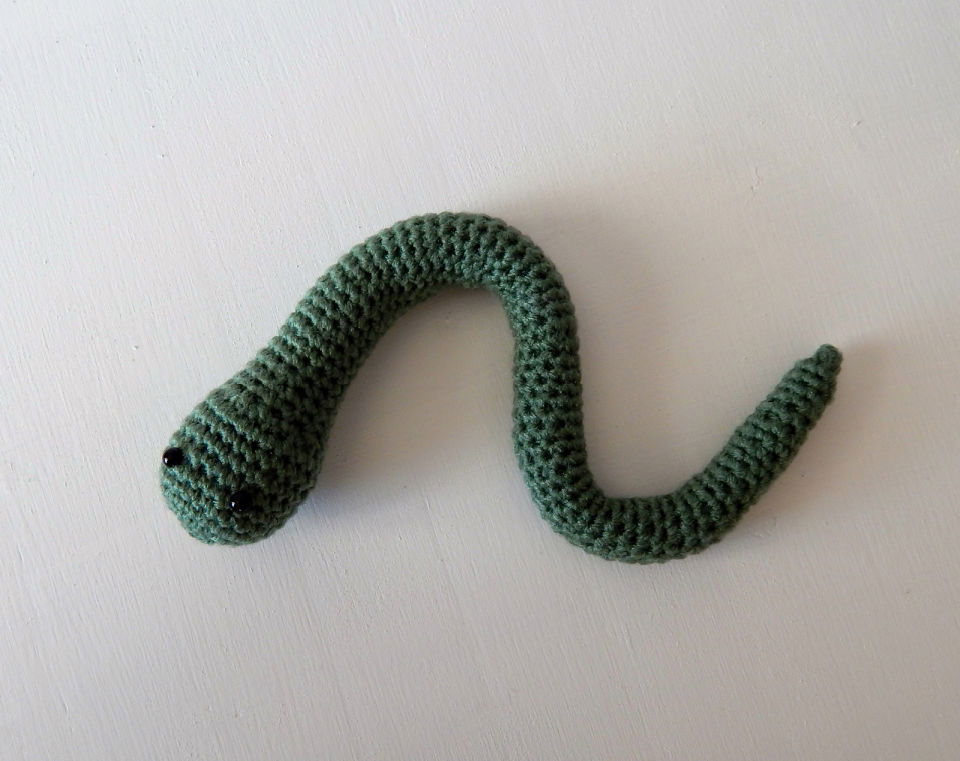 Crochet the perfect stuffed toy with a selection of materials and tools! This snake pattern is easy to follow, and you can use the 5mm safety eyes for added realism. The 2.75mm crochet hook ensures quality crafting results, while Red Heart Super Saver yarn in green adds a vibrant splash of color. To finish your project, mix it with polyester stuffing for extra softness and cuddliness. Make sure you have everything you need before starting – guarantee your satisfaction! amidorablecrochet
9. How Do You Crochet a Draft Snake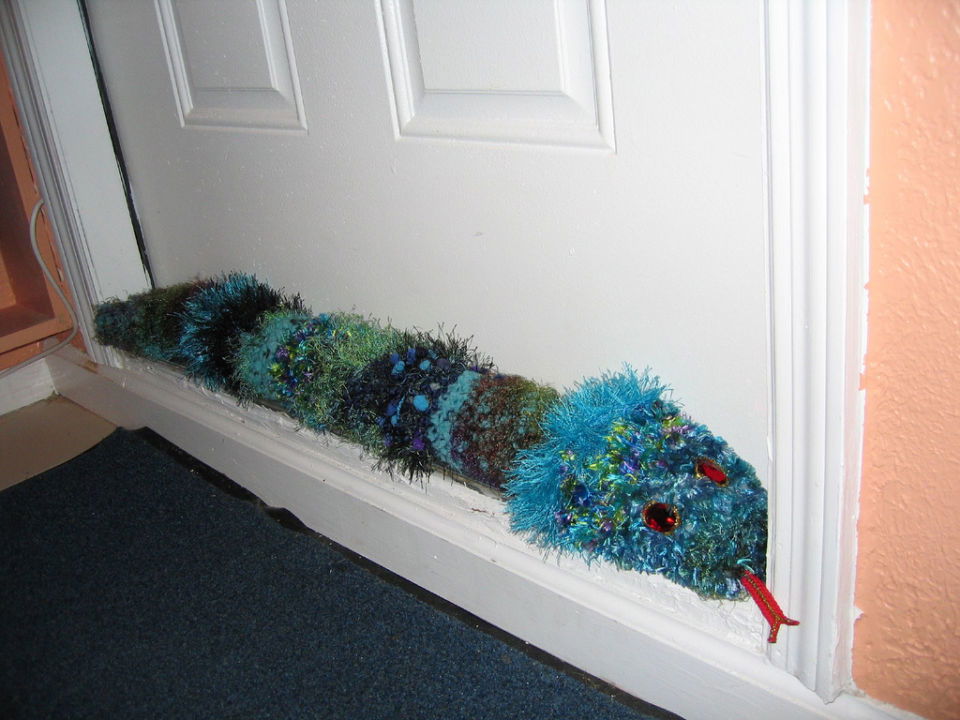 Want to save money on heating bills? Put your crochet skills to work with this free 'n' easy draft snake pattern! With basic crochet stitches and yarns you already own, the lush texture of furry, lumpy, or feathery yarns will block drafts under doors best. For easier stitch placement, pair textured yarns with a coordinating color of smooth worsted-weight wool. In no time, you'll save energy and money – try it today! designingvashti
10. Fastest Crochet Snake Amigurumi Pattern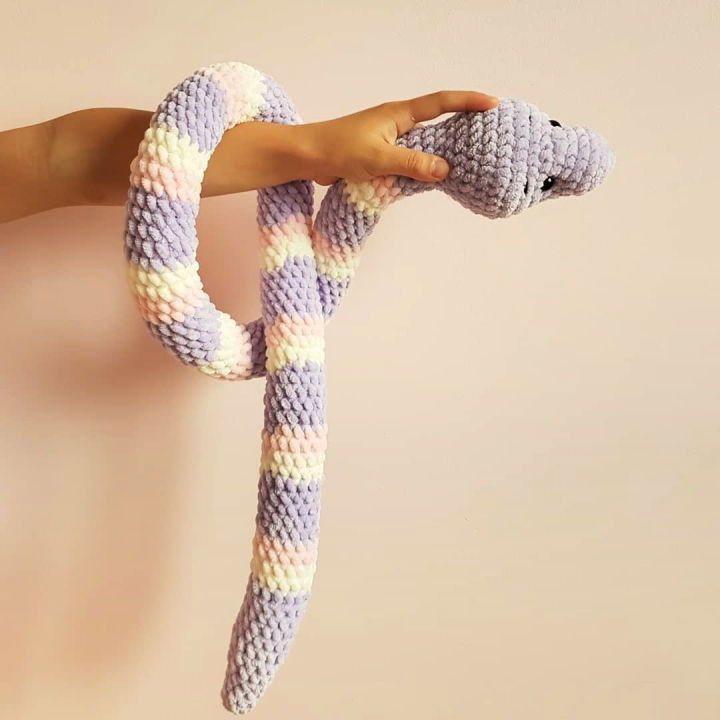 Are you searching for a free, fun and fast amigurumi snake pattern? An adorable crochet pattern uses plush yarn to create a 110 cm long snake with 4 cm diameters. All you need is some yarn, 3.5 mm hook size, 12 mm safety eyes and fiberfill stuffing – then your amigurumi masterpiece will be ready in no time! So don't wait any longer – try this free snake pattern today and start crafting your cuddly creations! amigurum
11. Crochet Stuffed Snake Amigurumi – Step by Step Instructions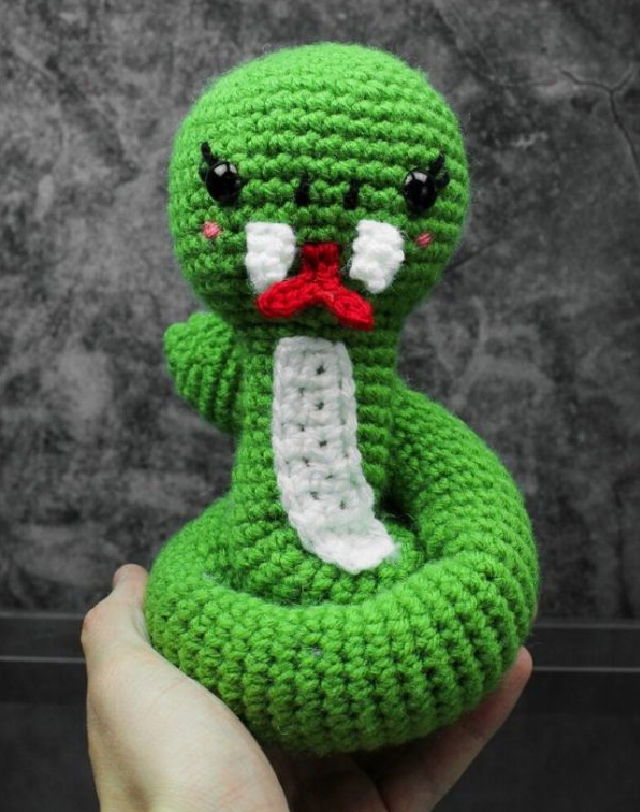 Slither through the world of crochet and unleash the snake within you! You only need worsted-weight yarn, pins, a 4mm hook, and two safety eyes. It's so easy that anyone can do it – just pick up some supplies and get creative! These unique crocheted snakes will surely be an interesting conversation piece at home or as gifts for friends and family. Start crocheting yours today! knotbadami
12. Unique Free Crochet Boa Snake Pattern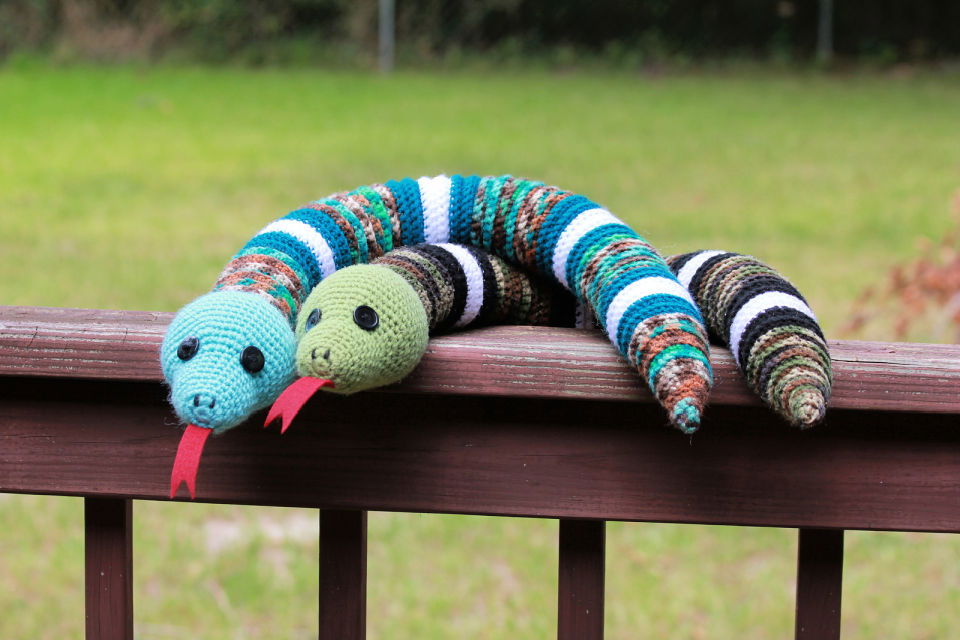 Adding a crochet boa snake to your collection of handmade items is easy with this beginner-level project. You just need yarn in four colors for the head, body, outer and inner bands, and a small amount of black for the eyes and nostrils. The hook size needed is an h/8 5.00mm and you'll also need button eyes, felt fabric for the tongue and Poly-fil stuffing to complete it. This friendly snake can become one of your favorite projects to brighten any room! ravelry
13. Free Crazy Mustache Crochet Pattern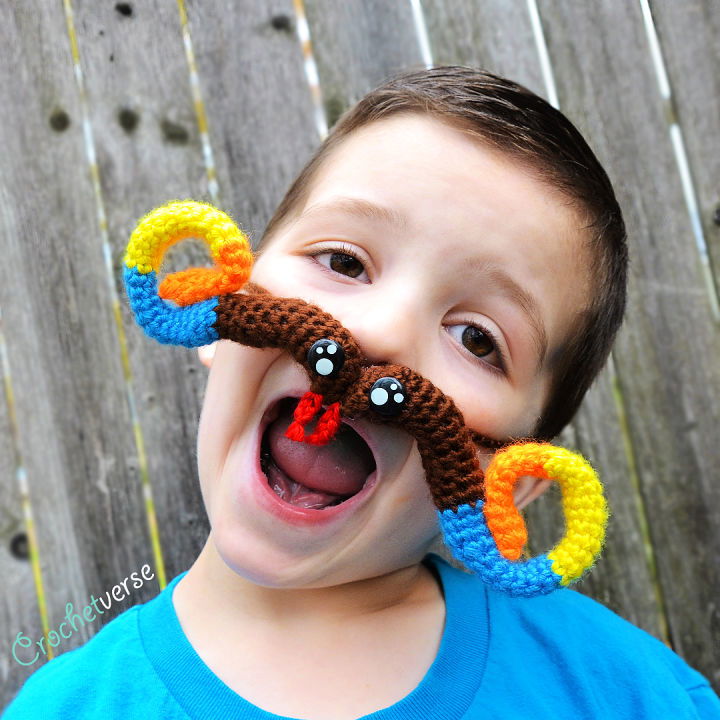 Let your imagination run wild with a one-of-a-kind crochet project! This free crazy mustache crochet pattern is perfect. All you need is small amounts of light worsted weight yarn, a size E 3.5mm crochet hook, some stuffing or yarn scraps and ⅜″ plastic eyes to create this snakestache that looks like it's made up of two kissing snakes. Get creative and make your wild designs with this amazing free pattern. crochetverse
14. Free Crochet Snake Plush Amigurumi Pattern to Print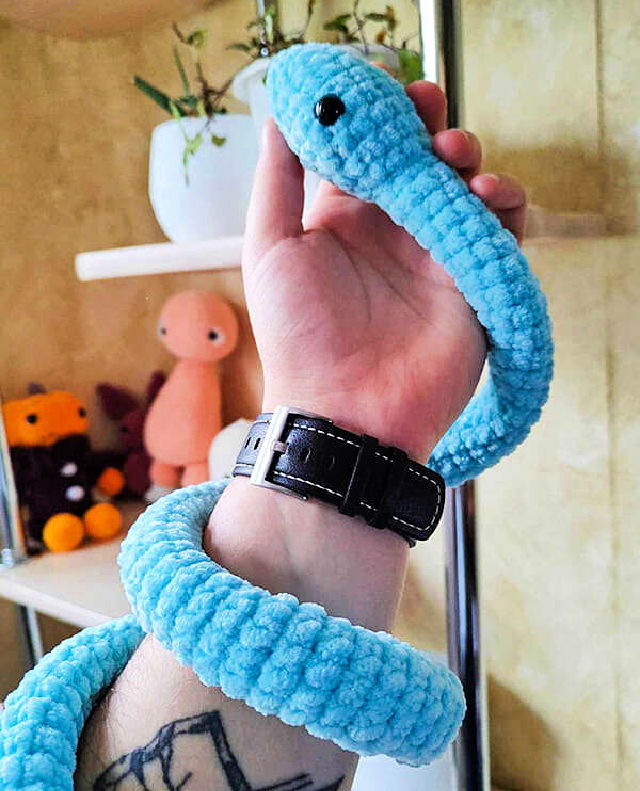 This free crochet snake amigurumi pattern is perfect for any level of crocheter. Get creative and use any type of yarn to create this unique, cuddly plush toy. You'll need a 4.5mm hook and lightweight holo-fiber stuffing to complete the project. Whether it's a gift or just something special for yourself, your snake will turn out cute and snuggly every time! Follow the easy-to-follow instructions to make your one-of-a-kind plush reptile today. alwaysfreeamigurumi
15. Crochet Snake Pattern Free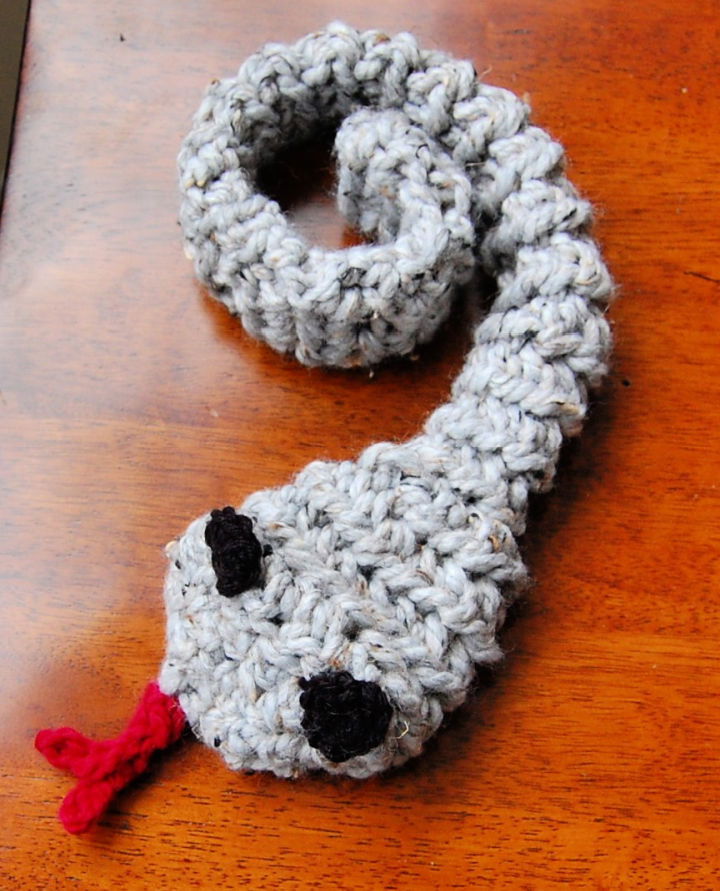 This free crochet snake pattern turns your next creation into a colorful and slithering masterpiece! All you need is a size L (8.0 mm) crochet hook, some super chunky yarn in various colors for the body and eyes, and an afternoon to start your new fun project. Whether you want something quick to whip up or need an extra special gift idea, this crochet snake pattern will become one of your favorite patterns! Get creative with the color combinations and give life to your crocheted creation! jjcrochet
16. Gorgeous Crochet Snake Scarf Pattern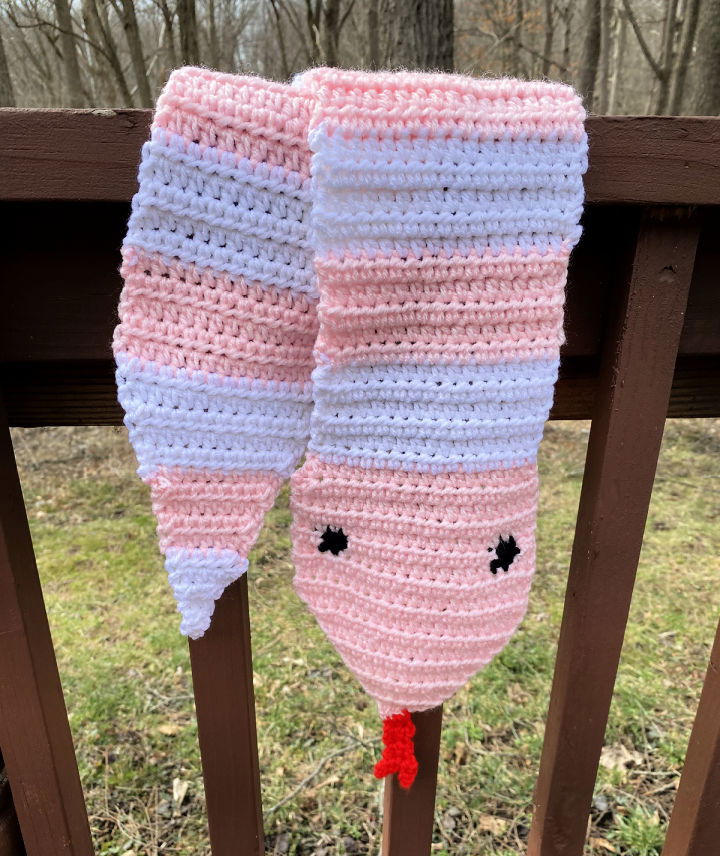 Show your style with this unique and eye-catching snake scarf! It's a fun pattern that can easily be customized to fit you perfectly. Crafted using two colors of yarn, pink and white, for the stripes in the middle, this scarf is made using a 5.5mm crochet hook. Whether you make it long or short, this cozy accessory adds flair to your wardrobe – perfect for any season. Get creative with color combinations and stand out from the crowd today! shootingstarcrafts
17. New Crochet Snake Bookmark Amigurumi Pattern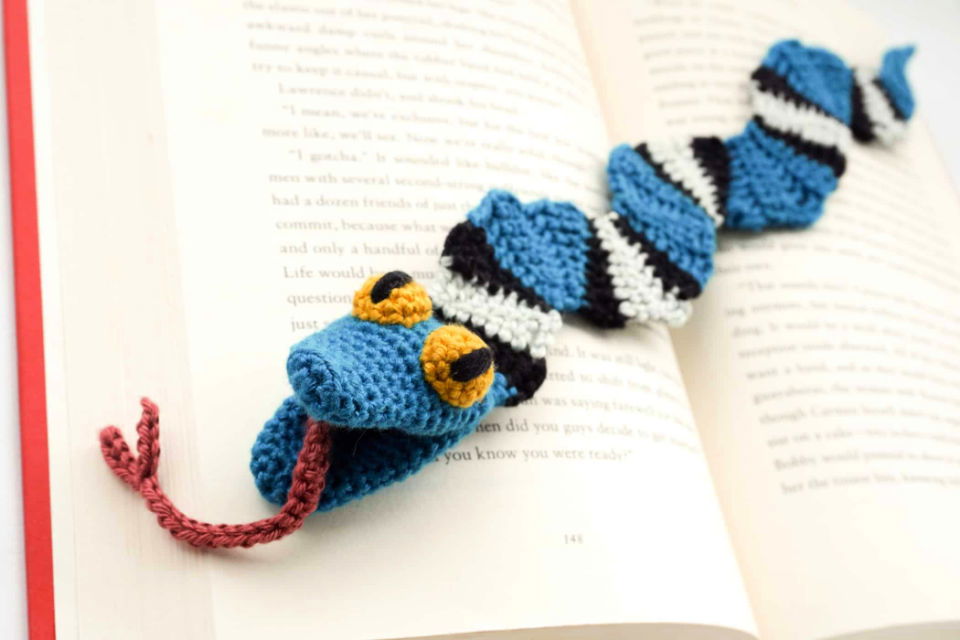 The Page-Snake is a charming and harmless crochet snake bookmark created to help bookworms keep track of their reading progress! This adorable amigurumi creation can be easily personalized with two simple patterns, allowing you to modify the shape or turn it into a stylish scarf.
Its primary purpose may be assisting humans in libraries, but this friendly companion would also make an ideal gift for any book lover or crafter wanting something unique and special. Give your bookshelves some personality – enjoy their beautiful curves as you dive into your favorite stories! supergurumi
18. Crochet Giant Rainbow Snake Amigurumi Pattern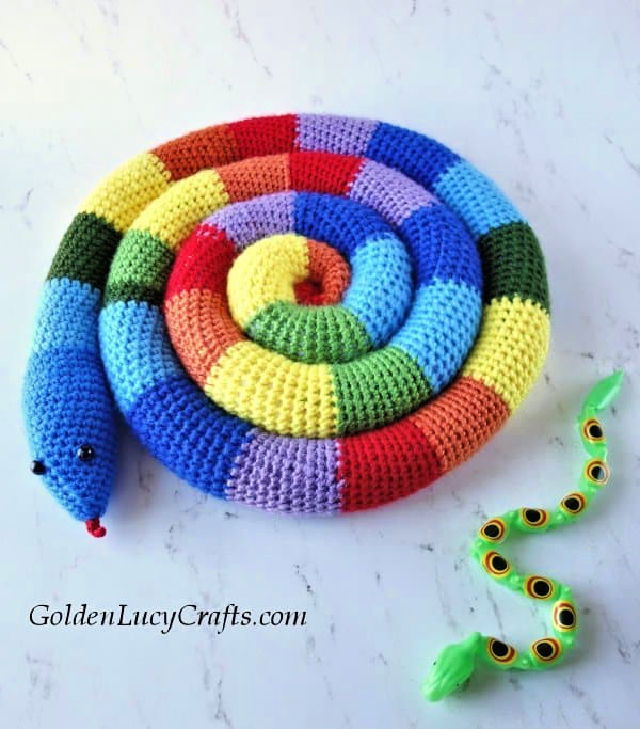 Make your own beautiful and unique Crochet Rainbow Snake! This crochet snake is about 85" long, made with Red Heart Super Saver Acrylic Yarn in gorgeous rainbow colors. You'll need a 5 mm crochet hook and a 3.25 mm crochet hook to create this amazing creature, plus two safety eyes and stuffing. A perfect project for all ages, children will enjoy the vibrant colors while adults appreciate its uniqueness! Get creative–the possibilities are endless with this rainbow-hued piece of craftsmanship. goldenlucycrafts
19. Free Snake Crochet Pattern for Beginners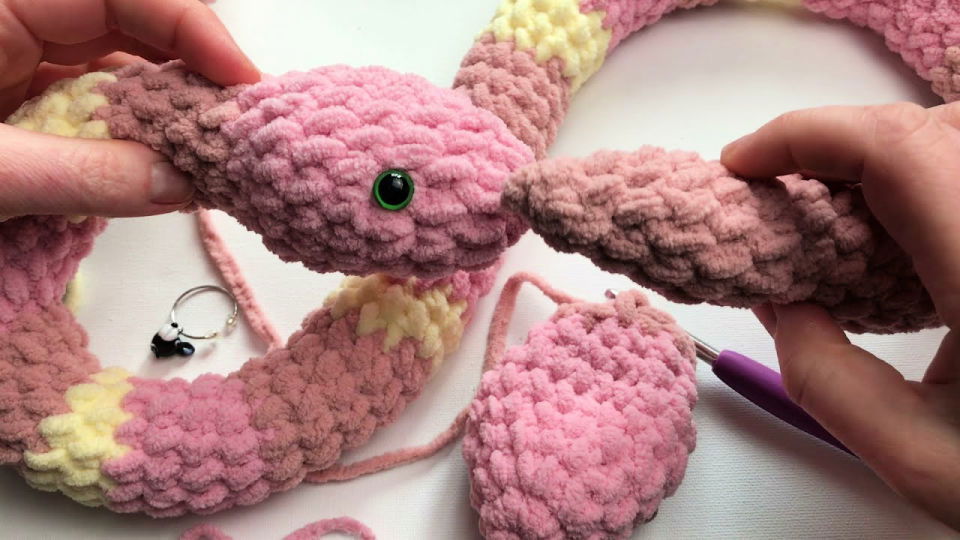 Learn how to Crochet a Snake today! This very easy pattern is perfect for beginners and will show you exactly how to make an amigurumi circle, increase, and decrease. Start by crocheting 12 sc in a continuous row – this forms your snake's body! Follow step-by-step instructions to create something beautiful for a toy or decoration. With just a few simple steps, you'll have everything you need to crochet your adorable snake at home! Get creative with colors and patterns for extra fun!
20. Cool Crochet Snake Plant Pattern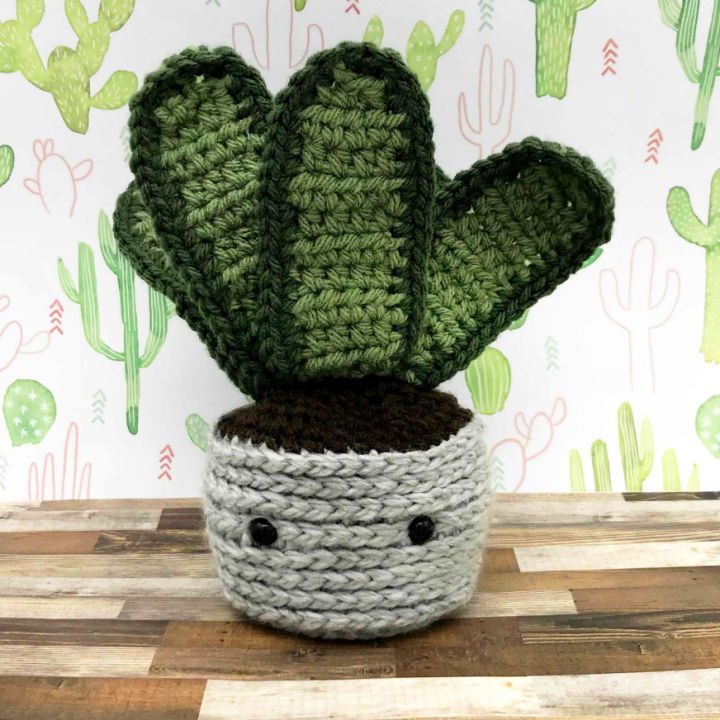 This free crochet snake plant pattern is ideal for craft lovers who want to add a touch of greenery to their homes without the hassle of maintenance. All you need is a 4 mm crochet hook and some worsted-weight scrap yarn, such as gray for the pot, dark brown for dirt, and light and green yarns for the leaves. The crocheting method requires spirals except for the leaves, which are worked flat. So get creative with this easy-to-follow pattern and make your unique snake plant today! woolstreet
21. Beautiful Crochet Slytherin Snake Pattern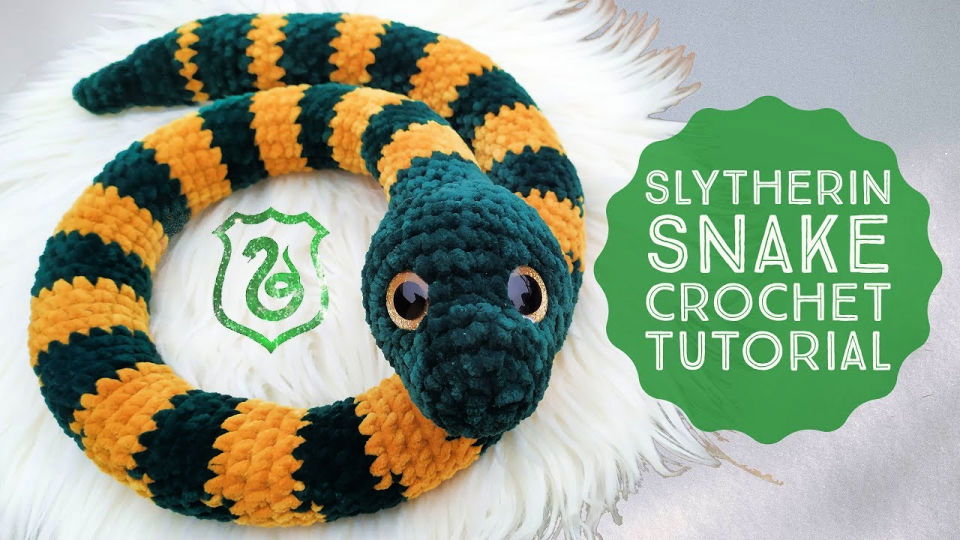 Show your Harry Potter enthusiasm with this Slytherin Snake crochet pattern inspired by the infamous Nagini! This project is perfect for experienced crocheters who are up to a challenge. Using single crochet, increases and decreases, you can make your snake in either green and gray Slytherin colors or customize it however you like – length too! Velvet yarn can be tricky, so this project requires some experience. Get creative and show off your magical skills today!
22. Pretty Crochet Silly Snake Pattern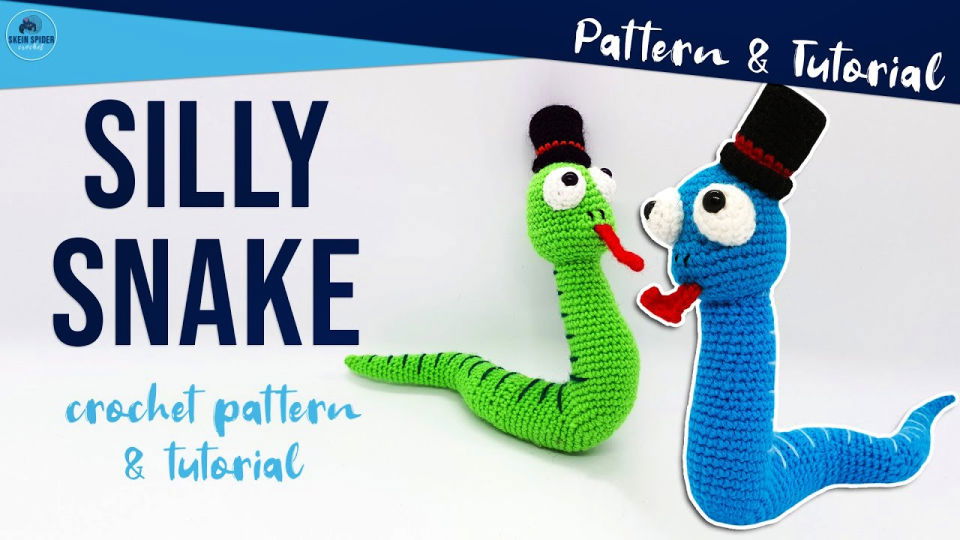 Create an adorable amigurumi snake plush with a dapper little hat with this step-by-step crochet a Silly Snake tutorial. It's the perfect project for advanced beginner crocheters, requiring only 8-ply yarn and 3 and 3.5 mm hooks. With its impressive size of 15 cm tall and 20 cm long, this handmade creation will surely make any crocheter proud! Follow these easy instructions and add extra personality to your next craft project.
23. Easy Crochet Mini Rainbow Snake Pattern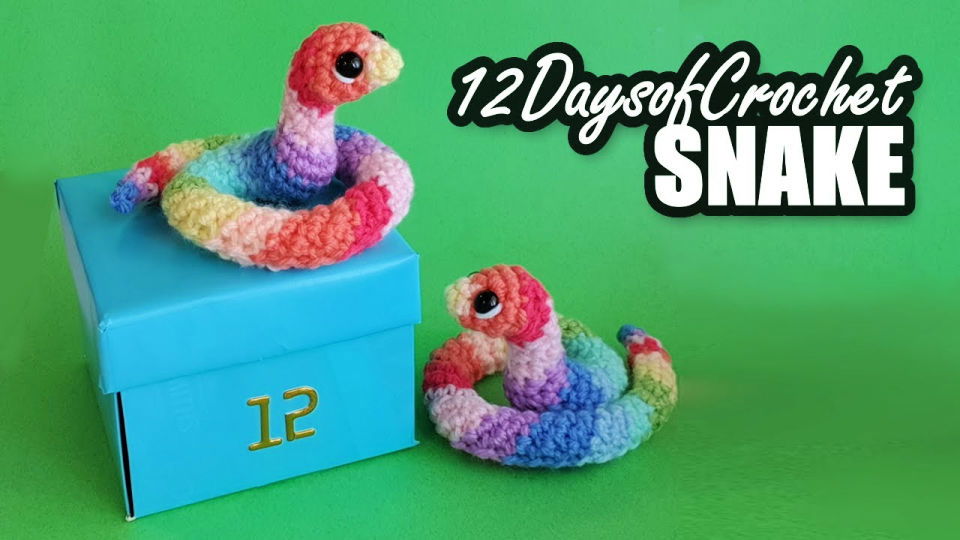 Discover unique and colorful crochet snake patterns for your next project and easily create charming decorations. This fun and easy-to-create mini rainbow snake pattern bring a little sunshine into your home. You can create an adorable crochet snake with just a few simple materials in no time! Whether it's raining outside or you're just looking for something to do, this project will make any room brighter. The vibrant colors of the rainbow add a unique touch that will make your snake stand out from all the others – so start crocheting and let the good times roll!
24. Adorable Crochet Chinese Zodiac Snake Amigurumi Idea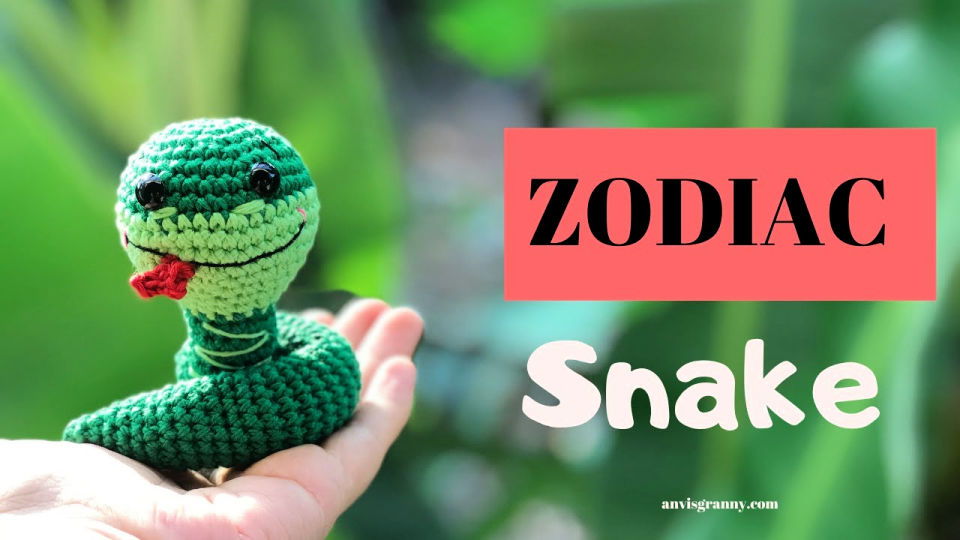 Discover how to crochet a cute snake amigurumi with this easy, fun-free pattern! Creating your adorable little Snake Chinese Zodiac sign in two hours is now possible. Ideal for people born in June or the snake year, this tiny keychain-size charm makes an ideal gift. Follow this tutorial and make something special for yourself or someone you love today! Crochet your unique Snake Amigurumi that stands out from the crowd – it's so much more satisfying than buying ready-made gifts!
25. Quick and Easy Crochet Snake Amigurumi Pattern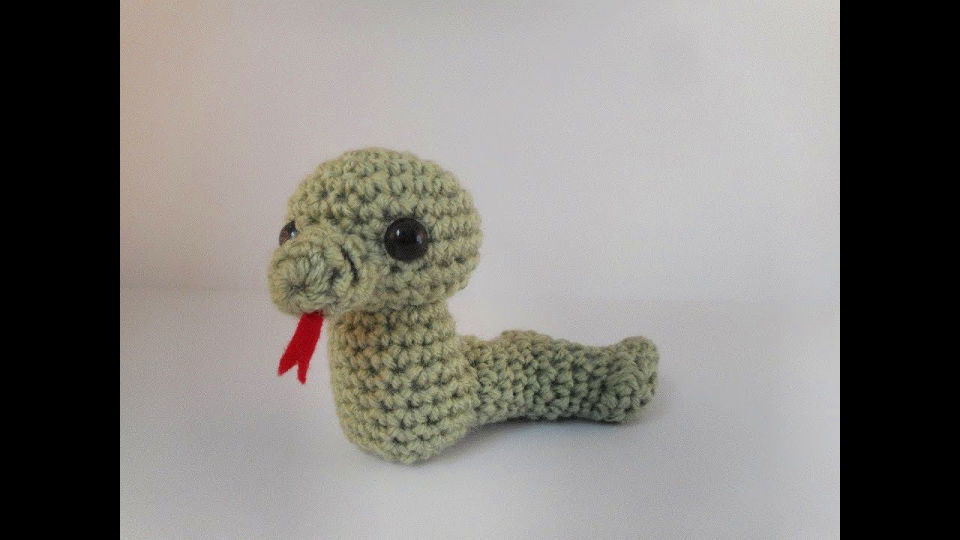 Unlock your inner creativity by learning how to crochet the cutest snake ever! With just a few cheap and easy-to-find items from your nearby store, you can create an adorable little snake right in the comfort of your couch. Follow this step-by-step guide, and check out the video tutorial if you need extra help. Learn today and impress your friends with your cute handmade creation!
Related Free Crochet Amigurumi Patterns:
Create your own adorable friends with these unique and fun free crochet amigurumi patterns! Explore imaginative shapes, vibrant colors, and endless possibilities to make the perfect companion.
Easy Crochet Amigurumi Patterns:
Conclusion:
In conclusion, these 25 free crochet snake patterns offer a range of options for those interested in creating a cuddly snake or a more realistic crochet snake. From easy snake patterns for beginners to complex designs for experienced crocheters, there's something for everyone. Whether you're looking to make an amigurumi snake or a large stuffed animal crochet pattern, these snake patterns are sure to inspire your creativity. So, look no further than these crochet snake patterns to create your own snake winning pattern and bring some charm and coziness to your space.