If you're a fan of strawberries and crocheting, you'll love our 25 free crochet strawberry patterns! With these patterns, you can create adorable crocheted strawberries in various styles and sizes, perfect for decorating your home or gifting to friends and family. These include the crochet strawberry plushie, crochet strawberry pillow, crochet strawberry keychains, crochet strawberry amigurumi pattern and more. Each crochet strawberry pattern has step-by-step instructions and detailed tutorials in both written and video formats, making it easy to learn and create your own adorable strawberries.
Our free crochet strawberry patterns include step-by-step instructions and detailed diagrams to guide you in creating your crocheted strawberry. We've many crochet strawberry patterns, from plushies and pillows to keychains and appliques. And with our easy-to-follow instructions, even beginners can create beautiful and professional-looking crocheted strawberries.
Whether you want to create a cute and cuddly strawberry plushie or a decorative strawberry pillow, these free crochet strawberry patterns have you covered. You can customize your strawberries with different yarn colors and textures, making each one unique and special. So why not start crocheting your own strawberries today? With our free crochet strawberry patterns, you'll have a fun and delicious project to enjoy!
1. Free Crochet Strawberry Plush Pattern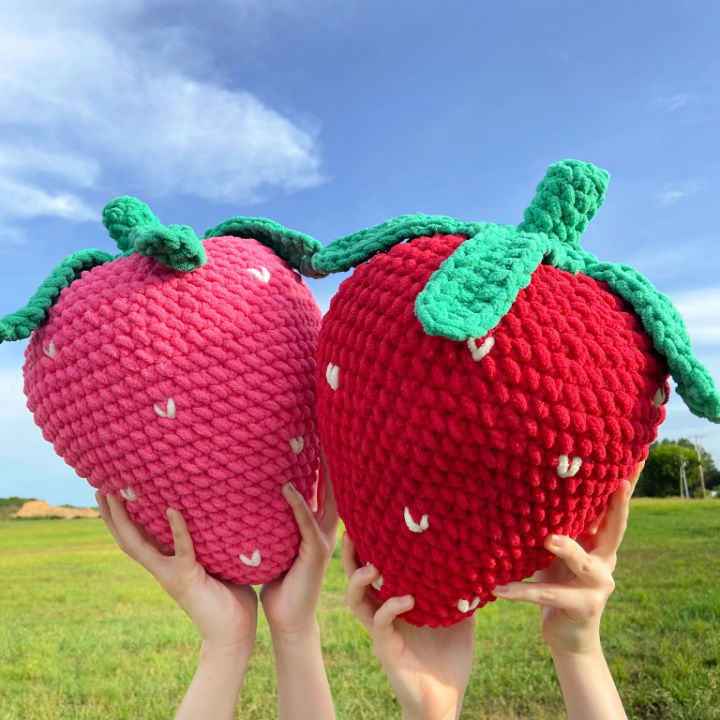 Make your own adorable giant strawberry plushie with this free crochet pattern and video tutorial! It's so cute, easy to make, and, best of all – it's free. With the detailed instructions in the tutorial that are simple enough for even beginners to follow, you can have your delightful handmade plush in no time. Get ready to create the cutest giant strawberry plushie ever – grab your yarn now! hayhaycrochet
2. Crochet Succulent Strawberries Design – Free Pattern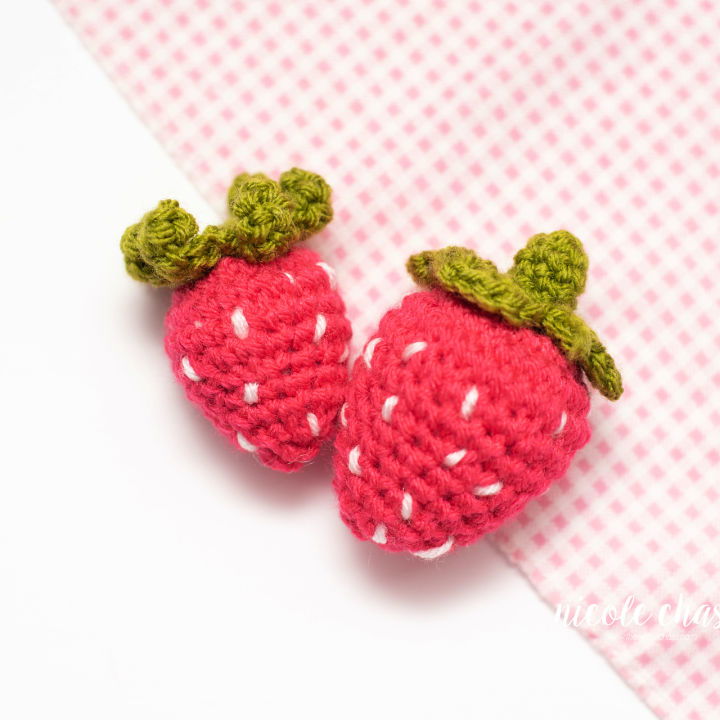 Bring the attractiveness of nature indoors with this delightful free crochet pattern! Make two adorable succulent strawberries to brighten up any room. Using worsted weight yarn, a 3.5 mm hook and some stuffing – as well as other simple supplies – create these cute designs that are perfect for gift-giving too. The easy crochet pattern includes a yarn & color key for guidance and can be completed quickly! With optional pins included, you'll have your unique decoration in no time – try it now! cillacrochets
3. Quick and Easy Crochet Strawberry Pillow Pattern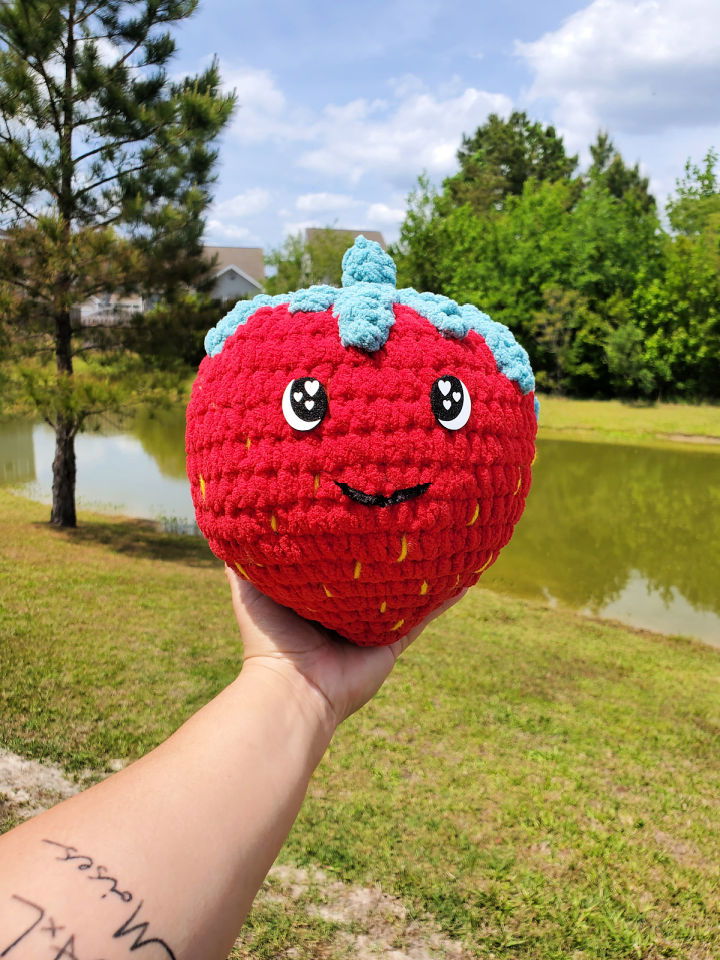 Are you looking for an easy crochet pattern to make something cute and lovely? Look no further than this strawberry pillow crochet pattern! It quickly works up, making it a fantastic addition to any room or home décor. It's perfect for both beginners and experienced crocheters alike. Get creative with colors and add some fun flair while making this delightful design. Enjoy crocheting a unique accessory that will charm anyone who sees it today with this adorable strawberry pillow crochet pattern! asupermom2
4. Crochet Giant Strawberry – Free PDF Pattern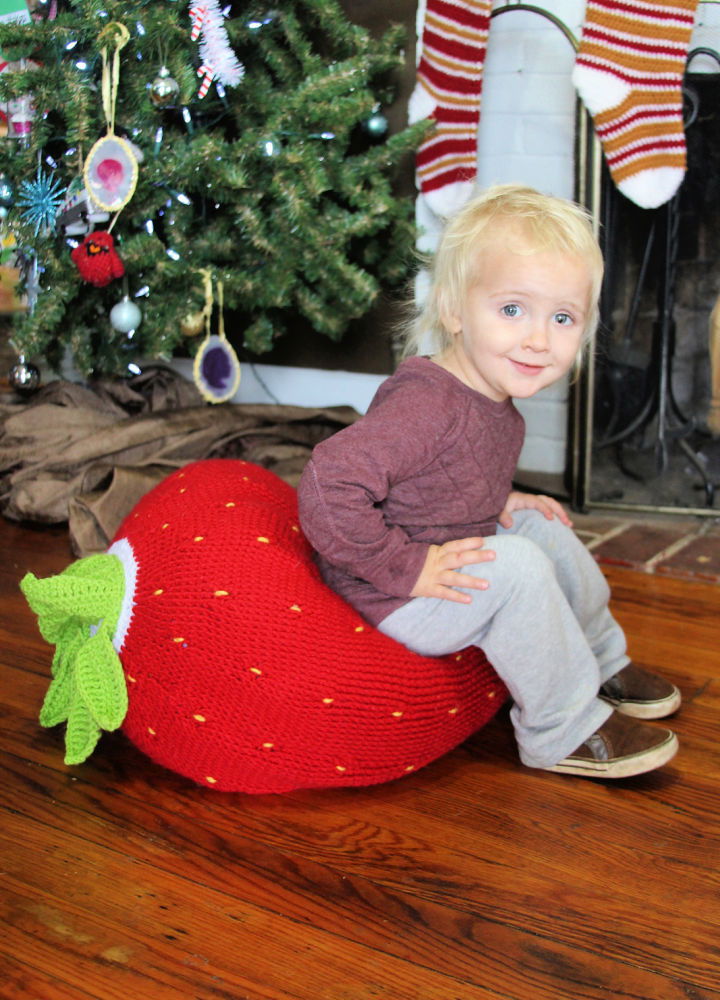 Create a unique and eye-catching crochet project to make your giant strawberry with this free pattern! This awesome project uses post stitches to create a huge version of a small thing everyone will love. The finished product is 23″ tall and 48″ around, perfect for adding fun style to any room or outdoor space. Make something special today using this free pattern, and get creative with this amazing crochet giant strawberry! ravelry
5. Easy Crochet Strawberry Hearts Pattern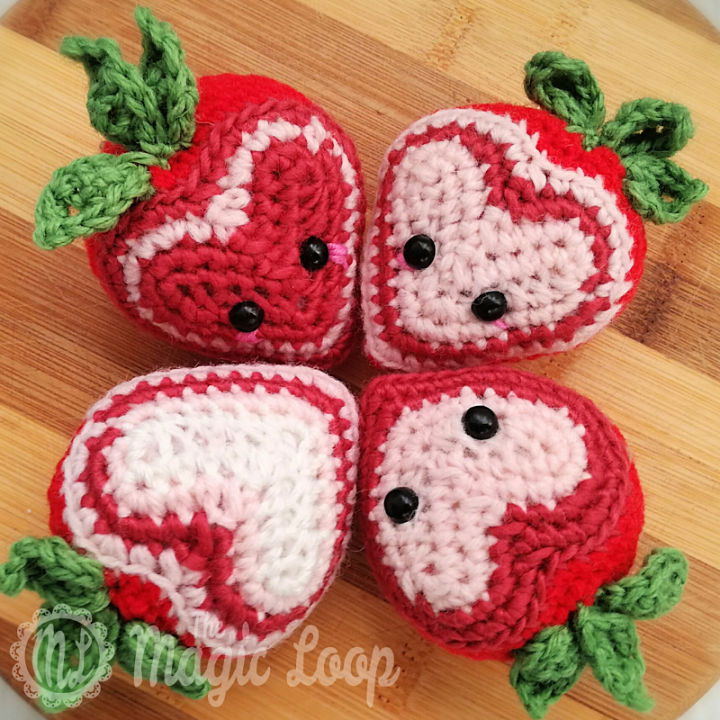 Fall in love with this gorgeous, easy crochet strawberry heart-free pattern! Perfect for Valentine's Day, these decorative heart-shaped strawberries will make a truly special handmade gift. With just a few supplies and less than an hour of your time, you can create something unique and beautiful that everyone will admire. These delightful little hearts are the perfect addition to any room or project. Get started today and see what amazing things you can craft with yarn! themagicloop
6. Free Crochet Pattern for Strawberry Fields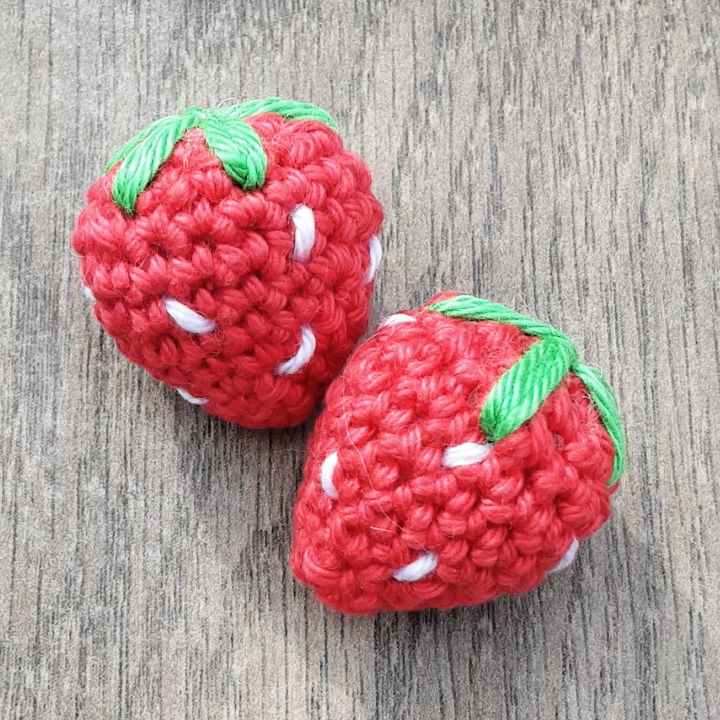 Welcome to the world of crochet! This free pattern is perfect for a springtime project – create some cute little strawberries with this easy-to-follow amigurumi method. Use these lovely strawberries to decorate your home – pop them in a dish, turn them into jewelry, make bunting or even decorate a wreath. If you're looking for an eye-catching craft idea to show off your creative side, this strawberry fields pattern will impress everyone! Get your hands on this easy-to-follow free crochet pattern now, and start crafting away! lovedotty
7. Beautiful Crochet Strawberry Amigurumi Pattern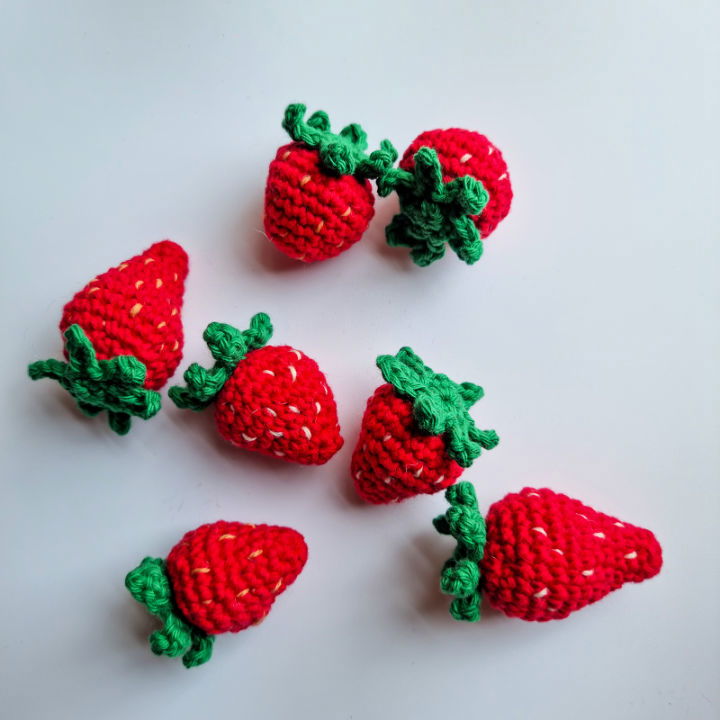 Be in awe of this beautiful crochet strawberry with a free pattern, and get your hooks ready for a fun amigurumi project! This easy-to-crochet pattern will brighten any occasion with its three different sizes and shapes; all made approximately the size of real strawberries.
Quickly whip it up as a charming home décor piece or use them as decorative elements on your wardrobe, keychains or even pretend play items.
It's also quite versatile, so don't let those scrap yarns go to waste – make something amazing out of them instead! Plus, it's even great for beginners just starting crocheting. Get creative with this adorable amigurumi pattern today! allaboardcrafts
8. How to Make Strawberry – Free Crochet Pattern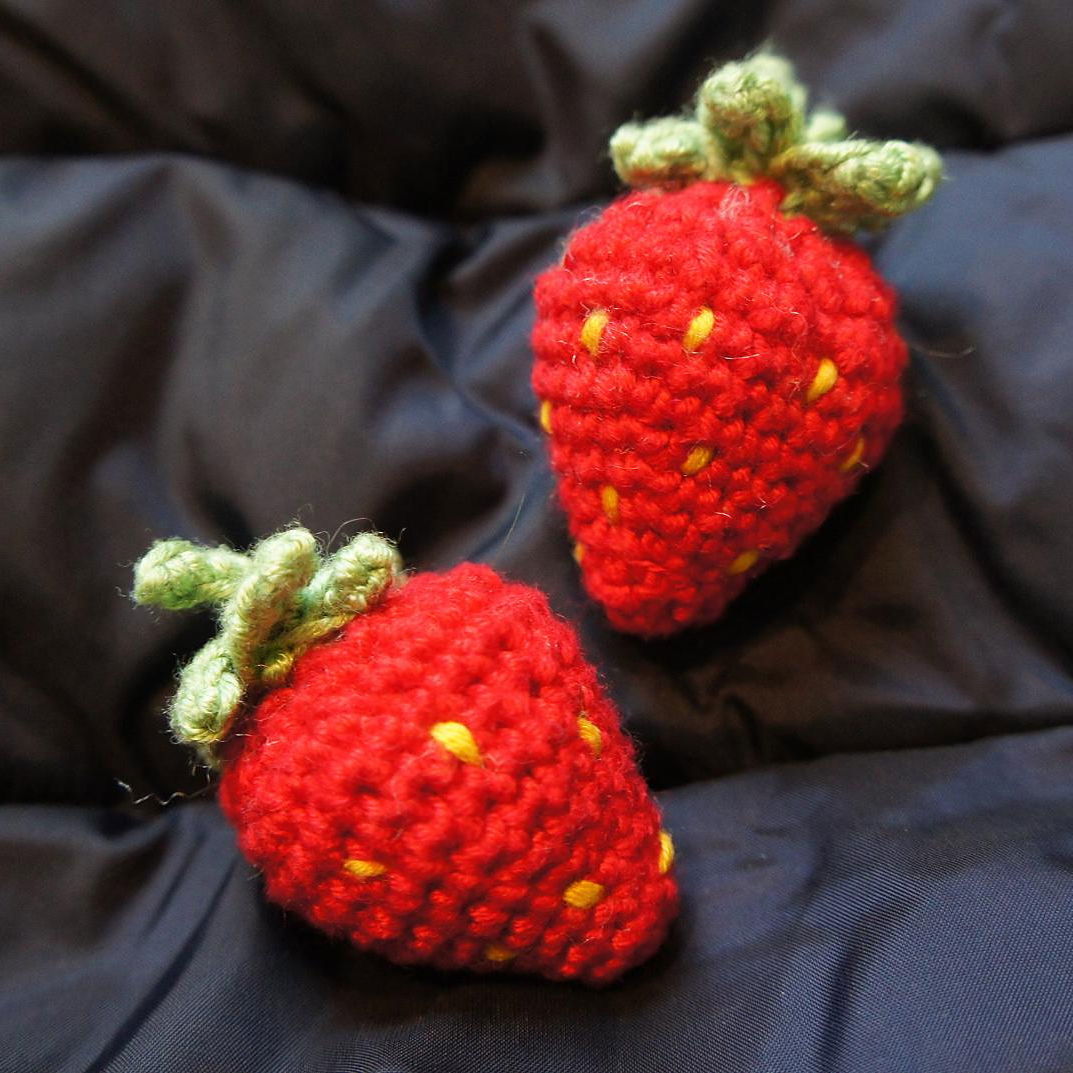 Add a tinge of sweetness to your home decor with this easy-to-make strawberry with this free crochet pattern! Perfect for any season and sure to be an eye-catching decoration, this project is the ideal way to show off your creativity. With just some basic crochet skills, you can craft up a cute strawberry in no time – even beginners will have success making it. Enjoy the satisfaction of creating something beautiful that adds cheer and charm wherever it goes – make one today and start spreading smiles! abunchofbuttons
9. Simple Crochet Strawberry Amigurumi Pattern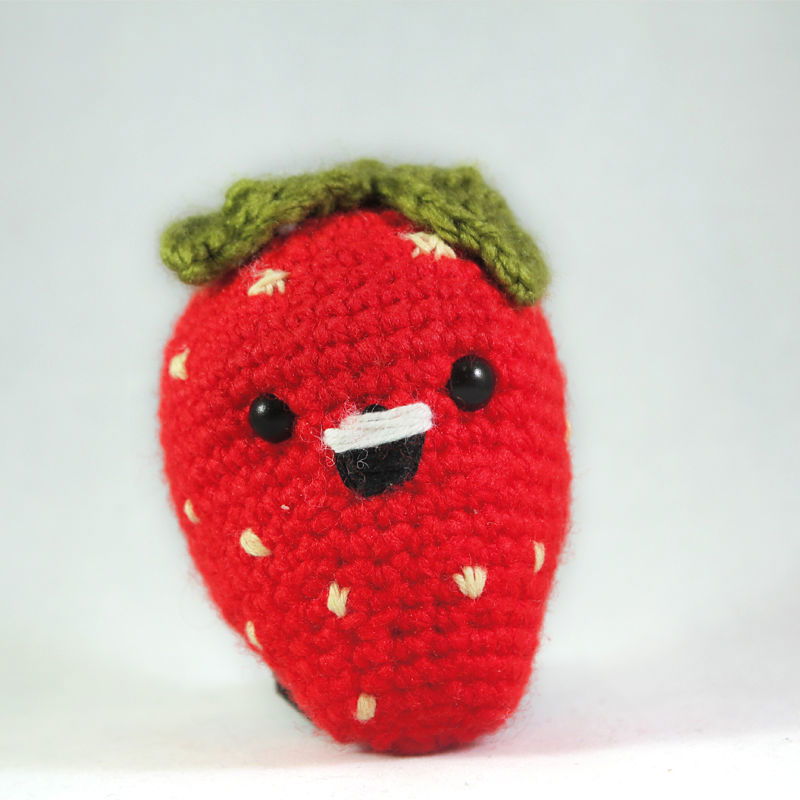 This free simple crochet strawberry amigurumi pattern is perfect for beginners wanting to learn how to make basic amigurumis and add details. It's a great small project for creating a keychain, nursery decoration or Christmas tree decoration! With clear instructions and step-by-step pictures, you'll have the perfect addition to your collection in no time. Enjoy this easy crochet project, and show off your creative skills today! sunandtheturtle
10. How to Crochet a Strawberry Sparkle Scrubby
This free intermediate crochet pattern features a double thickness scrubby that's perfect for any cleaning task, with the option to embroider the seeds between the layers. Crochet it with Red Heart scrubby sparkle Yarn to add a touch of shimmer and sturdiness to your home décor. The strawberry scrubby measures 5½" wide x 6½" long and can be machine washed in cool water on the delicate setting. Get started on this project today and customize your kit by choosing from various color options, including accessories such as a crochet hook and stitch markers. yarnspirations
11. Free Strawberry Crochet Pattern for Beginners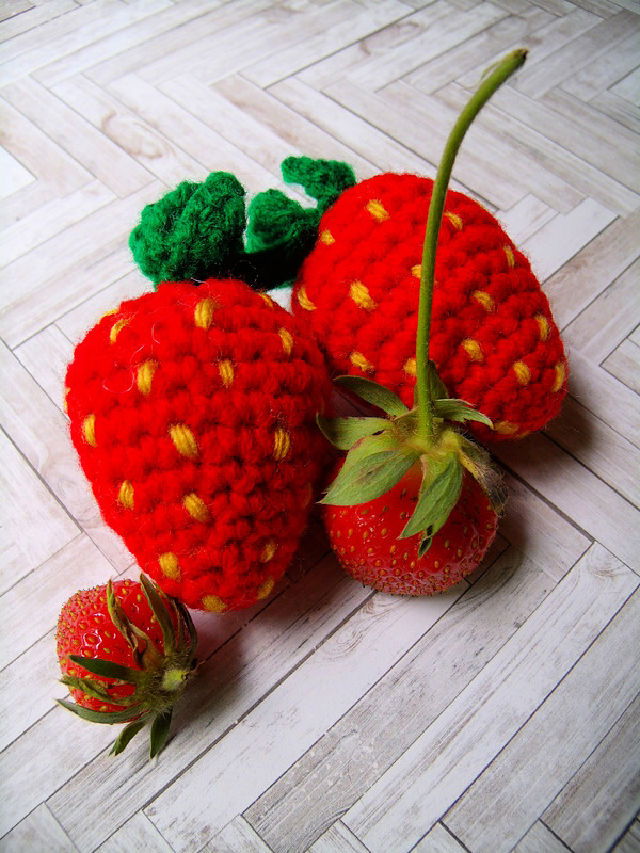 Make your crochet projects sweet and oh-so-lovely with this free strawberry pattern! Perfect for beginners, this easy-to-follow pattern will help you make something special in no time. Create a beautiful accessory or give your gifts an extra unique touch with this cute pattern – it's sure to bring smiles everywhere! Make your project even more special by using different yarn colors to create one-of-a-kind strawberry designs. With this free pattern, crafting has never been easier! missnissdesigns
12. Crochet Strawberry – Step-By-Step Instructions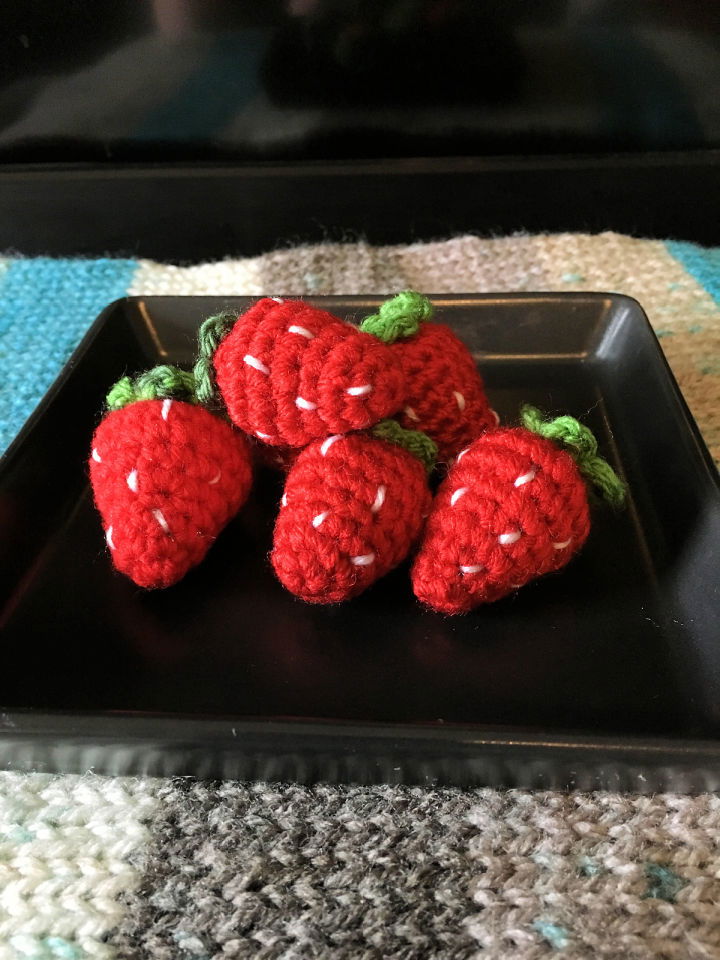 Create a fun and fast amigurumi project with this simple crochet strawberry pattern! This free crochet pattern is perfect for beginners looking to try their hand at amigurumi, as it requires only a few materials and takes under an hour to finish. With just a small amount of yarn, you can make unique crocheted fruit quickly. Have fun creating your simple sweet strawberries that will last forever. Get started on this great starter project today! kapercrochet
13. Crocheting a Strawberry Amigurumi – Free Pattern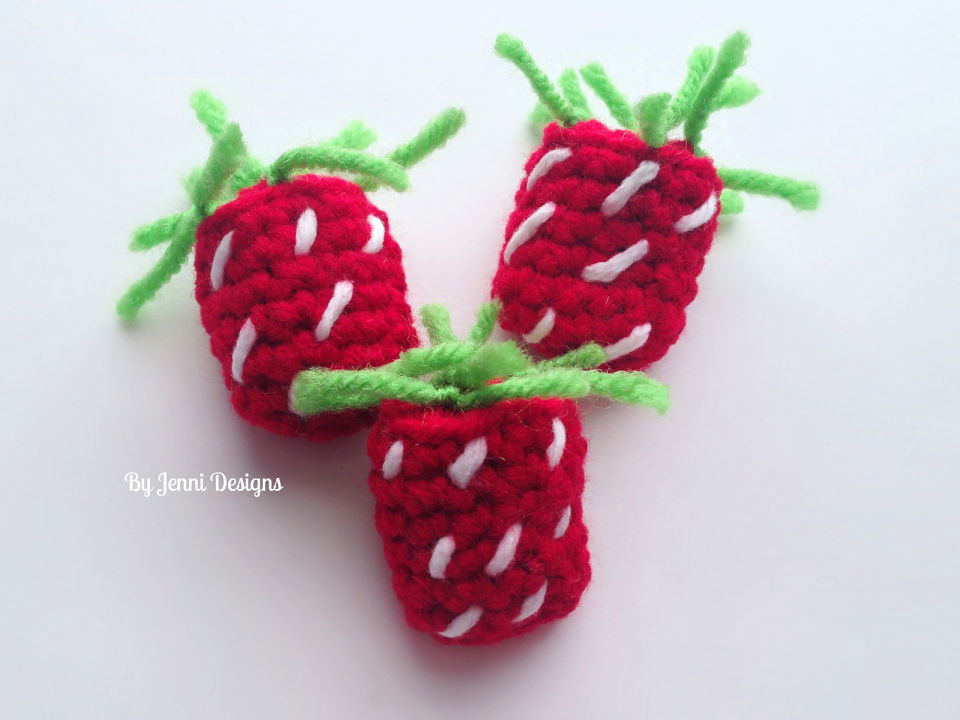 Crochet a super adorable strawberry amigurumi using this free and easy pattern! This project suits beginners, as the required skill level is 'easy.' The finished size of your crochet fruit will be 2″ x 1.25″, including its stems. Make one or several to use as decoration, gifts for friends or family members, or even as an addition to your collection of amigurumi toys! Bring out your inner crafting skills by crocheting this cute strawberry today! byjennidesigns
14. Cool Crochet Mini Sally Strawberry Pattern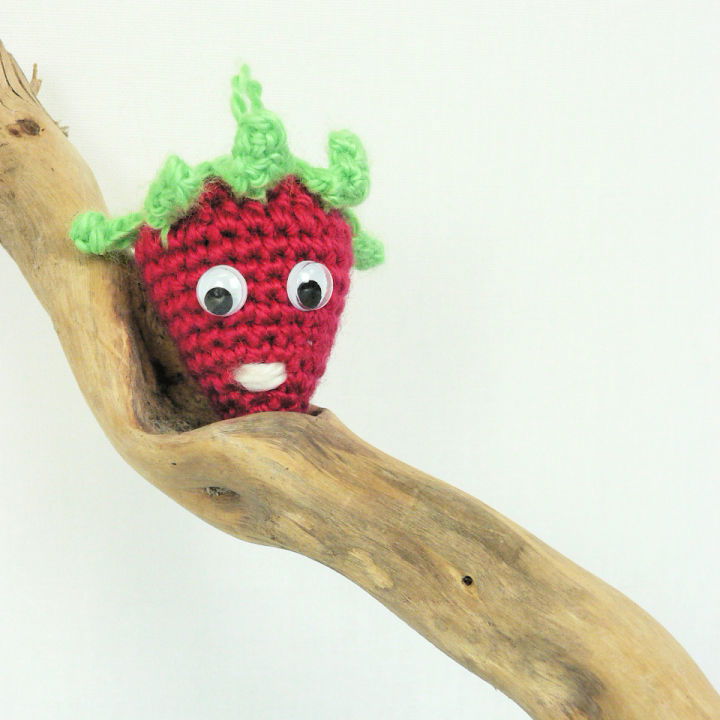 Make a statement with this delightful cool crochet mini sally strawberry pattern! With soft light yarn, you won't have to worry about splitting the strands while making these cute little strawberries.
Whether scattered along your table as a centerpiece or used as an accessory in other projects, this cute strawberry measures approximately 1 ½″/4cm in diameter and will make any room brighter. Easy to crochet even for beginners, and best of all – it's really fun too! Get creative with this pattern today and whip up something special for yourself or someone else. naturallycaron
15. Crocheted Strawberry – Free Pattern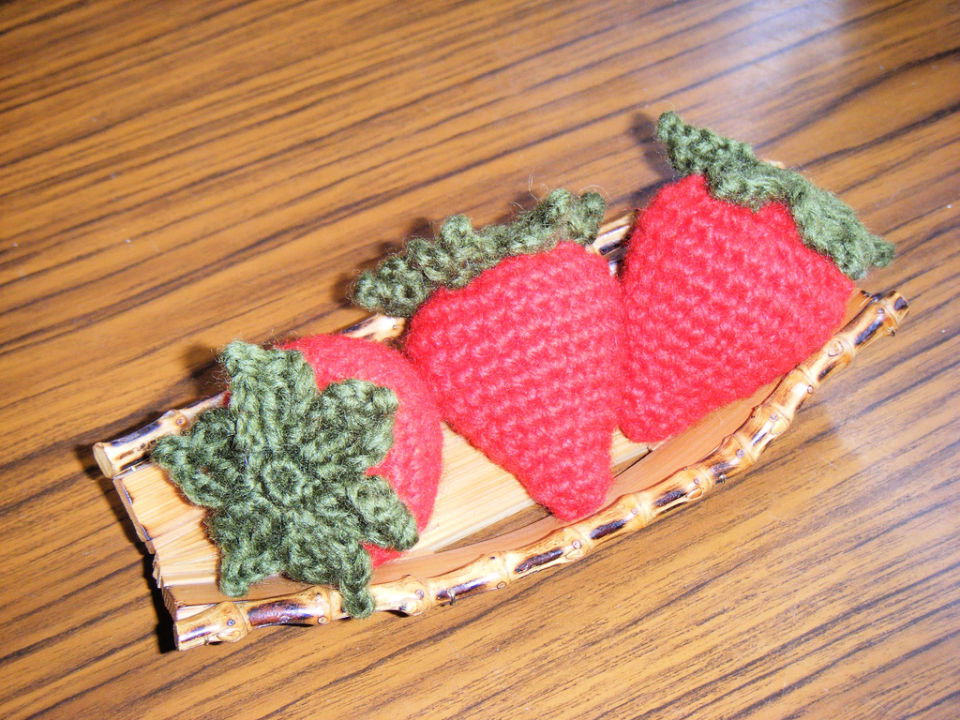 Are you ready to craft something special this summer? With this free crocheted strawberry pattern, you can create a stunningly real treat! Using bulky wool yarn and a 3.75mm crochet hook, you can make a fairly large strawberry in no time – perfect for decorating your home or giving it away as a gift. If you'd like a smaller berry, use thinner yarn and a smaller hook for the same delightful result! So don't wait any longer – get crocheting today with this amazing pattern! makelittlethings
16. Pretty Crochet Strawberry Amigurumi Pattern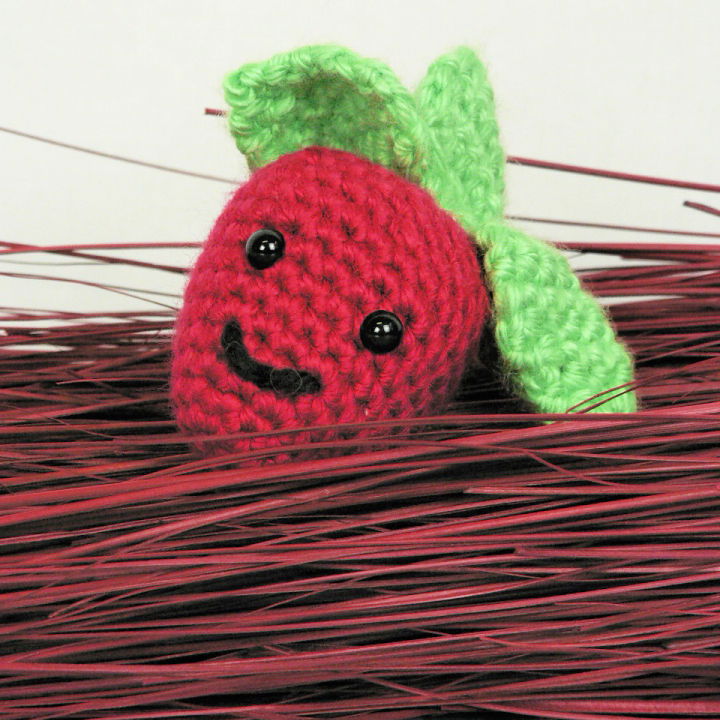 Discover the sweetness of crafting with this delicious strawberry amigurumi-free crochet pattern! This pretty pattern uses basic stitches like chains and single crochet, making it easy. Your finished strawberry measures approximately 2″/5cm high – perfect for adding fruity fun to your décor. Pick up some yarn and crocheting today – you'll love these charming strawberries! naturallycaron
17. Sweet Crochet Strawberry Hat Patrern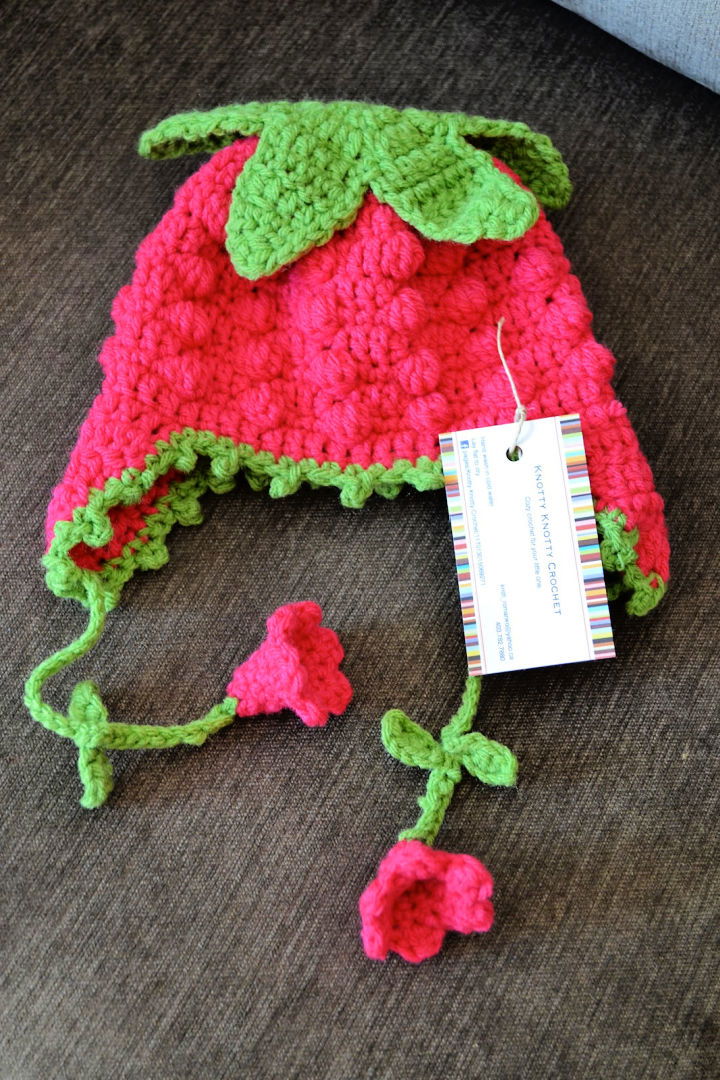 Surprise your little one with a special crocheted gift – this free sweet strawberry hat pattern! It's an adorable gift idea for a baby. Easy to make and fun to wear, they'll love the bright colors of this hat. This pattern requires slightly more yarn than a basic beanie, but the end product is worth it. With this easy-to-follow pattern, you can create something unique for any occasion. Fits 18-24-month-olds (17-19″ head circumference). Download the free pattern now and start making this cute hat – your little one will love it! knottyknotty
18. How Do You Crochet a Plushie Strawberry Cow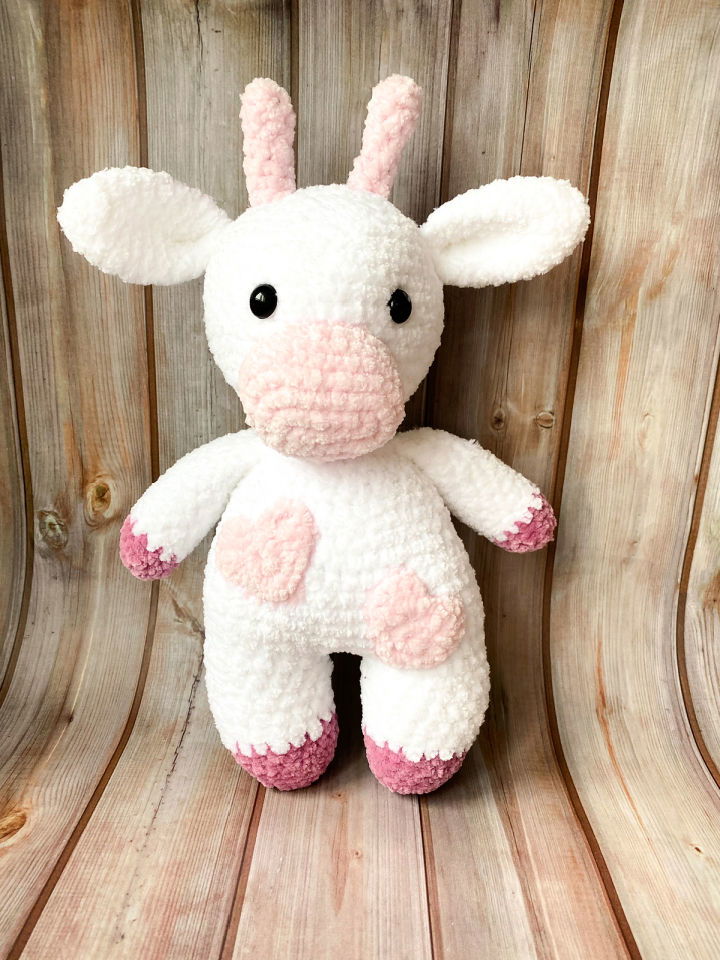 Create something special for the little ones in your life with this crochet plushie strawberry cow-free pattern! This lovely toy is sure to be their favorite, and it's cute and easy to make. You only need a few supplies like a 5mm crochet hook, chenille chunky yarns in white, pale pink and dark pink, plastic safety eyes, stuffing, scissors and a needle. Kids will love having this unique plushie cow that brings so much joy into their lives. Make one today and give them the gift of happiness! abigurumii
19. Gorgeous Crochet Strawberry Tanner the Triceratops Pattern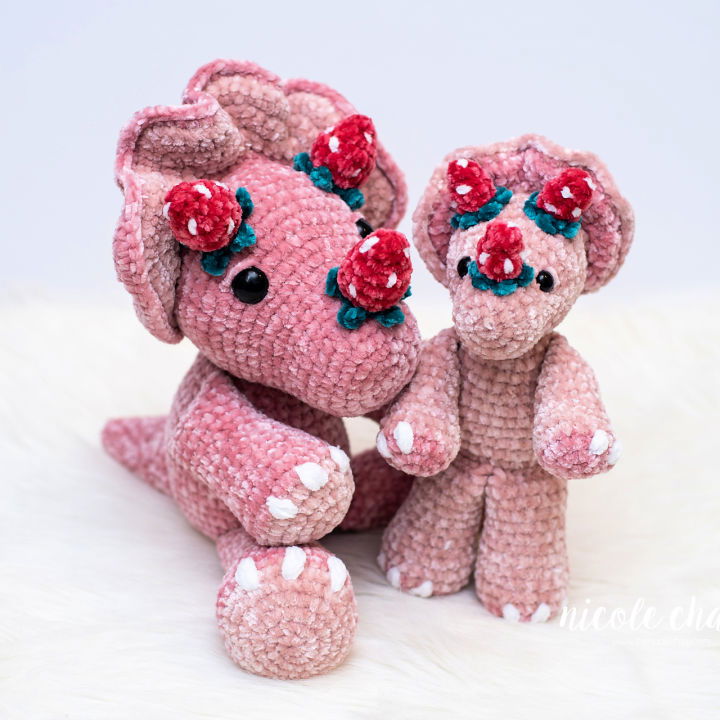 This incredible, free crochet pattern for a strawberry tanner, the triceratops! This gorgeous amigurumi is perfect for advanced beginners: although you will need some prior experience in this craft, it's very easy to make. With vibrant colors and unique design, your crafting efforts will be rewarded with an amazing result – so don't hesitate and try out this adorable pattern today! thenicolechase
20. Best Strawberry Hat Crochet Pattern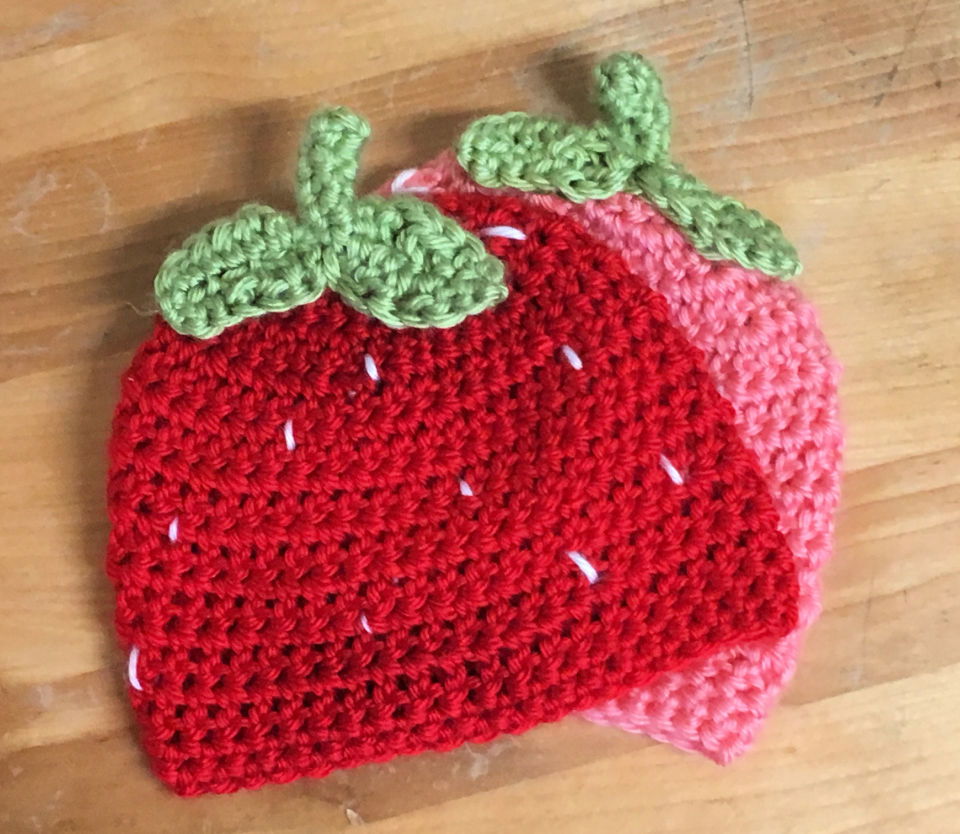 Bring a special touch of sweetness to any newborn with this free, easy-to-follow strawberry hat crochet pattern! In just an hour or less, even if you're new to crocheting, you can make a gorgeous baby gift. The hat is made with basic double crochet and includes a cute strawberry stem and white thread sewn on to represent the seeds. For older children, modify the pattern for larger sizes – the finished size measures 11 ¾ inch circumference and 5 inches high. Get your needles ready for this fun project! mudpaperscissors
21. Easy Crochet Strawberry Bucket Hat Tutorial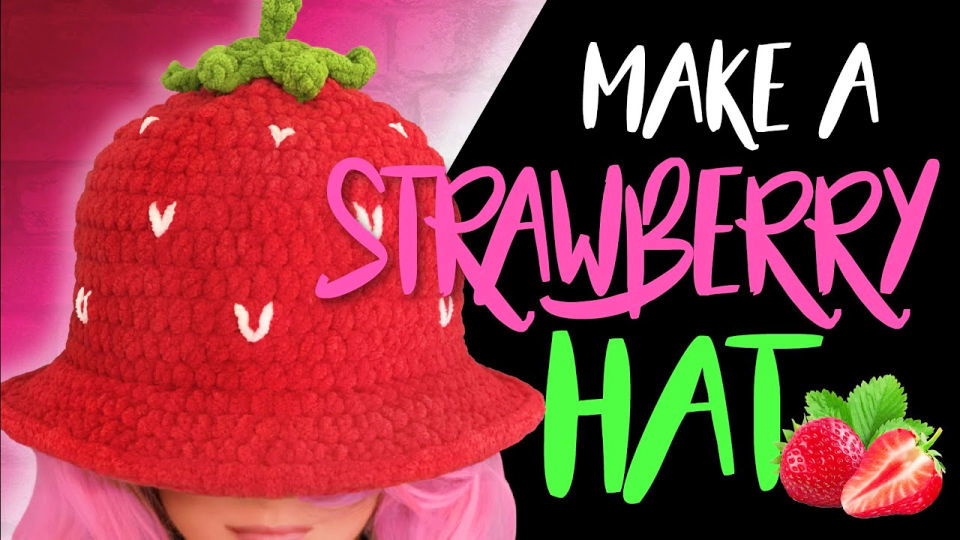 Give your little one a look of sweet and stylish fun with a crochet strawberry bucket hat! This quick and easy crochet pattern is perfect for beginner crocheters and makes it simple to create a super cute hat that's sure to get attention.
The unique design features delightful strawberry-shaped appliques on the hat's brim – making it stand out from ordinary styles.
And since it only requires minimal yarn, you can whip up this hat quickly. Perfect for any season or occasion – your child will love wearing their very own handcrafted strawberry bucket hat!
22. Colorful Crochet Amigurumi Strawberry – Free Pattern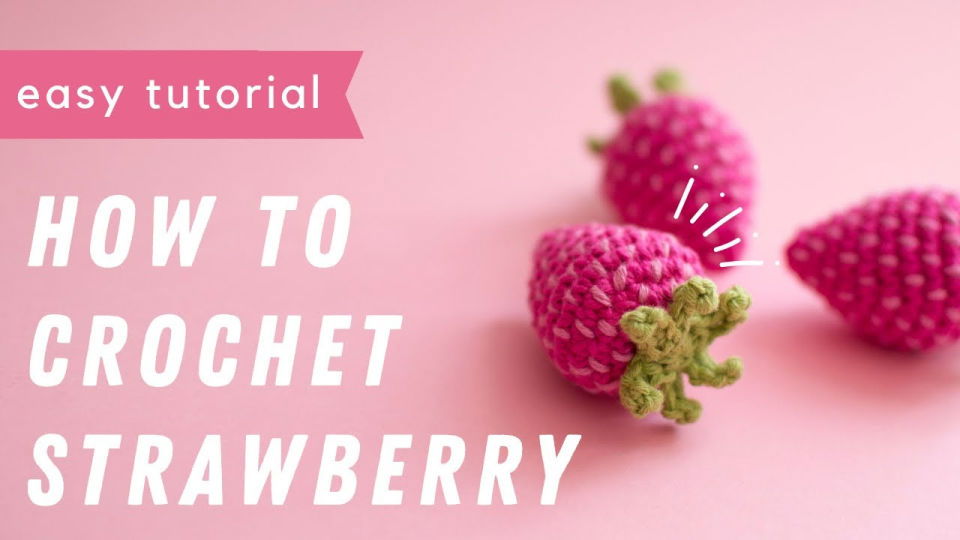 Enjoy a unique, colorful crochet amigurumi strawberry with this free tutorial! This step-by-step video is designed to help you create the cutest little amigurumi strawberry — follow the instructions, and soon you'll be well on your way.
This tutorial has a PDF pattern available for download so that you can access it anytime. To complete this project, you will need to know how to work with chain stitches, magic circles, and single crochet increases and decreases.
Don't worry about not having enough experience or supplies; grab what you need and get creative! With this helpful guide, making an adorable amigurumi strawberry has never been easier!
23. Cute Crochet Strawberry Milk Box Bag Pattern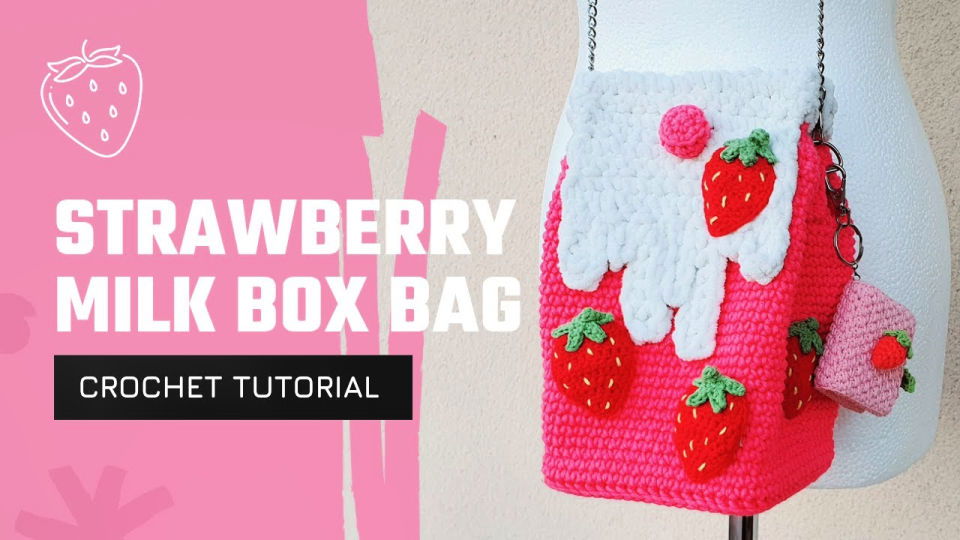 Be the buzz of the town with this adorable crochet strawberry milk box bag pattern! Perfect for any age, this easy tutorial will teach you how to make your very own cute and stylish bag. This easy-to-follow tutorial will make you love this sugary sweet design.
Not only that, but it also included a sweet little keychain in the shape of a strawberry book. Although some experience with crocheting is needed to comprehend the full pattern, don't be intimidated. Once you've given it a go, you can proudly show off your new accessory! So what are you waiting for? Get started on crafting this unique design today!
24. Free Crochet Amigurumi Strawberry Turtle Pattern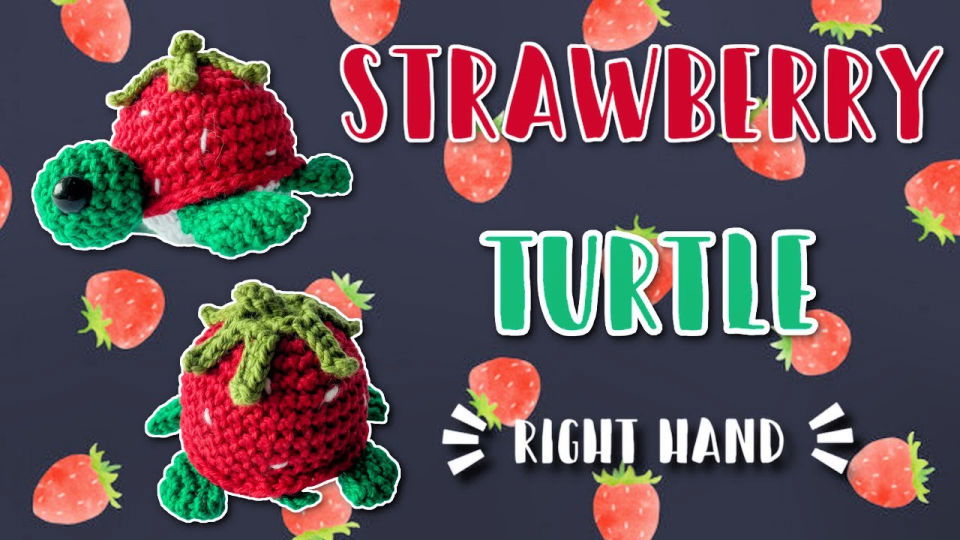 Show your love with this super cute, free crochet amigurumi strawberry turtle pattern! This adorable right-handed version of a classic favorite will surely be a hit and put smiles on faces. Kids will adore these soft and cuddly turtles, perfect for snuggling up. The PDF crochet pattern makes it easy to get started and creates a treasured keepsake that can be enjoyed for years. Try out this free amigurumi pattern today – you won't regret it!
25. New Crochet Strawberry Backpack Pattern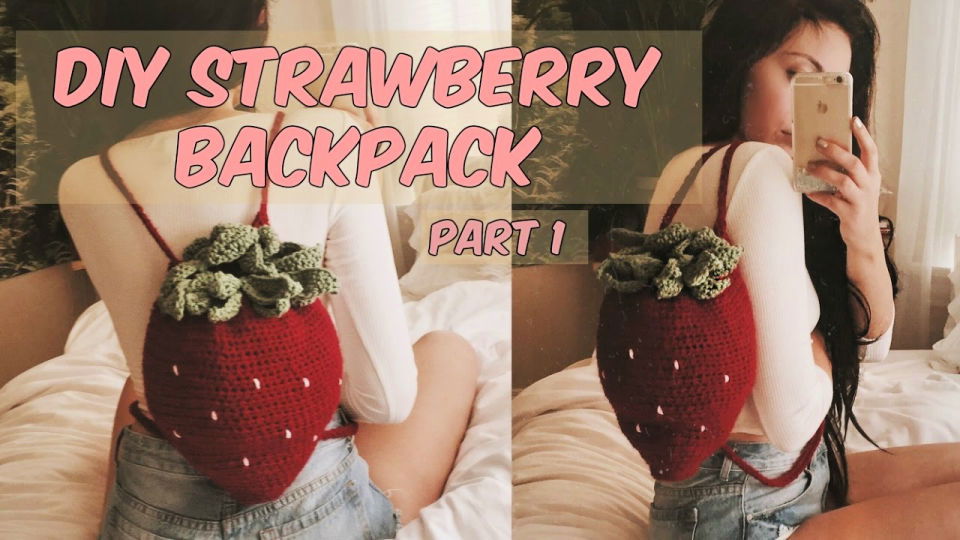 Welcome to the crochet world with this delightful new crochet strawberry backpack pattern! This beginner-friendly design uses a 5mm hook and weight four acrylic yarn, making it easy for everyone – from absolute beginners to experienced crafters – to make. The result is an adorable backpack that is both stylish and functional. Whether looking for an accessory to take on your adventures or simply as a gift, this pattern has everything you need. Get ready for summer with this gorgeous crochet strawberry backpack!
Related Free Crochet Patterns:
Discover free crochet patterns to create unique and stylish items. Whether you're a beginner or experienced crocheter, find the perfect pattern for any project!
Conclusion
In conclusion, if you're a fan of strawberries and crocheting, our collection of 25 free crochet strawberry patterns is perfect for you. With step-by-step instructions and detailed tutorials, you can make cute crocheted strawberries in various styles and sizes, including plushies, pillows, keychains, amigurumi and more. Even beginners can create beautiful and professional-looking crocheted strawberries. These free patterns allow you to customize your strawberries with different yarn colors and textures, making each one unique and special. So start crocheting your own strawberries today and enjoy a fun and delicious project!