Crochet headbands, also known as ear warmers, are a popular and stylish accessory that can keep you warm and cozy in colder weather. Creating an ear warmer with a simple crochet pattern is easy and fun. With our list of 25 free crochet headband patterns, you can create unique crochet ear warmers in various styles and colors. These easy crochet headband patterns are suitable for both newbies and advanced crocheters and come with easy-to-follow instructions and diagrams to help you create the perfect crochet ear warmer.
Our collection of free crochet headband patterns includes easy-to-follow instructions and diagrams to help you create the perfect ear warmer. You can choose from various crochet ear warmers, from simple and classic to more intricate and decorative patterns. You can customize your ear warmers with different yarns and colors to match your personal style and wardrobe.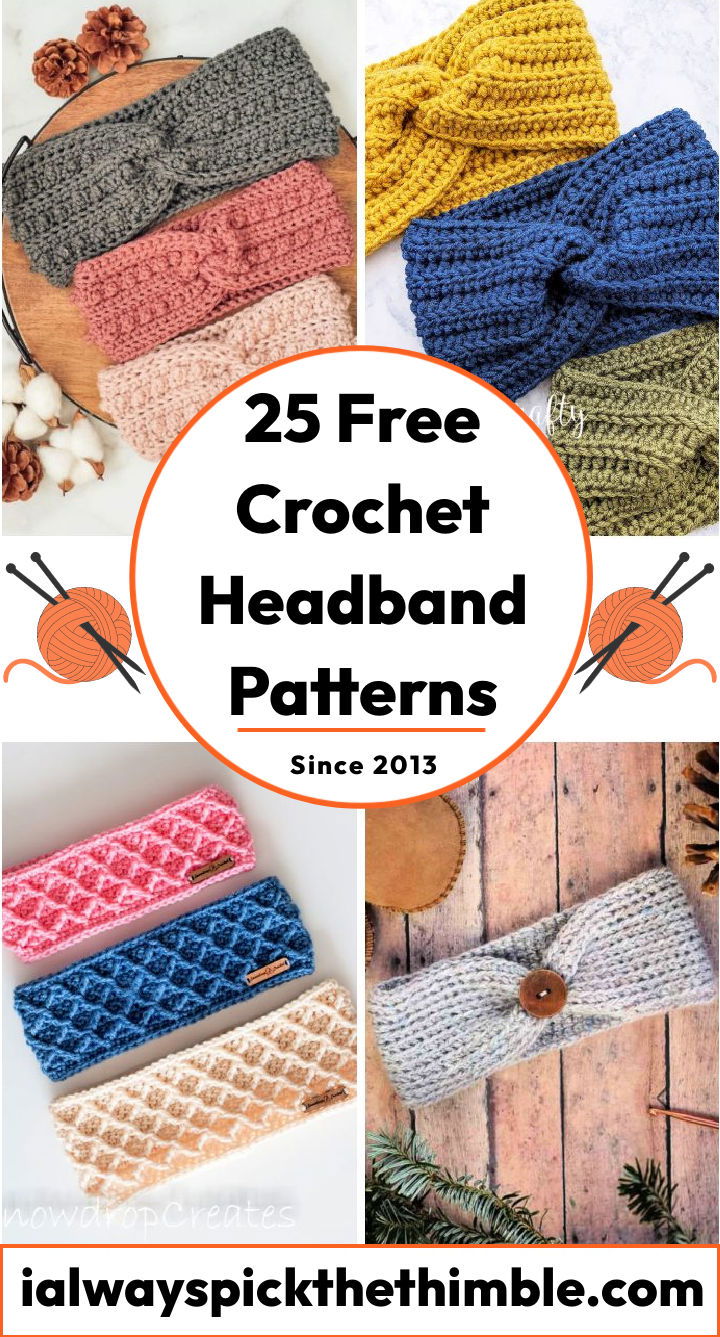 Each ear warmer crochet pattern has a list of supplies needed, such as yarn and crochet hooks, and some patterns also come with video tutorials and pdf downloads to help you visualize the method. With these free crochet headband patterns, you can create beautiful and unique ear warmers that are perfect for keeping you cozy in the chillier months. So, why not start crocheting your own ear warmers today? It's the perfect way to add some handcrafted charm to your winter wardrobe!
1. Free Crochet Alpine Headband Pattern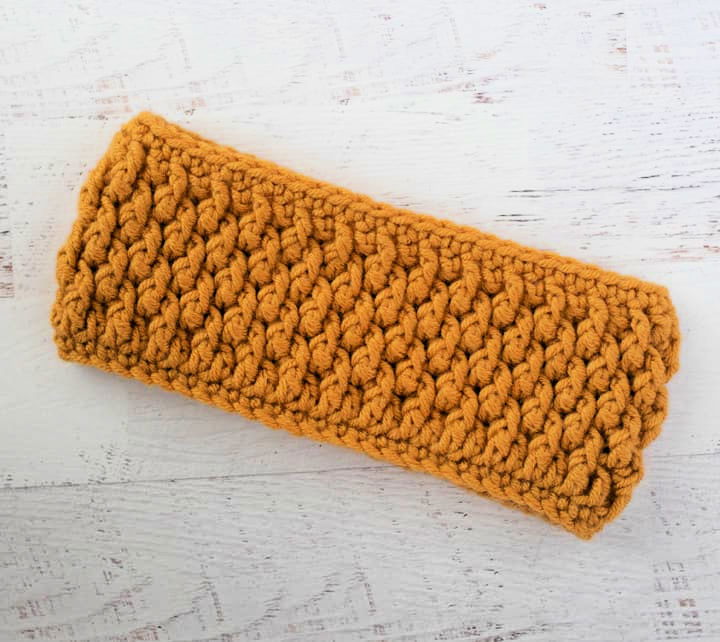 Make your cold-weather wardrobe more stylish and warm with this free pattern for an alpine crochet headband! This adorable ear warmer not only looks so darn cute, but it'll also keep you nice and toasty when the temperature drops. It's perfect for pairing with any outfit, whether bright or muted in color. The easy instructions require just a US K10.⅚.5 mm crochet hook, #5 bulky weight yarn, tapestry needle and scissors–crafting a thing of beauty and function has never been easier! crochet365knit
2. Rustic Chunky Crochet Headband Pattern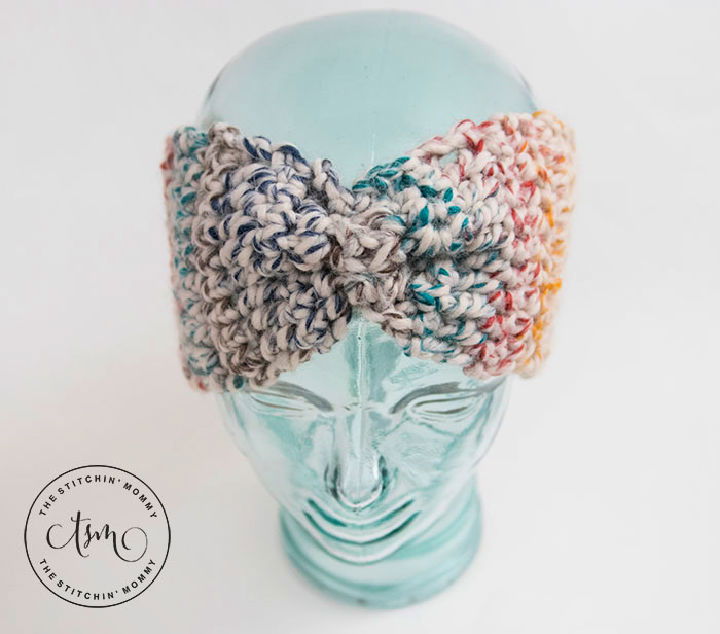 This rustic chunky headband makes a great winter accessory! It's perfect for wearing any outfit and sure to be eye-catching. Whether you give it as a handmade gift or keep it for yourself, you'll love how warm, comfortable, and cute this headband looks. Plus, the free pattern is quick and easy – all you need are category 6 super bulky yarn, 10 mm crochet Hook, Yarn needle, scissors*, 1″ Button* (2), thread and sewing needle*. With its easy skill level, anyone can make this beautiful Winter accessory! thestitchinmom
3. How to Crochet a Headband – Free Pattern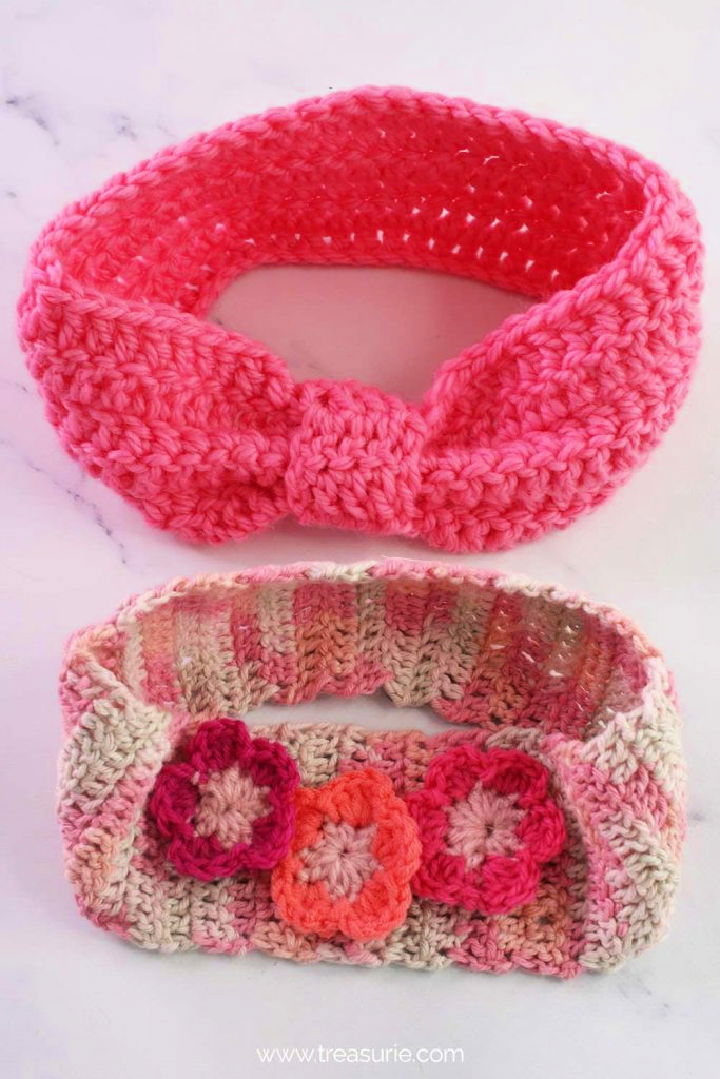 Learn how to crochet a headband with this free pattern! It's an easy and fun project suitable for beginners as well as crochet experts. With so many uses, like keeping your ears warm in winter or covering up a bad hair day, it can be a useful accessory all year round – not to mention look adorable on babies and toddlers. All you need is worsted weight yarn, the right size crochet hook, scissors and yarn/tapestry needle. You'll have completed this quick and easy project in no time at all! treasurie
4. Aspen Socialite Crochet Headband Pattern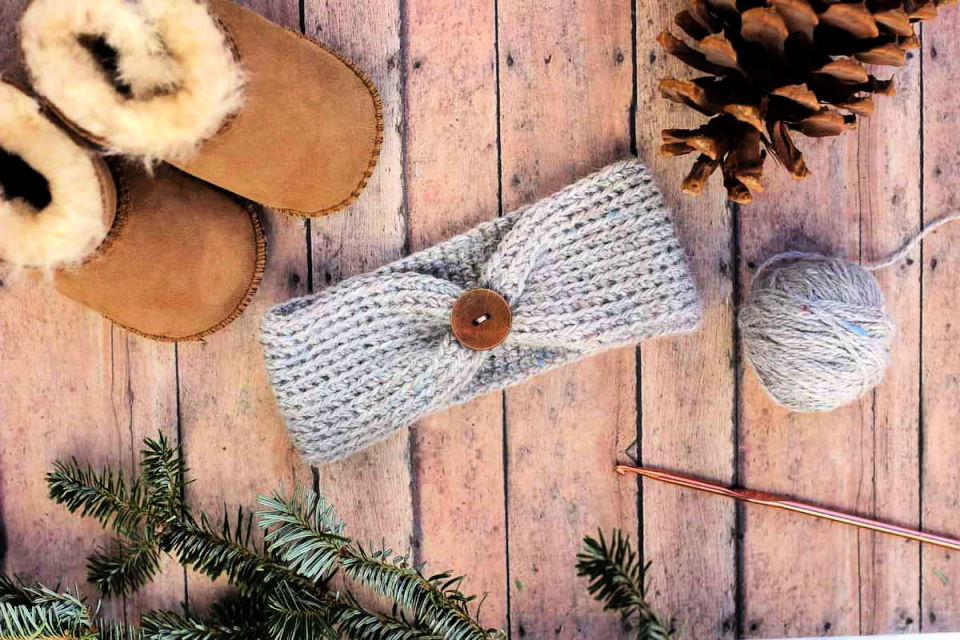 Create a beautiful headband for your friends and family in an hour with this aspen socialite free crochet headband pattern. It's the perfect last-minute gift for baby showers, birthdays or gift exchanges. The pattern is quick to put together and will look great on anyone! Featuring a gorgeous texture and sizing chart with step-by-step instructions, you need materials such as worsted weight yarn, F/5 crochet hook, wooden button, needle and thread. Get creative with colors to make it really special! makeanddocrew
5. Crochet Twisted Ear Warmer Headband Pattern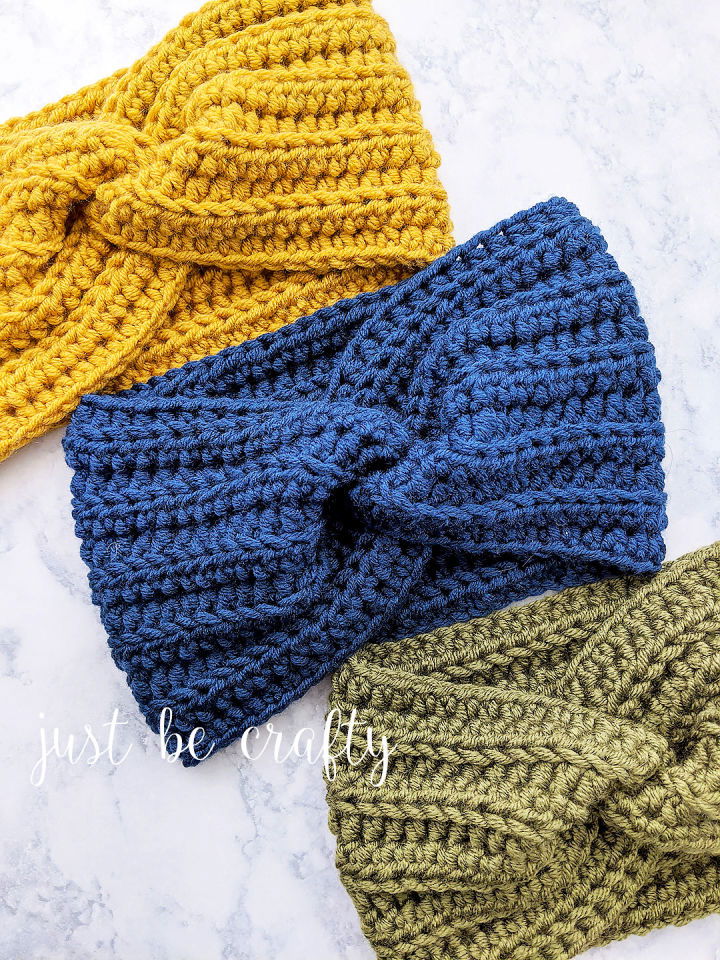 Make a cozy and trendy accessory for any woman in your life with this free crochet twisted ear warmer headband pattern! It's easy to make and the perfect gift that looks great while still offering warmth. And don't worry, it provided a materials list and clear instructions, including a video tutorial, so it'll be a super fun project. Get creative by using different colors of lion brand color made easy yarn, or keep it simple using all one color – either way, you can't go wrong! With this pattern, you'll have a unique warm headband ready in no time! justbcrafty
6. Crocheting a Crossed Fur Headband Ear Warmer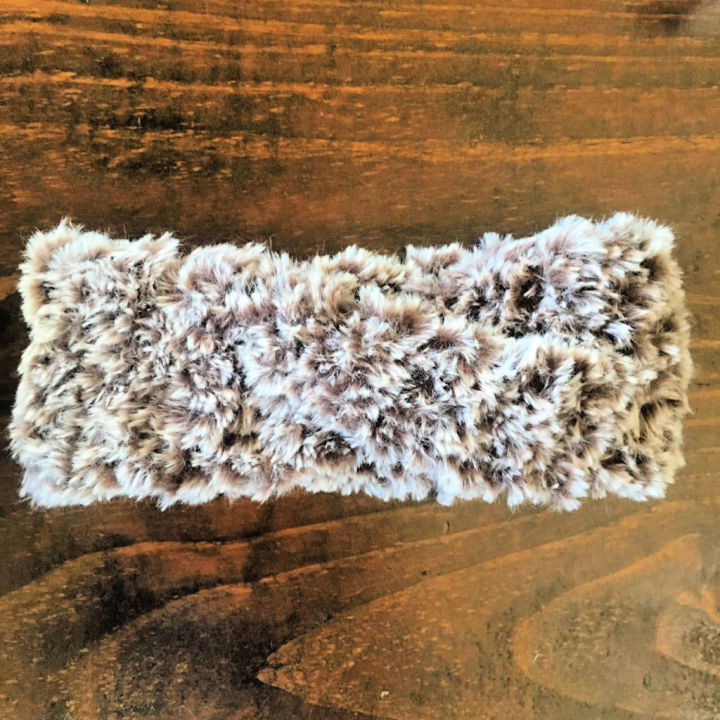 Looking for a fun, quick and easy DIY project? Make your own adorable crossed fur headband ear warmer! This one is by far the warmest and softest of all! Not only will these make great stocking stuffers, but they also look cute when worn – an added bonus. With this easy to follow instructions, you can easily crochet your own in no time. All you need is 1 skein of lion brand yarn go for faux fur yarn, US size P 11.5 mm crochet hook and scissors. Get crocheting now and create something special that keeps ears warm this winter! mamainastitch
7. Best Knotted Headband Crochet Pattern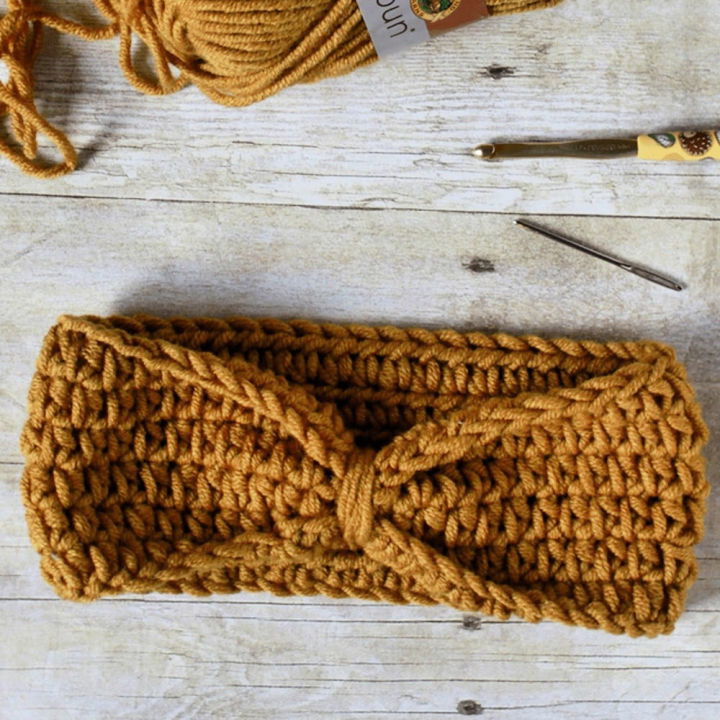 Create a modern knotted headband with this free crochet pattern! Perfect for beginners, this quick and easy project uses lion brand woolspun yarn and a size J-10 (6.00 mm) crochet hook. Make one for yourself or as a gift for your friend – it's simple to make and perfect for any skill level. All you need is the wool, hook, scissors and a yarn needle! Get creative with colors and have fun crafting with this beginner-friendly design today! easycrochet
8. Cute Crochet Whitney Headband Pattern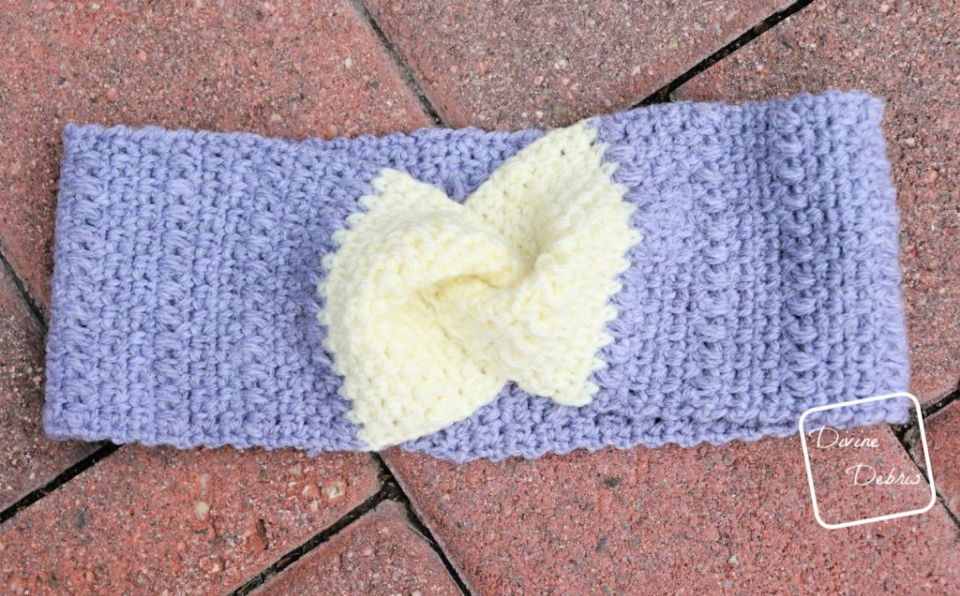 Make an amazing Whitney headband with this easy and fun crochet pattern! With detailed instructions, a 4.00 mm crochet hook, size #4 weight yarn, scissors, measuring tape, needle and not much time – you'll be able to make this headband that can be customized to your own liking! It's perfect as a gift for someone special or just for yourself. The twisted design makes it extra stylish and fast to make. Start crocheting today & give the ultimate surprise! Get started now with all the materials you need right here. divinedebris
9. Free Crochet Pattern for Prym Headband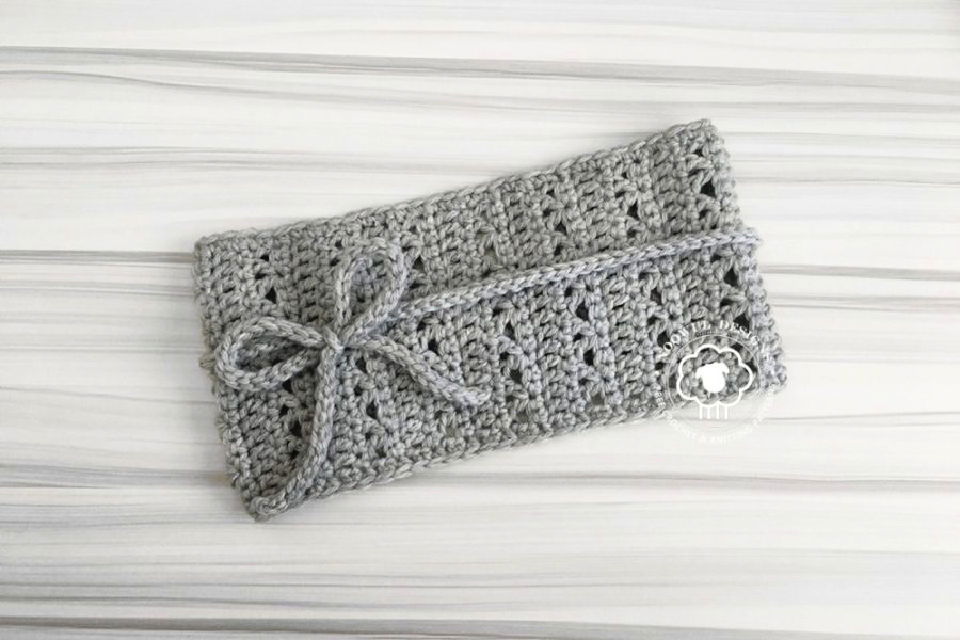 Create the perfect accessory for any look with this easy-to-make crochet prym headband featuring a cute bow on the front. You won't have to be an expert crochet artist to make one, as it's made up of basic stitches that are very simple to master. You can also easily modify the length of the ties if bows aren't your style. The soft yarn used is knit picks swish in dove heather and has been superwash-treated for easier care. Whether you want to stay warm or just look stylish, this cozy headband will keep you comfy all day long! All you need is a 5mm hook and some knitting materials – get started today! noowul
10. Crochet Slopes Headband Design – Free Pattern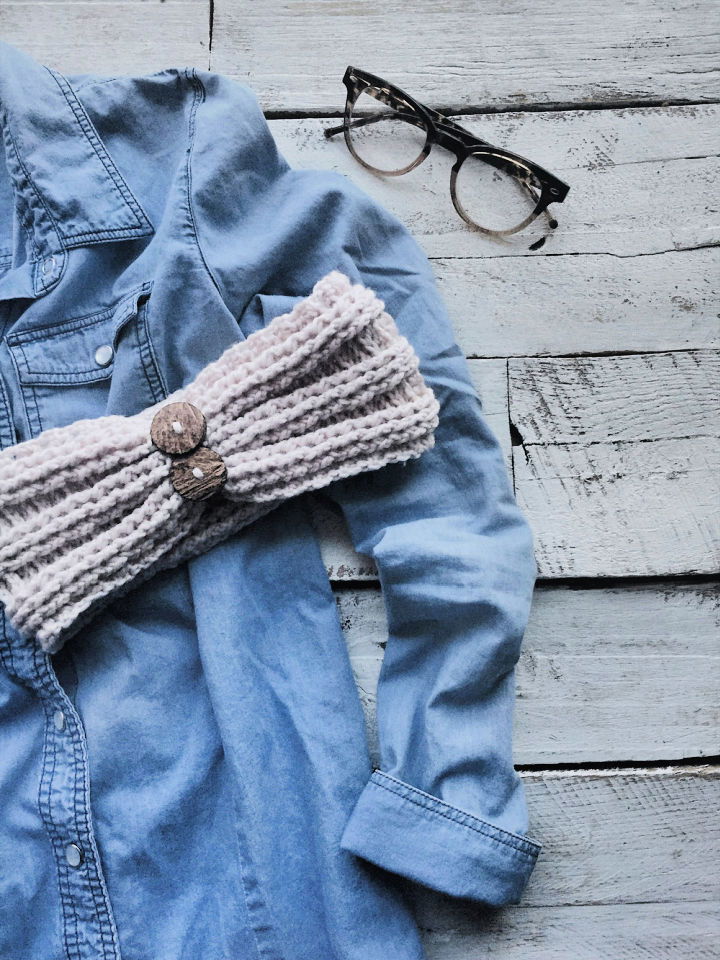 Discover the slopes headband, a free crochet pattern that is super fun to make and easily customized for sizing. Whether you're a beginner or an expert crocheter, this simple design looks beautiful with embellishments for gifting. Includes instructions and list of what you'll need: worsted weight (4) yarn, H hook (5 mm), yarn needle – plus optional two buttons! megmadewithlove
11. Crochet Ear Warmer Headband for Pattern Beginners
Stay warm and fashionable this winter with this free beginner-friendly crochet ear warmer headband pattern! This super easy project works up quickly and makes a great gift too. It only takes an hour or two to make a couple of these cozy headbands, perfect for keeping your ears toasty while still wearing your hair in a messy bun or ponytail.
Soft and comfortable, they can easily be tucked into a pocket or purse when not in use. All you need is furls wander acrylic yarn, a 5mm hook, scissors, yarn needle and stitch marker–you'll be ready to start crocheting! Beginner-level difficulty. oombawkadesign
12. Gray Skies Crochet Chevron Headband Pattern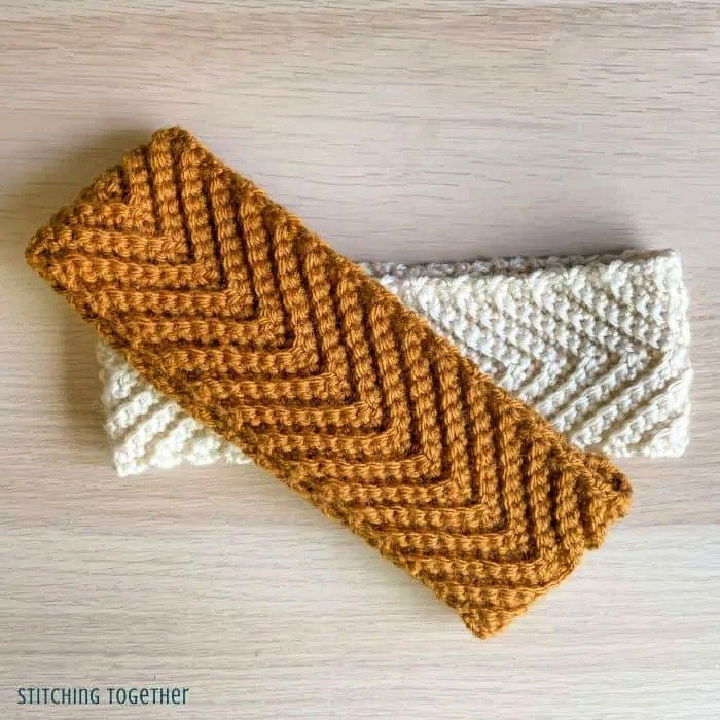 Add style to your wardrobe with this eye-catching gray skies crochet chevron headband free pattern! Look stylish and make a statement when you pair it with any outfit. Making this handmade accessory is basically easy, so even beginners can do it without breaking a sweat. The added bonus of making it yourself – choose neutral or bold colors according to your preference!
All you need are US-Size I/9 crochet hook, Vanna's Choice yarn, yarn needle, and the free pattern – materials that will easily fit your budget. Make one for yourself or give it as a gift – everyone will appreciate its beauty! stitching together
13. Simple Crochet Twist Headband Pattern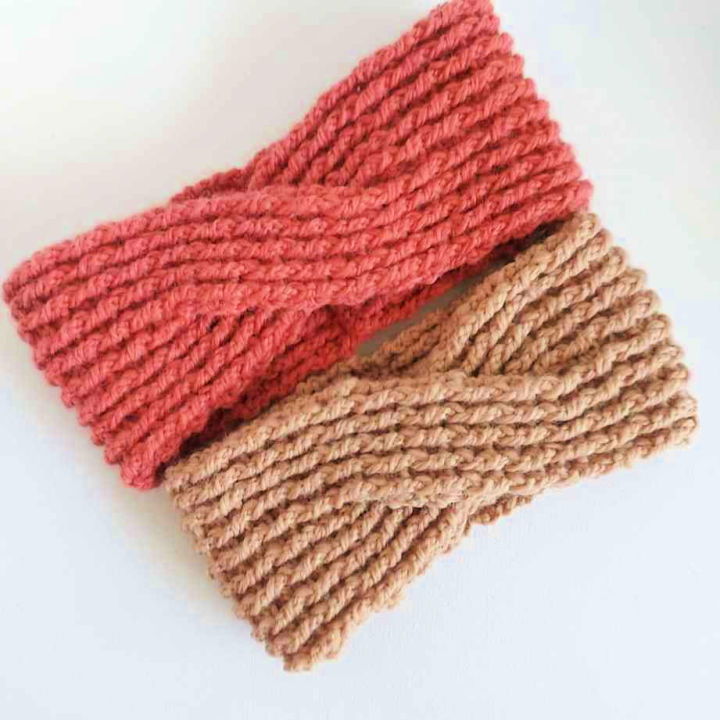 Crochet yourself a unique twist headband/ear warmer with this easy-to-follow pattern. Its full texture and store-bought look make it perfect for keeping your ears warm and cozy throughout the colder months. Make one in just a few hours to give as last-minute gifts, or keep them all for yourself!
The lightweight, super stretchy material makes it comfortable enough to wear all day long – happy crocheting! Instructions and materials list include 5mm crochet hook, yarn needle and yarn. Get ready to stay comfortable & stylish all winter long! anniedesigncrochet
14. Crochet Diamonds Headband Idea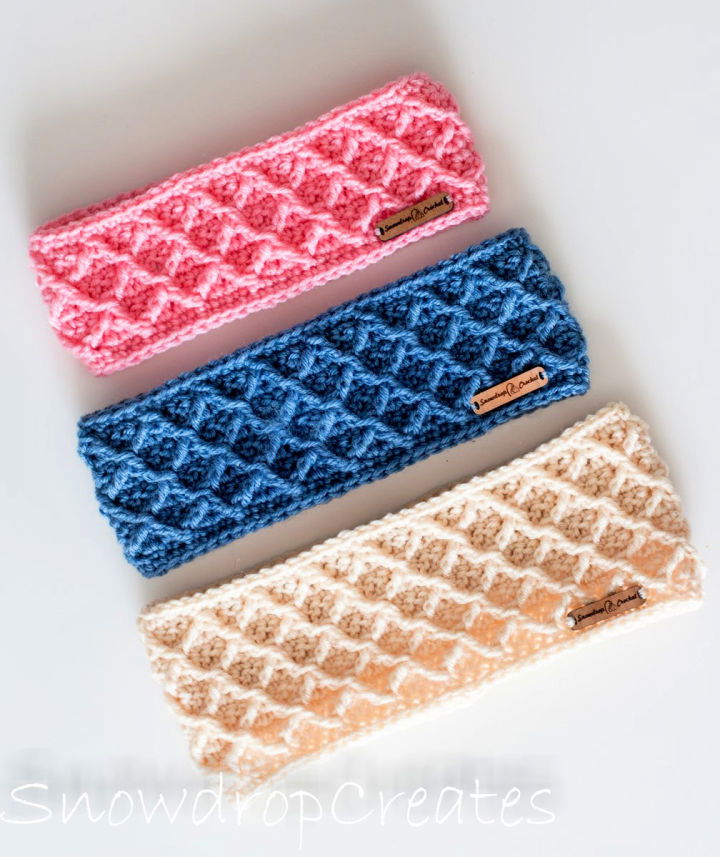 This free pattern will make a stylish crochet diamond headband in just one hour! Perfect for yourself, quick gifts, or even craft fairs. Enjoy the fun and easy-to-follow instructions while creating something subtle and beautiful. All you need is worsted-weight yarn and an H/5mm hook – don't forget your darning needles to weave in the ends! Start making it the perfect way to create something special with minimal effort today! snowdropcreates
15. Easy Crochet Forest Trail Headband Pattern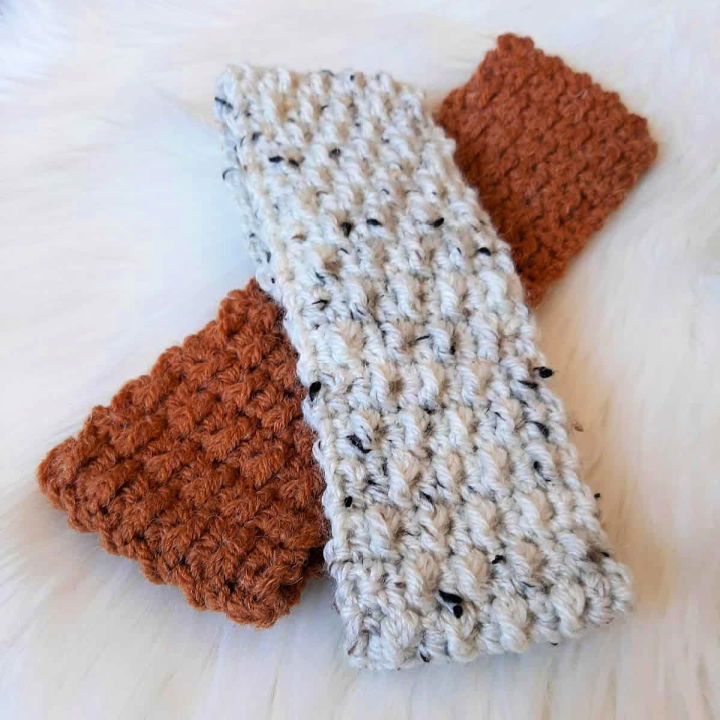 This stunning crochet headband pattern is the perfect accessory for those days when you want to stay warm without wearing a full hat. With its beautiful forest motif, this project looks impressive but is quick and easy to make. All you need are some worsted-weight yarn, a 5mm/H-8 hook, and a yarn needle for the finishing touches. Keep your ears protected from the cold on outdoor adventures while looking stylish in this cozy headband! nedandmimi
16. Pretty Crochet Courtney Twist Headband Pattern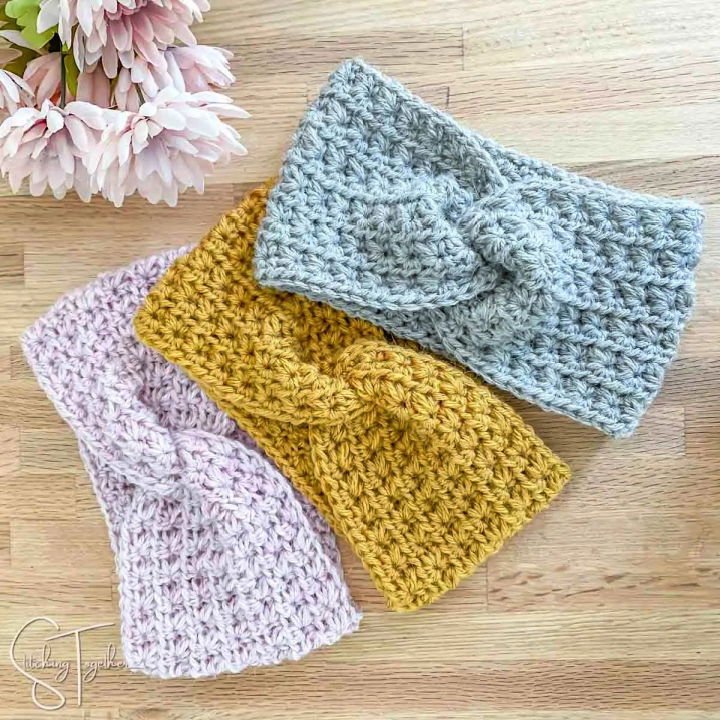 Craft yourself a beautiful accessory with this Courtney crochet twist headband free pattern. As cute as it is functional, you'll love how these super pretty headbands look adorable with any outfit! Easy to make and perfect for gifting, all you need is a US size K/6.5mm crochet hook, lion brand touch of alpaca yarn, and a large eye yarn needle. Get creative and explore endless color combinations that will instantly add the perfect finishing touch to your look! stitching together
17. Cool Crochet Picot Headband Pattern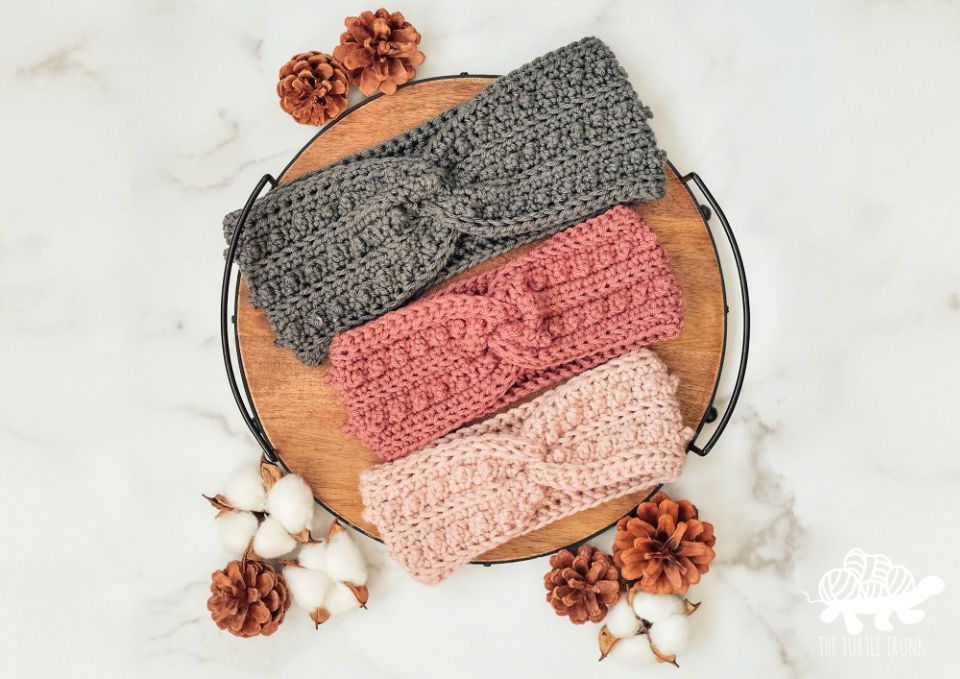 Are you looking for an easy way to make a stylish headband? Look no further than this crochet picot headband pattern! This pattern is perfect for keeping your eyes warm and still looking fashionable. It works up quickly, uses little yarn and is great as a stash buster or last-minute gift. You can do it even if you're new to crochet – the instructions also come with a video tutorial! Just grab some medium (4) weight yarn, a 5.50mm hook, scissors and a yarn needle and get ready to create something special for anyone in your life. theturtletrunk
18. Easy Crochet Faux Bow Headband Pattern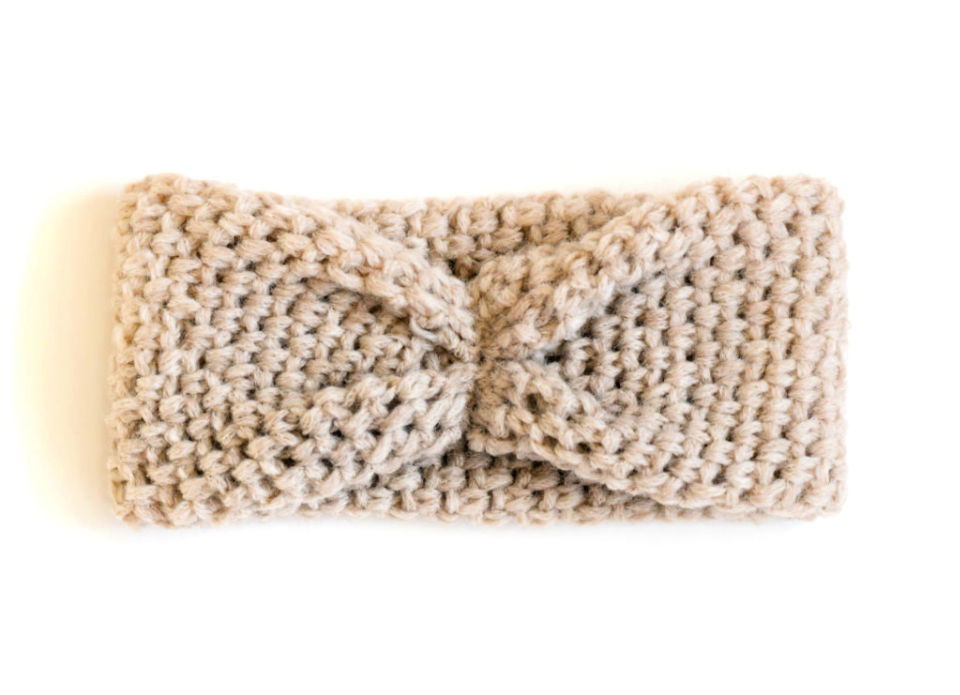 This easy crochet faux-bow headband pattern is perfect for all skill levels! From complete beginners to experienced crocheters, you can make a cozy and beautiful accessory in no time. With step-by-step instructions, US size I/5.25 mm crochet hook, lion brand LB chainette yarn, scissors, and tapestry needle – this project will be completely stress-free! Plus, it's ultra-satisfying because it works quickly and easily, so you can have your own bow headband in no time. mamainastitch
19. Crochet Stoneport Twist Headband – Free PDF Pattern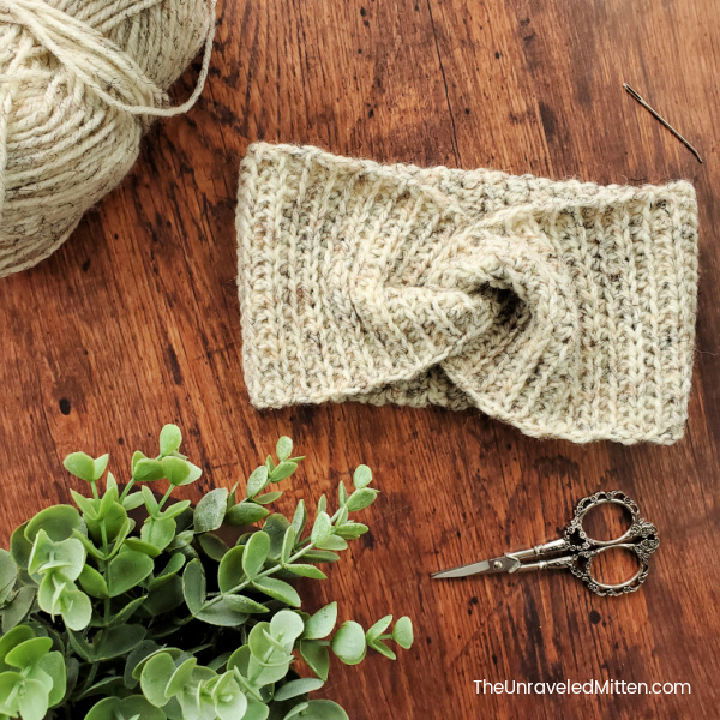 Need a stylish and cozy accessory for those chilly days? Try this easy crochet headband pattern, the stoneport twist ear warmer! It's worked flat using a simple crochet ribbing and then seamed together with a little twist. The result is an amazing, warm, comfortable ear warmer that looks modern and fashionable. Plus, the instructions are super easy to follow with just the basic materials needed: #4/worsted weight yarn, 5mm crochet hook, tapestry needle & scissors. Get ready to show off your unique style in no time at all! theunraveledmitten
20. Modern Crochet Twist Bulky Headband Pattern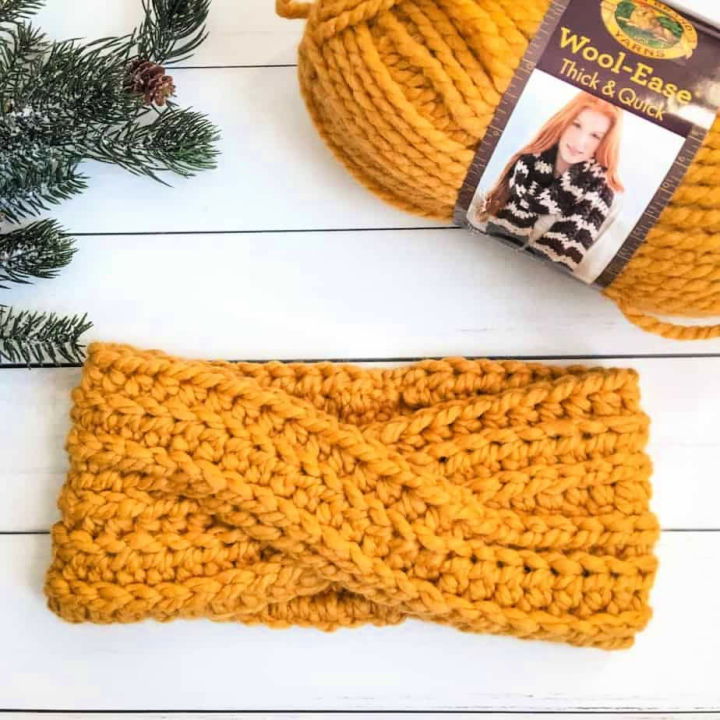 This free pattern creates a unique and modern twist to your bulky crochet headband! This 30-minute project is perfect for a quick addition to any shop. With supplies such as lion brand wool-ease thick & quick, a size N/P 15 (10 mm) crochet hook, stitch markers, scissors, and a tapestry needle, you can make the most adorable headband that will keep hair in place without any mess. These handmade creations are great gifts for friends and loved ones too! Create this amazing piece of art today! nanascraftyhome
21. Tunisian Crochet Elliot Headband Pattern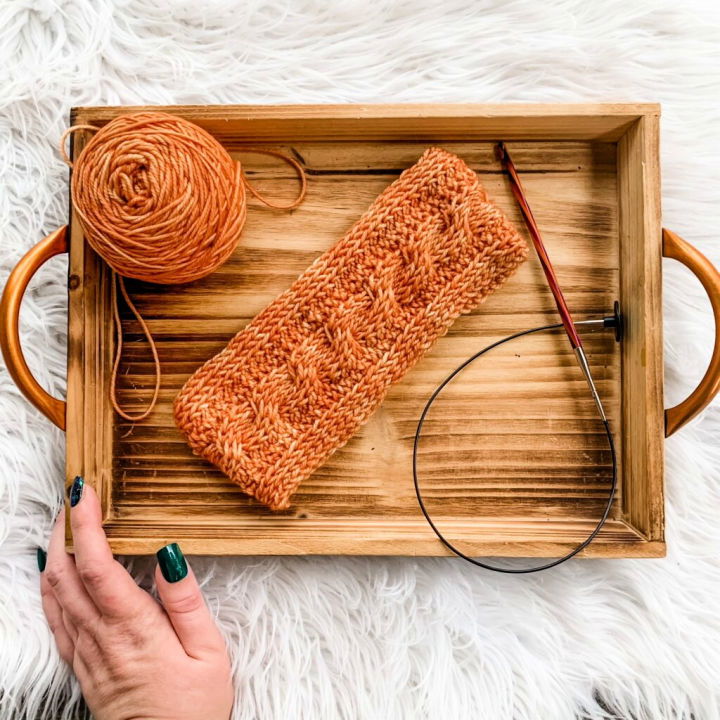 Make a handmade accessory with this free Tunisian crochet pattern for an Elliot headband. This project is perfect for intermediate skill levels and includes detailed instructions, so it's super easy to work on. Cozy up in the beautiful and comfortable headband, great as a gift for your loved one! You'll need a 5 mm Tunisian hook and worsted weight yarn plus cable holder, yarn needle, locking stitch marker, blocking pins and mat to craft the item. Get started now with this fun-to-make pattern that will have you looking fresh all season long! hookedhazel
22. How Do You Crochet a Boho Headband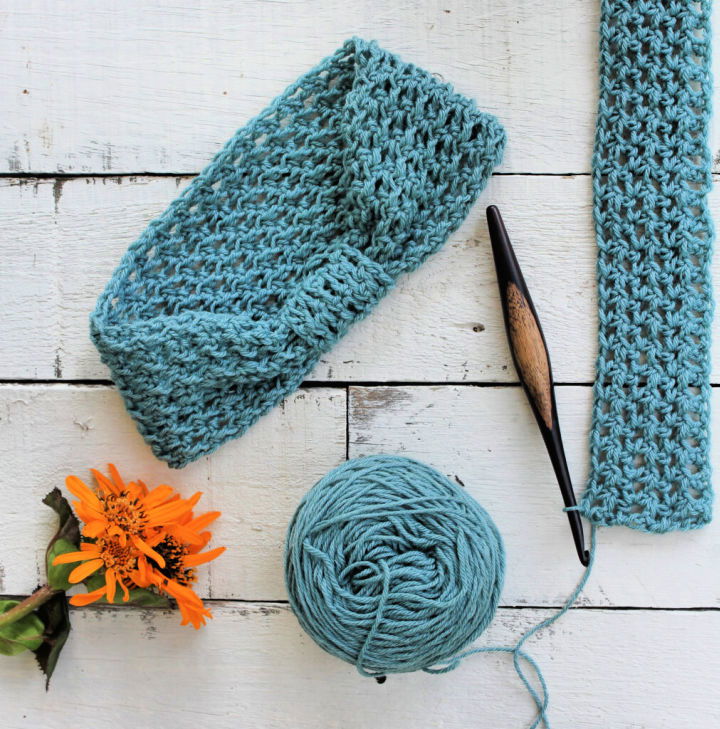 Welcome to the world of easy crochet boho headbands! With this free pattern, you can create a cozy and comfy headband with an open, airy stitch pattern. It's perfect for those who love the bohemian style, fast & easy to make, great for market prep, and super fun to wear or gift! The materials required are basic – fingering weight yarn, Size K (6.5mm) crochet hook, plus yarn needle & scissors– making it suitable even for beginners. Get ready to look amazing with your own handmade accessory! knottednest
23. Cute and Easy Baby Headband Pattern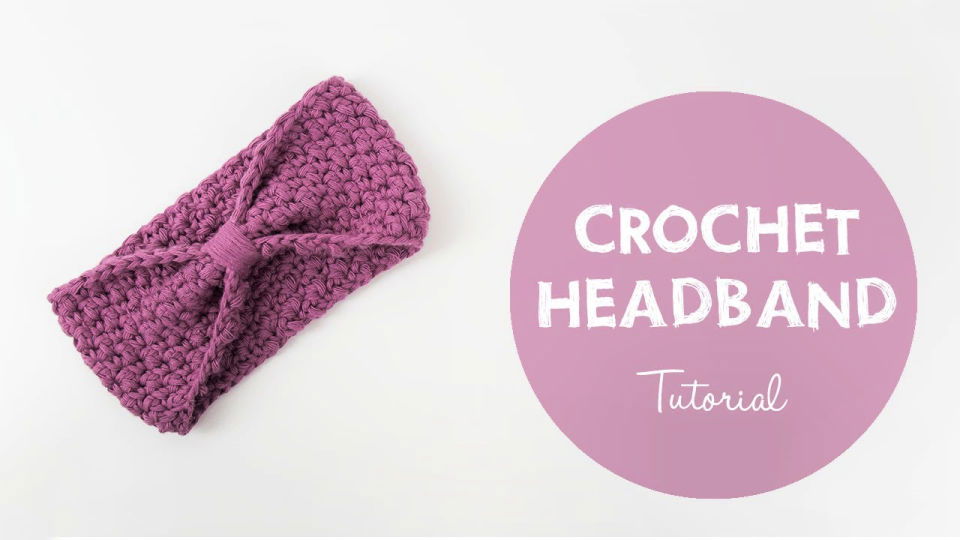 Are you looking for a simple, easy and stylish way to accessorize your little one's outfit? Then try this free crochet pattern of cute baby headbands. The perfect gift for your loved ones! This eye-catching project is straightforward and quick to make with very basic materials such as Aran weight yarn, crochet hook, scissors, stitch marker and measuring tape. Follow the step-by-step instructions to get this adorable accessory that will enhance any outfit. The sewing needle is also required to weave in ends neatly. This is an "easy" skill-level project. Get ready for some fun crafting time!
24. Fastest Crochet Headband Pattern for Beginners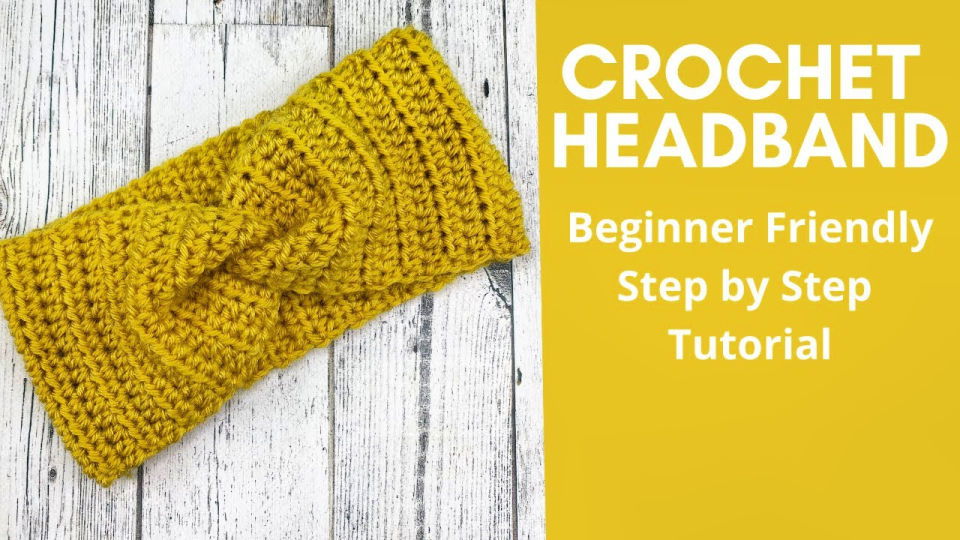 Looking for a quick and easy way to make something special? Look no further than this tutorial on how to crochet a headband. Perfect for gifting or wearing yourself, this step-by-step guide will have you crocheting like a pro in no time. This modern look is great for beginners and experienced crocheters alike – all you need is size 4 worsted weight yarn and a 5 mm H crochet hook! Get crafting today and find out what's possible when you learn how to make your own headbands at home.
25. Pretty Crochet Boho Romantic Headband Pattern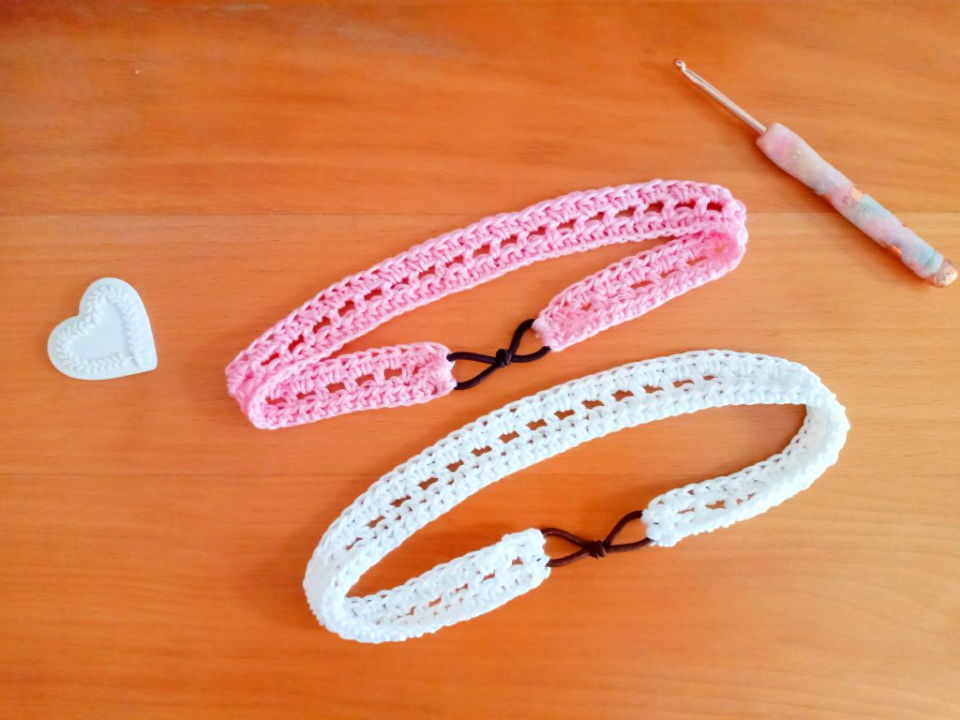 Stay on trend this spring/summer with the crochet boho romantic headband pattern – perfect for beginners! It's a quick and easy project that will take just twenty minutes, and you'll have an effortless, beautiful look. This simple lacy headband looks so cute when paired with any outfit.
Plus, the detailed instructions come with a video tutorial, making starting even easier. You only need one skein of wendy supreme cotton DK, a 4 mm crochet hook, basic hair elastic, a tapestry needle and scissors to complete the project. So why not give it a try today? selinaveronique
Related Free Crochet Patterns:
Explore our collection of free crochet patterns and start your next project today! From cute bows to cozy shrugs, we have patterns for every skill level. Download now!
Conclusion:
In conclusion, the 25 free crochet headband patterns presented here offer a great variety of styles for beginners and experienced crocheters alike. The patterns include detailed step-by-step instructions and tutorials on making videos so even those with little to no experience can get started. From a simple twisted pattern to an elegant crochet ear warmer or winter headband, there will surely be something for everyone in this selection of free pdf. Whether you want something fun and creative, practical and warm, or both – these crochet headband patterns will have you covered!