Create some crochet dresses to expand your wardrobe with these 25 free crochet dress patterns! From casual summer styles to detailed evening gowns, we've shared different crochet clothing patterns for everyone. Each crochet dress pattern includes easy-to-follow instructions and step by step diagrams so even beginners can get great results. Whether you want a pattern with a flair for fashion or one that is classic and timeless, you'll find everything you need to make the perfect crochet dress here! Moreover, these easy crochet dress patterns for beginners come with detailed crochet stitches that are suitable for every skill level, so anyone can enjoy creating beautiful crochet clothing!
From traditional fit & flare designs to delicate lace looks, our collection of crochet dresses pattern is sure to give you a unique look that's as stunning as it is comfortable. These how to crochet dress tutorials will guide you through every stitch with detailed illustrations and clear directions. Learn how to create classic styles such as A-line skirts and wrap dresses to more unique summer to winter and kids to women dresses with our selection of gorgeous crochet clothes patterns. So dive in and experience the joy of making beautiful garments with your own two hands!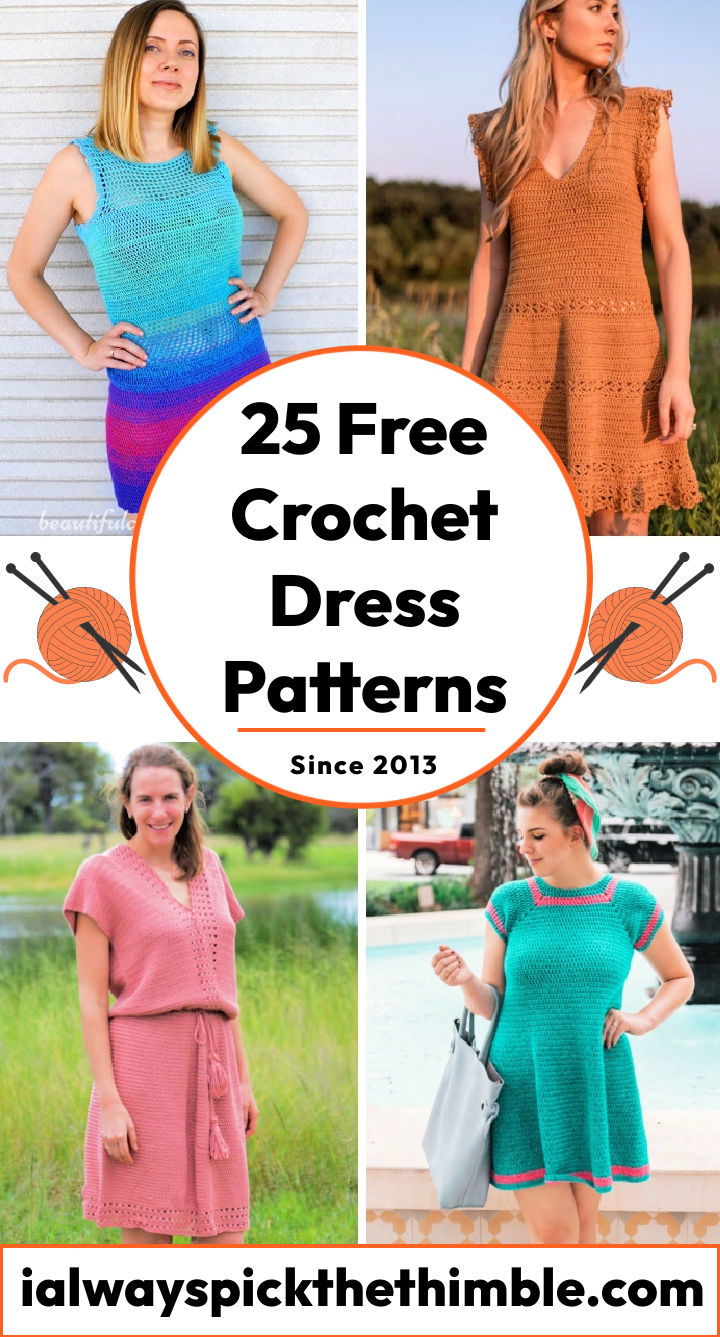 Free Crochet Dress Patterns
Learn how to crochet a dress with these 25 free crochet dress patterns and be inspired to create beautiful crocheted clothes with detailed step-by-step instructions. Whether you are just a beginner or an experienced crocheter, these free crochet dress patterns will help you create unique and stylish crocheted dresses for any occasion, with easy to follow tutorials learn how to crochet a dress that expresses your individual style without having to spend a lot of money on clothing. Explore the wide range of colorful crochet dress patterns, from classic outlines to modern twists, for endless possibilities when creating your own custom crochet clothes.
1. Free Crochet Cache Coeur Dress Pattern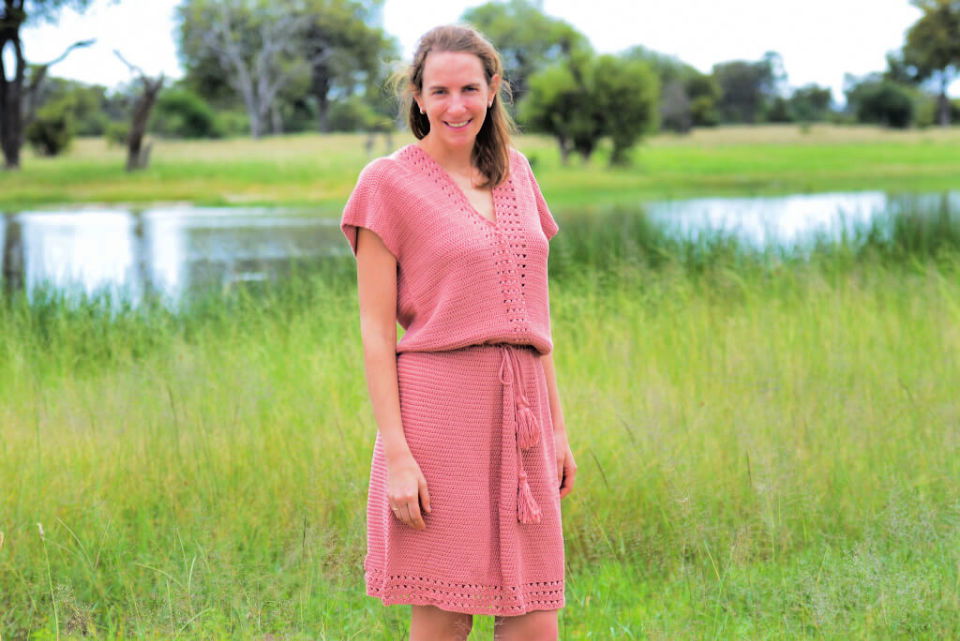 This free crochet cache coeur dress pattern has all the comfort of a classic summer design with a unique and stylish look. Easily adjustable when you put it on, this dress can be rocked in any season by adding some leggings, boots and layers. Complete with step-by-step instructions and materials list – lion brand coboo yarn and 4 mm (us g-6) hook – this pattern is as easy to make as it looks. So get ready for an effortlessly chic new wardrobe that will last beyond the seasons! knittingwithchop
2. Easy Ribbed Dress Crochet Pattern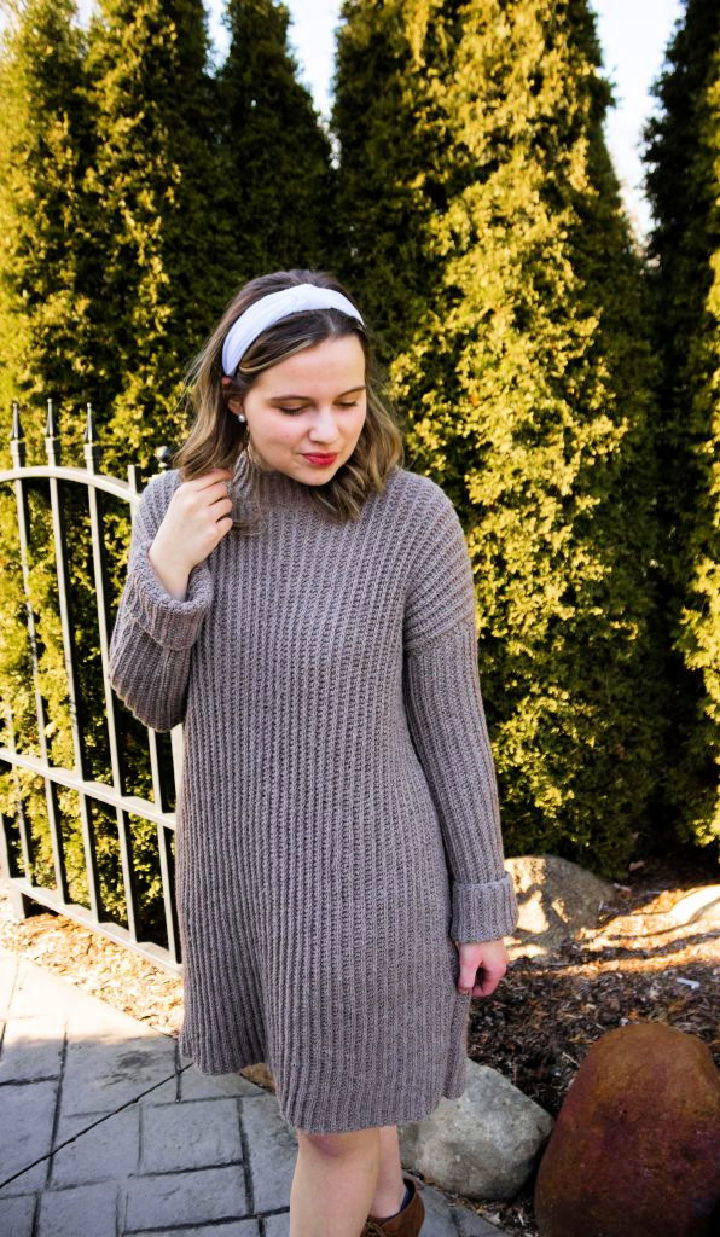 Stay stylish and cozy with the willa sweater dress – a free crochet ribbed pattern! The easy-to-make design is perfect for colder weather. Featuring rolled sleeves, an oversized fit, and relaxed comfort for ease of movement, this dress will keep you warm all winter long. Crocheted from DK weight yarn in leonardo's alpaca cloud colorway using US h/5.00mm and g/4.00mm crochet hooks plus a tapestry needle, it's sure to become your favorite wardrobe staple! Get ready to embrace the chill with this simple yet chic look! stitchberryblog
3. How to Crochet Penelope Dress – Free Pattern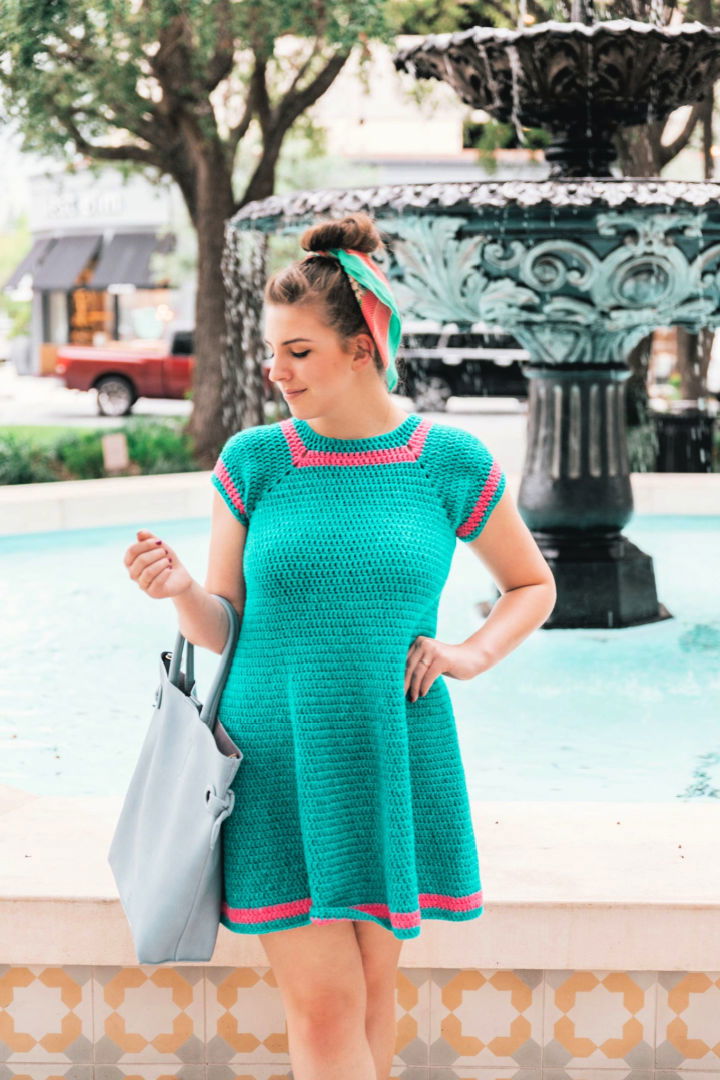 This free crochet pattern for a Penelope dress is perfect for all warm weather occasions! The adult-sized garment can be worked up in a weekend with double crochets and easy increases to create a flattering a-line shape, complete with cute cap sleeves and an accent color trim. This intermediate-level project requires lion brand jeans colors yarn, size I/9 5.5 mm hook, a tapestry needle, stitch marker and measuring tape – so get crafting today! With this adorable dress, you'll look stylish while having fun making it. sewrella
4. Crochet Dress Design – Free Pattern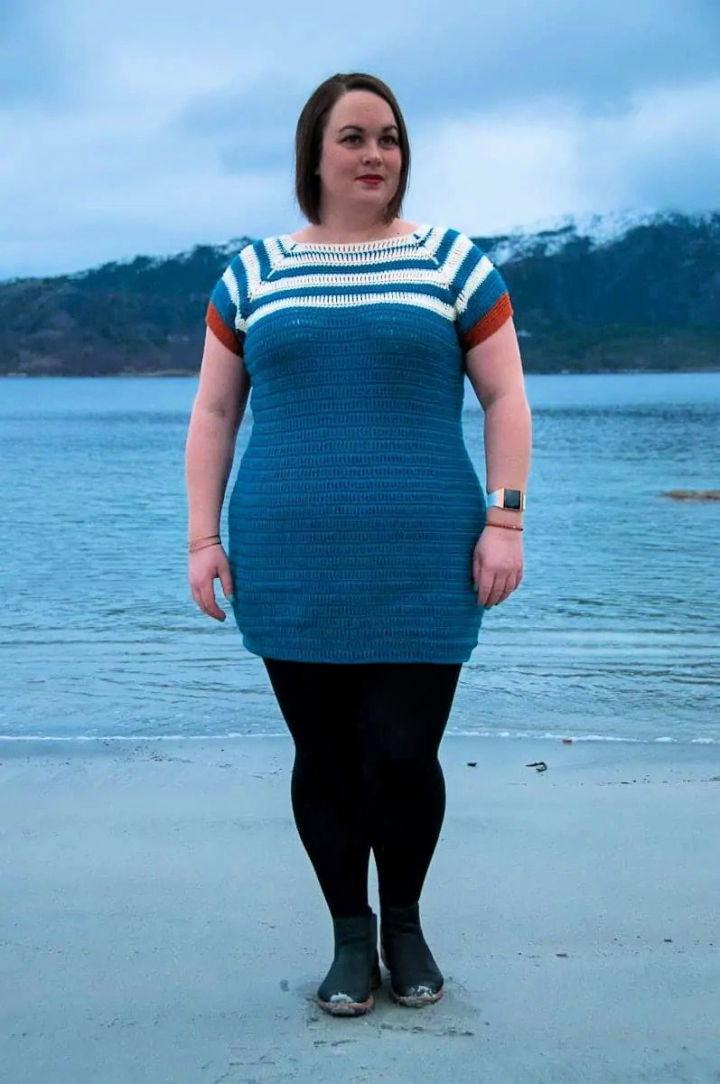 Add a class to your wardrobe with this free crochet dress pattern for women. This versatile design is perfect for any season and can easily be switched up using different colors! Even if you're new to crocheting, it's surprisingly easy to make. Get ready to show off your handmade dress – no matter the occasion! The materials needed are a crochet hook, yarn, needle, scissors, measuring tape and stitch markers (optional). joyofmotion
5. How Do You Crochet an Audrey Dress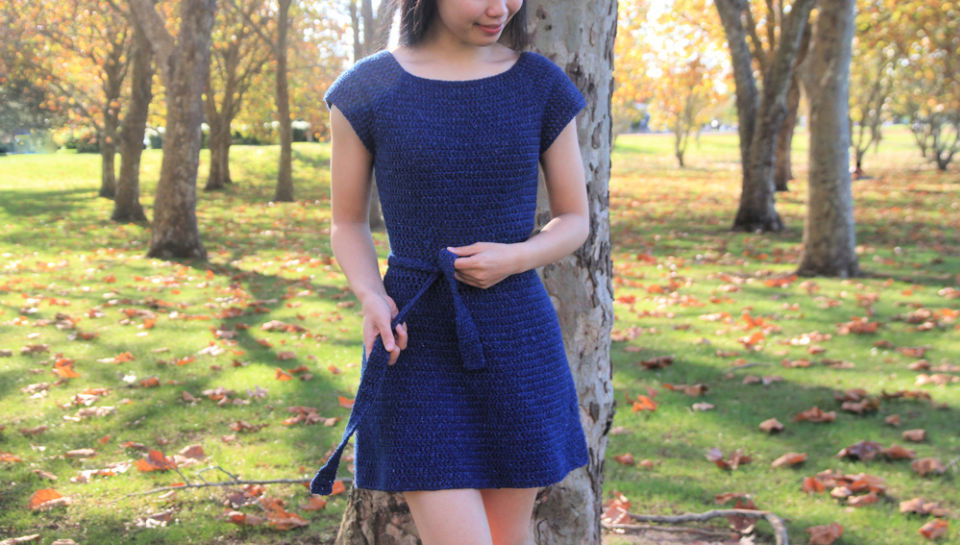 Be the envy of any summer gathering with your own Audrey crochet dress! This fit-and-flare crochet dress has elegant cap sleeves for extra coverage, creating a stylish silhouette that is perfect for the warmer months. With its one-piece construction crocheted in the round from neck down, this easy-level pattern can be tailored to fit your body. You'll need lion brand jeans yarn, a 5mm (us h/8) crochet hook, darning needle scissors and 4 stitch markers to get started! Be sure to try out this free pattern now before it's too late! forthefrills
6. How to Crochet the Summer Breeze Dress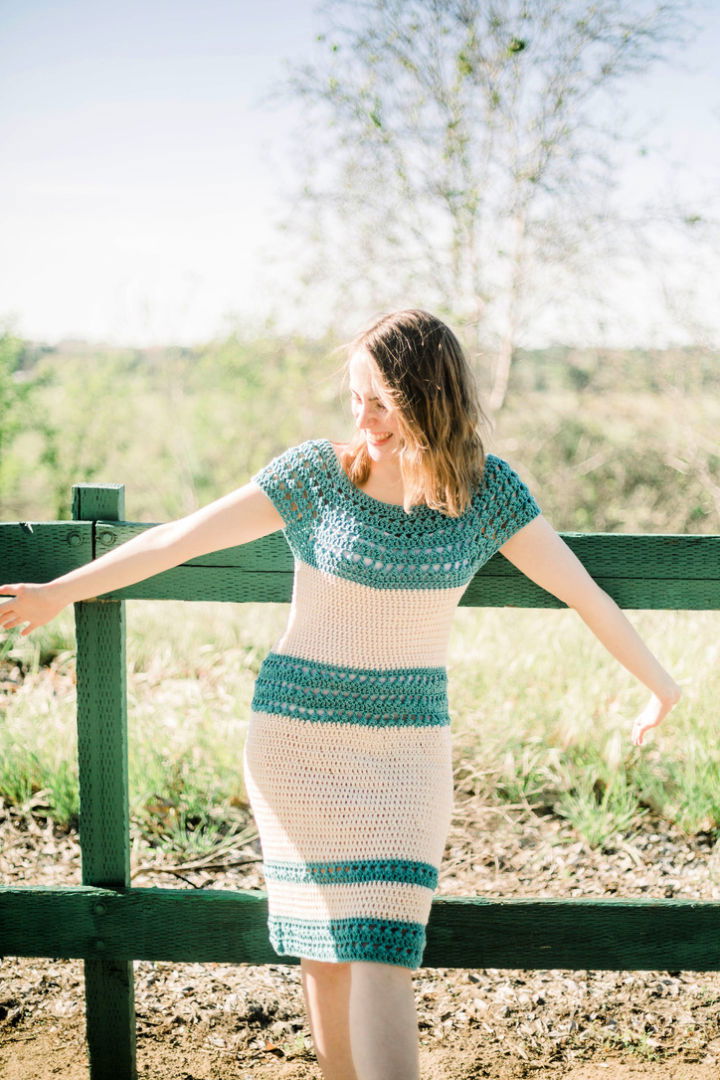 Make a stylish statement this summer with the summer breeze dress crochet pattern! This modern and chic sundress is made with cotton yarn and simple stitches crocheted in one piece. Perfect for beginners since there is no seaming required. With detailed instructions, you'll learn how to make this flowy dress that keeps you cool while looking cute! Get started on your new favorite crochet project today – supplies needed are worsted weight yarn, a 5.5 mm hook, a yarn needle and scissors. So let's get creating! eclairemakery
7. Handmade Summer Crochet Dress Pattern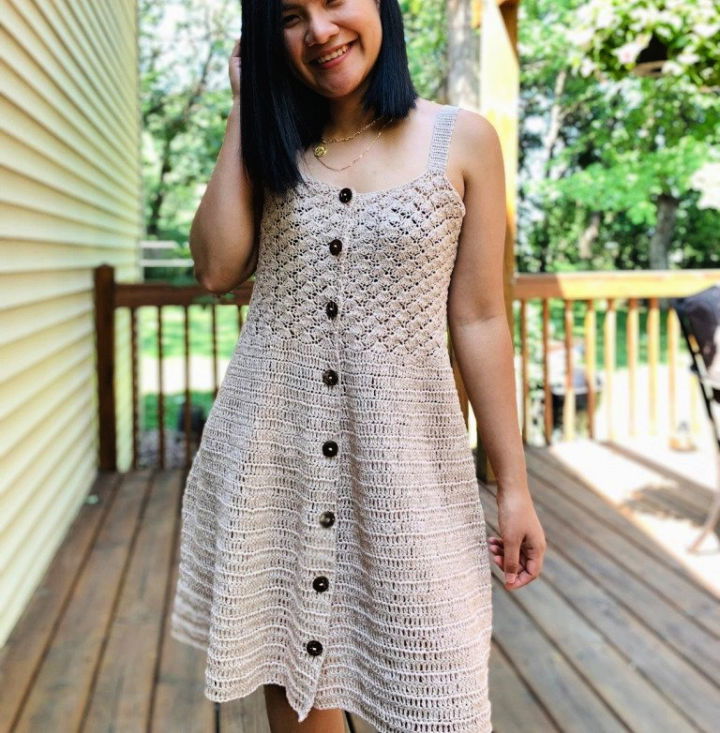 Be the envy of all with this beginner-friendly crochet summer dress pattern! Crafted from #1 fingering weight yarn, 3mm & 4mm crochet hooks and 8-10 ¾ inch buttons, you can wear it without a bottom layer for a simple yet stylish look. Pair it with a tight sweater and boots to take your high-fashion style up a notch for spring or fall! Whether you're an experienced crocheter or just beginning, this dream project will give you a serious challenge worth completing. knitcroaddict
8. Free Crochet Summer of Love Dress Pattern to Print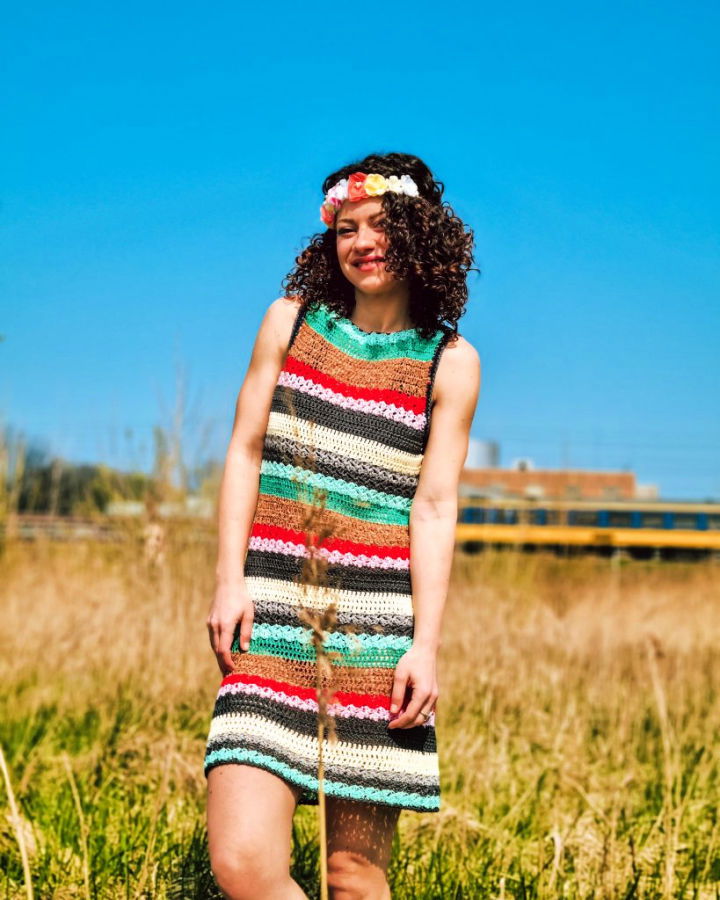 Let your summer be filled with love, and make this beautiful crochet summer of love dress! This free pattern is fun to make and won't take you long. Working in stripes, alternating colors, and stitch patterns will help create a unique look – all from leftover yarn! With instructions for materials such as a 4mm crochet hook, 3.5mm crochet hook, yarn needle, scissors, stitch markers and more included in the free pattern – get ready to show off your one-of-a-kind creation! by katerina
9. Easy Crochet Girl Dress Pattern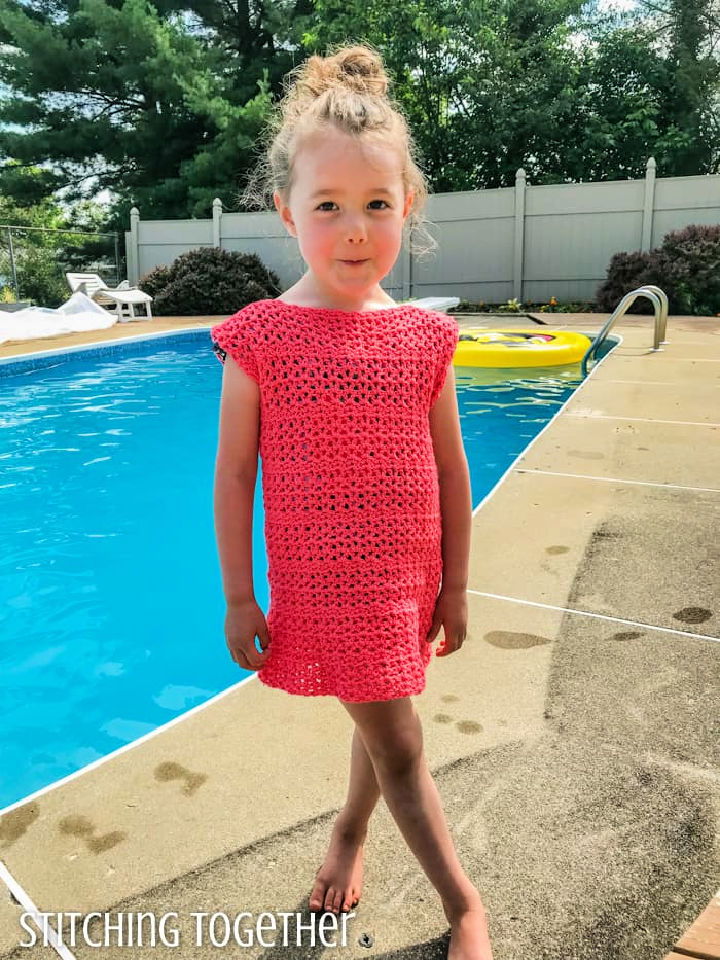 Make a stylish, easy dress for your little girl with this crochet adelaide girl dress pattern! With two rectangles and two different stitch patterns, you can make this beautiful piece in just 2 skeins of yarn. Perfect for kids 2-10 years old, it's an uncomplicated project that won't take long to complete.
Choose us size j/10 (6 mm) crochet hook and zz twist by lion brand yarn to create a perfect look – easy enough to craft but sophisticated enough to show off! All you need is basic crocheting skills plus a few items like a large eye yarn needle so get crafting today! stitching together
10. Pretty Spring Dress – Free Crochet Pattern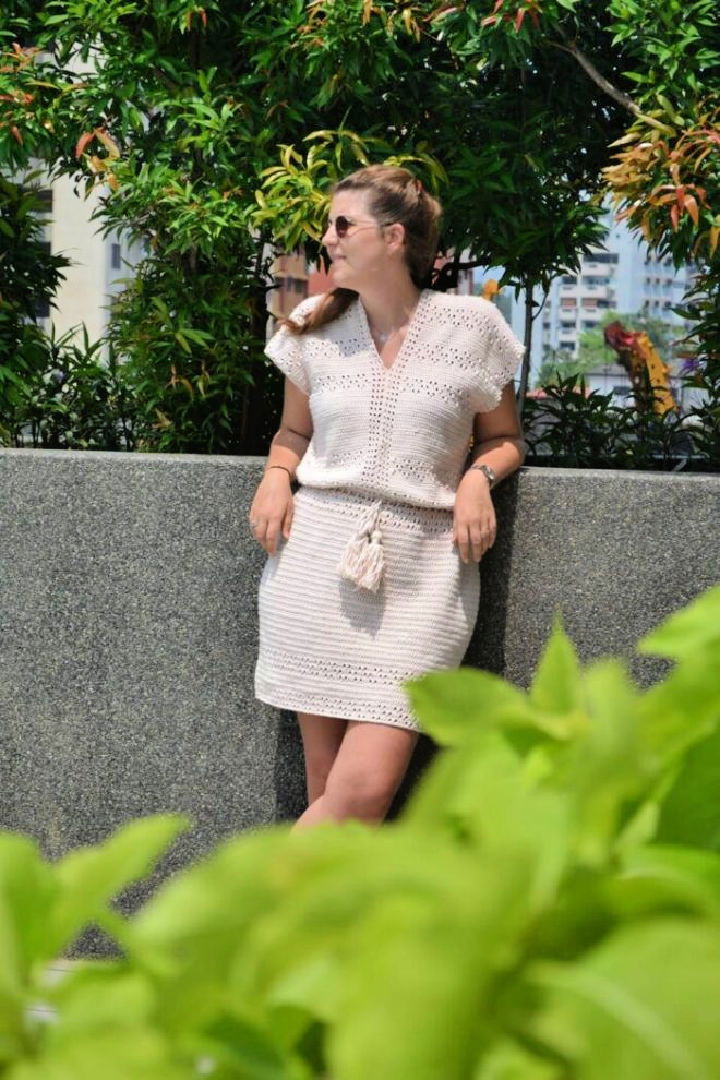 Looking for free crochet dress patterns to make a unique and stylish garment? Crochet yourself with a perfect spring dress! This simple, oversized design is great for an outdoor picnic or to wear over your swimsuit once summer arrives. It's also the perfect pattern for beginners – no increases or decreases, just a fun and easy stitch count accompanied by step-by-step photo instructions. Get everything you need, including the 4mm/us g-6 hook, DK weight cotton yarn and a tapestry needle to make this pretty spring dress. Start stitching today, and be ready to enjoy spring's joys! knittingwithchop
11. Crochet Easy Mini Dress – Free Pattern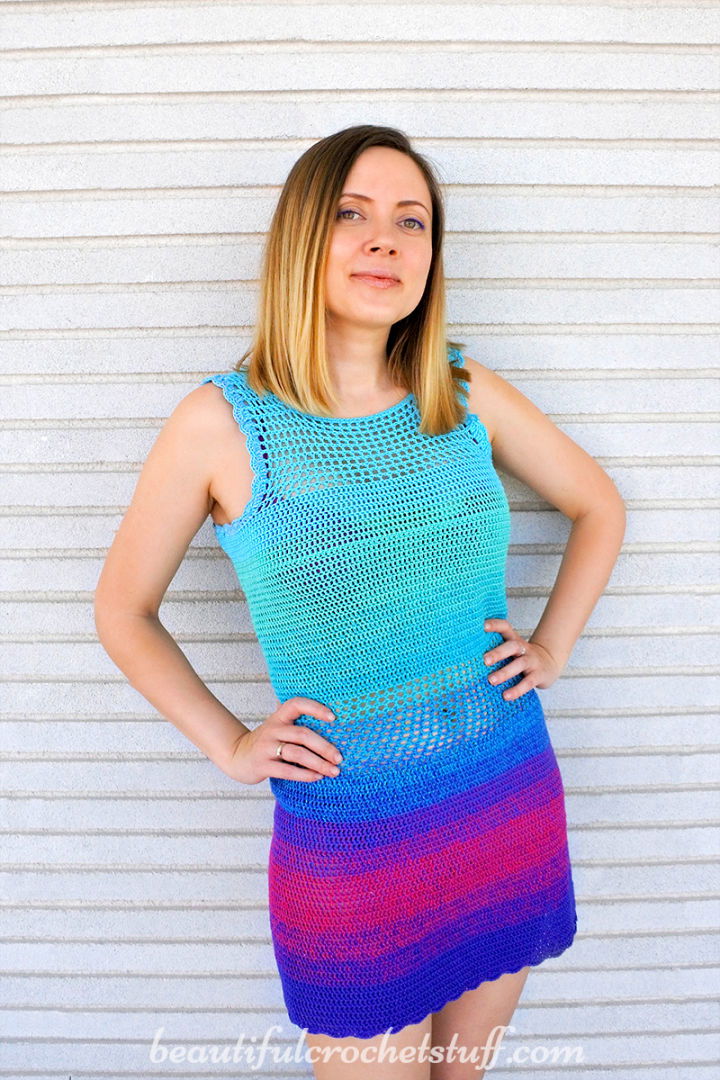 This crochet easy mini dress-free pattern is perfect for the beginner crocheter, and it will help you create a casual dress or beach dress that is adjustable to any size. With this easy pattern and video instructions, you can make a perfect handmade gift for your friends or family using any yarn of your choice. To complete this mini-dress project, you will need cotton kings sultan 100% cotton yarn and a #3 crochet hook! beautifulcrochet
12. Summer Scallop Crochet Dress Pattern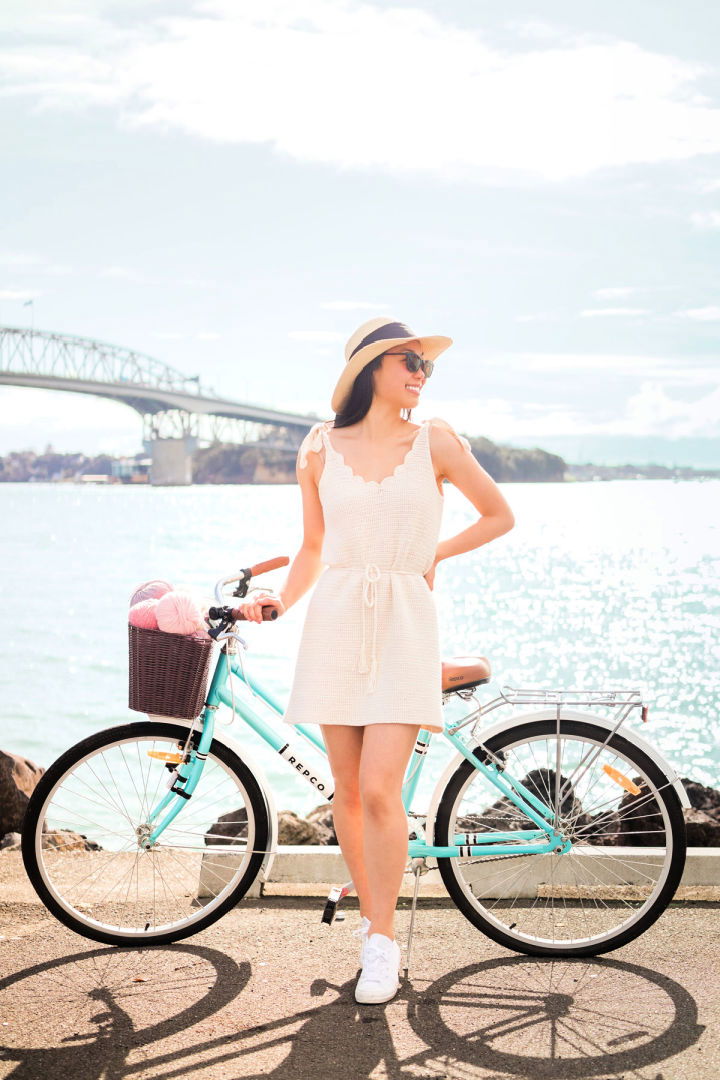 Looking for a cool and breezy summer dress? Look no further! This seascape dress crochet pattern comes with an easy video tutorial that will take you step-by-step through making this stunning lightweight top-down dress. Featuring a lightly flared body, scallop edging, and singlet style, so it's perfect for warm weather days. You can also pair it with a denim jacket or light cardigan for chilly nights or tights & ankle boots when the weather gets cooler.
All you need is wecrochet simply cotton organic sport yarn, 3.75mm (us f) crochet hook, needle, scissors & stitch markers – easy peasy! Get ready to look stylishly chic all summer long with this free seascape dress pattern + video tutorial. forthefrills
13. Easy Crochet Shift Dress Tutorial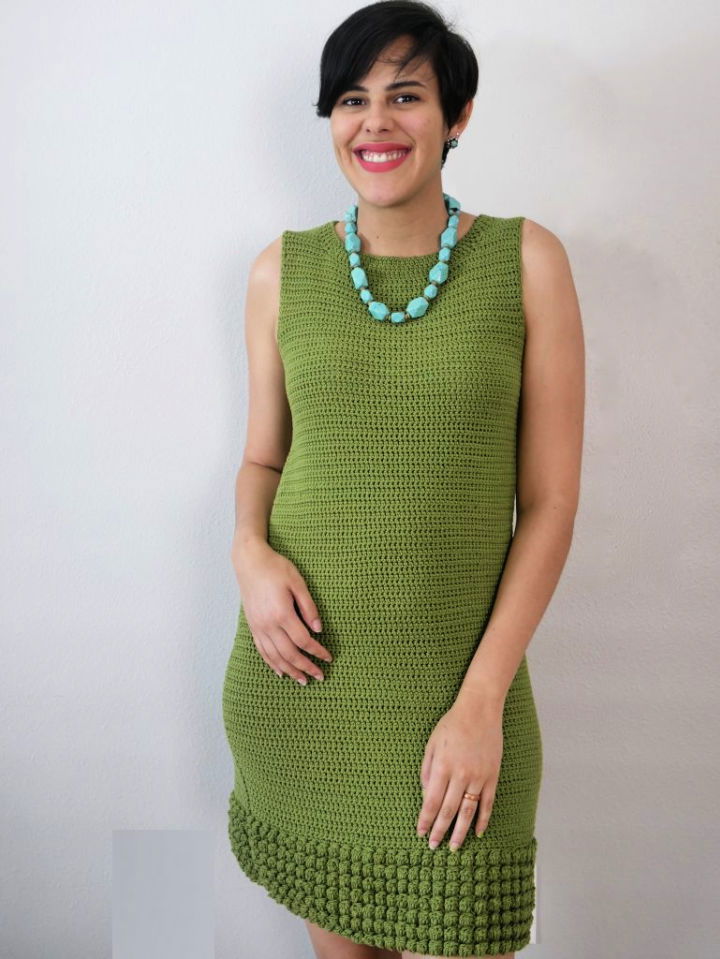 Look adorable and stylish for your evening out or in with this '60s-inspired crochet shift dress! This free pattern will have you looking fabulous in no time. With only 5-9 skeins of lb collection cotton bamboo, a US g(4.25) and 3.75mm hook, measuring tape, scissors, and a darning needle needed – it is fun to make and easy on the wallet! Get started on making a special outfit you can wear again and again. crochetcakes
14. Cute Crochet Summer Diamonds Toddler Dress Pattern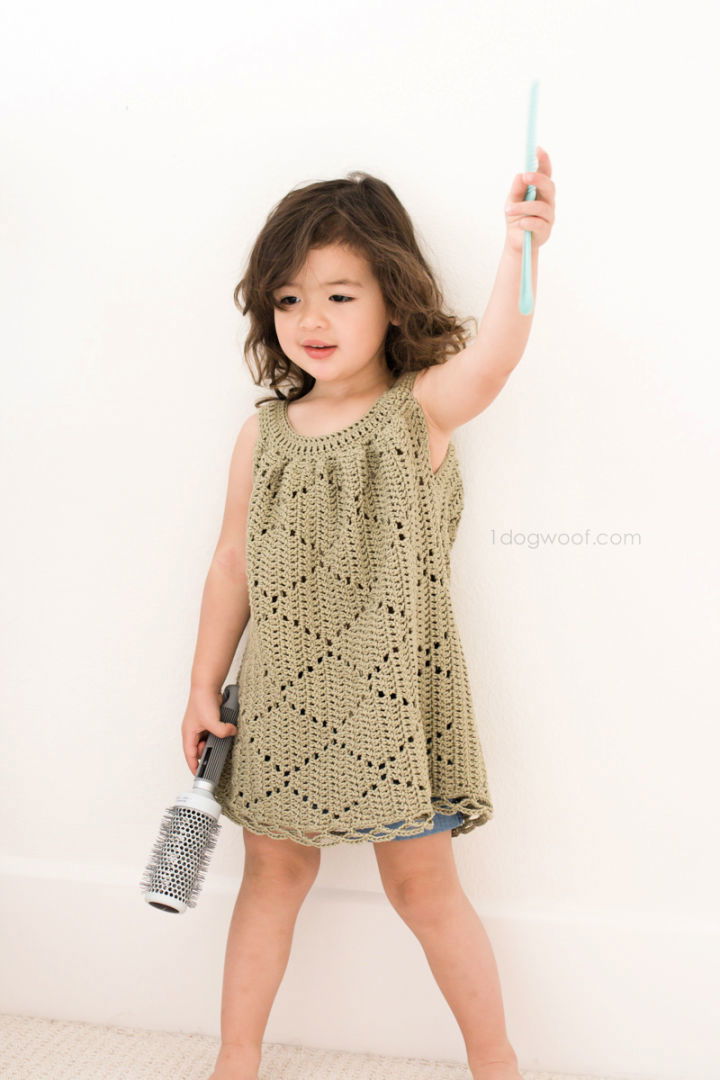 Make your little one the perfect summer dress with this free crochet pattern for a summer diamond toddler dress! The bulk of this fun-to-make dress is built using a diamond motif. Follow the step-by-step instructions, and you'll be done in no time. You will need 3 balls of we are knitters cotton wool, size 7 (4.5 mm) clover USA amour hook, stitch marker, scissors and an embroidery needle to complete the look. Get started now on your own masterpiece! 1dogwoof
15. Flower Bridesmaid Dress – Free Crochet Pattern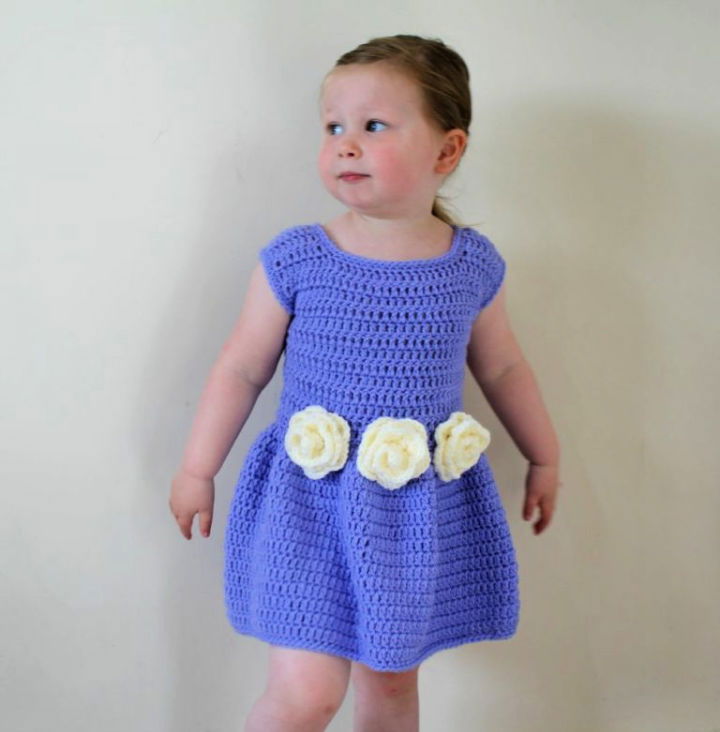 Looking for a special crochet dress pattern as a bridesmaid's outfit? Wool and stitch have the perfect free pattern! Check out the 'flower bridesmaid dress' – it's easy to make, adjustable in length, and can be customized with simple crochet flowers. We need an I/9 5.5mm crochet hook, worsted weight yarn and a darning needle for weaving in ends. Make this cute little dress for your bridesmaid today! woolandstitch
16. Gorgeous Falling Fans Dress Crochet Pattern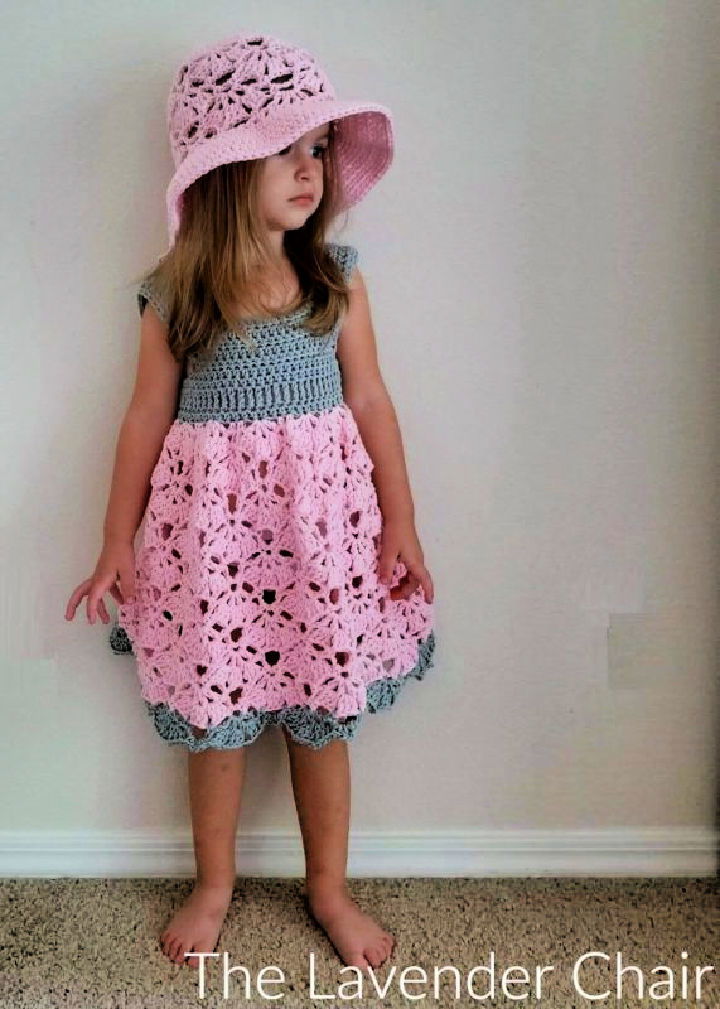 Create something unique and special with this free crochet falling fans dress pattern! Perfect as a handmade gift, this fun-to-make pattern is simple yet intermediate-level – perfect for the adventurous crocheter. Use worsted weight cotton yarn, h 5.00mm/I 5.50mm crochet hooks, two buttons and ribbon, plus a yarn needle to craft your item that fits most toddlers size 24 months – 3t. Why not try making something truly one of a kind? thelavenderchair
17. New Crochet Fall Colors Dress Pattern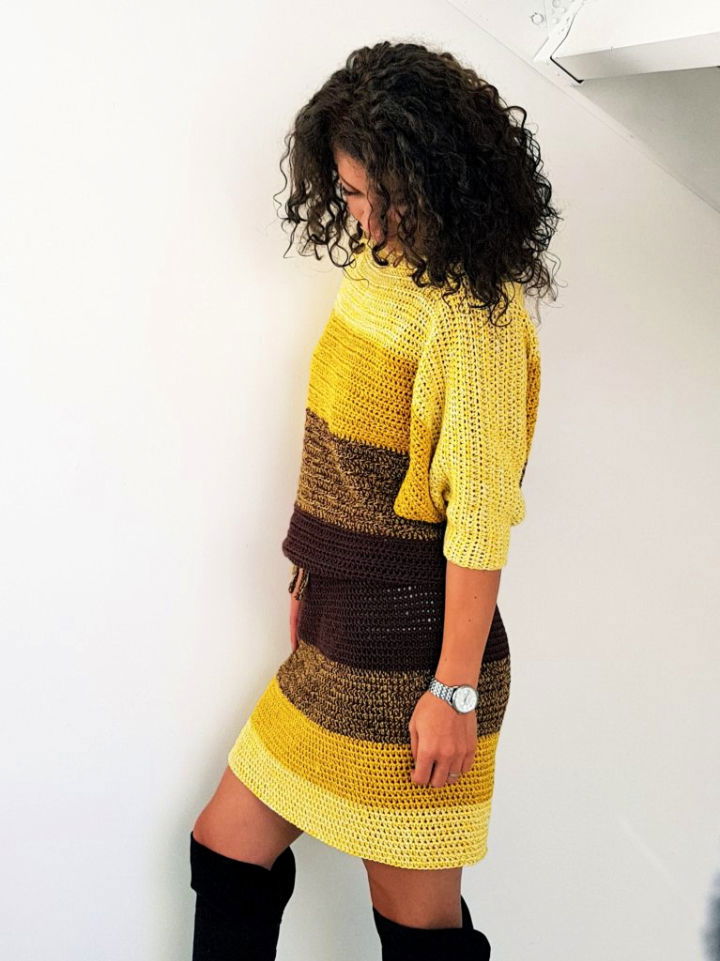 Enhance your wardrobe with this stunning handmade crochet fall colors dress! It's fun and easy to make, so even if you're a beginner, you'll be able to complete it in no time. Choose any colors that suit your style and enjoy the process of creating something beautiful.
The dress is made from 4-ply fingering yarn and requires a 5 mm (h us size) crochet hook, 2 stitch markers, scissors and a tapestry needle. Follow the detailed instructions included with the pattern, or use it as inspiration to create your own masterpiece! Enjoy wearing this gorgeous design, or give it away as a special gift for someone special! by-katerina
18. Pretty Crochet Idlewild Dress Pattern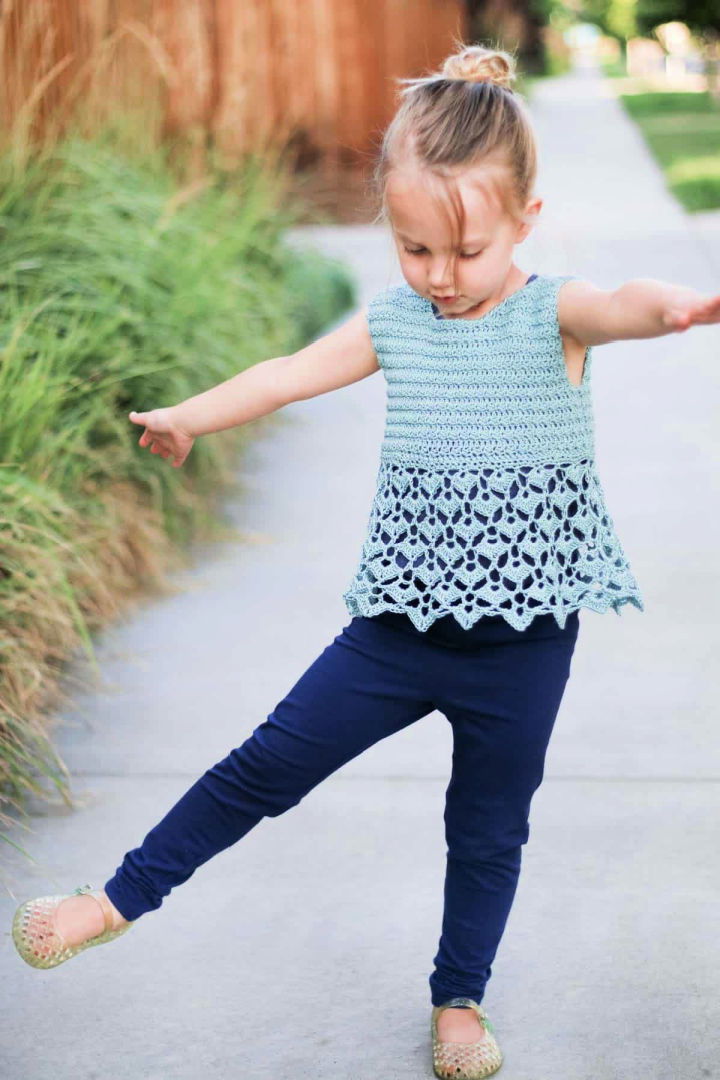 Create the perfect crochet dress with a free pattern and video tutorial! This Idlewild dress pattern is the ultimate boho look. Easily customize the bodice length, skirt length, and sleeve style to make your own unique garment. Stitch markers or safety pins are required along with supplies like lion brand beautiful yarn and a g (4.25mm) crochet hook to complete this project in four stages. Ironing with a steam setting is also needed. Instructions are provided for all levels of experience, from beginner to advanced – try it today! makeanddocrew
19. Free Sweater Dress Crochet Pattern for Beginners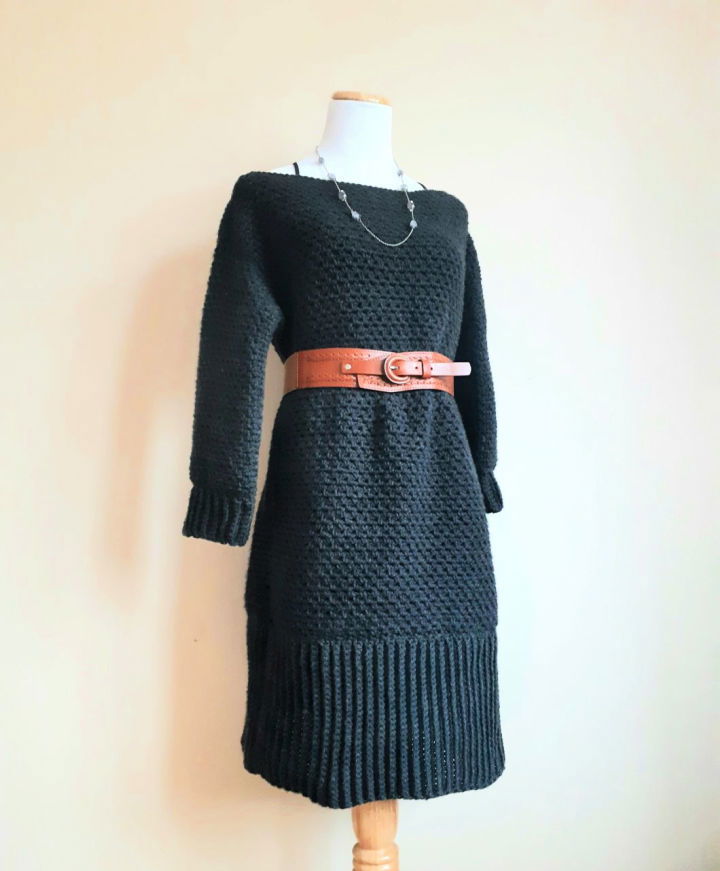 Create a stylish crochet sweater dress, "Kensington," with this free pattern! This dress is easy to make and features the moss stitch for a pliable, soft, and flexible fabric. It's perfect for gifting or keeping – fun to make and suitable for intermediate-level crocheters. You'll need a 7mm hook & 5.5 mm hook, along with any category 4 yarn, scissors, and tapestry needle. So why not give it a go today? lulostitchco
20. Cool Lace Crochet Dress Pattern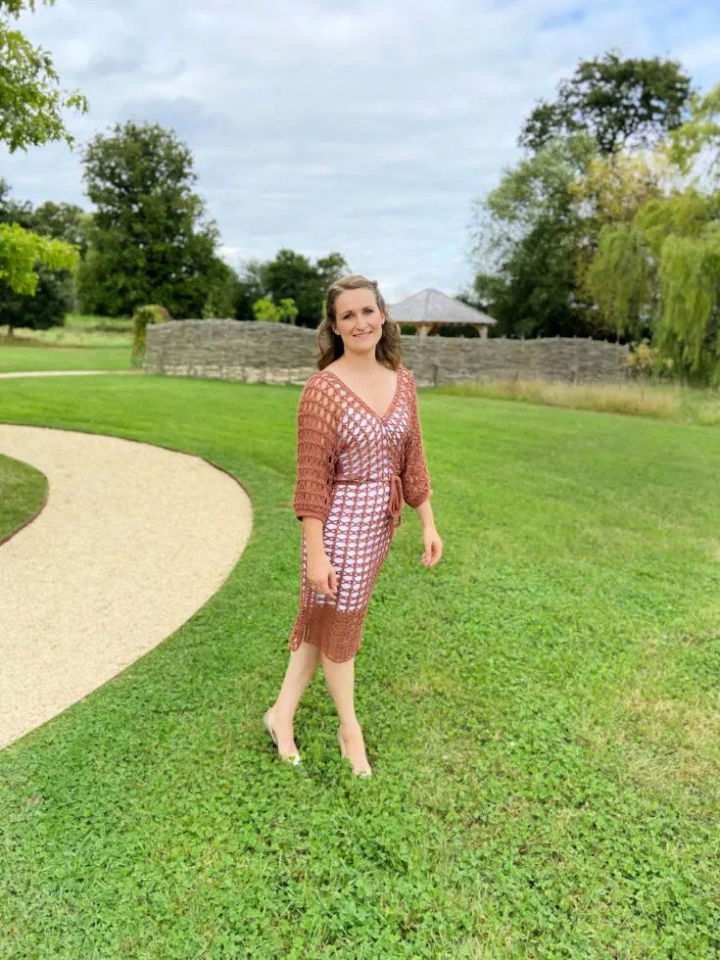 Looking for free crochet dress patterns to make a beautiful summer outfit? Make a beautiful crochet lace dress that's perfect for any occasion! This simple and elegant pattern is easy to customize, with options to make it from a top-up to a maxi length. It uses delicate lace stitches and chains, making it very adaptable. All materials and tools needed are a 4mm (us g) crochet hook and yarn. Instructions are included so you can make your own unique design in any length you like. Get creative with this versatile pattern, and finish off your look with an exquisite crochet wedding dress or formal gown! hanjancrochet
21. Golden Hour Sun Dress Crochet Pattern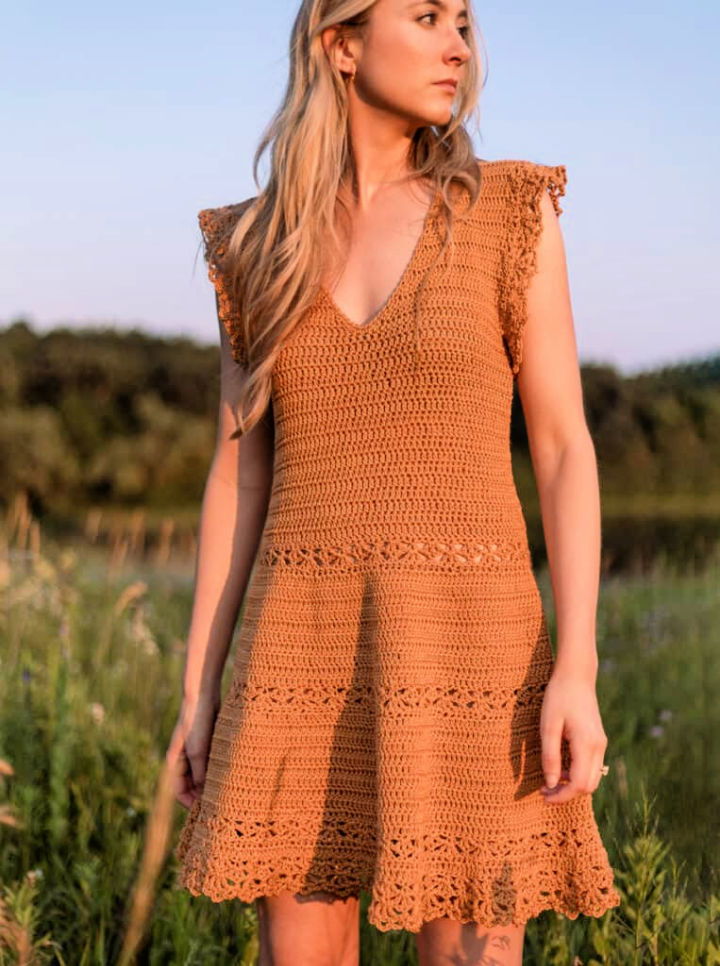 Beautiful and easy to make, this golden hour sun dress crochet pattern is perfect for sunny days or summer evenings. With its lovely lace detailing along the skirt and sleeves, you can create an elegant, simple look. The double crocheted dress is worked flat for the bodice before shaping it in the round. Using a US g-6 (4.00 mm) hook with lion brand 24/7 cotton yarn makes this sun dress durable and comfortable – ideal for any occasion! Intermediate level skill needed; removable stitch marker and tapestry needle also required. originallylovely
22. Crochet Summer Dress Design – Free Pattern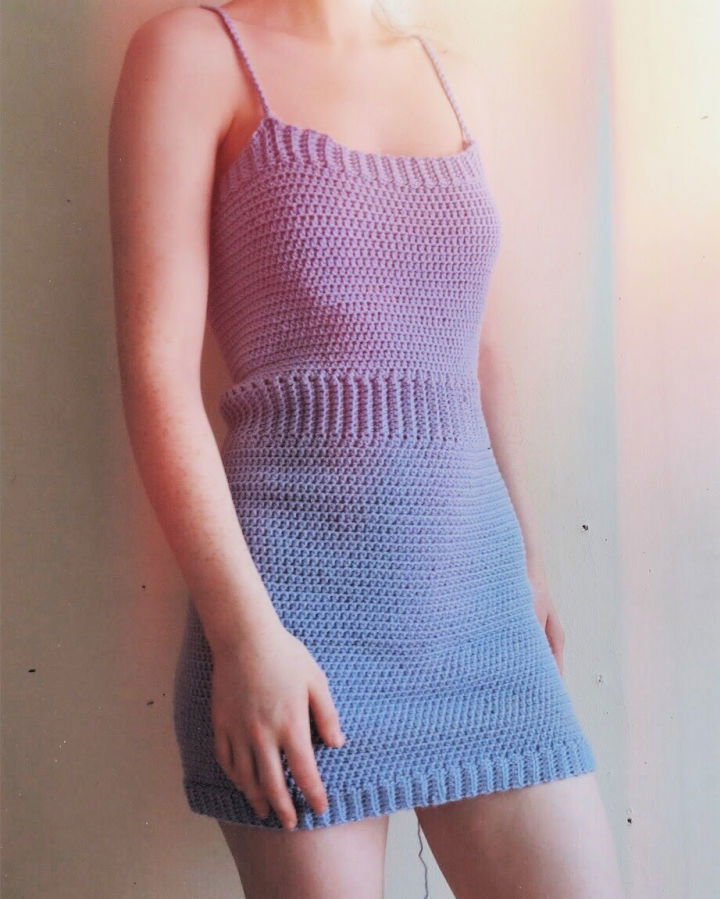 Make the perfect summer evening dress with just a few materials and beginner-friendly crochet skills. This fun, easy, adorable crochet summer dress is the perfect gift for your loved ones this season. Materials needed to make this crochet summer dress include weight 3 yarn, a 4mm crochet hook, measuring tape and a yarn needle. With these simple items, you can create an amazing item that will look great year after year! crochetwithcarrie
23. White Hippie Boho Mini Dress – Free Crochet Pattern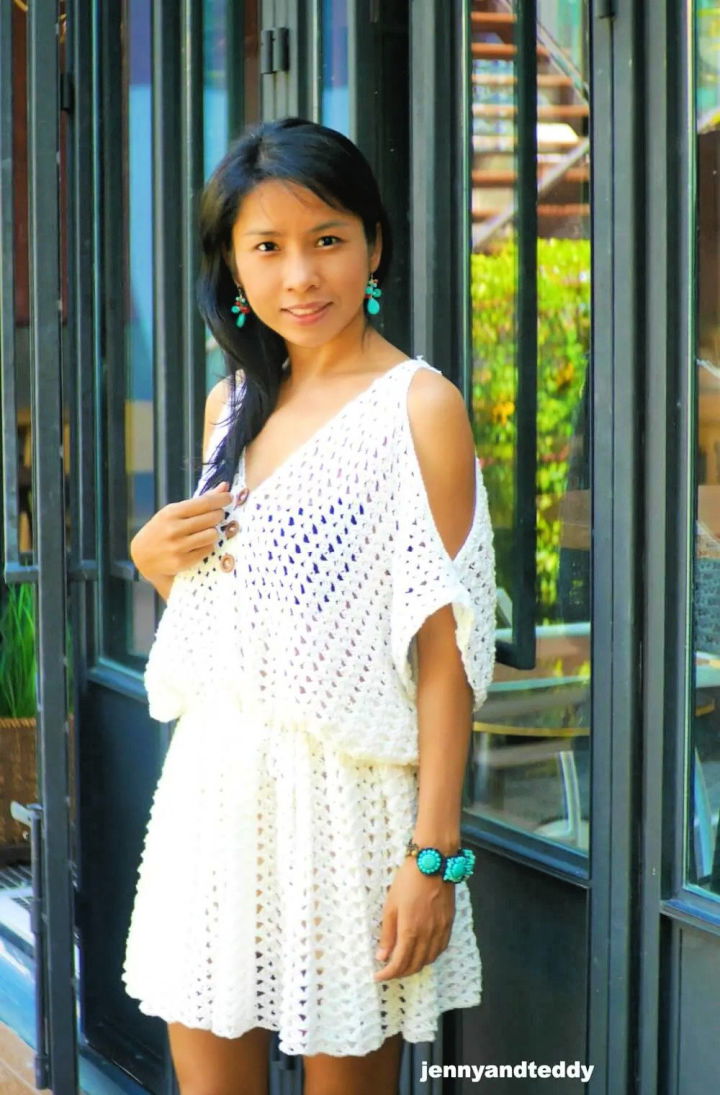 This summer, be a beach babe in this free crochet white hippie boho mini dress pattern. Beginner friendly and comes with a full step-by-step video tutorial, this super cute relaxed fit dress features a v-neckline, cold shoulder, and an open back with tie strap – perfect for styling over your favorite swimsuit or bikini. Material required includes cotton DK yarn, a 4mm crochet hook, a sewing yarn needle, 3 stitch markers & wooden buttons. Wear the perfect beach cover-up to show off that natural tan! jennyandteddy
24. Easiest Star Stitch Dress to Crochet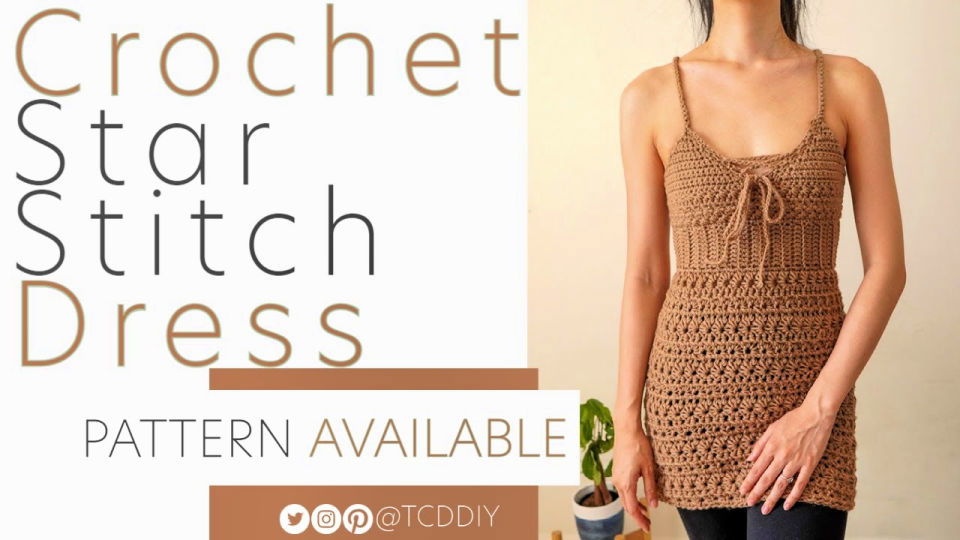 Create a beautiful crochet star stitch dress with this easy-to-follow diy tutorial and pattern. Perfect for beginners, the materials you need include bernat super value (honey), hook sizes 5mm and 10mm, scissors, stitch markers and tape measure. This fun-to-make project is comfortable to wear and looks gorgeous when finished. Get ready to show off your handmade masterpiece!
25. Super Easy Crochet Baby Dress Pattern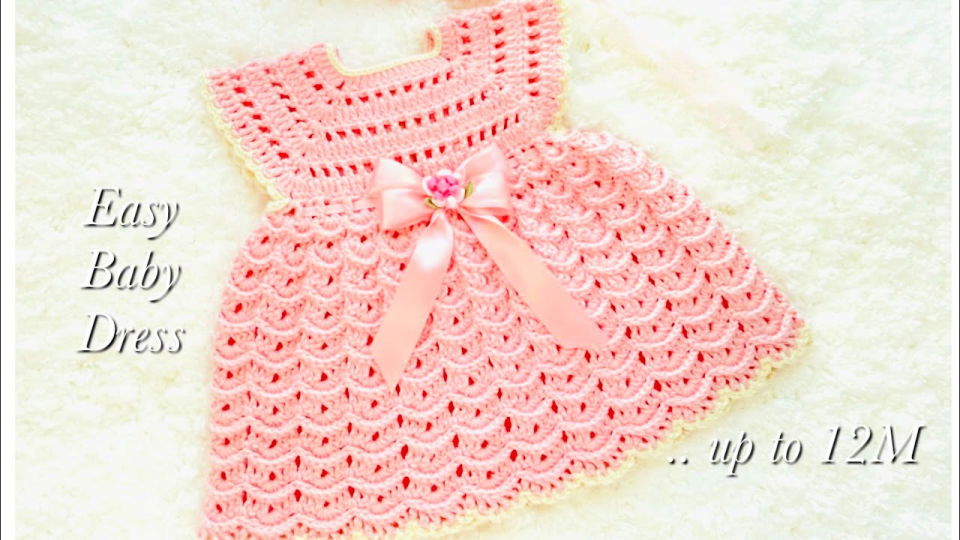 Looking for an easy and fun project to make a beautiful crochet baby dress or frock? Look no further! This free pattern provides you with all the tools necessary to create this delightful piece from 0-3 months. With a step-by-step tutorial, learn how to crochet this dress and adjust the size accordingly. Select your DK weight yarn, grab your crochet hook – let's get started! This will surely be a showstopping creation for any little princess in your life.
Related Free Crochet Patterns:
Find free crochet patterns for a tank top, shrug, poncho, skirt, slipper or sweater. Create beautiful and stylish handmade designs with our easy-to-follow instructions.
Conclusion:
Crocheting a dress can be an exciting, creative and enjoyable experience for anyone. The 25 free crochet dress patterns provided are an amazing resource for anyone looking to create beautiful and stylish clothing items. Our free crochet dress patterns with step-by-step instructions make it easy to follow along, even if you're starting crocheting. We provide detailed directions that make it easier than ever to learn how to crochet a dress – from the beginning steps through the finishing touches. Each crochet dress pattern selection includes a range of styles, colors and sizes, so something is available for everyone regardless of skill level or personal preference. Whether you're creating something special for yourself or someone else, these free crochet dress patterns will help you get the job done!