Discover how to make stylish, functional crochet ponchos with these 25 free crochet poncho patterns for beginners. All these easy crochet poncho patterns come with step-by-step instructions, and detailed diagrams in every pattern will help you create beautiful crocheted ponchos that are sure to become your favorite go-to wardrobe pieces. Whether you're looking for a simple, everyday style or something more unique and showstopping, these free crochet poncho patterns have covered you! With everything from classic designs to trendy contemporary looks, you'll find the perfect easy crochet poncho pattern for any occasion. Find the ideal fit among our selection of crochet poncho patterns sizes ranging from XS – 5XL so everyone can get their own special crocheted poncho!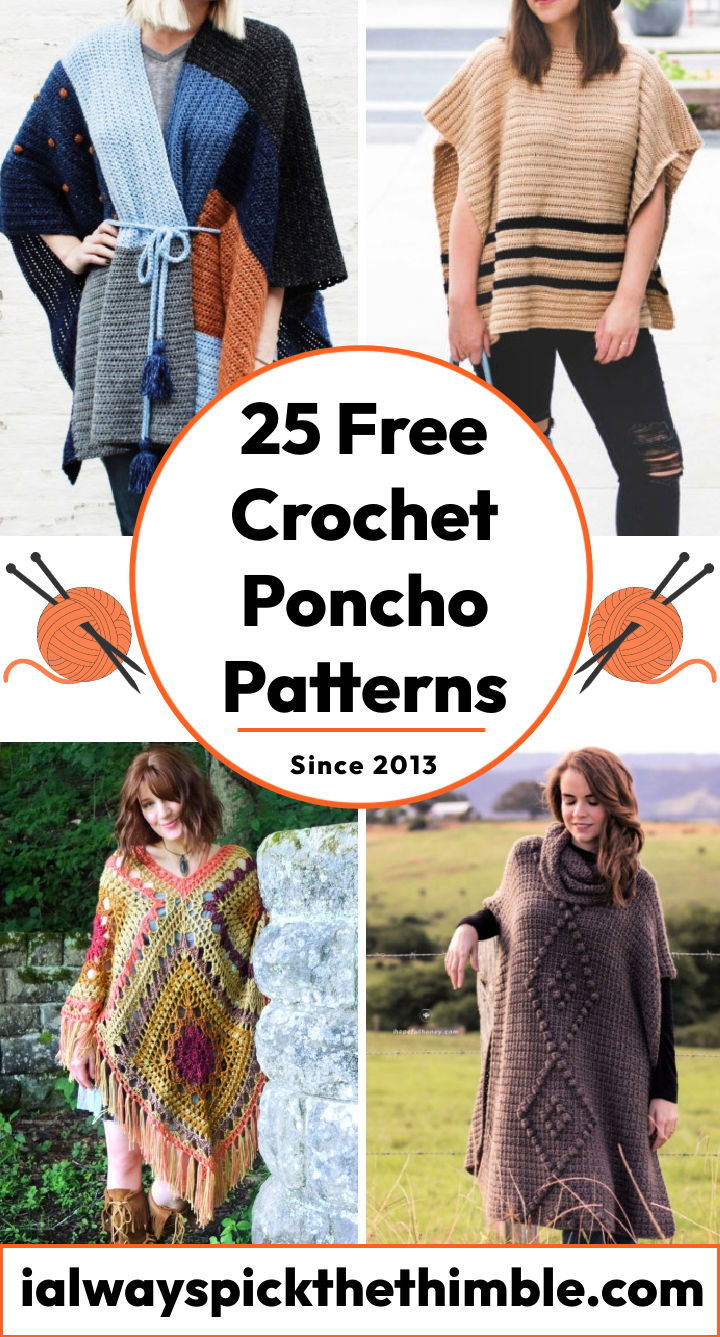 Free Crochet Poncho Patterns for Beginners
Crochet ponchos are a great way to stay warm while also giving you a stylish and chic look. Whether you're a beginner looking to learn crochet basics or an experienced crafter looking for free projects, these 25 free crochet poncho patterns are your ticket to creating beautiful yet practical garments. Below are free and detailed crochet poncho pattern instructions that provide step-by-step guidance and often include free bonuses like video Tutorials, pattern charts, and sizing templates.
Some free crochet poncho patterns even provide additional directions so you can customize the size and shape of your project! So what are you waiting for? Get out your hook and yarn and dive into making one of these fabulous free crochet poncho patterns today!
1. Free Crochet Ava Fringed Poncho Pattern
Looking for a quick and easy weekend crochet project? Try this free pattern to make the crochet ava fringed poncho! It's delicate, pretty, romantic, and easy to make with just two rectangles. It has an adorable tassel-style fringe to mix bohemian comfort with chic, fashion-forward style. This adult-sized poncho is perfect for those new to crocheting – beginner-friendly – using lion brand yarn cotton bamboo and a size j 6mm crochet hook. Give your wardrobe an upgrade in no time with this super soft, warm and breezy piece – get started now! sewrella
2. Easy Crochet Poncho Pattern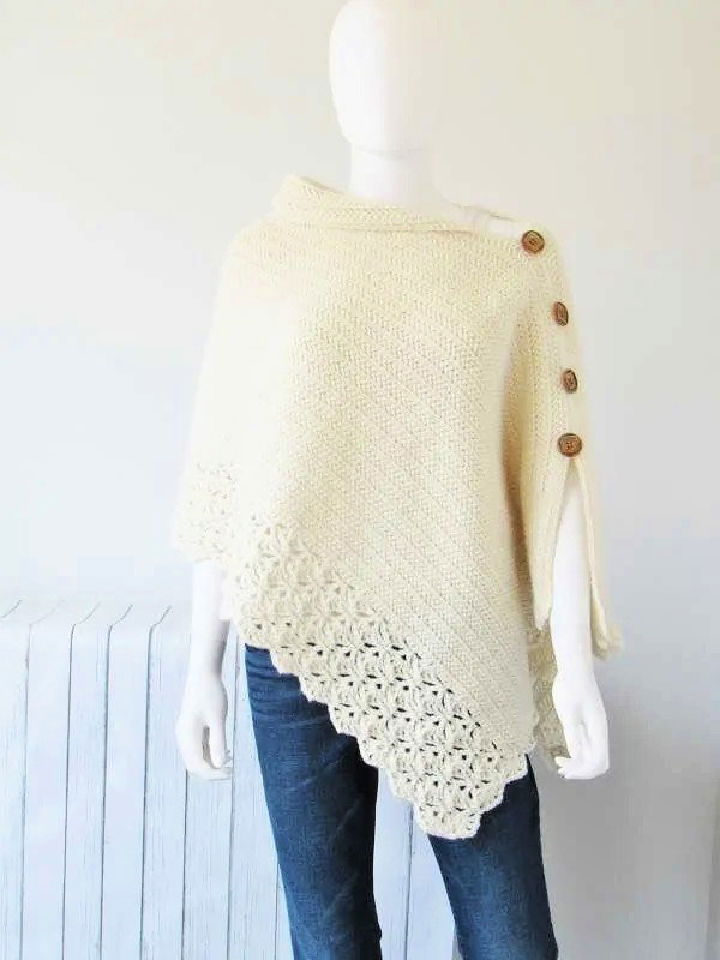 Make a cozy and stylish crochet poncho with this beginner-friendly free pattern, the uptown poncho! Completely made from rectangles and seamed at the sides, it features a herringbone half double crochet stitch for a knit look. The lacy hem adds an extra fancy touch. Includes video tutorial to help you make one mommy and me set. Materials needed: worsted weight yarn, hook j (6mm), tapestry needle, 1-¼ inch wooden buttons. Add a bit of warmth and style to your wardrobe with this easy and fun project! crochetdreamz
3. Crochet Purple Poncho Wrap – Free Pattern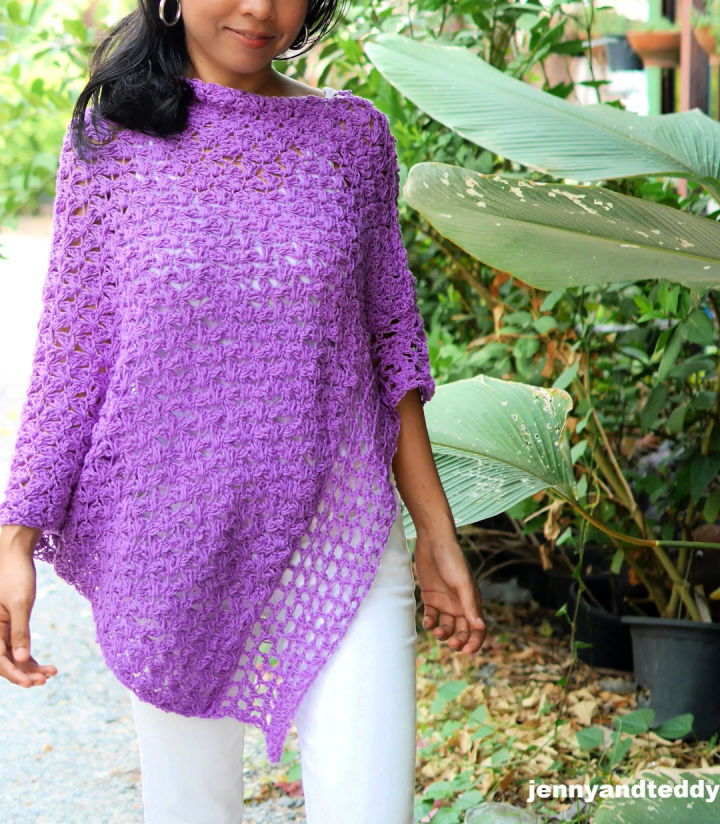 Are you looking for a trendy and easy crochet pattern? Look no further than this free crochet purple poncho wrap! This piece is made with lion brand 24/7 cotton yarn, making it perfect for any season. The combination of blanket stitch and simple double crochet stitch gives the wrap a beautiful texture. You'll be able to finish the project in just one weekend, making it great for beginners. Make sure to grab a 6.0 mm hook, sewing needle, stitch marker and some bright purple yarn before you start – everything else is included in the instructions! Get ready to join the trend with your very own summer poncho wrap! jennyandteddy
4. Crocheting a Light Alpaca Poncho Pattern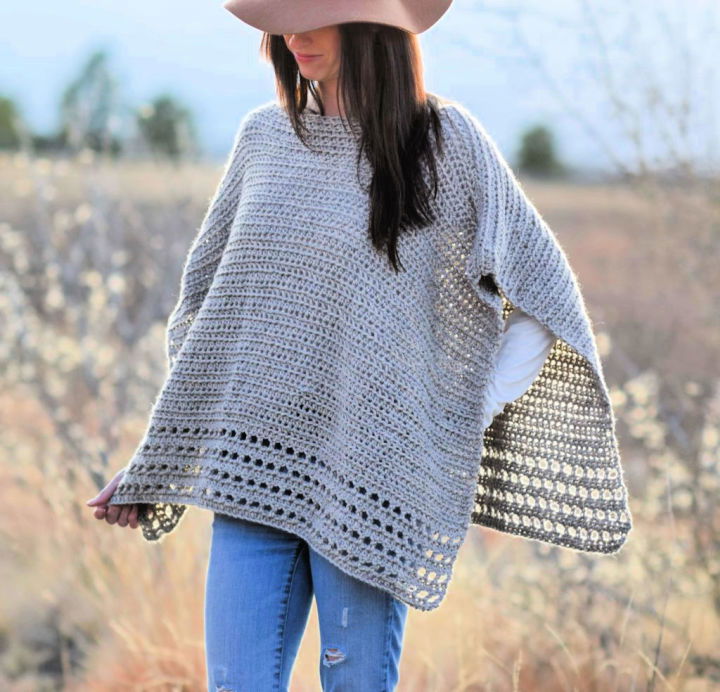 Are you looking for a cozy, comfy project for yourself? This light alpaca poncho crochet pattern is a perfect choice. It's simple to make and practical yet stylish! All it takes is two rectangles seamed at the shoulders and a 6mm hook to start. The touch of alpaca gives this piece an extra texture and stunning neutral taupe color. Perfect for cooler climates or slightly warmer ones too! Get your lion brand yarn and scissors ready, give it a go today with this easy pattern! mamainastitch
5. Free Crochet Pineapple Poncho Pattern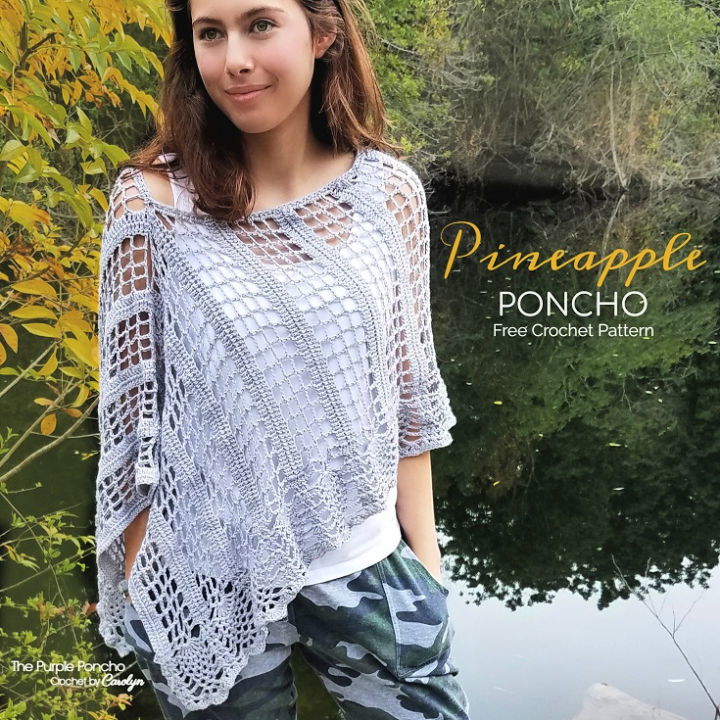 Looking for a light and lacy garment that can be worn year-round? Check out this free crochet pattern for a pineapple poncho! It features a beautiful combination of lacy stitches and pineapples, making it look great with casual or dressy outfits. Easy to make with cotton fair yarn in silver color, all you need are scissors, tape measure, hook f/us (3.75 mm) and yarn needle – perfect activity even if you're an intermediate crocheter! Make one now and enjoy the endless possibilities of colors this poncho offers. thepurpleponcho
6. How to Crochet Alsace Poncho – Free Pattern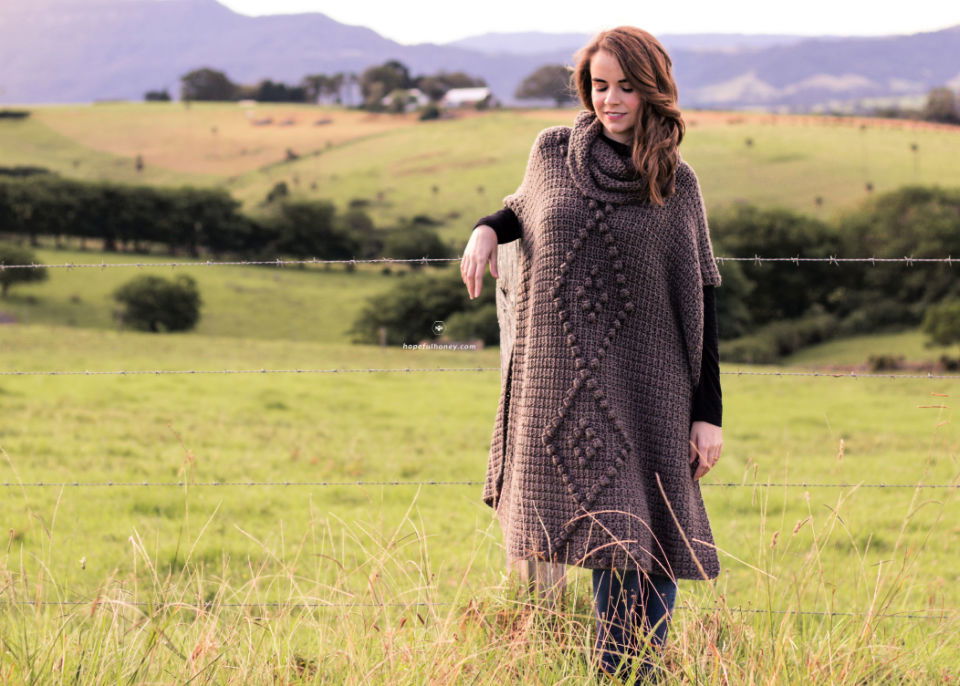 Elevate any outfit with the luxurious Alsace poncho! Its unique bobble design and classic cowl neck add timeless charm to any ensemble. Lightweight and warm, you'll look adorable strolling in cobblestone streets or wine-tasting with friends. This easy-level crochet pattern includes 1700yds of aran yarn, a 7mm (2) crochet hook & tapestry needle – everything you need for this stylish layering piece. Create your own today and look lovely for years to come! hopefulhoney
7. Crochet Rancher Poncho – Free Pattern
You don't have to be an experienced crocheter to make a stunning rancher poncho. It's just one big rectangle with a hole in the middle, and it looks amazing! Use lion brand heartland yarn and a size I 5.5mm crochet hook, and you can easily customize this pattern to get the length, width or thickness you want. It's perfect for lounging around at home – like wearing your favorite blanket – but stylish enough for any fashion show. Download this free pattern and create your own timeless piece of clothing today! Sewell
8. Pretty Crochet Chic Cape Poncho Pattern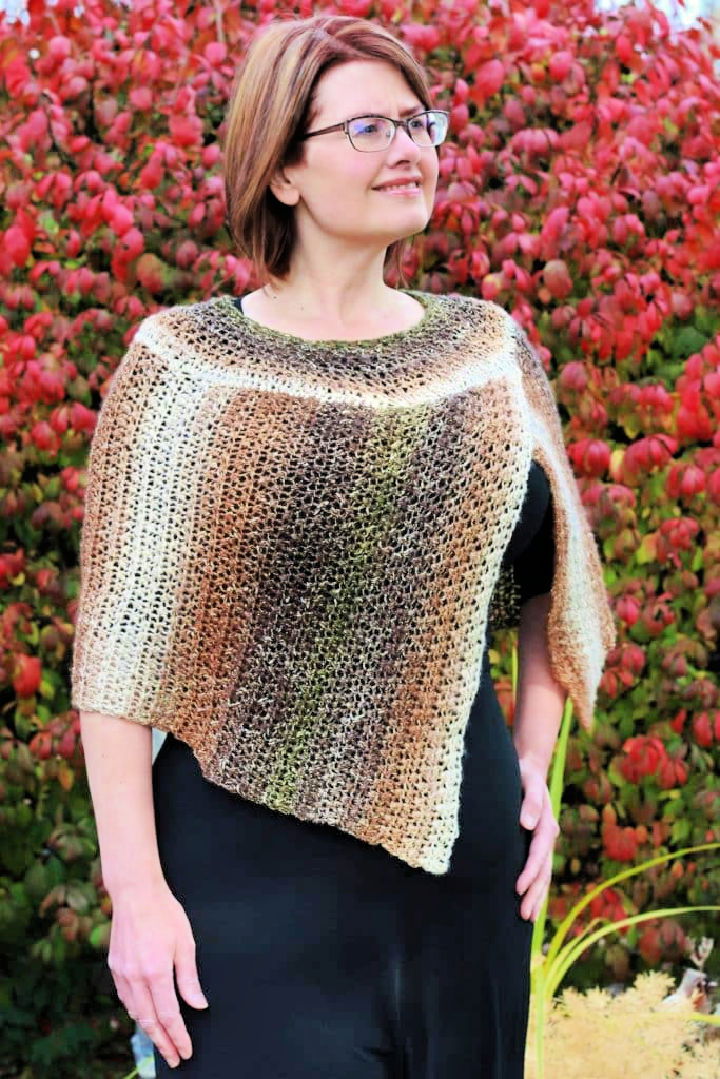 Tired of wearing the same old clothes? Add a fashionable flair to your wardrobe with this chic crochet cape poncho! It's beginner friendly, making it easy and fun to make. This stunning pattern looks knit but is crocheted in a simple repetitive stitch–crossed half double crochet. The dramatic drape will look amazing on you – wear it with an arm free or have long points in the front for an elegant line.
Get ready to wow everyone when you show up sporting this curvy girl cape! All you need is lion brand shawl yarn, size k (6.5 mm) crochet hook, stitch markers, tapestry needle, and detailed instructions, so start creating now! nanascraftyhome
9. Crochet Beacon Street Poncho Pattern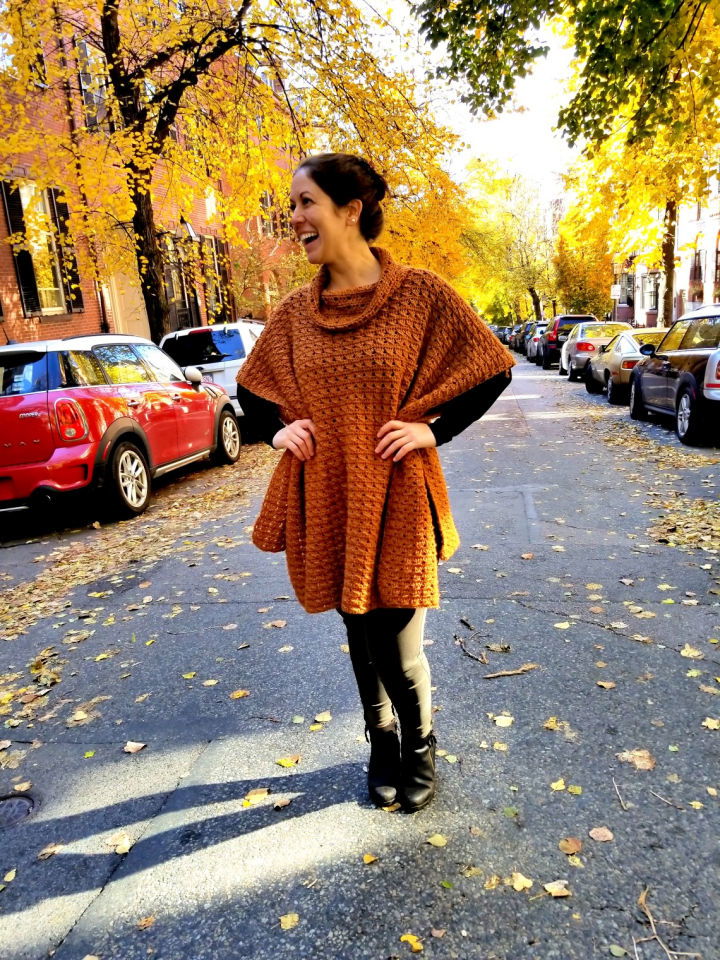 The crochet beacon street poncho pattern is perfect for any beginner who wants to make a cozy, comfortable, warm accessory. It's fun and easy enough for even the most novice crocheter to tackle! With 9 skeins of lion brand yarn jeans, two hook sizes (I(5.50mm) for the panels and j(6mm) for the cowl), stitch markers and a darning needle, you'll have all you need to complete this poncho pattern – stylish enough to wear with any outfit! Get started now on your new favorite piece of clothing. bodhilifecrochet
10. Crochet The Montana Poncho – Free Pattern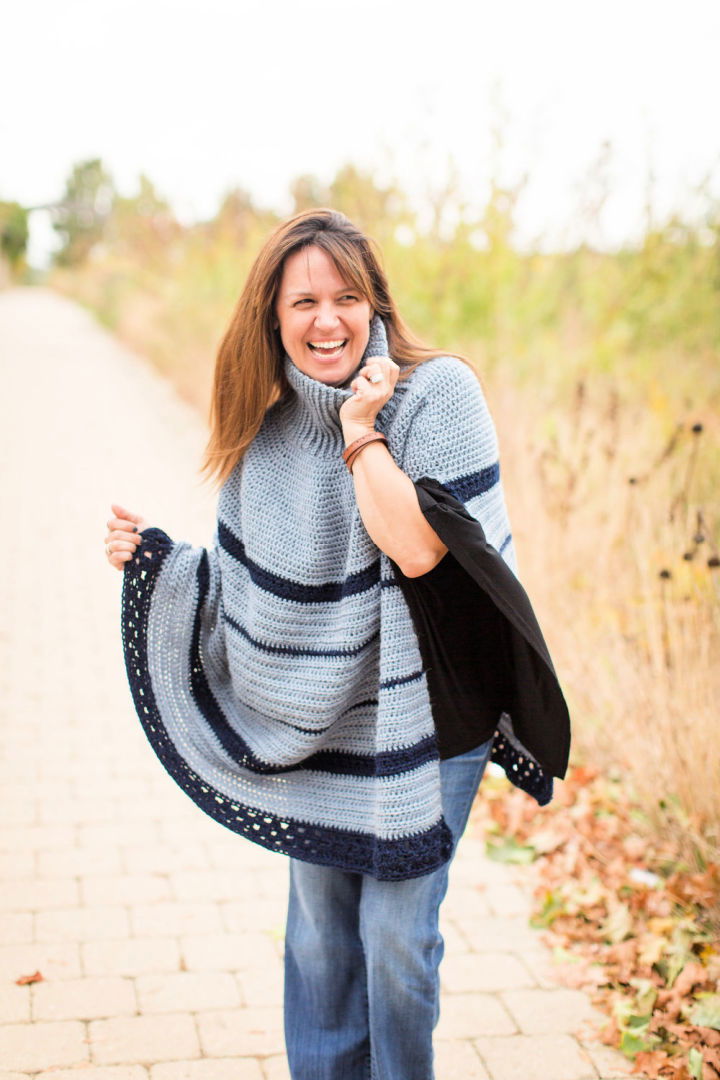 Bring style and warmth to your wardrobe this season with the Montana poncho crochet pattern! This timeless design features a slit side to keep arms accessible, plus textured ribbing on the turtleneck for cozy comfort. Perfect for chilly mornings spent enjoying a cup of coffee or running errands around town, the Montana poncho is easy to make – grab lion brand touch of alpaca yarn, one size I-9 / 5.5mm crochet hook, tapestry needle, tape measure and fasteners or safety pins. With this unique pattern, you'll be ready for whatever weather comes your way! stitchandhustle
11. Crochet Cross Country Poncho Pattern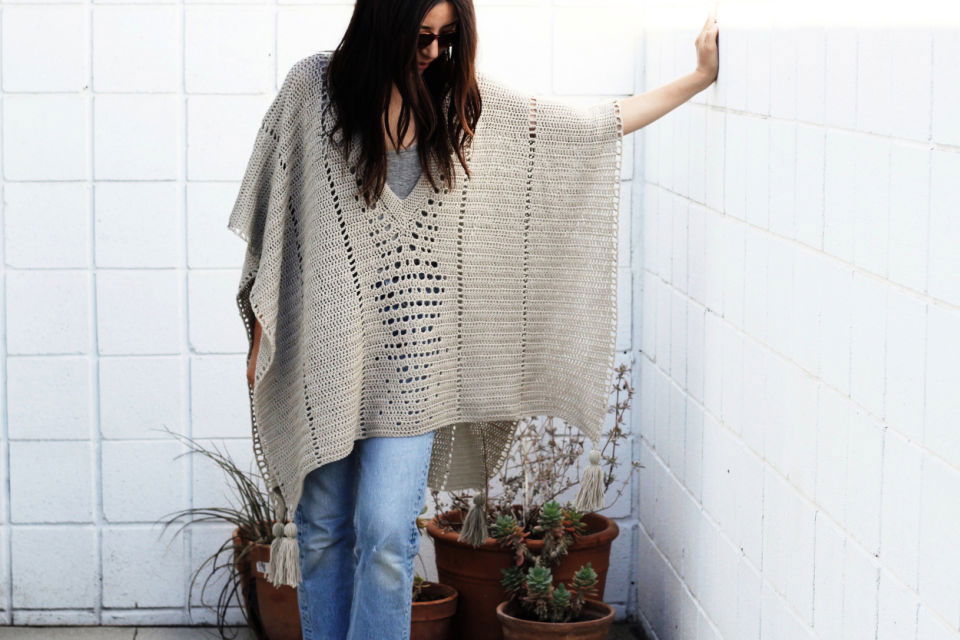 See this one of stylish and easy-to-follow crochet poncho patterns to create the perfect fashion accessory. Choose from various styles, sizes and colors to find what is best for you.
This crochet cross-country poncho pattern is perfect for the traveler! Featuring lion brand lb collection superwash merino, this poncho will take you from the east coast to the west coast and everywhere in between. Its comfortable fit and easy-to-wear style is great for various temperatures. Intermediate skill level needed with size us j/10 (6mm) crochet hook, 6 skeins of yarn and a tapestry needle to complete. Get ready to make your statement wherever you go! twoofwands
12. Easy Crochet Rectangle Poncho Pattern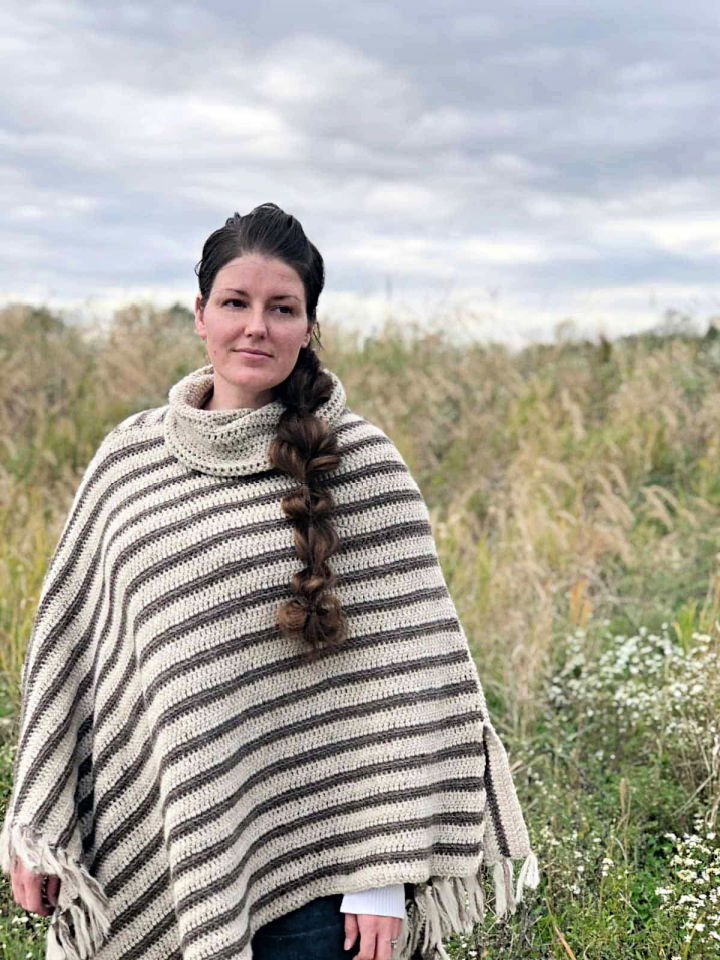 Make your cold winter days cozy with this easy crochet rectangle poncho. This surprisingly simple pattern is perfect for the beginner crocheter and creates a soft, squishy garment that will keep you warm in chilly weather. Lion brand's fisherman's wool yarn is ideal for this project as it contains natural lanolin oil, making it naturally water-resistant – perfect for those misty mornings! Get all the supplies you need, including fisherman's wool and a 5.00mm crochet hook, and start creating your own stunning poncho – sure to be a go-to favorite! makeanddocrew
13. Crochet Driftwood Oversized Hooded Poncho Pattern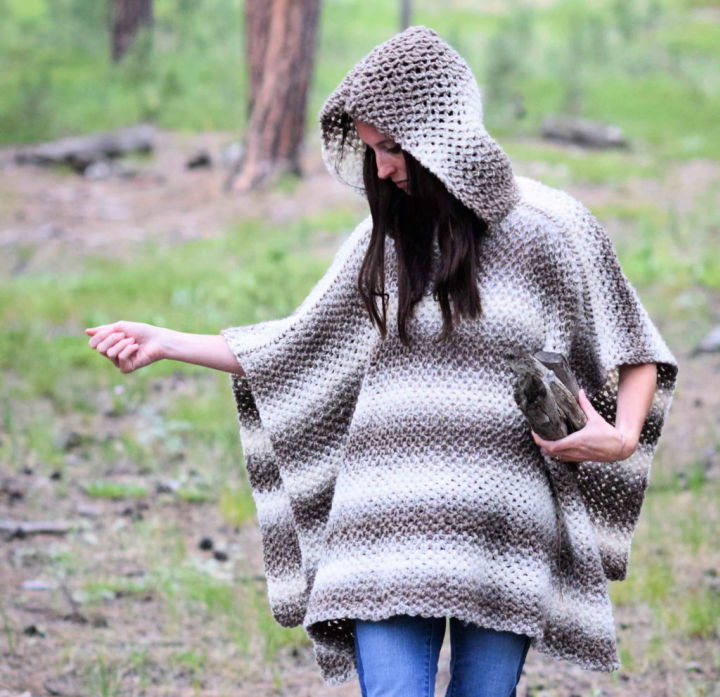 Stay cozy and stylish with this crochet driftwood oversized hooded poncho pattern. The relaxed fit and simple stitch pattern provide a lightweight yet warm layer of comfort, while the eye-catching design makes you stand out! All you need to get started is 4 skeins lion brand scarfie, a size k 6.5mm crochet hook, scissors, and a tapestry needle. Get crocheting now for an easy project that can be done by fireside or in front of the tv – it's perfect for cuddling up with your favorite snacks! mamainastitch
14. How to Crochet Kismet Poncho – Free Pattern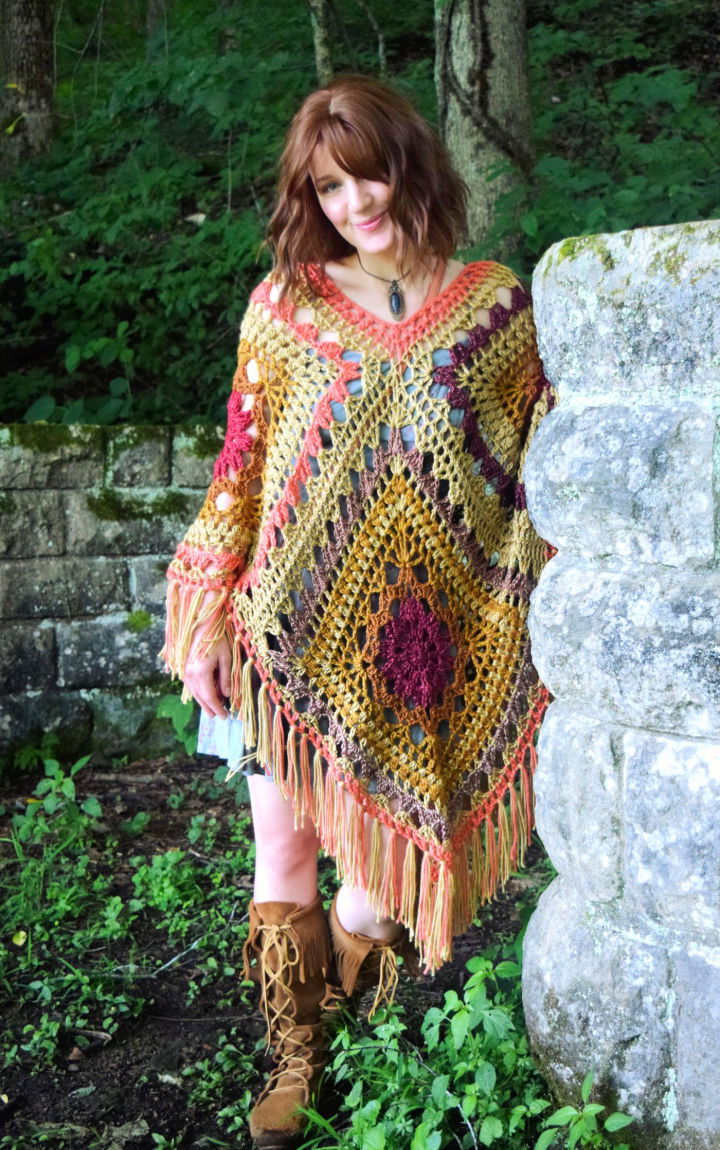 Create the perfect statement piece with this crochet kismet poncho! Enjoy easy-to-follow instructions that make it fun to customize your own special item. Get creative with different colors and combinations of #4 weight acrylic yarn and a 5.5 mm hook to make ponchos look adorable, cute, and stylish for any occasion. With or without fringe, you'll have a special touch for any outfit in no time! moralefiber
15. Crochet Shades of Indigo Poncho – Free Pattern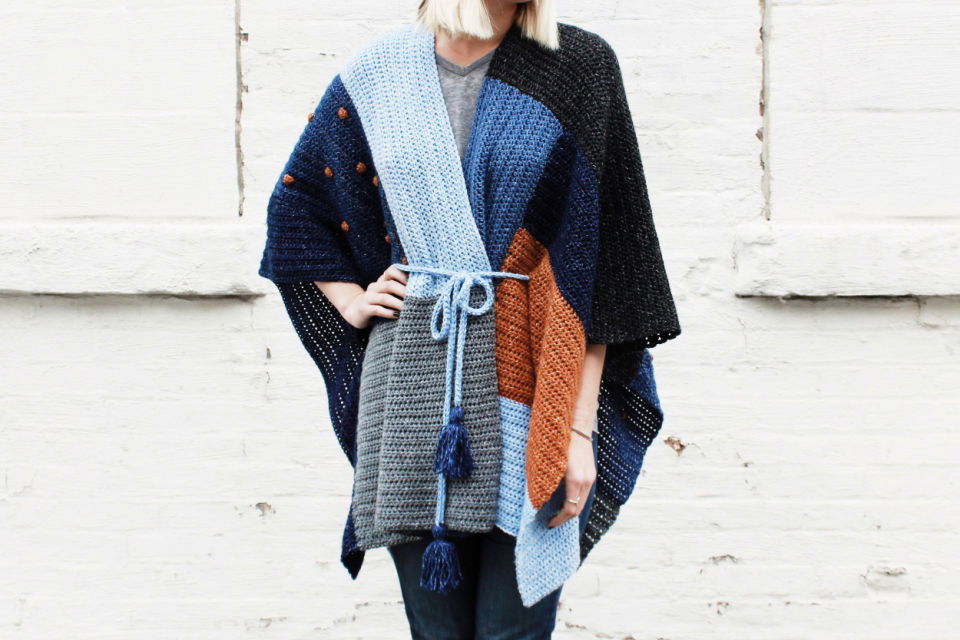 This handmade crochet poncho is a beautiful and stylish way to stay warm! It's easy enough for a beginner. With instructions included for doing a bobble stitch, this project can help you learn something new as you make an impressive piece. This poncho has shades of indigo throughout, creating an interesting visual effect that will keep your friends asking where you bought it from. To complete this showstopper, you'll need lion brand jeans yarn in vintage plus us j-10 (6mm) crochet hook and a tapestry needle. Get ready to wow everyone who sees your stunning crochet shades of indigo poncho! twoofwands
16. Crocheted Spring Breeze Poncho – Free Pattern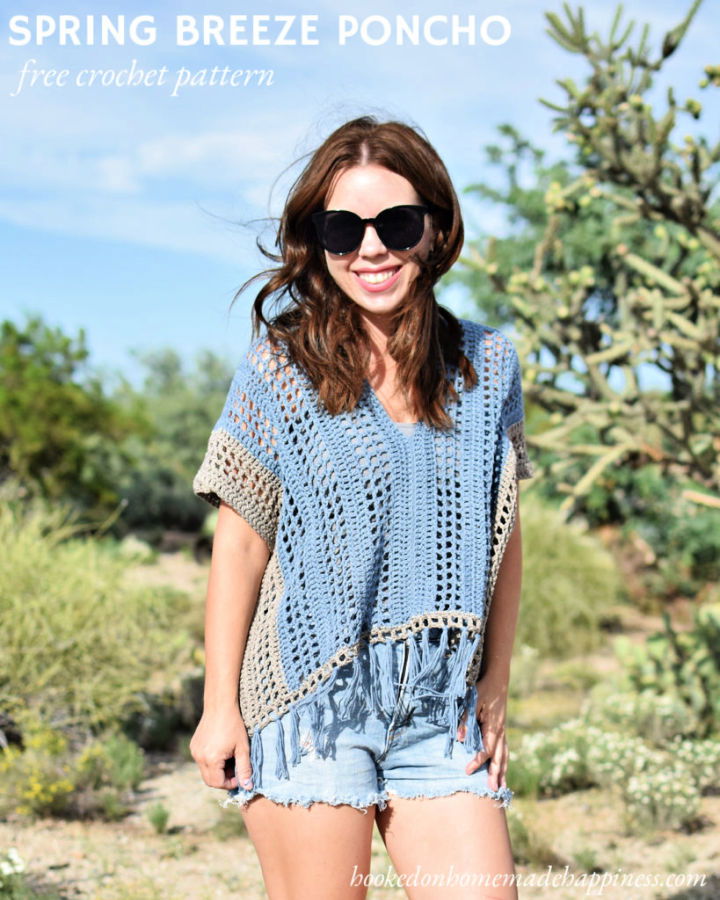 Welcome spring with this stylish and lightweight crochet poncho! This beginner-friendly garment is easy to make using basic stitches, 2 rectangles, DK weight yarns and a h/5.0 mm hook. The wecrochet cotlin yarn is soft and perfect for warmer weather, making it the ideal choice for this pattern!
There are many great color options, too – choose your favorite to customize your look. It includes everything you need in the materials list and clear instructions to start your project quickly. Make sure you look stylish all season long with this comfy crochet spring breeze poncho! hookedonhome
17. Crochet Secret Pathways Triangle Poncho Pattern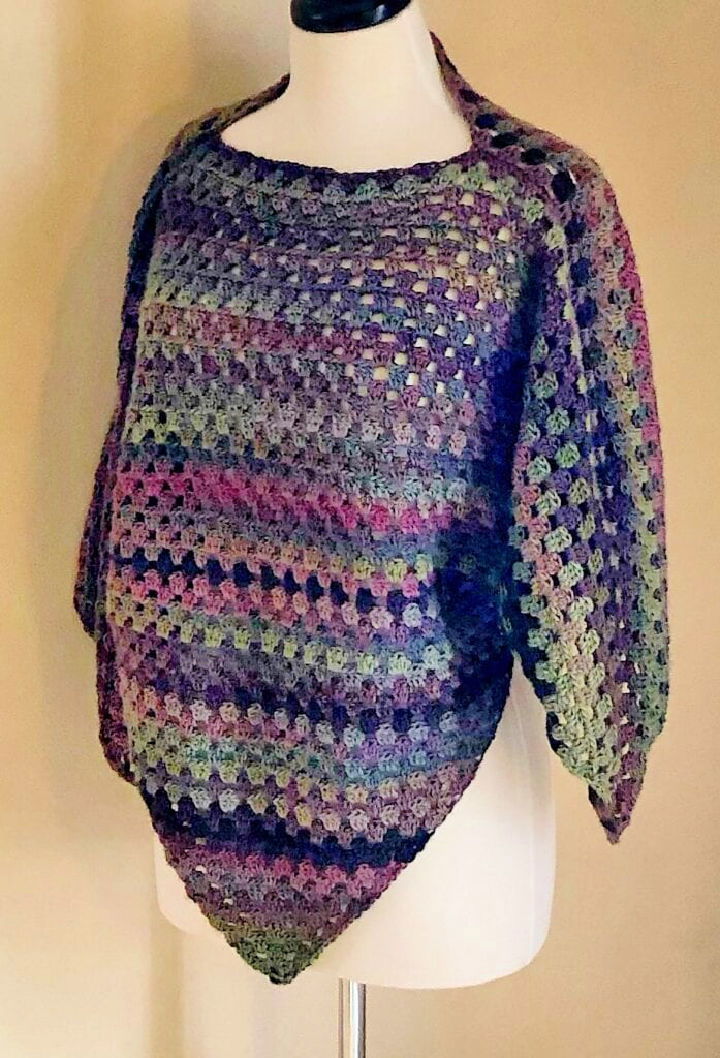 This secret pathways triangle poncho is the perfect crochet project. It's easy to make with fun double crochet clusters reminiscent of the granny stitch, and it looks amazing! The instructions are clear and easy to follow so that all skill levels can make this pattern. Materials needed include red heart unforgettable echo yarn, a size I 5.25 mm crochet hook, scissors, and a yarn needle. Make one for yourself or as a handmade gift – either way, you'll be able to wear it with any outfit! patternprincess
18. C2C Crochet Block Rockin Poncho Pattern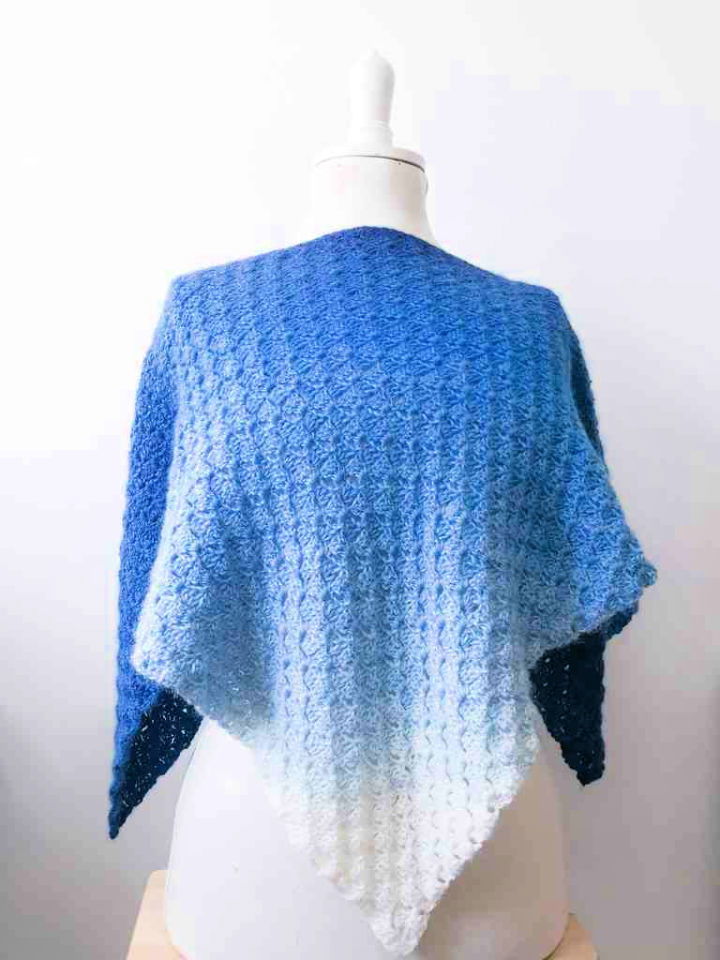 Discover the joy of c2c crochet with this c2c block rockin' poncho pattern! Perfect for confident beginners or adventurous crocheters, this simple and fun design is easy to make. The instructions are clear and straightforward, so you'll have your poncho in no time! Just choose a yarn that suits your style and get started – it's sure to be a great addition to your wardrobe! All you need is a 4.5mm hook, yarn of your choice, yarn needle & scissors – then let the corner-to-corner magic begin! doradoes
19. Katie Crochet Poncho – Free Pattern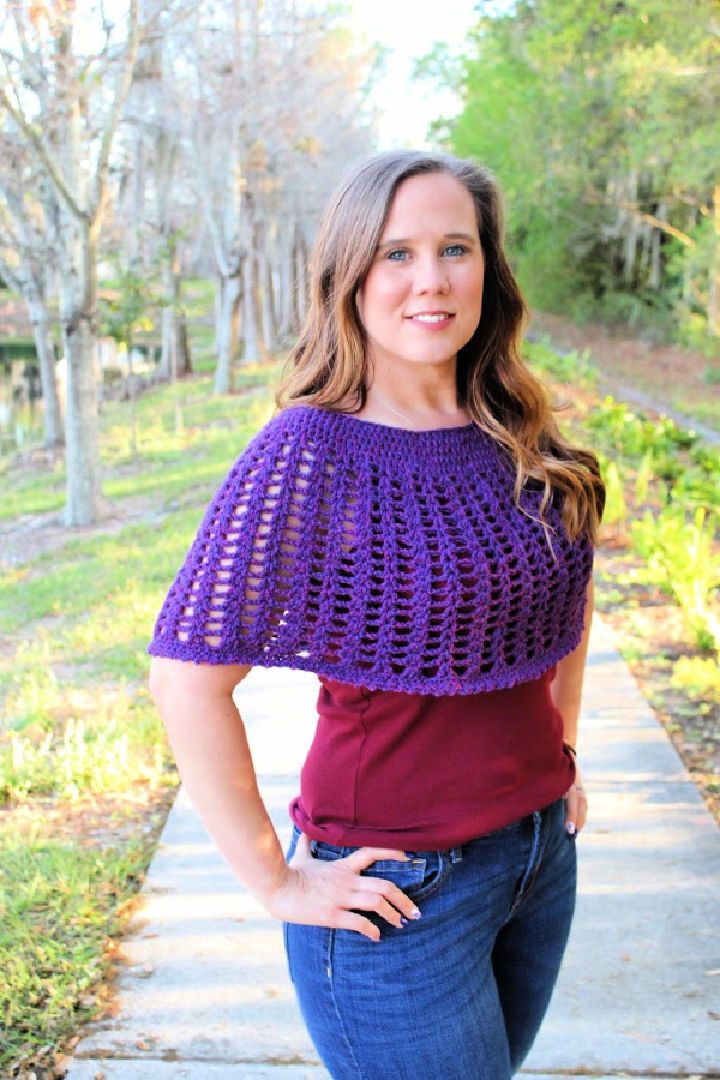 Crochet a beautiful, light and lacy Katie crochet poncho with this free pattern! Perfect for layering over any outfit, it is an easy-to-follow crochet poncho pattern that uses basic stitches and simple increases. It is customizable in both length and width to create the perfect look. Get the matching slouch, cowl, and wrap too! Gather DK (#3) weight yarn, h hook, scissors, measuring tape, tapestry needle & stitch marker – all you need to get started on your own stylish piece of crochet wear. twobrothers
20. Crochet The Harvest Moon Poncho Pattern
Keep warm and look stylish with the harvest moon crochet poncho! This free poncho pattern works quickly in two difficulty levels – beginner & intermediate. Beginner crocheters will love learning new stitches, while intermediates can enjoy working up the two panels without any shaping required. Make sure you have yarn, a hook, scissors, a tapestry needle, 6 stitch markers and a measuring tape handy as you crochet this fashionable piece of clothing. Hook size: 4mm – get ready to rock your style with the harvest moon crochet poncho! onedutchstitch
21. Crochet Frost Petals Lace Poncho – Free Pattern
Make a beautiful flower lace poncho with this free crochet pattern. The frost petals poncho is perfect for winter and is highly customizable to fit your size and length needs. Easily flowy, stylish and feminine, you'll be sure to feel confident in it. With its two rectangular sections seamed together at the top, it's incredibly simple to make – great even for beginners! All you need are #3 premier everyday baby yarn, 5.5mm & 5mm hook sizes, scissors and a yarn needle, so grab these materials today and start making yours! kirstenholloway
22. Free Crochet Lucky Penny Poncho Pattern
Stay warm and look amazing this winter with the free crochet lucky penny poncho! This gorgeous pattern is perfect for ladies of all sizes, giving you a squishy, dense fabric and cushiony cowl that will keep you cozy. Easily pair it with any outfit to add an eye-catching element to your wardrobe. Plus, it's easy and fun to make – use worsted weight yarn #4 and I (5.5 mm) hook, tapestry needle, measuring tape & more! Get started now on your new favorite piece of clothing. sincerelypam
23. How to Crochet Poncho Milia – Free Pattern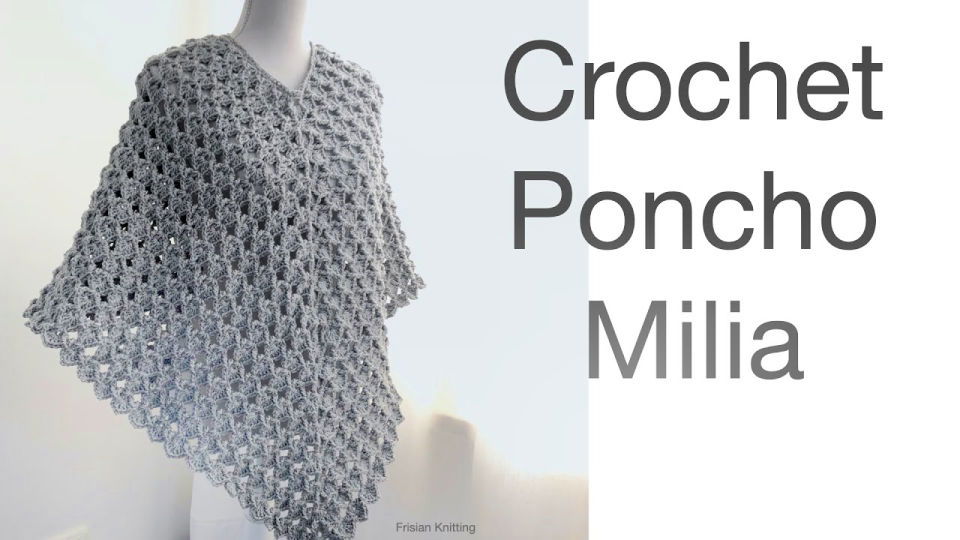 Stay stylish and warm this winter with the crochet poncho milia! This free crochet pattern is perfect for gifts or to treat yourself. Make a beautiful poncho step by step, easily and simply with medium-weight yarn, 4.5 – 5 mm hook, stitch marker and beginner-friendly instructions – so you'll look gorgeous in any outfit! Keep your comfort levels high in winter evenings as it looks modern and adorable while keeping you warm. So why not have fun making one of these beautiful ponchos? Try out this easy-to-make pattern now!
Create a cozy wrap with these easy-to-follow free crochet poncho patterns. Step-by-step instructions for stylish, beautiful and comfortable designs that anyone can make!
24. Crocheting a Poncho on a Weekend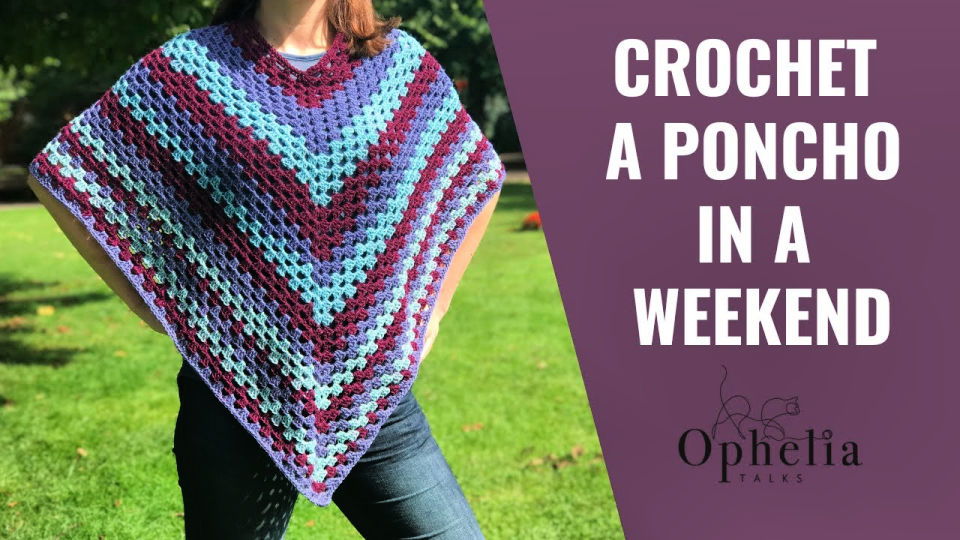 Make a stylish and comfy poncho in just a weekend with this easy pattern! Follow step-by-step instructions for making a modern, colorful poncho that will keep you warm this winter. Great as a handmade gift or to wear yourself, pair it with any outfit from indoors to outdoors. This is perfect for beginners; prepare your materials and crochet hook and have fun creating something special. Keep yourself pretty while feeling cozy – make your own poncho on the weekend!
25. Crochet Poncho Pattern With Hood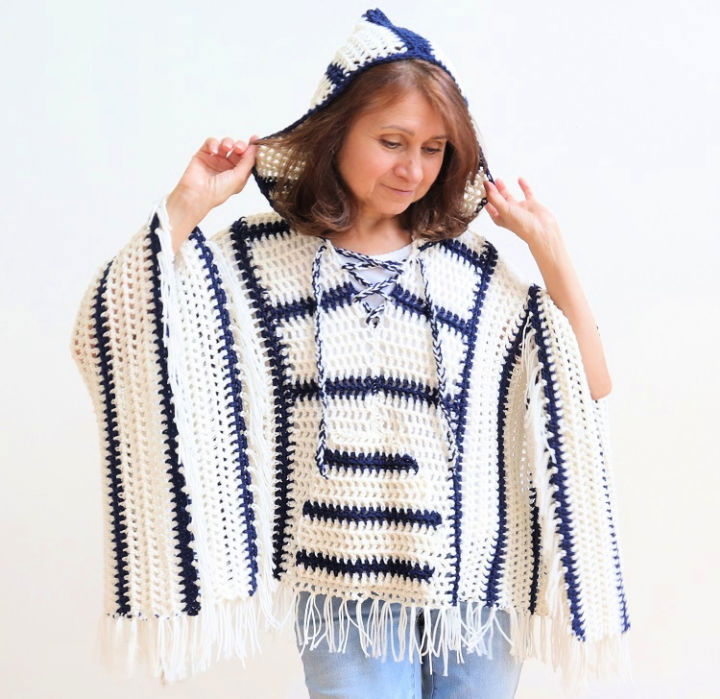 Be the envy of everyone and make your own crochet poncho with a hood – a free pattern! This pattern is easy to follow, with step-by-step instructions and a video tutorial. All you need is #3, lightweight sportweight yarn, crochet hook g / 4.25 mm & I / 5.5 mm, yarn needle, scissors & measuring tape – it's that simple! And when completed, you will look cute in this beautiful poncho with a hood! Get started now and create something amazing today! crazycoolcrochet
Related Free Crochet Patterns:
Discover a wide selection of free crochet patterns for any skill level. Learn to create stunning creations in just hours with our easy-to-follow tutorials and instructions!
Conclusion:
For those looking to learn crochet, the 25 free crochet poncho patterns for beginners are a great place to start. These crochet poncho patterns are easy and detailed enough for a beginner yet still provide many creative possibilities. With step-by-step instructions and free resources, even novice crocheters can make beautiful crocheted ponchos with these easy crochet poncho patterns. Whether you want an intricate design or something softer and simpler, there's sure to be something among the 25 free crochet poncho patterns that work for you. All it takes is some patience and plenty of practice, and soon you will be able to create your own stylish crochet poncho pattern!