Crocheting bows are a fun and easy way to add color and texture to any project. With these 25 free crochet bow patterns, you can create bows in various sizes, styles, and colors to suit your needs. Whether you're a novice or a skilled crocheter, there's a crochet bow pattern for everyone. From classic sailor bows to Loveland lace bows and heart-shaped mini bows, each pattern comes with step-by-step instructions and photo tutorials to guide you through the process. These crocheted bows can be added to hats, bags, blankets, headbands, or hair accessories. So, grab your yarn, crochet hooks, and other materials, and create these adorable crochet bows that will add a special touch to your next project!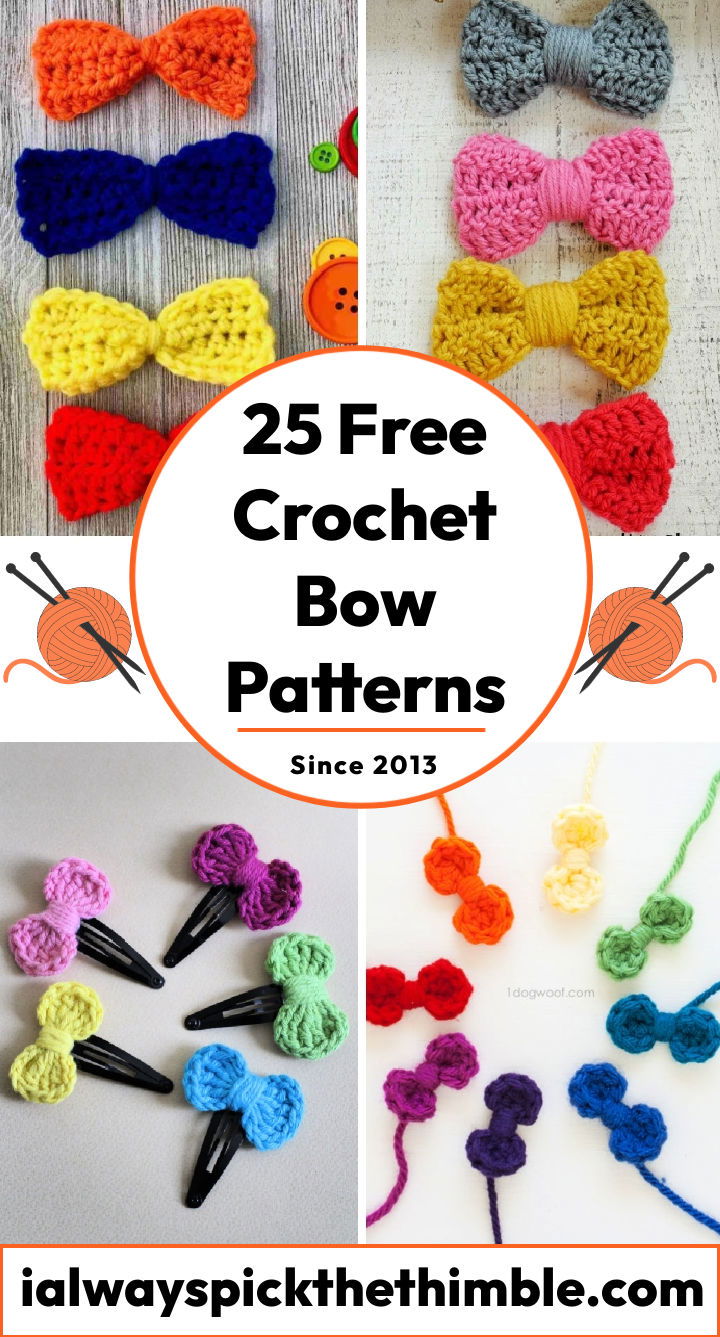 Free Crochet Bow Patterns
These free crochet bow patterns are all the rage! This article has 25 free crochet bow patterns to select from, each with its own unique style and set of instructions. From beginner-friendly to intermediate+, these patterns are designed to make a statement and are the perfect addition to handmade gifts, seasonal decorations, or even to dress up a simple t-shirt. You can create adorable bows that look wonderful on any item with just a few supplies needed, like DK weight yarn, a 2.5mm crochet hook, and a tapestry needle.
These free crochet bow patterns feature a range of bow styles, from classic to trendy, making them perfect for adding a touch of flair to any project. From baby headbands and hair accessories to clothing embellishments, these free crochet bow patterns easily add beautiful detail without spending money or time. Start creating crocheted bows today and add that special touch of homemade goodness to your projects!
What should I consider when choosing Crochet Bow Patterns?
Consider the skill level required, the materials needed, and the finished size of the bow. Look for clear instructions and diagrams. Consider the type of project you want to use the bow for, and choose a pattern that matches your preferences.
What is the best yarn to use for Crochet Bow Patterns?
Choose a yarn suitable for your project and appropriate for the bow's size and intended use. Consider the texture, color, and durability of the yarn and the look and feel you want to achieve.
How do I know if a Crochet Bow Pattern is suitable for beginners?
Look for patterns labeled as "easy" or "beginner-friendly." These crochet bow patterns typically use basic stitches and techniques, including detailed instructions and diagrams. It's also good to read reviews or comments from others who have completed the pattern to gauge its difficulty.
Can I modify Crochet Bow Patterns to suit my preferences?
Yes, Crochet Bow Patterns can be modified to suit your preferences. You can change the yarn's size, color, and texture or alter the pattern to create a different shape or design. However, it's important to remember the pattern's original structure to ensure a successful outcome.
What do I need to crochet a bow?
You will need a crochet hook, yarn, scissors, and a tapestry needle to weave loose ends. Depending on the pattern, you may also need tools like stitch markers, a measuring tape, and a blocking mat.
How long does it take to crochet a bow?
The time it takes to crochet a bow depends on the pattern, skill level, and bow size. Some patterns can be completed in a few hours, while others may take several days. It's important to read the pattern instructions and estimate your time accordingly.
1. Free Crochet Bow Pattern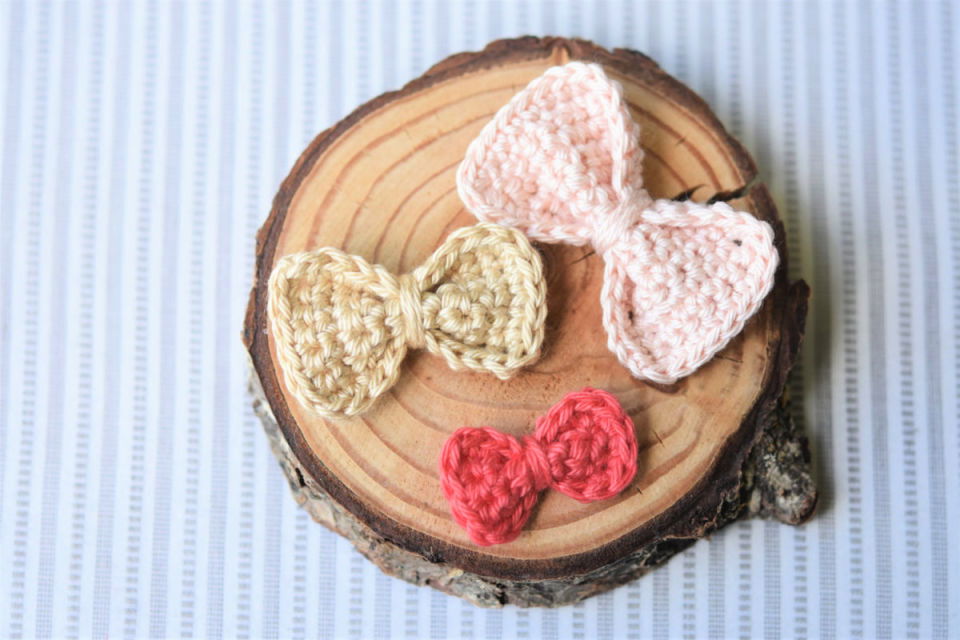 This easy crochet bow tutorial adds color and texture to your craft projects. These 3 sizes of bows are perfect for finishing off handmade gifts such as amigurumi animals and dolls or gluing onto hair clips for the little ones in your life. The instructions come with video tutorials so you can follow along even if you're starting in crocheting, making it an ideal project for beginners! You'll only need DK weight yarn, a 2.5 mm crochet hook, and a tapestry needle to create these adorable bows that look wonderful on any item. lilleliis
2. How to Crochet a Decorative Bow – Free Pattern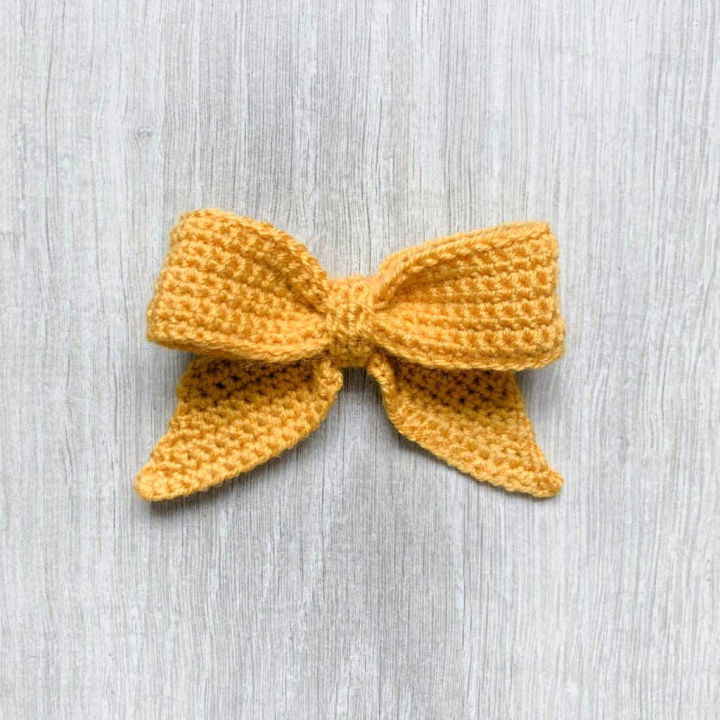 Create the perfect handmade gift with this easy crochet decorative bow pattern! It's beginner-friendly, fun to make and customizable. Make one for yourself or a loved one this season. All you need is double-knit yarn and a 4mm crochet hook – the written instructions and step-by-step pictures will guide you every step of the way. You can adjust the size of your bow by adjusting the number of stitches in your starting chain. Add those special touches to gifts and seasonal decorations – give it a try today! doradoes
3. Quick and Easy Crochet Bow Pattern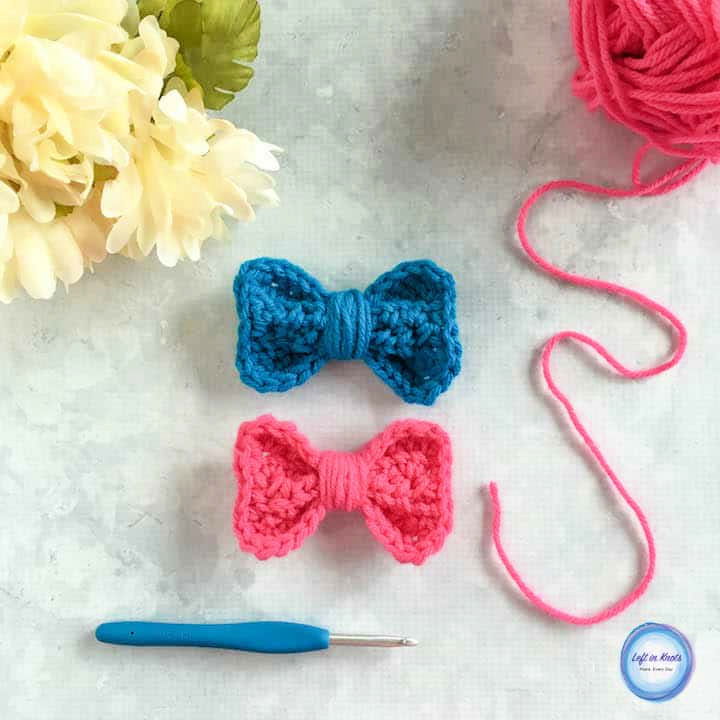 This free crochet bow pattern is a simple and pretty way to add the perfect touch of cuteness! Whip up one for yourself or make several for craft fairs to sell. With worsted-weight acrylic yarn and an I/5.5mm crochet hook, you can finish this project in no time. This bow is versatile; use it as an embellishment on a hat, hair clip, handbag, etc… Download your free pattern today and start crocheting! leftinknots
4. Easy Crochet Bow Tutorial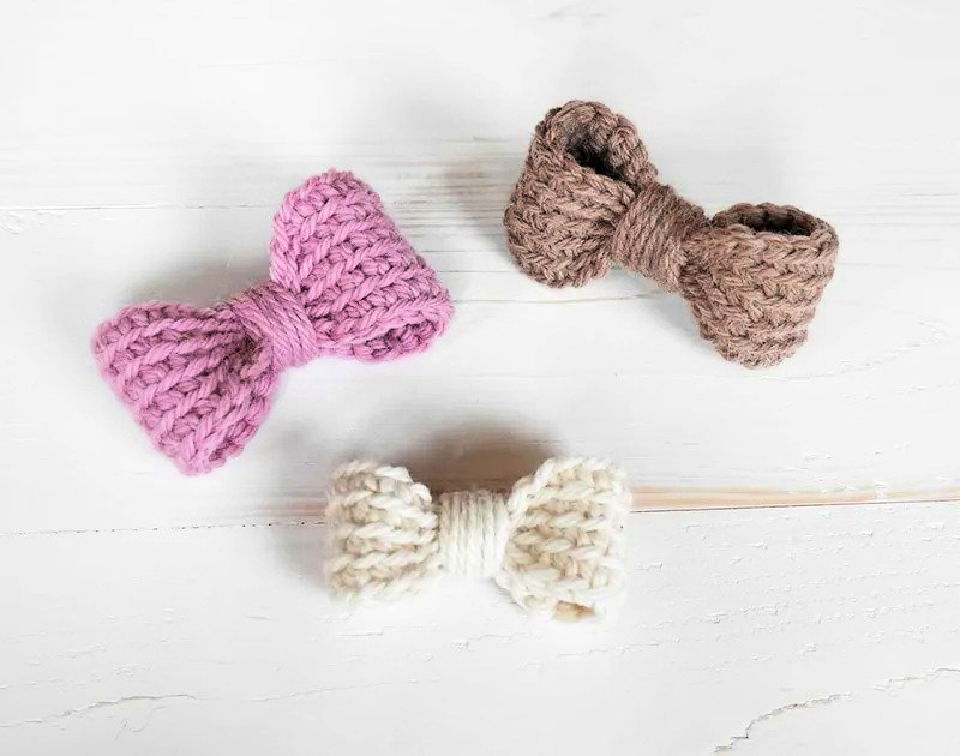 This easy crochet bow pattern creates a feminine symbol for your little girl! Unlike the usual bows, this one has a special structure and is available in two sizes – but you can customize it to suit your needs. With aran weight yarn and us 7/4.50 mm hook, adding an elastic band or sewing it onto a headband is super-simple! Gauge isn't critical, so any size of wool will do, allowing you to try something new and end up with a different-sized bow. Get ready to make something beautiful today! mallooknits
5. Crochet Classic Sailor Hair Bow Pattern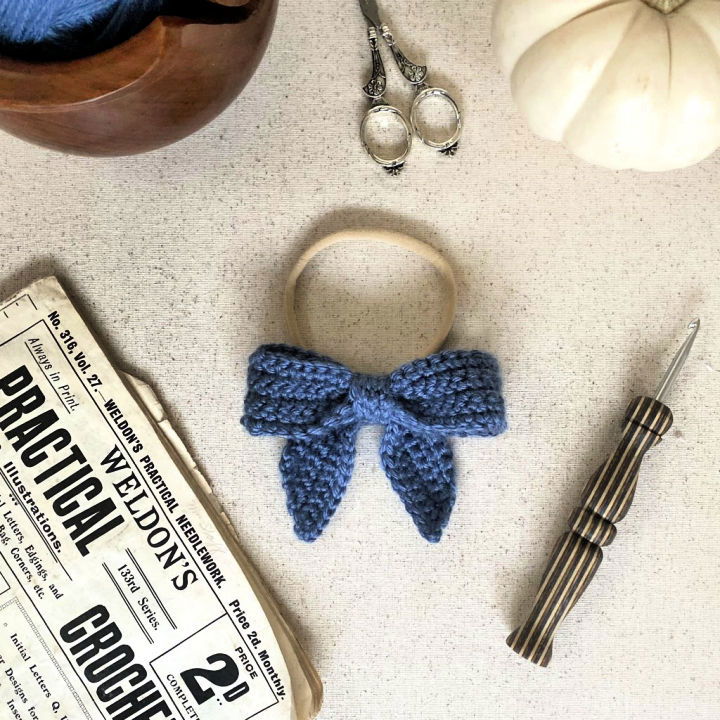 Make something one of a kind with this free crochet classic sailor hair bow pattern! Their easy-to-follow instructions are perfect for beginners and will lead you through the chain stitch and single crochet steps.
Plus, they make great gifts and look so stylish that you can use them at craft fairs or as accessories to your outfit. You'll need 16g/30yd medium worsted weight yarn, size h/5mm hook, scissors, poly bands, needle & lock stitch markers, a nylon headband or alligator clip – even a yarn bowl makes it fun! So get started today and create something unique. thewannabegrand
6. How Do You Crochet a Bow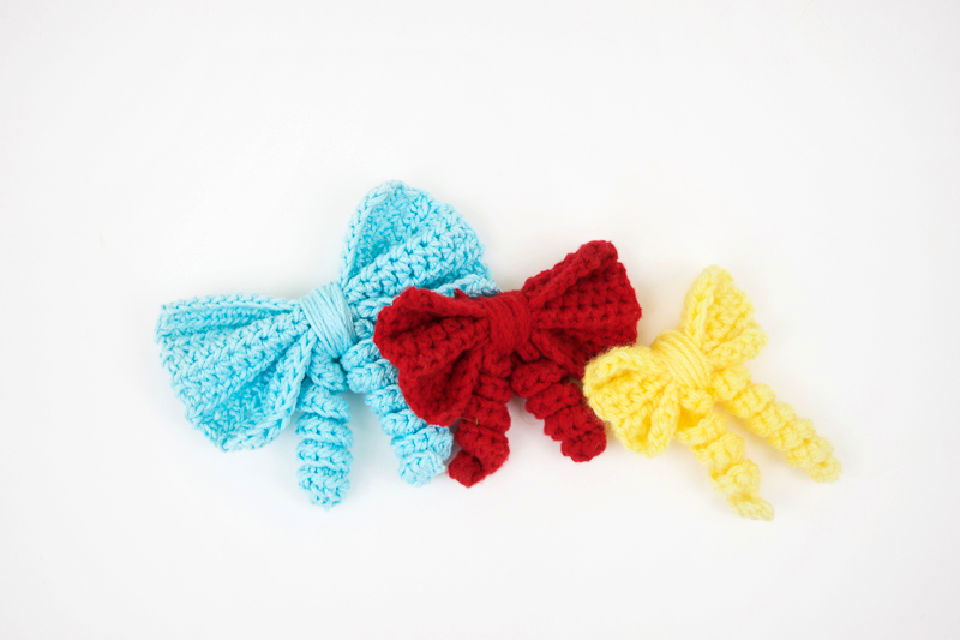 Are you looking for a way to add some flair and personality to your projects? Create your own crochet bow! They are super easy to make so anyone can do it.
All you need is worsted weight (size 4) yarn, a size 4mm hook, scissors and a darning needle. With these materials in hand, you'll be able to make large, medium or small bows – the choice is yours! Use them to decorate baskets, bags and more.
Crochet bows look great and give whatever they adorn an extra special touch. Try making one today – who knows what creative ideas you could come up with! knotbadami
7. Crocheted 3D Bow – Free Pattern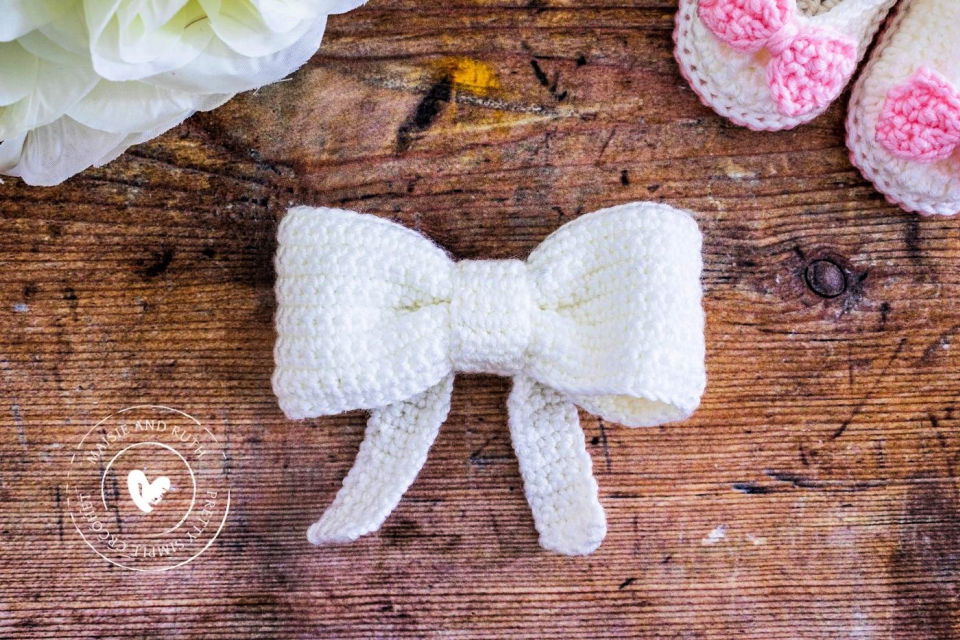 Create something special with this free crochet pattern! This simple crochet 3d bow is an easy project that works quickly and looks great on various projects, such as hats, bags, headbands and even hair clips. With just basic stitches needed, beginners will find this a fun challenge.
All you need are some category #3 yarn, a 3mm hook, yarn needle and scissors, plus two stitch markers for the bow loops. Add to baby dresses or blankets for an extra special touch – it's sure to look adorable! maisieandruth
8. Beautiful Crochet Big Bow Pattern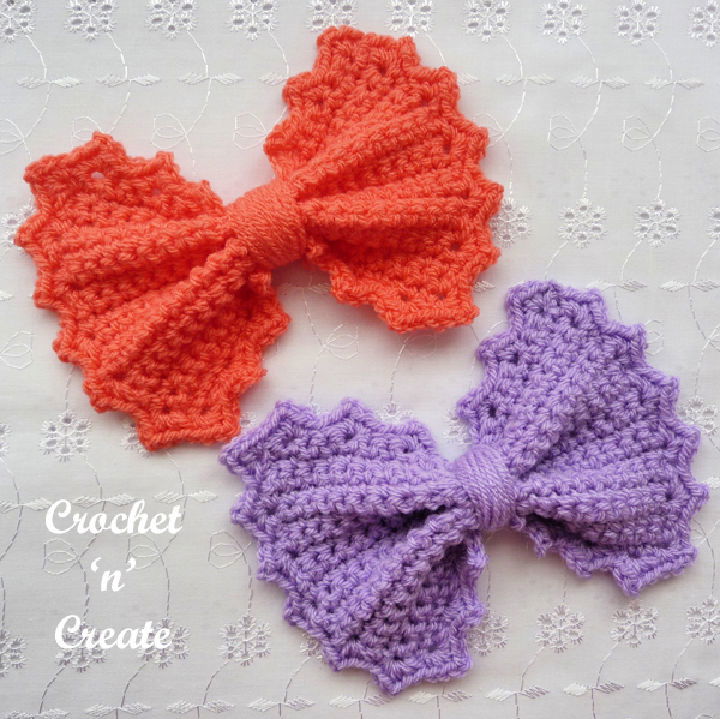 Crochet a fun and fashionable large bow with this easy-to-follow pattern! Perfect for accessorizing bags, hats, blankets, and much more. With a skill level of intermediate+, you will be able to make your own bow quickly and easily. Approx finished size is 6 inches wide x 4.5 inches high; the materials needed are 15 grams of stylecraft special DK yarn & 5.00mm clover soft touch crochet hook- great as a gift or just for yourself! crochetncreate
9. Crochet Bow Pattern for Beginners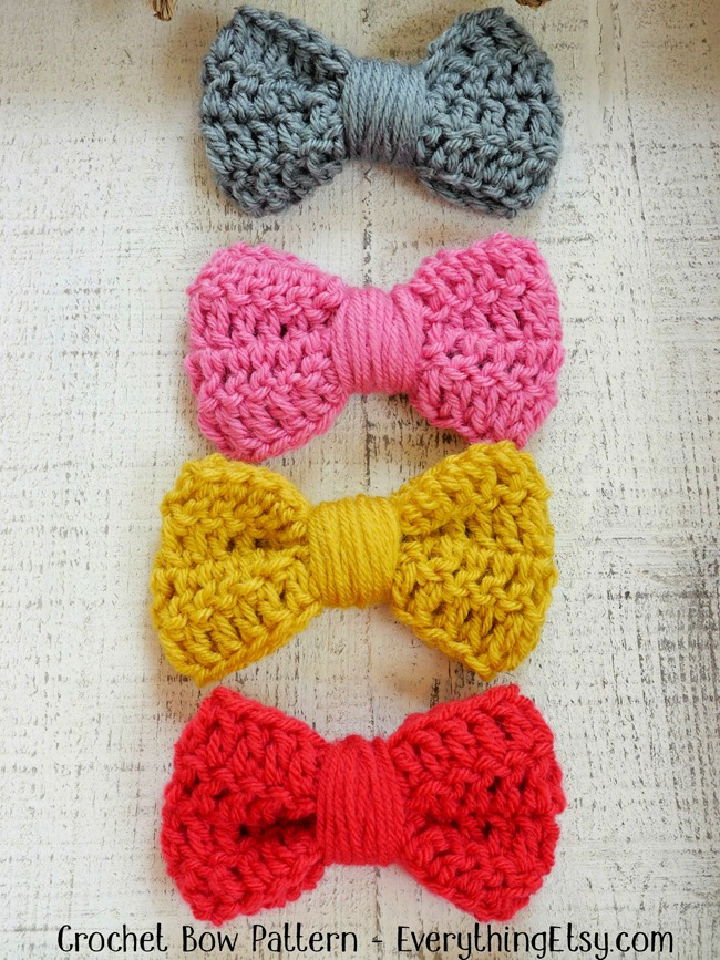 Looking for an easy and unique way to add handmade charm to any project? Check out this crochet bow pattern! It's fun to make, looks so adorable and is a breeze with easy step-by-step photo instructions.
All you need is vanna's choice lion brand yarn and a hook size – j. Instant gratification when you dress up packages, attach them to your hair or hat, wear one in your hair or add them to a bag! With these crocheted bows, they instantly add that touch of homemade goodness wherever they go. Try out this crochet bow tutorial today! everythingetsy
10. Crochet Mini Bow Design – Free Pattern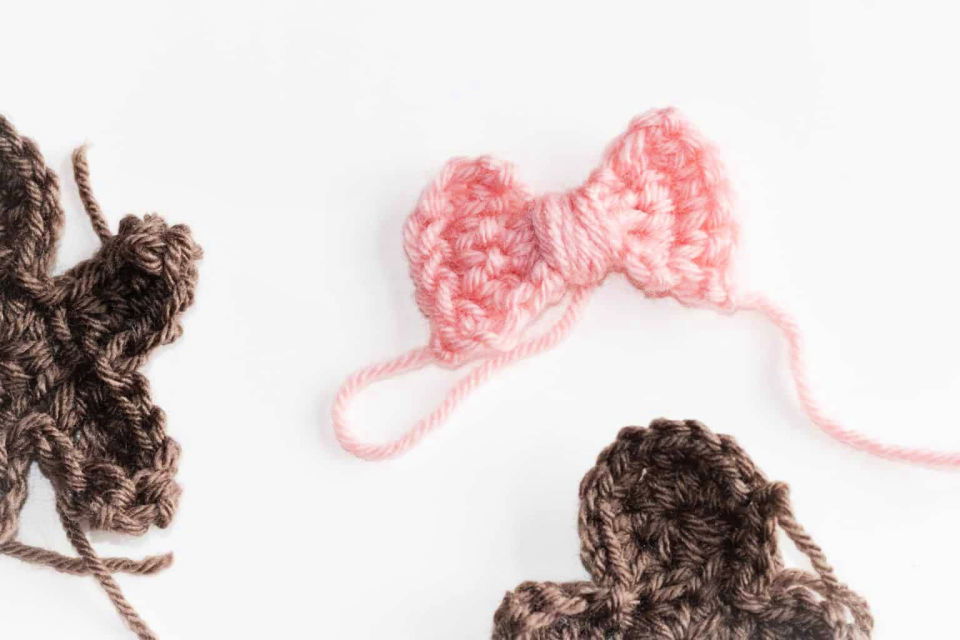 This easy mini crochet bow pattern adds a special touch to your crochet projects. This fun, the free pattern is perfect for crafting appliques for blankets, hats, and more – or add them to hair clips using hot glue for selling at craft fairs or giving as gifts! You only need less than 10 yards of medium-weight four yarn, a size 4.5 mm crochet hook, a yarn needle, and scissors. So grab your supplies and get started on these cute little bows today! easycrochet
11. Best Big Red Bow Crochet Pattern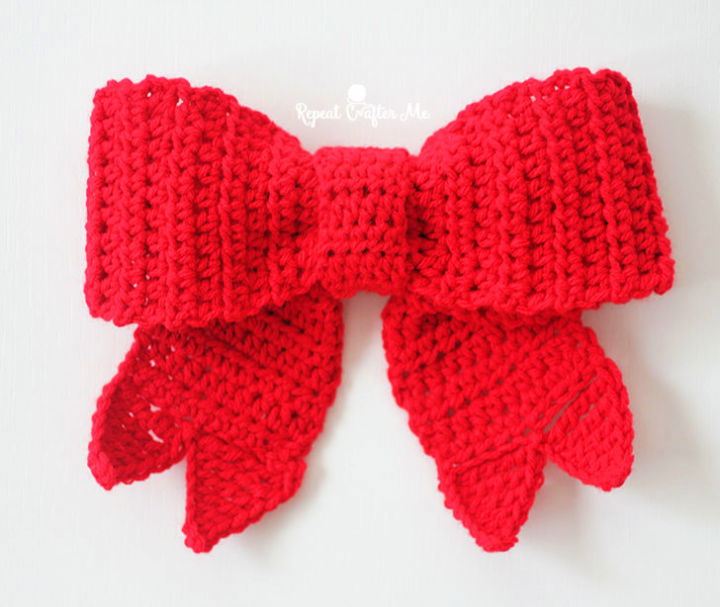 Create a festive decoration this holiday season with the big red bow! This bow is crocheted using bernat super value yarn and comes with a video tutorial to help you make it quickly and easily. The finished size of the bow is approx. 9 inches long by 7 inches tall, so it's perfect for hanging on doors, wreaths or packages. You can choose any color yarn if you prefer something other than red. Making one of these bows as a gift or for yourself is fun and looks beautiful! Get your materials together: yarn, crochet hook, tapestry needle and follow the instructions – you'll be proud of your results! repeatcrafterme
12. Simple Crochet Loveland Lace Bow Pattern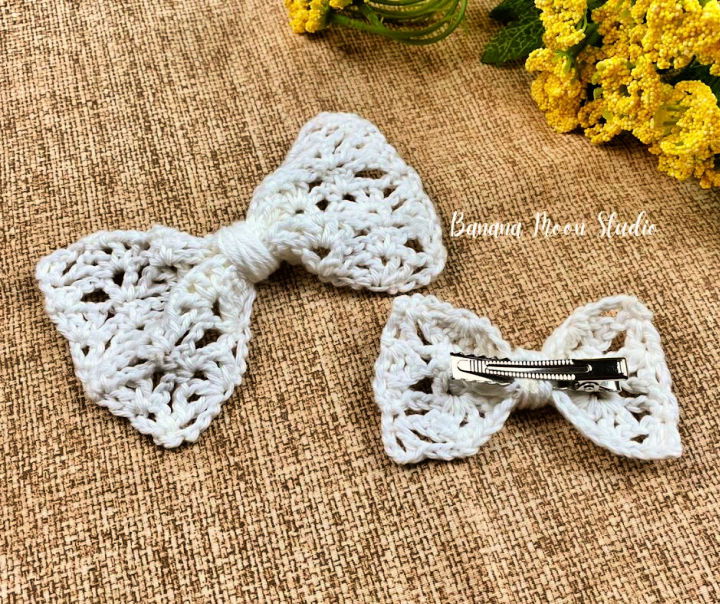 This free pattern for the crochet Loveland lace bow is perfect for a new crafter, as it's easy to complete and looks adorable when finished. The lacy stitch ensures that the bow won't be too heavy so that you can wear it on special occasions or even with jeans and a tee! Included are instructions to make your bow in two sizes (small and large) using we crochet comfy fingering weight yarn, an e/4 (3.5 mm) crochet hook, a tapestry needle, clear-drying fabric glue and an alligator clip. Give this handmade gift away or keep it for yourself – either way, you'll love how cute this bow looks! sunflowercottagecrochet
13. Pretty Crochet Bow Butterfly Pattern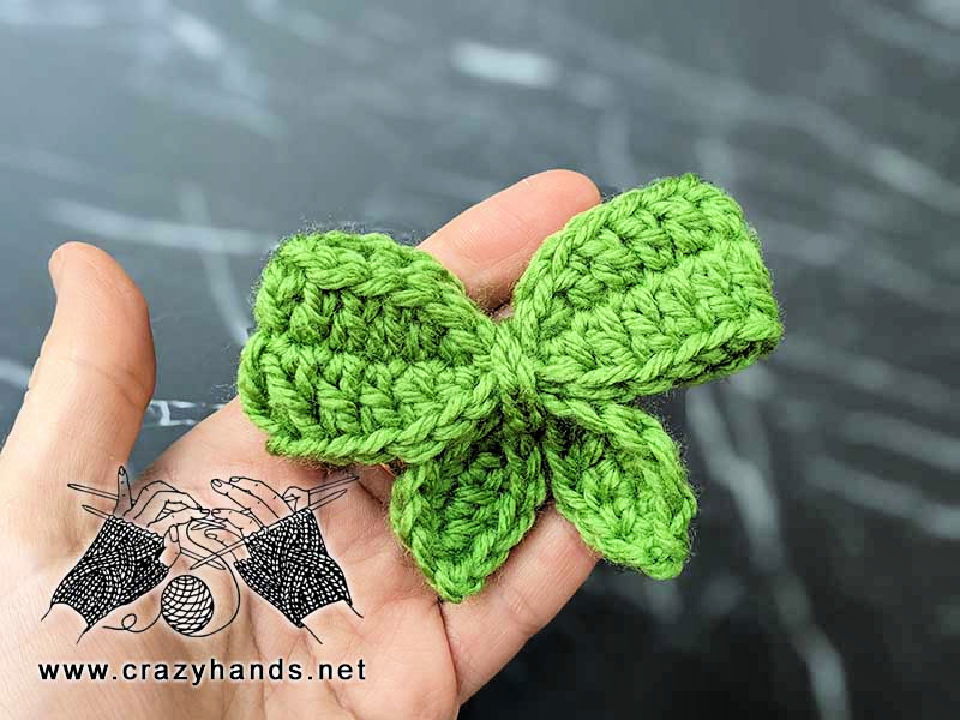 Create something unique and beautiful with this crochet bow butterfly pattern. Whether you're looking for a handmade gift or need an accessory to spruce up your wardrobe, this pattern is versatile and can be used on anything from hair clips to totes, baskets, and more. Perfect for any outfit, the pattern includes simple step-by-step instructions for beginners – fun and easy to make! With only basic crochet materials needed, such as bernat premium (4) 100% acrylic yarn and a 4 mm crochet hook, get ready to create something lovely you'll love wearing or gifting in no time! crazyhands
14. Fastest Crochet Mini Bow Pattern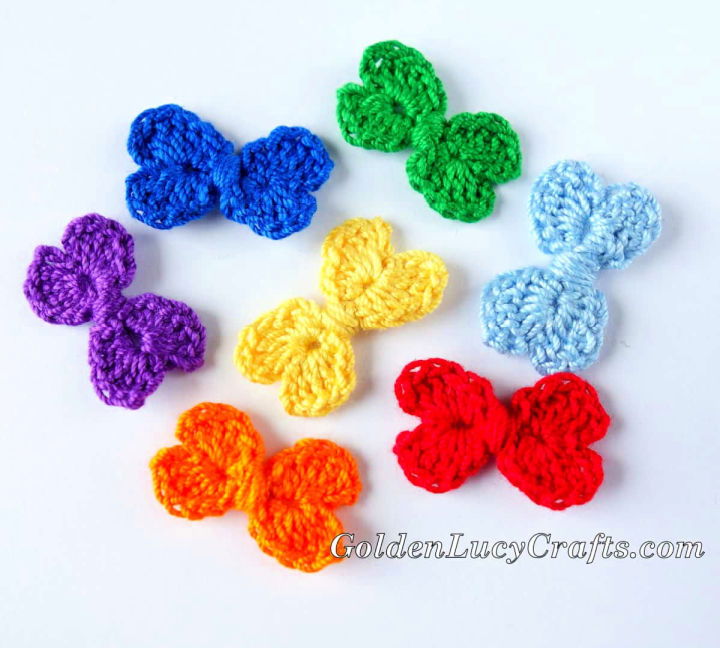 This crochet mini bow is a heart-shaped project with two connected hearts. It would be perfect for scrapbooking, card making, baby clothes or blanket decorating, picture frames and more! With these easy-to-follow instructions and video tutorials, you'll have fun creating this adorable mini bow. You'll only need 2 materials – cotton crochet thread size 10 and a crochet hook size 6/1.8 mm – handy items that are always good to have on hand! So go ahead and try it; the result will be pretty cute! goldenlucycrafts
15. Crochet Bow – Step By Step Instructions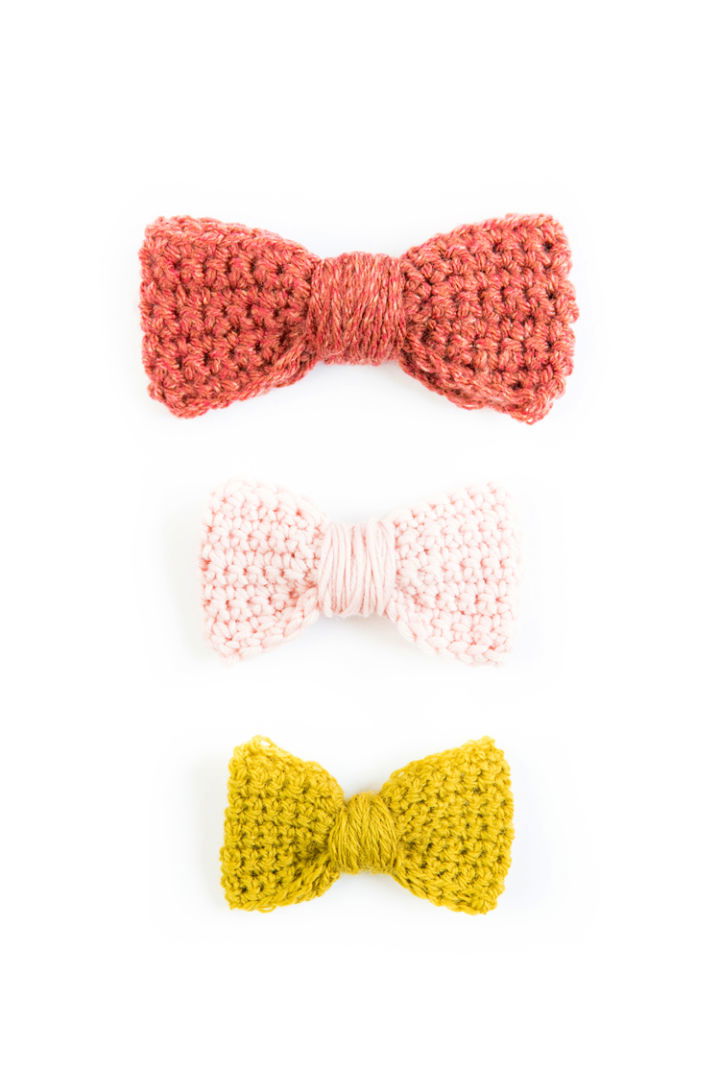 Are you looking for an easy way to learn the basics of crocheting and make a fun bow? Look no further! This crochet basic: how to single crochet & bow tutorial is perfect for beginners. Provide step-by-step instructions and the materials needed for the crochet bows, like I/9 or 5.50 mm hook, worsted weight or category 4 yarn, yarn needle and glue. In addition, you can change the size of your bow simply by changing your hook size and yarn size! Get creative with this tutorial – use it as a hairbow (add a clip at the back), handmade gift or even decorations around the house. Try out this crochet basic and bow tutorial today! deliacreates
16. How to Make Bows – Free Crochet Pattern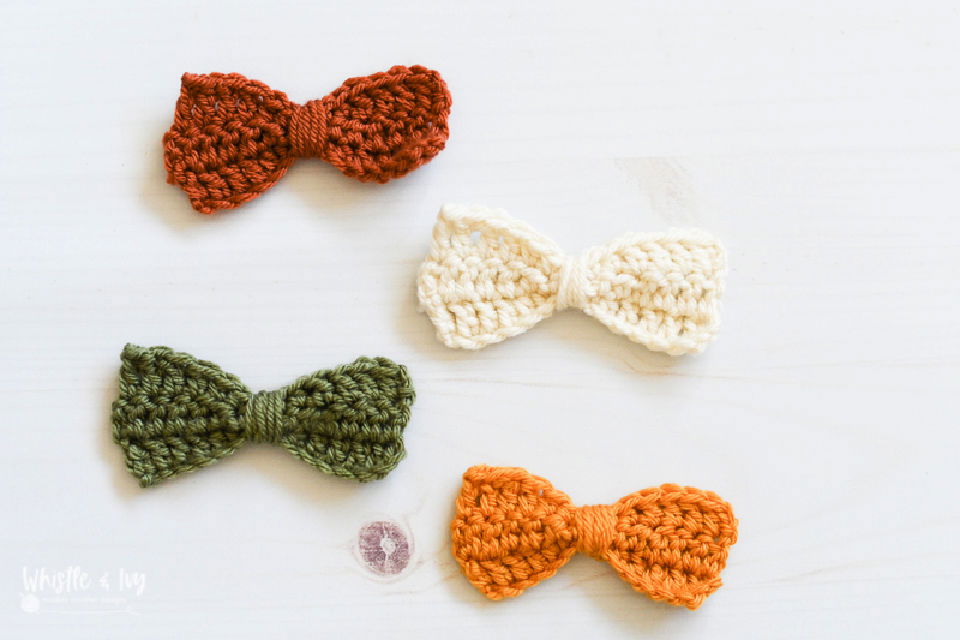 Make your own perfect crochet bows with this easy and free pattern! You get instructions for a single-layer version, great for embellishments, and a double-layer option, perfect for hair accessories such as hair bows or bow ties. Included in the endless bundle of patterns, these crochet bows work up so quickly you'll be able to create endless designs for slippers, boots, hats or even garlands. You only need medium-weight yarn and a size g hook (4.25mm). Get creative and make something amazing with this easy-to-follow pattern today! whistleandivy
17. Crochet Chunky Bobble Bows Pattern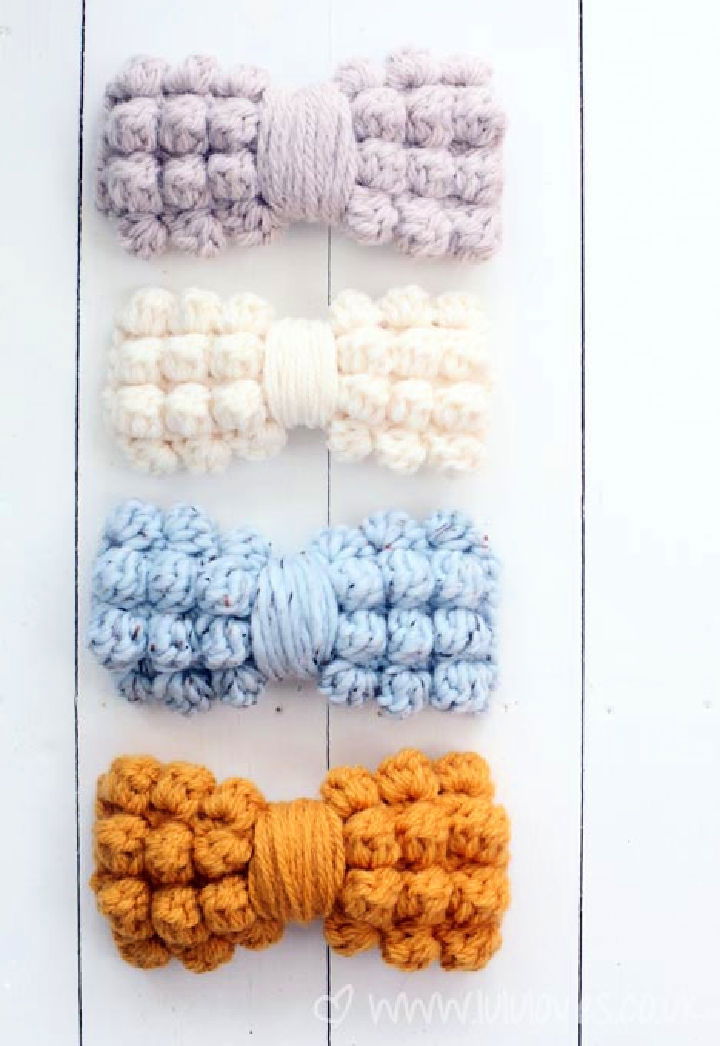 Create beautiful and unique accessories for any outfit with this free crochet chunky bobble bows pattern! It's fun to make, perfect for beginners, and the result looks amazing – you'll be able to use them to decorate cushions, cardigans, hats, scarves or coats. The bows measure 19/20cm and easily stitch on with a tapestry needle. Use super bulky/chunky yarn and a 7mm hook; count your stitches as you go along since it's easy to miss some when working bobbles! Add these stylish touches easily and quickly using this free pattern. lululoves
18. How to Crochet a Bow in One Color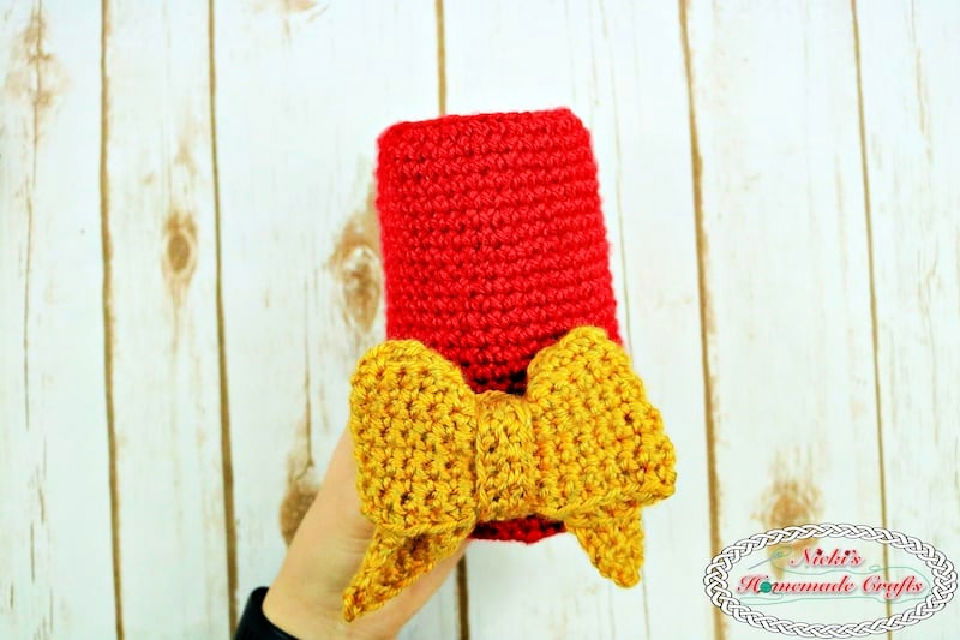 This free crochet pattern will teach you how to make an adorable bow with one color easily and fast. Ideal for decorating baskets, bags and other projects, this fun-to-make bow is perfect for a handmade gift or as something special for yourself. With instructions, materials such as lion brand heartland yarn, 5.00mm hook, scissors and tapestry needle included in the pattern, your finished creation will look amazing! So why not give it a go today? nickishomemade
19. Easiest Little Bow to Crochet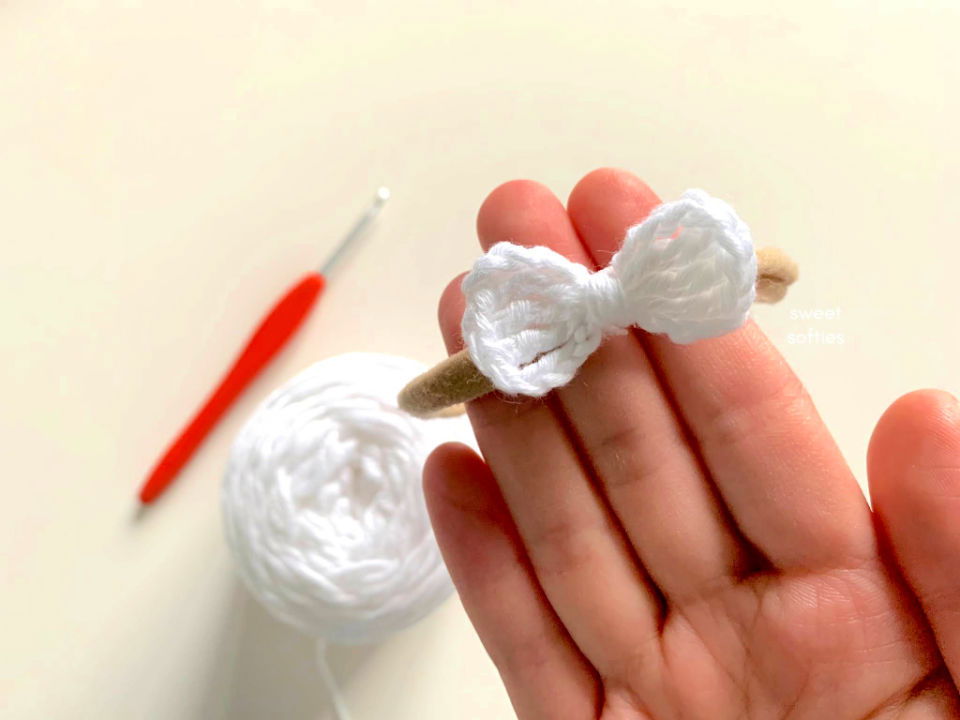 Learn how to make the easiest little bow with this free pattern! This beginner-friendly project can easily be worked up in less than 5 minutes. With instructions and a video tutorial, it's fun to make, and no sewing is necessary. It makes a great stash buster, and its versatility means you can use it for lots of different projects like amigurumi, appliques on bags or cozies, or as hair accessories like ties, clips or headbands. All you need is some yarn of your choice and a suitable hook size – get started now! sweetsofties
20. How to Crochet a Bow – Free Pattern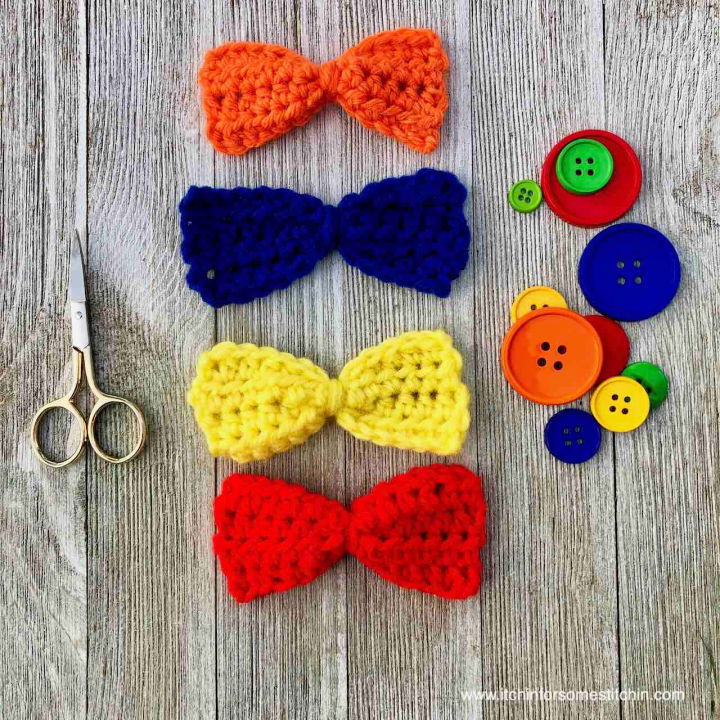 Looking for a fun, festive way to add flair to your crochet projects? Try making an easy bow! It takes just 10-15 minutes! Perfect for decorating clothing, pet coats, hair accessories, or other crochet projects. Use your favorite colors for a festive look. This beginner-friendly pattern only requires worsted-weight yarn and a size I/9 5.5mm crochet hook. So start crocheting away and make up some lovely bows! Follow 3 easy steps to create these delightful little adornments that impress everyone around you! itchinforsome
21. Mini Crocheted Bow Hair Clip Pattern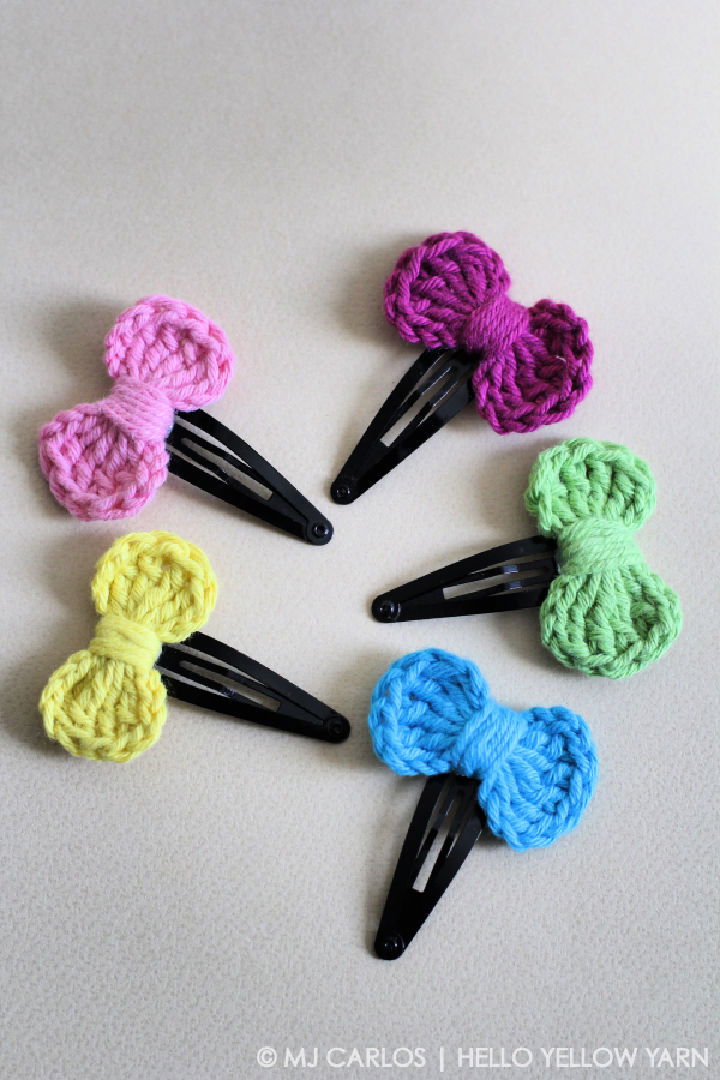 Transform plain hair clips into lovely decorative pieces with a mini crocheted bow. Making them is easy and fun – follow this step-by-step photo instruction, and you'll be done in no time! You will need 8-ply cotton yarn, a 3.5mm crochet hook, some plain hair clips, scissors, a yarn needle, and a hot glue gun to make these chic accessories as a gift or for yourself. Create your own unique designs that are perfect for accessorizing any outfit! helloyellowyarn
22. Sweet and Simple Crochet Bows Pattern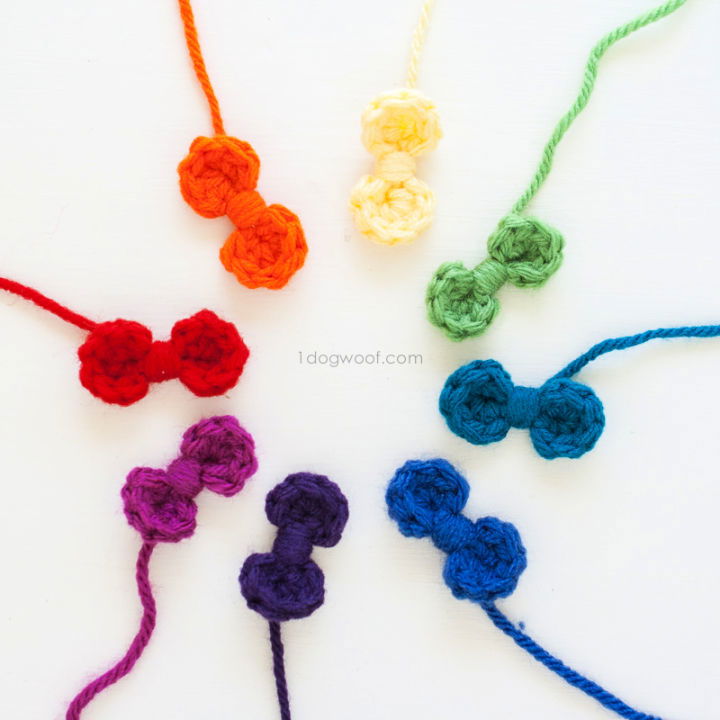 Amaze with beautiful crochet, sweet and simple bows! Quick to make and fun, these tiny bows look amazing on shoes, hats, bags or any project you can think of. As a scrap buster project perfect for beginners, you'll only need yarn scraps and a g (4mm) hook – plus some detailed instructions provided. Make as many as you like in different colors; your projects will turn out cute and darling every time! With this easy guide, get creative today with crochet mini bows that will wow everyone around you. 1dogwoof
23. Crochet Striped Bow Pillow – Free Pattern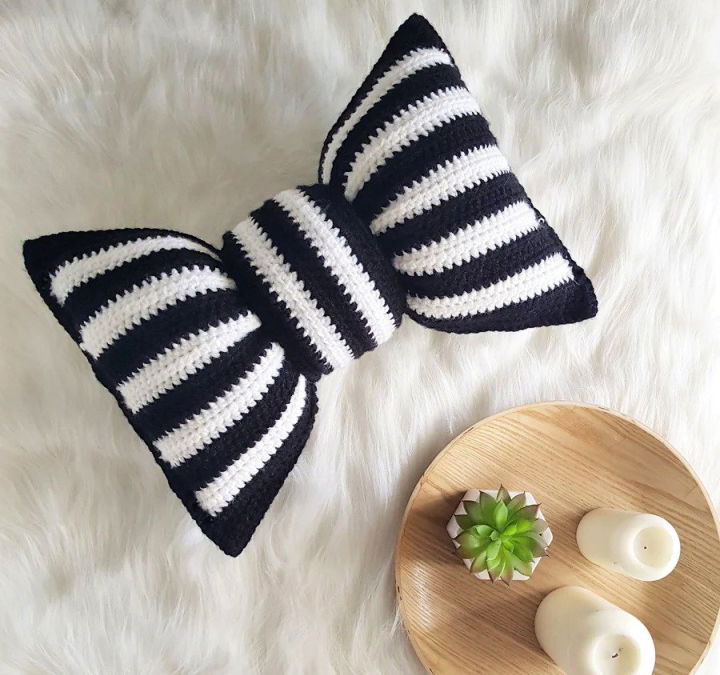 Create your own unique crochet striped bow pillow with this free pattern! Perfect for beginner and experienced crocheters, you can make a chic monochrome design for an urban look or go bright and cheerful with colorful stripes.
The finished dimensions measure 35cm high by 51 cm wide – but it's adjustable to your desired size using different weights of yarn or hook sizes. Make one as a gift, or keep it for yourself!
All you need is yarn, a 6mm hook, a yarn needle and polystyrene filling. With no fancy stitches required, this fun project will bring life to any home decor piece in no time! peachandpaige
24. Free Crochet Pattern for Bow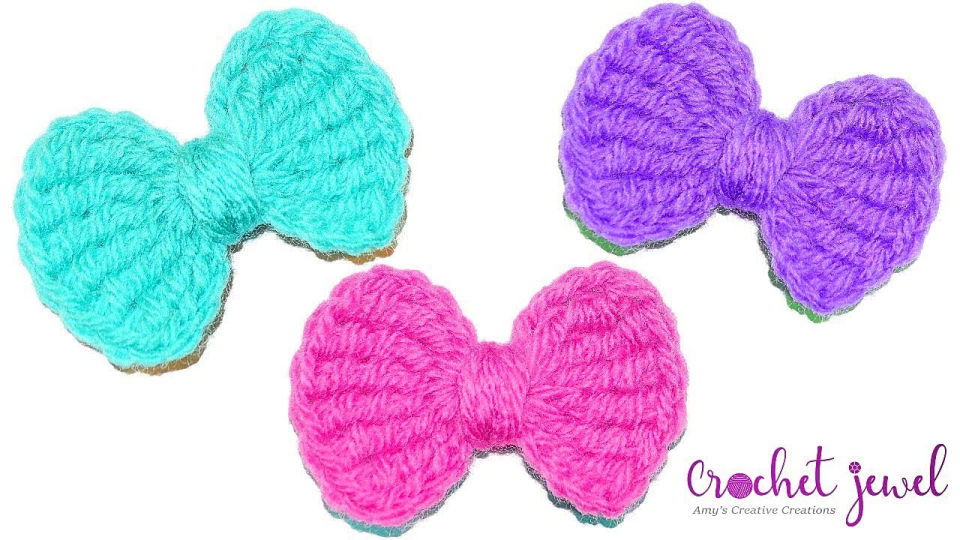 This easy tutorial teaches beginners how to make a simple crochet bow! This project is great as a last-minute gift and looks stylish too. All you need is f hook and medium worsted yarn. Follow the instructions to learn how to crochet the perfect bow in no time. These bows are fun, fast, and easy – try them out today!
25. Crocheting a Mini Bow – Free Pattern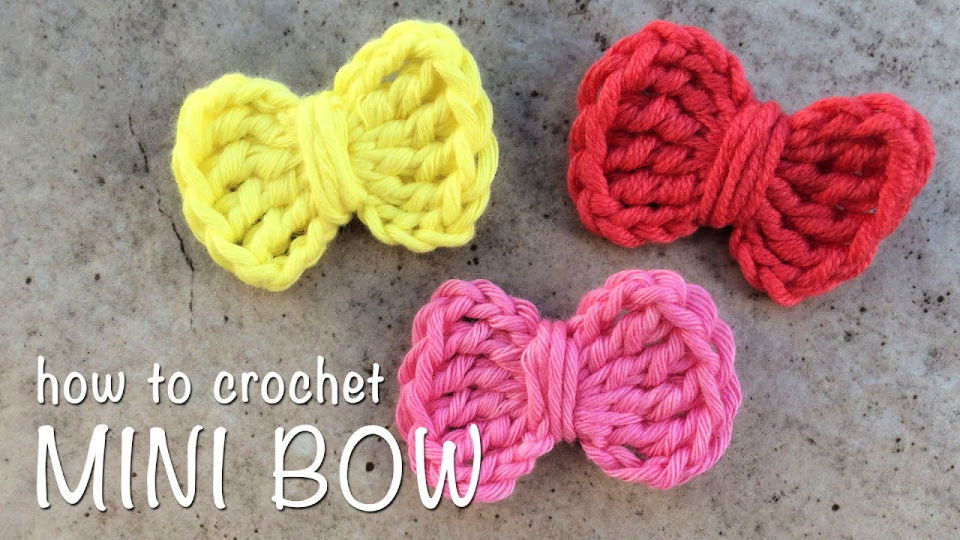 Crafting a mini bow to use for decoration is easy with this tutorial! All you need is some DK-weight yarn and a 3.5 mm crochet hook. Follow the instructions to make an adorable miniature bow that can adorn anything from baskets, hair clips, totes and more. It's perfect as a handmade gift or just something cute to add flair to any project – plus, it's really easy! Give your creations added personality with this simple technique. Try out this how-to guide and start crocheting mini bows today! youtube
Related Free Crochet Patterns:
Discover our extensive collection of free crochet patterns! From beginner to advanced, find your perfect project and create something amazing. Download now and start crocheting today!
Conclusion:
In conclusion, these 25 free crochet bow patterns for beginners offer detailed instructions and clear step-by-step guides on how to crochet a bow. These patterns are easy enough for anyone to follow, even those who have never crocheted before! These crochet bow patterns have something everyone can make, from basic bows to more intricate designs, such as mini crochet bows or small ribbon bows. With the right materials and dedication, you can create beautiful freestyle crochet bow accessories perfect for any occasion!