Crochet roses are a beautiful and versatile craft to embellish anything from clothing to home decor. We have compiled a list of 30 free crochet rose patterns ranging from easy and beginner-friendly to more complex and detailed designs. Each crochet rose pattern includes step-by-step instructions; some crochet roses even come with free printable PDF patterns.
Whether you want to create a gorgeous crochet rose bouquet or a simple yet elegant rose hair tie, there's a free crochet rose pattern on our list. You'll find crochet rose patterns for everything from large crochet roses to small rose patterns and even patterns for rose-themed coasters and hand towels.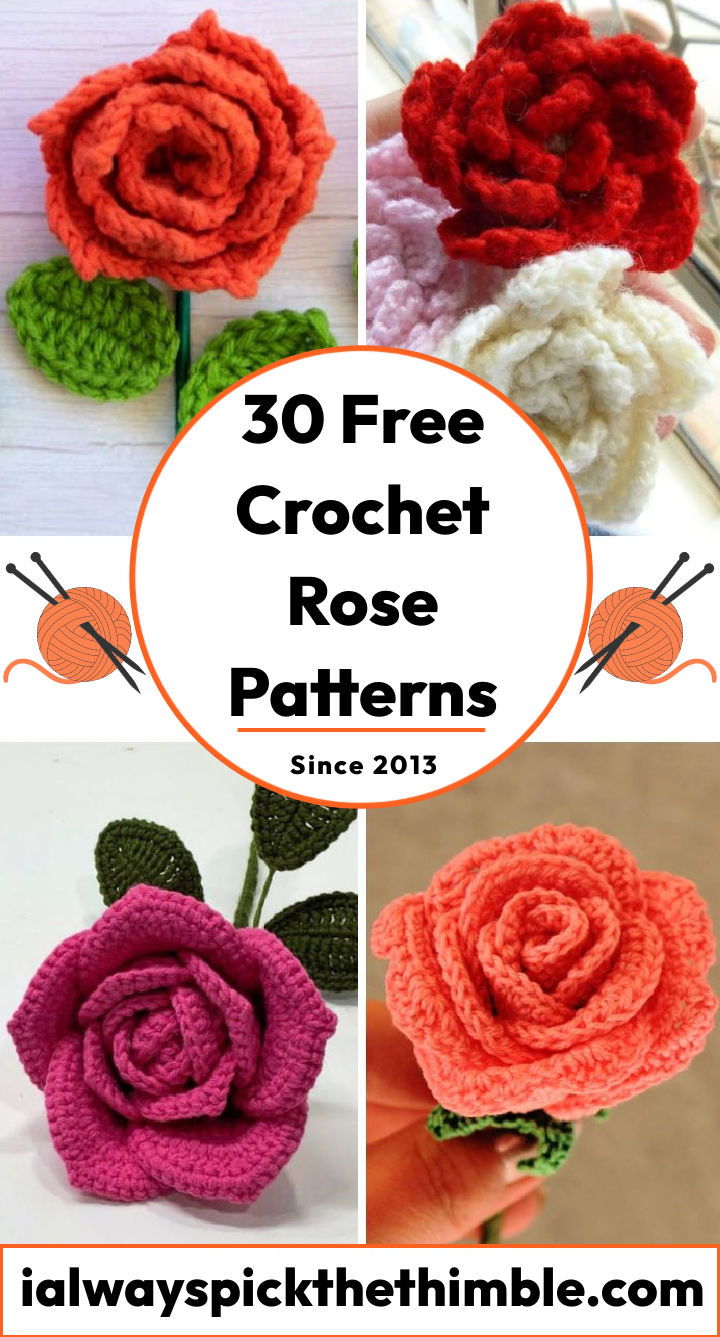 With these free crochet rose patterns, you can add a touch of beauty and elegance to any project you undertake. So, whether you're a beginner just starting to learn how to crochet or an experienced crocheter looking for a new challenge, check out our list of free crochet rose patterns and start creating your own stunning rose flower patterns today!
1. Crochet Rose – Free PDF Pattern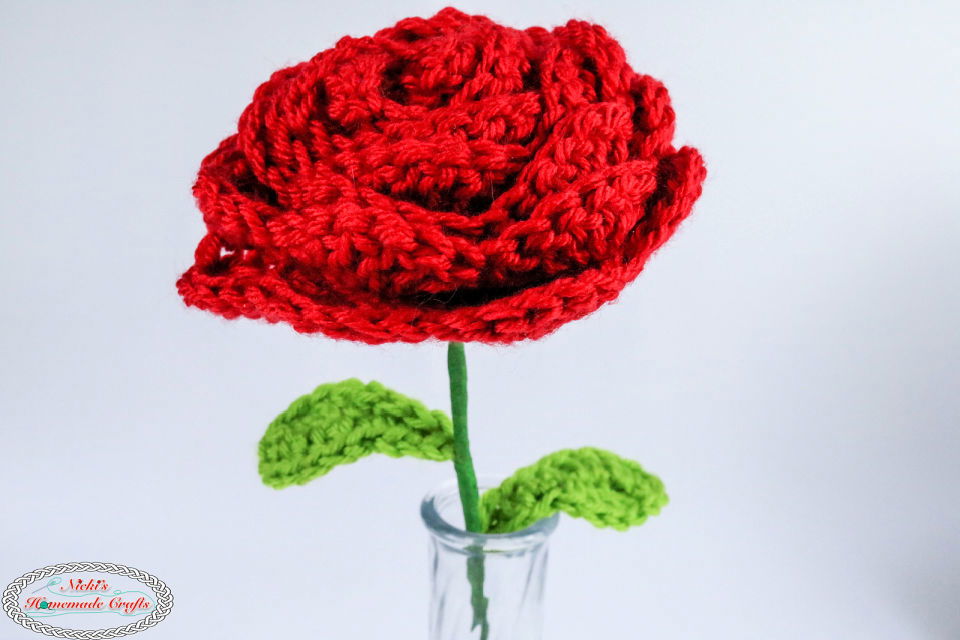 Bring a smile to someone special with this one-of-a-kind crochet rose pattern! Create an impressive bouquet of beautiful roses for Mom, a friend, or a loved one. These easy-to-follow instructions make it simple and fun to adjust the roses that you want them to be.
With just basic materials and a few tools required, you can craft these amazing roses in no time – and remember the wired stem and leaves for added effect! Give your gift something extra with this free crochet pattern today! nickiscrafts
2. Crocheting a Rose Bouquet Embroidery Hoop Wreath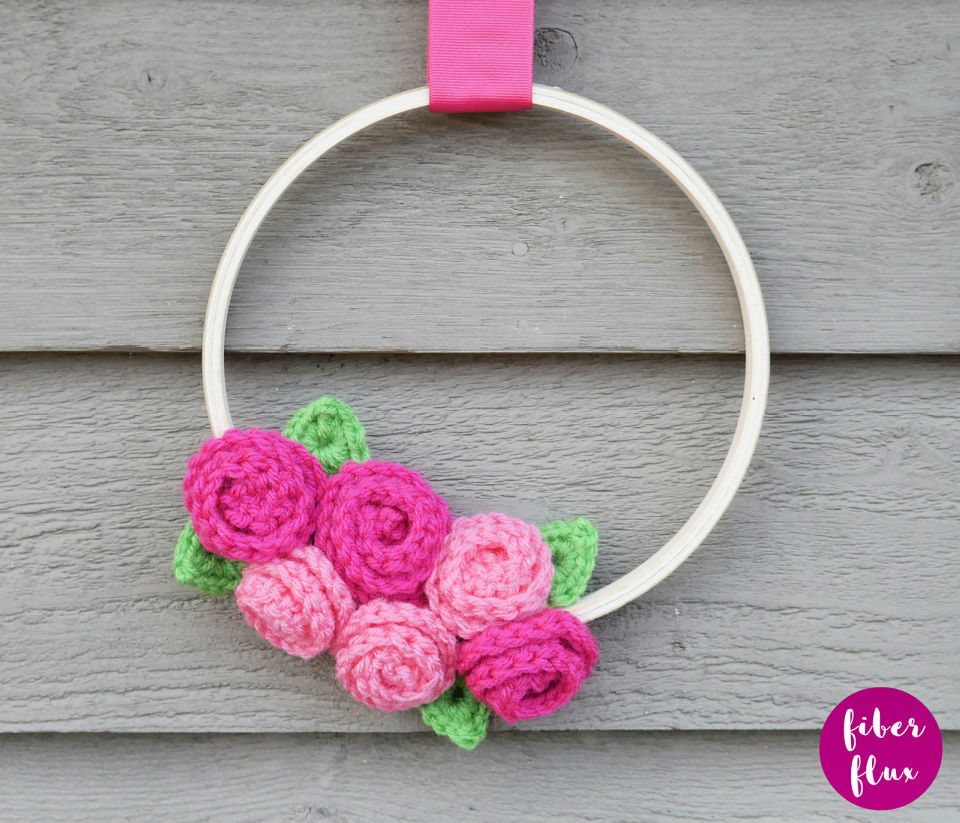 A beautiful and timeless piece of art with this free crochet pattern to make your rose bouquet embroidery hoop wreath! You can stitch up this sweet crochet wreath quickly and easily, featuring an on-trend wood hoop surrounded by round leaves that add a splash of color and lovely curlicue roses.
With just some red heart super saver yarn in shocking pink, perfect pink, and spring green (or any colors that you prefer), a 5.0 mm "H" hook, embroidery hoop, ribbon, hot glue, scissors, tapestry needle — you'll be able to whip up this simple project in no time! fiberfluxblog
3. Easy Crochet Rose Pattern
This free and easy crochet rose pattern adds a beautiful touch to any room! Create an attractive floral display that looks like it was made by a professional with minimal effort.
Perfect for beginners, this simple pattern will surely deliver stunning results every time. Surprise your friends and family, or add something special to your home décor with just a few skeins of yarn. You'll be amazed at how quickly you can make these gorgeous roses look great! So grab your hook and get started today on creating something truly breathtaking! christineswilliams
4. Cool and Unique Crochet Rose Pattern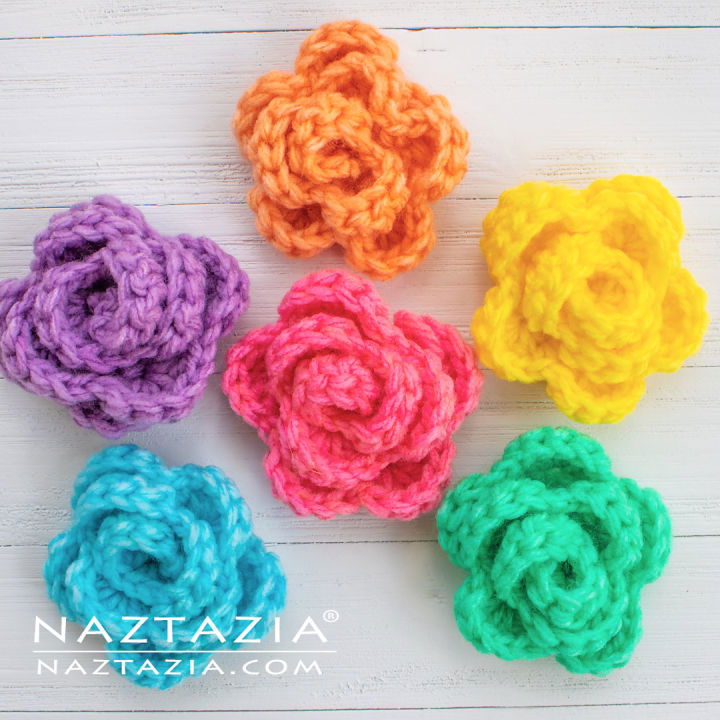 Delight yourself with one-of-a-kind designs featuring beautiful crochet rose patterns! This unique crochet rose pattern is perfect for any skill level and embellishes almost anything! You can memorize this pattern quickly with just single-crochet and double-crochet stitches and a starting chain.
Use it to add the perfect touch of beauty and flair to your hats, scarves, shawls, blankets, bags or whatever else you can think of! Get creative with color combinations for even more unique looks. And best yet – get this free pattern today and start crafting these beautiful roses immediately! naztazia
5. Free Crochet Rose Coin Purse Pattern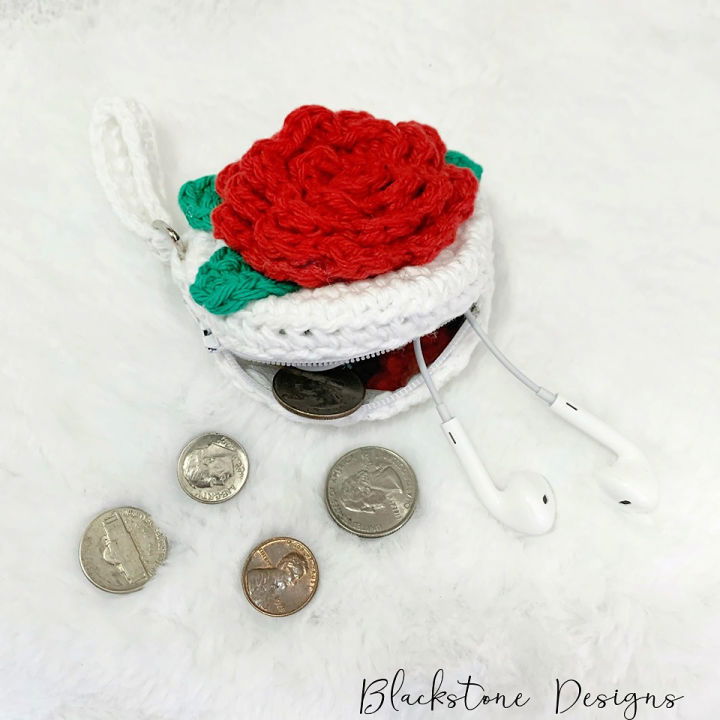 Feel organized and stylish with this free crochet rose coin purse pattern! This cute pattern works great for chapsticks, earbuds, and even tiny candies inside your handbag.
Coin purses are one of the handiest items, so why not make yours unique with this rose-inspired design? You'll need 100% cotton worsted weight yarn in white, red & green; a g/6/4.00mm crochet hook; a 4″ white zipper; a ½″ -¾″ D-ring; a yarn needle; optional materials like cotton fabric & fabric glue. Get creative and add flair to your accessories collection today with this simple DIY project! blackstone
6. Gorgeous Crochet Rose Bobble Hair Tie Pattern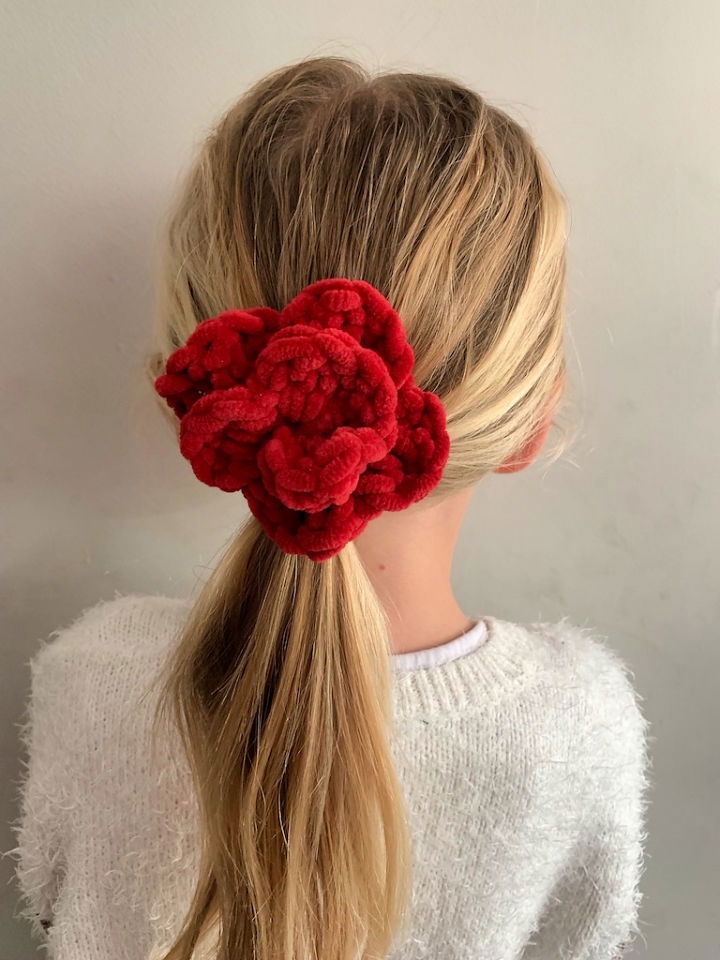 Give your hair a delightful and stylish update with the crochet rose bobble hair tie pattern! This super quick make only takes about 10 minutes each to craft, making it perfect for those days when you need an extra bit of pizazz in your look. All you need is some yarn and a crochet hook – from there, you can easily add a unique rose bobble to any existing hair tie or bobble.
Best of all, this free pattern will have you looking fashion-forward in no time! Whether you're headed out for dinner or want to freshen up your look at home, this crochet rose bobble hair tie pattern will do the trick! offthehook
7. Simple Crochet Rose Cup Cozy Pattern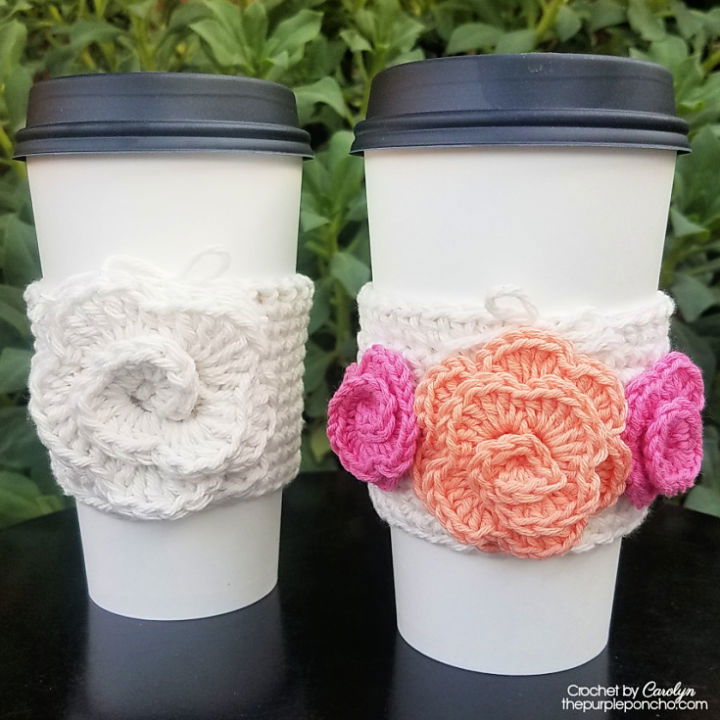 Enhance your coffee cup with a beautiful crocheted rose cup cozy! This pattern is perfect for intermediate-level crocheters and comes with easy-to-follow instructions. Add one or several roses to the front, giving you a unique gift to impress family and friends! With vibrant colors, this cozy will fit any small or large coffee cup.
The pattern includes easy customization steps in your favorite colors and only requires small amounts of yarn. It's fun to make and looks pretty when finished – try it today! All supplies needed are listed above. purpleponcho
8. How to Crochet Rose Bookmark – Free Pattern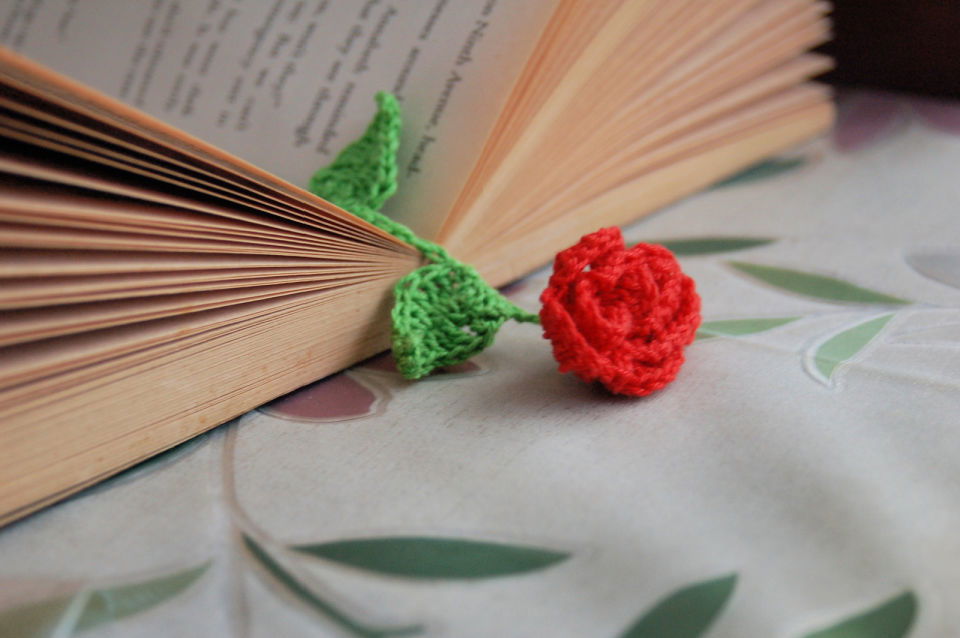 This charming and unique crochet rose bookmark with a traditional tassel Charmander tail will surely delight you! You'll be proud of the results, especially since it's free. With light green & red yarn, a tapestry needle, scissors, a 2.5mm crochet hook & stitch marker, you can create this beautiful bookmark for yourself or as a thoughtful handmade gift for a friend.
Get creative and make this lovely bookmark your own – it's easier than ever with this easy-to-follow pattern. What are you waiting for? Grab your supplies today and get crocheting! calledcrochet
9. How to Make May Rose – Free Crochet Pattern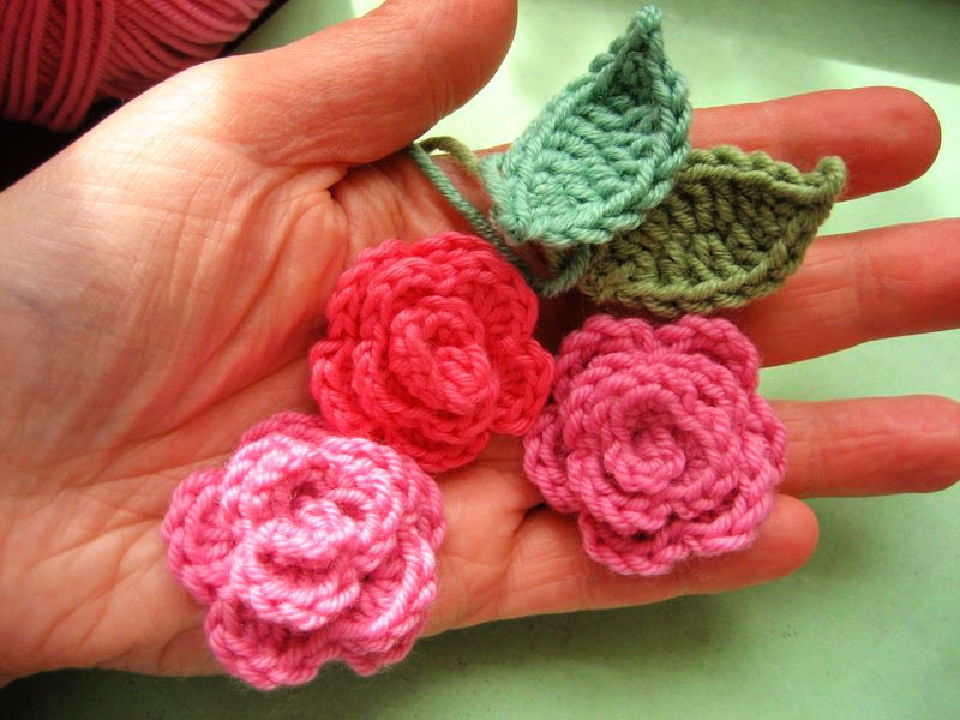 Be creative with May rose! This delightful flower can be used to decorate almost anything, from making a floral garland to attaching it to hats, bags, hair slides and cardigans.
It is the perfect way to prettify any project you undertake in a sweet little way. With materials like paper, felt and wool available, assemble bunches of these adorable flowers for tea cozies, cushion covers or embellishments – the possibilities are endless! Get ready for hours of fun creating beautiful pieces with May rose. attic24
10. Crocheted Rose Hand Towel – Free Pattern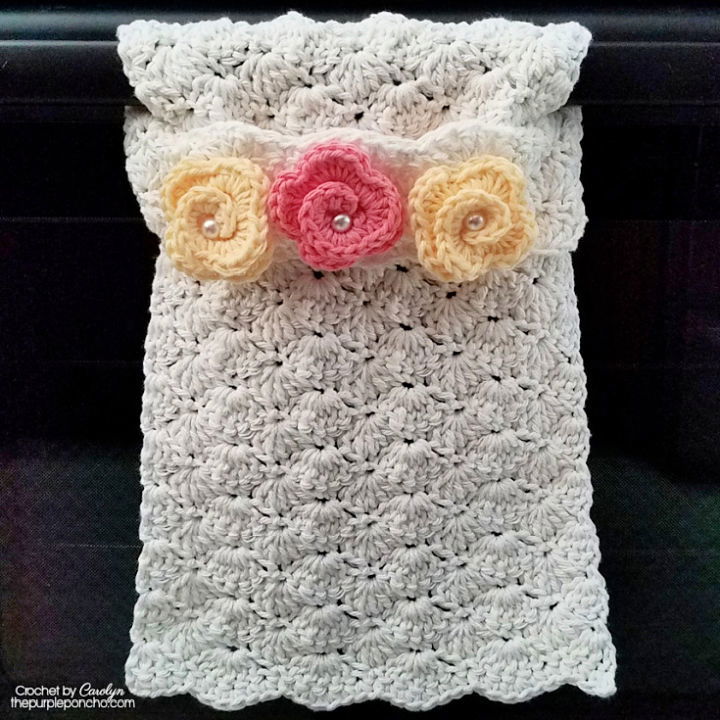 Welcome Spring with the perfect accessory – a beautiful crocheted rose hand towel. Add an extra detail in the center by adding a button of your choice. This project is ideal for using up bits of colorful yarn you have on hand.
Showcase your skills with this easy stitch pattern, great for beginners and experienced crocheters! Hang it up in any room for an eye-catching design that will brighten any space. Make one in your favorite colors just in time for Spring and add a pretty addition to your home décor collection! You only need some cotton yarn, a hook, scissors, a tape measure, a yarn needle and a button to create something special. purpleponcho
11. Easiest Rose to Crochet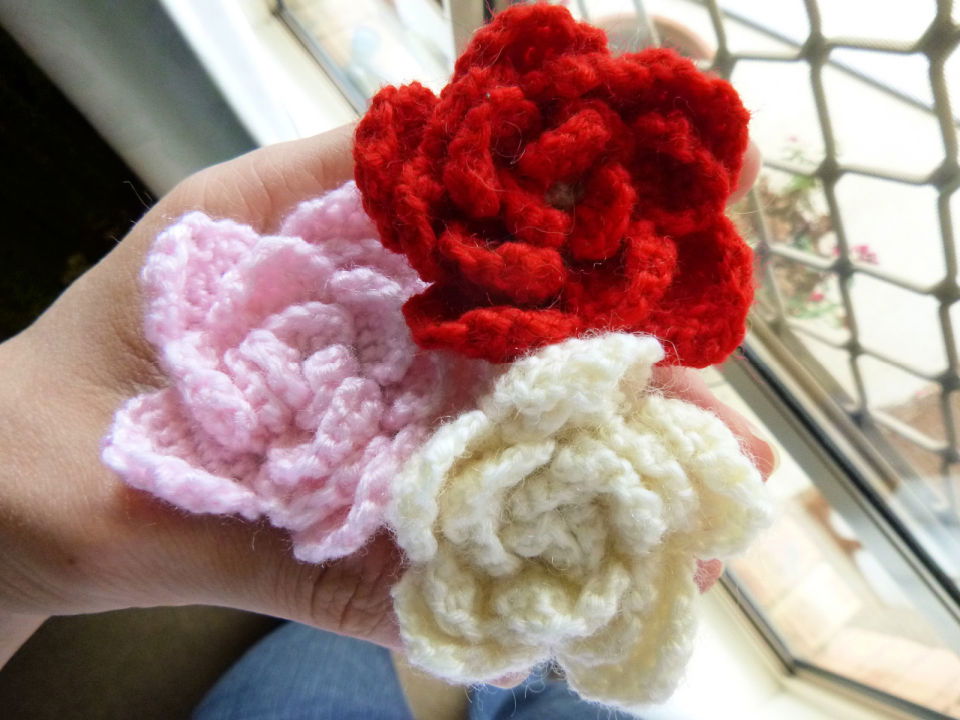 Impress yourself, and your friends with this beautiful easiest rose to crochet! This pattern uses American crochet notation, a 2 mm hook, and 4-ply wool. You will be amazed at how quick it is to make this rose that looks so delicate. Plus, its small size makes it perfect for adding as an accent piece on hats or clothing. Get the free pattern now and unlock the potential of crocheting with ease! jazmocrochet
12. Best Rose Cushion Crochet Pattern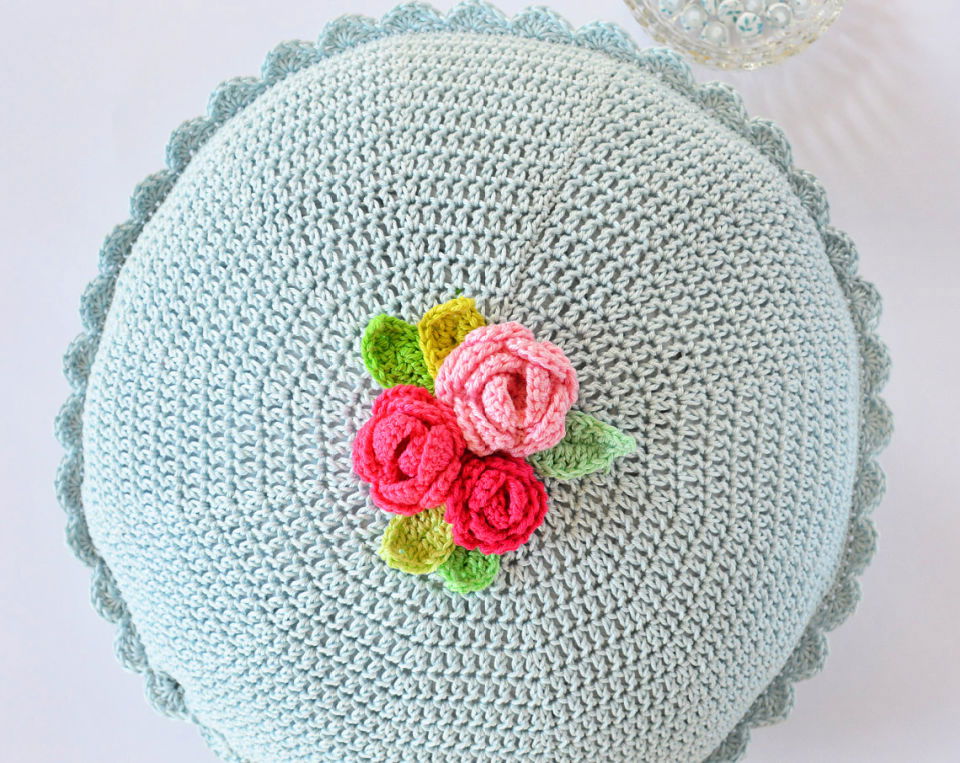 Crochet a beautiful rose cushion of your own with my easy-to-follow pattern and kit!
This gorgeous, unique piece is the perfect addition to your home decor. With supplies including my exclusive rose cushion kit, 3/3.25mm crochet hook, 2.5mm crochet hook, and tapestry needle – you'll have everything you need to complete this special project. Best of all? It's free! Download the pattern and start creating it today. crochetobjet
13. Adorable Crochet Flat Rose Flower Idea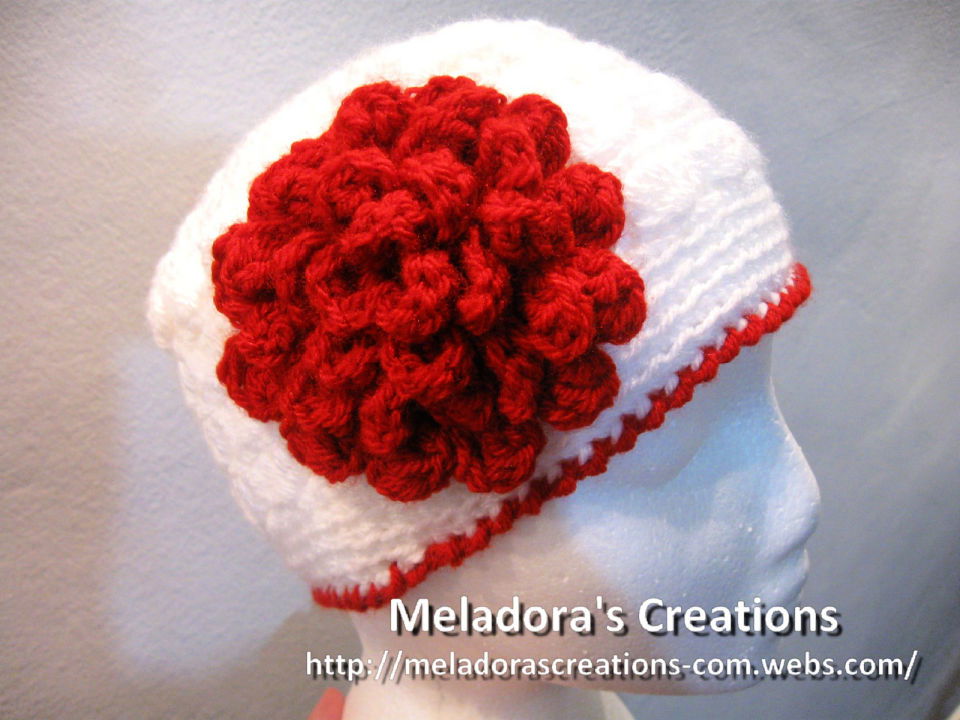 This crochet flat rose flower idea perfectly adds texture and color to your crochet beanie! With a great flower design, this unique addition will make you stand out.
Plus, it takes minimal effort and time – follow our free crochet pattern for an amazing result that looks great on any beanie. Add some flair to your crochet creations – try this crochet flat rose flower idea today! meladoras
14. Simple to Crochet Rose Pattern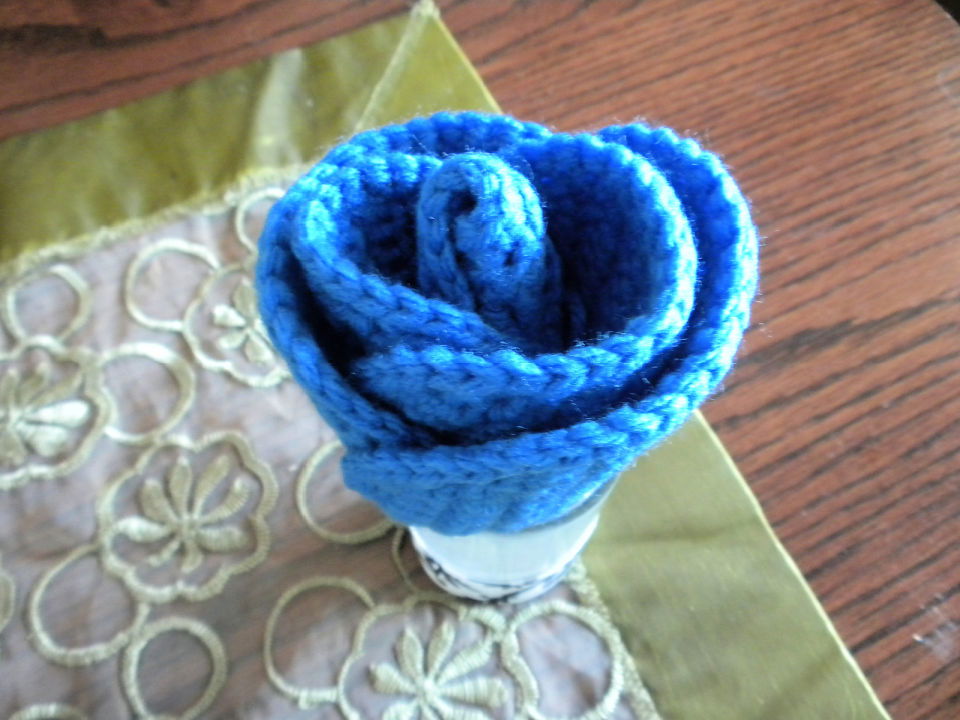 Fall in love with this beautiful simple-to-crochet rose pattern! With the worsted-weight yarn, making a gorgeous bouquet for any special occasion is easy and quick.
Whether it's for your wedding or anniversary or just because you are looking for a realistic rose-free crochet pattern – this is the perfect one. Get creative with colors, sizes and textures – enjoy the beauty of these intricate roses that will impress everyone around you.
Add charm to your home decor or surprise someone special with personalized gifts – start crafting today and get ready to be amazed! tinybubbles
15. Easy Crochet Rose tutorial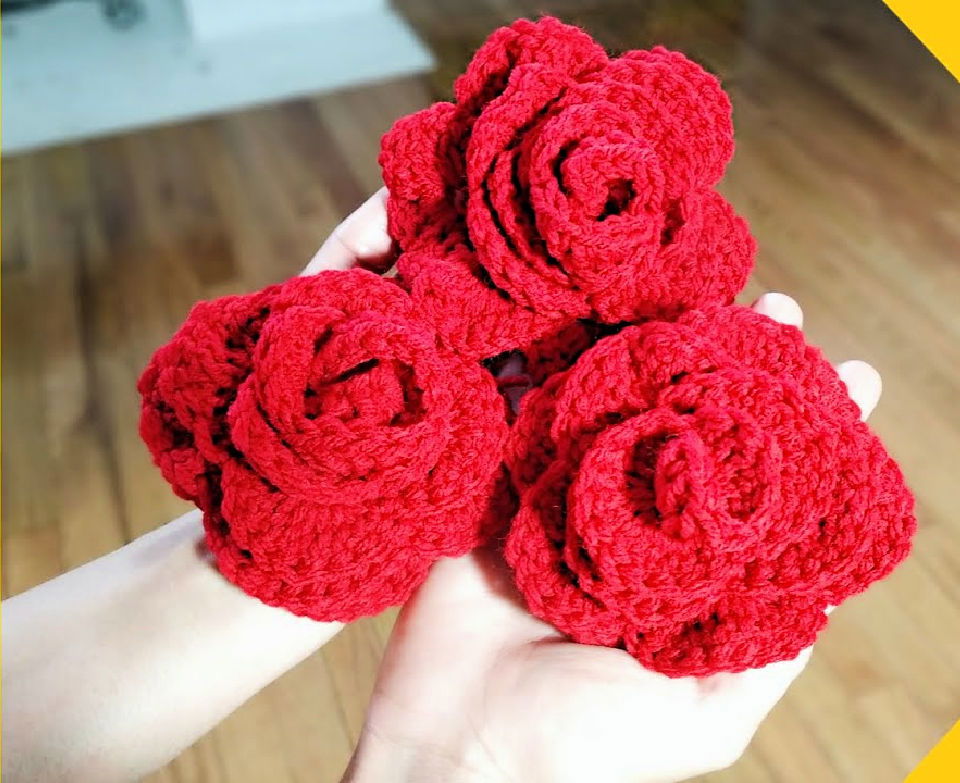 Create a bouquet of beauty with crochet rose patterns that will last forever! Welcome to this easy crochet rose tutorial! We'll show you how to make a beautiful rose in three simple rows with a free, easy crochet pattern. Perfect for beginners looking to practice their skills and create something gorgeous this springtime!
Materials needed are red heart #4 worsted weight yarn, 5mm hook, yarn needle and scissors. This project is so fun, and we can't wait for you to try it! So grab your supplies now and give this easy crochet rose tutorial a go – you won't regret it! littlejohnsyarn
16. New Crochet Red Rose Pin Pattern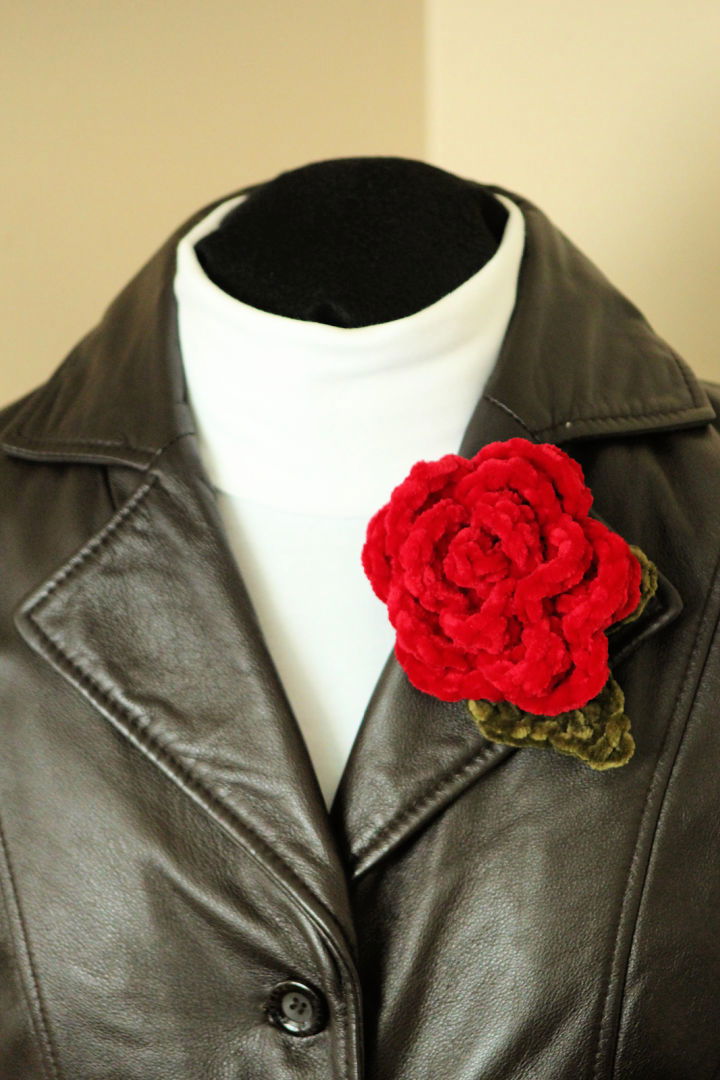 Spark up your wardrobe with this chic new crochet red rose pin pattern. Give an unexpected gift to yourself or a loved one by adding a bright pop of color to any brown coat, hat, sweater or bag! This pattern is perfect for those who want extra flair and personality. With detailed instructions, projects made with this type of yarn look and feel so luxurious – plus, they will go faster with the help of this amazing pattern! Materials needed include:
Crochet thread/yarn in desired colors.
Two-inch pin back closure.
A size eight steel crochet hook and scissors.
Upgrade your style today! celticknotcrochet
17. Pretty Crochet Red Rose Pattern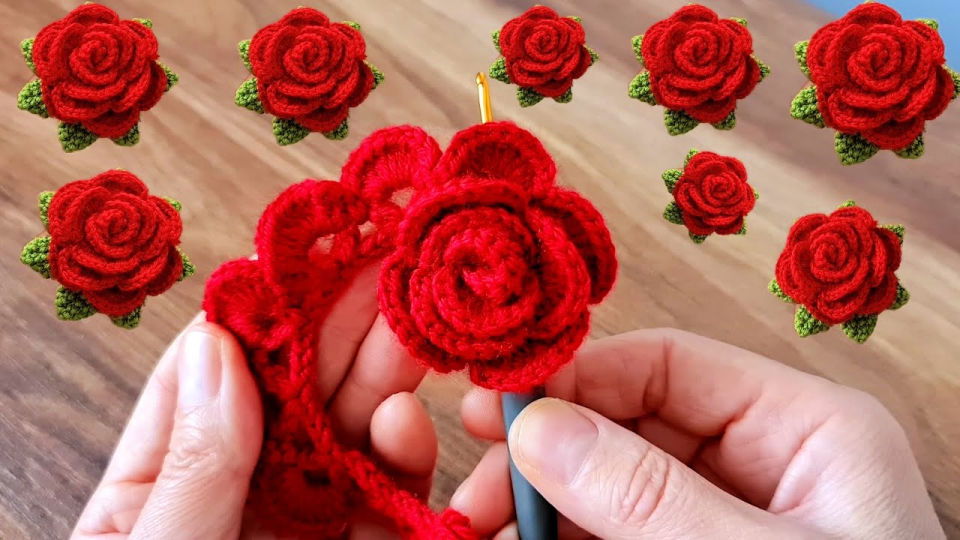 Soothe your senses with this pretty, beautiful crochet red rose pattern. It's the perfect way to learn crochet and an easy project even for beginners. With a few materials, you can create something completely handmade that is sure to make a lasting impression! Make sure to pick up all your supplies – yarn, hook and scissors – and start creating today!
18. Free Rose Crochet Pattern for Beginners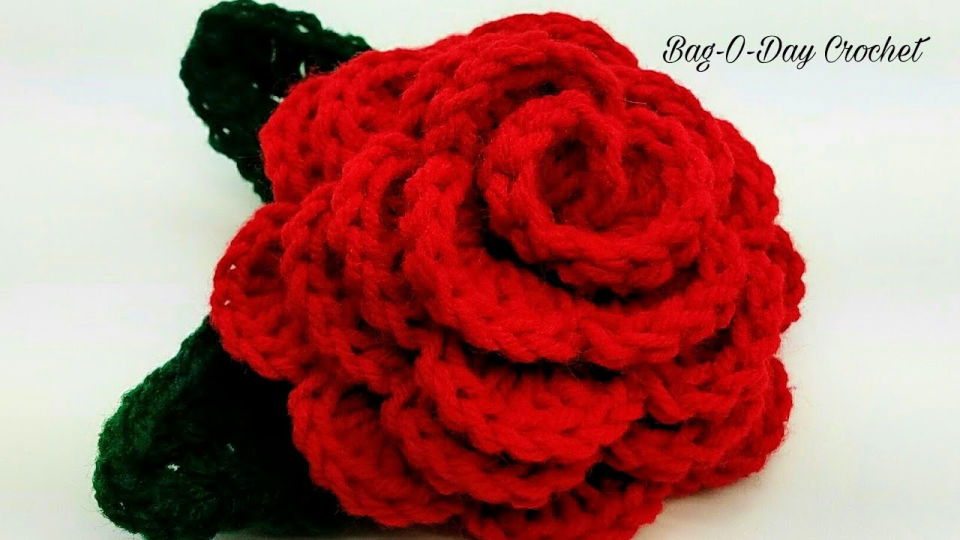 Enthusiastic crocheters, this tutorial is perfect for you! Introducing the free rose crochet pattern from bag o day crochet tutorial. This easy beginner rose pattern is ideal if you've never crocheted and want to learn the basics.
The included crochet leaves will help make your first project look like a pro did it. Download the free pattern today, and in no time at all, you'll be creating beautiful roses with ease! Try out easy beginner crochet rose now – start doing gorgeous projects that will impress you.
19. Crochet Rose Flower and Leaf – Step-by-Step Instructions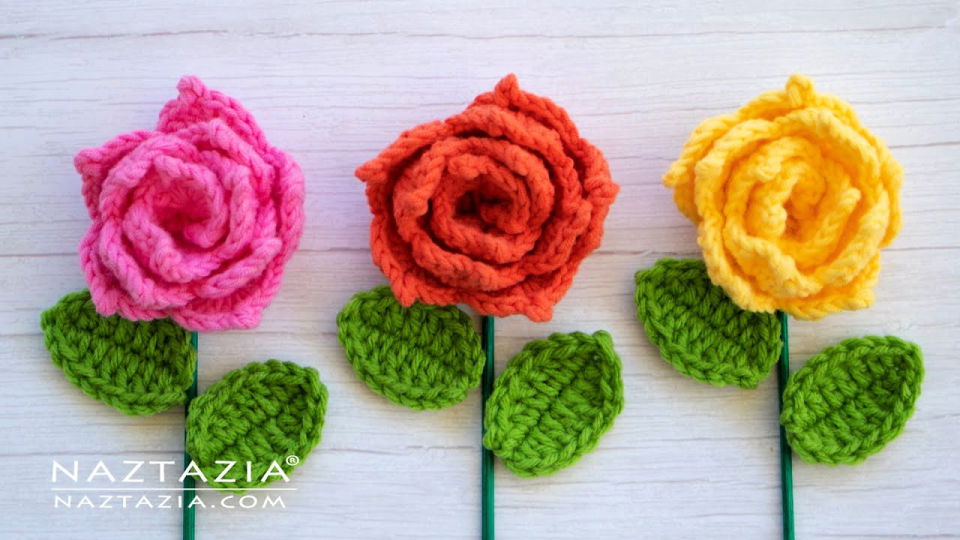 Add the perfect finishing touch to the project with this stunning crochet rose flower and leaf! This 3D flower looks great made in any yarn weight or fiber content, using a size G 4 mm crochet hook and cotton worsted weight yarn. Perfectly suited for decorations, corsages and bouquets, this intricate design will surely bring beauty and elegance to any craft. Get creative and make something truly special today!
20. Crochet Lovely Long Stem Roses Flow Pattern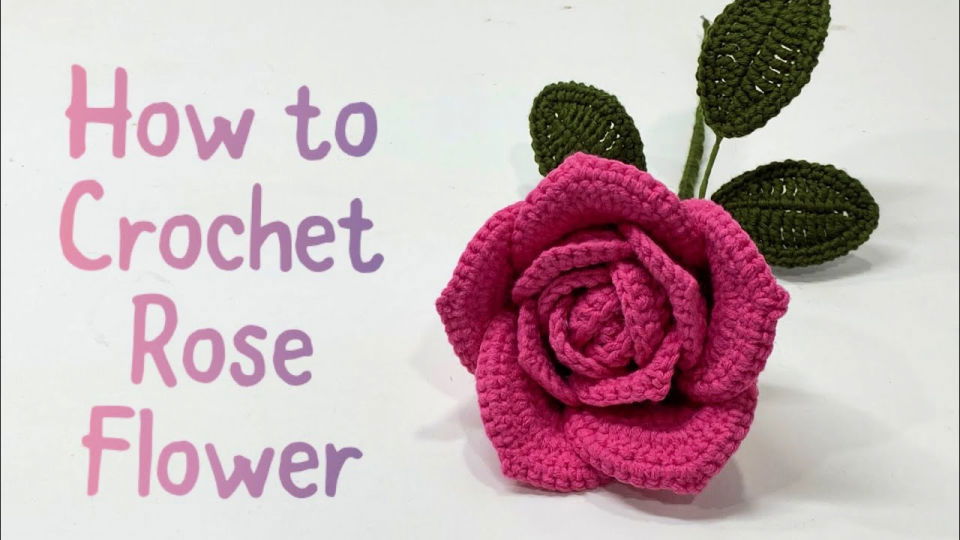 Make a beautiful handmade crochet rose with this lovely long stem roses flow pattern! Perfect for gifting, bouquets, wedding decorations and more, these gorgeous crochet roses are quick to make in just a few hours – even if you're a beginner. This easy-to-follow pattern will show you how to make the perfect flowers at home! Get crafting today and create something special that will last a lifetime.
21. Fastest Crochet Valentine Rose Pattern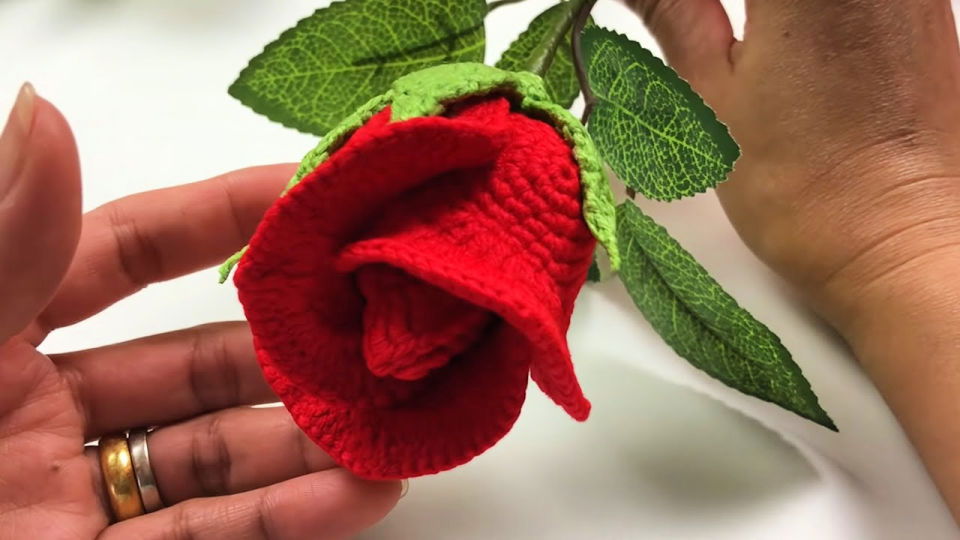 Explore all the possibilities by learning how to stitch complex crochet rose patterns! Consider crocheting a lovely long-stem rose flower if you want a fun and creative DIY project. With just a few hours of work, you can create a stunning and unique gift, wedding bouquet, or decoration for your home. This crochet rose video tutorial is perfect for beginners, with easy-to-follow instructions and helpful tips.
Crocheting flowers is a quick and satisfying project; the results are beautiful. You can customize the colors and sizes of your roses to suit your preferences and needs. Whether you're an experienced crocheter or just starting, this tutorial is a great way to explore the world of crochet flowers. So grab your crochet hook, and let's get started!
22. Crochet Mini Rose Design – Free Pattern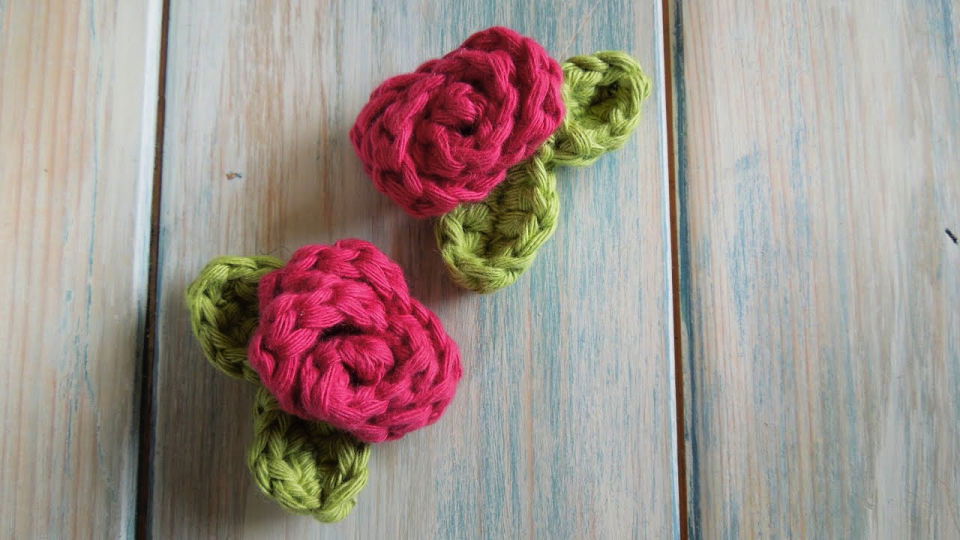 Bring a beautiful crochet mini rose design with your leftover yarn scraps! This pattern is quick to make, taking only minutes to complete. The final result is an adorable little rose with a couple of leaves, perfect for decorating hats, scarves, sweaters and more.
All you need is a 3.5mm Tunisian crochet hook, worsted weight yarn, yarn needle and scissors – so why not try something new today? With this cute little project, you'll be satisfied with using up all those scrap pieces that have been piling up in no time. Plus, the finished product makes a great present or decoration!
23. Colorful Crochet Rose Heart – Free Pattern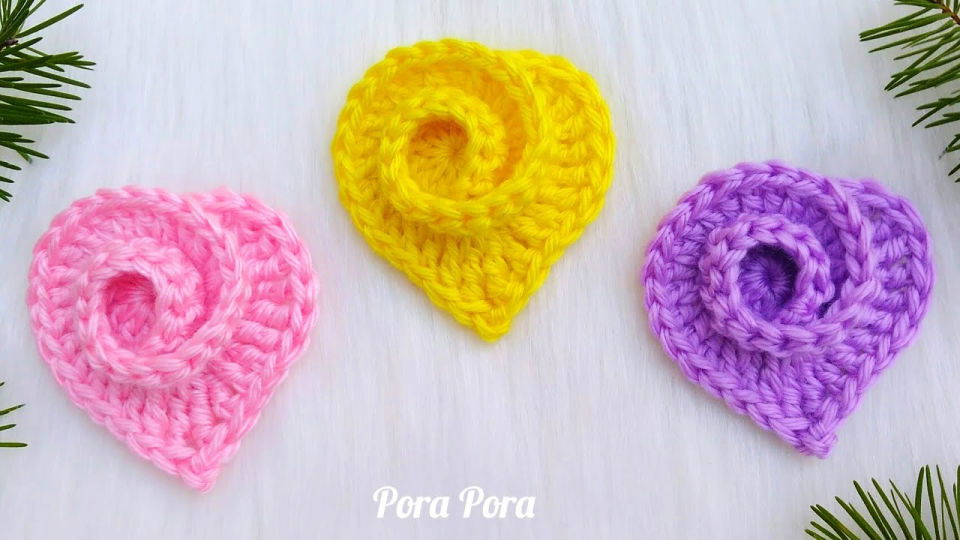 Create unique crochet rose patterns to decorate any project! Add a splash of vibrant colors to home decor with this easy, quick, colorful crochet rose heart project!
This scrap yarns crochet heart is perfect for beginners; it comes with a step-by-step tutorial so you can make one in no time. It would be best to have some brightly colored yarn, a crochet hook, and scissors – all the materials are affordable and easy to find. Follow this instruction and make an eye-catching spiral heart that will bring style and charm to any room. Add this beautiful craft project today to add color to your life!
24. Easy Crochet Rose Flower Tutorial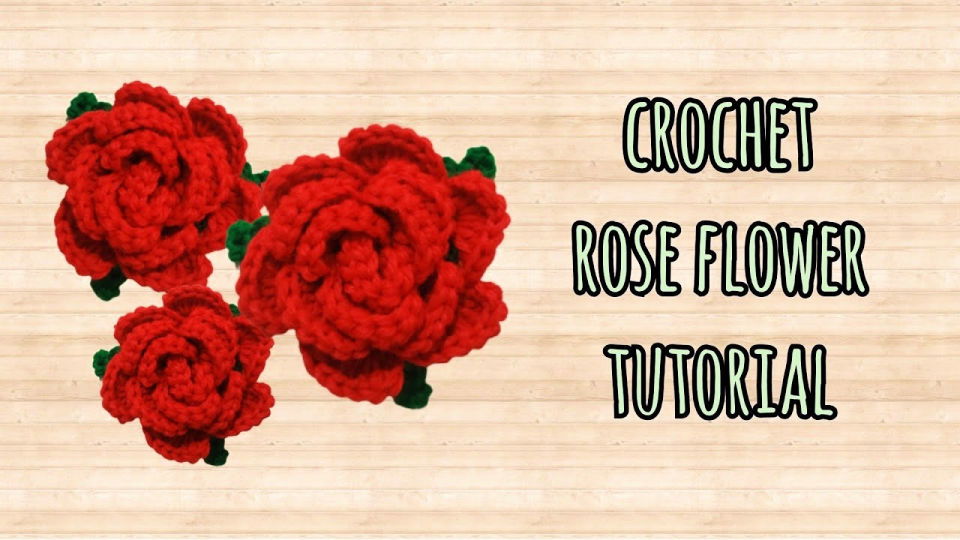 Delight in the beauty of this easy crochet rose flower Tutorial! This tutorial will show beginners how to create a stunning rose flower that looks cute with small green leaves.
You'll be amazed by just how adorable it is when finished! Supplies needed are simple and include yarn, a crochet hook, scissors and a tapestry needle. Learn from start to finish how to make your own gorgeous crocheted flower and bring a bit of nature into your home décor today!
25. Free Crochet Pattern for Rose Flowers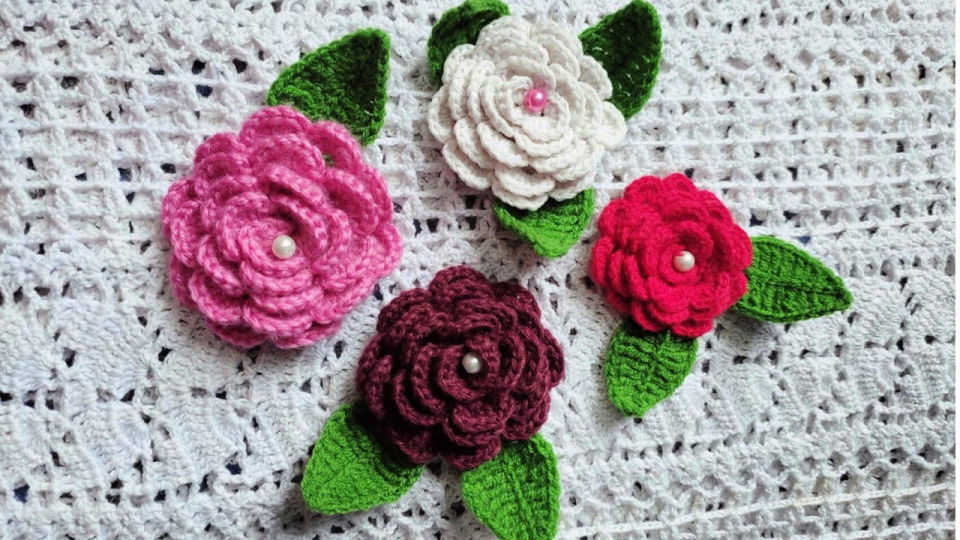 Create colorful and detailed crochet rose patterns with a variety of stitches. Bring something truly special with this free crochet pattern for rose flowers! These adorable roses are perfect for adding a touch of charm to any home decor. Not only do they look beautiful, but they're also incredibly easy to make and require minimal materials. Plus, you can customize the colors so that your roses perfectly match the rest of your decorations! All you need are basic supplies like yarn and a hook, so grab them now and start creating your colorful creations today!
26. Free Crochet Rose Pattern
Welcome to crafting paradise! Show off your skills with this beautiful free crochet rose pattern – it's easy to make and sure to impress. This creative pattern will have you quickly creating a stunning rose decoration.
Ensure you're well-prepared with the necessary supplies: scissors, florist tape, glue gun, crochet hook, wire yarn, and needle. Whether for a special occasion or just adding a decorative touch around the house, this gorgeous crochet rose is guaranteed to turn heads!
27. How Do You Crochet Mini Rose Flower and Leaf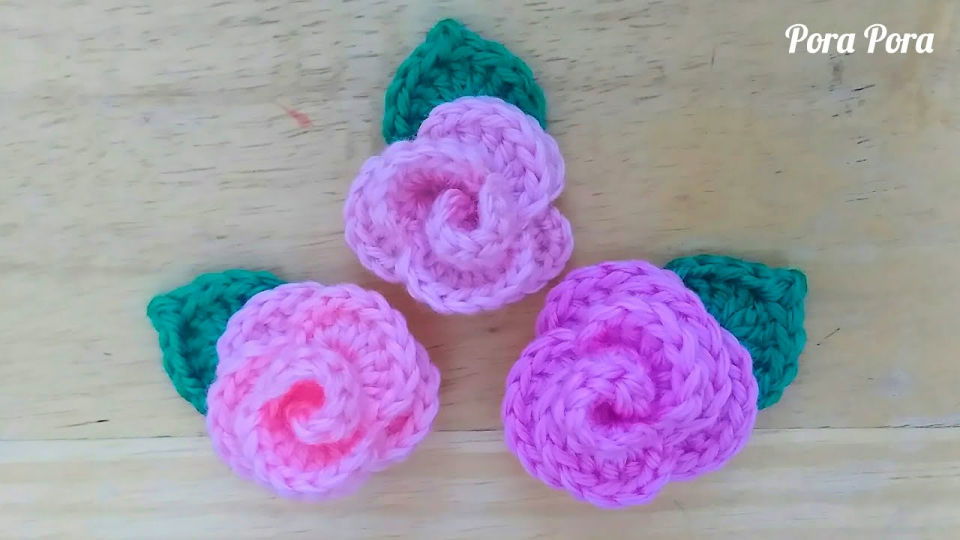 If you love crocheting, this mini rose flower and leaf are perfect! It is an easy project with step-by-step instructions, so it's great even for beginners. You only need basic supplies like medium 4-weight acrylic yarn and a 3.75mm crochet hook.
The tutorial includes photos of all the steps to help make the flower and leaf. You'll be proud of yourself when your mini rose is complete since it looks so beautiful! Try this beginner-friendly crochet mini rose flower & leaf today!
28. How to Crochet Rose Petal – Free Pattern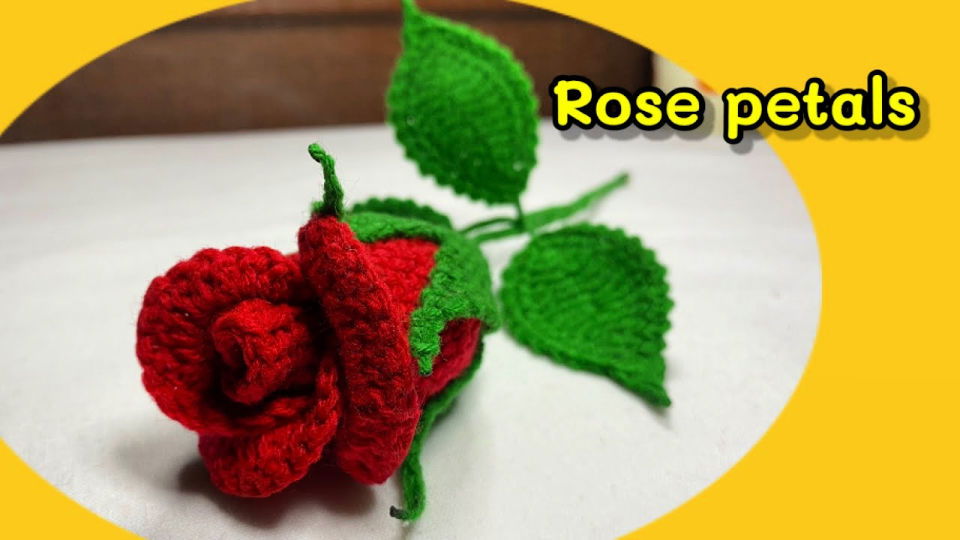 Give something special with these crochet rose petals! These petals are the best way to make a unique decoration for any occasion. With a simple pattern included, you can easily craft beautiful flowers that will look amazing and add charm to any home décor.
The lining on these delicate crochet roses gives them an extra touch of elegance and makes them even more adorable. Decorate your living space with these original handmade designs – start creating now!
29. Crochet Your Own Rose Flower Bouquet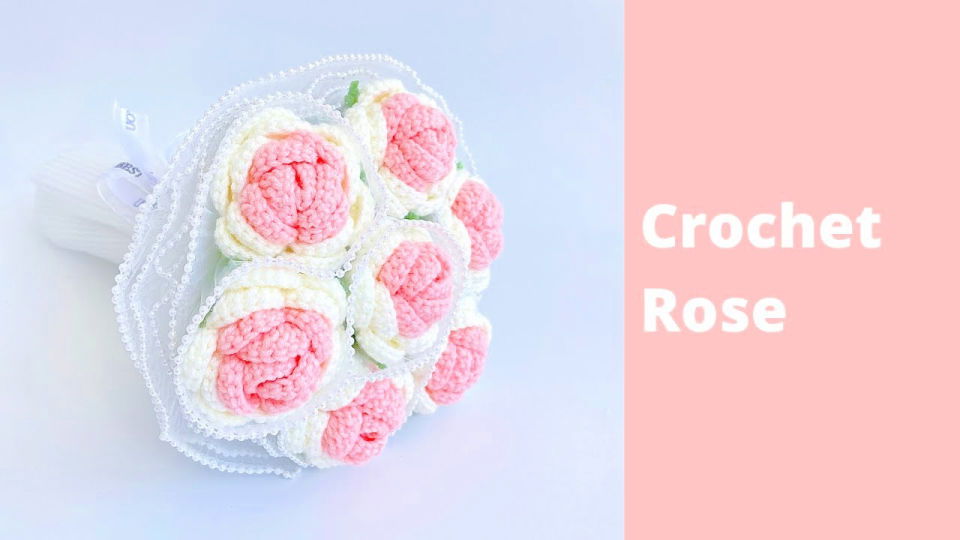 A handcrafted rose flower bouquet is more eye-catching and beautiful! You can easily create your stunning display with these easy instructions and supplies. You'll need milk cotton yarn four-ply, 2.5mm hook, floral stem wire, craft wire for supporting leaves and wavy flower wrap mesh to make the perfect bouquet.
Whether given away as a gift or simply an extra addition to your home decor – this exquisite rose flower bouquet will surely have all eyes on it!
30. How to Make Large Pink Rose – Free Crochet Pattern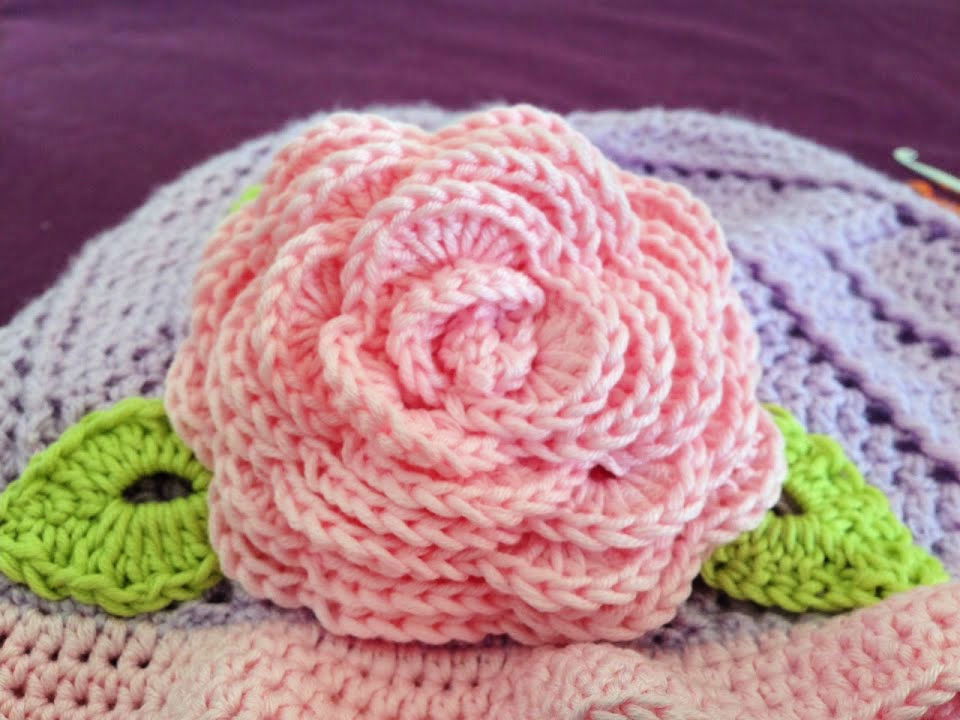 Delightful and charming, large pink roses make an eye-catching bouquet that will put a smile on anyone's face. These beautiful blooms are perfect for special occasions such as anniversaries and engagements or to show someone you care.
Whether baby's breath or lush greenery surrounds it, no one can resist its luscious petals that draw you in with their captivating charm. With their high quality and long-lasting vase life, large pink roses are the most delightful way to express warmth & gratitude!
Related Free Crochet Patterns:
Get inspired with our selection of free crochet patterns! With a variety of projects to choose from, you'll find the perfect design for your next creation.
Conclusion:
Crafting a beautiful crocheted rose can be an incredibly rewarding experience. These 30 free crochet rose patterns with detailed instructions can provide you with everything from video instruction on how to crochet a rose to large and small rose crochet patterns. Regardless of which one you choose, your effort, time, and creativity will all be worth it at the end when you can admire your very own handiwork.
Whether it's for yourself or for giving as heartfelt gifts for occasions such as Mother's Day or Valentine's Day, there's no denying the beauty of a crocheted rose! So if you want to try something new and creative – why not learn how to make one today? With so many free crochet rose patterns available above, you're sure to find one that fits your skill level and preferred style. So get started now, expand your creative repertoire and make some gorgeous rosettes!