Learn how to create a stylish chevron crochet pattern with our easy-to-follow tutorial. With 40 free chevron crochet patterns for beginners, you'll have plenty of options! These crochet chevron patterns are popular for blankets, scarves, hats, and more. Each free chevron crochet pattern includes easy-to-follow instructions and step-by-step diagrams to help you create beautiful zigzag designs.
You can also experiment with different colors and styles to create unique, eye-catching chevron crochet patterns. If you want to create a chevron pattern for a specific item, many chevron crochet patterns are available below to help you get started. You can make a chevron crochet blanket, hanging planter, bucket bag, purse, scarf, headband, chevron afghan, and more! They add a fun and playful touch to any project and can be customized to suit your personal style.
Some popular chevron crochet patterns include the zigzag crochet blanket, the double crochet chevron pattern, and the chevron baby blanket. You can also find free chevron crochet patterns for items such as hanging planters, purses, and even a chevron crochet sweater.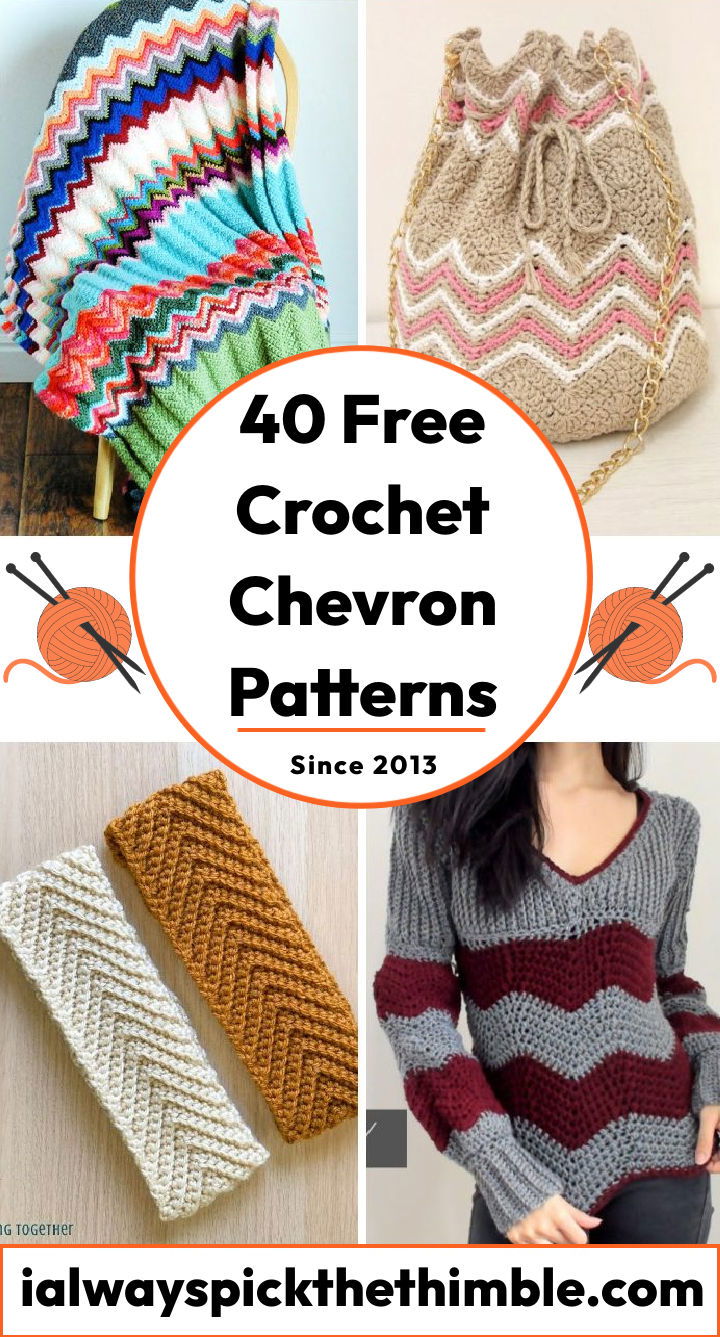 Most chevron patterns use basic stitches, such as single crochet and double crochet, making them accessible to beginners. With easy-to-follow instructions and step-by-step diagrams, you can create a unique and stylish chevron crochet pattern, even if you're new to crocheting. So, grab your crochet hook and yarn and explore the many free crochet chevron patterns available below.
1. Quick and Easy Chevron Crochet Granny Table Runner Pattern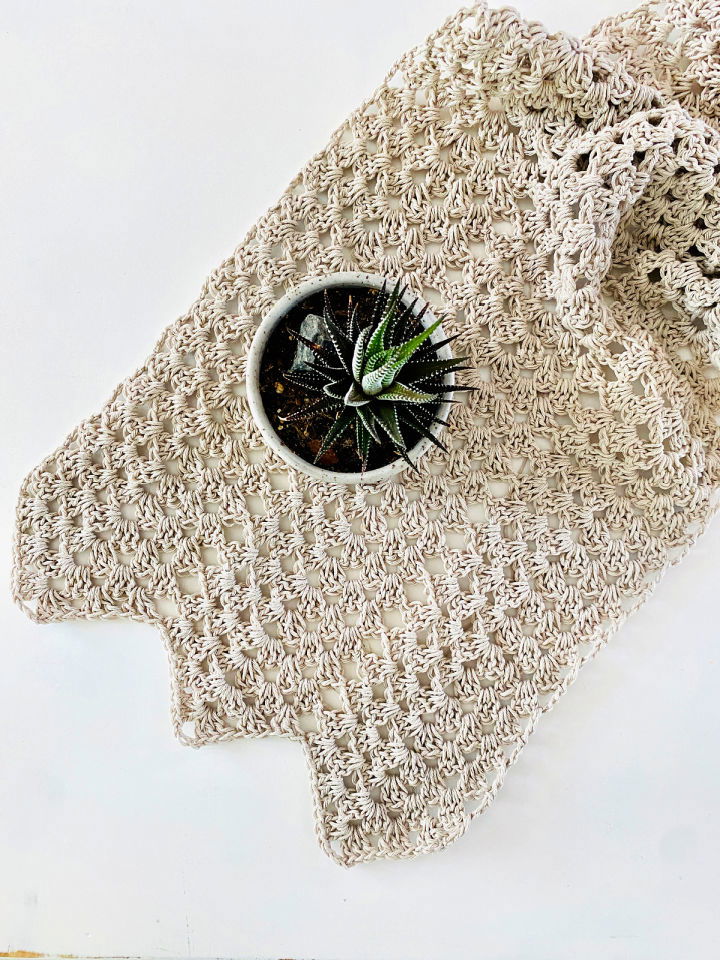 If you're a fan of the classic look of chevrons and the granny stitch in crochet, the granny chevron table runner is the perfect project for you! This table runner features a chevron design created with simple repeats of chain and double crochet stitches, using the granny stitch to add texture.
The pattern is easy to memorize and quick to work up, and can be adjusted to make other projects like a washcloth, scarf, or blanket. Use the yarn colors and fibers you like best, and this runner will make a statement on any flat surface in your home. Get started with this fun and challenging pattern today! americancrochet
2. How Do You Crochet a Chevron Gray Skies Headband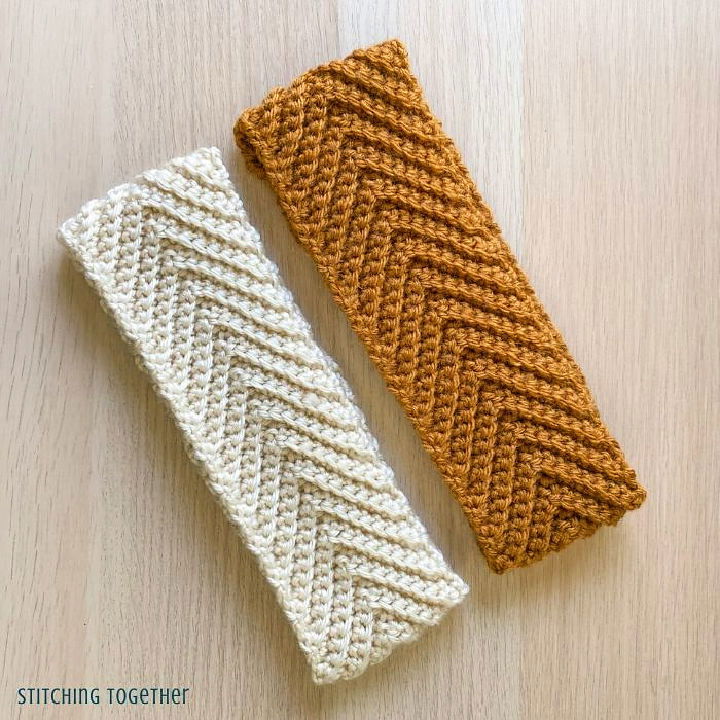 Learn how to create a stylish and cozy chevron headband with this easy-to-follow crochet pattern. Made with worsted weight yarn, this headband is worked back and forth in rows to create a long strip of "v"s sewn together at the ends. You can choose to make a solid-colored headband or a striped version depending on your preferences. The pattern includes clear instructions and helpful tips and is perfect for beginners and experienced crocheters. So grab your crochet hook and yarn and create a cute and trendy headband today! stitching together
3. Free Crochet Chevron Hanging Planter Pattern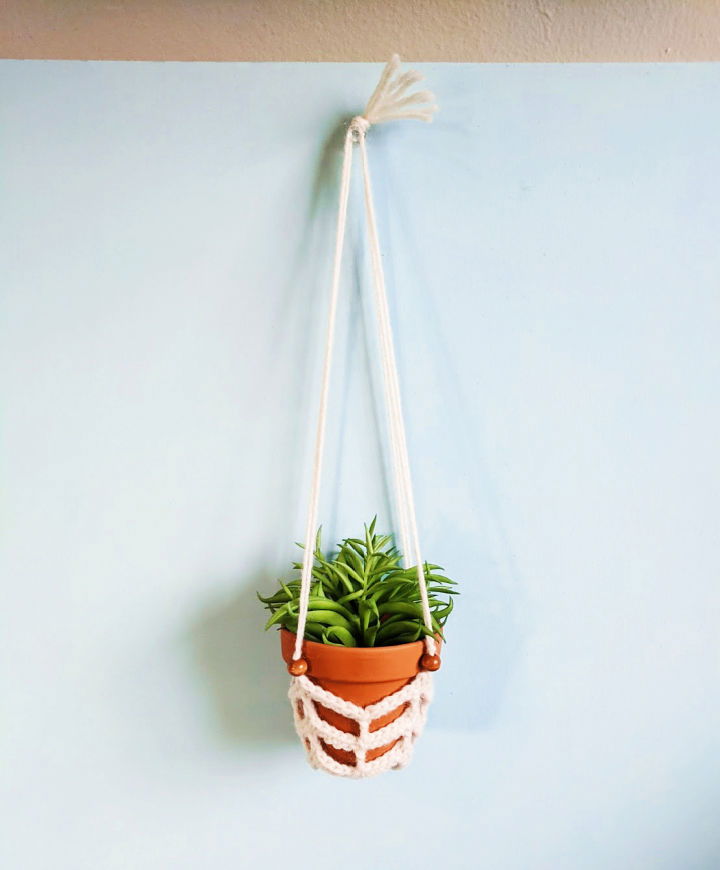 This free crochet pattern for a chevron hanging planter adds some greenery to your home. Perfect for a 3″ pot, this planter features a cute chevron stripe design and is made with just 20 yards of worsted yarn and a 4mm hook. The pattern is quick and easy to follow, making it suitable for crocheters of all levels. Personalize your planter by adding optional wooden beads or a cute little plant friend. Make your own diy hanging planter and bring natural beauty into your space today! hellohappy
4. Crocheting a Zigzag Baby Blanket – Free Pattern
With free chevron crochet patterns you can master the art of chevron crocheting in no time! Learn how to create an adorable and symmetrical zig-zag or chevron baby blanket with this beginner-friendly crochet pattern. Using the classic double crochet stitch, this blanket is made of nine color segments and is easy to remember, making it a perfect project for crocheting while doing something else. The pattern includes a step-by-step tutorial video, a PDF pattern with additional sizes, and clear instructions on the stitch patterns and materials needed. The pattern is written in US crochet terms and is suitable for crocheters of all skill levels. crobypattern
5. Free Crochet Pattern for Chevron Bucket Bag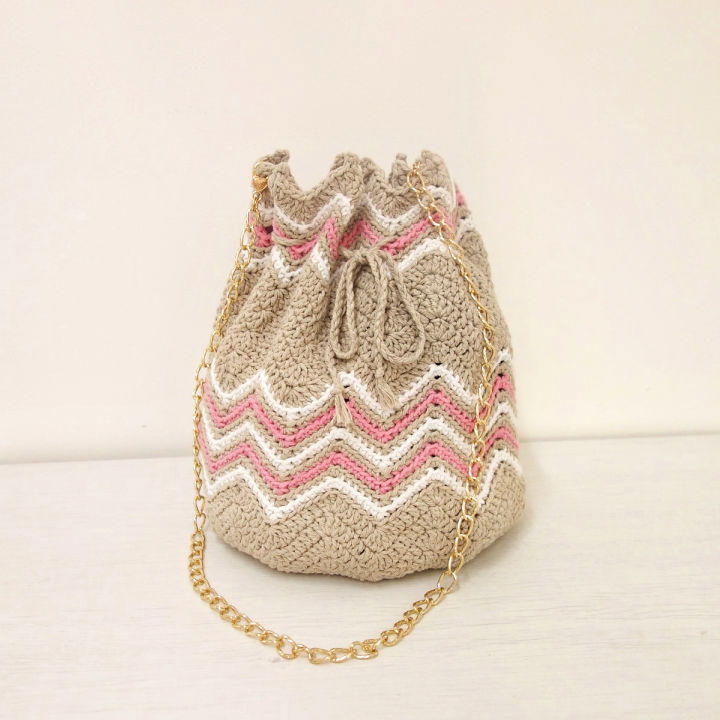 Make a fashion statement with the chevron crochet bucket bag – a perfect everyday accessory! With a drawstring closure and spacious interior, it can easily carry all your essentials. This free crochet pattern can be customized with contrasting or neutral colors and is designed using the chevron pattern made with double crochet stitches. The pattern is easy to follow and uses sturdy yarn like Worsted (#4) or Bulky (#5) weight yarn for a durable finish. Add some flair to your wardrobe with this trendy and functional bucket bag! madebygootie
6. How to Crochet Chevrons Shifting – Free Pattern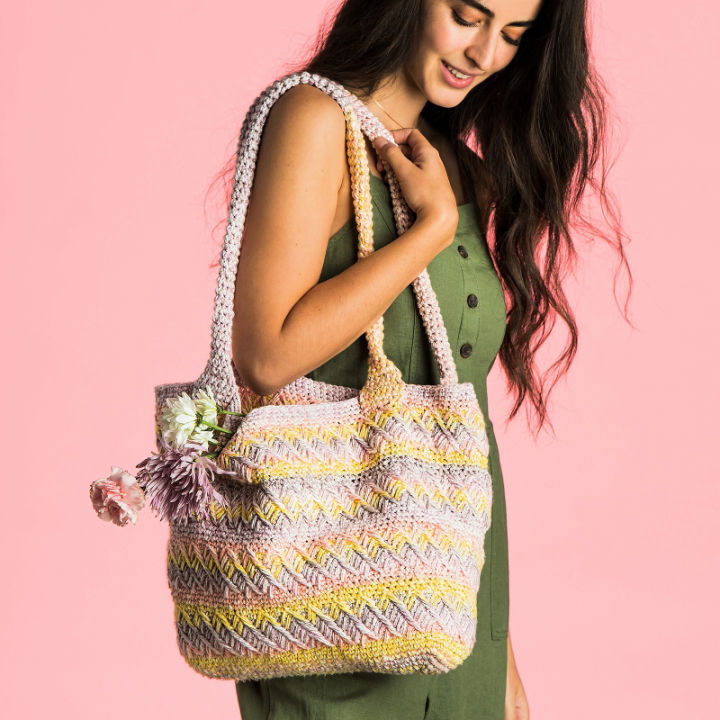 Make a stylish and functional statement with the crochet shifting chevrons tote! Using two balls of caron cotton ripple cakes and a few crochet hooks, this intermediate-level project features an intricate chevron pattern and ample storage space to hold all your essentials. This beautiful tote is perfect for any occasion, with a finished size of approximately 18.5 inches wide by 11.5 inches deep. Follow the simple guide and create a unique bag that blends creativity and practicality. yarnspirations
7. Pretty Crochet Chevron Fringed Purse Pattern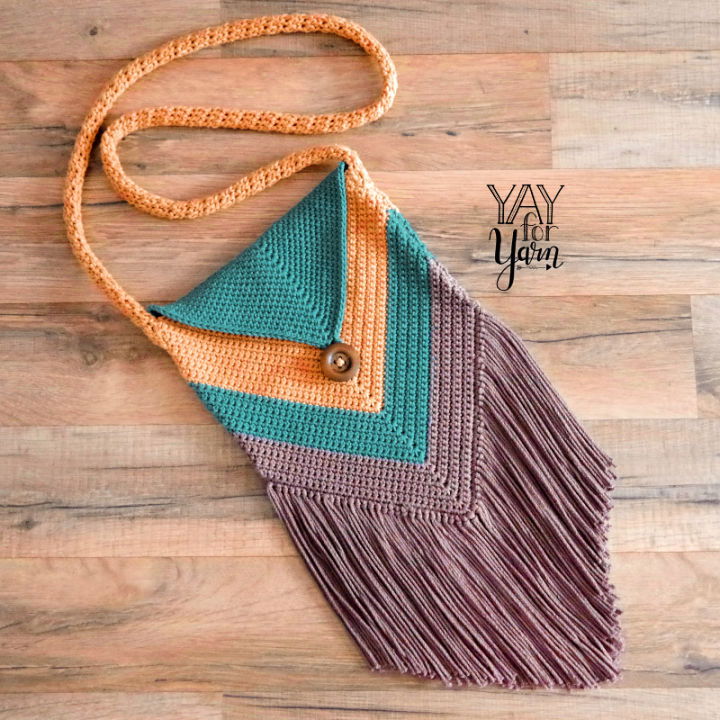 Are you looking for a fun summer accessory? Try making the fringed chevron purse. This cross-body purse features a bold chevron design and long, chevron-cut fringe. The purse requires lion brand 24/7 cotton yarn in three colors, a g hook, a large button, and a few basic supplies. The pattern includes instructions for making the back panel, front panel, strap, fringe, and assembly. The finished size of the purse is 8 inches wide and 10.5 inches tall, not including the 6-inch fringe. yayforyarn
8. Colorful Crochet Chevron Blanket – Free Pattern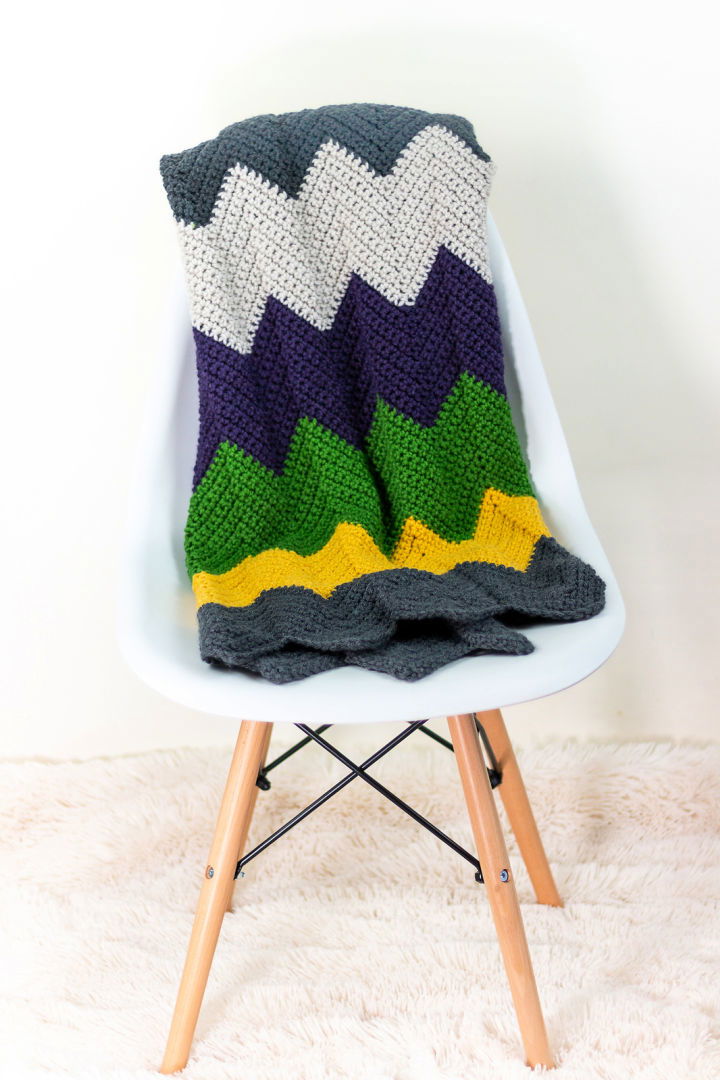 Get ready to create a colorful chevron crochet pattern for your next project! This easy-to-follow tutorial will teach you how to make a chevron pattern blanket, throw, or baby blanket. This pattern is perfect for beginners using lion brand Vanna's Choice yarn and can be customized with various colors. The step-by-step instructions and free crochet tutorial make this project fun and easy to create. This simple chevron pattern makes your next crocheting project colorful and creative! easycrochet
9. Multicolor Crochet Chevrons Wall Hanging – Free Pattern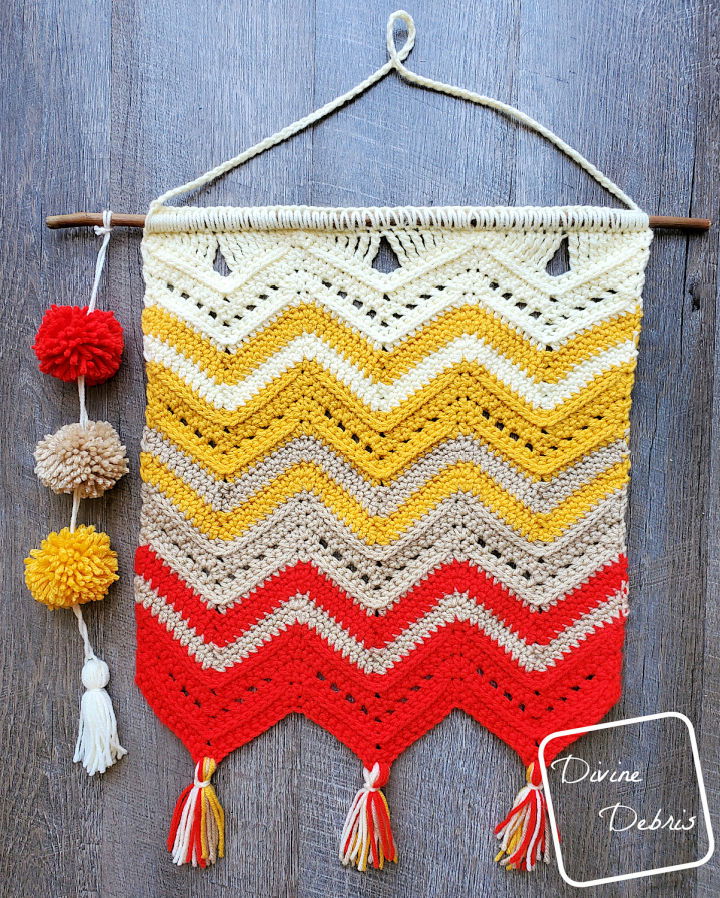 Get creative with a crochet wall-hanging pattern! The colorful Chevron wall hanging is perfect for those looking to switch things up from traditional tapestry patterns while adding color to your decor.
You can create your own unique piece with four colors of worsted weight yarn and a 4mm hook. The finished product is approximately 16″ tall and 14.25″ wide and includes instructions for tassels and pom poms. This advanced easy pattern also features some of the designer's favorite stitches, including the double treble and extended single crochet. Get ready to let your creativity shine with this wall-hanging pattern! divinedebris
10. Cute Crochet Chevron Unicorn Baby Lovey Pattern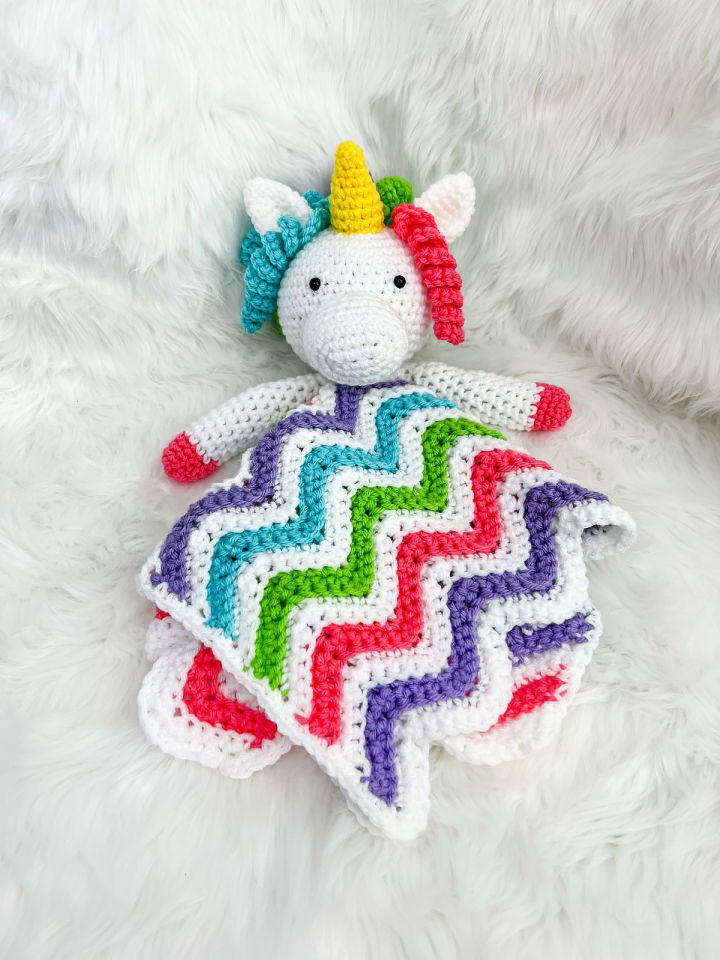 Create a beautiful unicorn baby lovey with a free crochet pattern. The lovey is colorful and perfect for any baby. You need a few supplies, such as I love this yarn, a clover armour crochet hook, safety eyes, poly-fil, and a yarn needle.
Follow the step-by-step instructions for the lovey and attach the head, nose, and ears to make a beautiful unicorn. The colorful design of the unicorn will make your baby lovey stand out. With this free crochet pattern, you can make the perfect gift for any baby. Check out other free crochet patterns as well. okiegirlblingnthings
11. Crochet Chevron Havra Infinity Scarf Pattern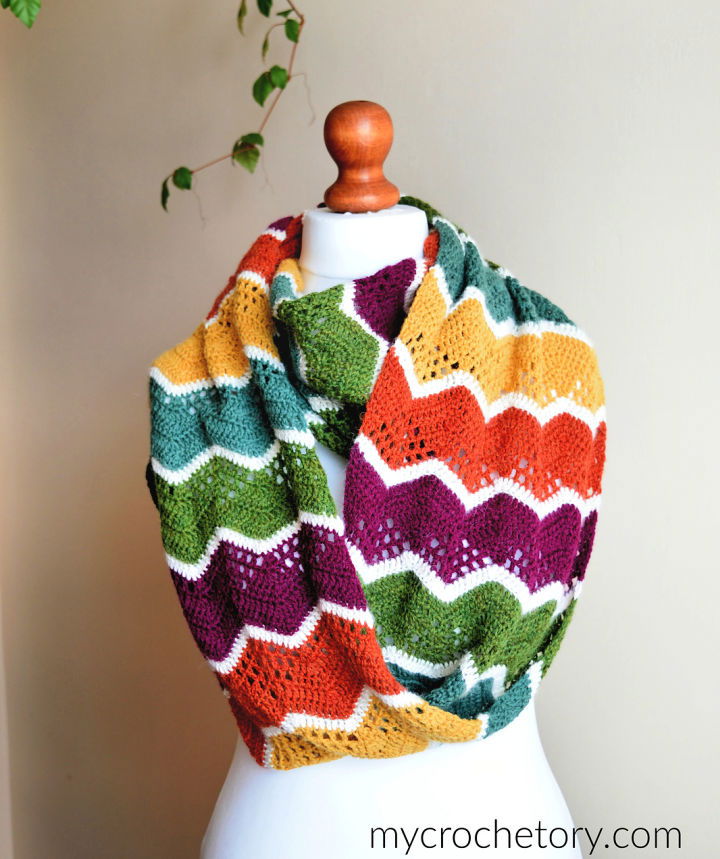 Create beautiful projects with these free chevron crochet patterns, from a chic sweater to an elegant scraf. Learn how to create a beautiful havra infinity scarf with this easy crochet pattern. The open stitch-work design produces ripples and waves that add warmth on cooler evenings or a fashion accent to your outfit in warmer weather. This pattern can be made with any combination of colors and any desired yarn weight. With just six rows of easy, rhythmic stitching, it's perfect for adventurous beginners or crocheters looking for a fun and versatile accessory. mycrochetory
12. Crochet Zig Zag Blanket – Step-By-Step Instructions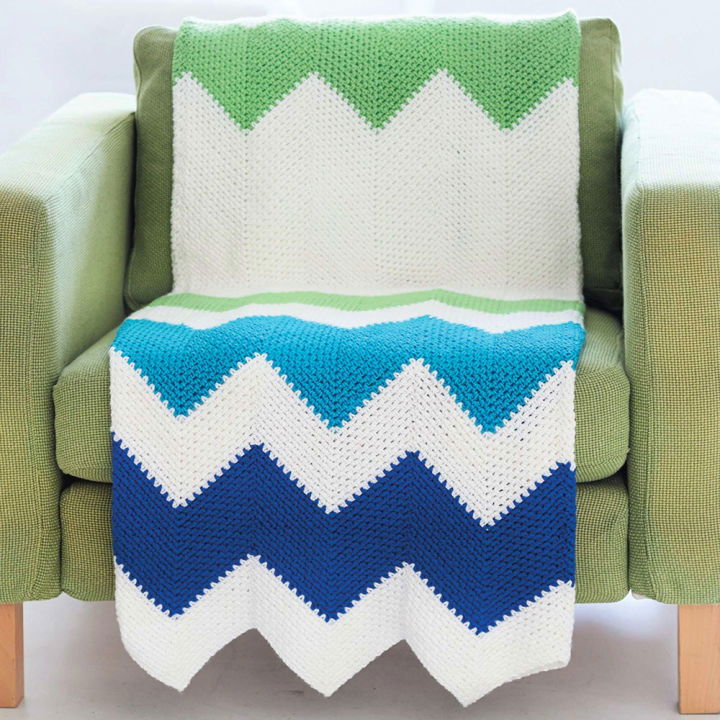 Create a cozy and stylish zig-zag crochet blanket with caron simply soft and simply soft brites yarn. This easy-to-follow tutorial requires only six balls of yarn in contrasting colors, a u.S. I/9 (5.5 mm) crochet hook, and a basic skill level. The finished blanket measures approximately 46″ x 57″ and is perfect for snuggling up on the couch or as a beautiful decorative piece in your home. Get ready to start your next crochet project and make your home warm and inviting with this unique and creative zig-zag blanket! yarnspirations
13. Elegant Chevron Crochet Frosted Berry Scarf Pattern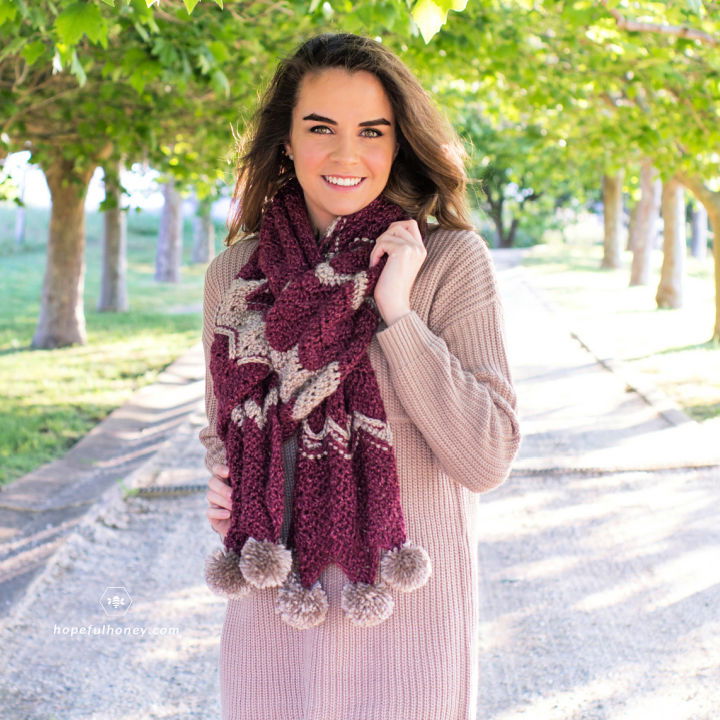 Stay cozy this winter with the frosted berry chevron scarf, a beautiful crochet accessory that is perfect for keeping you warm during the chilly season. This versatile scarf is made from soft and bouncy lion brand heartland yarn, featuring a unique chevron design and fluffy pom-poms.
With various textures on display, this scarf is perfect for layering and looks great loosely draped over the shoulders or wrapped at the neck. This intermediate pattern also includes a ton of helpful photos, making it easier for beginners to complete. Get the free pattern below and start creating this effortlessly chic scarf today! hopefulhoney
14. Impassive Crochet Chevron Chunky Basket Pattern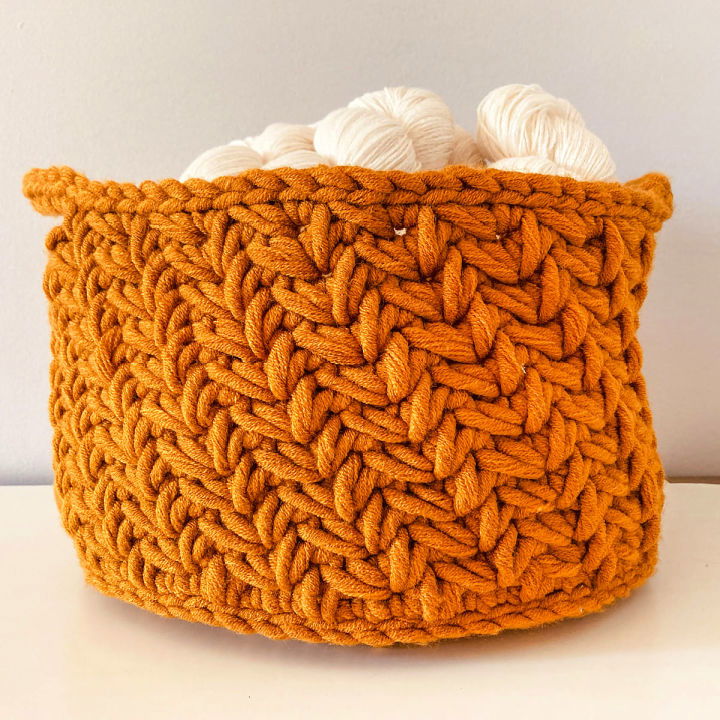 Create a lovely chunky crochet basket with a unique texture using the diagonal chevron stitch pattern. The basket is made using super bulky yarn, so it's a quick and easy project. The base of the basket is made in the waistcoat stitch, and the sides are worked using the diagonal chevron stitch pattern.
The pattern is free or can be purchased in an easy-to-read, print-friendly pdf. The basket is worked in two sections, with the base being worked first and then the sides. The finished basket size is 34 inches in circumference and 7 inches in height. Suitable for beginners and experienced crocheters alike. nedandmimi
15. Free Mocha Ripple Afghan Crochet Pattern for Beginners
The mocha ripple afghan is a beginner crochet blanket pattern that showcases the lion brand's skein tones collection of yarn. This throw blanket features diverse shades that work together to create a stunning color palette.
With a free crochet pattern and tutorial video, crocheters of all skill levels can create this comfortable blanket. Lion brand's skein tones collection celebrates the diverse skin tones of makers and serves as a place to take a stand. The mocha ripple afghan is available as an all-in-one kit or ad-free printable pattern. Follow the simple instructions to create a beautiful and unique statement piece. tlycblog
16. Simple Crochet Front Door Chevron Wreath Pattern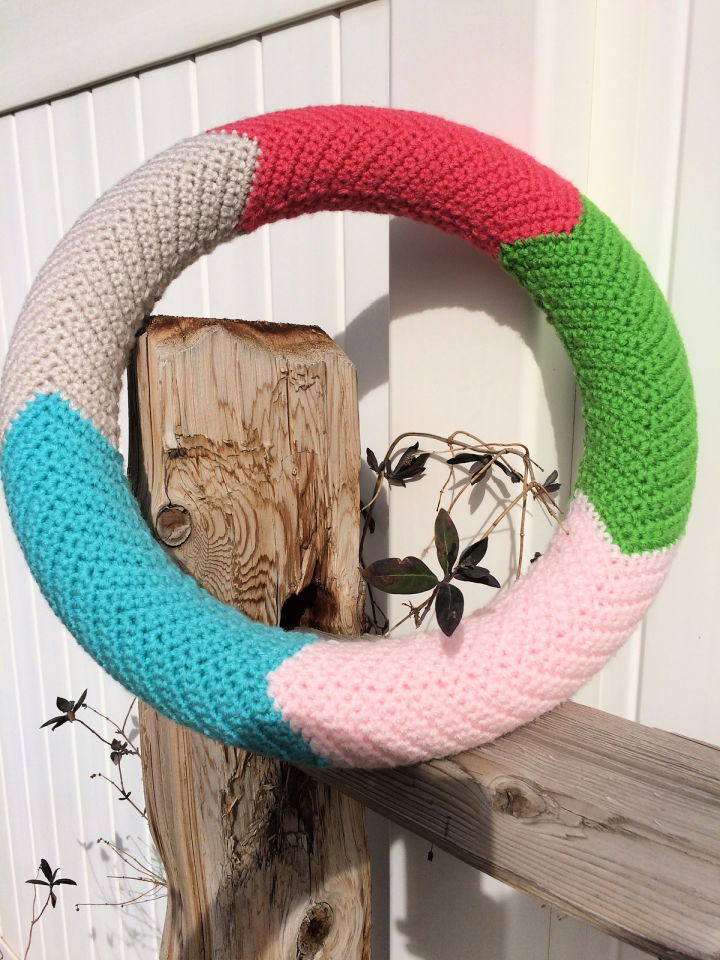 Make a stunning chevron wreath with this easy crochet pattern! You can create a beautiful wreath that will impress all your guests using only a few supplies like a 14″ foam wreath, worsted weight yarn, and a size g hook.
With a fun color palette of turquoise, linen, papaya, spring green, and soft pink, this wreath will surely add a pop of color to any space. Follow the simple pattern to create the perfect chevron pattern, and attach it to your wreath form easily. Add some flowers to complete the look or leave it as is for a streamlined finish. christacodesign
17. Free Chevron Crochet Jar Cosy Pattern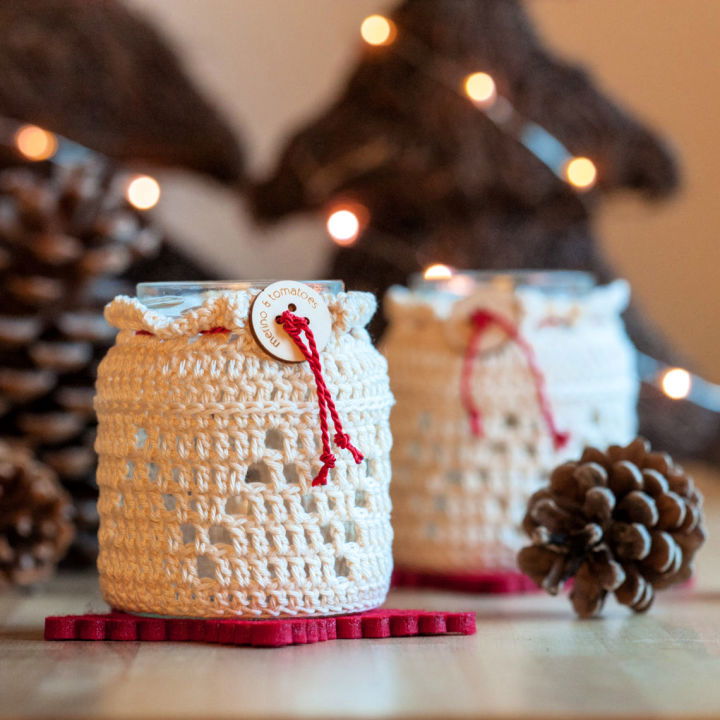 Add a personal touch to your homemade gifts with a DIY chevron jar cosy! This easy crochet pattern fits around a glass jar with a circumference of 25cm and a height of 10cm, making it perfect for small items like tea lights or homemade treats. With just a 3.5mm crochet hook, fingering weight cotton yarn and some decorations like wooden buttons or leather tags, you can create a cozy little gift that's both unique and practical. Follow the simple instructions and use the chart to create your own chevron jar cozy today! merinoandtomat
18. Chevron Crochet Bernat Yarn Rainbow Blanket Pattern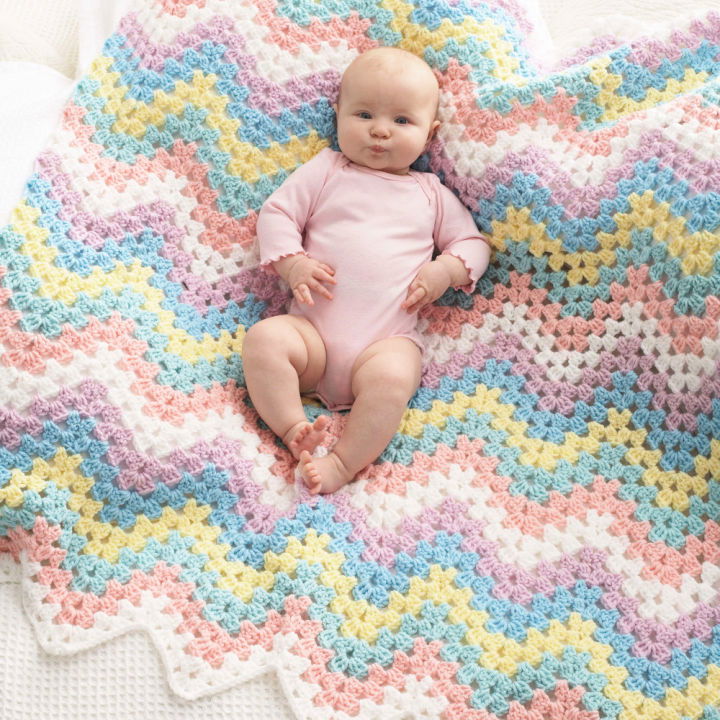 Bring color and warmth to your home with this easy and creative crochet project: a rainbow blanket! With just a few supplies, including Bernat® Giggles™ yarn and a crochet hook, you can create a beautiful, cozy blanket that measures approximately 40″ x 42″. This beginner-friendly project requires only basic stitches like double crochet and chains and has a clear pattern and instructions. Plus, you can customize your blanket with six different cheerful colors. Snuggle up with your loved ones under this gorgeous and vibrant rainbow blanket! yarnspirations
19. Single Crochet Chevron Peaks Slouch Pattern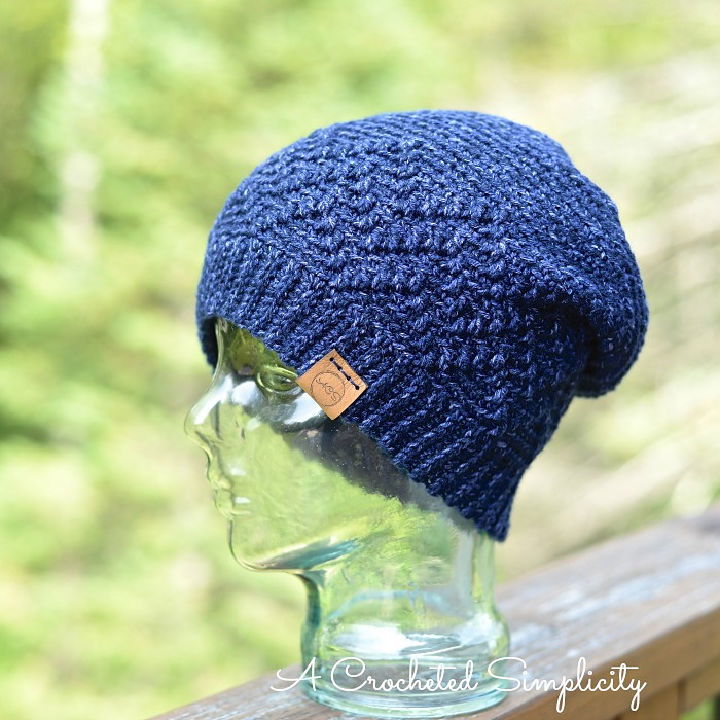 Are you looking for a simple and easy crochet project? The chevron peaks slouch crochet hat pattern is perfect for you! Using less than one ball of yarn, this hat is a fun and quick project that looks great in many colors. The pattern is perfect for the upcoming winter months and is suitable for all skill levels. You'll need some basic materials, including lion brand yarn jeans, a faux fur pom, and crochet hooks. With detailed instructions and helpful tips, you can create a cozy hat perfect for kids and adults alike. acrochetedsimp
20. Double Stitch Crochet Chevron Afghan Pattern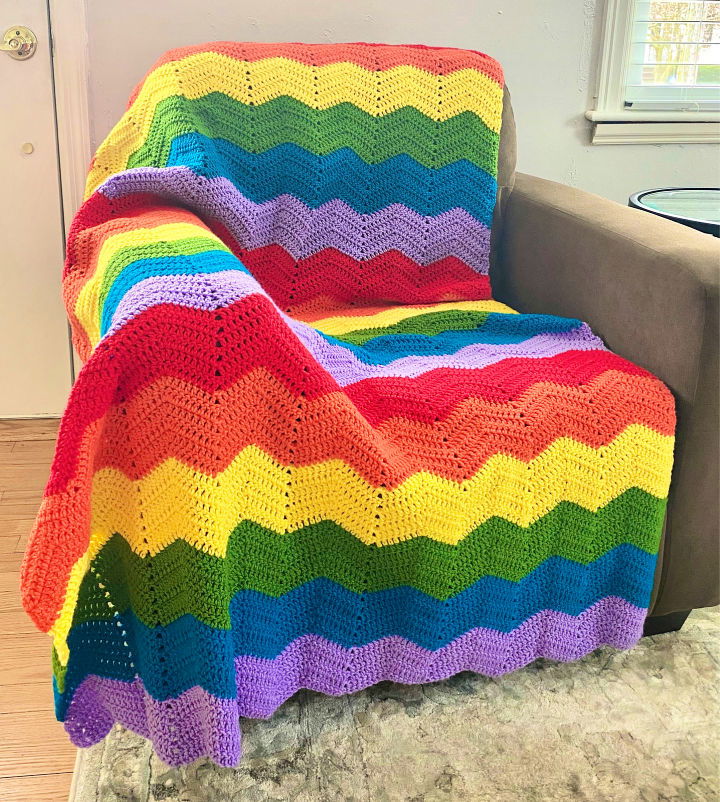 Access our vast library of free chevron crochet patterns and discover various designs to suit any taste. Learn how to create the classic and iconic zig-zag or chevron afghan with this easy-to-follow crochet pattern. This hallmark crochet design is recognized by non-crafters and adds a fun and unique design to any living space. The pattern comes with a stitch placement diagram and notes on how to adjust the size of your blanket.
This pattern also works for scarves, hats, and more. Using red heart super saver medium weight yarn, you can customize the color scheme of your afghan for a unique look. Follow the simple steps, and you'll have a gorgeous zig-zag afghan to cozy up to in no time. craftykittycrochet
21. Easy Crochet Ripple Stitch Pillow Pattern
Revamp your living space this season with the easy ripple pillow crochet pattern. This free pattern includes a chevron and Tunisian crochet tutorial and uses chroma twist worsted for a colorful finish. With just a few materials, including a 6mm Tunisian crochet hook and 20″ pillow form, you can create this visually interesting pillow in no time. The pattern includes clear instructions for beginners, and a printable version is available. Upgrade your home decor with this stylish and cozy addition today! tlycblog
22. How to Crochet a Wavy Chevron Baby Blanket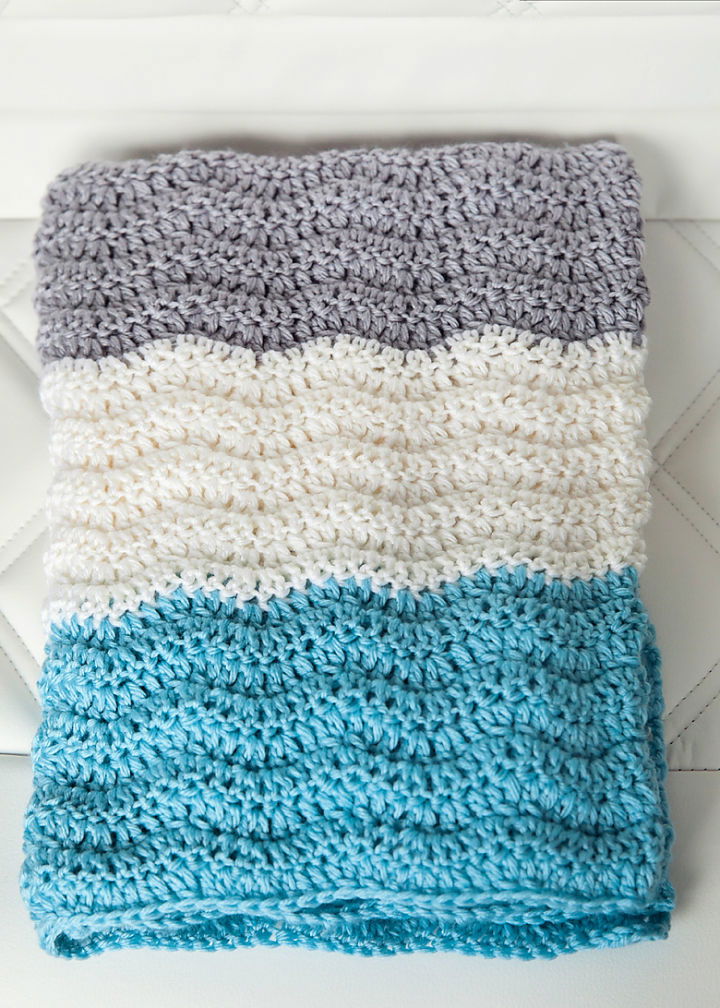 Looking for a baby blanket pattern that is easy, repetitive, and quick to build? Check out this gorgeous wavy chevron baby blanket with just the right wave to add the beautiful chevron effect without the pointy ends. This free pattern uses a size h-8 crochet hook and knit picks mighty stitch yarn in three different colors to create a stunning blanket that measures 26 inches by 39.5 inches. Whether you're a beginner or an skilled crocheter, this project is perfect for anyone looking for a quick and easy blanket pattern. leeleeknits
23. Multicolor Crochet Chevron Throw Blanket Pattern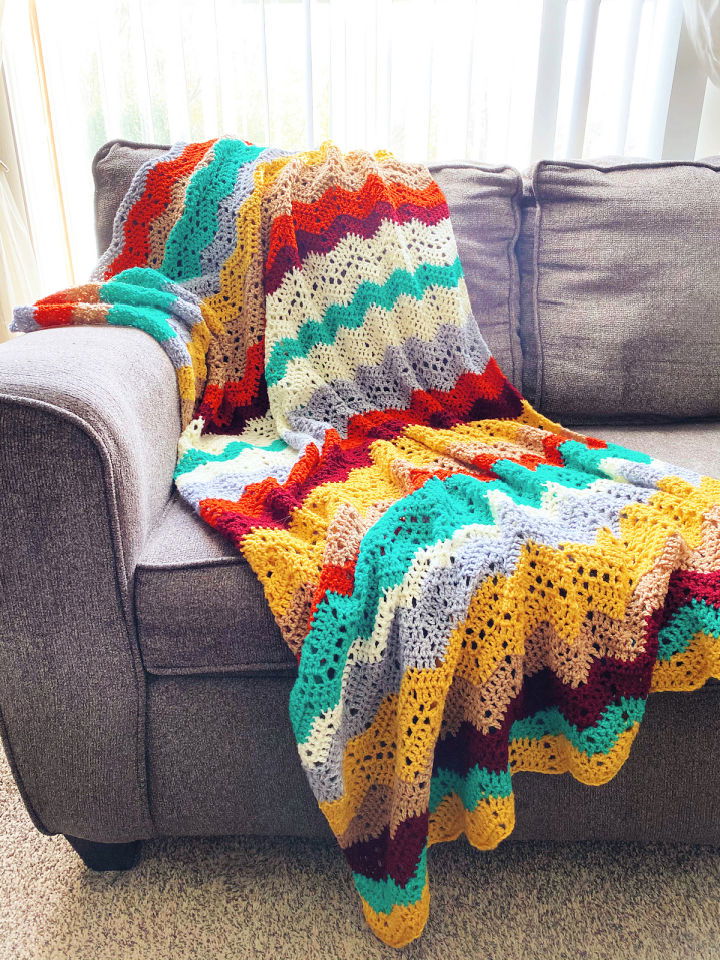 This fall, crochet your own cozy autumn skies afghan with a free pattern! Designed in a colorful chevron pattern with basic stitch premium, this lightweight crochet throw blanket is perfect for chilly nights spent indoors. Use US k/10.5 (6.5mm) crochet hook and one ball each of lion brand basic stitch premium in tourmaline, cayenne, saffron, plum, slate, goldmine, and cream. Once complete, the afghan measures 60″ long x 43″ wide after light steam blocking. A printer-friendly pdf version of the pattern and all-in-one kits are also available. tlycblog
24. How to Crochet Chevron Eldoris – Blanket Free Pattern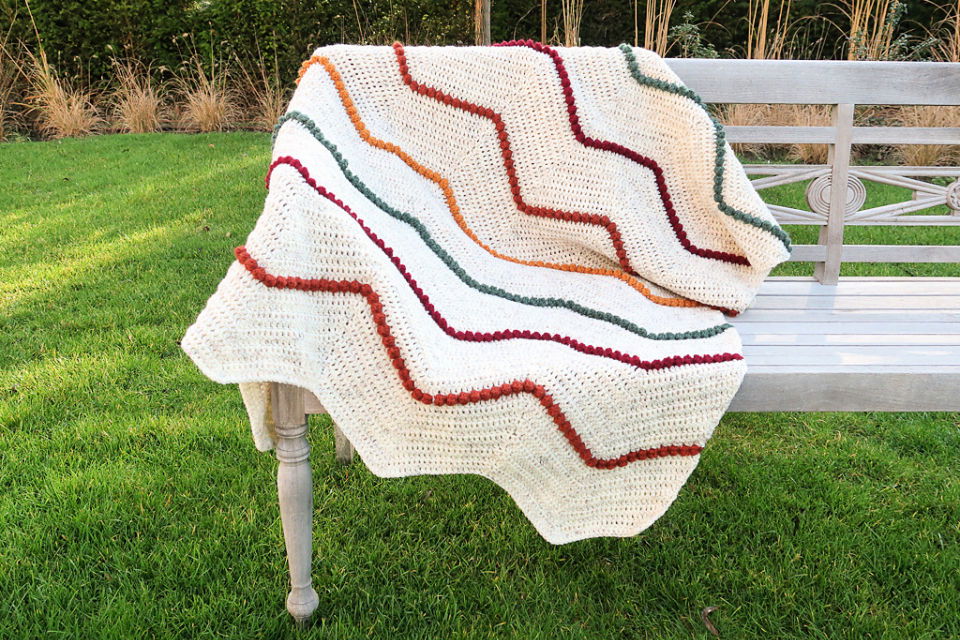 Get cozy and stylish with the free Eldoris throw crochet pattern! This easy-to-follow chevron crochet blanket tutorial features a simple ripple afghan pattern with alternating colorful bobbles to add texture. With the ability to adjust the size, you can create a beautiful throw blanket with five contrasting colors of worsted weight yarn, perfect for snuggling up on a chilly evening. Grab the downloadable pdf pattern and start crocheting today. knittingwithchop
25. Free Crochet Chevron Blanket Pattern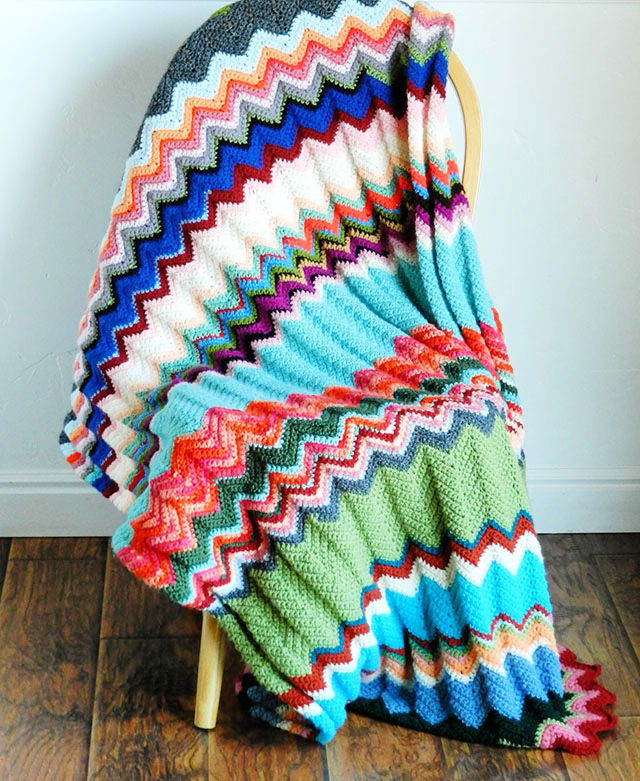 Get inspired by our free selection of chevron crochet patterns – perfect for beginners and skilled crocheters alike! Brighten up your living room with a colorful and happy chevron blanket! This crochet pattern uses thrifted yarn and leftover scraps, making it an affordable project that is easy to customize with your choice of colors. Measuring approximately 53 inches wide by 66 inches long, this pattern creates a generous blanket that can be adjusted to your desired length by crocheting fewer rows. With a size I/9-5.50mm crochet hook and a simple repeating pattern, this blanket is a fun and satisfying project for all skill levels. eliseenghstudios
26. Easiest Chevron Tube Scarf to Crochet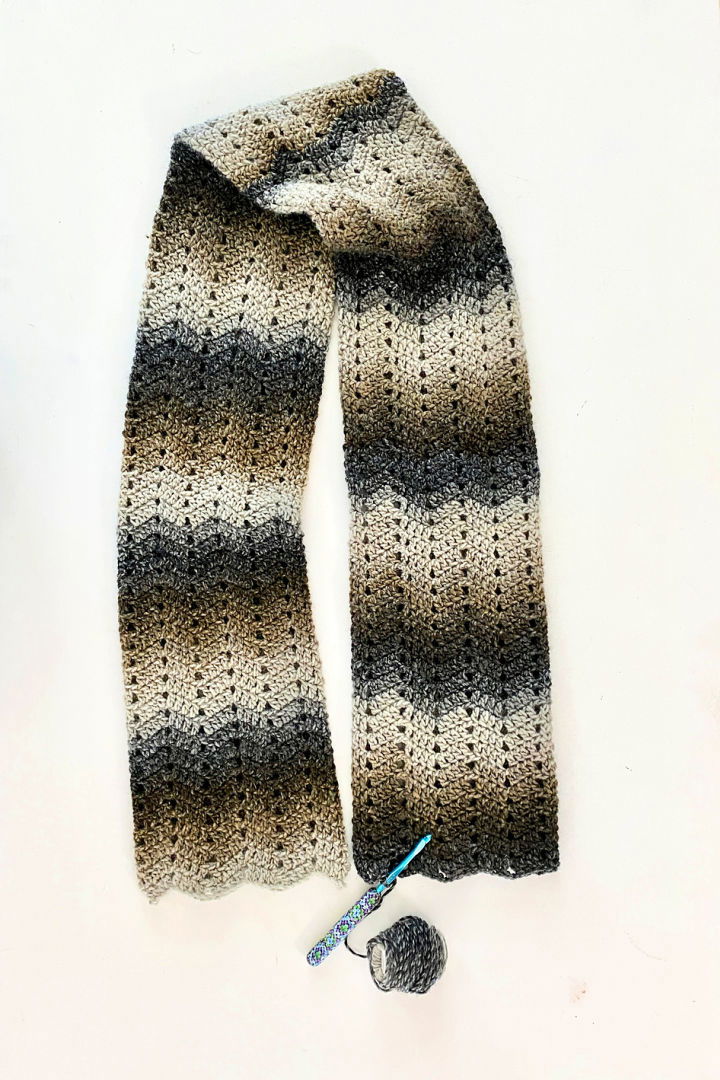 This easy and fun chevron scarf pattern is worked in joined rounds to create a tube shape, which makes it extra plush and cozy. The pattern uses basic crochet stitches like a chain, double, and slip stitches and can be worked up quickly using any weight or type of yarn.
This project lets you practice various crochet skills like gauge and size, chart reading, stitch tension, and finishing techniques. The finished scarf measures 12″ around (6″ flat) by 56″ long, and the pattern can be replicated in multiples of 10 for different lengths. This pattern is perfect for beginners and experienced crocheters looking for a new project. americancrochet
27. Crochet Chevron Beans and Bobbles Afghan Pattern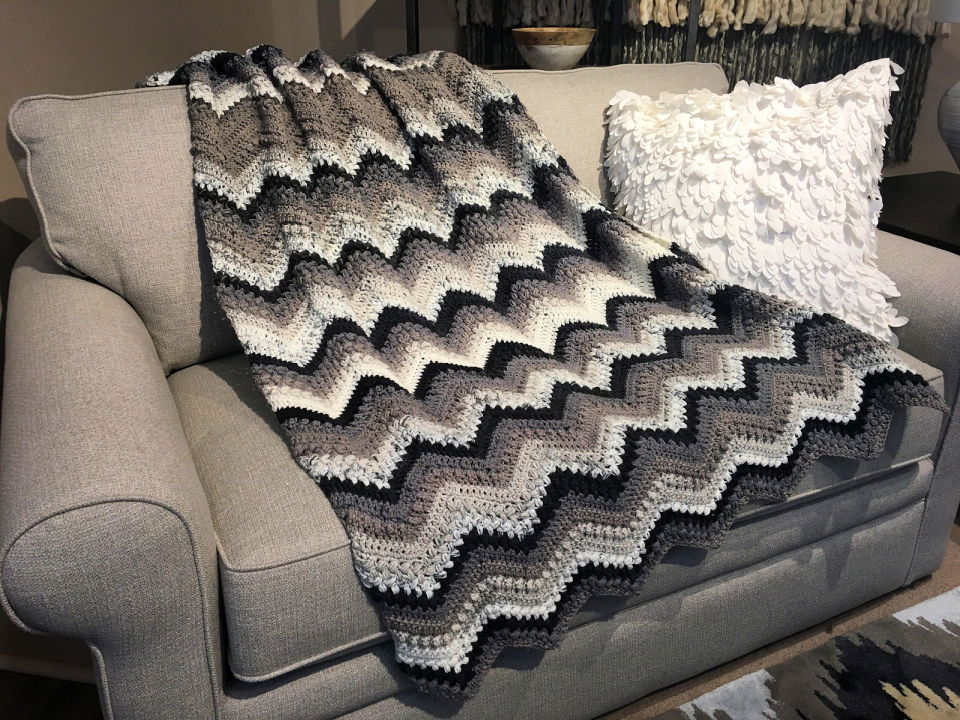 Introducing the beans & bobbles chevron afghan, a cozy and comforting addition to any home. Crocheted with caron big cakes in cookie crumble, the blanket features a lovely bean stitch and nubby texture on both sides. With a free pattern and tutorial, this easy project is perfect for beginners and can be customized to your preferred size. Bring warmth and style to your living space with this classic chevron-style afghan. thecrochetcrowd
28. Crocheted Chevron Granny Throw – Free Pattern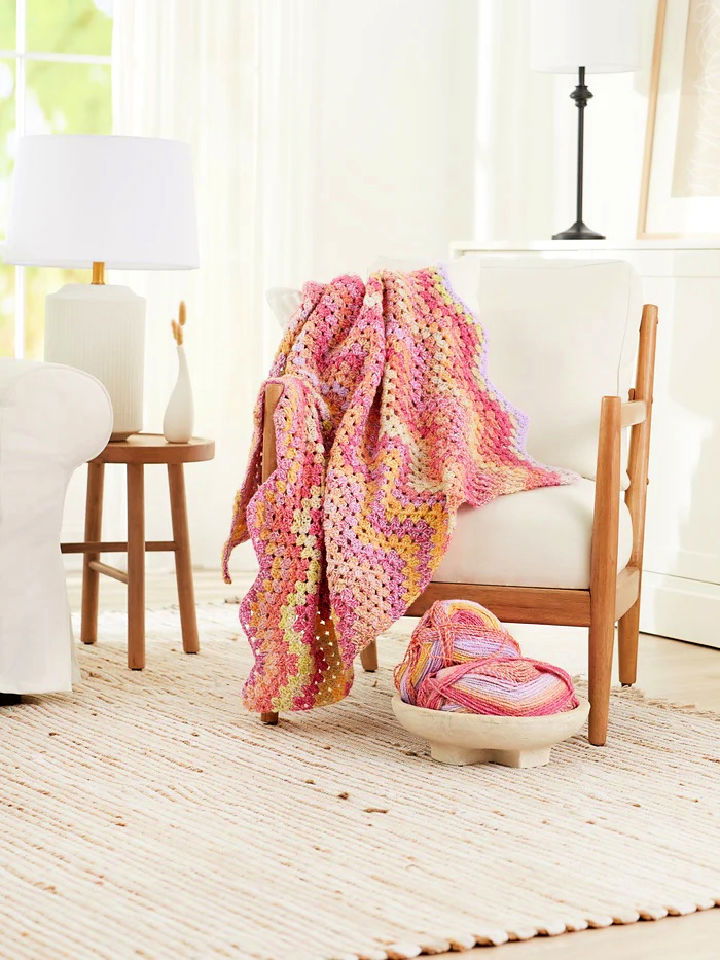 Check out our free crocheting tutorial videos to learn how to make a beautiful chevron crochet blanket pattern quickly and easily.
Create a beautiful and cozy crocheted chevron granny throw with this free pattern. Measuring 44 inches in length and 37.5 inches in width, this throw requires four balls of Premier® Yarns Puzzle® in candy color and a US size J-10 (6 mm) hook or size needed to obtain gauge. The pattern uses chain stitches, double crochet, and working in space between stitches techniques. Check your gauge to save time, and use a tapestry needle for the finishing touches. Follow the step-by-step instructions to create this lovely throw that will keep you warm and add a touch of creativity to any room. shopify
29. How to Make Chevron Textured Blanket – Free Crochet Pattern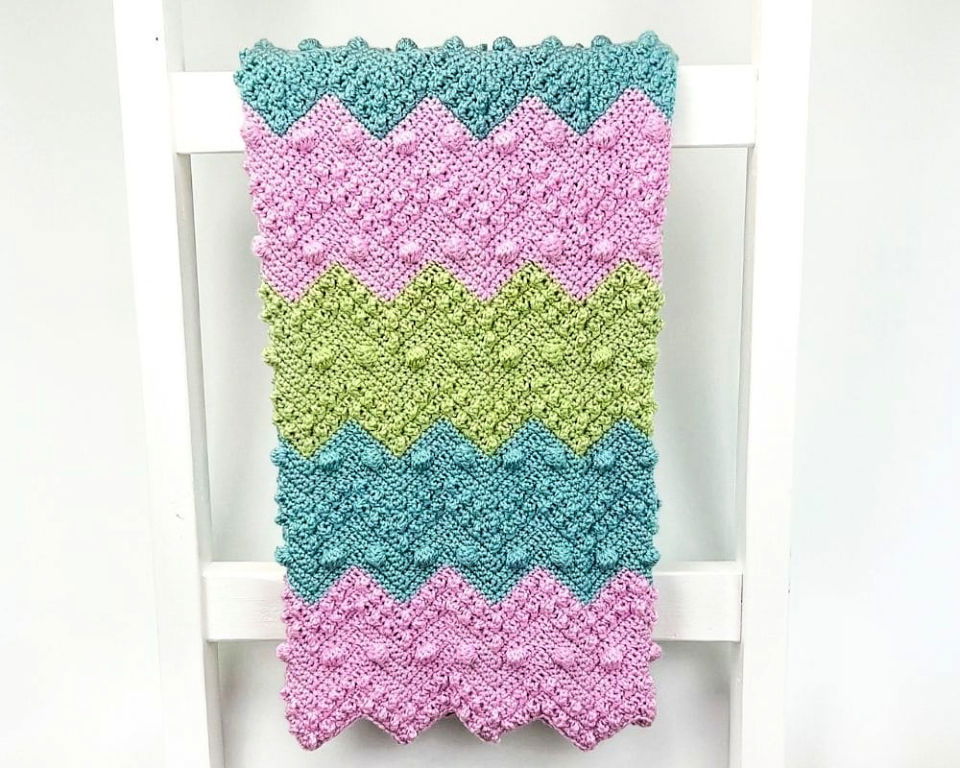 Create a stunning and textured crochet blanket with this easy and free chevron crochet blanket pattern. This pattern can be made as a baby blanket or full-sized throw with rows of single crochet stitches, bobbles, and alternating triple crochet stitches. The pattern includes written instructions and a video tutorial, and it's completely customizable to fit any size you need. The result is a beautiful, breathable blanket that is perfect for any age or gender, making it a great addition to your home decor or as a thoughtful crochet gift. jototheworld
30. Free Printable Chevron Stripes Ruana Crochet Pattern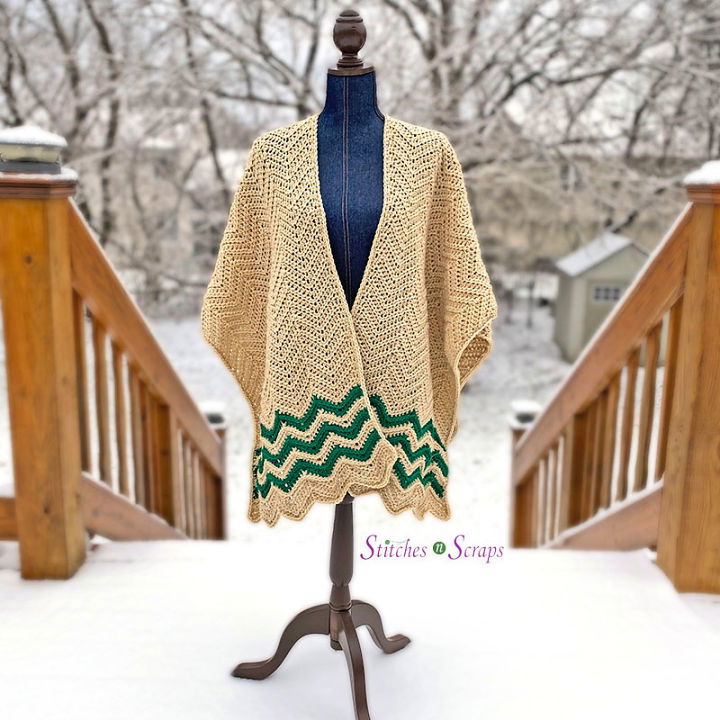 Stay stylish and cozy with the chevron stripes ruana. This crochet pattern is perfect for the mild winter, fall, and spring seasons. It is worked in rows, with a repeating pattern with a raised texture created by working into the third loop of half double crochet stitches. This rectangular-shaped, poncho-like garment with a slit can be thrown over your shoulder or worn as shown. You can make it with 1500 yards of Paintbox Simply Aran yarn, a size I/9 5.5 mm crochet hook, or a size that matches the gauge. It is an easy-level project and measures 40×61 inches. stitchesnscraps
31. Free Crochet Chevron Lemondrop Afghan Pattern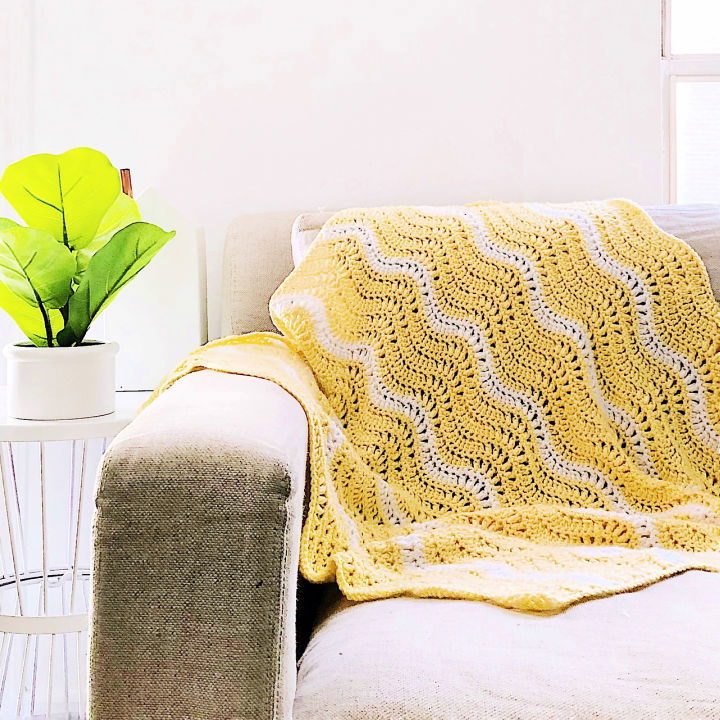 Crochet a beautiful, easy ripple baby blanket with this Lemondrop chevron afghan pattern. The blanket is perfect for a weekend project and uses the new lion brand yarn basic stitch anti-pilling. With a gender-neutral color scheme of lemonade and white, this blanket is perfect for baby showers. The pattern is easy to follow and uses a two-row repeat chevron stitch with added stripes to keep it interesting. Download the pdf for materials and instructions to create this beautiful, modern blankie. rohnstrong
32. Modern Crochet Chevron Cardigan Pattern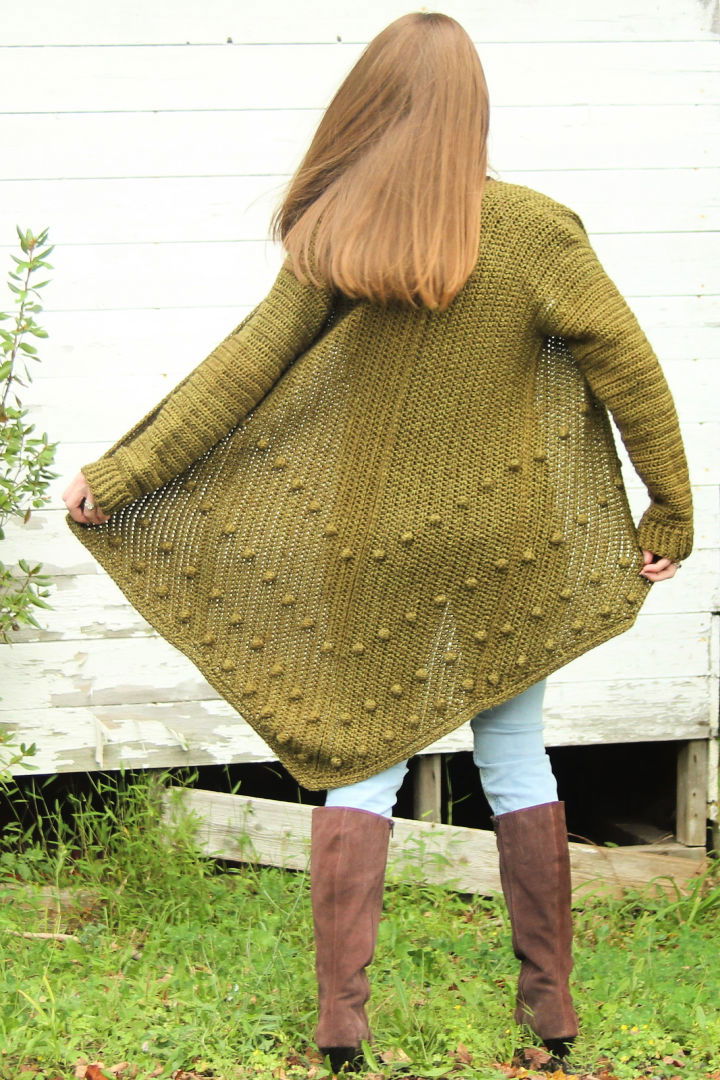 Are you looking for free chevron crochet patterns? Here you can find free, fun, creative chevron crochet patterns to try out!
Make your wardrobe cozy and fashionable with this free crochet long cardigan pattern! Beverly comes in a variety of sizes, including plus-size, from XS-5X. This stylish crochet cardigan is perfect for running errands, having lunch with friends, or relaxing at home.
The designer's love of construction is evident in the design, with a unique and modern twist. The pattern includes detailed instructions, diagrams, and abbreviations to guide you. You only need a 6.00 mm crochet hook, 1500-2250 yards of #4 worsted yarn, and a yarn needle. Gauge is essential to ensure a perfect fit. Get your hands on this crochet cardigan pattern, and create your fashion statement today! lifeandyarn
33. Chevron Crochet Waterfall Ripple Blanket Pattern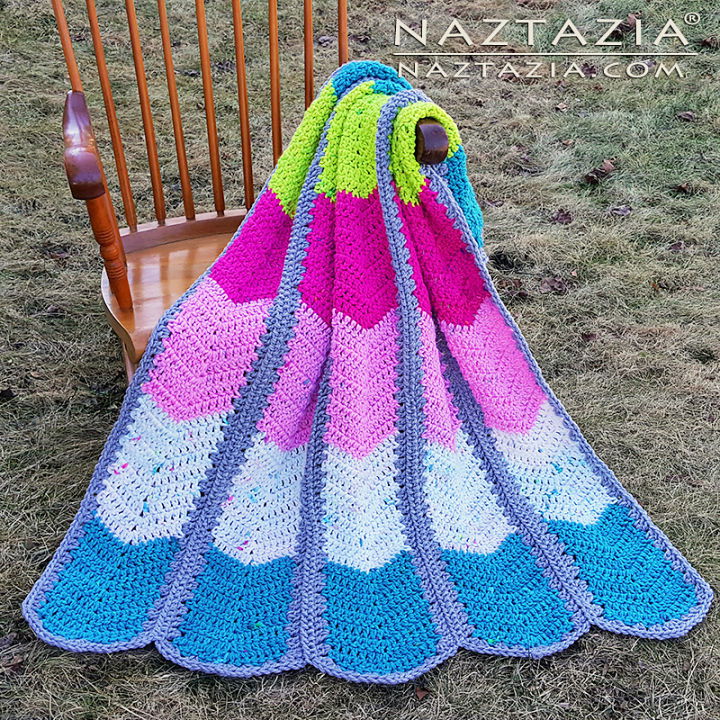 Create a beautiful, handmade gift with this easy, quick crochet pattern for a waterfall ripple blanket. Using super bulky weight yarn, a single ripple or chevron panel is crocheted, with the height and width easily adjustable.
Add an edging and join the panels together in the traditional mile-a-minute fashion to create a lovely 48″ x 60″ blanket. This pattern calls for four cakes of caron chunky cakes, two skeins of Bernat Softee chunky, and a size l (8mm) crochet hook and sewing yarn needle. Get started on this perfect baby shower or wedding gift for all the supplies you need. naztazia
34. Easy Chevron Crochet Puff Stitch Blanket Pattern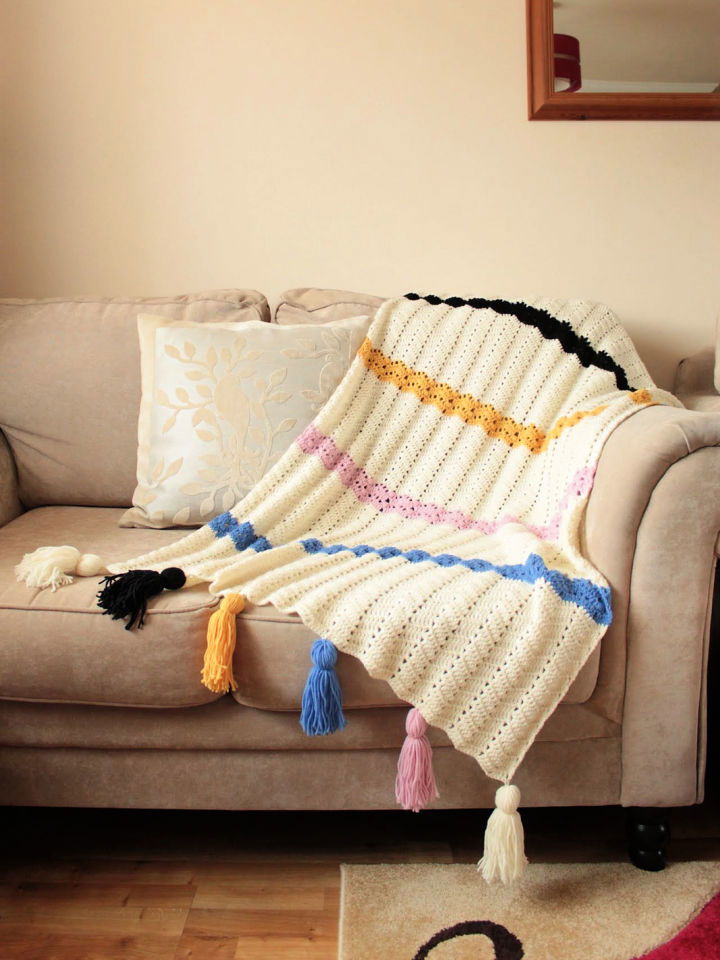 This free pattern tutorial teaches how to create a chevron puff stitch crochet blanket. This soft blanket uses merino dk wool and a double crochet chevron pattern, alternating with puff stitch contrasting stripes for a textured look. You can easily customize this pattern by swapping the yarn, choosing different colors, and changing the yarn weight.
You can also widen the chevron pattern using a multiple of 12 chains. The pattern includes details on creating tassels and the finished size. Create your own stylish and comfy crochet blanket with this effortless and fun project. bluestarcrochet
35. Large Chevron Crochet Blanket Pattern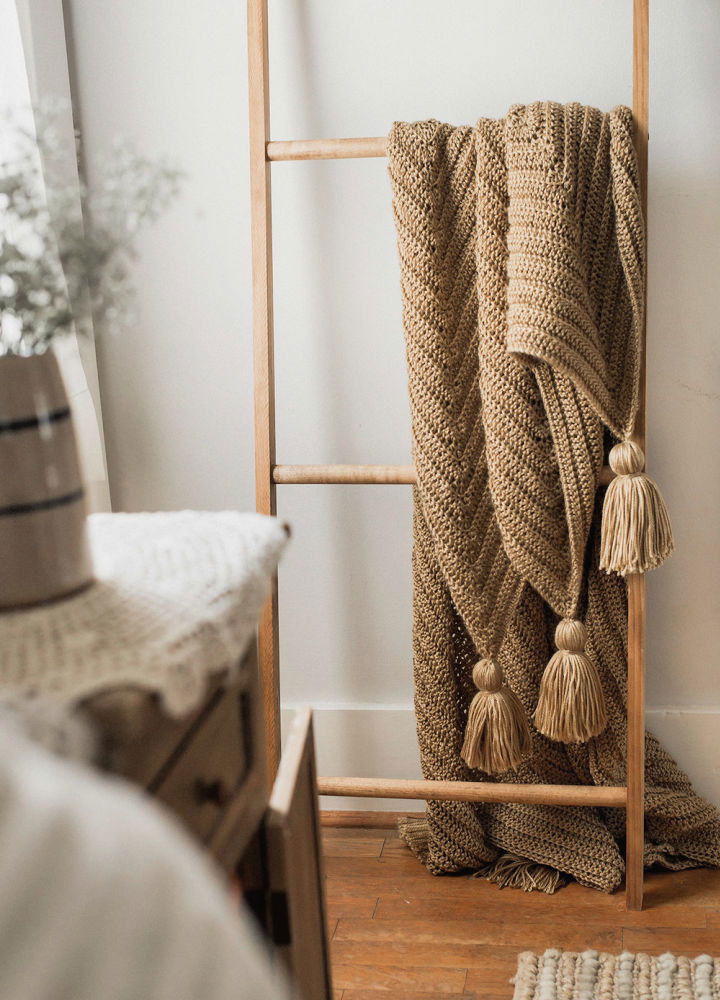 Create your own unique, oversized chevron blanket with this free crochet pattern. Perfect for beginners, this project uses soft, category 4 (worsted) weight yarn and a size K hook and can be customized to your desired size. The pattern includes a tutorial on how to create and attach the massive tassels for an added touch of interest. With its simple yet textured design, this blanket is perfect to work on while watching your favorite show. Try it and see how this special piece can comfort your space! megmadewithlove
36. Crochet Chevron Tank – Free PDF Pattern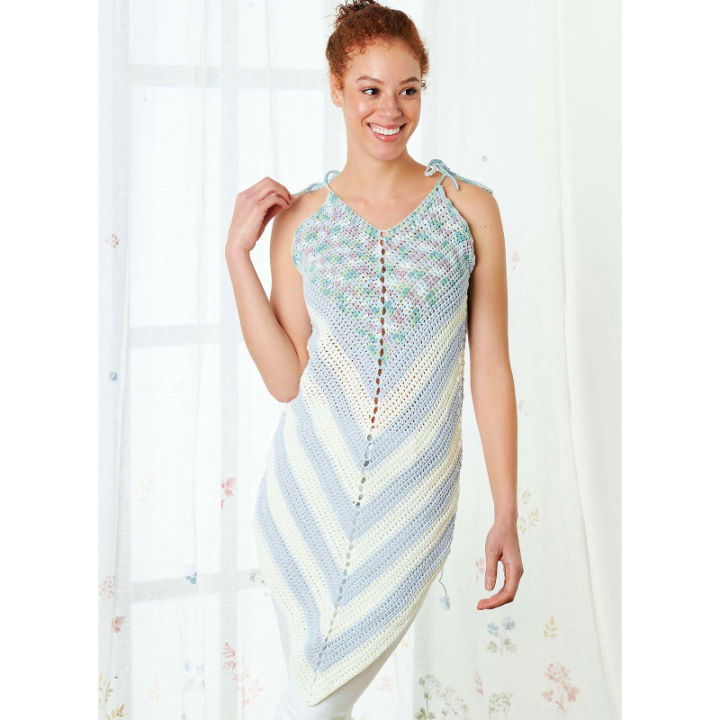 Looking for a new project to add to your crochet collection? Try the crochet chevron tank with this free PDF pattern. With just a few materials like Caron Lava Cakes, a crochet hook, and stitch markers, you can create a comfortable and stylish tank in sizes XS/S to ⅘XL. With an easy skill level and step-by-step instructions, this pattern is perfect for beginners and advanced crocheters. The unique chevron design adds a touch of creativity to this classic piece. Start crocheting your own tank today! yarnspirations
37. Easy Crochet Chevron Tassa Pot Holders Pattern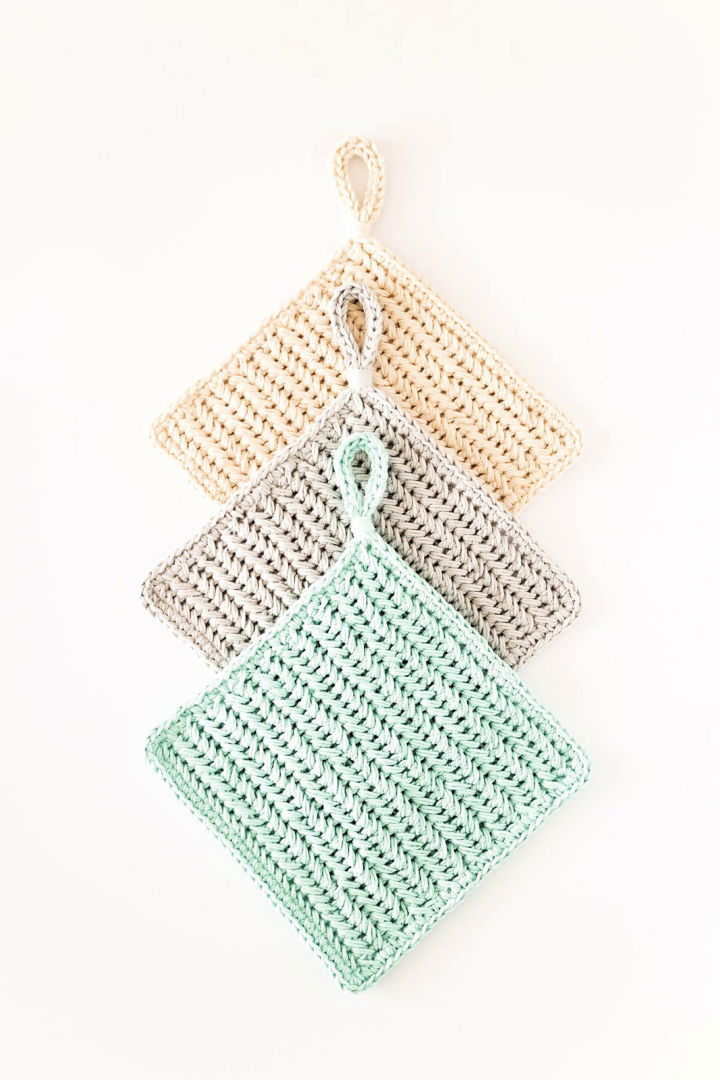 Learn how to crochet chevron pot holders with the tassa hot pad tutorial. These modern, stylish hot pads are easy to make and perfect for beginner crocheters. The pot holders are thick, durable and machine washable using the herringbone single crochet stitch and wecrochet dishie yarn. The pattern is worked in one piece and includes step-by-step video instructions. Easily customizable to make larger or smaller pot holders, this pattern is perfect for creating various home decor projects. Start your crochet project today with the tassa hot pad tutorial! forthefrills
38. Simple Chevron Crochet Baby Blanket Pattern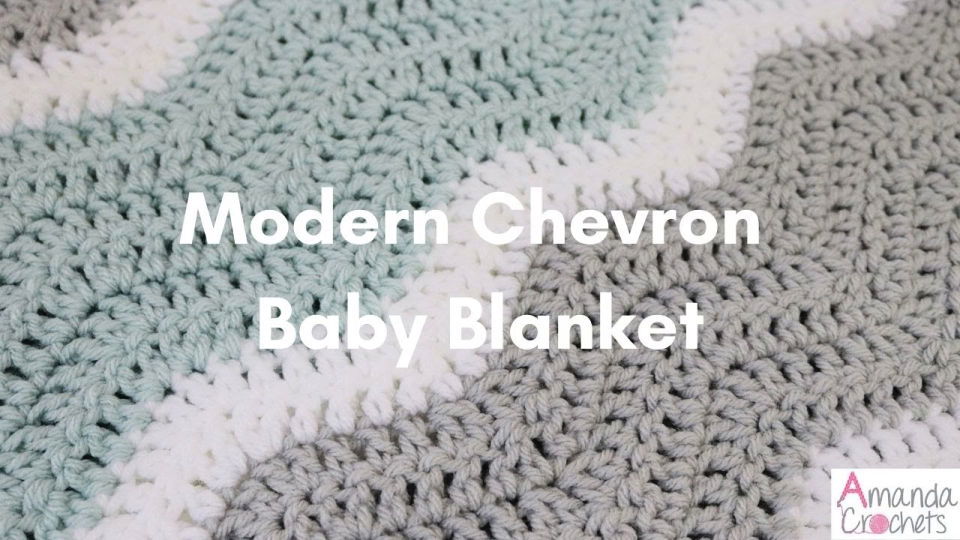 This easy tutorial teaches how to create a beautiful, modern chevron baby blanket. Perfect for baby shower gifts, this ripple blanket can be made in various colors. Follow the step-by-step guide to create your own 32×35 inch blanket using a j-10 (6mm) crochet hook and two skeins of hobby lobby I love this yarn in glacier and graymist and one skein in white. The tutorial includes a link to a downloadable pdf pattern and details on the materials required.
39. Making a Chevron Sweater – Free Crochet Pattern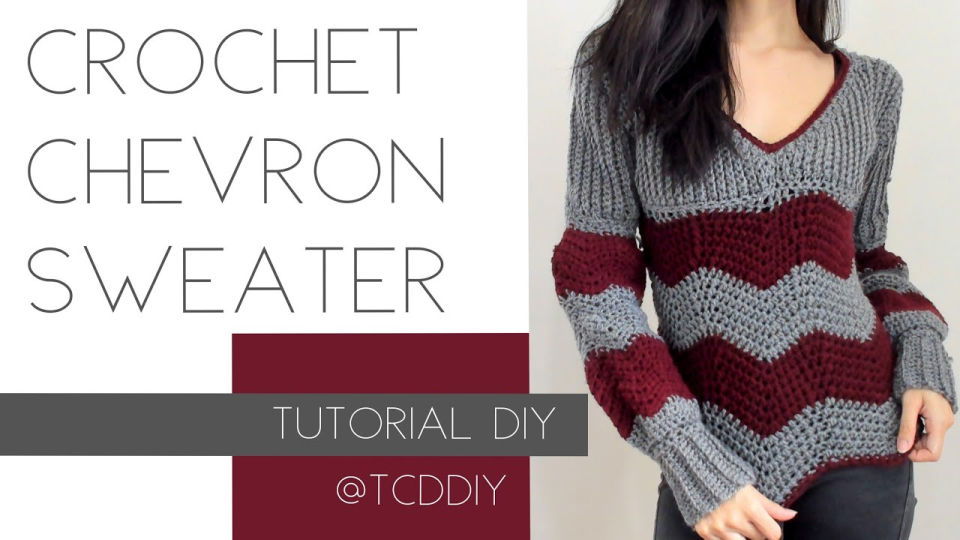 Create a stylish and unique piece for your wardrobe with this easy-to-follow DIY crochet chevron sweater tutorial. This project requires a hook, grey heather, claret red heart super saver yarn, and a little patience to complete. Follow along with the video and get ready to make something that will turn heads. Get creative with your color choices and make them your own.
40. Easy Crochet Chevron Afghan Tutorial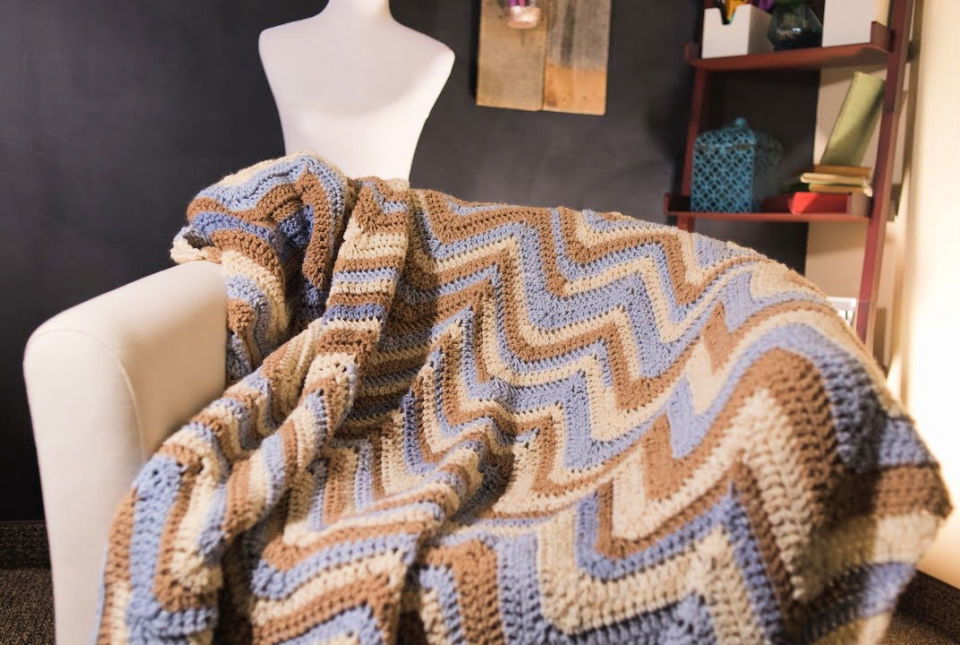 This free crochet tutorial teaches how to create a beautiful, customizable chevron afghan. The pattern features a sweet roll self-striping yarn that changes colors as you crochet and a 6.5mm hook for a lighter, looser stitch. You can also change the colors to suit your preferences, friends, and family. This tutorial will provide free content, including beginner and intermediate crochet patterns, tutorials, and how-to content. Join their community and access many easy-to-follow projects, from baby clothes and blankets to home decor pieces.
Related Free Crochet Patterns:
Discover a world of creative possibilities with our free crochet patterns. Browse our collection of step-by-step tutorials and start your next project today!
Conclusion:
In conclusion, crocheting has never been easier or more fun with the 40 free chevron crochet patterns available above! From easy double crochet chevron baby blankets to complex chevron cardigans, there are patterns suitable for both beginners and experienced crocheters alike. Whether you're looking for a pretty crochet chevron fringed purse or a simple chevron crochet baby blanket, there's something for everyone. So why not try making a chevron crochet blanket today? With step-by-step instructions and helpful diagrams available, you can easily create a beautiful zigzag crochet blanket using the free chevron crochet patterns provided.