Crochet daisies are a fun and easy way to add a touch of spring to any crochet project. With 25 free crochet daisy patterns available, you can create beautiful and versatile crochet daisy flowers in various sizes and colors. Whether you're a beginner learning how to crochet or an advanced crocheter looking for a new project, a crochet daisy pattern is perfect for everyone.
These crochet daisy patterns range from simple and easy to more complex flower designs, and you can use them to create various crochet projects, such as flower pots, blankets, and even jewelry. You can also use these crochet daisies to create beautiful home decorations like coasters and rugs.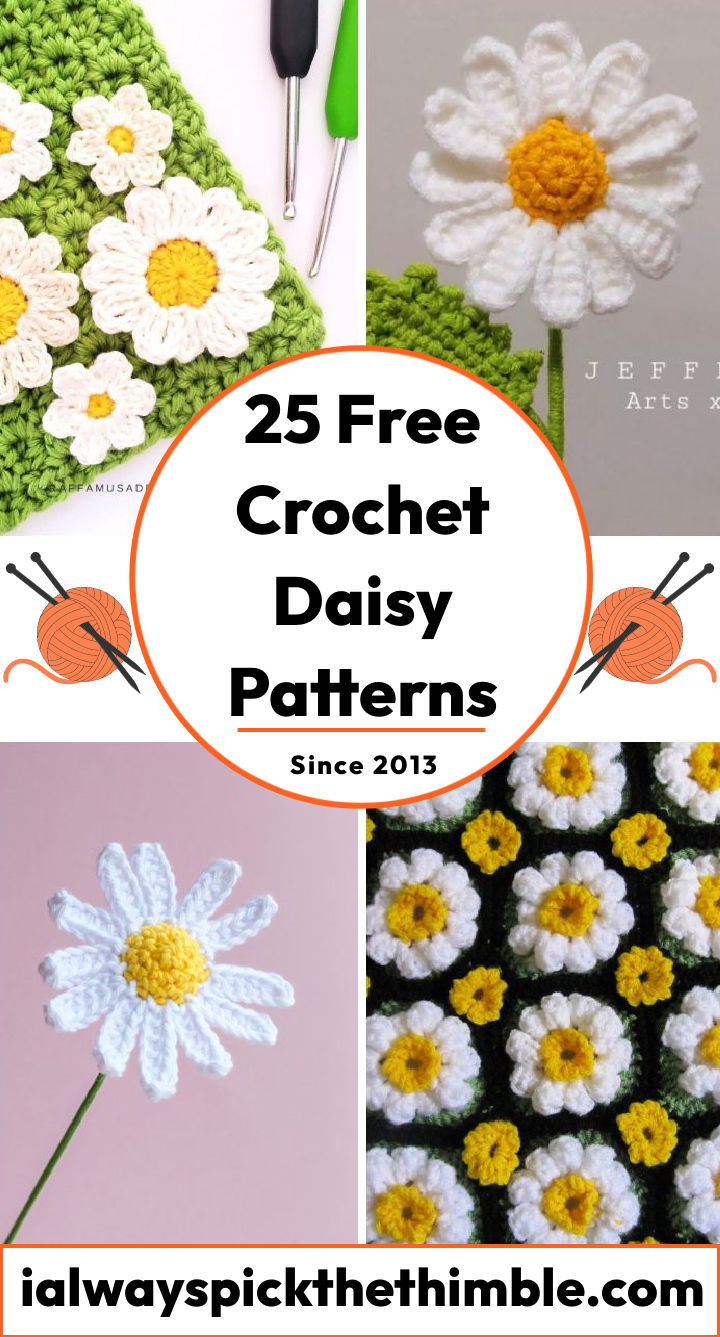 Each crochet daisy pattern comes with step-by-step instructions and materials needed, such as yarn, hooks, and gauge. You can even find printable templates and pdf patterns to help you visualize the process and make it easy to follow.
So why not try making a beautiful crochet daisy today? With these 25 free crochet daisy patterns, you'll have plenty of options and can create a beautiful handmade creation that's perfect for any occasion.
1. Free Crochet Daisy Flower Pot Pattern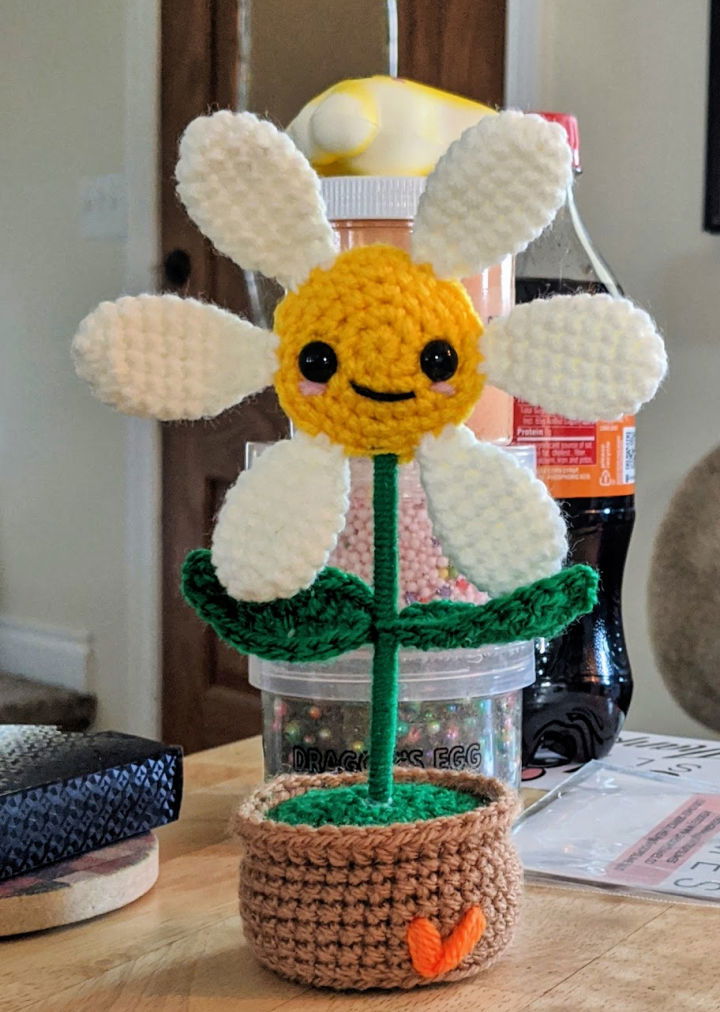 Let your creativity blossom with this crochet daisy flower pot pattern! Whether you're an advanced crocheter or an intermediate beginner, this pattern is perfect for all skill levels. With a few simple stitches, anyone can make a stunning daisy flower pot that will bring joy and delight to whoever receives it as a gift. The colors are bright and cheerful, but each petal creates the cutest little details you won't find anywhere else! Grab your yarn and get ready to create something truly special today. squaredcreations
2. Beautiful Crochet Daisy Flower Pattern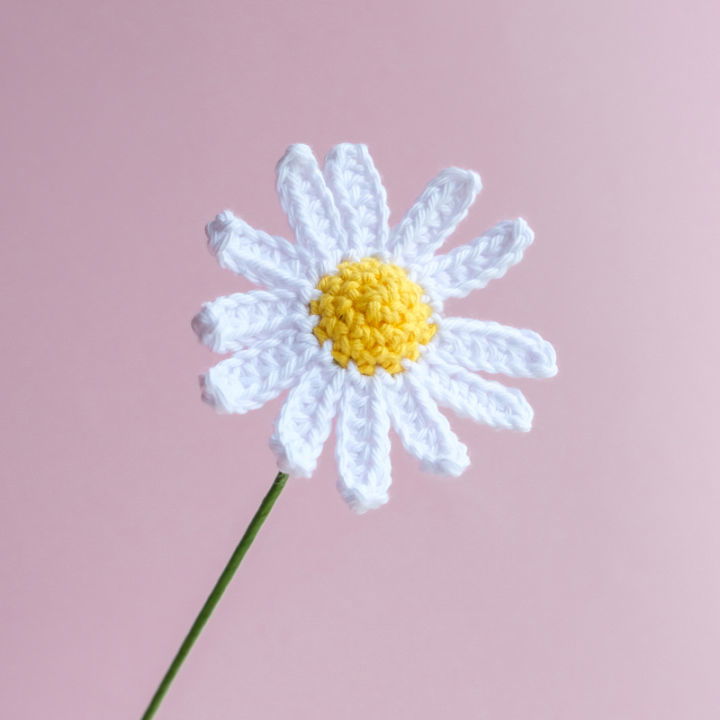 Welcome the new season with this beautiful crochet daisy pattern! This spring, you can decorate your home with a stunning handmade flower. All you need is some cotton yarn in white, yellow and green, a 3.00mm crochet hook (which can be adjusted according to the size of your yarn), toy stuffing, a stitch marker, a tapestry needle and scissors. You'll have an exquisite decoration made from scratch in no time – so get stitching today! ravelry
3. Pretty Crochet Daisy Flower Cocoon Pattern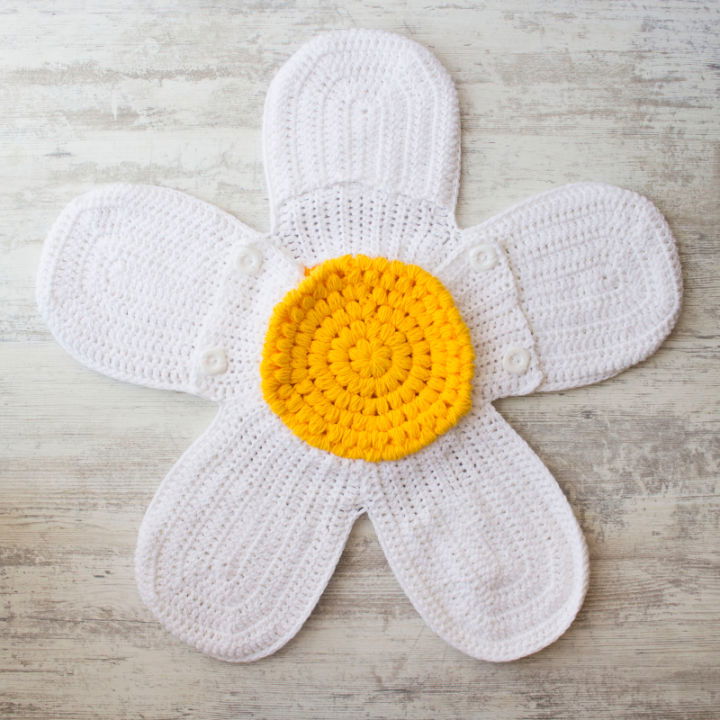 This free crochet daisy flower cocoon pattern keeps your little one snug and stylish this winter. Make an adorable baby piece that is super cute, easy to make and guaranteed to delight! The theme of this design is delicate daisies set in a warm cocoon shape – perfect for chilly days. You'll need 400-500 grams of Alize Happy Baby yarn, an 8mm hook, stitch markers, a tapestry needle and four large buttons. Once you've gathered the supplies, you're ready to start making – find out what all the fuss around crochet is about today! accessorybox
4. Fastest Crochet Daisy Flowers Necklace Pattern
The delicate intricacy of crochet daisy patterns can bring a breath of fresh air to any room. Welcome to the world of crochet jewelry-making! If you're looking for an easy summer project, look no further than this crochet daisy flower necklace pattern. This pattern is perfect for all levels – even if you don't consider yourself a crochet expert, you can easily make this beautiful necklace with basic knowledge and guidance. Plus, it's free!
Each daisy flower chain looks adorable adorning any summer dress or top. n, Don't miss out on this great opportunity to create something special that won't take much time or effort – join us today and make your own stunning crocheted necklace! anabelia
5. Easy Crochet Daisy Pattern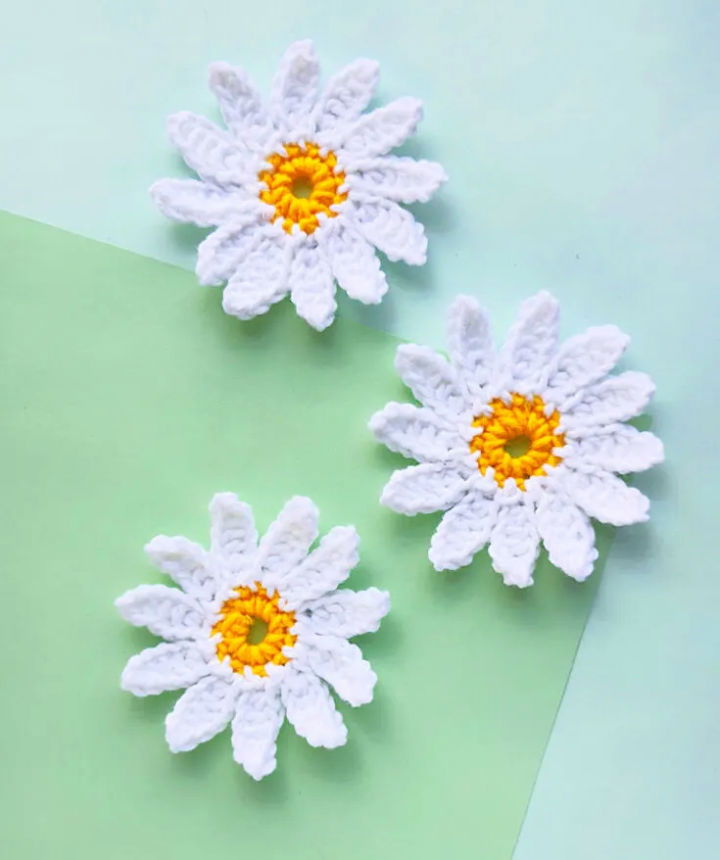 Make something pretty with ease! This easy crochet daisy pattern is perfect for beginners. With easy step-by-step instructions, you can create a beautiful crocheted daisy in no time. Enjoy the rhythmic stitching and simple supplies to make this gorgeous flower look perfect when appliquéd on your sweater or jeans – even wear it as a brooch for an extra stylish touch! Get creative with this pattern today and enjoy its beauty for years. singlegirlsdiy
6. New Crochet Daisy Flower Appliques Pattern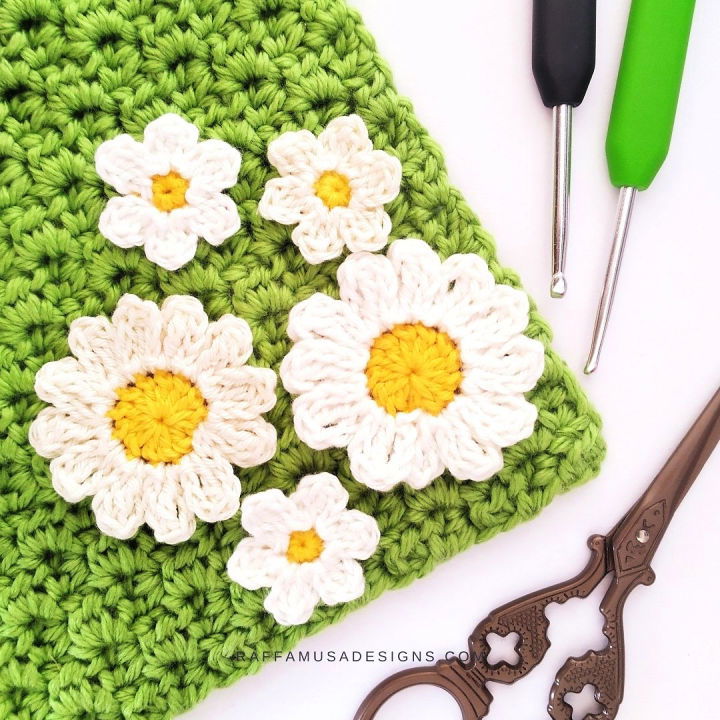 Transform your crochet projects with our easy-to-follow instructions for creating gorgeous daisy patterns!
Bring a touch of spring to your crochet projects with this delightful daisy flower appliques pattern! This printable PDF pattern is perfect for creating beautiful daisy chains and garlands, and you can use these cute little flowers to applique blankets, granny squares, hats and headbands – anywhere.
With new colors of nature, add some freshness to your craft projects. All you need are a small number of yarns in the color of your choice and an appropriate hook size so you can start stitching these sweet blooms immediately. Download now and brighten up any project with cheerful daisies! raffamusadesigns
7. Crocheting Daisy Flower Coaster – Free Pattern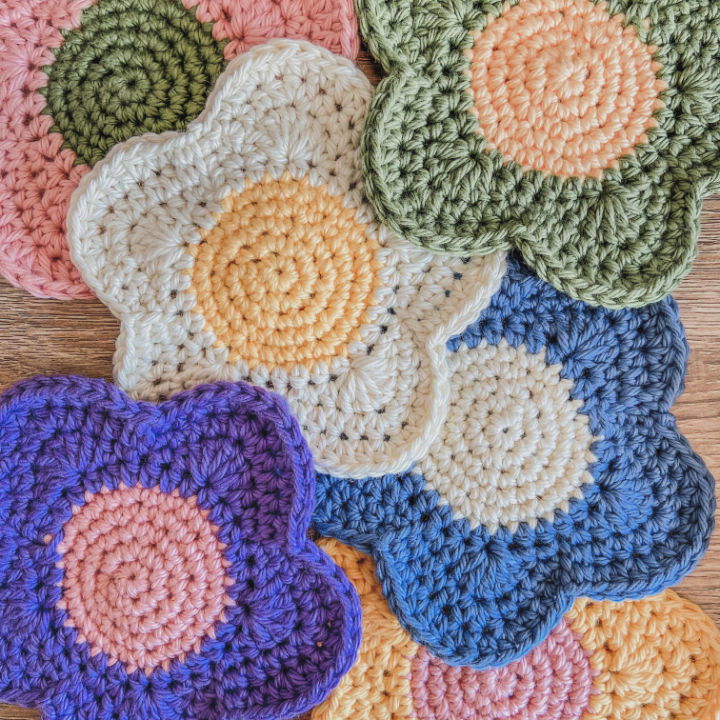 Creating crochet daisy patterns is like painting with yarn, with each stitch adding color and texture to the finished masterpiece. This crocheting daisy flower coaster is a perfect choice. Not only can you turn them into great gifts, but you can also use them as adorable home decor.
It's beginner-friendly, and everyone in your household will love how they turned out – so cute! This free pattern comes with all the materials – 100% cotton medium-weight yarn, 4.00mm crochet hook, scissors, darning needle & stitch marker – to create these beautiful crocheted daisies that'll brighten up any room! Get creative today with this very simple pattern designed even for crochet beginners. hayhaycrochet
8. Free Crochet Gerbera Daisies Pattern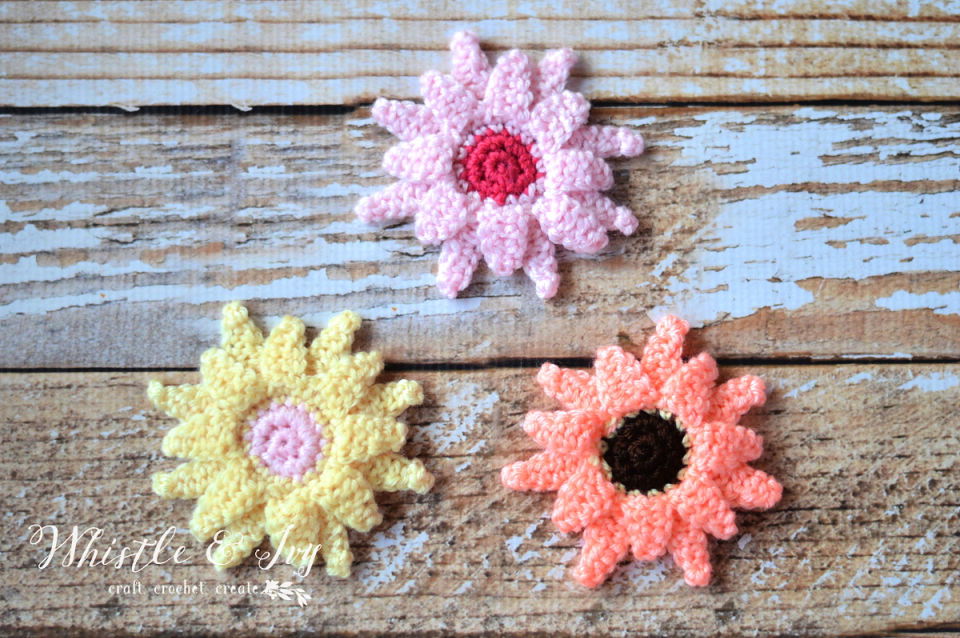 Discover beautiful crochet daisy patterns and create stunning floral designs today!
Brighten up your crochet project with a touch of color and beauty! This free crochet Gerbera daisies pattern will help you make beautiful daisy accents to embellish any garment, hat or home decor item.
This pattern allows you to mix and match colors to create the perfect daisy for your project. Make a wreath or bouquet of these lovely flowers to add unique flair – each one is special! Get creative with colors and find the combination that best expresses your style. Enjoy crocheting these cheerful Gerbera daisies today! whistleandivy
9. Gorgeous Crochet Amigurumi Daisy Pincushions Pattern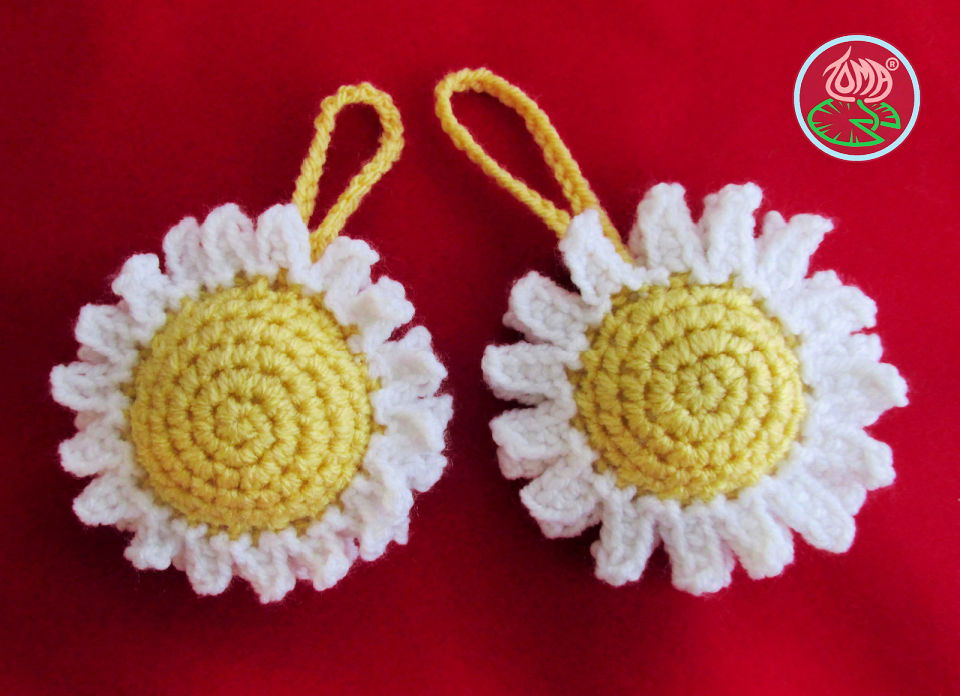 Transform your home into a sunny garden of daisies with this free and cute crochet amigurumi daisy pincushion pattern!
These delightful little cushions are so adorable you won't be able to stop at just one. The materials required for this project are acrylic or cotton yarn, hook size 2.5mm, polyfill, stitch marker indicating the end of each round (Rnd), tapestry needle and scissors. With all these supplies in hand, you can easily follow along with the step-by-step instructions – even if it's your first time crocheting an amigurumi project!
Get creative and make as many daisy pincushions as you wish – they will surely bring lots of colorful cheerfulness to your knitting corner! tomacreations
10. How to Crochet Daisy Memory Pillow – Free Pattern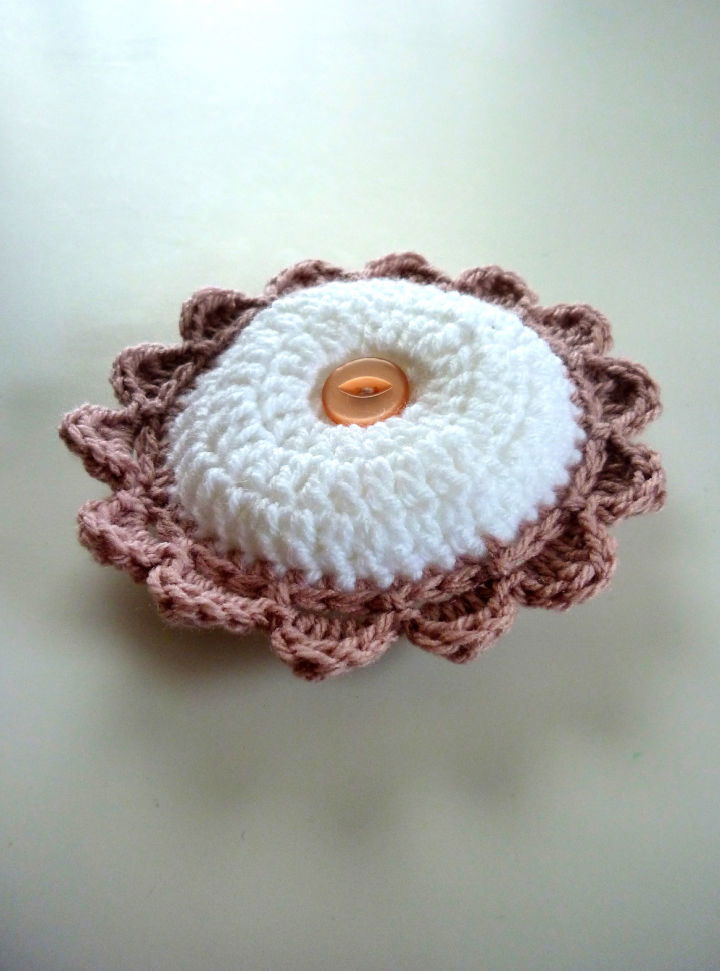 You are introducing the perfect way to remember a loved one – this lovely crochet daisy memory pillow! With its intricate details, delicate buttons in the middle, and beautiful daisy pattern, it's sure to be a keepsake you'll treasure. This project is more complicated than some of other free patterns but looks decent enough for any level of crafter. Whether giving it as a gift or keeping it for yourself, this pillow will provide comfort with every hug! mammamakes
11. Quick and Easy Crochet Daisy Flower Pattern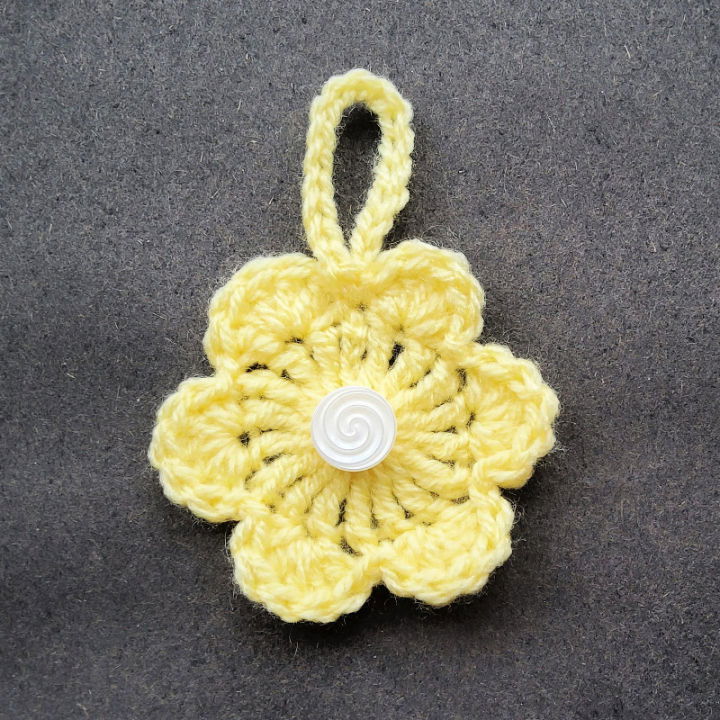 Do you need a quick way to bring happiness into your life? Look no further than this easy crochet daisy flower pattern! With just some DK yarn, a 4mm hook, and an optional button for decoration, you can craft these beautiful flowers in no time. They are perfect as a pretty accessory or a home décor piece and make great gifts for family and friends. Make one today to experience the joy of crocheting right away! daisydays
12. Best Daisies Crochet Pattern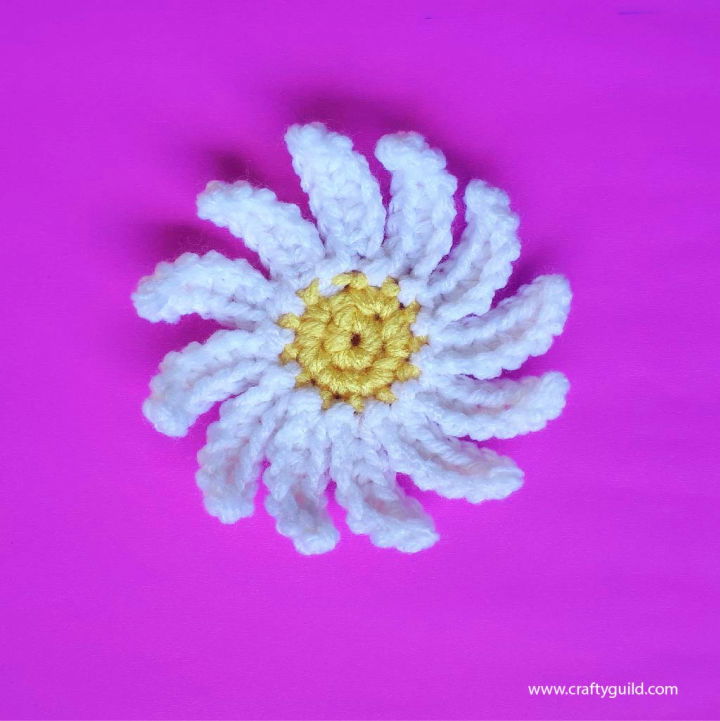 Greetings, crocheters; if you're looking for an easy and fun pattern to follow to help you create beautiful daisy flowers, look no further! This best daisies crochet pattern is a perfect choice. Suitable even for beginner crocheters, this free crochet pattern gives clear instructions so anyone can easily make these daisy appliques and embellishments. Make a statement by adding these gorgeous blooms to your crochet projects today – they'll surely stand out! craftyguild
13. Modern Crochet Daisy Flower Pattern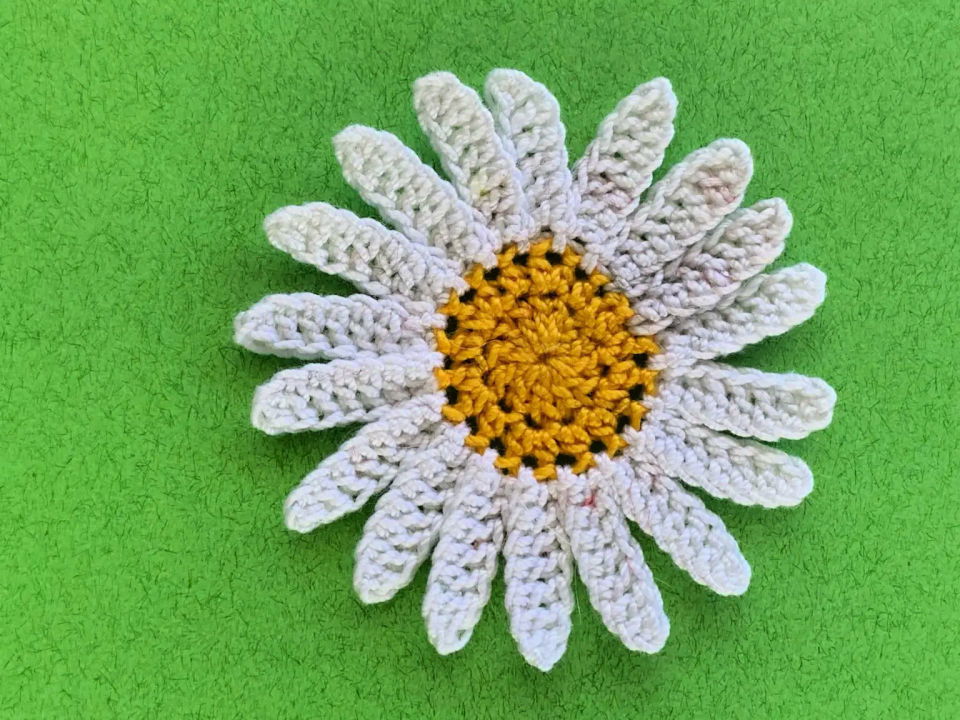 This beautiful modern crochet daisy flower pattern brings a charming touch to your crochet projects! This stunning applique pattern will be perfect for any project, from home decor items to fashion accessories. You'll have a premium look in no time with a few simple materials and minimal effort. You'll need any crochet cotton or yarn thickness, a 1mm hook, a darning needle for weaving in the ends, and scissors. Start creating today and make something special! kerriscrochet
14. Crocheted Daisy Flower – Free Pattern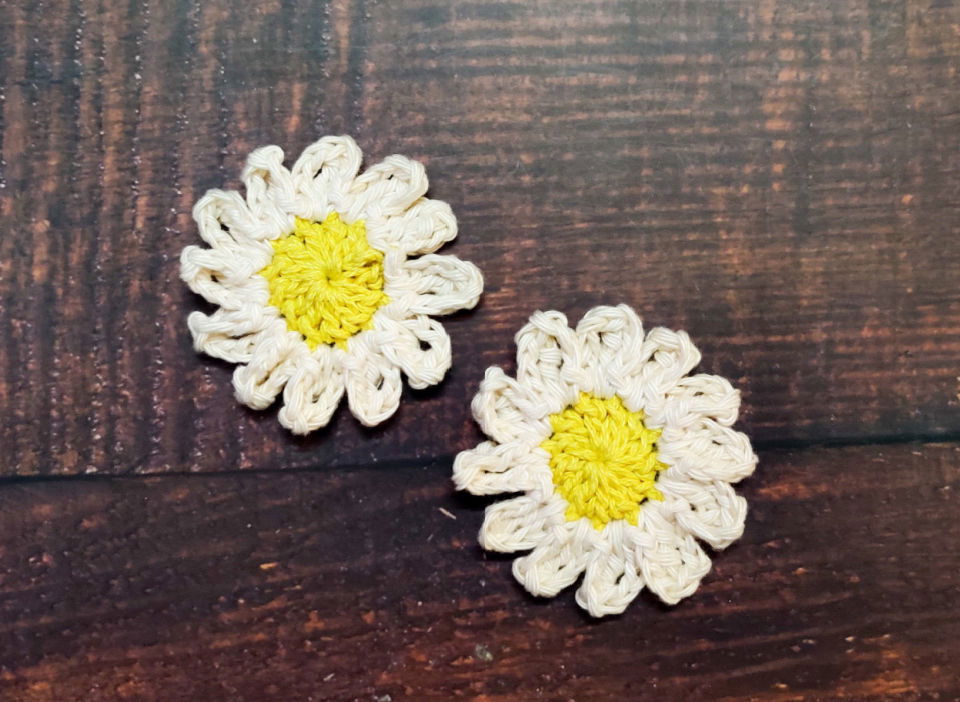 Celebrate special occasions with the perfect crochet daisy flower! These beautiful flowers are quick and easy to make using traditional white and yellow yarn.
They look stunning as wall hangings or bunting garlands, adding a unique touch of personality to any crochet project like hats, blankets, scarves, potholders or tablemats. Not only are they visually appealing, but crocheting these daisies is incredibly soothing – making them the perfect way to show someone you care.
So why not embrace this timeless classic and get creative with your memorable handmade gifts? rajiscrafthobby
15. Crochet Daisy Rug – Step-by-Step Instructions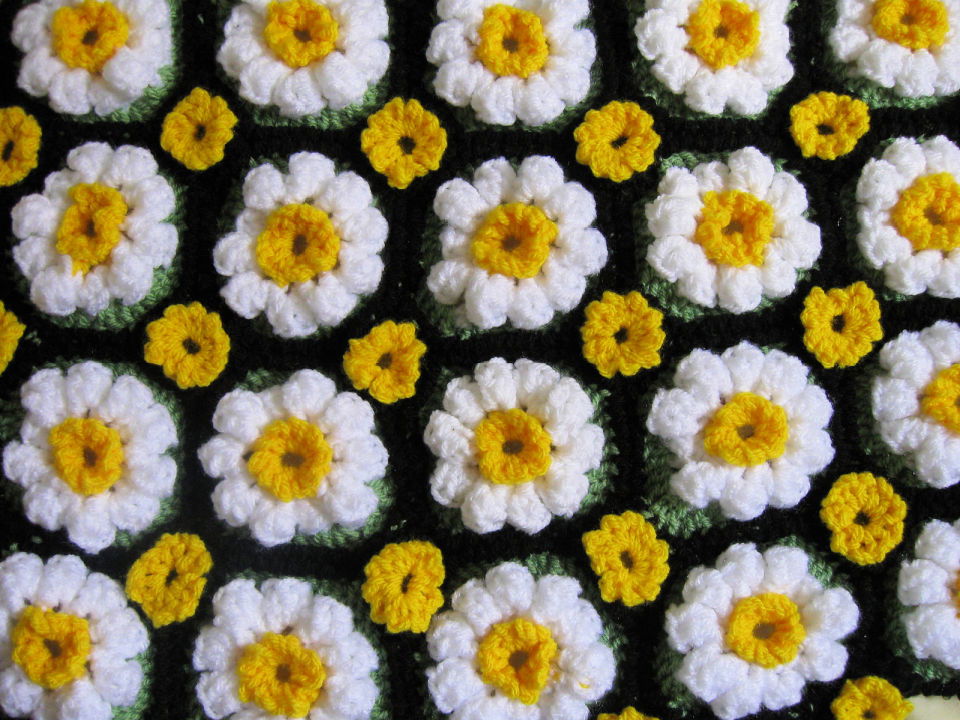 Get ready to add a pop of color to your crochet projects with our charming daisy patterns – enjoy the process of creating something truly beautiful! This stylish crochet daisy rug is the perfect addition to any home! Its plush soft feel adds warmth and texture to your bedroom, bathroom or kitchen. Each motif from this free pattern will bring life into your space as you create a beautiful daisy rug.
Make one extra as an original gift idea that friends and family will love! All you need is a 5mm hook and worsted-weight yarn in the colors of your choice – each skein adds its unique touch! Get creative with this crochet design and turn an ordinary room into something special. dorascreations
16. Easiest Daisy Chain Bracelet to Crochet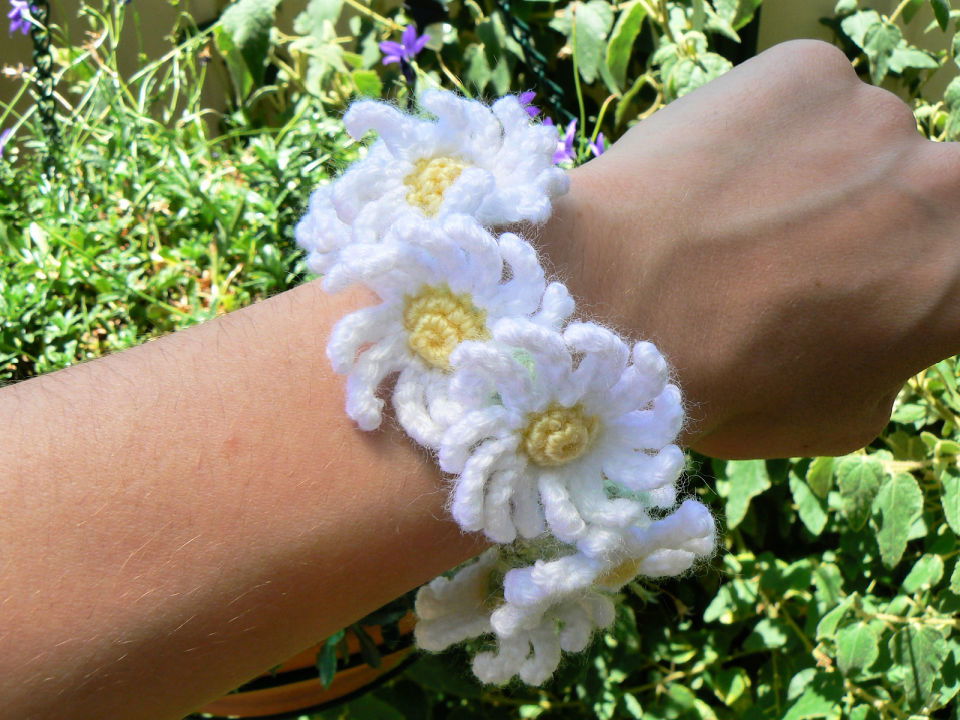 This daisy chain bracelet to crochet is an easy and beautiful project! With just a 1.25 mm hook and white, yellow and green 4-ply wool, you can make something special – perfect for any occasion.
Each flower measures about 4 cm long, making it ideal for jewelry like a bracelet or necklace. Not only will it look adorable on your wrist, but the detailed pattern written in American crochet notation ensures you get the best results every time! jazmocrochet
17. How to Crochet Daisy Flower – Free Pattern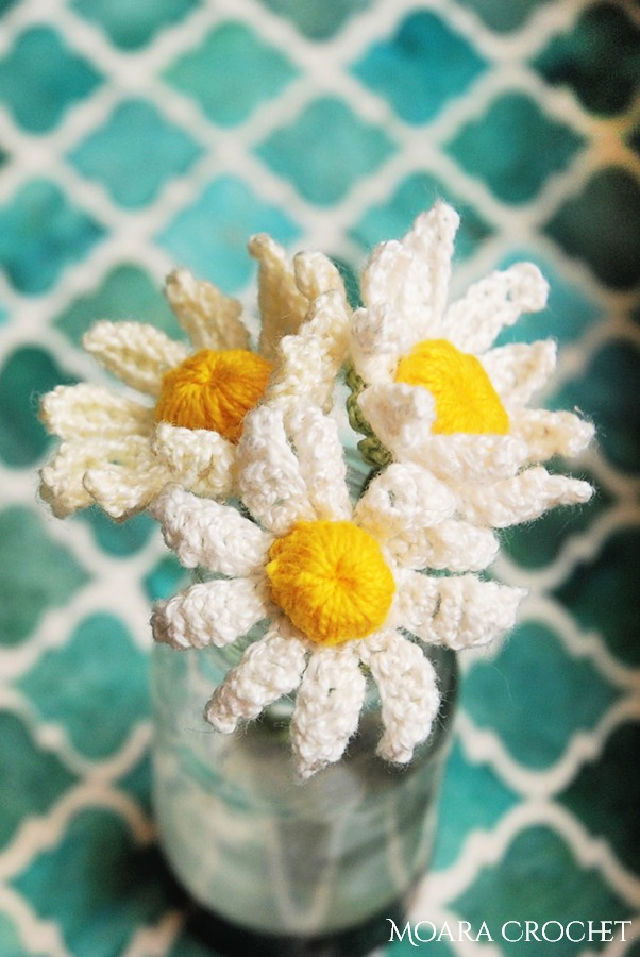 Stay indoors and create a beautiful and meaningful piece of craft with this free crochet daisy flower pattern! This detailed step-by-step guide will make this cute daisy chain bracelet easy.
All you need is 25 meters of white lace cotton yarn, 15 meters of yellow lace cotton yarn, 10 meters of green lace cotton yarn, a 1.75mm crochet hook, yarn needle, scissors, 20cm florist wire and cutting pliers – the perfect crafting companion to brighten up your day! Get creative today with this easy-to-follow tutorial for the crochet daisy flower project. moaracrochet
18. Adorable Crochet Daisy Earrings Idea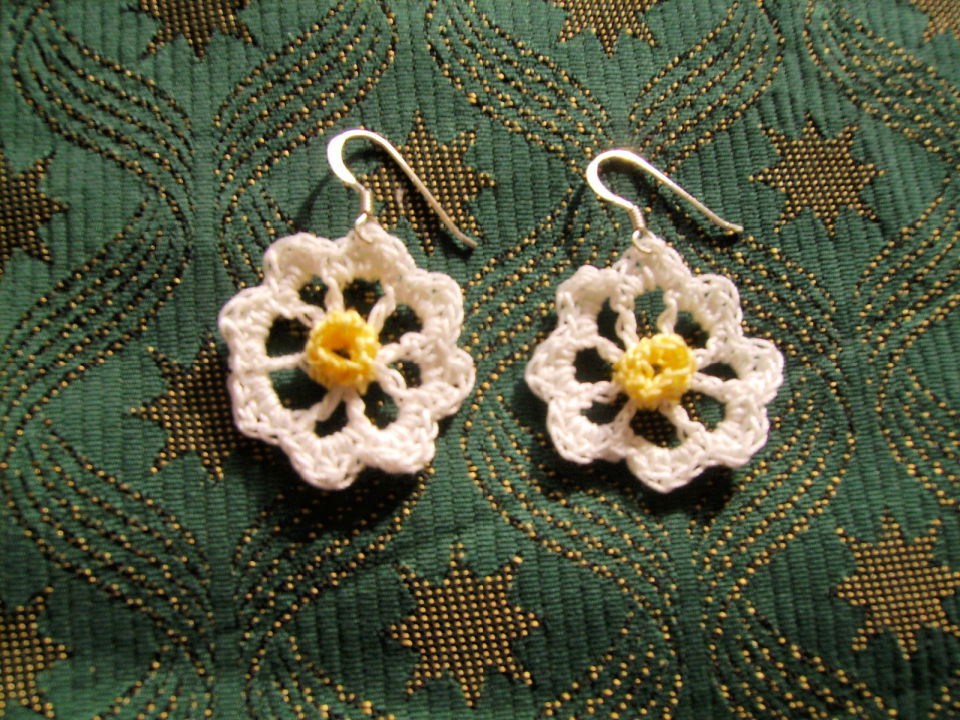 Be inspired to create a unique statement piece with the crochet daisy earrings idea! In less than an hour, you can use coats of mercer crochet cotton #20 and a 1.5mm hook to make these beautiful earrings that are easy to make and look pretty. With this great idea, your style will stand out in any crowd! Show off your creativity with the crochet daisy earrings idea today! sparkly
19. Crochet Valentines Day Heart Daisy Design – Free Pattern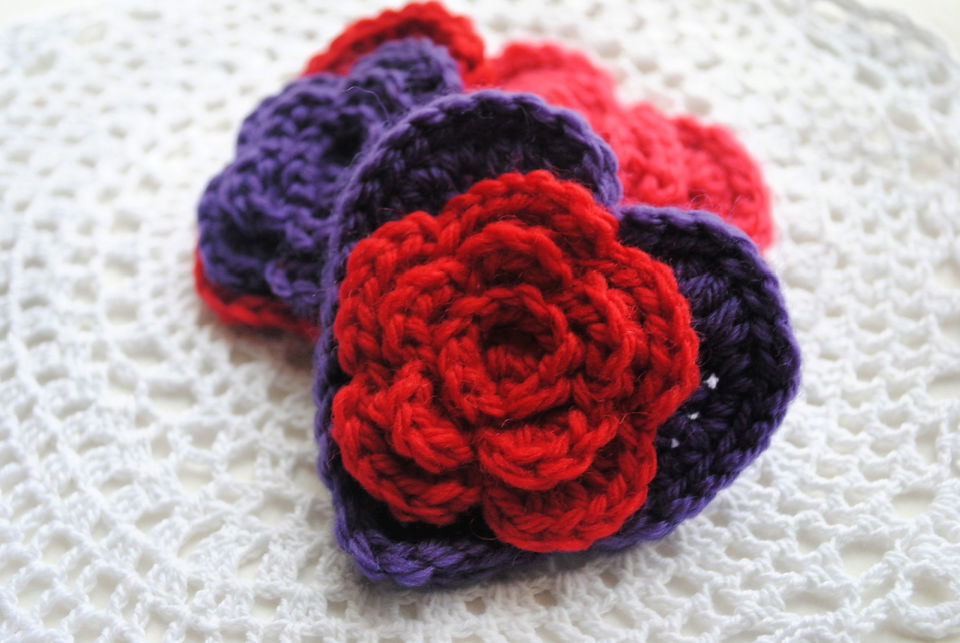 The perfect Valentine's Day gift is here! This free crochet heart daisy design can be used any time of the year – as an applique for a hat or scarf, on a baby blanket, or even as a pin.
Just grab some red heart yarn or any worsted-weight yarn, along with a 4.0mm crochet hook and an embroidery needle to weave in ends, and you're ready to create this beautiful layered daisy design in the shape of a heart. Let your imagination go wild – no matter your chosen project, it will turn out amazing! Get creative with this pattern today and make something special for yourself or someone else! cre8tioncrochet
20. Easy Crochet Wild Daisy Granny Square Pattern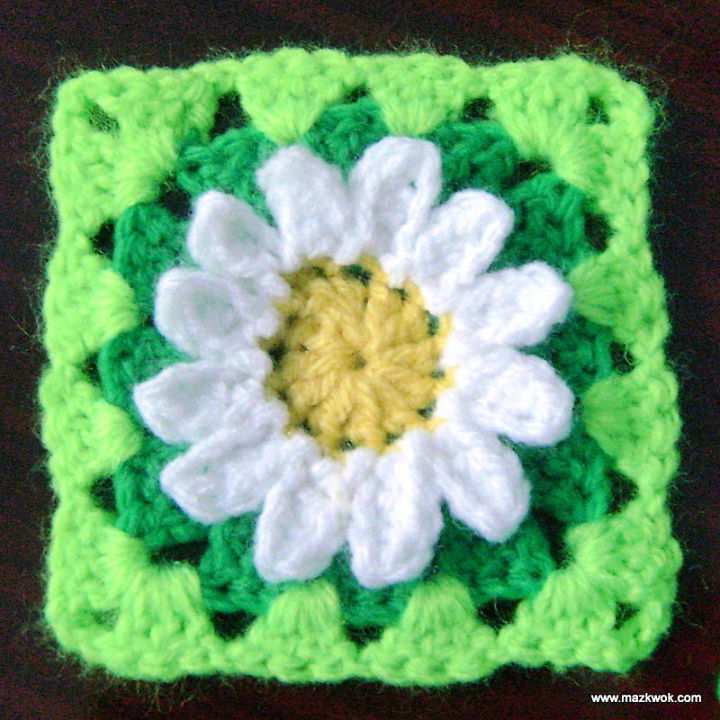 This wild daisy granny square pattern brings a cheerful and vibrant addition to your crochet projects! This beautiful pattern can be made using any yarn, perfect for any hook size. You'll love how easy it is to create 3D daisy flowers that form the granny square – steam-block your finished squares if needed once you're done. With a skill level rated as intermediate, you'll achieve creative results in no time while enjoying every stitch! beacrafter
21. Simple Crochet Daisy Flower Pattern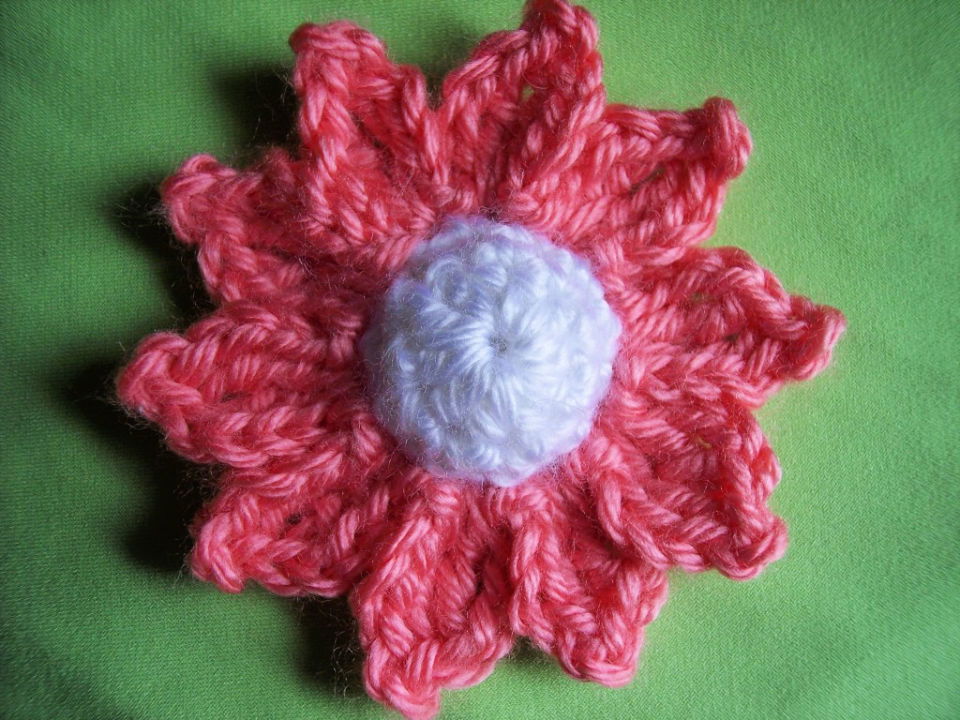 Need to make something beautiful for your next project? This free daisy crochet pattern will help you achieve it! With just a 3.75 mm hook and soft yarn, you can create a gorgeous flower quickly. Change up the hook size or yarn type for different effects – either way; this pattern is simple enough for beginners and experienced crocheters alike. Download this free daisy crochet pattern today and add beauty to your home décor! stitch11
22. 4 Color Crochet Vintage Daisy Potholder Pattern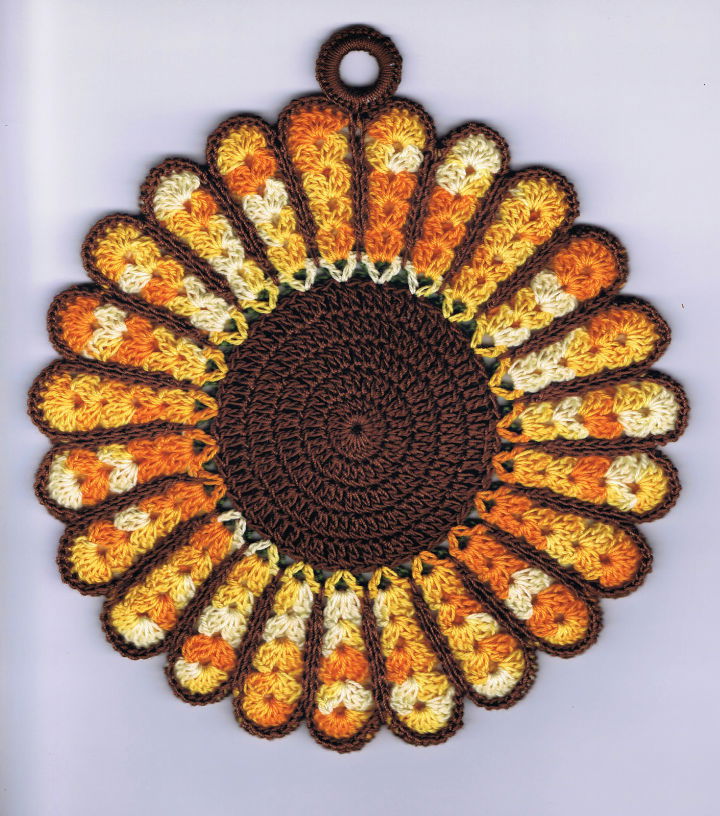 Wow! This four colors crochet vintage daisy potholder pattern brings a beautiful touch to your kitchen. Take advantage of the great condition of many vintage potholders and create something special using different crochet cotton threads. Keep your hands safe from hot pans while adding lovely décor to your home. Get this free pattern today and enjoy the finished product for years! freecrochet
23. Easy Crochet Daisy Flower Tutorial for Beginners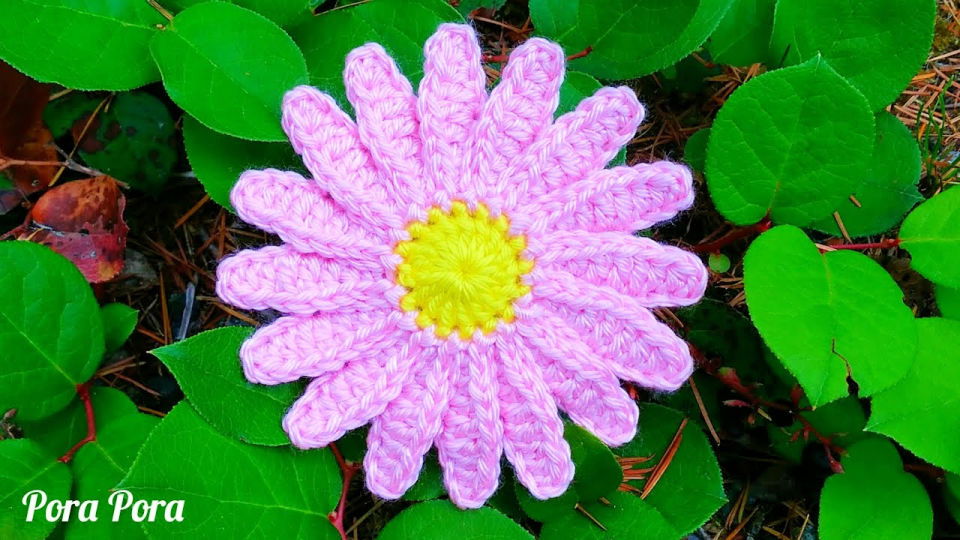 This easy daisy flower pattern brings beauty and timelessness to your crochet projects! Perfectly crafted for beginners, this design uses 100% acrylic medium 4-weight yarn and a 3.75mm crochet hook – making it the ideal choice for novice crocheters.
Whether you want to make a statement hat or add an original flair to blankets and bags, these daisies will impact your creation. And remember that they can also be used as home decor, such as wall hangings or throw cushions, adding a unique yet beautiful twist to any room! Get started today crafting this stunning flower in no time at all!
24. Cute Crochet Daisy Bouquet Pattern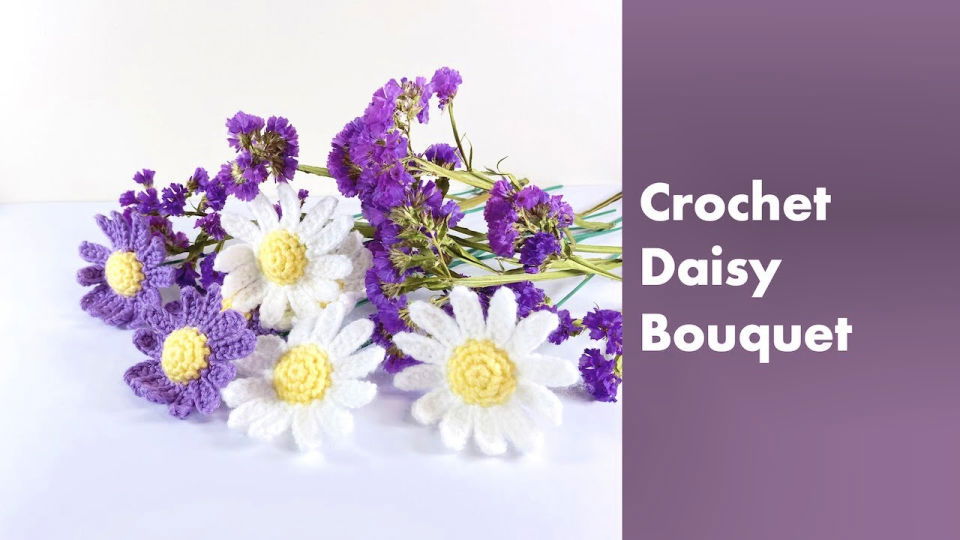 Explore a variety of crochet daisy patterns to create stunning designs with ease.
Make a beautiful bouquet of crochet daisy flowers with this beginner-friendly tutorial! With supplies such as 100% acrylic yarn, eight plies, about 2mm wide and a 3mm hook, you can make your own sweet and cute daisy flower bouquet.
The floral stem wire adds the perfect finishing touch to complete your lovely craft. Step-by-step instructions will guide you through crocheting these delightful little blossoms that will brighten any room or make a special gift for someone special. So don't wait – get creative today with this easy crochet flower tutorial!
25. How to Do You Crochet Daisy Flower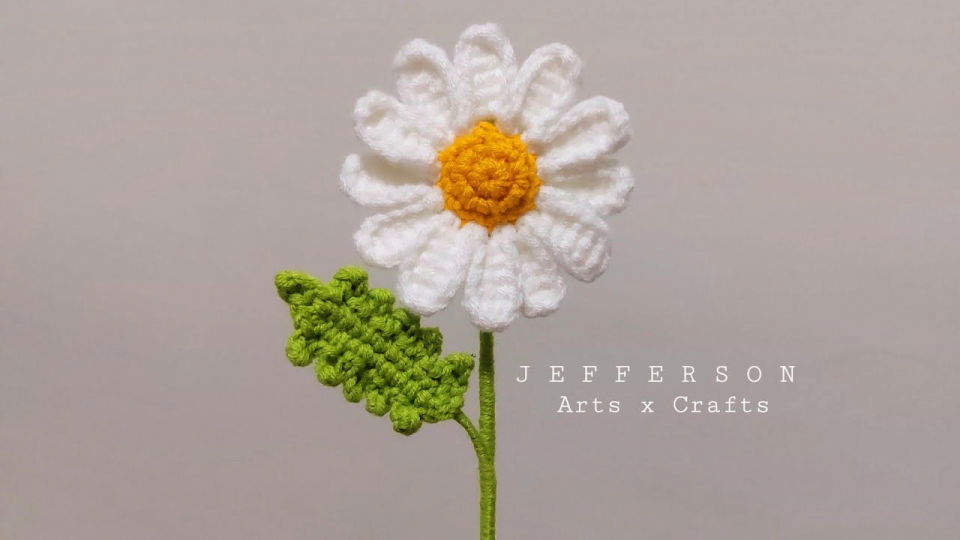 Create something unique and beautiful with this crochet daisy flower tutorial! Learn the step-by-step instructions to make a handmade, small flower that your kids will love.
With materials such as 4ply milk cotton yarn, hook needle 0.7mm, wire, fabric glue and fiberfill included in this guide, you can create a charming little gift for yourself or someone special. Show off your creativity and come away with an adorable crochet daisy that looks very cute!
Related Free Crochet Patterns:
Unleash your creativity with our free crochet patterns. We have a variety of patterns to suit your style and skill level. Start crocheting today and make something beautiful!
Conclusion:
In conclusion, crochet daisy patterns are a beautiful and versatile way to add a touch of whimsy to your crochet projects. With 25 free crochet daisy patterns available, there's no shortage of ways to incorporate these charming flowers into your work. From simple and easy crochet daisy patterns to more complex designs, crocheters of all skill levels can enjoy creating their own daisy creations. Whether you're looking to make a flower pot cover, rug, or even earrings, these crochet daisy patterns provide endless opportunities for creativity. So why not try making a crochet daisy flower today and add a touch of cheer to your next crochet project?