Crochet flowers are a beautiful way to add color and texture to your projects. You can use crochet flowers as appliques, embellishments, or even standalone decorations. Learn how to make crochet flowers with these 20 free crochet flower patterns for all skill levels and styles. Each easy crochet flower pattern contains step by step instructions, a video tutorial and detailed visual guides to make flowers easily and quickly.
Some of the most popular crochet flowers are roses, sunflowers, hydrangeas, carnations, and succulents. These crocheted flowers can be made with different types of yarn, such as cotton, acrylic, wool, or even thread. You can also vary the size and shape of your crochet flowers by changing the hook size or the number of stitches.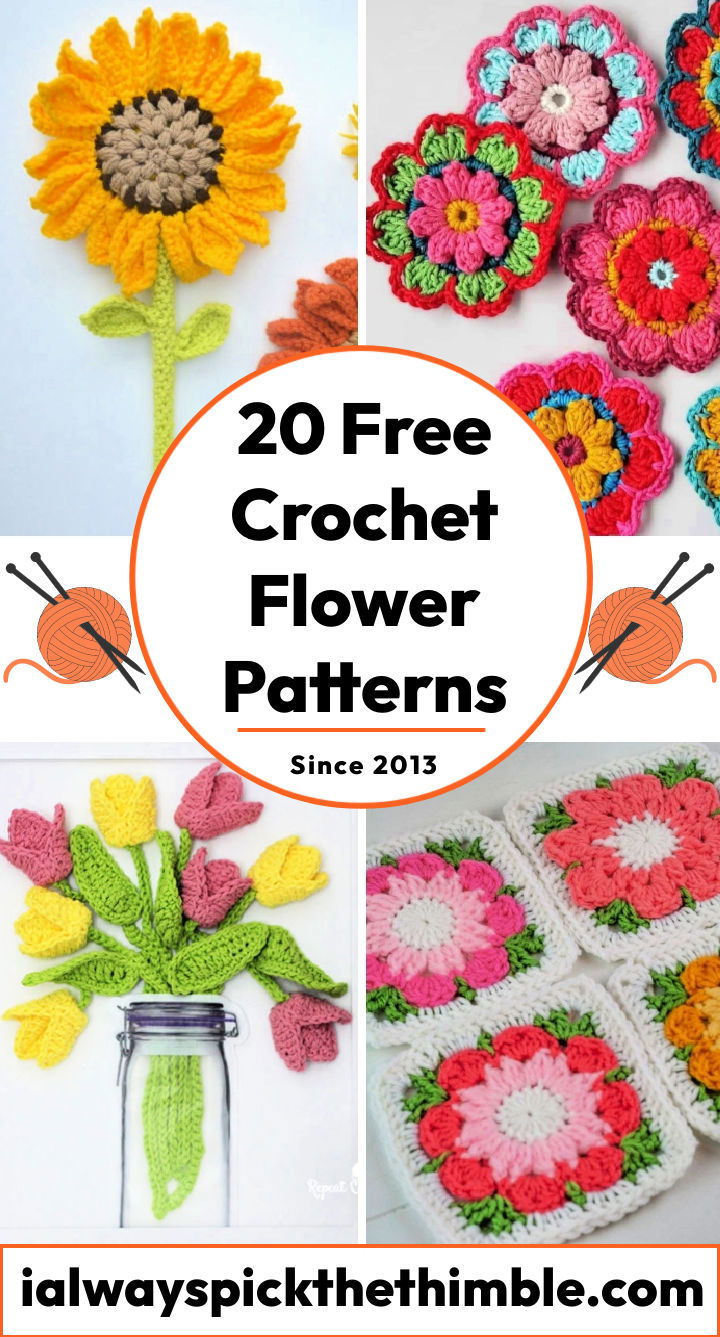 Crochet Flowers Uses and Benefits:
Crochet flowers are small and beautiful projects that can be used for many purposes. They can add color and charm to your clothing, accessories, home decor, gifts, and more. Crochet flowers also benefit your mental health, as they can help you relax and reduce stress.
Some of the uses and benefits of crochet flowers are:
Decorating clothing, bags, hats, and scarves. You can sew or glue crochet flowers onto your garments or accessories to give them a unique and stylish look.
Embellishing home decor items such as blankets, curtains, and cushion covers. You can use crochet flowers to create beautiful patterns or accents for home furnishings.
Adding a touch of nature to wedding, event or birthday decorations. You can make crochet flower garlands or wreaths to adorn your venue or table settings.
Creating crocheted brooches and pins. You can attach a pin back or a safety pin to a crochet flower and wear it as a brooch on your jacket or dress.
As a finishing touch on gift wrapping or as a gift in itself. You can use crochet flowers to decorate your gift boxes or bags, or you can make a bunch of them and give them as a gift to someone who loves flowers.
Making a crochet flower garland or wreath. You can join several crochet flowers together with yarn or ribbon and make a garland or wreath that you can hang on your wall, door, window, or fireplace.
As a scrapbooking or card-making embellishment, you can glue crochet flowers onto your scrapbook pages or cards to add texture and dimension.
Crochet flowers are easy and fun to make with any type of yarn you have in your stash. They are also great for beginners who want to learn new stitches and techniques. Our list of 20 free and easy crochet patterns is available below for different types of flowers you can try.
Material and Stitches for Crochet Flower Patterns:
It would be best to have some basic supplies to make crochet flowers: yarn, a crochet hook, and a yarn needle to sew in the ends. You also need to know some basic crochet stitches, such as chain (ch), slip stitch (sl st), single crochet (sc), double crochet (dc), and treble crochet (tr). Depending on your chosen crochet flower pattern, you may also need to know how to make loops, clusters, picots, or popcorn stitches.
What kind of yarn should I use for crochet flowers?
For crochet flowers, you can use or try any type of yarn you like, but some of the most popular choices are acrylic yarn, cotton yarn, and wool blend yarn. These types of yarn are soft, durable, easy to work with and come in various colors and weights.
The weight of the yarn determines how big or small your crochet flowers will be. Most crochet flower patterns use DK or worsted weight yarn, which are medium thicknesses. If you want to make small crochet flowers, you can use fingering weight yarn or crochet thread, which are thinner. If you want to make bigger flowers, you can use bulky or super bulky yarn, which is thicker.
The color of the yarn is also important for making crochet flowers. You can choose colors that match your project or your mood. Some common floral colors are yellows, oranges, pinks, and reds. You can also use green yarn for the leaves or mix and match different colors for a fun and creative look.
What size hook should I use for crochet flowers?
The size of the hook you use for crochet flowers depends on the weight of the yarn you use and the size of the flower you want to make. Generally, it would be best to use a hook appropriate for your yarn weight. You can check the label of your yarn for a recommendation.
Most crochet flower patterns use hook sizes between 3mm and 5mm, which are suitable for DK or worsted-weight yarn. If you use a thinner yarn, such as fingering weight or crochet thread, you can use a smaller hook size, such as 2mm or 2.5mm. If you use a thicker yarn, such as bulky or super bulky yarn, you can use a larger hook size, such as 6mm or 8mm.
The size of the hook also affects how tight or loose your stitches are. If you want your crochet flowers to be more dense and sturdy, you can use a smaller hook than recommended for your yarn weight. If you want your crochet flowers to be more airy and delicate, use a larger hook than recommended for your yarn weight.
You can experiment with different hook sizes and see what works best for your crochet flowers. You can also try using ergonomic crochet hooks that are more comfortable to hold and prevent hand fatigue.
How to Make Unique Crochet Flowers?
You can use any simple crochet flower pattern to make different variations by changing the color of the yarn or adding more rounds. You can also experiment with different stitches and shapes to create your own unique crochet flowers. One of the easiest crochet flowers to make is a simple five-petal flower to try your skills.
Crochet flowers are a great way to express your creativity and add some charm to your projects. They are also perfect for using scrap yarn or making gifts for your loved ones. By following 20 free crochet flower patterns with step by step instructions, you can easily find a pattern that suits your style and skill level.
Free Crochet Flower Patterns:
Discover an array of colors and shapes for each season or holiday, from daisies and roses to poppies and pansies. Follow the simple instructions in these detailed tutorials for small or large flowers – Get started today with one of these easy and free crochet flower patterns!
1. Free Crochet Poppy Flower Pattern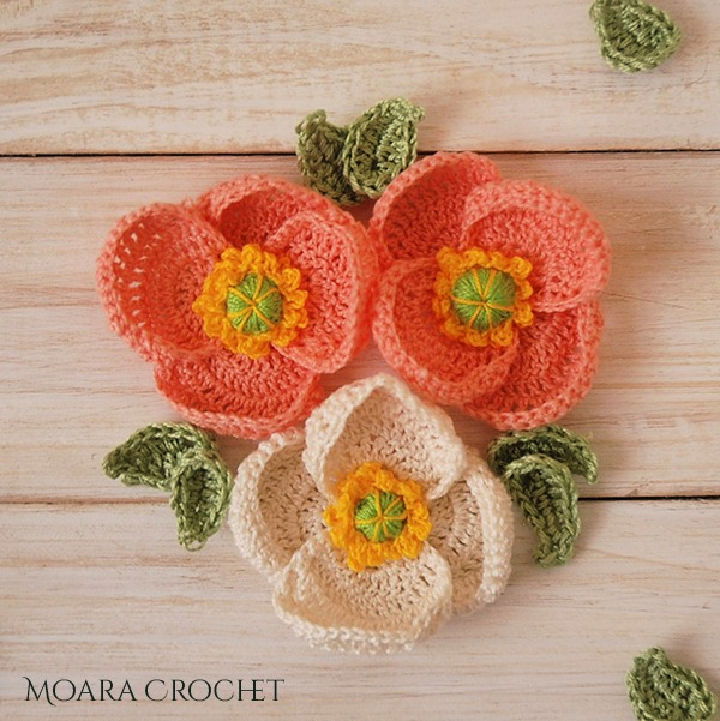 Create your own beautiful crochet poppy flower with this free crochet pattern! Whether you are making multiple Icelandic pastel poppies or a single red one for remembrance day, the possibilities are endless. This simple step-by-step written tutorial, accompanied by photos, will help you create beautiful flowers in no time. You need some cotton yarn, a small crochet hook, scissors, florist wire and cutting pliers to make these delicate paper-like petals look cute as decorations or pins to wear on special days! moaracrochet
2. Two Layer Crochet Flowers Pattern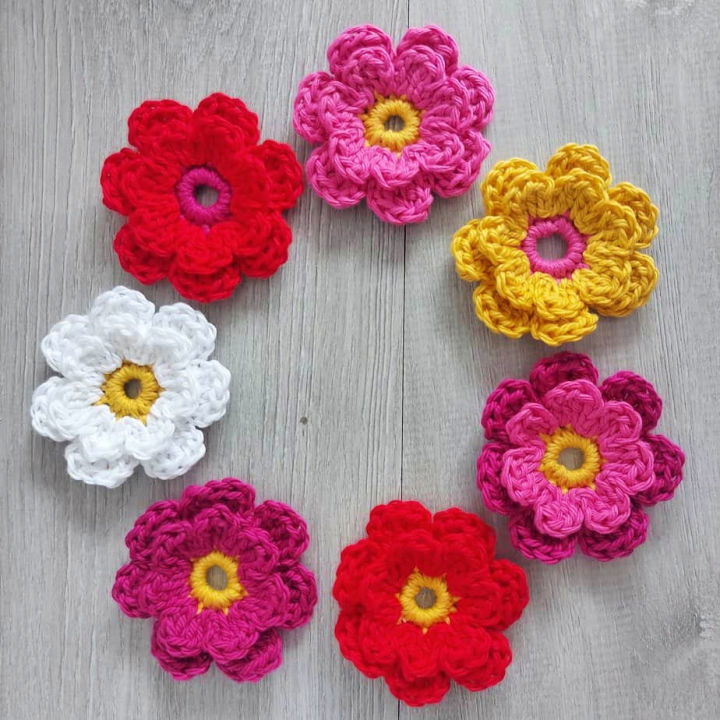 Create beautiful two-layer crochet flowers in just minutes with this free pattern! Perfect for many projects, from baby blankets to hair accessories and more. Even the most adventurous beginner can tackle this simple 7 petal flower pattern, which includes a helpful photo tutorial. You need small amounts of DK weight yarn, a 4mm crochet hook, and a yarn needle to weave in threads. Create accents for your project that will make it look professionally designed! Attach them to hats and hair clips, or add a pin on the back to create stunning brooches – all within minutes! anniedesign
3. Crochet Tulips on Canvas – Free Pattern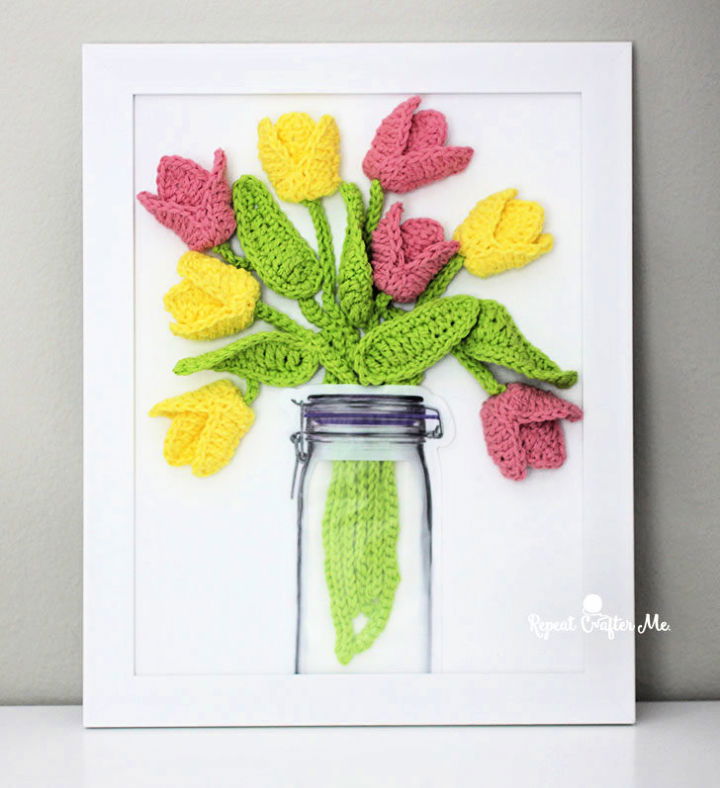 This crochet tulip on canvas project can create unique and eye-catching home decorations! Lily sugar'n cream yarn, size g crochet hook, mason jar zipper bags, 11×14 inch canvas panel, hot glue gun and a tapestry needle are all you need to make these fun and easy crocheted flowers. Glue them onto the canvas or place them into a mason jar ziplock bag for an even more delightful look sure to bring joy and smiles. This would be a perfect handmade gift for mother's day or for teacher appreciation! Get creative now with your own set of colorful crochet tulips on canvas… endless possibilities await your creativity! repeatcrafterme
4. Simple Crochet Flower Pattern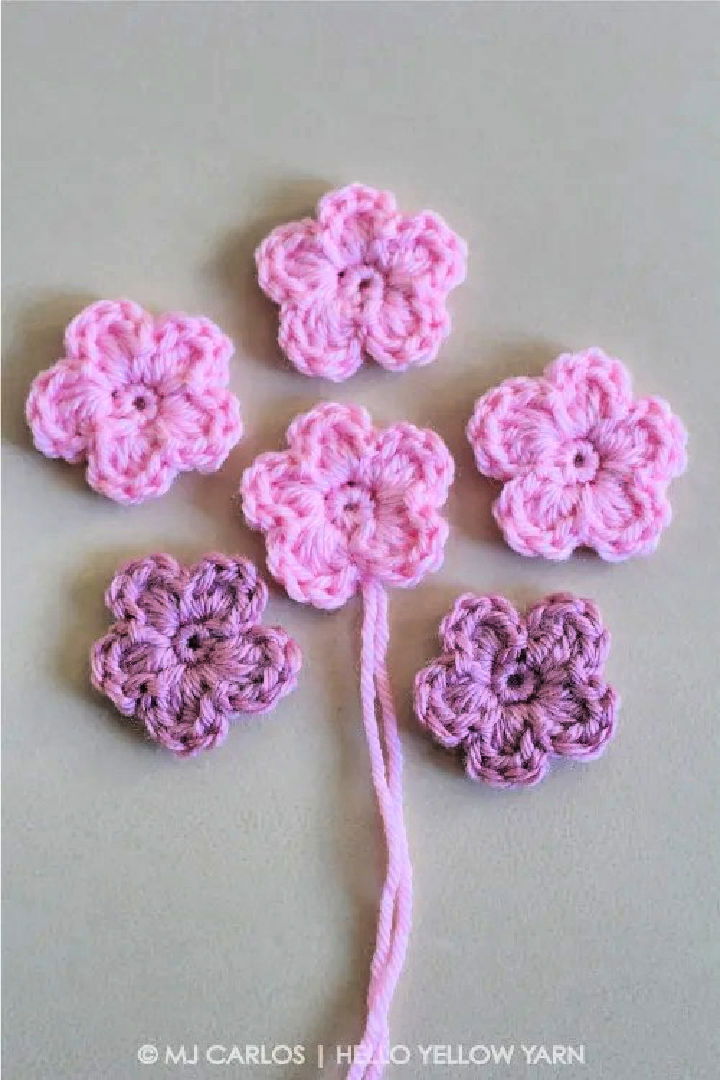 Looking for a cute and creative way to spruce up your accessories? Look no further than this simple crochet flower pattern and tutorial! Perfect for beginners, you don't need much – just 8ply yarn, a 4mm crochet hook, scissors, and a needle. Follow the instructions in the video to make your own adorable crocheted flower. It's an easy project that'll add a fun flair to any beanie or headband in minutes! Use it as part of craft projects or give someone special something extra on mother's day – they'll love it! helloyellowyarn
5. Free Crochet Pattern for The Crocodile Flower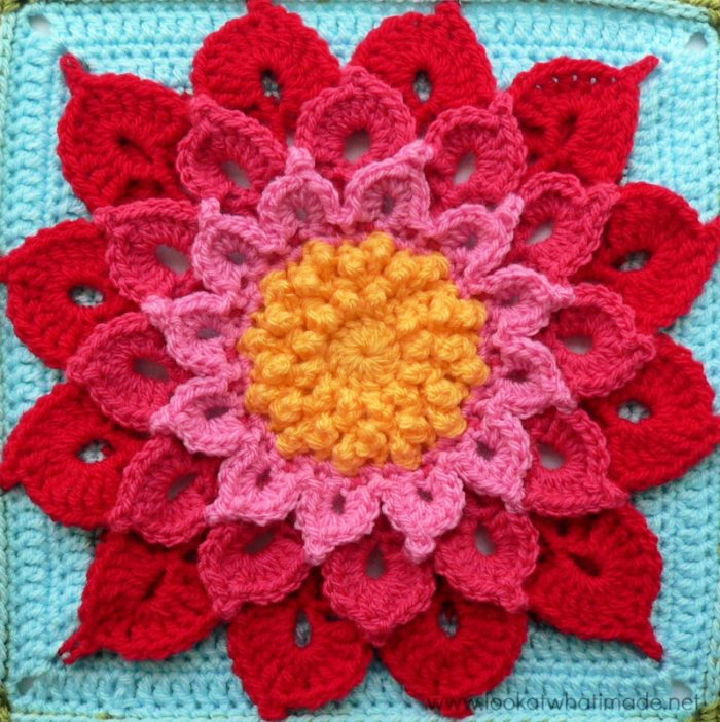 This incredible afghan block featuring a crocodile stitch-based flower motif will surely add beauty and texture to any project. With this photo tutorial, you can easily create a gorgeous floral design. Perfect for intermediate or advanced crocheters, this piece works up quickly in worsted-weight yarn and a 4 mm hook. You can choose one color or opt for sunflower hues – either way, your finished crochet will look beautiful! Start by crocheting the main body of the block; then add petals and leaves using surface crochet techniques for a stunning result. lookatwhatimade
6. Crochet Flower Granny Square Pattern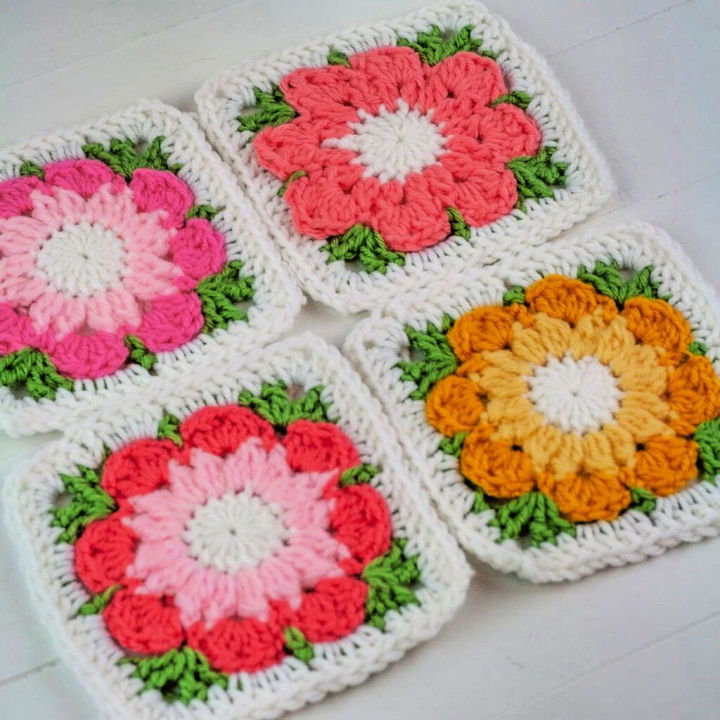 This crochet flower granny square pattern is an easy and unique way to show off your crocheting skills this mother's day. You can choose from several color combinations for the perfect look or make it two-toned! The pattern uses a handful of stitches and only requires red heart super saver yarn, size I (5.5 mm) crochet hook, yarn needle, and scissors to complete. A bonus? This lovely flower works great in shawls, blankets, afghans, and other craft projects! Get inspired with this pretty project today! windingroadcrochet
7. Little Crochet Deco Roses Pattern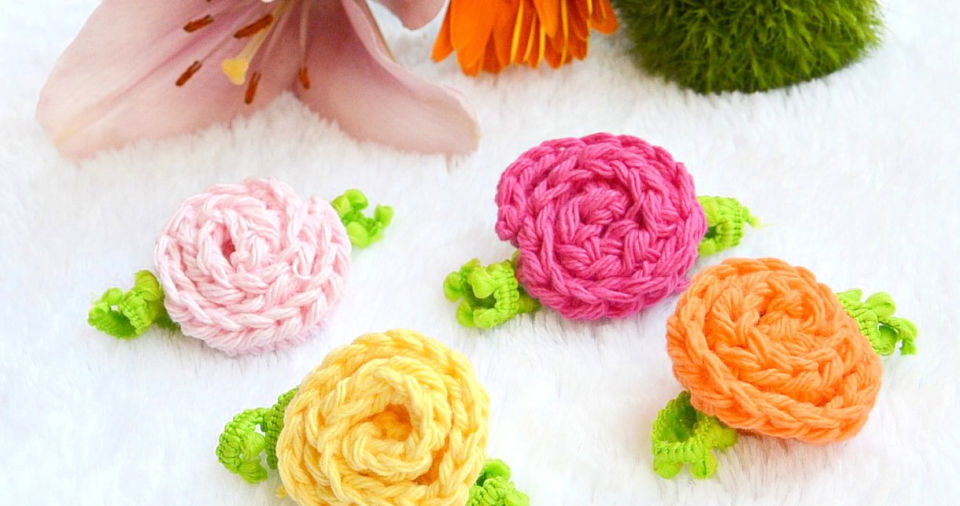 Add a unique touch to any project with these little crochet deco roses! Measuring less than 2″ wide and ¾″ tall, these colorful, lightweight pieces are perfect for decorating hair accessories, clutches, pins & more. Making them is easy, too – grab your size f hook and lily sugar n cream yarn in assorted colors and whip up a few! You only need scissors, thread, and a tapestry needle to finish the look. Get creative with little crochet deco roses today! mamainastitch
8. Quick and Easy Crochet Dahlia Pattern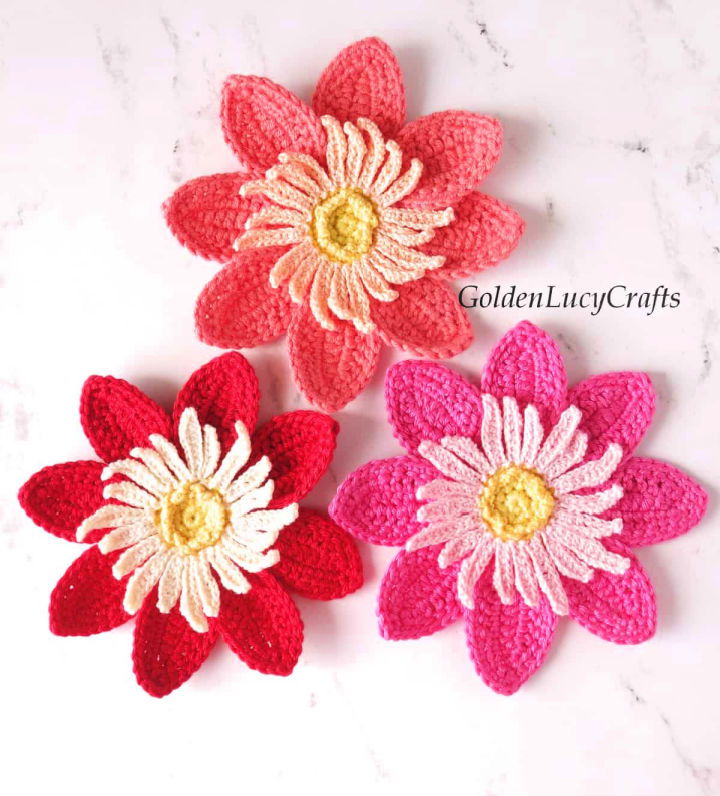 This dahlia crochet pattern is perfect for adding a unique flower embellishment to your projects. Whether on hats, headbands, bags, blankets or general home decor, this gorgeous applique will look stunning! It comes in many colors, sizes and shapes, so you have endless possibilities when crafting with the dahlia pattern. This intermediate skill project requires lightweight #3 yarn and two different crochet hooks – ½.75 mm & 6/1.8mm. Add variety and beauty to your projects – try this dahlia crochet pattern today! goldenlucycrafts
9. Large Crochet Flower Pattern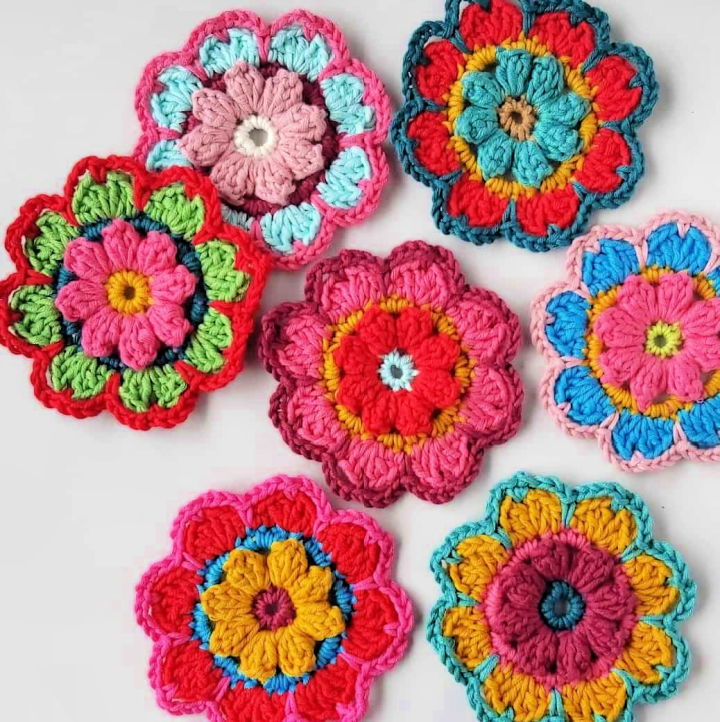 Make your projects extra special with this large crochet flower pattern. It's easy to make and perfect for accessories, hats, bunting and more! The added texture of the popcorn stitches makes it unique and fun to work with. With just a few small amounts of DK weight yarn, a 4mm crochet hook, and a yarn needle, you can quickly create beautiful floral appliques that look cute on any project. Use them as brooches, or get creative by stringing several together for cheerful floral bunting – perfect for parties or yarnbombing! Try this free pattern today! anniedesigncrochet
10. Beautiful Crochet Sunflower Pattern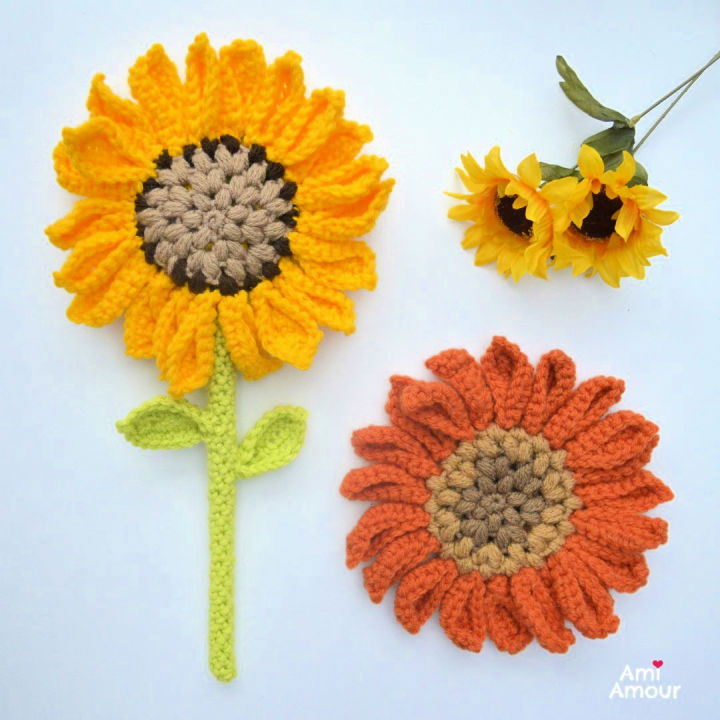 Add delightful summer vibes to your home decor with a beautiful crochet sunflower amigurumi wand! It's made with puff stitches in the center head and has two color combinations. Its texture mimics sunflower seeds very well, while the front looks lovely, and the back is equally impressive. This fun craft pattern is suitable for those at an intermediate level, using worsted weight materials such as a 5.0mm hook, 12″ wooden dowel rod, stitch marker, yarn needle, scissors and polyfill. The versatile pattern can be used as table centerpieces or interconnected several heads together to create a seasonal banner! amiamour
11. Crocheting Sweet Daisies – Free Pattern
Create a beautiful spring accessory with this free crochet pattern to make sweet daisies! It's both fun and easy, plus you will only need small amounts of white and yellow worsted weight yarn, a size h 5.0 mm crochet hook, scissors & tapestry needle for weaving in ends. Use them as easter napkin rings or decorations on girls' hats, barrettes or clothing – endless possibilities! Get crafting today and add some cheerful flowery flair to your home decor. mamainastitch
12. How to Crochet Lilac Flowers – Free Pattern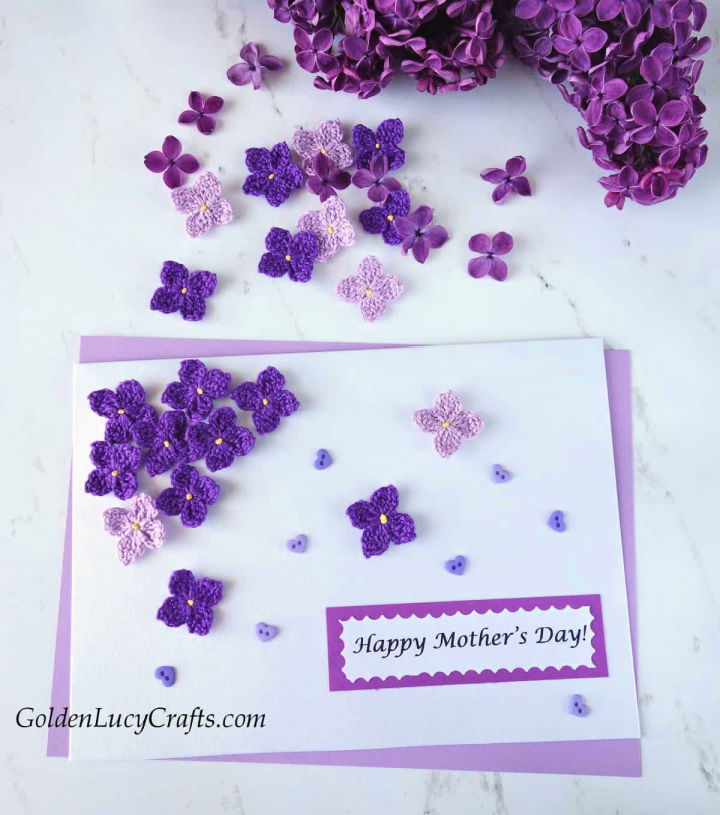 Surprise your mom or any special woman in your life with a handmade mother's day card adorned with crochet lilac flowers! Lilacs bloom only for a couple of weeks during spring, when we celebrate mother's day, making them the perfect accessory to add an extra special touch to cards. With aunt lydia's cotton crochet thread and a hook size of 8/1.5 mm, you can easily create these beautiful small flowers in no time, even if you don't know how to crochet! Not only ideal for mother's day but also birthdays, this unique crafty card will be sure to put a big smile on somebody's face! goldenlucycrafts
13. Easy Crochet Flower Tutorial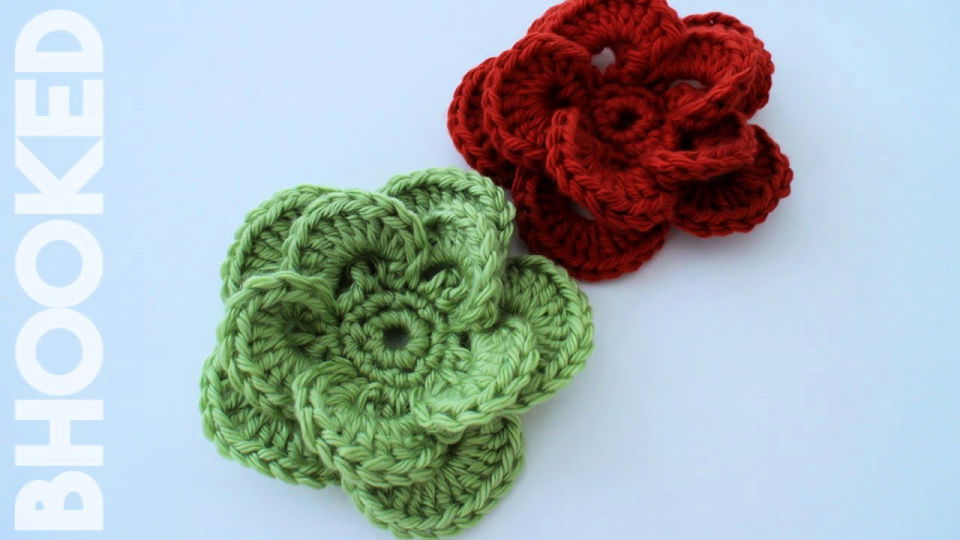 Add some beauty to your projects with the wagon wheel flower-free crochet pattern! This 3d flower works up quickly and requires minimal yarn. It's perfect for hats, bags, blankets and other home décor items. Even if you're an intermediate crocheter, this pattern is easy to follow and makes a gorgeous finished product – it has a diameter of 3.5″. Grab some caron, soft yarn, and a 5mm crochet hook to get started! With this free pattern, you'll learn how to position your hook correctly to make three-dimensional flowers that will add unique character to your project.
14. Free Flower Crochet Pattern for Beginners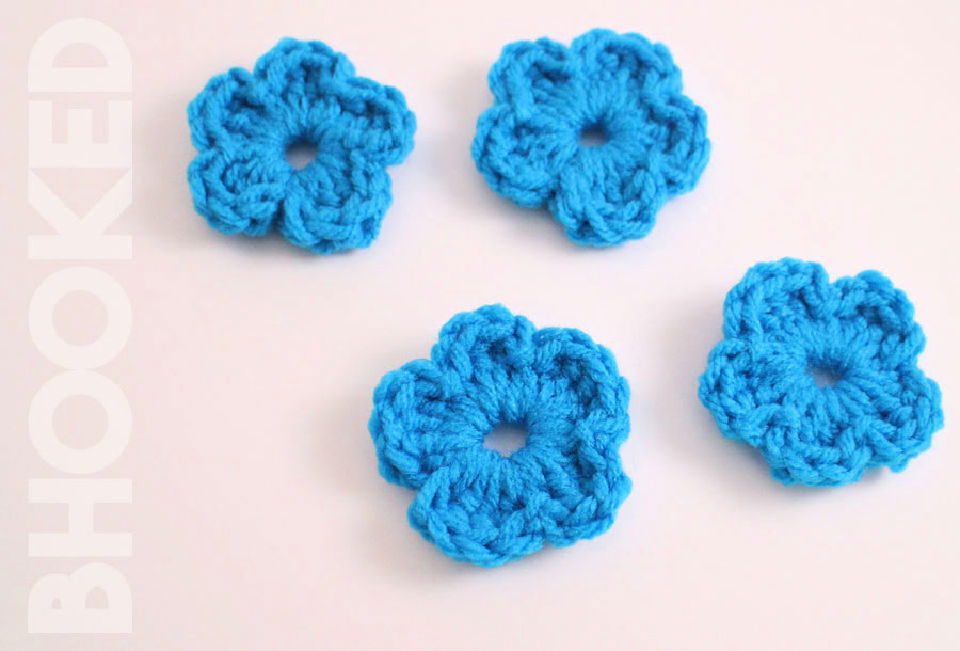 Take your crochet projects to the next level with this easy-to-make flower! This design is great for beginners as it only requires you to know the basic single crochet stitch. With this project, you can easily embellish any item and make something special. Plus, you need 6 yards of red heart yarn, a 5.5 mm hook, a yarn needle and some scissors – simple! Its finished size will be 2″ in diameter, so perfect for adding that extra detail without taking up too much space. Get creative and bring some floral beauty into your life today! bhookedcrochet
15. Easy Crochet Flower Pattern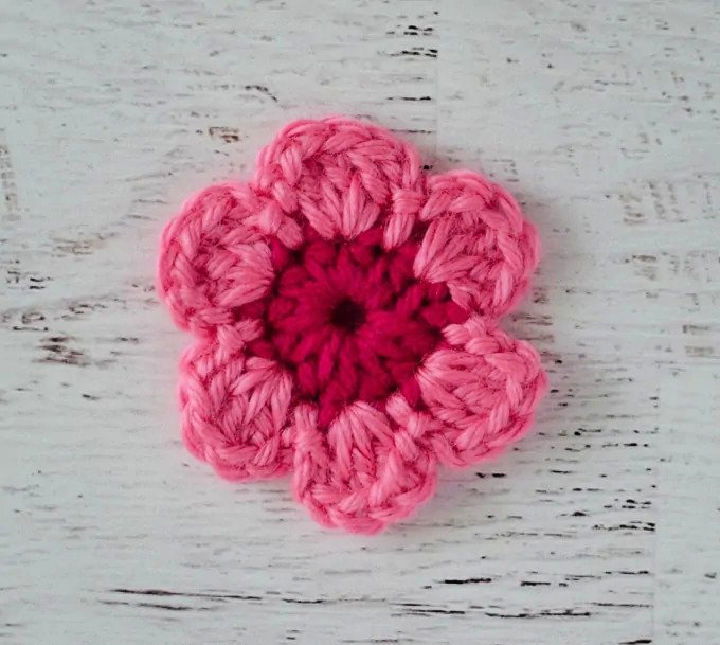 Looking for an easy way to add a touch of beauty and style to your hats, scarves or bags? Look no further than this easy crochet flower pattern! With two sizes available, you're sure to find the one that best suits your needs. Fun and simple to make with worsted weight yarn in 2 colors and a US i9/5.50 mm crochet hook, it can be added as decorations for any project. Whether it's winter beanie hats or stylish accessories, you'll love the look these flower patterns bring! Get creative today with this fun and easy crochet flower pattern! crochet365knittoo
16. Crochet Flower Design – Free Pattern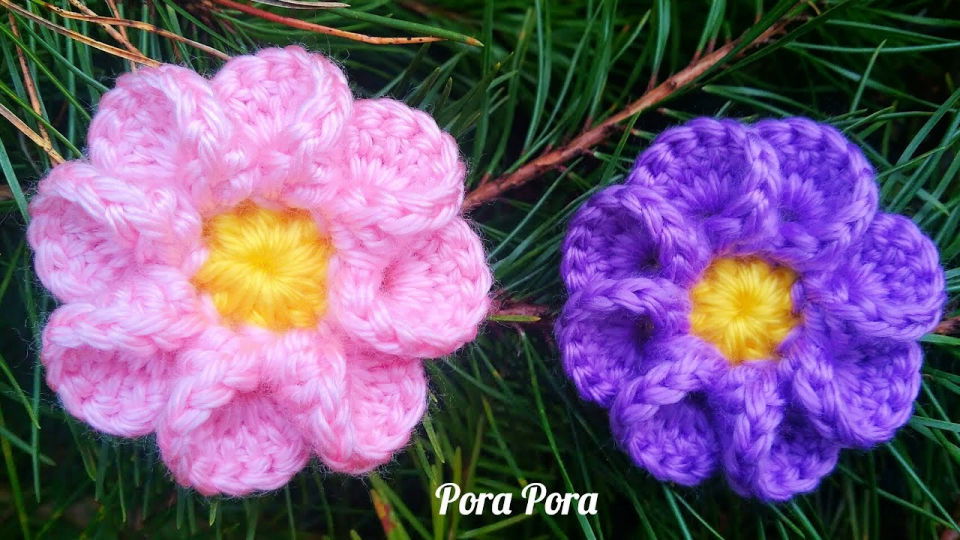 This crochet 3d flower tutorial is perfect for beginners! Learn how to make a beautiful 8-petal flower applique that can be used to embellish hats, bags, headbands, sweaters and cardigans. All you need are basic materials such as medium 4-weight 100% acrylic yarn and a 3.75 mm crochet hook. The result looks great and is sure to impress your friends and family! Follow this easy step-by-step guide on how to craft your own crochet flower today – the more flowers you make, the better you'll get at it!
17. Simple Crochet Flowers Pattern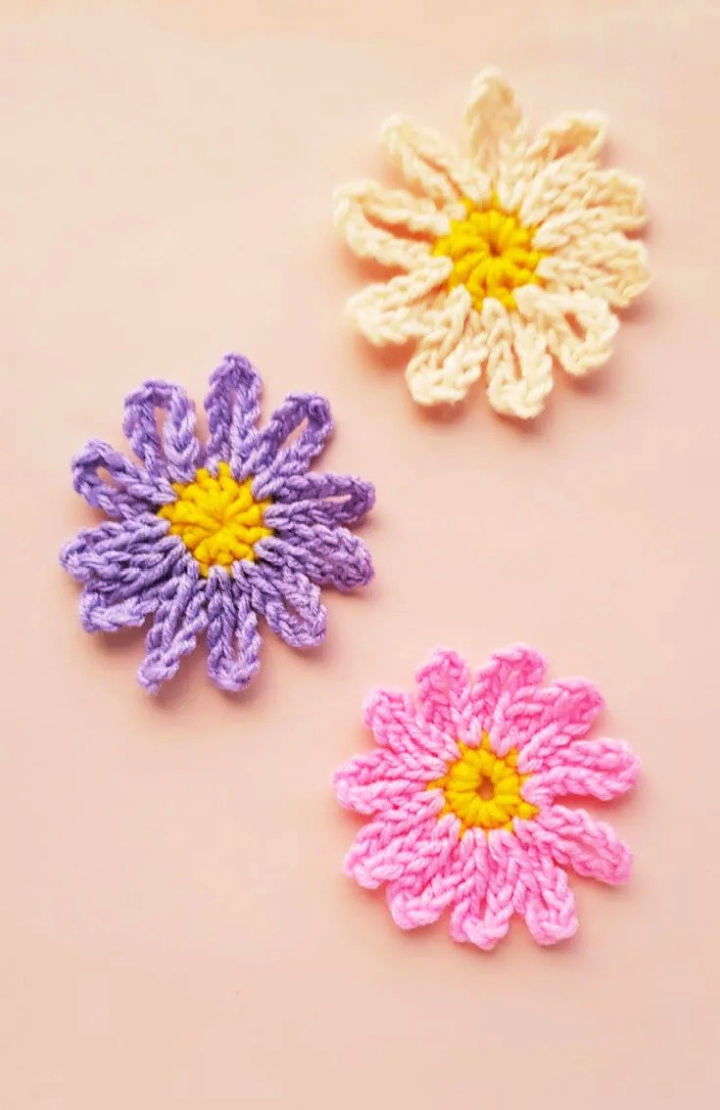 Looking for the perfect way to add a touch of beauty and charm to your finished projects? Look no further than this easy pattern for simple crocheted flowers! Perfect for beginners, this tutorial will help you make beautiful petals that are slightly soft and delicate. Use it as hair accessories, appliques on hats, gloves or scarves, embellish totes or even use them in paper craft projects – the endless possibilities! All you need is some medium yarn, a 2.5 mm crochet hook, a tapestry needle and scissors. Start crafting now with this amazing pattern for simple crocheted flowers – perfect for all levels of crafters! momsandcrafters
18. Easy Small Flower Crochet Pattern
Create small, simple crochet flowers in no time with this easy pattern! All you need is your yarn, hook and a little patience. Perfect for embellishing any project – sew them to bags or pillows, glue them to hair clips & more! Step-by-step instructions let you customize the size & shape of each flower – get creative with colors & textures for personalized flair. Get crafting today for an instant pop of cuteness on any crafty creation! persialou
19. Crochet Flower – Free PDF Pattern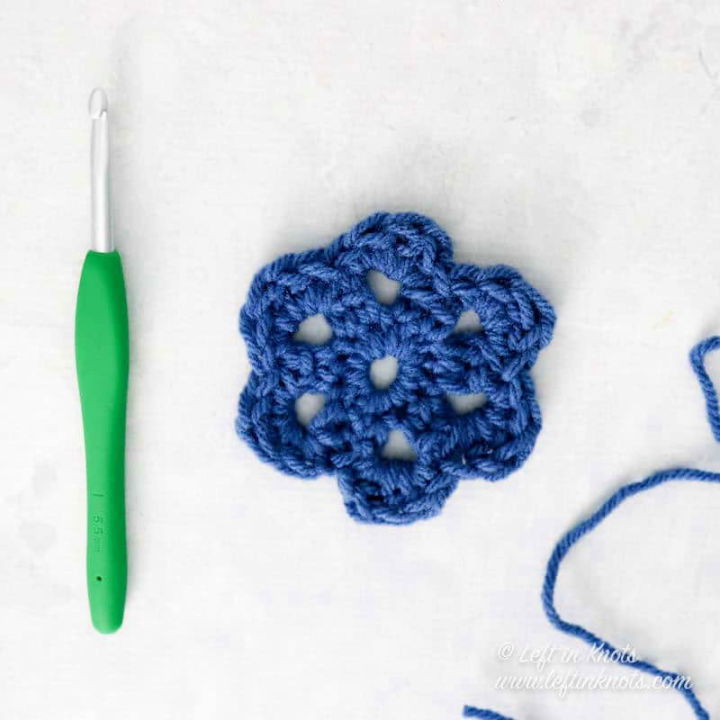 Add a touch of beauty to your crochet projects with this easy flower embellishment pattern! Tutorial and video make it simple enough even for beginners. Ideal for decorating headbands, hats, bags or any other accessory you can think of – choose the yarn weight and the button center, then follow along step-by-step. The result? A beautifully finished piece that will add a sweet flourish to your handmade creations. Get creative and give your project a special touch with this fast, free crochet flower embellishment pattern today! leftinknots
20. Free Crochet Poppy Pattern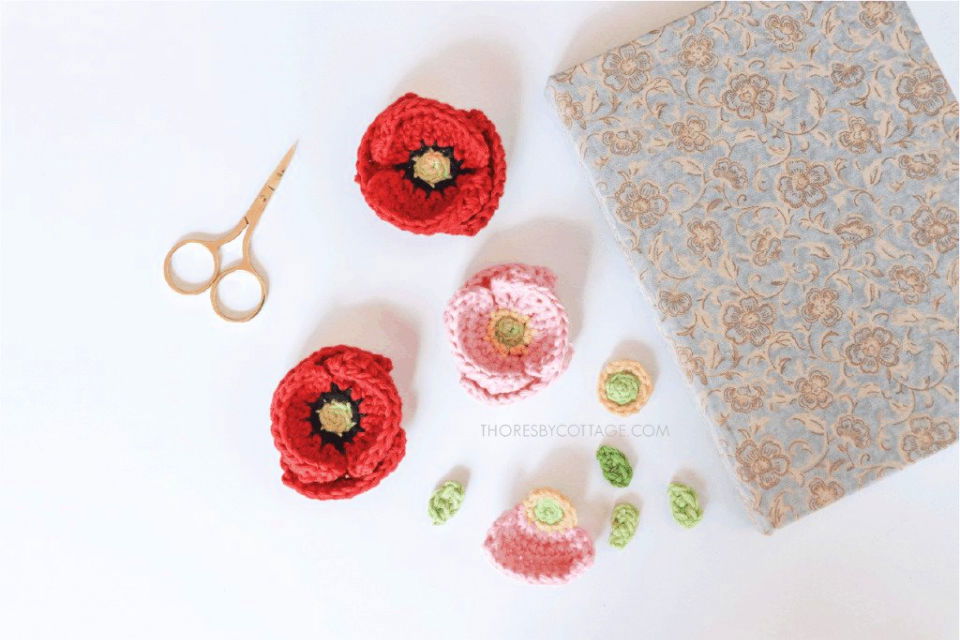 Show your remembrance and appreciation for fallen soldiers with this free crochet poppy pattern. It can be worked up in any color you like – red or pink (for petals), green (for the center) and black or yellow (for a pink poppy). With its eye-catching look, it is sure to become a conversation starter. Plus, it's fun to make! All you need is a 2.75 mm hook and some yarn in the colors of your choice. Make one today and show off your gorgeous creation! thoresbycottage
Related Free Crochet Patterns:
Unleash your creativity with our free crochet patterns. Browse a variety of designs for all skill levels and create something beautiful today!
Conclusion:
In conclusion, crochet flowers are a simple and fun way to add beauty and texture to any project. With just some basic supplies and knowledge of how to make small flowers, it is easy to create beautiful designs with 20 free crochet flower patterns. All these patterns can be used in different ways, such as on clothing, accessories like hats or scarves, jewelry items, or even home decor projects. Once the basics are mastered, they can easily be added as embellishments or combined into larger works of art. Crafting handmade crocheted creations brings so much happiness and satisfaction!