Crochet sunflowers are a delightful way to add a touch of sunshine to your home decor or wardrobe. Discover 25 free crochet sunflower patterns with detailed instructions and diagrams to guide you through creating a beautiful crocheted sunflowers pattern. These free patterns offer a variety of sunflower designs, including large sunflower patterns, sunflower afghan patterns, crochet sunflower blankets, sunflower granny squares, and even sunflower amigurumi patterns.
Each free crochet sunflower pattern has easy-to-follow instructions and stitch details, allowing both beginners and advanced crocheters alike to create stunning sunflower decorations. With these free crochet sunflower patterns, you can easily customize your sunflowers with different yarn colors and weights to make unique and vibrant sunflowers.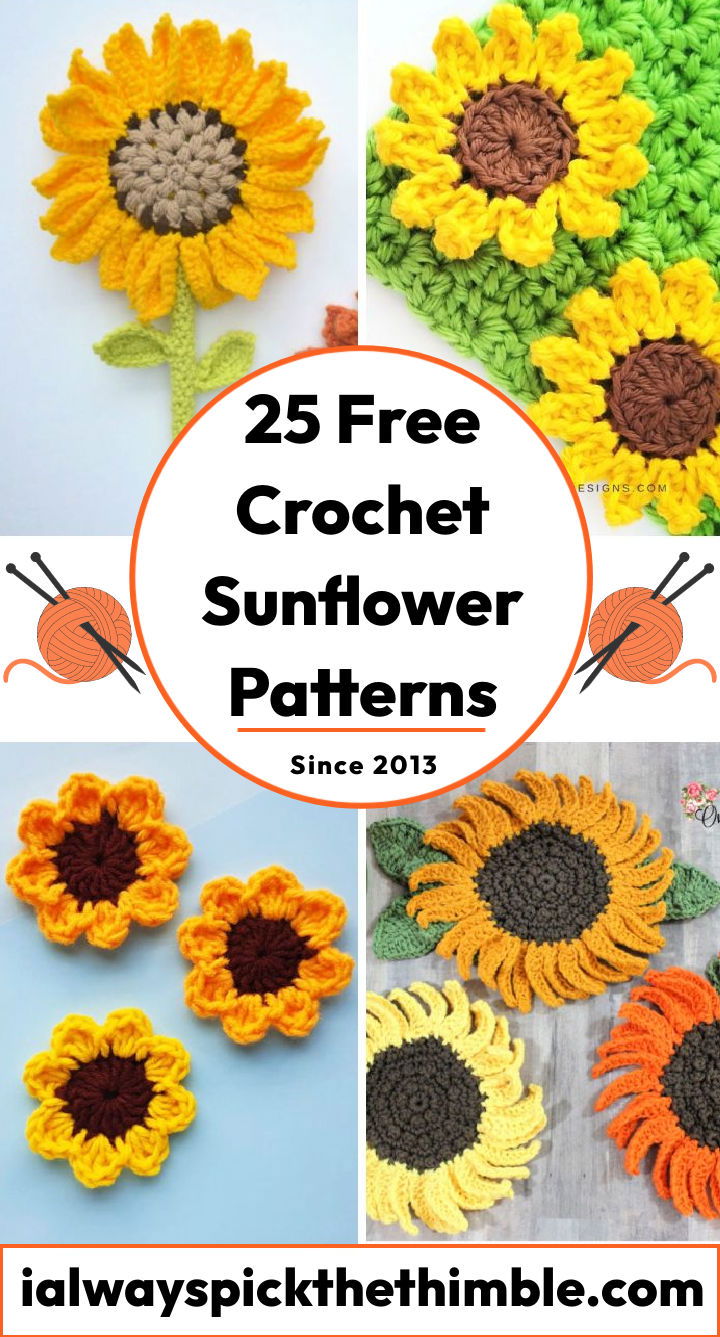 Crocheted sunflowers can be used to decorate your home, create sunflower bouquets, or even as accessories like sunflower brooches or hair clips. So why not try making a crochet sunflower today? With this collection of free crochet sunflower patterns, you will surely find the perfect crochet sunflower pattern to brighten your day!
1. Crocheted Amigurumi Sunflower Wand – Free Pattern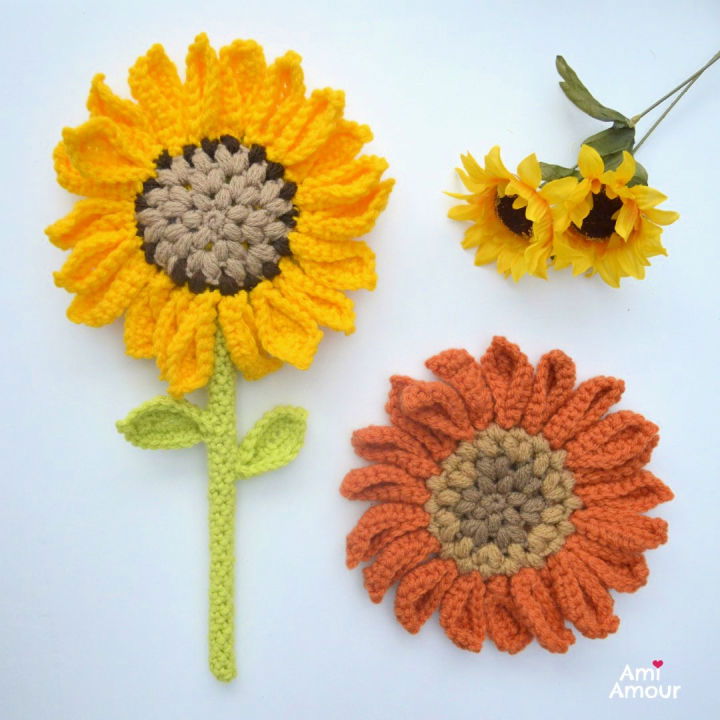 Create a beautiful bouquet of cheerful sunflowers with our original crochet sunflower patterns and step by step tutorials.
Brighten up any room with this cheerful and cute crocheted amigurumi sunflower wand! This free crochet pattern uses puff stitches at the center head of two sunflowers – one on a golden sunny day and the other in a pretty autumn orange. With its easy pattern and satisfying results, you'll have endless fun crafting your sunny wand. Make it for yourself, or give it as a thoughtful gift! Follow this pattern and spread cheer — get crocheting now! amiamour
2. 4 Color Crochet Autumn Radiance Sunflower Square Pattern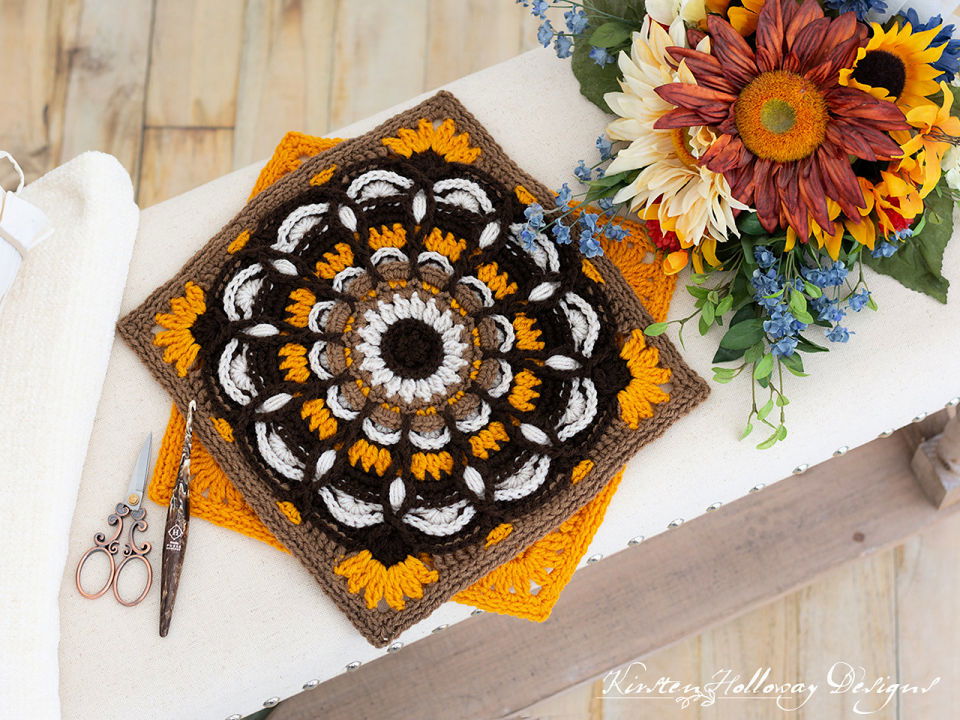 Welcome the fall with this Autumn Radiance, a beautiful 12″ square crochet pattern featuring a large sunflower motif. This 4-color classic end-of-summer decorating staple can be made with one solid color or several shades of hues. Join the squares to create your unique sunflower project for fall that will bring beauty and radiance into any home! Perfect for embellishing cushions or making an afghan blanket, this free crochet pattern gives you a stunning piece that will surely become a much-beloved part of your home décor. kirstenholloway
3. Free Crochet Pattern for Sunflower Hotpad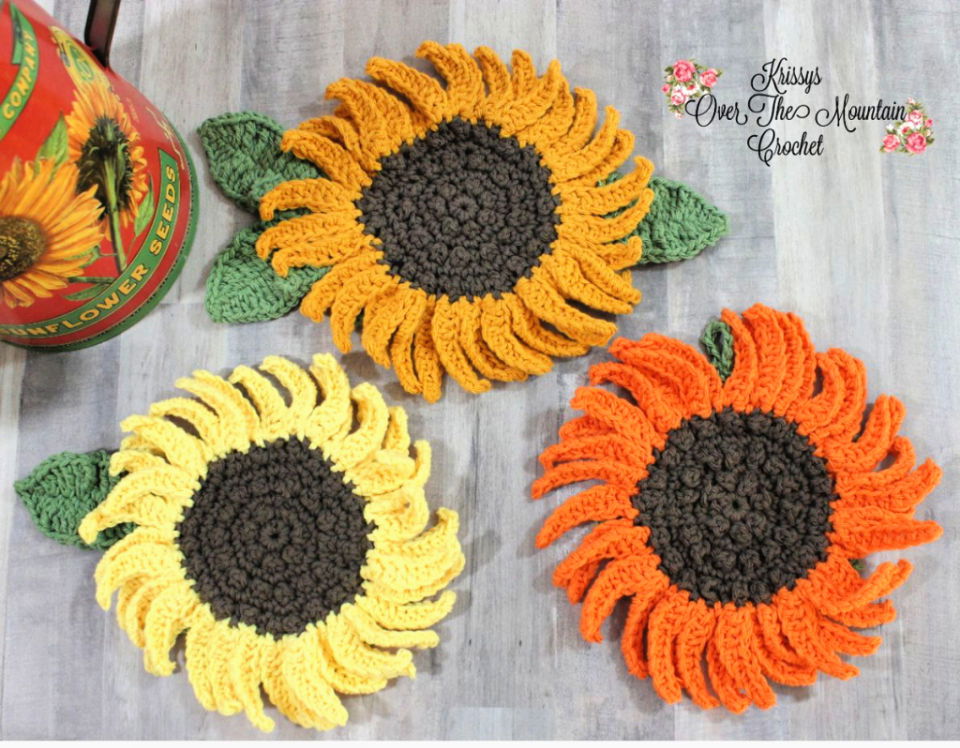 Bring the beauty of a sunflower field to your table with this free crochet pattern for a unique hotpad! You will love how easy it is to create this pretty decoration using dishcloth cotton yarn. With its vibrant center featuring lots of texture and the flower petals being so simple to make, you can transform any surface into an exciting display. Brighten up your home decor with the cheerful design of this gorgeous sunflower hotpad. krissysover
4. New Crochet Sunflower Granny Square Cardigan Pattern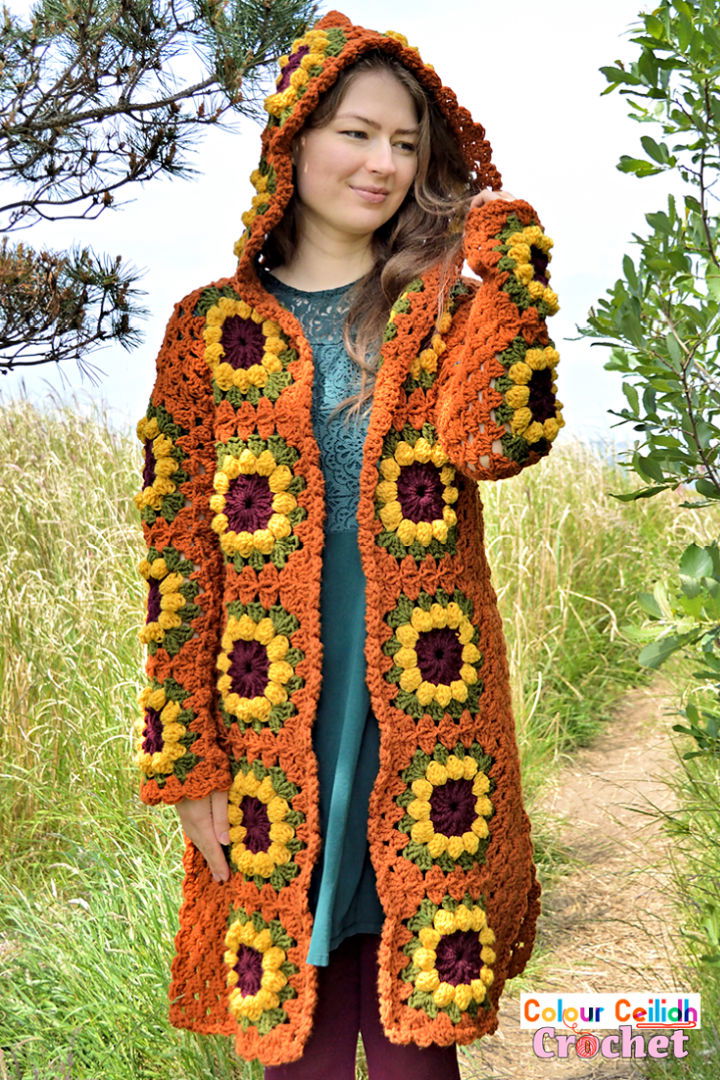 Fall in love with this beautiful and unique new crochet sunflower granny square cardigan pattern! It's great for all the flower granny square lovers and includes a YouTube video tutorial.
This cardigan is perfect for cooler days, featuring a long hooded shape and side slits, decorated with sunflower granny squares using the granny stitch and bobble stitch to give your garment that nostalgic vintage look. The pattern also uses treble clusters to make larger sunflower heads. Get ready faster with this lightened fabric design – follow this free pattern- perfect for any upcoming autumn events! colourceilidhcrochet
5. How Do You Crochet a Sweet Summer Sunflower Bag
Experience the cheerful glory of summer with this sweet sunflower bag. Enjoy sunshiney goodness and lovely summery colors that will make transitioning to fall easier. This showoff piece is perfect for gifting to yourself or someone special and will bring smiles all season long. Embrace the best of summer with this unique, eye-catching bag – a reminder of those glorious days spent in the warm sunshine! crochet365
6. Lovely Crochet Sunflower Coaster Diagram Pattern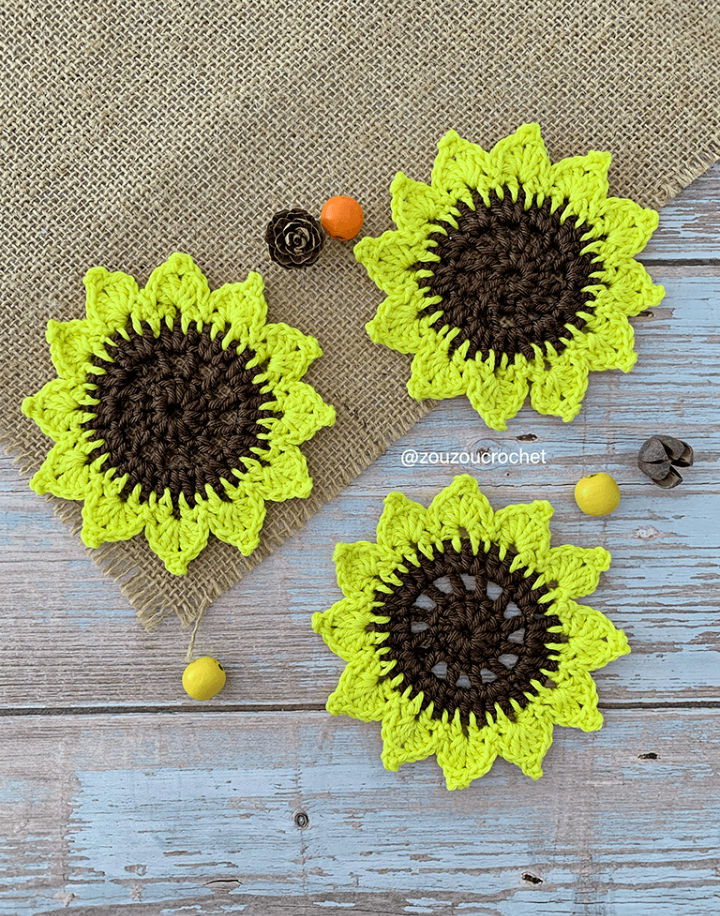 Create a unique crochet coaster with a beautiful sunflower design! This free pattern diagram is perfect for any skill level – the special stitches are easy to learn, and it's sure to make your project look lovely. These decorative, useful coasters will brighten up any table in the house. Give it as a gift or keep it for yourself – you can't go wrong with this one-of-a-kind crochet project! And remember special stitches like p: picot (ch3, sl st to 1st ch) will help you create something truly special. zouzoucrochet
7. Free Crochet Sunflower Coaster Pattern
Get creative and explore the possibilities of crochet sunflower patterns. With some patience, you can make one-of-a-kind decor for your home or gifts for friends and family.
Welcome Summer into your home with these cheerful and fun sunflower coasters! This free crochet pattern is an easy way to add cheerfulness to any living room or make a great housewarming gift. Made from 100% cotton yarn, the finished coasters measure approximately 14cm/ 5.5″ in diameter from tip to tip of the petals and have an internal coaster diameter of 8cm/3.25″ – perfect for protecting surfaces while adding a little summery flair! With this simple project, you can bring some sunshine indoors all year round. hookedonpatterns
8. Pretty Crochet Sunflower Buddy Pattern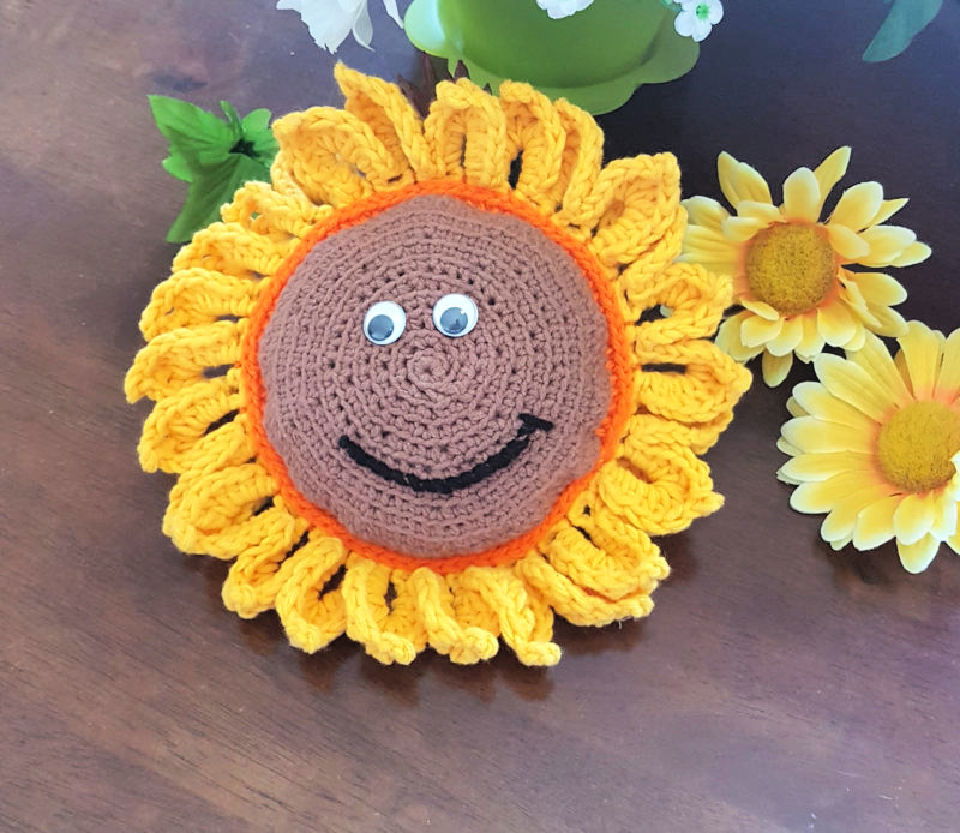 This free crochet sunflower buddy pattern is absolutely lovely and fun to make! This cute amigurumi can serve as a toy for the young, and it also makes for a stunning decorative wall hanging, especially in a nursery. Even better – the pattern is easy to follow, with special instructions on completing the picot stitch chain. So why not give it a go and create your unique piece? You will be left with an adorable sunflower buddy you won't regret making. craft her
9. Easy Crochet Sunflower Pattern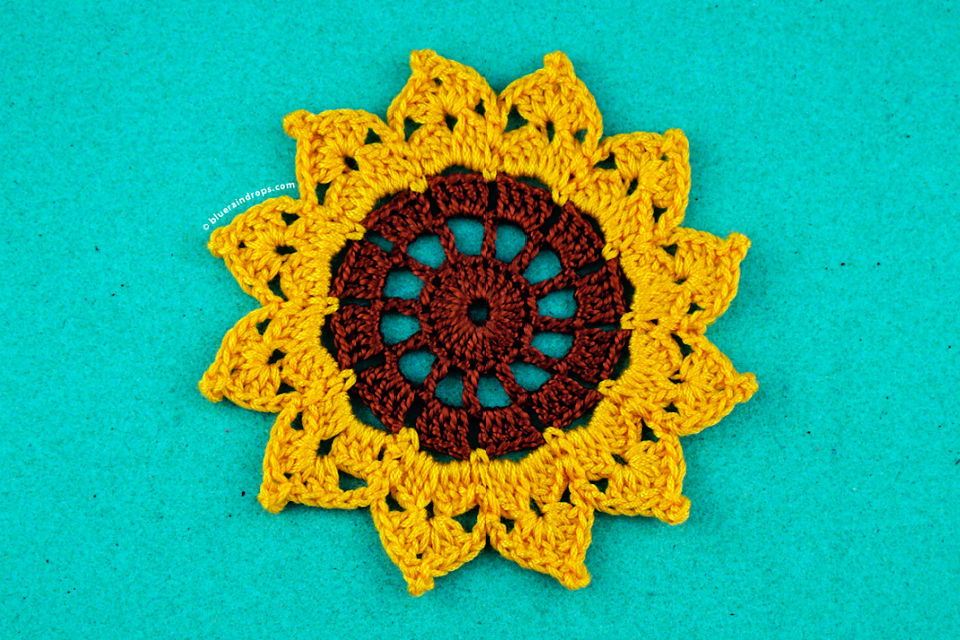 Bring a splash of summer sunshine into your home with an easy and beautiful crochet sunflower pattern! This free pattern lets you quickly create a stunning 10 cm (4 inches) coaster. Or make it larger by adjusting the yarn weight and hook size for bigger sunflowers. And don't just limit yourself to traditional colors: use any combination of colors you want for creative appliques on pillows, hats, purses, jackets or other projects. So why not bring fun to your wardrobe – try out this free crochet sunflower pattern today! blueraindrops
10. Free Crochet Sunflower Granny Square Pattern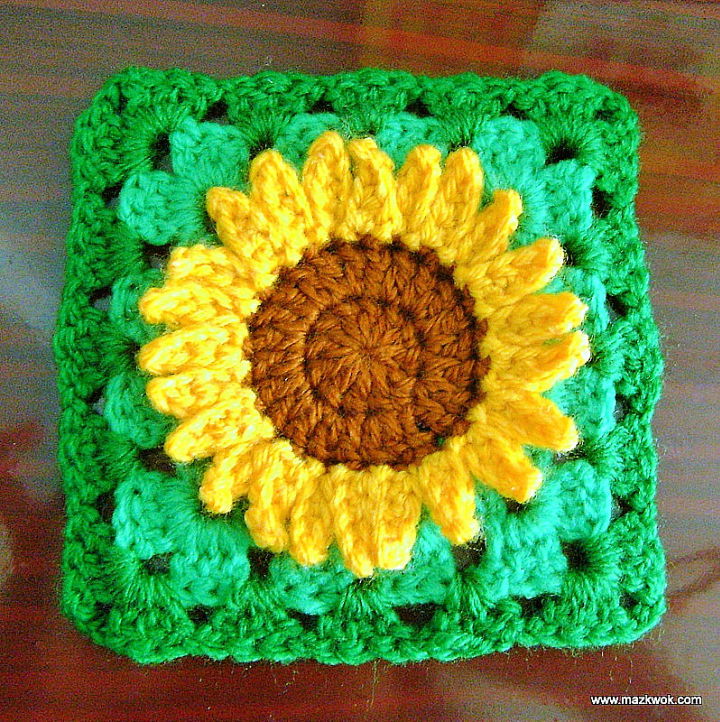 Bring a breath of fresh air and some sunshine to your next project with this beautiful free crochet sunflower granny square pattern. This pattern is perfect for intermediate-level crocheters as it requires you to slip-stitch more petals and use a 5mm crochet hook, worsted weight yarn in yellow, brown, green and dark green colors. Come out of your comfort spot and try this intricate yet delightful design that will add an extra oomph factor to any project! Get this free pattern now to start creating your sunflower masterpiece today. beacrafter
11. Crochet Sunflower Applique – Step-by-Step Instructions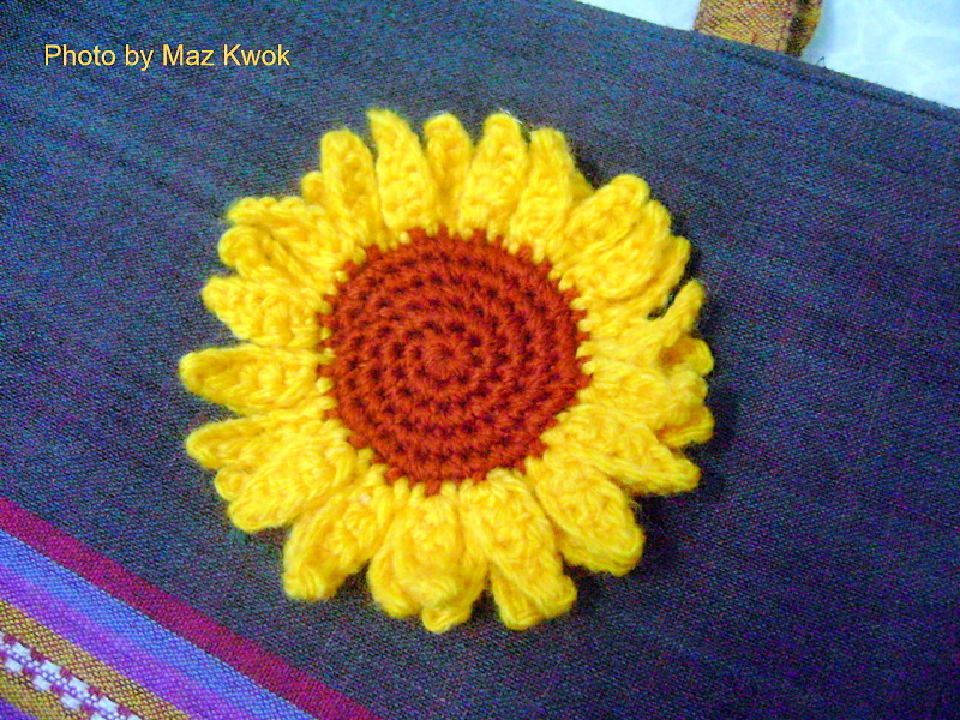 Add a bit of summertime joy to your projects with this beautiful crochet sunflower applique—and it's free! This lovely petal-packed pattern is easy enough for even beginner crocheters. The step-by-step instructions make creating the perfect decoration for hats, bags, blankets and more simple. Get creative and add sunshine to any project with this free crochet sunflower applique pattern today! mazkwok
12. Modern Crochet Sunflower Doily Pattern
Welcome the spring season by decking your tables with this delightful, budget-friendly, modern crochet sunflower doily pattern! This fun, pretty doily is easy to make using just one skein of two colors or leftover yarn.
Even better, it's small, so you can quickly whip up a few and show off your crochet skills. With its modern twist on a classic pattern, this sunflower doily will add beautiful charm to any room!
Get creative and use all sorts of colors to make these vibrant blooms that'll last for years – all you need is 100% cotton yarn and a 2.0 mm hook! zouzoucrochet
13. Best Sunflower Bloom Blanket Crochet Pattern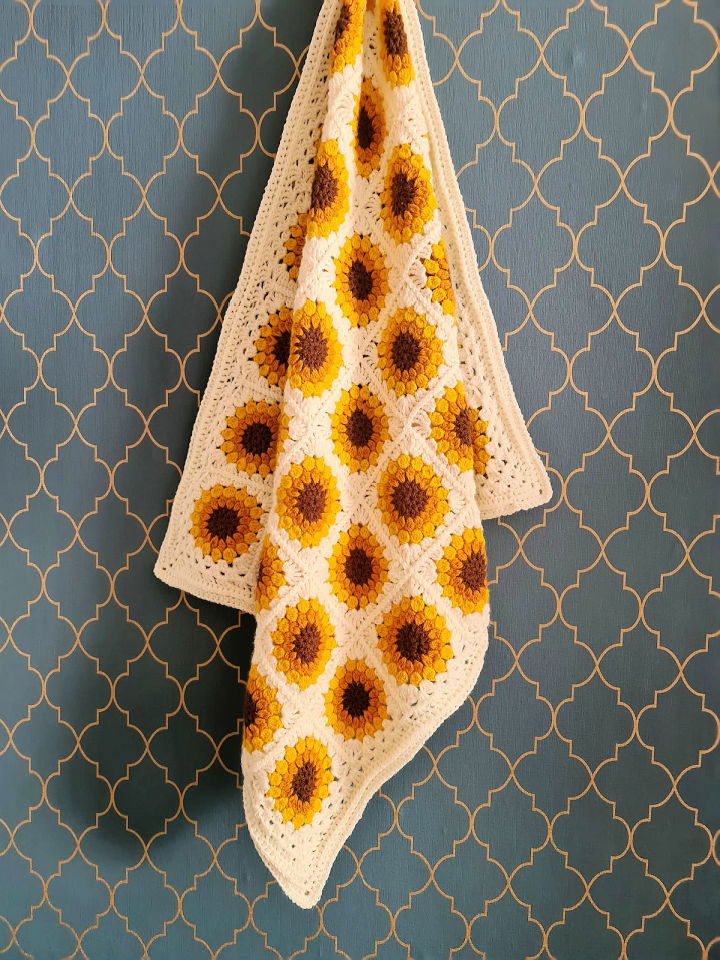 Elevate your home decoration with this one-of-a-kind best sunflower bloom blanket! This free crochet pattern will add an extra touch of elegance and brightness while being breathtakingly beautiful. This blanket comprises 42 individual squares joined together using the ZigZag joining method, based on a baby-size blanket. If you want to increase the size, use more colors, making it perfect for any room in your house. Get ready to experience something truly special with this stunning sunflower bloom blanket! littlebrockcrochet
14. Quick and Easy Crochet Small Sunflower Applique Pattern
Get creative and explore the possibilities of crochet sunflower patterns. With a little bit of patience, you can make one-of-a-kind decor for your home or gifts for friends and family.
Add cheer to your life with this cute, free crochet small sunflower applique pattern! It's quick and easy, perfect for beginners or experienced crafters. The finished applique will measure just about 2.2″ (5.5 cm), so it won't take up too much room when looking for a subtle embellishment. Use these cheerful little flowers to decorate summer accessories like bags and hats, make flower garlands for home decor, create magnets or cards, or craft earrings – the endless possibilities! With this fun crochet pattern, you can bring the sun's warmth into your life any time of year. raffamusadesigns
15. Fastest Crochet Solig Sunflower Pillow Pattern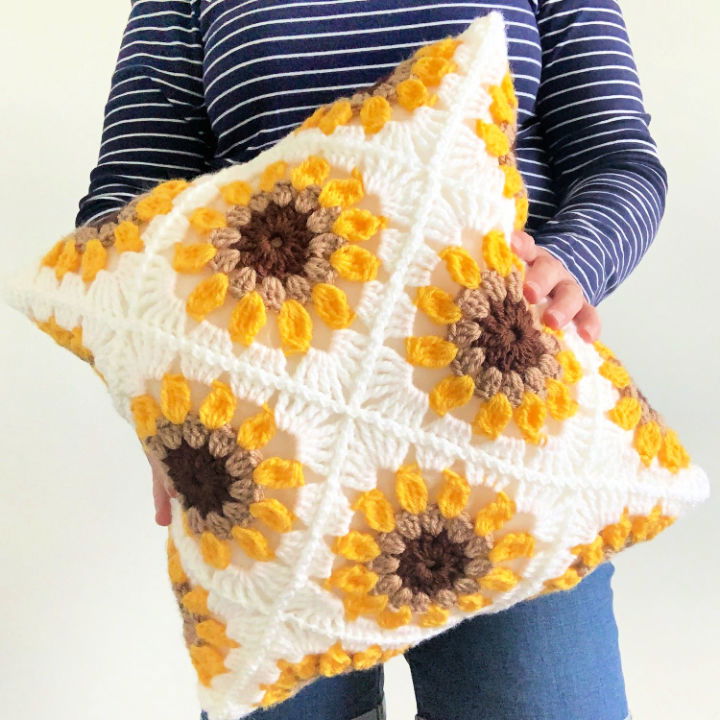 Get the beauty of late summer and early fall for your home with this gorgeous sunflower pillow pattern! This free, fastest crochet Solig sunflower pillow pattern directs you to make a stunning 16″ x 16″ pillow in no time. What's even better than using the same pattern to create an entire blanket for your room – perfect for adding sunshine and cheerfulness to any space? Get started on crocheting this easy and quick project now, and enjoy the bright colors of these beautiful flowers! nautikrallcrochet
16. Crocheting a Sunflower Baby Hat – Free Pattern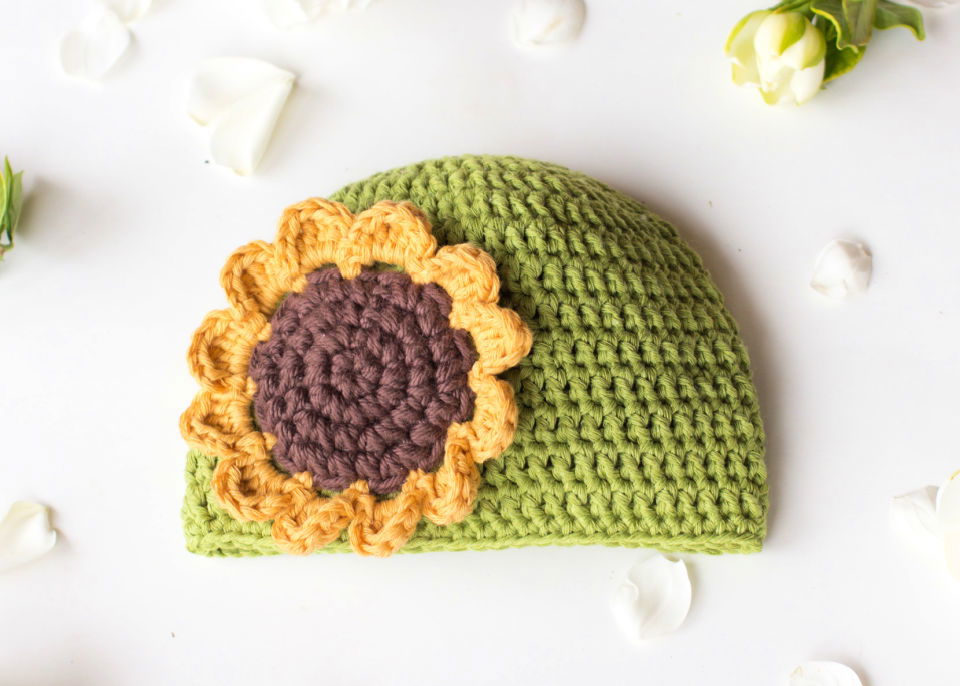 Greet the spring with this delightful sunflower baby hat! Winsome and sweet, the bright petals will warm up any day. Best of all, you don't need to be a crocheting expert – this easy-level pattern comes complete with step-by-step photos for your convenience. Pick a handful of colors like you're picking flowers for a bouquet and tailor it to fit 0 – 3 months old or 3 – 6 months old. Add some personality to your little one's wardrobe today by making these unique sunflower baby hats – they're sure to shine brighter than the sun! hopefulhoney
17. Unique Free Crochet Sunny the Sunflower Pattern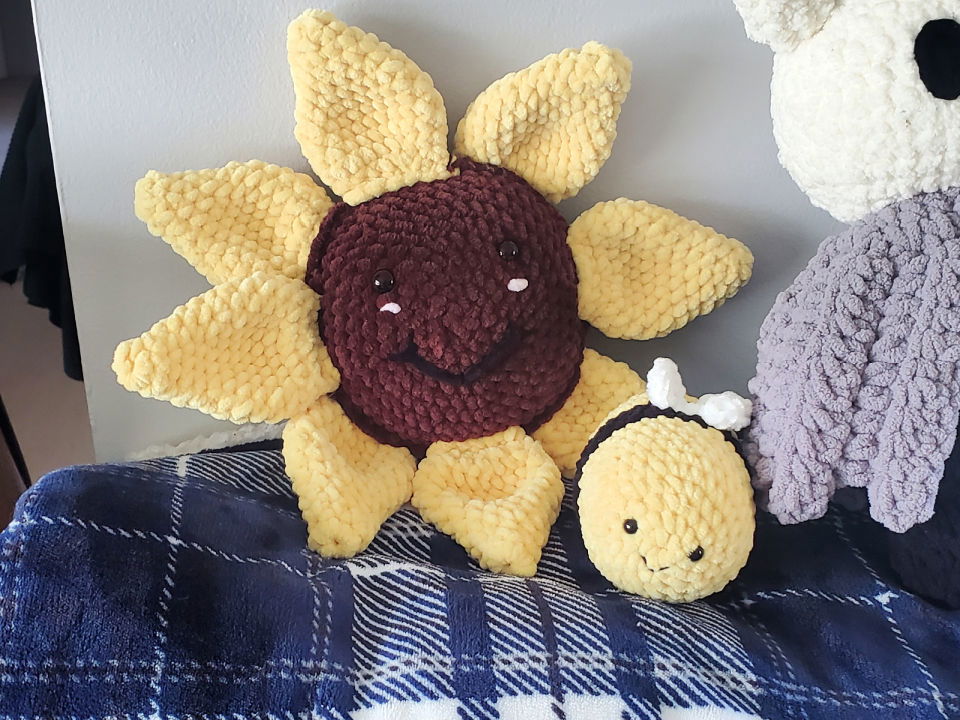 Bring a burst of sunshine into your life with this unique and free pattern for crocheting sunny the sunflower! The best part is that it's easy to make, so you'll be done quickly. Plus, if you use blanket yarn, it'll end up the size of a giant pillow – talk about endless possibilities! Or, if you prefer something smaller, try using baby velvet and make a small squish instead. It can even be made in different sizes depending on the type of yarn used; this version is approximately 10 inches. Brighten up any room with this cute and squishy sunflower pillow! theweavingwitch
18. Cool Crochet Dishcloth Sunflower Pattern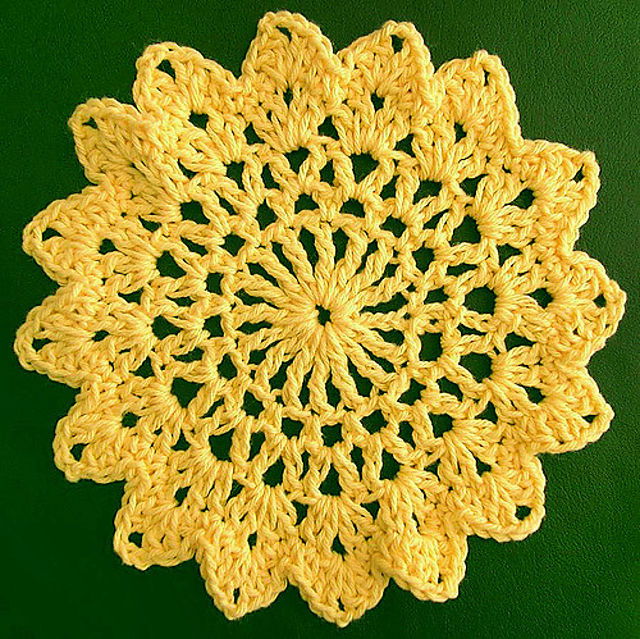 Be the envy of your friends with this super cute, cool crochet dishcloth sunflower! Its finished size of approximately 9″ will make a statement in any home. Plus, what's better than something that looks amazing and is easy to create? Get started on this free pattern today, and you'll never look back! An eye-catching design at an accessible level of difficulty – this sunflower dishcloth has it all. crochetdude
19. How to Crochet Sunflower Dishcloth Scrubber – Free Pattern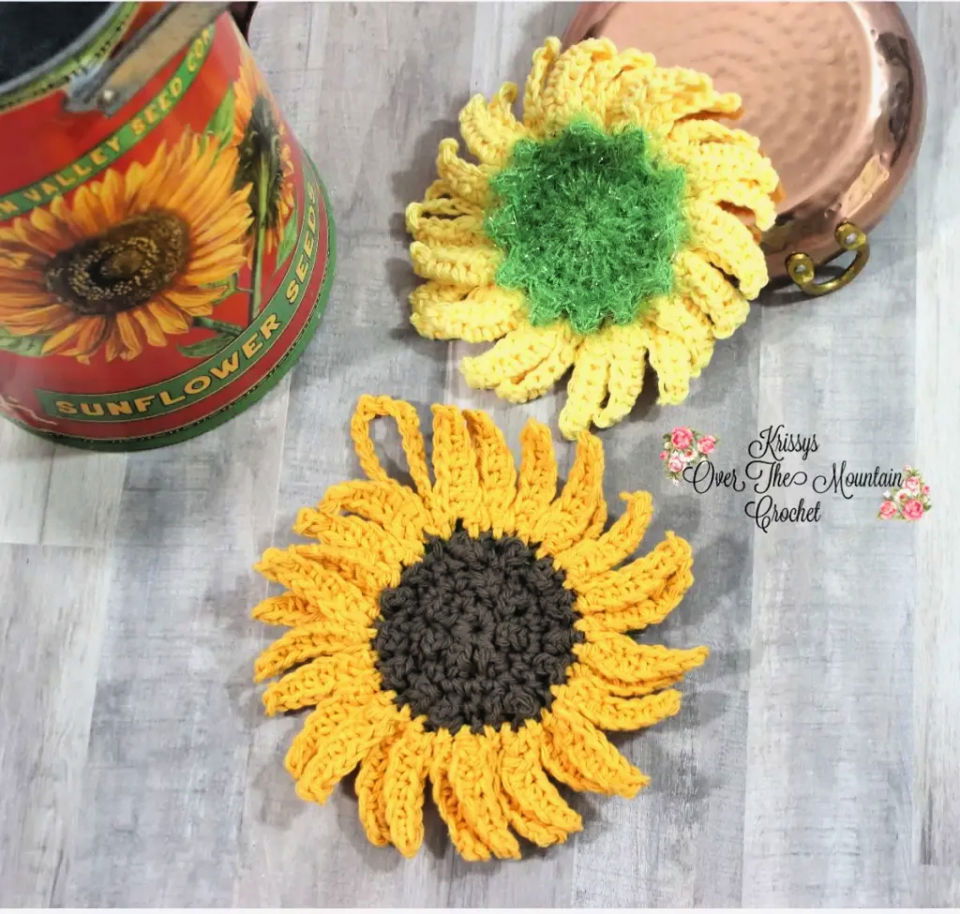 Crochet your cheery kitchen accessory with this easy-to-crochet sunflower dishcloth scrubber! You can quickly achieve great results using a combination of popcorn stitches and flower petal crochet. You only need some soft dishcloth cotton yarn to make it even better!
The finished product looks adorable in any kitchen, and its textured surface makes it perfect for cleaning dishes. Plus, there's a free pattern to follow, so you'll be able to recreate the same design again and again! So why not try making one today? overthemountain
20. Best Mini Sunflower Washcloth Crochet Pattern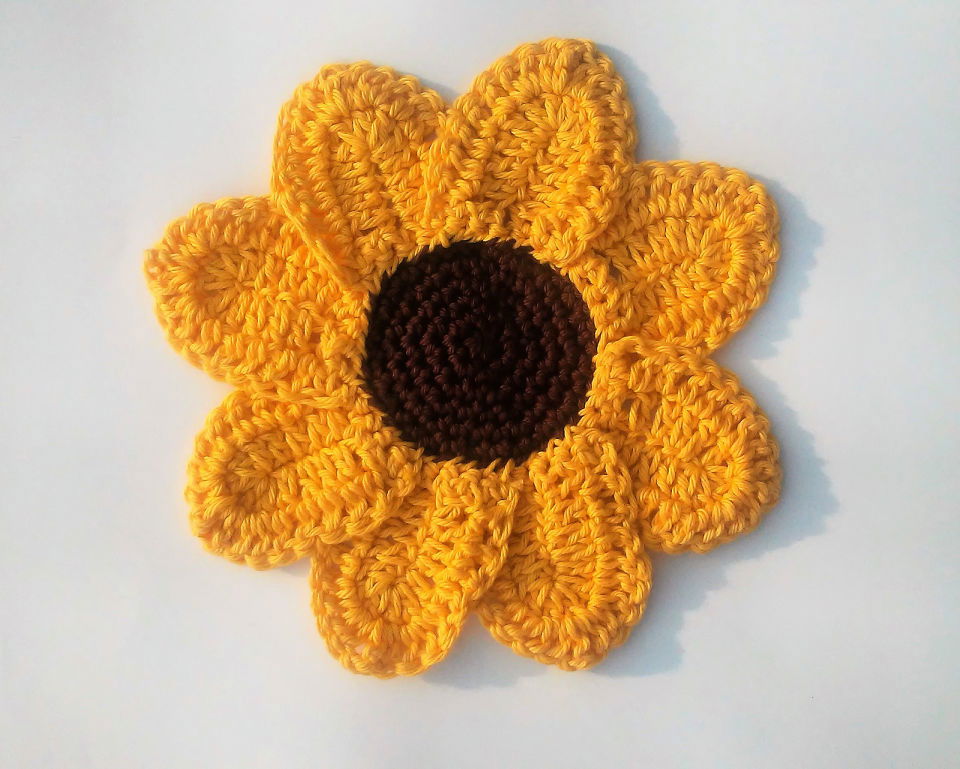 Let the sunshine into your home with this delightful and cute free crochet pattern for a mini sunflower washcloth. Perfect as a potholder or just to be used as whichever you wish, this lovely washcloth is easy to make with the video tutorial included in the pattern. Use cotton in brown and curry colors plus an I-5.50mm hook, stitch marker and yarn needle to get started – so simple yet pretty! You will love how this mini sunflower washcloth looks and feels when you complete it; perfect for those hot summer days! okiegirlblingn
21. Crochet Sunflower Sunburst Granny Square Pattern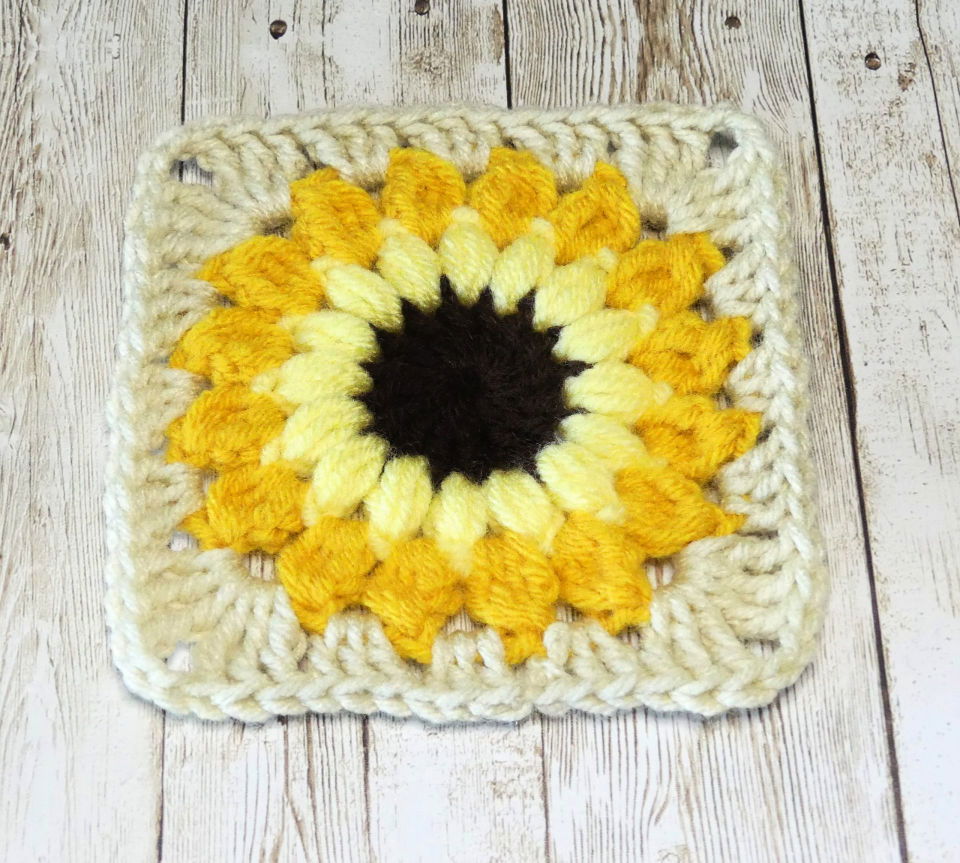 This spectacular crochet sunflower sunburst granny square pattern will surely create something beautiful! These lovely sunflowers are colorful and classic, perfect for various projects. Use individual squares as coasters, combine nine squares into a larger square for a pillow cover, or make a whole bunch of squares into an amazing blanket–the options are limitless. Plus, it's easy to work up, even if you're starting with crocheting. Make something special today with this great crochet pattern! kraftykait
22. Free Sunflowers Crochet Pattern for Beginners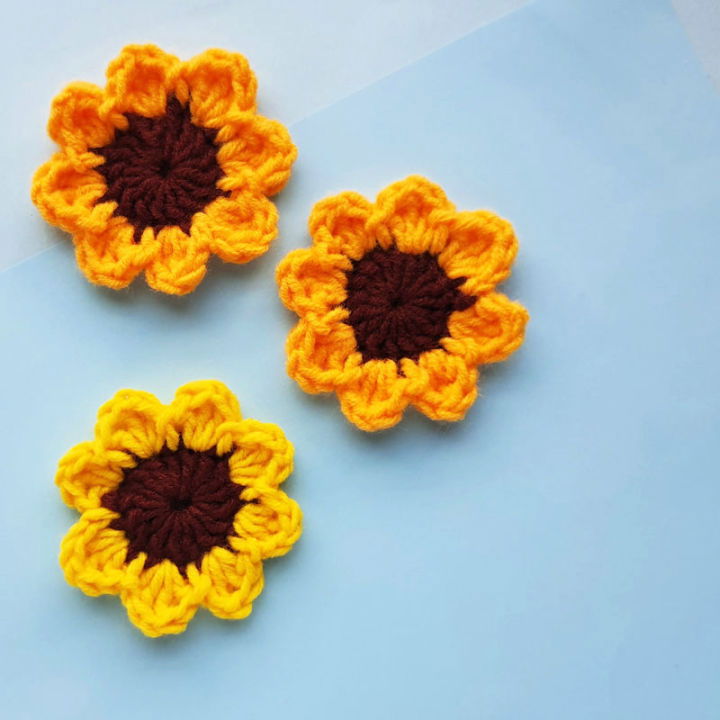 Looking for crochet sunflower patterns? Check out our selection of free, easy-to-follow tutorials to get you started on your next project!
Brighten up your home with these cheerful, crochet sunflowers! This free pattern is perfect for beginners and makes the prettiest flowers. They are easy to make and will look fabulous in Spring or Summer. Add them to a quilt for embellishment, sew them onto a t-shirt for a fashion statement, or attach them to headbands or hair clips – you can do so much with these charming little blooms! Get creative and add bright optimism to your life today – start crocheting sunflowers now! momsandcrafters
23. Free Printable Crochet 3D Sunflower Patterns to Print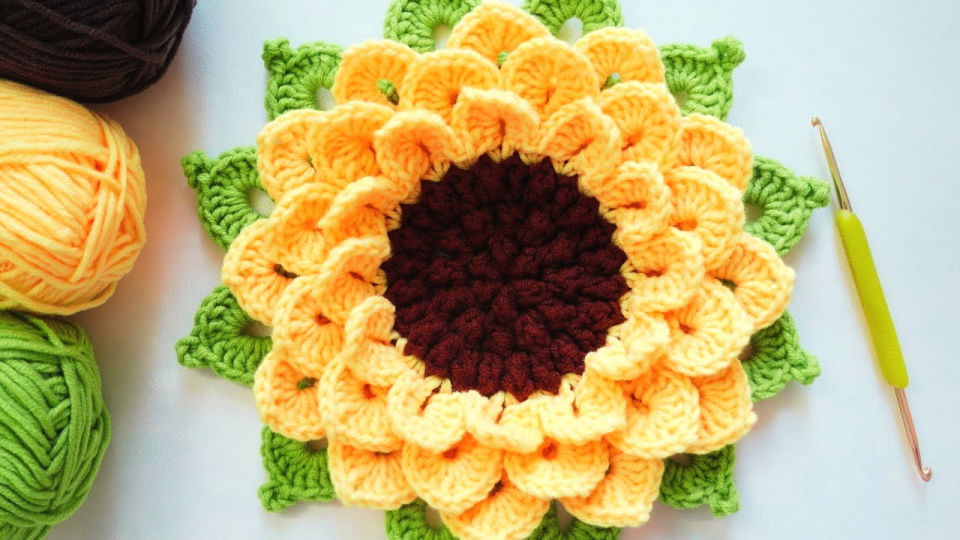 Crochet a one-of-a-kind, 3D look with this gorgeous free printable crochet sunflower tutorial! This delightful sunflower design is beautiful and easy to crochet. Its beautiful and unique design will have you crafting in no time.
It's easy to crochet yet still has a lovely 3D look that will make any room feel special. You will love the unique texture it adds to your projects, whether you're using it for home decor, accessories or gifts.
Let your creativity flourish as you learn how to make this lovely flower in no time at all with our free tutorial – perfect for beginners or experts alike!
24. Easy Crochet Sunflower Afghan Tutorial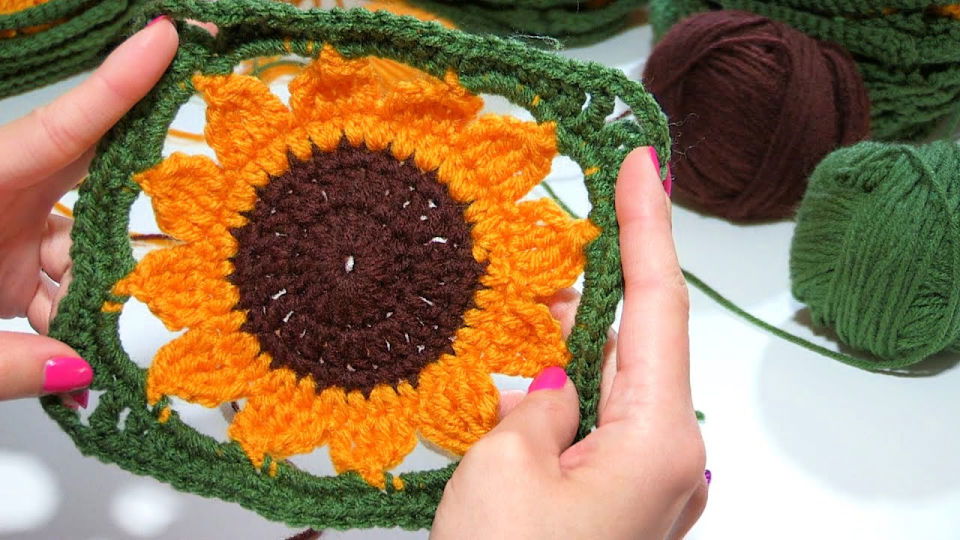 This easy crochet tutorial will help you to create a beautiful sunflower afghan. You'll receive a full step-by-step guide and the accompanying written pattern to bring this lovely homemade sunflower to life. Even if you're just getting started with crochet, this simple project is easily achievable – perfect for beginners or anyone looking for something special to make. Create your very own special and unique sunflower afghan today!
25. Easiest Large Sunflower to Crochet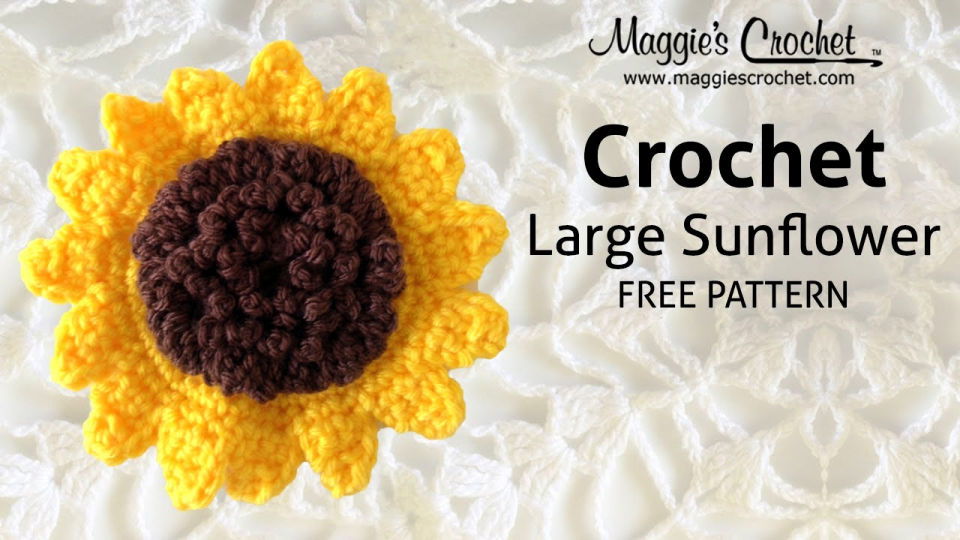 Fall in love with the easiest large sunflower to crochet! This free pattern is perfect for crocheters of all skill levels and includes both a right-handed version and a left-handed pattern. It's also easy to customize for your particular project. Create a beautiful large sunflower that will charm and bring warmth to any home or room – you'll be crafting it repeatedly! So what are you waiting for? Try out this lovely pattern today – no time like the present!
Related Free Crochet Patterns:
Unleash your creativity with our free crochet patterns. From trendy accessories to cozy home decor, we have a variety of patterns for all your crafting needs.
Conclusion:
In conclusion, crochet sunflowers are a popular and versatile motif used in various projects, from blankets to decorations to amigurumi. With 25 free crochet sunflower patterns available above, you can find the perfect crochet sunflower pattern to suit your skill level and project needs. Whether you're a beginner or an advanced crocheter, simple and detailed sunflower patterns exist. So, look no further than the crochet sunflower for a fun and rewarding project. Make a crochet sunflower afghan, a crocheted sunflower bouquet, or a small sunflower amigurumi today!