Crochet bookmarks are a fun and easy way to add a personal touch to your reading materials. With 25 free crochet bookmark patterns, you can create unique and adorable bookmarks with ease. These crochet bookmark patterns come in various designs, from cute and colorful to elegant and simple. Explore the joy of each free crochet bookmark pattern – a fun and easy way to add a touch of personality to your reading routine!
Whether you're a beginner learning how to crochet or an experienced crocheter looking for a quick and easy project, these free crochet bookmark patterns offer step-by-step instructions and helpful diagrams to guide you through the process. You can also find free printable crochet bookmark patterns for your convenience.
Some of the most popular crochet bookmark patterns include the crochet cross bookmark, which is perfect for religious books or as a gift for churchgoers. You can also make unique bookmarks using crochet thread or experiment with different stitch patterns to create a variety of textures and designs.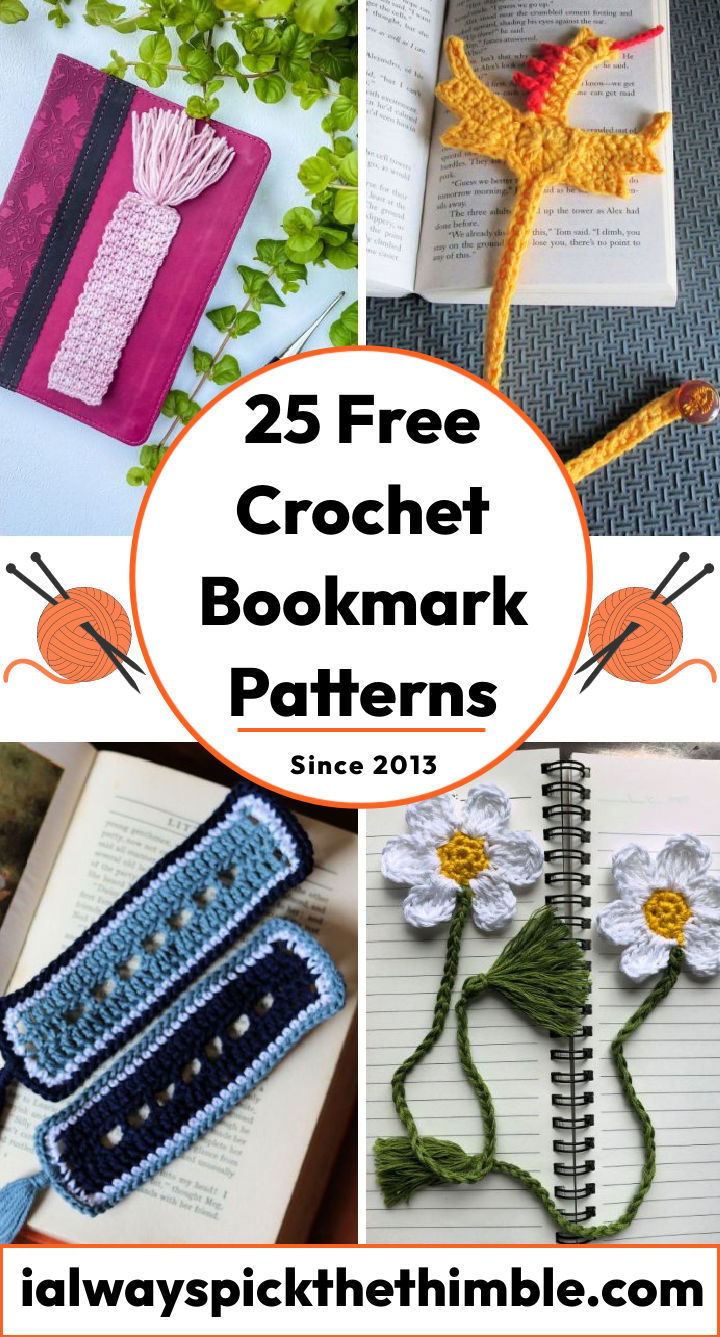 Creating your own crochet bookmark is an easy and enjoyable way to add a personal touch to your reading materials. So why not try making your own today? With these free crochet bookmark patterns, you'll have plenty of options and the satisfaction of creating something unique and useful.
1. Quick and Easy Crochet Flower Bookmark Pattern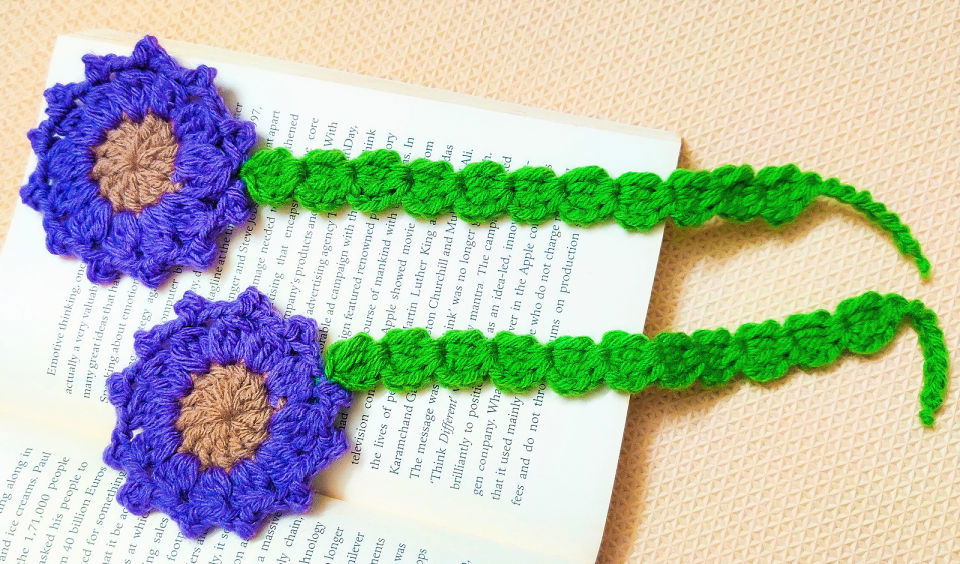 With just a few supplies and some time, these free crochet bookmark patterns can be a fun way to add a personal touch to any book. Make a book-loving person even happier by making them the perfect crochet flower bookmark! Using just 4-ply cotton knitting yarn, a 4 mm crochet hook and some of your scrap yarn, you can quickly and easily whip up these decorative works of art in minutes. These crocheted flower bookmarks make great gifts for any occasion and measure 14 inches long. Give someone special something they'll treasure forever with this quick and easy project! rajiscrafthobby
2. Simple Crochet Linden Bookmark Pattern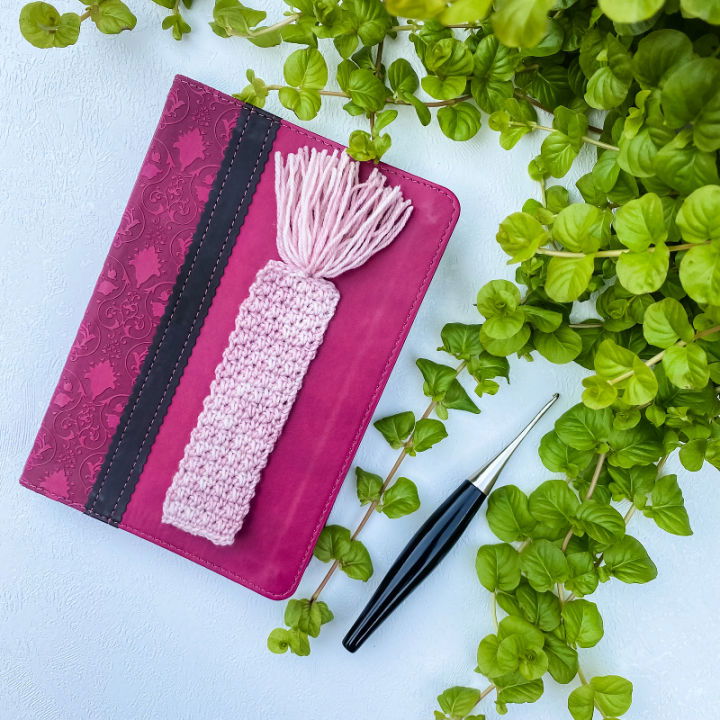 This crochet flower bookmark pattern is perfect for any reader wanting to add style and color to their books. Choose your favorite colors with 1 skein of red heart super saver yarn, grab a size f crochet hook and scissors, and you're all set! This easy-to-follow pattern will have you creating beautiful crocheted bookmarks in no time. Enjoy adding a fun pop of color to your reading material with this crochet flower bookmark pattern! aknottyhabitdesigns
3. Free Crochet Blooming Bookmark Pattern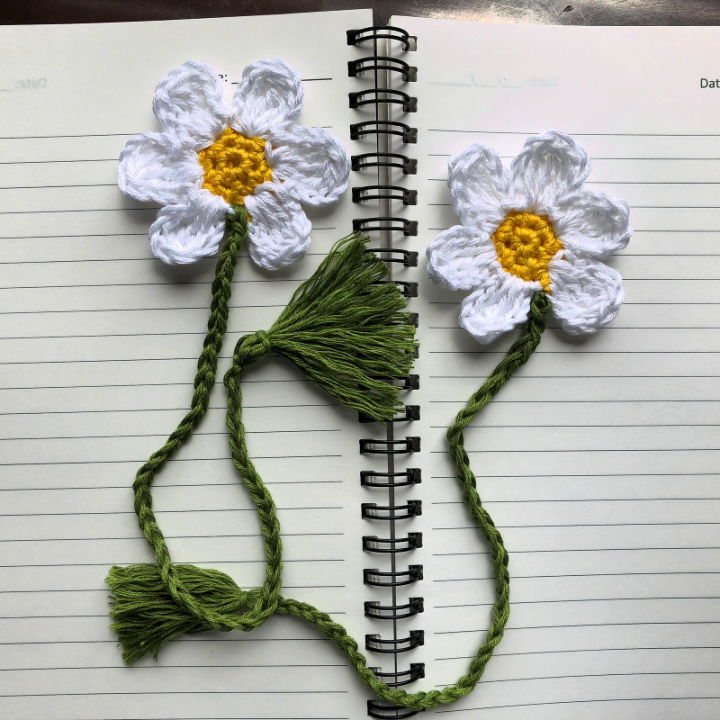 Add a little bit of bloom to the reading moments of your friends with these free pattern-blooming bookmarks! Perfect for any bookworm, these eye-catching and colorful bookmarks are crocheted from yellow, white, and green yarn. Crafted with care and precision, they make wonderful gifts that remind your loved ones how much you care about them. Get your hands on this delightful free pattern today – it's sure to become an instant must-have for all readers alike! aseemcreations
4. Elegant Crochet Bookmark Pattern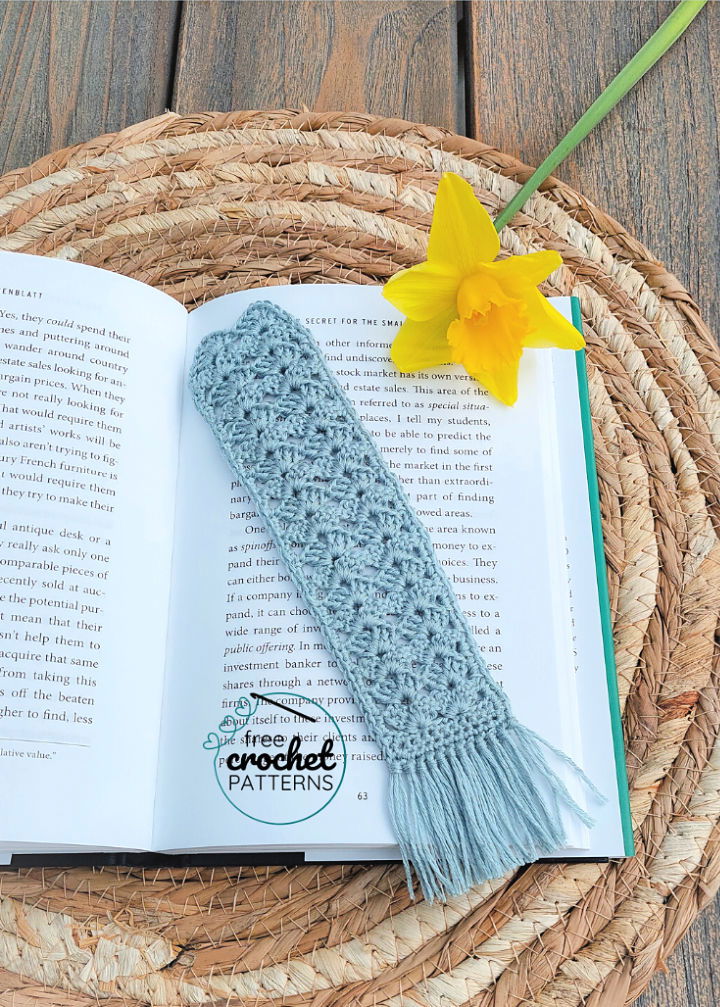 Elegantly store your place in a book with this free crochet pattern elegant bookmark. Perfect for the true bookworm, this easy project requires just some basic materials: yarn of your choice and a 2.0 mm crochet hook. Get creative and make one-of-a-kind designs that will help you keep track of where you left off in your favorite books! The possibilities are endless; start today by making an artfully crafted bookmark to share or keep! freecrochetpatterns
5. Free Crochet Bookmark Pattern for Mom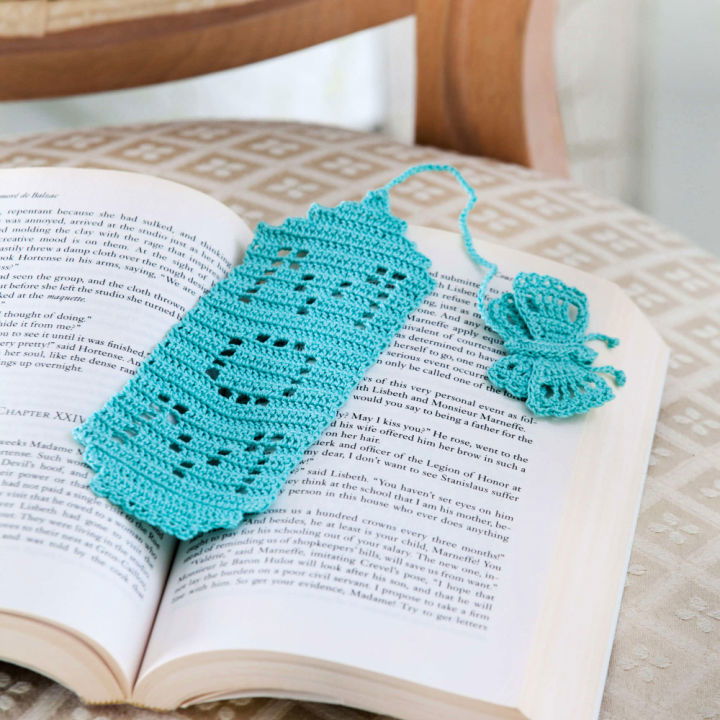 Are you looking for a thoughtful gift idea to give your mom this year? Why not try making her the perfect bookmark with this free crochet pattern? With a steel hook 1.4 mm and aunt lydia's classic crochet thread size 10, you can create an intricate yet elegant design that will make your mom proud to show off her new bookmark every time she reads a book. She'll love how unique it is and appreciate all the effort you put into creating it for her. Give your mom something special with this free crochet bookmark pattern today! yarnspirations
6. How to Make Botanical Bookmark – Free Crochet Pattern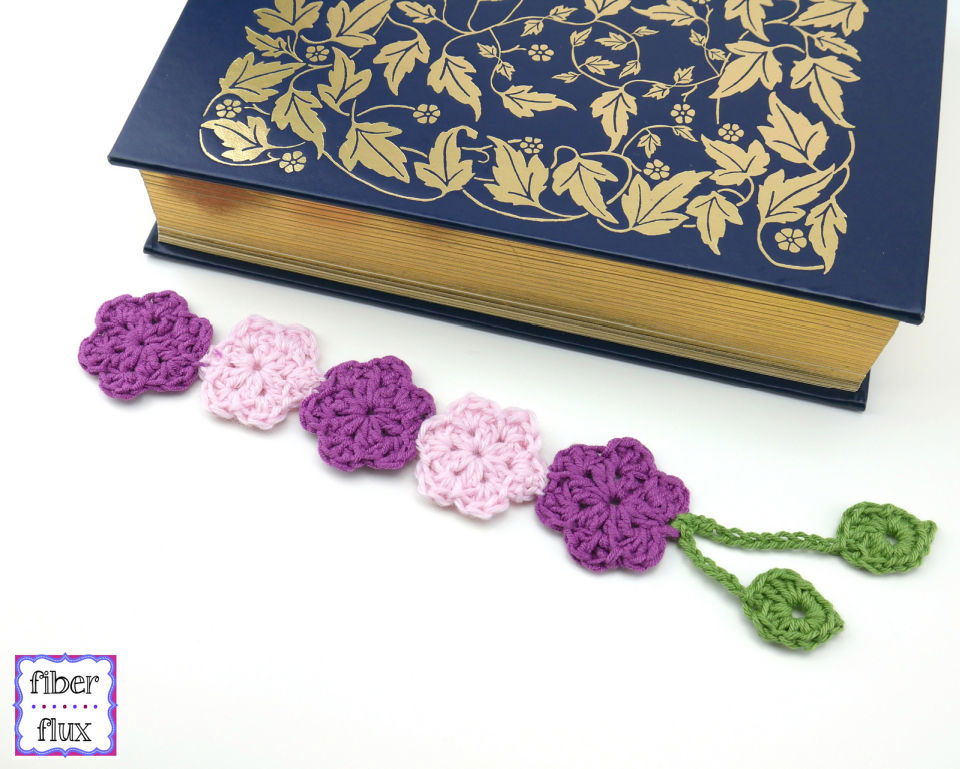 Crochet bookmark patterns are a great way to use your crochet skills and add a unique touch to any book or journal.
Discover the perfect handmade gift with this free crochet pattern! Create a beautiful botanical bookmark with only a few supplies – all you need is a 3.75 mm f crochet hook and yarn scraps or leftovers in dk, sport, or sock yarn weight. The pretty little blossoms are accompanied by two hanging leaves that make for easy addition. This lovely little project adds beauty to reading time, so get started today and make someone special happy! fiberflux
7. Best Dainty Daisy Bookmark Crochet Pattern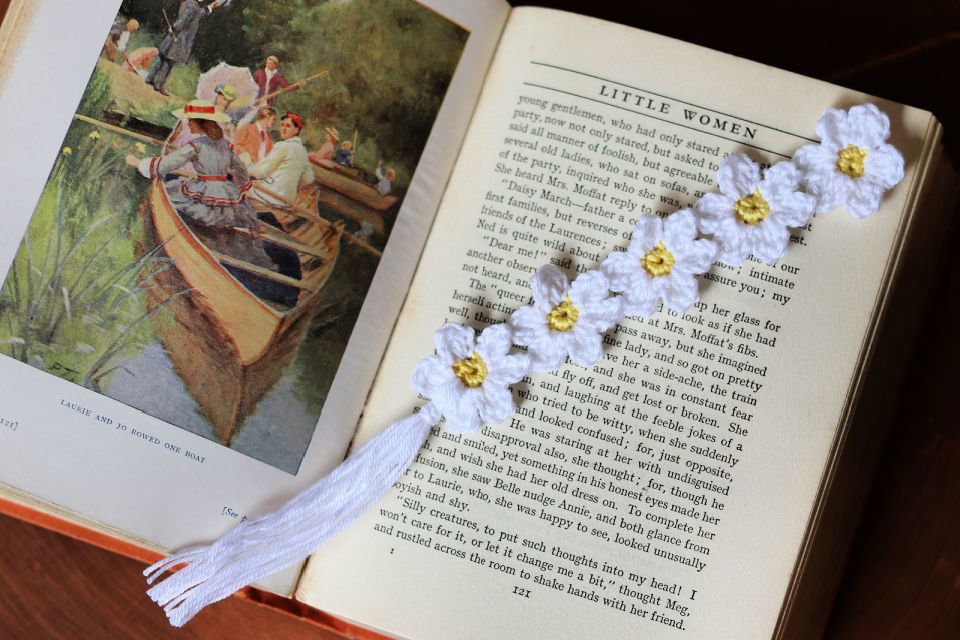 Create a unique bookmark with the dainty daisy crochet pattern! This adorable design features dainty flowers, making it perfect for book lovers. It's quick and easy to work up – you can customize the length of your crochet bookmark by joining in motifs. You only need some yarn and a 3.5 mm hook. Perfect for beginners, this pattern will bring out your creativity and make sure your pages stay secure! richtexturescrochet
8. Fastest Crochet Winged Dragon Bookmark Pattern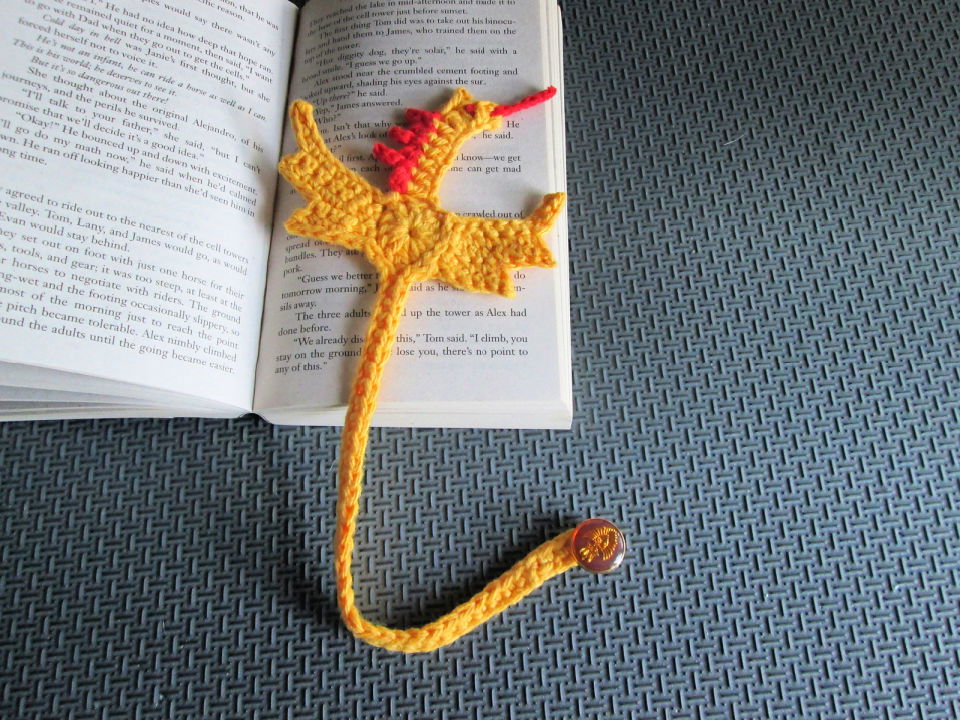 Bring the majesty of dragons to your reading with this fastest crochet-winged dragon bookmark pattern! Constructed of worsted weight yarn, you'll need a size g crochet hook to complete the project. When finished, your bookmark will measure 5 ½"h x 5 ½"w and add a beautiful touch to any book or magazine. Follow the pattern for quick results that will have you enjoying a unique dragon bookmark in no time! Add this fastest crochet-winged dragon bookmark pattern to your collection today for an awesome look that stands out! crochetville
9. How to Crochet Budding Leaf Bookmark – Free Pattern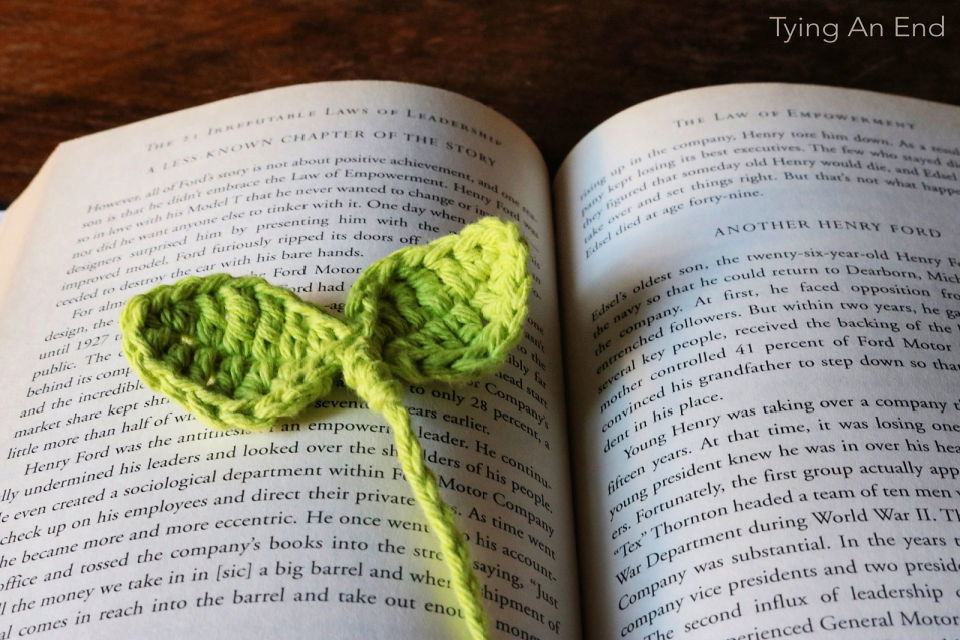 Welcome to the budding leaf bookmark, the perfect gift idea for your bookworm friends! These cute little leaves will add a touch of whimsy and fun to any reading session. Made from category 4 medium-worsted weight yarn, these crochet leaves require only a 4.5mm hook and some beads for decoration. Enjoy watching them sprout out from the pages of your favorite books as if they were growing right out of them! tyinganend
10. Crocheted Windows Bookmark – Free Pattern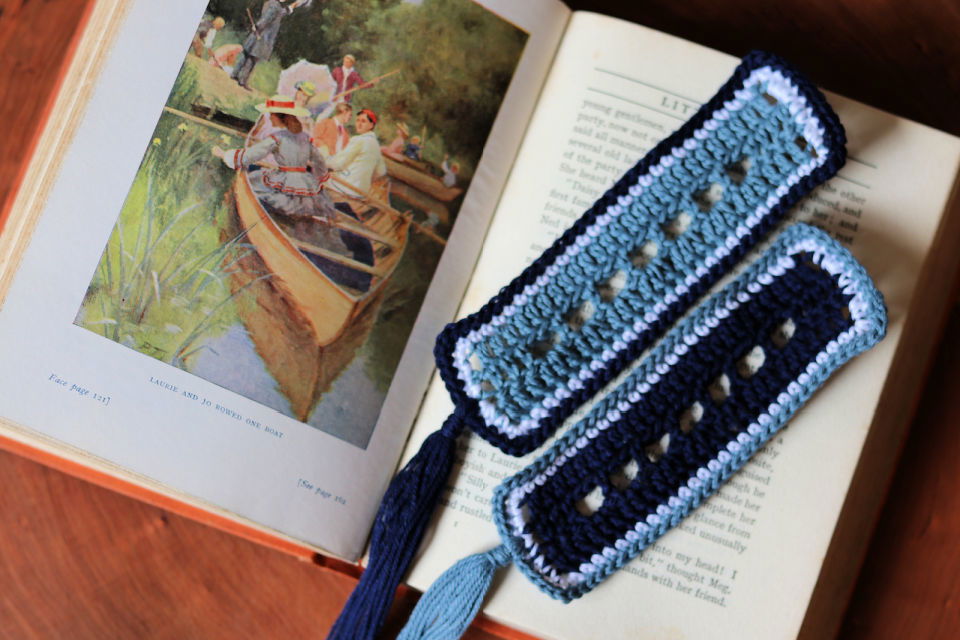 Crochet bookmark patterns make great gifts for crochet-lovers and bookworms alike! Ready to turn your books into a work of art? Try the windows bookmark crochet pattern for an easy and colorful way to do it! You can create this unique bookmark using basic crochet stitches in no time. It comprises only three rows with a simple edging added at the end. You can also embellish it with a nice tassel for extra flair. Perfect for beginners and advanced crocheters alike, the finished size is approximately 2 x 5.5 inches. Grab some lightweight yarn, and let's get started! richtexturescrochet
11. Simple Crochet Butterfly Bookmark Pattern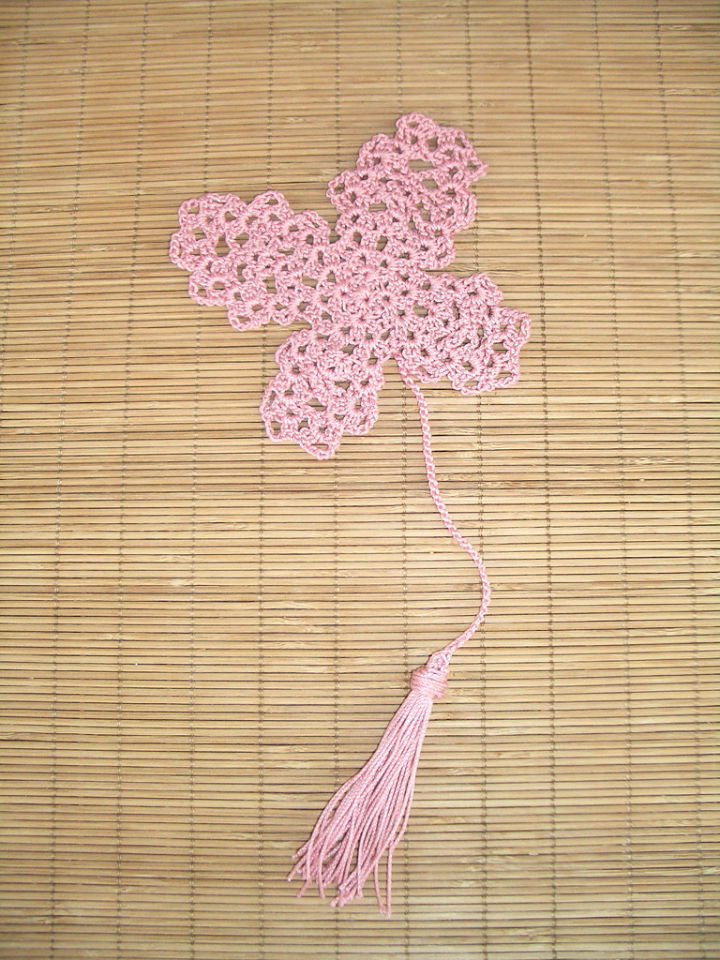 This easy-intermediate free butterfly bookmark pattern is perfect for the crafty enthusiast. Materials include the yarn you desire, a steel crochet hook 1.50 mm, and can be completed in 4 ½" diameter x 5 ½" tall – making it an ideal gift or a beautiful addition to your library! With this unique design, you'll have a delightful way to mark your place within seconds. Get creative with colors and start stitching today! crochetmemories
12. Crochet Stripes Bookmark – Free PDF Pattern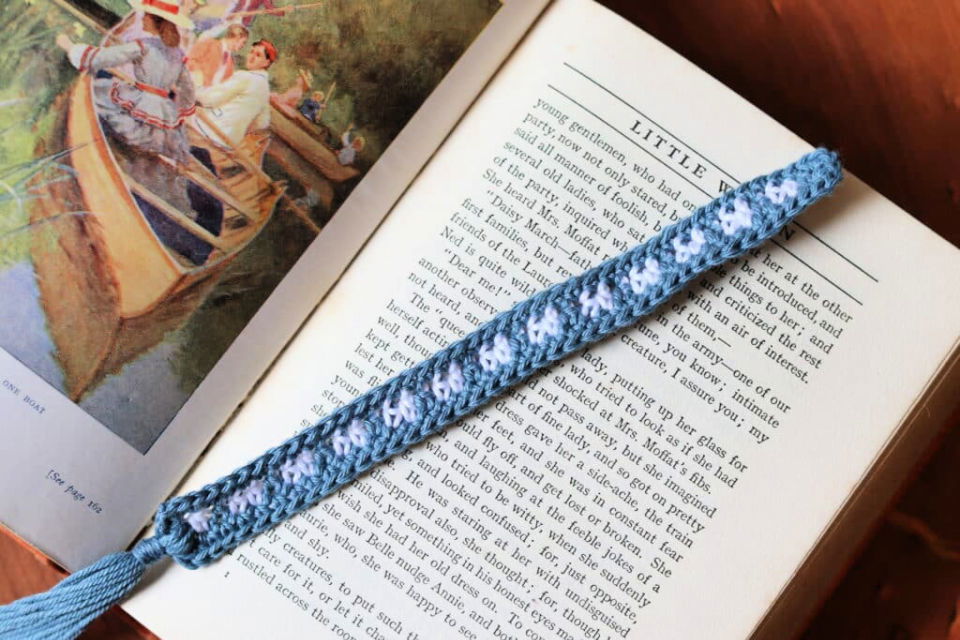 Embark on your crochet journey with this simple and stylish bookmark! Quick to make and only requiring a small amount of lightweight yarn in multiple colors, this cute little bookmark can be finished quickly. Whether it's the morning, afternoon or evening, you'll have plenty of time to complete this extremely simple pattern and show off your work. Suitable for all skill levels and with a finished size of 0.5 x 8 inches excluding tassel using a 3.5 mm hook – it's sure to add some extra flair when marking your pages! richtexturescrochet
13. Easy Crochet Flower Bookmark Pattern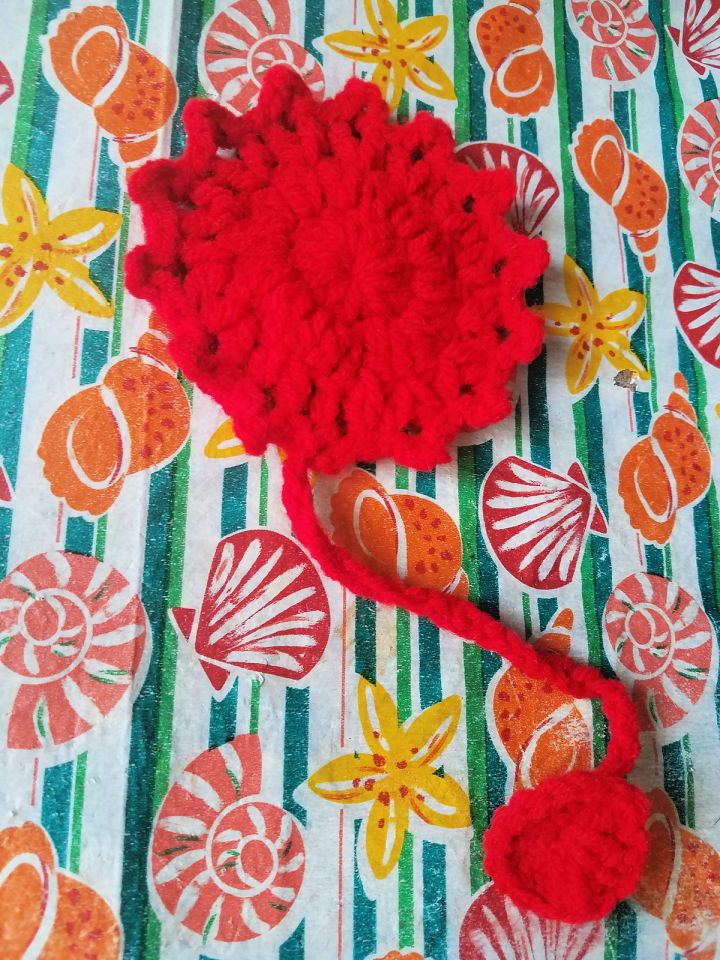 Crochet a unique and beautiful flower bookmark with just 1 skein of red heart super saver yarn! You can choose the color of your choice to make this pattern special and individualized. With a size f crochet hook and scissors, you can create an exquisite handmade craft to bring your book-reading experience to life. Not only is crocheting fun, but these lovely little flowers also make perfect gifts or decorations – so get creative with this innovative project today! songbirdscrochet
14. Gorgeous Crochet Angelic Charm Bookmark Pattern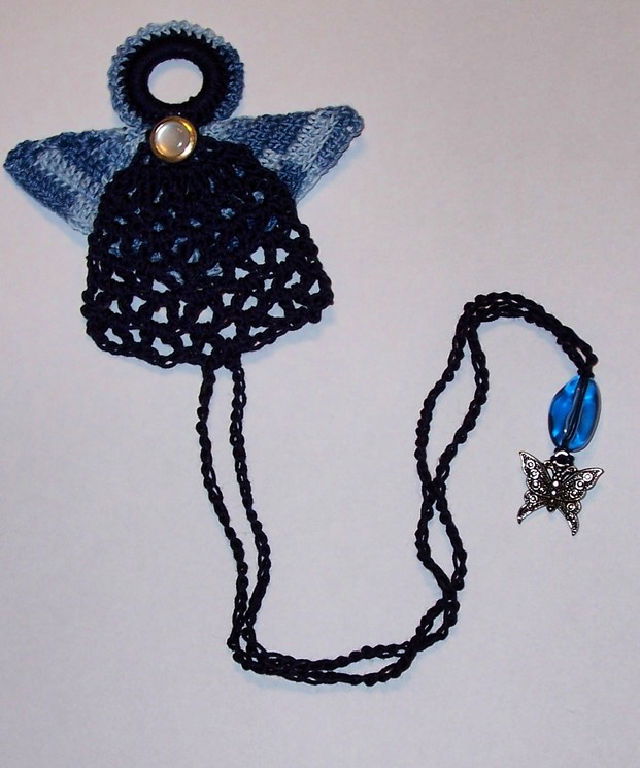 Add a touch of angelic charm to your favorite book with this handmade bookmark! Handcrafted using #10 crochet thread in two coordinating colors, the bookmark is finished off with a 1-inch plastic ring, 1 nugget bead, and an ornamental button. Perfect for keeping your place while you read or as a special gift for someone else. Easily create this unique design at home by grabbing some yarn, a size 8 steel hook or size needed for thread size, and some basic supplies – it's that simple! julisjots
15. Modern Crochet Sunflower Bookmark Pattern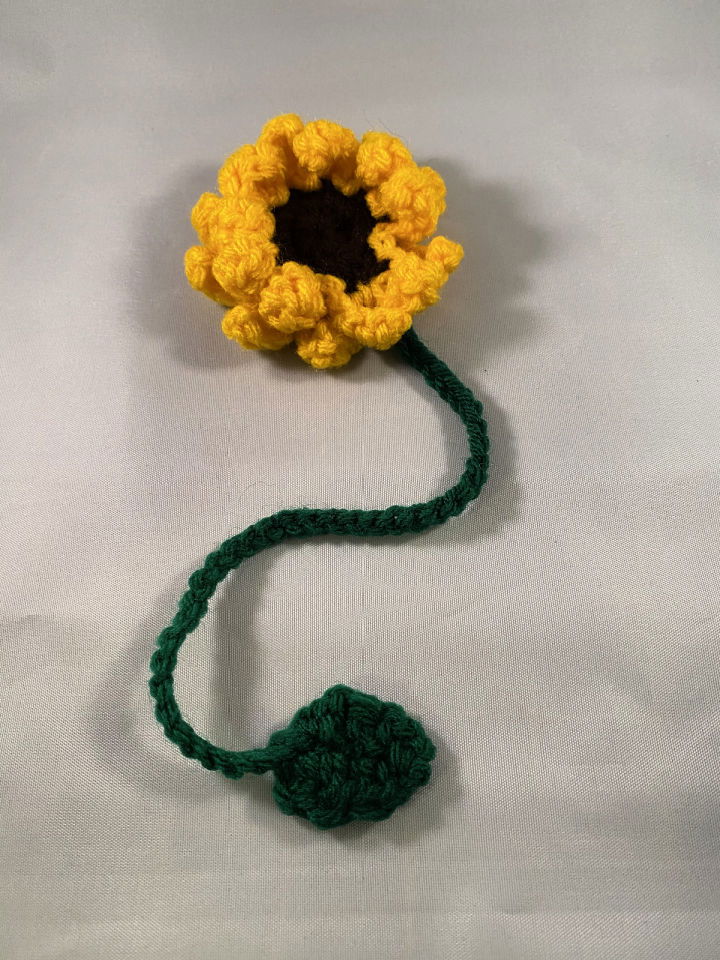 Brighten up your reading with a diy crochet sunflower bookmark. This easy and fun project requires only small scraps of yarn, yellow for the petals, brown for the center, green for the stem, and a 4.5mm crochet hook. Perfect as an inexpensive gift or a treat to yourself – it will add color to any book! Get creative with different yarn colors and make unique sunflower bookmarks that express your style! shootingstarcrafts
16. Cute Crochet Rose Bookmark Pattern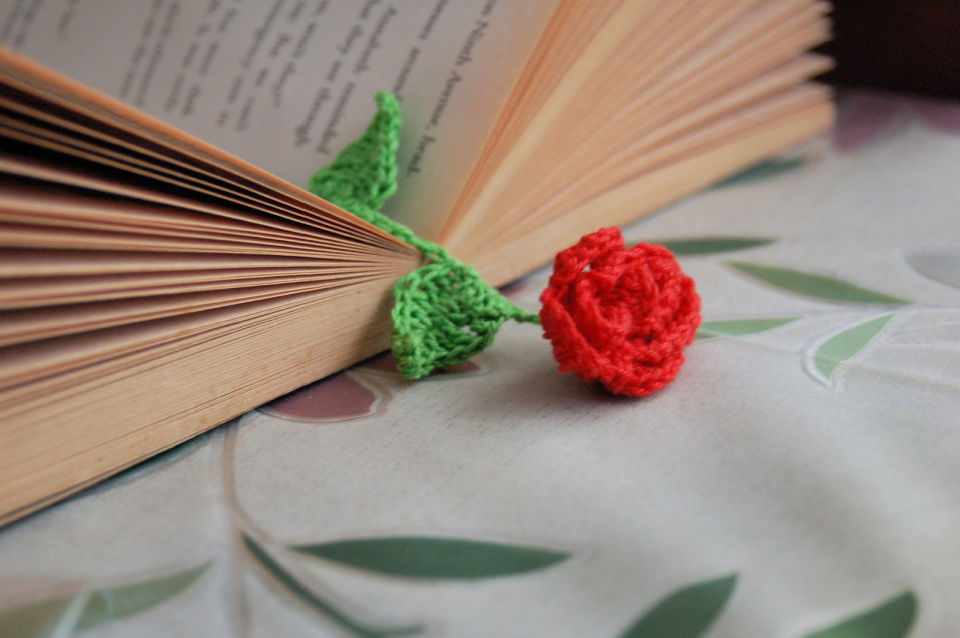 This light green and red rose bookmark is perfect for adding a unique touch to your favorite page. It is carefully crafted out of premium 4-ply fingering yarn, so you can be sure it will last through many readings. The 2.5mm crochet hook brings the intricate details to life, while its large size ensures that no small pieces get lost between pages. To tie off the ends neatly and securely, use the included tapestry needle – essential for an even finish that looks great! Get this beautiful handmade rose bookmark to bring something special to your book collection! itscalledcrochet
17. Free Crochet Eyeball Bookmark Pattern to Print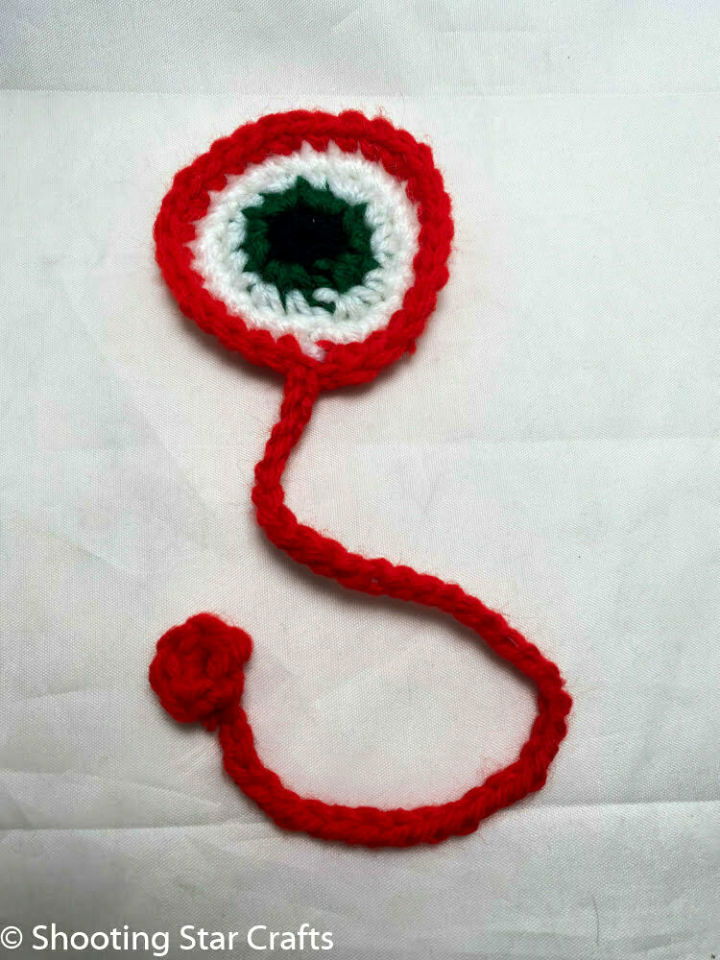 A bewitching blend of spooky and practical, this crochet eyeball bookmark will liven up your library! You can quickly and easily make this fun and creative bookmark with only a few materials. All you need is big twist value yarn in black, white, green, and red colors and a 5.0mm crochet hook to start crocheting immediately! This spooky eye-catching accessory will bring some extra fun to your halloween festivities. Get started on creating your own one-of-a-kind crochet eyeball bookmark today! shootingstarcrafts
18. Adorable Crochet Cherry Blossom Bookmark Idea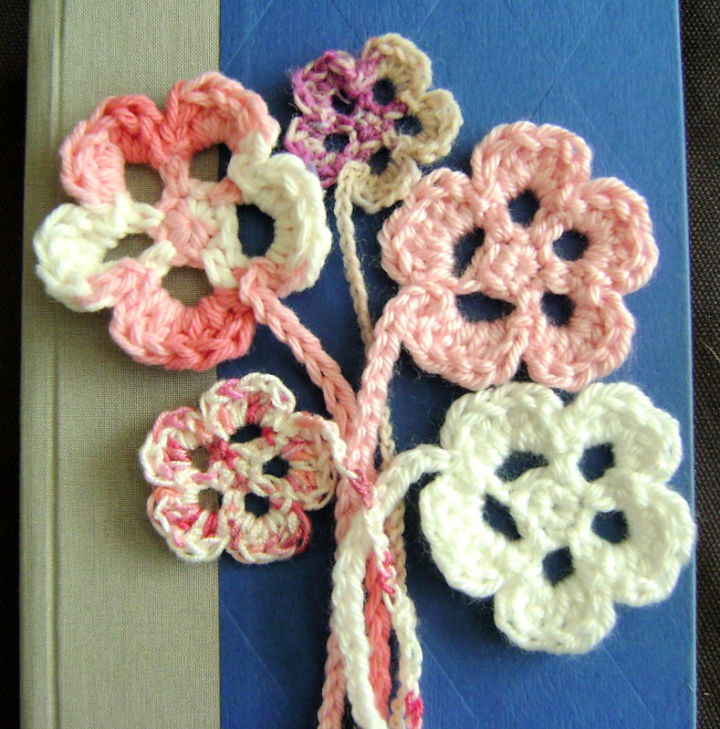 Get creative with crochet and explore dozens of fun crochet bookmark patterns. Bring the beauty of spring with you all year long with this easy crocheted cherry blossom bookmark! Crafted using any yarn up to worsted weight and small hook size for a tight gauge, this beautiful bloom will last longer than its real-life counterpart. Make sure to add one of these delightful bookmarks to your favorite books and keep that special feeling of cherry blossoms in full bloom alive forever! polycraftual
19. Free Crochet Rainbow Book Marker Pattern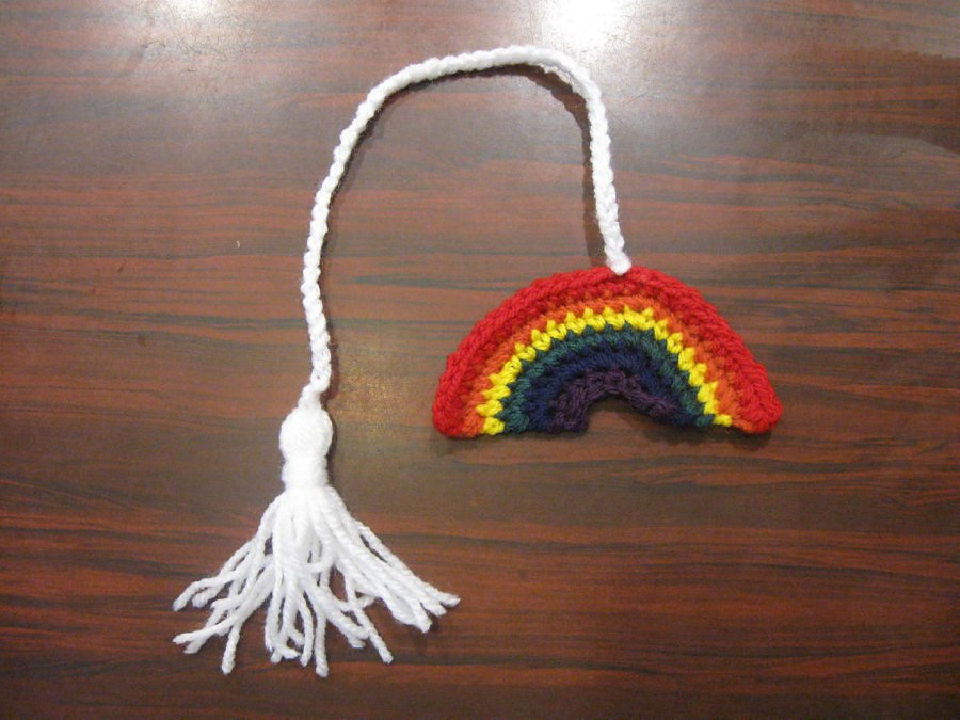 Create a unique and colorful bookmark with this free crochet pattern! This crochet rainbow bookmark is perfect for any project and only requires a few scrap yarns in red, orange, yellow, green, blue and purple. You'll also learn how to make tassels and attach them using an easy 4 mm hook. Get creative with your colors and add a fun flair to your next project! meladorascreations
20. Cool Crochet Fan Bookmark Pattern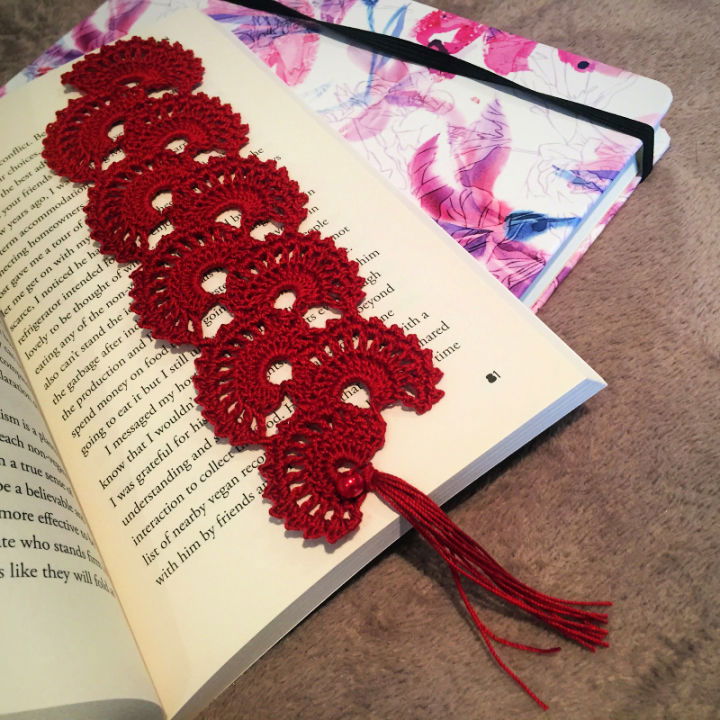 Searching for a fun and easy diy project while watching your favorite show? Try this cool crochet fan bookmark pattern! With just some yarn of your choice and a crochet hook, you can easily make your very own bookmark. Perfect for any level of crafter, this project will surely satisfy you with its unique and beautiful results! Get creative by choosing from different colors and yarn thicknesses to create something unique – all from the comfort of your sofa. crochetroo
21. Pretty Crochet Lace Bookmark Design – Free Pattern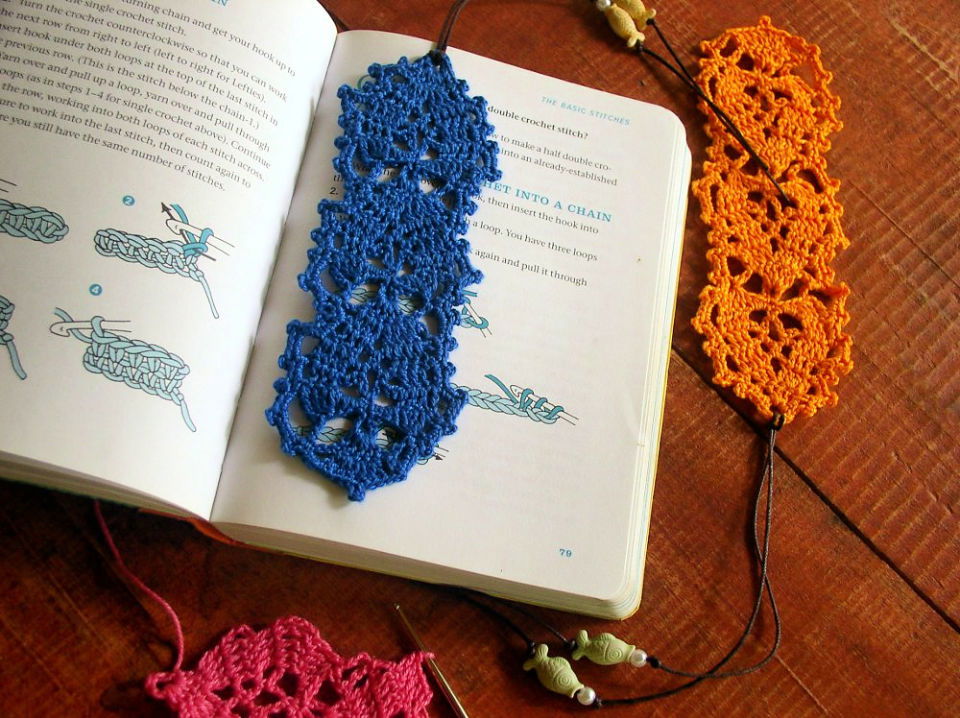 Adorned in intricate lace, this bookmark is a timeless way to keep your place. Crafted with cotton thread size 8 and a 1mm steel crochet hook, this bookmark features intricate lace patterns with added tassels or fringes of decorative beads. Whether you make one for yourself or as a unique gift, it's sure to be cherished by any book lover. crochetology
22. Easy Crochet Bookmark Tutorial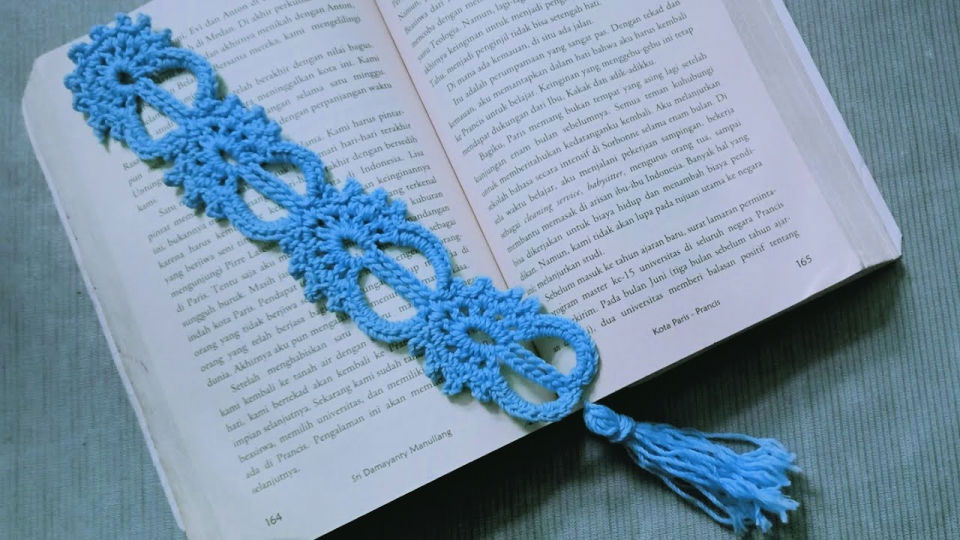 Learn to create a beautiful bookmark pattern with this easy-to-follow crochet tutorial! Follow the simple steps and use polyester yarn and a 2.50 mm hook to make your unique crochet bookmark. With this tutorial, you'll have all the knowledge you need to craft something that's both useful and stylish. Whether for yourself or as a gift, you'll love showing off your completed project! So grab some supplies, get comfortable, and start crafting today!
Add a unique, handmade touch to your favorite books with crochet bookmark patterns that you can customize with colors and design elements of your choice.
23. How to Crochet a Bookmark Using Thread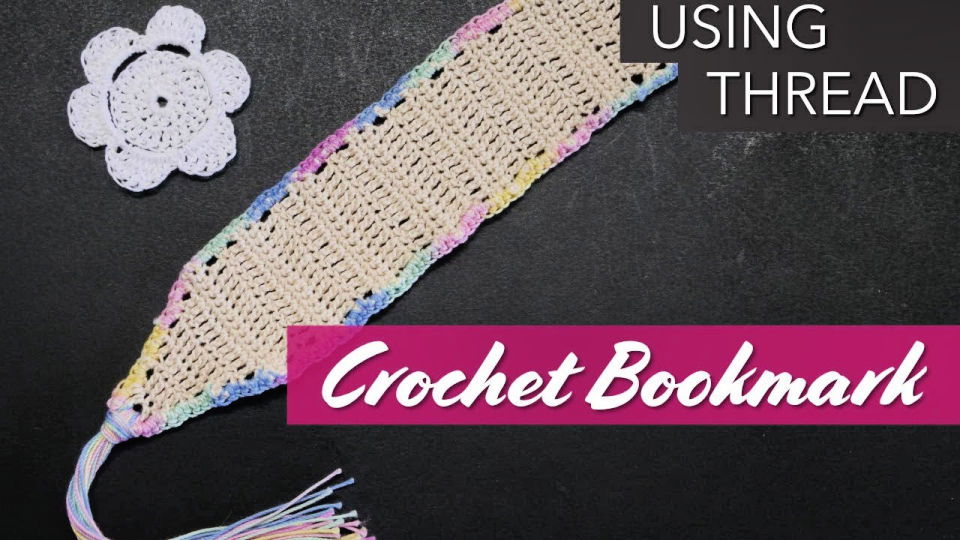 Let your imagination soar as you learn the art of crocheting a bookmark! This easy-peasy project will guide you through creating an elegant and decorative bookmark with #10 cotton thread. Follow these simple steps, and your bookmark will be ready for use in no time. With this helpful tutorial, even a beginner can create beautiful bookmarks that everyone will admire. Get started now on making an eye-catching piece of work with crochet thread!
24. Crocheting a Heart Bookmark With Tassel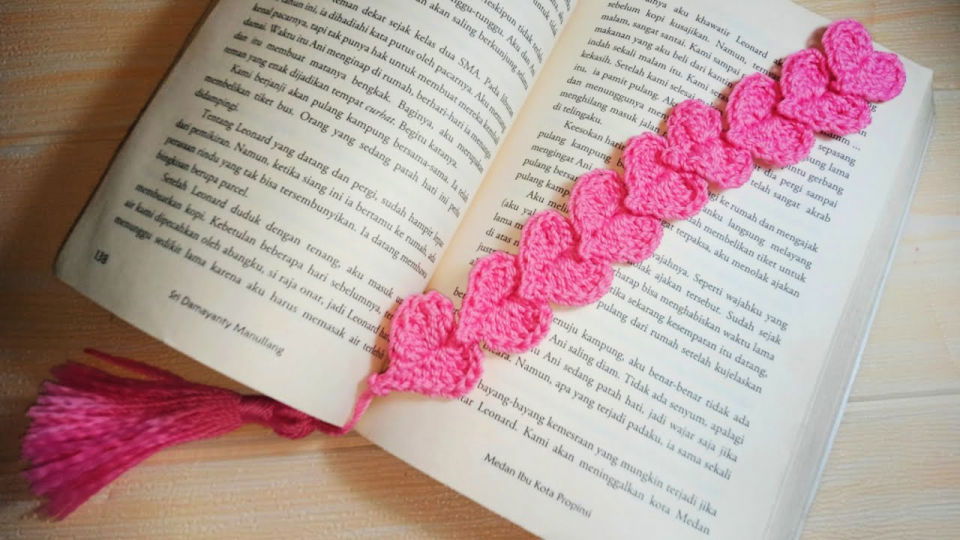 Turn the pages of your imagination and explore a world of personalized bookmarks! Learn how to easily crochet a heart bookmark with a tassel in this easy-to-follow tutorial! All you need is some polyester yarn, a 2.50 mm hook and lighter gas for the tassel. Add a card or message at the bottom of the bookmark for extra charm. Follow the step-by-step instructions and watch as you create something beautiful and long-lasting that's sure to be cherished by book lovers everywhere!
25. Lace Pineapple Bookmark Crochet Pattern for Beginners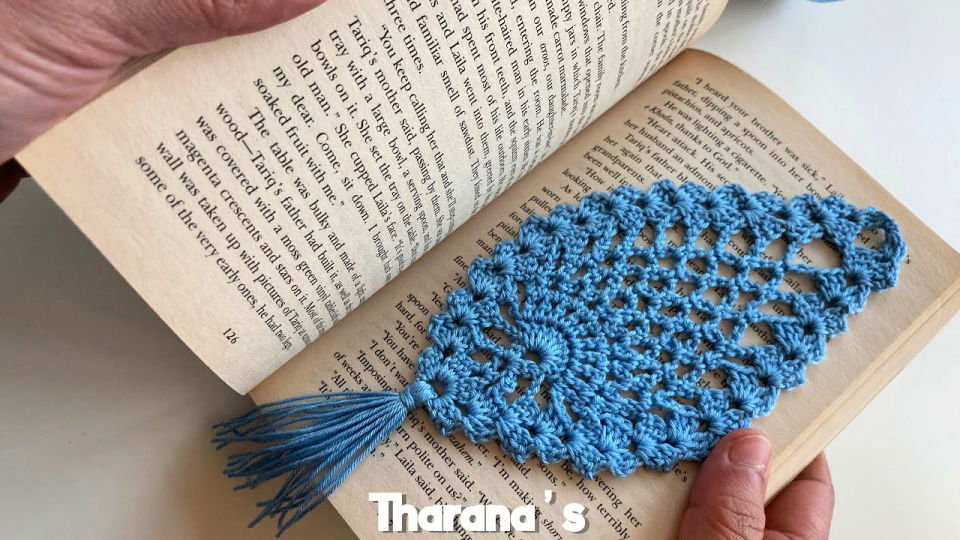 Add a touch of sophistication to your books with this beautiful and elegant crochet lace pineapple bookmark. This project is perfect for those with some basic crocheting skills, as it can be made using the materials on hand in just a few moments. Customize the design to suit your unique style, or give it as an eye-catching handmade gift to any bookworm! Even if you're not an absolute beginner in crocheting, this bookmark will still be sure to impress!
Related Free Crochet Patterns:
Get inspired and create something beautiful with our free crochet patterns. Browse a variety of designs for all skill levels and start your next project today!
Conclusion:
In conclusion, crocheting bookmarks is a fun and easy way to add a personal touch to your reading experience. With 25 free crochet bookmark patterns available above, including diagrams and step-by-step instructions, there's a unique and cute bookmark pattern for everyone. Whether you're a beginner or experienced, using crochet thread or opting for a printable crochet bookmark pattern, these helpful guides make it easy to create beautiful crocheted bookmarks. So why not make a crocheted bookmark today and add a handmade charm to your reading routine?