Are you looking for a free crochet tank top pattern? We have compiled 25 free crochet tank top patterns that offer detailed instructions and step-by-step guides for beginners and more experienced crocheters. Each crochet tank top pattern includes an easy-to-follow PDF pattern with detailed instructions, photographs and diagrams that will give you the confidence needed to create the perfect crocheted tank top.
These free crochet tank top patterns are ideal for anyone who wants to walk away with a new and stylish look. You can choose from styles such as crochet vest tops, camisoles and sleeveless tops. All of these free crochet tank top patterns will ensure your next project is both fashionable and comfortable. So put down your hook and yarn and get started today with an easy and free crochet tank top pattern.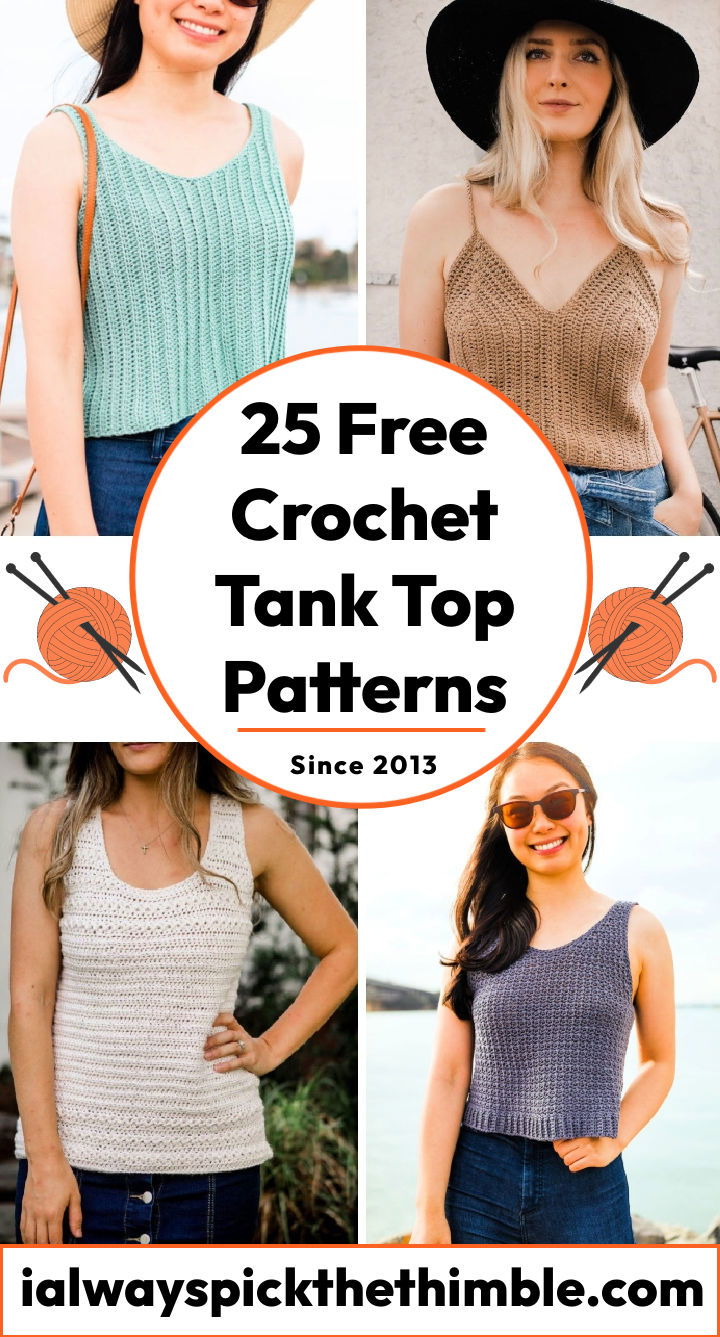 Free Crochet Tank Top Patterns
Craft a fashionable summer look with these free crochet tank top patterns! Get the perfect fit for any size and shape with our easy-to-follow tutorials. Whether you're looking for lacy tanks with intricate designs or light and airy vests, we have something to accommodate every taste. With detailed step-by-step instructions, helpful tips, comprehensive charts, lists of supplies needed and finished measurements provided, crafting your own stylish crochet tank tops has never been easier. Create beautiful handmade garments that will turn heads wherever you go!
1. Free Crochet Twist of Summer Tank Pattern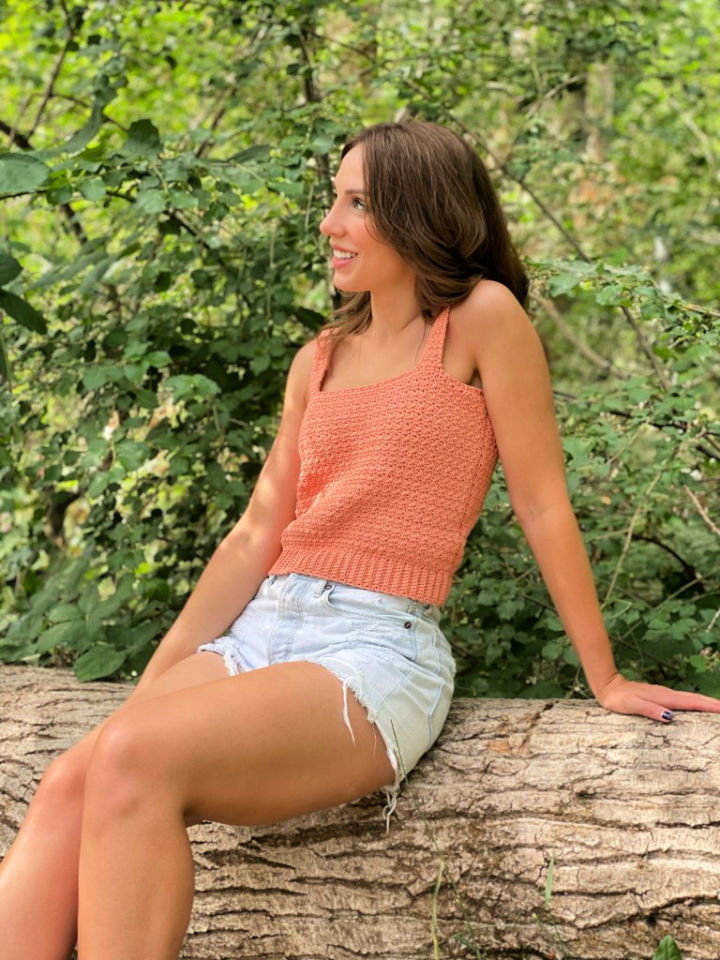 Looking for an easy and stylish way to beat the summer heat? Look no further than this crochet twist of summer tank! This beginner-friendly tank top features a square neck and is worked up in two panels from the bottom up. First, create the ribbing, then rotate to start the main body before sewing it together. Add a quick trim and crochet your straps for an effortless finish!
Customize it by adding rows to make it longer, pair with high-waisted jeans shorts, or layer it under a cardigan when you need extra warmth. You need light (3) weight yarn, a g/4mm crochet hook, stitch markers (8), and a needle. Get ready to look your best even on those hot days! eandpcrochet
2. Easy Crochet Deco Tank Pattern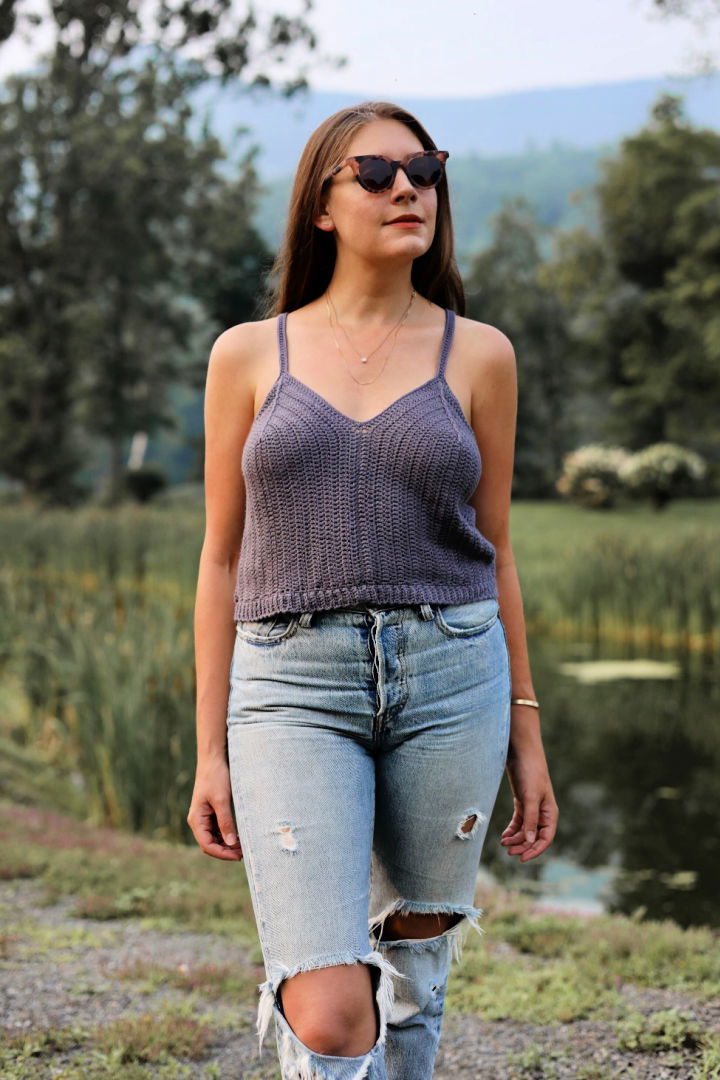 This crochet deco tank pattern is perfect for crafting stylish and modern apparel that's easy and fun. Even if you're a beginner, you can easily follow the instructions with included materials like lion brand truboo yarn, a US f/5 (3.75mm) crochet hook, removable stitch markers and a tapestry needle.
It features beautiful texture work on both sides of the foundation chain with techniques like double crochet, single crochet, slip stitch and post stitches – ideal for wearing wherever you go! Get your project started today! twoofwands
3. Textured Summer Tank Top Crochet Pattern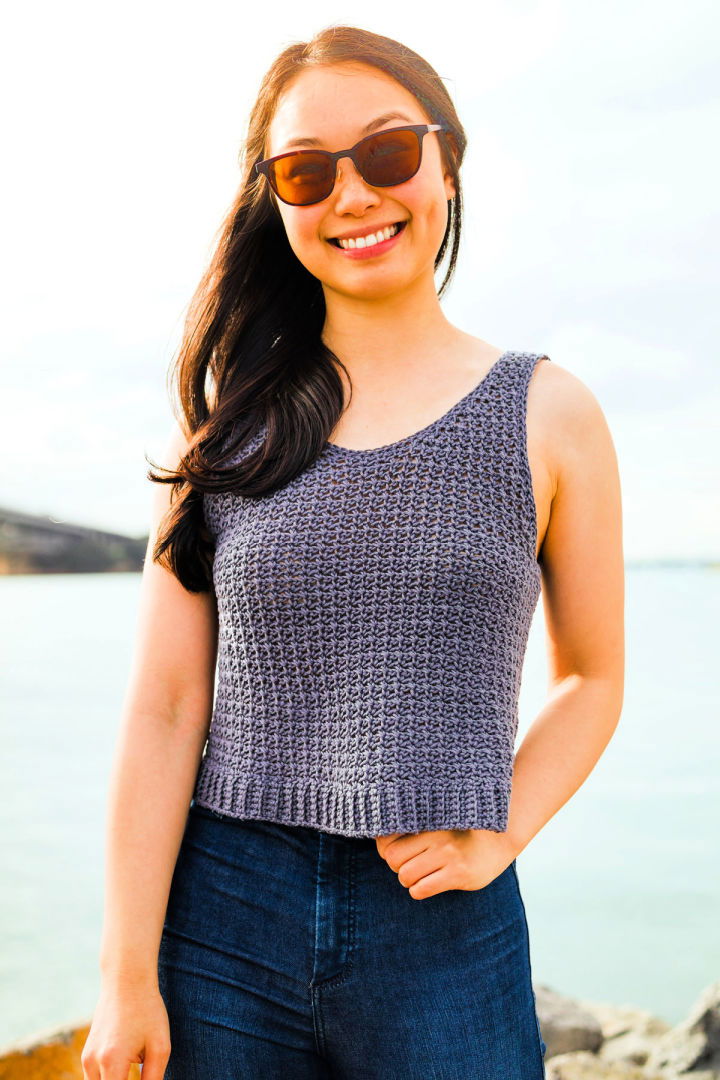 Experience breezy summer style with the terrazzo tank top! This relaxed crochet top is perfect for hot days and nights. Featuring a textured mesh surface, round neckline and thick straps, this free pattern will make you look stylish with minimal effort.
With an easy-to-follow video tutorial and clear instructions, this project is suitable for all levels of crocheters – from beginners to pros! Crocheted in wecrochet cotlin yarn, you'll stay cool while looking effortlessly chic in your new fav tank top. Get ready for sunny days that call for light layers – try the terrazzo tank top now! forthefrills
4. Wander Striped Crochet Tank Top – Free Pattern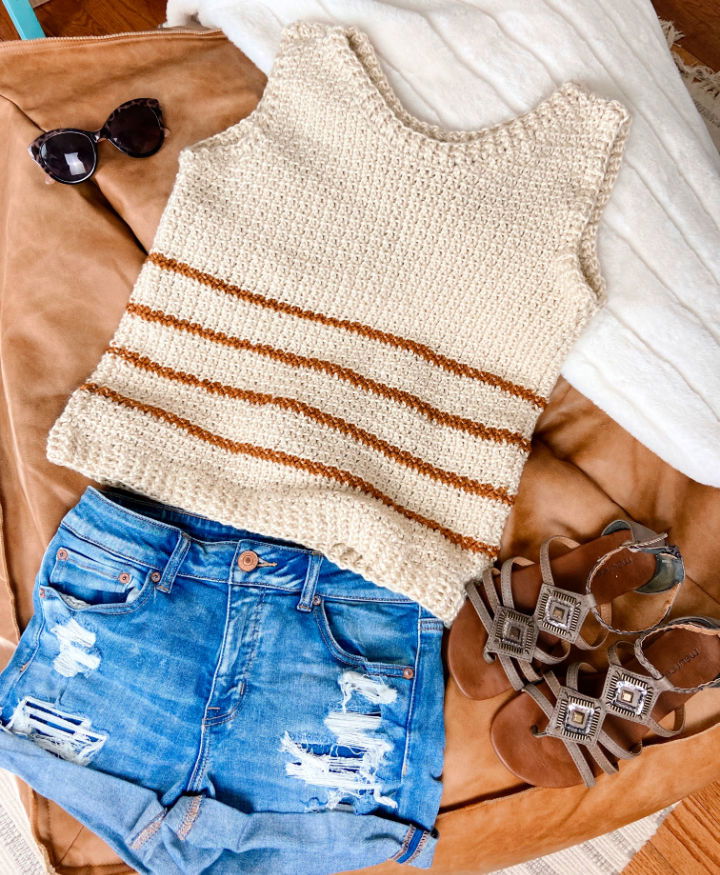 Looking for a stylish and easy crochet project to transition your wardrobe from spring to summer? Look no further than this wander-striped crochet tank top-free pattern! With the cozy texture of sweater ribbing paired with single crochet mesh, you'll love how simple it is to make and look amazing when complete. Rated as an intermediate-level project, all you need is worsted weight yarn, a size I/9 (5.50mm) hook, scissors, yarn needle and tape measure – plus optional locking stitch markers – to get started. Make yourself something special today! knottednest
5. Kelsey Tank Top – Free Crochet Pattern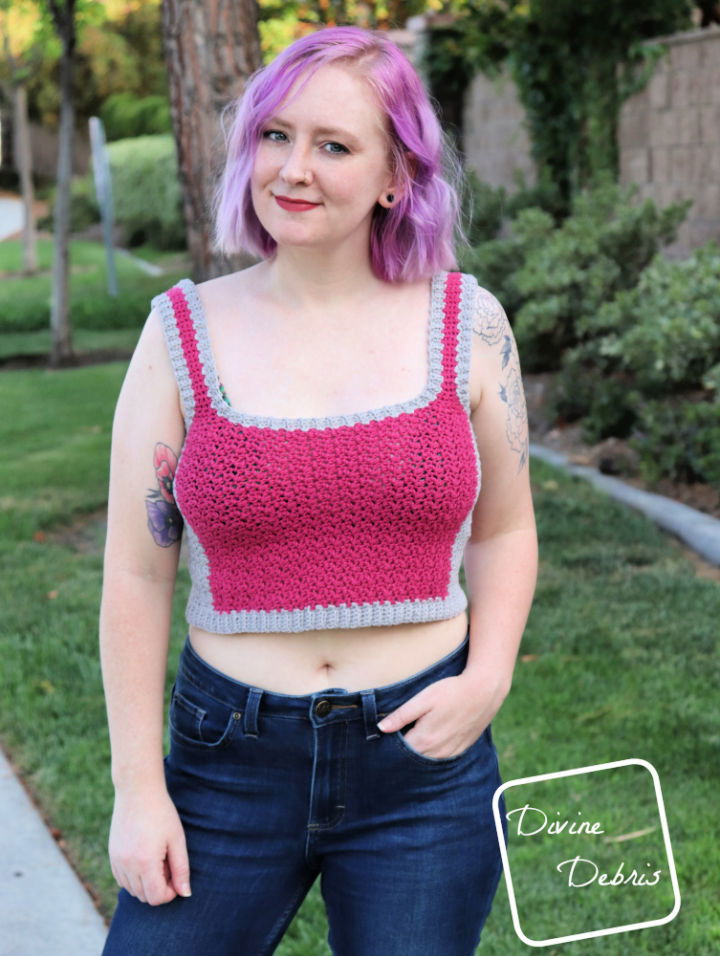 Crochet tank top patterns provide an opportunity to create a unique and stylish wardrobe staple. Keep cool this summer with the Kelsey tank top! This stylish design is perfect for customizing your style as you choose the colors, length and trim. The instructions are beginner-friendly and easy to follow so you can crochet this modern & pretty tank top in no time. All you need is a US h (5.00 mm) & g (4.00 mm) crochet hook and some #3 DK weight yarn – plus scissors, measuring tape & yarn needle – and you're ready to get started! divinedebris
6. Crocheting a Milla Tank – Free Pattern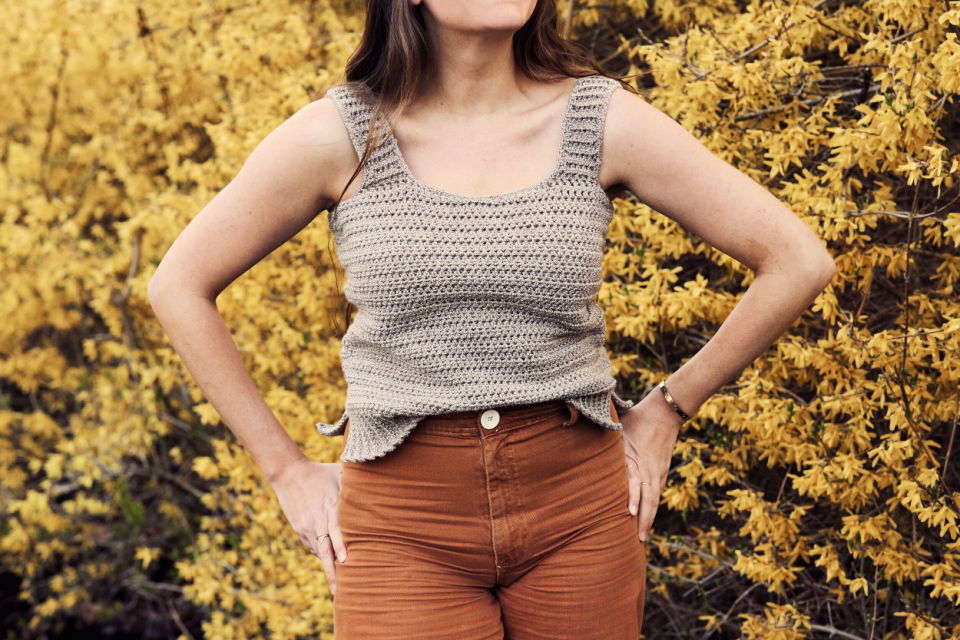 The milla crochet tank is the perfect summer top to keep you cool, comfortable, and good-looking! The sleeveless design and thicker fabric provide coverage for a confident look. This tank features a higher neckline with thicker straps, which gives more support that'll make you feel great all day long. Plus, it works so fast using lion brand cobblestone yarn, 5.5mm and 5mm crochet hooks, stitch markers, and a tapestry needle – make yourself one now! twoofwands
7. Free Crochet Garden Tank Top Pattern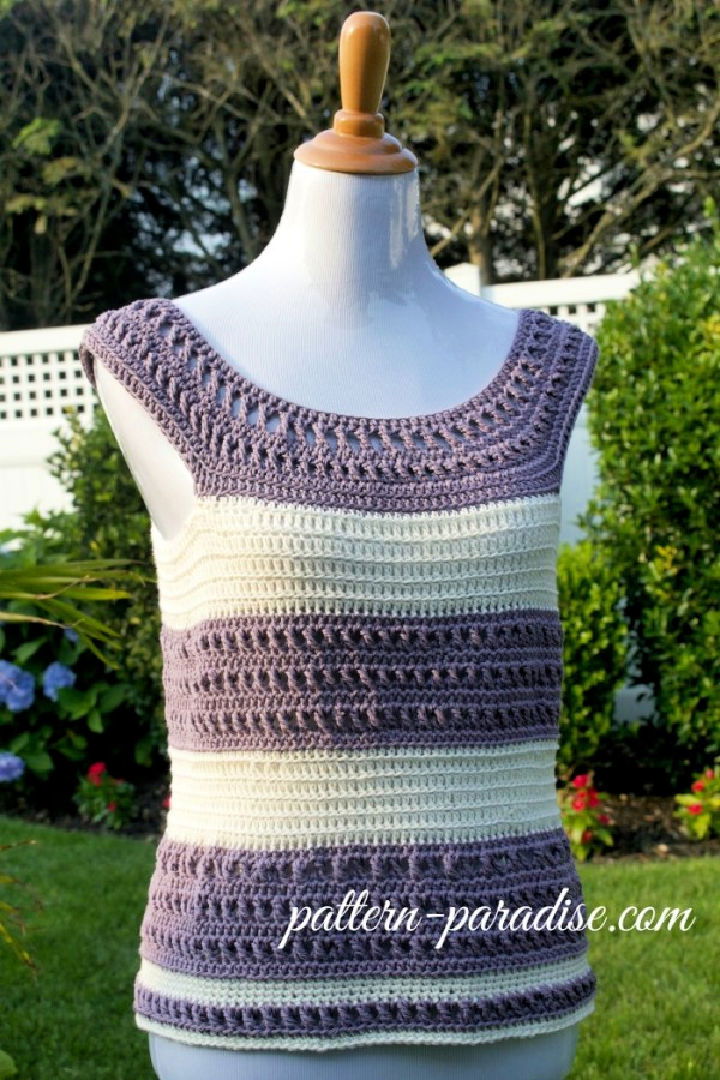 Stay cool this summer with the stylish and comfortable crochet x stitch garden tank. This tank top works quickly with a combination of x stitches offset by basic double crochet, making it perfect for those hot days!
You can make it in a striped pattern or solid color to expose all the texture, and the scooped neckline is flattering and very comfortable to wear. Wear it on its own or over another tank or vest for a different look – you could add a drawstring tie around the waist for an extra fun twist!
All you need is worsted-weight cotton yarn in two colors and us 7/4.50mm hook – start crafting your look today! pattern paradise
8. How to Crochet the Ruby V Tank – Free Pattern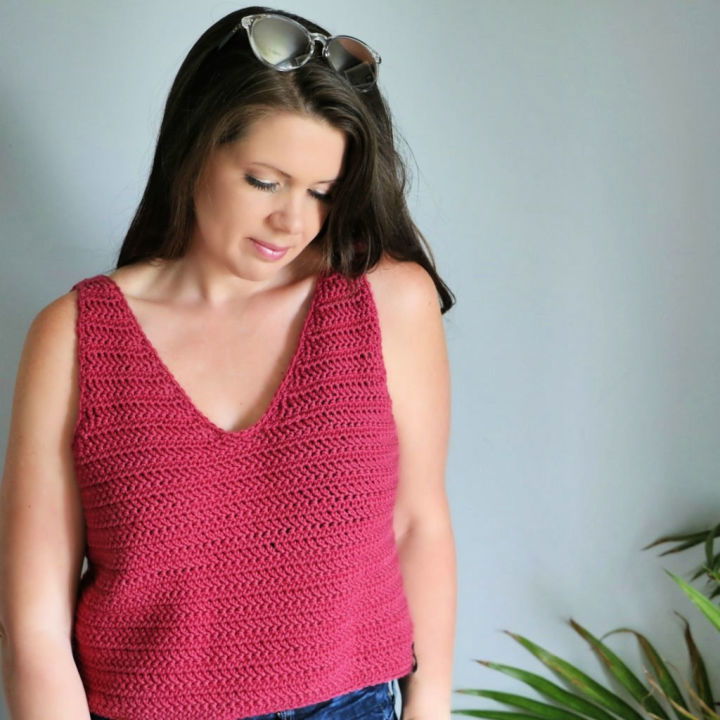 The crochet ruby-v tank is an eye-catching and fun modern piece with v neck front and back. Choose from fantastic yarns like sugar bush bliss to make your own unique creation! With a specific size chart, this garment will fit you perfectly. Wear with high-waisted pants or shorts for summer or layer under cardigans or jackets in spring and fall. The back panel can be worked without the v to get extra coverage if desired. Additional supplies needed are a yarn needle, removable stitch markers, a blocking mat & pins, Enjoy crocheting this beautiful piece today! mjsoffthehookdesigns
9. Simple Crochet Bayside Tank Top Pattern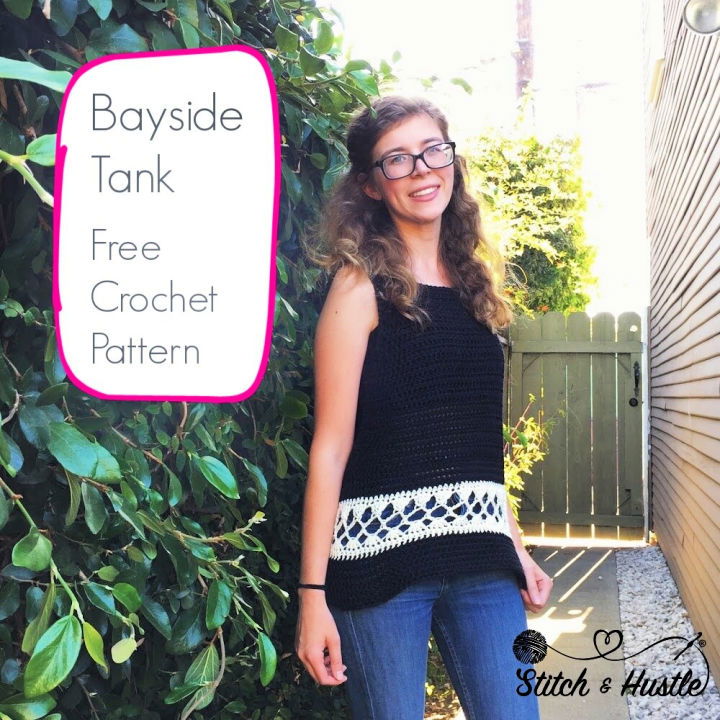 Looking for a fun and easy project to make? Check out this free crochet bayside tank top pattern! Perfect for all levels, this pattern will have you falling in love with the hint of detail at the waist that creates shape without having to do much work. Plus, it's great for summer – elongate as desired in the skirting and fasten with safety pins or fasteners. All you need is a category #4 worsted weight cotton yarn, an I-9 / 5.5 mm crochet hook, a tapestry needle, tape measure and fasteners – get started today! stitchandhustle
10. Crochet Borderline Tank Design – Free Pattern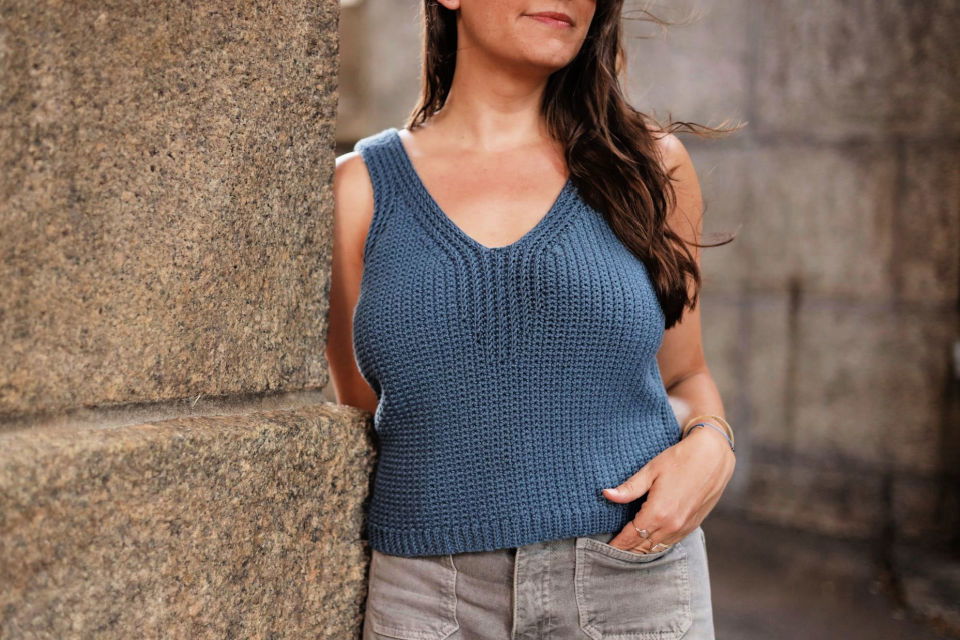 Make your wardrobe pop this summer with a stunning crochet tank top! This free crochet borderline tank pattern is perfect for intermediate crocheters, and the instructions are easy to follow. With lion brand color theory yarn and removable stitch markers, you'll have no problem creating the perfect garment to wear with jeans or underneath cardigans. Plus, it's beginner friendly, so anyone can make it look pretty! Get creative and show off your new tank today. twoofwands
11. Best Chasing Summer Tank Top Crochet Pattern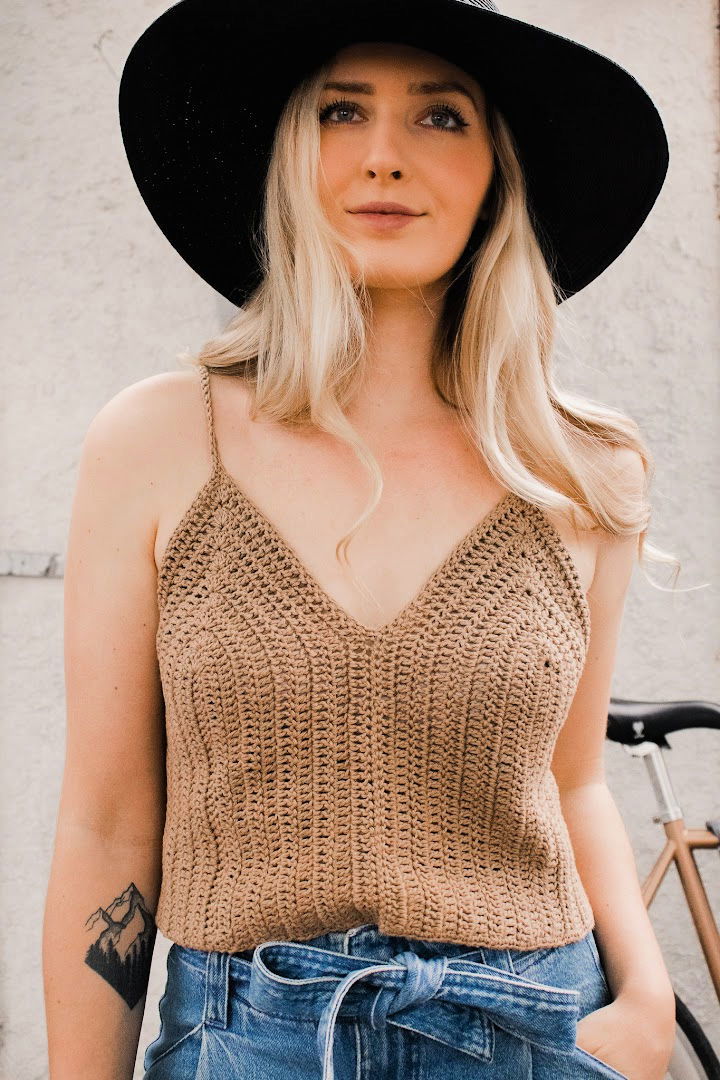 Crochet tank top patterns can create unique, personalized summer apparel. Bring classic style to your wardrobe with this easy-to-crochet chasing summer tank. It features thin straps and vertical stitching, and thoughtful shaping around the chest for an excellent fit on any size. Enjoy the breathability of DK–wecrochet cotlin, the comfort of its relaxed fit, and mix-and-match versatility with other pieces in your closet. All you need is a 3.5 mm crochet hook and tapestry needle or stitch markers to create unique looks all summer long! knitsnknots
12. Easy Striped Tank Top Crochet Pattern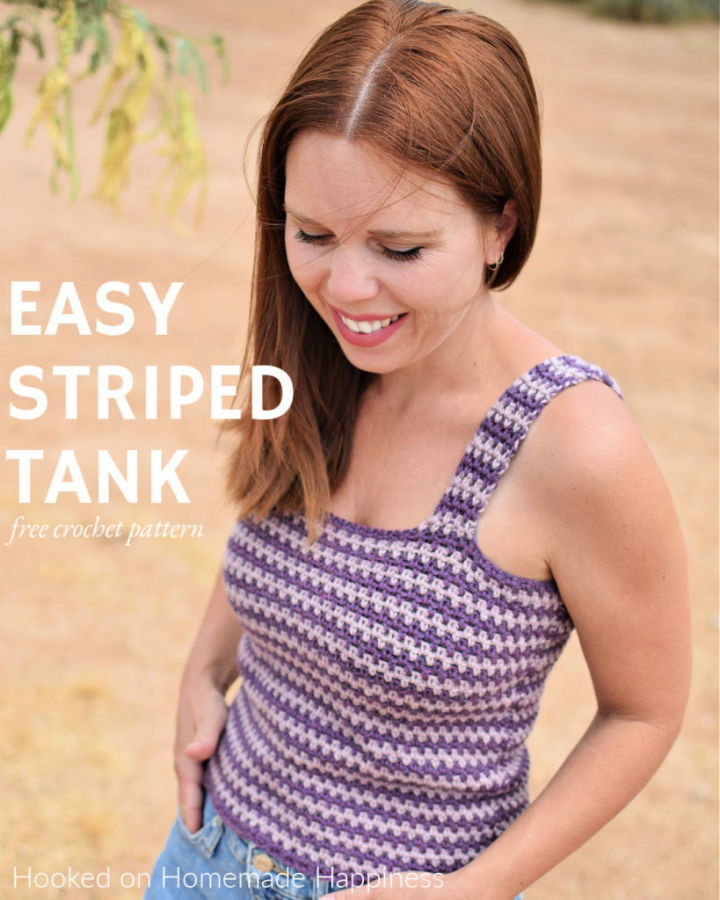 This tank top crochet pattern is easy, fun to make and looks adorable! Perfect for an advanced beginner, it's a simple rectangle with two straps added. You need materials like wecrochet capra yarn, h/5.0 mm hooks stitch marker and a yarn needle. It just requires 1-row repeat – no increasing or decreasing – so making this stylish striped tank top will be a breeze! Get creative in the colors of your choice and show off your masterpiece all summer long! hookedonhome
13. Pretty Crochet Racing Summer Tank Pattern
Be cool and comfortable this summer with the crochet racing tank pattern! This lightweight, soft design is quick to make and can be as long or short as you like. You'll love how it looks paired with shorts or a flowy skirt. The coboo yarn in an endless array of colors makes this project even more fun! Using just a simple v-stitch, get a beautiful texture that's also comfy and stretchy.
Featuring racerback style on the back and thin spaghetti straps, you may wear it year round – under cardigans in colder months or alone when the suns out! Get creative with materials – all you need are lightweight yarn, a hook & needle, scissors & measuring tape. eandpcrochet
14. Crochet Tie Tank Top – Free Pattern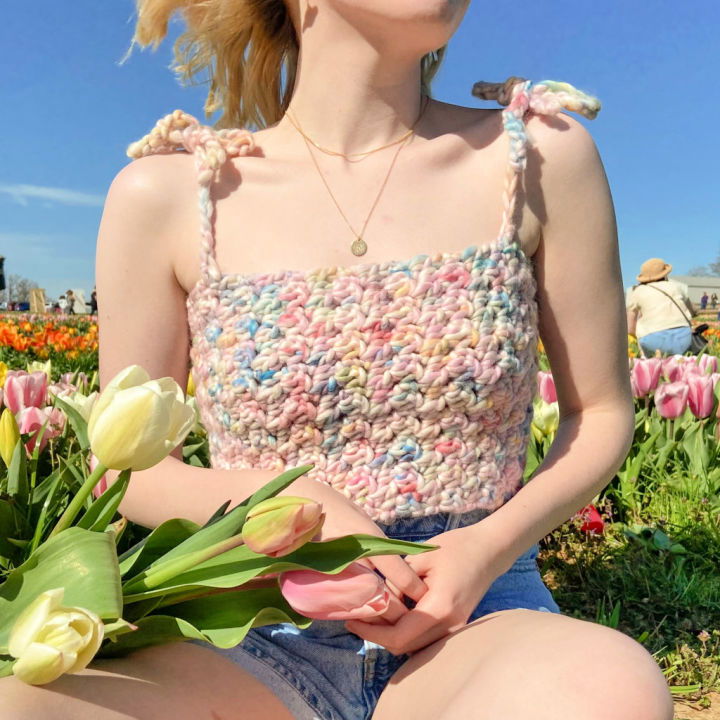 Love to crochet? Check out this beginner-friendly tie tank top pattern! Made using super chunky weight yarn, it works up in only 3 hours. The construction is simple and easy to customize for your desired fit. One rectangle makes up the top, easily adjusted for any size. If you don't like the lemon peel stitch included in the pattern, choose any other stitch – single crochet or something fancier – that suits your style! All you need are 6 skeins of super chunky yarn, a 10mm hook, scissors, darning needles and some stitch markers; level: easy. hayhaycrochet
15. Cute Light Crochet Tank Top Pattern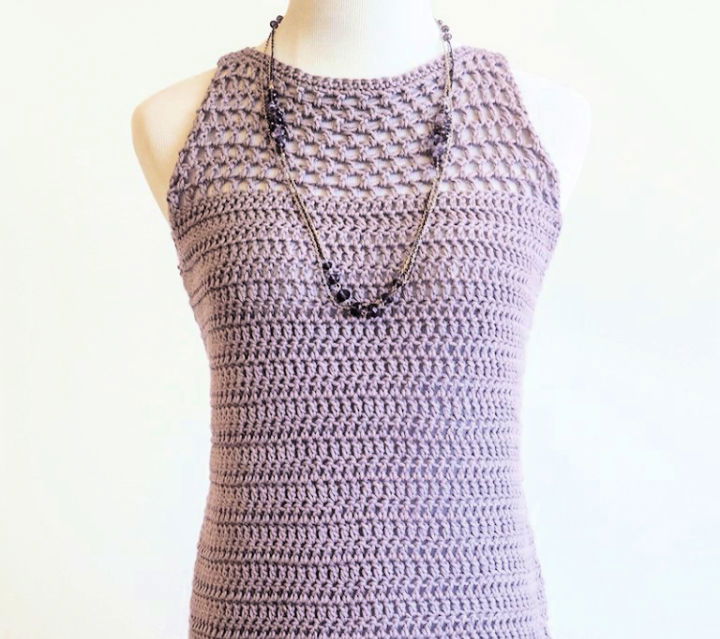 This light crochet tank top is a great addition to your wardrobe. The shift shape of this design is simple and flattering, while the offset filet net stitch in the neckline provides texture and modern style. With its clean lines, this top can be paired with jeans or shorts or tucked into a skirt for any occasion. It's suitable for both beginners and experienced crocheters with an intermediate skill level. All you need are hooks size h/8 5mm, worsted weight yarn and a tapestry needle to make it! Get creative and enjoy crafting this gorgeous tank top today! simplycollectible
16. How Do You Crochet The Wrenigan Tank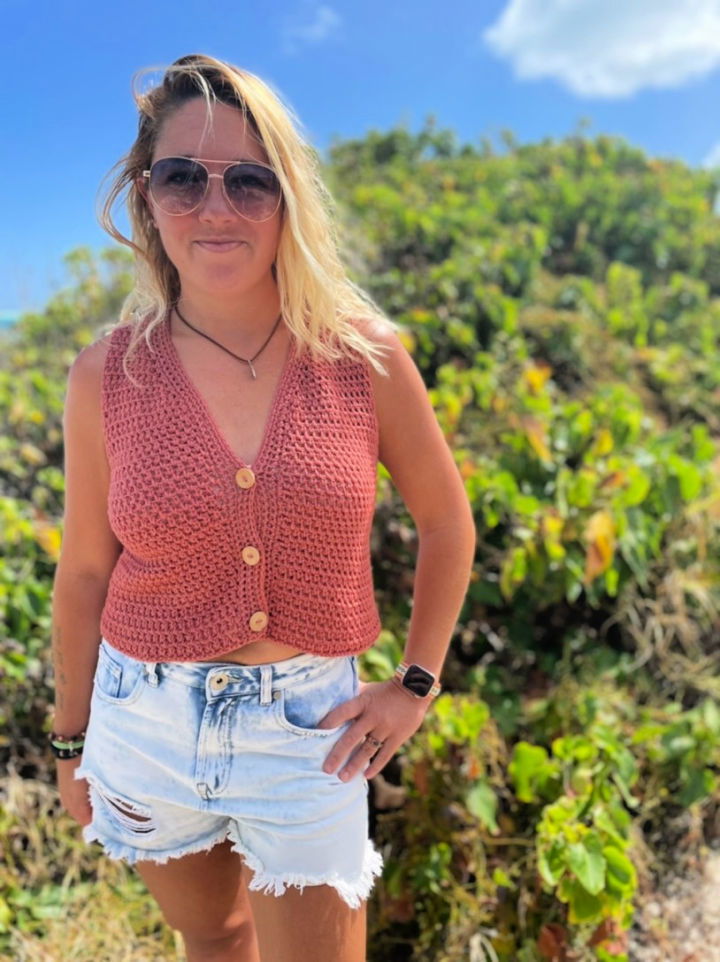 Love to crochet? Looking for an easy and stylish tank top, you can make yourself? Look no further than the wrenigan tank: a free pattern that will take you through crafting your own unique tank top! Made with extended single crochet and chain stitches, this beginner-friendly tutorial is simple and easy to read. All you need is 3 lightweight yarns, a size I (5.5 mm) crochet hook, stitch markers, yarn needle – everything else is included in the free pattern! So start crocheting today for a beautiful summer look made by you! cactusandlacedesigns
17. The Summertime Tank Design – Free Crochet Pattern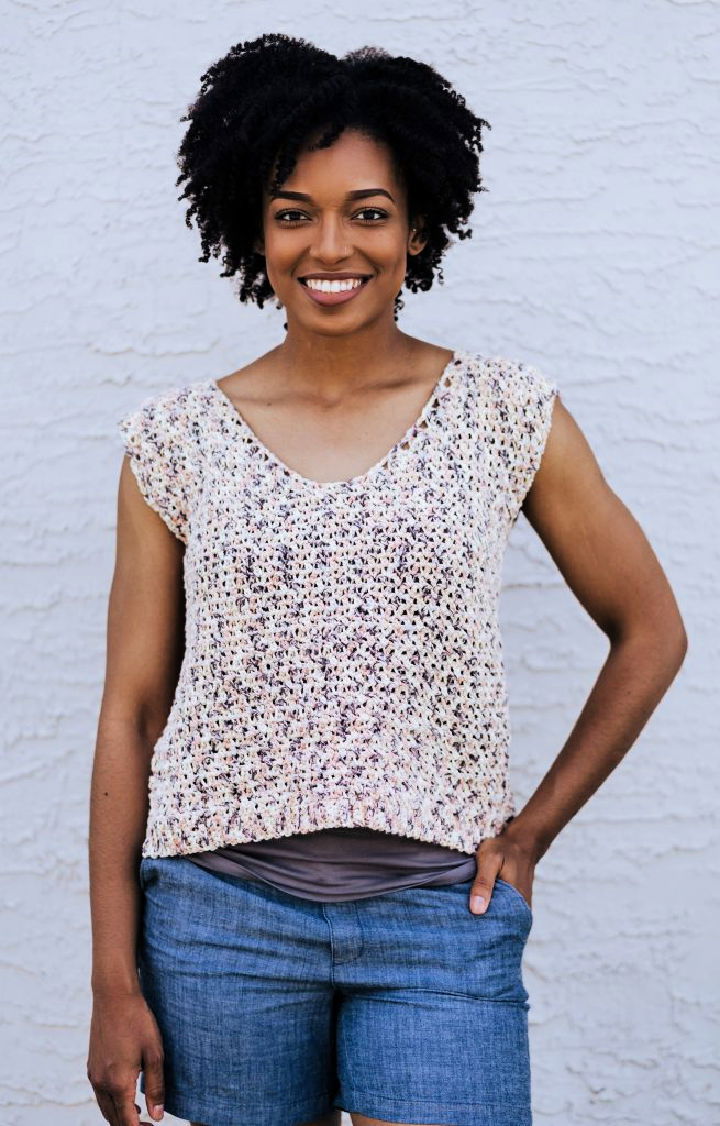 Welcome the summertime tank, a perfect crochet top to beat the heat! This breezy, sleeveless summer cotton top with its relaxed neckline and the ribbed bottom edge is beginner-friendly and ideal for first-timers. With just a 5mm hook, scissors, yarn needle, and a tape measure, you can make this stylish piece quickly so you can get back to those bbqs faster. Make it your go-to fashion choice for pool parties or beach days – whatever your warm weather plans may be! tlycblog
18. Crochet Boho Tank Top – Free PDF Pattern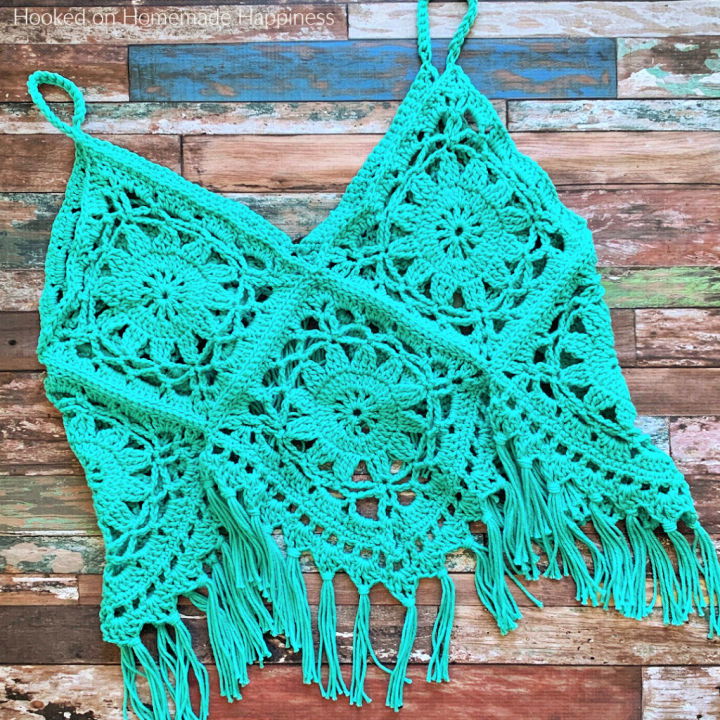 This crochet boho tank top pattern is perfect for a fun and fring-y look! Layer it over sundresses or swimsuits with long necklaces. It has a button closure on the back, so you can even wear it backward as a vest. Try any granny square pattern in a lightweight cotton yarn, such as dishes from wecrochet for the top. All materials needed are worsted weight cotton, a 4.5mm hook, yarn needle, scissors and a 1″ button to complete the project. Get creative and make this stylish tank – it's super easy to make and sure to liven up your wardrobe! hookedonhome
19. Queen Bee Crochet Tank Top Pattern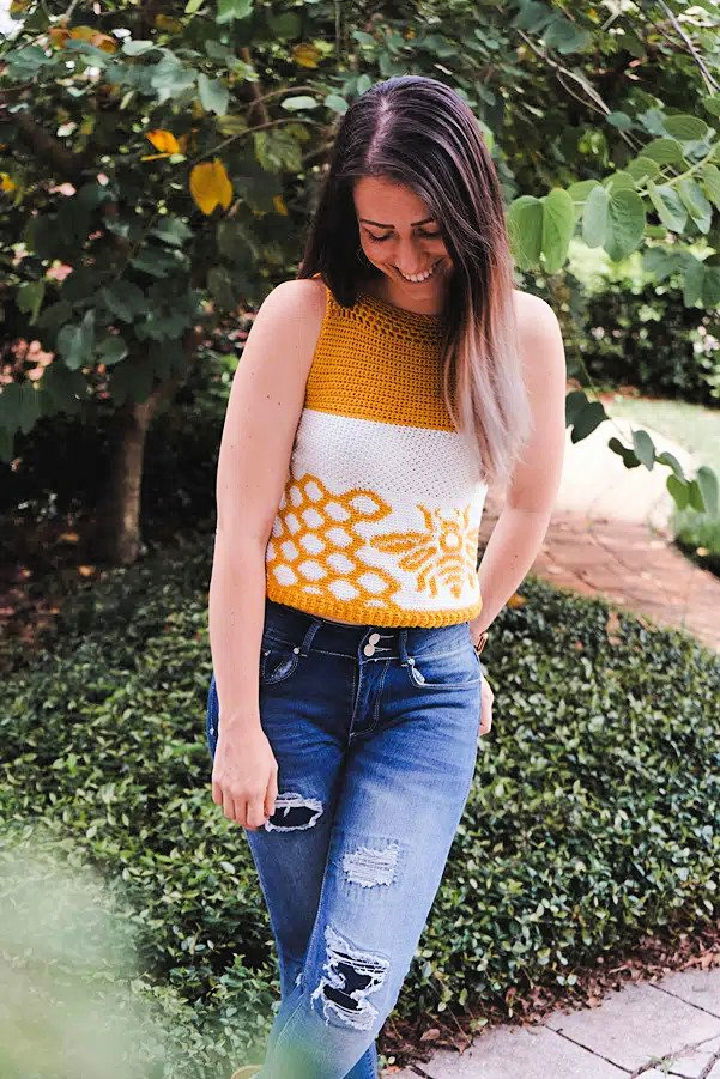 Make your summer days more enjoyable with this fun and easy crochet tank top pattern featuring a beautiful queen bee design. The skill level is advanced beginner, and the construction requires a g (4mm) hook. Pair it with jeans or shorts for an amazing look that will turn heads! Includes step-by-step video tutorial to ensure you get the perfect fit, as well as instructions on how to work the stitches and construct the finished piece. Crochet this stunning tank top in wecrochet comfy fingering yarn, with great texture and a comfortable feel – you won't want to take it off! brianakdesigns
20. Crochet Casual Tank Top – Free Pattern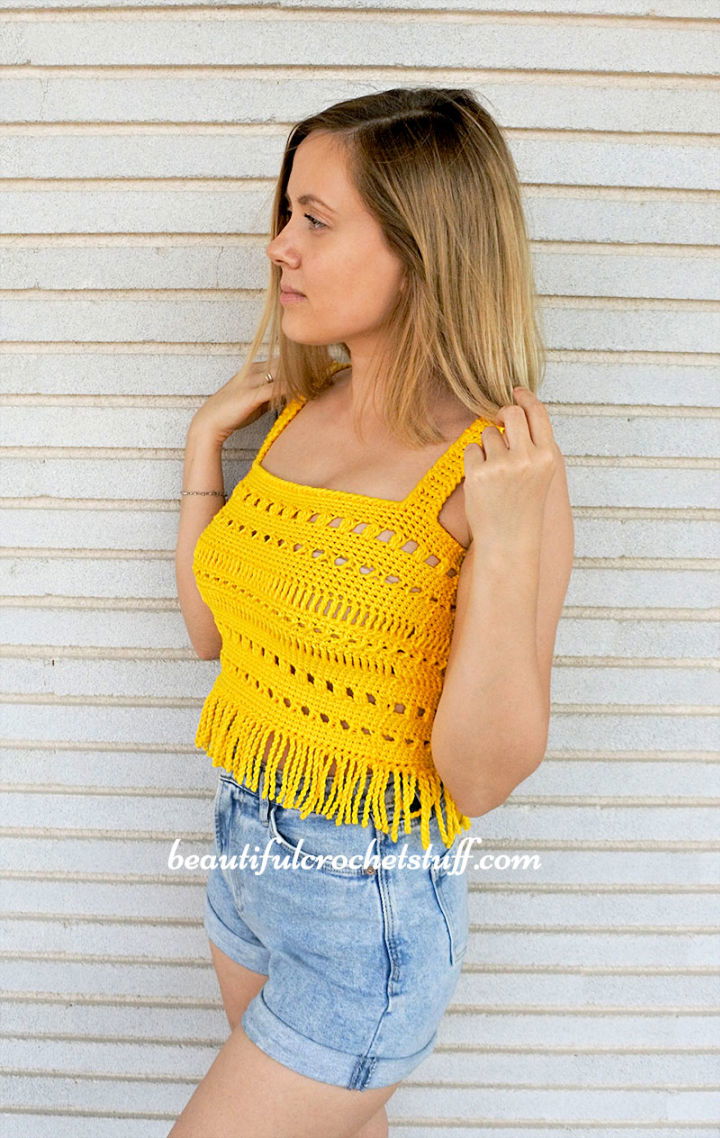 Create a casual yet chic look with this crochet tank top-free pattern! This beginner-friendly design is easy to follow and eye-catching, using rainbow cotton 8/8 yarn in aran weight with 100% cotton fibers. With a 5.0 mm (g) hook size and plied texture, you'll be able to make a new piece of clothing that looks pretty and will easily match any jeans, skirt or shorts for a stunning outfit. Start crocheting the tank top today for fun & fashionable results! beautifulcrochet
21. Free Crochet Pattern for Nonpareils Summer Tank
The perfect top for summer is here! The crochet nonpareils summer tank from wecrochet features eye-catching textured stitches that are sure to turn heads. This crochet tank is ideal for any occasion, whether you're on the go or out for a night on the town. Skill level ranges from skilled beginner to intermediate and requires #3 sport weight paragon sport yarn, g+/4.5mm furls hook, tapestry needle, and scissors. Show off your beautiful crochet skills with this stylish and versatile tank top! cre8tioncrochet
22. Sea Breeze Crochet Tank Top Pattern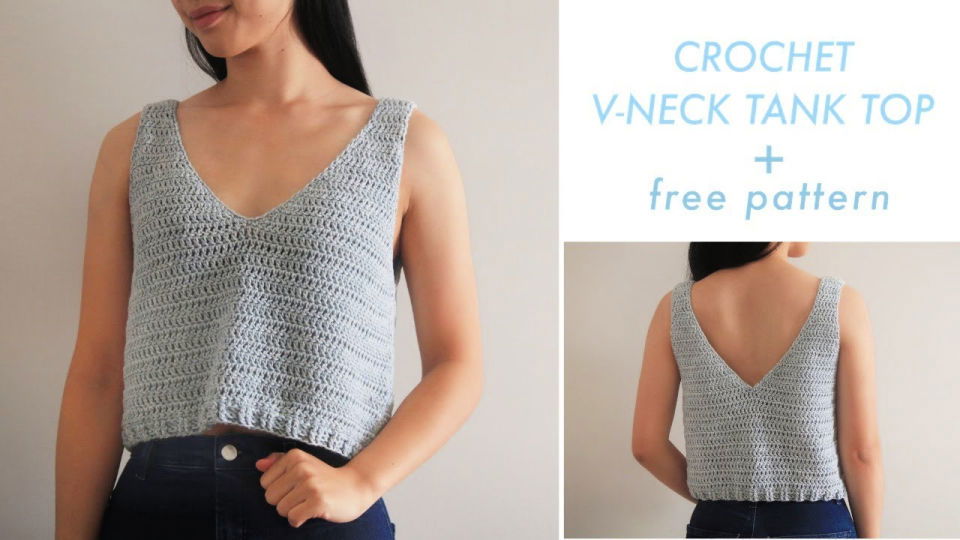 Crochet yourself with a modern and lightweight sea breeze tank top this summer! This versatile design can easily be adapted into a crop top or full-length tank. Made using double crochet stitches with 100% cotton yarn, it's perfect for keeping cool on hot days. A simple video tutorial can help you create your unique look – all skill levels are welcome! The size chart provided will guide you through the process of creating an amazing tank that is tailored just for you. Get ready to make waves with your new diy sea breeze tank top.
23. How to Crochet a Comfy Tank Top – Free Pattern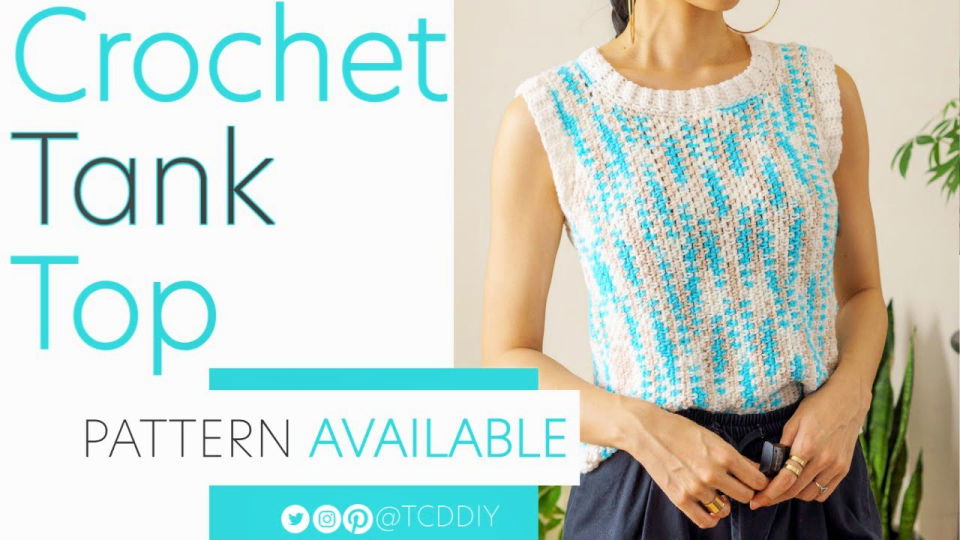 If you're looking for a fun summer look, try one of the many crochet tank top patterns available here! Create the perfect summer look with this diy crochet comfy tank top tutorial! Make your own slouchy, airy and stylish tank top that is both beginners friendly and great for the most experienced crocheters. This modern look can be paired with shorts, jeans or skirts to make an effortlessly chic outfit. Get ready for a fun project with materials like any category 3 yarn, 5mm & 6mm crochet hooks, scissors, stitch markers and tape measure. Feel confident in your new handmade creation while enjoying the great texture of each stitch!
24. Crochet Ribbed Tank Top Idea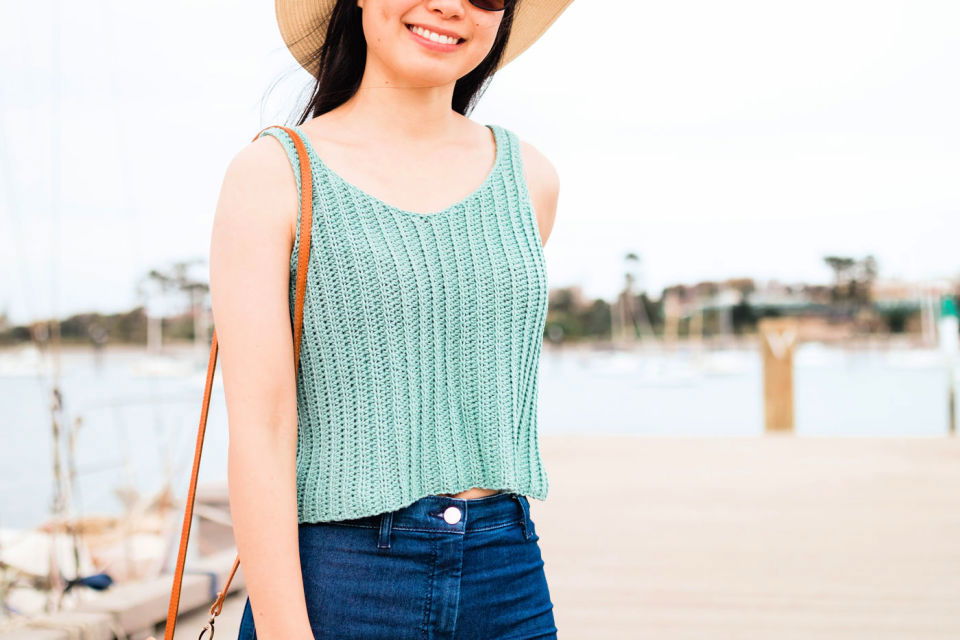 Create a stylish crochet tank top this summer with the free sagebrush pattern and video tutorial! This modern ribbed design features a flattering round neck in cropped and normal lengths. The construction is simple, using only back-loop half double crochets and slip stitches. All you need are materials like wecrochet cotlin DK/light (3) yarn, 4.5mm crochet hook, darning needle, and scissors – plus detailed instructions to create your own unique style perfect for warm weather wear! forthefrills
25. Alix Tank Top – Free Crochet Pattern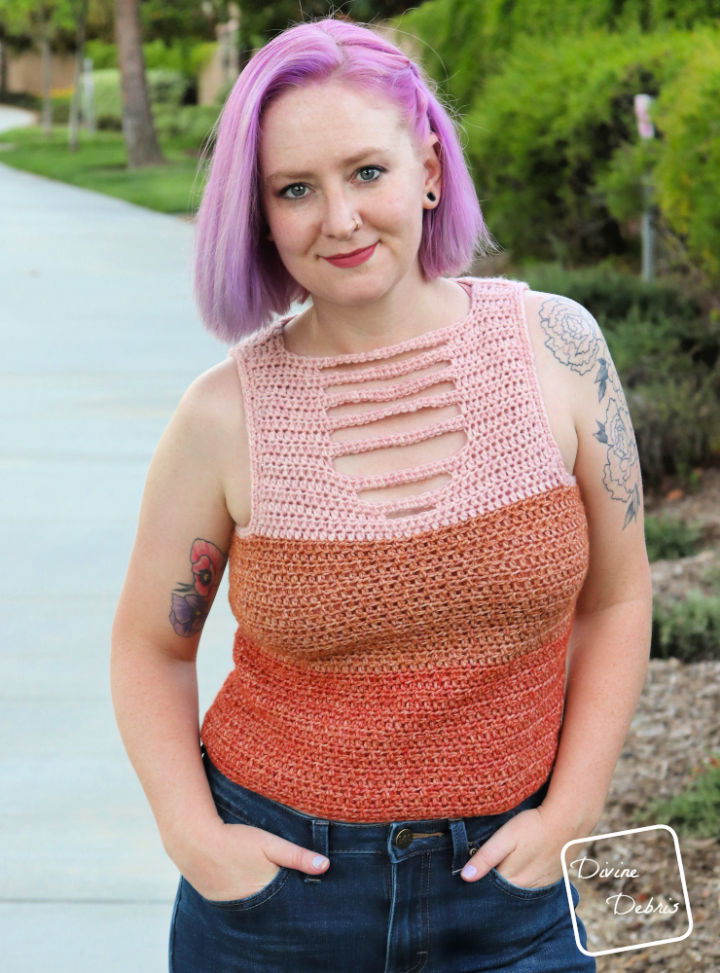 Make it cool with the free crochet alix tank top pattern! This easy, textured top comes in 9 sizes and is perfect for warm weather. It's fun to make and customize to look adorable daily. Step-by-step instructions are provided along with materials needed: an h (5.00mm) crochet hook, size #4/ worsted weight yarn and notions such as scissors, measuring tape & a yarn needle. You can pair this top with any shorts or skirt for a new beautiful look that's sure to turn heads! This a great project for both beginners & advanced crocheters alike! divinedebris
Related Free Crochet Patterns:
Find free crochet patterns for blankets, sweaters, hats, scarves and more! Get inspired and download our unique step-by-step projects to make beautiful handmade items you can use or give as gifts.
Conclusion:
Finding a crochet tank top pattern that is easy to follow, detailed and free can be difficult. That is why we have compiled 25 free crochet tank top patterns that are perfect for beginners. These crochet tank top patterns range from basic designs to more complex ones with step by step instructions so you can create the perfect crocheted look. Plenty of helpful tips and tricks are included in each of these crochet tank top patterns for crocheting your own tank tops. Whether you want something classic or something more creative, these crochet tank top patterns will provide you with everything you need to get started crafting beautiful garments!