Are you a beginner looking for some easy crochet scarf patterns? Scarves are a great way to practice basic crochet stitches without worrying about shaping techniques. These 25 easy and free crochet scarf patterns are perfect for beginners and seasoned crocheters. Each pattern has detailed instructions and photos to guide you through the process from start to finish. The recommended yarns include worsted weight or thicker, with a smooth texture for easier stitch visibility. Some of the best crochet stitches for scarves include single crochet, double crochet, back-loop half double crochet, moss stitch, V-stitch, and waffle stitch. You can use a variety of yarns, from soft and inexpensive acrylic to luxurious merino wool. So grab your crochet hooks and start on your new favorite crochet scarf pattern!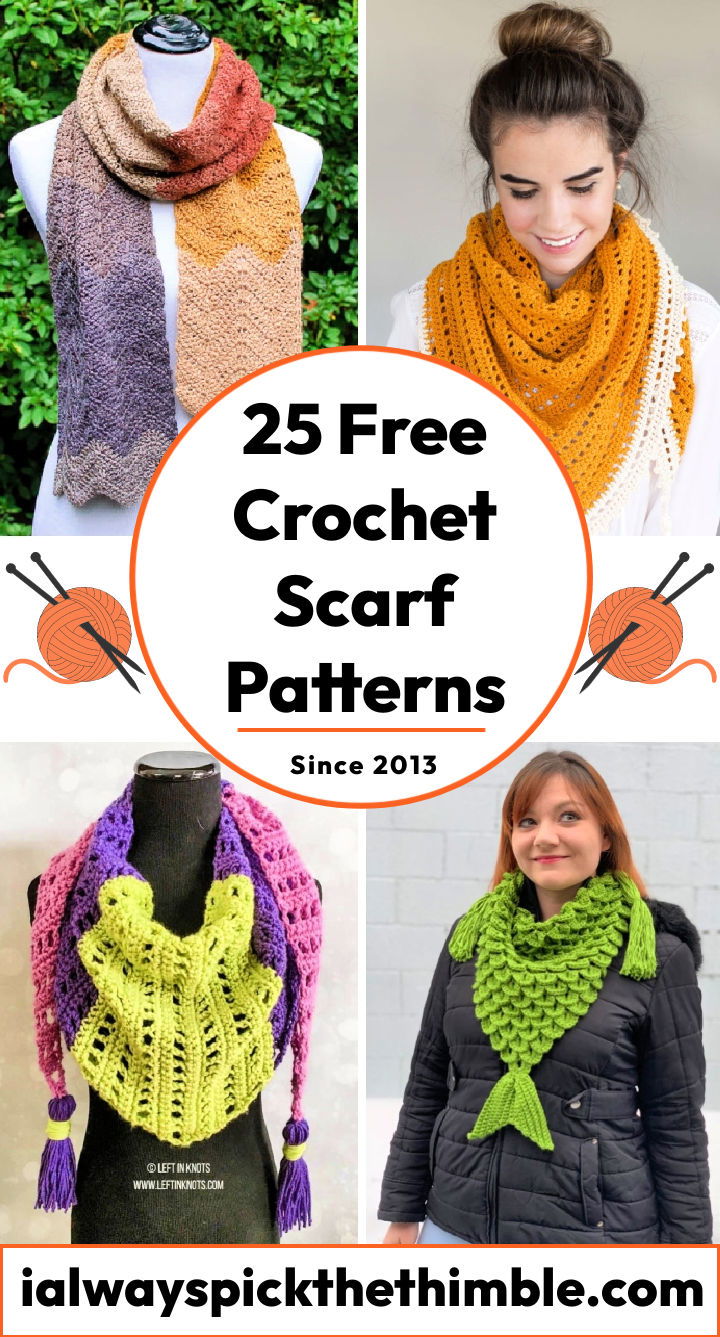 Easy and Free Crochet Scarf Patterns
Check out this collection of 25 free and easy crochet scarf patterns! These patterns are perfect for beginners who want to practice their skills while creating beautiful scarves. From ribbed scarves to infinity scarves, this collection has something for everyone. Each pattern comes with detailed instructions and photos to guide you through the process, making it easy to create a beautiful scarf. So grab your yarn and hook and start crocheting today!
Unveil the ultimate winter accessory with these modern, trendy, quick, and easy free crochet scarf patterns that will help you create the perfect accessory for your wardrobe. From infinity scarves to cowls and traditional styles, these free crochet scarf patterns will provide various options, no matter your skill level. These crocheted scarves are ideal for beginners looking for an accessible way to get started with crochet projects or experienced crocheters looking for something new – making them some of the best free crochet scarf patterns available below!
What are some easy crochet scarf patterns for beginners?
If you're new to crochet, there are plenty of easy scarf patterns to try. Some great options include the ribbed scarf pattern, vanilla latte super scarf, candy stripes scarf, color pop super scarf, cozy infinity scarf, half double Preciosa scarf, granny square scarf, and Portsmouth scarf.
What are the basic steps to crochet a scarf?
Crocheting a scarf is a fun and easy project that can be completed in just a few steps. To begin, gather your supplies, including your yarn and crochet hook. Create a slip knot and then make the first foundation row of chain stitches. Next, follow the pattern and work your way across the first row of stitches. Continue making rows of stitches until the scarf is the desired length, then finish by cutting the yarn, pulling it through the last loop, and weaving in the ends.
What is the best yarn for scarves?
When choosing yarn for a scarf, there are a few popular options. Acrylic yarn is soft, widely available, and affordable, making it a great choice for beginners. Acrylic/wool blends offer the warmth of wool with the easy care of acrylic. Wool yarn can be stunning, albeit a bit more expensive. If you're new to crochet, consider choosing a worsted weight or thicker yarn with a smooth texture.
How many skeins of yarn do you really need to crochet a scarf?
The amount of yarn required to crochet a scarf will vary based on the pattern and the yarn being used. Usually, two balls or skeins of yarn will suffice for a scarf. However, referring to your pattern or yarn label is always best for more detailed information.
What are the best crochet stitches for scarves?
The perfect crochet stitch for a scarf will depend on the desired look and feel of the finished product. Single and double crochet are great for creating a close, dense fabric. Back-loop half double crochet produces a ribbed fabric, while moss stitch or granite stitch creates a closed fabric with a beautiful drape. For a lighter, more open fabric, v-stitch is a solid choice. Waffle stitch produces a textured fabric that stitches up into a thick, warm scarf.
How wide should a scarf be?
Scarf width can vary significantly, depending on the style and intended use. Skinny scarves typically measure around 4″ wide, while traditional scarves are around 8″ wide. On the other hand, Super-wide blanket scarves can measure up to 12″ wide. For an even larger scarf, consider a blanket scarf, which can range between 15″ to 30″ wide.
How long should a scarf be?
The length of a scarf can also vary, but a standard range is typically between 60″ to 72″ long. However, you can make a scarf longer if you want to wrap it around your neck multiple times or create a unique look.
How long should fringe be on a scarf?
Fringe length is a matter of personal preference, but it typically ranges from 4″ to 6″ long. However, depending on their desired look, some may choose to go shorter or longer.
Crochet Scarf Size Chart
Here's a crochet scarf size chart to give you an idea of how long and wide your scarf should be depending on your desired style and the person you're making it for:
| Size | Width (inches) | Length (inches) |
| --- | --- | --- |
| Child | 6-8 | 42-48 |
| Teen/Small Adult | 8-10 | 60-66 |
| Adult | 10-12 | 66-72 |
| Large Adult | 12-14 | 72-78 |
This chart provides a general guideline for the width and length measurements of crochet scarves for different sizes, from child to large adult. However, please remember that these measurements are approximate and can vary depending on the stitch pattern, yarn weight, and other factors. Measuring the recipient or referring to specific crochet scarf pattern instructions for more accurate sizing.
1. Autumn Ripple Crochet Scarf Pattern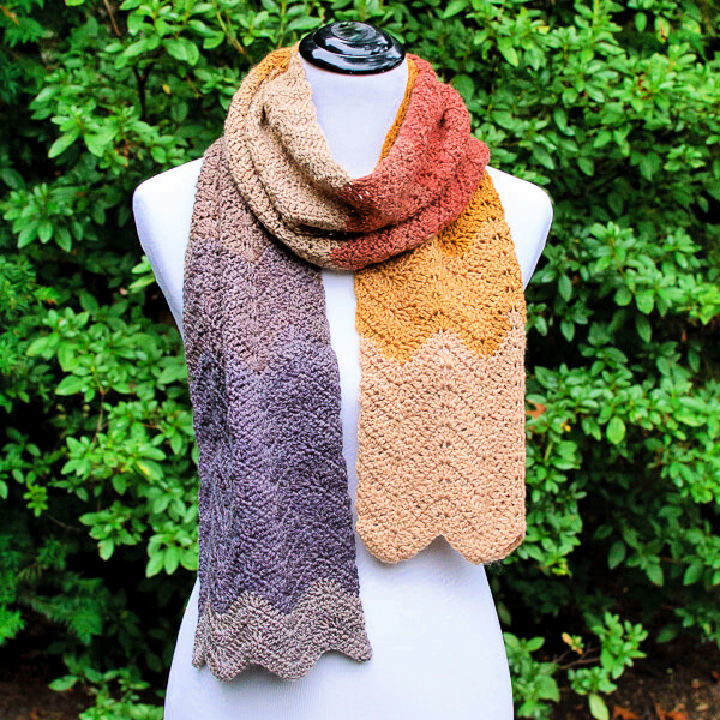 This awesome crochet autumn ripple scarf pattern is perfect for tackling a simple project! It only requires one stitch and some increases/decreases to get the ripple effect. And if you use self-striping yarn, you won't even need to worry about changing colors! This style works great with the lion brand's mandala yarn, perfect for both men and women.
Get ready to show off your amazing skills with great texture and instructions that'll help you make everyone on your gifting list happy this season! All you need is DK weight yarn, a US g-6/4 mm hook, scissors & yarn needle – it's time for an autumn adventure of crocheting awesomeness! petalstopicots
2. Crochet Striped Neck Scarf Pattern for Beginners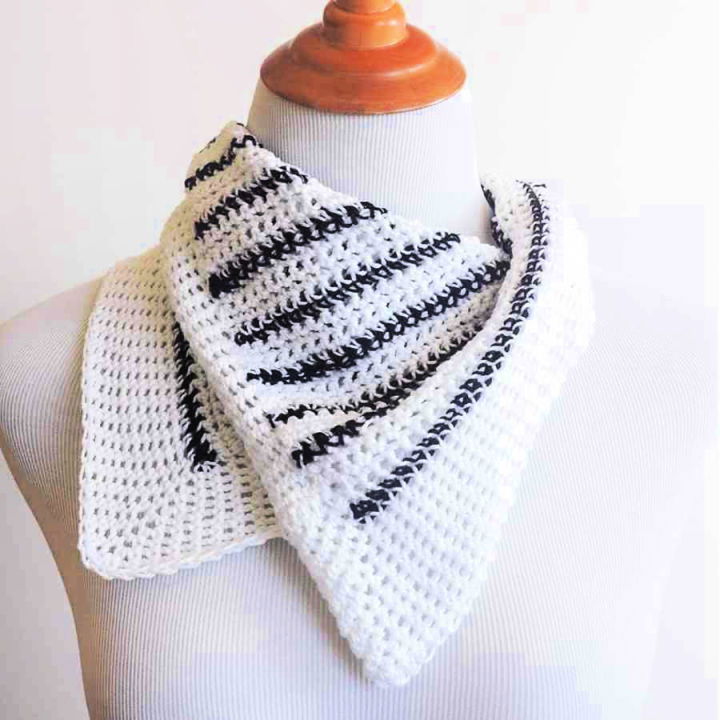 Tackle a timeless classic accessory with this striped crochet neck scarf pattern! Perfect for any season, this chic scarf is easy to make and will up the style quotient of your wardrobe. It features an elegant black & white striped pattern that can be wrapped around the neck or used as a hair accessory.
All you need is circulo cotton yarn and basic tools such as hook(s) size: h/8 5mm, tapestry needle & scissors to bring your stylish project to life. Ideal even for beginners; make it now & enjoy it forever! idealme
3. Quick and Easy Crochet Ribbed Scarf Pattern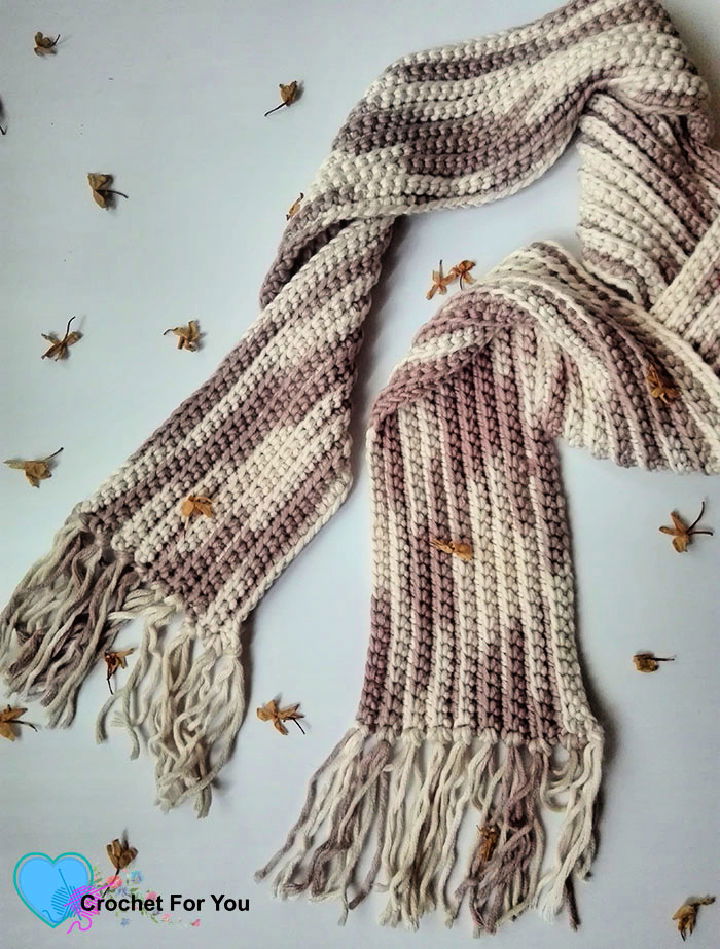 Crochet an easy ribbed scarf that looks fabulous with variegated yarns! This pattern is for beginners and can be made with your favorite worsted-weight yarn. The finished size will be 55″ long x 5″ wide without fringe, perfect for both men and women. Skill level: easy. Materials needed: worsted weight yarn, j-10 6mm crochet hook, tapestry needle. Get started today and make a beautiful piece to keep you warm or give as a gift- make one today & look adorable! crochetforyoublog
4. Crocheting a Braided Infinity Scarf – Free Pattern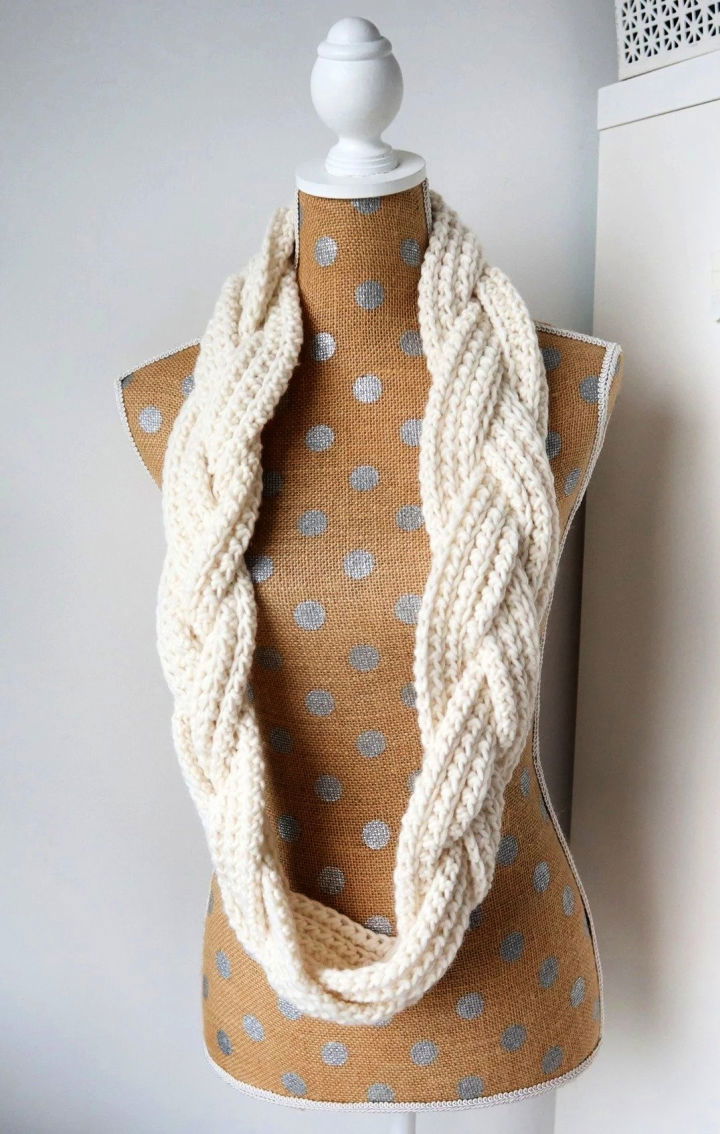 This beginner-friendly crochet braided infinity scarf pattern creates an elegant, unique look! Step-by-step instructions, a video tutorial and all the materials needed for this project are included. Stay warm and stylish with this comfy scarf that looks complex but is easy and fun to make. All you need is ice yarn's peru alpaca super bulky yarn and a 6.5mm crochet hook – in no time, you'll have your own homemade head-turning accessory! thesnugglery
5. Gorgeous Crochet Honey Bird Triangle Scarf Pattern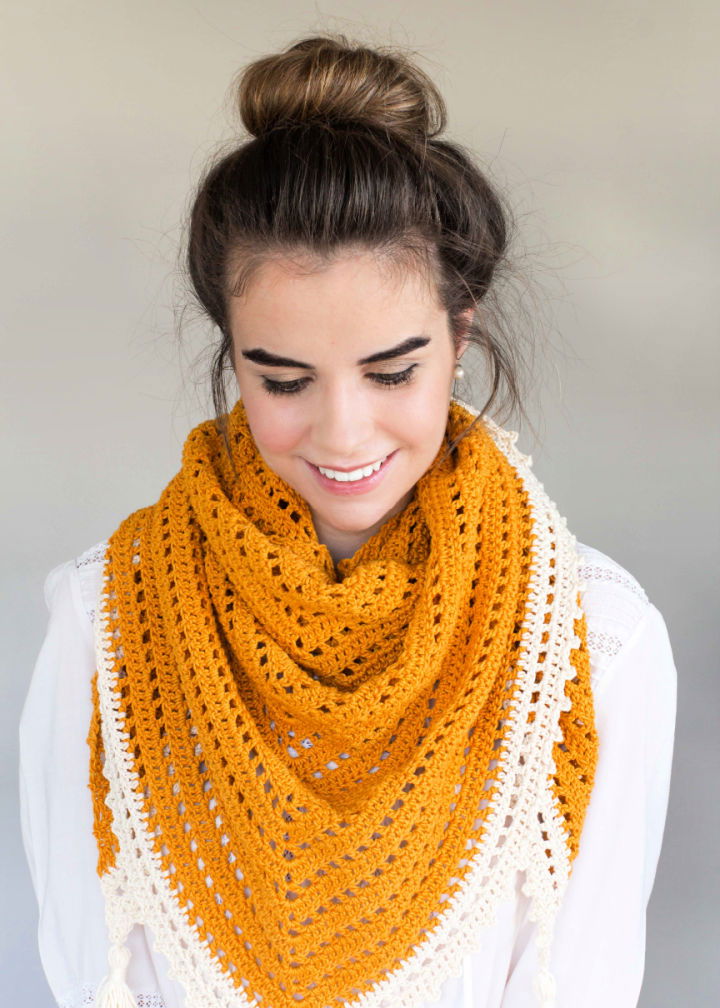 This gorgeous crochet honey bird triangle scarf pattern features picot detailing along the border and swishy tassels for a contemporary touch. It's easy to make with basic crochet stitches and techniques, plus lion brand 24/7 cotton yarn & 4mm (g/6) hook!
You'll look amazing draped over your shoulders or wrapped around your neck – perfect for cold weather days sipping on warm spiced pumpkin lattes. Enjoy creating this fun project step-by-step for an eye-catching texture you won't want to take off! hopefulhoney
6. Beautiful Crochet Mermaid Scarf Pattern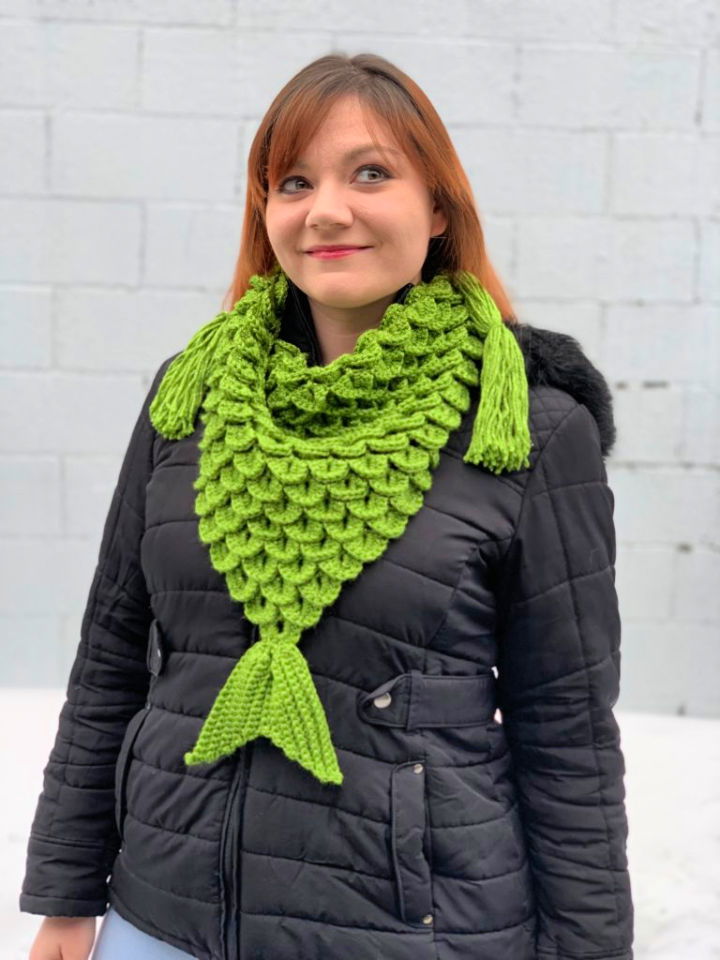 This free pattern for a fashionable crochet mermaid scarf creates something unique and stylish. It's easy and fun to make – perfect for beginners! With step-by-step instructions, you'll be able to learn how to make this beautiful design in no time. All you need are 3 skeins of caron, soft party yarn, a 5.25 mm hook, a yarn needle, scissors and your creativity! Keep yourself warm and comfortable while looking fabulous with this new must-have item. Try it today and amaze yourself with the results! knotbadami
7. How to Crochet Chimera Scarf – Free Pattern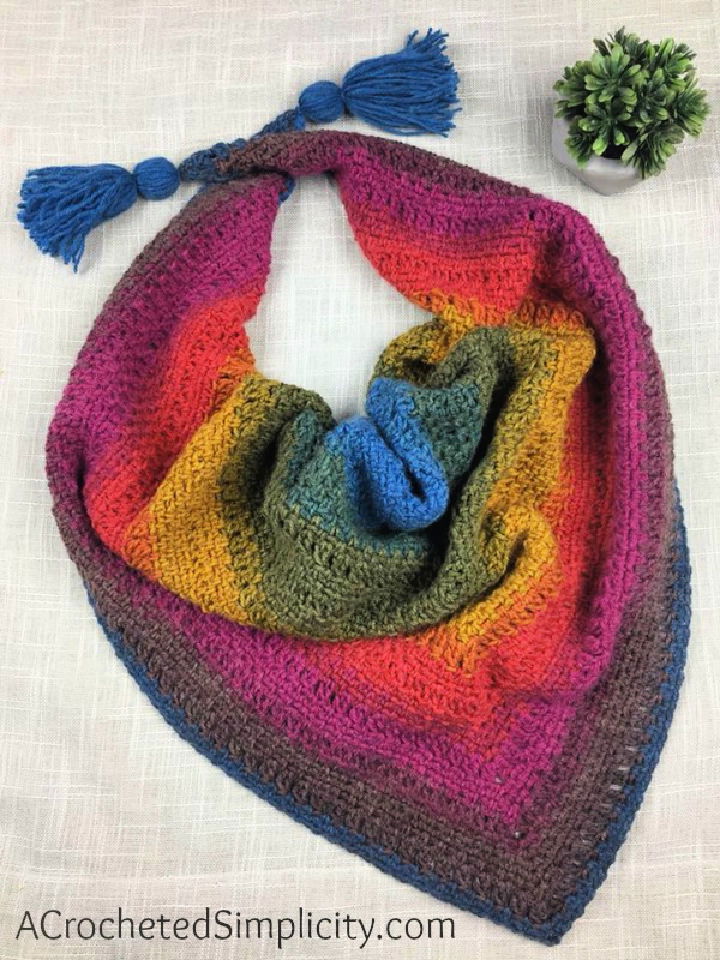 Create the perfect winter accessory with this free crochet chimera scarf pattern! Combining several easy stitches, you can make a beautiful and customizable scarf that can be worn as a shawl or triangle. The lion brand yarns mandala yarn does all the colorwork for you, so it's great for binge-watching your favorite tv shows. With detailed instructions, this pattern will give you a finished scarf size of 50″ w x 23.5″ l – add scissors, yarn needle and a j/10/6 mm crochet hook to get started! acrochetedsimplicity
8. Simple Crochet Cozy Striped Infinity Scarf Pattern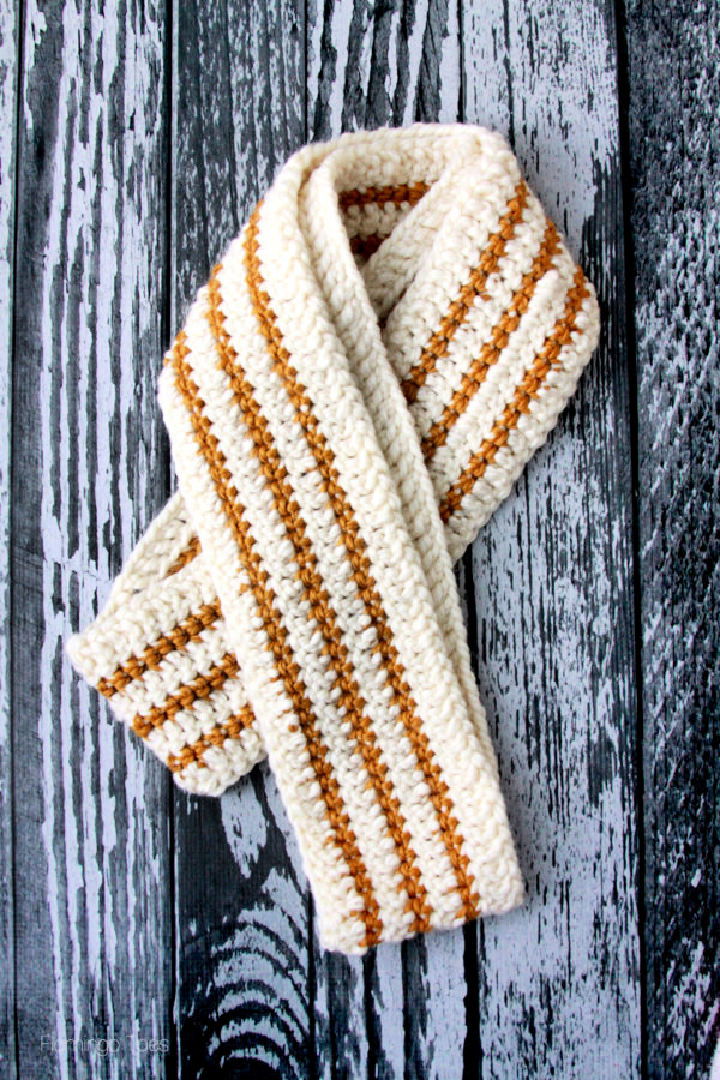 Stay cozy and stylish this season with a handmade crochet striped infinity scarf! This pattern is simple and easy to follow – use single and double crochets, working in the back loops for a ridged edge. It's made of two skeins of chunky cream yarn and one skein of gold, adding that perfect warmth and beauty to your outfit.
Wear it wherever you go as an elegant accessory – look great any day with this beautiful infinity scarf! Materials needed: 2x chunky cream yarn, 1x chunky gold yarn & size n hook. Get started crafting now! flamingotoes
9. Crochet Brioche Bun Scarf – Free PDF Pattern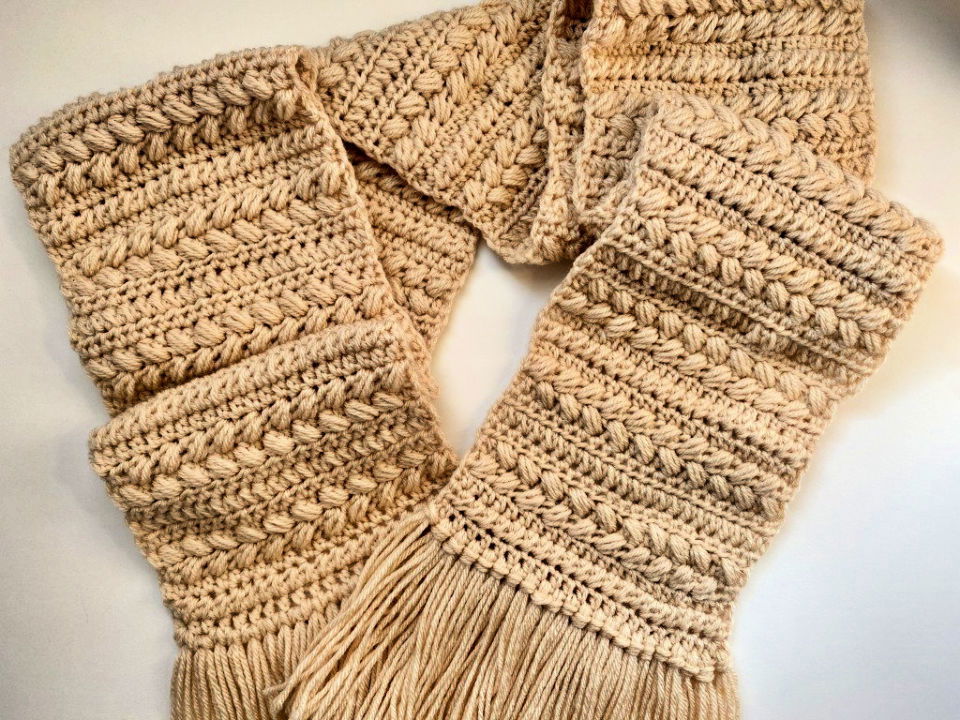 The brioche bun crochet scarf is the perfect modern accessory! This easy pattern is suitable for advanced beginners. The short rows allow you to customize this scarf's length, while puff stitches and paired half-double crochet stitches create an elegant texture.
Materials needed include lion brand vanna's choice yarn, a 5.50mm crochet hook, scissors, a tapestry needle, and a measuring tape – so grab your supplies and get crocheting! Get creative with colors or keep it simple; either way, you'll look stylish with this cozy scarf wrapped around you. highdesertyarn
10. Fastest Crochet Go with the Flow Super Scarf Tutorial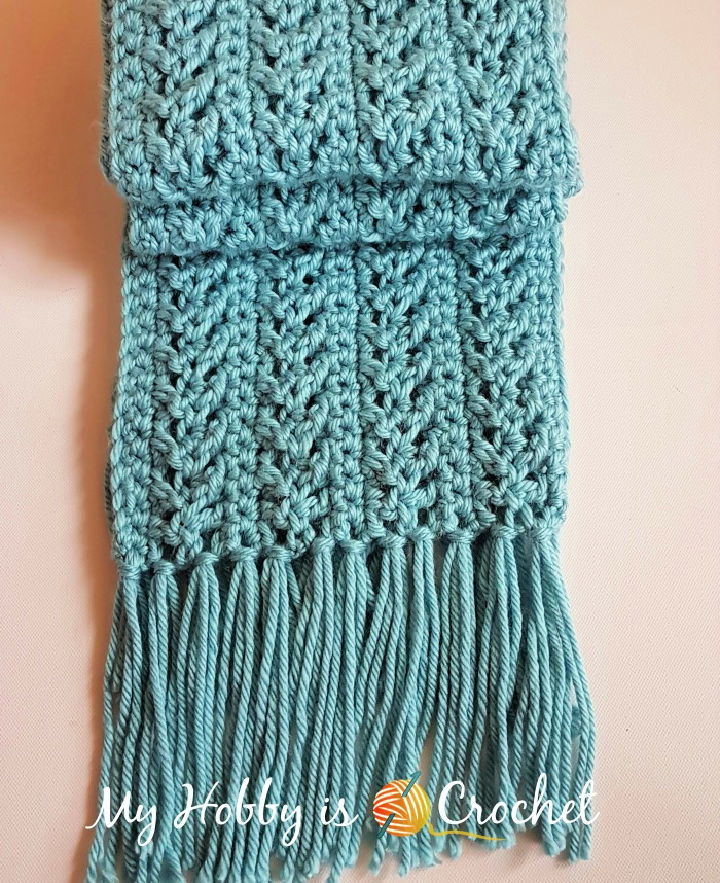 Don't miss out on the latest trend – go with the flow "Crochet super scarf"! This stylish scarf is not only wider and longer than traditional scarves, but it also has a beautiful drape and wonderful texture. Crocheting this chic accessory will be a fast project since it's worked lengthwise, which means no turning your work hundreds of times.
All you need to get started is just 4 skeins of red heart chunky soft, 10mm crochet hook, yarn needle and scissors! Get creative with colors and make something unique that you can wear proudly or give as a special gift. myhobbyiscrochet
11. How Do You Crochet a Berryessa Scarf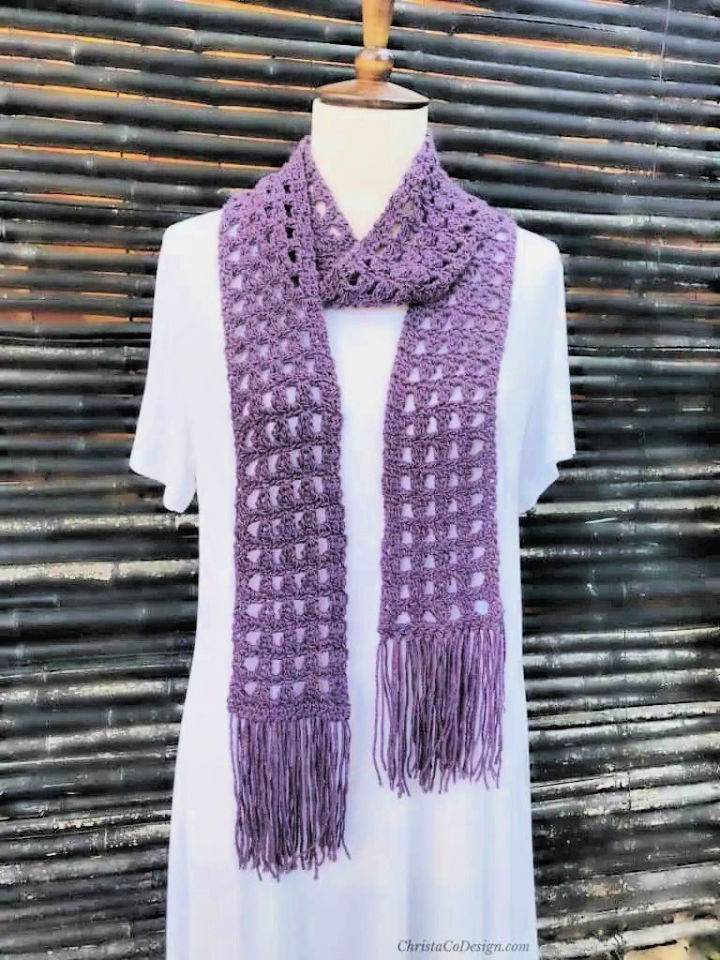 Make a stylish summer accessory with this free crochet berryessa scarf pattern. Working up quickly with just one ball of yarn and easy stitches, the long length makes it so versatile to style! Wrap it once or twice for a casual look, or wear it long for something more formal.
Get creative and add some flair to your wardrobe – all you need is a 4.5mm hook, #3 lightweight yarn, scissors, measuring tape & yarn needle. Download this simple pattern now & start crocheting! christacodesign
12. Crochet Rossi Scarf – Step-By-Step Instructions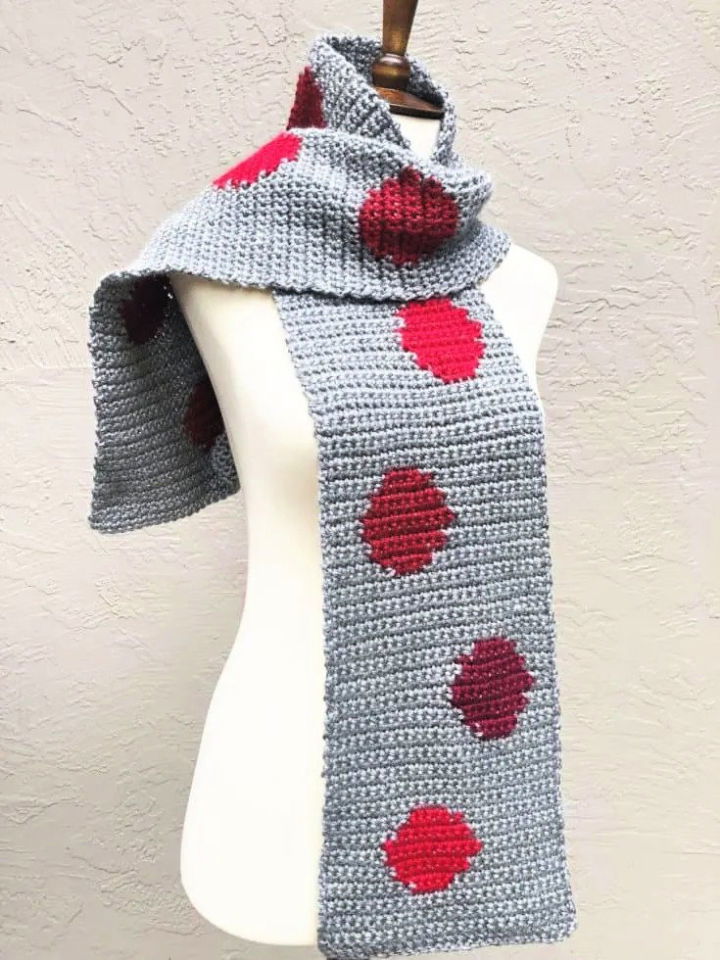 Crafting the perfect winter accessory? Look no further than the rossi crochet scarf. This single-crochet style scarf is an elegant addition to any ensemble with its tonal red circles. The simple style can be worn by both men and women alike, making it a great way to stay warm this February (and beyond!).
Plus, it's customizable for different lengths to ensure your scarf is right for you. And best of all – materials like yarn, needles and scissors make this a great stash buster! Get your hands on the rossi crochet scarf pattern today for free and get crafting! christacodesign
13. Best Spring Market Mod Scarf Crochet Pattern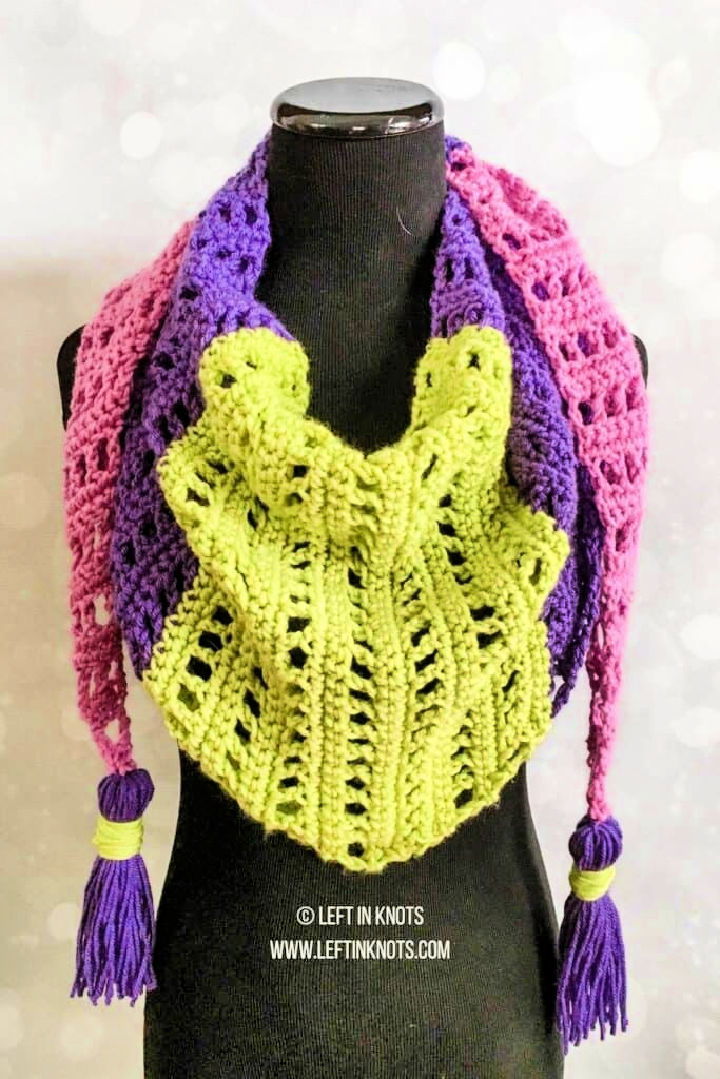 Add spring to your wardrobe with this crochet spring market mod scarf! This stylish triangle scarf is light and airy, perfect for warmer weather. Pick the colors you like best and use the free pattern to create a beautiful piece of art that you can personalize with optional tassels. It's beginner-friendly, so you can make it happen even if you're new to crocheting!
The finished piece measures approx 68″ long by 14″ wide – just right for keeping cozy in style. Gather your supplies: loops and threads color wheel yarn, j/6.0 mm crochet hook, yarn needle, scissors, and tassel maker and get ready to make something unique! leftinknots
14. Colorful Crochet Desert Winds Scarf – Free Pattern
Create a modern and stylish look with this free crochet triangle scarf pattern! The caron cakes crochet desert winds scarf is an easy one-skein project that takes all the stress of choosing colors – it's already done for you. This inexpensive pattern offers detailed instructions, including choosing your own yarn if desired. All you need are supplies such as a tapestry needle, stitch marker, size h 5mm crochet hook, and 1 skein of caron buttercream yarn. Make this lovely scarf today and feel confident wearing it anywhere! makeanddocrew
15. Crochet Buffalo Plaid Scarf Design – Free Pattern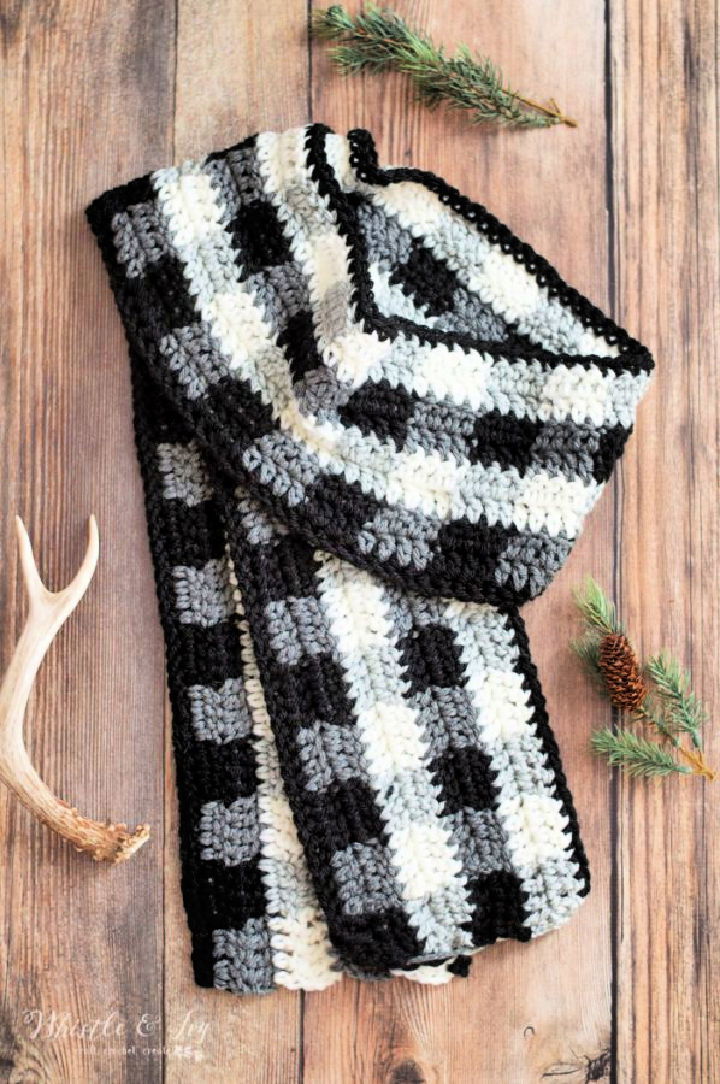 Looking for a timeless crochet scarf pattern? Look no further than this free crochet buffalo plaid scarf. Perfect for both men and women, this simple pattern uses the plaid technique to achieve the look of buffalo plaid. It's fun to make with bulky yarn and a great gift or addition to any crochet shop. Get your 9mm hook, brava bulky yarn, and darning needle ready – you'll have a classic winter accessory in no time! whistleandivy
16. New Crochet Color Block Scarf Pattern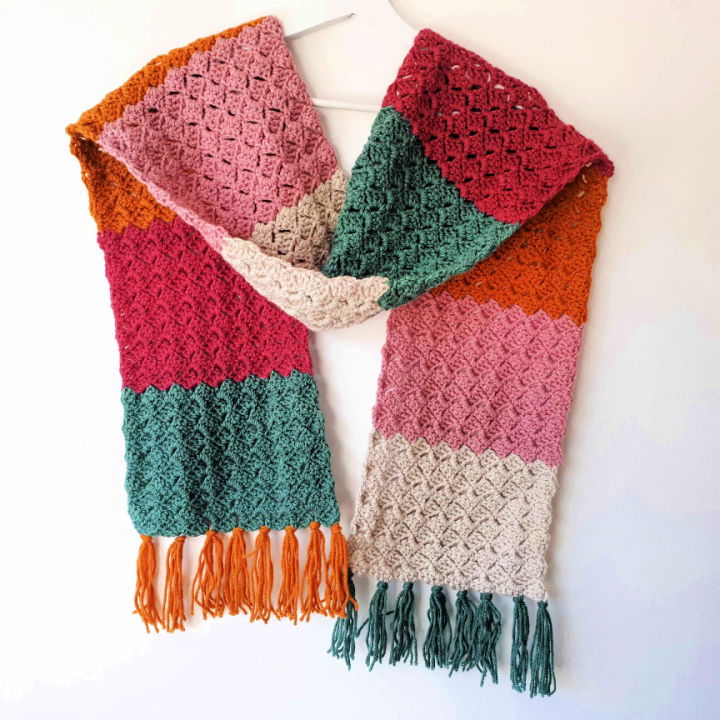 This trendy color-block scarf is perfect for transitioning into cooler weather and will keep you warm, comfortable, and stylish all season long! Suitable for a beginner, it's an easy crochet pattern that even the most novice crafters can achieve. The yarn used is budget friendly and washable – available in so many gorgeous shades to suit any style – while blocks of color paired with a golden honey-colored yarn give this fall accessory great texture.
All you need are 5 colors of worsted weight yarns and a 5.5mm hook – make one for yourself or give it as a gift – either way, your friends will love their own handmade crochet color-block scarf! anniedesigncrochet
17. Chunky Crochet Infinity Scarf Pattern To Print
Fall has arrived, so it's time to update your wardrobe with a cozy chunky crochet infinity scarf! This beautiful scarf is fun to make and can be dressed up or down depending on the occasion – making it perfect for any outfit. It features an elegant texture while keeping you warm as the night gets cooler.
Plus, this free pattern is a great gift for that special person. All you need is some chunky wool yarn, a large needle (size "N"), and 3 buttons. Follow the instructions and start creating something special today! flamingotoes
18. How To Make Kids Scarf – Free Pattern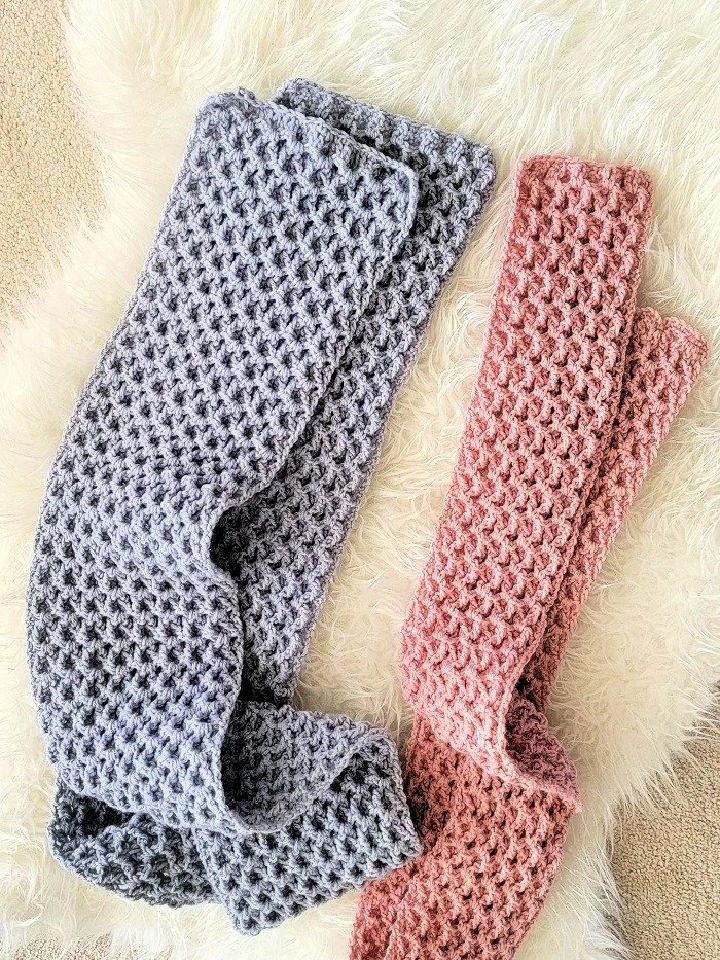 Kelsey scarf crochet pattern for kids is a stunning textured scarf that looks way more complicated than it is. With just a 1-row repeat, the pattern includes sizes ranging from kids to women, making it great for mommy & me twinning. Pair with a matching hat for a complete set ideal for gifts or craft fairs. Keep yourself warm and look adorable with this DK weight yarn pattern made using a 4mm hook and a tapestry needle to weave in the ends. crochetdreamz
19. Pretty Crochet Lace Scarf Pattern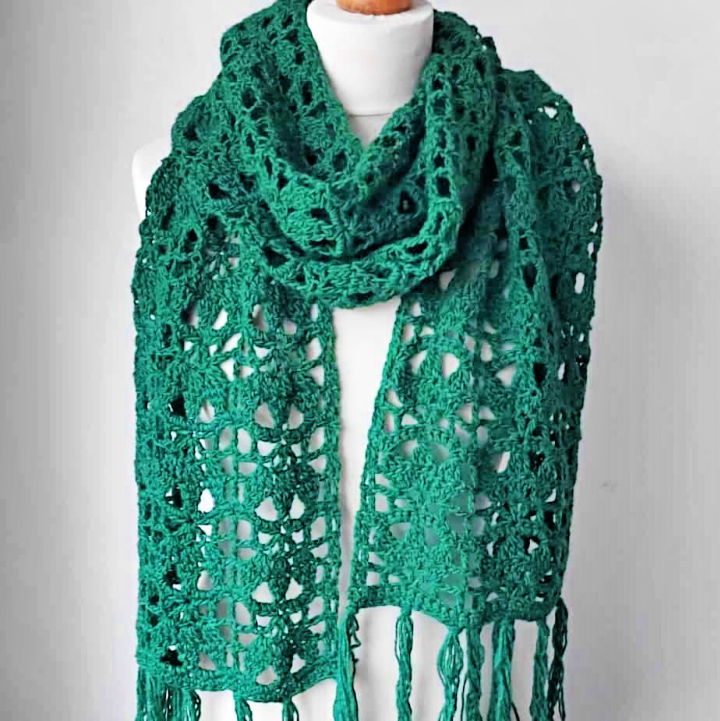 This crochet lace scarf pattern with a tendril leaf design is the perfect way to add a touch of elegance to your winter and spring outfits! With an easy 4-row repeat pattern, it's stylish and easy to make. It works quickly, so you'll be able to enjoy the unique style of this scarf soon.
The materials required are hobbii winter glow solid yarn and a 5mm crochet hook – ideal for any beginner crocheter. Customize the scarf easily by making it wider or longer per your preference! A great craft project that will have everyone admiring your fashionable handmade creation. anniedesigncrochet
20. Crocheted Diagonal Ripple Scarf – Free Pattern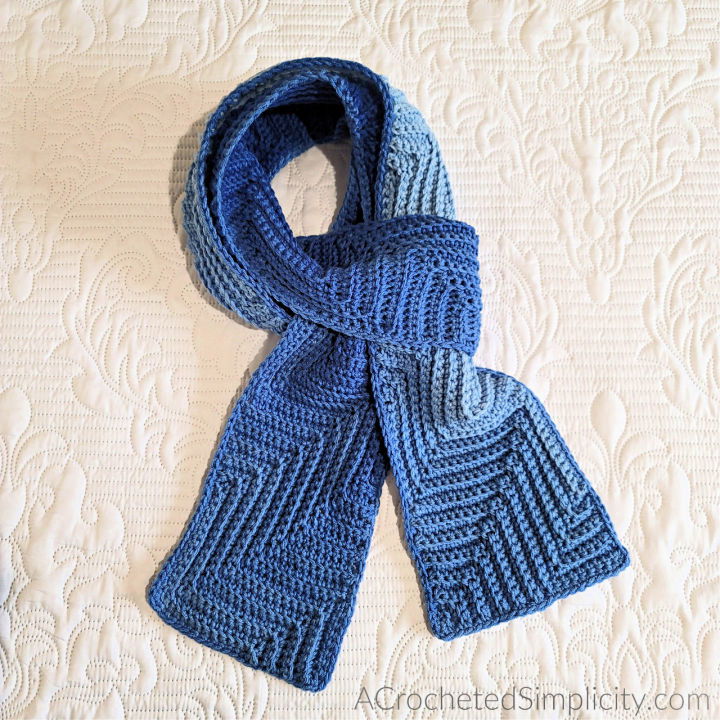 Discover the perfect crochet accessory with this free crochet diagonal ripple scarf pattern! This crocheted, simple, original design is beginner-friendly and comes with instructions, photos, a materials list, and more to help you along the way. With great texture and an amazing look, it's ideal for gifting or keeping as a cozy addition to your wardrobe.
You'll need worsted weight yarn (4) and j/10/6.00mm crochet hook plus scissors, yarn needle, and locking stitch marker – simple supplies that will make a warm & comfy scarf for years to come! acrochetedsimplicity
21. Unique Free Crochet Bean Scarf Pattern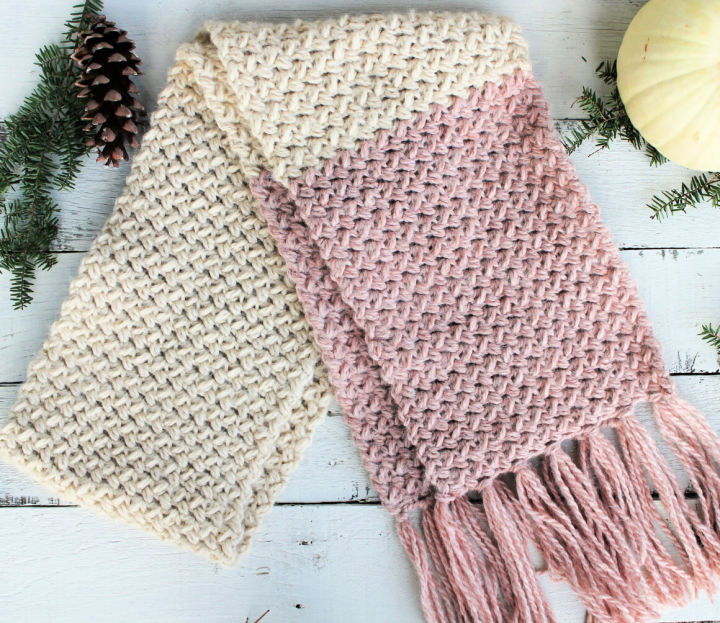 This cozy crochet bean scarf pattern is a great project for beginner crocheters, featuring easy rows of the mini bean stitch to create a beautiful, sophisticated texture. The bonus is that, even though it looks intricate and detailed, it's super easy to do and a great "mindless" stitch once you get going.
With simple color changes, this scarf has a modern color block look; fringe detailing adds an extra touch of style. Instructions are given to adjust the size so, as written easily, it fits an adult woman – or make adjustments for your fit!
You'll need worsted weight yarn (size 4), a size j (6.00mm) hook, a tapestry needle, scissors, and measuring tape to complete this fun-to-make project! knottednest
22. Free Crochet Pattern for Merino Ruffle Scarf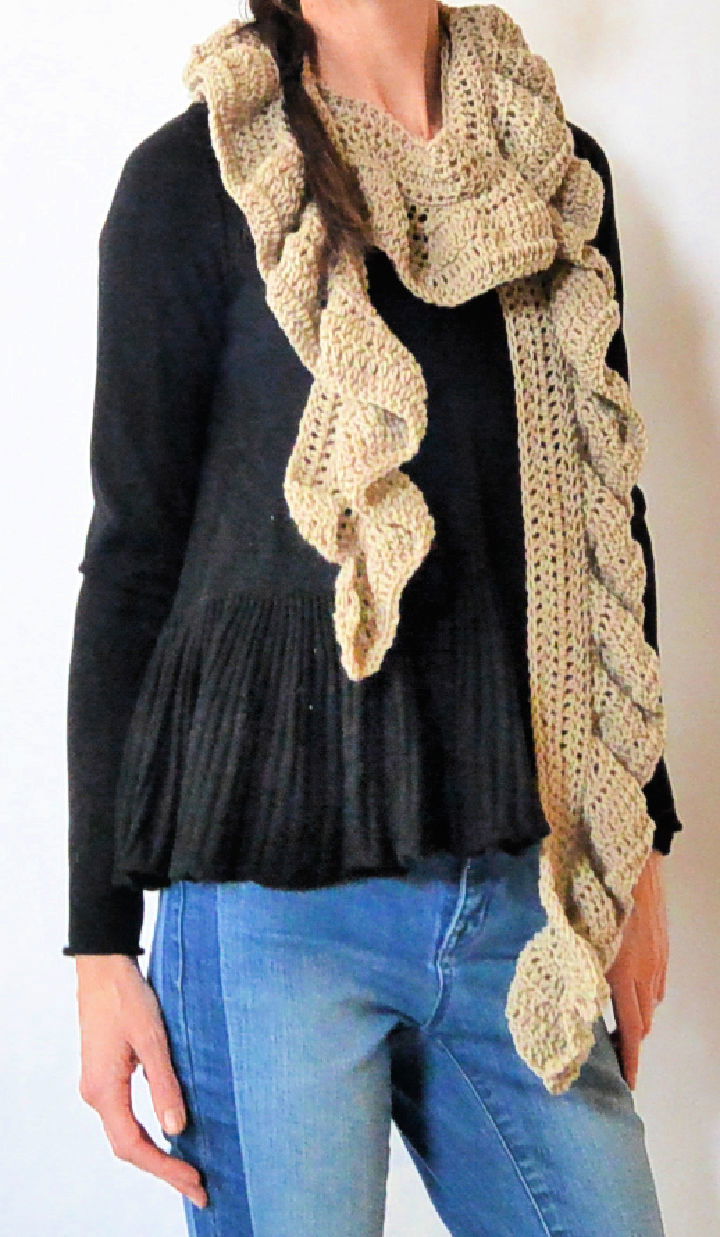 Create a beautiful and modern look with the merino crocheted ruffle scarf pattern. This beginner-friendly project is a perfect accessory for winter, as it's made of super soft wool and is washable. It's easy to make with half double crochet and double crochet stitches and will make an elegant gift!
All you need are a US size h 5.0 mm hook, 2 skeins of lion brand yarn, and instructions with the pattern – no advanced skills required! Enjoy cozy vibes this season in your chic merino ruffles scarf. mamainastitch
23. Crochet Mountain Ridge Scarf Idea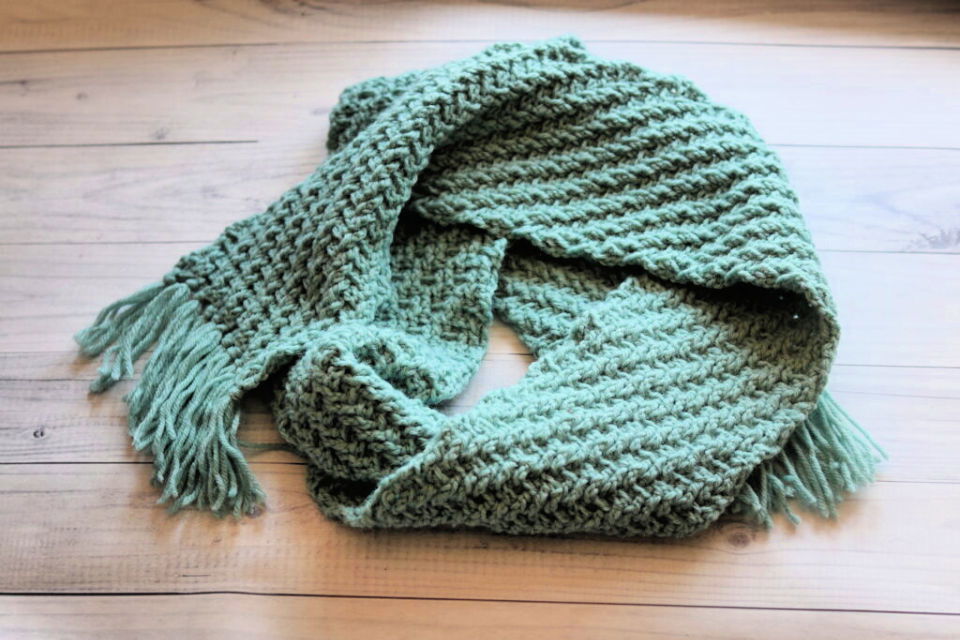 Wrap up in style with this pattern for a crochet mountain ridge scarf. The ridged front and back post double crochet stitch pattern creates so much texture to look stylish on winter evenings. Simple and fun to make, it's cozy too! Instructions are included, and the skill level is intermediate. The finished size is 6×65 inches laid flat using (4) medium/worsted weight yarns, an h/8 (5 mm) hook and adding a fringe if desired. Make your nights cozier with this one-of-a-kind piece! richtexturescrochet
24. Cool Crochet Scarf Pattern for Men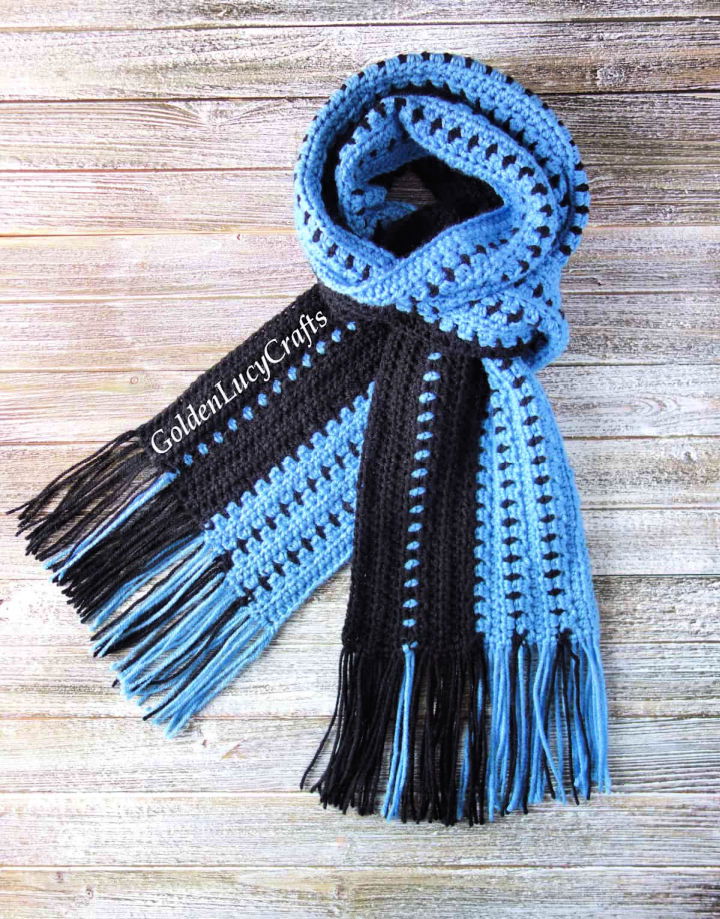 Surprise the man in your life with this crochet scarf pattern! Specifically designed for men and unisex, this stunningly elegant piece is fun to make and can be worked up in just a couple of evenings. This warm scarf uses two colors of medium-weight yarn so that you can choose your favorite shades.
A great gift idea for birthdays, father's day etc., it's suitable for intermediate crocheters who need an I/9–5.50mm or j/10–6.00 mm hook to complete their project. Make someone special feel even more loved today with this handmade scarf! goldenlucycrafts
25. Easiest Scarf to Crochet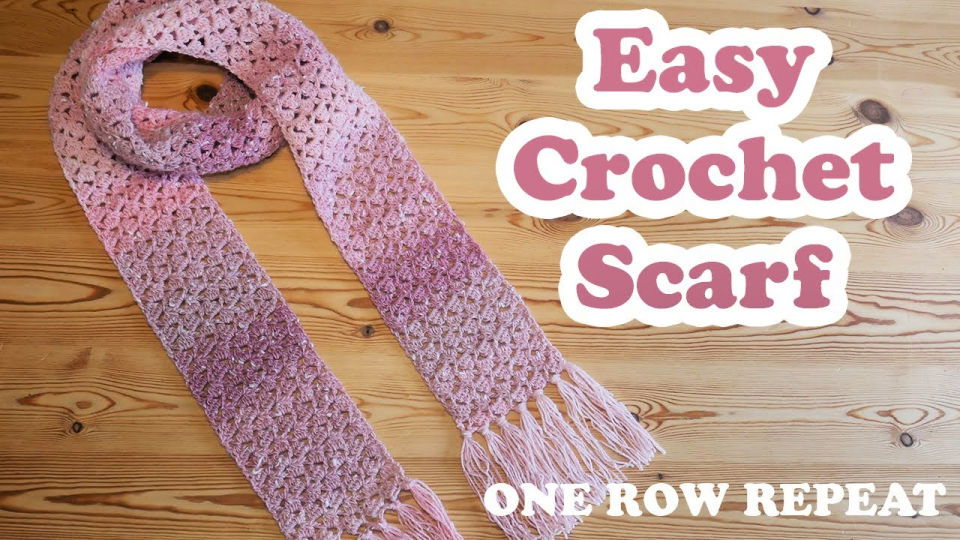 This comfy crochet cluster scarf is the perfect project for crochet beginners! With a beautiful design and eye-catching color, this easy one-row repeat pattern is simple to follow with step-by-step instructions. You will love having this nice and long (240 cm) scarf to wrap around yourself a few times or give as a gift. Materials needed are james c brett northern lights yarn and 5mm hook – start creating today!
Related Free Crochet Patterns:
Discover a wide range of free crochet patterns for all skill levels. From hats to shawl, find your next project today!
Conclusion:
When it comes to crocheting, scarves are a great way to start. With 25 free crochet scarf patterns, there's crochet scarf pattern for everyone – from detailed instructions and step-by-step tutorials to easy and simple options perfect for beginners. Plus, free crochet scarf patterns come with PDF files you can download and print out immediately! Whether you're looking for modern and trendy styles or quick projects that don't take long to whip up, these free crochet scarf patterns have something suitable, no matter your level of expertise in the craft. So explore the options available today and find the perfect one for you!