Crochet cardigans are a great addition to any wardrobe, and you can customize them to fit any personal style. These crochet cardigans can be made with various yarn weights, textures, and colors to create a unique and cozy piece that will keep you warm and fashionable. By following 30 free crochet cardigan patterns, you can easily create your own cardigan pattern, whether you're a novice or a seasoned crocheter.
This list includes various crochet cardigans, such as long or short, oversized or fitted, open or buttoned, and more. Each crochet cardigan pattern provides detailed instructions and step-by-step guides, making crocheting a cardigan easy and enjoyable. With 30 free crochet cardigan patterns, including detailed instructions, you can find the perfect cardigan pattern for your skill level and personal preference.
The best part of crocheting a cardigan is that it allows you to express your creativity and make something uniquely yours. Add embellishments like pockets, fringe, or buttons to make your cardigan stand out. And, because you've made it yourself, you can be proud to wear it, knowing that it's a one-of-a-kind piece.
Crocheting a cardigan is a fun and rewarding project for any crocheter. With free crochet cardigan patterns available below for all skill levels and styles, you can easily create a cozy and stylish addition to your wardrobe. Whether you want to create a long, oversized cardigan or a short, fitted one, get a free crochet cardigan pattern. So, grab your yarn and crochet hook, and start making your own unique and fashionable cardigan with these free crochet cardigan patterns today.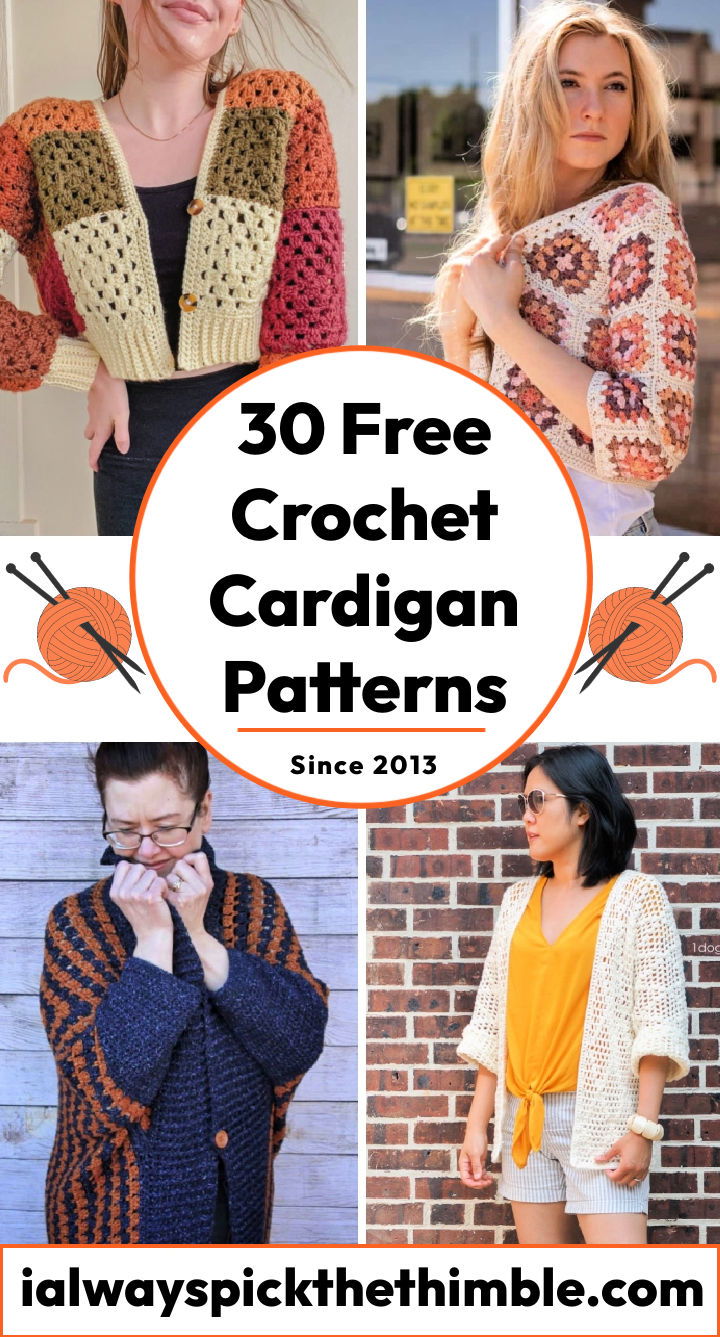 What are crochet cardigans?
Crochet cardigans are warm, cozy and stylish pieces of clothing made by hand using a crochet hook and yarn. They are versatile, easy to wear and come in a wide range of patterns suitable for various skill levels and fashion styles.
What makes crochet cardigans popular?
Crochet cardigans are popular because they are versatile, comfortable, and can be made to fit any body size and shape. They also offer a wide range of styling options, from casual to formal, and they are easy to customize with various patterns and colors.
What are some popular crochet cardigan patterns?
Some popular crochet cardigan patterns include the "Granny Square Cardigan," "The Juliette Cardigan," "The Marguerite Cardigan," "The Circle Cardigan," and "The Modern Granny Cardigan." These patterns come in different skill levels and styles, making it easy to find one that suits your preference.
What materials do you need to make a crochet cardigan?
You will need a crochet hook, yarn, a tapestry needle, and scissors to make a crochet cardigan. The type and size of yarn and crochet hook will depend on the pattern you choose, but generally, worsted-weight yarn and a size H/8 crochet hook are suitable for most cardigan patterns.
How long does it take to crochet a cardigan?
The time it takes to crochet a cardigan depends on the pattern, skill level, and size of the cardigan. Generally, a simple pattern can take 10-20 hours to complete, while more complex patterns can take 40-50 hours or more.
How can beginners learn to make crochet cardigans?
Beginners can learn to make crochet cardigans by finding a pattern suitable for their skill level, investing in high-quality materials, and practicing basic stitches. Our given cardigan patterns and resources, such as video tutorials and written instructions, can guide beginners through the process.
Unique Uses and Benefits of Crochet Cardigan Patterns:
Discover the various advantages and creative applications of crochet cardigan patterns, a versatile and stylish garment for any occasion.
1. Versatility: Crochet cardigans are versatile and can be worn in different ways, making them suitable for various occasions. They can be dressed up or down, worn over dresses, paired with jeans, or even used as a beach cover-up.
2. Stylish: Crochet cardigans add style and sophistication to any outfit. They come in different patterns, colors, and styles, making finding one that matches your taste easy.
3. Cozy: Crochet cardigans are perfect for cooler weather, providing warmth and comfort. They are often made from soft, natural fibers like wool or cotton, making them cozy and comfortable to wear.
4. Customizable: Crochet cardigan patterns can be customized to fit your unique style and preferences. You can choose the yarn, color, and pattern best suits you and adjust the size to fit your body perfectly.
5. Budget-friendly: Crochet cardigans are an affordable way to add new pieces to your wardrobe. With 30 free crochet cardigan patterns below, you can create stylish and cozy cardigans without breaking the bank.
We got a crochet cardigan pattern that suits your skill level and style. Using these patterns, you can create versatile, stylish, and cozy cardigans customized to your preferences and budget-friendly.
Free Crochet Cardigan Patterns
Create vibrant colors with these 30 unique and stylish crochet cardigan patterns perfect for different looks. From cozy sweaters to light jackets, these free patterns can be customized for a unique creation.
1. Crochet Cardigan with Pockets – Free Pattern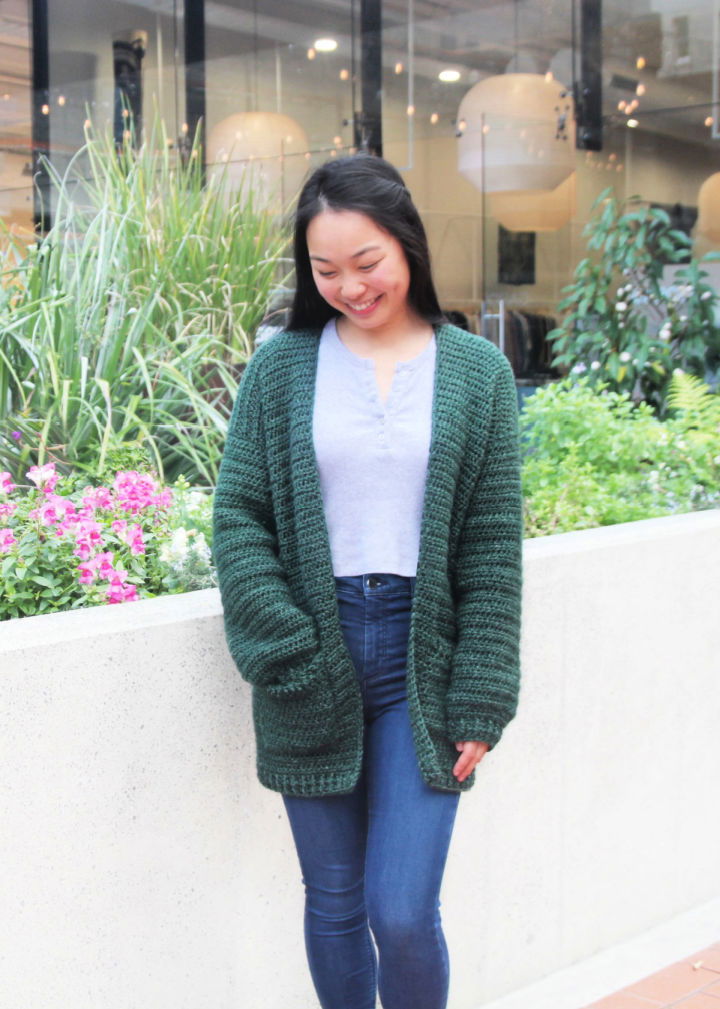 Stay warm this fall with your own handmade crochet cardigan! The Briar cardigan is an easy pattern perfect for beginner crocheters, featuring two pockets and slouchy sleeves. Use the lion brand heartland yarn and 6.5mm hook – great over jeans, dresses or leggings! Plus, watch the free video tutorial to start today – no prior experience is needed. Get cozy in style with your own handmade cardigan this season! forthefrills
2. Easy Everyday Cardigan Crochet Pattern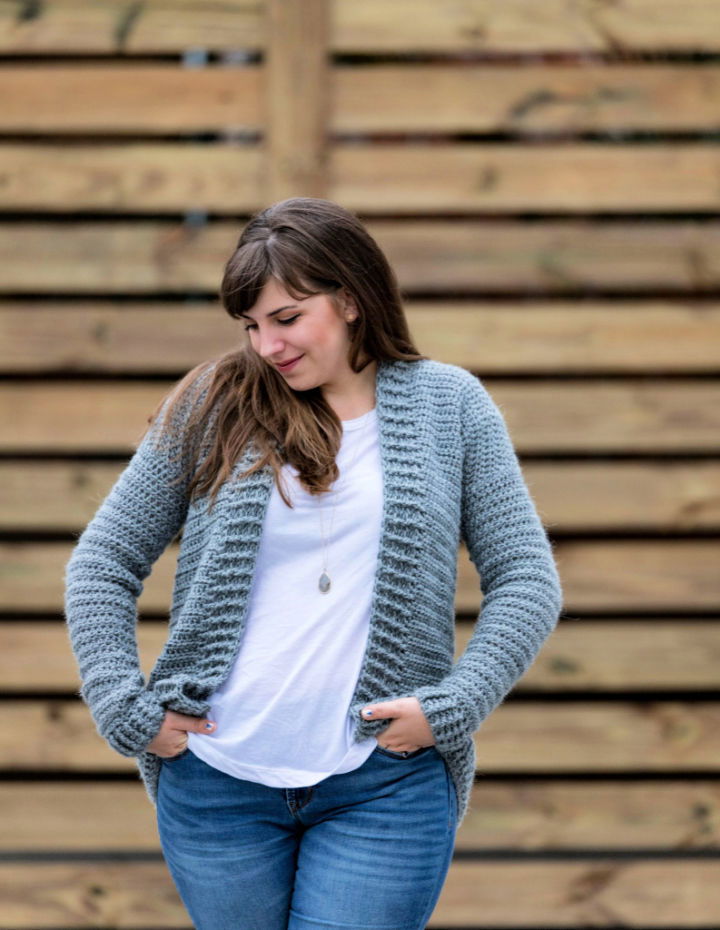 Craft a stylish and comfortable cardigan with the lion brand's touch of alpaca yarn using this simple everyday crochet cardigan project! Perfect for beginners and experienced crocheters, all you need is a size k 6.5mm hook, tapestry needle, measuring tape and two rectangles – so you can easily finish it in one weekend!
Its lightweight design makes it super soft and warm enough to wear year-round. Get ready to look great no matter what you're wearing with this versatile everyday crochet cardigan pattern! sewrella
3. How to Crochet Aurora Cardigan for Women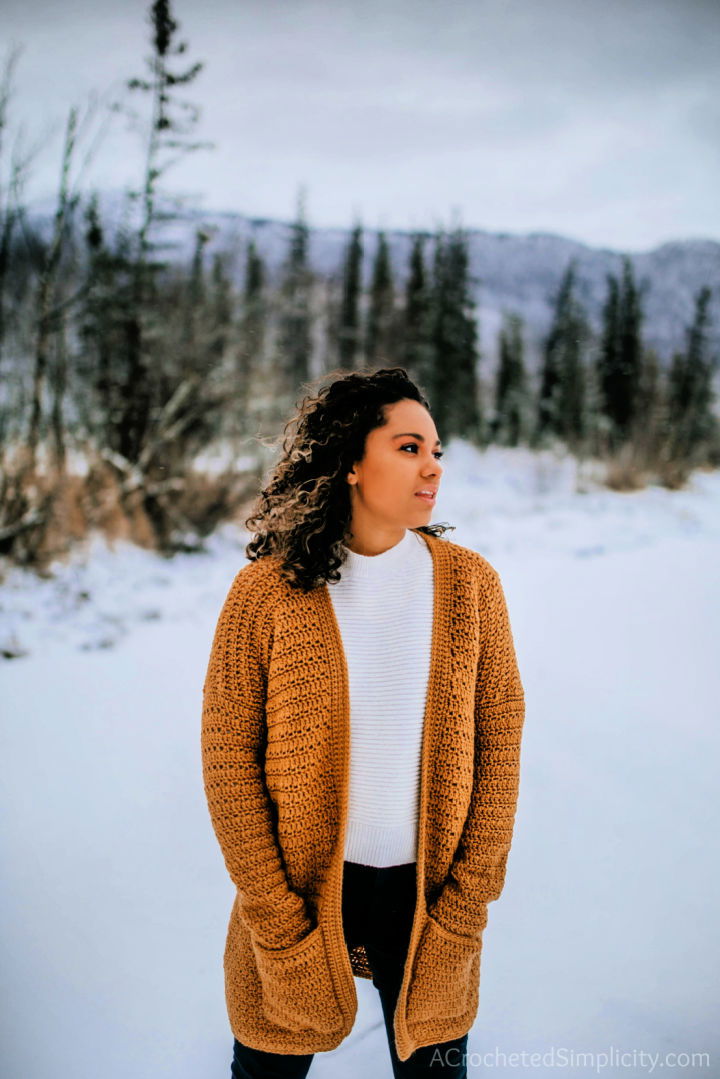 The perfect crochet piece for transitional weather, the aurora cardigan for women is an easy-to-make, stylish cardigan you can dress up or down. With a fun texture and made from worsted-weight yarn, this beautiful cardigan will keep you warm during those cold winter days. Your purchase includes detailed instructions and materials needed, such as hooks of varying sizes, scissors, yarn needles, and locking stitch markers. Look adorable while staying warm in this handmade crochet cardigan! acrocheted
4. Watson Waffle Crochet Cardigan – Free Pattern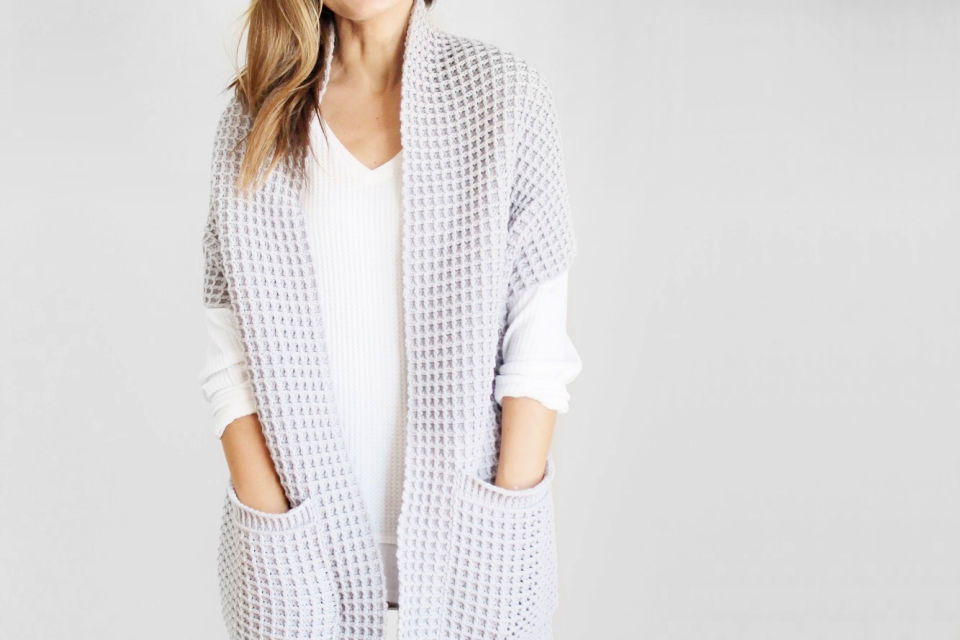 This crochet Watson waffle cardigan is perfect for a cozy winter look. This free pattern features a beautifully textured cardigan that uses the popular waffle stitch and looks amazing layered over jeans, leggings, or your favorite loungewear! The cardigan works quickly and easily, even if you're a beginner, making it an eye-catching handmade accessory. With the materials included, such as a US e/9 – 3.50mm hook and fine-weight yarn-like loops & threads, this cardigan is sure to be comfortable in whichever size you make it! lakesideloops
5. Easy Vail Topper Crocheted Cardigan Pattern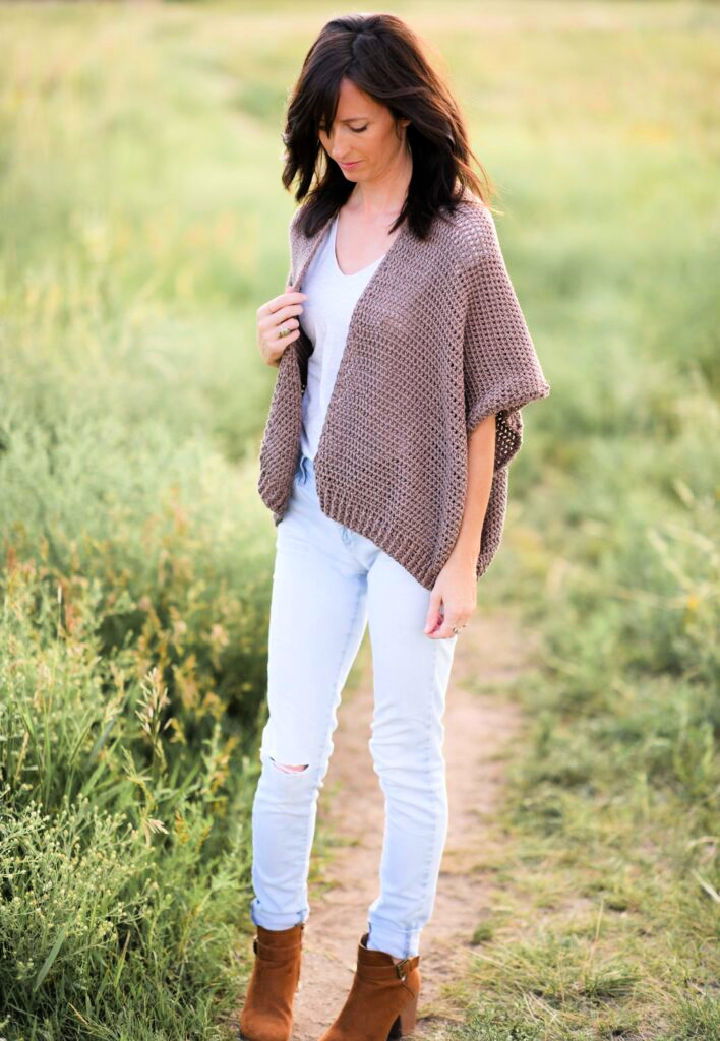 Are you looking for an easy-to-crochet cardigan pattern? Look no further! The vail topper is perfect for beginners and experts alike. It features a knit-look fabric with wide, drapey sleeves that provide a comfortable fit. Wear it over your favorite top for a casual look, or pair it with a maxi dress for playfulness in the summertime.
All you need to make this stylish topper are basic crochet skills, a US size I 5.5mm crochet hook, lion brand yarn coboo light yarn, a tapestry needle, measuring tape and scissors – so what are you waiting for? Crochet yourself an elegant texture and look fashionable all season long! mamainastitch
6. Free Crochet Pattern for Granny Cardigan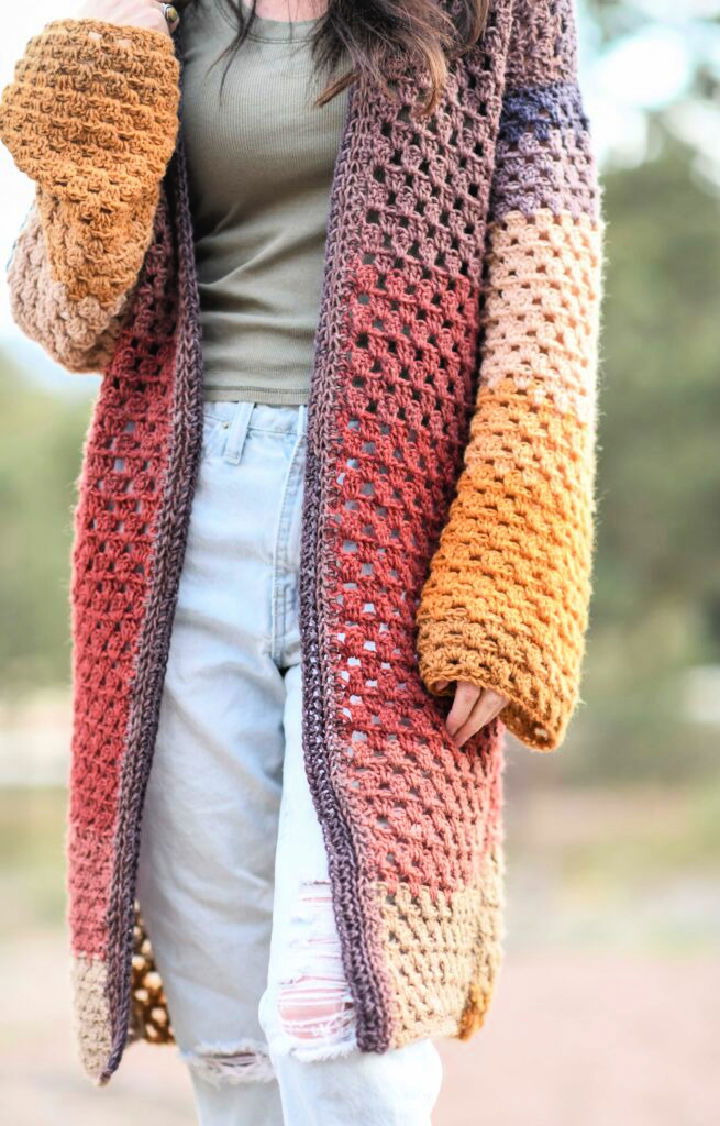 Make a standout statement this season with the crochet endless eyelets cardi-granny cardigan pattern! This timeless boho granny stitch cardi is light, airy and easy to make. With its unique endless eyelets design, pretty colors and long length perfect for wearing with shorts or jeans, it's sure to be your go-to summer garment. Crafted from lion brand mandala light #3 yarn and suitable for advanced beginners, this meditative project will take you no time! Make it yours today and experience the joy of crochet. mamainastitch
7. Mini Home Town Cardi – Free Crochet Pattern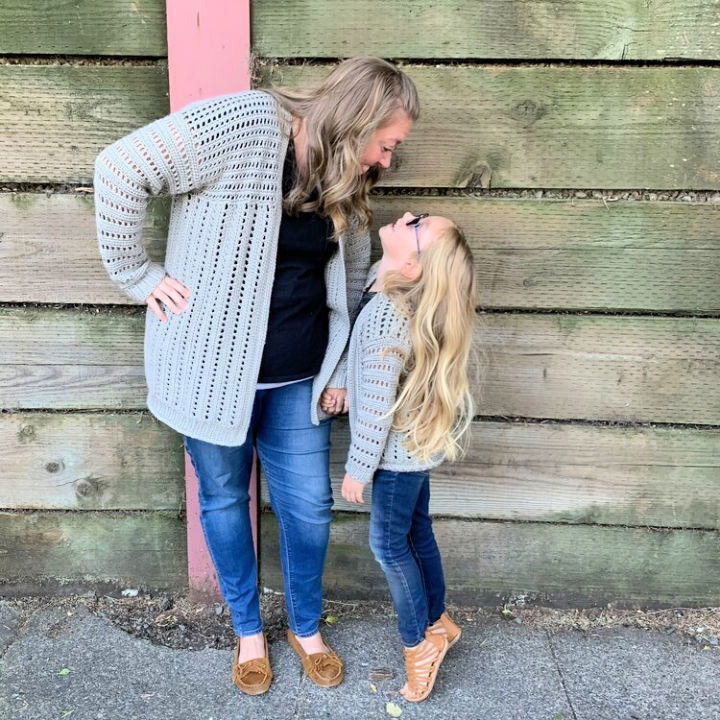 Keep your little one snug this winter with the stunning mini hometown cardi – a free crochet pattern! A perfect accessory for family photos and special occasions, you'll love how stylish and elegant it looks. It's fun to make, too, with step-by-step instructions and video tutorials included. All you will need is caron pantone bamboo yarn, a g (4.25mm) crochet hook, a tapestry needle, scissors and basic crochet stitches knowledge. Get creative and give a unique touch to your winter wardrobe today! meghanmakesdo
8. Diamond Clusters Crochet Cardigan Pattern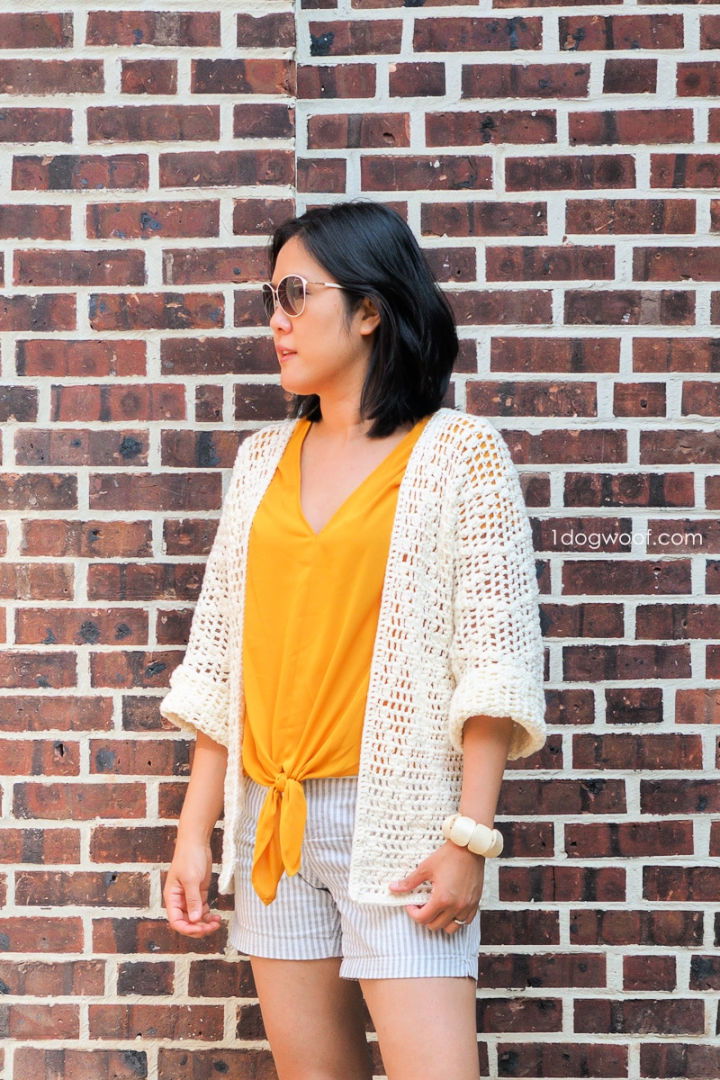 Make a stunning statement with the diamond clusters crochet cardigan. This easy-to-make, modern cardigan will be your go-to for summer BBQs, evenings out or simply adding warmth to your movie nights! Beautifully formatted text and diagrams make it simple to follow along and create the exact cover-up you're looking for – perfect for pairing with any shorts or jeans. With lion brand comfy cotton yarn, an I/9 5.5mm crochet hook, a tapestry needle and scissors, you'll have everything needed to craft this accessory yourself. Skill level: easy. 1dogwoof
9. Free Crochet Cocoon Cardigan Pattern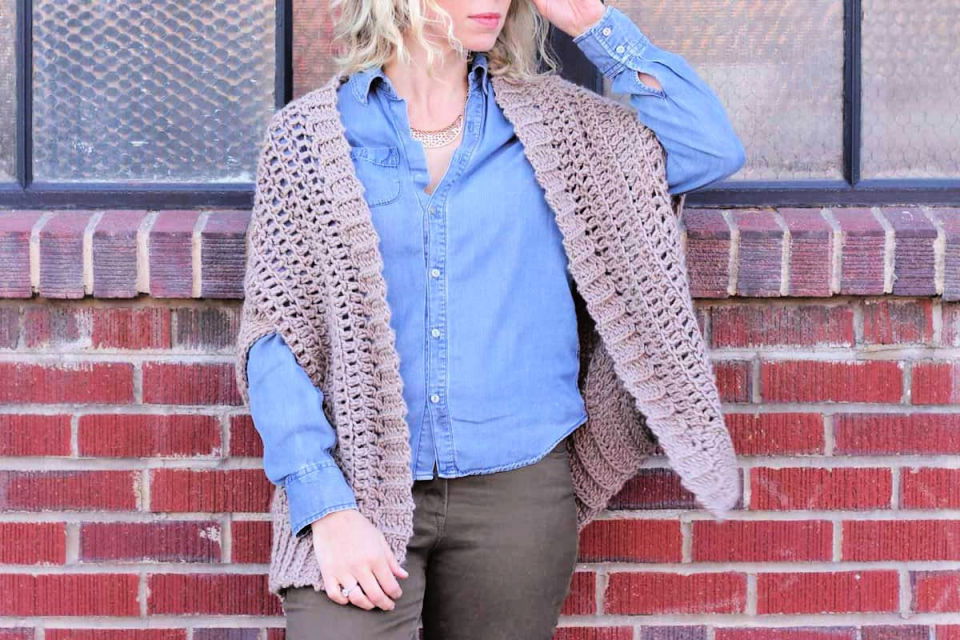 Are you looking to create a cozy, stylish cardigan for the cold season? Look no further than this free "cocoon cardigan" crochet pattern! It's perfect for beginners and advanced crocheters alike and is made with just two simple rectangles.
All you need are lion brand lion's pride wool spun yarn, tapestry needle, size n (10.0mm) and l (8.0mm) crochet hooks, scissors, iron and t-pins for blocking. Complete your look by pairing it with any shorts or jeans–perfect for wherever you go! Get started today on this warm cocoon cardigan-free crochet pattern! makeanddocrew
10. Comfy Crochet Kimono Blanket Cardigan Idea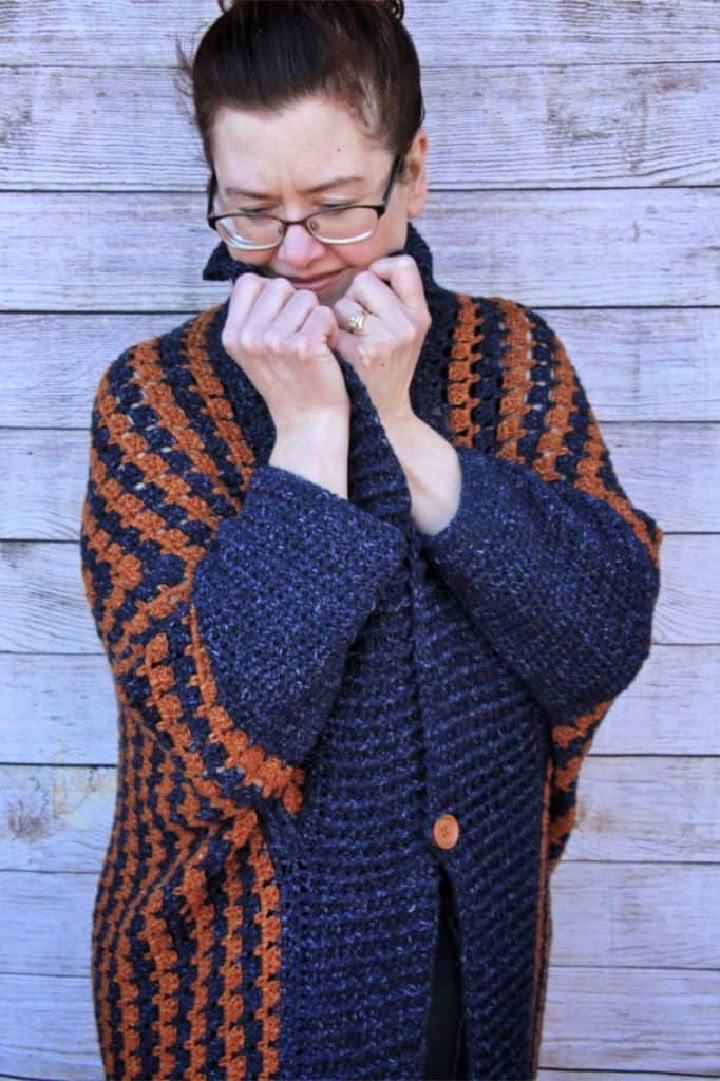 Create a beautiful, handmade accessory with the comfy kimono blanket cardigan! This beginner-friendly pattern is worked with the simple blocked granny stitch and requires lion brand jeans yarn and a size I (5.5mm) crochet hook.
All you'll need are scissors, a tapestry needle, stitch markers, button 1″, and embroidery thread – it's easy and fun to make! This cardigan is perfect for any season or occasion and keeps you looking stylishly cozy all year round. Try it today and experience the satisfaction of making something special for yourself or someone else. nanascraftyhome
11. Cozy Crochet Cardigan Pattern with Pockets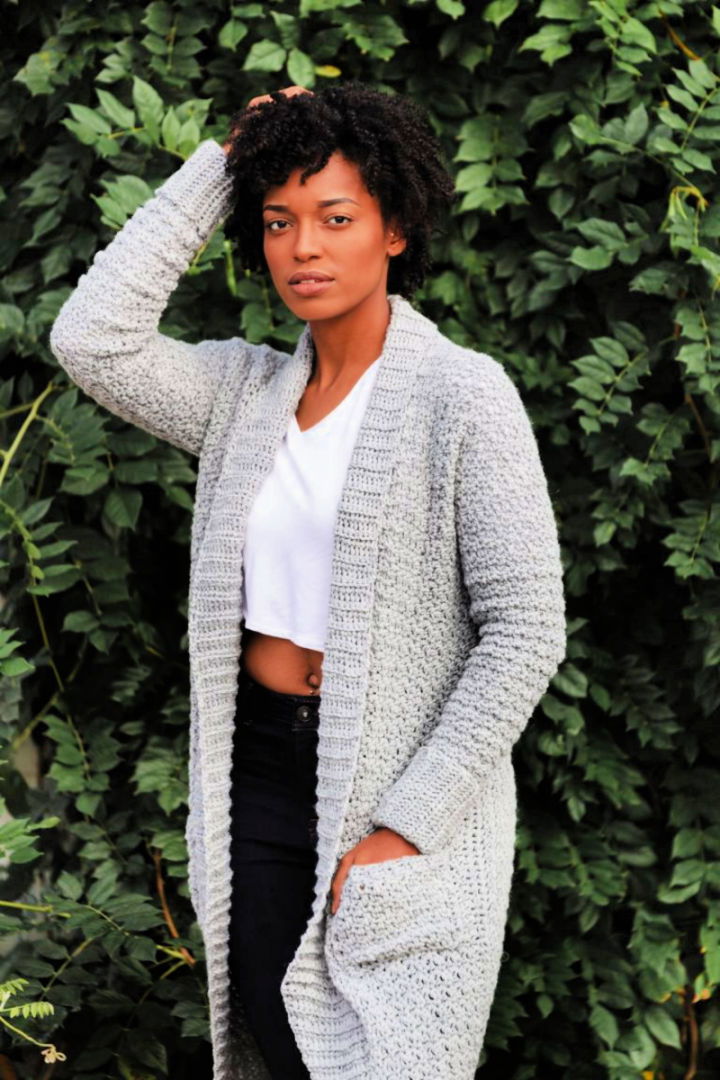 Say goodbye to chilly days and hello to cozy style with the sweater weather cardi. This modern, long crochet cardigan pattern will turn heads while keeping you warm. With its pockets and comfy fit, this stylish piece will become a go-to in your wardrobe! Easy enough for beginners, all you need are 8 (9, 10 or 11) balls of lion brand wool-ease yarn in grey heather, 6.5mm & 7mm crochet hook, yarn needle & scissors, plus stitch markers and measuring tape for accuracy. Get creative – start crocheting today! tlycblog
12. Draped Crochet Cardigan – Free Pattern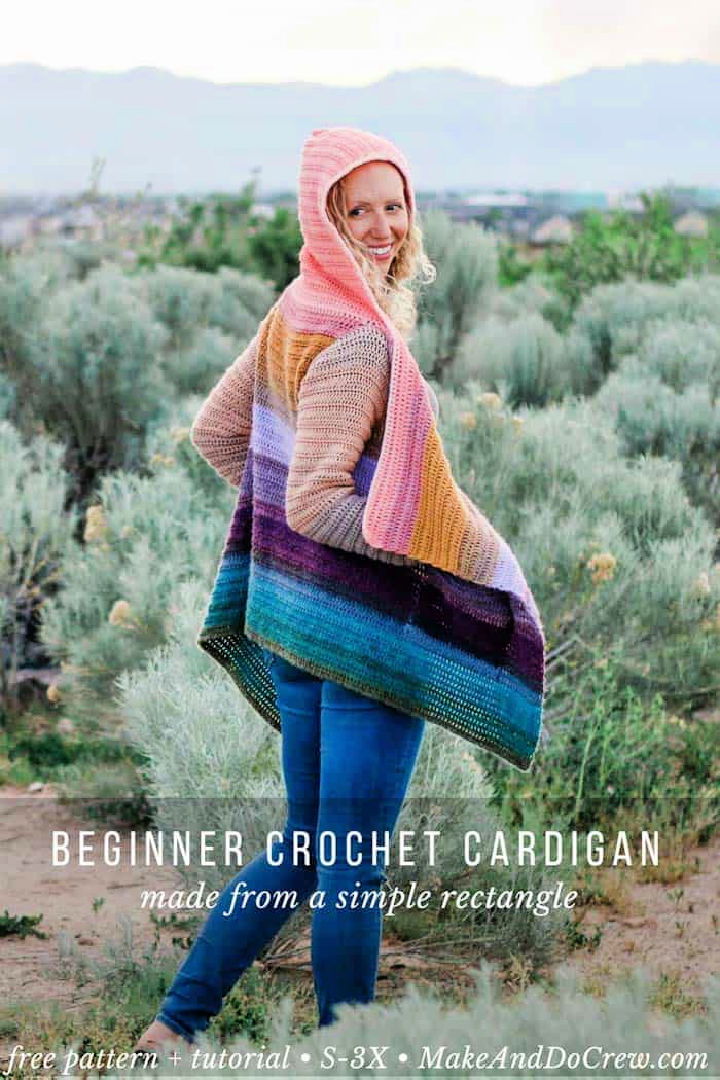 The remix cardigan is a fun and easy pattern you can make uniquely! Perfect for handmade gifts, this draped crochet cardigan free pattern is great for beginners and looks stylish with any outfit. Supplies include lion brand mandala yarn, a size I (5.5 mm) crochet hook, a tapestry needle, stitch markers or safety pins and an inexpensive kitchen scale – everything you need to create the perfect cardigan to take you anywhere in style. Follow the step-by-step instructions now and enjoy the satisfaction of making your own wardrobe accessory! makeanddocrew
13. Crochet Cardigan Heather – Free Pattern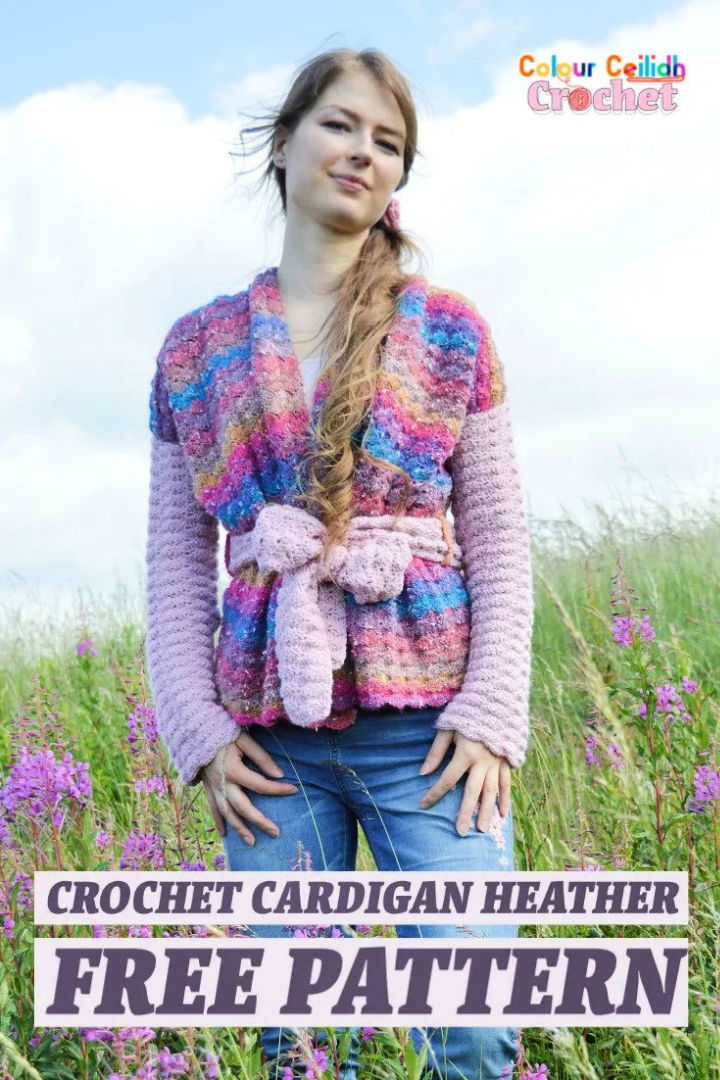 Craft a stylish and feminine cardigan with this free crochet pattern! Featuring soft pastel hues, it has a strong framed structure that'll make you look powerful yet beautiful. It's perfect to wear with jeans for any cool evening party. With instructions on how to use james c brett northern lights and DK with merino yarns, a 5mm hook, a tapestry needle, measuring tape and scissors – you'll have a comfy piece of clothing that looks pretty cute too! Enjoy the cozy feel of having this shawl-like cardigan fold around your neck; it'll be so addictive to make. So grab your tools now – create an effortlessly flowy look today! colourceilidhcrochet
14. Beautiful Lace Kimono Cardigan Crochet Pattern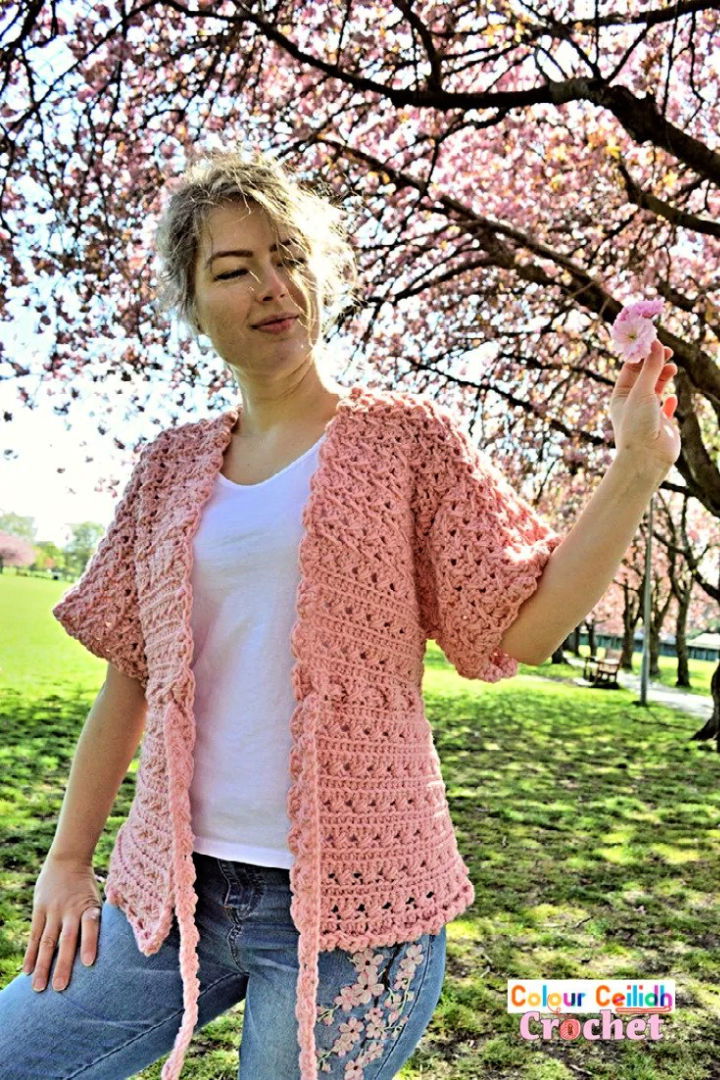 Make a beautiful crochet lace kimono cardigan with this free pattern! It features two types of chunky lace, both easy and fast to make; only two basic stitches are used. This cardigan is perfect for any outfit – pair it with jeans and a tee, or dress up your look. Its contemporary design and beautiful color combination will make you look modern. The instructions include even a video tutorial, making it beginner friendly. All you need is lion brand vanna's choice yarn and a 9 mm crochet hook – get started today! colourceilidhcrochet
15. Crochet Snuggle Puff Cardigan Pattern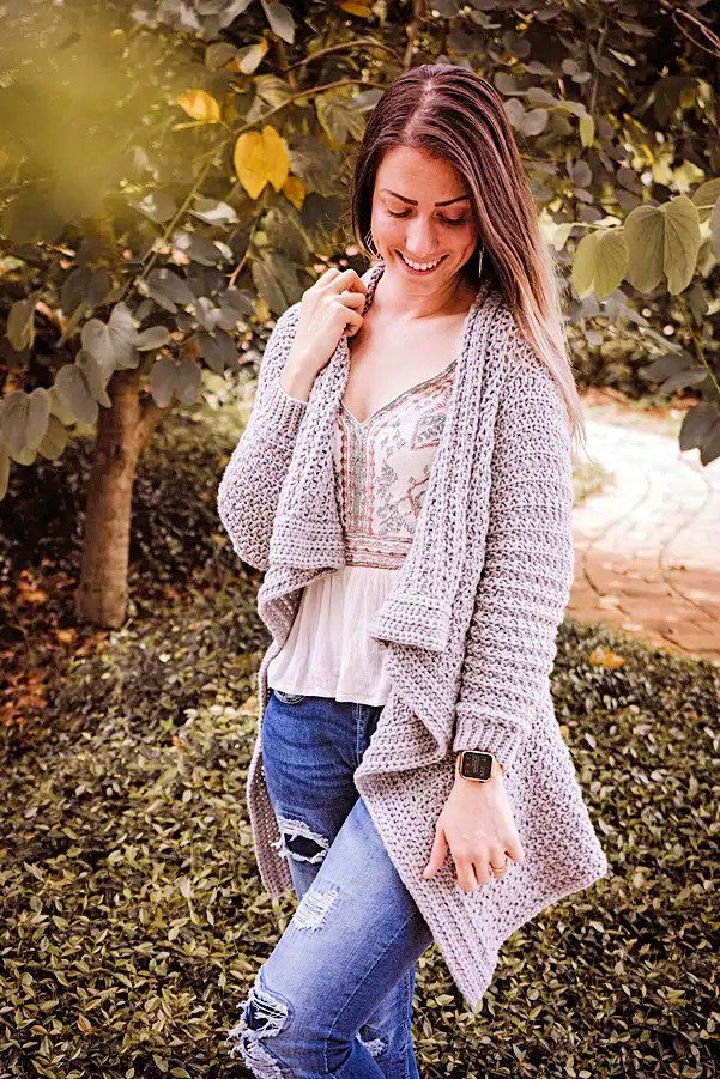 Make a cozy and stylish statement with this crochet snuggle puff cardigan pattern! This fitted cardigan is the perfect handmade accessory for any outfit, boasting great texture, warmth, and comfort. Supplies needed are 6.0mm (j hook), removable stitch markers if needed, yarn needle to weave in ends, scissors and wecrochet snuggle puff yarn. It's easy to make and fun to wear or layer – it will quickly become a staple in your wardrobe! Go up one bust size for an oversized cardigan that will turn heads. brianakdesigns
16. Crochet Fireside Cocoon Cardigan – Free PDF Pattern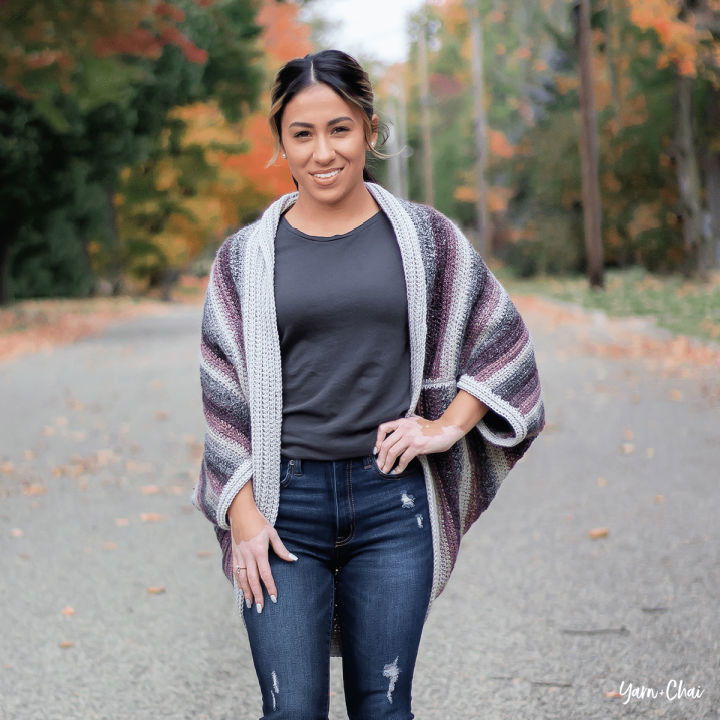 Stay warm and fashionable this winter with the crochet fireside cocoon cardigan. This easy-to-follow pattern makes a great project for both beginners and experienced crocheters. It features a beautiful texture and elegant look and is available in sizes xs to 5x for a perfect fit. Suitable for #3 DK yarn, all you need is a 5mm (h) hook to get started on your cozy cocoon cardigan! Instructions are simple enough that anyone can make it and enjoy it – why not snuggle up by the fire with this gorgeous sweater? yarnandchai
17. Best Granny Square Cardigan Crochet Pattern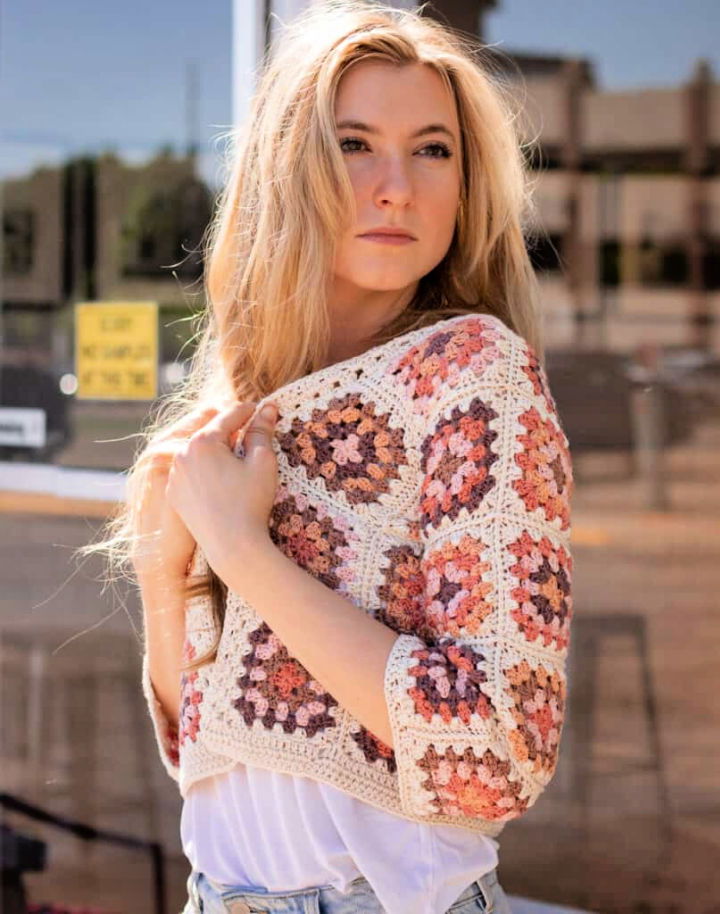 Stay stylish with this luxurious crochet granny square cardigan pattern! Featuring a cropped silhouette, dropped shoulders and gusset construction for fit, you'll love how easy it is to make with the included instruction. Choose a few colors or many for a beautiful statement piece for your warm-weather wardrobe. Pair it with any jeans, and get ready to look pretty in this gorgeous cardigan. Perfect for crocheters of all skill levels, grab some lion brand nuboo yarn and a 7 (4.5mm) crochet hooks – you'll be done in no time! originallylovely
18. Free Crochet Moira Cardigan Pattern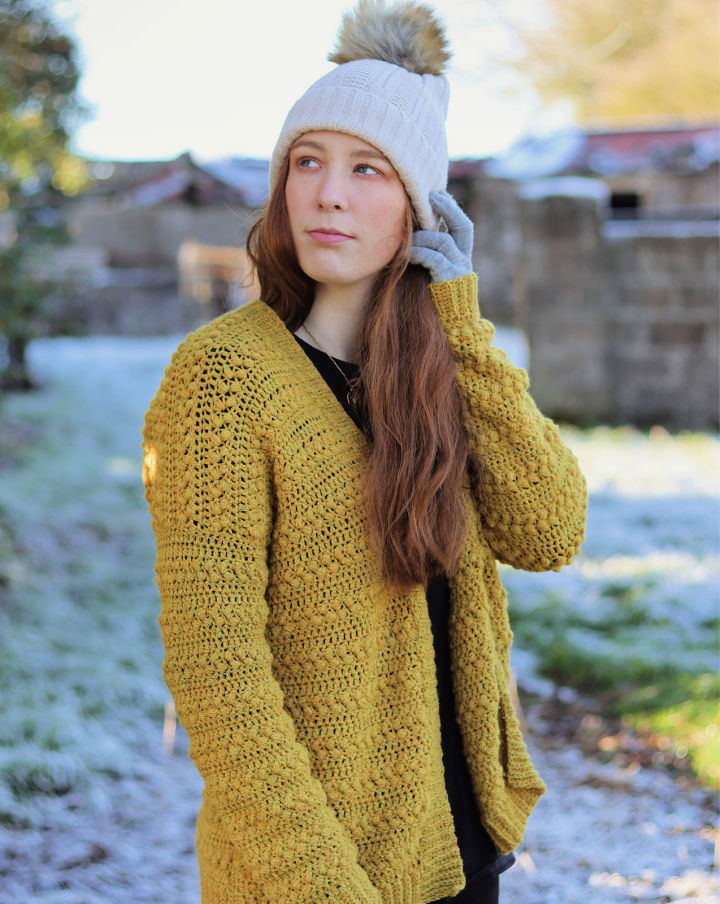 Create your own stylish crochet moira cardigan with this free pattern! Follow the easy instructions to make 5 panels – back, two front panes, and two identical sleeves – worked flat from the bottom up with hemline or sleeve cuffs. All you need is Garnstudio Drops sky yarn, a 5.0 mm (H) hook size, a yarn needle, and locking stitch markers to complete the project. Make your own beautiful cardigan in no time! crochetwithcarrie
19. Simple Crochet Cardigan Pattern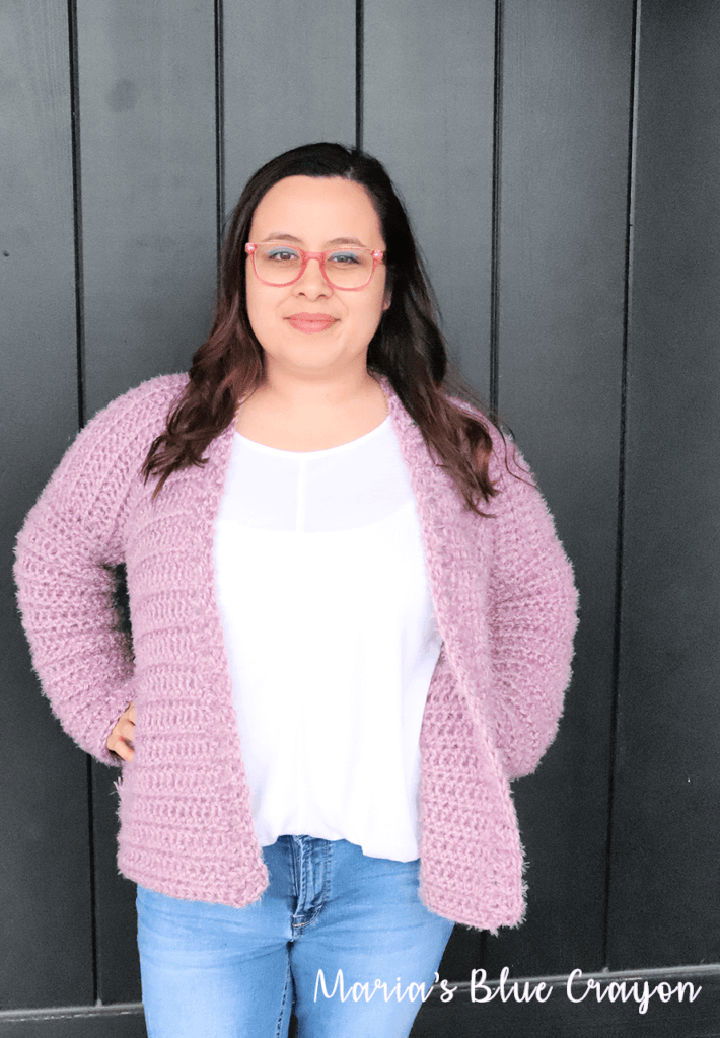 Stay comfy, cozy & stylish with this free crochet simple cardigan pattern! Perfect for all seasons, the airy fabric creates a chic look that flows effortlessly. Great project for beginner crocheters or well-seasoned ones looking for a mindless project. Make it your own by customizing the color and texture of red heart hygge yarn with a 9mm hook. Add eye-catching details like stripes or fringes to make it unique & modern – then enjoy wearing your beautiful handmade cardigan as an extra layer when needed! Fun & easy to make – get started now! mariasbluecrayon
20. How to Make Cardigan – Free Crochet Pattern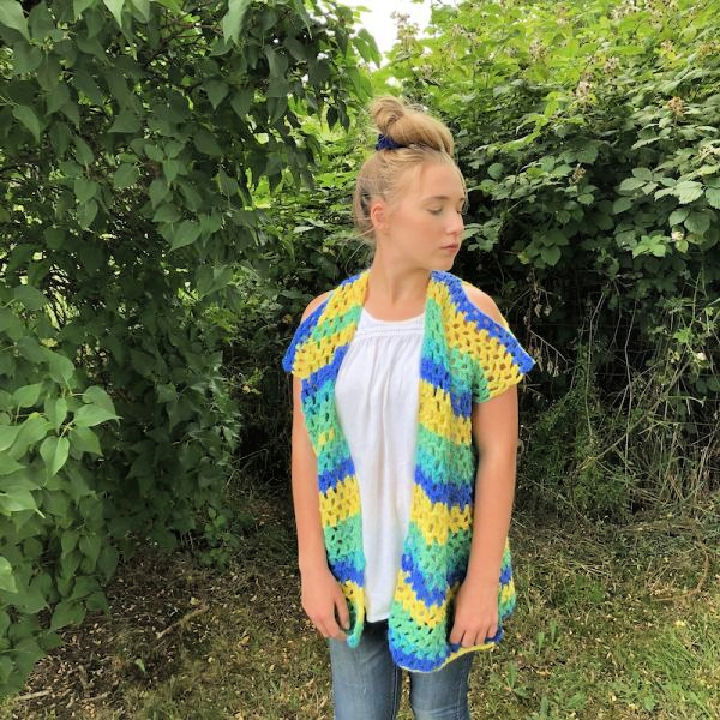 Make a fashionable statement this summer with this beginner-friendly simple crochet cardigan pattern: summer isle cardigan. Includes a video tutorial to guide you through seaming the pieces together, available in five sizes and features fun texture and lightweight material, making it perfect for warmer weather.
The difficulty level is 1-2 advanced beginners, so it's easy enough for any crocheter! You'll need medium worsted #4 weight 100% acrylic yarn, crochet hook size g-4.25mm, scissors, and a tapestry needle to complete your beautiful new cardigan! undergroundcraft
21. Free Crop Crochet Cardigan Pattern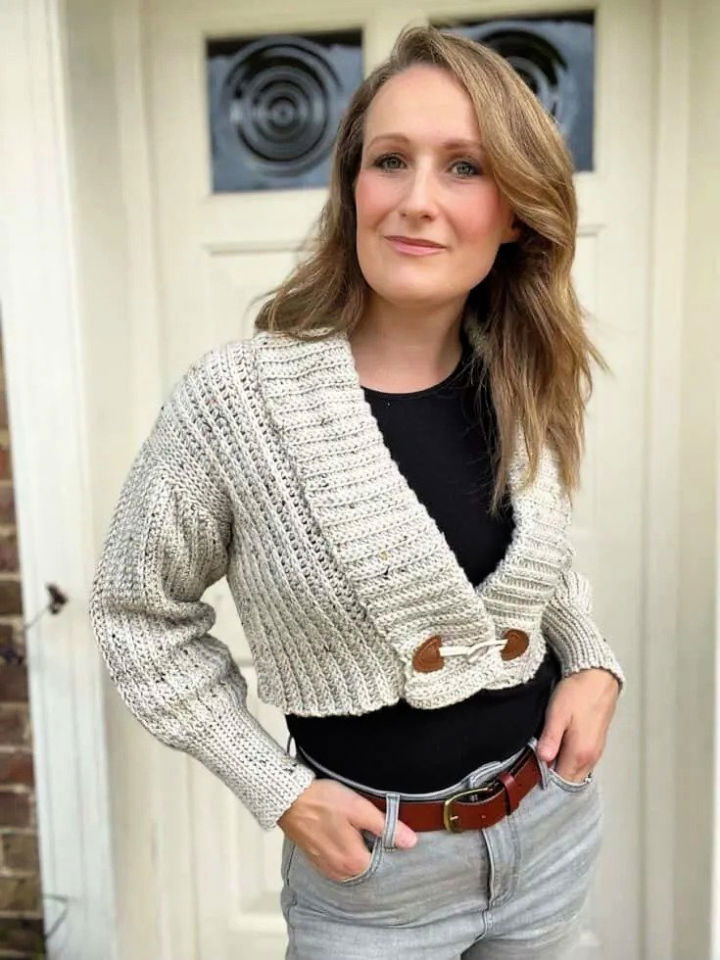 Are you looking for a free crochet cardigan pattern that is easy to make and perfect for beginners? Look no further than the wetherby crochet cardigan! With options for hip or duster lengths, this sophisticated yet simple textured stitch pattern can be customized with pockets and a belt. It has an elegant design sure to turn heads and comes in adult sizes.
Along with your yarn, all you need is a 5.5mm (I) crochet hook, 5mm (h) crochet hook, scissors, and tapestry needle – making it one of the easiest patterns to make out there! Look beautiful while staying comfortable in your own handmade clothes today! hanjancrochet
22. Crocheting a Summer Cardigan – Free Pattern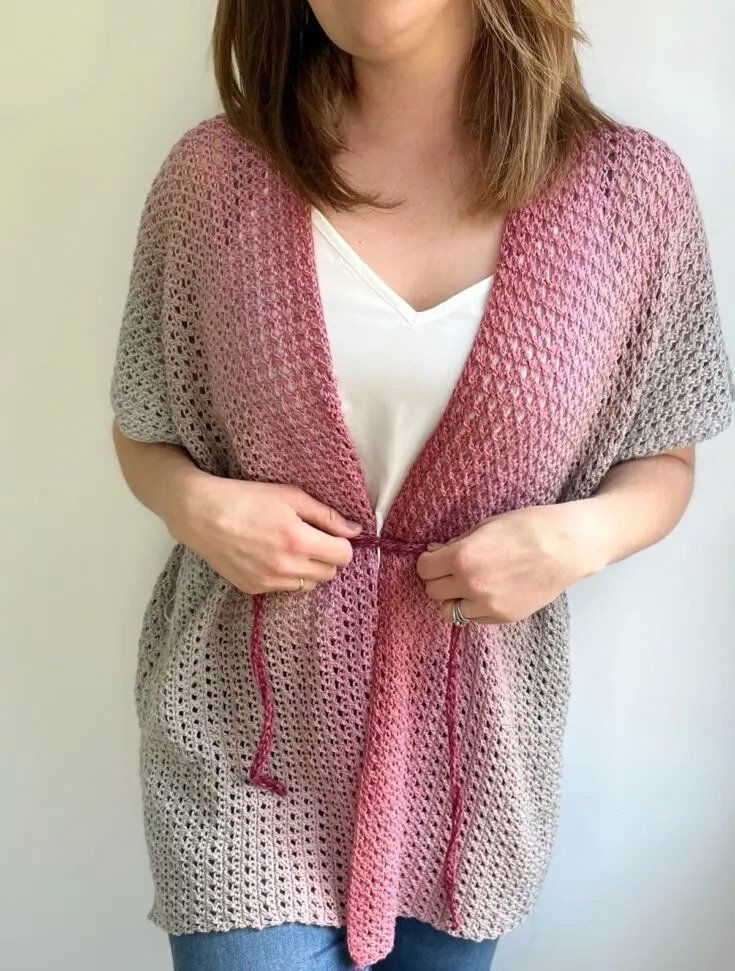 This cherry blossom wrap cardi is the perfect summer crochet cardigan pattern. A simple lace stitch design gives an elegant drape and is a great fit for any occasion, whether a beach trip or a wedding. The oversized style makes this easy to make and wear, ideal for warmer days! It's super easy to create with instructions provided as well as all necessary materials listed – you'll need a 4mm (us g) crochet hook and scheepjes whirl yarn. The difficulty level is easy, so why not give it a go? Make yourself something beautiful today! hanjancrochet
23. Crocheted Color Block Cardigan – Free Pattern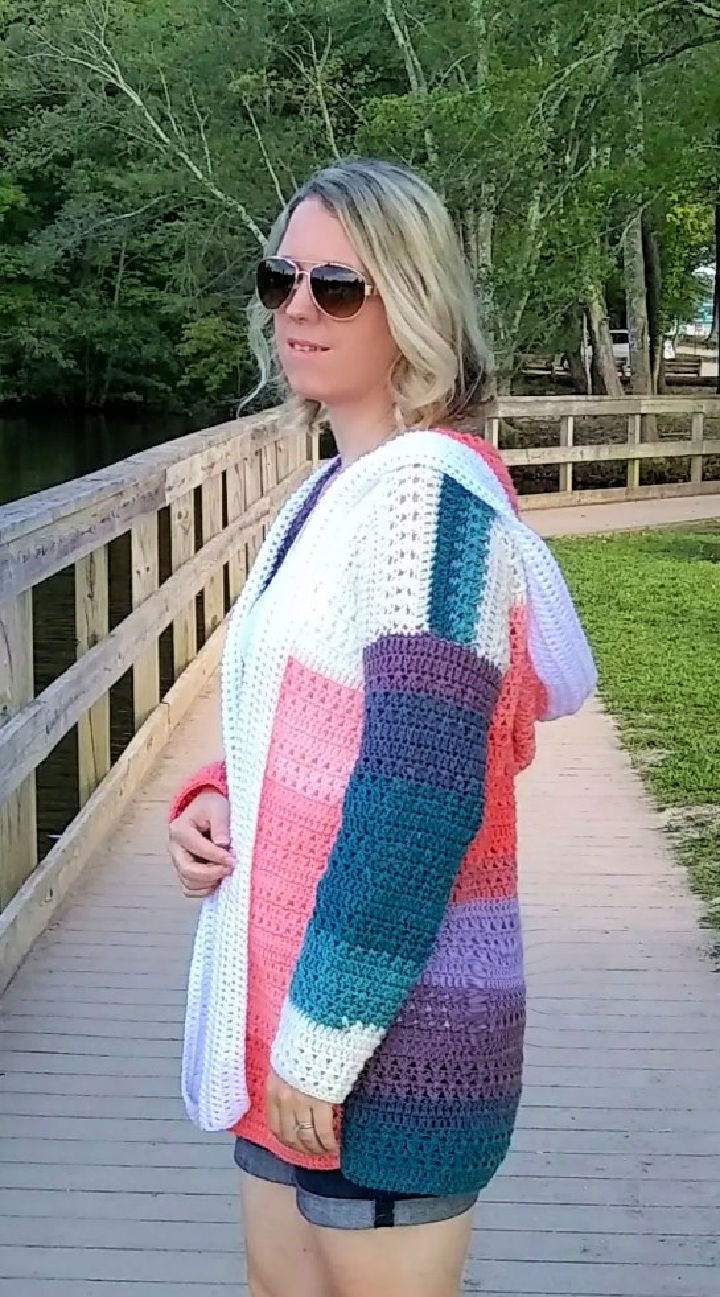 Create a beautiful color-block cardigan with this free pattern! Perfect for any occasion, this handmade accessory is made using lion brand mandala yarn 4.5mm crochet hook and consists of only basic stitches. It's fun to make and looks great when you're finished- plus, it's very roomy and colorful too! Even beginner crocheters can follow the easy instructions – pick up your materials today and get started on this special project! croydencrochet
24. The Teatime Cardigan Crochet Pattern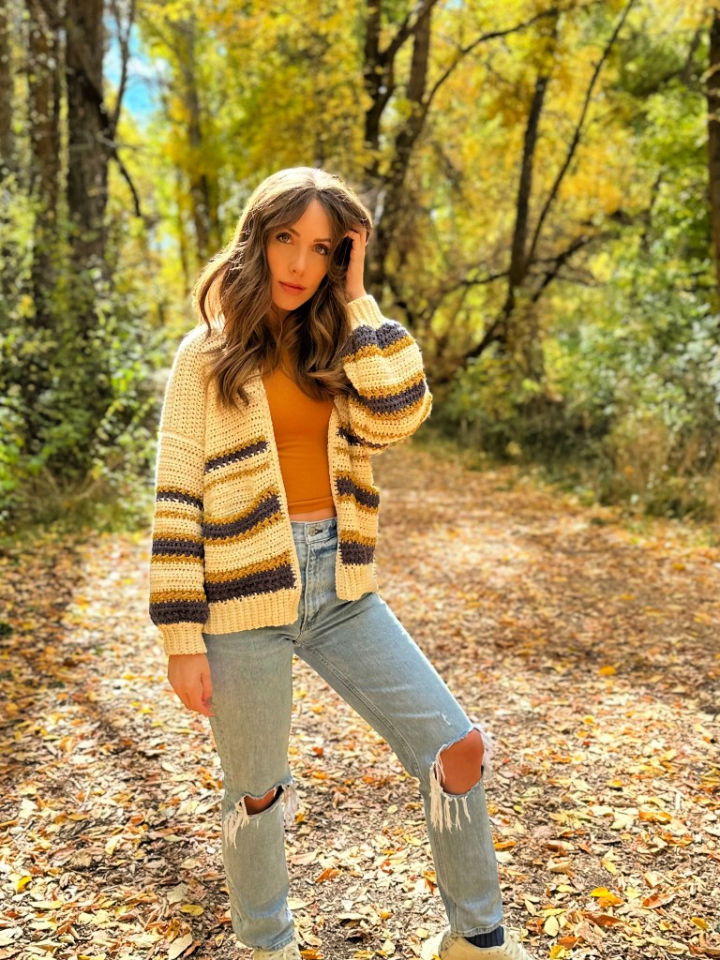 Make the perfect statement this season with a stylish teatime cardigan. This beginner-friendly crochet pattern features fun stripes that give it an eye-catching, collegiate look. The length is also easy to adjust and pairs perfectly with any jeans.
Plus, using a unique blend of stitches makes it simple to do! With step-by-step instructions, you need worsted weight (4) yarn, I/5.5mm crochet hook, yarn needle, scissors, and 3 stitch markers for the best results. Add cozy vibes wherever you go – get started on this timeless piece today! eandpcrochet
25. Crochet Best-Fitting V Neck Cardigan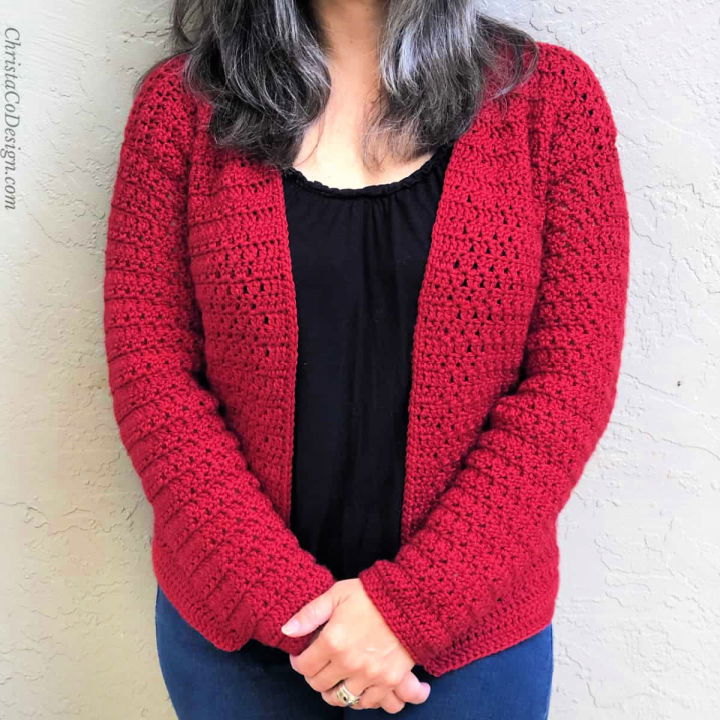 Looking for the perfect crochet cardigan with a v-neck? Look no further because the sera cardigan is your favorite! Lightweight and easy to layer, this comfortable cardigan features a classic fit that is great for around the house or days out.
The stitch pattern is simple and easy to remember – plus, you can easily adjust the length, so it's versatile enough for all your wardrobe needs. Crafted using #3 lightweight yarn, 5mm us the size (h) hook, stitch markers, yarn needle, measuring tape & scissors, this best-fitting crochet cardigan will have you looking pretty in no time! christacodesign
26. Free Chunky Crochet Cardigan Pattern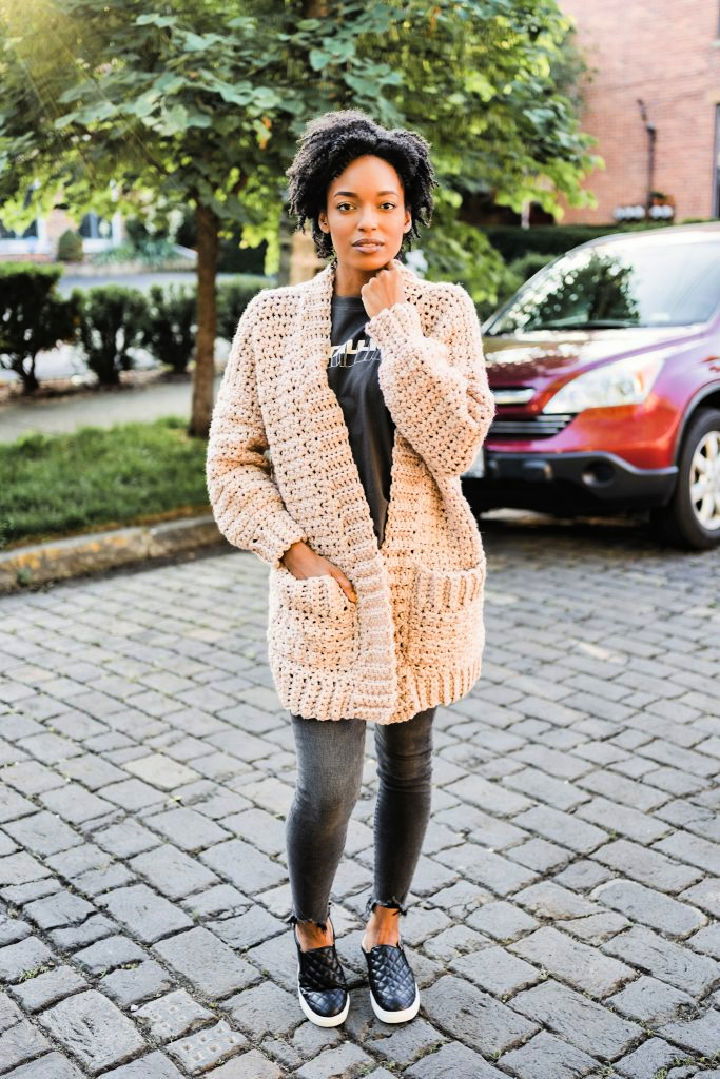 Enjoy a comfy, cozy and stylish look for fall & winter with the kima cardi-free crochet chunky cardigan pattern! This beginner-friendly pattern has thick neckline ribbing and deep pockets and works up quickly. Perfect for any occasion, from brunch with friends to heading out to check the mail. All you need is lion brand hue + me yarn, a 10mm crochet hook, scissors, a tapestry needle, locking stitch markers & tape measure. Make one for yourself & start matching your best friend too! tlycblog
27. Crochet Cozy Granny Square Cardigan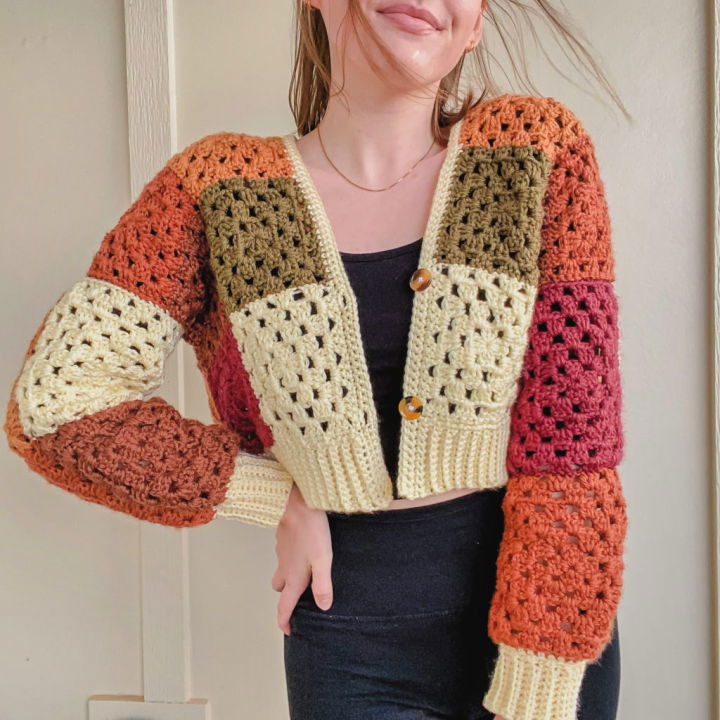 Do you want to learn how to make a beautiful, colorful, crochet, cozy granny square cardigan? This free pattern + video tutorial is the perfect place to start! Change up the colors of this cardigan for any season or color scheme. It's fun and easy to make with step-by-step instructions and an accompanying video tutorial. Plus, it looks lovely as a handmade accessory, so why not try it? All you need are medium-weight (4) yarn, a 5.00mm crochet hook, scissors, a darning needle, and buttons! Get creative today with this cozy crochet granny square cardigan – free pattern + video tutorial! hayhaycrochet
28. Crochet Cardigan – Step-By-Step Instructions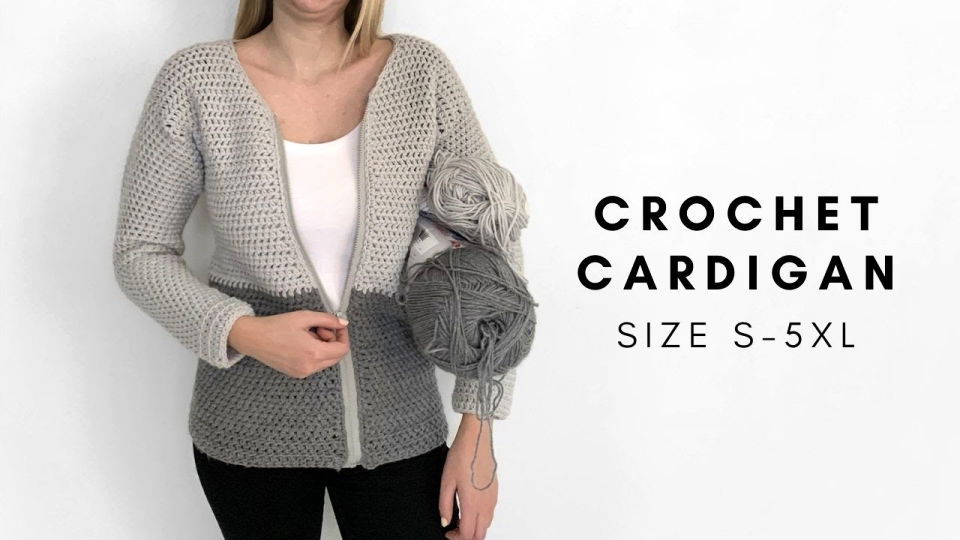 Discover a trendy crochet cardigan with a free pattern and tutorial. This easy-to-make cardigan features an eye-catching design that looks like it came from the store! Whether new to crocheting or experienced, this project is perfect for you. Its simple steps and lovely texture make for a super fun make. And the best part? It works in sizes s to 5xl! Get your lion brand pound of love yarn, 6mm crochet hook, tapestry needle, measuring tape, scissors and zipper ready – everything else you need is included in the tutorial.
29. Super Soft Easy Crochet Cardigan Tutorial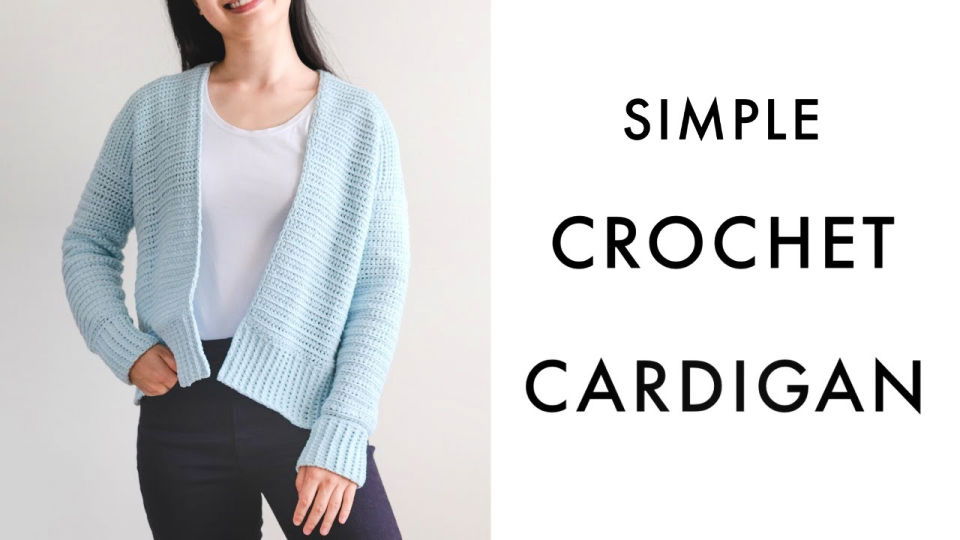 Keep warm and cozy with this super soft & easy crochet cardigan! This cuddly cardigan tutorial is fun to make, and you can easily adjust the length depending on what look you're going for. The velvety texture provides a timeless silhouette that will pair perfectly with any outfit. Use lion brand feels like butta yarn, 5mm (us h) crochet hook, darning needle, scissors, safety pins/stitch markers – perfect for layering during those cold winter months or transitioning through the seasons! Make your own cuddly cardigan today!
30. Multi Stitch Crochet Hydrangea Cardigan – Free Pattern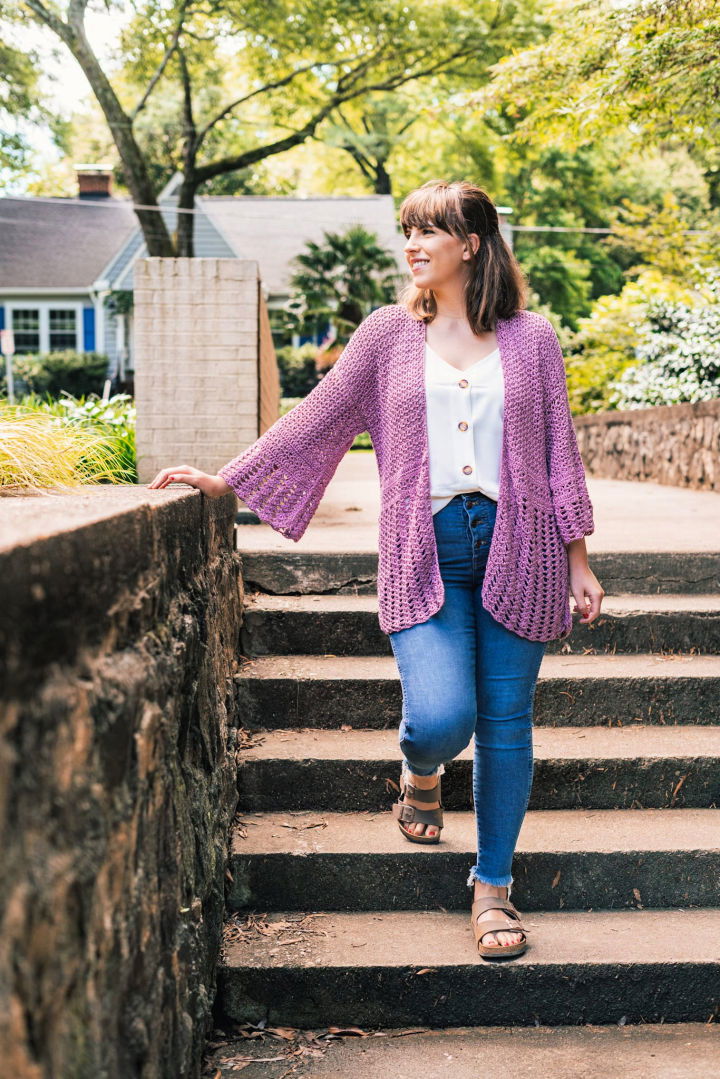 Looking for an elegant yet fun crochet cardigan? Look no further! This free crochet hydrangea cardigan pattern is perfect to wear. It's easy to make and features a lacy design, breathable texture, and a cool and comfortable fit. With its feminine, dainty look, it's sure to turn heads this summer season.
Materials needed: lion brand truboo yarn, size h 5mm crochet hook, tapestry needle & measuring tape. Follow this easy-to-follow instruction today & enjoy the process of making your own gorgeous crochet cardigan! sewrella
Related Free Crochet Patterns:
Discover a wide collection of free crochet patterns for all skill levels. From socks to shawls, explore our patterns and start your next project today.
Conclusion:
Crocheting a cardigan is an incredibly rewarding experience—you can create something beautiful to keep for yourself, and it's also an enjoyable and relaxing pastime. With the thirty free crochet cardigan patterns, it has never been easier or more detailed for beginners to learn how to make one. Each crochet cardigan pattern comes with step-by-step instructions that will guide you from start to finish, and before you know it, you'll be wrapping up your crocheted cardigan! Whether this is your first crochet project or your hundredth, these free patterns offer amazing ideas for everyone looking for new projects and challenges. So get inspired today by exploring these incredible 30 free crochet cardigan patterns!