Crochet socks are a wonderful way to keep your feet warm and cozy in any season. Learn how to crochet socks with these 25 easy and free crochet sock patterns for beginners. Each crochet sock pattern comes with detailed instructions, a video tutorial and step by step diagrams. They are also fun and easy to make with just a few basic tools and skills. You can use different yarns, colors and stitch patterns to create your own unique crochet socks designs that suit your style and personality.
This article will share some of the best free crochet sock patterns that are perfect for beginners and experts. You will find free crochet sock patterns for different types of socks, such as ankle socks, knee-high socks, slipper socks and more.
You will also find crochet sock patterns for different skill levels, from beginner to advanced. Some of them are easy and detailed, while others are more difficult. You will learn how to make toe-up or cuff-down socks, how to work short rows for the heel flap, how to pick up stitches for the heel cup and how to bind off with a stretchy method.
Whether you want to make crochet socks for yourself or as a gift for someone else, you will surely find a socks pattern that you love among these 25 free crochet sock patterns. So grab your hook and yarn to make your own crochet socks!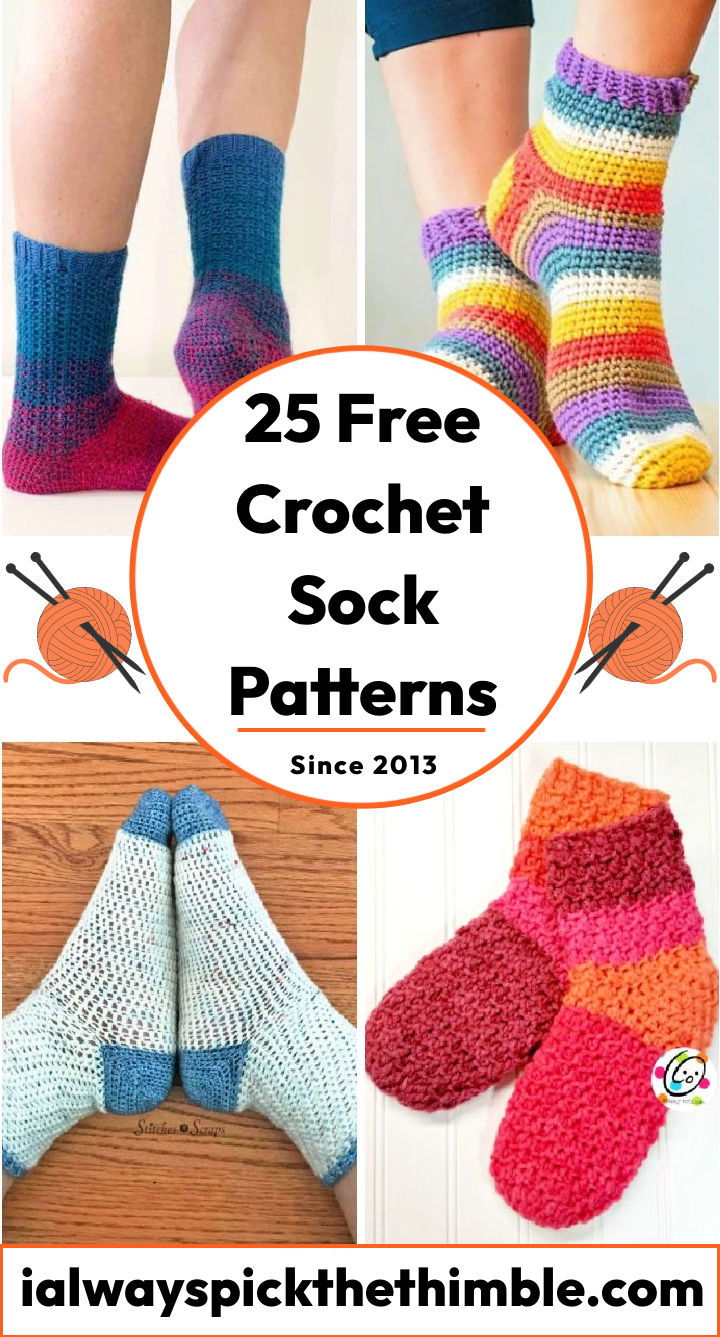 Free Crochet Sock Patterns for Beginners
Discover 25 free crochet sock patterns for every style and skill level! You can find a design that fits your needs, from thick, warm winter socks to lightweight and comfortable summer styles. Create unique long socks with intricate stitches or simple thin socks with only a few rows. Try one of our amazing crochet sock patterns today and keep your feet cozy!
1. Free Crochet Step On Sock Pattern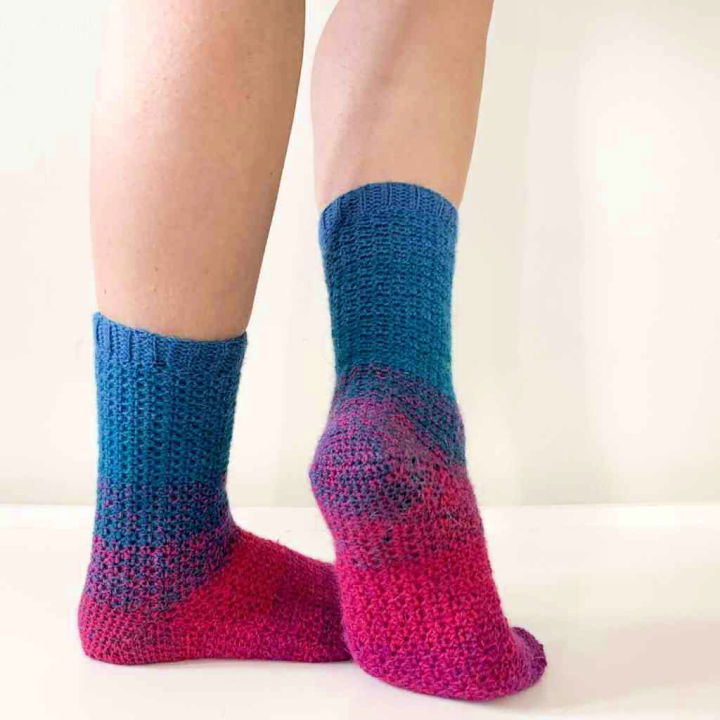 Are you looking for an easy and fun crochet sock pattern? Step On is the perfect option! This beginner-friendly sock pattern features simple stitches and a short row heel and is written in 6 sizes, so it's easy to adjust them to fit.
Choose your favorite color combination and enjoy wearing these warm and comfy socks once they're finished! You can also make them as long as you'd like. All you need are a 4mm crochet hook, any sock yarn, a place marker (optional), a yarn needle & scissors. Make beautiful handmade socks with step On today! doradoes
2. Crochet the Perfect Pair of Socks – Free Pattern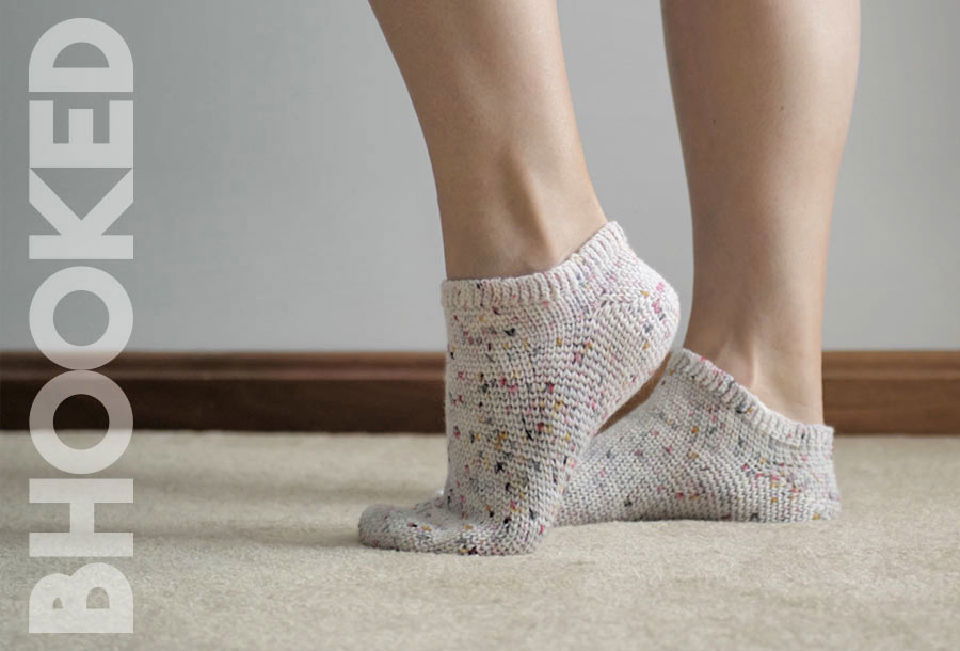 Are you looking for the perfect pair of socks to crochet? Look no further! These step-by-step instructions will guide you through creating a comfortable and stylish sock. Recommended supplies include 4 mm and 3.5 mm crochet hooks, yarn, a yarn needle and scissors.
This project is easy and fun to make regardless of your skill level – from beginner to experienced crocheter! With this project, never worry about having a disaster sock again – get it right the first time with this perfect pair of crocheted socks! bhookedcrochet
3. Basic Crochet Socks Pattern for Beginners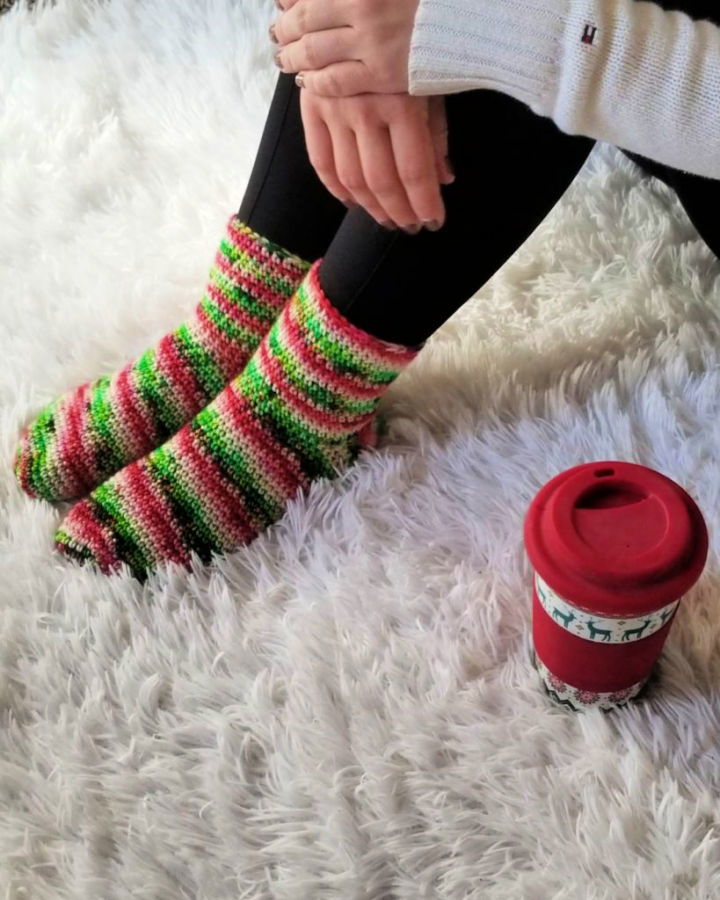 Create the perfect holiday gift with this beginner-friendly basic crochet socks pattern! They work up amazingly fast, giving you plenty of time before the big day. The full video tutorial helps guide you every step of the way as you learn how to make these cozy and fitted-around-the-ankle socks. The pattern includes materials such as worsted weight yarn, a G/4.0 mm hook, a yarn needle, scissors and a stitch marker – everything you need to get started or give a special someone a thoughtful gift they'll love! hookedonhome
4. Cute Crochet Snowball Slipper Socks Pattern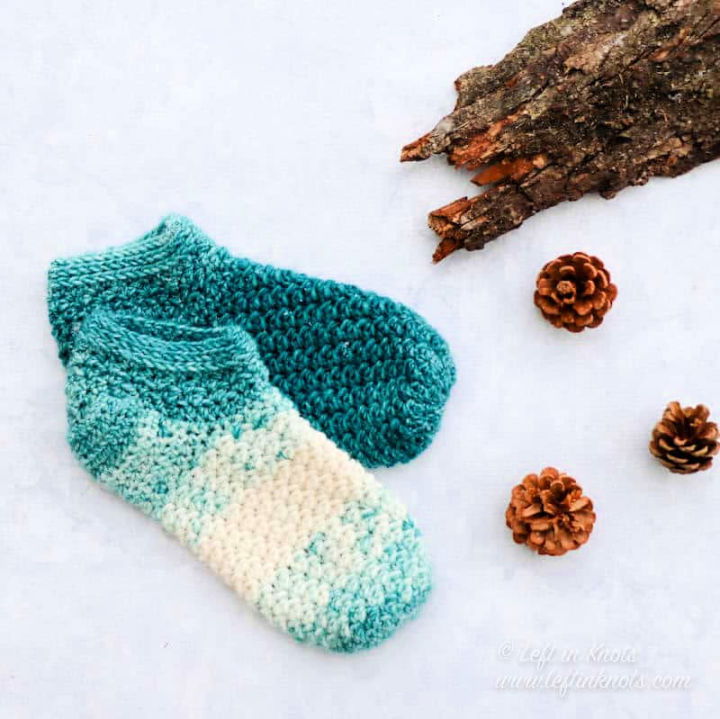 Create warm, cozy slippers for any climate with this free crochet pattern! This lemon peel slipper socks pattern is suitable for an advanced beginner and only requires one skein of lion brand scarfie yarn, a 5.0mm crochet hook, scissors, and a yarn needle to make them. These adjustable-size slippers are both pretty and practical – even if you live in a warmer climate, they come in handy! Follow the easy instructions provided in the free pattern to craft these stylish socks that'll keep your feet warm all year round. leftinknots
5. Pretty Crochet Walking on Clouds Socks Pattern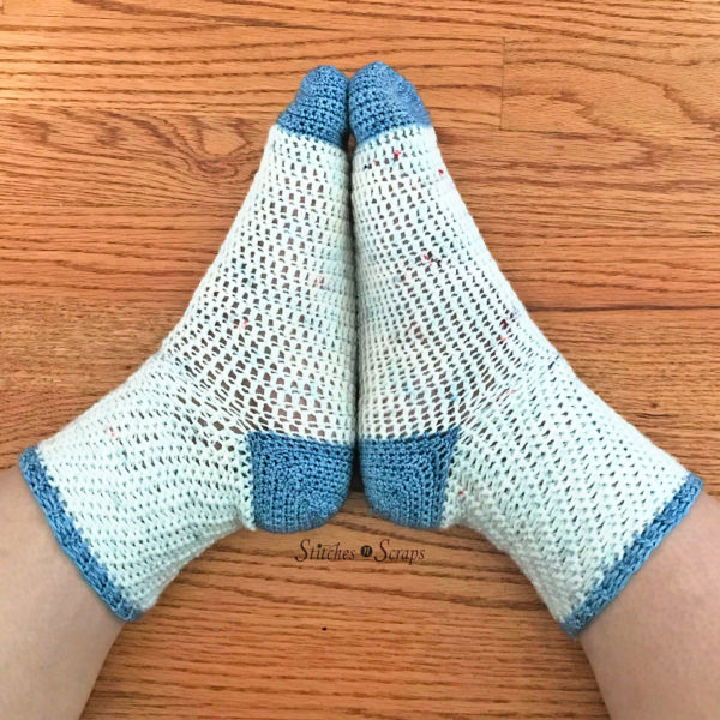 Treat your feet with these super soft, cushy crochet socks! This walking on clouds pattern is great for first-time sock crocheters – it has a simple construction that works up quickly and has an easy to follow instructions. With a stretchy cuff, squishy yarn, and roomy fit, you'll feel like you're floating in the sky. Perfect to wear with any shoes, this intermediate project requires a size G / 4 mm crochet hook plus 1–2 stitch markers & tapestry needles. Get ready to take off into comfort today! stitchesnscraps
6. Beautiful Crochet Toe Tally Sock Pattern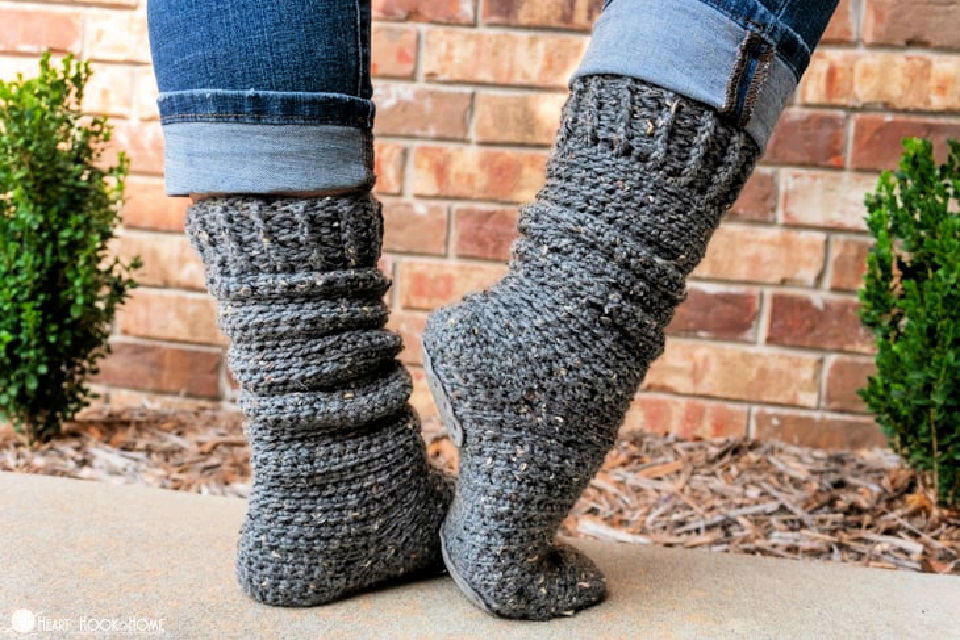 Don't let cold feet stop you from making cozy socks! This easy crochet toe-tally socks pattern is perfect for beginner crocheters. Not only do you get the benefit of learning a new skill, but you also get to make a comfy and warm gift that will show someone they are deeply loved.
With these step-by-step instructions and video tutorials, all materials needed, including worsted weight yarn, H/5mm crochet hook, and plenty of stitch markers can be easily found at your local store or online shop. Make sure to grab everything you need before starting on these wonderful toe-up short-row heel socks! hearthookhome
7. Colorful Crochet Felici Socks Pattern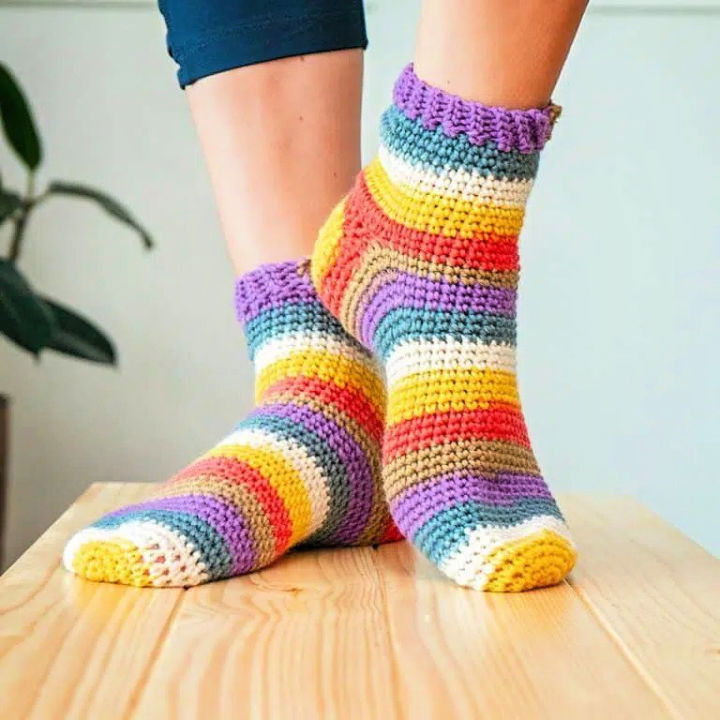 Make the perfect handmade gift for someone special, or keep it for yourself with this easy and fun felici crochet socks free beginner pattern. This pattern is great for beginners, featuring step-by-step instructions, a 4.5mm crochet hook, removable stitch markers, a yarn needle and scissors. Get crafting quickly with fast knitpicks felici worsted yarn – choose your colorway and be prepared to have a pair of socks with great texture that looks adorable when paired with any shoes you like! brianakdesigns
8. Crocheting Hedgehog Slipper Socks – Free Pattern
Love to make something special? Crochet these adorable hedgehog slipper socks! Fun and free pattern available – you won't believe how quick it is to make them. You'll have a beautiful pair of slippers with elegant foldover legs that can be scrunched down for a 'slouchy look'. Included in the instructions are all the materials needed: DK weight yarn, 4 mm hook, scissors and stitch markers (in 2 colors). Try your hand at crochet today and enjoy your warm, cozy hedgehog slipper socks! accrochet
9. Crochet X Stitch Challenge Slipper Socks Pattern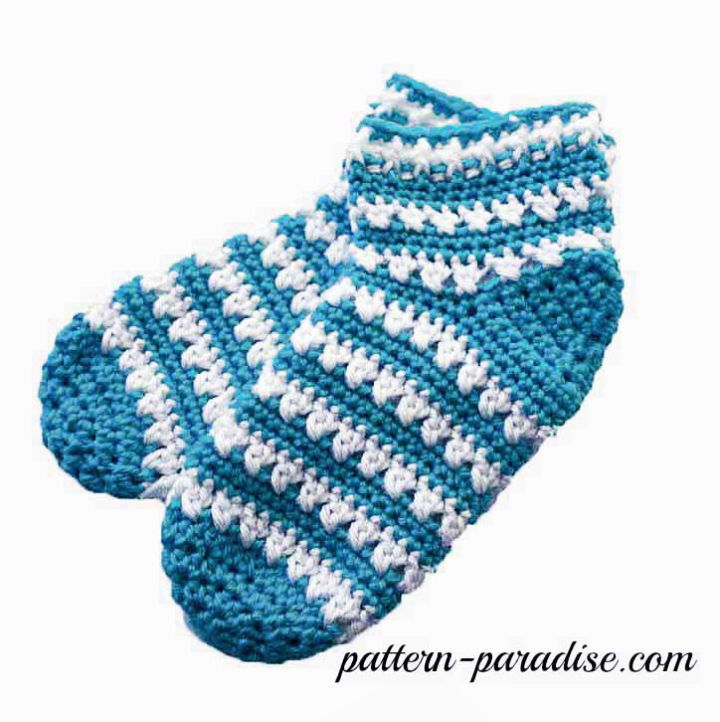 Try crocheting with this free, easy and fun pattern for crochet X-stitch slipper socks! Perfect for beginners, this project requires only basic materials like a 5.50mm hook and worsted-weight yarn to make in under an hour. With these quick-to-work-up slippers, you can keep your feet cozy during the colder months or while lounging around the house. Plus, they're great stash busters, too – give them as gifts or make some for yourself! Download now and have a pair of stylish handmade slippers ready before you know it. pattern paradise
10. How Do You Crochet a Snappy Socks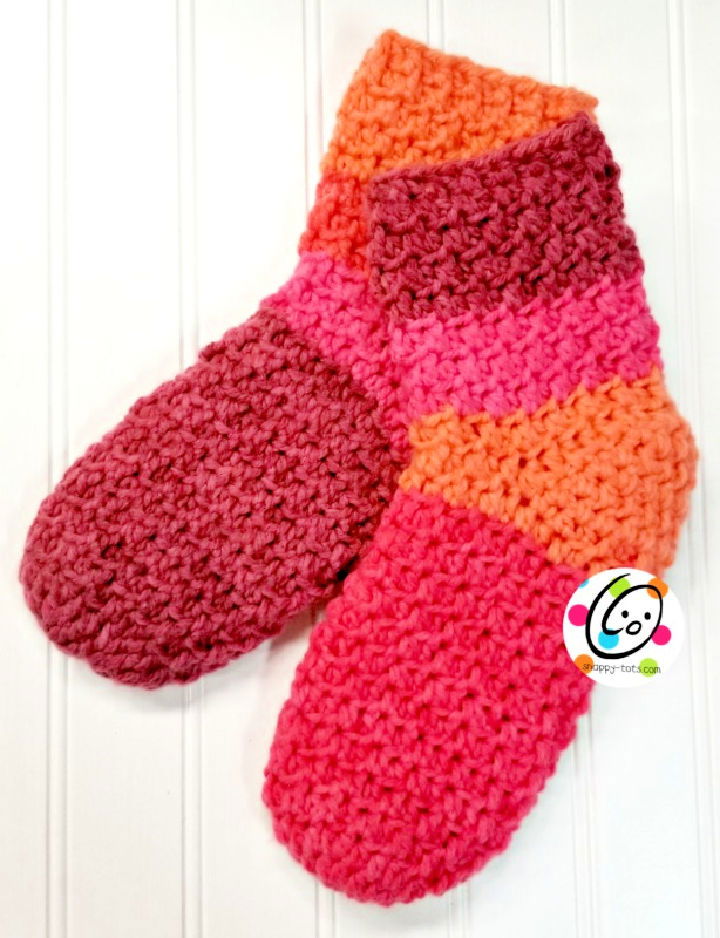 Make your family's feet cozy and stylish with this free crochet snappy sockers pattern! This lightweight slipper is stretchy, comfy and eye-catching. The easy-to-follow instructions allow you to create any color combination that looks great in solid colors. Make this project more fun using worsted-weight yarn, a yarn needle, measuring tape, scissors and stitch markers. It's an easy yet rewarding project for all skill levels – so get started now! snappy tots
11. Free Crochet Ho Ho Ho Socks Pattern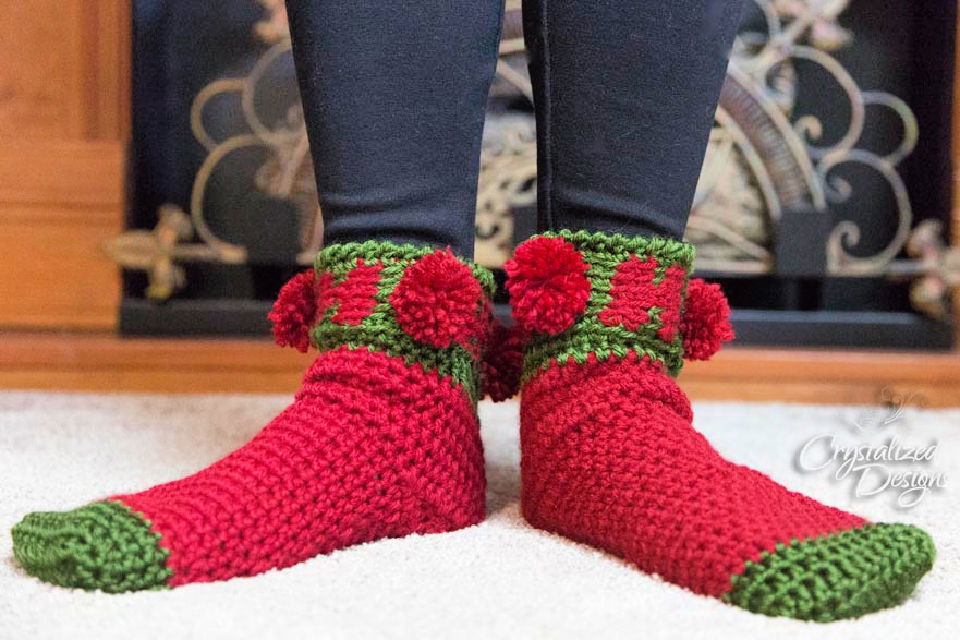 Dress up your holiday wardrobe with these fun and festive ho ho ho socks! This free crochet pattern is easy to make, using worsted weight yarn, a 5.00mm crochet hook, a 1 ⅜" pom pom maker, a stitch marker, scissors and a yarn needle. Get creative and add some sparkle or color changes for even more personalization. Add the finishing touch with optional sock blockers for an extra professional look. Celebrate this season with these cute socks that are sure to bring smiles all around! crystalized designs
12. Easy Crochet Slipper Socks Pattern for Adults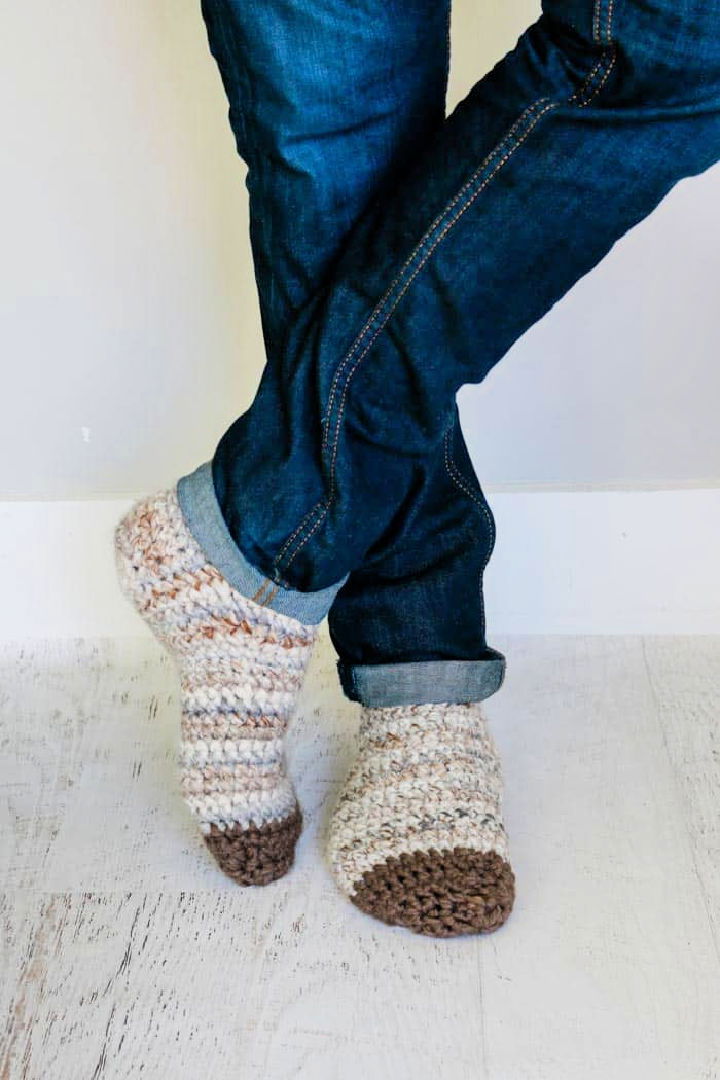 Treat the special people in your life to a unique handmade gift this holiday season. With this free crochet slipper socks for adults pattern, you can make personalized gifts that are cozy and comfortable! The chunky yarn ensures plenty of warmth, squish and durability–you'll be able to create a pair in just 3-4 hours!
To start, you need lion brand wool-ease thick & quick yarn and size 6.5mm & 8.0mm crochet hooks. Give your friends and family the delightful surprise of custom-made slippers that will fit snug as a bug–with these amazing slipper socks, they'll feel like royalty even around their own homes! makeanddocrew
13. Gorgeous Crochet Rainbow Hearts Socks Pattern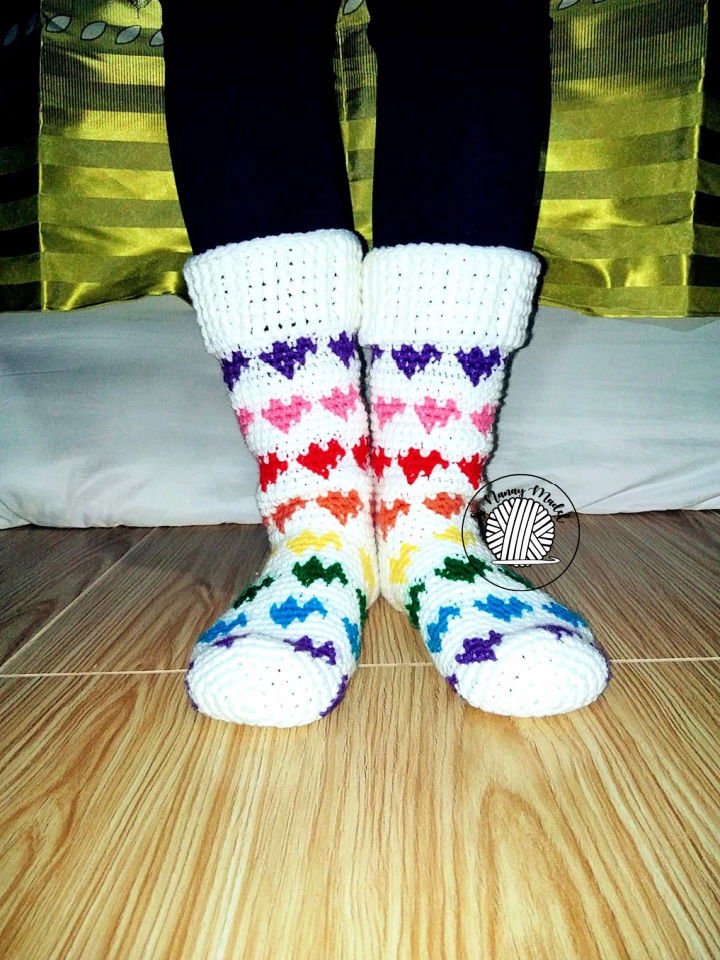 Brighten up any outfit with these fun and stylish handmade crochet rainbow hearts socks! Perfect to wear with any boot or shoes you like, this beginner-friendly accessory can be completed in a couple of hours. With detailed instructions and materials needed to be listed, making your own crochet rainbow hearts socks is easy and fun for anyone, even if you are a beginner at crocheting.
You will need red heart with love yarn, an I/5.5mm crochet hook, stitch markers, a tapestry needle, and scissors – the result is worth it! Surprise your special someone with such a meaningful handmade gift – they will love it! sinanaymadel
14. Free Crochet Cotton Slipper Socks Pattern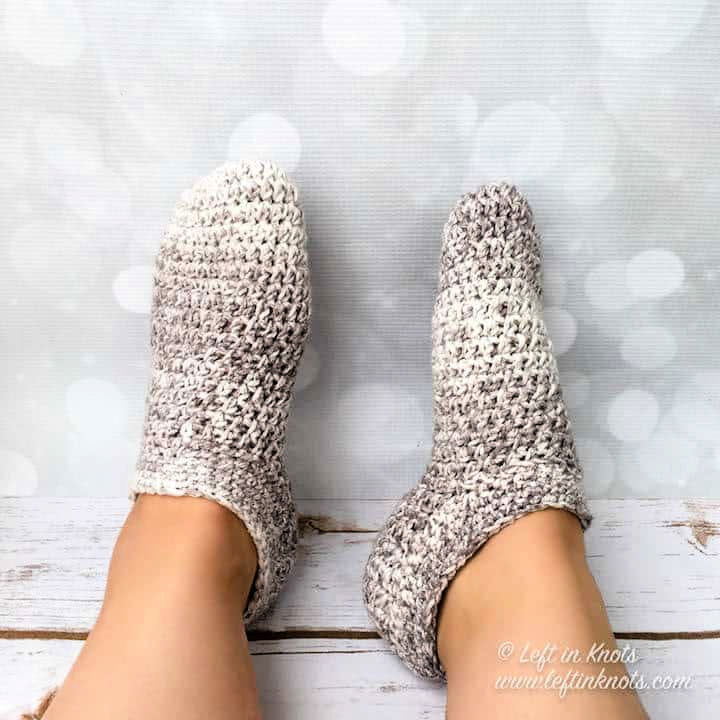 Make yourself a pair of cozy crochet cotton slipper socks this summer with this free pattern! These stylish, comfy socks are easy and fun to make using any yarn and can easily fit into your bag for trips. Create them in one or two days – perfect for gifts or donations – and enjoy wearing them all year round. Get the supplies you need: premier yarn home cotton, 4.5mm crochet hook, scissors, yarn needle – then get started on your amazing new project today! leftinknots
15. Crochet Fishbone Ankle Socks Pattern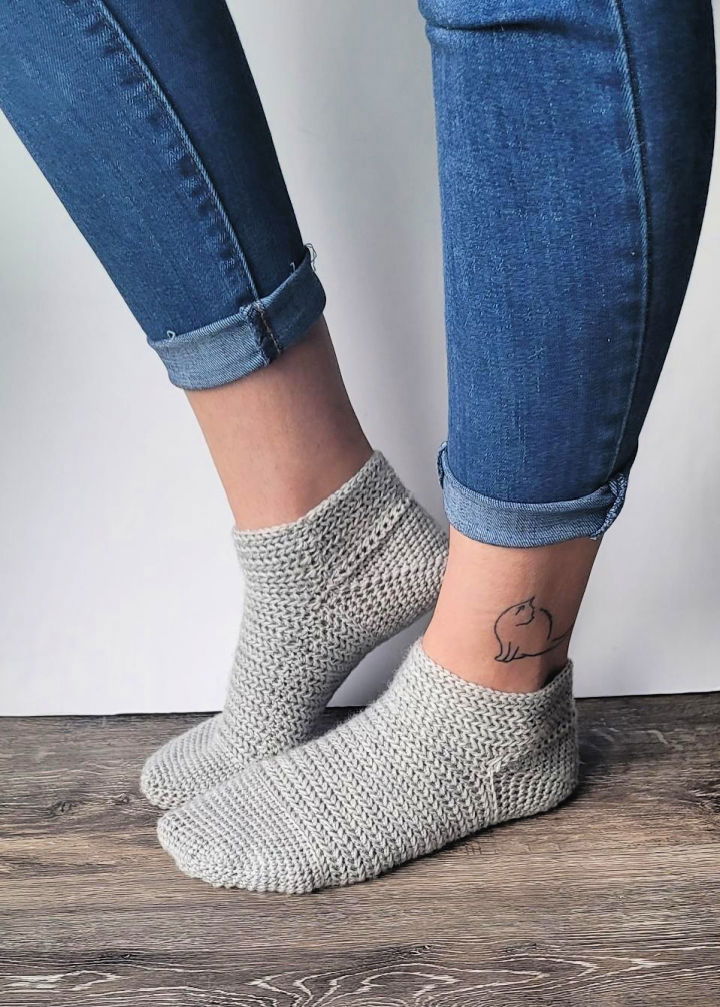 Crochet yourself a pair of fishbone ankle socks in no time with this free crochet pattern! This intermediate-level project will give you a comfy and cozy sock that is perfect as a gift to your loved one. Materials needed are Scheepjes Metropolis yarn, a 3.5 mm crochet hook, a yarn needle, and stitch markers, so get ready for the ultimate crafting experience. Follow the detailed instructions provided to make these delightful socks today! twobrothersblank
16. How to Crochet Slipper Socks – Free Pattern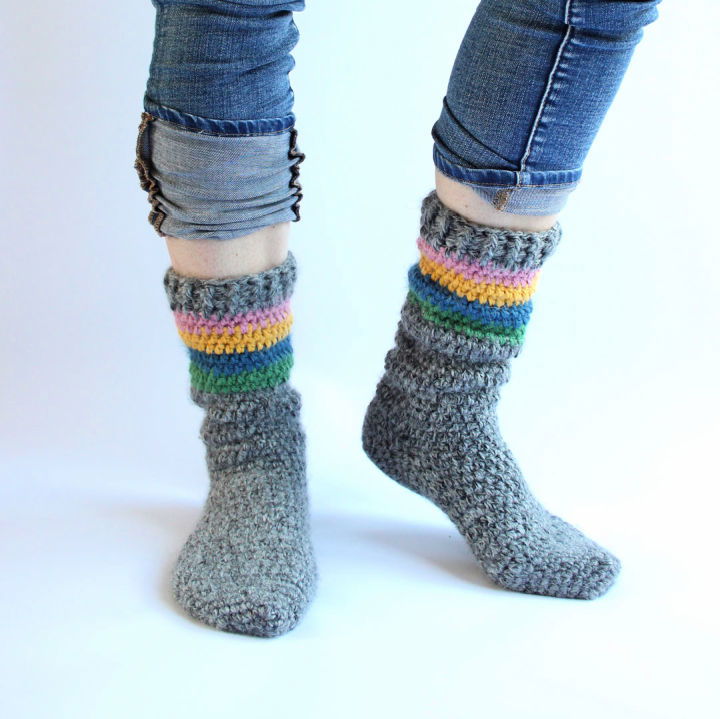 Discover the perfect addition to your winter wardrobe with these easy crochet slipper socks. Made from Aran weight yarn and using simple stitches, they are quick and easy to make. Wear them in wellies or your favorite shoes for long-lasting comfort and look elegant!
This step by step instructions will guide you through the process easily, making these slipper socks a must-have item this season. For extra grip and safety, be sure to add slippery stuff on their soles and enjoy them longer! Get crafting today! zeensandroger
17. Crochet Cozy Velvet Socks – Step-By-Step Instructions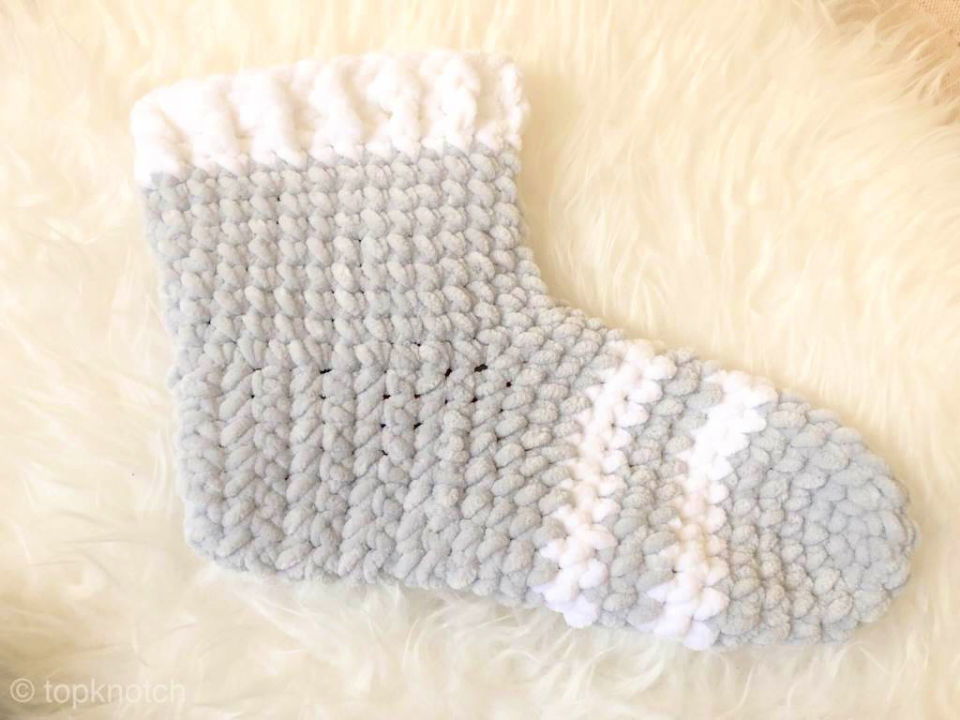 Make yourself a pair of cozy, soft and fluffy velvet crochet socks with this free pattern! With photo tutorials and materials listed, this beginner-friendly project is simple yet beautiful as a handmade accessory. You'll need super bulky (6) velvet yarn, 4 mm and 6 mm hooks, stitch markers and a yarn needle to weave in ends. Get ready to keep your feet warm with the most comfortable socks ever! topknotchcrochet
18. Free Crochet Slipper Socks Pattern to Print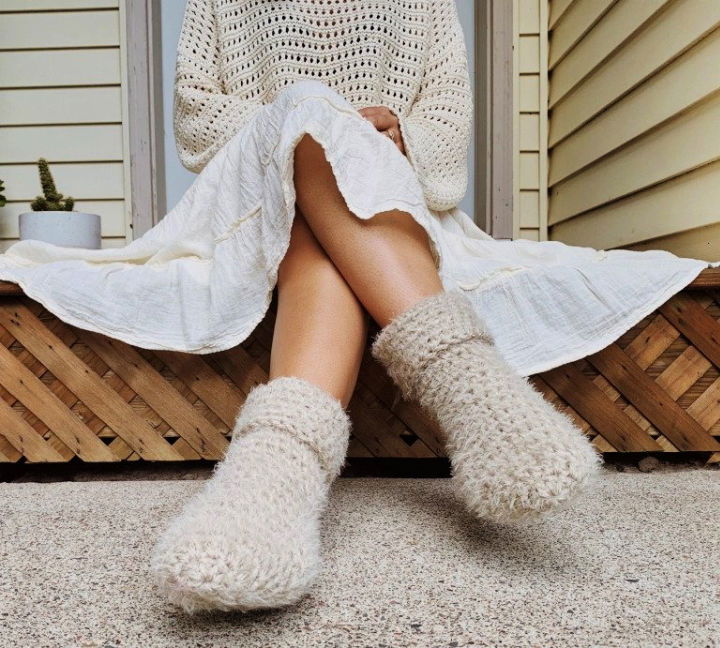 Make yourself or your loved ones a cozy pair of crochet slipper socks with this super easy and beginner-friendly pattern. All you need is one skein of #5 bulky weight yarn, a 5mm crochet hook, scissors and a yarn needle for assembly. These soft, fluffy socks are durable and warm – the perfect gift idea for any special occasion! Make them today in no time – absolutely perfect, no matter who you make them for! knitcroaddict
19. Crochet Happy Socks Design – Free Pattern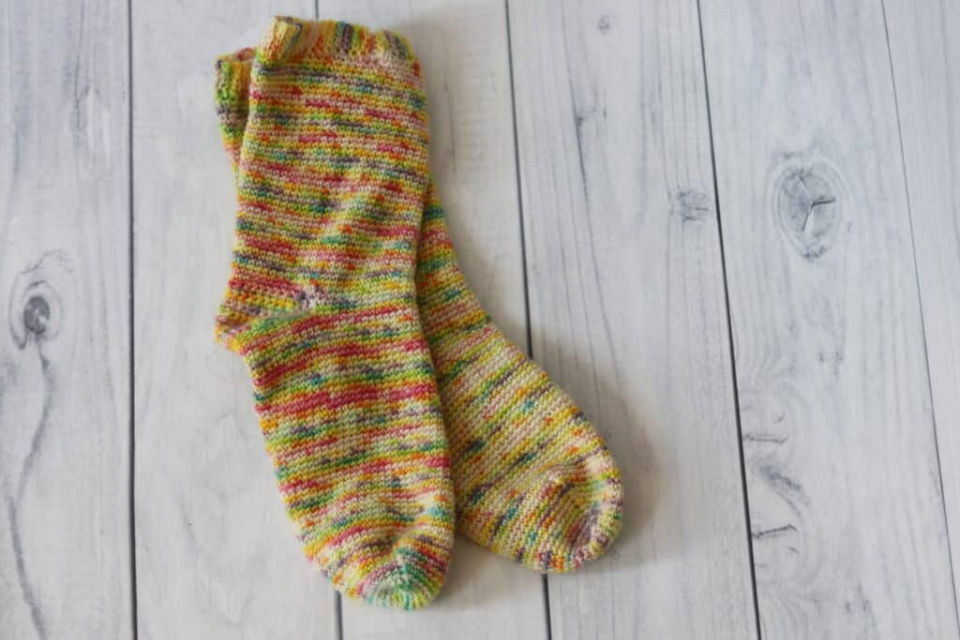 Are you looking for a fun and easy crochet pattern? The happy socks are the perfect project! This video tutorial will instruct you to make a women's pair of size ⅚ US socks. All it takes is some sock-weight yarn, hook F (3.75 mm), yarn needle and stitch markers. Look adorable when gifted, or simply keep them for yourself – no need to cut your yarn at the end! Enjoy making these stylish and comfortable crocheted socks without breaking a sweat! richtexturescrochet
20. Crocheted Spruce Socks – Free Pattern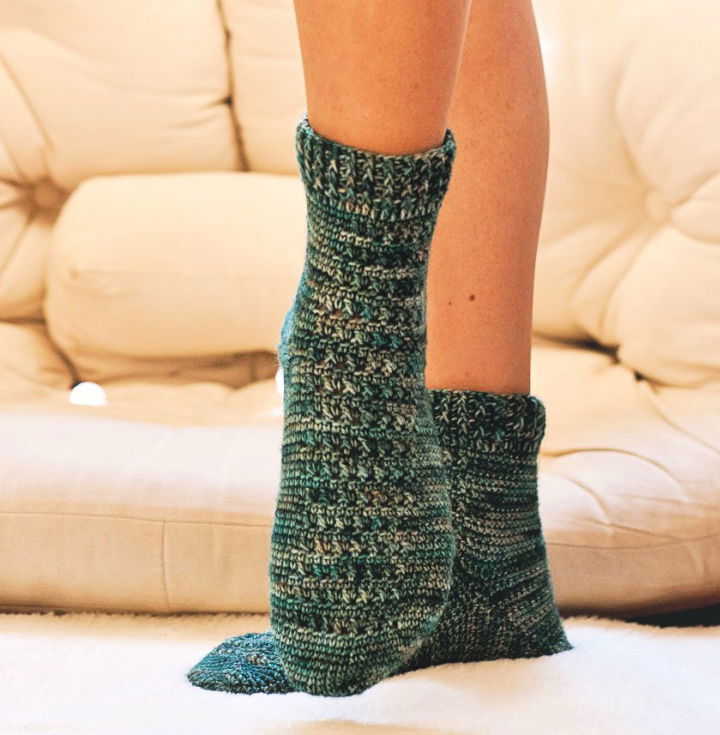 Stay warm in style with this free crochet spruce socks pattern! Perfect for comfortable wear and to look adorable, these eye-catching socks are the best accessory for any outfit. Not only that, but they also make amazing handmade gifts for your friends and family. The step-by-step instructions and materials required (such as fingering weight yarn, crochet hook 3.5mm, measurement tape and two stitch markers) are all included – so you can easily craft this pattern in no time! Get creative with colors, or keep it simple! monpetitviolon
21. Crochet Lightweight Slipper Socks Pattern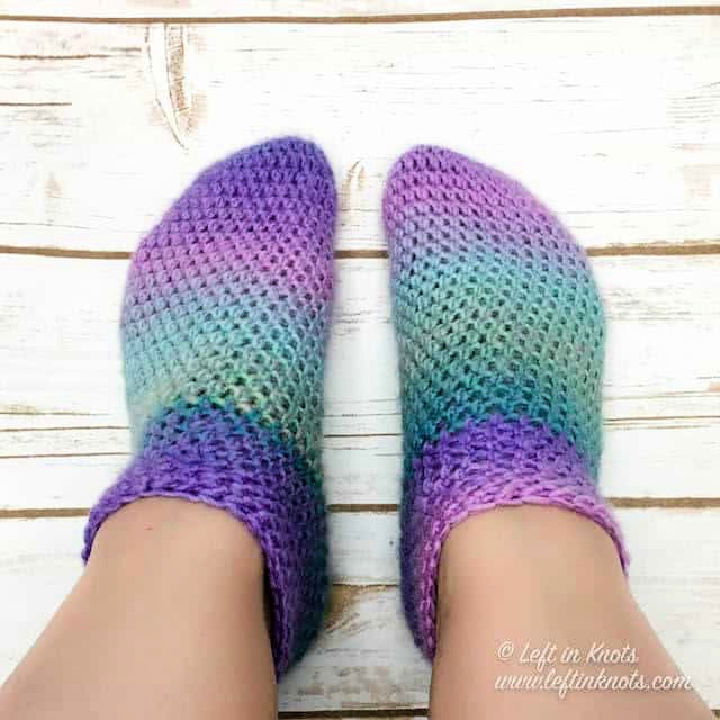 Crochet up a pair of lightweight slipper socks with this free pattern for beginners. Create beautiful colorful gradients in bright or neutrals to make great gifts or craft sale inventory! You will need lion-brand Ferris wheel yarn, a G/4.0mm crochet hook, scissors, and a yarn needle. With easy-to-follow instructions, these slippers look cute and grip hard floors without sacrificing comfort or warmth. Get your supplies today and start crocheting! leftinknots
22. Free Crochet Toe Up Socks Pattern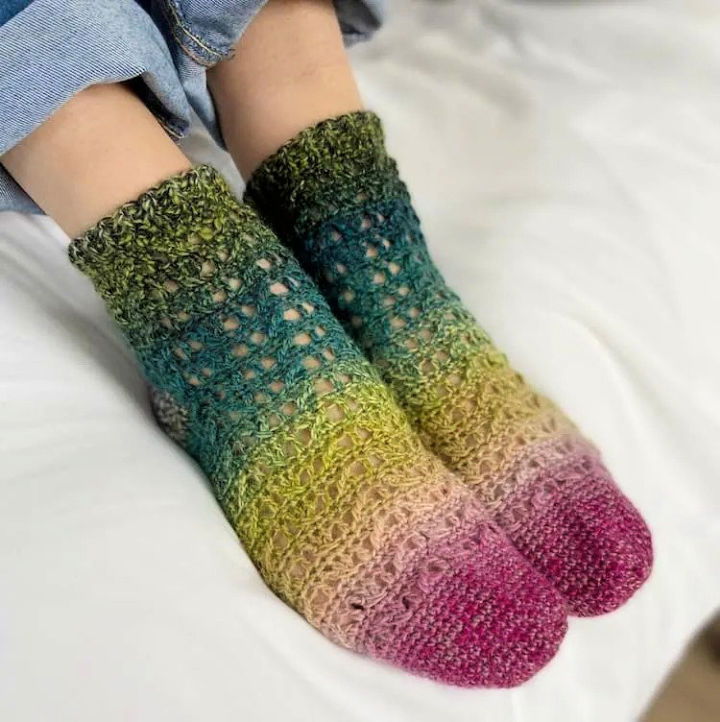 Create your own stylish and comfy lace-look socks with this free crochet pattern! The Rialto Socks feature a delicate cable stitch in Debbie bliss' Rialto luxury sock yarn. This adjustable ankle-length pattern is perfect for intermediate crocheters, offering both comfort and style. You'll need a 3mm crochet hook, tapestry needle, scissors & stitch markers (optional) to make these beautiful socks – why not give it a go today? hanjancrochet
23. Crochet Vine Colorwork Sock – Free PDF Pattern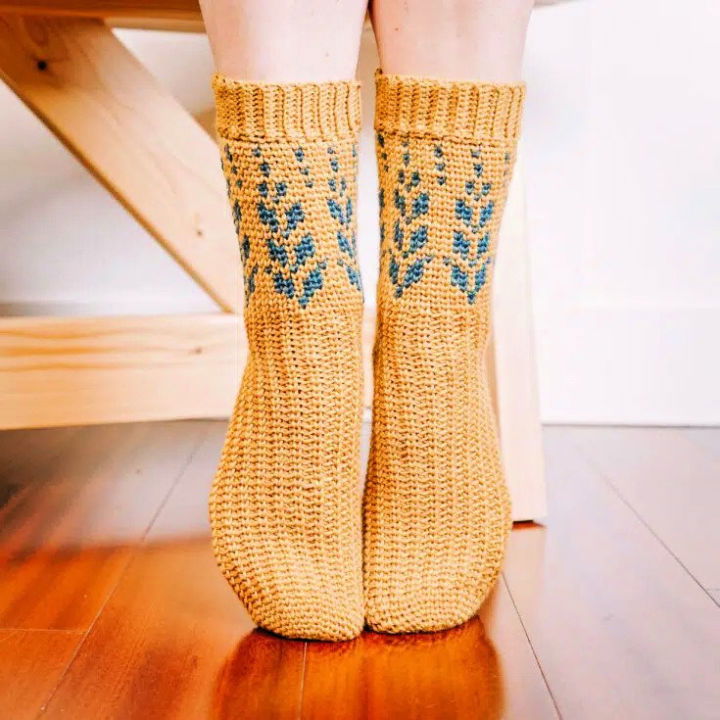 These vine colorwork crochet socks look adorable and are satisfying to work up. Unlock the secret of creating knit-like stitches using crochet hooks! Get ready with 2.5 & 3.5 mm crochet hooks, removable stitch markers, yarn needles, scissors and WeCrochet stroll in solid for this free pattern. Perfect for all skill levels, it comes with step-by-step instructions so you can easily make them at home – no more searching for that elusive sock pattern! brianakdesigns
24. Easy Crochet Socks Tutorial
Learn how to crochet your own socks in this easy and beginner-friendly tutorial! With simple instructions, you can make a great textured handmade accessory for your wardrobe with minimal effort. All the materials needed are a size B crochet hook, a size C crochet hook, any fingering weight yarn, a printed pattern, scissors, a yarn needle and a locking stitch marker. Follow along step-by-step, and soon enough, you'll have cozy crocheted socks that are perfect for any season!
25. Chunky Crochet Slouchy Slipper Socks Pattern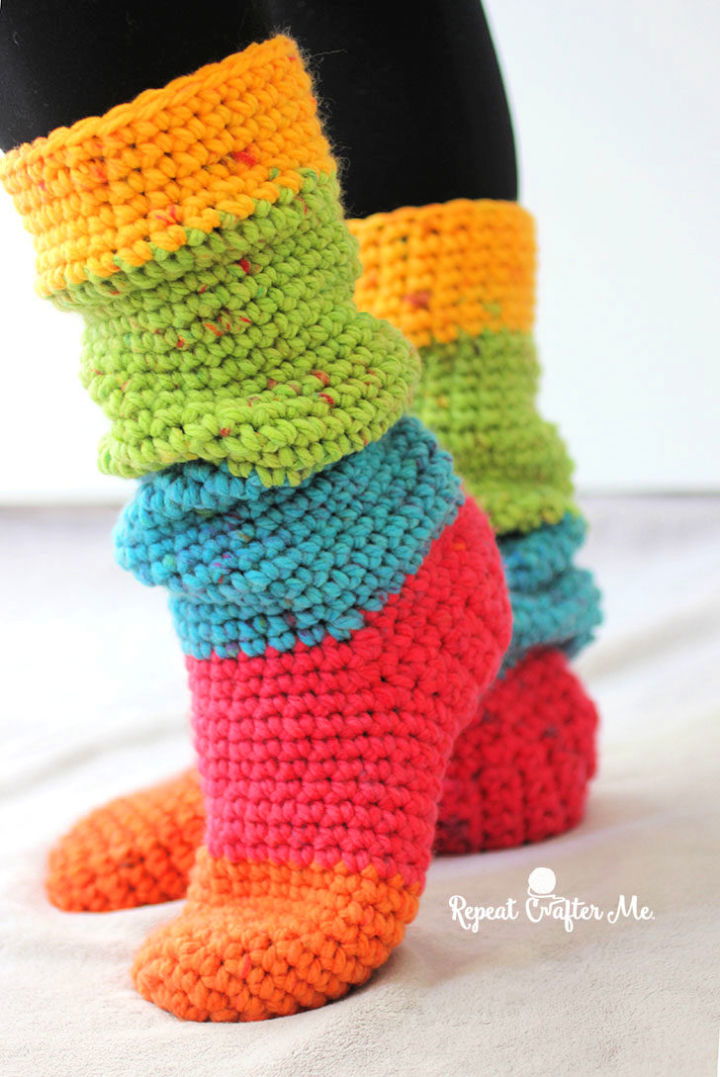 Stay warm and stylish with these crochet caron chunky cakes slouchy slipper socks! These simple yet beautiful socks feature a unique texture made with caron chunky cakes. Perfect for wearing around the house, they look great with any shoe! Plus, they are eye-catching, making them perfect gifts as well. Not only do they look great, but these colorful slipper socks are also warm and comfortable. Get creative and keep cozy this winter with the crochet caron chunky cakes slouchy slipper socks! repeatcrafter
Related Free Crochet Patterns:
Discover our extensive collection of free crochet patterns for all skill levels. From cozy accessories to beautiful home decor, start your next project today.
Conclusion:
In conclusion, these 25 free crochet sock patterns are great for beginners as they provide detailed instructions and offer step-by-step guidance to create beautiful crocheted socks easily. With this collection of patterns, you can learn how to crochet various types of socks, such as ankle socks, long socks, boot socks, and thin and woolen ones. Furthermore, all the designs come with easy-to-follow tutorials, making it easier for even novices to enter the wonderful world of crochet sock pattern making. So whether you're looking for a project for yourself or someone special, this is the best way to start!