Crochet cowls are a trendy accessory that adds flair and warmth to your winter outfits. Crochet cowls are similar to scarves but are shorter and fit snugly around your neck. They are cozy neck warmers that you can wear with any outfit. Find 25 free crochet cowl patterns for beginners that are fun and easy to make. Each crochet cowl pattern includes step-by-step instructions, a material list and a pdf guide to download. You can make them in different shapes, sizes, colors, and stitches to suit your personal style and preference.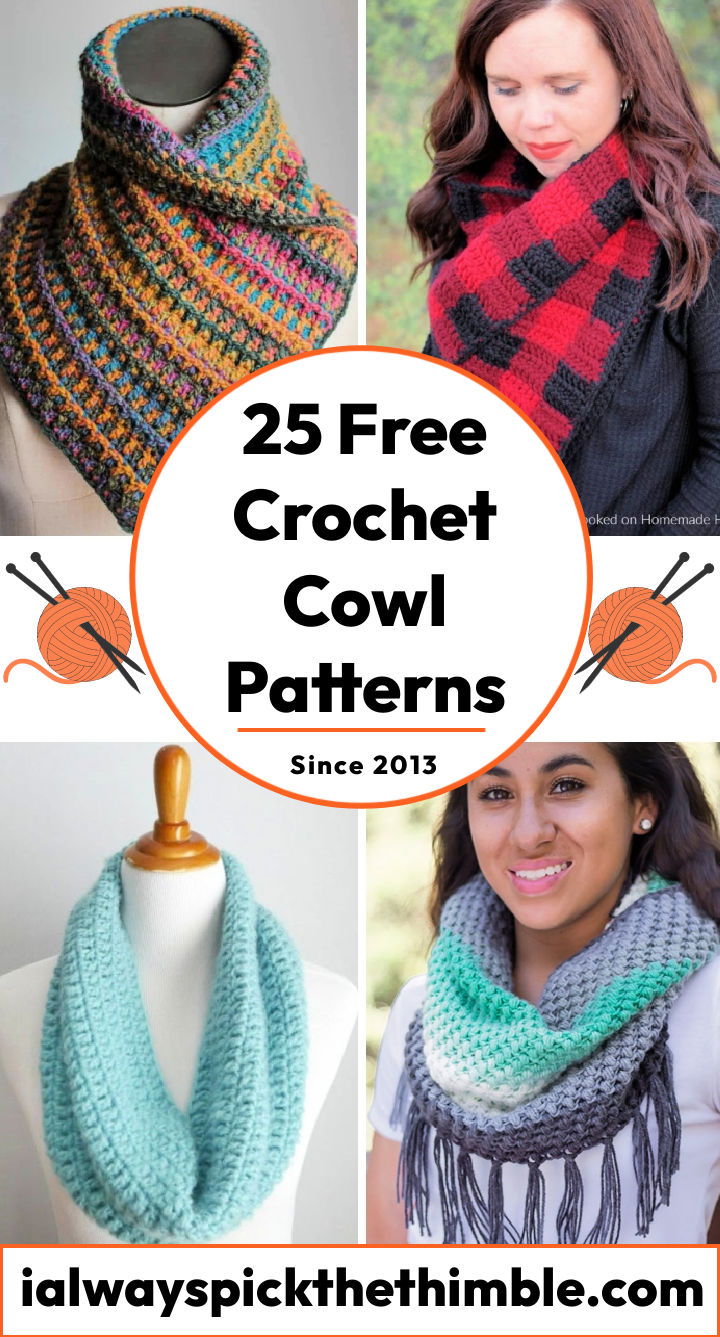 Crochet Cowl Patterns for Beginners
If you are new to crochet or want to try something different, you might want to learn how to crochet cowls. Our 25 free crochet cowl patterns list is easy and quick and requires only basic skills and materials.
To start crocheting a cowl, choose a free crochet pattern matching your skill level and taste. We shared 25 free crochet cowl patterns for beginners below, including detailed instructions, photos, videos, and pdf files.
Some of the common types of crochet cowl patterns are:
Circular cowls: These are cowls that are worked in rounds without seams. They can be made with simple stitches like single crochet or double crochet or more complex stitches like shell stitch or puff stitch. You can embellish them with buttons, pom poms, or tassels.
Rectangular cowls: These crochet cowls are worked in rows and then joined at the ends with sewing or slip stitches. They can be made with any stitch pattern, such as ribbing, cables, lace, etc. They can also be closed with buttons or ties for a more adjustable fit.
Mobius cowls: These crocheted cowls have a twist that creates an infinity loop. They can be made by working in rounds with a half twist before joining the ends or by working in rows and then twisting one end before joining them.
To make a crochet cowl, you need to follow these basic steps:
Choose your yarn and hook size: You can use any yarn weight and fiber you like for your cowl, but make sure it is soft and comfortable for your neck. You also need to use a hook size that matches your yarn weight or go up or down a size depending on how tight or loose you want your stitches.
Make a gauge swatch: This is optional but recommended if you want your cowl to fit well. And a gauge swatch is a small piece of your stitch pattern that measures how many stitches and rows you get per inch. You can compare your gauge swatch with the one given in the pattern and adjust your hook size accordingly.
Follow the pattern: Once you have chosen your pattern and gathered your materials, you can start crocheting according to the instructions given in the pattern. Make sure to read the pattern carefully before starting and follow each step exactly as written.
Finish off: When you have completed crocheting your cowl according to the pattern instructions, you need to finish off by cutting off the yarn, leaving a long tail (about 6 inches) and pulling it through the last loop on your hook. You can then weave in the ends using a tapestry needle.
Crochet cowls are fun and easy projects that you can make for yourself or as gifts for others. They are also great ways to use up leftover yarns from other crochet projects.
Find 25 Free Crochet Cowl Patterns
We've curated 25 free crochet cowl patterns for beginners. Each free crochet cowl pattern has step-by-step instructions that you can browse and download. These crochet cowl patterns offer different skill levels, yarn weights, and styles. So don't hesitate – to check out these free crochet cowl patterns today and start hooking something beautiful!
1. Free Crochet Cowl Pattern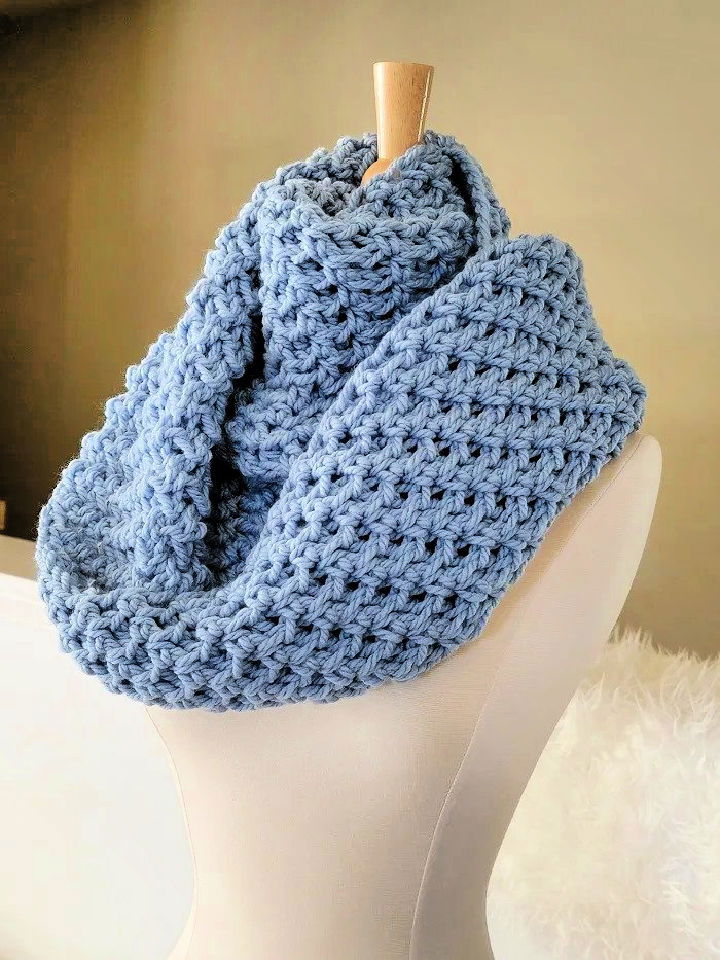 This beginner-friendly crochet cowl pattern, featuring a beautiful knit look stitch, is the perfect project for your winter wardrobe. Worked in the round, this cozy cowl measures 55 inches in circumference and 11 inches wide. This chunky, stylish cowl adds a luxurious feel to any winter outfit! Materials needed are bernat softee chunky size 6 yarn, size m/n(9mm) hook, stitch marker & tapestry needle to weave in ends. Enjoy wearing it or give it as a gift – you'll look adorable all season long! crochetdreamz
2. Easy Crochet Cowl Pattern for Beginners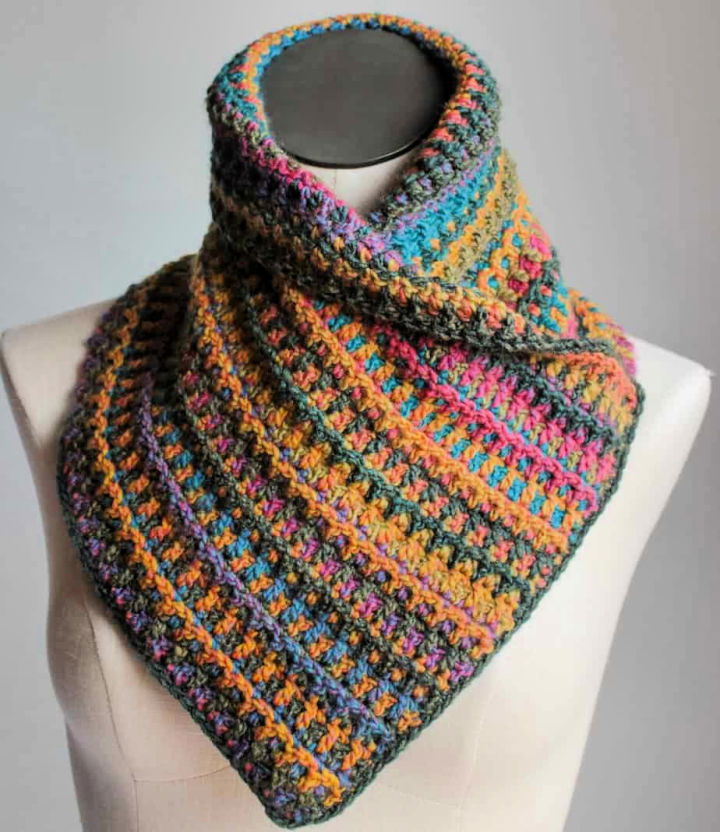 Not sure where to start with crocheting? This free, easy crochet cowl pattern is perfect for beginners! With its unique woven appearance and gorgeous texture, this eye-catching crochet cowl will be a beautiful, warm addition to your winter wardrobe.
You'll need lion-brand ferris wheel yarn in weight 4 medium, a crochet hook size h/8 (5.0 mm), stitch markers, scissors and a tapestry needle. Create a rectangle worked row by row, then fold and sew or crochet it together to make the cowl shape – decorative buttons can also be added to highlight that extra special touch!
Get crocheting now with this simple, stylish, free, easy crochet cowl pattern! nanascraftyhome
3. How to Crochet 3 Button Cowl – Free Pattern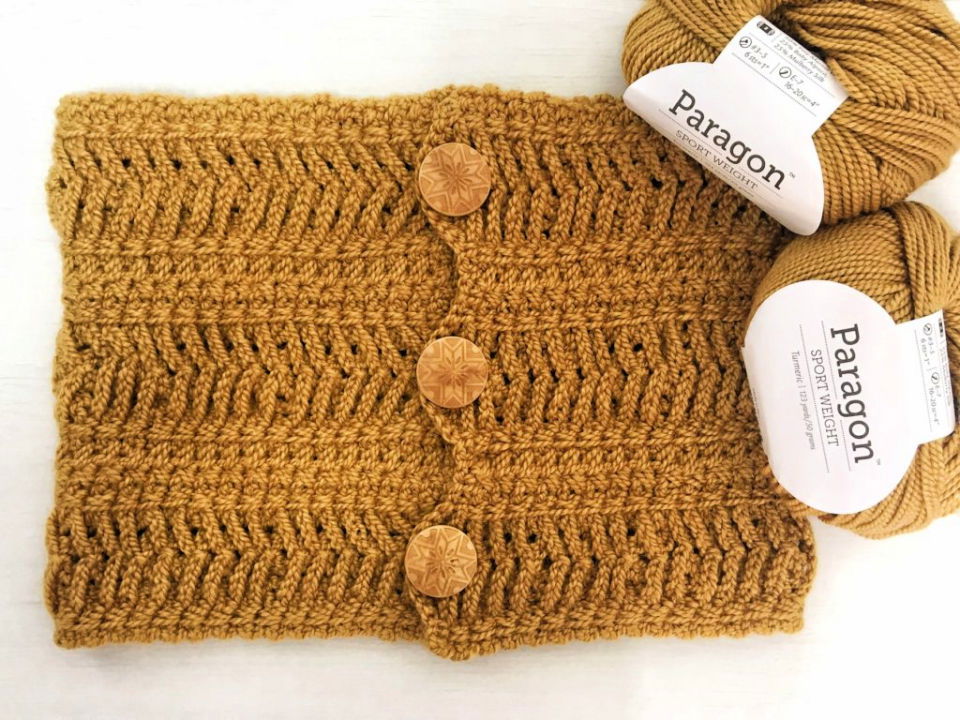 This beautiful follow-you-path cowl crochet pattern perfectly combines style and texture. It looks intricate, but it's quite simple to make! With only a 4.0/g mm crochet hook, 2 stitch markers, 3x 1in (2.5 cm) diameter buttons and some yarn, you can have your own cowl in no time! This intermediate-level project is fun and rewarding, perfect for gift-giving or keeping for yourself. Give it a go today – you won't regret it! madebygootie
4. Crochet Tartan Cowl – Free Pattern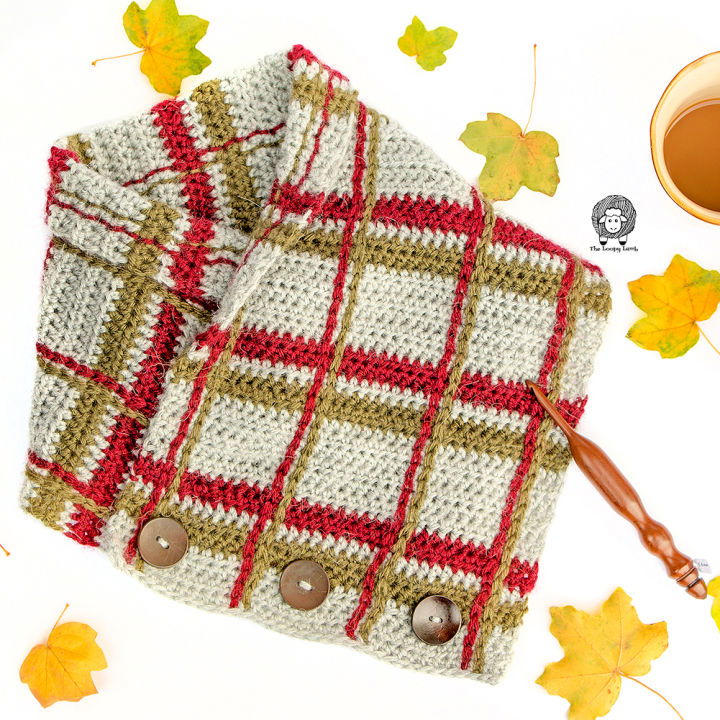 Love a classic tartan look? This crochet tartan cowl is perfect for you! Accessible to adventurous beginners, this pattern uses simple stitches and color changes to create an elegant piece that will be sure to make a statement any season. With just a 6.0mm crochet hook, mary maxim woodlands in stardust yarn, three 1.5″ buttons and some basic supplies, you can also create this beautiful cowl! Make it as unique as your own style with different colors or patterns, and enjoy compliments from friends when they see your fashionable new accessory! theloopylamb
5. One Skein Crochet Cowl Pattern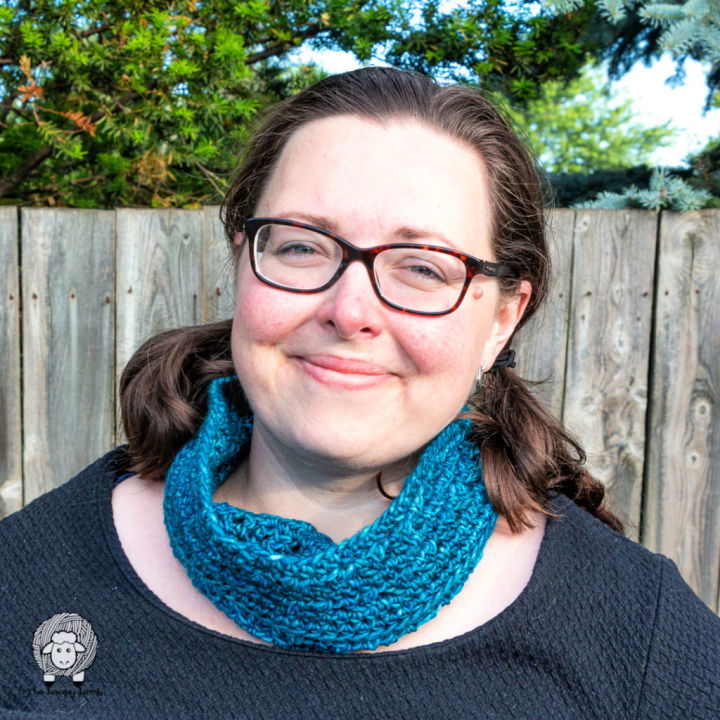 Get creative with this easy free one-skein crochet cowl pattern from the savvy muse! Ideal for advanced beginner crocheters, this cozy cowl can be completed in just an hour or two and uses a few variations on basic stitches to make a lovely texture.
All you need is a 6.0 mm crochet hook, wecrochet muse hand-painted aran yarn, scissors, tapestry needle and stitch marker – making it perfect for using up that lonely skein in your stash! Great as a last-minute gift idea or to add warmth to your winter wardrobe. theloopylamb
6. Best Crochet Copenhagen Cowl Pattern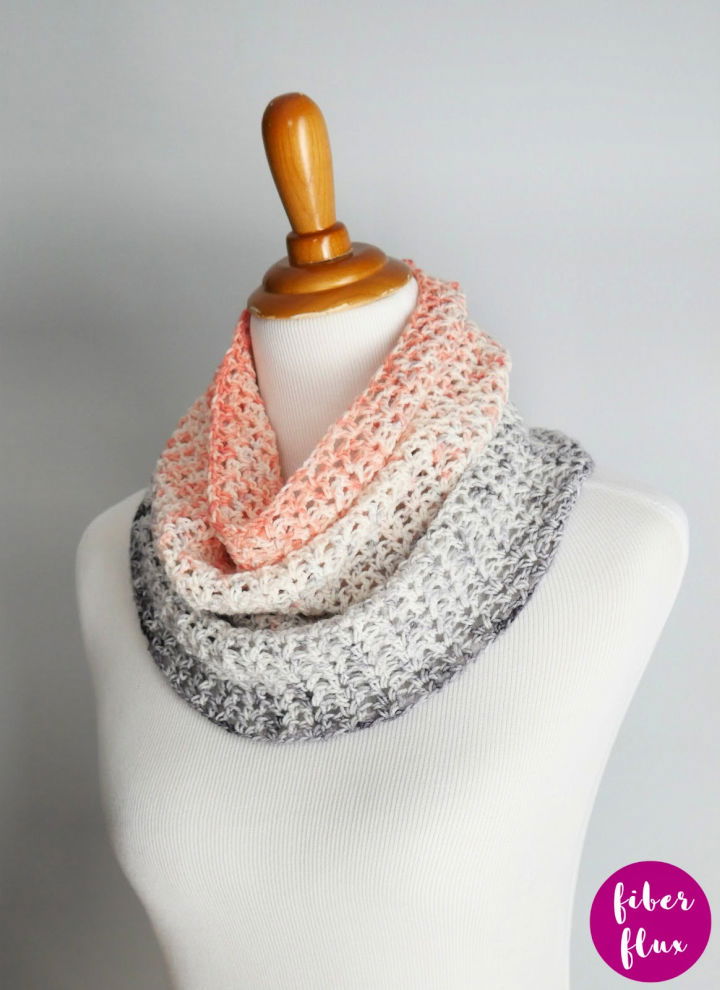 Crochet the luxurious copenhagen cowl with a beautiful and easy v-stitch pattern. Make the most of your special, lightweight sock yarn and create an amazing cowl in subtle gradients of coral, gray and cream – no color changing needed!
Get step-by-step instructions with a video tutorial to make this stunning piece that is fun to make and looks adorable. All you need is an h (5.0 mm) crochet hook, sock yarn, tapestry needle & scissors for this free crochet pattern. fiberfluxblog
7. Crochet The XOXO Cowl Design – Free Pattern
Stay warm and stylish with this free crochet pattern for a xoxo cowl! This easy-to-make cowl is perfect for beginners, featuring step-by-step instructions. Its fun design and assorted beads make it a great gift for friends or family.
All you need is 1 skein of worsted weight yarn, a 5.50mm crochet hook, assorted beads and a tapestry needle. Although classified as an intermediate project-level skill due to working in the round and changing colors, even new crocheters can master this one quickly! craftingforweeks
8. Simple Crochet Iris Cowl Pattern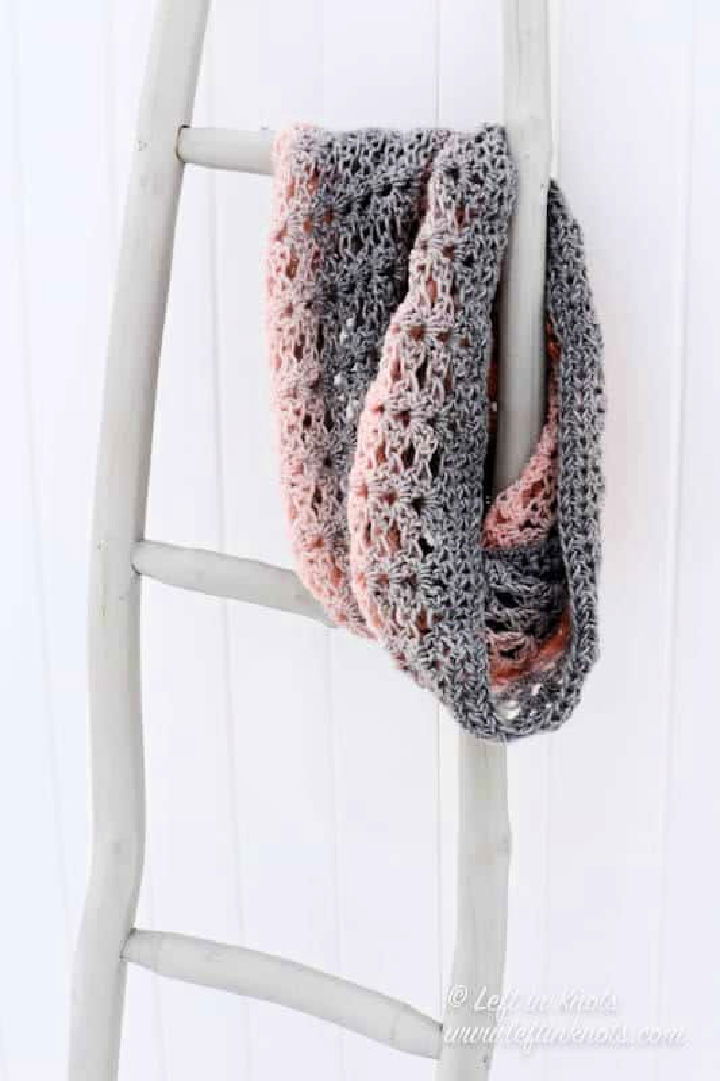 Keep warm and stylish with this free crochet iris cowl pattern! Combining a light lacy stitch with soft, fluffy yarn, it's the perfect winter accessory. The feminine design features a 19″ length and 15″ width, giving you enough fabric to cover your neck while still feeling snug. With lion brand's scarfie yarn and supplies like scissors, a crochet hook and a yarn needle, you'll be sure to have all the materials necessary to create your own cozy cowl. Simple yet beautiful – try out this free crochet iris cowl pattern today! leftinknots
9. Crochet Chunky Cowl – Free PDF Pattern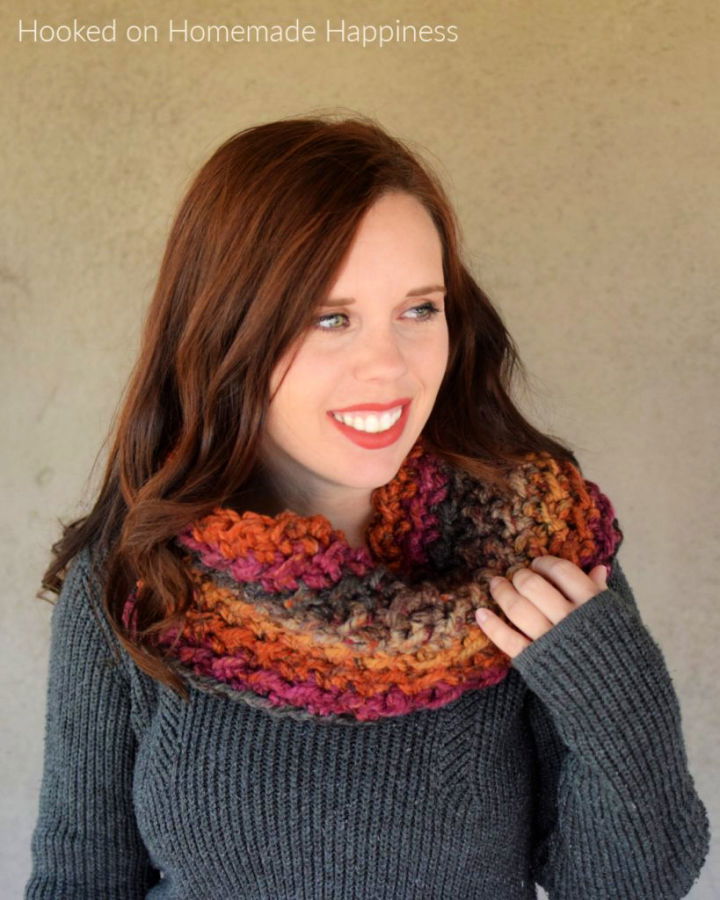 This easy chunky cowl crochet pattern is a great way to get cozy this fall! The pattern uses super bulky yarn and the crunch stitch with just one row repeat. You'll love the texture it adds to lion brand's thick & quick yarn – try out their pocket watch colorway for a perfect autumn look.
Plus, with its fun colors and quick crocheting speed, you can easily make this cowl as a gift too! With easy-to-follow instructions and materials like an n/p 10mm hook, needle and scissors included, anyone can craft this chunky cowl in no time. Get started today on your own effortless project! hookedonhome
10. Crocheted Winters Blush Cowl – Free Pattern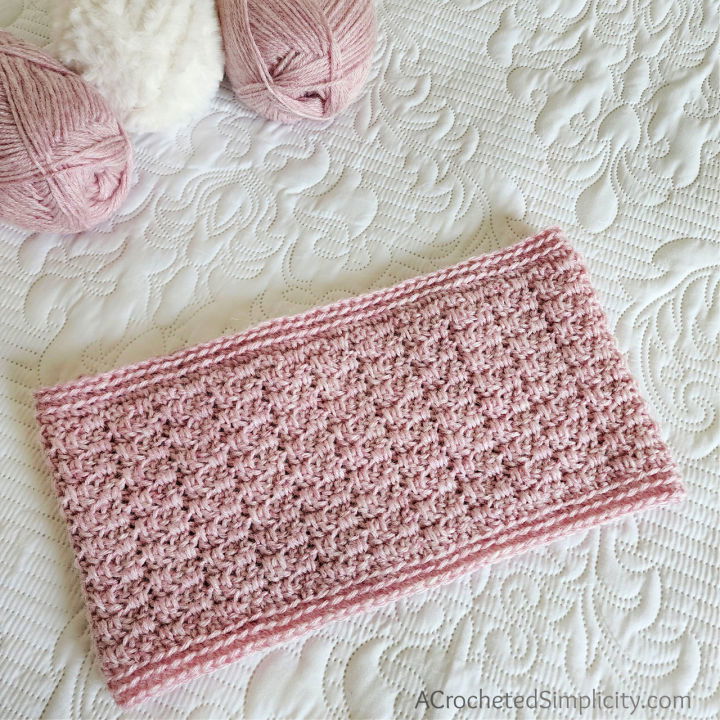 One-skein projects are perfect for using up leftover yarn and creating last-minute gifts. This crochet winter's blush cowl is the perfect one-skein project – it's warm and comfortable, eye-catching, simple to make, and needs some worsted weight yarn, a j/10/6.00mm crochet hook, scissors, a yarn needle & stitch marker! Try out this free pattern today for an easy but stylish winter accessory that will keep you cozy all season long! acrochetedsimplicity
11. How Do You Crochet a Polka Dot Puffs Cowl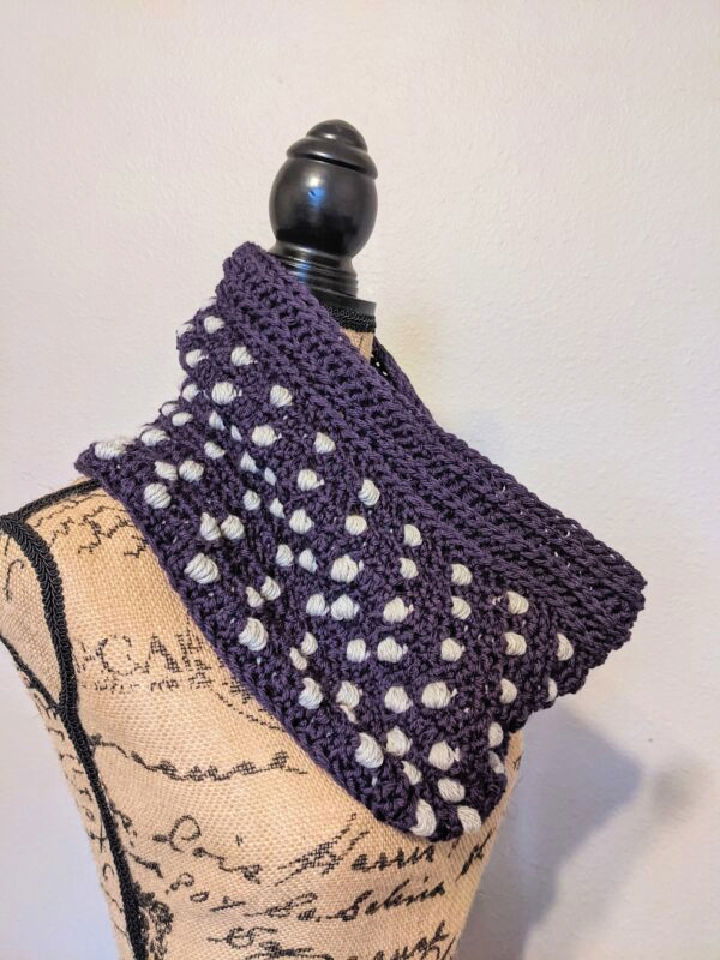 Stay warm and cozy all winter with this vibrant crochet polka dot puffs cowl. Easy to make, even if you only know how to crochet into the 3rd loop of a half double crochet, this pattern looks amazing! The instructions provide detailed guidance on materials needed (k/6.5mm crochet hook, knit picks, swish worsted "4" weight yarn) as well as measurements (32" round & 10" tall). Make it last minute for your loved one or as a treat for yourself! saltypearlcrochet
12. Gorgeous Crochet Malia Buttoned Cowl Pattern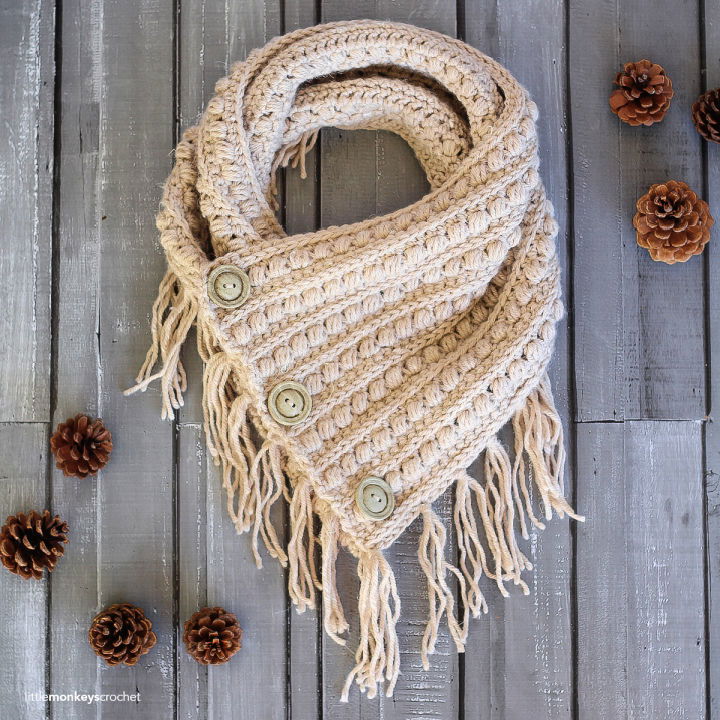 This boho-style crochet cowl is a fun and easy project to make. It looks adorable with its beautifully-textured design, perfect for over a t-shirt or tucked under a winter coat. Step-by-step instructions and an easy video tutorial are included to help you follow the process.
This makes the perfect gift for your loved one or something special to sell too! Difficulty level: easy; size: 30.5″ long x 8″ tall; hook size: I (5.50 mm); yarn needed: 355 yards of #4 aran weight yarn; accessories needed: yarn needle, 3 buttons (1" – 1-⅛"). yarnandchai
13. Crocheting a Textured Woodland Cowl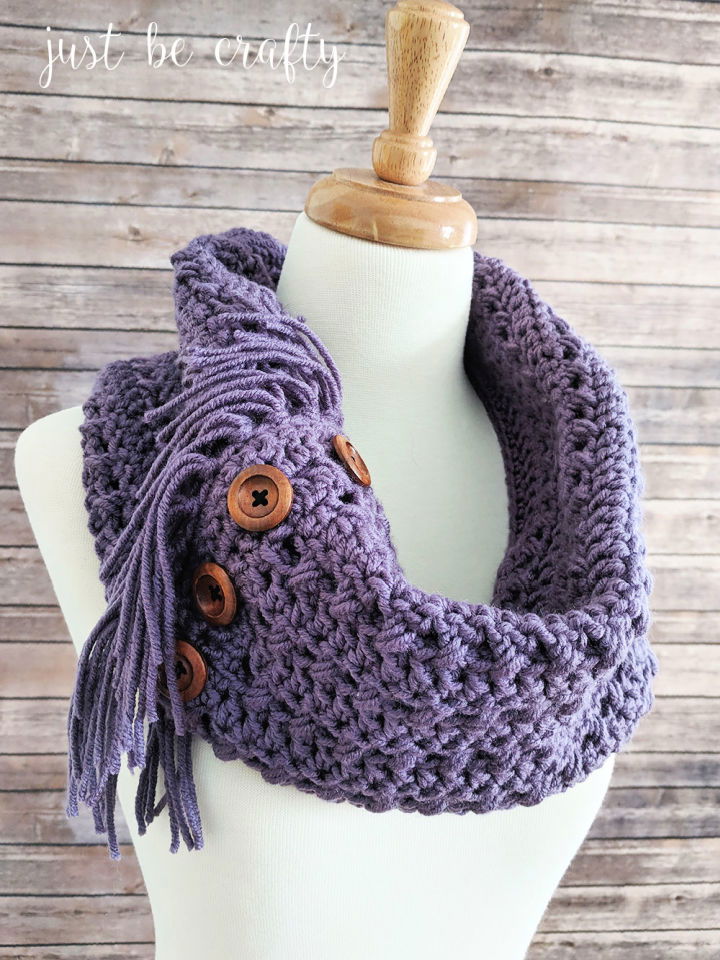 Create a unique style statement with this crochet textured woodland cowl pattern! Combining textures, fringe and a beautiful amethyst color, you'll look stunning while keeping warm on cooler evenings. Easy-to-follow step-by-step instructions for materials such as 3 skeins of big twist premium, 6.0mm hook, sharp scissors and more are provided. Sew on wooden buttons for an added touch of flair – perfect for wearing with any outfit! Grab your supplies today and learn to make your own crochet textured woodland cowl pattern. justbcrafty
14. Brick Stitch Tunisian Crochet Cowl Pattern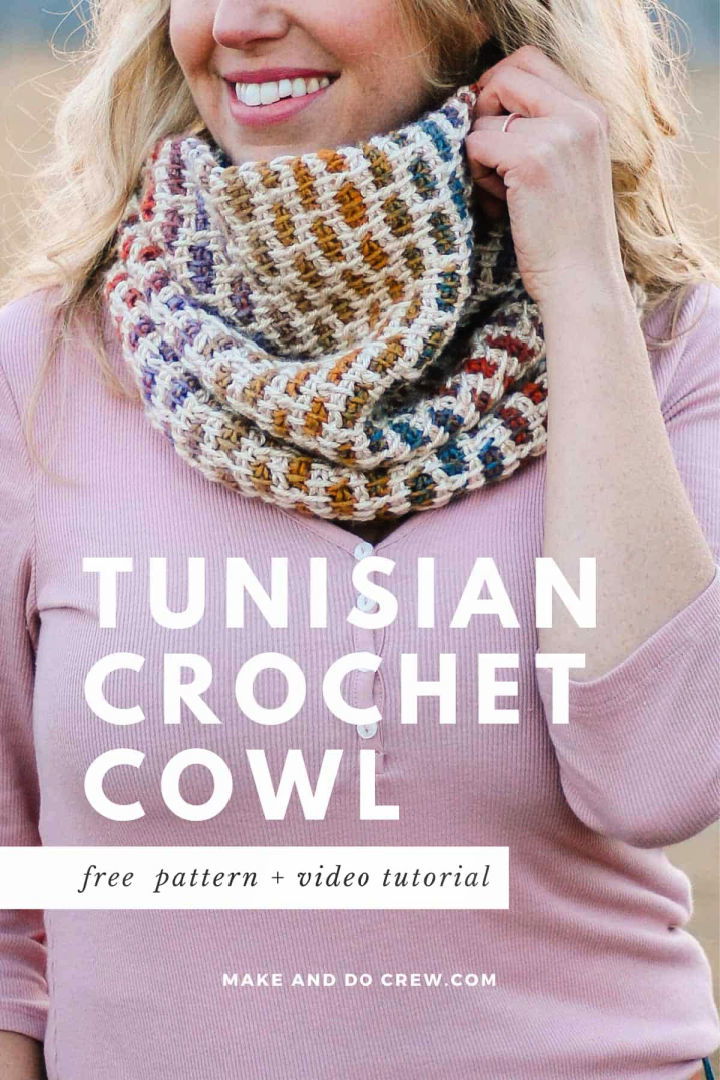 This beginner-friendly Tunisian crochet cowl is a perfect last-minute gift! It's an eye-catching piece of fiber art made with self-striping yarn and a variation of the simple stitch. Step-by-step instructions with video tutorials make this project easy to follow.
All you need is yarn, a tapestry needle, a size l (8.00 mm) hook with 6″ cord, and some stitch markers to craft your unique accessory! Get ready for compliments rolling in when wearing this spectacularly beautiful fabric joined around your neck – all thanks to the brick stitch Tunisian crochet cowl-free pattern! makeanddocrew
15. Free Crochet Pattern for Buffalo Plaid Cowl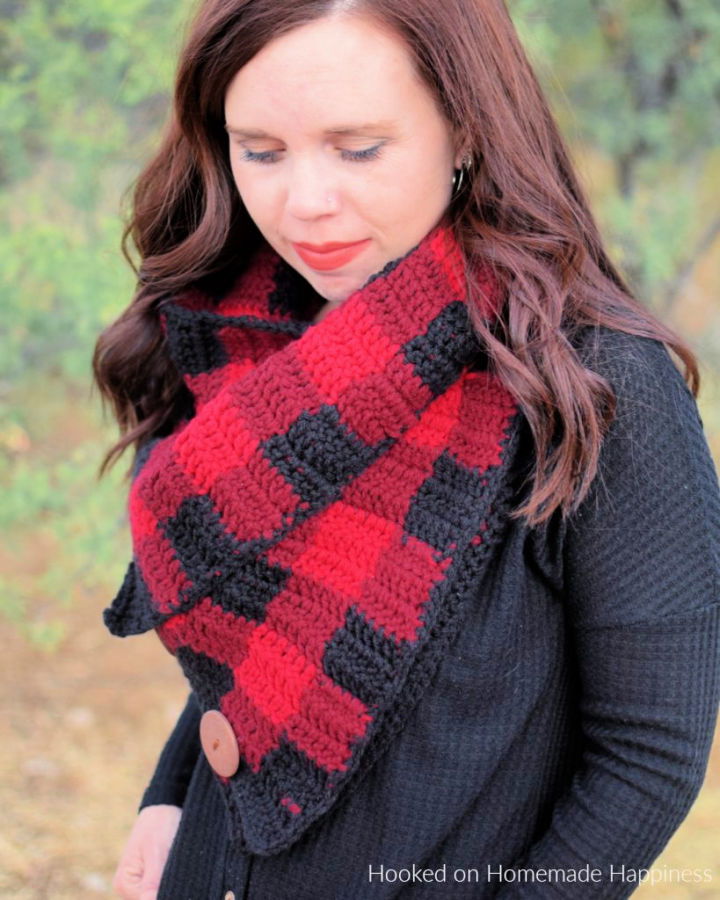 Want to add a stylish, warm and comfortable accessory to your wardrobe? This buffalo plaid cowl crochet pattern is super easy yet looks pretty! All you need are three colors of loops & threads, impeccable yarn, an h/5.0 mm hook and some large buttons for the finishing touches.
The finished size measures 43" x 17" – perfect for keeping you cozy in the cold winter. Whether you're an experienced crocheter or just getting started, this pattern can be completed by anyone with intermediate-level skills. Get crafting today! hookedonhome
16. Quick and Easy Crochet Lucky Day Cowl Pattern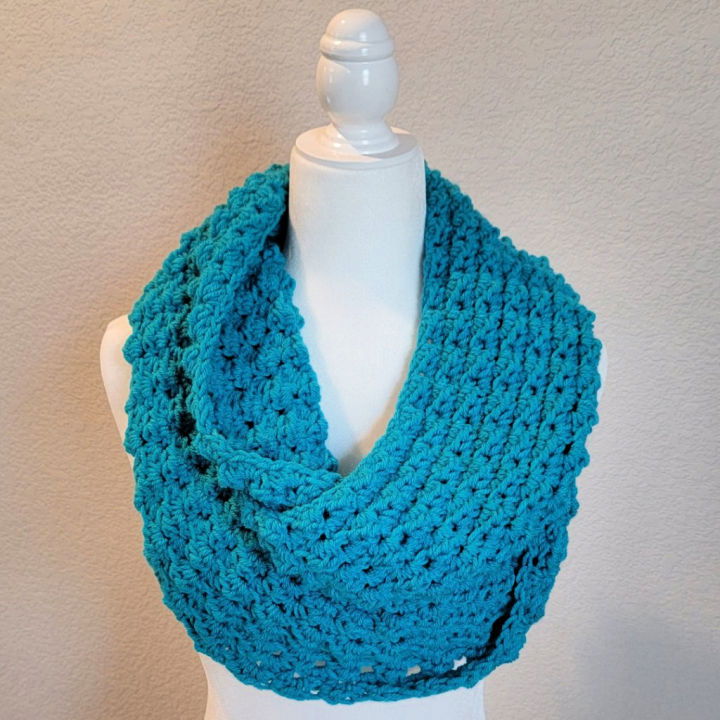 Take your crochet game to the next level with this beautiful free crochet lucky day cowl pattern! With only 1 stitch repeated, it's easy and fun to make. The luxe texture looks stunning in any color and makes you look stylish wherever you go. You will be amazed at the simple instructions, making it perfect for gifting. Get your hands on this incredible pattern now – it's the perfect way to turn a regular day into a lucky one! Yarn, crochet hook, scissors & stitch markers are needed; get started! crochetml
17. One Skein Crochet Mandala Cowl Pattern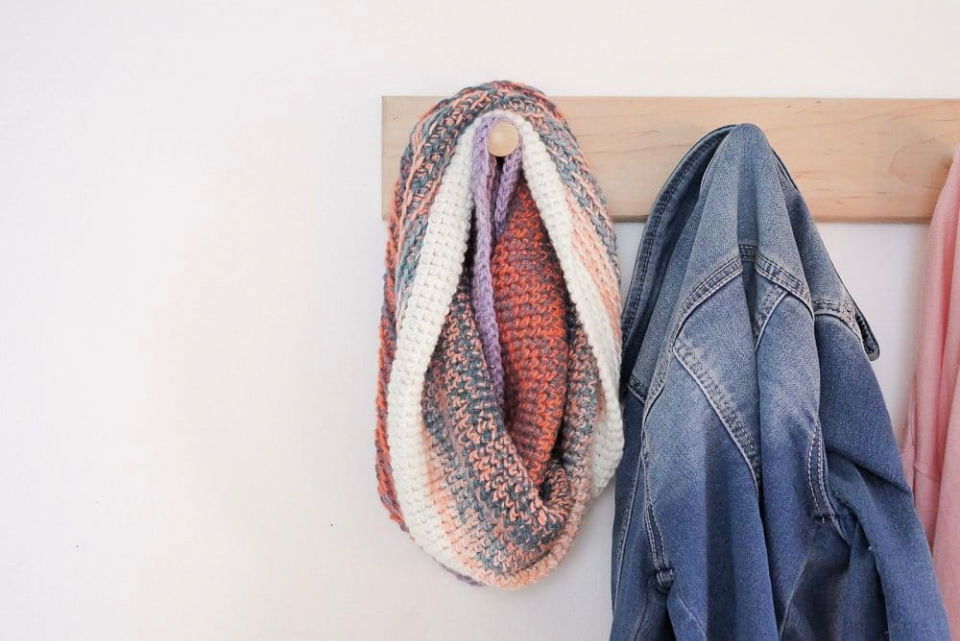 Crochet your own one skein cowl with this beginner-friendly pattern! The mandala yarn in color pegasus makes it a unique and interesting design, perfect for mindless crochet when you're on the go. Both sides of the cowl are equally pretty; one has a lovely lined texture, and the other has a more traditional look.
You only need one skein of lion brand mandala yarn, a size h crochet hook, and a yarn needle to make this stylish piece. Perfect for quick and easy projects! thesweeterside
18. Easiest Cowl Neck Warmer to Crochet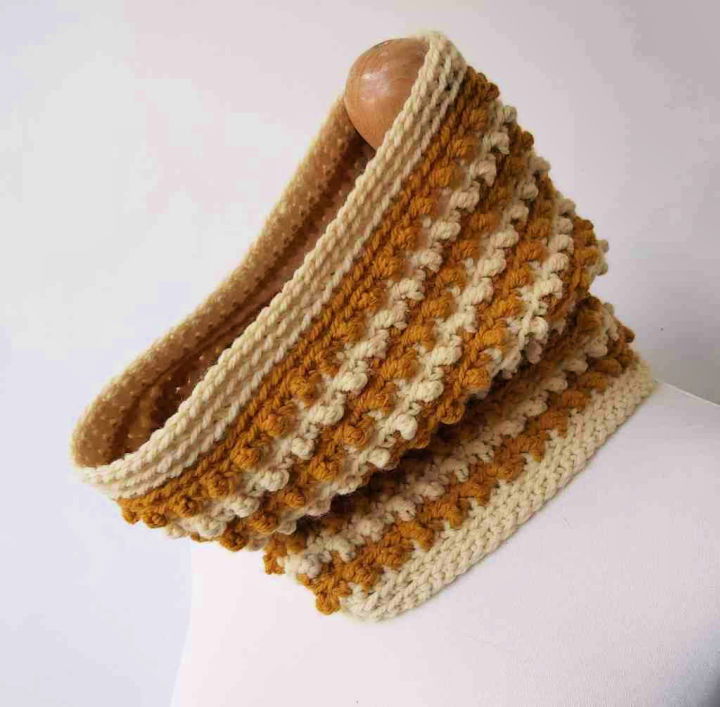 Stay cozy this season with a crochet cowl neck warmer! This free pattern for the blackberry cowl works up fast and features a beautiful drape. The mini bobbles in the stitch pattern provide extra texture, while its adjustable size allows you to make it smaller or wider as needed. All you need is some aran/worsted weight yarn and a 5mm crochet hook – grab your supplies and start crocheting today! anniedesigncrochet
19. Crochet Double Layered Braided Cowl Pattern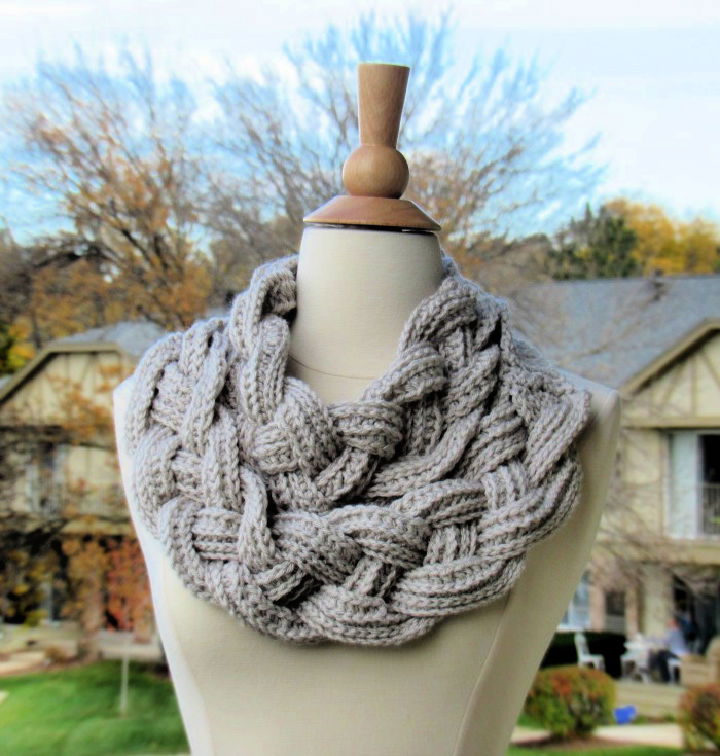 This free crochet double-layered braided cowl pattern is perfect for winter evenings. It's a gorgeous, fun and simple-to-make accessory – with beautiful texture! The two layers of braids are joined at the back, complete with a button closure, so you don't need to slip it over your head.
This makes a great gift for your loved ones- or keep it yourself! Step-by-step instructions include a video tutorial and all necessary materials: worsted weight yarn lion brand vanna's choice in color linen; hook h (5 mm); yarn needle; one 1-inch wooden button) and it fits all women & teens. So create this cozy look today and enjoy warm winter nights in style! myhobbyiscrochet
20. Modern Crochet Spring Bean Cowl Pattern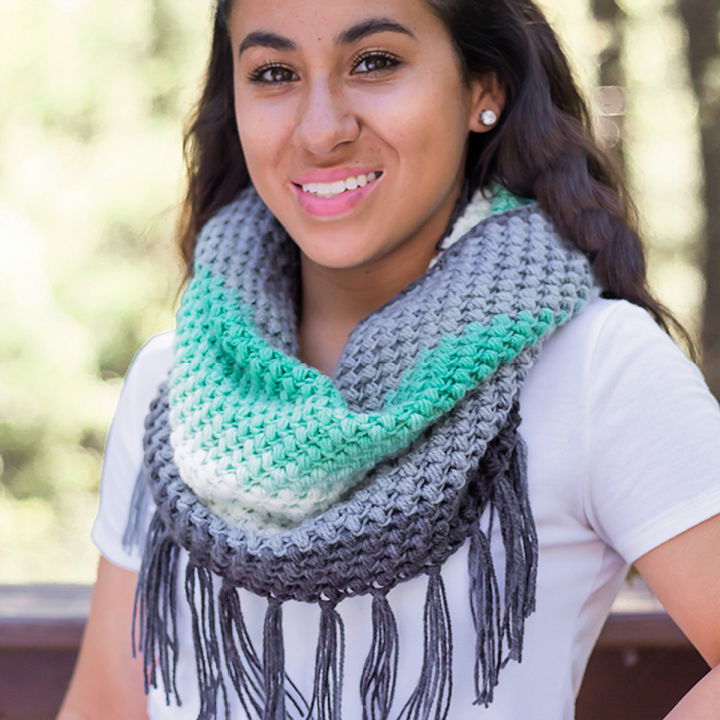 Make a statement with this crochet spring bean cowl! This simple and textured project looks like an espresso bean, making you look stylish and gorgeous. It's fun to make and perfect for beginners, as the step-by-step instructions are easy to follow. With only one full cake of lion brand mandala yarn needed, there won't be any wasted yarn after completing this craft. Craft a unique last-minute gift that fits nicely with its 29″ around x 16″ tall size when finished. Get started now – all you need is your h (5mm) hook and yarn needle! yarnandchai
21. Easy Crochet Plaid Sheepskin Cowl Tutorial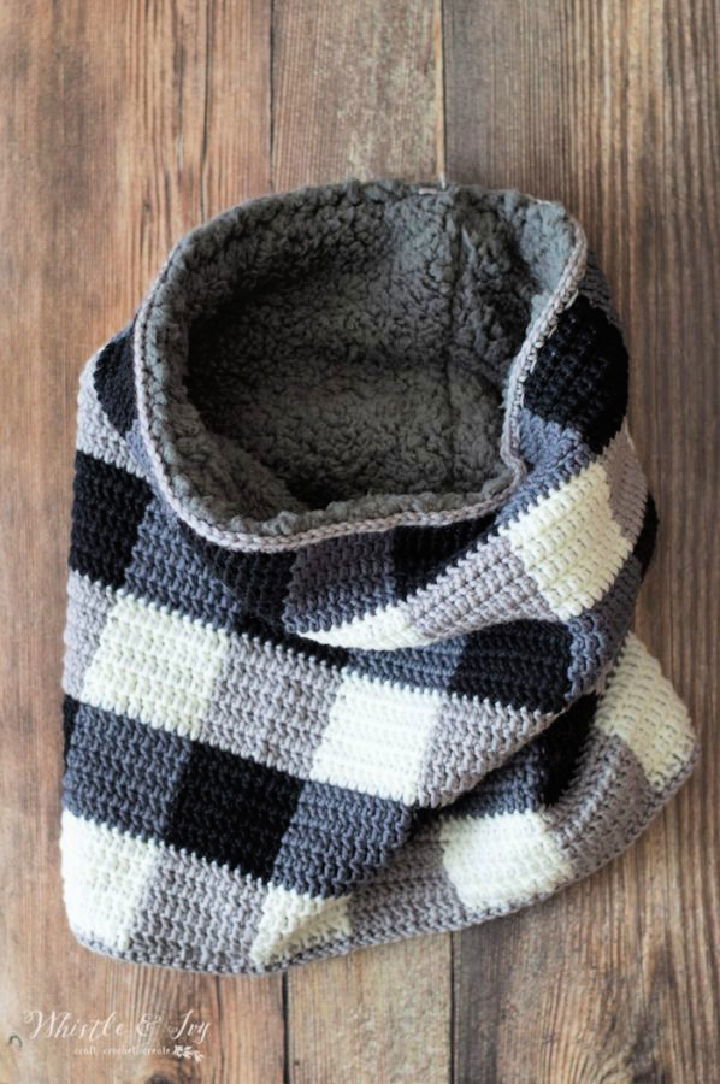 Stay warm this winter with this luxurious easy crochet plaid sheepskin cowl! It features a 4-color buffalo plaid check pattern and is lined with buttery-soft faux sheepskin. Crafted with gray colors, you'll love this cozy cowl's sophisticated look and feel. Plus, it's an easy crochet project great for men! Make as gifts for family and friends or keep one for yourself. All you need is worsted weight yarn in 4 colors, ½ yard of faux sheepskin and an h hook to start crocheting your plaid sheepskin cowl today! whistleandivy
22. Crochet The Bixby Cowl – Step-By-Step Instructions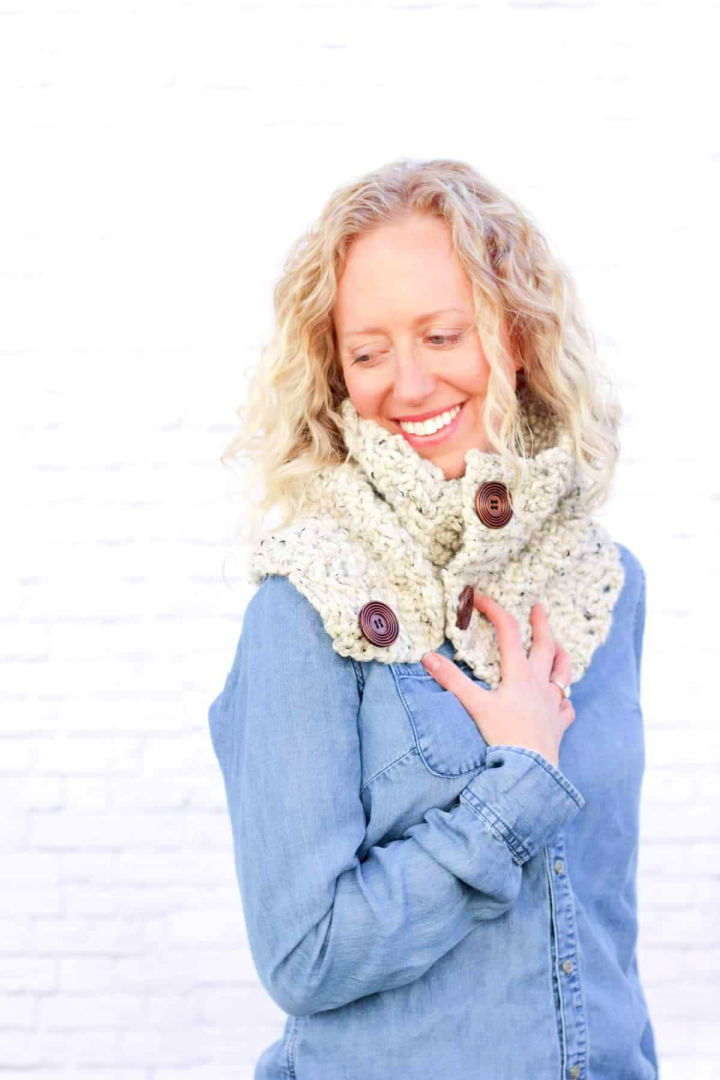 Create the perfect accessory for any outfit with this free crochet cowl pattern! The bixby cowl uses the herringbone double crochet stitch to give it an elegant and modern look. With its oversized buttons, you can customize the look of your cowl so that it's perfect for wherever you go.
All you need is a lion brand wool-ease thick & quick bonus bundle, a tapestry needle, a size m (9.0 mm) crochet hook, three 1.5" buttons and scissors to make this one-size-fits-most cowl which measures 30.5" x 12". Get ready to turn heads with your chic new look! makeanddocrew
23. How to Crochet a Cowl in the Round – Free Pattern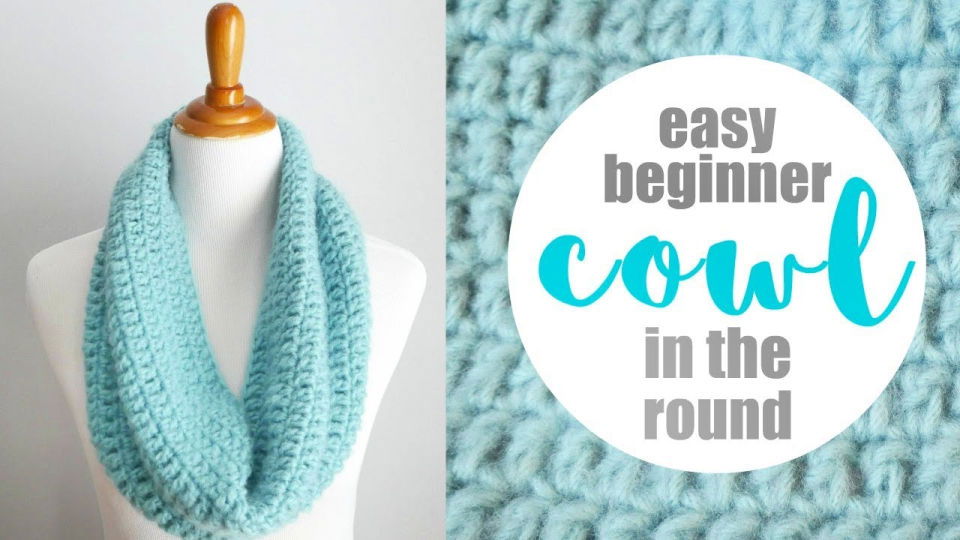 Learn how to make the beginner cowl in the round, a pretty and simple crochet project that uses basic double crochet stitches! All you need is a larger hook, dreamy yarn, scissors, and a tapestry needle. This cowl has a generous drape and fuzzy texture, making it cozy. Perfect for last-minute gifts or just treating yourself – watch the video tutorial to get started now!
24. New Crochet Chunky Cowl Pattern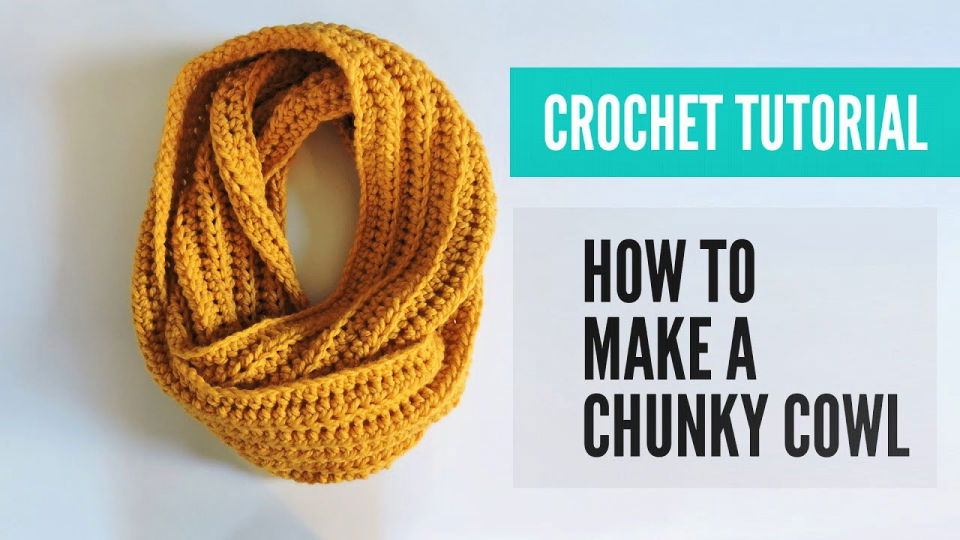 Stay toasty this winter with a simple project – the chunky crochet cowl pattern! With just one skein of bernat collegiate chunky yarn and a 9.0mm crochet hook, you can make an eye-catching cowl in about an hour or two – perfect for last-minute gifts. Plus, it's easy enough for beginners to make too! Make yours in your favorite bright colors today, and stay cozy all season long with this 7″X 38″ chunky crochet cowl pattern.
25. Unique Crochet Peekaboo Puff Stitch Cowl Pattern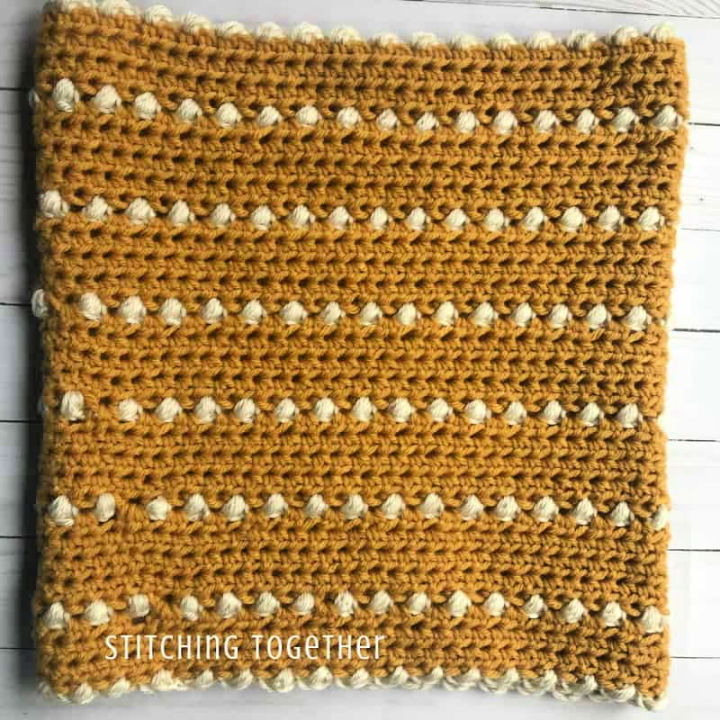 This crochet peekaboo puff stitch cowl is fun and simple, making it perfect for beginners! With its good texture and cozy warmth, this one-of-a-kind cowl makes a great last-minute gift for your loved ones. Keep them warm in style with the help of three skeins of #4 medium worsted weight yarn, size l, 8.0mm crochet hook and large eye tapestry needle. Download the easy instructions to get started right away and look fabulous in no time at all! stitching together
Related Free Crochet Patterns:
Explore our extensive collection of free crochet patterns! From cute gloves to cozy shawls, our patterns cater to all skill levels. Start your next project today and get crafting!
Conclusion:
Crochet cowls make for great gifts and beautiful fashion accessories! With the 25 free crochet cowl patterns provided, you can create various styles with different colors, textures, and sizes. Each cowl pattern is easy and comes with step-by-step and downloadable PDF instructions. Plenty of options are available from simple single crochet pieces to intricate lacy designs. Whether you're looking for a crocheted neck warmer or a full-length scarf-style cowl, these free cowl patterns provide an array of choices that will suit your needs. So grab your yarn and hooks – it's time to get creative!