Crochet pillows are a great way to add a personal touch to your home decor. With our list of 25 free crochet pillow patterns, you can create unique and cozy pillows pattern for every room in your home. These easy crochet pillow patterns are suitable for both beginner and advanced crocheters and come with detailed instructions and diagrams to help you create the perfect pillow.
Our collection of free crochet pillow patterns includes a variety of designs, from simple and classic pillow cover to more decorative throw pillows. You can choose from various shapes, sizes, and colors to create a crocheted pillow that complements your current decor. These crochet pillows make great gifts for friends and family, or you can keep them for yourself to add some handmade charm to your living space.
Each crochet pillow pattern includes a list of supplies needed, such as yarn and crochet hooks, and any special stitches or techniques required. Some crochet pillow patterns also come with video tutorials and pdf downloads to make the process even easier. With these free and easy crochet pillow patterns, you can create beautiful, unique home decor that reflects your style and creativity. So, why not start crocheting your own pillows today?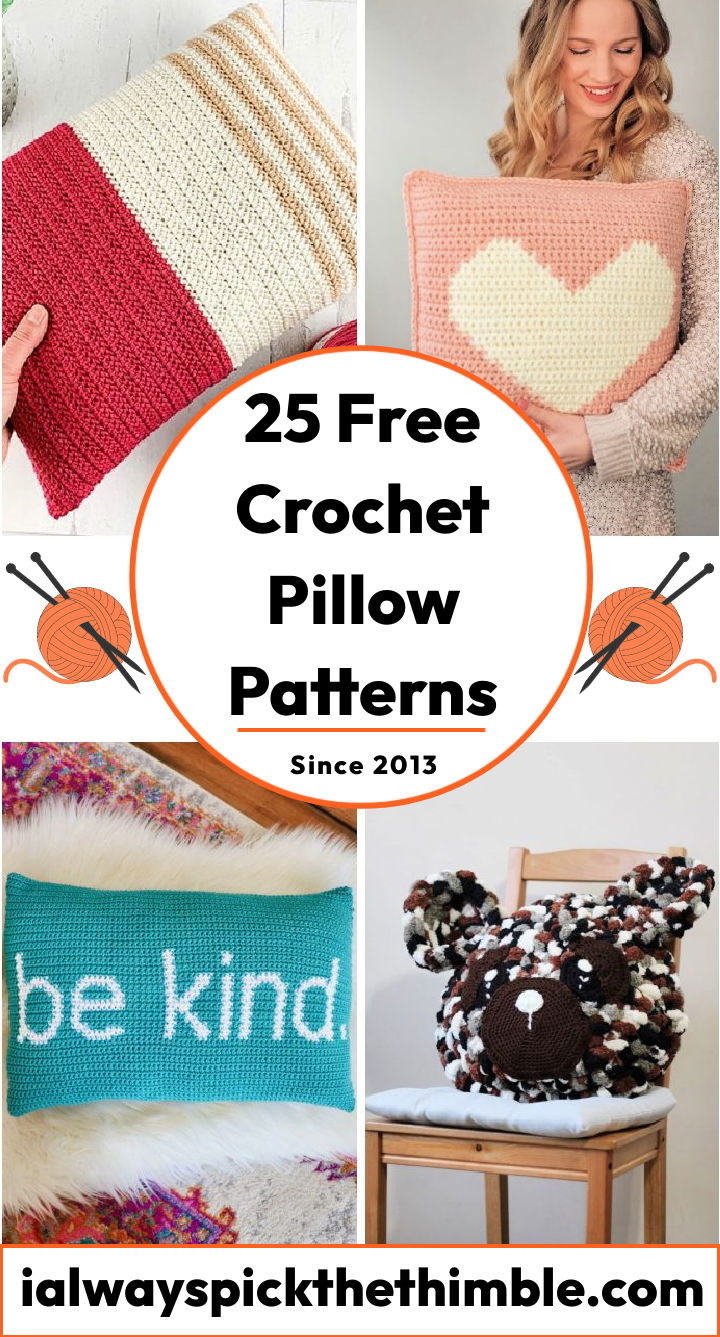 Free Crochet Pillow Patterns
With various colors, textures and yarn weights, you can easily customize these free crochet pillow patterns to match any room in the house. From modern geometric shapes to simple granny squares, lacy openwork motifs or chunky cabled pillows, there will surely be a crochet pillow pattern for everyone!
You can find free crochet pillow design ideas, including everything from modern designs to vintage classics. You'll have access to step-by-step patterns and easy-to-follow video tutorials on creating crochet throw pillows, pillow covers, cushion cases and more. Why not begin your journey into the crochet world by looking at free crochet pillow patterns available today?
Uses and Benefits of Crochet Pillows
Crochet pillows are a popular choice for many people because they are decorative and offer several practical benefits. Here are some of the uses and benefits of crochet pillows:
Decorative: Crochet pillows can add a cozy and warm touch to any room. These crochet pillow patterns are available in various colors, designs, and patterns that can be customized to suit your decor style.
Comfortable: Crochet pillows are soft and comfortable to sit or lay on. They are perfect for relaxing on the couch or bed while reading a book or watching TV.
Supportive: Crochet pillows can provide support for your back, neck, and head while sitting or sleeping. They can help prevent stiffness or discomfort and promote proper alignment.
Durable: Crochet pillows are made from durable materials such as cotton, wool, or acrylic yarn, which can withstand regular use and washing. They are a great investment because they can last for many years.
Easy to Clean: Crochet pillows are easy to clean and maintain. Depending on the material used, they can be hand-washed or machine-washed and air-dried or tumble-dried.
Affordable: Crochet pillows are affordable for adding color and texture to your decor. They can be made at home or purchased from various retailers at a reasonable price.
Handmade: Crochet pillows are often handmade, which means they are unique and unique. They can be personalized with different patterns and colors, making them an ideal gift for friends and family.
Overall, crochet pillows are a versatile and practical accessory for any home. They offer comfort, support, and style while easily cleaning and maintaining. We have 25 beautiful and free crochet pillow patterns below that suit your needs and preferences.
1. Free Crochet Be Kind Pillow Pattern
Looking for a modern, simple home decor item that fits any style? Look no further than this free crochet be kind pillow pattern! It's fun to make, has great texture and looks pretty cute – perfect for beginners. With easy-to-follow instructions and materials such as US G/4.00 mm crochet hook, 24/7 cotton yarn and 12″ x 20″ pillow Inserts, you can create the perfect gift or addition to your own home in no time. So get creative with the free crochet be kind pillow pattern today! cozynooksdesigns
2. Cute Crochet Bulky Love to Cuddle Pillow Pattern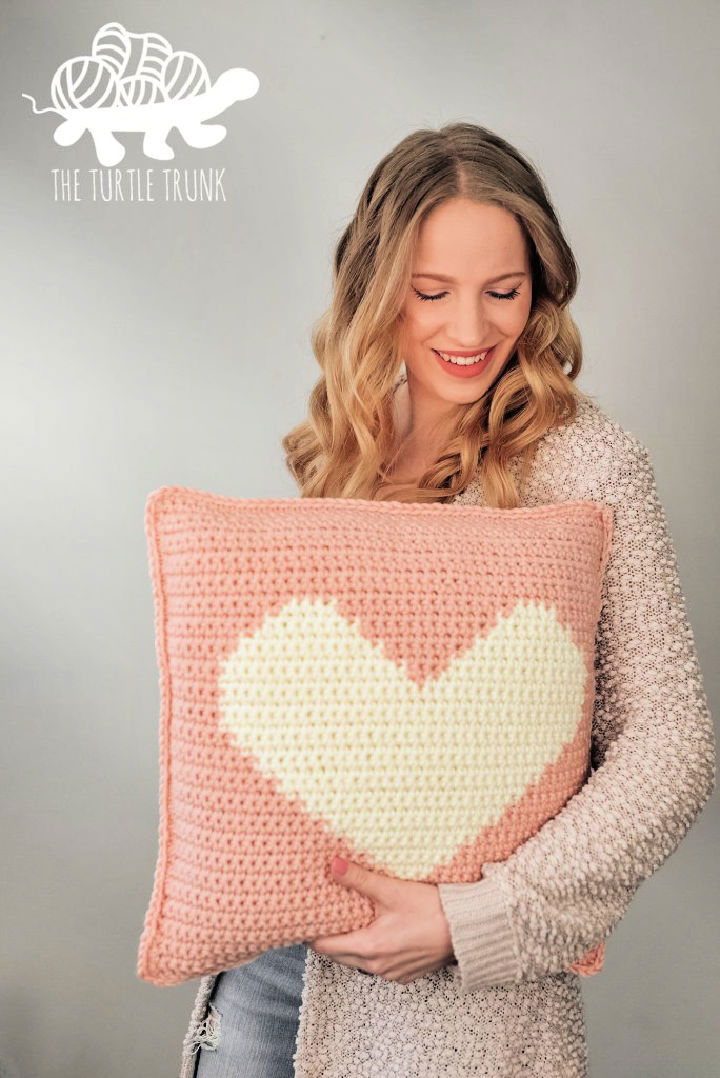 If you want to express your love, why not make this bulky crochet love-to-cuddle pillow pattern? The square pillow has a faux fur heart in the center and is so soft and fun. Perfect for gifting or making it an addition to your own home décor. Advanced beginner/Intermediate level with video instructions included. Supplies needed: lion brand yarn hue + me, 6.50 mm (K) Hook, 16" x 16" pillow insert, yarn needle & scissors. Works up faster and easier than you think! So grab some yarn today & get crocheting! theturtletrunk
3. Crochet Bobble Stitch Pillow Covers Pattern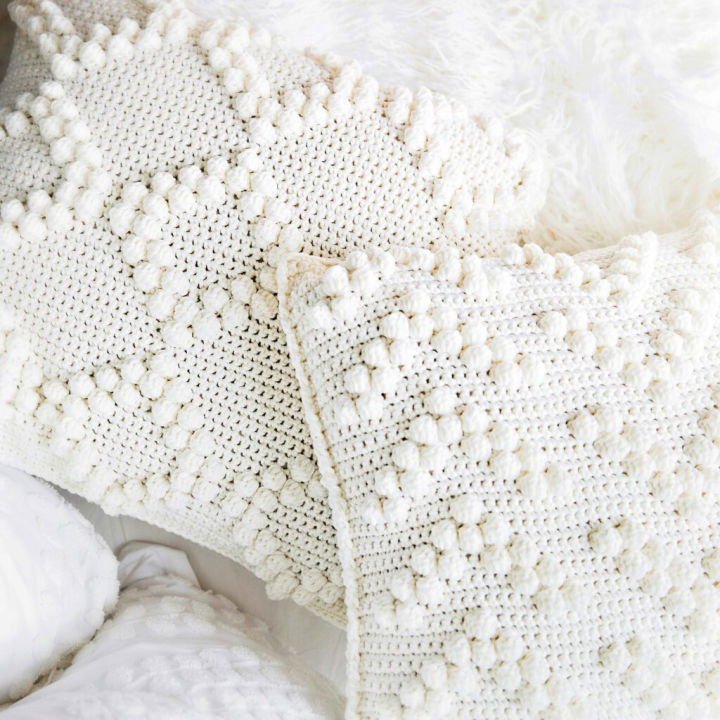 Create the perfect home décor statement with this crochet bobble stitch pillow covers pattern! This project is easy and fun to make, making it a great gift idea or enjoyable afternoon activity. The eye-catching design will look adorable in your living space, and the included instructions are easy to follow for even beginners. All you need are a size 7 (4.5 mm) crochet hook, knit picks, swish bulky weight yarn, scissors, two 20" X 20" pillow forms and a yarn needle to weave in ends. Start stitching today! leeleeknits
4. Classic Crochet Sherpa Pillow Pattern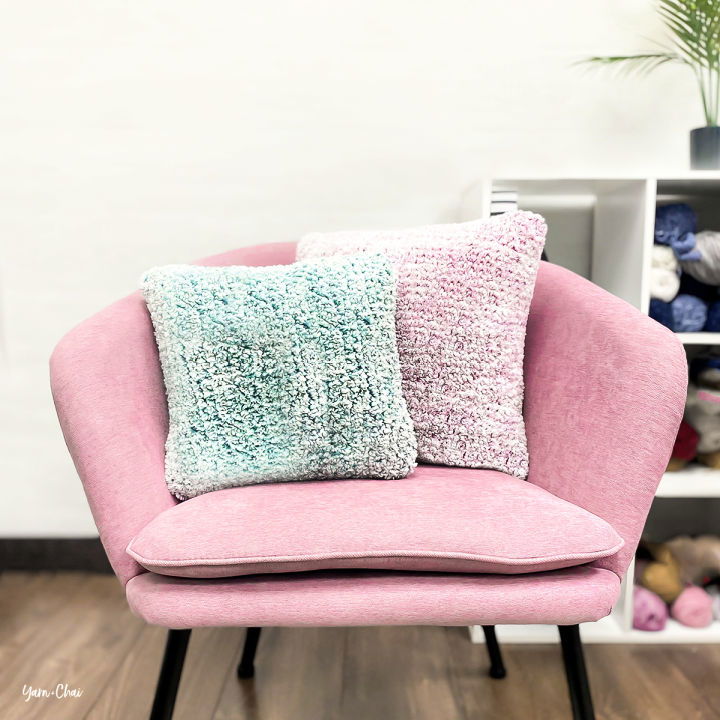 These classic crochet sherpa pillows are so soft and plushy that you won't be able to stop at just one! With a simple pattern, they work up quickly and look beautiful with the fun texture of big twist sherpa yarn. They're comfy, adorable and easy to make – follow step-by-step instructions for your own in less than an hour. All you need is a 9.0mm hook, 12″ or 18″ pillow insert & yarn needle for weaving in super bulky yarn. Get ready for the coziest time of your life! yarnandchai
5. Crochet Cozy Teddy Bear Pillow – Free Pattern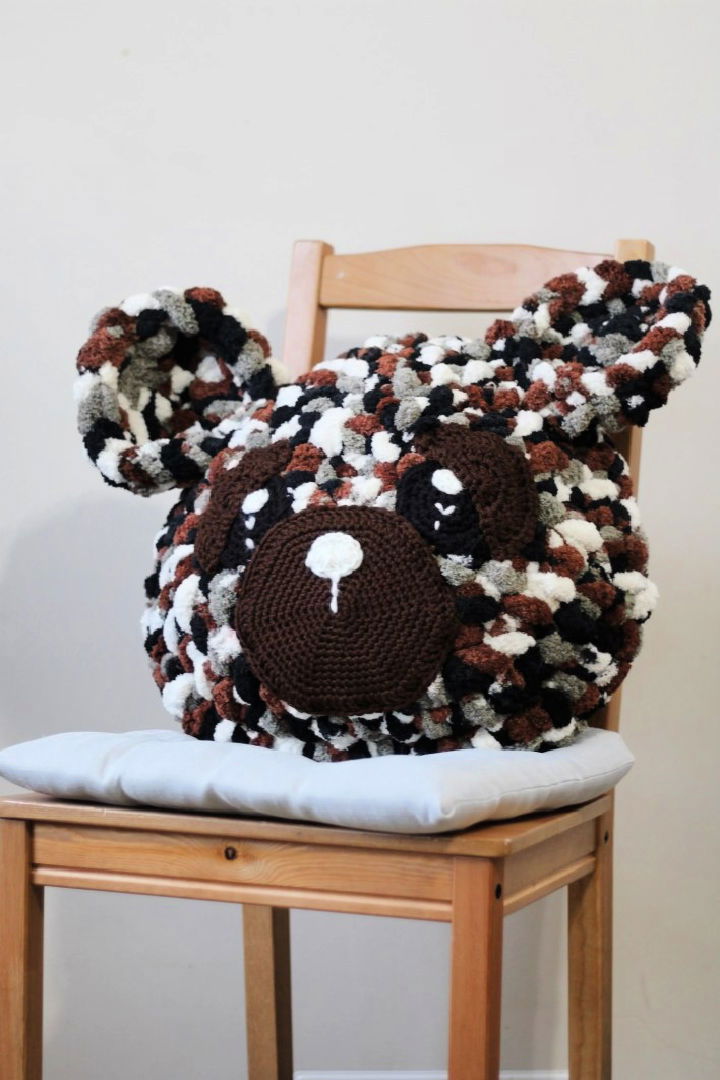 Looking for a fun and beginner-friendly project? Make this adorable crochet cozy teddy bear pillow pattern and add a cozy, comfy touch to your home décor! Beautiful texture makes it easy to make even if you're just starting. All you need is US Size P (15mm) crochet hook, US Size G/6 (4.0mm) crochet hook, a yarn needle, scissors & polyester stuffing! Follow the simple instructions to create something pretty cute that'll look great in any room. cococrochetlee
6. Herringbone Half Double Crochet Pillow Pattern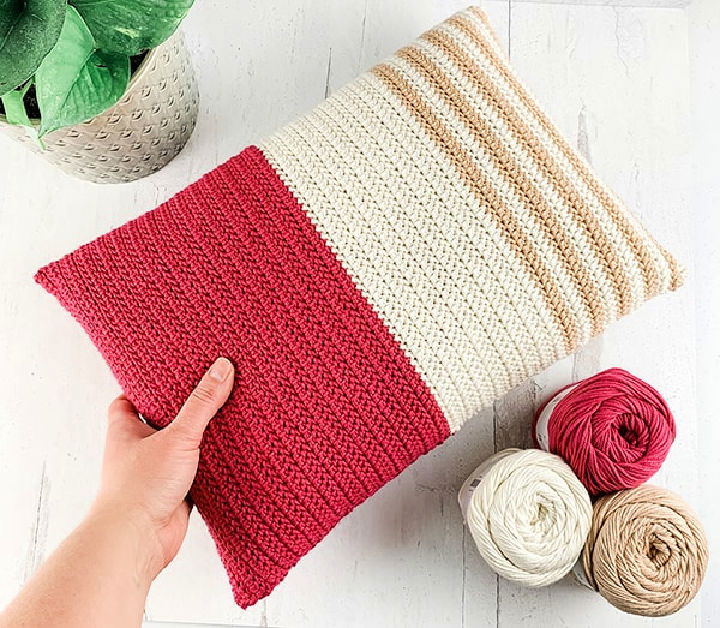 This free herringbone half double crochet pillow pattern is easy and fun to make with a beautiful color combination! The finished product looks elegant and makes the perfect handmade gift for your loved one. It also works great as home décor, bringing an extra touch of style and elegance to any room.
With clear, easy-to-follow instructions suitable for all skill levels (from Easy to Intermediate), this project will have you crocheting in no time! You'll need dishes of cotton yarn, a 4 mm crochet hook, scissors, a tapestry needle, stitch markers and a 12×16 pillow form. What are you waiting for? Get started today on this amazing project! graceandyarn
7. How to Crochet an Envelope Pillow – Free Pattern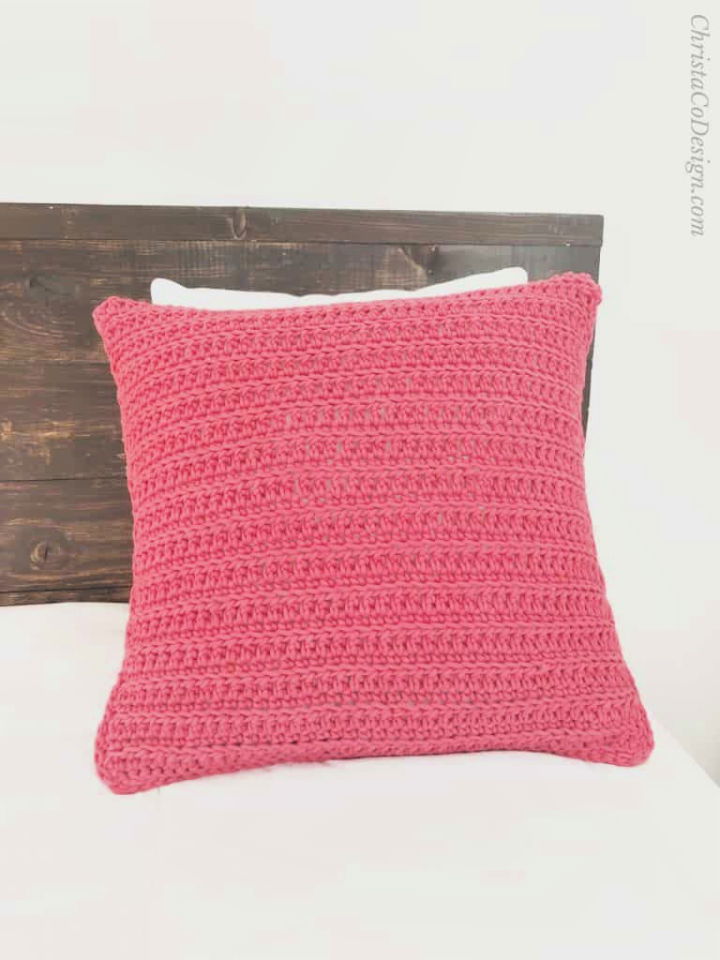 Make your own cozy piazza pillow with this easy crochet envelope pillow pattern! This removable design is perfect for around the house, and you can customize it even more by adding buttons, fringe or tassels. It's so fun to make and requires just 634 yards of #5 bulky weight yarn, an 8mm hook, yarn needle, measuring tape and scissors. Start crafting the ultimate throw pillow today – no experience necessary! christacodesign
8. Simple Crochet Farmhouse Style Pillow Pattern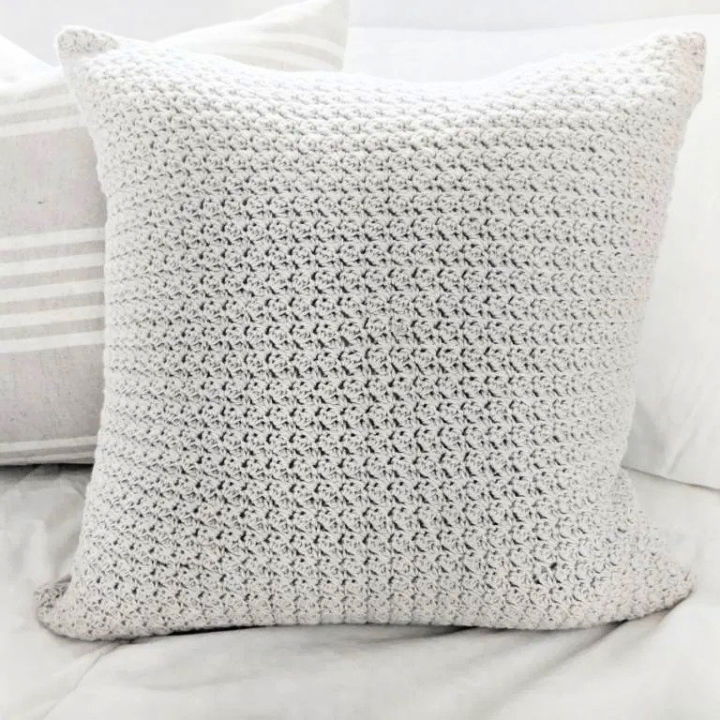 Create a cozy farmhouse-style pillow using only basic crochet techniques in one day! This pretty and beginner-friendly pattern includes detailed instructions with a video, a 4.0 mm (U.S./Size F) crochet hook, 2 balls of Yarn bee bamboo-tiful yarn plus a pillow cover, needle and thread, darning needle and zipper/tassel for decoration.
One repeat stitch pattern creates a textured design that works up quickly – you can make it bigger or smaller, depending on your preference! Get the free pattern today to create this stunning simple farmhouse-style crochet pillow for your home décor. jewelsandjones
9. How Do You Crochet the Burst of Sunshine Pillow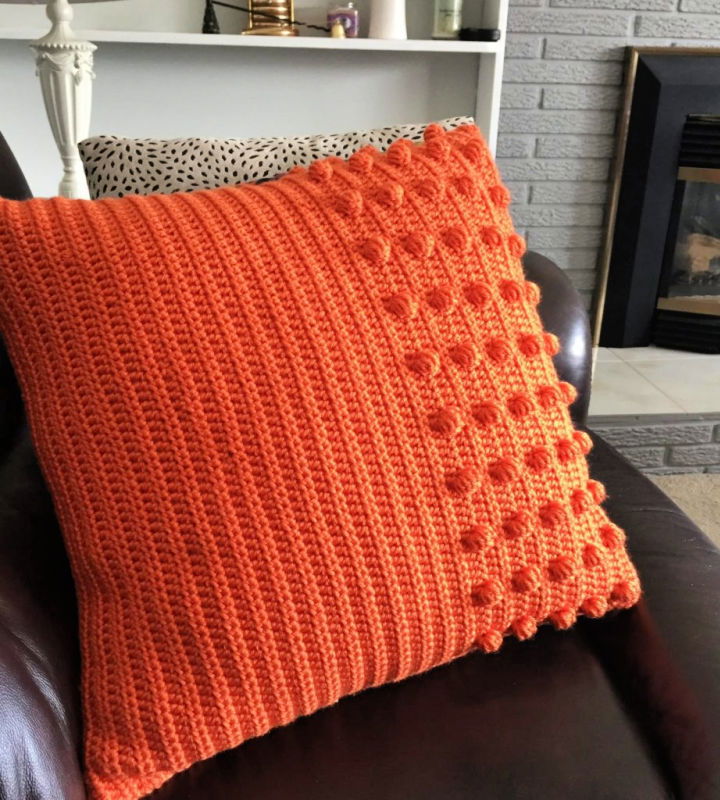 Brighten up your home with this burst of the sunshine pillow! It's a perfect budget-friendly project for adding color, texture and warmth to your living room. This super soft, cozy cover is removable, making it easy to clean. Follow this free pattern for crochet beginners, and you'll be proud of the beautiful pillow you've created! Materials needed: red heart soft weight 4 medium yarn, 18″x18″ pillow insert, 4.5mm crochet hook, 16″ zipper, sewing thread & needle and yarn needle & scissors. Start crafting today–it's sure to bring sunshine into any home! thispixiecreates
10. Love C2C Crochet Sherpa Pillow Pattern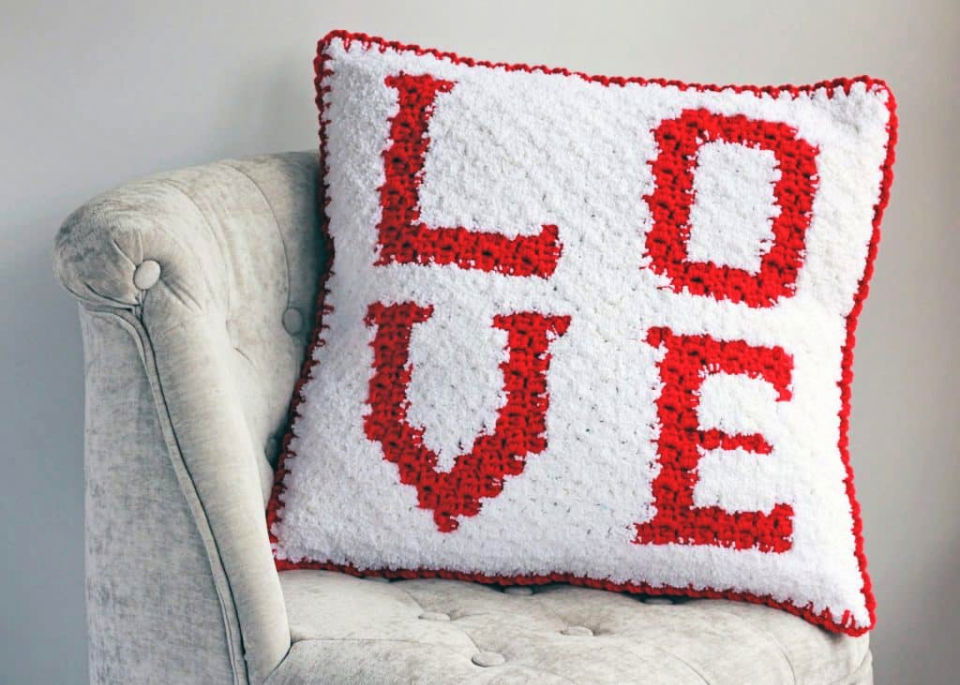 Looking for a fun and modern home accessory? Find this love C2C sherpa pillow crochet pattern from our selection of free crochet pillow patterns! Add hints of warmth to your home decor with its soft, bumpy texture that is perfect for any room. Customize it by adding a zipper before joining the pillow together to make it removable for easy washing.
Make it as a gift or keep it for yourself – instructions are included so you can easily create this trendy piece in your own space. Supplies needed include yarn, size K/10.5 (6.5 mm) crochet hook, 1 20" pillow insert, tapestry needle and scissors – get started on crafting today & enjoy the look of this love-filled piece! nanascraftyhome
11. Pretty Crochet Interlocking Cushion Cover Pattern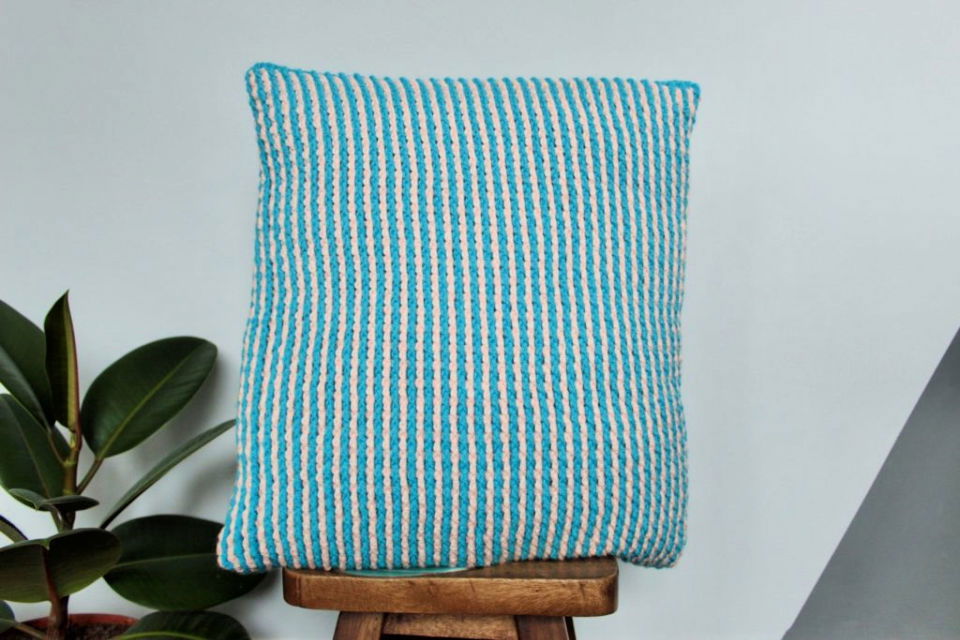 This beautiful interlocking crochet cushion cover pattern adds a handmade touch to your home's decor. This free pattern is great for gifting and looks amazing, plus it's fun to make. The instructions come with a video, so you can easily follow along! It features a soft and comfy texture that will look gorgeous in any room of your house.
All you need are some style craft special DK yarn, a 4mm crochet hook, 20cm zip, yarn needle and scissors – all the materials necessary to create this stunning finished size of 40 x 40 cm cushion cover. Add style and comfort to your space today with this creative project! bluestarcrochet
12. Free Crochet Halloween Pillow Pattern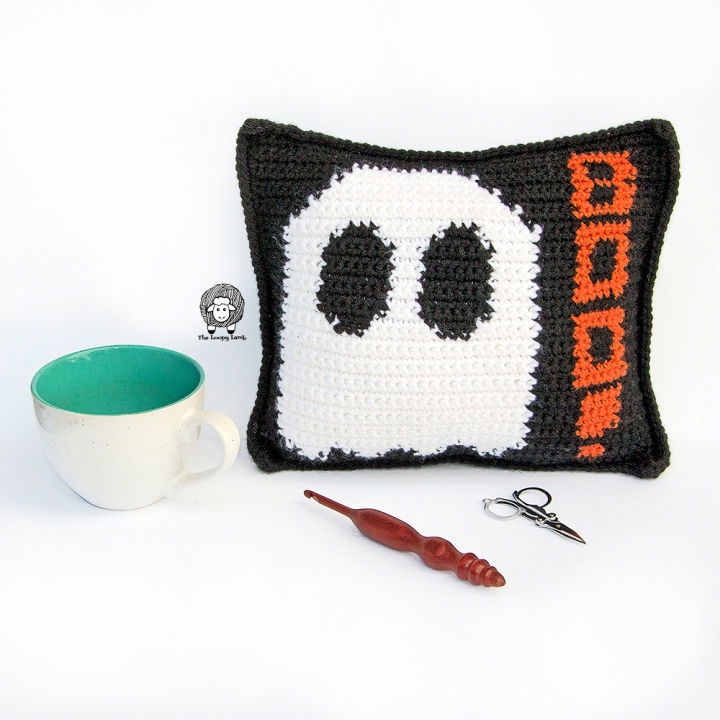 Bring some spooky fun to your Halloween decorations with this mad about boo crochet halloween pillow! Perfect for beginner crocheters, all you need is a 4.5 mm hook, red heart super saver yarn, tapestry needle and scissors – plus our easy-to-follow step-by-step instructions – to whip up this festive pillow in no time! So why not try and impress your family and friends with your unique handmade design? Intermediate skill level required. theloopylamb
13. Gorgeous Crochet Tulip Pillow Pattern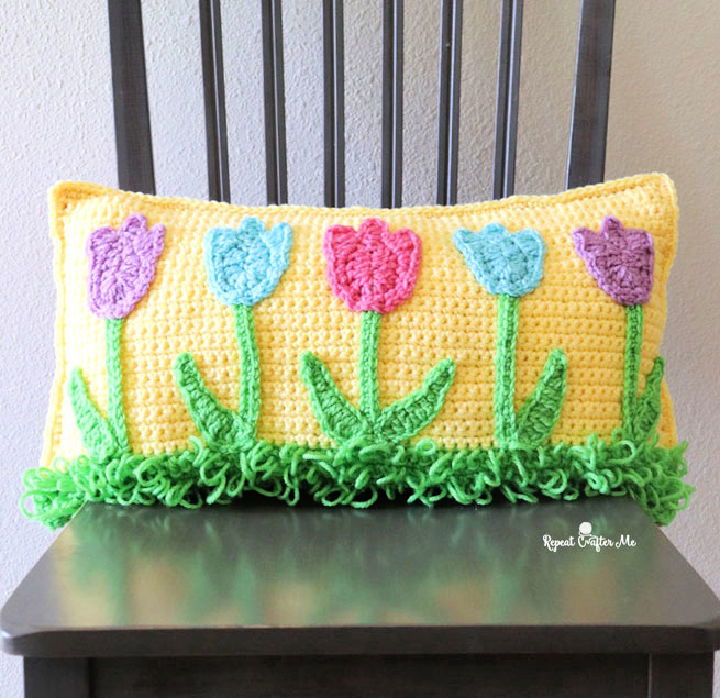 Welcome spring and summer with a cheerful crochet tulip pillow! It's the perfect gift for your mom on mother's day or a beautiful addition to your home decor. This beginner-friendly pattern is eye-catching and colorful, so you can guarantee it will look pretty cute when you are done! Materials needed include red heart super saver yarn, H crochet hook, tapestry needle, polyfill fiber stuffing — everything you need to make your own lovely flowery accent piece. Follow this free pattern to create something special today! repeatcrafterme
14. Crochet Clover Leaf Granny Square Pillow Pattern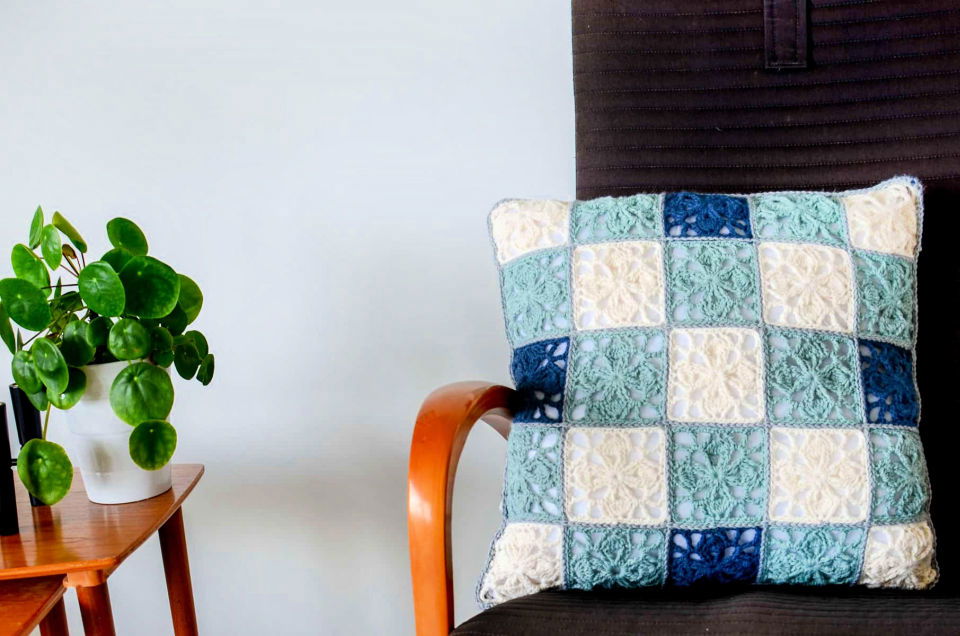 Make a unique crochet pillow with this free clover leaf granny square pillow pattern! It's super fun to make & perfect for integrating some crochet into your home decor. Make each square in one color or mix and match different shades for an interesting look. Plus, it's easy to make – you just need a 5.5mm crochet hook, lion brand yarn and a needle – making it the perfect small project for any skill level! Add this fun DIY accessory to your home today! joyofmotion
15. How to Crochet Pillowji Pillows – Free Pattern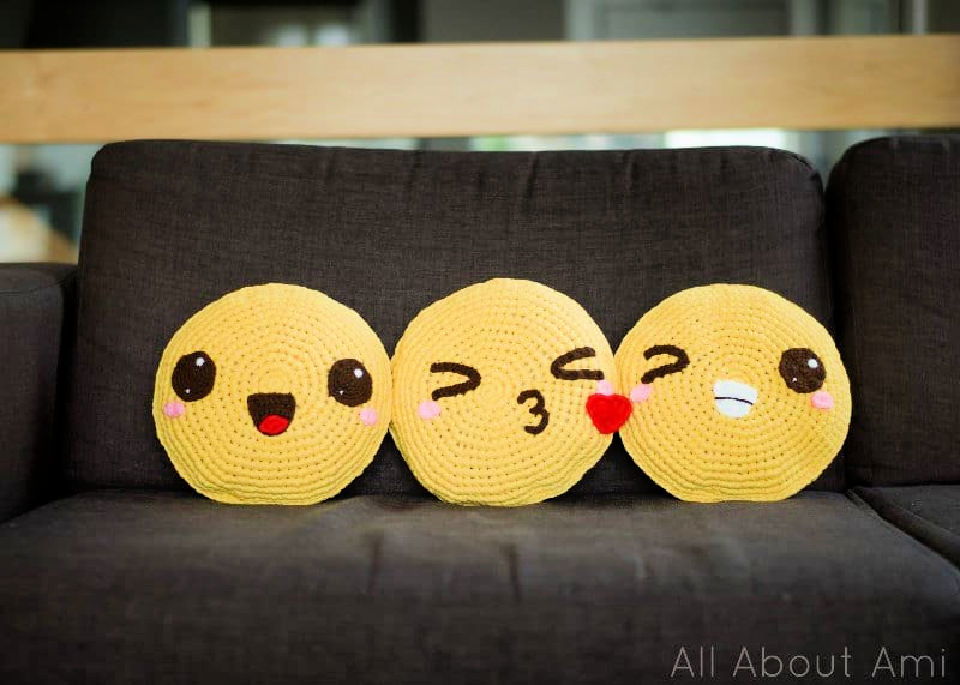 Pillowji pillows are the perfect way to add a touch of personality and style to your home decor! These playful pieces are fun, cute and easy to make with this step-by-step crochet pattern. Made using super bulky t-shirt yarn, worsted weight (level 4) yarn, 6.5 mm and 2.75 mm clover amour hook, yarn needle, fiberfill stuffing and lock ring stitch markers – these pillows will look beautiful in any room! So grab your hooks and get ready for some crafting fun – it's time to create your own unique pillowji pillows today! allaboutami
16. Crocheted Cable Diamond Pillow – Free Pattern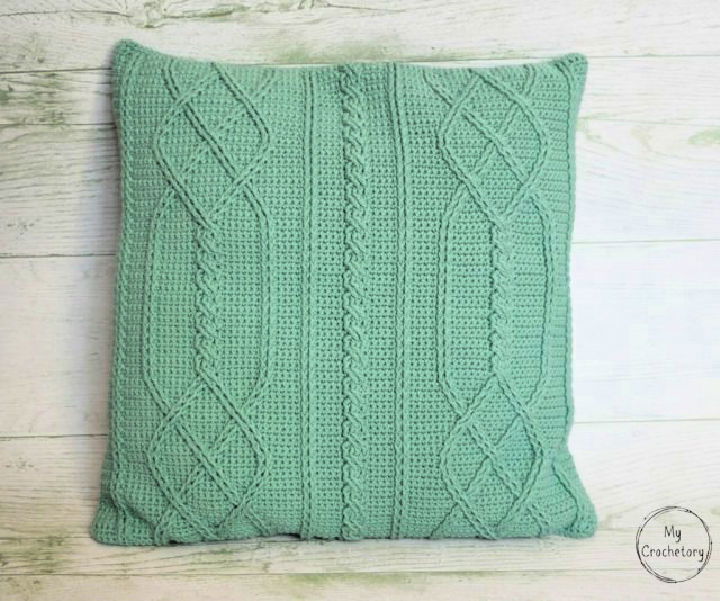 Crochet a stunning cable diamond pillow with this easy and fun pattern. You'll need 5 skeins of drops Safran, a 3.5mm crochet hook, 4 wooden buttons, a tapestry needle and scissors to complete it! The intricate intertwined design gives the traditional cable texture a modern touch while its bright shade adds color to your living space. It makes an excellent gift idea too! Follow the instructions in this intermediate-level pattern and make yourself something beautiful today! mycrochetory
17. Corner to Corner Crochet Pillow Pattern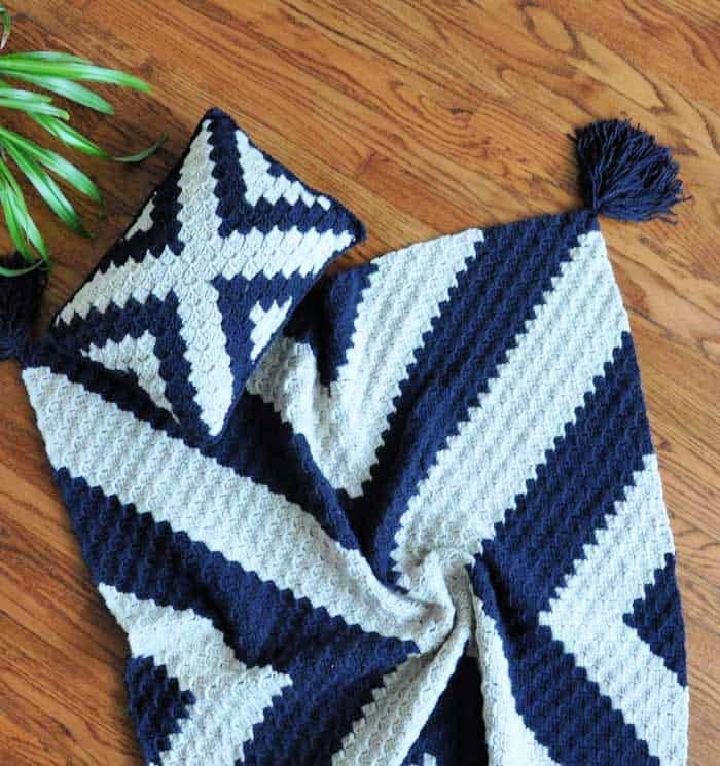 Add a modern style to your home with this easy-to-make corner to corner crochet pillow pattern. The beginner-friendly design is so fun to make and looks beautiful with its geometric boho look. Customize the color palette to fit any room in the house – from the farmhouse, boho or modern – for a unique touch that complements any interior style. All you need is lion brand Vanna's Choice yarn, size h (5.0 mm) hook, tapestry needle, stitch markers, scissors and 12″ x 16″ pillow insert for an eye-catching accent piece! makeanddocrew
18. Pretty Granny Square Crochet Pillow Pattern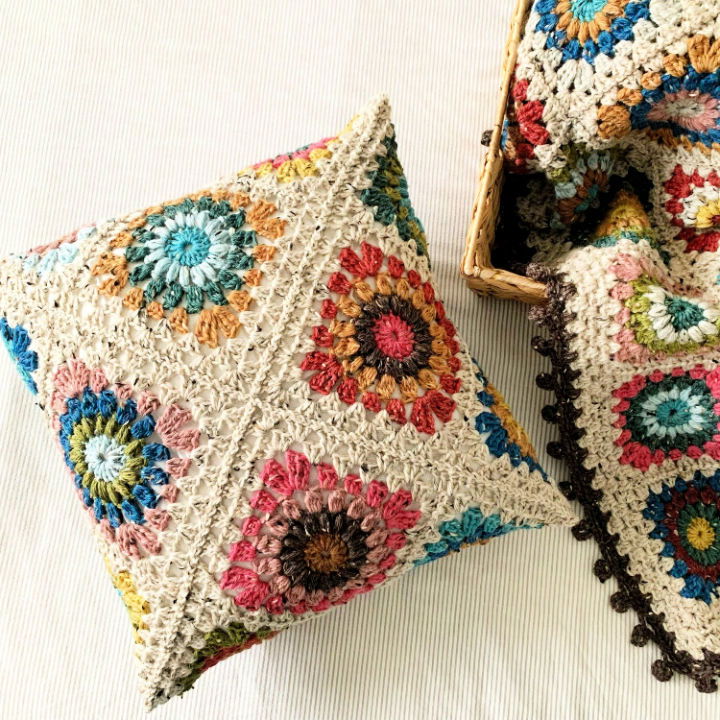 This crochet hygge burst granny square pillow pattern makes your home extra cozy. This crochet pillow is sure to add a touch of elegance and fun texture to any room, while its bright colors make it an eye-catching decoration for any space. Perfect for gifts or just to keep in your home, this pattern is easy to follow with the instructions and materials list, including a US 5.0mm crochet hook, washable pillow form (18×18") and needle for weaving in ends. Create something beautiful today! nautikrallcrochet
19. Mosaic Crochet Throw Pillow Pattern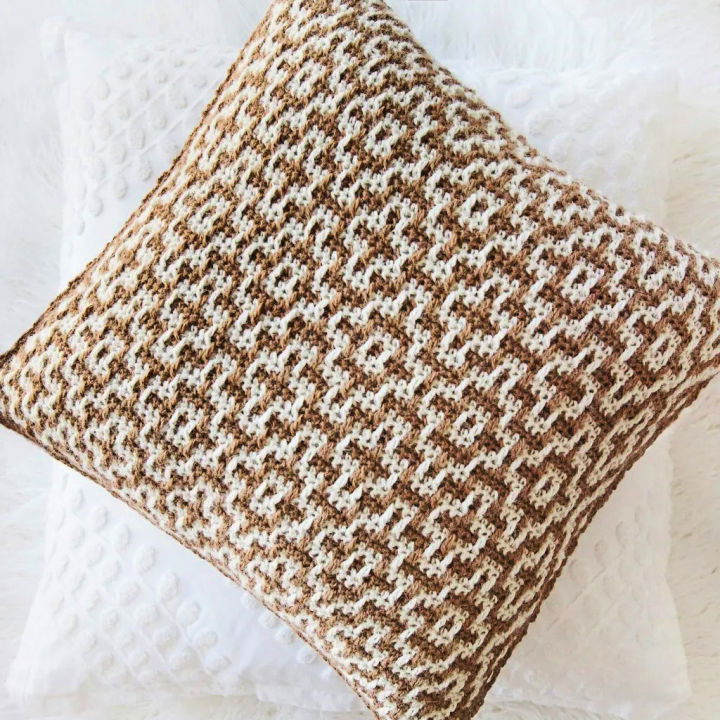 Enhance your living space with this free mosaic crochet throw pillow pattern! Create a stylish accent pillow easily and quickly. This beginner-friendly project is fun and adds a hint of desert elegance to any room. The brushed, fuzzy texture makes the cover extra cozy while looking stylish.
Step-by-step instructions are included along with the necessary supplies: size 7 (4.5 mm) crochet hook, we crochet/knit picks simply alpaca aran Yyarn, scissors, 20" X 20" Pillow Form, and measuring tape. Don't miss out on this amazing opportunity – get started on your new accessory today! leeleeknits
20. Basic Crochet Square Button Pillow Pattern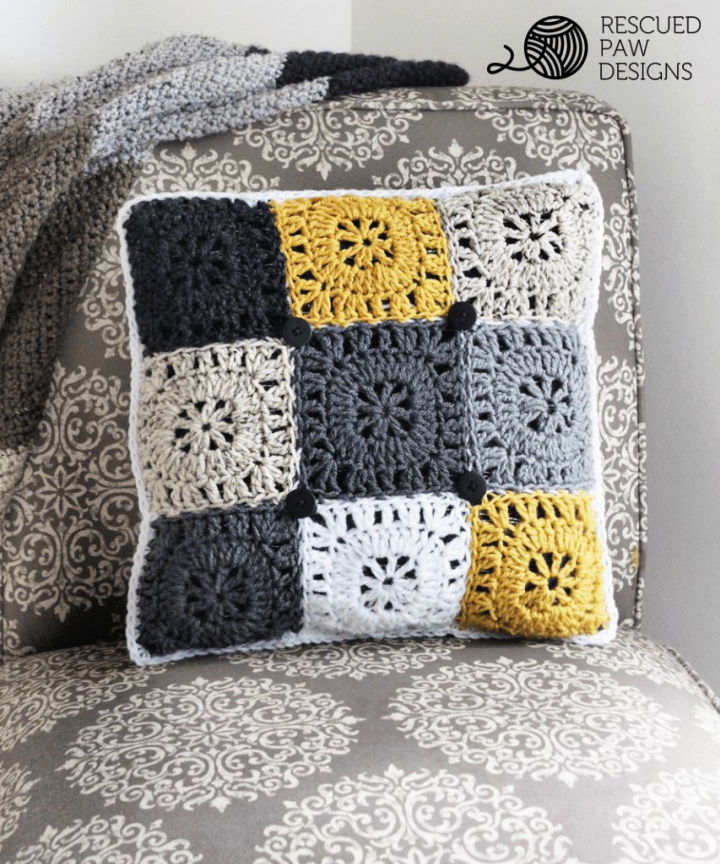 Need more creative crochet pillow patterns? Create a unique, handcrafted piece for your home with this basic pillow crochet pattern. With step-by-step instructions, even intermediate knitters can easily make this beautiful pillow using simple stitches and any color combination of scrap medium-weight yarn (4). The finished 15×15″ (38×38 cm) crochet pillow would look great in any room, and the four one-inch buttons add an extra special touch. Get creative – start crocheting today! easycrochet
21. How to Crochet Textured Pillow – Free Pattern
Don't settle for generic pillows in your living space, add a touch of handmade coziness with this free crochet pattern for the simple textured pillow! It looks great and is designed to be removable and adjustable, so you can wash or replace the cover or adjust it to fit any size pillow form.
All you need is a 9.0 mm crochet hook, yarn needle, scissors 4 skeins of lion brand wool-ease thick & quick yarn, plus an 18″ x 18″ pillow insert and 2-3 buttons with sewing thread – everything else is included in the pattern! Make something special today & start crafting your own unique textured pillow! thispixiecreates
22. Crochet Basic Throw Pillow – Free PDF Pattern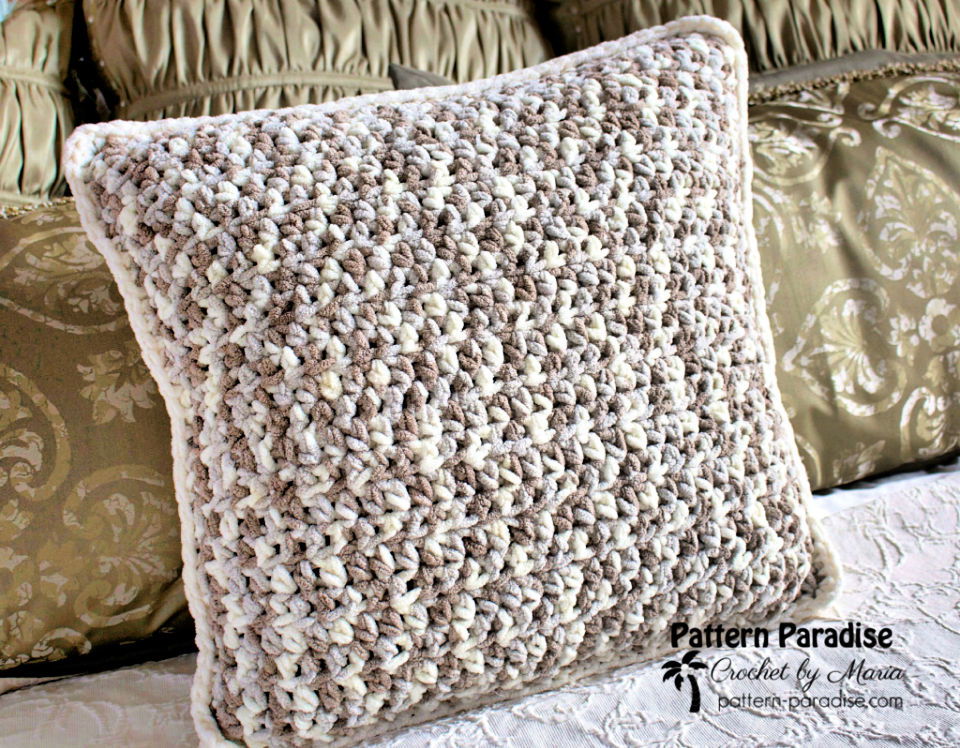 Looking for an easy and fun way to make a decorative throw pillow? Check out this free crochet basic throw pillow pattern! Perfect even for beginners, it's so simple yet looks elegant. The best part? You'll have it finished quickly, as the instructions are beginner friendly and easy to follow!
With Bernat super bulky blanket yarn, hook M/9.00 mm, pillow form in the desired size and yarn needle with a large eye for weaving ends, you can create a soft and comfy addition that makes a great gift idea. Get creative – add your own personal touch of color or design – and enjoy your cozy handmade decoration! pattern paradise
23. Free Crochet Bacon and Eggs Pillow Pattern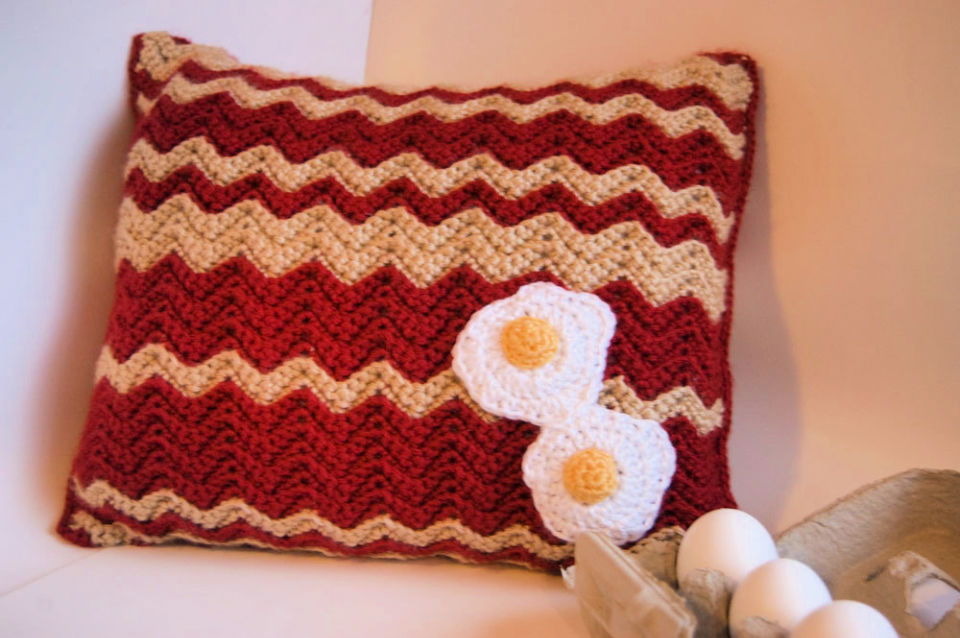 This free crochet step-by-step pattern teaches how to make a unique ooak pillow! With the included chart, many photos, and a video tutorial, you can easily create your own bacon and eggs pillow. All you need is Caron simply soft yarn in Autumn red, bone, white and sunshine, plus a 12″ x 16″ or 16" x 16" pillow form. Follow the notes carefully, then have fun getting creative with these colors to give your project a one-of-a-kind look! Get started today and craft something special – download now for free! mooglyblog
24. Cool Crochet Flower Pillow Pattern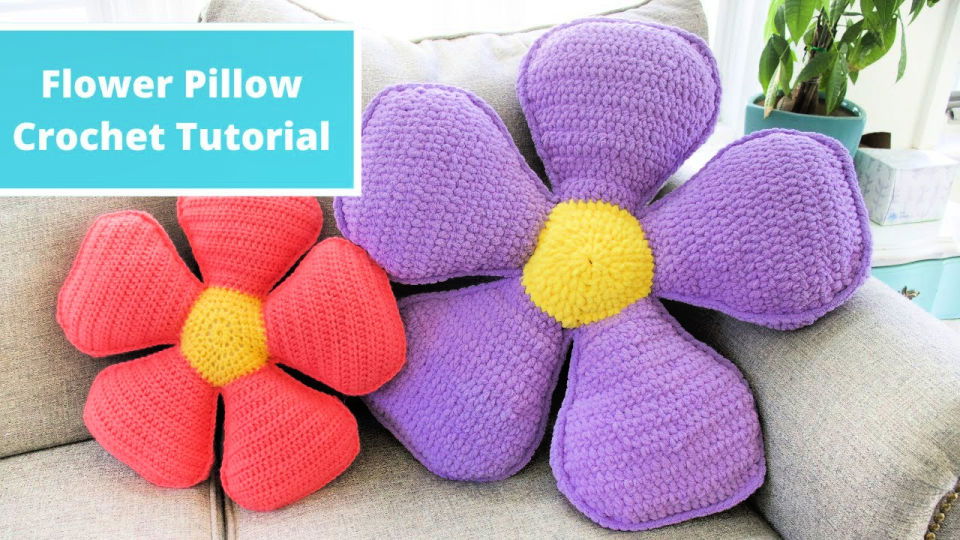 Make your home look amazing and stylish with a handmade crochet flower pillow! This free pattern is so fun to make, and the great texture from the Bernat blanket will add beauty to any room. Plus, you get step-by-step instructions on how to make it, along with the materials needed: 3 skeins of Bernat blanket in purple, 1 skein of Bernat Blanket in Yellow, a 6.5mm crochet hook and polyfill. Whether you're making this for yourself or as a gift idea – it's sure to be a hit! Get started now crafting this unique decorative piece for your home.
25. Crochet Throw Pillow – Step-by-Step Instructions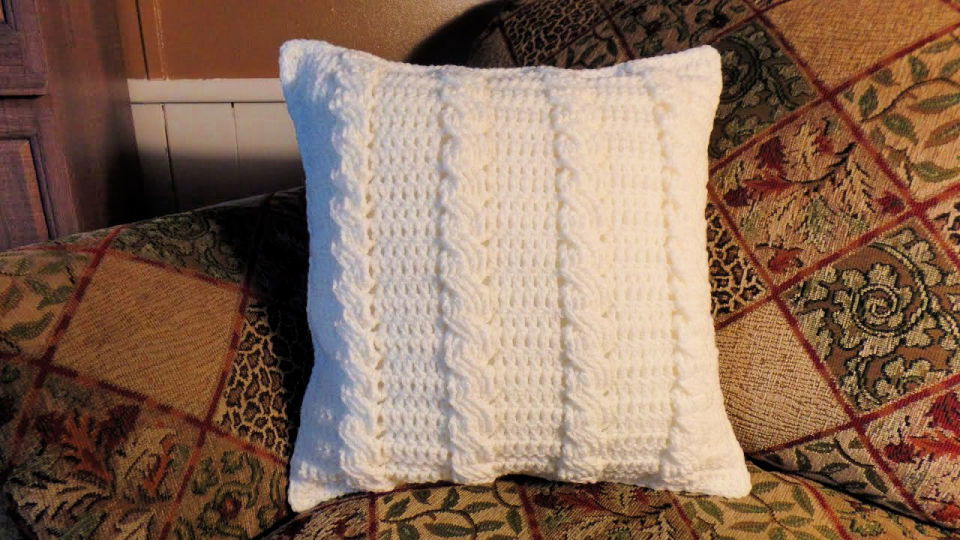 Make your home cozier with a handmade and adorable crochet throw pillow! This free pattern is perfect for beginners, with step-by-step instructions. You will need yarn, a 5mm crochet hook, fiberfill stuffing and a pillow insert. Surprise your loved one by crafting this comfy gift that looks great in any room – without spending much money on decorations for the house. Show off your crocheting skills now and enjoy cozy vibes all year round!
Related Free Crochet Patterns:
Find free crochet patterns for coffee cup cozies, face scrubbies, and pumpkins! Perfect for beginner and advanced crocheters. Get inspired and start crocheting today!
Conclusion:
In conclusion, crochet pillows are a great way to inject creativity into your home decor. With our 25 free crochet pillow patterns list, you can make unique and comfortable pillows for every room. Each free crochet pillow pattern has easy guidelines with detailed instructions and diagrams – perfect for beginner and advanced crocheters. Video tutorials, pdf downloads, and lists of supplies and techniques are all included with the patterns to help you through the process. Get creative today with these free crochet pillow patterns and create personalized home decor that truly reflects your style!