Crochet baskets are a stylish and practical addition to any home. With 25 free crochet basket patterns, you can easily create unique baskets for all your storage needs. Whether you're a newbie or an advanced crocheter, you can find the perfect crochet basket pattern with easy-to-follow instructions and pdf downloads to create beautiful crocheted baskets in different styles and sizes.
From small baskets to large ones with handles, a free crochet basket pattern is suitable for any purpose. You can even make crochet gift baskets to impress your loved ones. Many free crochet basket patterns also include helpful video tutorials and stitch illustrations to make the process even easier. Whether you want to make a rustic farmhouse style basket or a colorful geometric one, plenty of easy crochet basket patterns are available below to explore your creativity.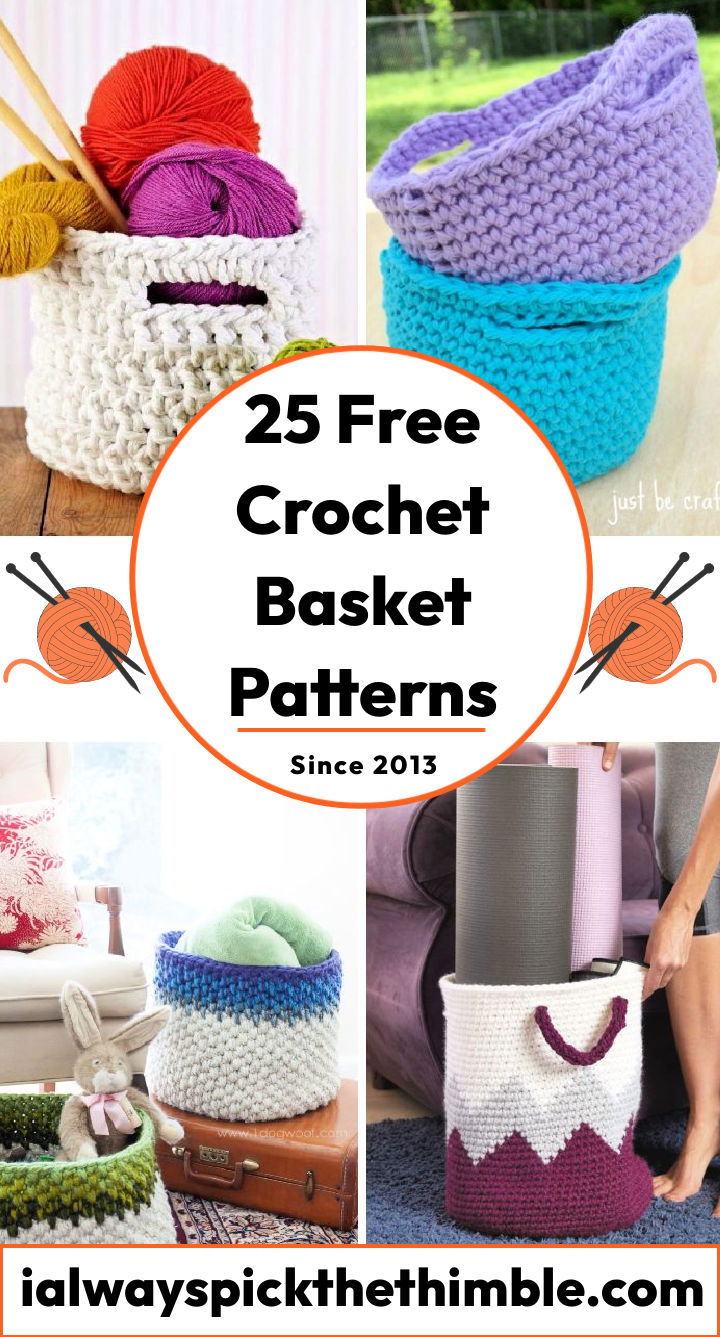 So why not try your hand at crocheting a basket today and add a touch of elegance to your home decor? Get started with any of these free crochet basket patterns and create beautiful and functional storage-friendly baskets in no time!
1. Free Crochet Aggie Basket Pattern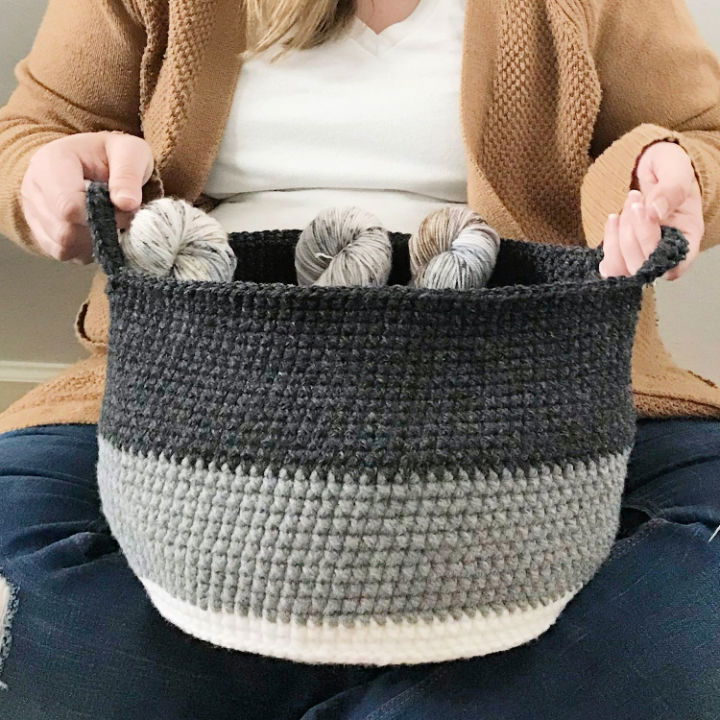 Organize your home with this simple crochet basket-free pattern! Bulky and super bulky yarn and a size 5.00mm crochet hook are all you need to do this creative project for the spring season. Perfect for storing toys, books, supplies, and more – get inspired with this free pattern today! With easy instructions and helpful visuals, anyone can master crocheting a beautiful basket quickly. meghanmakes
2. How to Crochet Basket Using Scrap Yarn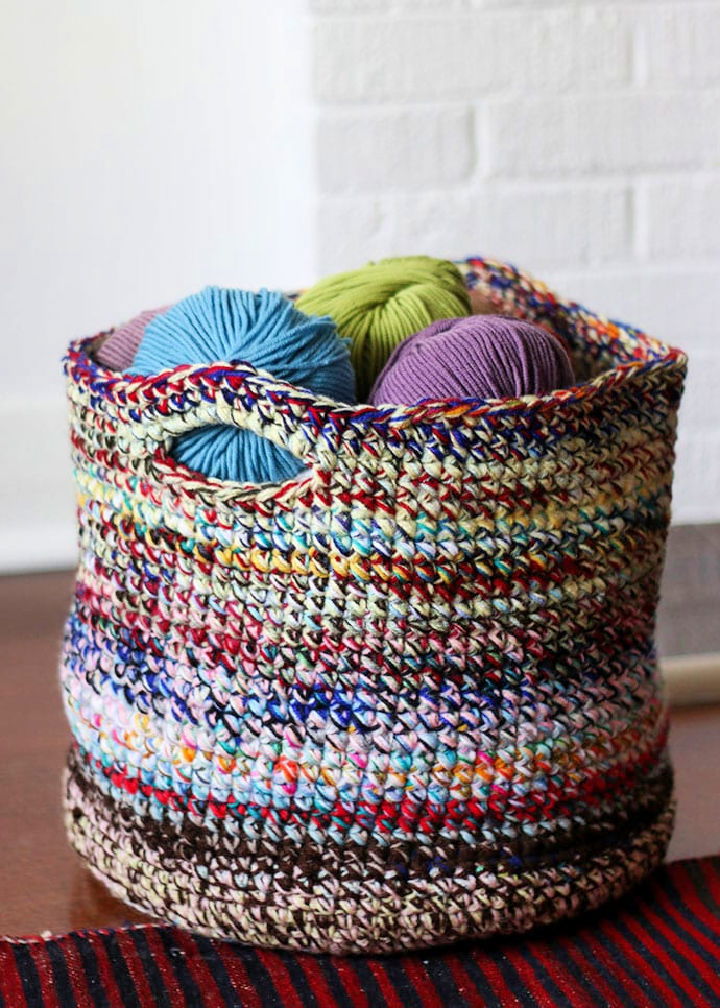 Upcycle your yarn collection with this fun scrap-busting crochet project! This basket made from scrap yarn is easy and the perfect way to use all those leftover yarn ends. All you need is a 9mm crochet hook, some spare time and lots of colorful scraps – let your imagination go wild! This crochet basket's bright colors will bring a cheerful burst of color into any home or workspace. Get creative and start crocheting today – it's the ideal crafty project for beginners and experienced makers. mypoppet
3. Best Brecken Basket Crochet Pattern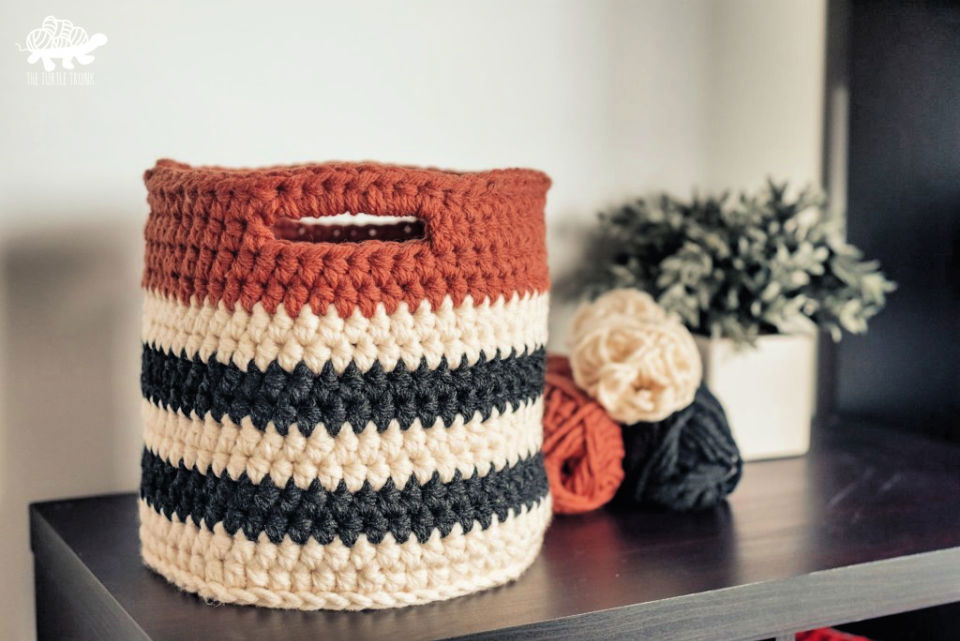 Looking for a modern, stylish crochet basket? Here is this brecken basket! This easy-to-follow pattern is perfect for beginners and creates a sturdy, beautiful basket with contrasting stripes and two side handles. The best part? It works quickly using super bulky yarn and a large hook – so it's fashionable and highly durable. Make your home look more organized with the brecken basket pattern today! theturtletrunk
4. Easy Crochet Basket Pattern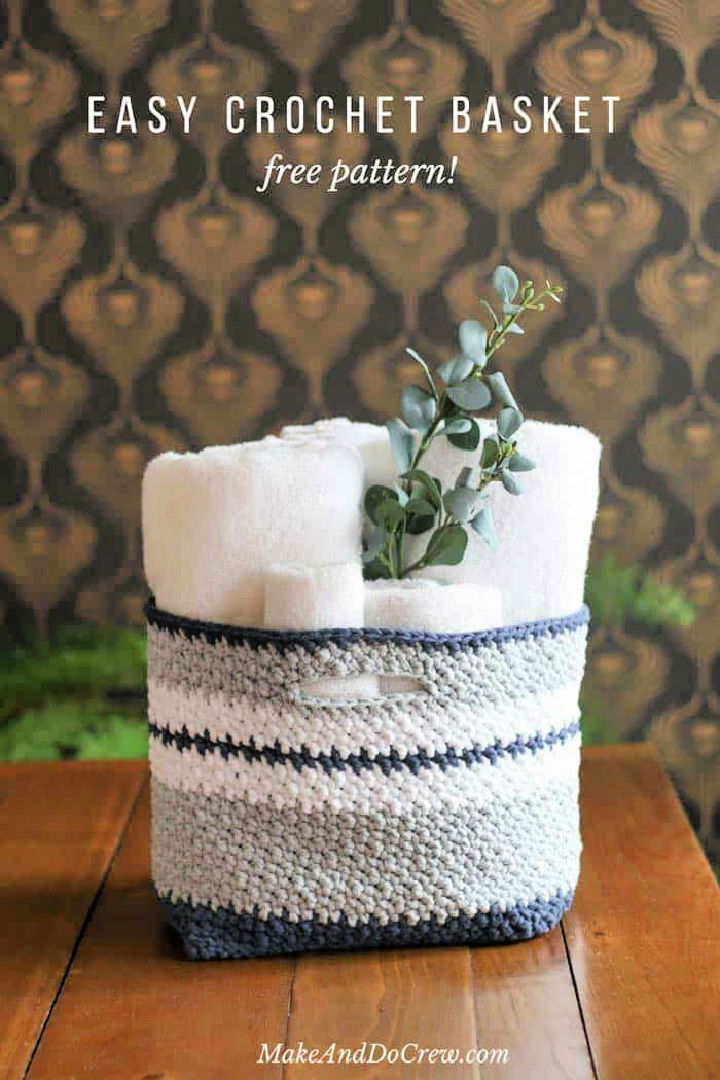 Crochet a modern basket quickly with this quick and easy crochet pattern! Perfect for holding toys, towels, toiletries or yarn – the options are endless. Make it your own by choosing whether to add handles or not. With simple instructions and clear pictures, you'll have your stylish basket made in no time! Stash away all those items that needn't be displayed with this easy crochet basket pattern. makeanddocrew
5. Crochet Large Basket With Handles – Free Pattern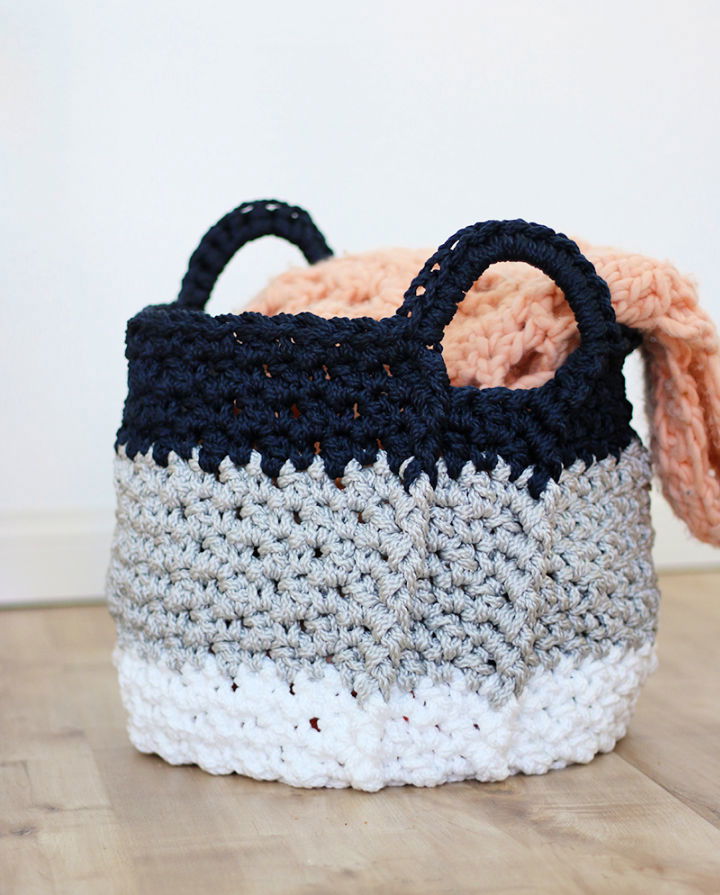 Create a stylish and functional storage solution for your home with this free crochet basket pattern! This large crochet basket features comfortable handles and is made from a 6mm braided macrame cord in white, silver grey, and navy. Crafted using a 15mm crochet hook, the project works quickly, so you can get organized without wasting too much time. Ideal for storing toys, blankets, or other items around the house – make one for every room in your home! persialou
6. Rustic Crochet Farmhouse Style Basket Pattern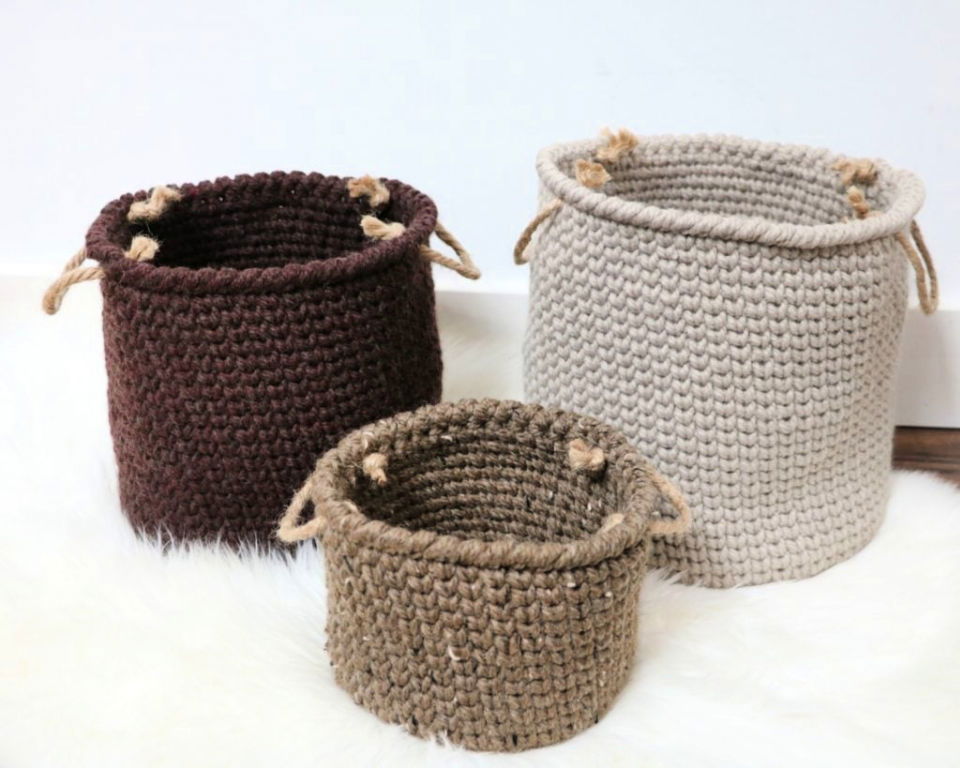 You can find crochet basket patterns to suit your style, from classic shapes to unique and modern designs! Welcome to the new free crochet pattern for a rustic farmhouse-style basket! This basket is sure to add natural beauty and charm to any home. You'll need some super bulky weight yarn, a 9-11mm crochet hook, and jute twine for added rustic flair to craft this piece. Follow along with these step-by-step instructions to create your unique farmhouse-style basket today! With its timeless look, this piece will make the perfect gift or home decor item to be enjoyed for years. mjsoffthehookdesigns
7. Beautiful Crochet Color Block Basket Pattern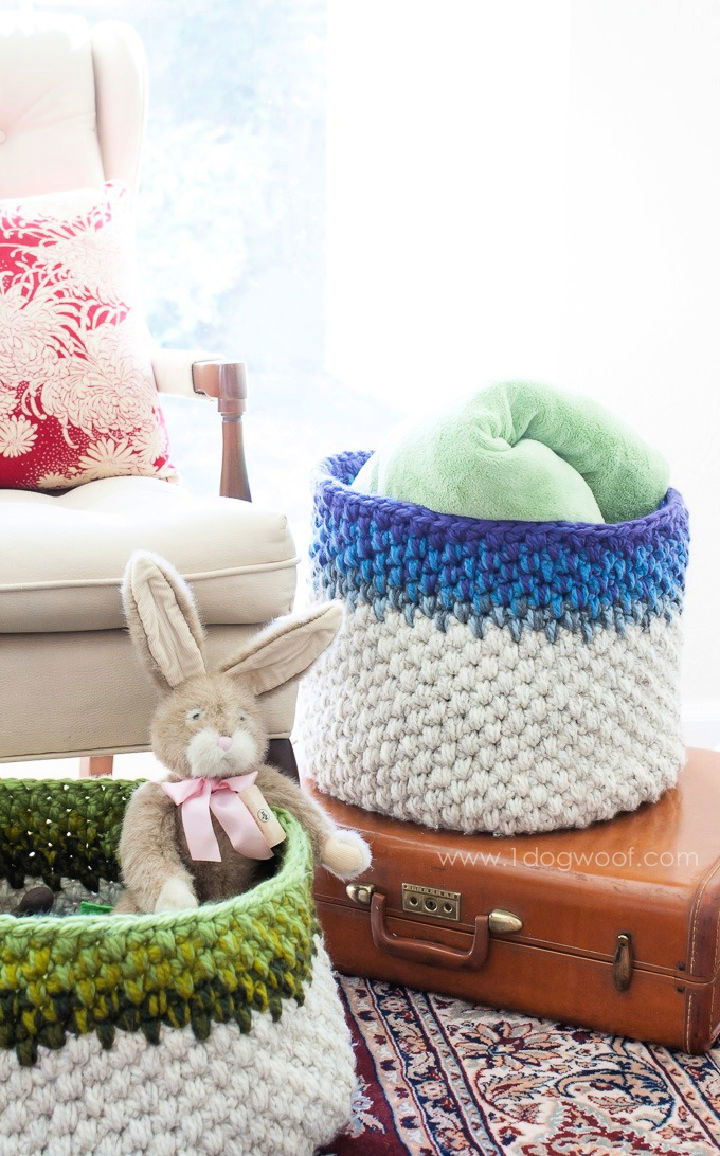 Add a splash of color to your home with this beautiful color block crochet basket pattern! It's the perfect way to keep your space clutter-free and organized all the time. You'll need 4-5 skeins of bulky-weight yarn, a 10.00 mm hook, and an embroidery needle to get started. This simple yet stylish basket is great for storing toys, blankets or anything else in your home that needs organizing. Follow the instructions to learn how to make this colorful addition to any room in your house today! 1dogwoof
8. Free Crochet Small Basket Pattern for Beginners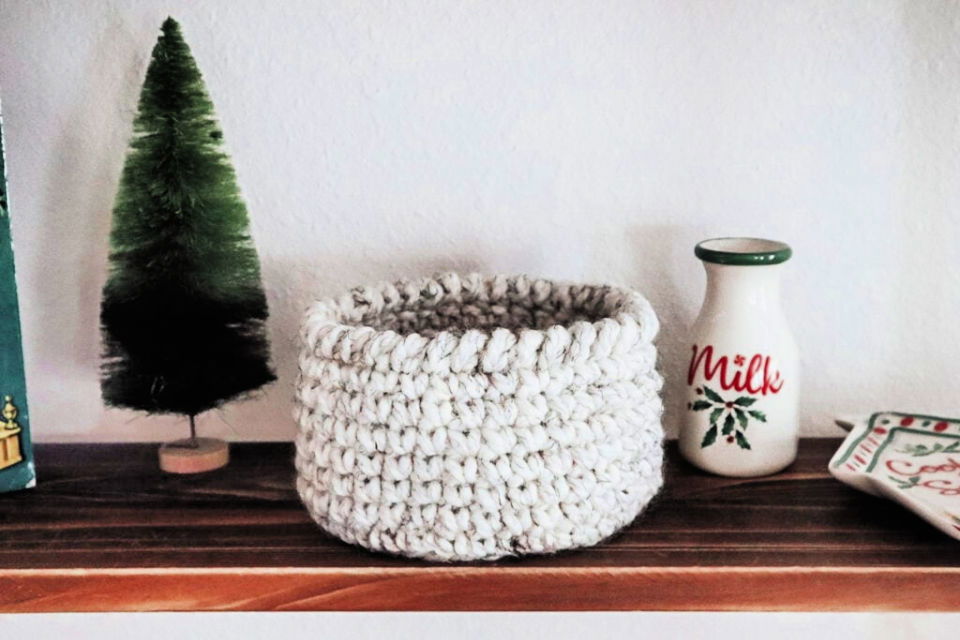 This beginner-friendly small crochet basket pattern is perfect for those wanting to learn how to crochet. This free pattern works quickly using super bulky yarn and makes the cutest catch-all decor piece. With easy instructions, even first-time crocheters can make beautiful baskets in no time! Get your hook ready and start making these lovely little baskets that are sure to be admired by all. sigonimacaroni
9. Chunky Crochet Basket – Free Pattern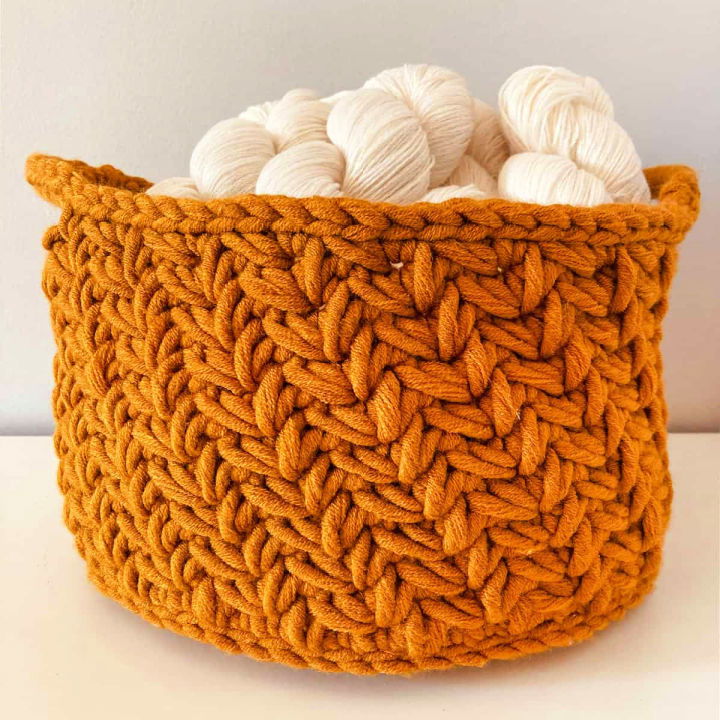 Here is this chunky crochet basket that is a must-have for any crafter! It has an amazing texture that you won't find anywhere else. Crocheting is quick since you only need a #6 bulky yarn and a 7 mm crochet hook. The free pattern provided makes the process even easier – so all you have to do is pick your favorite colors and get started! Show off your creativity with this stunning one-of-a-kind basket – make it with the free pattern today! nedandmimi
10. How to Crochet a Basket – Free Pattern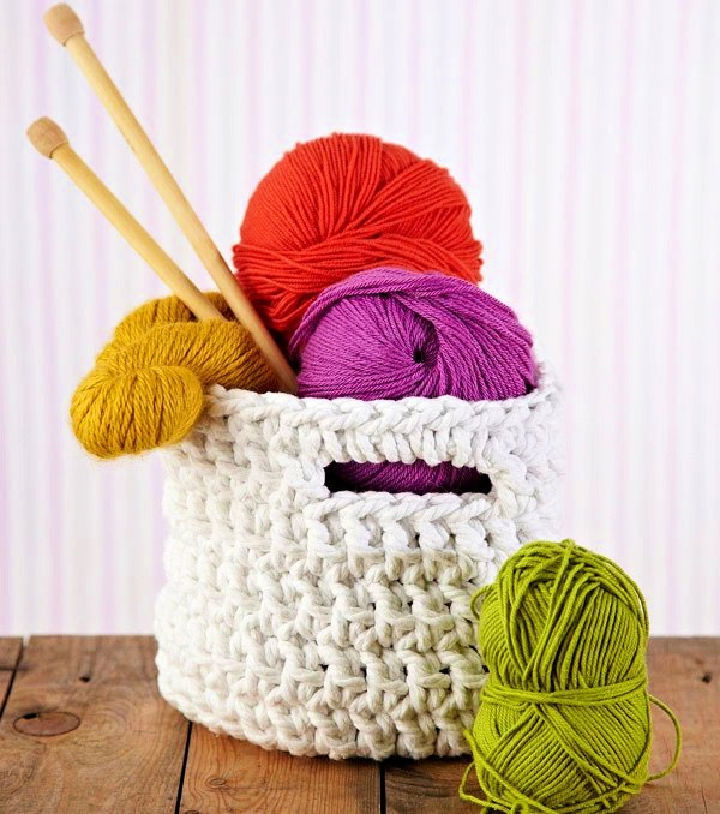 Add a touch of texture to any room with crochet basket patterns that use different types of yarns or fibers. Make your spring cleaning eco-friendly with this free crochet basket pattern! Not only will you have a stylish way to store craft supplies like wool and yarn, but it's also great for repurposing recycled cotton cords. All that you'll need is just a 10mm crochet hook and darning or tapestry needle with a large eye – so easy! Create multiple baskets in different sizes to keep all your crafting materials neat. Get creative and make the perfect handmade storage solution today! gathered
11. Unique Crochet Mosaic Basket Pattern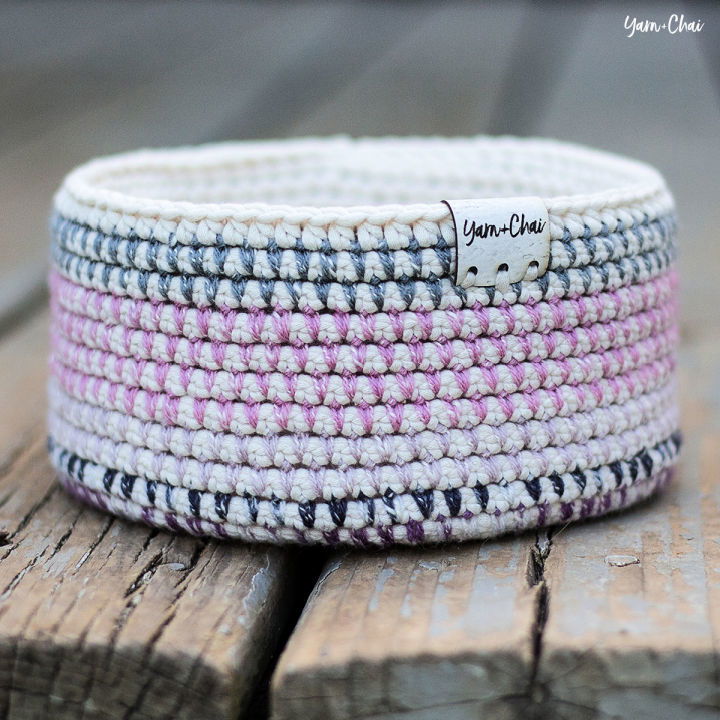 Design a beautiful and unique mosaic basket with any weight of yarn in your favorite colors! This easy project requires only two crochet hooks h, 5.0mm, g 4.25mm and some plastic canvas – the perfect thing to keep your items tidy and organized! With this simple pattern, you can make baskets of different shapes and sizes depending on how much yarn you have available – start making yours today! yarnandchai
12. Simple Crochet Mini Basket Pattern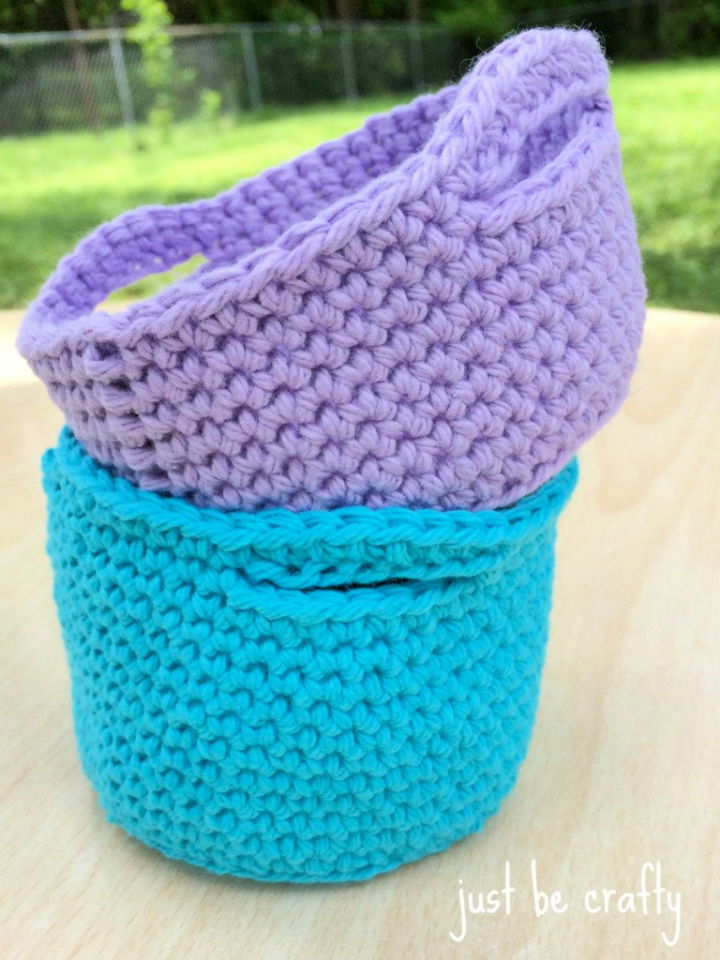 Searching for a simple, cute project to perfect your crochet skills? Check out this mini-basket pattern! It uses worsted weight 100% cotton yarn and a 4mm hook. This easy-to-follow pattern creates the perfect nightstand accessory – stores all of your ponytail holders and bobby pins in style! Choose any one color of cotton yarn to make this sweet little basket today – great for gifting or keeping it as part of your home décor. justbcrafty
13. Free Crochet Jute Basket Pattern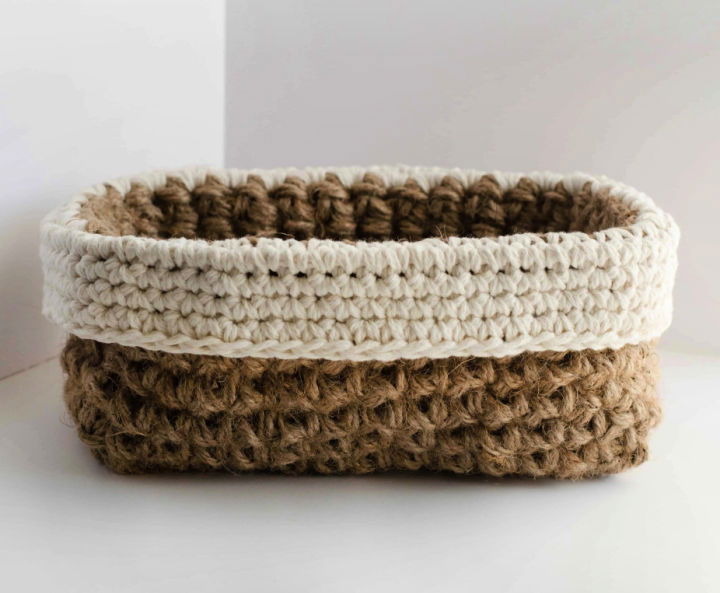 Work on this crochet jute basket pattern, which is perfect for a unique and useful gift! Make this basket with a 5.5 mm crochet hook, a 15 mm plastic crochet hook, worsted weight cotton yarn and natural jute to give as a thoughtful present. It is perfect for holding a box of facial tissues and other essential items – proving how versatile this pattern can be while bringing style and functionality together. Check out this quick, fun and easy tutorial today! crochet365knittoo
14. Crochet Geometric Basket – Free Pattern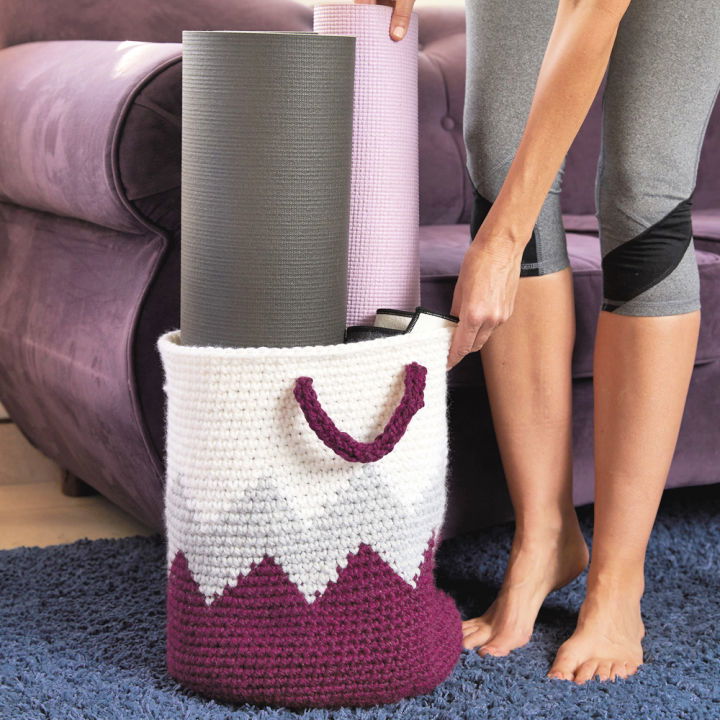 Are you looking for a creative way to store your overflowing yarn? Then crochet a stylish and durable geometric basket with this easy-to-follow pattern. This chevron design is perfect for any home's decor, and it has handles so you can easily transport it around. You can make large or small baskets depending on the size of yarn you use – try heavier-weight yarns for bigger baskets or lighter weights for smaller ones that look great displayed on counters or tables. Get crocheting today! dabblesandbabbles
15. How Do You Crochet Mini Basket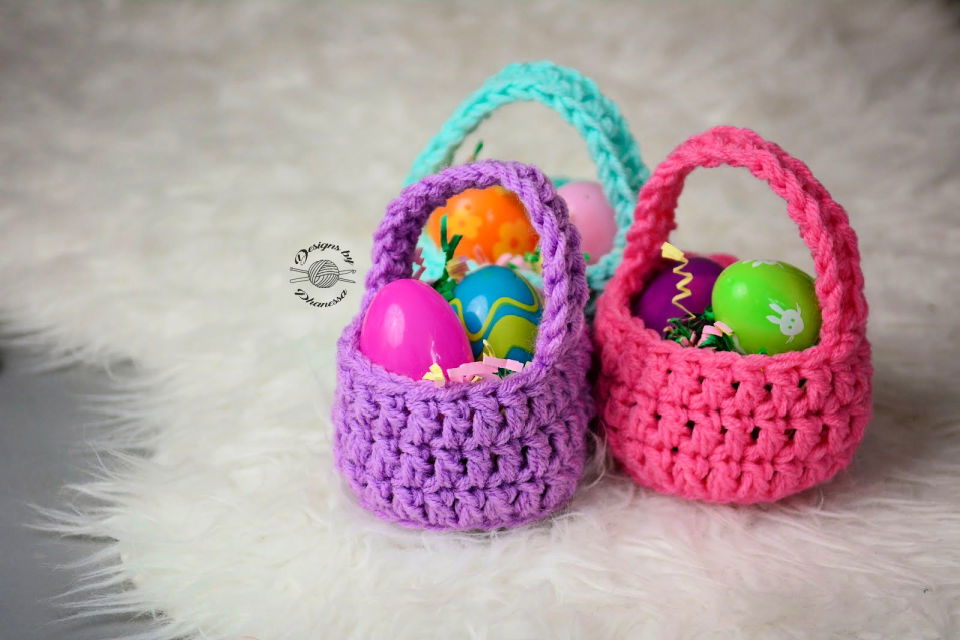 With crochet basket patterns, you can easily customize the size and shape of your crochet basket for any space. On a hunt for an easy peasy crochet project to organize your home clutter? Here is this crochet mini basket pattern & tutorial! Made with worsted weight yarn and a 9mm crochet hook, this quick and simple tutorial will have you crafting these organizational mini baskets in no time. The perfect way to give your home the organizing touch it needs without wasting too much of your precious time! Get started crafting these adorable mini baskets – they're sure to help declutter any space in style. designsbyphanessa
16. Quick and Easy Crochet Mini Basket Pattern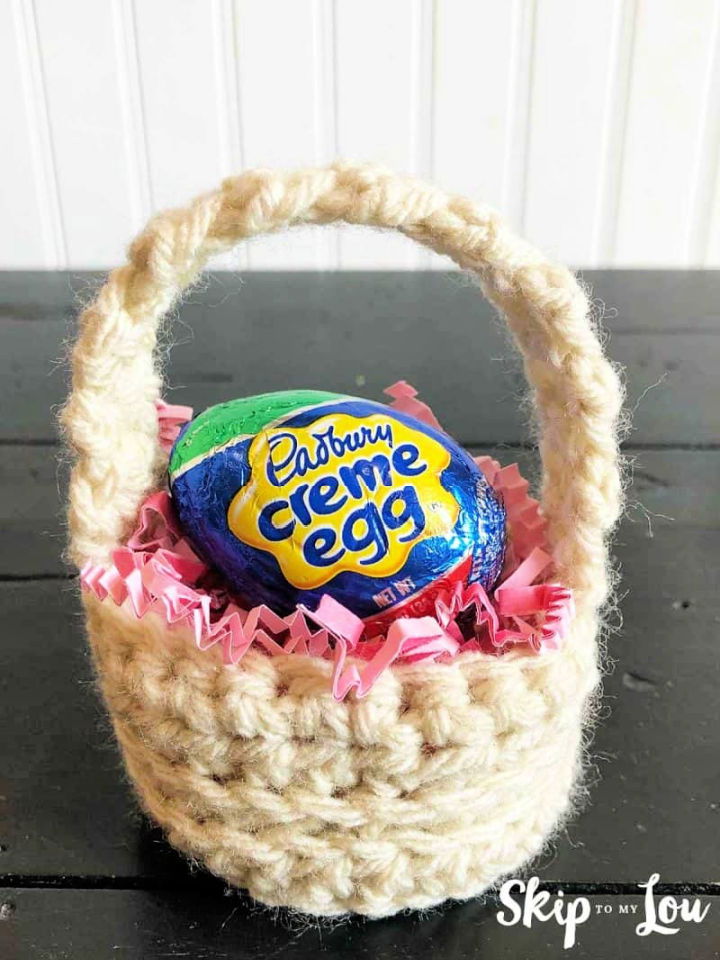 Whip up this cutest mini crochet basket pattern in minutes! Perfect for a beginner, you won't have to wait long before having an adorable crochet basket filled with paper grass and chocolate eggs for Easter or crochet flowers for mayday. These cute little baskets would also do a special favor for each guest at your easter dinner table. With this easy-to-follow pattern, everyone can soon create their own colorful little creations! skiptomylou
17. Gorgeous Crochet Ombre Basket Pattern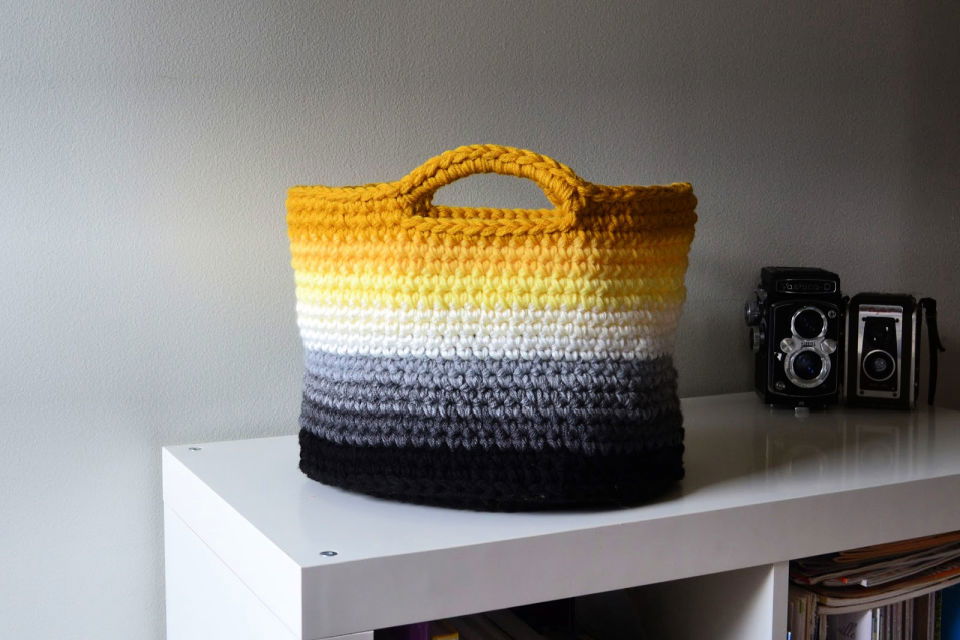 Create a stunning ombre basket with 9 colors and an impressive size! This pattern uses worsted-weight yarn to build up a crochet basket three times larger than the usual chunky baskets. With a height of 9.5 inches and a diameter of 12 inches, this will make any room pop. Plus, it's made with only one size L crochet hook for easy use! Get ready to wow your friends and family with this gorgeous ombre crocheted basket today! crochetincolor
18. T-Shirt Yarn Crochet Basket Pattern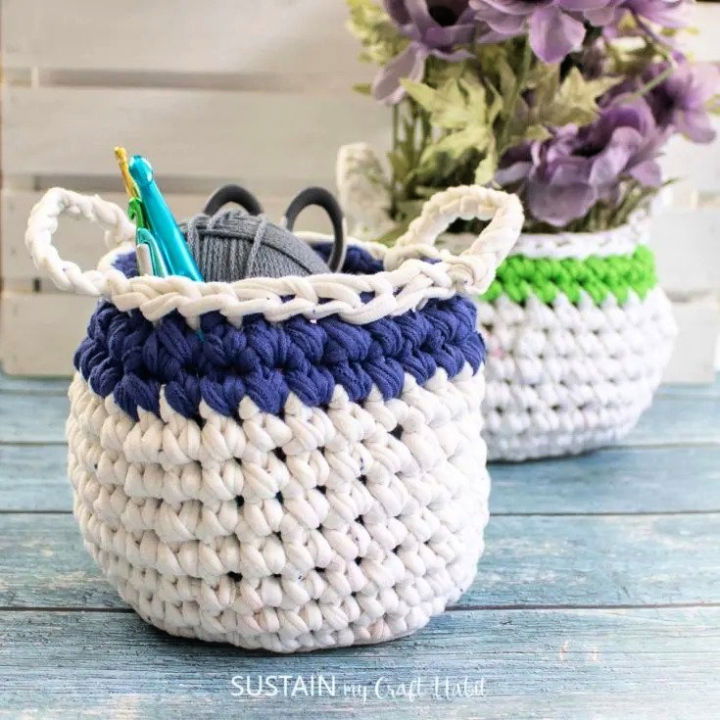 Get creative by finding crochet basket patterns that will add a unique touch to your home decor. Crochet something unique and useful with your old t-shirts! With some crochet skills, this t-shirt yarn crochet basket with a handles pattern will show you how to turn worn and stained t-shirt yarn into an adorable little basket. All you need is one t-shirt for the yarn, another in a second color, a size 10mm crochet hook and a smaller crochet hook or darning needle. Even beginners can make it – give it a go today! sustainmycrafthabit
19. Free Crochet Storage Basket Pattern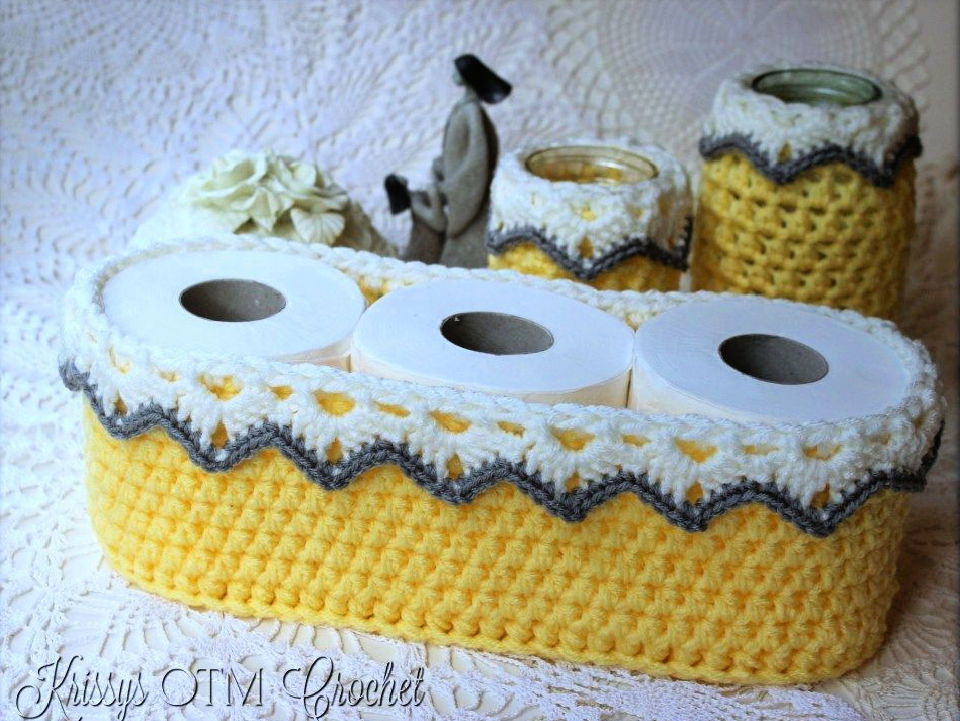 This crochet basket pattern is a beautiful and easy way to add a touch of vintage charm to any room. With two strands of yarn and one large hook, you can make this precious Victorian heirloom-style basket in no time! Use it for storage in the bedroom, bathroom or anywhere else around the house. Give your home an instant upgrade with this stylish crochet basket pattern – quick, fun and functional! krissysoverthemount
20. The Livingston Basket Crochet Pattern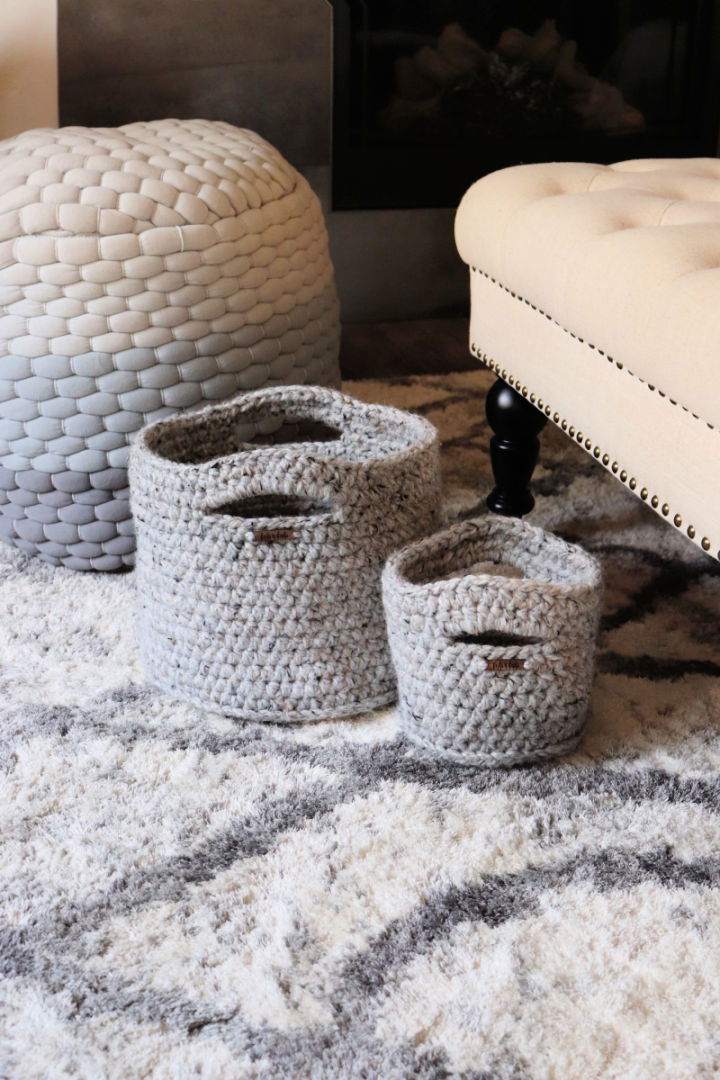 Discover the Livingston basket – a perfect, sturdy, seamless crochet basket pattern. Not only do they look cute, but they also serve an incredibly functional purpose. With countless customization options in size and color, you can create exactly what you need to match any style of décor or simply to make yourself happy. Easily customize your own livingston basket today for a beautiful accessory that's both decorative and useful! knitsnknots
21. Free Crochet Granny Square Basket Pattern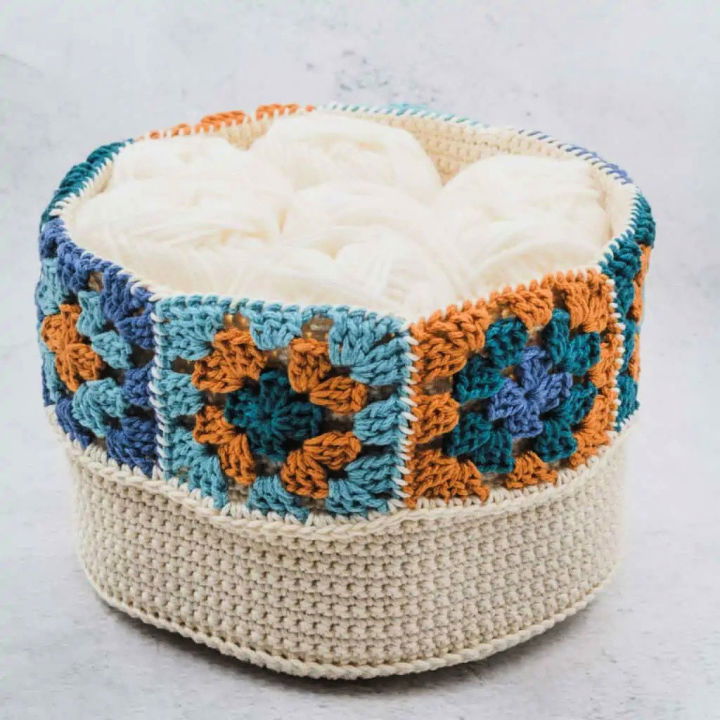 This cozy granny square basket adds a touch of homemade charm to any room! It's easy to follow and works up quickly, making it an ideal beginner project that can be completed in little time. This charming basket features traditional granny squares, giving it a timeless look that will never go out of style. Put your new basket to use by storing small toys or trinkets, keeping yarns safe for future crochet projects, displaying favorite nail polish shades or bringing some colorful flair to your kitchen countertop. Get started on this cute and practical crochet pattern today! joyofmotioncrochet
22. Cool Crochet Amelia Basket Pattern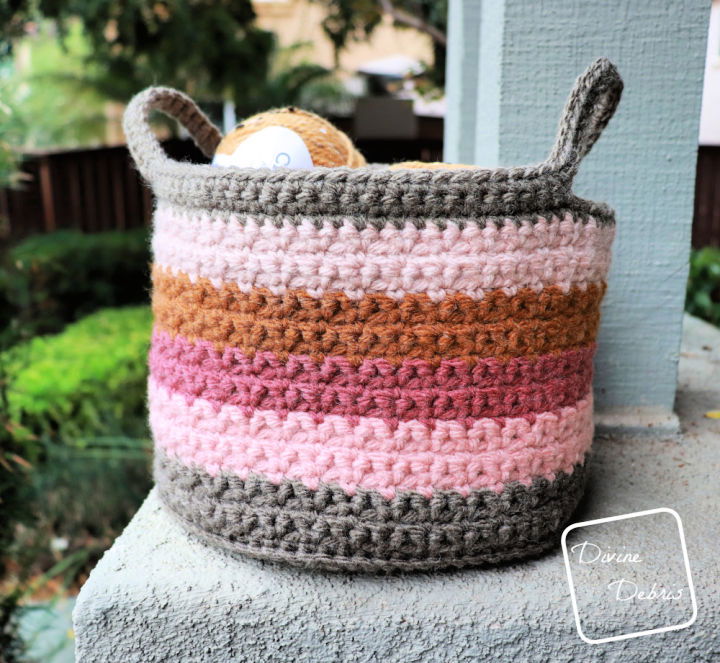 Make a beautiful and functional staple for your home with this free amelia basket crochet pattern. Perfect for stash busting, this easy-level pattern requires only a 6.50 mm crochet hook and five colors of size #5 bulky weight yarn to complete the project quickly and easily. Designed to be attractive and practical, you'll love using your finished amelia basket around the house! Get started on crafting it today – download the free amelia basket crochet pattern now. divinedebris
23. Crochet Hartfield Hanging Basket Pattern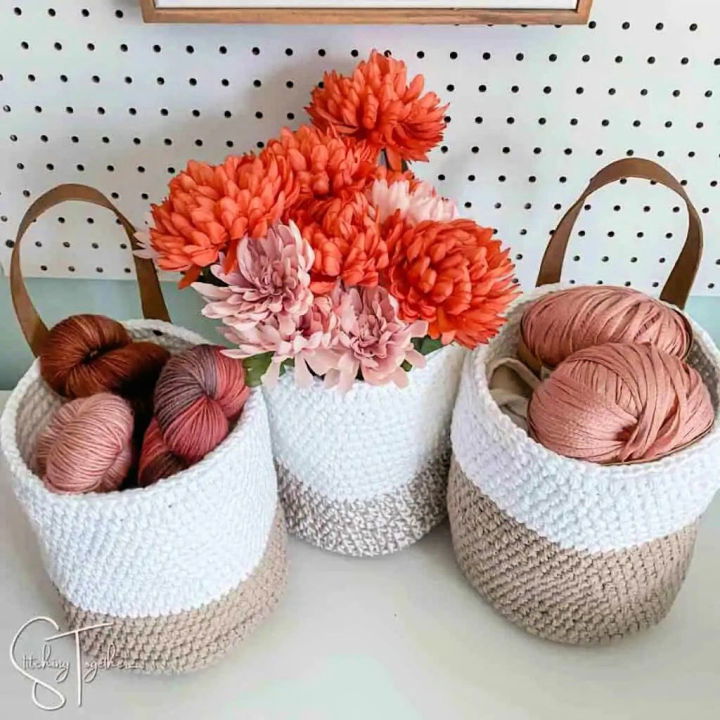 Are you searching for a unique storage and organization solution? Check out this Hartfield crochet hanging basket! It's an easy skill-level project that uses a 4.5 mm crochet hook, yarn, and a leather strap to create the perfect hanging basket. The only other technique used in this basket is alternating the ending of each round, making it a great way to learn something new! Add style to your home with this beautiful hartfield crochet hanging basket – perfect for organizing your belongings without sacrificing design. stitching together
24. Chunky Crochet Basket Tutorial for Beginners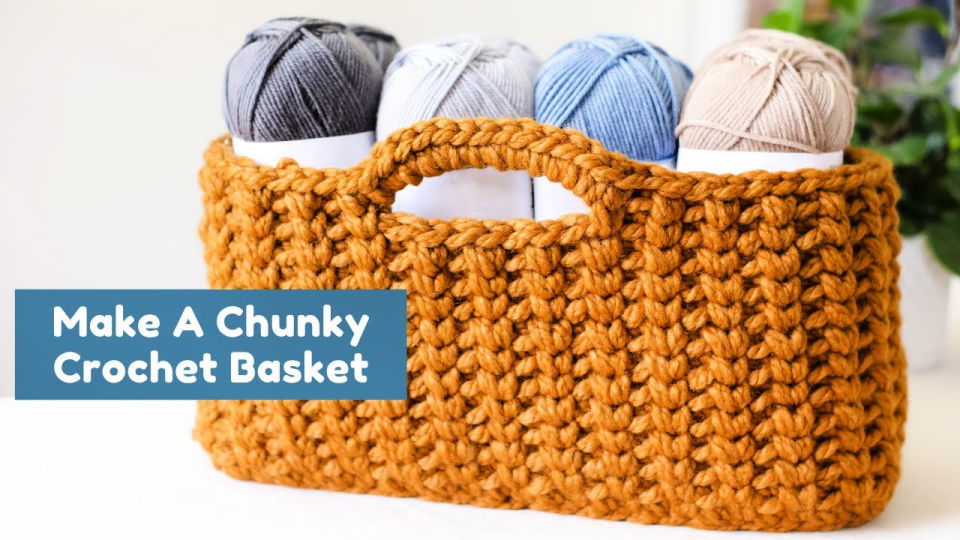 Learn how to crochet a chunky basket with this easy tutorial for beginners! This project uses a 9mm crochet hook and lion brand wool-ease thick & quick yarn. Combining these two materials makes it simple to create a beautiful, sturdy basket in no time. Use your new homemade accessory as extra storage, or give one away as an impressive handmade gift. With confidence and these step-by-step instructions, you'll be crocheting chunky baskets like a pro!
25. How to Make a Coil Basket – Free Crochet Pattern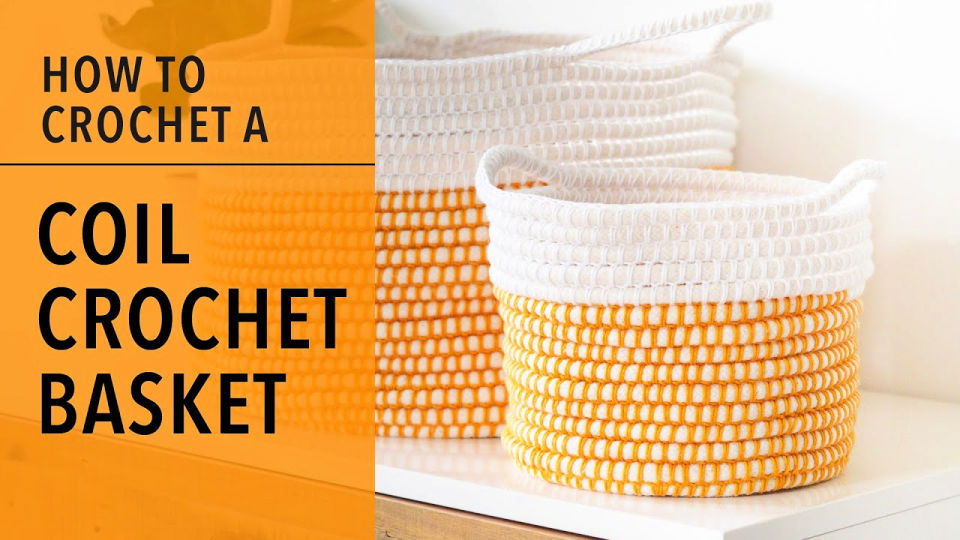 Crochet baskets can be a beautiful addition to any room and are easy to make with crochet basket patterns! Have your own beautiful and practical color block crochet baskets with this free, easy tutorial for beginners! Make a coil crochet basket using yarn 24/7 cotton, a G/4.0mm hook, and cotton piping. Step-by-step instructions will guide you through creating the basket base using yarn and cotton piping cord together, turning the walls, changing colors without new ends, and adding handles for portability. This versatile pattern makes it easy to incorporate the colors of your choice into unique handmade pieces. Make one today – perfect for decoration or storage!
Related Free Crochet Patterns:
Discover a variety of free crochet patterns, including pumpkin, shamrock, and pillow designs. Perfect for DIY enthusiasts. Download your favorites today!
Conclusion:
In conclusion, these 25 free crochet basket patterns offer a wide range of options for those looking to add a touch of handmade charm to their home decor or gift-giving. From simple and easy patterns to more complex designs, there is a free crochet basket pattern for everyone to enjoy. Whether you're a beginner or an experienced crocheter, these crochet basket patterns provide ample opportunity to showcase your skills and creativity. With these free crochet basket patterns in various sizes, shapes, and styles, you can create functional and beautiful crochet baskets with handles, lids, or in different colors and textures, such as the chunky crochet basket or the crochet yarn basket. Try making a few of these crocheted baskets and add a personal touch to your home decor.