Crochet table runners are a beautiful way to dress up your dining table or coffee table with some handmade charm. They are also fun and easy to make with just a few basic tools and skills. You can try different yarns, colors and stitches to create your own unique table runners that match your home decor and style. If you want an easy crochet table runner pattern, find 25 free crochet table runner patterns for beginners with detailed instructions and a step-by-step printable pdf pattern. You will find free patterns for different types of table runners, such as filet crochet, lace crochet, granny square crochet and more.
You will also find crochet table runner patterns for different skill levels, from beginner to advanced. Some of them are simple and quick, while others are more difficult and detailed. You will learn how to make different shapes and sizes of table runners, how to add edgings and fringes for extra flair and how to block your finished project for a neat look. Whether you want to make crochet table runners for yourself or as a gift for someone else, you will surely find a crochet table runner pattern that you love in these 25 free crochet table runner patterns.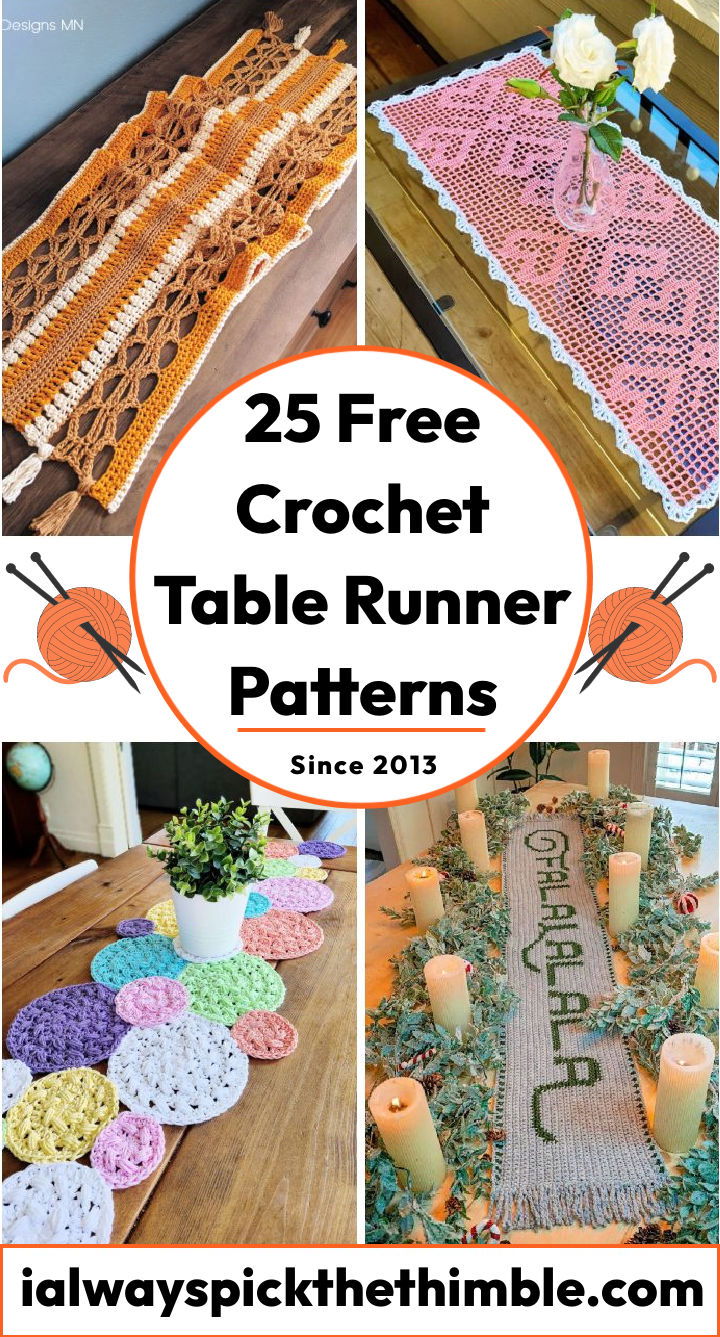 Free Crochet Table Runner Patterns
Crochet table runners are a beautiful addition to any home. Delight your dining guests with a handcrafted crochet table runner to make those special moments at the dinner table even more memorable! With over 25 free crochet table runner patterns available, you can find the perfect project to help bring your dream room to life! All patterns provide detailed instructions and free PDF downloads.
And with our helpful diagrams and detailed how-to guides on crocheting these table runners, you can achieve stunning results without wasting a fortune or time trying to figure out complicated techniques. So don't wait – get started today and transform your tables into unique ones!
1. Free Crochet Thanksgiving Table Runner Pattern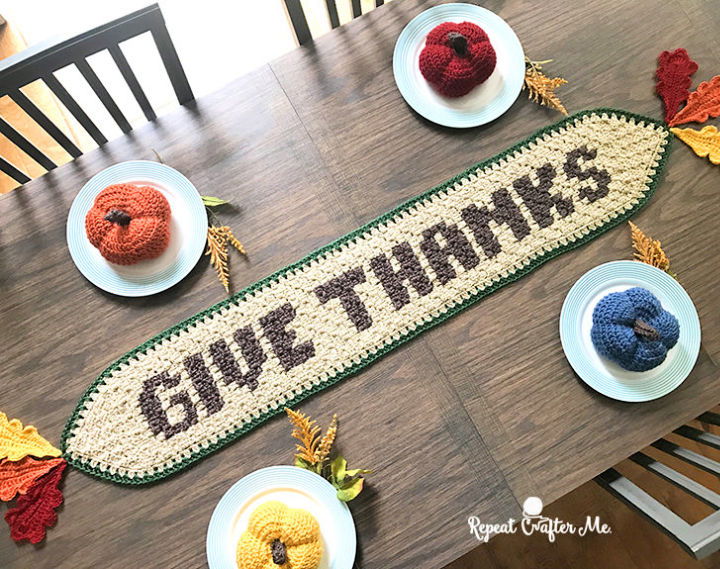 This crochet thanksgiving table runner pattern will add a special touch to your dinner table! This project is perfect for beginners with its simple, repetitive pattern that won't take long to make. Plus, it's easy and fun to craft with the included instructions. Materials needed are caron, soft yarn, size h crochet hook, give thanks pixel graph and tapestry needle. Add some style and personality to your décor this year with this beautiful "give thanks" design along the center of your handmade runner. repeatcrafter
2. Crochet Tasselled Table Runner Pattern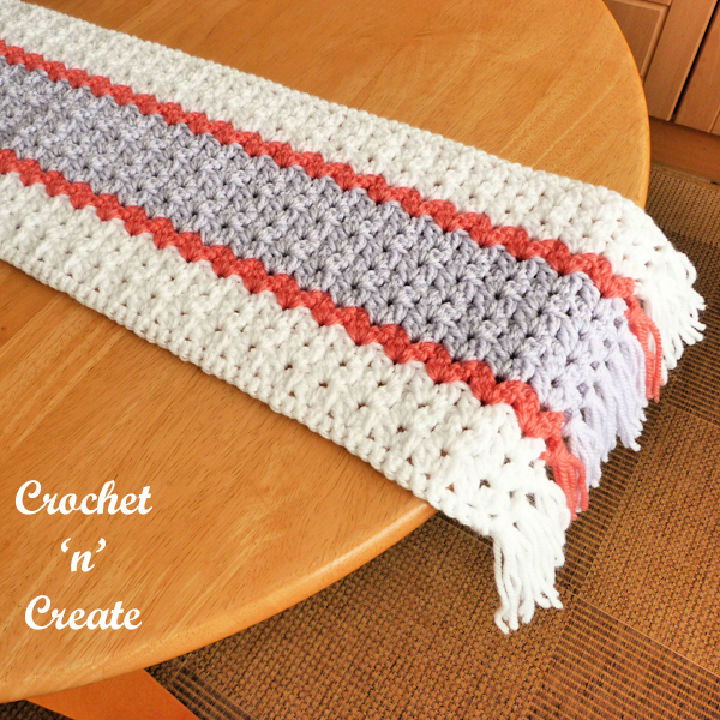 Make your dining table look amazing with this crochet tasselled table runner. Choose from any array of colors to suit the season and décor. This free pattern is super fun to make and can be made at any level – intermediate crocheters will love it! With instructions provided, all you need is king cole comfort aran yarn and a 5.50mm Clover Crochet Hook to create this gorgeous runner, which looks adorable when laid on the table for decoration. So give it a try today! crochetncreate
3. Crochet Bettys 20 Stitch Table Runner Pattern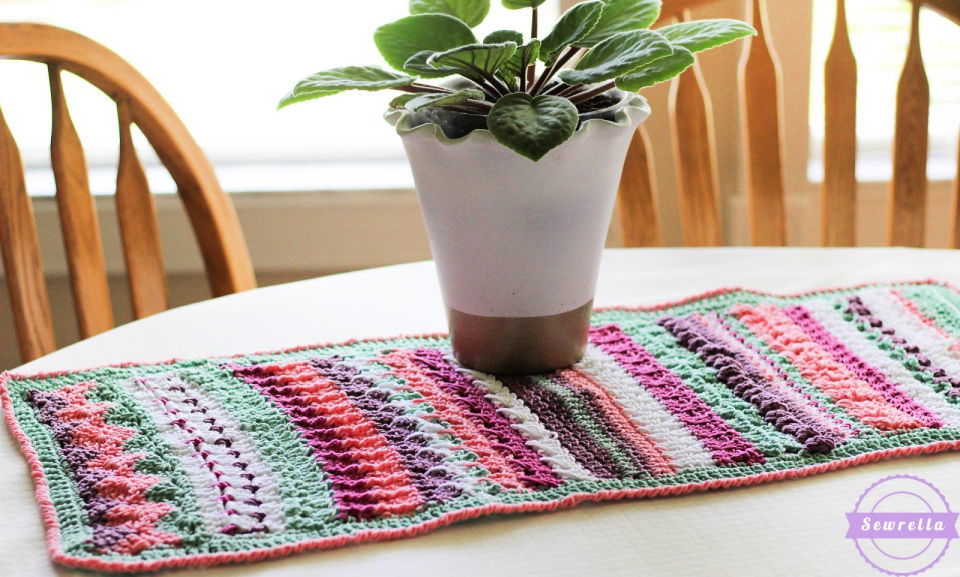 Crochet betty's 20-stitch table runner is the perfect project to get creative with. This intricate and versatile design adds a unique and fun touch to any table setting. With step-by-step instructions, you can easily craft this beautiful, textured table runner as a decorative piece for your home. All you need are some cotton yarn, a size H 5mm crochet hook and a tapestry needle – this project won't take long before it looks amazing! Get creative today with crochet betty's 20-stitch table runner! sewrella
4. Winter C2C Crochet Table Runner Pattern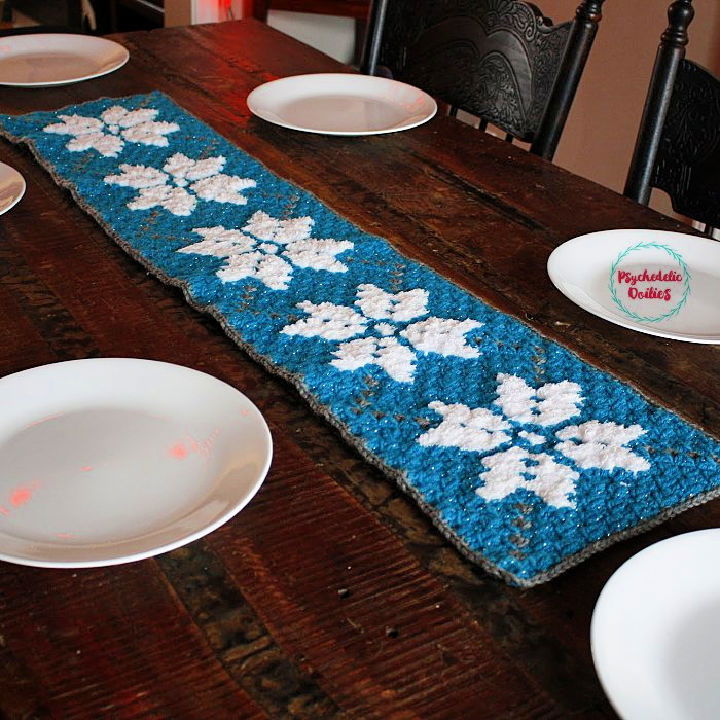 Add some holiday cheer to your home this winter season with this beautiful C2C table runner crochet pattern! This easy pattern features a snowflake design, making it perfect for decorating your dining table in style. With its bright colors and eye-catching look, it's sure to be an instant conversation starter!
Plus, the instructions are easy to follow – you can quickly create a festive piece of décor that will last for many holidays to come. Get ready to make something special with bernat pipsqueak and red heart super saver yarns – bring your imagination alive while crafting this fun and festive table runner! psychedelicdoilies
5. Best Alpine Table Runner Crochet Pattern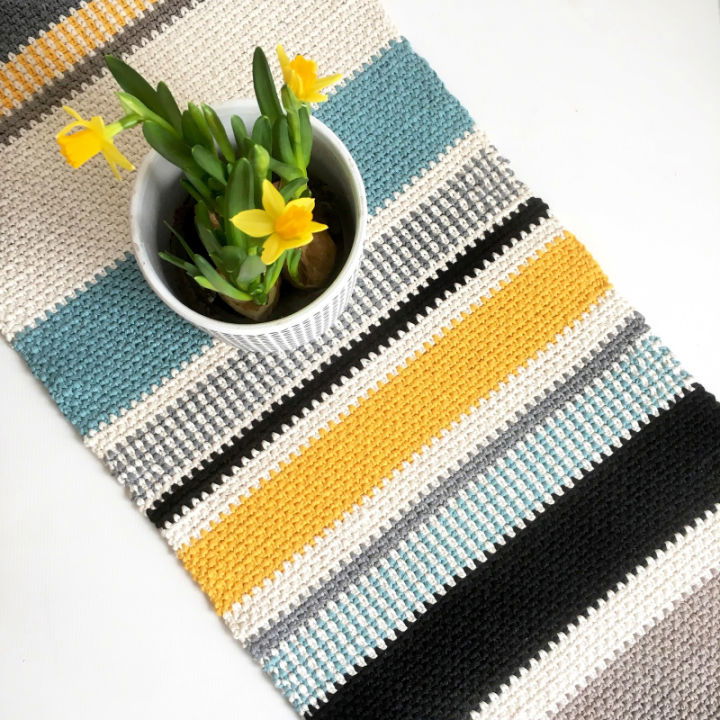 Create a beautiful crochet moss stitch table runner, perfect for spring. This easy and fun project is great for those who enjoy crocheting while watching TV, with its lovely texture, it will surely make an impression! You'll need Reko cotton yarn, a 4.0mm hook, scissors, and a needle to create this special piece of home decor. Follow the instructions in the pattern to start making this stunning table runner today! intheyarngarden
6. How to Crochet a Table Runner – Free Pattern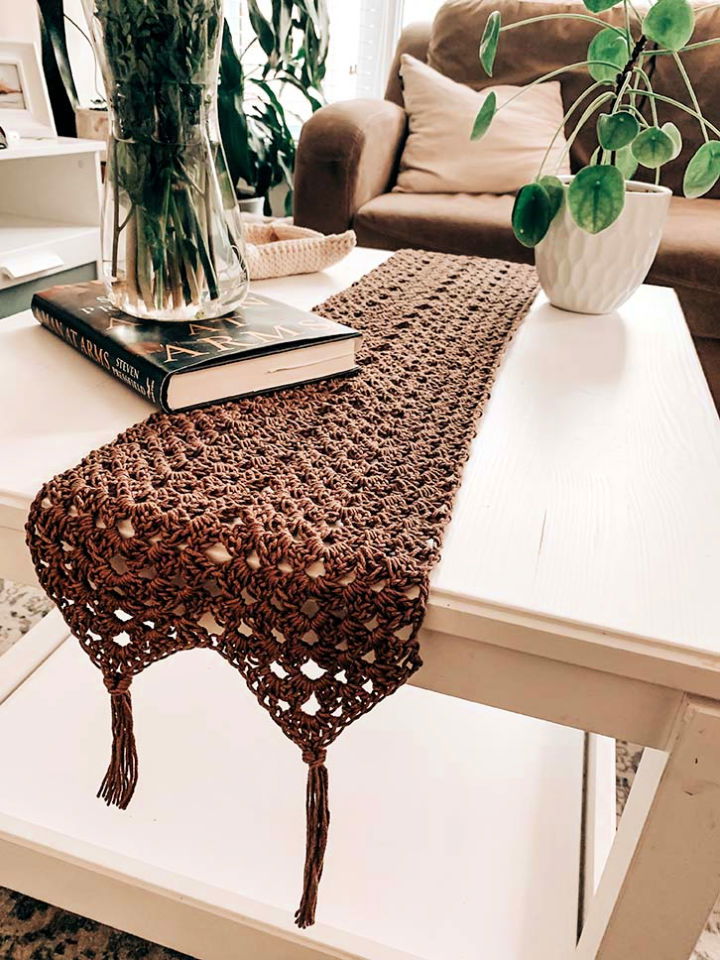 Create a beautiful and unique table runner with this free crochet pattern! Perfect for beginners, this project is simple to customize, so you can make it wider and longer. The design features two gorgeous triangles on each side, giving the runner an extra special touch. With detailed instructions including a video tutorial and all the necessary materials (100% cotton yarn, clover amour 5 mm crochet hook, clover mini patchwork scissors, clover tapestry needle), you're guaranteed success in only one afternoon – perfect for a quick project! cjdesignblog
7. Falalalala Crochet Table Runner – Free Pattern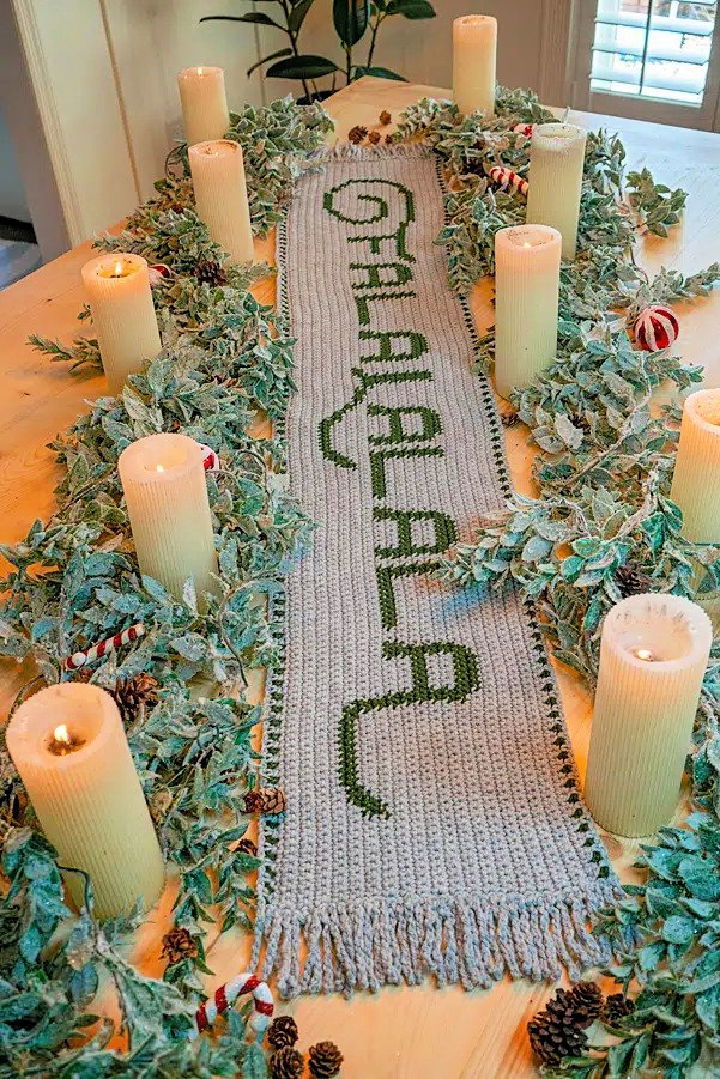 This festive crochet table runner free pattern makes your home look beautiful this holiday season! You'll love the texture, and you can customize it however you'd like; use traditional fringe or no fringe. All you need is a 5.0mm (H hook), removable stitch markers, yarn needle, scissors and wecrochet brava worsted yarn to get started on this perfect decoration for your home. The instructions are simple enough that anyone can do it and make their own amazing table runner! brianakdesigns
8. Gorgeous Crochet Autumn Lane Table Runner Pattern
Welcome to the world of fall decorating! Create a gorgeous, unique texture with this crochet autumn lane table runner. It's so fun and easy to make – you'll have it completed in no time. Plus, you can't go wrong with this easy-to-follow instructions and materials list (lion brand 24/7 cotton, 5mm hook [G+], yarn needle, blocking mats & pins)!
This beautiful table runner adds a perfect touch of autumn charm to your home or office, making it an ideal addition to any seasonal celebration. So get crocheting today – create something special that will look amazing during the holidays and beyond! darlingdanadesign
9. Beautiful Crochet Heart Table Runner Pattern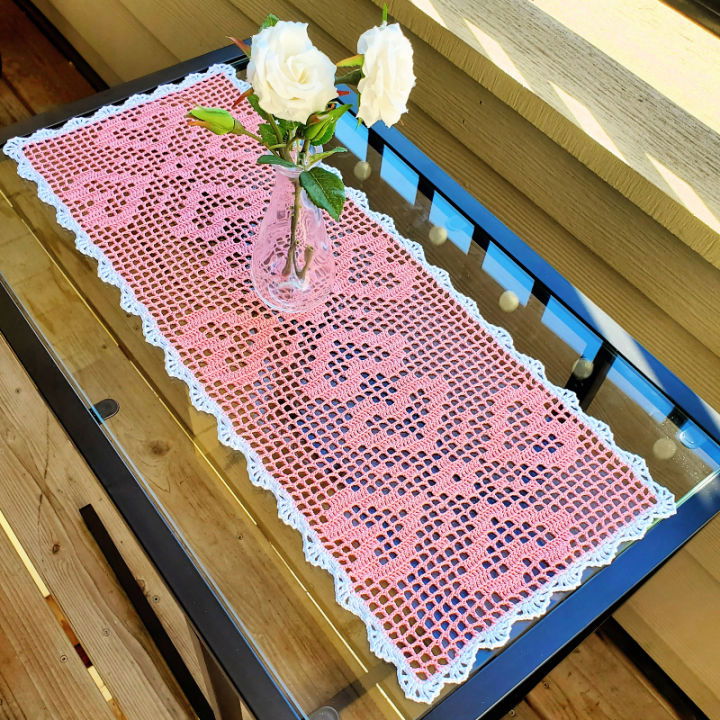 Make beautiful home decorations with this easy crochet heart table runner! Beginners can easily make this simple piece using the filet crochet technique and aunt Lydia's classic crochet size 10 and 1.75mm crochet hook. With instructions and materials included, you'll have fun crafting your own lovely adornment to look adorable in your house. Skill level is easy – get started now for quick results! handmadebyraine
10. Crocheted Table Runner – Free Pattern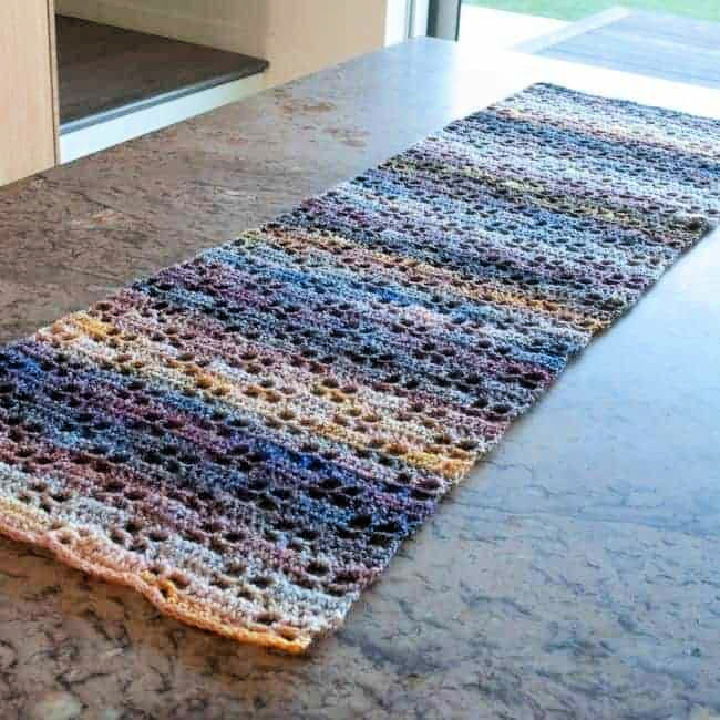 Unlock your creativity with a sunset table runner – a free crochet pattern for a quick and easy table runner with great texture. Add an accent to your table or give it as a gift and look amazing. Its simple design requires worsted weight yarn, size H/8 hook, tapestry needle, measuring tape and one stitch marker – just follow the easy instructions! Try it now and be proud of what you make. craftingeachday
11. Easy Granny Square Crochet Table Runner Pattern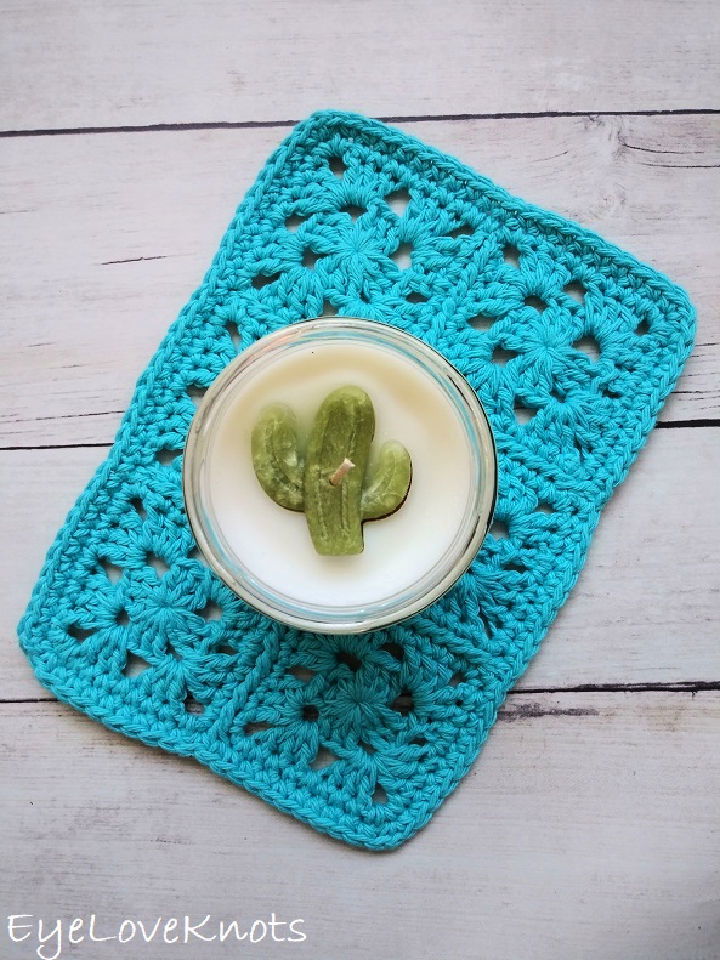 Introducing the Gwendolyn table runner, a free crochet pattern for an easy granny square table runner that can be adjusted in size. This amazing and eye-catching piece of decoration is perfect for any home! It's easy to follow these instructions and materials list: worsted weight yarn, h8/5mm crochet hook, tapestry needle (and optional jewelry pliers). Create something beautiful today; you won't regret it! eyeloveknots
12. Free Crochet Sunflower Table Runner Pattern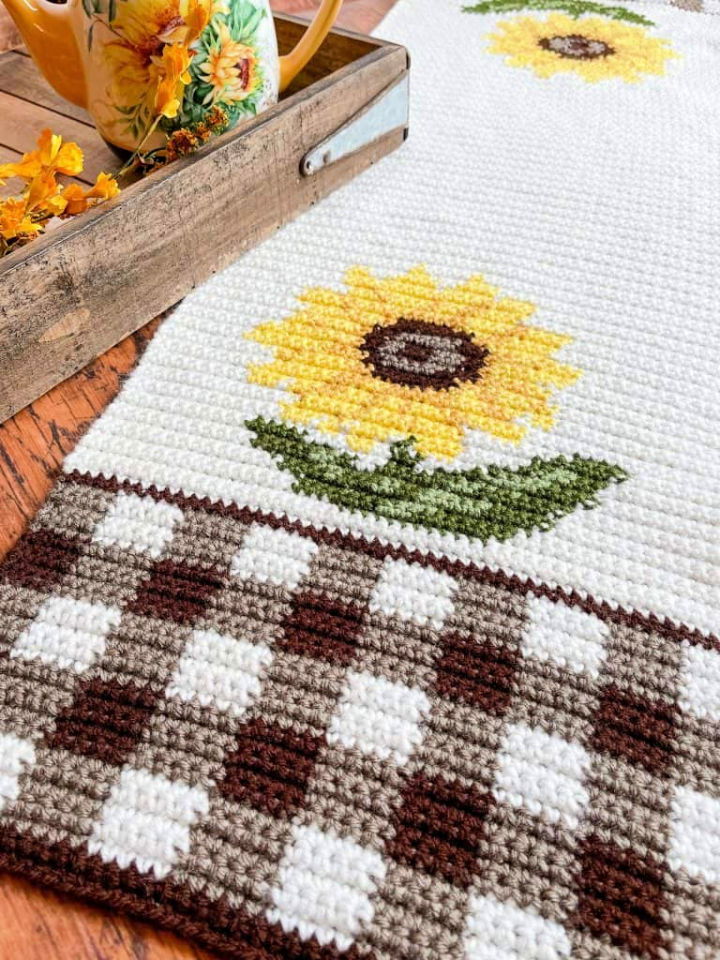 This free crochet gingham table runner with sunflowers is perfect for your dining home decor. It's a great project for beginners, as it is easy and fun to make. Your finished product will look so adorable that you'll be excited to show it off! Detailed instructions are provided about what supplies are needed, including a red heart with love weight 4 and a size I (5.5 mm) crochet hook, scissors, and tapestry needle. Make this beautiful sunflower pattern today! nanascraftyhome
13. Crochet Boho Table Runner Design – Free Pattern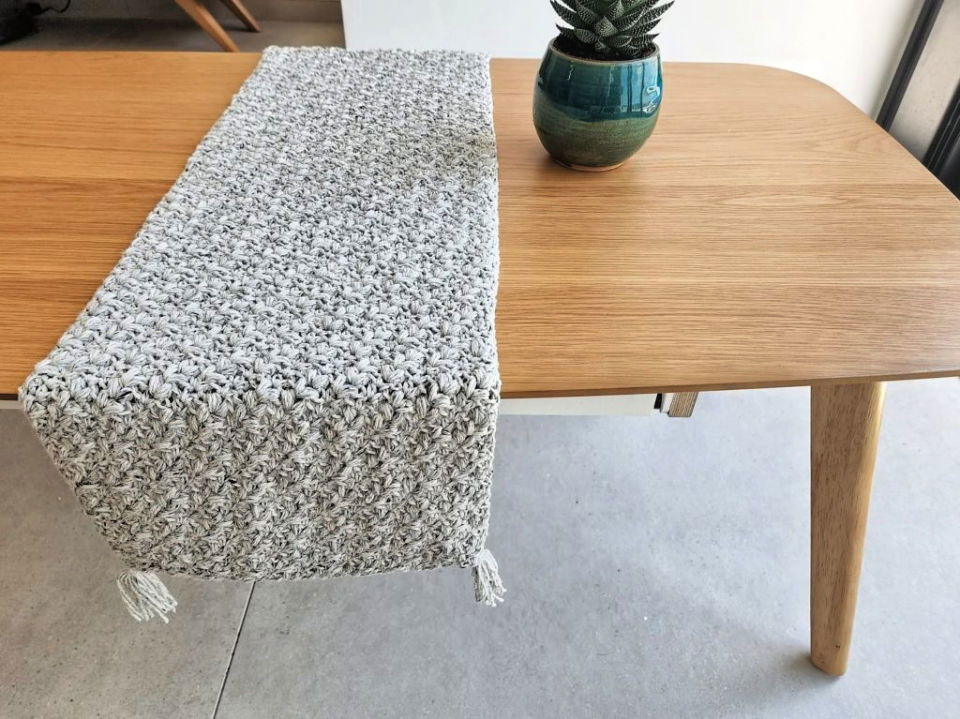 Add a unique and modern boho-chic look to your home with this waves of grain crochet table runner pattern. It's an easy and fun project that can easily adjust to fit any size table. The pattern uses a 4.0 mm / G crochet hook in sport (#2) weight yarn for the perfect texture. Although it is suitable for intermediate skill levels, you don't need experience as the instructions are very simple to follow, so anyone will have no problem making it! Finish off with tassels and enjoy the beauty of your handmade piece! madebygootie
14. How Do You Crochet a Granny Chevron Table Runner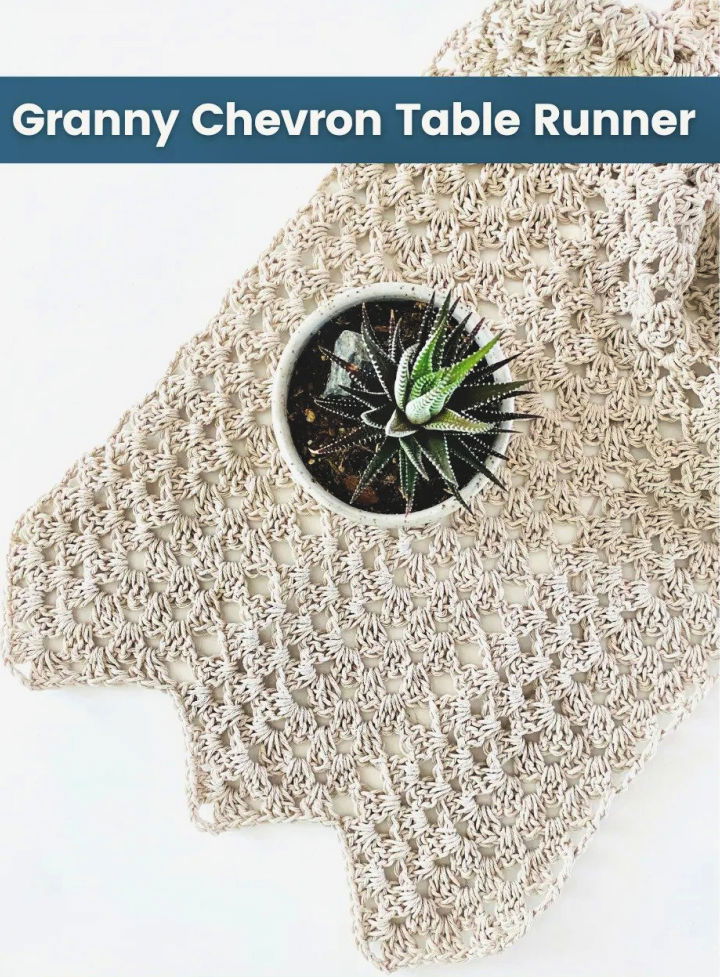 This classic granny stitch table runner will add depth and texture to any decor with its easy-to-stitch pattern and quick workup. Perfect for the center of your dining table or as a decorative piece on any flat surface in your home, this makes a great gift for friends and family too! All materials needed are patrons hempster light weight #3 yarn, a US G/6 (4.00 mm) crochet hook, scissors, yarn needle & measuring tape. Get creative & show off your style today with this table runner! americancrochet
15. Vibrant 4-Hour Crochet Table Runner Pattern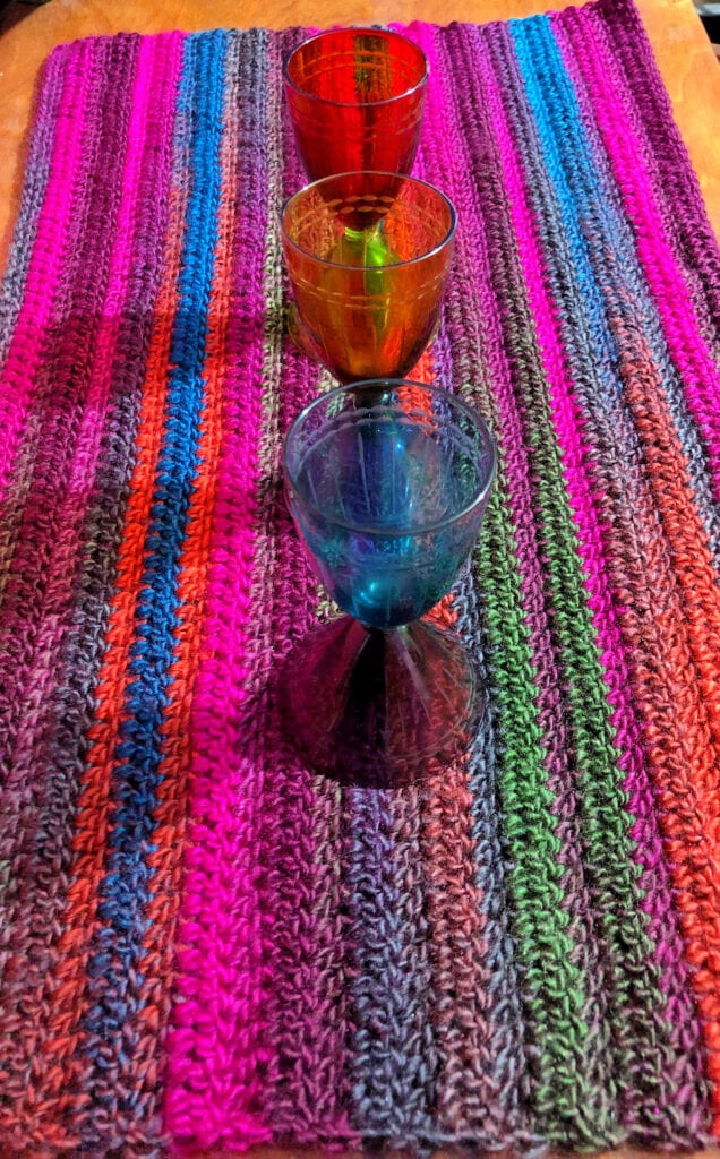 Create a beautiful and vibrant table runner in just 4 hours with this free crochet pattern – perfect for beginners. This is the ideal project when you want to relax and watch some television. Handmade and unique, this will add a touch of charm to your home décor.
With leftover yarn, a fast project that makes good use of materials you already have on hand. Included are instructions with a video tutorial to help guide you through creating something special. Materials needed: Lion Brand landscapes yarn, size K crochet hook, yarn needle, scissors – so get creative! patternprincess
16. Rustic Crochet Linen Table Runner Pattern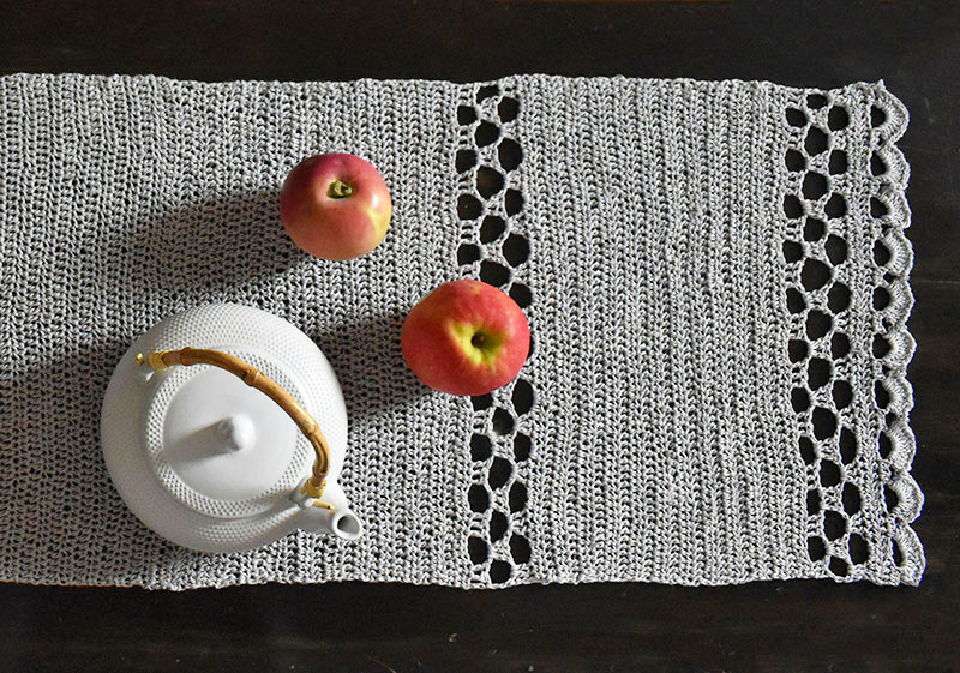 Bring a rustic yet elegant look to your home décor with this easy and beautiful free pattern for a linen crochet table runner. Quick and fun to make with great texture, you will love the amazing finished product! With fingering weight linen yarn and crochet hook size F, all the instructions are included so you can easily create a stunning decoration piece that everyone will admire. Add charm and style to any room in your house – it's simple and looks amazing! sustainablestitch
17. Easy Crochet Table Runner Pattern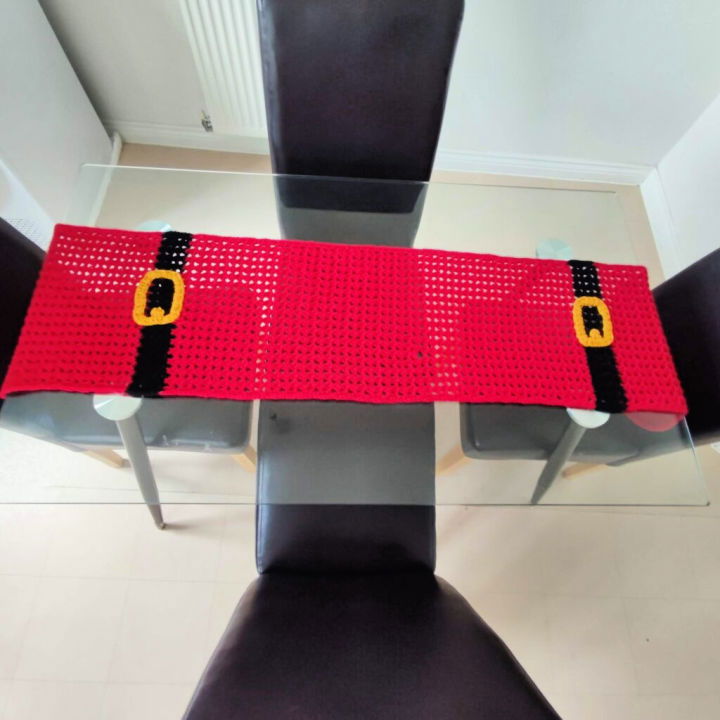 Looking for a unique way to decorate your table? Look no further than this beautiful, classy crochet table runner free pattern. Add some flair to any space with the modern look of the yarn. Not only does it look great, but it helps keep your table clean and stain-free!
This is one of the fastest and simplest crochet projects you can make – all you need are worsted weight yarn, a 6mm crochet hook, and other materials depending on your desired design. Get creative and start crafting today with this amazing crochet table runner free pattern! fosbasdesigns
18. Crochet The Iris Table Runner Pattern

Add a beautiful touch to your dining room table this spring with the crochet iris table runner! This intermediate-level crochet pattern is easy to follow and so fun to make. After completing it, you'll love how the pretty texture looks, plus all you need for materials are 5 skeins of knitpicks cotlin, a 5mm/h crochet hook, tapestry needle, scissors, stitch marker & blocking pins. The result will be an adorable spring table runner that adds great texture and coziness! Get creative and start crocheting today! hooksbookswand
19. Simple Crochet Farmhouse Table Runner Pattern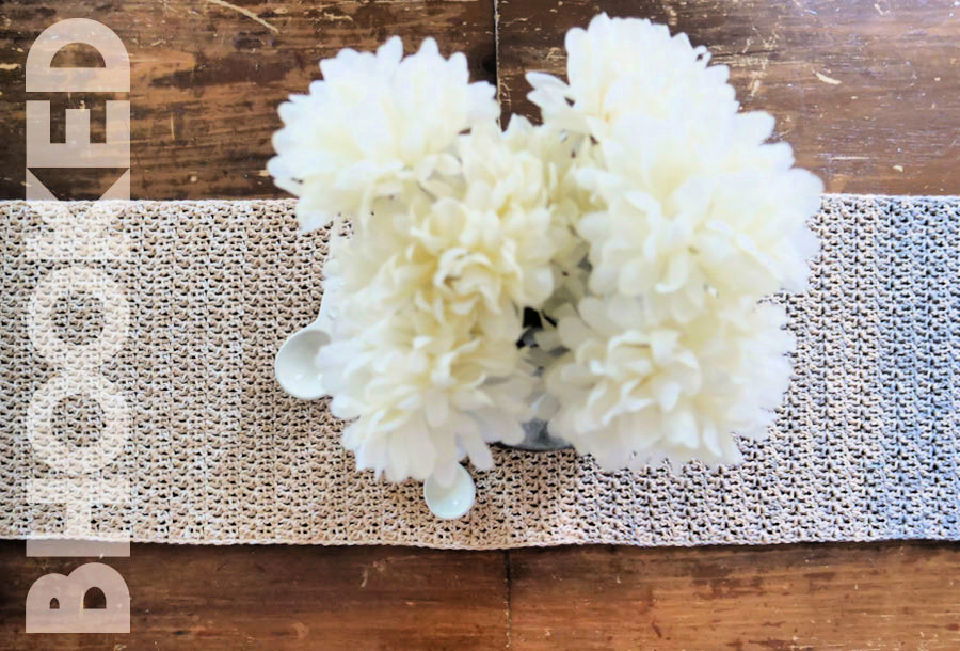 Enhance your dining table with a handmade farmhouse crochet table runner! This easy-to-make pattern is the perfect touch to add rustic charm, featuring an airy drape and beautiful color transition. Plus, it's just 10″ wide but 72″ long, so you can fit it on any sized tabletop. All you need is a red heart it's a wrapped rainbow yarn, a 4mm Crochet Hook, a yarn needle, scissors and some time to craft yourself this stunning piece of decor. bhookedcrochet
20. Crochet Puff Dreams Table Runner Pattern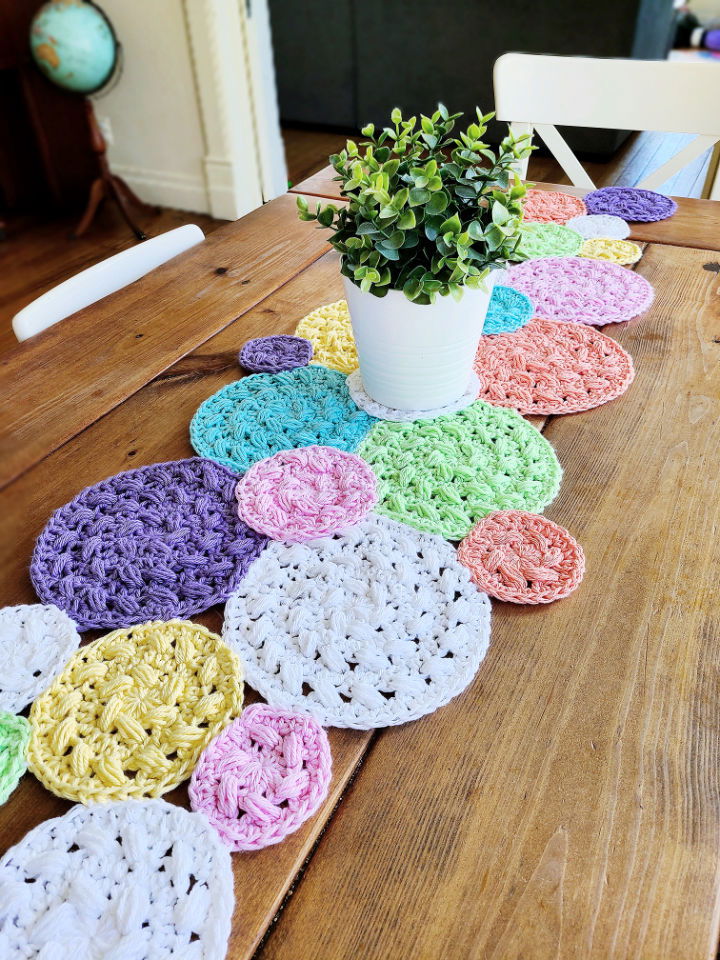 Add a playful twist to your table decor with this easy beginner-friendly crochet pattern: puff dreams table runner! Perfect for any cotton scraps you have lying around, the bright colors and beautiful combination look eye-catching. Choose a color theme or solid for a great heirloom gift or table decoration for holidays or birthdays.
The lightweight design makes it perfect for taking on cars and planes, so you can always carry it easily. Plus, amour crochet hook j (6.0mm), worsted weight (4) cotton yarn, extra yarn for seaming, darning needle set, and locking stitch markers are all included in the materials list – get crafting today! clover usa
21. Crochet Fiery Dragonflies Table Runner Idea
Create a show-stopping centerpiece for your dining table with this unique and amazing crochet fiery dragonflies table runner pattern. It's easy to make, has a beautiful texture and is guaranteed to look so beautiful! The kit comes with simple instructions, supplies, and accessories you'll need, like scheepjes catona yarn, a 3.0mm crochet hook, scissors and a tapestry needle. Make it in any size of your choice – perfect as a decorative piece! So try something new today – you'll find that it's super fun to make! bymimzan
22. Crochet Table Runner – Free PDF Pattern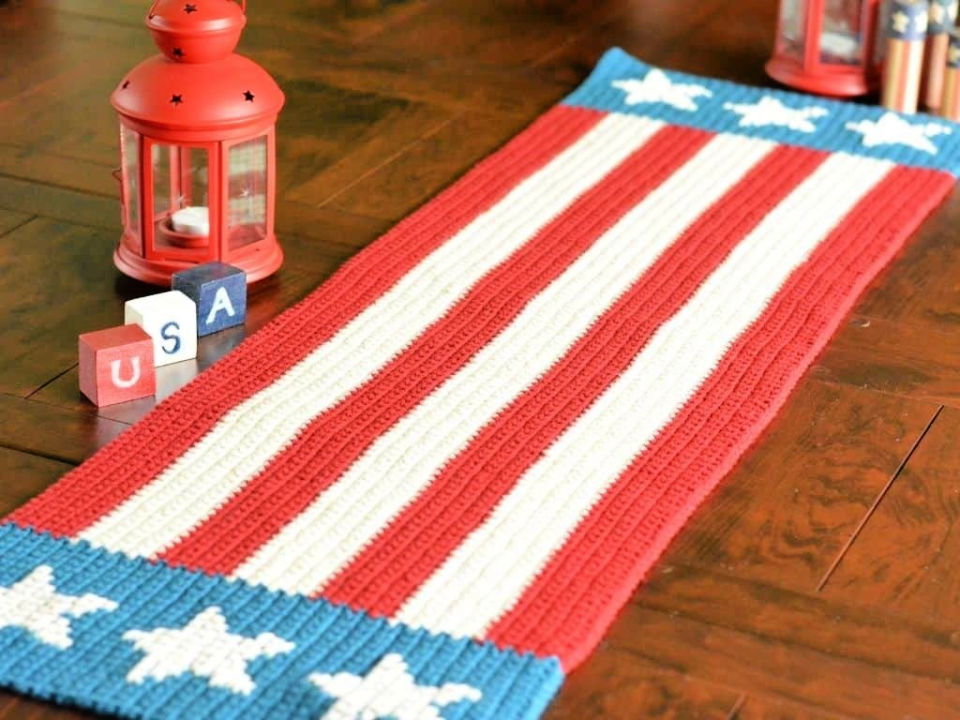 This July 4th crochet table runner pattern makes your dining room stand out! It's a great project for crochet beginners who want to practice simple color changes and can be made with either medium worsted weight yarn or cotton yarn for increased durability.
The easy-to-follow instructions and the amazing texture of this pattern will instantly add festive decoration to any home. Skill level is easy/ advanced beginner, requiring an H-8 (5mm) hook, scissors, and yarn needle. Get started on this unique table runner now – perfect for holidays and special occasions! remingtonlane
23. Modern Crochet Table Runner Pattern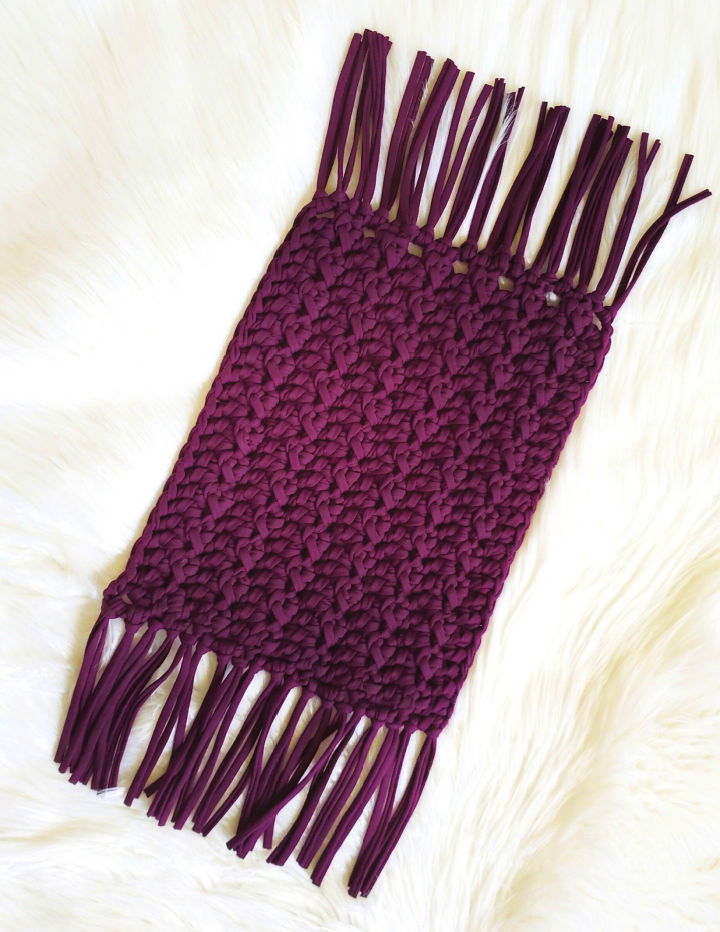 This fun and versatile crochet table runner pattern creates a modern, stylish look for your home! The perfect size for a coffee table or dresser top, you can make it longer to fit a dining table as well. Step-by-step instructions provide an easy-to-follow guide; all you need is a 10mm crochet hook, stitch markers, scissors, and knitz n purlz t-shirt yarn. This beginner-level project will be super fun to make, and the end result will surely draw admiring looks from everyone who visits! onelittlehook
24. Crocheting a Table Runner – Free Pattern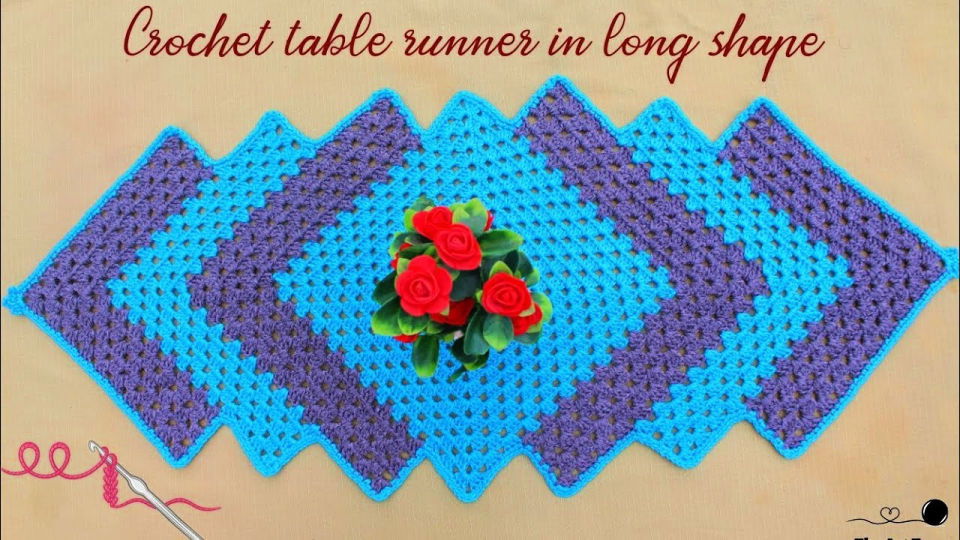 Searching for handmade decorations to add a unique texture and look so beautiful to your home? Look no further than this modern crochet table runner pattern. This tutorial is perfect for beginners; it offers step-by-step instructions and supplies, including medium weight 4 yarn and a 3.5mm crochet hook. You can make an amazing decoration for your dining table in no time at all! Get started today with this modern crochet table runner pattern. youtube
25. Easy Crochet Table Runner Pattern for Beginners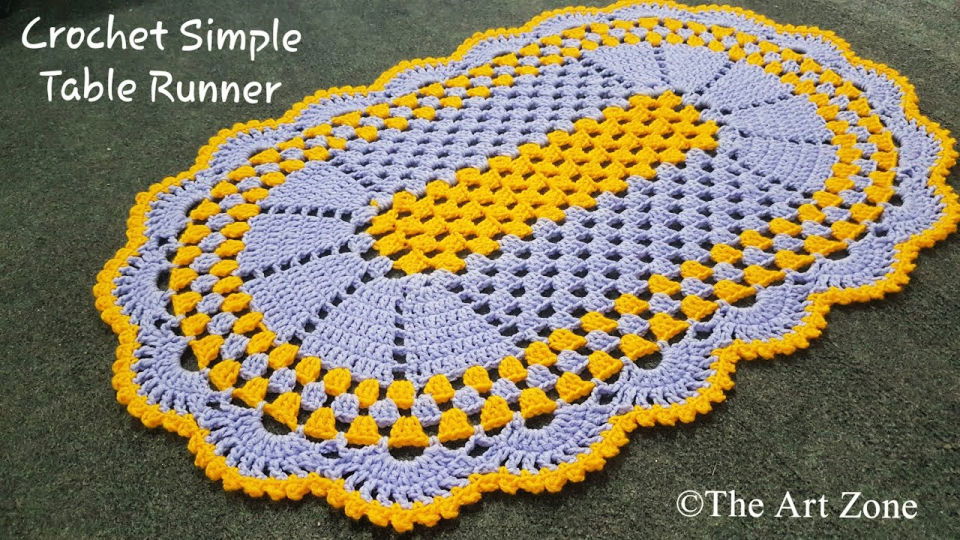 This easy and simple crochet table runner is the perfect project for any beginner! It's super fun to make and looks so adorable. With its eye-catching look, beautiful texture and step-by-step instructions, you can create a stunning piece of decor that will last for years. You only need medium weight 4 yarn and a 4mm crochet hook, making it easy even for those new to crocheting. So why not give it a try today? Create something unique and beautiful with this easy & simple crochet table runner!
Related Free Crochet Patterns:
Discover the joy of crocheting with our collection of free crochet patterns. Learn how to create beautiful designs and explore new techniques.
Conclusion:
Crocheting a table runner is an easy and fun way to make your space look more inviting and stylish. With 25 free and easy crochet table runner patterns, you can easily create one that works with any decor. These crochet table runner patterns are perfect for beginners since they come with detailed instructions and step-by-step diagrams. You'll also find free printable PDFs, modern designs, red heart options, farmhouse runners, and even filet crochet styles. Plus, many include helpful photos that show how to do certain stitches or techniques so you can get it right the first time! So if you want to add some cozy style to your home or want a new craft project, check out these beautiful and free crochet table runner patterns– they offer something for everyone!