Looking for a free crochet pattern to make lap blankets? Find 20 easy-to-follow and free crochet lapghan patterns designed for beginners. Each lap blanket crochet pattern comes with step-by-step instructions. Also these free crochet lap blanket patterns provide all the insight needed to quickly and easily make a cozy, warm lapghan blanket quickly and easily. Whether you're making crocheted lap blankets for yourself or as a gift – such as a special crochet lap blanket for hospice care or seniors – there's sure to be lapghan pattern and size that meets your needs. Check out our free selection of crochet lapghan patterns today and start creating something beautiful!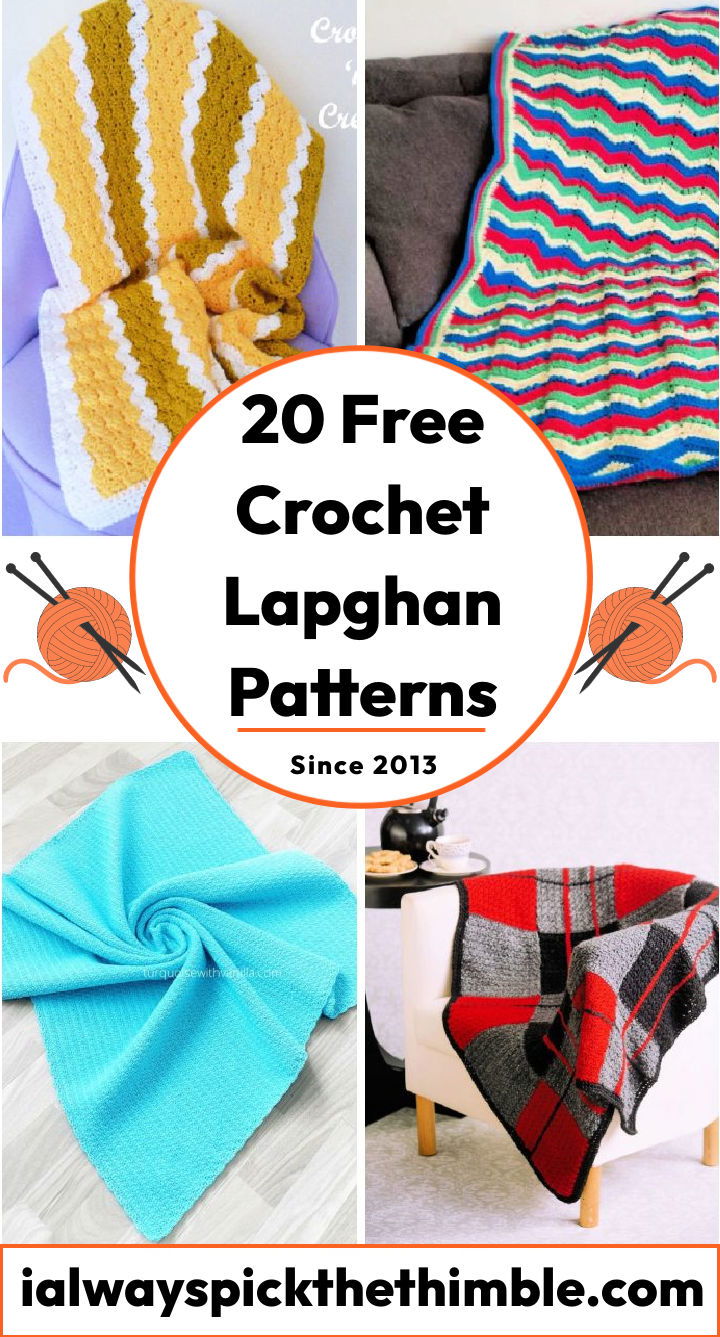 Free Crochet Lap Blanket Patterns
Discover 20 free crochet lap blanket patterns that will take your project to the next level! From classic granny squares to chevrons and stripes, these easy-to-follow lap blanket crochet patterns are perfect for beginners or experienced crocheters. Add a special touch to any living space with a handmade lapghan.
With basic knowledge of how to chain stitch and single crochet, you can make amazing cozy crocheted lap blankets for yourself or as a special gift. Get creative and find the perfect free crochet lap blanket pattern from this selection of beautiful designs ranging from modern chic to traditional classic styles. Start crocheting an extra warm crochet lap blanket pattern today!
1. Free Crochet Diagonal Ripple Lapghan Blanket Pattern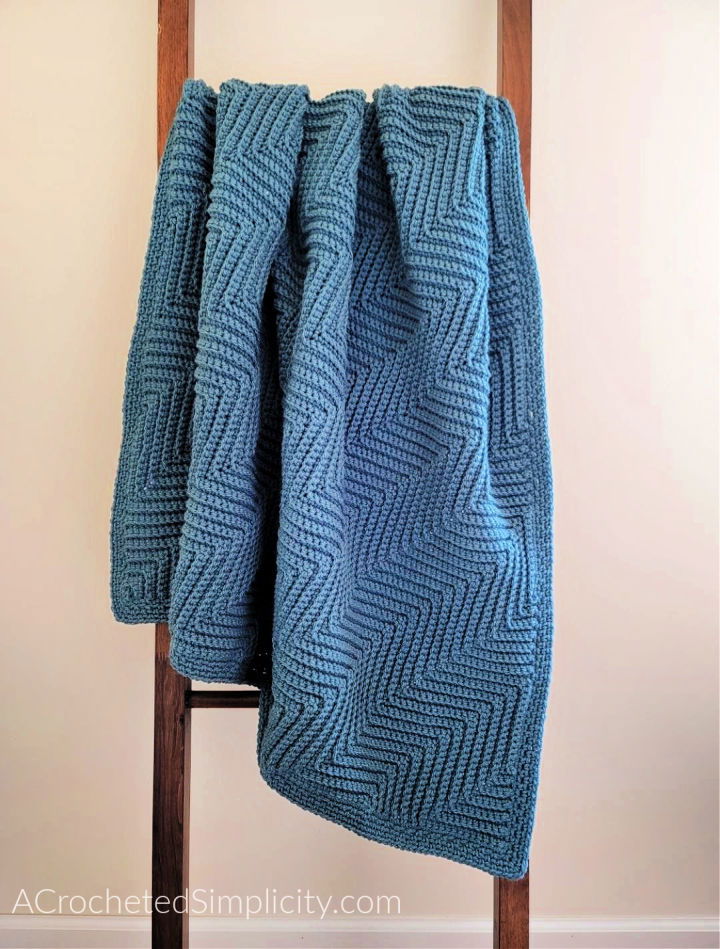 If you want an easy and fun crochet project, the diagonal ripple lapghan blanket is perfect! This modern design looks amazing as a handmade accessory in any home. Not only will it be warm and comfy, but it also has great texture due to its unique ripple pattern.
With easy-to-follow instructions, this lapghan will give you plenty of satisfaction when finished. All that's needed to get started is worsted weight yarn, K/10 ½ .50mm crochet hook, scissors, yarn needle and a scrap piece of yarn. Get ready to create something truly special with this free crochet blanket pattern! acrochetedsim
2. Quiet Ripple Crochet Lapghan Pattern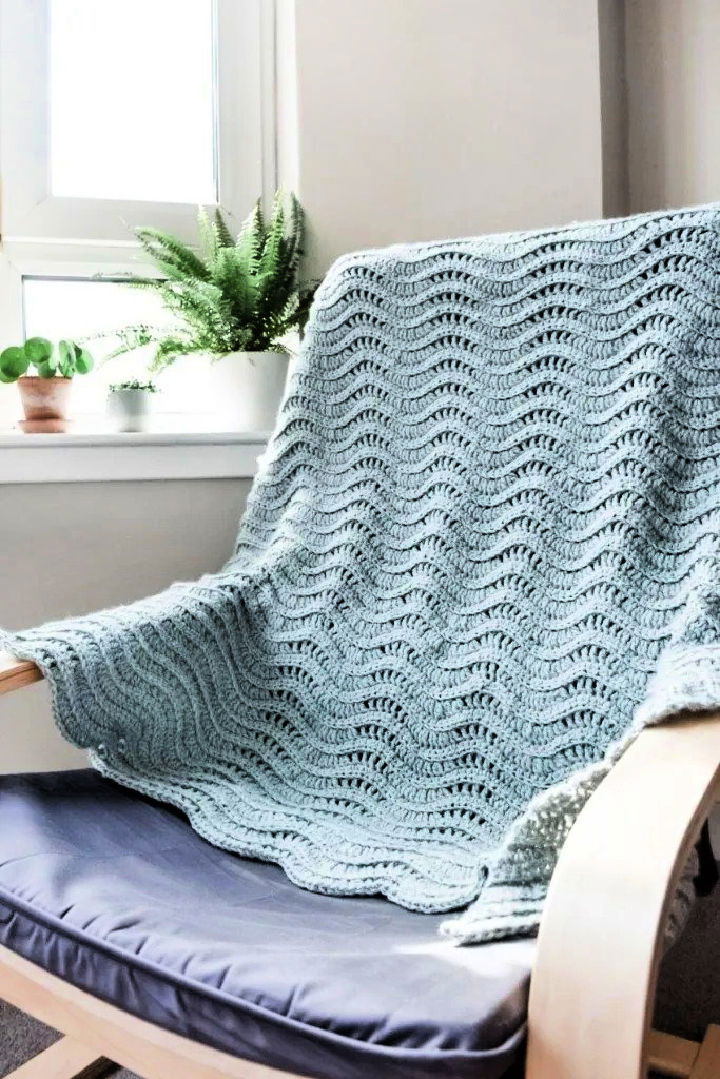 Discover the perfect crochet project for beginners and experienced alike with this easy yet elegant, quiet ripple lapghan. The soft acrylic yarn creates a warm but lightweight lapghan with a modern look with a hint of retro vintage. Impress your friends and family with your crafting skills and create something to be proud of – you'll love its beautiful texture! Included in the free pattern are all the necessary materials, including king cole big value poplar chunky, along with instructions on accomplishing this gorgeous craft – plus, it's really soft and cozy too! onlyasbrave
3. Chunky Crochet Library Book Lapghan Pattern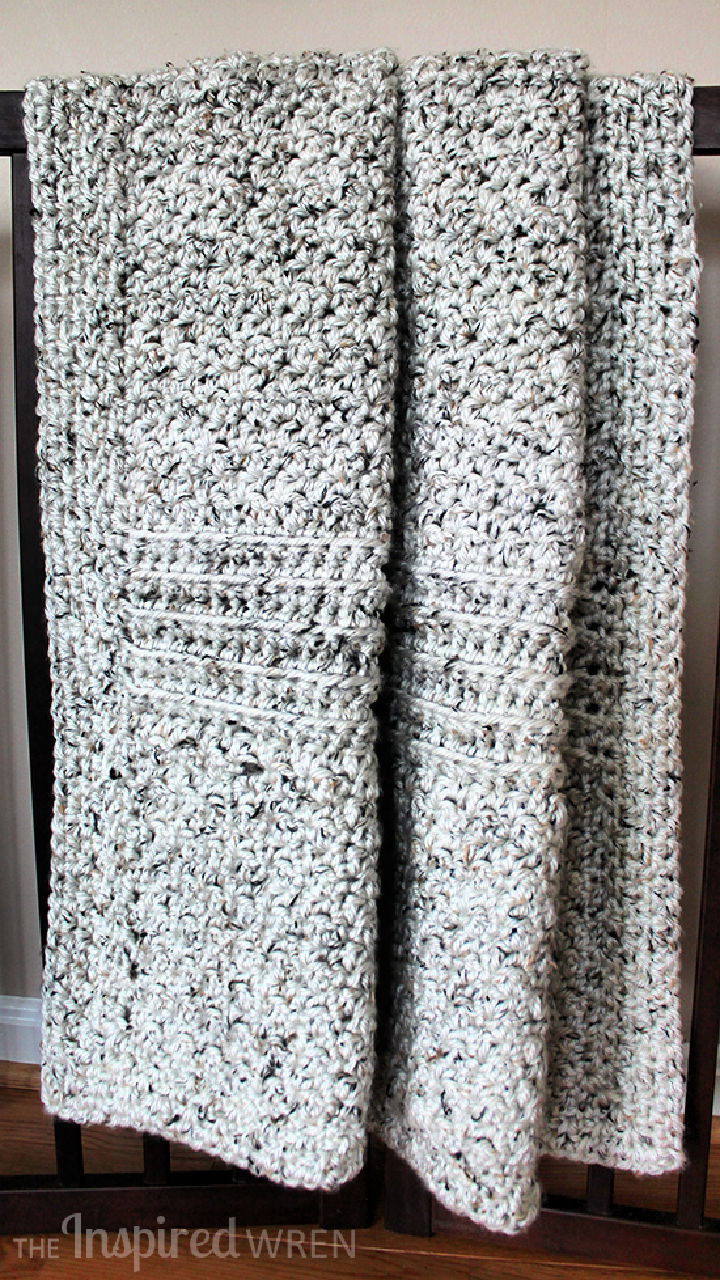 Create a cozy, chunky library-book lapghan perfect for your next me-time coffee hour! This quick and rhythmic pattern is super fun to make with its monochromatic neutral look. It's warm and comfy, looks adorable, and will be a great addition when you curl up with a library book and a cup of coffee. All you need are super bulky yarn and 10mm & 11.5mm crochet hooks – easy & fun! Get ready to relax in comfort this season with your new lapghan. theinspiredwren
4. Crochet Lapghan Blanket Design – Free Pattern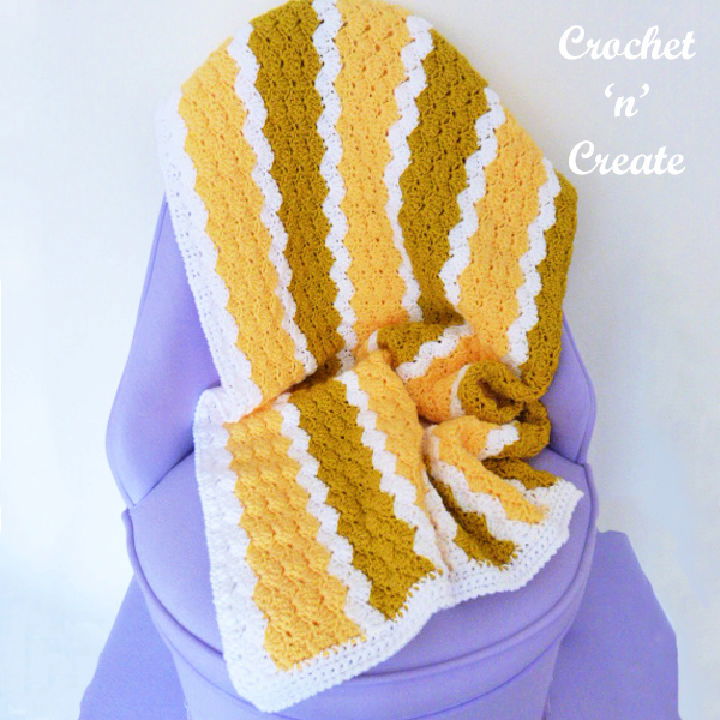 Looking for a cozy blanket to curl up in? Look no further than this free crochet lapghan blanket pattern! This design features large solid shell stitches, perfect for keeping you warm on chilly evenings. Personalize your lapghan with any color combination you choose – opt for bright and cheerful or use traditional Autumn colors. The close stitch adds extra warmth so you can relax in comfort! Plus, the large hook will make it grow faster, so you can enjoy it sooner! Get creative and craft yourself a cozy lapghan today. crochetncreate
5. How Do You Crochet a Lapghan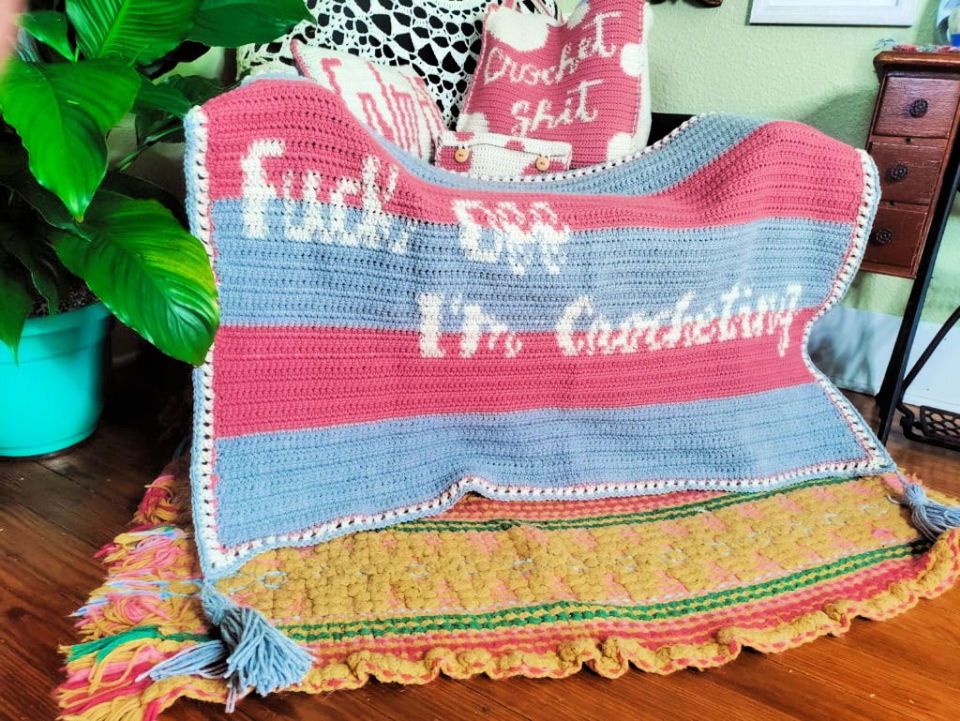 Are you looking for a stylish and eye-catching handmade accessory? Look no further than the crochet lapghan pattern! This beginner-friendly project is easy, fun to make and will look adorable when complete. Enjoy creating beautiful color combinations with this pattern that creates something warm and comfy! The skill level required for this project is intermediate and requires yarn, a hook size of 6.0mm, and a yarn needle for completion. Make your own fashionable lapghan today! classyladyyarn
6. Pretty Crochet Wisteria Lapghan Pattern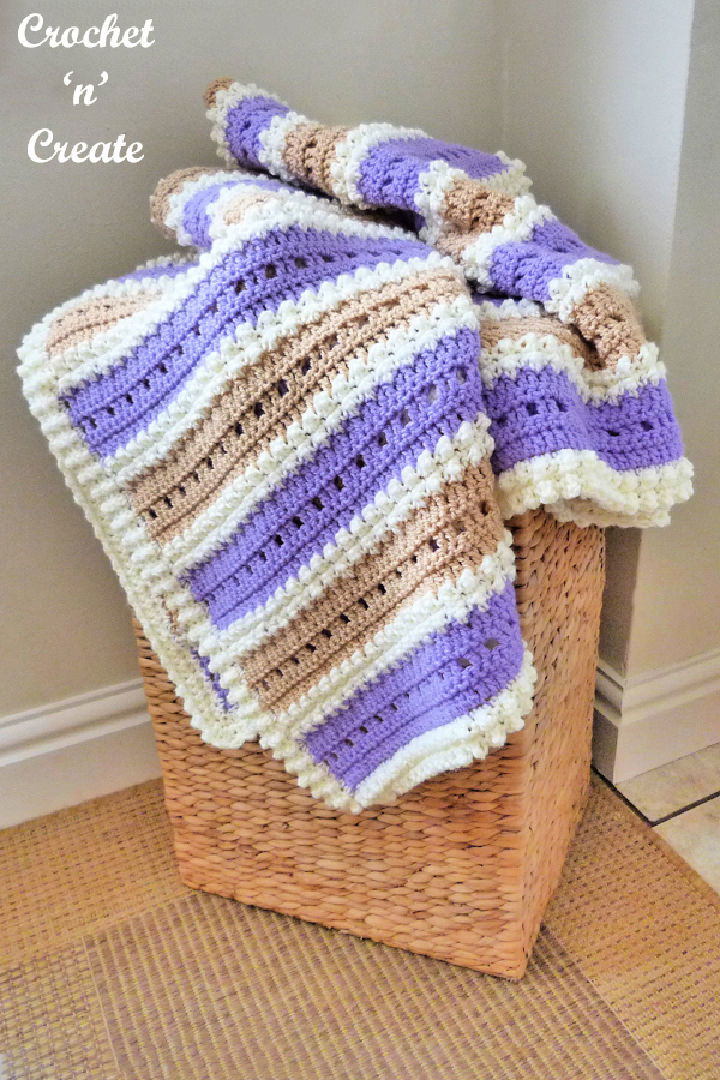 Search no more for the perfect project! Our list of free crochet lapghan patterns has everything for you! This crochet wisteria lapghan pattern is perfect for all types of crocheters – from beginners to experts. This free and new pattern is simple, making it ideal for watching TV on cooler evenings or taking on your travels. It's also a great gift idea as a soft cuddly baby blanket or even as a heartfelt gesture in care homes and for wheelchair users. All you need is stylecraft special dk yarn and 5.50mm clover crochet hooks- get started now! crochetncreate
7. Cute Crochet Iris Lapghan Pattern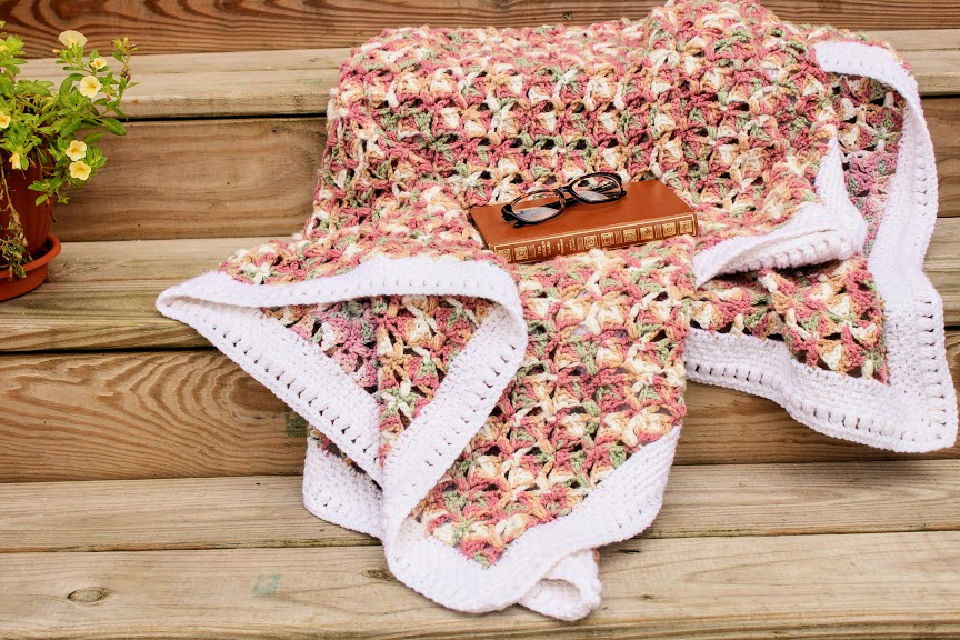 Welcome to the world of crocheting! Try this beautiful iris lapghan crochet pattern today and get creative. You can customize it to suit any size bed, baby blanket, wheelchair afghan or throw blanket simply by adjusting your foundation chain.
All you need is 6 skeins of studio classic by Nicole in the green mauve mix, 1 skein of white yarn for medium weight category, an I/9 (5.25 mm) crochet hook and a tapestry needle for weaving ends – that's it! The finished size is 46.5″ width x 53.5″ length, so give it a shot now and have fun with creating something unique! highlandhickory
8. Free Crochet Scotty Lapghan Pattern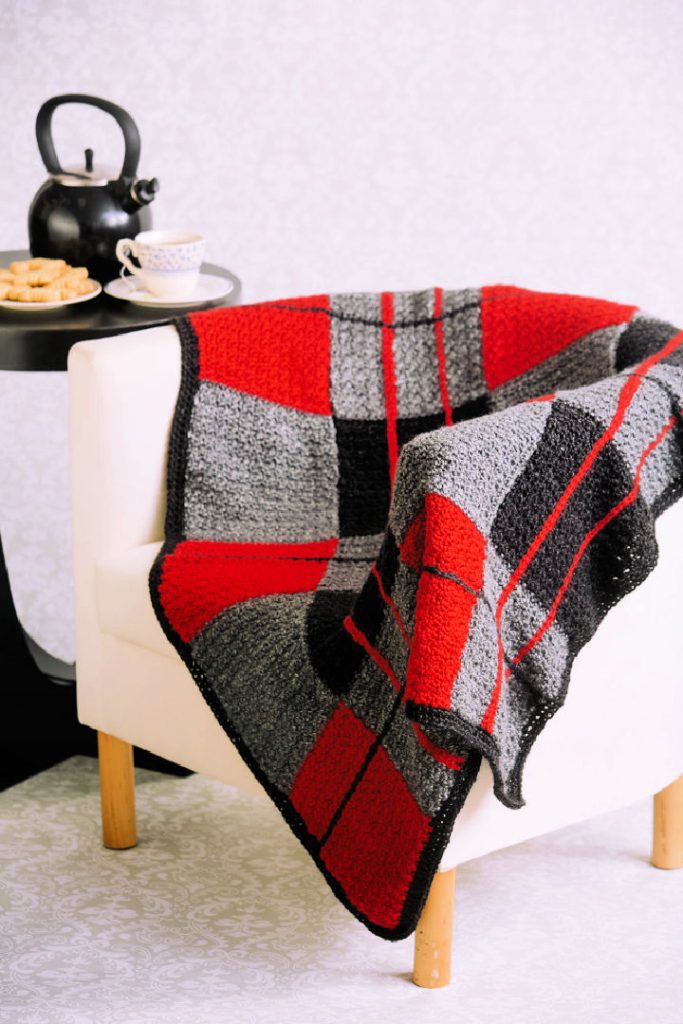 Bring home the vibrant colors of a Scottish plaid when you crochet this beautiful lapghan! Working with alternating stitches, you'll create an intricate texture for the squares and simple, clean lines for the edging. With a skill level set at ease, it's a great project to take on the go – best of all? It's free! Finished size: 32″ x 41″; 7 ½″ x 7 ½″ individual squares. Get creative & craft your own scotty plaid lapghan today! ilikecrochet
9. Crochet Diagonal Chevron Lapghan Pattern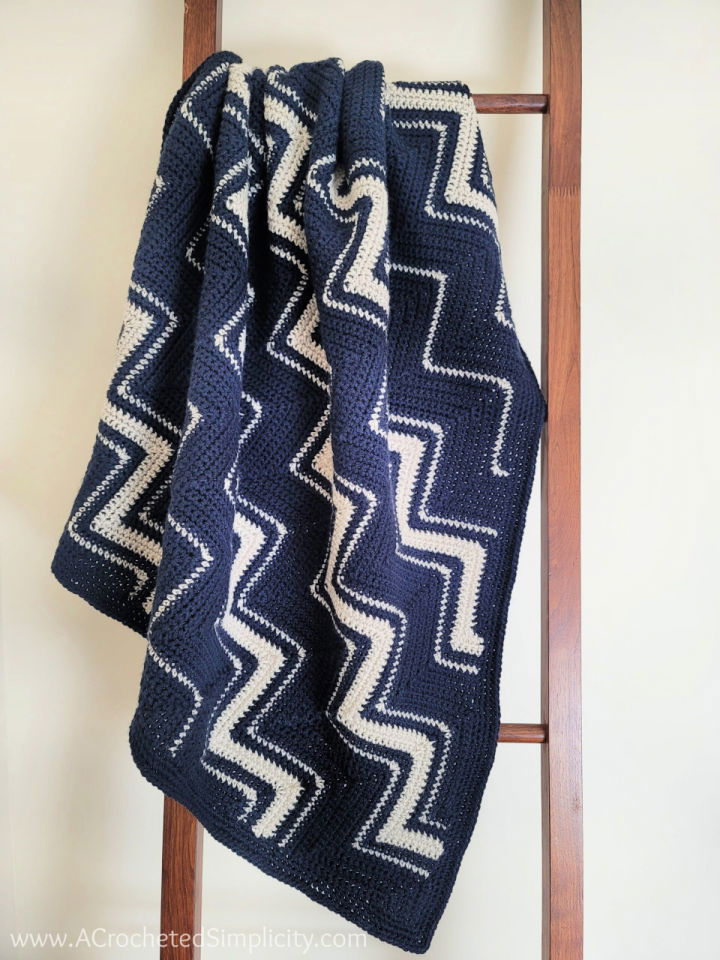 This free crochet blanket pattern is an amazing diagonal chevron lapghan. It's easy to make and looks adorable with its gorgeous texture! Keep yourself warm in the cooler evenings with this cozy and comfy blanket that has been made using a worsted weight yarn, K/10.⅚.50mm crochet hook, scissors, yarn needle and a scrap piece of yarn – plus easy-to-follow instructions. You'll love how it turns out – so make one today for an awesome addition to your home decor! acrochetedsim
10. Chunky Crochet Granny Lapghan Pattern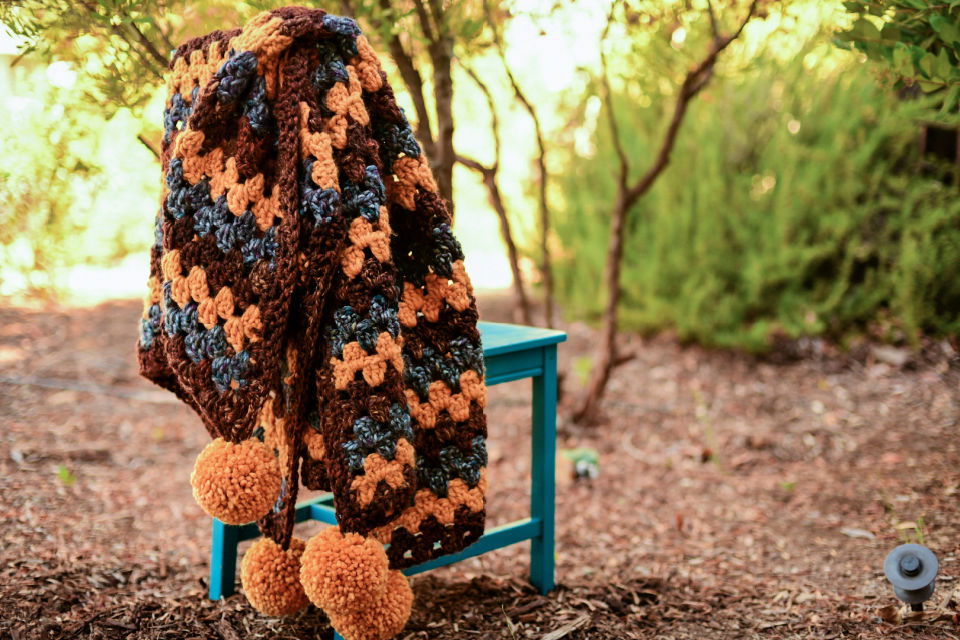 Make yourself a one-of-a-kind cozy accessory with this beautiful crochet chunky granny lapghan pattern. Keep yourself warm and look amazing while watching TV in the evenings! This afghan is easy to make, even for beginners – follow step-by-step instructions for perfect results.
All you need are lion brand wool ease thick & quick yarn, clover amour crochet hook, bent tapestry needle and other materials like a tape measure, scissors & XL pom pom maker. You will create an eye-catching lapghan that will keep you super warm – the perfect addition to your home decor! designsbyphan
11. Best Just Relax Lapghan Crochet Pattern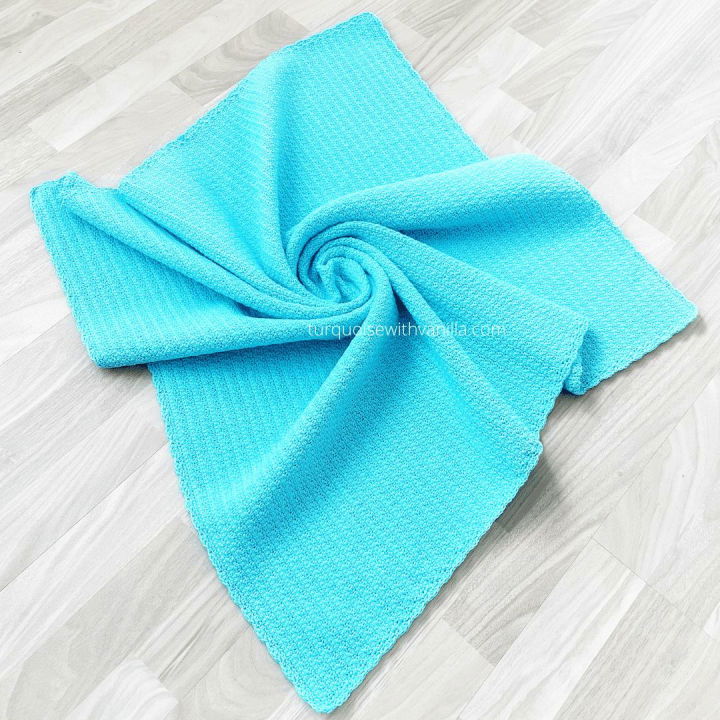 Create a perfect and cozy piece of art with this Just relax crochet lapghan free pattern! With its easy-to-follow instructions, it's ideal for beginners. Make your own warm, textured lapghan in amigurumi Cotton Light Turquoise and a 3.5mm crochet hook. It's fast and simple to create yet looks elegant, making the perfect gift or relaxing addition to your home. Enjoy the comfort of knowing you made something beautiful yourself – relax and take time just for yourself as you make this wonderful item! turquoisewithvan
12. Crochet Spring Blossom Lapghan Pattern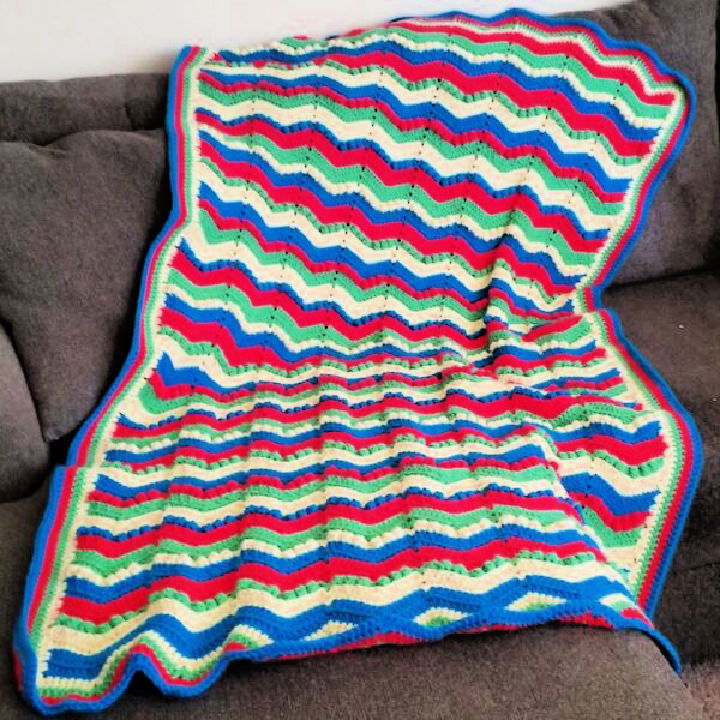 See this one of the multicolor crochet lapghan patterns! Unlock your inner creativity with this free crochet lapghan pattern – spring blossom! Working up is so much fun, and the results are simply fabulous. Crafted from bulky (5) yarn in 4 colors, this lapghan adds a beautiful touch of texture wherever you hang it. Follow this step by step instructions for an easy-to-follow guide that will have you creating comfort and style in no time!
With great texture and simple construction, this pattern will make springtime feel special all year round. Get started today with US Size J/10-6mm crochet hook, stitch markers, finishing needle, and scissors and get ready for something special! undergroundcraft
13. Free Crochet Lap Blanket Pattern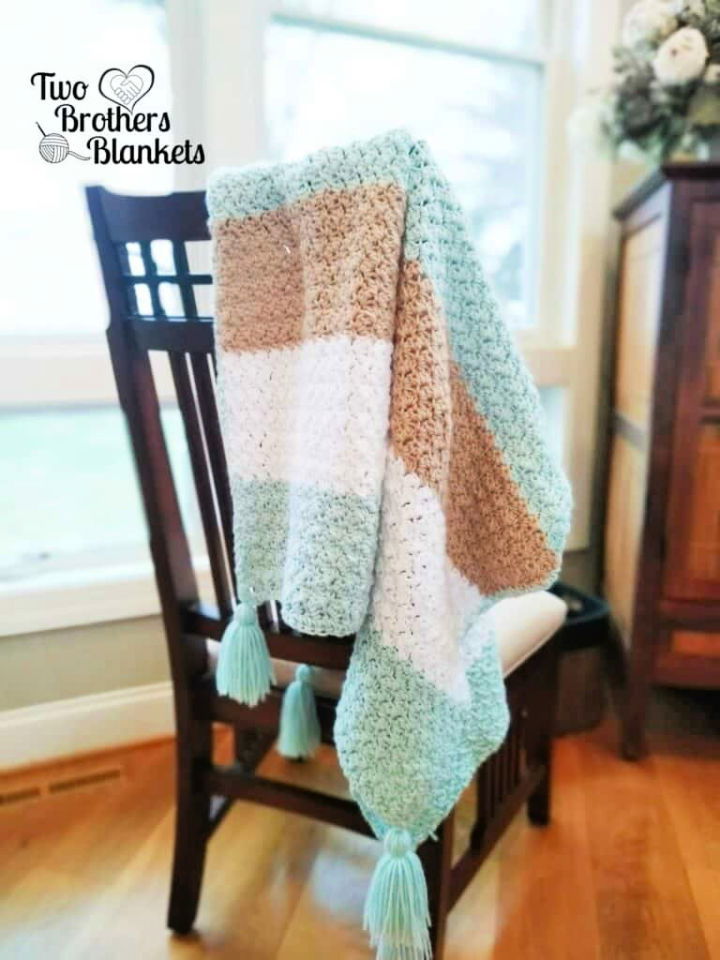 Looking for a special crochet lap blanket? Try theferguson blanket! It's easy and repetitive to make, perfect for gifting or donating. Perfectly sized to fit over a lap while in a wheelchair, this versatile pattern can also be used as an adorable baby blanket with its solid stitch that looks great in any color-matching nursery decor. Materials needed: worsted weight yarn, I (5.5mm) crochet hook, scissors, measuring tape and tapestry needle. The difficulty level is easy – so don't wait – get crocheting your own special Ferguson blanket today! twobrothers
14. Hope Corner to Corner Crochet Lapghan Pattern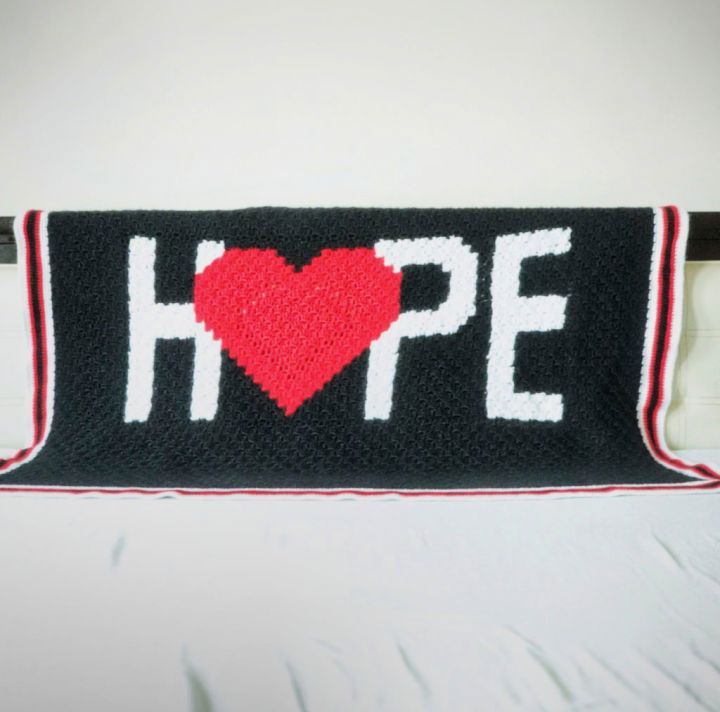 You'll be cozily wrapped in warmth with this free crochet pattern – the hope corner-to-corner crochet lapghan. Perfect for chilly nights or as a snuggly blanket, this heartfelt design is done with love and care in every stitch. You'll need eight balls worsted weight medium four yarn, a 5.5mm hook, and colors black (5 balls), white (2) and red (1). Every stitch will bring comfort and hope; what more could you ask for? Get crafting now! craft her
15. Easy Crochet Lap Blanket Pattern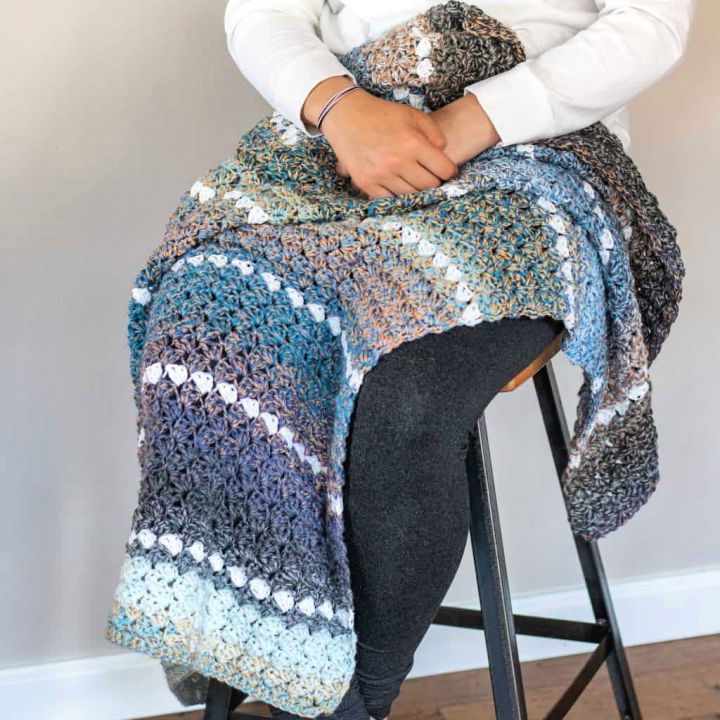 Get cozy with this amazing easy crochet lap blanket free pattern! Perfect for snuggling on the couch, it's also a good size for a baby blanket! With easy-to-follow instructions and mandala tweed stripes material, you can create an amazingly textured blanket that is both comfy and quick to make. All you need are a 5.5 mm crochet hook, scissors, yarn needle and measuring tape – making this project perfect even for beginners! So get your supplies ready and enjoy creating your own crochet lap blanket today! easycrochet
16. Caprock Canyon Crochet Lap Blanket Pattern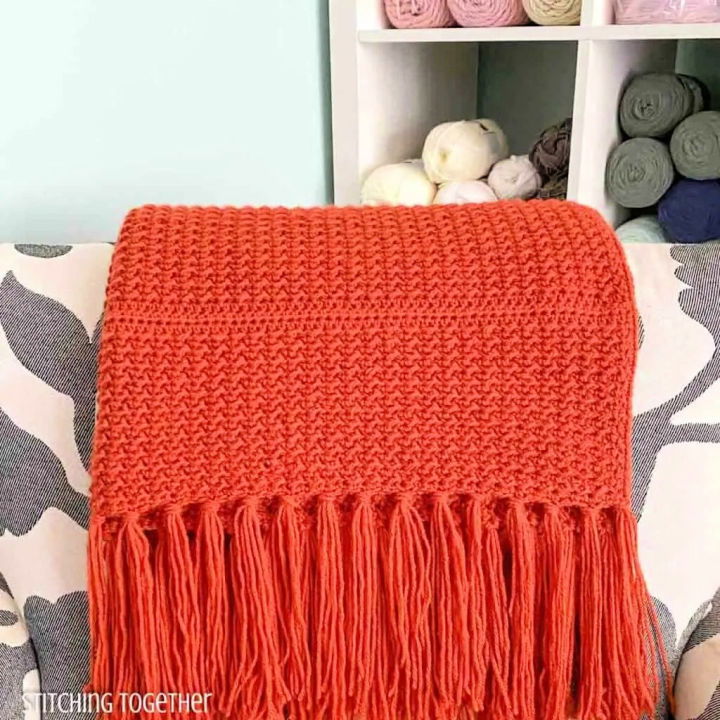 Crochet the perfect eclectic caprock canyon lap blanket! This lapghan is easy to make and so fun to work up. Enjoy enough leg coverage, keeping you warm and cozy on chilly evenings. It makes a great small throw or lapghan for any occasion without the fringe, it even works great in wheelchairs.
Make as housewarming gifts or donate them to nursing homes; they're so versatile & easy! The plus instruction booklet includes materials such as US size K/6.5mm crochet hook, lion brand pound of love yarn & large eye yarn needle – start making yours today! stitching together
17. Easy Super Bulky Crochet Lapghan Pattern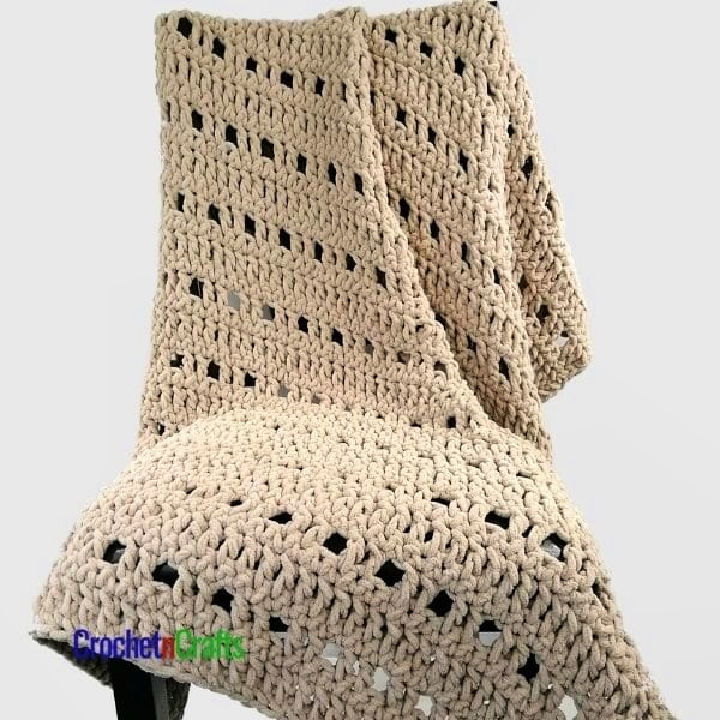 This super bulky, easy crochet lapghan pattern is perfect for beginners and works up quickly! Choose Bernat blanket yarn and a 12.00mm hook to create the ultimate cozy cover-up. It's so much fun to make and looks adorable and the perfect size for cozying up on the couch or for those in wheelchairs – even toddlers! Get crafting with these clear instructions. So enjoy creating your new favourite piece today! crochetncrafts
18. Quick Crochet Open Stitch Lapghan Pattern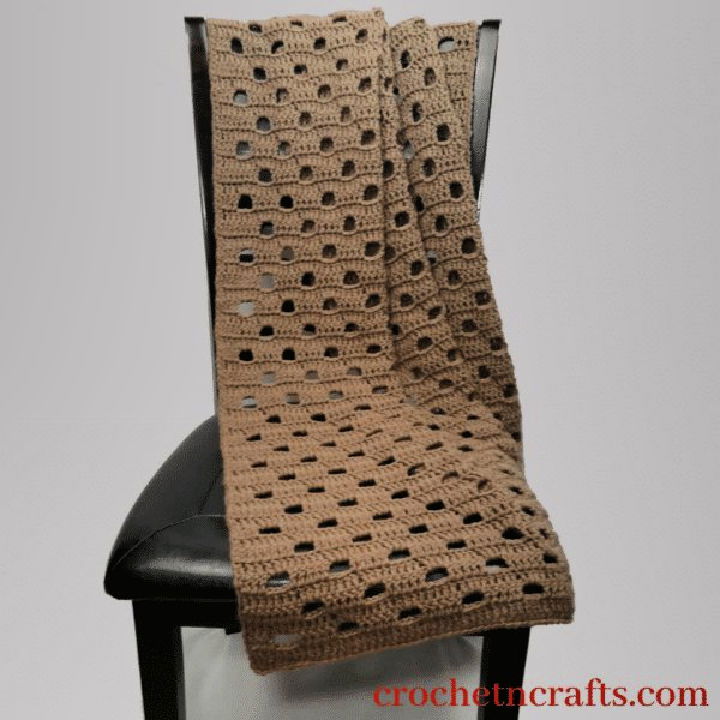 No matter your skill level, this open stitch quick crochet lapghan pattern can be completed in a day or two! It's great for adding a bit of warmth and looks amazing when worked in cheerful stripes. Perfect for any couch, it is an easy but special gift idea. You will need red heart super saver jumbo yarn, H 5.00mm crochet hook, measuring tape, scissors, and a yarn needle to complete the project. Start creating today! crochetncrafts
19. Crochet Thick Misty Moss Lapghan Pattern for Beginners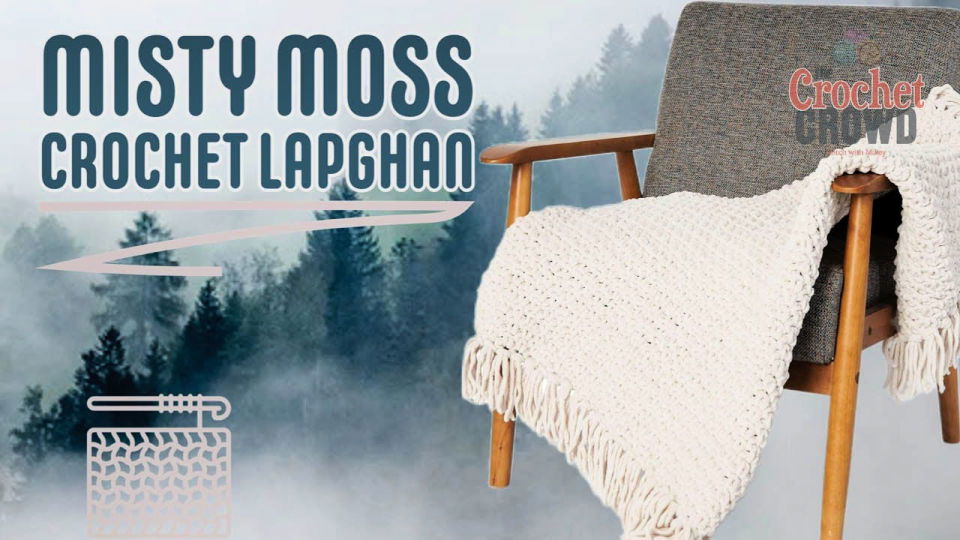 Need a video tutorial for crochet lapghan patterns? If you are a beginner looking for something fun and quick to crochet, look no further! This beginner thick misty moss crochet lapghan is perfect. It's an eye-catching piece that will keep you warm and comfy with its thick texture. We have included step-by-step instructions as well as the supplies needed: 10mm/N/15 hook size, Bernat Blanket yarn. Grab your materials and get started on this beautiful lapghan today!
20. Simple Crocheted Blanket Go-To Pattern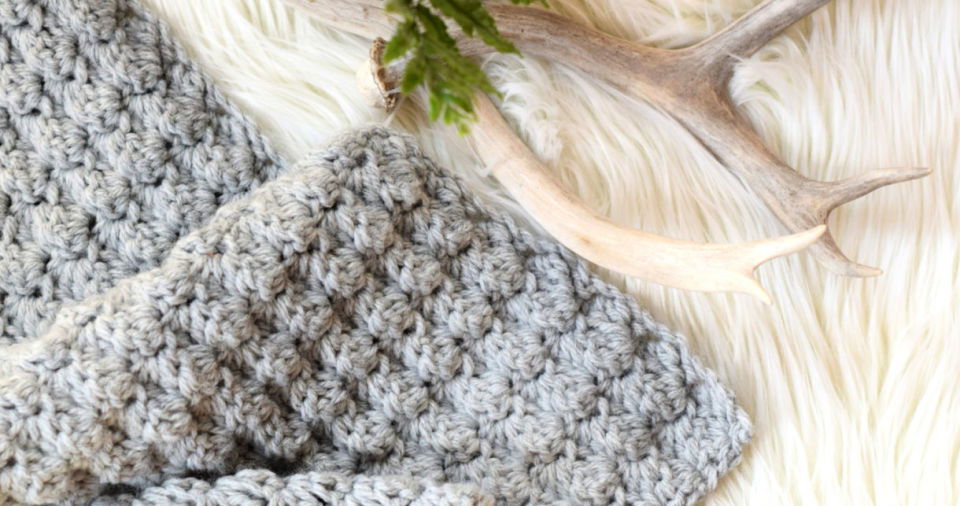 Create the perfect cozy blanket with this simple crocheted blanket go-to pattern. Whether you're making a baby-sized snuggler or a bigger lapghan, it's so much fun to make and super simple to customize into any size that you want.
The lion brand wool ease chunky yarn offers great texture and warmth while still working up quickly with an 8mm crochet hook. This pattern is suitable for the beginner plus crocheter; all you need is your supplies – scissors, tapestry needle, L size crochet hook, and lion brand wool ease chunky yarn! Enjoy creating your own unique blanket today! mamainastitch
Related Free Crochet Patterns:
Find your next crochet project with our collection of free patterns! Create beautiful and functional items, from butterfly wall hangings to spooky Halloween decorations.
Conclusion:
In conclusion, if you are a beginner looking for detailed instructions on how to crochet your own lapghan or lap blanket, this list of 20 free crochet lapghan patterns with detailed step-by-step instructions is a great place to start. With these easy and quick patterns, anyone can create their own cozy, crocheted lap blankets in no time.
Crochet your own lap blanket pattern for yourself or as a gift for someone special today! You can even make crotched lap blankets specifically designed for seniors or hospice patients – adding that extra personal touch will surely bring some warmth and comfort into the lives of those who need it most.