Looking to crochet a special keepsake gift for an expecting parent? Then create a cozy and stylish crochet cocoon to keep you warm during the cold winter months! Find 15 free crochet baby cocoon patterns that range from beginner to advanced crochet skills. The instructions are easy to follow and laid out in a step-by-step format. Even if you're relatively new to crochet, you'll find detailed instructions for every crochet baby cocoon pattern ensuring success for anyone with basic crochet skills. From newborn crochet baby cocoons and infant crochet patterns to crochet swaddles and crochet baby sacques, there's something here for everyone!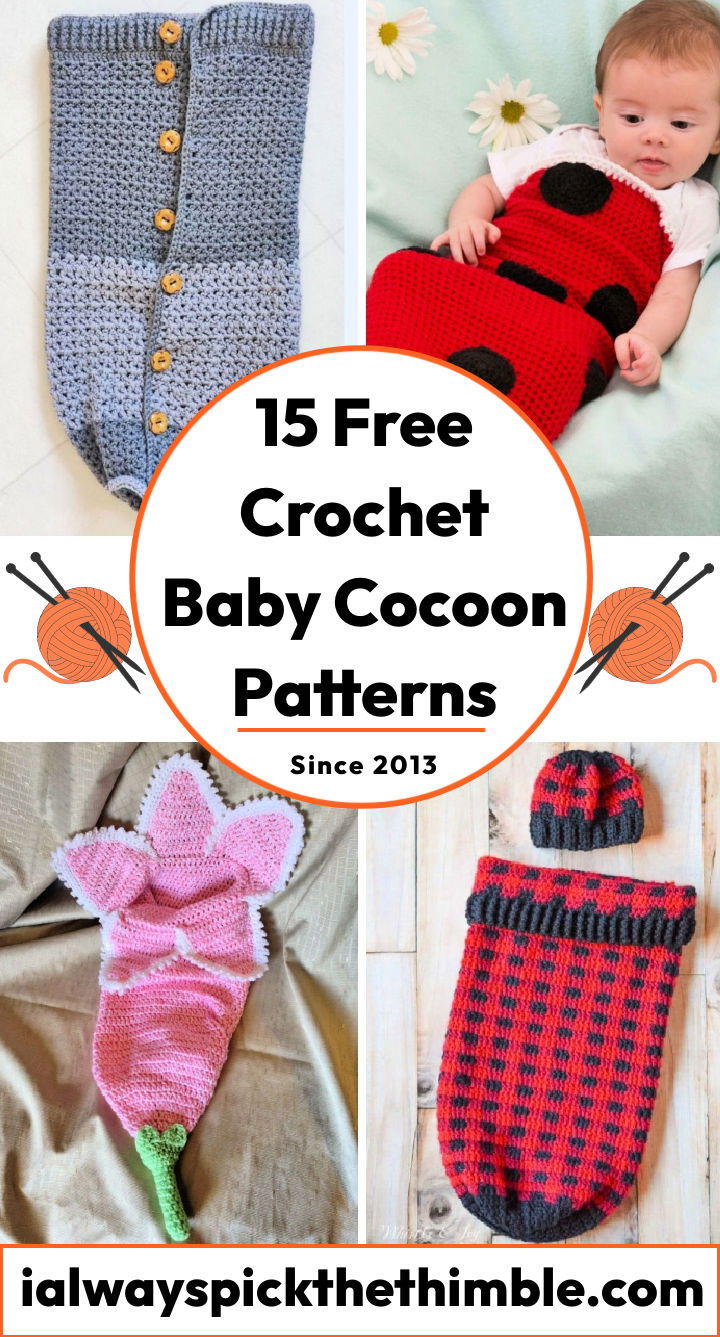 Free Crochet Baby Cocoon Patterns
Discover 15 free crochet baby cocoon patterns that are perfect for beginners! Each crochet baby cocoon pattern comes with step-by-step instructions and detailed diagrams to help you quickly create an adorable infant cocoon with various styles. Get creative and make your own little newborn crochet baby cocoon using one of these helpful crochet baby cocoons. These crochet baby swaddle wraps provide the perfect way to keep your bundle of joy cozy while looking chic at the same time. From classic crocheted sacques to modern crochet cocoons, there's something special for everyone in this selection of gorgeous crochet baby cocoon patterns.
1. Crochet Baby Cocoon Set – Free Pattern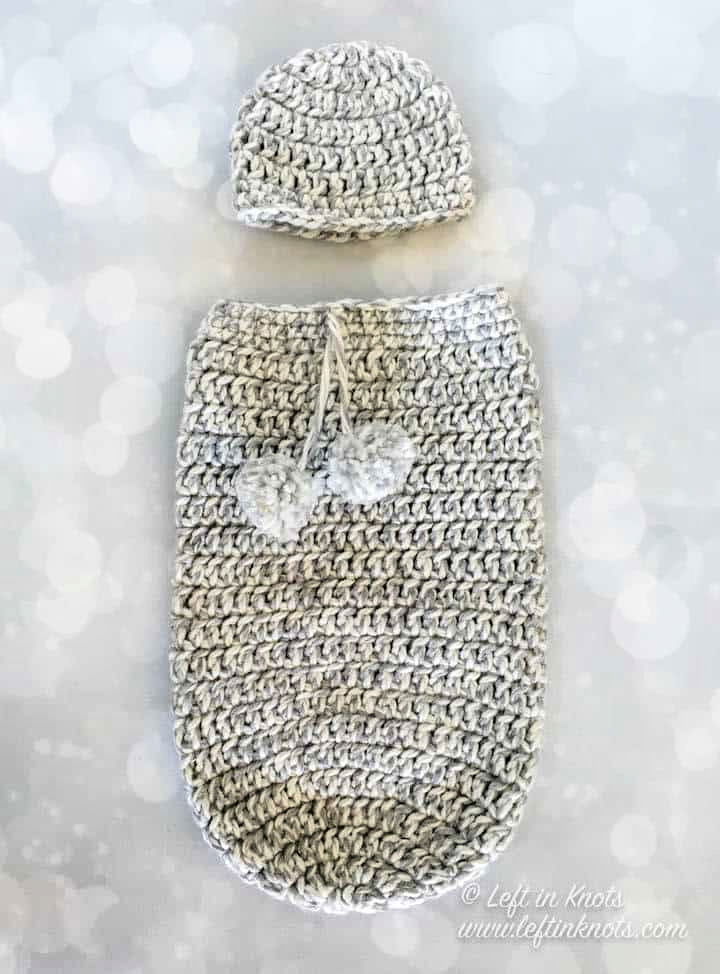 Love to crochet for your little one? Get the perfect, easy Pattern with this crochet baby cocoon and hat! It's fun to make using soft, bulky yarn that the baby will love. Plus, instructions with a video tutorial are included so you can complete it quickly. The finished size measures 15″ x 9.5″. You'll need bernat softee chunky yarn, a 6.5mm hook, scissors, a needle & pom-pom maker (optional). Grab the supplies now & get started on this great last-minute gift idea! leftinknots
2. Crochet Ladybug Baby Cocoon Pattern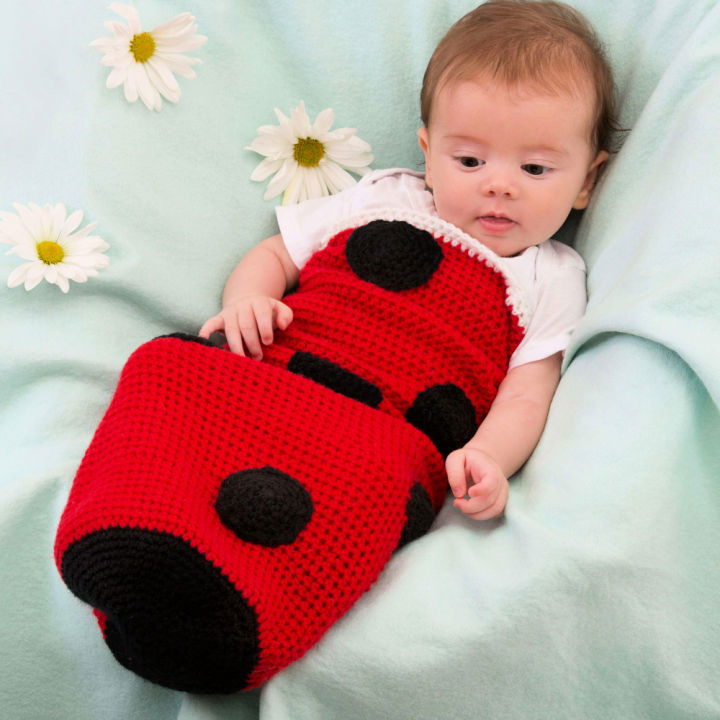 This adorable red heart ladybug baby cocoon crochet pattern is perfect for keeping your little one feeling secure and cozy. With the bright red heart anne geddes baby solids yarn, hook size 4.0 mm (g), stitch markers, and yarn needle included in this Pattern, you'll be able to create a perfect cocoon for special photo moments that will keep your baby snug as a bug! Enjoy cuddling up with your little one in this sweetly crafted cocoon–you won't regret it! yarnspirations
3. How to Crochet a Baby Cocoon – Free Pattern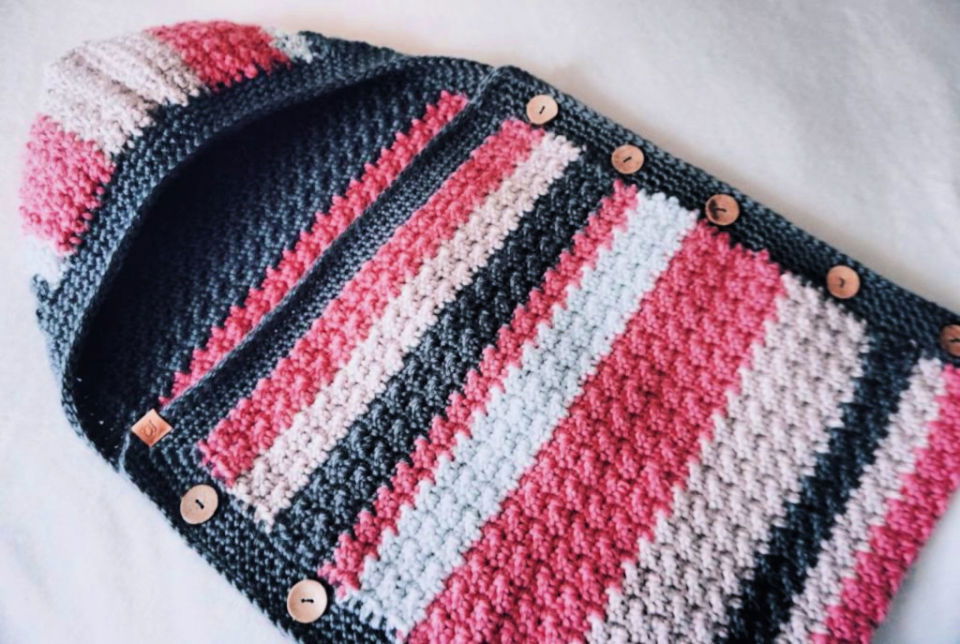 Create a beautiful crochet baby cocoon/sleep bag with this Free Pattern! Perfect for customizing and giving as a baby shower gift. Keep your little one warm and cozy at all times. Instructions come with step-by-step video tutorials, making them easy to follow. Gather the materials needed (category 5 yarn, 6.5 mm hook, scissors, tapestry needle, buttons & stitch markers), and in no time, you'll have created a unique sleep bag for your bundle of joy! cjdesignblog
4. Crochet Lemonade Cocoon and Hat Set Pattern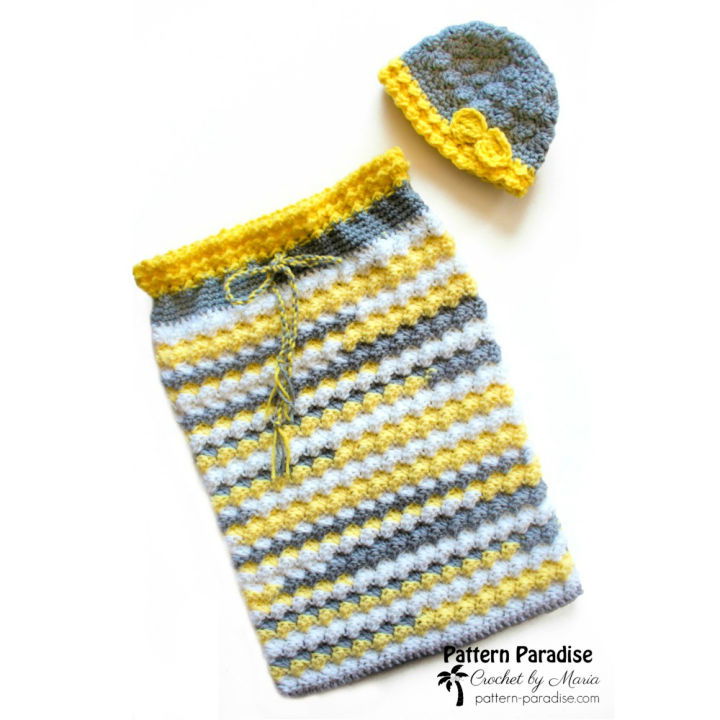 This soft, cozy, free crochet lemonade cocoon and hat set Pattern is just what the baby wants! It's easy to make, generously sized at approximately 18" long x 24" in circumference, perfect for newborns up to 3 months. Plus, the colors used look beautiful! You only need worsted-weight yarn in three colors, a US j/6.00 mm hook, and a tapestry needle for weaving ends. Make your little one feel comfy and warm with this cute set that can be enjoyed all year round! pattern paradise
5. Crocheting a Baby Cocoon in 1 Hour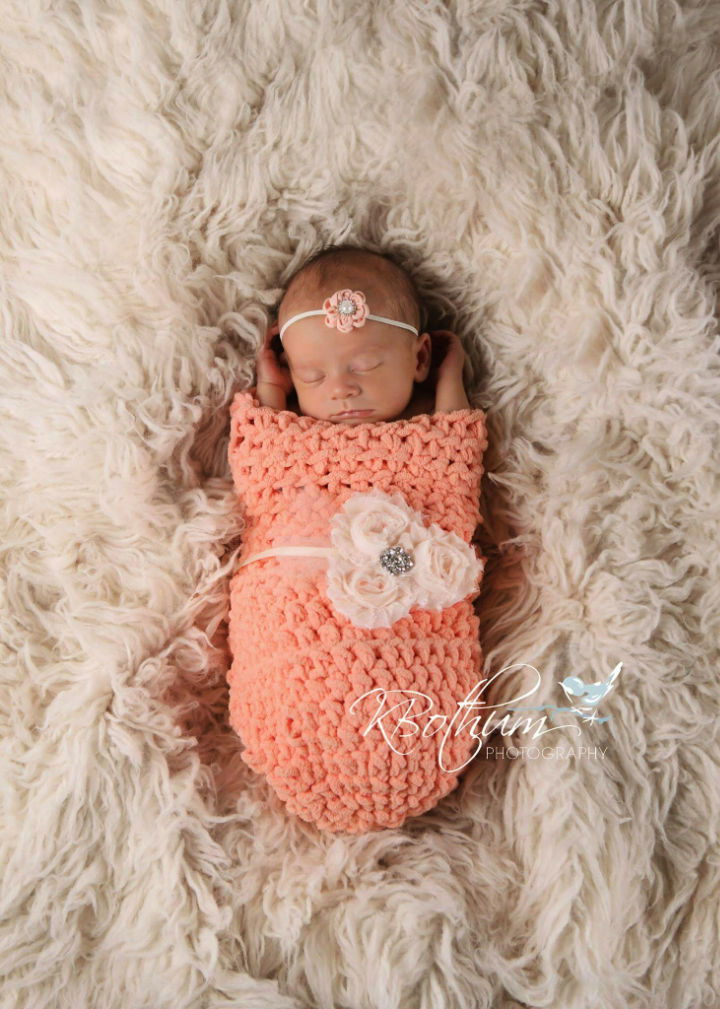 Make a cozy baby cocoon in 1 hour with this easy crochet pattern! Plus, no seams mean it's picture-perfect from any angle. All you need is an 11.50 mm crochet hook, super bulky yarn and some other handy tools for embellishing your creation. Make last-minute gifts or use them as a plush snuggle sack to keep your little one warm and comfortable. Get ready to wow everyone with this stylishly soft beginner-friendly project! sweeteverly
6. Free Crochet Plaid Baby Cocoon Pattern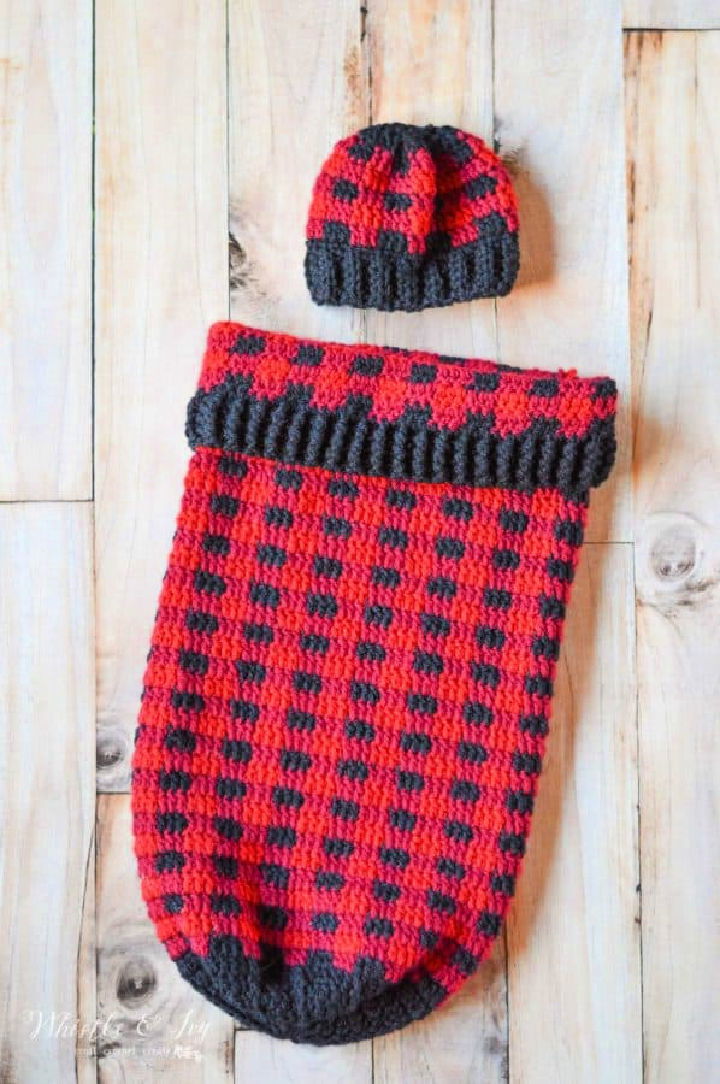 This gorgeous crochet plaid baby cocoon and hat set is the perfect way to keep your little one warm and cozy during winter or fall. Perfect for a rustic woodland-themed nursery or baby shower, this crochet pattern is fun to make and looks amazing! With instructions included on what you need – h hook, lion brand wool and darning needle – it's great for newborns up to 6 months old. Get the perfect photoshoot look with this adorable set! whistleandivy
7. Crochet Snuggle Bug Cocoon Pattern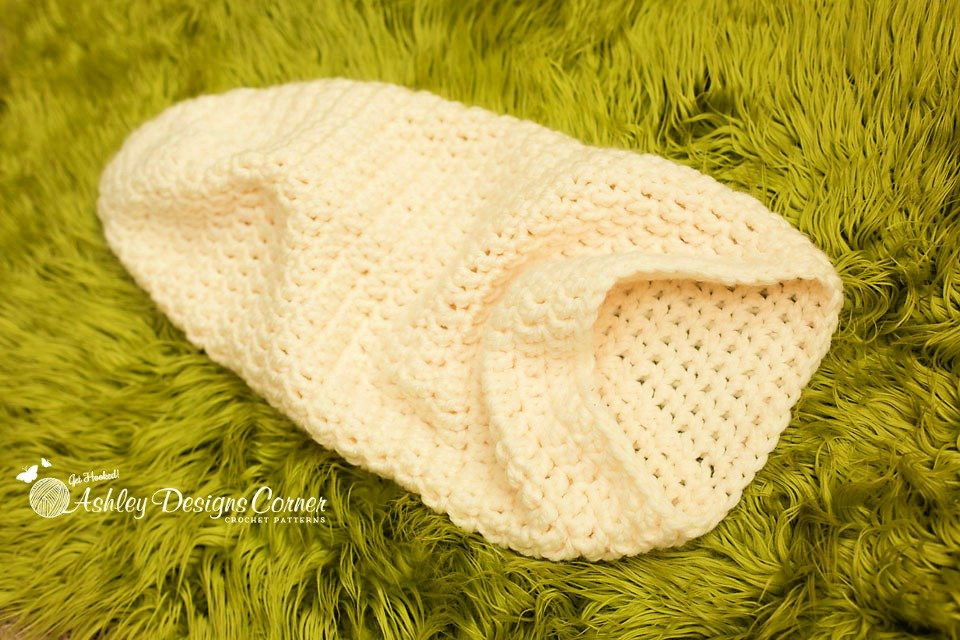 This free crochet snuggles bug cocoon pattern keeps your little one warm and comfy. Easily made with chunky weight yarn, an n – 9.00mm hook and additional supplies like a tapestry needle, scissors & measuring tape, this handmade gift will look great in any nursery or bedroom! The finished size is 22″ in circumference x 20″ long, and the step-by-step instructions make it easy to create. Give your baby something special – get started on the crochet snuggle bug cocoon today! thecrochetcafe
8. Crochet Snuggle Cuddle Cocoon Resized Pattern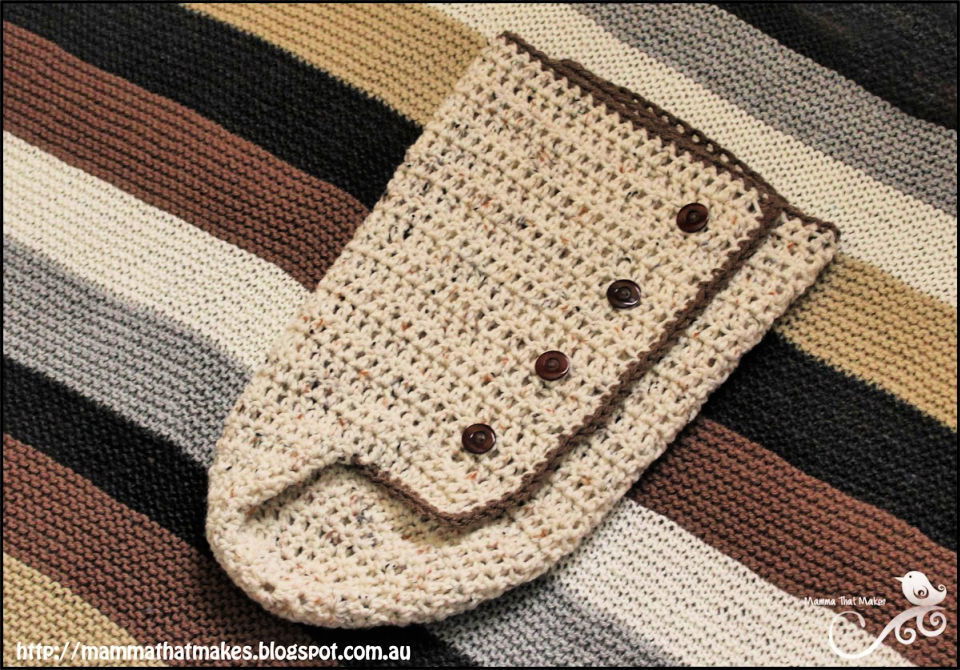 Create the perfect handmade accessory for your little one's wardrobe with this free crochet newborn snuggle cuddle cocoon resized Pattern! Its simple design and great texture make it look beautiful while keeping your little one warm and comfy this winter. All you need is worsted weight/10ply yarn, 6.5mm hook, 6.00mm hook, 5.5mm hook, and 4 buttons – that's it! What are you waiting for? Start crocheting today to enjoy the warmth of the cocoon on chilly days! mammathatmake
9. Crochet Spring Flower Newborn Cocoon Pattern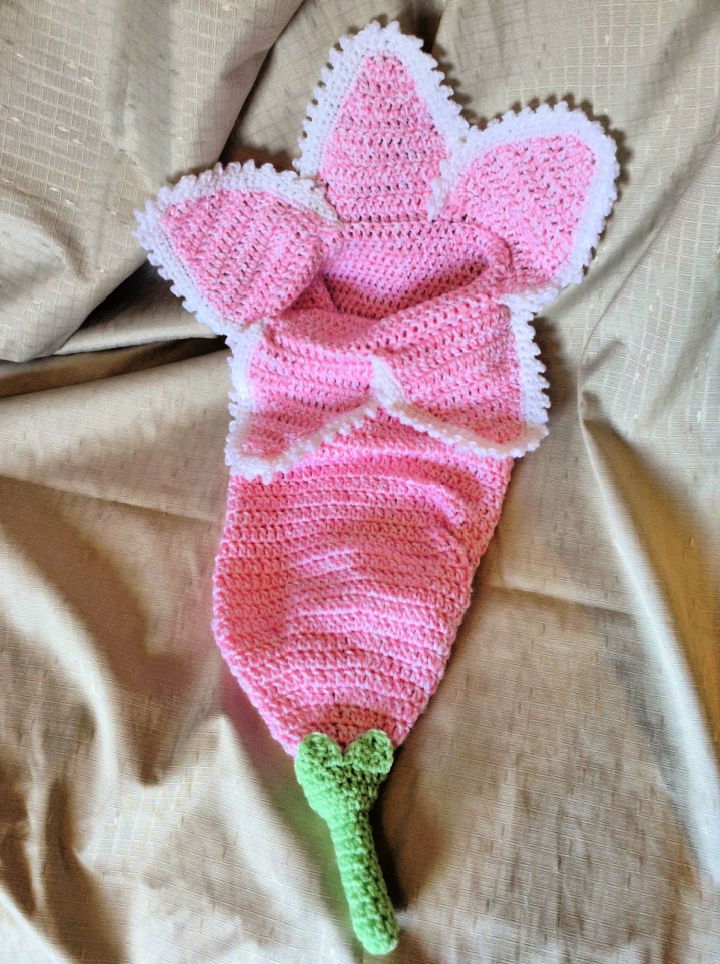 Welcome spring with this beautiful crochet newborn cocoon pattern! This elegant gift for a baby shower will keep your little bundle of joy cozy. Crafted from bernat softee baby yarn and loops and threads snuggly wuggly yarn, using size I/9 – 5.5mm crochet hook, yarn needle for weaving in the ends, scissors, and tape measure – it's sure to be a cherished keepsake that parents treasure forever. With this easy-to-follow Pattern, you can craft a one-of-a-kind piece that will make any new parent smile! theshtickido
10. Crochet Snowman Cocoon – Free Pattern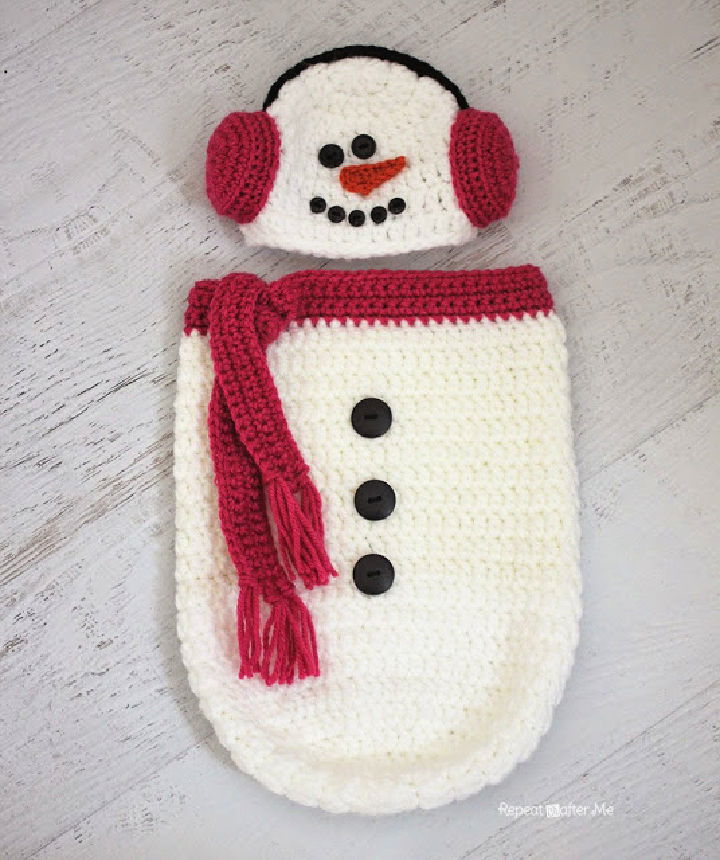 This handmade crochet snowman ear muff hat and cocoon is perfect for any winter occasion, from festivals to special events. It's super cute and fun to make with easy-to-follow instructions that are great for beginners. Materials you'll need include white chunky yarn, size h crochet hook, tapestry needle, black buttons in 3 different sizes and poly-fil fiber stuffing. This winter, make a unique gift or stylish accessory for yourself or a loved one! repeatcrafterme
11. Free Crochet Baby Cocoon Pattern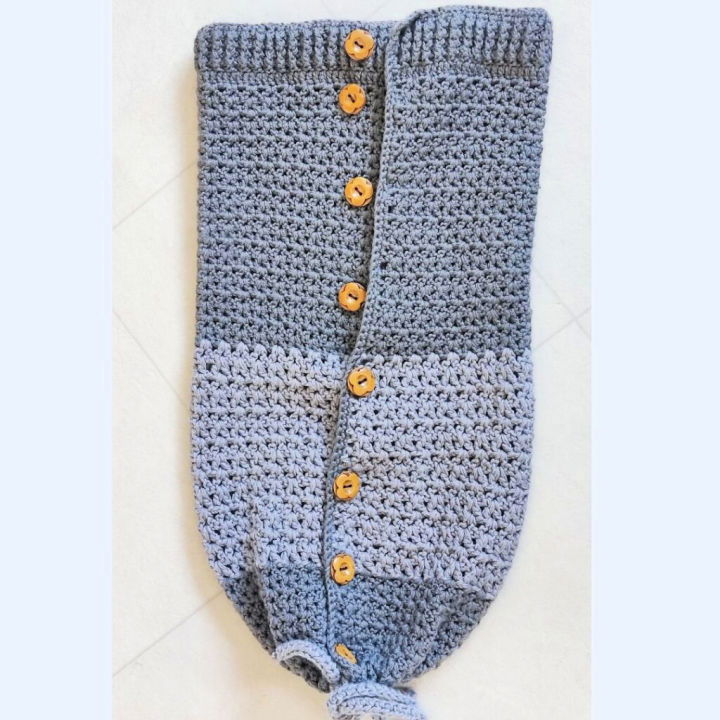 Keep your baby warm and cozy with this free crochet pattern for a cute and beautiful cocoon! Making it will be fun, and your little one will love the result. It's also great when changing diapers or pants during naps or sleep – undo a few buttons and untie the knot. You'll need style craft special DK yarn, a 4 mm crochet hook, and 8 pieces of 10mm buttons for this project that looks amazing! Follow this free crochet pattern to make an adorable cocoon for your little one today. fosbasdesigns
12. Infinity Crochet Baby Cocoon Pattern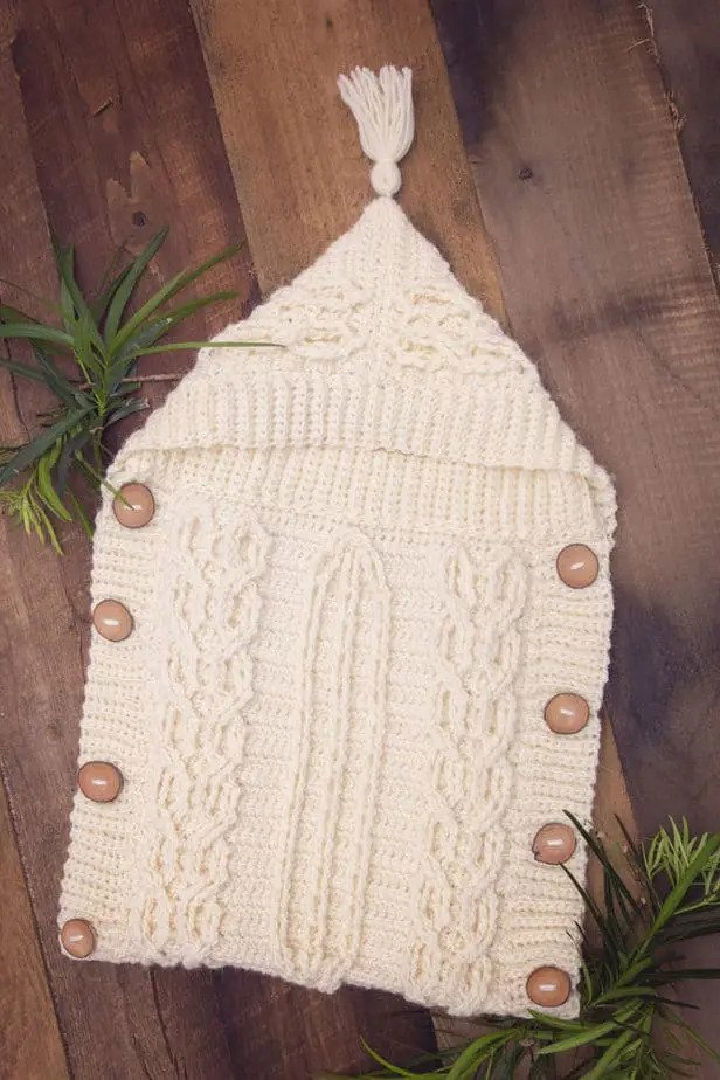 This adorable infinity crochet baby cocoon is a must-have for any new parent or photographer. The cables add style, adding an heirloom touch to this piece. Plus, the free Pattern makes it easy to create! Get ready with your us h-8 (5mm) crochet hook, rowan creative focus worsted yarn, 8 stitch markers, 1.25″ buttons, and a yarn needle. Make something sweet that your little one will love— grab your supplies now and start making this baby cocoon today! brianakdesigns
13. How to Crochet a Cocoon for a Baby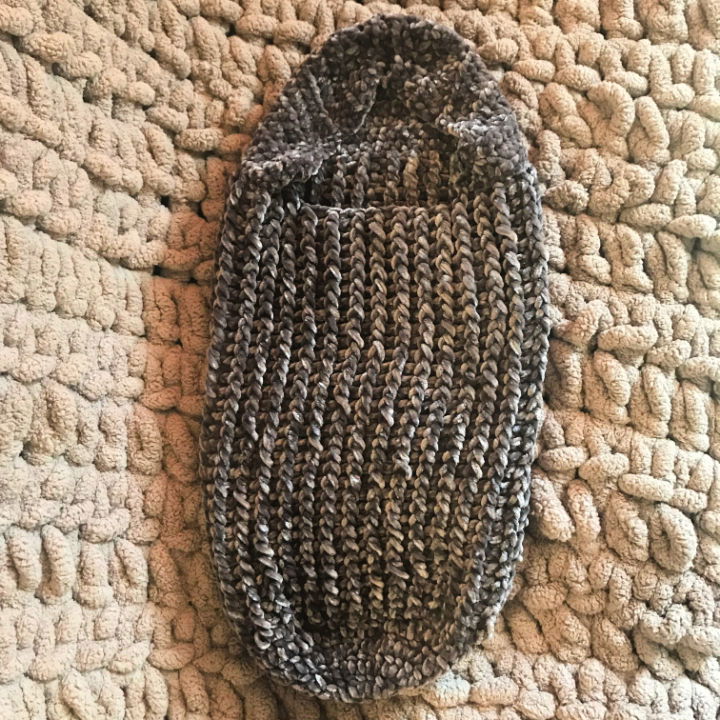 Need a warm and snuggly cocoon for your baby? Look no further! This free crochet pattern is perfect for beginners. With just bernat velvet bulky #5 yarn, a k/6.5 hook, scissors, tapestry needle and stitch markers, you can create an adorable cocoon that's comfortable to keep your little one snug as a bug in a rug! Try out this easy-to-follow Pattern today and make the most precious gift ever! hookingisalife
14. Easy Crochet Baby Cocoon Pattern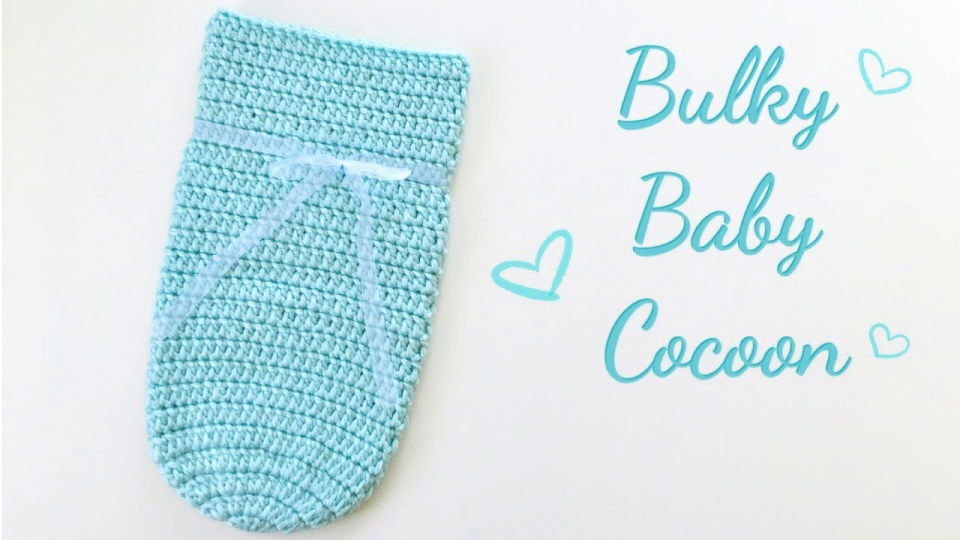 This sweet crochet baby cocoon is the perfect project for beginners! Crafted with #6 bulky weight yarn and a 9mm hook, it's easy to customize the size you need. Complete with measurements in the video tutorial, this simple cocoon will look adorable on your little ones and keep them snuggly warm. Bring love and joy to your family by crafting this cozy cocoon today!
15. Crochet Little Texture Baby Cocoon Pattern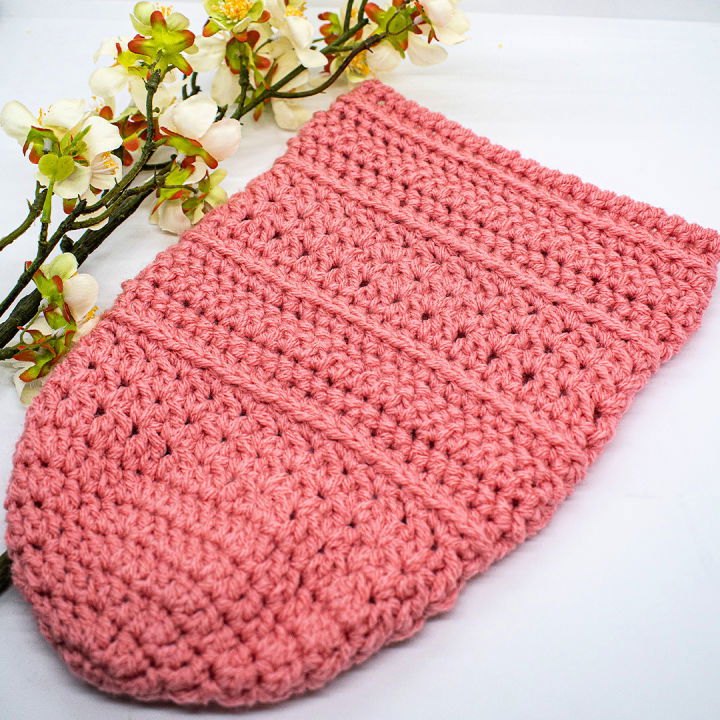 Make a sweet statement with this little texture baby cocoon crochet pattern! Perfect for gifting at a baby shower or donating to local charities, this unisex cocoon is easily customized in any color. All you need is some worsted weight yarn, a 5mm hook, stitch markers, scissors, and a tapestry needle – so grab those supplies and get creative! Make someone's day extra special with one of these unique hand-crocheted gifts. sunflowercottage
Related Free Crochet Patterns:
Explore our collection of free crochet patterns! From blankets to accessories, we have a wide range of designs to suit all skill levels. Start crocheting today!
Conclusion:
Crochet cocoons are a great way to keep your baby warm and snug! Not only do they provide comfort, but they also make for adorable gifts or photo ops. With the help of this list, you can find 15 free crochet baby cocoon patterns that range from easy to more detailed instructions. Whether you're a beginner looking for basic steps or an experienced crocheter searching for something more intricate, there's something here for everyone! From traditional infant cocoon crochet patterns to newborn crochet baby cocoons and swaddles to sacques, these free options offer plenty of variety to crochet the perfect project. So don't wait any longer – get out your needles and yarn today and start making one of these beautiful crochet cocoon patterns!