Do you love making your own jewelry? Then you'll enjoy these 25 easy DIY spoon rings Ideas that show you how to turn ordinary spoons into stunning rings. Spoon rings are fun and easy to make, and you can customize them to suit your style. Whether you want a simple band or a fancy design, we have a guide for you.
You don't need any special skills or experience to make spoon rings. Just follow our clear and simple instructions, and you'll be amazed by the results. Each diy spoon ring tutorial has helpful pictures and tips to guide you along the way. All you need is a spoon, some basic tools, and a bit of creativity.
Spoon rings are also great gifts for your friends and family. You can make them in different sizes, shapes, and colors to match their personalities. Or you can teach them how to make their own spoon rings with these tutorials. They'll love learning this fun and easy craft with you.
Don't miss our extra resources like the spoon ring making kit and the spoon bender tool guides. They'll make your spoon ring making even easier and more enjoyable. You can find them at the end of this article.
Ready to start making your own spoon rings? Then check out these 25 DIY spoon ring tutorials below and get inspired. You'll be surprised by how much you can do with a simple spoon.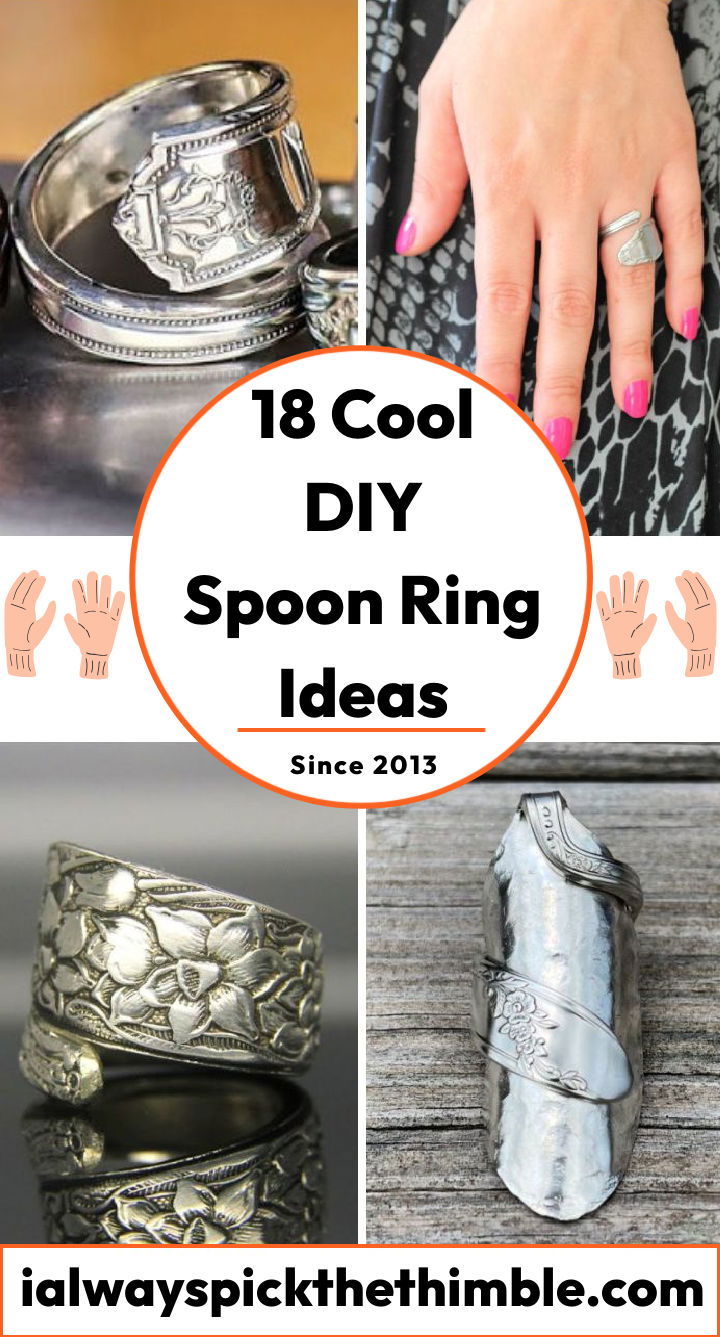 What is a spoon ring, and why make one?
A spoon ring is a ring made from the handle of a spoon or fork. Spoon rings have a long history, dating back to the 1600s when they were worn by servants who could not afford expensive jewelry. They were also a symbol of love and commitment, as lovers would exchange spoon rings as tokens of their affection. Today, spoon rings are a popular craft that anyone can make with some simple tools and materials. They are a great way to reuse old silverware, express your creativity, and create your own unique style.
What materials do you need to make a spoon ring?
To make a spoon ring, you will need the following materials:
A spoon or fork, preferably made of sterling silver or stainless steel. You can find them at thrift stores, antique shops, or online. Look for one that is thin and flexible enough to bend easily. You can also use a family heirloom or a special piece of cutlery that has sentimental value.
Use a ruler or measuring tape to measure the length of the ring band and your finger size.
A permanent marker to mark where to cut the spoon handle.
A jeweler's saw, wire cutters, pliers, or a metal saw, to cut the spoon handle.
A metal file to smooth out the edges of the cut handle.
A torch to anneal the metal and make it softer and easier to bend.
A pickle pot to clean the metal after annealing.
A ring mandrel, a tapered rod with ring sizes marked on it, to shape the ring band.
A nylon or rawhide mallet to hammer the metal around the mandrel.
A ring bender is an optional tool that can help you bend the metal more easily and precisely.
A strip of thick leather to protect the metal from scratches when using the ring bender or pliers.
Sandpaper or polish to finish the ring and make it shiny.
What tools do you need to make a spoon ring?
The tools you need to make a spoon ring are mostly the same as the materials listed above. However, you may also need some additional tools depending on how you want to decorate your ring. For example, you can use:
A drill and bits to make holes in the metal for adding beads, charms, or other embellishments.
A stamping kit to add letters, words, or symbols to the metal.
A soldering kit to join two pieces of metal together or attach a stone setting.
A patina solution to create an aged or antique look on the metal.
How to prepare the spoon for making a ring?
Before you start making your spoon ring, you need to prepare the spoon by following these steps:
Wash and dry the spoon thoroughly. You don't want any dirt or grease on the metal that could interfere with the cutting or bending process.
Measure your finger size by wrapping a piece of string or fabric tape around it and marking where it overlaps. Then measure the length of the string or tape in millimeters and compare it to a ring-size chart. This will tell you what size your ring should be. Add a few millimeters extra if you are using a thick spoon or want some room for adjustment.
Mark the length of your ring band on the spoon handle with a permanent marker. Start from the end of the handle and measure along it until you reach your desired length. Make sure you leave enough space for the design of the spoon handle if you want to keep it visible on your ring.
How to make a spoon ring step-by-step?
Once you have prepared your spoon, you can start making your ring by following these steps:
Cut off the spoon handle with your chosen tool. Place the tool on the mark you made on the handle and start cutting through it. You can bend the handle back and forth until it breaks off or use a saw for a cleaner cut.
File down the edges of the cut handle with a metal file until they are smooth and round. You don't want any sharp or jagged edges that could hurt your finger or catch on clothing.
Anneal, your cut handle with a torch. This means heating up the metal until it glows red and then letting it cool down slowly. This will make the metal softer and more malleable for bending. Be careful not to overheat or burn the metal, as this could damage it or change its color.
Pickle your annealed handle in a pickle pot. This is a solution of water and acid that will remove any oxidation or fire scale from the metal caused by heating. You can use vinegar or lemon juice as a natural alternative to acid. Leave the handle in the pickle pot for a few minutes until it is clean and bright.
Shape your handle into a ring with a mandrel and a mallet. Place the handle on the mandrel at the mark for your ring size and start hammering it around the rod until it forms a U or C shape. Flip the handle over and hammer it from the other side as well until the ends meet. You can use a vise to hold the mandrel in place while you work.
Bend the ends of the handle until they overlap with a ring bender or pliers. If you have a ring bender, you can use it to bend the metal more easily and precisely. Just insert the handle into the slot that matches your ring size and squeeze the handles together. If you don't have a ring bender, you can use pliers to bend the metal by hand. Use a strip of leather between the pliers and the metal to prevent scratches or marks.
Adjust the size and shape of your ring as needed. You can use the mandrel and mallet to stretch or compress your ring until it fits your finger comfortably. You can also use a file or sandpaper to smooth out any bumps or irregularities on the surface of your ring.
Tips and tricks for making a perfect spoon ring.
Here are some tips and tricks that can help you make a perfect spoon ring:
Choose a spoon that matches your style and personality. You can find spoons with different designs, patterns, or motifs on their handles that can add some flair to your ring. You can also look for spoons that have some history or meaning behind them, such as spoons from different countries, eras, or occasions.
Decorate your ring with some extra touches. You can drill holes in your ring band and add beads, charms, or other embellishments to make it more colorful and fun. You can also stamp letters, words, or symbols on your ring band to make it more personal and meaningful. You can even solder two pieces of metal together or attach a stone setting to create a more complex and stunning ring.
Experiment with different finishes and effects on your ring. You can sand or polish your ring to make it shiny and smooth, or you can leave it rough and rustic for a more natural look. You can also apply a patina solution to your ring to create an aged or antique look or use different colors of metal to create contrast and interest.
Common problems and solutions when making a spoon ring.
Here are some common problems that you may encounter when making a spoon ring and how to solve them:
Your spoon is too thick or hard to bend. This may happen if you use a spoon that is not made of sterling silver or stainless steel or if you don't anneal your metal properly. To fix this, you can try annealing your metal again, using more heat and time or using a thinner or softer spoon.
Your ring is too big or too small for your finger. This may happen if you don't measure your finger size accurately or if you don't account for the thickness of the spoon or the overlap of the ends. To fix this, you can adjust your ring size by stretching or compressing it with the mandrel and mallet or by cutting off some excess metal from the ends.
Your ring is not round or symmetrical. This may happen if you don't hammer your metal evenly around the mandrel or if you bend your ends too much or too little. To fix this, you can reshape your ring by hammering it gently on the mandrel until it is round and even or by bending your ends until they align properly.
1. Easy DIY Spoon Ring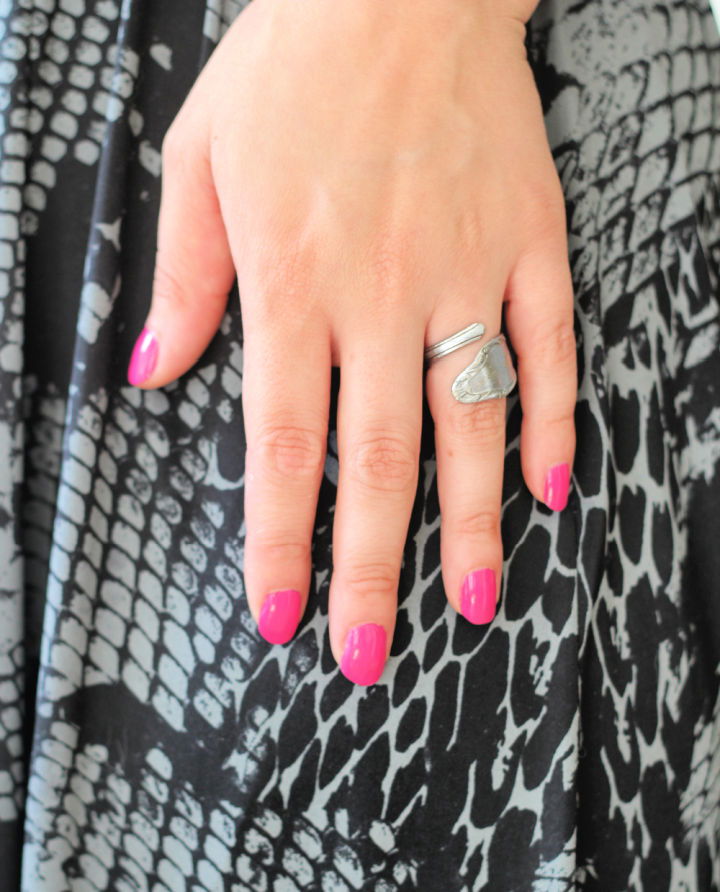 Make your stylish accessory with this easy DIY spoon ring! This easy-to-follow tutorial will guide you through transforming your everyday spoon into a fashionable piece. You'll love how simple it is to add a unique, personalized touch to any outfit.
You can make an eye-catching ring for yourself or someone special with just a few basic supplies and creativity. Take the time to enjoy crafty fun and proudly show off your handmade jewelry. Make your own easy DIY spoon ring today! lanaredstudio
2. Spoon Ring – Step-by-Step Instructions
This DIY spoon ring project is a sentimental one you'll never forget. DIYers know it sounds strange, but an easy-to-follow tutorial is included to help you make your special spoon ring!
Start creating, and feel free to share your experiences with other DIYers as you go along — they would love to hear how this DIY experience has touched your life! Check out our complete guide for all the tips and tricks on crafting the perfect spoon ring. themerrythought
3. Make Your Own Spoon Rings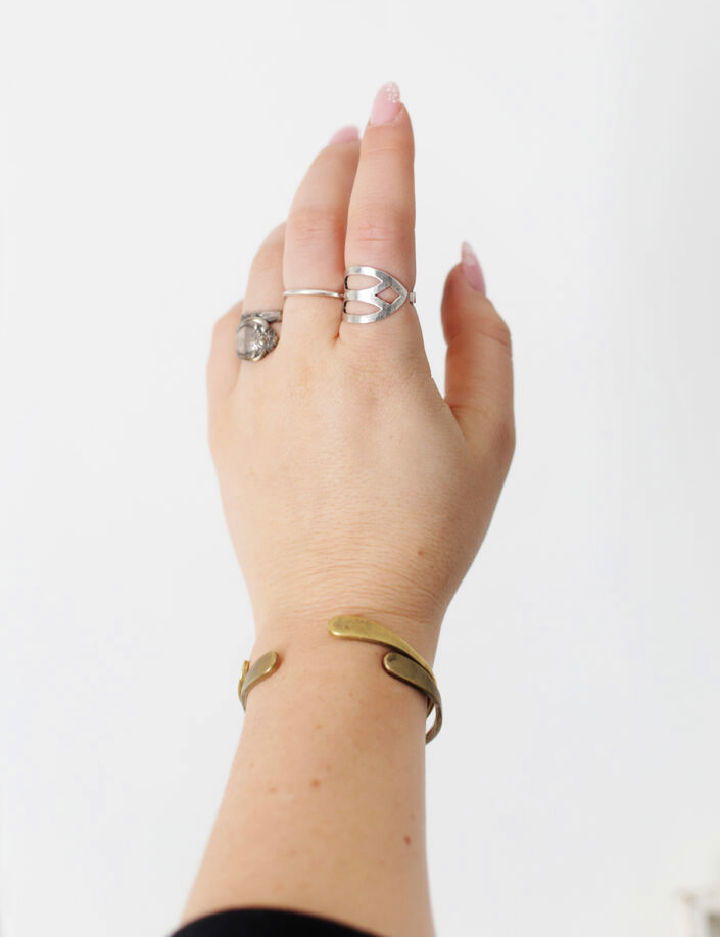 Are you looking for a unique piece of jewelry? Learn how to make a spoon ring! Vintage sterling silverware is becoming harder to find, but you can still find it at thrift stores, estate sales, flea markets, and antique stores. Search for the perfect little design you want, and have fun makingsomething beautiful with an old spoon.
It's easy to make one-of-a-kind rings with intricate designs that are sure to turn heads – so why not give this crafty DIY project a try today? Make your gorgeous spoon ring and show off your style in a truly unique fashion! themerrythought
4. How to Make a Spoon Ring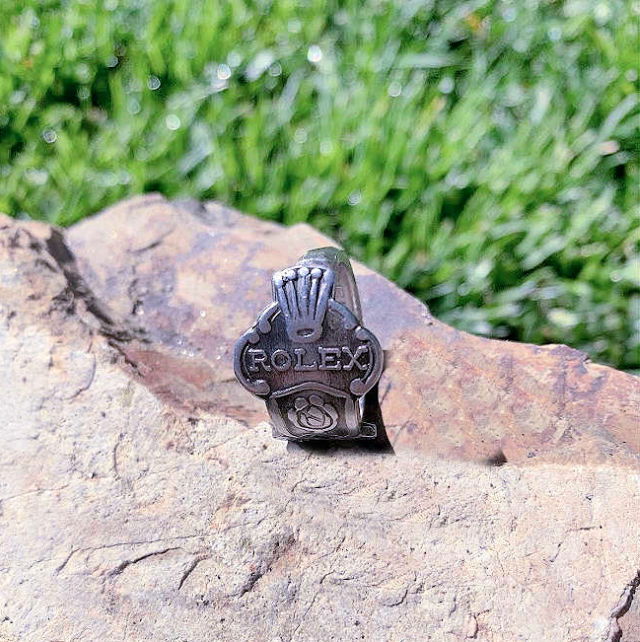 Make a unique ring with a classic twist. With the easy DIY spoon ring tutorial, you can turn old cutlery or family heirlooms into beautiful rings! Believed to have originated in 17th century England when people used pieces of silverware from their master's home to make a ring as an affordable wedding band substitute.
Spoon rings are now popular and incredibly easy to make without special jewelry tools! Follow the steps on the website and learn how to craft your own timeless DIY spoon ring today. myuncommonslice
5. How to Bend Silverware Into Ring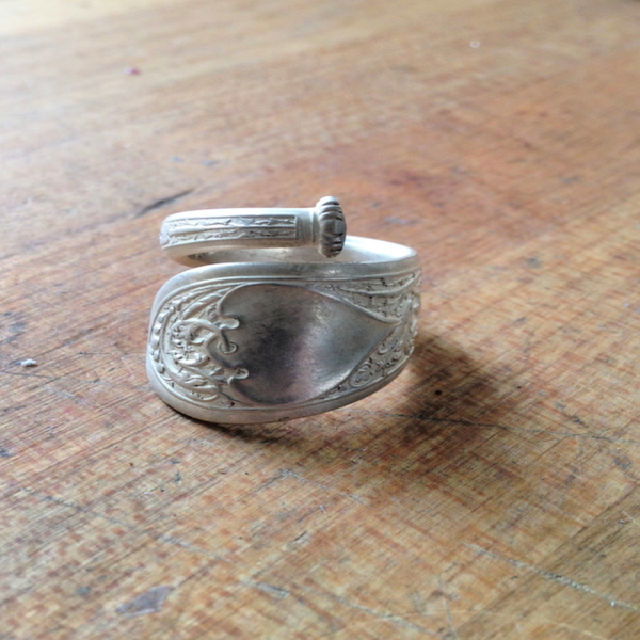 Capture timeless style by making and wearing your spoon ring! Learn how to make a classic piece of jewelry that is said to date back as far as the 1600s. This DIY guide walks you through all the steps, from selecting silverware, shaping it into a ring, and polishing it carefully.
Discover tips on choosing the perfect utensil for maximum impact — make something beautiful you can wear with pride for many years! craftsy
6. How to Bend Sterling Silver Spoons to Make Ring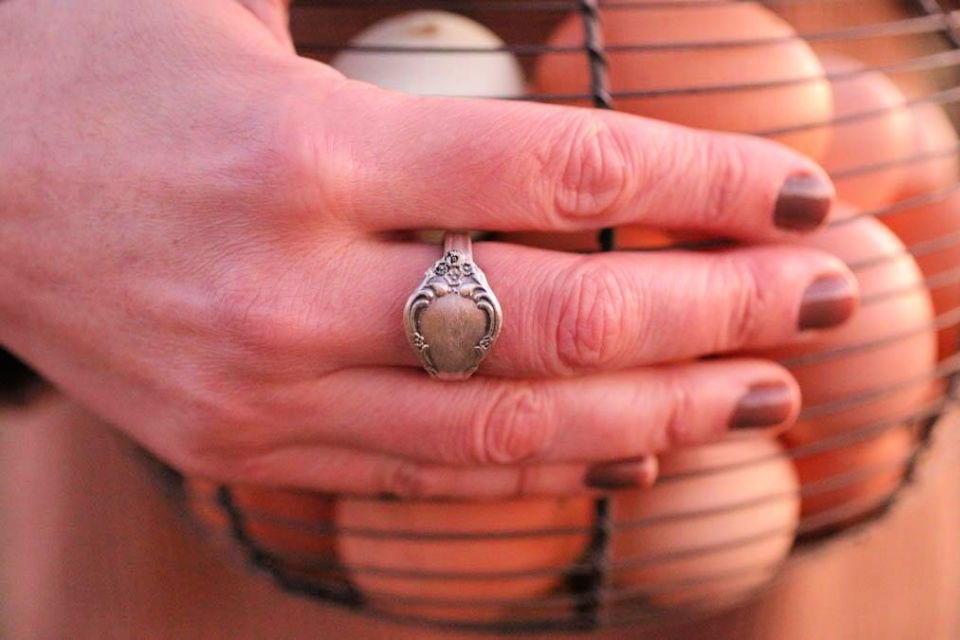 Make your spoon ring and bring back the nostalgia of a classic jewelry piece! Learn how to DIY silver spoon rings with this easy-to-follow guide. Whether you're looking for a unique gift or want something special for yourself, making jewelry from silverware is the perfect way to stand out.
Start by selecting a vintage spoon that speaks to you, and then follow these step-by-step instructions on forming, hammering, polishing, and finishing your custom creation. With patience and the right tools, anyone can quickly make their elegant spoon ring! theeverydayfarm
7. How to Do Spoon Rings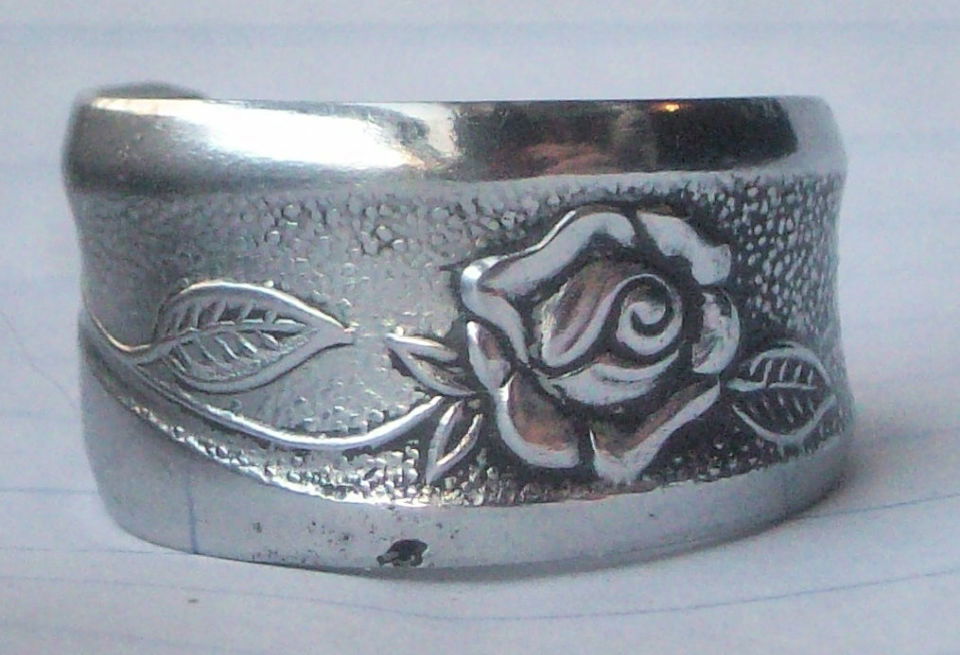 Make custom jewelry with spoon rings! This guide will show you how to make a unique ring from spoons. All the tools and materials you need are easily accessible – hammer, pliers, file, socket wrench that fits your finger size, wire cutters, and a spoon.
With just these few things, this DIY can teach you step-by-step how to craft this cool piece of jewelry in no time at all. Try it today and add some style to your wardrobe! instructables
8. Making Your Own Spoon Rings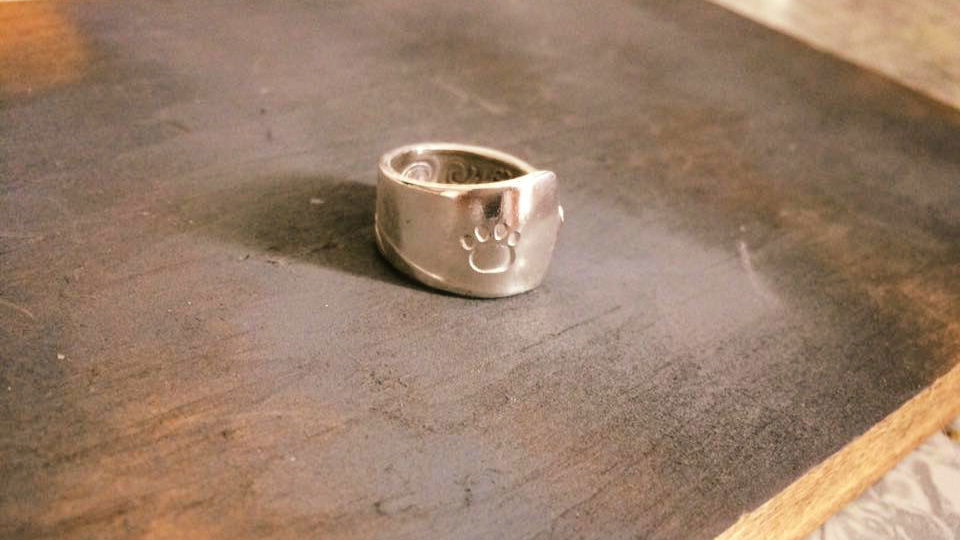 Make your own unique, fashionable spoon rings right at home with just a few simple steps! Spoon rings were incredibly popular during the mid-2000s and are returning today. They're great for flea markets and craft sales as they make an inexpensive yet stylish accessory.
Crafting these rings is easy – you only need a spoon, some pliers, and imagination. All you have to do is twist the spoon handle around itself twice to shape it into a ring before filing off any sharp edges or natural imperfections that might be visible. howtowise
9. DIY Spoon Rings in 3 Easy Steps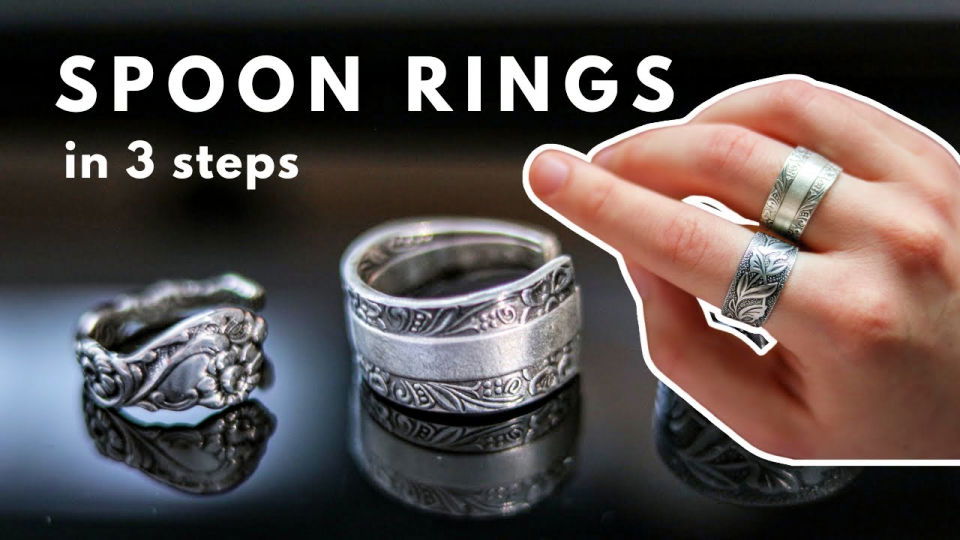 Are you seeking a stylish, unique accessory that won't break the bank? Look no further than spoon rings! With just three easy steps, you can transform an ordinary spoon into a beautiful piece of jewelry.
This DIY tutorial will guide you through the process and have you showing off your new ring in no time. Get ready to impress your friends with your creativity and fashion sense – let's start making some stunning spoon rings!
10. Make Your Own Spoon Rings Jewelry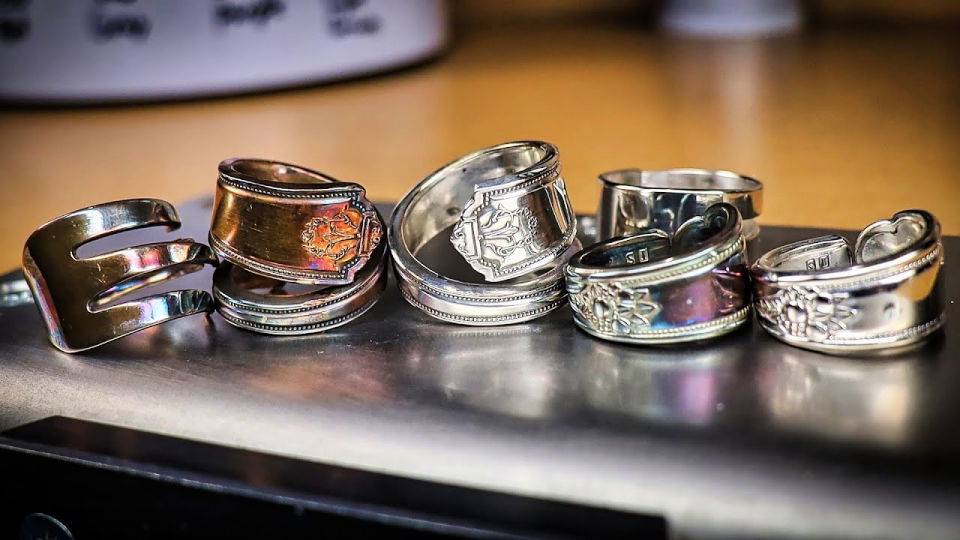 Are you looking to make beautiful spoon rings like a pro? With this guide, you will learn everything you need to know! This DIY will show you how to pick the best silverware and test if it's silver plated or solid silver. It will also teach you simple math, so your spoon rings are always perfectly sized.
Plus, there is much more waiting for you in the comprehensive guide! Make professional quality jewelry easily – get started now and become an expert at making spoon rings.
11. Homemade Spoon Rings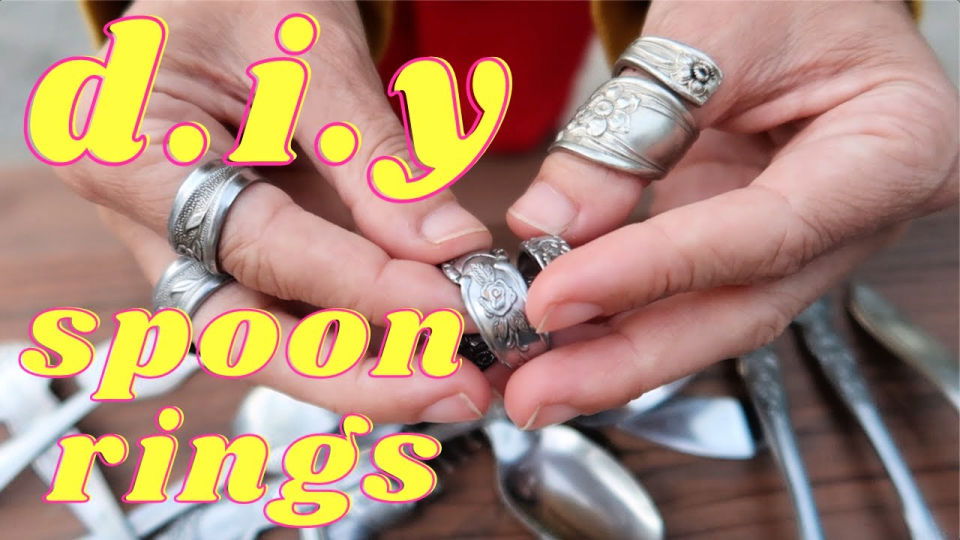 Are you looking for a fun and easy DIY summer project? Look no further than making rings out of spoons! With minimal tools, you can make your spoon rings easily. Search online to find instructions on how to make them the easy way. All you need is an old spoon, some sandpaper, a drill, hammer & punch, and any paints/stains you choose.
Follow these steps to make unique and stylish accessories at home using only a few simple materials. So, get creative and start crafting today – make something beautiful with your own two hands!
12. Handmade Ring Made From Spoon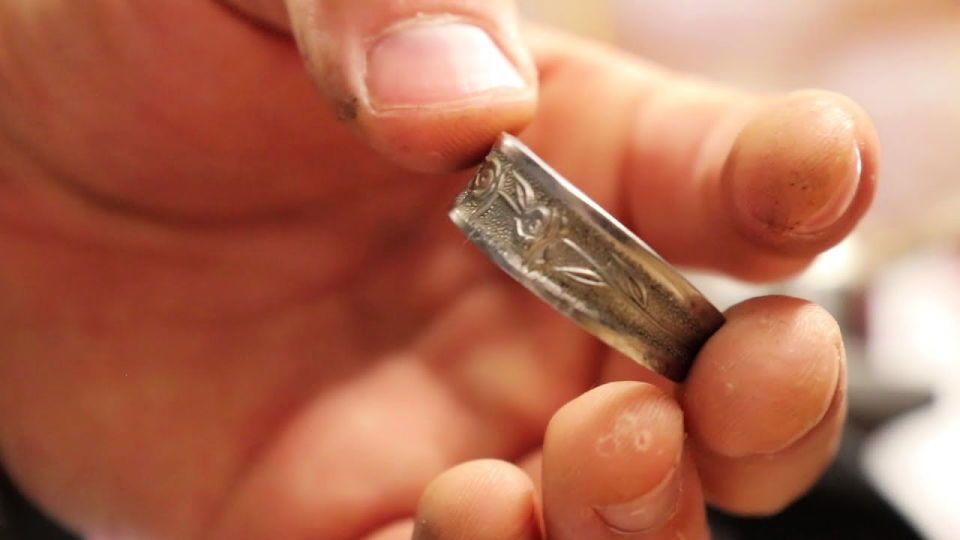 Make your unique jewelry with spoon rings! Learn how to make a simple and plain spoon ring in just a few easy steps. First, use wire cutters or strong pliers to twist off the bowl portion of the spoon from its handle. Then, shape the bowl into a perfect circle using round nose pliers.
Finally, press the ends together for an adjustable fit and buff gently with steel wool for a smooth finish. With this method, you can easily make beautiful, stylish jewelry pieces that won't break the bank!
13. Making a Ring Out of Spoon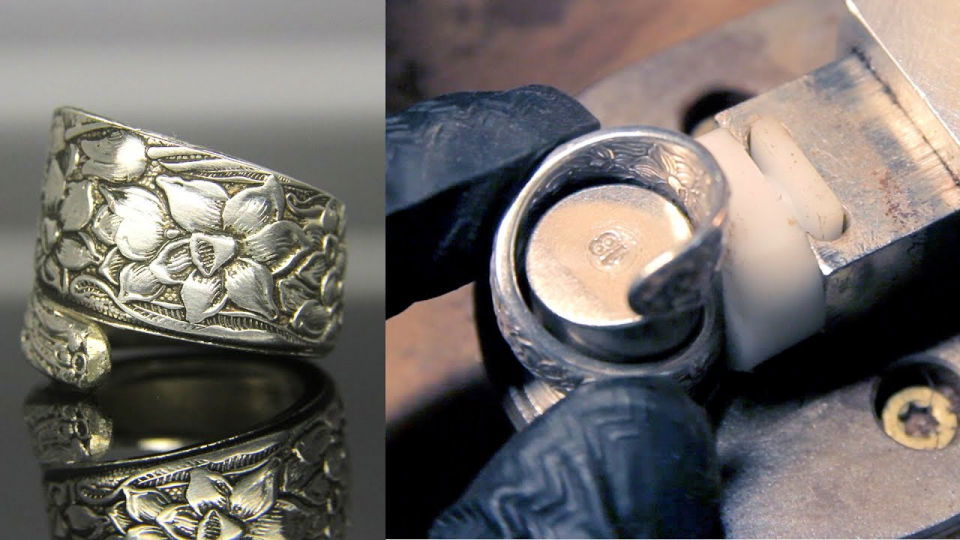 Make beautiful and unique spoon rings quickly and easily with the Pepe tools ring bender! This video will show you how to use this tool to make lovely spoon rings which will last a lifetime. Forget about the old method of using a torch, pliers, filing, and sanding – this tool makes it easy to avoid surface damage while bending spoons into gorgeous shapes.
Learn from this tutorial how to make stunning spoon rings in no time. Get creative with your designs and let your imagination do all the work!
14. Band Style Spoon Ring Tutorial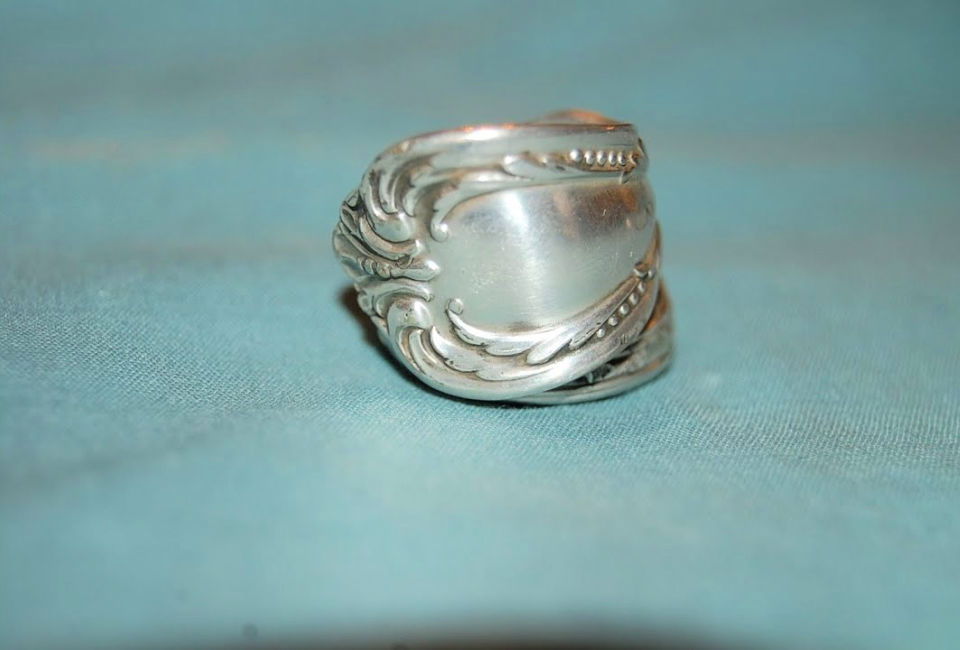 Want to make a special gift for your special someone? This easy DIY video tutorial teaches how to make the perfect spoon ring band style. All instructions are included, from collecting materials, cutting the metal, and finishing with polishing.
Enjoy making an eye-catching piece of jewelry that can be kept as a memento or sold in stores. Get creative and add a personal touch by customizing it using engraving or color patterns! Unleash your inner designer today and craft something beautiful!
15. How to Make Spoon Rings Using Original Antique Spoons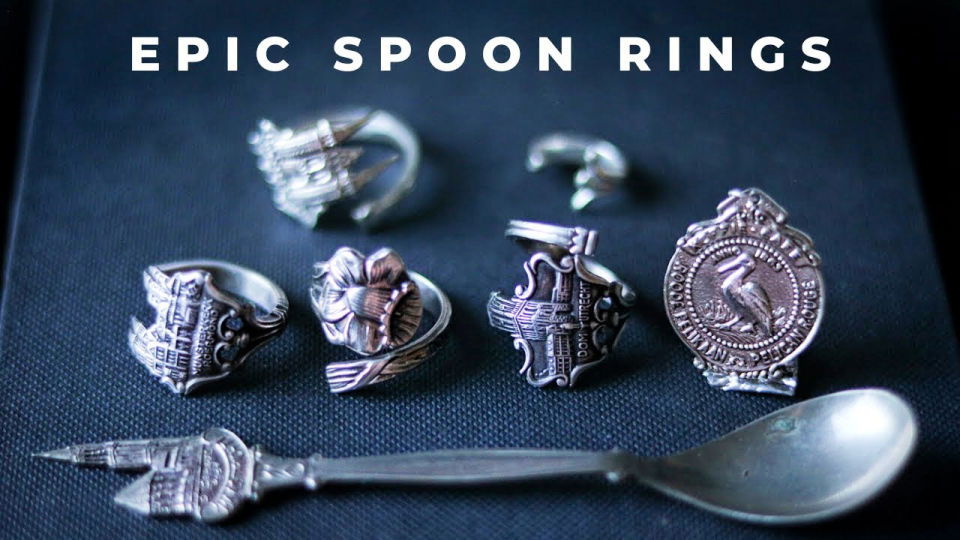 Learn how to make unique rings from antique spoons! Explore your local antique shops for some interesting pieces to turn into jewelry. In this video, experts will show you step-by-step instructions on how to take these special spoons and transform them into beautiful one-of-a-kind rings.
Make a stylish accessory with antiques and upcycle old spoons into stunning handmade accessories with this easy tutorial! Make a statement by repurposing vintage silverware and get creative with spoon rings – the perfect way to express your style.
16. DIY Spoon Ring Out of Sterling Silver in 10 Minutes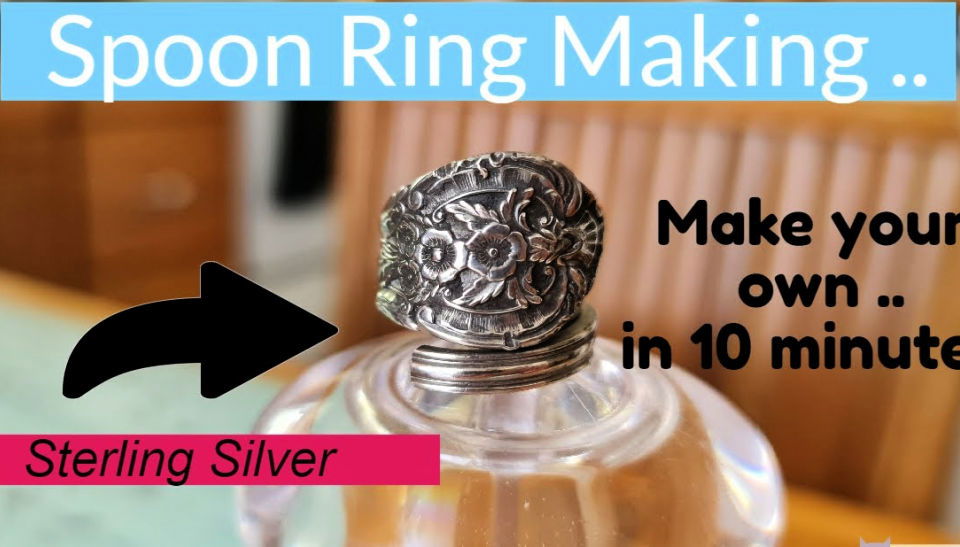 Make your own unique sterling silver spoon ring in 10 minutes! With simple instructions and only a few supplies, you can make a stylish statement by crafting your custom jewelry. All you need is a sterling silver spoon – but any metal will do – and the key is to anneal it thoroughly.
Follow the easy guide and see how quickly and easily you can make something beautiful that's one-of-a-kind. Get started today on crafting your very own personalized spoon ring!
17. How to Make Spoon Ring at Home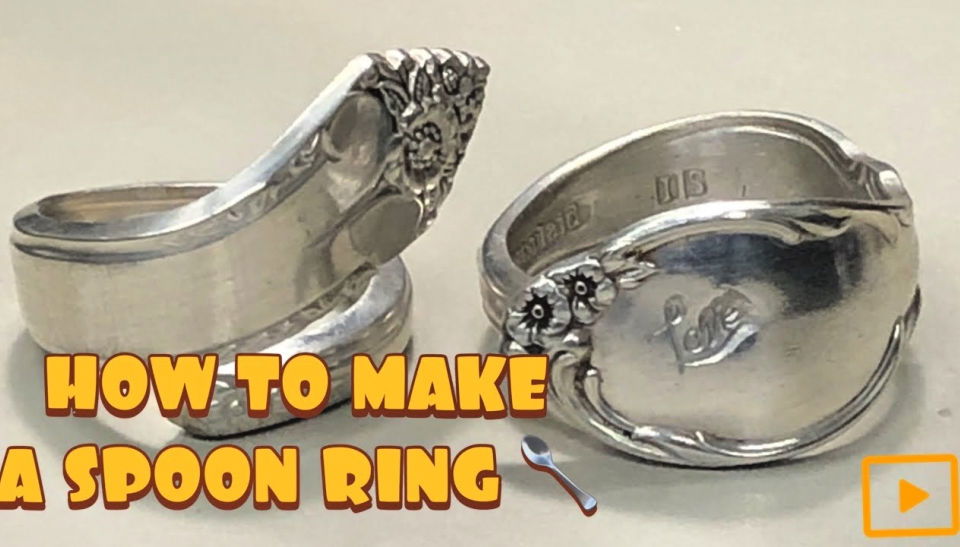 Are you looking for a creative way to upcycle silverware? Look no further! Making a spoon ring is easy with the legacy spoon-bending kit. The kit comes with everything you need: two spoon-bending tools, detailed instructions, and more. This kit also includes a variety of templates so that you can design your unique rings.
With this kit, making something beautiful out of old flatware has always been challenging. Start crafting today with the legacy spoon-bending kit and make your fashionable accessory!
18. How to Make a Claw Ring From a Spoon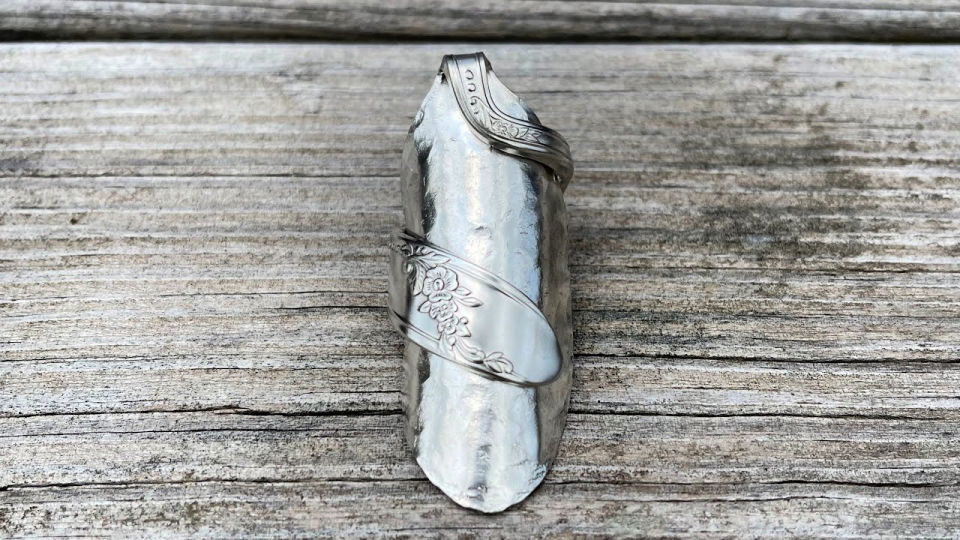 This helpful tutorial teaches how to make a claw ring from a spoon! It's easy to do, and you don't need special supplies or tools. This video will demonstrate the steps for makingyour one-of-a-kind jewelry piece, plus provide useful tips for making adjustments depending on the size of your finger and spoon.
Get ready to turn an everyday kitchen item into something unique that you can wear proudly – watch now and find out how it's done! youtube
Conclusion:
Making a spoon ring is a fun and easy DIY project that can turn an ordinary utensil into a unique accessory. Whether you use handheld tools or a ring bender, you can create a rustic and trendy ring from a silver or stainless steel spoon in a few simple steps. All you need is a spoon, a measuring tape, a marker, a cutting tool, a file, a hammer, and a ring mandrel or socket.
By following the instructions in this article, you can craft your own spoon ring and impress your friends and family with your creativity. Spoon rings are also great as gifts for any occasion, as they can be personalized with different designs and patterns. So, grab a spoon and start bending! You'll be amazed by what you can make with this versatile material.