DIY leather earrings can be a fun and fashionable accessory to make. Learn how to make leather earrings with these 25 amazing DIY leather earring ideas with clear instructions, suitable for anyone who wants to express their creativity and style. You can choose from simple shapes to complex designs and customize each DIY leather earring idea to fit your taste.
You can easily make your own leather earrings at home with the free printable leather earring templates provided. The templates cover a variety of designs, from elegant, classic shapes to trendy, bold patterns that are fashionable and chic. Plus, the templates make the process easy and fun.
The guide shows you different ways to make leather earrings, such as making leather diffuser earrings, personalized girl tribe earrings with Cricut Maker, and even simple leather earrings with Cricut Maker. It also gives you instructions on how to make faux leather earrings, which are great for those who want vegan-friendly options.
Whether you like real leather or faux leather, this DIY leather earrings guide has detailed tutorials to help you with your DIY project. It also has a video tutorial for those who learn better by watching. Each idea is unique and adds a stylish flair to any outfit. So don't wait any longer. Get your materials and start making your own DIY leather earrings today. Discover the fun of crafting with these easy, engaging DIY leather earrings ideas.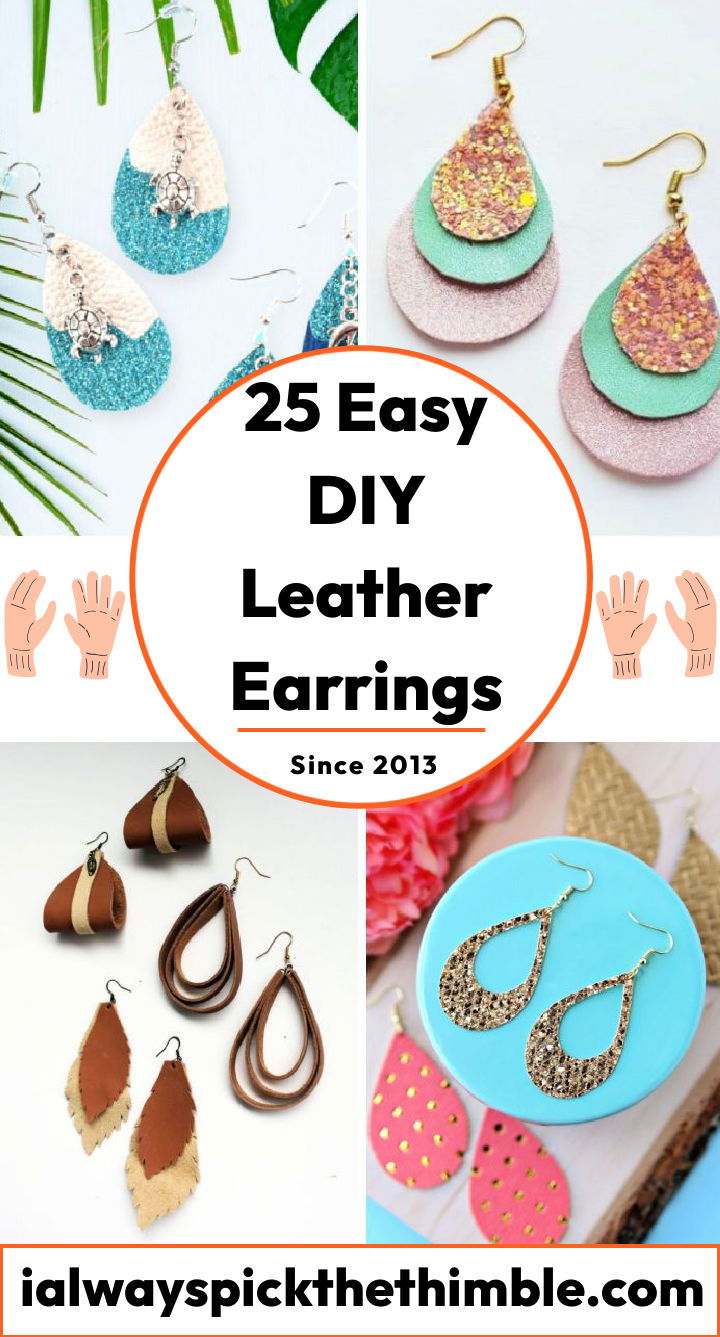 DIY Leather Earrings Guide for Beginners
Leather earrings are a trendy and stylish accessory that can add a touch of flair to any outfit. They are made from leather, which is a durable and versatile material that comes in various colors, textures, and patterns. Leather earrings can be designed in different shapes, sizes, and styles, such as teardrops, circles, feathers, flowers, and more. They are also lightweight and comfortable to wear, unlike some metal or plastic earrings that can irritate the ears or cause allergies. Leather earrings are popular among celebrities and fashionistas who love to experiment with different looks and express their personality.
Materials Needed for Making Leather Earrings
Making leather earrings is a fun DIY project that anyone can do at home. You only need a few basic materials and tools to get started. Here is a list of what you will need:
Leather: You can use any type of leather that you like, such as cowhide, lambskin, suede, or faux leather. You can also recycle old leather items, such as jackets, belts, or bags, and turn them into earrings. You will need enough leather to cut out your desired shapes for your earrings.
Earring hooks: These are the metal hooks that attach to your ears and hold your earrings in place. You can choose from different types of earring hooks, such as fishhooks, lever backs, or studs. You can also find earring hooks in different colors, such as silver, gold, or bronze.
Jump rings: These are small metal rings that connect your leather pieces to your earring hooks. You can find jump rings in different sizes and colors to match your earring hooks and leather.
Pliers: You will require two pairs of pliers to open and close your jump rings. You can use any type of pliers that you have at home, such as needle-nose pliers, round-nose pliers, or flat-nose pliers.
Other tools: Depending on how you want to cut and shape your leather pieces, you may need some other tools, such as scissors, a craft knife, a cutting mat, a ruler, a pencil, a hole puncher, or a cutting machine.
Choosing the Right Leather for Your Earrings
One of the most important factors in making leather earrings is choosing the right leather for your project. The type of leather you use will affect the appearance, durability, and quality of your earrings. Here are some tips on how to choose the right leather for your earrings:
Consider the thickness of the leather: The consistency of the leather will determine how stiff or flexible your earrings will be. Thicker leather will hold its shape better but may be heavier and harder to cut. Thinner leather will be lighter and easier to cut but may curl or bend more easily. A good thickness for leather earrings is between 0.5 mm and 1.5 mm.
Consider the texture of the leather: The texture of the leather will affect the feel and look of your earrings. Smooth leather will have a sleek and shiny appearance but may show scratches or marks more easily. Rough or embossed leather will have a more rustic and natural look but may be less uniform in color or pattern. You can also choose from different types of textures, such as pebbled, crocodile, snake, or floral.
Consider the color of the leather: The color of the leather will affect the style and mood of your earrings. You can choose from a wide range of colors, from classic black or brown to vibrant red or blue. You can also mix and match different colors to create contrast or harmony in your earrings. You can also dye or paint your leather pieces to create custom colors or effects.
How to Cut and Shape Leather for Earrings
Once you have chosen your leather material, you need to cut and shape it into your desired forms for your earrings. There are different ways to do this, depending on your preference and skill level. Here are some methods you can try:
Using templates: One of the easiest ways to cut and shape leather for earrings is to use templates. Templates are pre-made patterns that you can print out or trace onto your leather pieces. You can find templates online or make your own using software like Photoshop or Illustrator. You can also use household objects like coins or bottle caps as templates for simple shapes like circles or ovals.
Using scissors: Another simple way to cut and shape leather for earrings is to use scissors. Scissors are good for cutting straight lines or curves on thin or soft leather. You can use normal scissors or craft scissors that have decorative edges like scallops or zigzags.
Using a craft knife: A craft knife is a sharp tool that can cut through thick or hard leather with precision and accuracy. A craft knife is good for cutting intricate shapes or details on your leather pieces. You will require a cutting mat to cover your work surface and a ruler to guide your cuts. You will also need to be careful and steady when using a craft knife to avoid injuring yourself or damaging your leather.
Using a cutting machine: A cutting machine is an electronic device that can cut various materials, including leather, using a blade or a laser. A cutting machine is good for cutting complex shapes or patterns on your leather pieces with speed and ease. You will need to use a software program to design your shapes or import them from online sources. You will also need to adjust the settings of your cutting machine according to the type and thickness of your leather.
Assembling Your Leather Earrings
After you have cut and shaped your leather pieces, you need to assemble them into your earrings. This is the fun part, where you can unleash your creativity and personalize your earrings. Here are the steps involved in assembling your leather earrings:
Punch holes in your leather pieces: You will need to punch holes in your leather pieces where you want to attach your earring hooks and jump rings. You can use a hole puncher, a craft knife, or a needle to make the holes. Make sure the holes are big enough for your jump rings to go through but not too big that they will tear or stretch the leather.
Attach your earring hooks and jump rings: You will need to use your pliers to open and close your jump rings. To open a jump ring, hold it with one pair of pliers on each side of the opening and twist it sideways. Do not pull it apart, as this will distort its shape. To close a jump ring, reverse the process and twist it back until the ends meet. To attach your earring hooks and jump rings, first, open a jump ring and slide it through the hole in your leather piece. Then slide the earring hook onto the same jump ring and close it. Repeat this process for all your leather pieces until you have completed your earrings.
Add embellishments: You can add decorations to your leather earrings to make them more attractive and unique. You can use beads, crystals, charms, feathers, tassels, or anything else that you like. You can attach them to your earrings using glue, wire, thread, or more jump rings.
Common Mistakes to Avoid When Making Leather Earrings
Making leather earrings is not difficult, but there are some common mistakes that beginners make that can ruin their results or waste their materials. Here are some common mistakes to avoid when making leather earrings:
Using the wrong type of glue: Not all glues are suitable for leather, as some may damage the surface or not adhere well. You should use glue that is specifically designed for leather or jewelry making, such as E6000 or super glue. You should also apply the glue sparingly and let it dry completely before wearing or storing your earrings.
Not cutting the leather properly: Cutting leather can be tricky as it can fray, stretch, or curl if not done correctly. You should use sharp tools and cut along the grain of the leather to prevent fraying. You should also avoid pulling or twisting the leather while cutting, as this can stretch or distort it. You should also smooth out any wrinkles or creases on the leather before cutting, as this can affect the shape of your earrings.
Not sealing the edges of the leather: The edges of the leather can be rough or uneven after cutting, which can make your earrings look unfinished or unprofessional. You should seal the edges of the leather with a product that is made for leather edge finishing, such as edge paint or edge kote. You can also use a lighter or a heat gun to lightly burnish the edges of the leather to smooth them out.
Tips and Tricks for Making Beautiful Leather Earrings
Making leather earrings is a fun and rewarding hobby that lets you express your creativity and style. Here are some tips and tricks that can help you make beautiful leather earrings:
Use contrasting colors: One way to make your leather earrings stand out is to use contrasting colors for your leather pieces and earring hooks. For example, you can use black leather with silver hooks, red leather with gold hooks, or white leather with bronze hooks. This will make a striking difference that will draw attention to your earrings.
Add texture to the leather: Another way to make your leather earrings more interesting is to add texture to the leather using different techniques. For example, you can use a hammer or a stamping tool to create patterns or impressions on the leather surface. You can also use simple scissors or a craft knife to create fringes or cuts on the edges of the leather pieces. You can also use sandpaper or a nail file to distress or roughen up the leather surface.
Experiment with different shapes and styles: The best part about making leather earrings is that you can test with different shapes and styles that suit your taste and personality. You can try making teardrops, circles, triangles, squares, hearts, stars, flowers, feathers, or any other shape that you like. You can also layer different shapes together to create more dimension and interest in your earrings. For example, you can cut out a smaller circle from a larger one and glue them together to create a donut shape.
Mix and match different materials: Another way to make your leather earrings more unique and fun is to mix and match different materials with your leather pieces. For example, you can use fabric, lace, ribbon, or paper to create layers or accents on your leather earrings. You can also use metal, wood, or plastic to create frames or charms for your leather earrings. You can also use resin, glitter, or paint to add some sparkle or color to your leather earrings.
Have fun and be creative: The most important tip for making beautiful leather earrings is to have fun and be creative. There is no right or wrong way to make leather earrings as long as you enjoy the process and express yourself. You can experiment with different techniques, materials, colors, shapes, and styles until you find what works best for you. You can also make leather earrings for yourself or as gifts for your friends and family.
1. Easy DIY Leather Earrings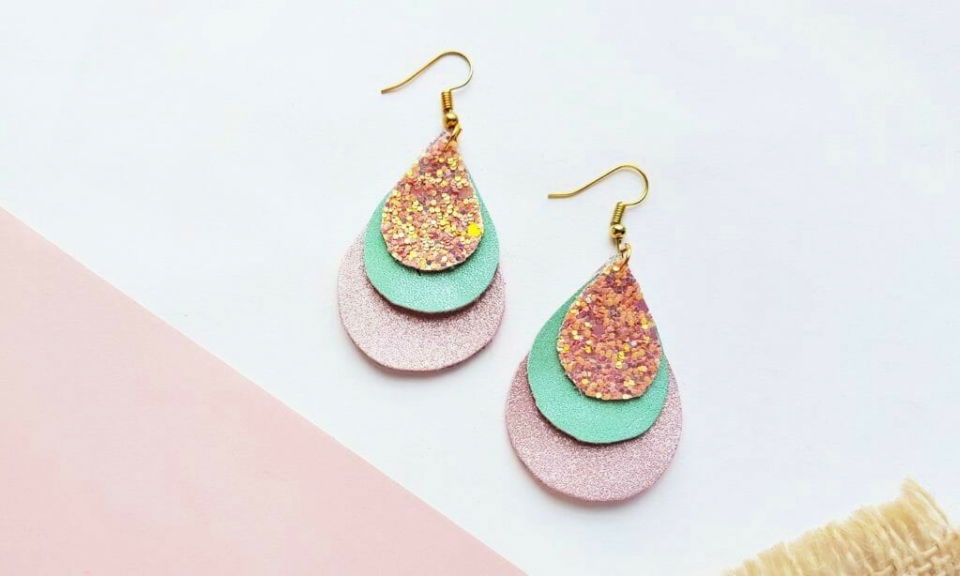 Form one-of-a-kind leather earrings with this easy DIY leather earrings guide! All you need is faux leather, jewelry pliers, a pencil, scissors, and a needle. Simply pick out your favorite colors of faux leather and start crafting beautiful earrings in minutes. The guide provides stepwise instructions on how to make the earrings as well as ideas for fun shapes like stars and hearts. With just simple tools and materials, you can craft stunning handmade earrings that will have heads turning wherever you go! Get creative with your design now! thecraftaholicwitch
2. How to Make Your Own Leather Earrings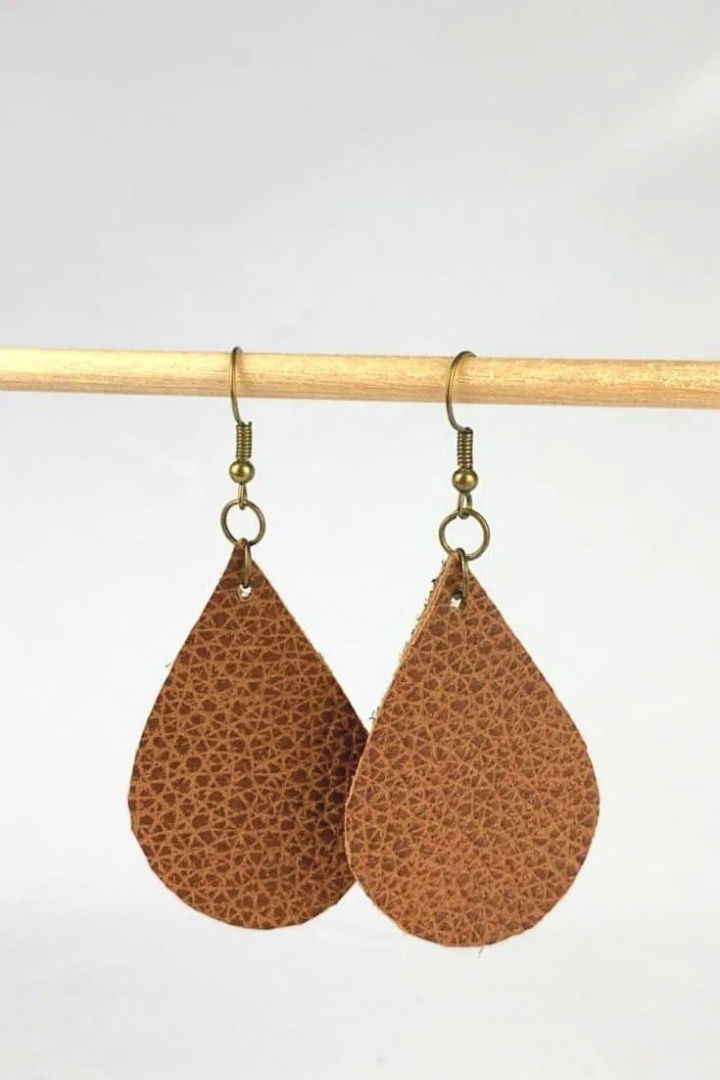 Style your own custom leather earrings with ease! All you need is a small piece of leather, very sharp scissors, earring hooks, jump rings, needle nose pliers, a Sharpie marker, and either a leather punch or thumb tack. Download the free printable cut pattern to get started. Cut out the shape in the leather using your scissors, then use a sharpie to draw two holes. Use either the leather punch or thumb tack to make those holes larger so that they fit through your jump rings for assembly. chaoticallyyours
3. Easy DIY Leather Diffuser Earrings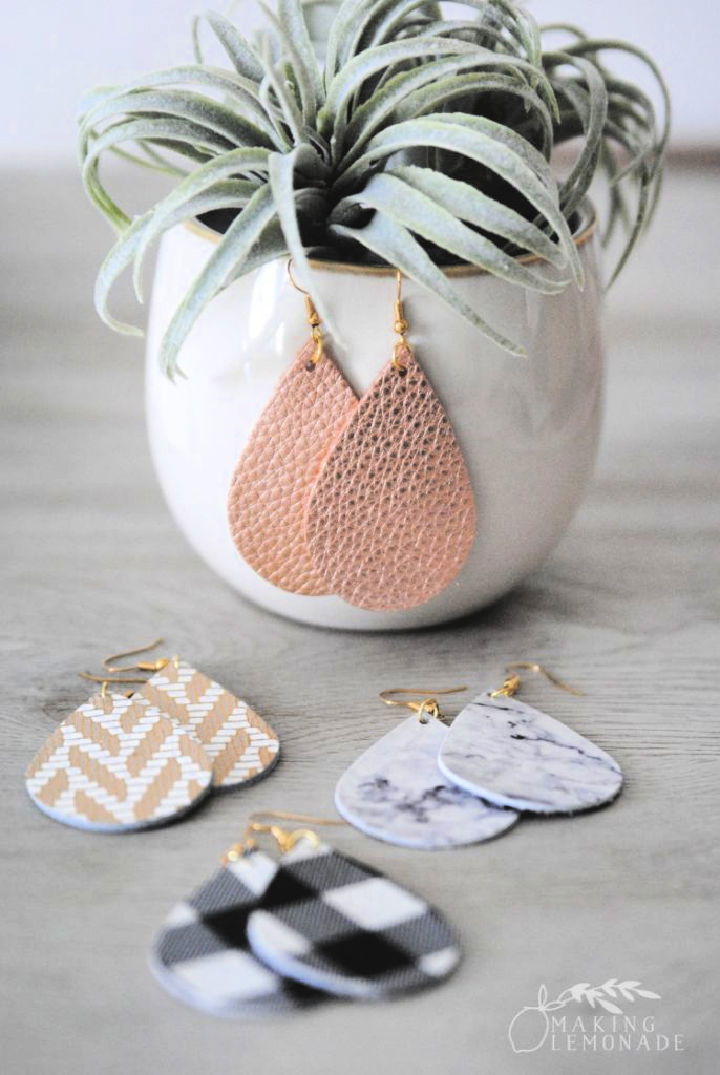 Get everything you need to make these DIY leather earrings! You will need supplies including teardrop-shaped leather, earring hooks, jump rings, a leather punch (or use a large sewing needle or thumbtack), a hammer or mallet, needle nose pliers, and something to protect your table like a cutting board or craft mat.
After punching the holes in the leather teardrops with the tools mentioned above, attach jump rings onto each hole for hanging on the earring hook. With some creativity, you can make beautiful one-of-a-kind earrings that will add extra flair to any outfit! makinglemonade
4. Handmade Leather Earrings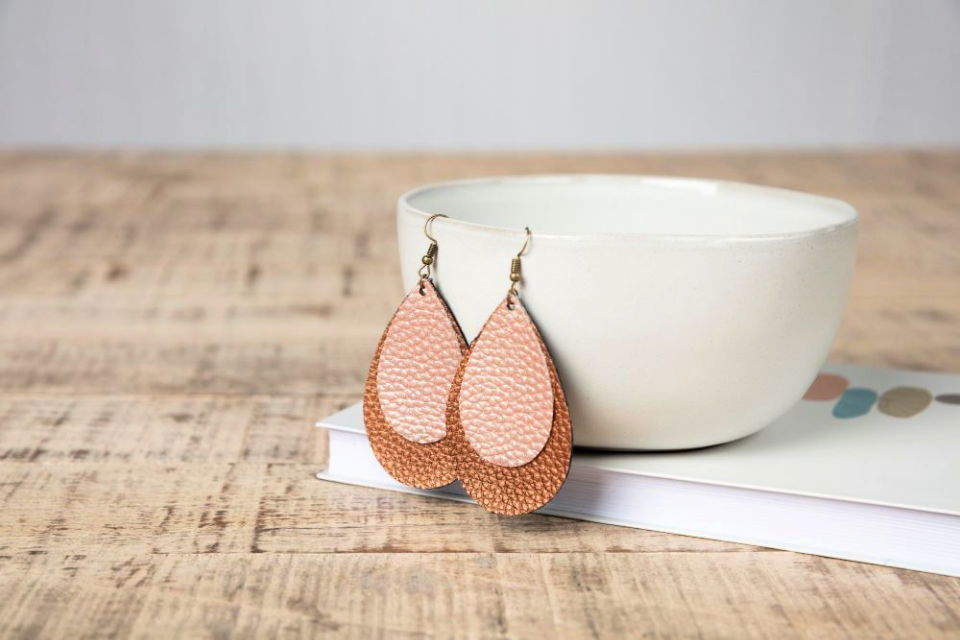 Add a unique look to your wardrobe with handmade leather earrings. From classic studs to vibrant statement pieces, these artfully crafted accessories give any outfit instant style. This guide makes it easy for you to make the perfect set of earrings with Aleene's leather & suede glue, colorful leather swatches, an earring template, and more included in the package. All you need is a craft knife, hole punch, and fishhooks to bring your design vision to life! Get creative today and grab this guide now. aleenes
5. Make Your Own Leather Earrings With Cricut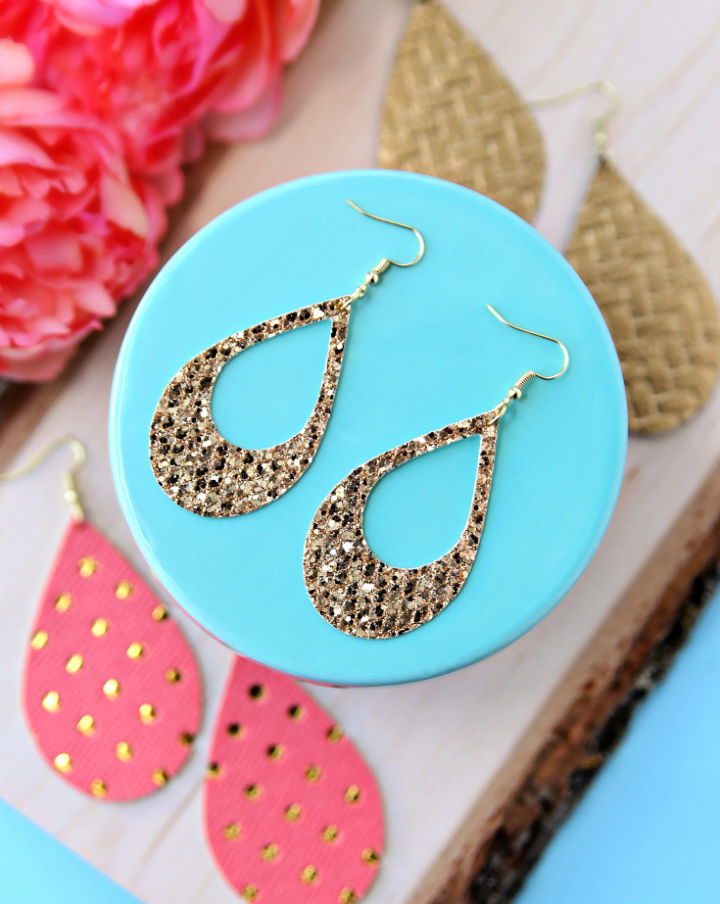 Craft stylish, one-of-a-kind earrings with your Cricut Explore air 2, maker, or joy! All you need is a Strong Grip Mat to keep the leather in place, a Brayer to make sure it's cut cleanly, and of course, some lovely leather. Choose from several different thicknesses and materials and adjust the dial to custom so that your cuts are always perfect. Clean your blade after each cut, and you're good to go! With these steps, you can make beautiful leather earrings without any hassle – what's not to love? karacreates
6. How to Make Faux Leather Earrings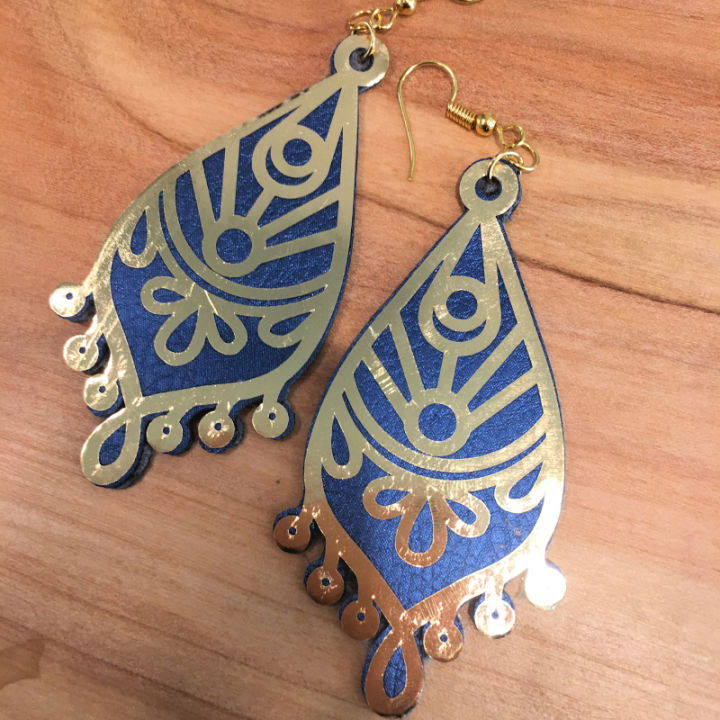 Learn the basics of crafting jewelry by making these easy-to-make faux leather earrings. Gather all supplies: Cricut faux leather sheets, jump rings (with tweezers and pliers), earring hooks, xyron machine (any size should do), and a new silhouette ratchet blade. Cut out desired shapes from the faux leather sheets, then use Xyron to layer them together for added texture and dimension. Put jump rings on each of the angled cutouts before connecting it to an earring hook using tweezers and pliers. Now you have beautiful accessories crafted with your own hands! silhouetteschool
7. Making Leather Earrings With Cricut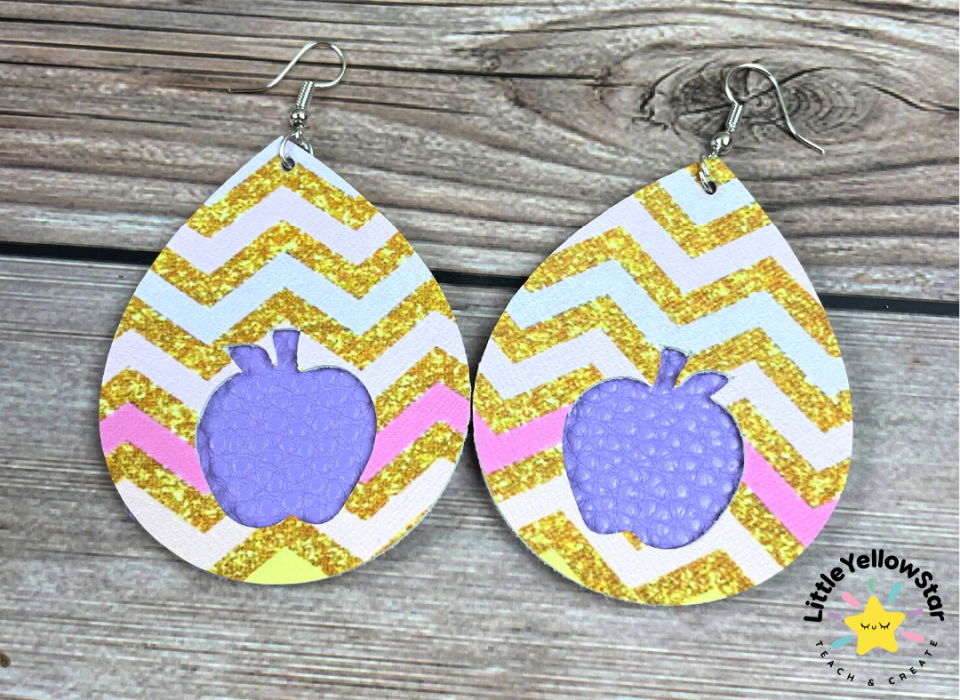 Believe us or not, these leather earrings are made with Cricut. Get organized by gathering all the materials you need; faux leather in various colors, sizes, and shapes for your desired design, scissors to cut out the pieces, hoops, or posts of your choice. Once everything is ready, set up your design on Cricut Design Space before cutting out each piece from the faux leather.
After that comes assembling – simply layer each cut piece on top of one another to form a beautiful pair of handmade earrings! With endless possibilities and designs available, you can make an entire collection of bespoke earrings made with love.littleyellowstarteaches
8. Leather Earrings – Step by Step Tutorial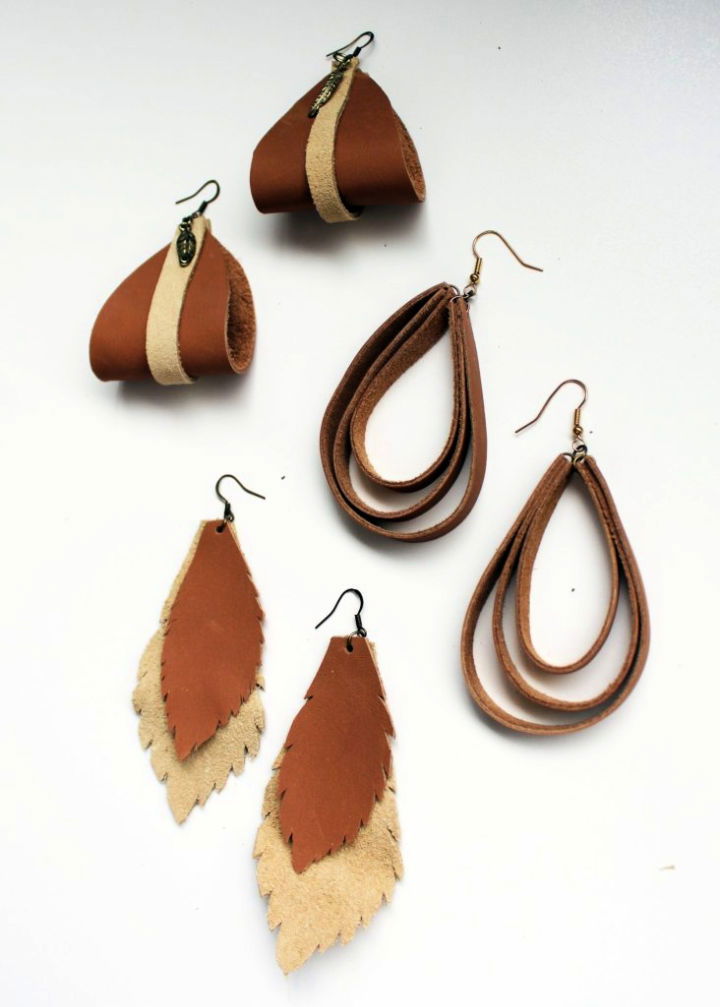 Are you looking to make stylish leather earrings for the perfect accessory to your look? Look no further! This step-by-step tutorial has everything you need. Even the list of essential tools includes open jump rings, a leather hole punch, a basic jewelry chain, and earring fish hooks. Plus, this easy-to-use jewelry plier is great for beginners! With this guide and supplies, you'll be able to make custom and unique earrings that will match any outfit. So don't wait – start making fashionable leather earrings today with our tutorial! creativefashionblog
9. Homemade Faux Leather Earrings With Cricut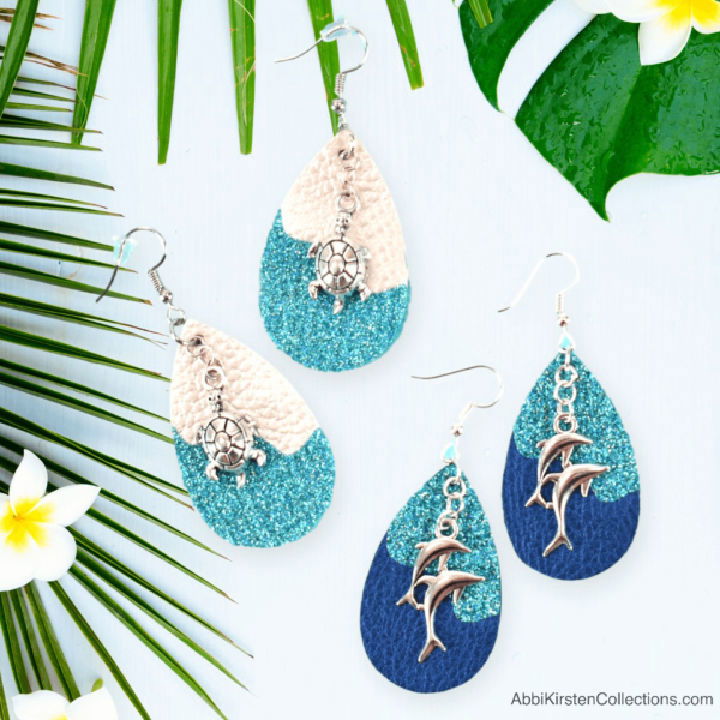 We are absolutely loving these funky earrings! With a variety of vibrant colors, choose the perfect combination to match your style. Just pick paper-thin faux leather for the base material, add iron-on vinyl for a little sparkle, then use the tools such as the weeding tool, brayer tool, and painter's tape to help get precise cuts. To finish them off with some flair, add leather punches for holes that are hard to make by hand, pair them with earring charms or hooks, then secure them all together with jump rings and needle nose pliers. Make an unforgettable look today! abbikirstencollections
10. How to Make Leather Earrings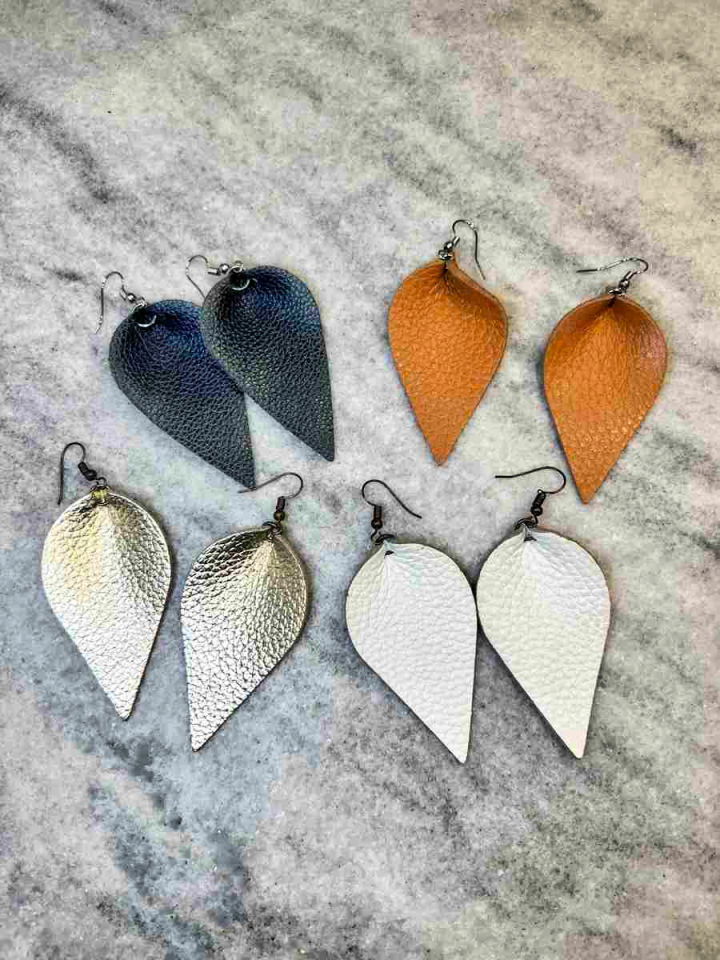 Fashion stylish and unique leather earrings with this simple DIY leather earrings tutorial. It's easy to make your own with some basic supplies like soft leather, earring hooks, jump rings, and jewelry pliers.
Start by cutting two pieces of leather into whatever shape you'd like – we suggest circles or teardrops for a classic look. Next, use your hole puncher to add the holes for the jump rings to attach the hook securely in place. Finally, connect everything together using your jewelry pliers for an eye-catching piece of handcrafted jewelry that will be admired every time you wear them! seeingdandy
11. Make Twisted Leather Earrings in 20 Minutes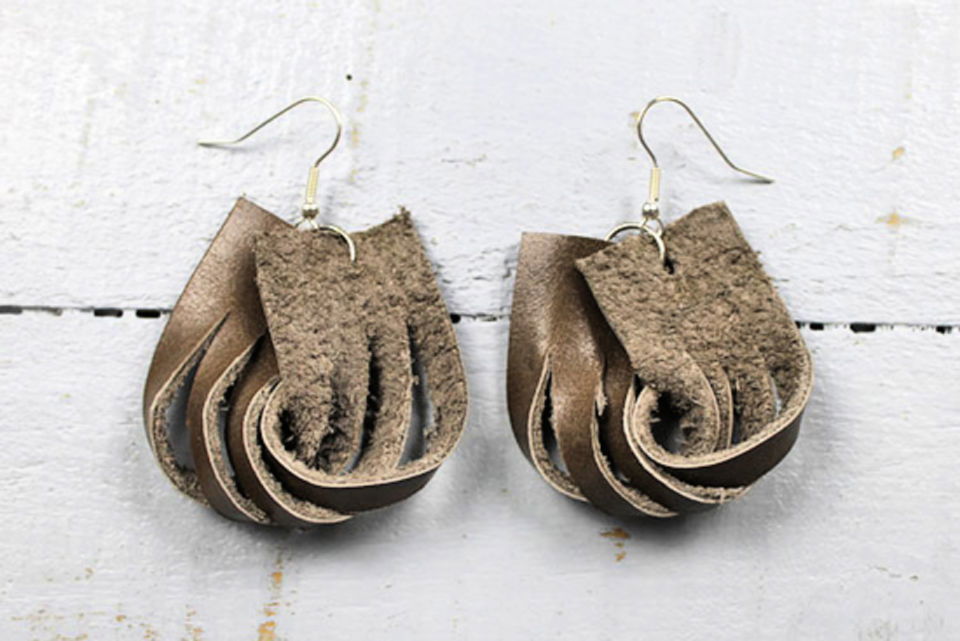 Aren't these twisted leather earrings just gorgeous? All you need is some fish hook earring wires, leather or suede remnants, a grid ruler, a pencil or other marking tool, a leather punch, and a craft knife.
With just these materials and 20 minutes of your time, you can make beautiful handmade earrings. Use the ruler to cut your 4" by 1" piece of leather. Punch holes in each short end about ½″ away from the edges before marking lines across the width 1" down from both sides. Cut along the marked line ¼" away from each edge, then fold in half for an easy twist design. Attach two 10mm jump rings with flat-nosed jewelry pliers to finish off your new DIY look! factorydirectcraft
12. How to Make Leather Earrings at Home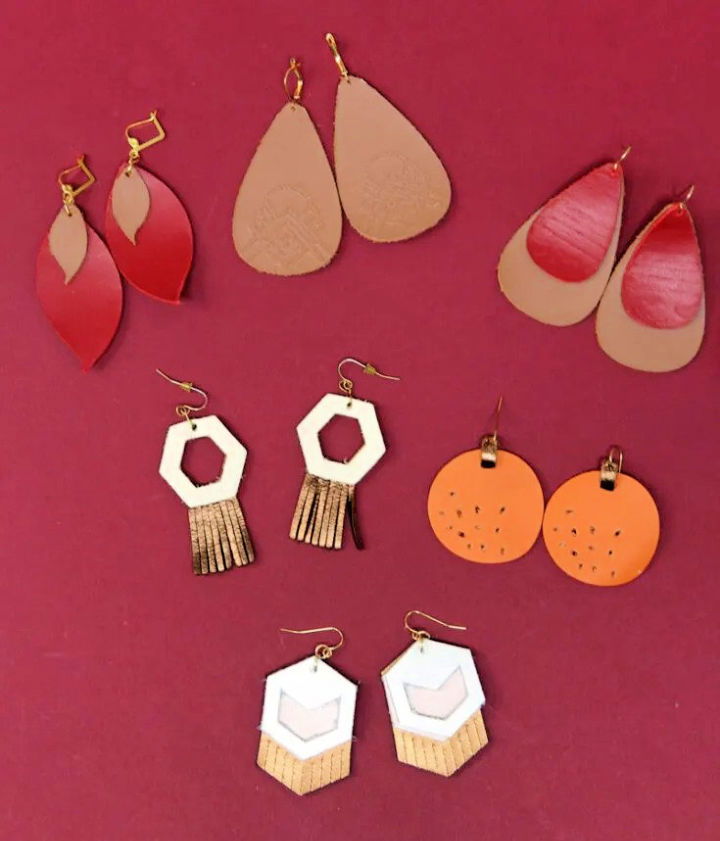 Who doesn't love stylish accessories? Now, make them from the comfort of your own home with this guide to making leather earrings. You will need a knife blade, leather, strong grip transfer tape, a brayer, and Design Space prompts for the cutting process. Cut your leather to size, then use the brayer to adhere it to the Strong Grip mat in order to begin engraving.
Let yourself be creative and design whatever comes to mind! Follow this guide step-by-step until you complete crafting your handmade pieces of art that are perfect for any occasion or outfit. momsandcrafters
13. DIY Cricut Maker Leather Earrings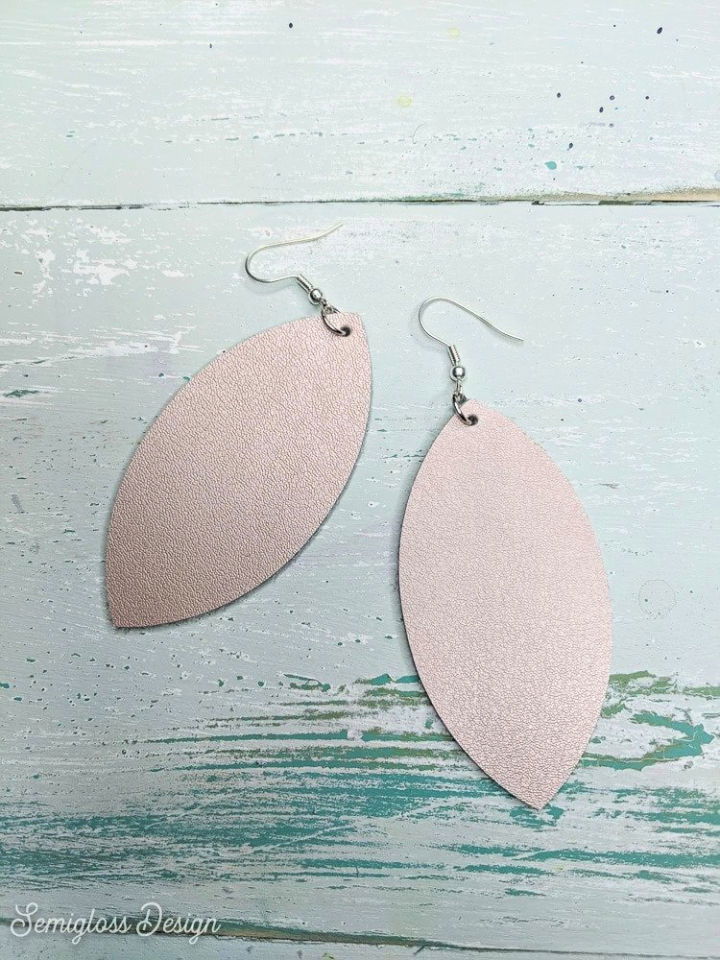 Get ready to make beautiful and unique DIY leather earrings with your Cricut Maker! All you need is basic supplies – Cricut Leather, a knife blade, Strong Grip Mat, a brayer, earrings for the design shape, jump rings to attach the earrings to the leather pieces, and jewelry pliers. For precision cuts, use a leather punch tool to make perfect holes in your leather. Follow this easy set of instructions on how to make stylish custom-made earrings with your Cricut maker that will take any outfit up a notch! semiglossdesign
14. Make Your Own Leather Earrings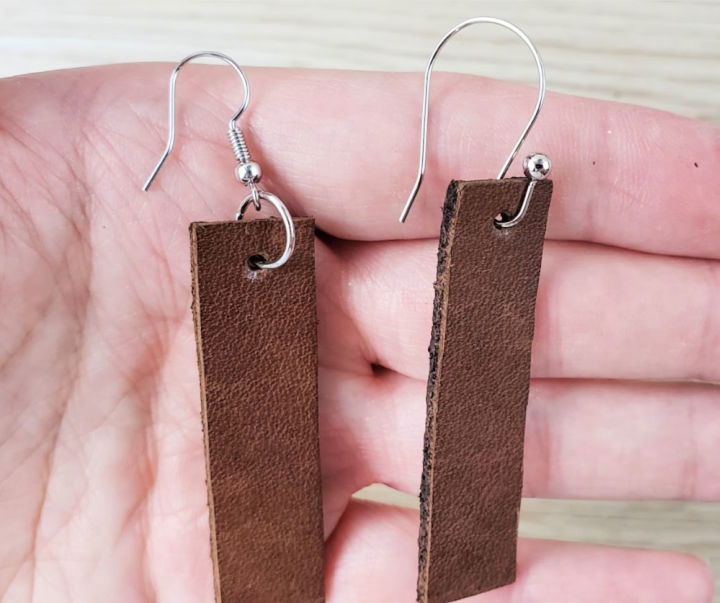 Slay in your beautiful leather earrings with this easy guide! All you need are a few supplies, like scrap leather pieces, an Exacto knife, and a self-healing mat, plus earring hooks and jump rings. The guide also includes a leather earring templates PDF to help get you started. Once you have all the items ready, follow these simple instructions for cutting out your shapes and using gum tragacanth to make them sturdy. With just a bit of time and effort, you'll be rockin' these gorgeous earrings in no time! marchingnorth
15. Handmade Faux Leather Earrings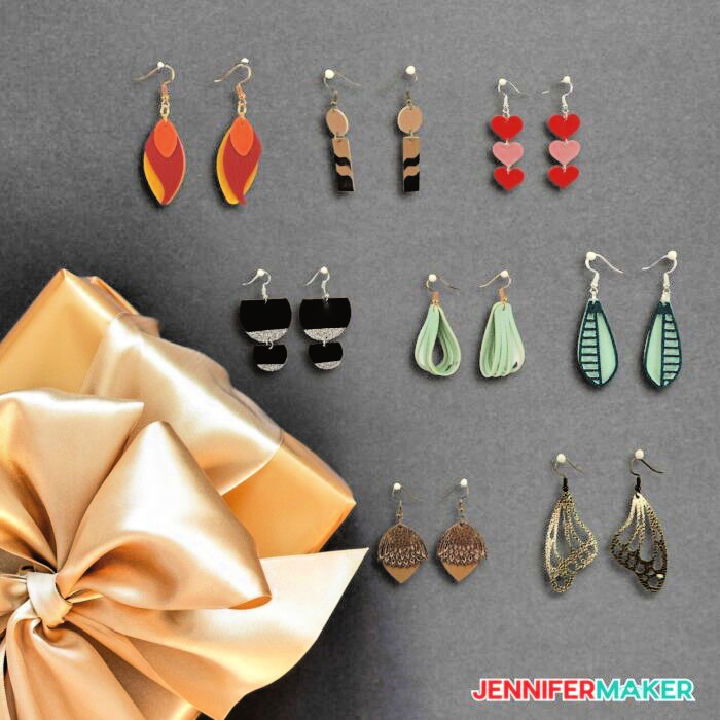 Be the absolute envy of your friends with a pair of unique handmade faux leather earrings. Crafted from genuine, durable faux leather using only the best tools, these earrings make an impactful statement.
With Strong Grip machine mat, deep point blade, brayer, and painter's tape for easy cutting and application; hammer or mallet for shaping and pressing; Easy Press mini (or another heat source); Cricut easy press mat (or towel); rotary cutter (or scissors), ruler (or other measuring device) plus optional spatula and Teflon sheets/butcher paper – making stunning faux leather earrings is effortless. Get creative today! jennifermaker
16. Personalized Girl Tribe Earrings Using Cricut Maker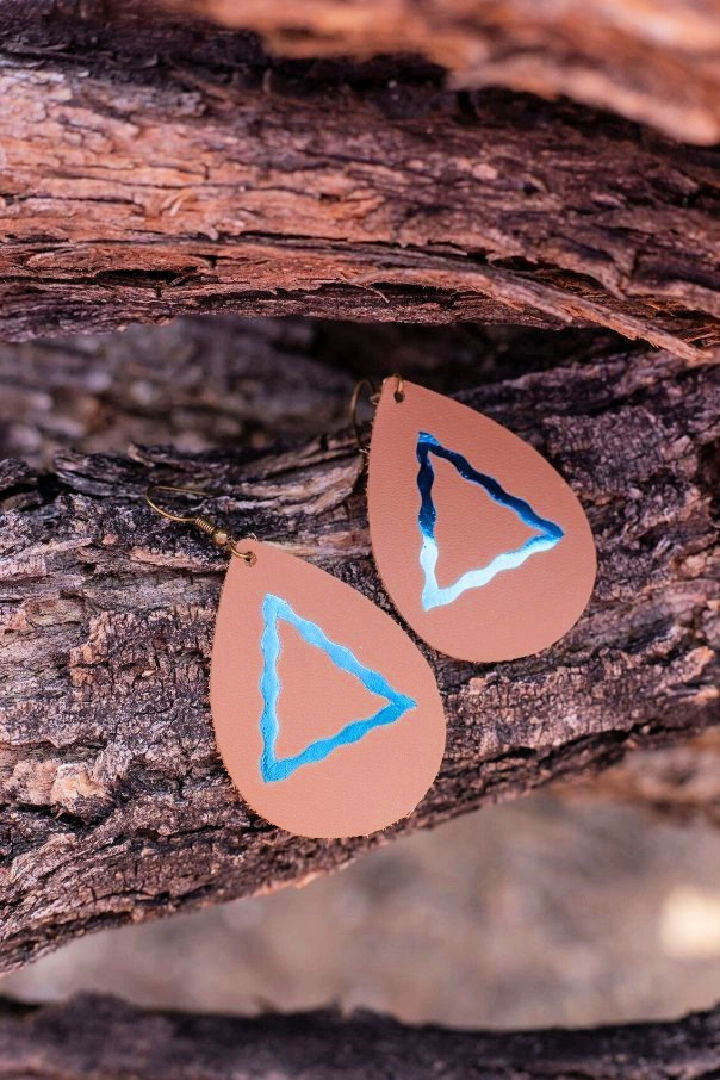 Showcase your girl power with a set of personalized girl tribe earrings crafted using the Cricut maker. With this DIY project, you'll be able to make a unique and stylish accessory that is perfect for you or as an unforgettable gift. To make it happen, you'll need the right materials, including the Cricut Maker, deep point blade with housing, fine point blade with housing, and wavy blade with quick swap housing. In addition to these tools, you also get genuine leather in camel and turquoise foil iron-on. ilovemydisorganized
17. DIY Cricut Leather Earrings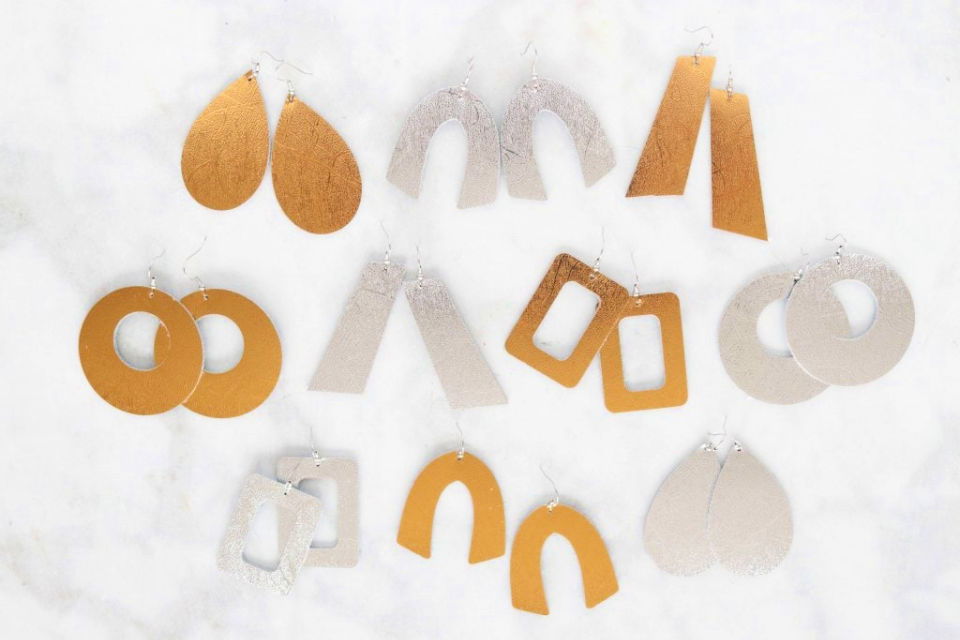 Spruce up unique DIY earrings with the Cricut machine! With a variety of materials like metallic leather and textured vinyl, you'll have one-of-a-kind accessories to show off. To get started, you will need the Cricut deep-cut blade for best results, along with the purple Strong Grip Mat and Green Standard Grip Mat. For assembly, snag a pair of earrings, needle nose pliers, an awl, scissors, and cricut transfer tape. Follow the instructions for crafting beautiful custom leather earrings that are sure to stand out! sweetredpoppy
18. Best Leather Earrings Design Using Cricut Makers Tools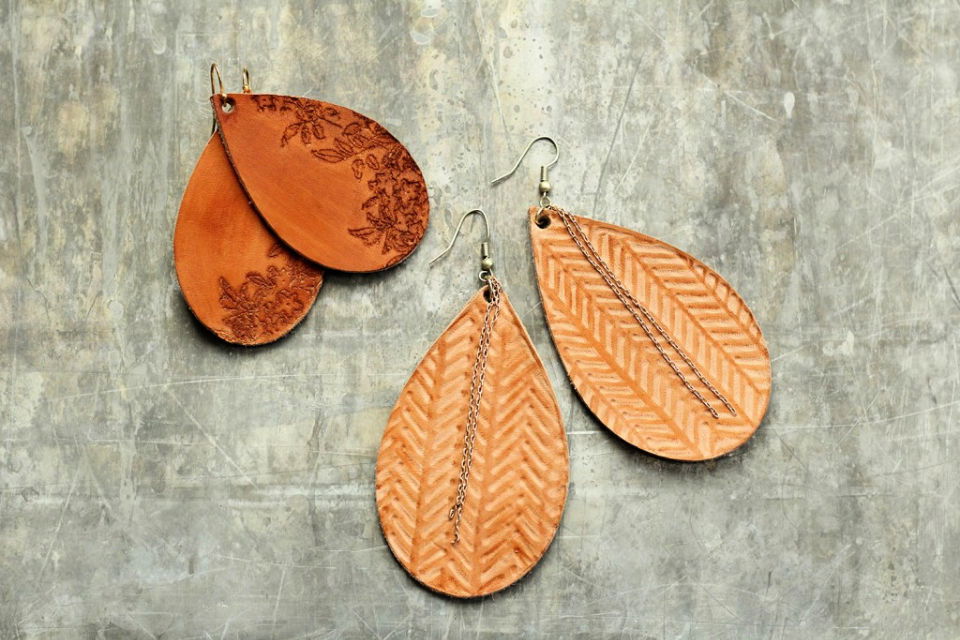 Keep it classy by makingbeautiful and unique leather earrings with the help of Cricut maker tools! This is easy to follow steps using Cricut's debossing tool, Engraving tip, knife blade, and strong mat will have you makingyour own stunning pieces in no time.
With a 12×12 piece of tooling leather, jump rings, ball hook wires, earring fish hooks, jewelry pliers, and a leather hole punch plus mallet & mat – you'll be able to make custom designs for any occasion. Use Fiebings's leather stain (saddle tan) and chain 1.8 mm for added detail before completing your design with a paintbrush finish – perfect! sugarcoatedhouse
19. Handmade Love Leather Earrings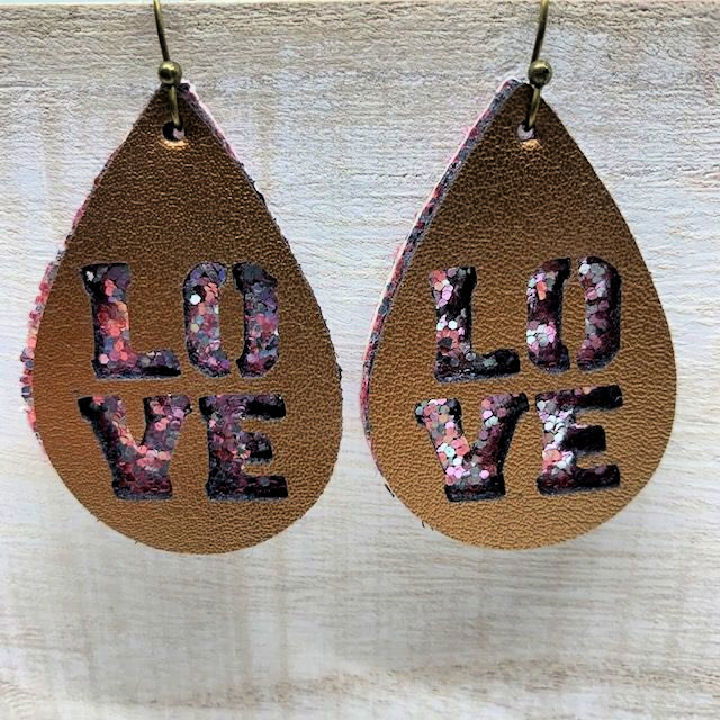 Nothing says louder than handmade stuff! This guide includes genuine black leather and bright pink faux leather to design the perfect pair. Download any earring template into Cricut Design Space, upload the image, insert it onto a new project canvas, and resize it if needed. With just a few clicks, you will have custom-designed handmade love leather earrings that are one of a kind! Get productive and make your own style statement today. myinspirationcorner
20. Modern DIY Leather Earrings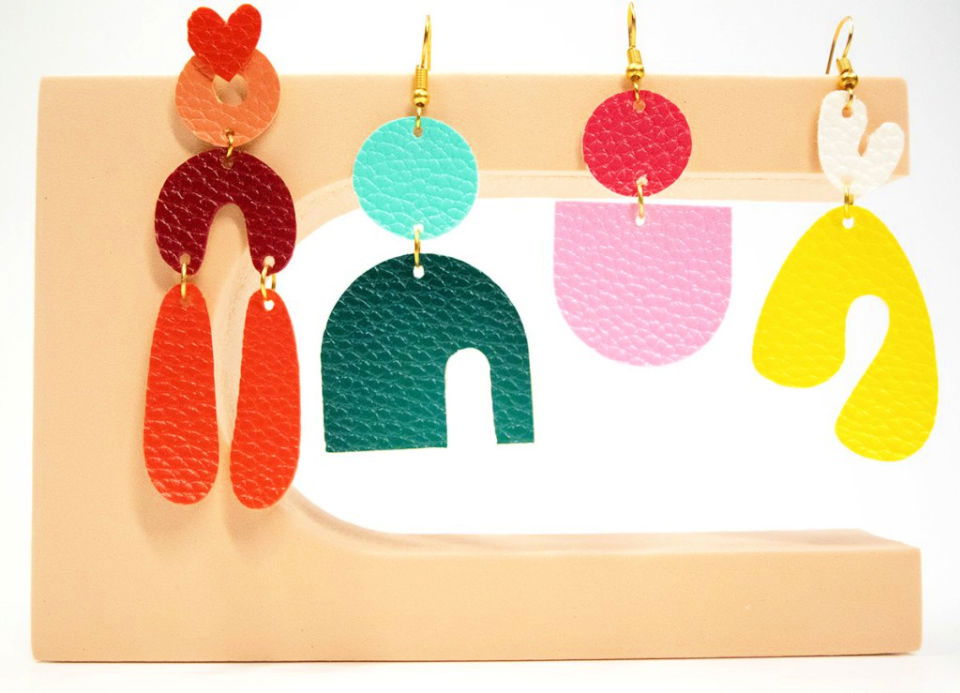 Craft your own unique style with these modern DIY leather earrings! Get all the tools and supplies that you need right here. From faux leather sheets, earring components, and chain nose pliers to Gorilla super glue and punch pliers, we have it all. For an even more professional look, use Cricut for detailed cuts, along with the strong grip mat and fabric scissors included in the set.
Don't forget to grab the exclusive earring SVG template for easy designs from the link, which you can customize as much or as little as you like! Start crafting now and make a statement with your very own leather earrings! prettyabstractmakes
21. DIY Transformable Leather Sculpted Earrings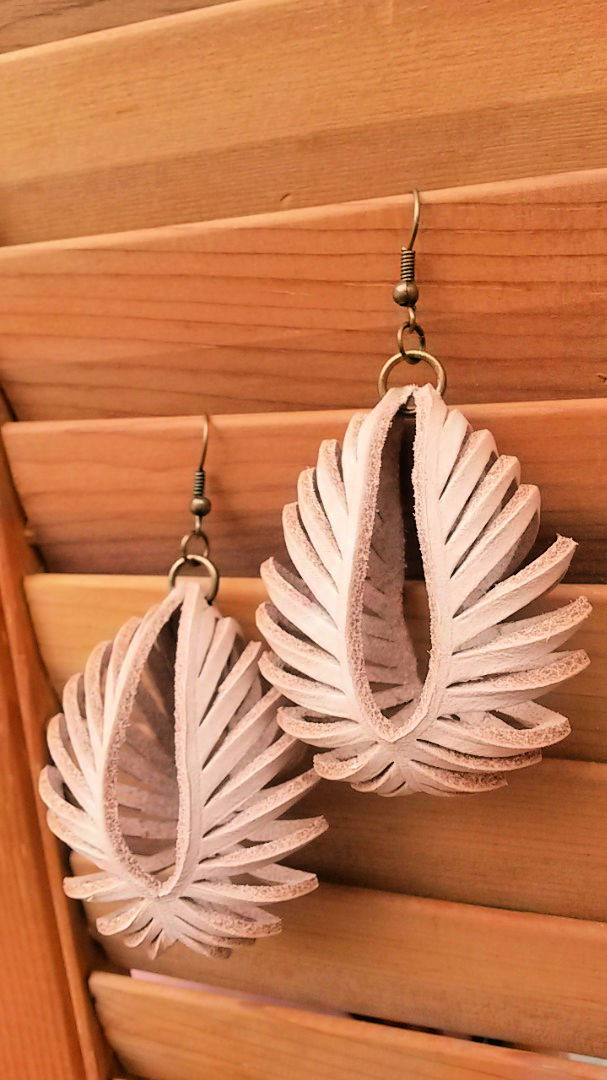 Make a statement with your own handmade DIY transformable leather sculpted earrings. With the help of this easy-to-follow tutorial, you can make your own unique earrings that are sure to turn heads! The pattern consists of two parts, which you can easily cut out from any kind of paper or cardstock. Then soak the leather for up to 30 minutes before cutting it out along with the border and jump rings. Lastly, sculpt your earrings into shape using a stylus tool, and have fun wearing them! instructables
22. Three Layer Faux Leather Earrings Pattern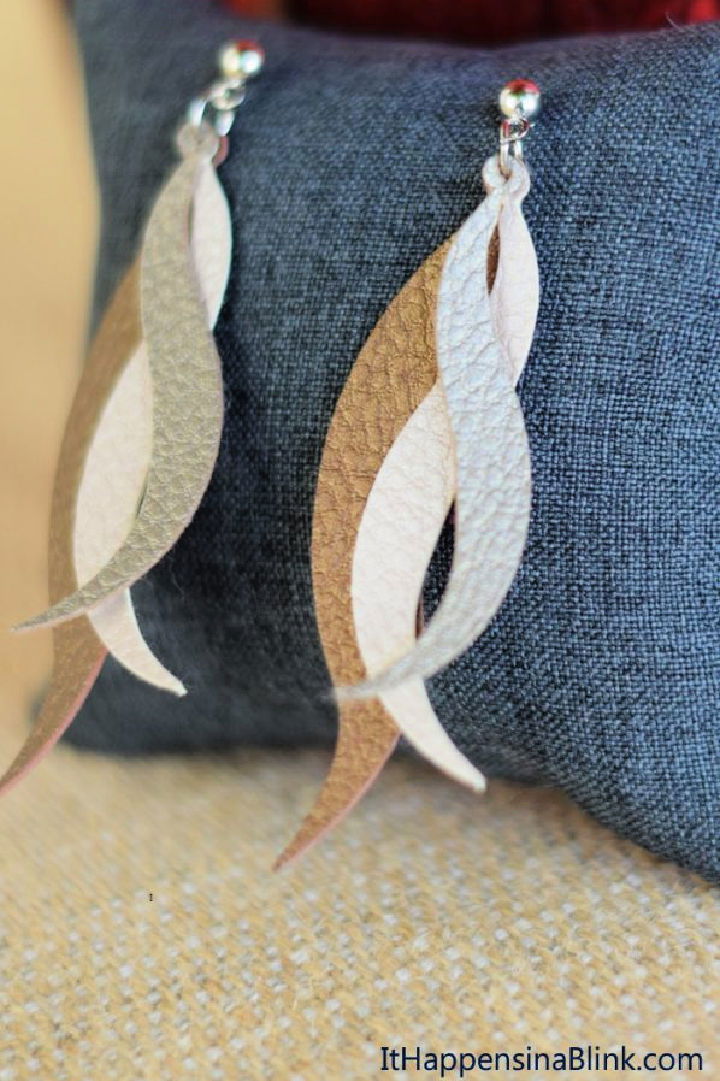 Carry around a stylish statement with these three-layer faux leather earrings! Whether you have the Cricut maker or the Cricut Explore Air 2, this project is sure to be a success. You'll need faux leather in 3 different colors (light, medium, dark), jump rings, ball earring posts, and jewelry pliers to make your earrings stand out. Follow along with an easy tutorial on how to assemble all three layers beautifully for a fashionable addition to any look! Add that extra touch of flair by making your own unique pair of three-layer faux leather earrings. ithappensinablink
23. Making Your Own Leather Earrings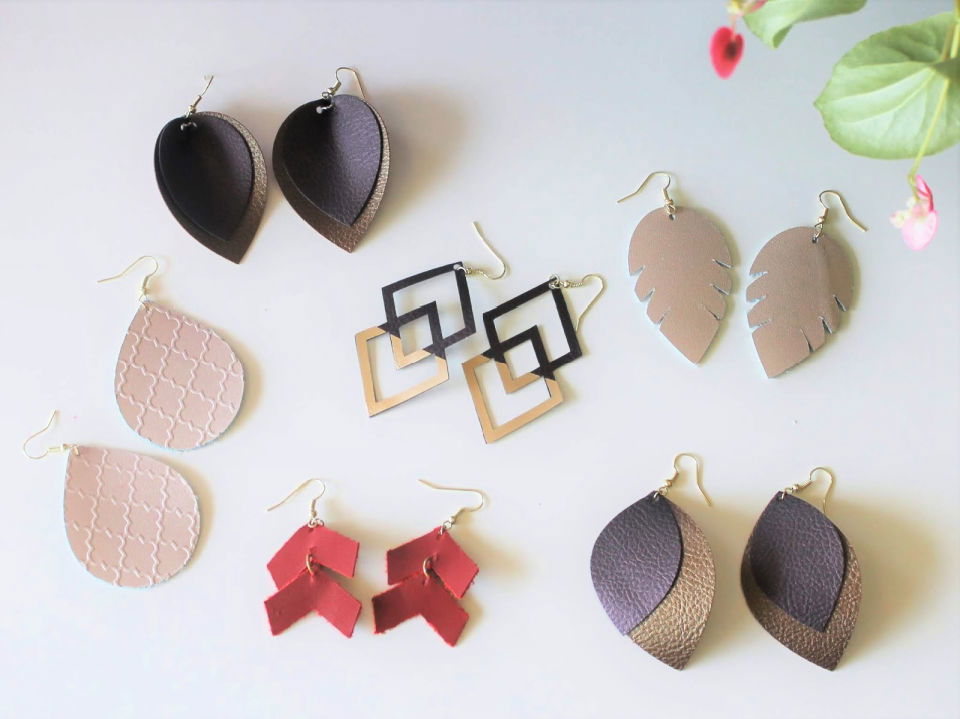 You will have tonns of fun making your own unique earrings with faux leather from Pretty in pink supply co.! All you need are jewelry ear wires, jump rings, pliers, a cutting machine (e.g., Cricut Maker), and the free downloadable leather cut files at the end of this post. Get creative by adding colors to match your style and mixing up different shapes for a truly one-of-a-kind look that everyone will love!
Start makingyour own pieces of art today with these easy steps: simply cut out the design using your cutting machine, attach the jump ring and earring wire to it, then enjoy wearing them wherever you go! sewsimplehome
24. Easy Leather Earrings With Cricut Maker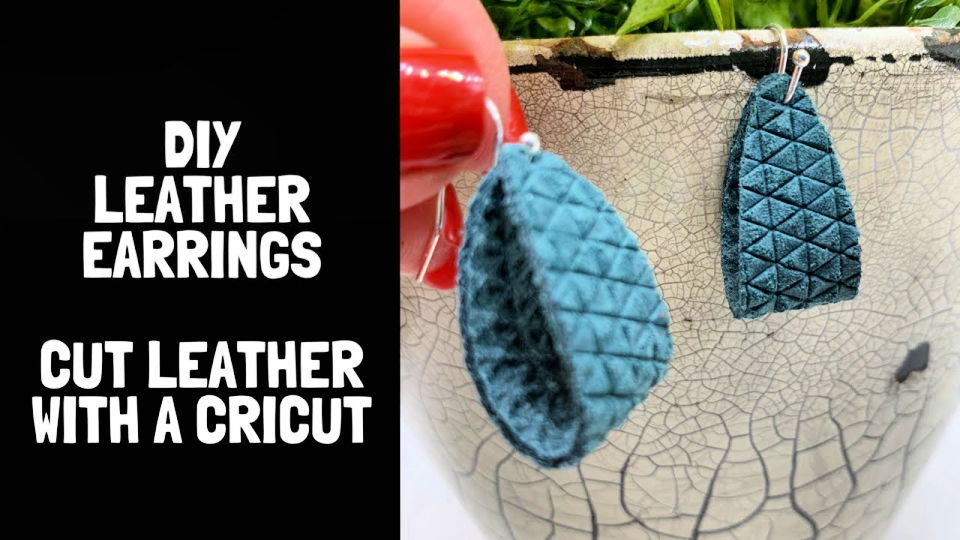 We are so drooling over these leather earrings made with Cricut. With its easy-to-use design space, you can quickly cut genuine leather into any shape or size. Plus, the maker's hole punch tool makes it simple to pierce holes for lacing up your handmade jewelry. Designing personalized earrings has never been easier – get started today and make yourself a pair of one-of-a-kind accessories that you'll love wearing all year round!
25. Make Faux Leather Earrings Using Cricut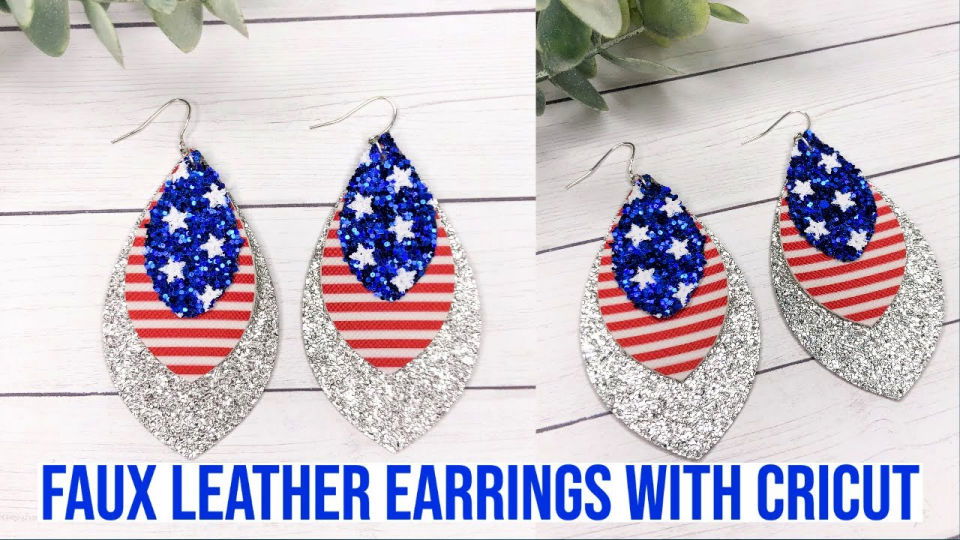 Craft beautiful, handmade faux leather earrings with Cricut. Using the Cricut maker machine and various tools, you can quickly make custom pieces for yourself or as gifts. Start by gathering all the necessary supplies like a strong grip mat, deep point blade, oval jump rings, brayer tool, and more. So, cut out your desired shapes from faux leather sheets using your Cricut Machine, then assemble them together for a unique look. Finish off with a jump ring opener and closer to add extra detailing to make your earrings one-of-a-kind!
Conclusion:
Leather earrings add style and personality effortlessly. Lightweight and versatile, they come in various shapes, sizes, colors, and patterns. Get creative and make your own DIY leather earrings, using our given inspiration and tutorials above. Discover resources, free templates, and step-by-step instructions. Dress them up or down, they complement any outfit. Express your unique style and mood with playful or elegant designs. Stand out from the crowd with leather earrings that reflect your creativity. Enjoy making DIY leather earrings and share this project with friends and family!