You can make beautiful and original earrings at home with simple materials and your own creativity. Whether you like beads, clay, wood, or tassels, you can find many DIY earring ideas to suit your style. Learn how to make earrings with these 50 easy DIY earrings with detailed instructions and pictures, showing you how to turn ordinary items into stunning jewelry. This list of diy earring ideas has a variety of colorful and fun creations, such as Cricut veneer wood earrings, boho beaded hoop earrings, macrame swirl earrings, and polymer clay designs.
Discover different ways to make your own earrings, learning new skills and methods along the way. You can follow the clear guides and illustrations to make DIY earrings like the beachy boho beaded hoop earrings, creole dragon fruit earrings, or the natural wood bead tassel earrings. Each guide will teach you how to do each step and put everything together, even if you're new to DIY earrings.
Making your own DIY earrings is a great way to express yourself and feel proud of your work. So, why not try some of the DIY earring ideas in this list? From acrylic pour painting earrings to pearl dangle earrings, there is something for everyone. Start your DIY earrings adventure today and have fun making your own jewelry.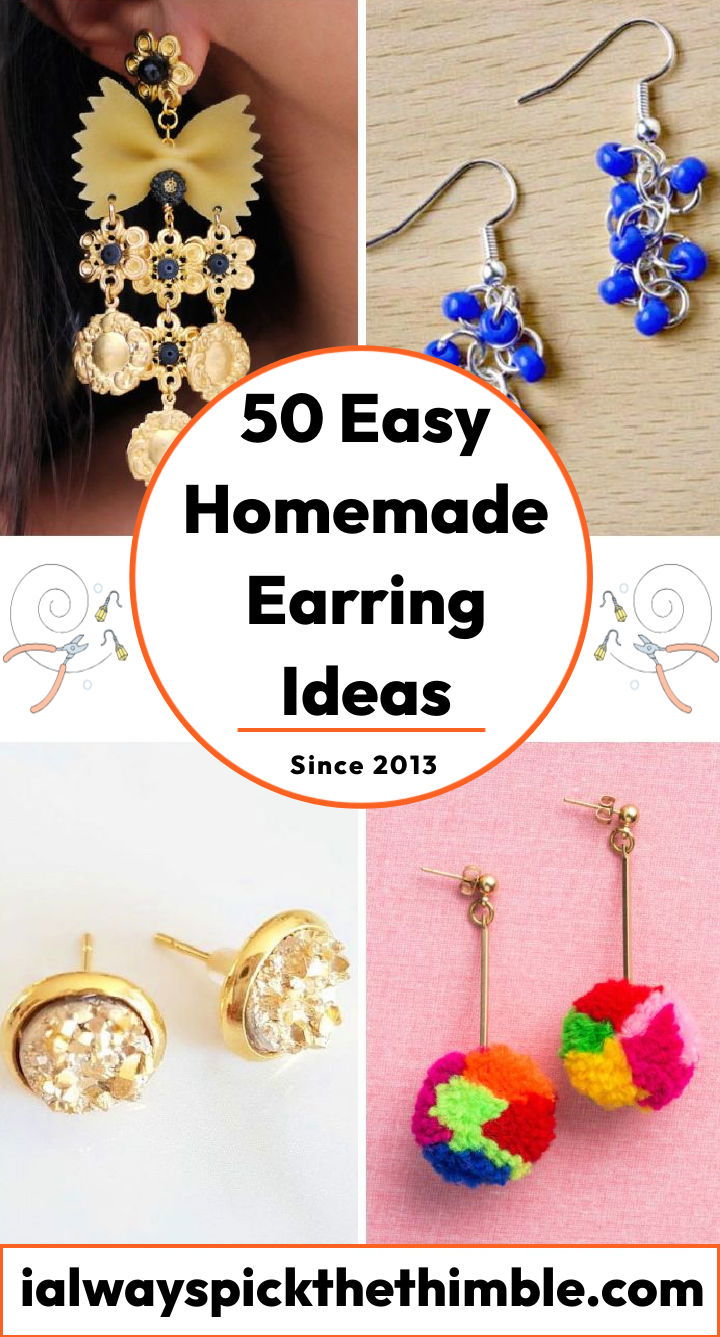 How to Choose the Right Materials and Tools for Your DIY Earrings
One of the first steps to making your own earrings is to choose the right materials and tools for your project. Depending on the style and design of your earrings, you may need different types of beads, wires, hooks, clasps, charms, or other embellishments. You should also consider the color, size, shape, and texture of your materials and how they will complement each other.
Some of the basic tools you will need for making earrings are:
Flat nose pliers: These are used to bend, twist, and cut wires, as well as to open and close jump rings and ear wires.
Round nose pliers: These are used to make loops and curves in wires, as well as to form ear wires.
Wire cutters: These are used to cut wires to the desired length and to trim any excess wire.
Assorted ear wires and pins: These are the parts that attach your earrings to your ears. You can choose from different styles, such as hooks, studs, hoops, or clips. You can also make your own ear wires with wire and round nose pliers.
A metal stamping tool: This is used to create personalized designs or messages on metal blanks or charms. You can use letters, numbers, symbols, or shapes to stamp your earrings.
A metal hole punch: This is used to make holes in metal blanks or charms for attaching them to wires or jump rings.
You can find these tools and materials at your local craft store or online. You can also use items from your own jewelry box or recycle old jewelry pieces for your DIY earrings.
Tips and Tricks to Make Your Earrings Look Professional and Unique
Making your own earrings can be a fun and rewarding hobby, but it can also be challenging to achieve a professional and unique look. Here are some tips and tricks to help you make earrings that will stand out:
Sketch a design first: Before you start making your earrings, it's a good idea to sketch out a few variations of your concept. This will help you visualize how your earrings will look and what materials you will need. You can also use online platforms like YouTube or Pinterest for inspiration and tutorials.
Make something you'd wear yourself: If you're planning to sell your earrings or give them as gifts, you should make something that you would wear yourself. This will ensure that your earrings are appealing and suitable for different occasions. You can also test your earrings for comfort, durability, and style before selling or giving them away.
Take risks with your earrings: Don't be afraid to experiment with different materials, colors, shapes, and techniques. You can mix and match different elements, such as beads, wires, charms, or feathers. You can also try new methods, such as metal stamping, wire wrapping, or resin casting. You never know what amazing creations you might come up with!
Get a wide range of supplies: Having a variety of supplies on hand will allow you to create different types of earrings for different moods and seasons. You can also use leftover materials from previous projects to make new ones. You can stock up on supplies from craft stores, online shops, or even thrift stores.
Common Mistakes to Avoid When Making DIY Earrings and How to Fix Them
Making DIY earrings is a lot of fun, but it can also be frustrating when things go wrong. Here are some common mistakes that beginners make when making earrings and how to fix them:
Using the wrong size or type of wire: If you use wire that is too thin or too soft, it may not hold its shape well or break easily. If you use wire that is too thick or too hard, it may be difficult to bend or cut. To avoid this mistake, you should use wire that is suitable for your project and test its strength and flexibility before using it.
Making uneven loops or curves: If you make loops or curves in your wire that are uneven or asymmetrical, it may affect the balance and appearance of your earrings. To avoid this mistake, you should use round nose pliers to make smooth and consistent loops or curves. You can also use a ruler or a mandrel to measure and shape your wire.
Not securing the ends of the wire: If you leave the ends of the wire loose or exposed, they may poke your ears or catch on your hair or clothing. To avoid this mistake, you should trim any excess wire with wire cutters and tuck the ends inside the loops or curves with flat nose pliers.
Not disinfecting the earring hooks: If you don't disinfect the earring hooks before wearing them, you may risk infection or irritation in your ears. To avoid this mistake, you should wipe down the hooks with cleaning alcohol before using them.
Learn the Basics of Earring Making with These Homemade Earrings
If you're new to earring making, you may want to start with some easy and fun homemade earrings that will teach you the basics of the craft. Let's our list of 50 simple and stylish DIY earring ideas that you can easily make with minimal tools and materials:
1. DIY Cricut Veneer Wood Earrings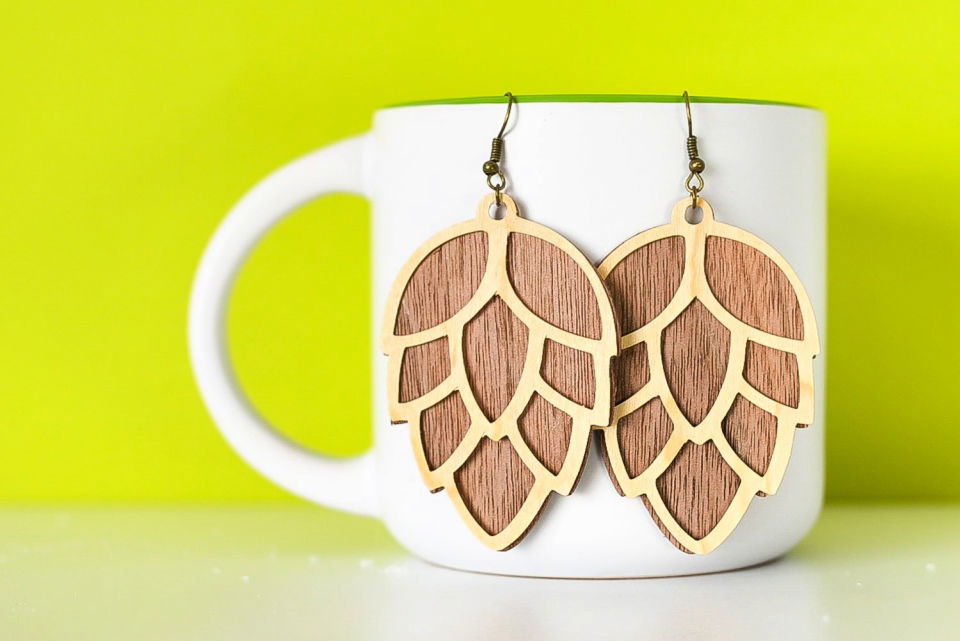 Design eye-catching and unique wooden earrings with your cricut maker! Use your string grip mat and cricut wood veneer to perfectly cut the pinecone earring SVG design. Finish off these trendy earrings by adding fish hooks for easy wear. Perfect as a gift idea for family and friends, these wood earrings will surely bring delight! heyletsmakestuff
2. How to Make Beachy Boho Beaded Hoop Earrings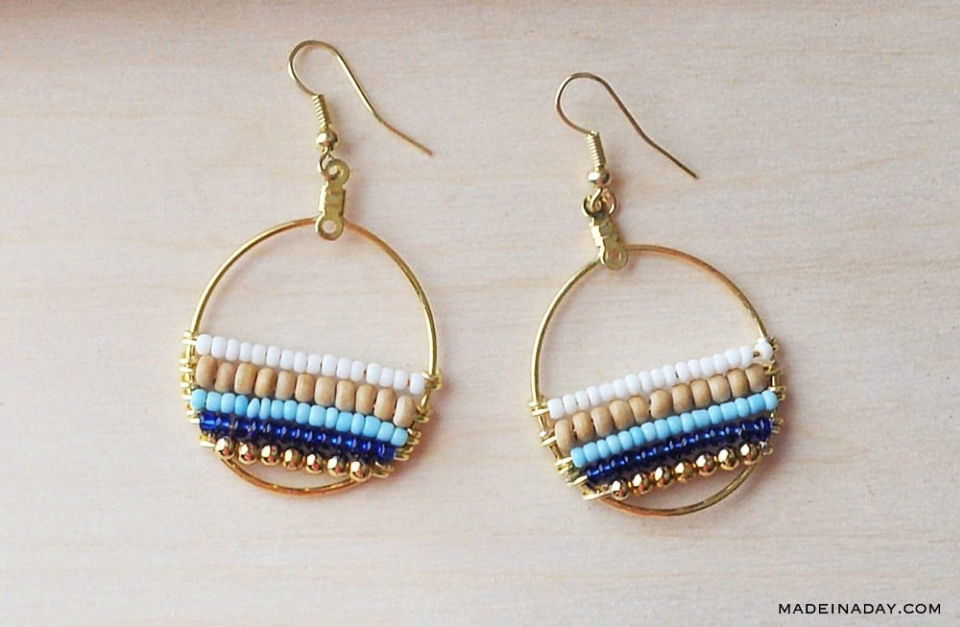 Add a touch of beachy boho to your look with these beautiful and easy-to-make beaded hoop earrings. This step-by-step tutorial will show you how to craft an exquisite pair with layers of pretty seed beads in various colors.
All you need is a gold earring hoop finding set with hooks, jewelry wire, and colorful seed beads – the perfect summer accessory! Make a statement at all your outdoor events by showing off these gorgeous earrings and making looks sure to turn heads.
Get creative, add color and style, and enjoy the compliments as you flaunt these stunning beaded drop hoops this season! madeinaday
3. Cool DIY Brick Stitch Star Earrings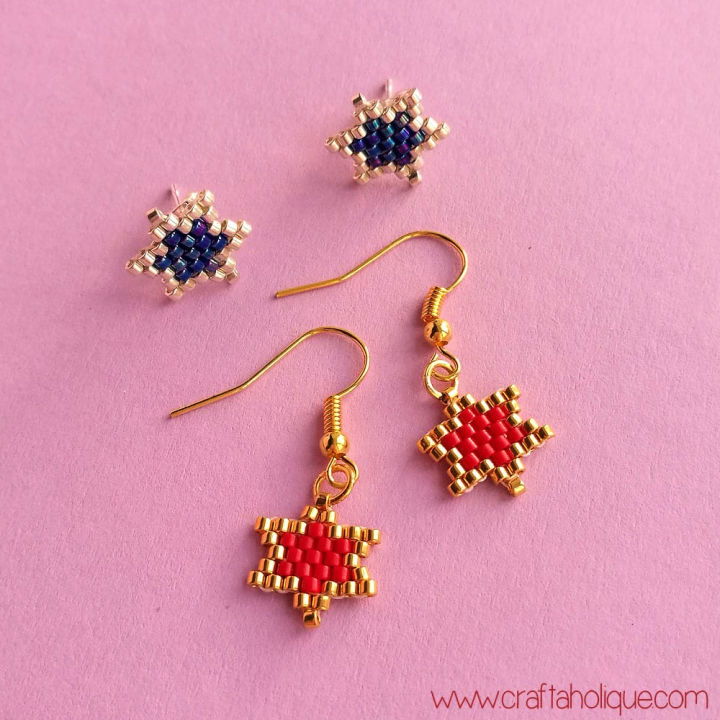 Make beautiful star-shaped earrings with miyuki delicas! These tiny beads provide an amazing texture and shimmer, perfect for making charming stars. All you need is some beading thread, miyuki delicas, and earring findings to turn the stars into gorgeous studs or dangly earrings.
Whether you are a beginner or an experienced beader, this project will bring out your creative side and help elevate any look! These unique star-shaped earrings can be fun and easy with these materials and instructions. So get ready to dazzle everyone with your handmade creations! craftaholique
4. Make Safety Pins and Pearl Earrings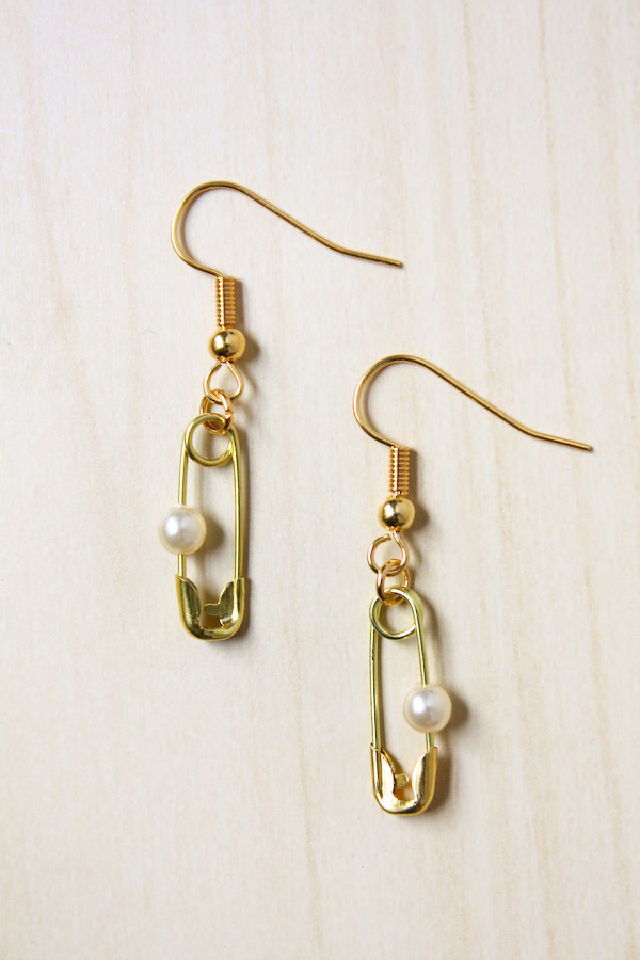 Be the envy of all your friends with the timeless safety pin and pearl jewelry set! This delicate set comprises 4mm preciosa glass pearls, gold-colored safety pins, chains, fishhook earrings, and 4mm jump rings. The perfect combination of vintage-inspired style and modern elegance will add instant glamour to any outfit. Whether you want to wear it alone or layer it with other pieces in your wardrobe, this beautiful safety pin and pearl jewelry set is just what you need for all occasions. Make now an easy way to dress up your look! makeandfable
5. Beautiful DIY Macrame Swirl Earrings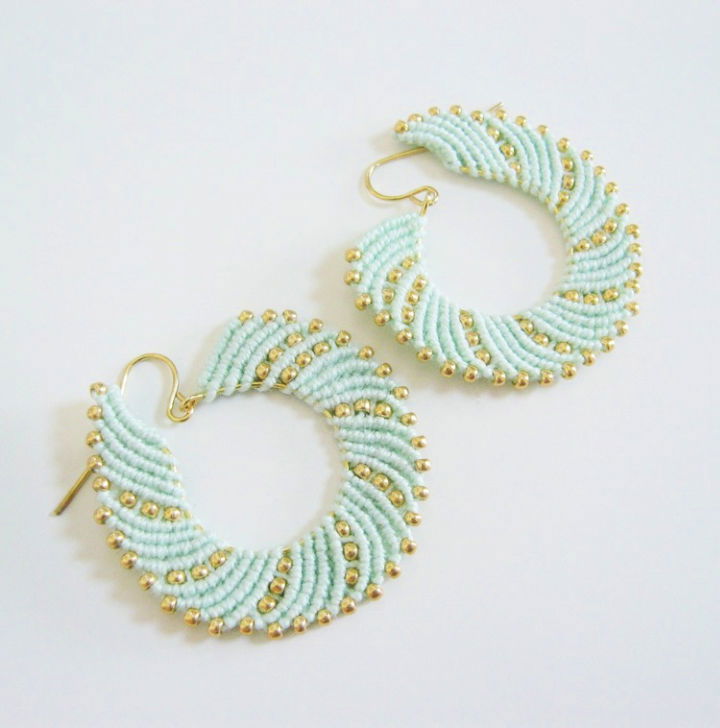 Discover the perfect accessory with these beautiful macrame swirl earrings! Crafted from crochet cotton, seed beads, round earring loops, pins, and cork panels to make a unique swirl effect. These adorable earrings will give you that extra style while being strong enough to hold their shape without needing any additional structure beyond the wire loop at the center. Treat yourself or someone special today and add some sparkle to your day! howdidyoumakethis
6. Best Homemade Creole Dragon Fruit Earrings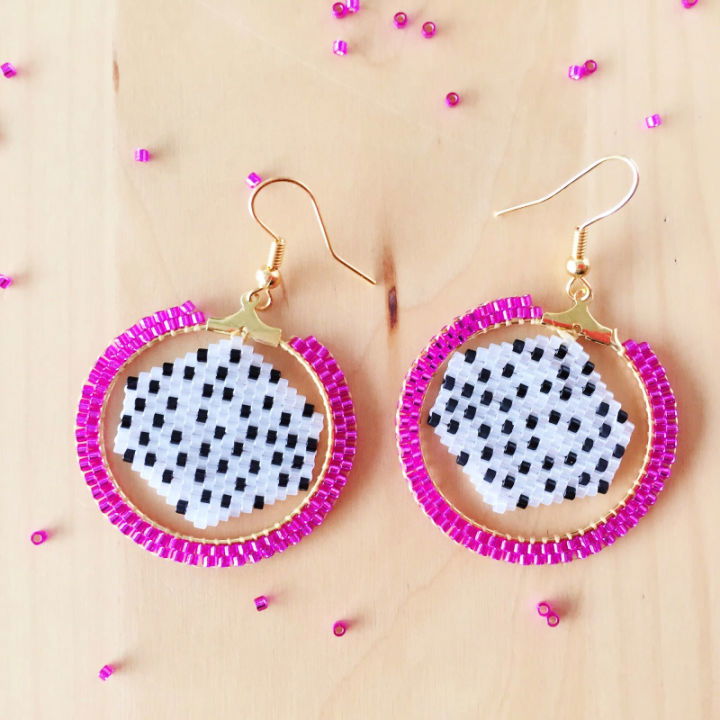 Make beautiful, colorful, unique earrings with this easy DIY creole dragon fruit earring tutorial. Perfect for any occasion! You can make these lively earrings to show off your style using miyuki delica beads in bright pink, pearl white, and glossy black.
All you need is a beading thread, needles, gold ear wires, creole gold hoops, and the free printable pattern provided. With just a few simple steps, you'll have an eye-catching pair of handmade dragon fruit earrings that will turn heads! Get creative today and make your one-of-a-kind pieces to wear. petitboutdechou
7. Pink and Gold Polymer Clay Earrings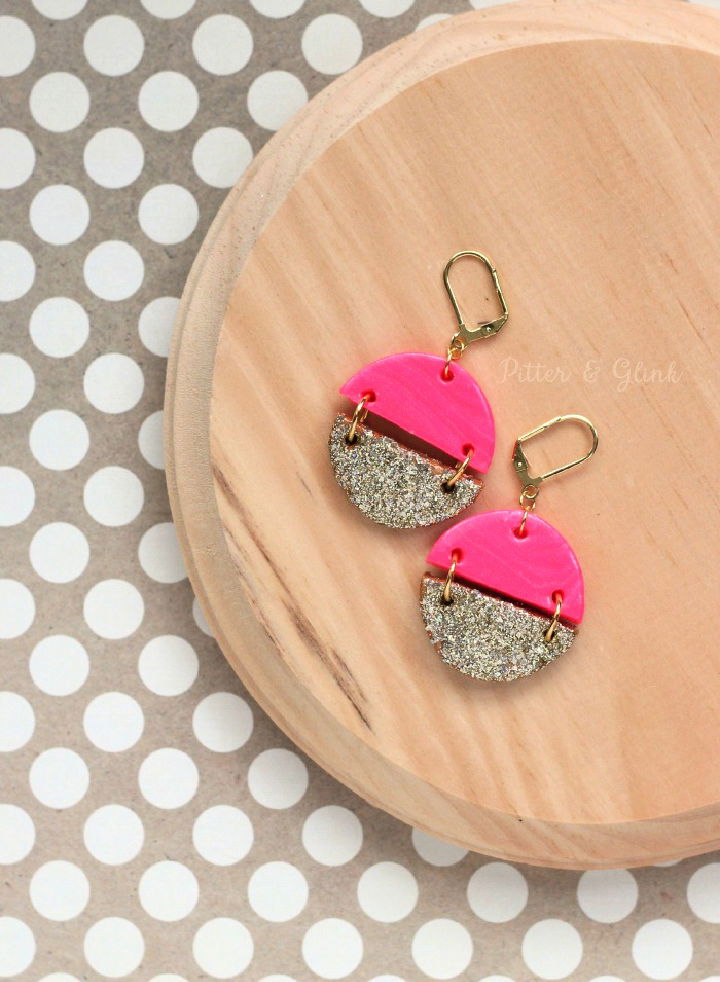 Injecting a touch of originality into your look is as easy as putting on these one-of-a-kind polymer clay earrings! These pitter & glink earrings are made of three colors of clay – neon pink, pearl pink, and gold – giving you all the pastel vibes.
Custom jewelry is simple: use a circle cutter on the polymer clay, then mod podge glitter onto each design. Once it's glazed in clay glaze, jump-ring them together before adding earring hooks. Finally, bake them in an oven for 15 minutes for long-lasting shine – and soon, you'll have beautiful new accessories that will turn heads! pitterandglink
8. Homemade Earrings From Acrylic Pour Painting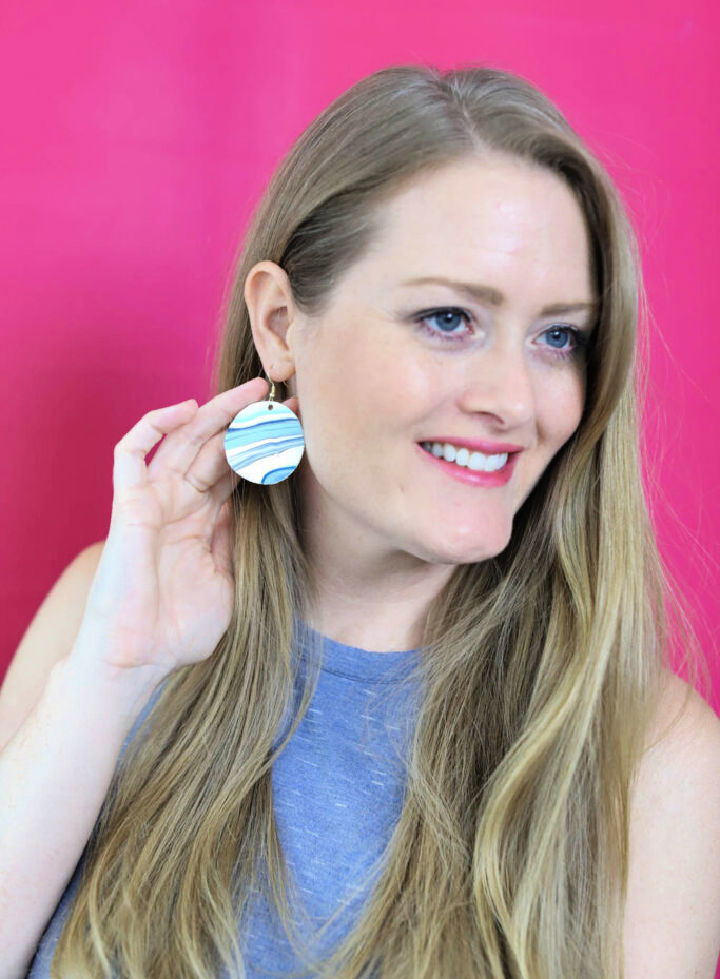 Craft beautiful, one-of-a-kind earrings with this DIY acrylic pour painting project. All you need to get started is a canvas, colorful pour paints, fish hook ear wires, and disposable cups – making your unique jewelry designs has never been easier. Make art pieces for your home or use them as custom accessories – these DIY earrings will add the perfect touch of color to your look! Make stylish jewelry that everyone will be talking about with this creative and fun acrylic pour painting project. amber oliver
9. DIY Tassel Earrings Gift for Friend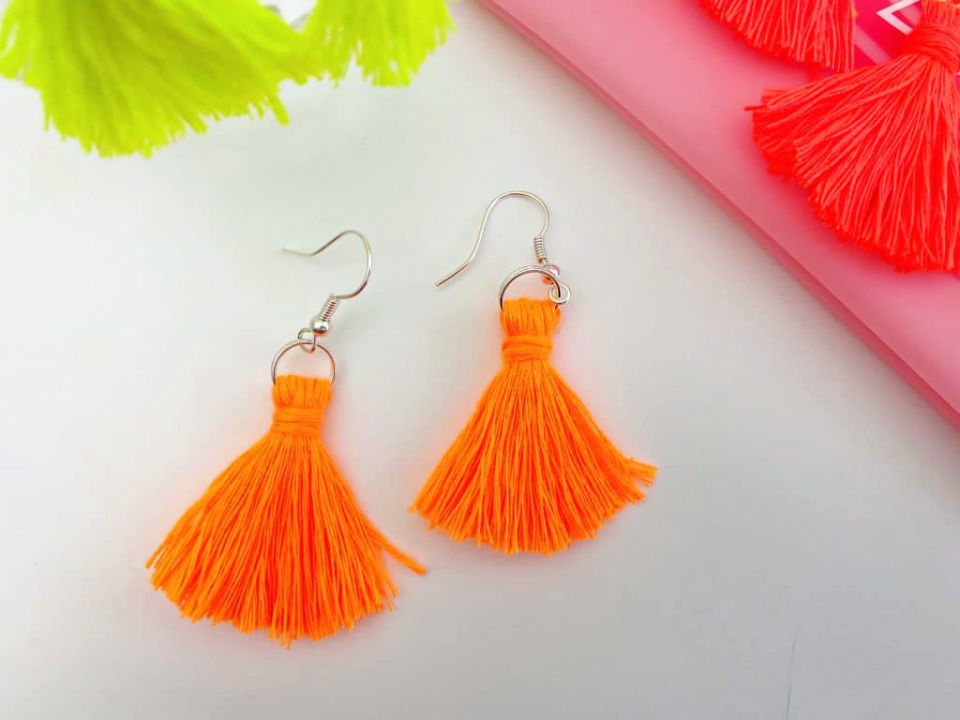 Unwrap a special surprise this holiday season with handmade tassel earrings!! With an easy-to-follow tutorial, you can craft a beautiful pair of earrings using only a few items – silver earring hooks, jump rings, and neon orange embroidery thread. The satisfaction you'll get from making something special with your hands is unbeatable – plus, you're sure to have friends wanting their own after seeing yours! Make these eye-catching DIY tassel earrings. funhappyhome
10. Unique DIY Natural Wood Bead Tassel Earrings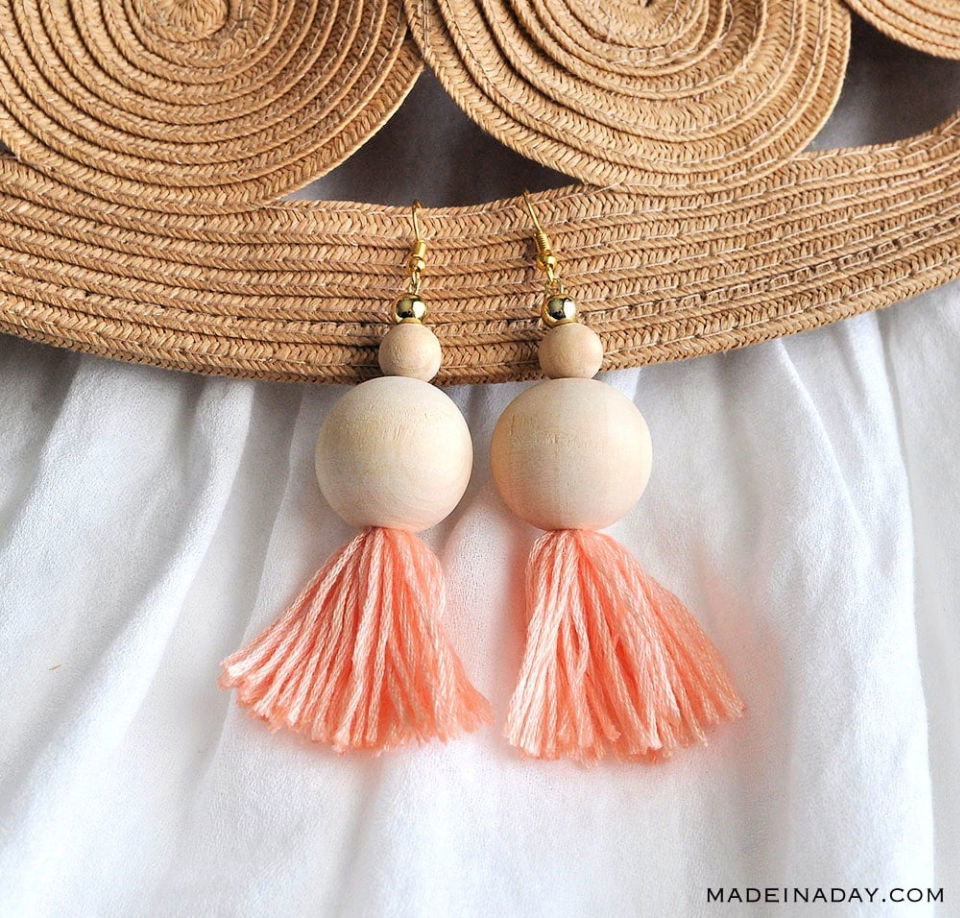 Embrace your unique style with a pair of natural wood bead tassel earrings! Make these stylish, fun, and easy DIY earrings for your wardrobe. You can craft three pairs of unique tassels with just a few materials to show off your style. You only need natural wood beads, acrylic gold beads, earring hooks, pin findings, embroidery floss, and some cardboard to complete the task! Craft jewelry that stands out and expresses yourself by making natural wood bead tassel earrings today! madeinaday
11. Mini Tassel Earrings in 30 Minute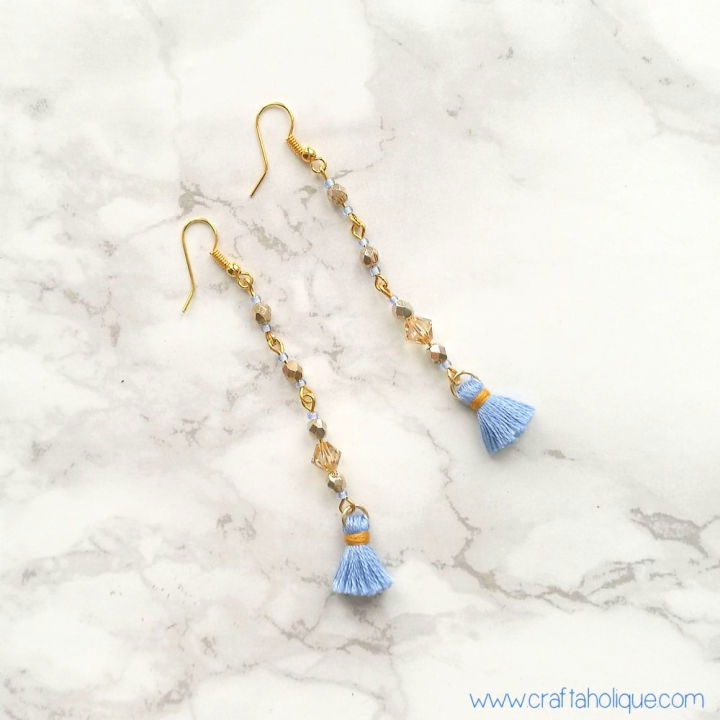 Upgrade your look with these eye-catching mini tassel earrings! Crafted with the finest materials, including blue and gold embroidery thread, fire-polished round beads in gold, gold tone jump rings, fish hook ear wires, eye pins and silver lined pale blue toho seed beads, and swarovski bicone beads in pale gold. These unique designs are simple and quick to make once all the necessary materials are ready. Perfect for any occasion or as a gift for that special someone! craftaholique
12. How to Make Beaded Angel Earrings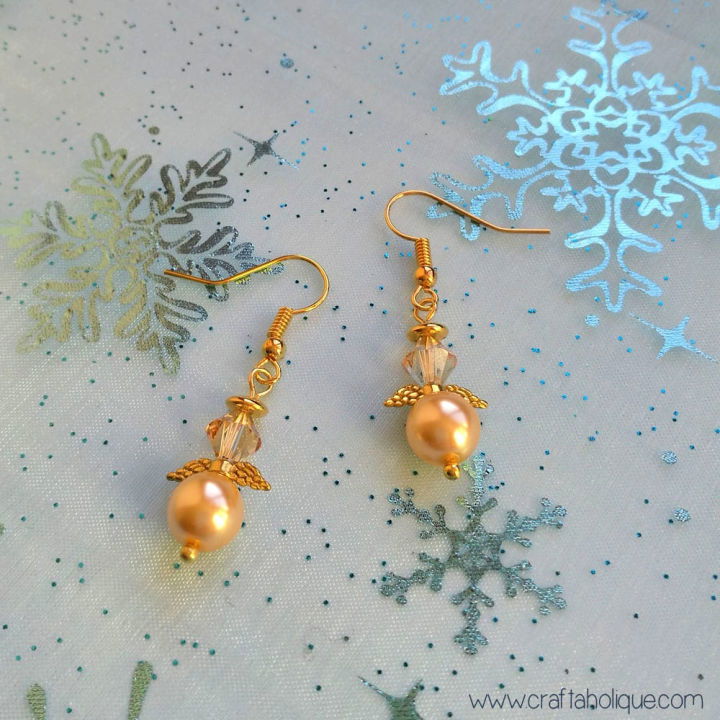 These handmade beaded angel earrings sparkle like a star and light up the season! All you need to get started is a few simple materials: gold tone round ball tip pins, disc-shaped spacer beads, ear wires, angel wing beads and beautiful glass pearls, and golden shadow swarovski bicones. Get creative and customize to your liking – these beaded angel earrings will make a statement this holiday season! Make the perfect pair of festive jewelry you can wear repeatedly. craftaholique
13. Mixed Media Earrings to Make and Sell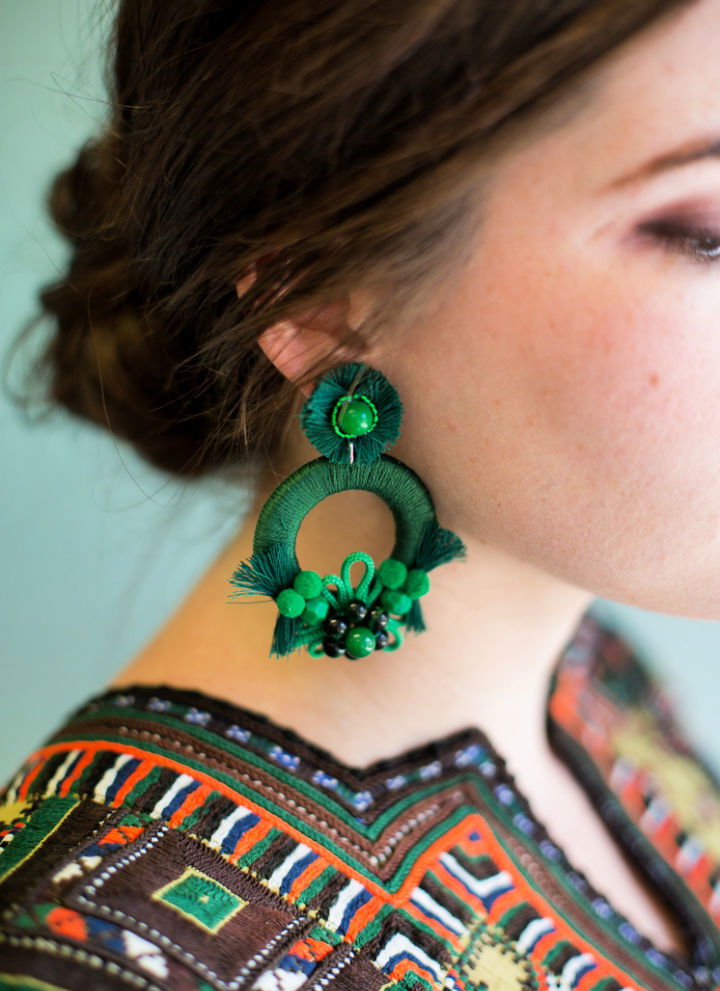 Turn out your unique earrings with this DIY mixed-media plan! Everything you need, from polymer clay to pom-poms and embroidery thread to parachute cord, is included for a fun and stylish jewelry project. Sewing thread and a needle are also provided so you can design beautiful patterns that reflect your style.
Plus, accessories like jump rings and seed beads will help you construct the perfect pair of earrings. Get creative with color combinations – why not try adding some sparkle with candle wax? People won't be able to resist asking where you got them! thehousethatlars
14. DIY Geometric Tassel Earrings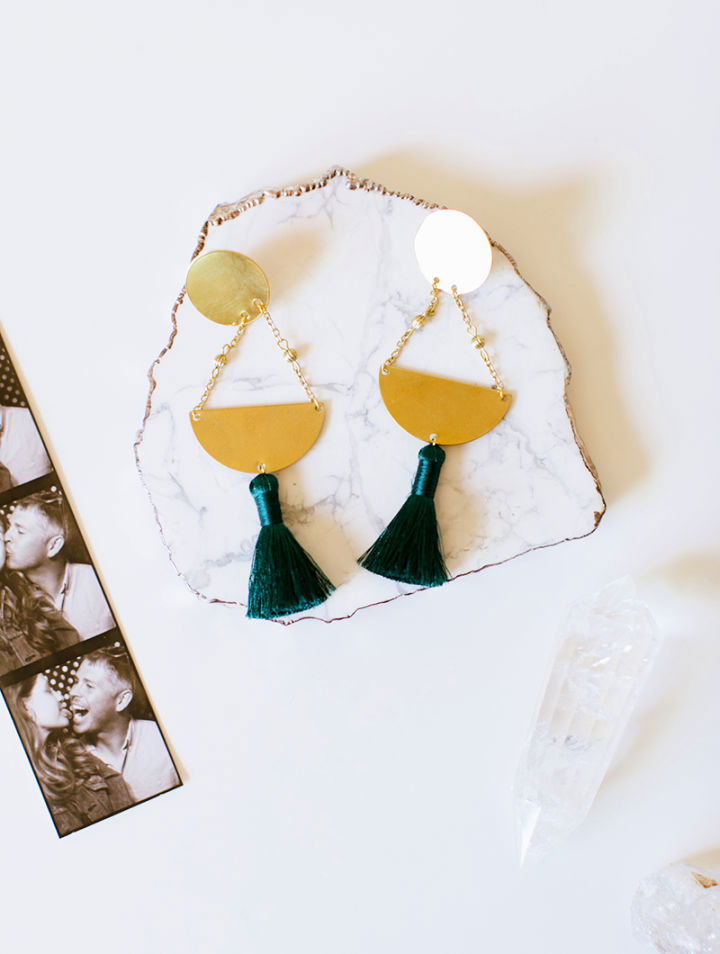 Be bold and show off your unique flair with DIY geometric tassel earrings! This project is easy; you can make it in just 30 minutes. All you need are flat-back earring posts with backs, brass circle charms with two holes, half-moon charms with three holes, and small brass jump rings.
Plus small beads, eye pins, and chains for the tassels – use silk or any other material you choose. With quality materials & needle-nose pliers to easily make finished loops, your earrings will look anything but homemade – people won't believe you've made them yourself! Make stunning geometric tassel earrings now! jojotastic
15. Small Dragon Fruit Pom Pom Earrings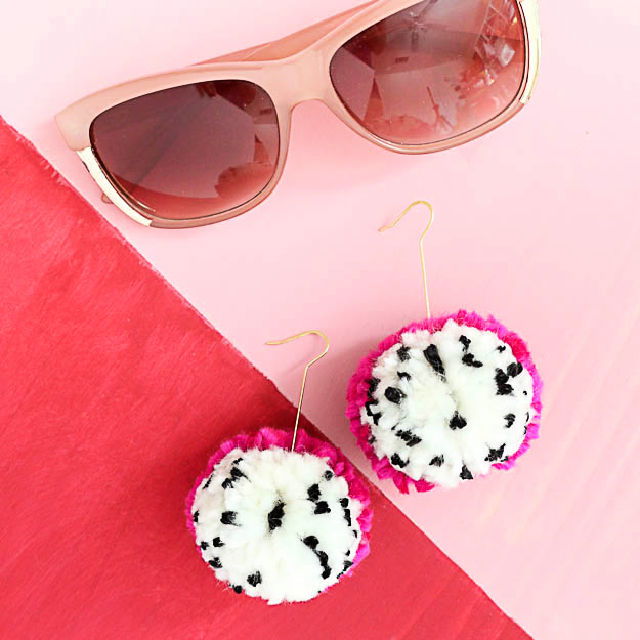 Let your style soar with these one-of-a-kind dragon fruit slice pom pom earrings! You can craft the perfect accessory to your outfit with bright and colorful fuchsia, white and black yarn, a mini pom maker, gold ear hooks, and jump rings. Look no further than this easy tutorial for making kind handcrafted earrings to stand out from the crowd. Add a pop of color to any ensemble today with these fun DIY dragon fruit pom poms! akailochiclife
16. DIY Faux Labradorite Geo Drop Earrings
Unlock your unique style with these stylish DIY faux labradorite geo drop earrings! Crafted from a combination of gold copper wire, a small link chain, black and white polymer clay, jump rings, and earring posts, these earrings offer a unique two-way look. Wear them as faux labradorite studs or slip on the chain to make a more intricate design – ideal for special occasions! Show off your style and creativity with this easy-to-make jewelry project for all abilities. fallfordiy
17. Creating Pearl Dangle Earrings at Home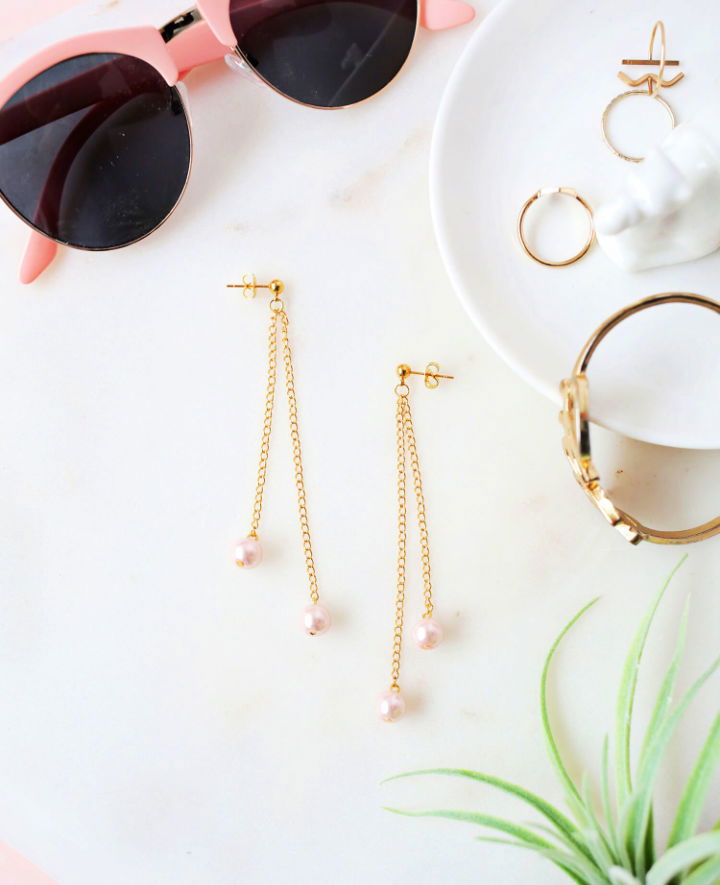 Design a unique pair of pearl dangle earrings with this DIY project! Whether you prefer silver, gold, bright colors, or neutral hues, customize these earrings to tailor them to your taste. You only need basic jewelry supplies like jump rings, head pins, link chains, ball earring posts, and pink pearl beads. This fast and easy project will satisfy you by making something special that can be worn casually or dressed up for a night out – all with your personal touch. Try it today! abeautifulmess
18. Free Chevron Beaded Earrings Pattern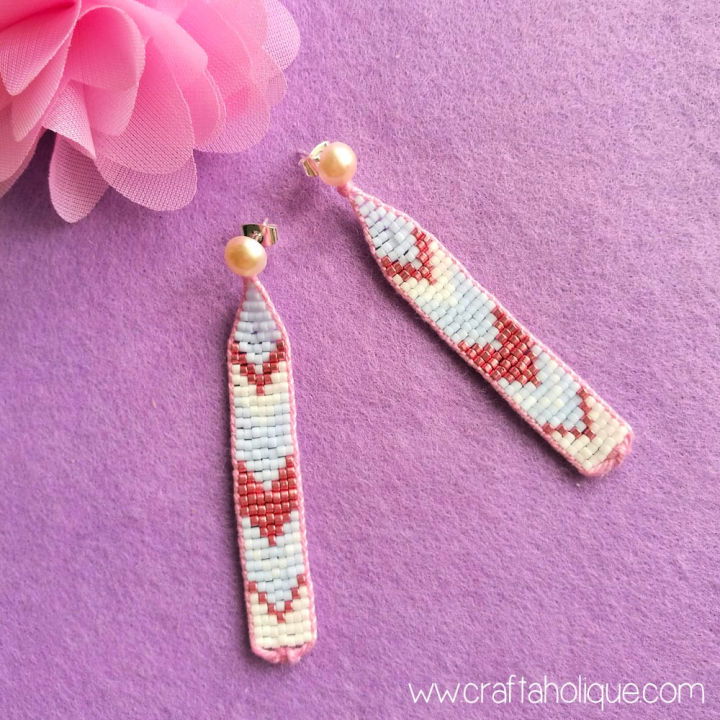 Build beautiful, one-of-a-kind beaded earrings with a chevron design using this pretty chevron beaded earrings tutorial – plus a free loom beading pattern! All the materials needed are provided: miyuki delicas in colors, beading thread, beading needle, pink cotton yarn, silver-tone flat pad earring findings and butterfly backs, and faux pearl flat back cabochons. Follow the detailed instructions step by step to make your unique pillar earrings. Use the free pattern for guidance or get creative and customize it as you wish. Perfect gift idea for any special occasion! craftaholique
19. Pom Pom Earrings Project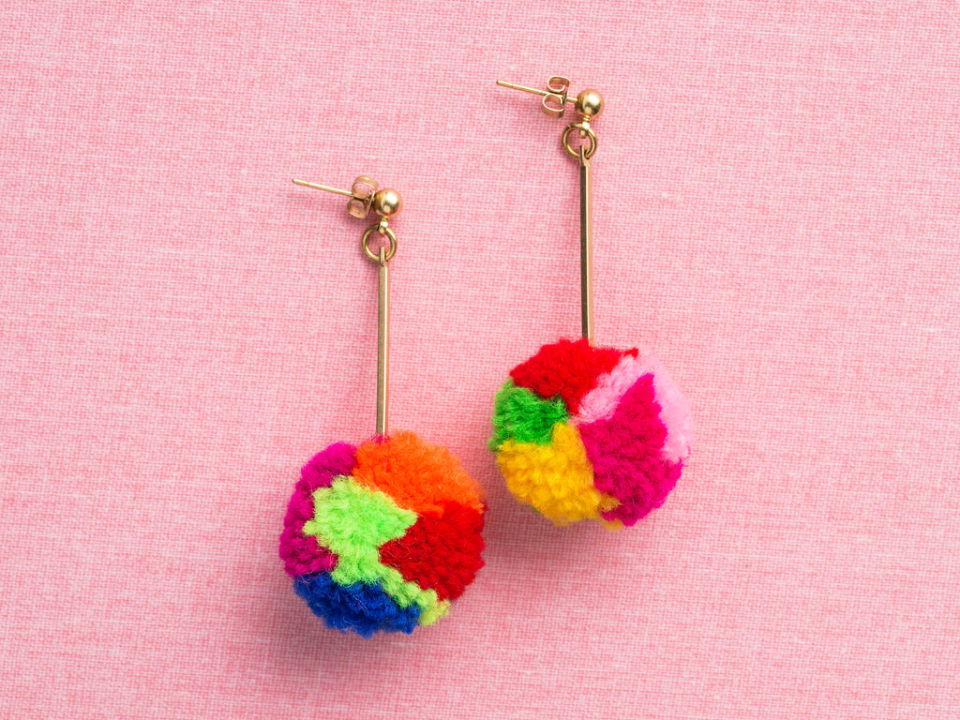 Unleash your creative spirit and bring a splash of color to any look with pom-pom earrings! All you need is some yarn, thread, needle, brass bar connectors, jump rings, and ball posts with rings to make beautiful DIY gifts for your friends. With a wide range of colors, it's easy to customize the perfect pair of earrings to leave a lasting impression. Whether you go bold with multiple colors or keep it subtle for everyday wear, these pom-poms will surely be the envy of all who see them! Have fun crafting these stylish earrings today! awaysaway
20. DIY Wood Earrings With a Cricut and Rust-Oleum Imagine Paint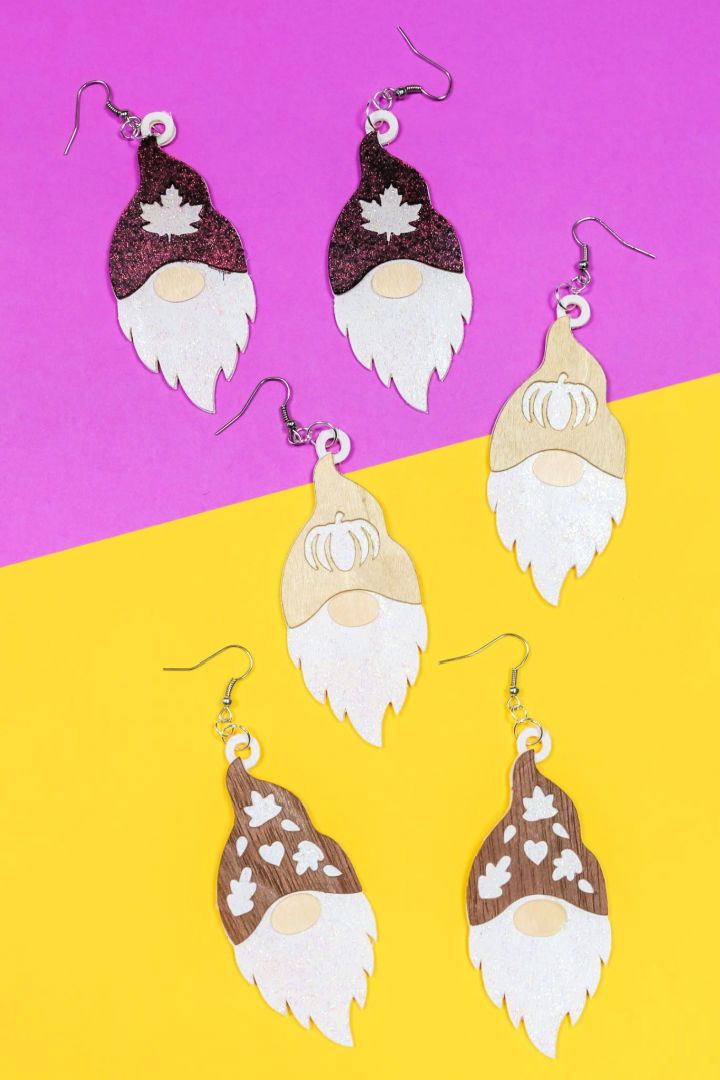 Add a unique flair to your look with DIY wood earrings made of cricut and rust-oleum imagine paint! With the perfect pieces to make these earrings, it's easy and fun. Get your cricut machine equipped with a deep point blade for cutting wood veneer, plus various rust-oleum imagine paints in colors like color shift, soft gold chrome, intense glitter paint, and chalk spray – so you can customize your earrings.
You'll also need a strong grip mat, jewelry findings, wood glue, brayer, and gnome SVG files to make unique designs that will stand out this fall season. So grab your supplies and get crafting! thecountrychiccottage
21. Leaf Vine Peacock Earrings for Beginners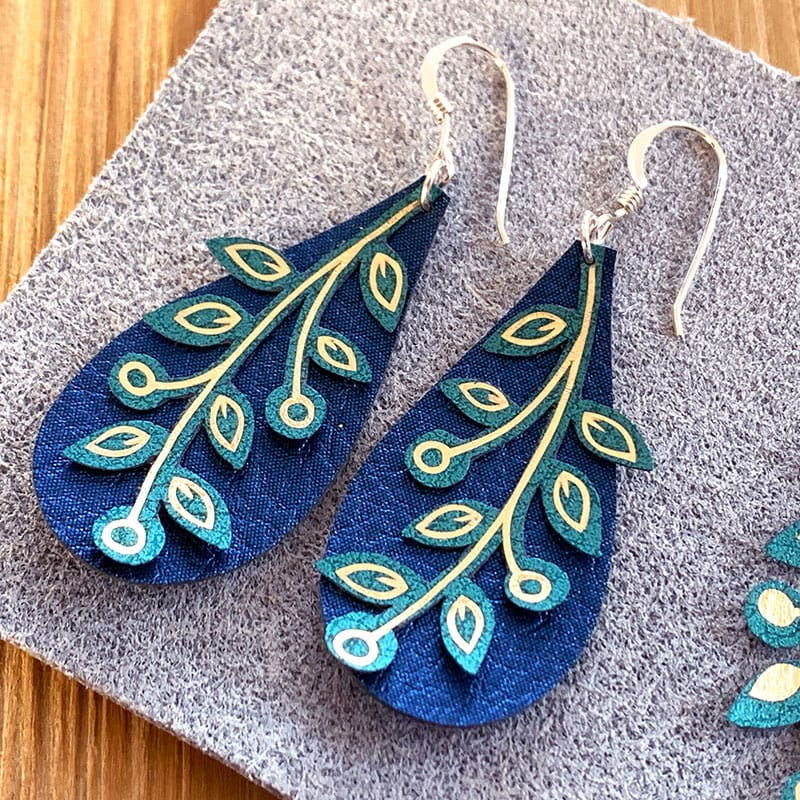 Make your stylish earrings with a cricut machine and SVG earring file! You can quickly make stunning multi-layered earrings with just a few supplies like faux leather, metallic gold iron-on vinyl, and earring findings. Cut the materials to size using your cricut machine and assemble them with jewelry pliers. Finish with an iron or easy press for a professional look that will turn heads! Stop spending money on expensive jewelry when you can DIY it at home – get started today! 100directions
22. Easy Beaded Hoop Earrings Technique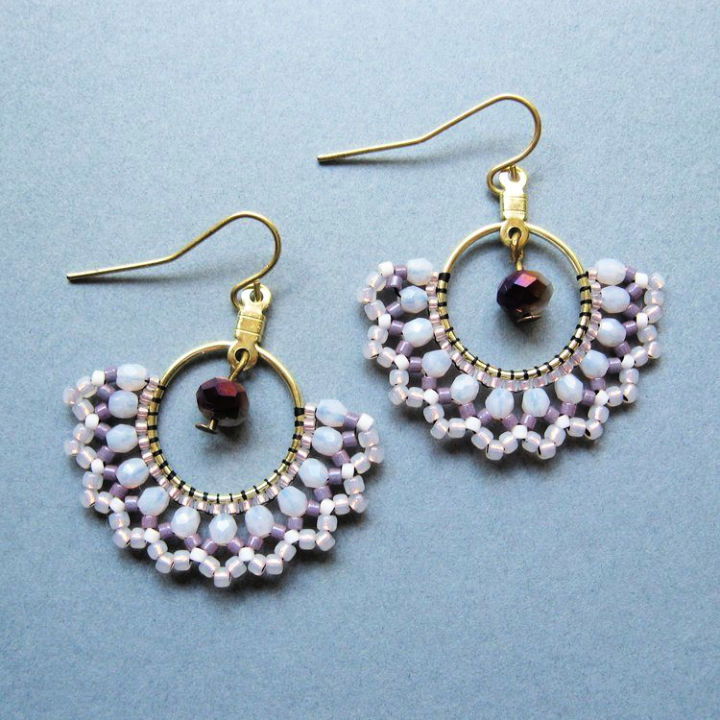 Elevate your style with an eye-catching touch of glamour with these stunning beaded hoop earrings. Crafted from an assortment of colorful seed and crystal beads, they are surprisingly easy to make, thanks to the brick stitch technique. All you need are rocaille seed beads, crystals, delicas, jewelry hoops, ear hooks, head pins, and a beading needle and thread. Perfect for using leftover materials from larger projects or as unique travel souvenirs! howdidyoumakethis
23. How to Make Crystal-Wrapped Earrings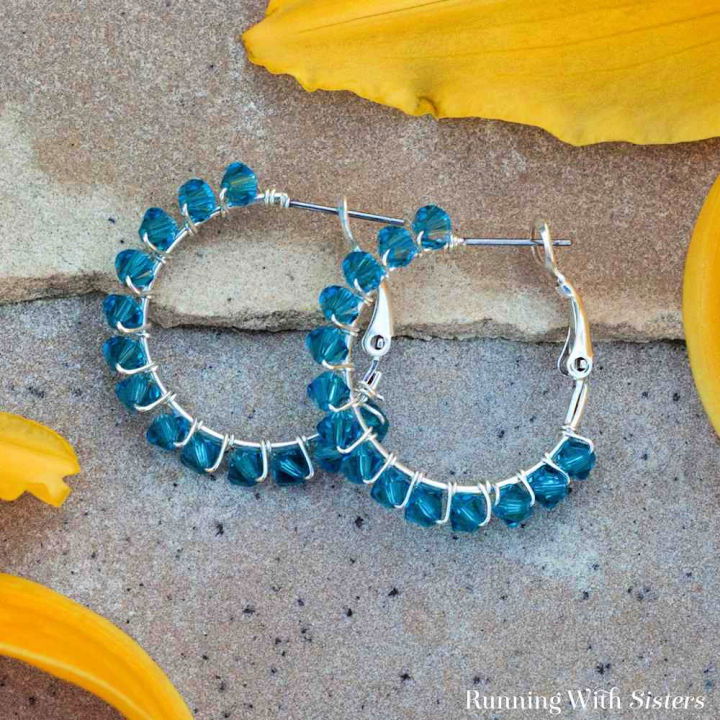 Sparkle with these stunning crystal-wrapped earrings! No special jewelry-making tools are required, just silver hoop earrings, crystal bicone beads, silver-plated wire, and wire cutters. These elegant accessories make the perfect christmas gifts for your friends and family – they won't believe you made them! Try out this fun project today to make a unique accessory that adds sparkle to any outfit. runningwithsisters
24. DIY Wood Burned Earrings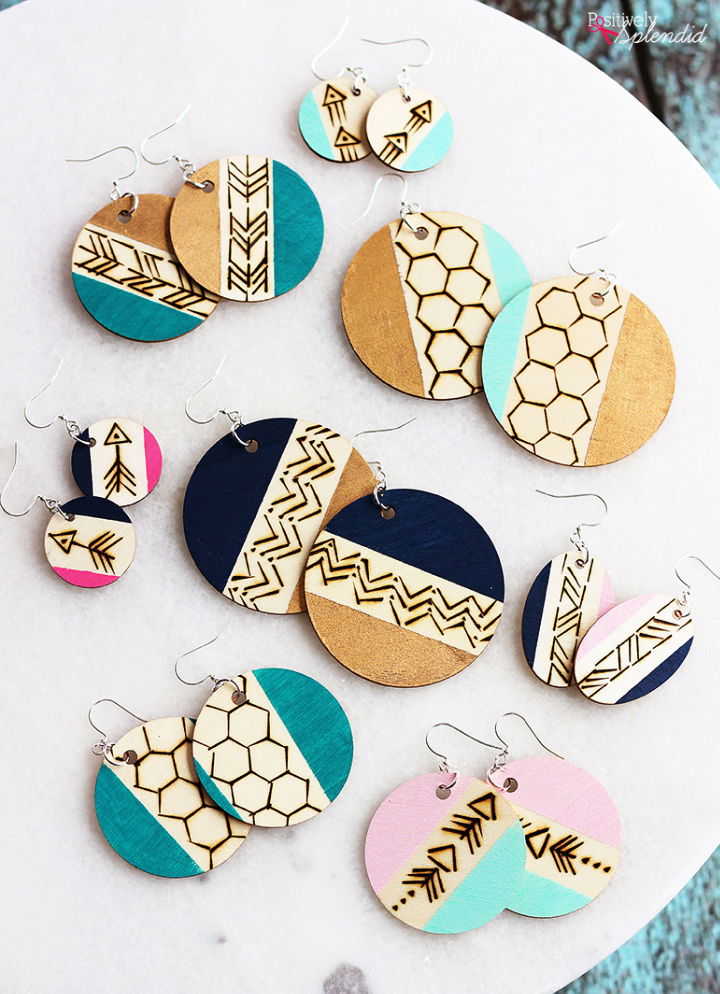 Spice up your jewelry collection with these DIY wood-burned earrings! This easy and fun gift idea takes only 30 minutes to create, but it looks like it belongs in a trendy boutique. With the help of a woodburning craft tool and other supplies such as paint, gilding, jump rings, and fishhook earring findings, you can make unique earrings that will impress. Make this handmade gift for someone special or keep them all for yourself – either way, you won't regret crafting these fashionable wood-burned earrings! positivelysplendid
25. Make Your Own Tassel Earrings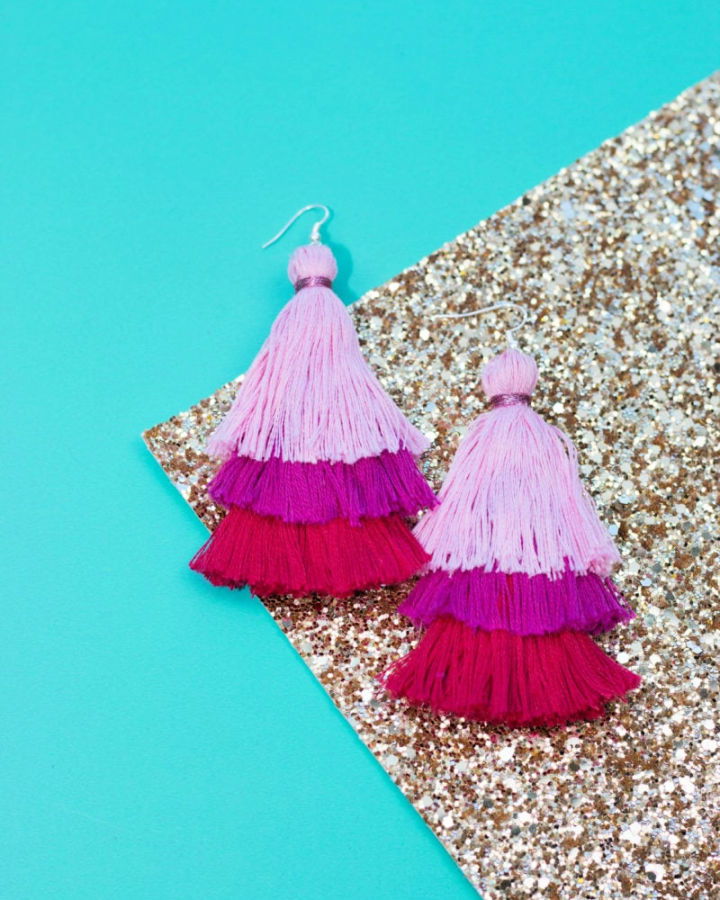 Unveil your inner designer and add a fashionable flair to any outfit with these eye-catching tassel earrings! You can make your fashion statement piece with only $10 and some thrifty coupon-savvy shopping. Start by gathering the necessary supplies: embroidery floss, Diamant metallic thread, and earrings. Follow the step-by-step instructions to make your stylish accessory. Stand out with your handmade look showing how creative and crafty you are! sweetredpoppy
26. Handmade Suede Fringe Earrings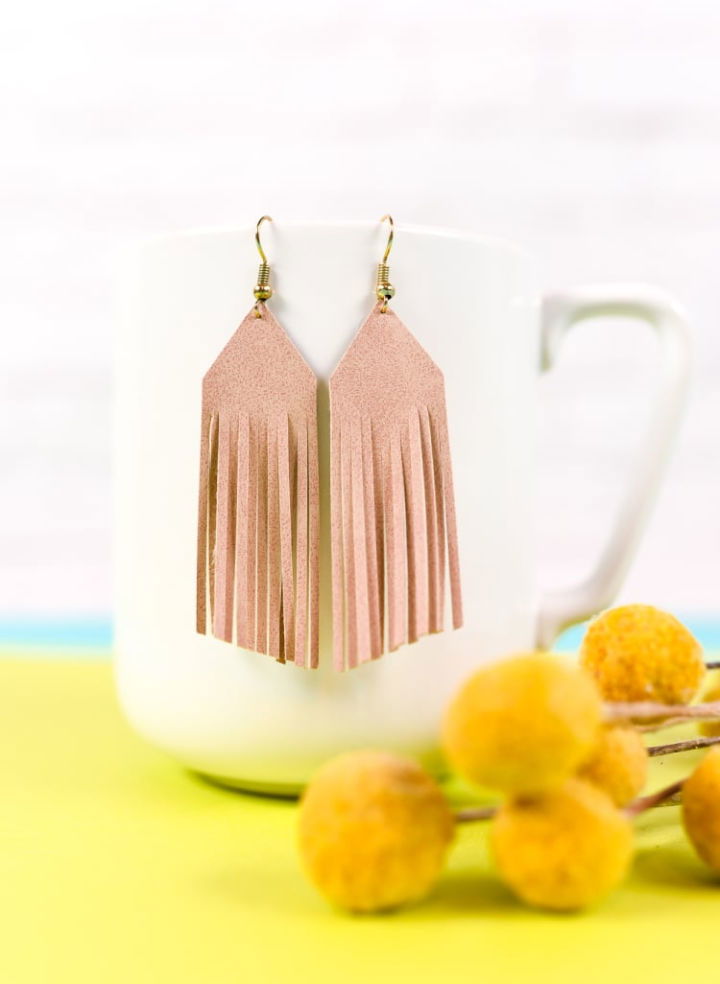 Dress up your style with these unique and handmade suede fringe earrings! With the help of your cutting machine and some faux suede, you can easily make this stylish accessory. You only need fish hook earring findings, a poker to fray the edges, and SVG cut files for your cutting machine. Add these fashionable earrings to your wardrobe today and show your unique style! heyletsmakestuff
27. Homemade Rainbow Wrapped Earrings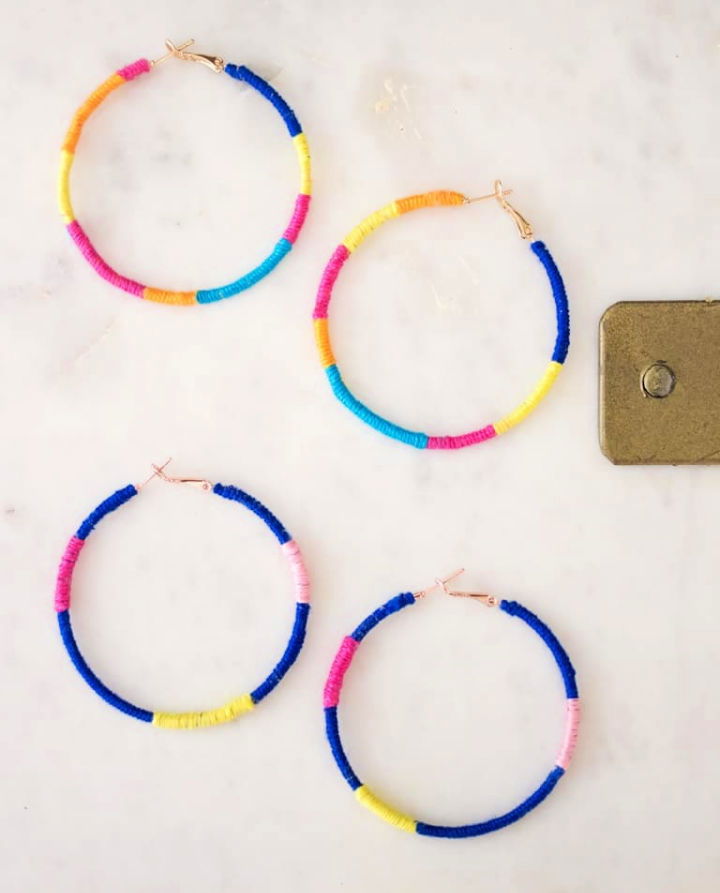 Bring joy to your day with these vibrant rainbow-wrapped earrings! An easy and inexpensive way to upgrade your style, grab some hoop earrings and embroidery floss in an array of vibrant colors. With just a few steps, you can have cute, customized earrings that will be sure to turn heads. So why not give it a try? You'll love the finished product – guaranteed! gina michele
28. Making Leather Diffuser Earrings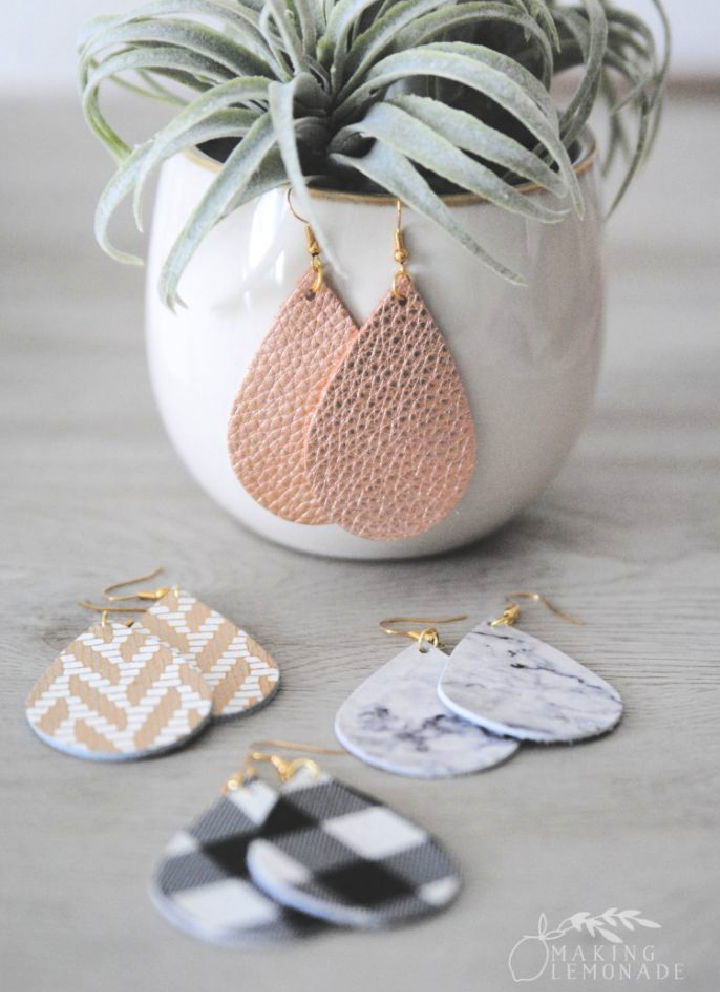 Style meets function with these leather diffuser earrings – perfect for adding a touch of flair to any look! Perfect for taking your favorite scent on the go and affordable to make yourself! These teardrop leather earrings also make great gifts and are a great activity for girls' night in.
Get all the supplies you need, like leather, hooks, jump rings, and a leather punch – then start making these beautiful earrings easily! Let your creativity flow as you craft unique, essential oil diffuser jewelry pieces that wow friends and family. makinglemonad
29. Simple Chain Earrings Design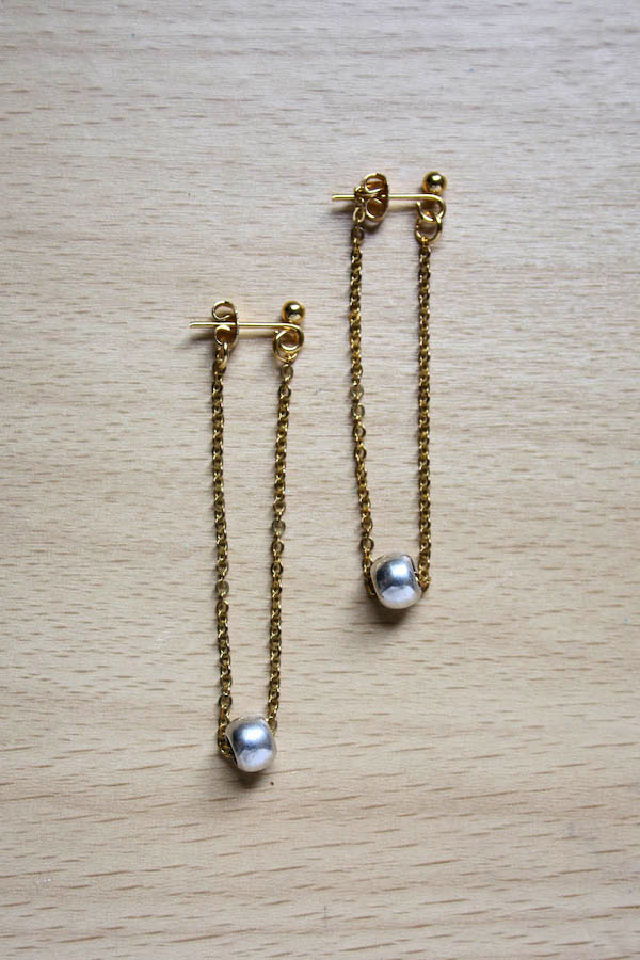 Let your personality shine with this chain earrings DIY! Perfect for a beginner project, you only need a chain, jump rings, beads, and pair of loop stud earrings. Get creative with the design – choose from fine chains and large hole beads to make something original!
With simple steps and 4mm jump rings, you'll have beautiful handmade earrings in no time. For added security, finish off the look with butterfly earring backs to keep your creations safe and secure. Start making today – try out these cool chain earrings DIY for yourself! makeandfable
30. Easy DIY Clay Rainbow Earrings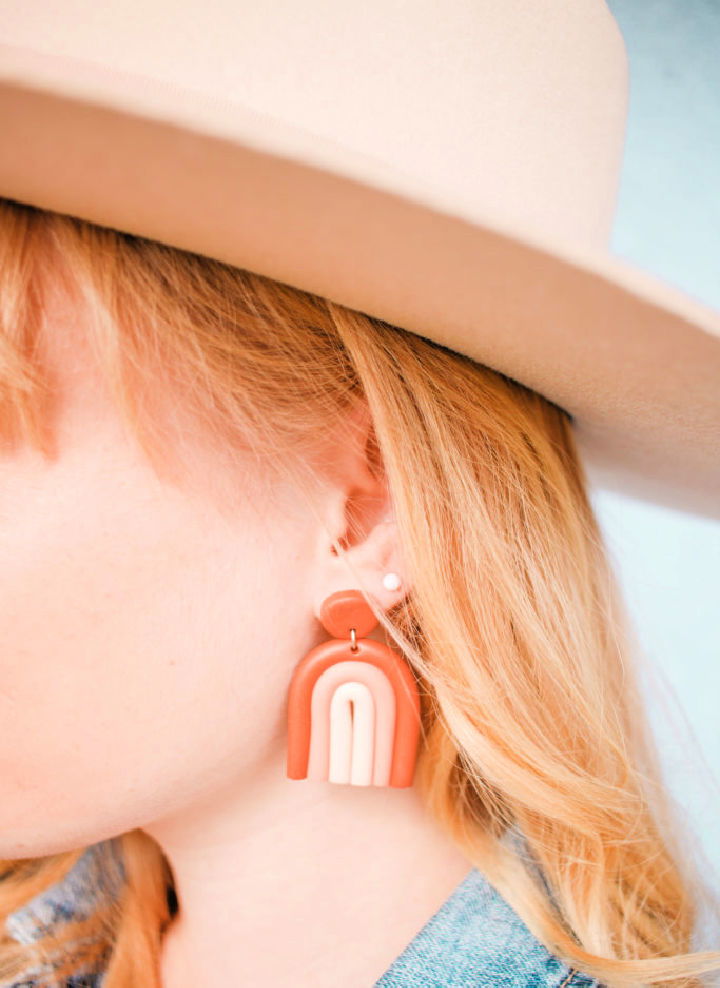 Show a little luck to your wardrobe with these DIY clay rainbow earrings! These fabulous earrings are perfect for St. Patrick's Day, but you can also rock them any time of the year. Plus, they make a great gift for your gal pals! All you need is Sculpey (polymer clay), marker lid, jump rings, earring post & clutch, and needle – everything else you'll find in this easy-to-follow tutorial. Get creative and show off your style by making one-of-a-kind rainbow earrings today! mikylacreates
31. Awesome Beaded Tassel Earrings Idea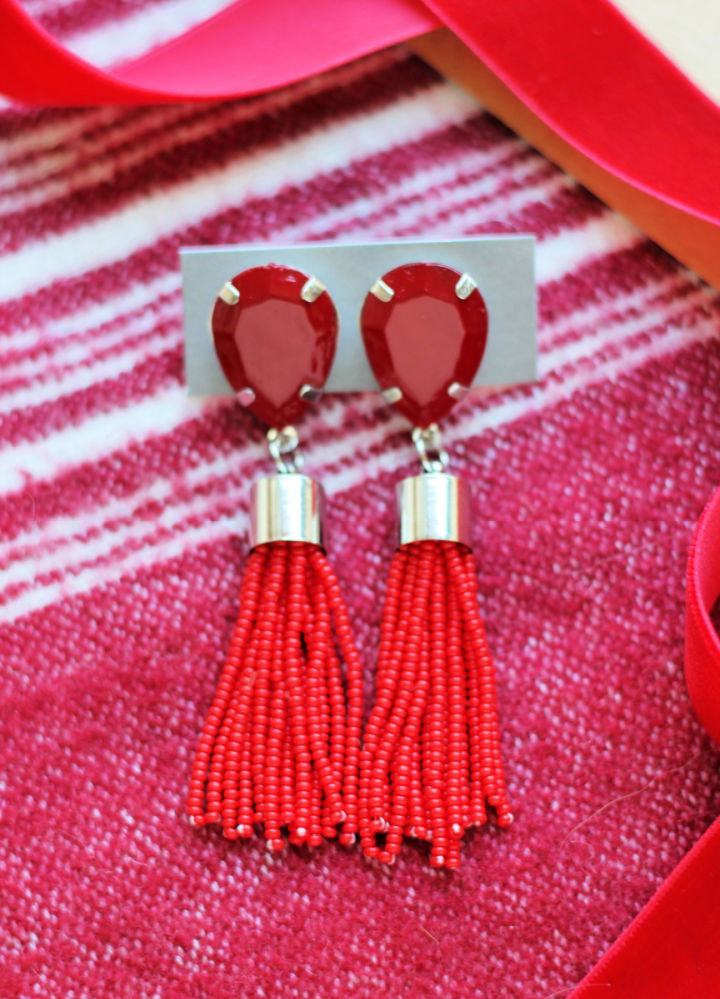 Look stylish with these DIY beaded tassel earrings! Make them yourself with minimal supplies – seed beads, rhinestones, silver tassel caps, a small piece of felt, flat earring posts, nylon beading string, a beading needle, and 6mm jump rings. They're super simple to assemble, so why not have fun making something beautiful that won't break the bank? Have friends over to craft night or treat yourself to an evening making handmade accessories – it's sure to bring out your creative side. homemadebanana
32. DIY Earrings Using Seed Bead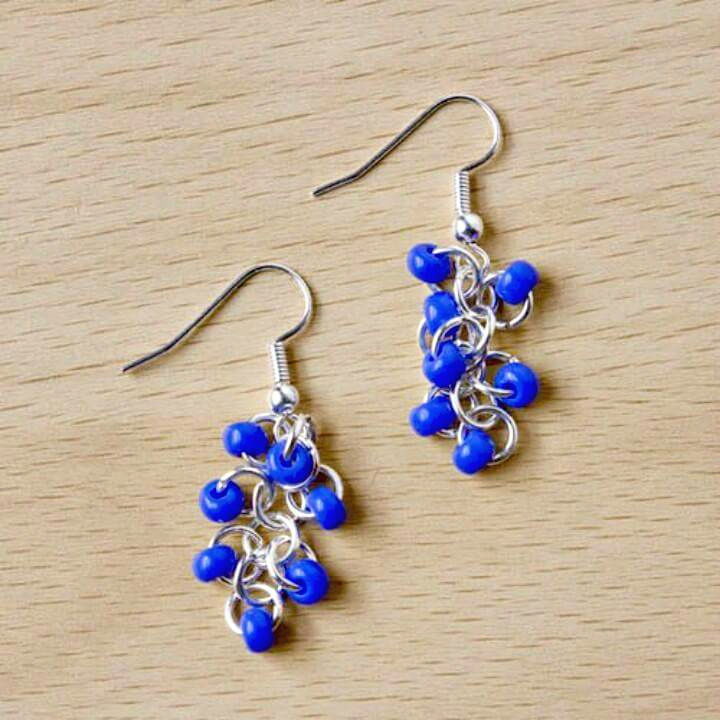 Make a beautiful pair of simple seed bead earrings with just 6mm jump rings, fishhook earring findings, and seed beads! This is the perfect beginner project for opening and closing jump rings with chain nose pliers. It's also an easy way to use extra beads around your home! Add sparkle to your outfit or give them as gifts – these stunning earrings will surely be admired. Get creative and make your unique look today! makeandfable
33. Creative Rainbow Dangle Button Earrings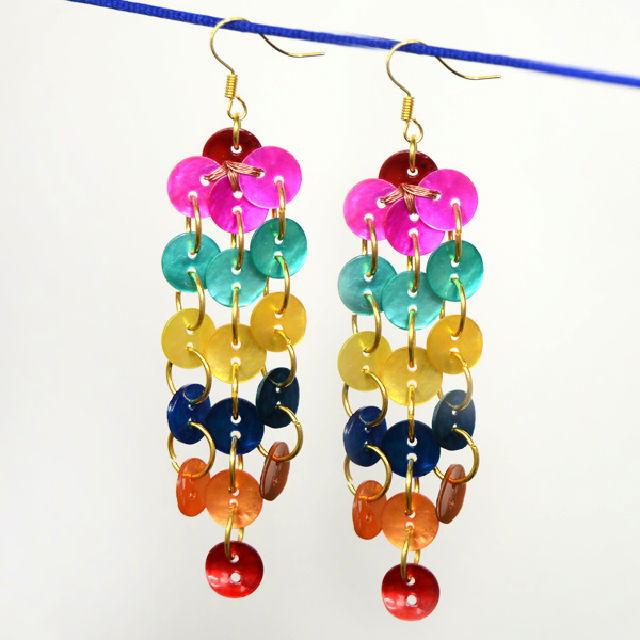 Shine bright like a diamond, and let your beauty stand out with these unique rainbow dangle button earrings! These earrings are perfect for accessorizing any outfit. All you need is some rainbow shell button beads, 10mm jump rings, earring hooks, and copper wire to get started. Add color to your wardrobe with these simple yet eye-catching statement pieces that will turn heads everywhere you go. Try making rainbow dangle button earrings today – it's fun, fast, and easy! pandahall
34. How to Make Leather Earrings at Home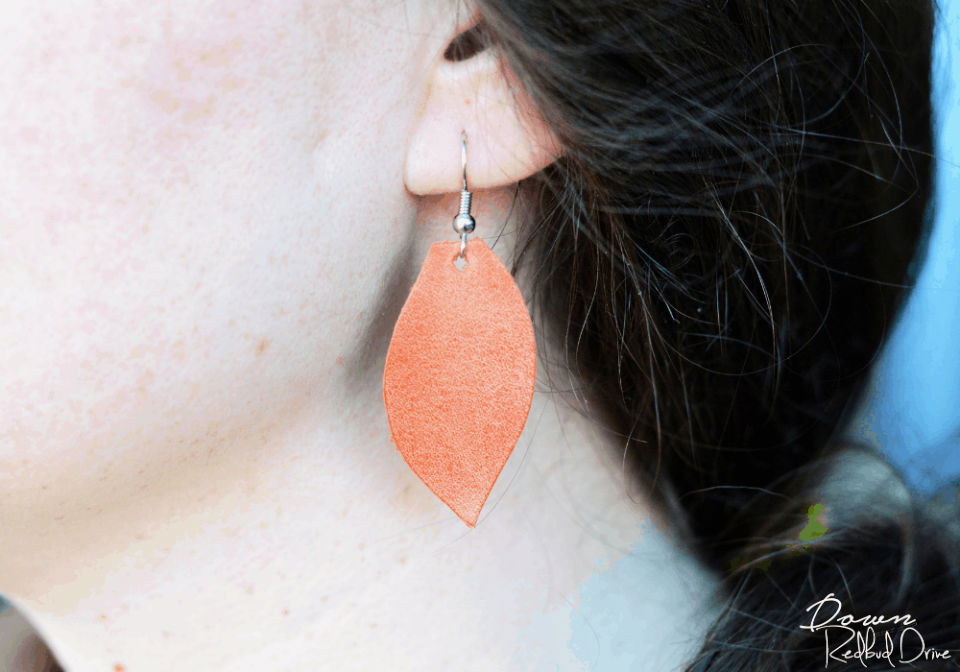 Turn out your unique and stylish leather earrings with a few simple supplies! Whether you're looking for a budget-friendly gift or want to add some pizzazz to your wardrobe, DIY leather earrings are the perfect choice. You can make any shape or design imaginable with thin leather, a leather punch, and jump rings. Hoop earring posts provide the finishing touch. They're lightweight and come in so many colors and patterns that everyone will love them. Get creative today with these easy-to-make leather earrings! downredbuddrive
35. Teardrop Earrings – Step-by-Step Instructions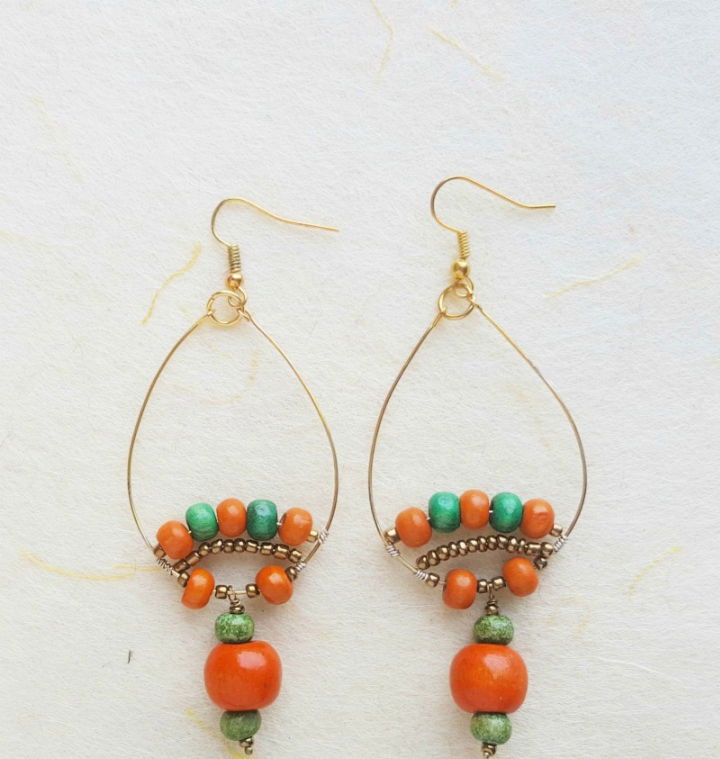 Discover these beautiful handmade modern teardrop earrings! Each pair is crafted with care and made unique to you. Make your jewelry using craft wire, jump rings, earring hooks, two different sizes of wooden beads, seed beads, headpin wire, and other materials. Perfect for a special occasion or everyday wear, these stunning one-of-a-kind earrings will turn heads wherever you go! Get creative and make a custom pair today! the socialites closet
36. Leaf Shape Earrings Out of Leather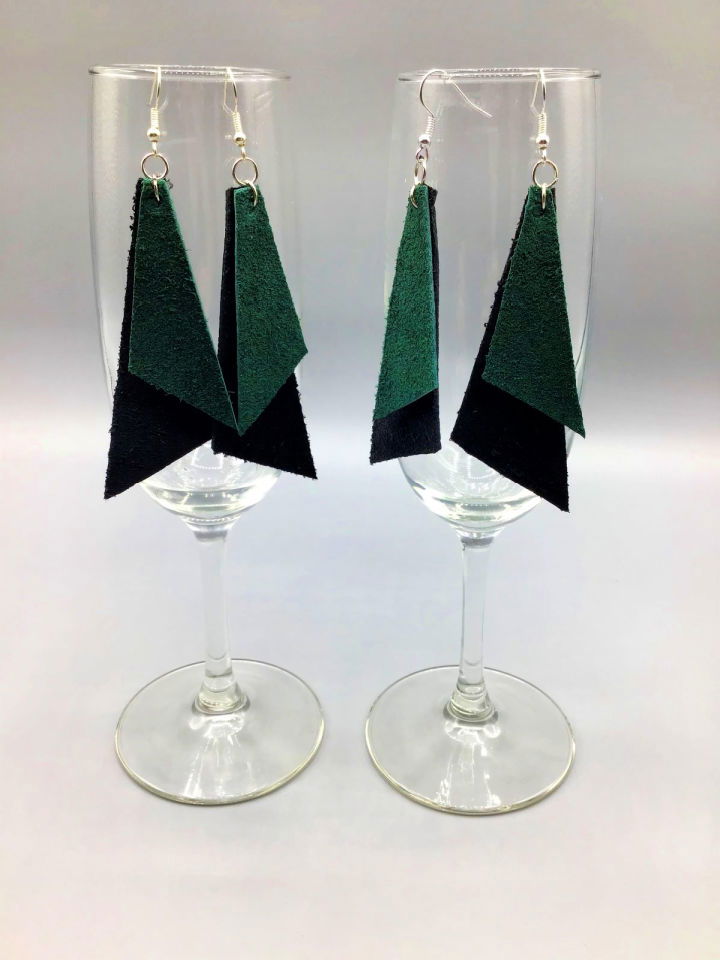 Design your fashion statement with handmade leather earrings! Choose from various shapes and sizes, then customize the design using simple materials like cardboard or paper templates. With just a few basic tools, you can make an entire set that perfectly matches your style. Make sure to add some unique touches and show off your creativity by making these beautiful accessories yourself! Get started on crafting the perfect pair of leather earrings today! popshopamerica
37. Modern DIY Wooden Dangle Earrings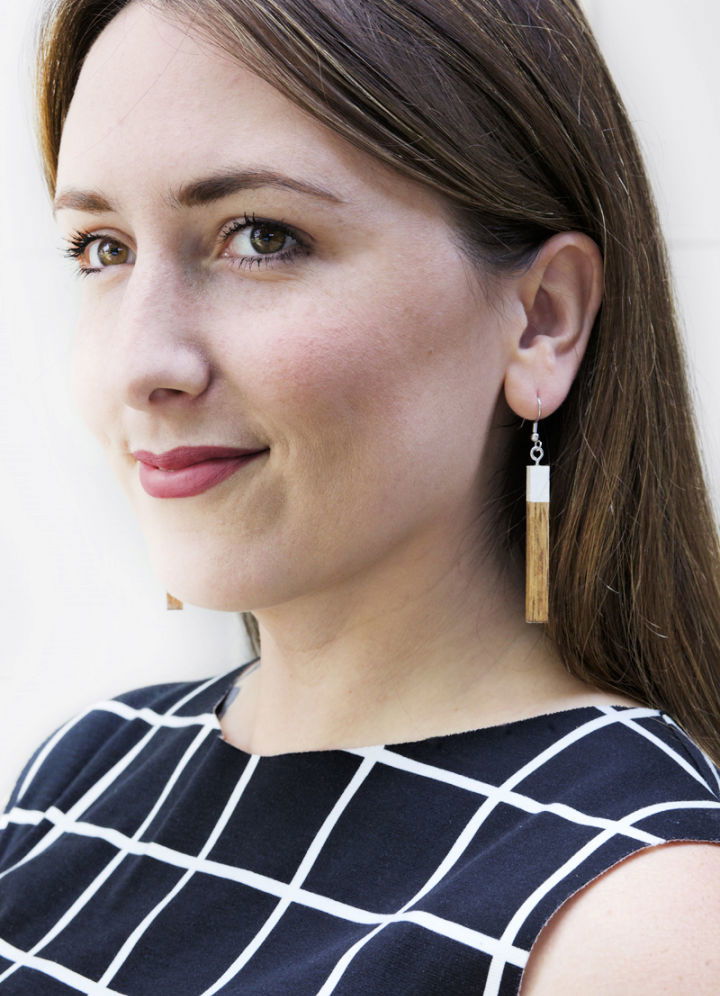 These modern wooden earrings are a great way to add style and flair to any outfit. Crafted from square dowels with dangle hook earrings, they are made easy with wood stain, white oil-based primer and paint, varnish, and painter's tape. Not only can you make them yourself in no time, but their unique design will surely turn heads no matter where you go. Add class and distinction to your wardrobe today with these stylish modern wooden earrings! abeautifulmess
38. Simple DIY Craftsmanship Earrings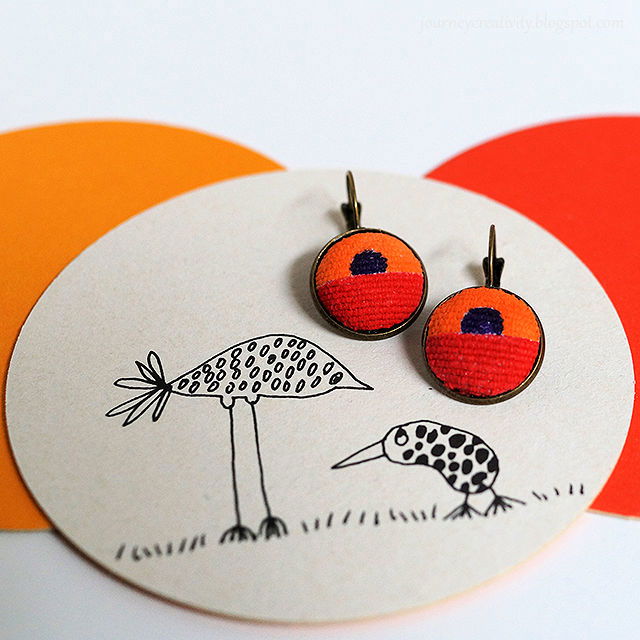 Earrings are a great way to dress up any outfit. With craft eyelets, you can make your o unique earrings with just a few simple steps. All you need is some eyelets and the right tools to help apply them to whatever caston they may be going on. Eyelets come in many different shapes and sizes, so you can make a one-of-a-kind look that suits your style perfectly.
Whether for casual wear or something more formal, these easy DIY earrings can take your wardrobe from drab to fab! Get creative and add an extra touch of sparkle with custom-made earrings using craft eyelets today! journeycreativity
39. How Do You Make Cascade Dangle Earrings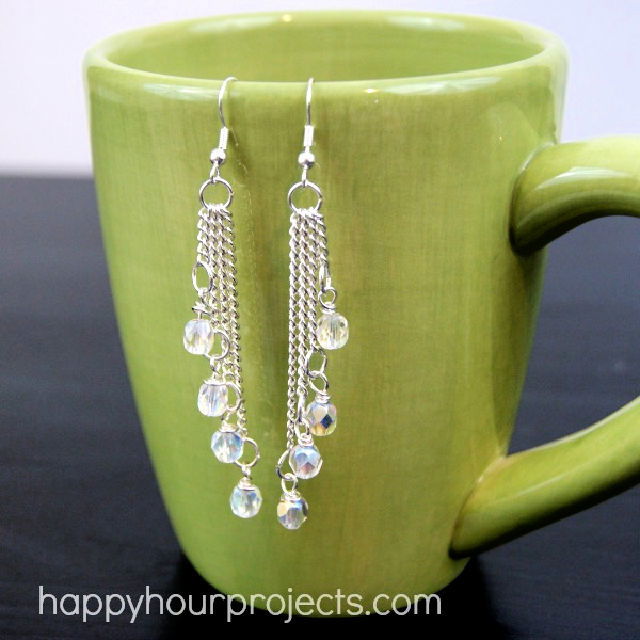 Make a statement with easy cascade dangle earrings! This 10-minute jewelry project gives you the perfect opportunity to express your creativity. For easy assembly, you only need earring wires, chains, jewelry head pins, beads, jump rings, and round jewelry pliers. With these materials, you can make different lengths of beaded charms. Show off your new pair of stylish dangle earrings that will turn heads the next time you go out! happyhourprojects
40. Pink and Blue Crystal Statement Earrings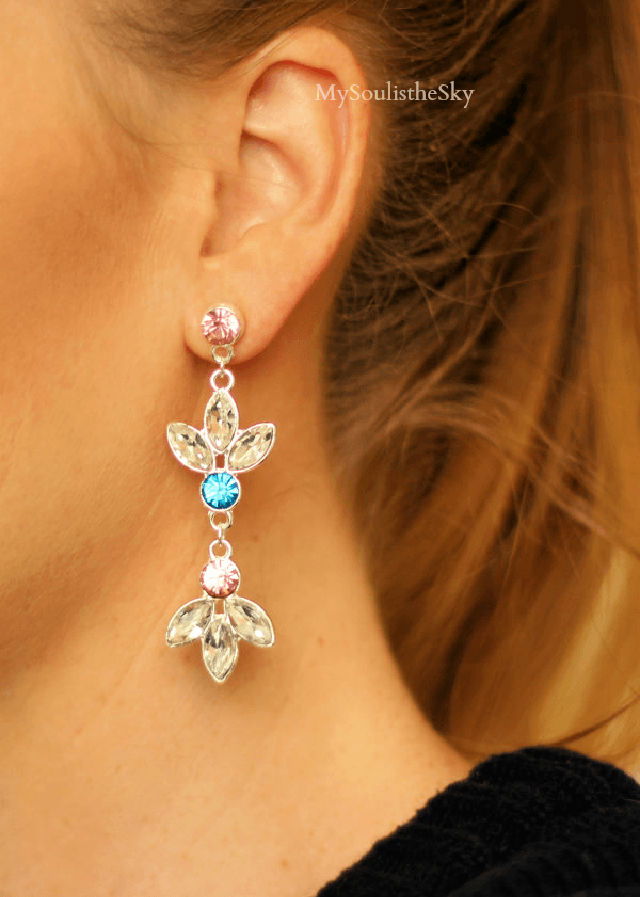 Unlock your inner sparkle with these exquisite pink and blue crystal statement earrings! Crafted with three types of stone settings, rhinestones, earring backs, and studs, these statement earrings will bring a unique touch to your look. You can quickly make these beautiful earrings with an easy tutorial at home! Not only are they stylish, but they make a great DIY craft project too! Get creative and impress friends with your homemade crystal statement earrings today! missysue
41. Cute DIY Tangerine Chandelier Earrings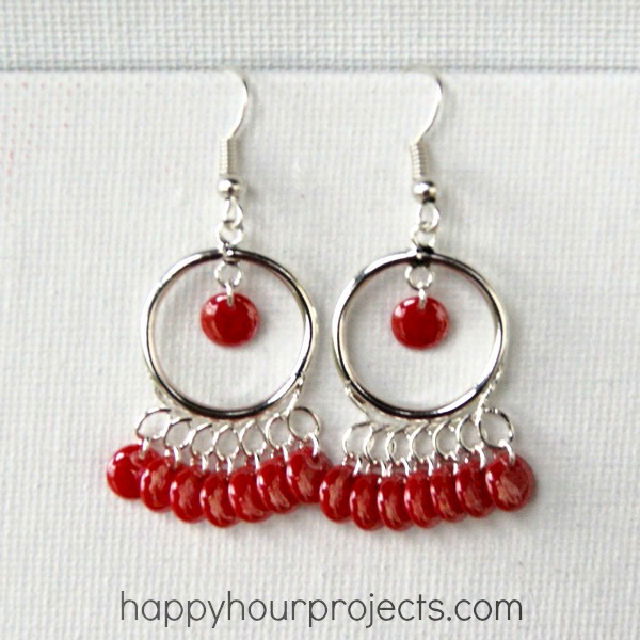 Step up your accessory game with beautiful tangerine chandelier earrings! These designer-inspired earrings are crafted using a combination of beads, chandelier bases, and earring wires. Making these unique pieces is simple – add small jump rings to finish the design. With this easy DIY project, you can make gorgeous new accessories that look straight from the runway. Perfect for any special occasion or simply adding some color to an everyday outfit, upgrade your style with tangerine chandelier earrings today! happyhourpro
42. DIY Floral Wooden Mod Podge Earrings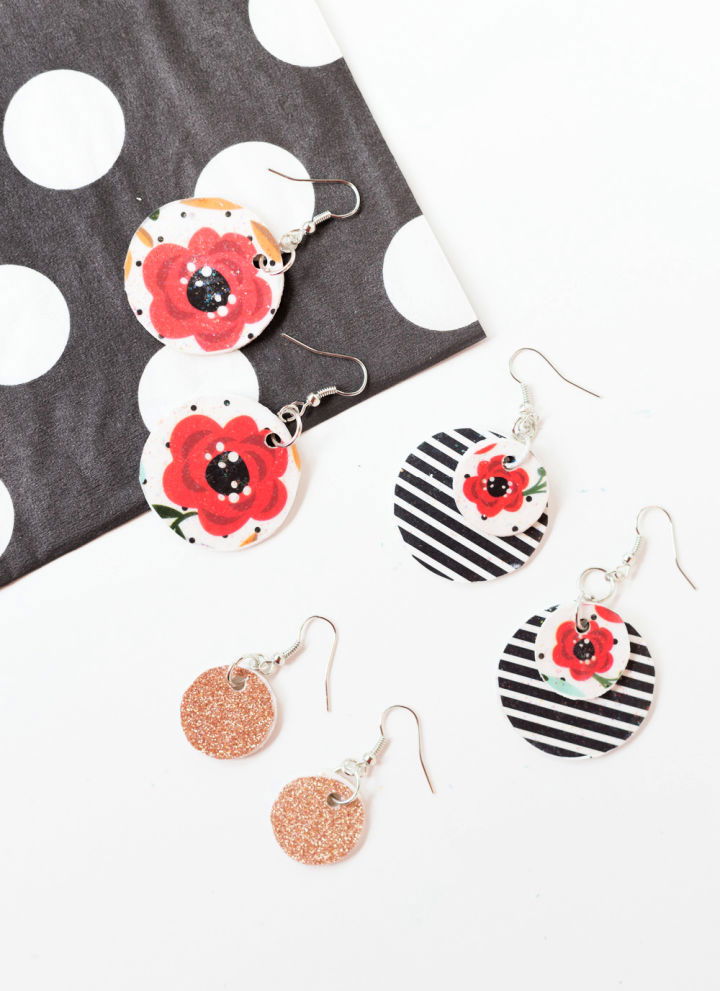 Craft beautiful floral wooden mod podge earrings for craft groups, parties, and gifts! With just a few simple supplies like mod podge sparkle, paint such as folk art, wooden discs, and jump or fish hook earrings, you can make these stylish earrings in no time. Perfect for birthdays and other special occasions or to give away as homemade presents throughout the year. Start making your unique pieces today and show off your style with these fun DIY earring projects! madetobeamom
43. Making Your Own Fruit Slice Earrings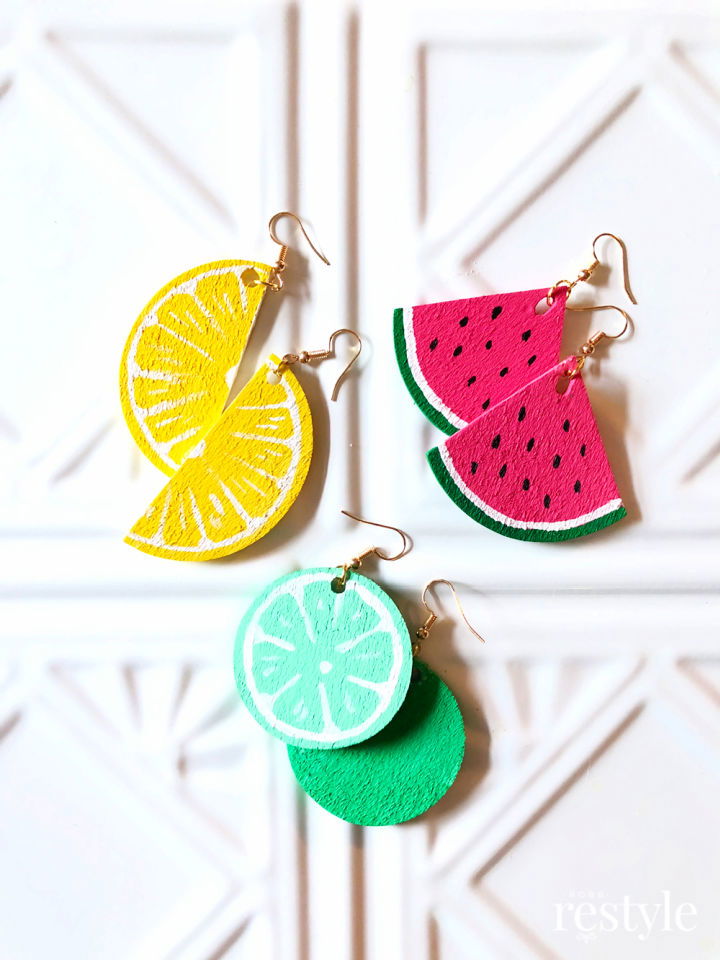 Let your personality shine by adding a unique twist to your summer look with fruit slice DIY earrings! Make stylish balsa wood earrings with deco art style paint in vibrant colors: yellow, green, fuchsia, white, and black. The water-based paints mix well together for endless possibilities. With a cricut maker and balsa wood shapes, you can make custom fruit slice earrings that are perfect for any occasion! Remember to add the finishing touches, like earring hooks, jump ring connectors, and needle nose pliers. Get creative today and make something unique! robbrestyle
44. Quick DIY Fringe Earrings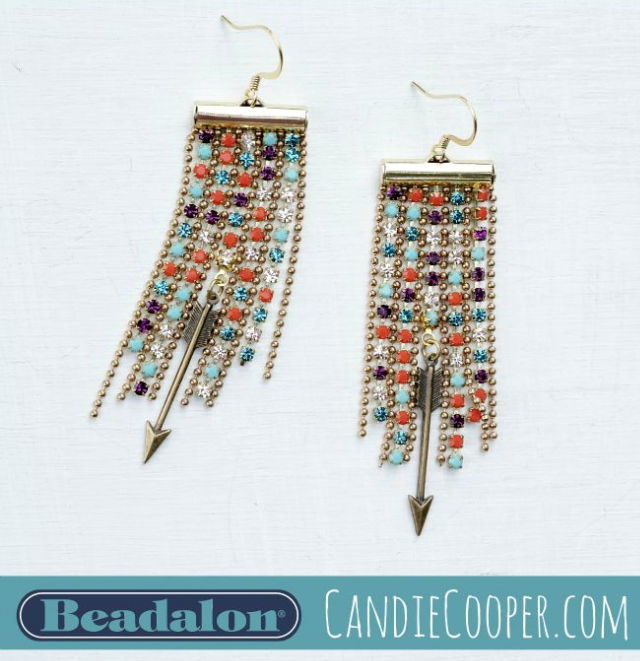 Bring a unique touch of sparkle to your wardrobe with fringe earrings! Have fun and get creative by adding an arrow charm to the center for a unique touch. All you need are some appropriate size cup chain connectors to connect the arrow charm in place – perfect for adding any style you want to your earrings! Easy-to-follow steps with detailed instructions make these one-of-a-kind fringe earrings simple enough, even for beginners. Make them special, stylish, and yours today! candiecooper
45. Druzy Earrings Tutorial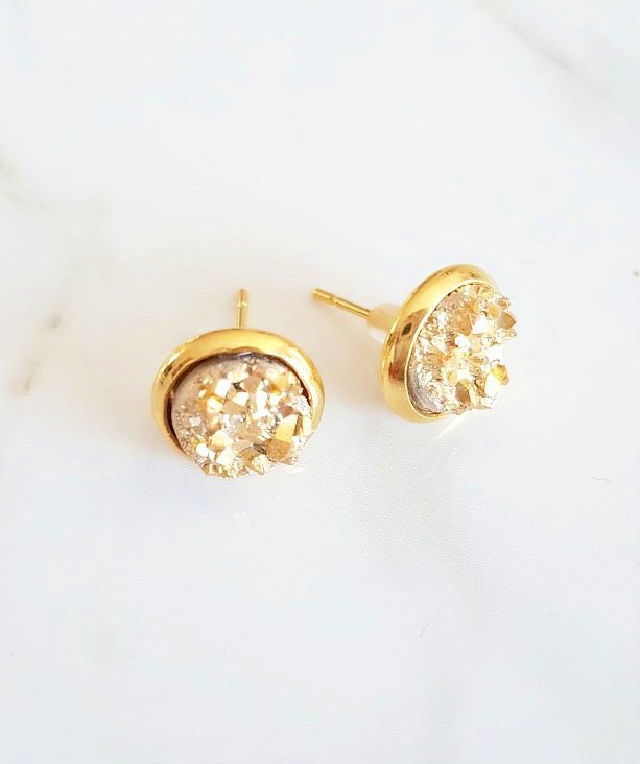 Adorn yourself with these one-of-a-kind earrings and show off your style! Made with faux druzy stones, earring settings, and earring backs! You can easily make stunning druzy stone earrings for yourself or as a gift. Get creative and make a whole batch in one sitting while watching your favorite show on Netflix. Choose from numerous styles of druzy stones, settings, and backs to match any personal style. From simple studs to intricate drops, there's something for everyone when making these gorgeous accessories! thesweetestdigs
46. Inexpensive DIY Lego Earrings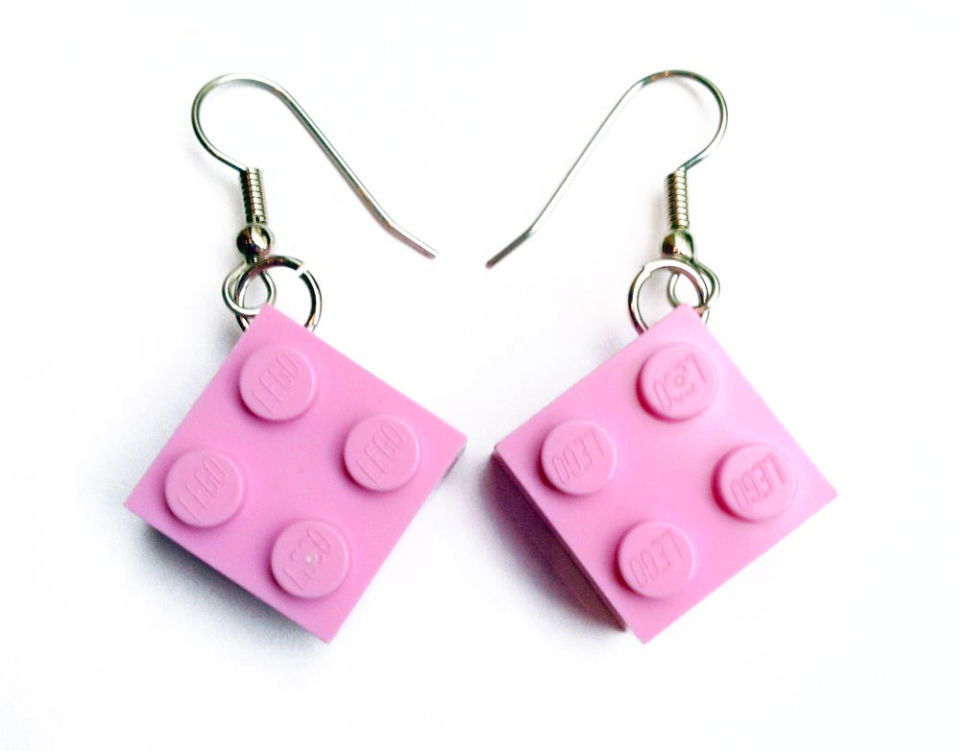 Recycle the box of legos from your childhood with these fun lego earrings! Make a unique and stylish look with 2×2 legos, earring hooks, jump rings, and pliers. Show off your creative side with this DIY craft project. Perfect for any occasion – dress it up or casually for a unique twist on everyday fashion. Get ready to turn heads when you rock these one-of-a-kind earrings made from nostalgic bricks! Make now to start making unique accessories that will last a lifetime! instructables
47. Dolce and Gabbana Pasta Earrings Idea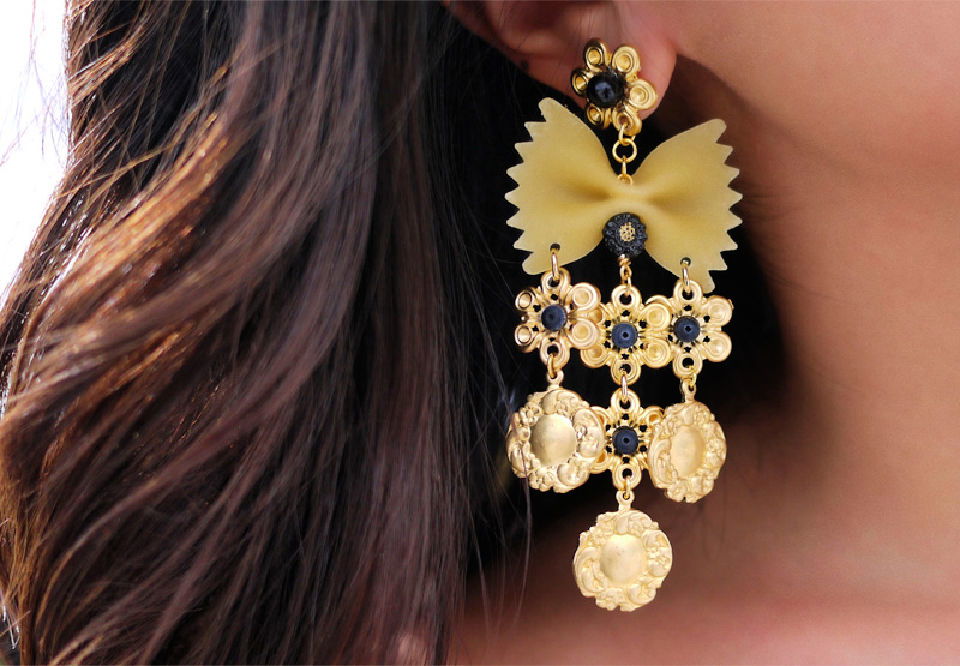 Adding a pinch of Italian flair to your wardrobe has never been easier with these DIY dolce & Gabbana pasta earrings! With just a few simple ingredients from the supermarket and bead store, you can make a one-of-a-kind pair of earrings. All you need is some pasta, flat earring posts or ear wires, eye pins, brass charms, black beads, jump rings, and pliers – then let your creativity loose! Show off your unique style with these cool, quirky homemade accessories that turn heads. honestlywtf
48. Cheap DIY Stud Earrings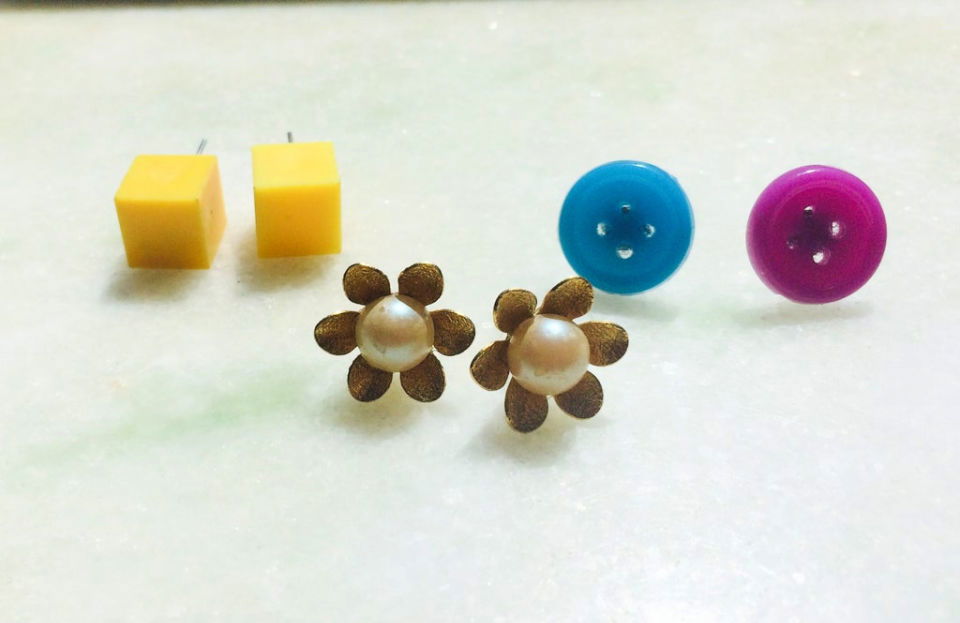 Be the trendsetter of your style with this dazzling array of stud earrings! Whether you want to add a classic touch of sophistication or go for something more funky and fun, use various materials, shapes, sizes, and colors to make the perfect look. This tutorial will show you how to make simple, pretty stud earrings that won't break the bank. Enjoy expressing yourself with creative flair using this affordable range of stud earring backs – find the material that best fits your style today! instructables
49. How to Do Fabric Button Earrings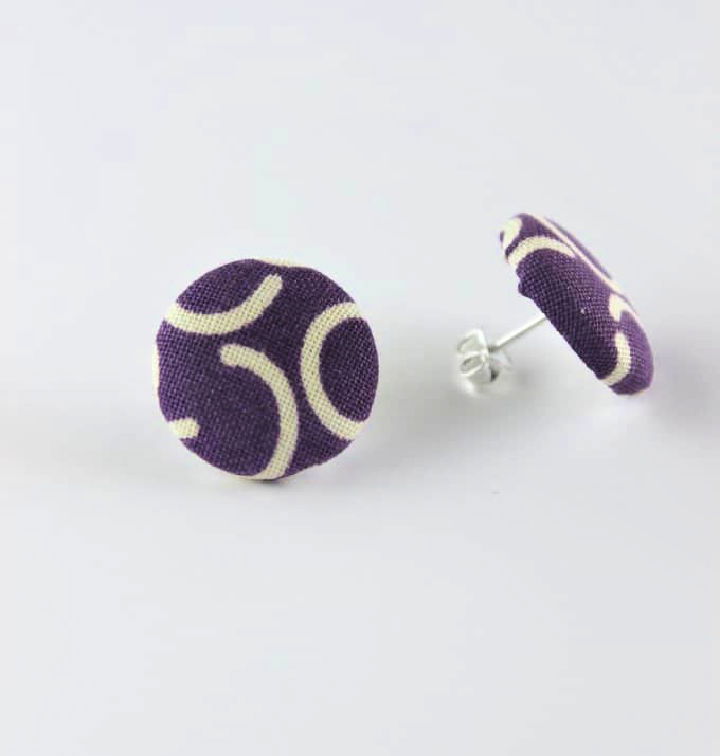 Elevate your ensemble with these timeless fabric button earrings! With no sewing required and a great way to use up scrap fabric, these earrings are easy to make and make great gifts too! All you need is some fabric, e6000 jewelry & bead glue, earring posts, and aluminum cover buttons – get creative with colors and patterns to suit your style! Show off that unique sense of fashion with these chic fabric button earrings. purelykatie
50. DIY Custom St Patricks Day Earrings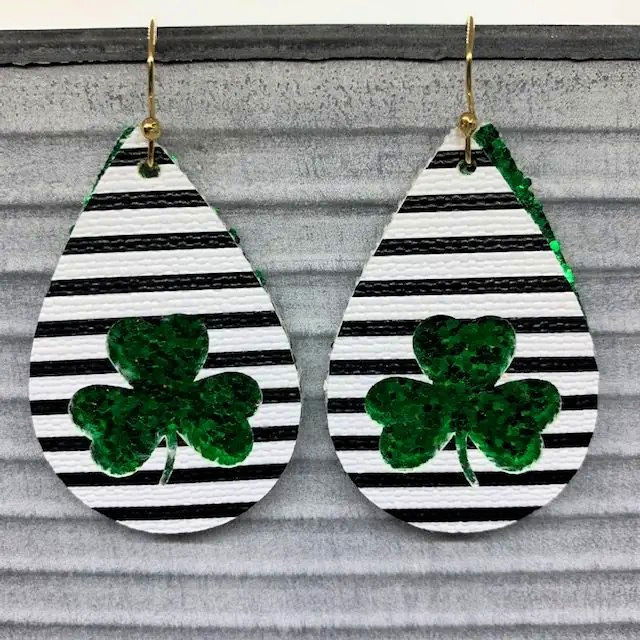 Make your St. Patrick's Day earrings with this fun and easy DIY using your cricut machine and faux leather! This guide will provide you with all the supplies necessary to make these festive earrings, including a cricut cutting mat, faux leathers, earring hooks, jump rings, pliers, and balled wire hooks. Whether you're looking for a new statement piece or want to get crafty this holiday season – these DIY st. Patrick's Day earrings are perfect for any occasion! myinspirationcorner
Related DIY Jewelry Making Ideas
With these DIY jewelry making ideas, you can make your own jewelry in no time. From simple to sophisticated, there's something for everyone.
Conclusion:
Making your own earrings is a great way to express your creativity, save money, and have fun. You can make earrings for yourself, for your friends and family, or for your customers. You can also customize your earrings to suit your style, mood, and occasion.
With some basic tools and materials, you can make a variety of earrings, from simple and elegant to bold and quirky. You can also learn new skills and techniques, such as wire wrapping, metal stamping, or resin casting. The possibilities are endless!
We hope you enjoyed this post on 50 easy DIY earrings you can make at home. Whether you're a beginner or a pro, we hope you found some DIY earring ideas, inspiration, and tips for your next earring project. Happy crafting!