Looking for some fun and creative sloth crafts for your kids? We have collected 25 fun and easy sloth craft ideas that are suitable for children of all ages, from toddlers to kindergarteners. Whether you want to make a cute paper plate sloth or a simple sloth on a branch, these crafts are easy to follow and fun to do. You will find a variety of sloth activities, such as handprint crafts, paper sloth bookmarks, and more. Each craft comes with clear and detailed instructions that will help you and your kids have a great time.
Our sloth day craft ideas are not only for regular days. You can also make them for special occasions, such as Valentine's Day or Mother's Day. For example, you can make a lovely sloth craft for your mom or a sweet sloth craft for your valentine. These crafts will show your love and appreciation in a unique and adorable way.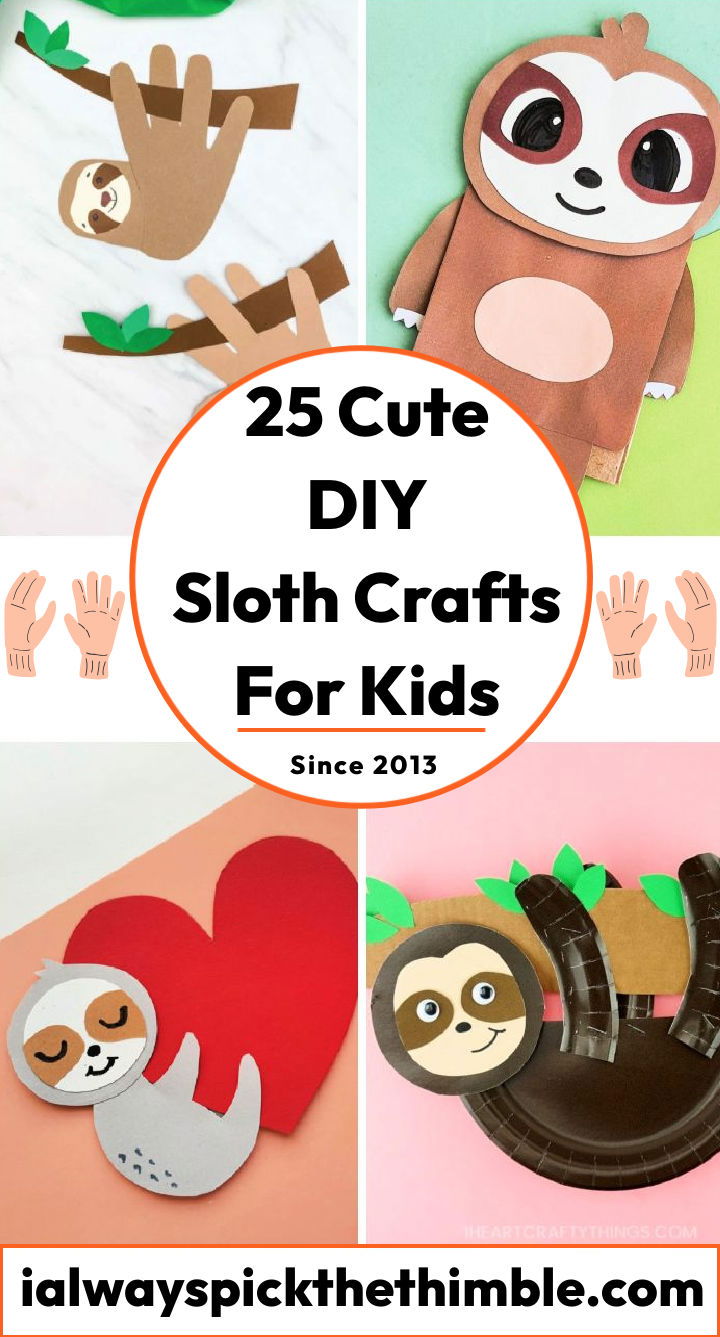 So don't wait any longer. Start making these DIY sloth day crafts today and explore the wonderful world of sloth activities. Whether you need a sloth craft for preschool or a sloth art project for older kids, there is something for everyone. Get ready to have fun and unleash your creativity with these awesome sloth craft ideas!
1. How to Make a Paper Plate Sloth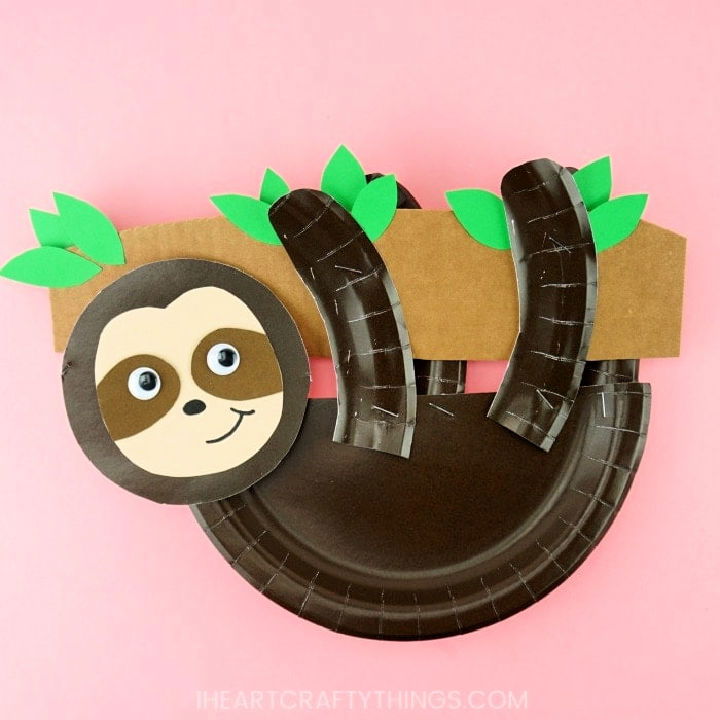 Make this adorable paper plate sloth craft with your kids in no time! You only need two paper plates, cardboard, and basic craft materials like cardstock and googly eyes.
Download the free template to get started, then gather brown paper plates, tan & brown cardstock paper, glue stick, stapler & googly eyes.
Then let the fun begin as you make your cute sloth craft at home! When you share this unique sloth creation with your family or friends, prepare for smiles. iheartcraftythings
2. Easy DIY Sloth on a Branch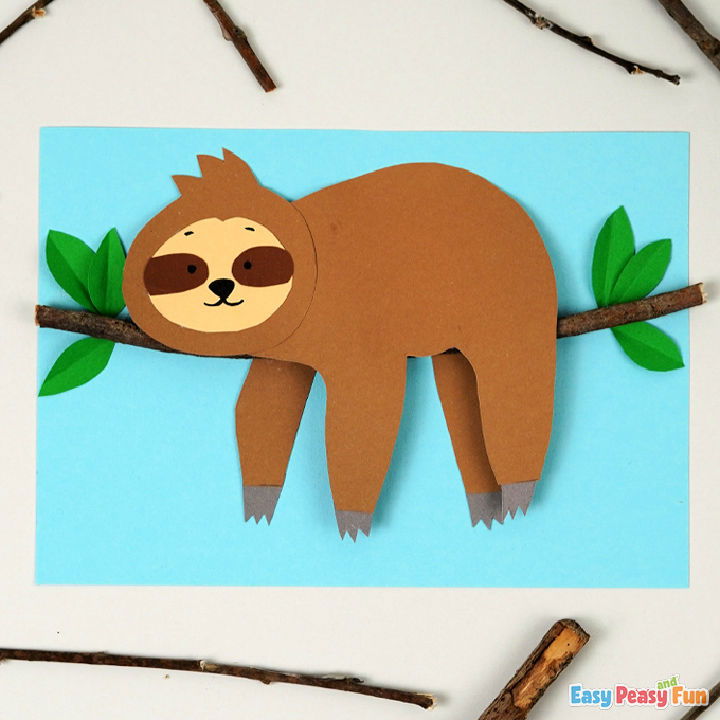 This sloth on a branch craft is perfect for any kid that loves these tree-dwelling mammals! With a printable template, colored papers, glue sticks, and black marker, it's fun and easy to make.
You only need a pencil, materials, and step-by-step instructions to make this adorable craft project.
This educational activity will provide hours of entertainment and help kids learn about how amazing sloths are. They'll have so much fun constructing their very own piece of art they can show off with pride! easypeasyandfun
3. DIY Paper Plate Sloth for Kids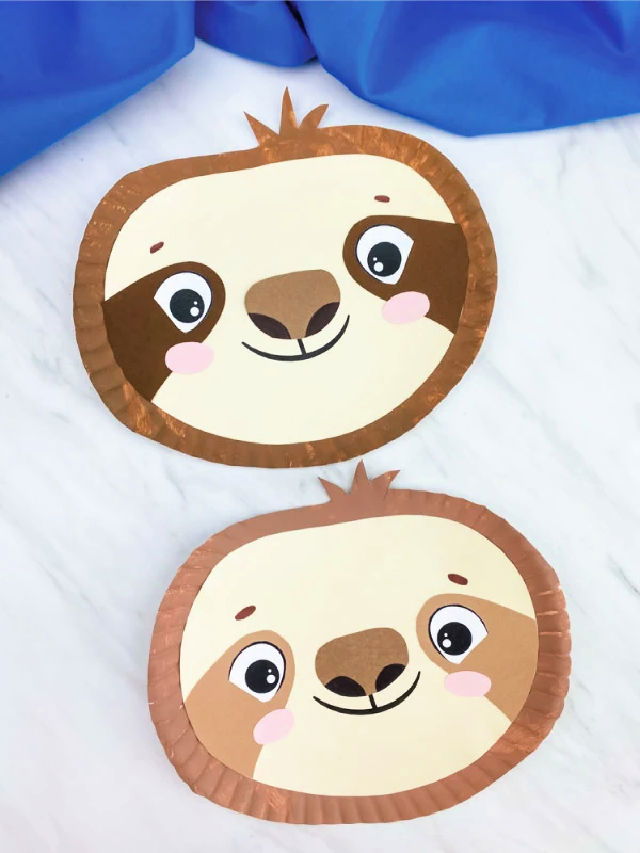 Bring out your little one's creative side with this cute paper plate sloth craft for kids!
It's a great zoo animal activity that requires simple supplies such as paper plates, colored cardstock or construction paper, glue stick, markers, pencils, and paint. Plus, this project has covered you with the free printable template to make it even easier!
Ideal for preschoolers, pre-k, and kindergarten children – let them show off their artistic skills by crafting away on this fun project today. simpleeverydaymom
4. Making a Sloth for Kids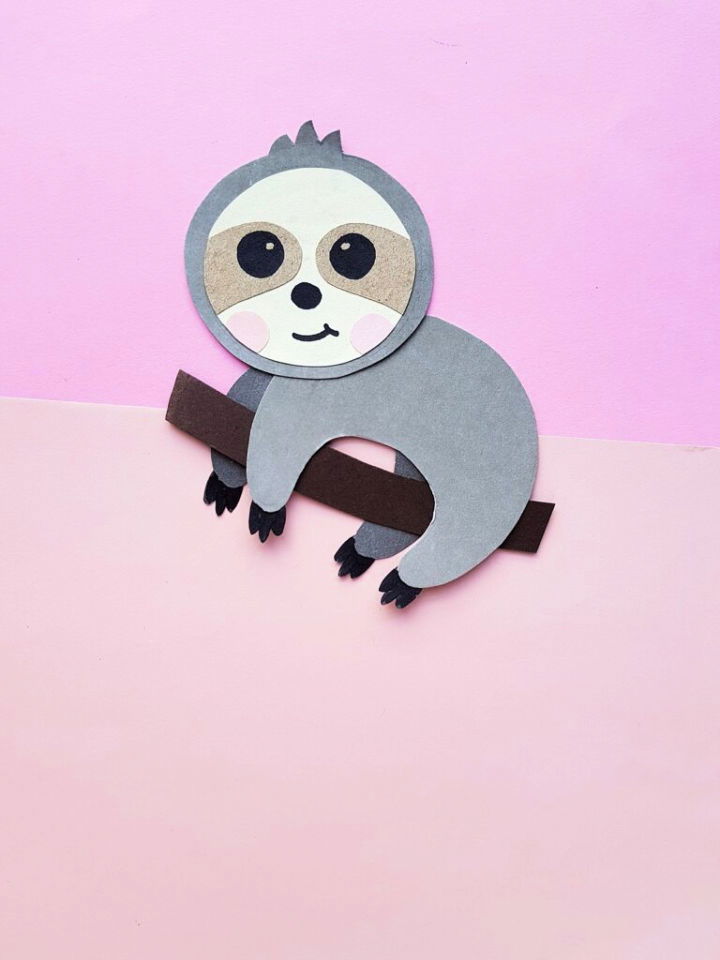 Here is this adorable sloth craft for kids that is perfect for any sloth-loving children! With just some colored paper, craft glue, a sharpie, a pencil, and the template, you can make a unique sloth critter.
Paste it on the front of a card or frame it as wall art to add character to your children's room. It also makes an excellent fridge decoration to show off their hard work!
Get creative and start crafting today – your kids will love showing off this adorable sloth craft masterpiece! bigfamilyblessings
5. How to Make a Valentine's Day Sloth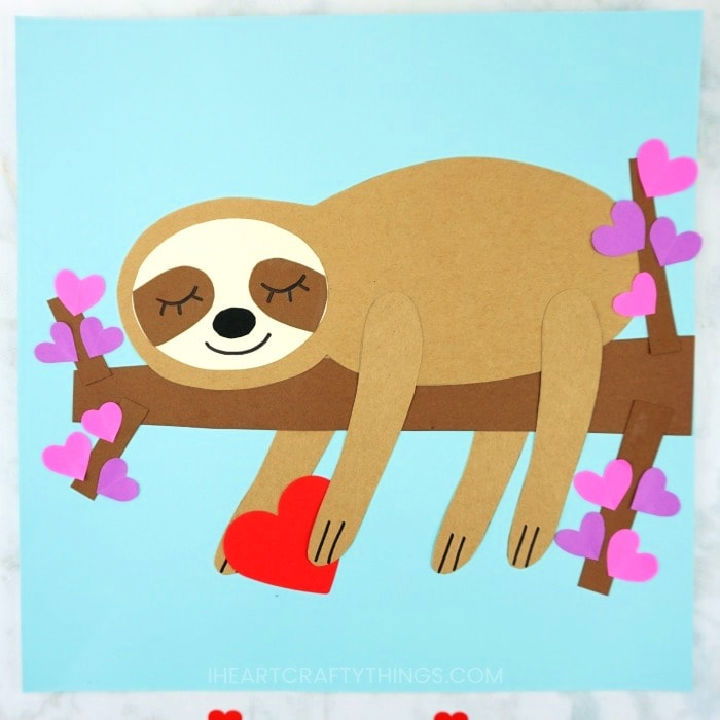 Welcome to the most adorable sloth craft you've ever seen! The free template makes it easy for anyone to make this Valentine's day inspired paper sloth craft. Making these fun, cute characters is a breeze with this step-by-step tutorial.
All you need is blue cardstock, brown and cream cardstock, red cardstock, black cardstock, purple paper, and a black marker – plus glue, of course!
This DIY craft will fill your heart with joy when you see its result. Follow along now & make the cutest little sloth ever! iheartcraftythings
6. Make Your Own Paper Sloth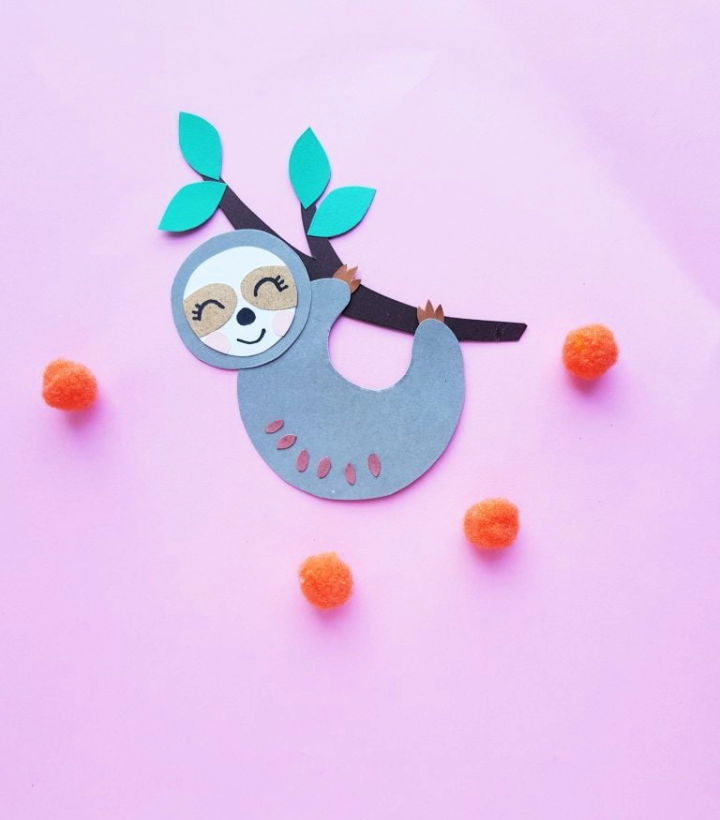 Experience the joy of animals worldwide by crafting your own paper sloth! Working slowly and steadily, just like a sloth, kids of all ages can make little friends in only 40 minutes.
Perfect for both boys and girls, this craft will spark an interest in learning about sloths and other animals. The directions are simple: grab some supplies and get crafting today! With just a few steps, you'll have created your perfect companion in no time. colormecrafty
7. Cute Paper Bag Sloth With Craft Template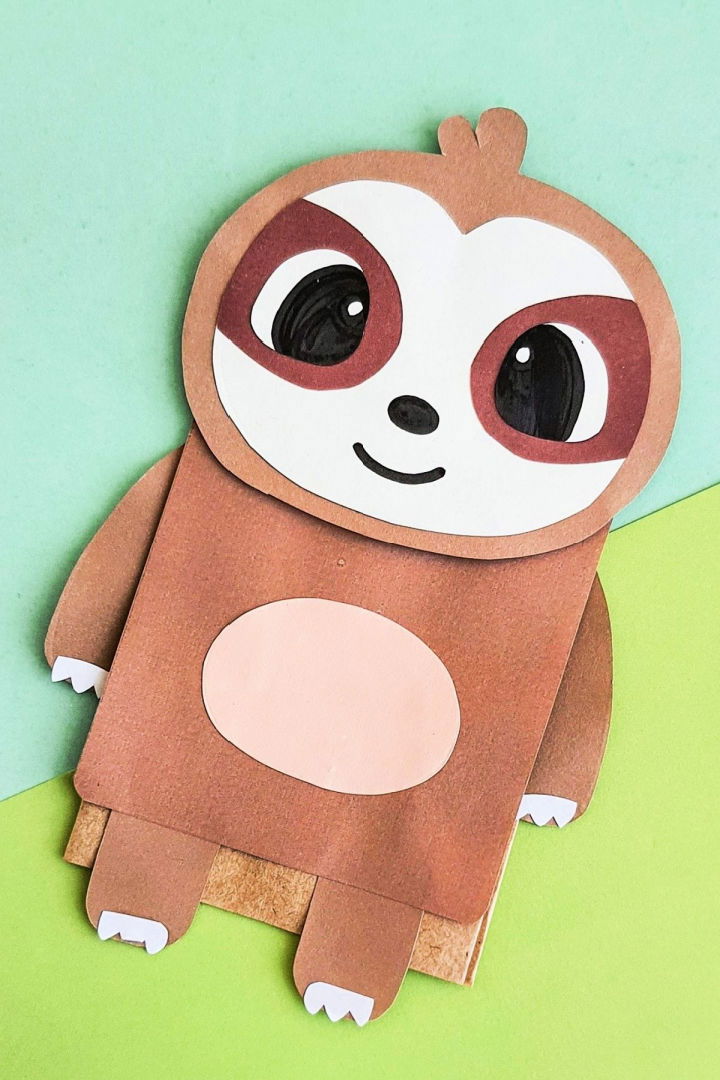 Let your kids have fun with this adorable paper bag sloth craft! With just a lunch-size paper bag, colored craft paper, a free printable sloth template, glue or tape, and some coloring materials, you can easily turn the paper bag into an exciting puppet.
Perfect for sparking their creativity while developing fine motor skills. Try this paper bag sloth craft today for fun crafting with your little ones! mommymadethat
8. Sloth Handprint Activities for Kids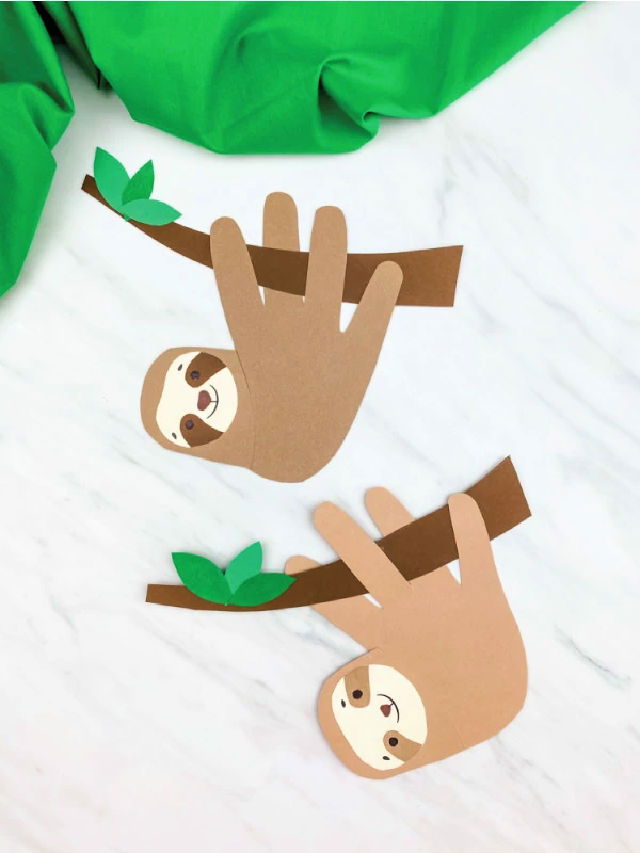 Make an adorable sloth handprint craft with your preschooler, kindergartener, or elementary child!
All you need is the free printable template and some construction paper, glue, a pencil, and a black marker. It's perfect for makingkeepsakes that will last forever.
Plus, it's super easy – just download the free template and get started! Bring fun to your home with this cute sloth craft today. simpleeverydaymom
9. Sloth Hugging Heart Craft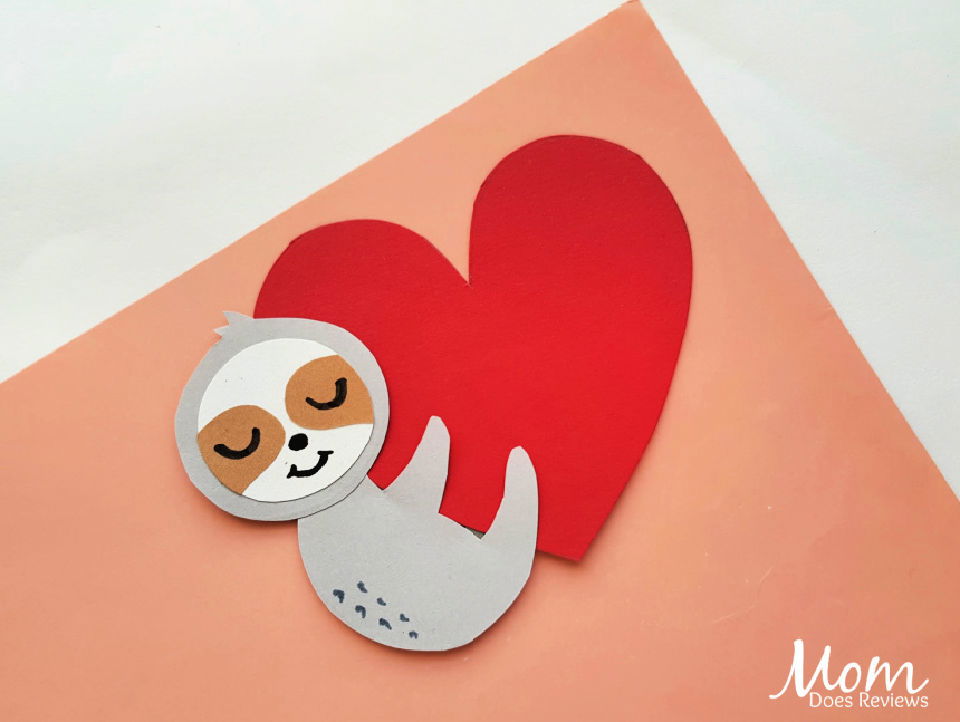 Show some love to your sweetheart with the cutest sloth hugging your heart paper craft! In only 20 minutes, you can make this adorable DIY project using just a few simple materials.
All you need is colored craft papers, cardstock paper for the heart shape, craft glue, a black Sharpie marker, and a pencil.
You won't believe how much warmth it adds when you look at his cute hugging pose! Get creative and let this little sloth put a smile on your face and someone special's too. momdoesreviews
10. Sloth Valentine Paper for Kids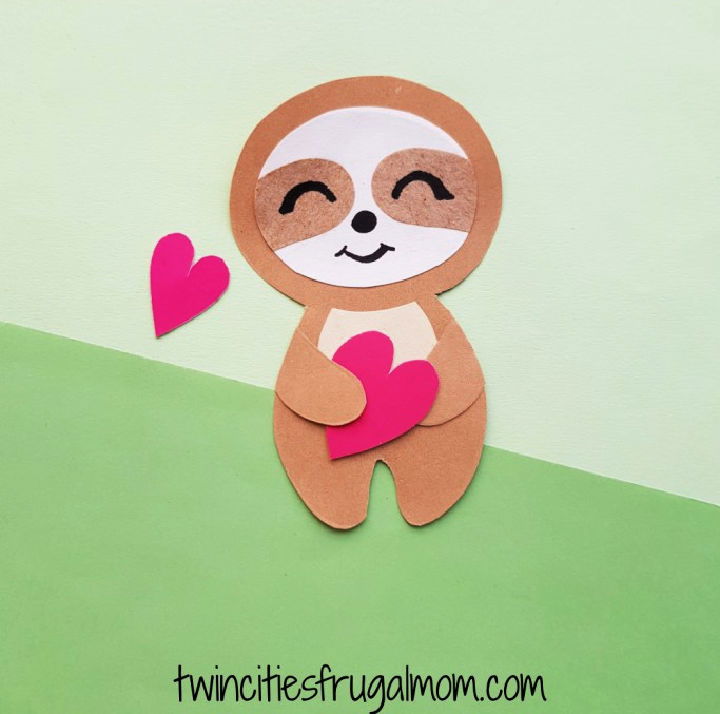 Spread the love this Valentine's Day with a sloth paper craft that will put smiles on your kids' faces!
You only need colored craft/construction papers, glue, and scissors. This tutorial also included a free printable template and instructions – so your kiddos can show their love for sloths any time!
Give them the supplies they need and watch as they magically make something adorable that expresses all their sweet feelings. twincitiesfrugalmom
11. Printable Sloth Craft Ideas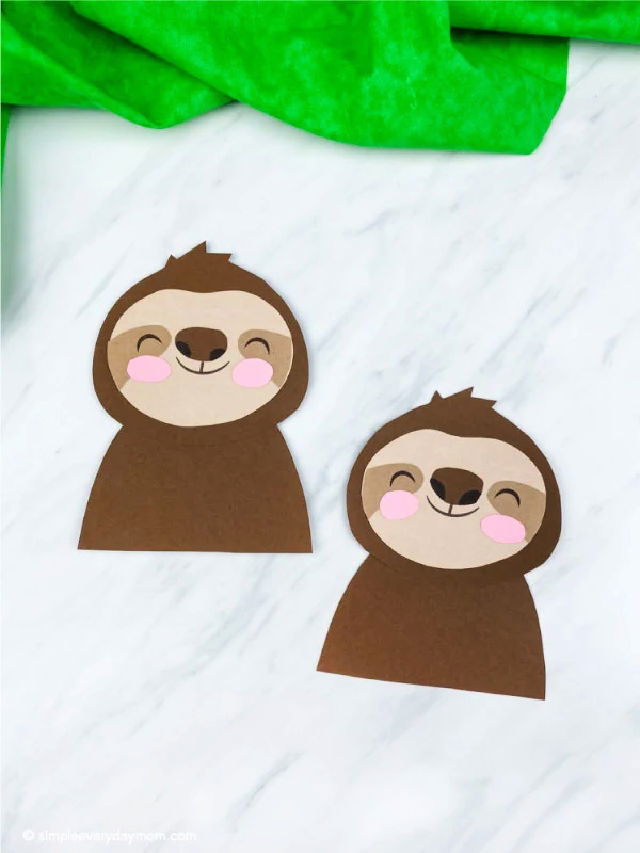 Your kids can show their love for sloths with just a few simple steps! Download the free printable template and make cute sloth crafts with your preschool, kindergarten, or elementary-aged children.
With the simple supplies of colored paper in brown/tan & pink, glue stick, black & pink marker, plus the template, you will get a creative activity that even young ones can do.
Get creative and make these adorable sloth crafts to decorate bedrooms or classrooms – it's sure to be a highlight of any animal-themed project! simpleeverydaymom
12. Make a Paper Sloth Bookmark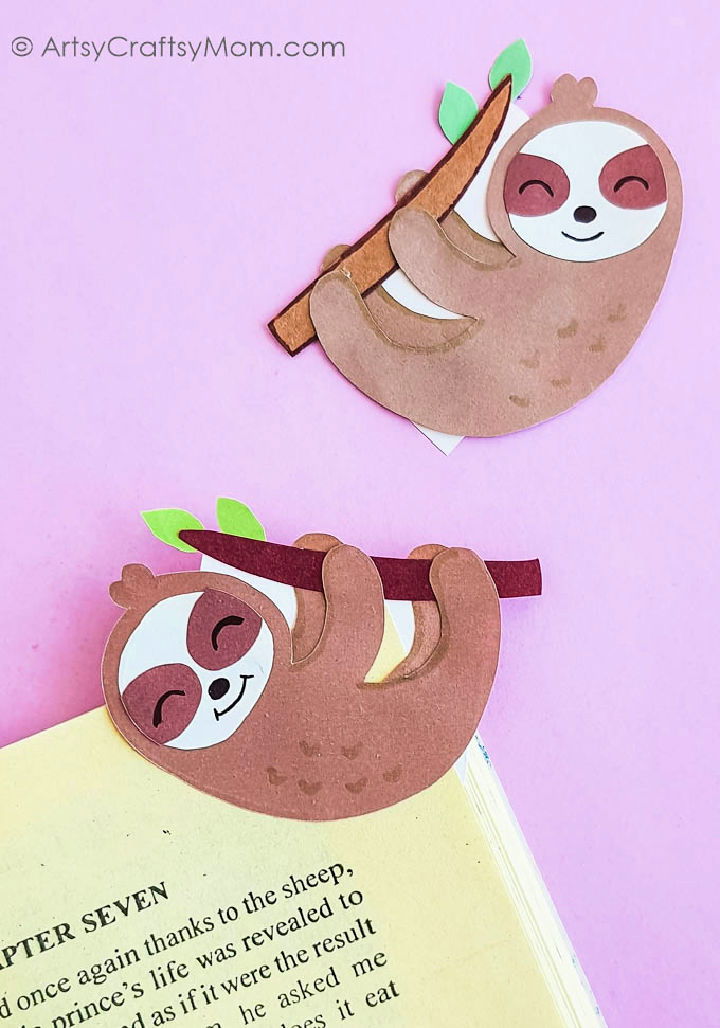 This super cute papercraft sloth bookmark is perfect for kids of all ages. Get creative with different colors of craft paper, markers, scissors, and glue to assemble this DIY project!
It's a great way to add fun and interest to your children's spring reading. The sloth bookmark also makes a fantastic gift idea or party favor that will bring cheerful smiles all around. Get crafting today and enjoy the joys of making something special by hand! artsycraftsymom
13. Make Your Own Sloth Notepads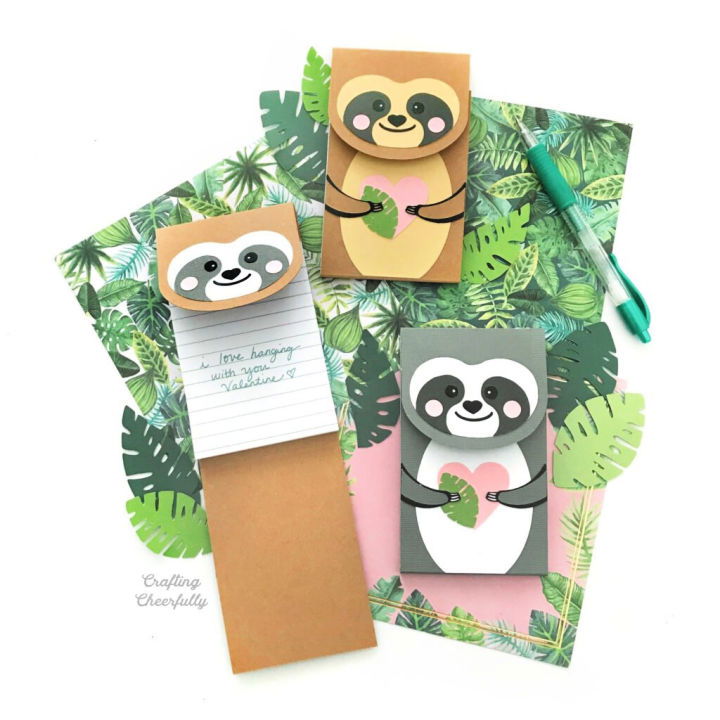 You can make your life a little slower with these cute sloth notepads! Perfect for jotting down notes, ideas, or reminders.
All you need are a few supplies like paper, adhesive, velcro brand ⅜″ thin clear fasteners, and a scoring board.
In no time, you can make these 3″x5″ notepads to bring some cuteness to your daily life! Add colors or patterns to customize it just how you want it. Download the free svg & pdf now for endless crafting possibilities. craftingcheerfully
14. How to Make a Mother's Day Sloth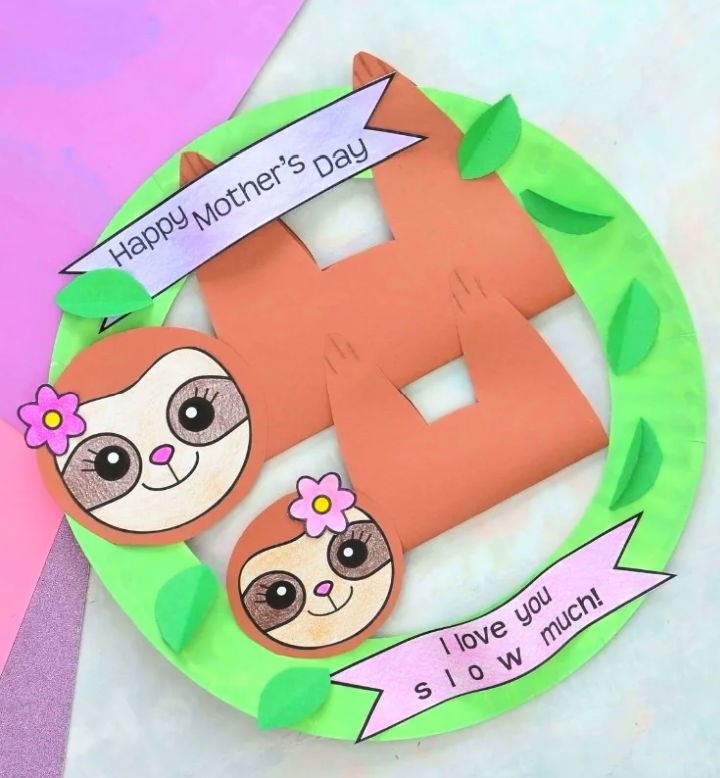 Express your love to Mom this Mother's Day with a sweet sloth surprise! The printable template will help you make the cutest thing you've ever seen in 30 minutes.
All you need are two sheets of tan or brown construction paper, one sheet of green paper, light green paint, a paper plate, colored pencils, and a glue stick.
This activity can be enjoyed by kids aged 3+ and will surely put a smile on mom's face. Make something special for Mother's Day – make the most adorable sloth craft today! thatkidscraftsite
15. Sloth Craft With Newspaper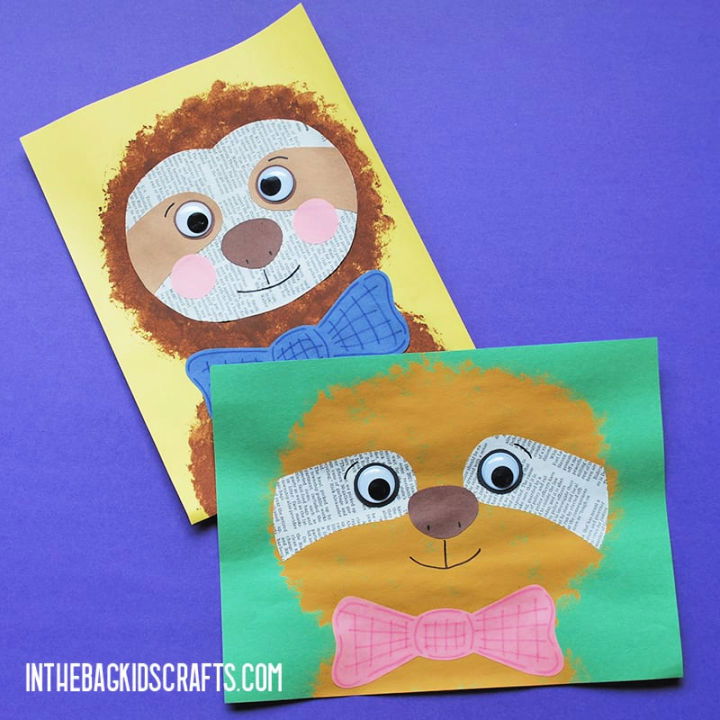 Make an adorable, unique sloth craft with simple newspaper details that will wow your friends & family!
All you need are a few construction paper scraps, 2 large googly eyes, and some paint or markers. Download the sloth craft template to get started, then add your personality for extra special touches.
Get creative and have fun crafting with this easy DIY project! Perfect for kids or adults of all ages who want something handmade & meaningful. inthebagkidscrafts
16. Easy Preschool Paper Sloth Craft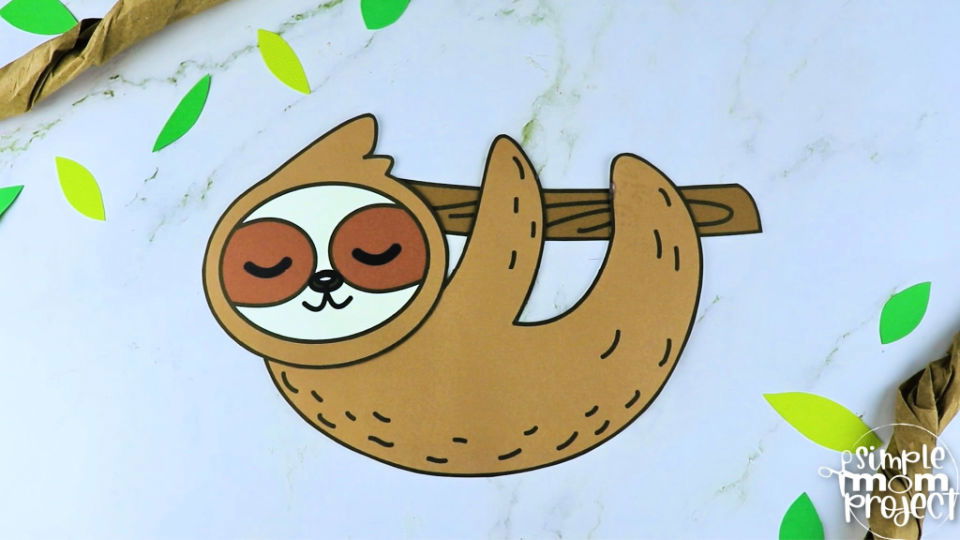 Let your kids learn more about sloths with this fun printable sloth craft template! It's a great way to improve their hand-eye coordination, focus, and fine motor skills while having fun.
All you need is colored cardstock or construction paper, white cardstock paper, glue, and colored pencils or markers. They can make their sloth by cutting and pasting the pieces together – what better way to get creative?
With this easy-to-follow template, they will enjoy hours of crafting while learning something new about these curious animals. simplemomproject
17. Sloth Craft With Free Printable Template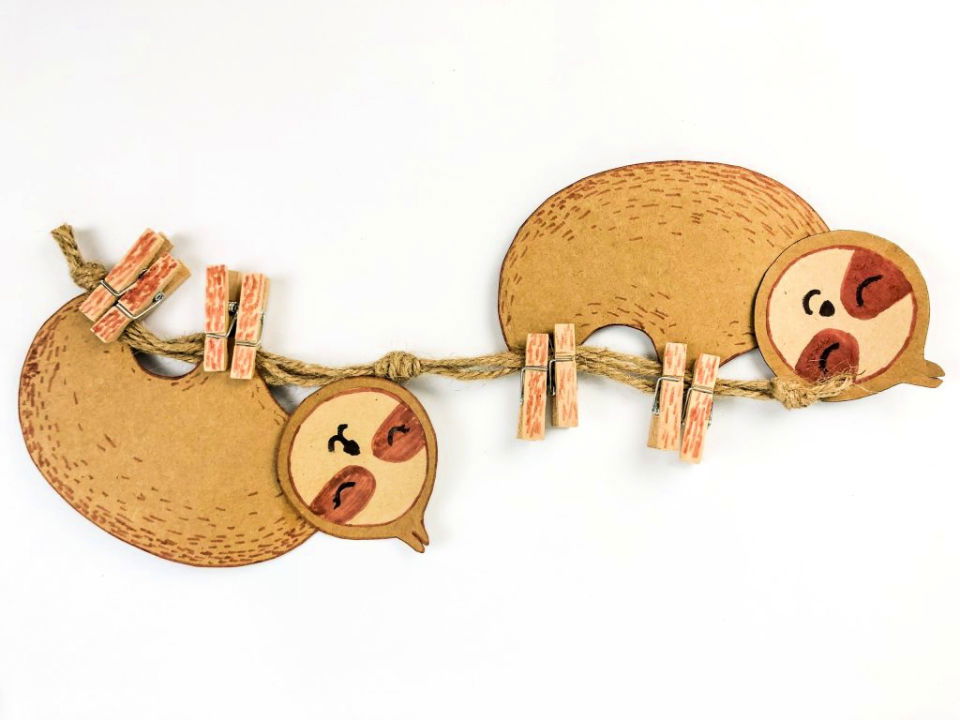 Unlock your inner artist and explore the crafting world with this fun, free sloth template! Perfect for kids of all ages – involve them in cutting and gluing, and make letter recognition fun by introducing the letter "s" for sloth.
All you need is some black & brown markers, glue, wood clips, craft paper, abaca string or twine, and the downloadable template to start crafting! Let your imagination run wild as you make a one-of-a-kind project with this amazing activity now! intheplayroom
18. Hand Print Sloth Craft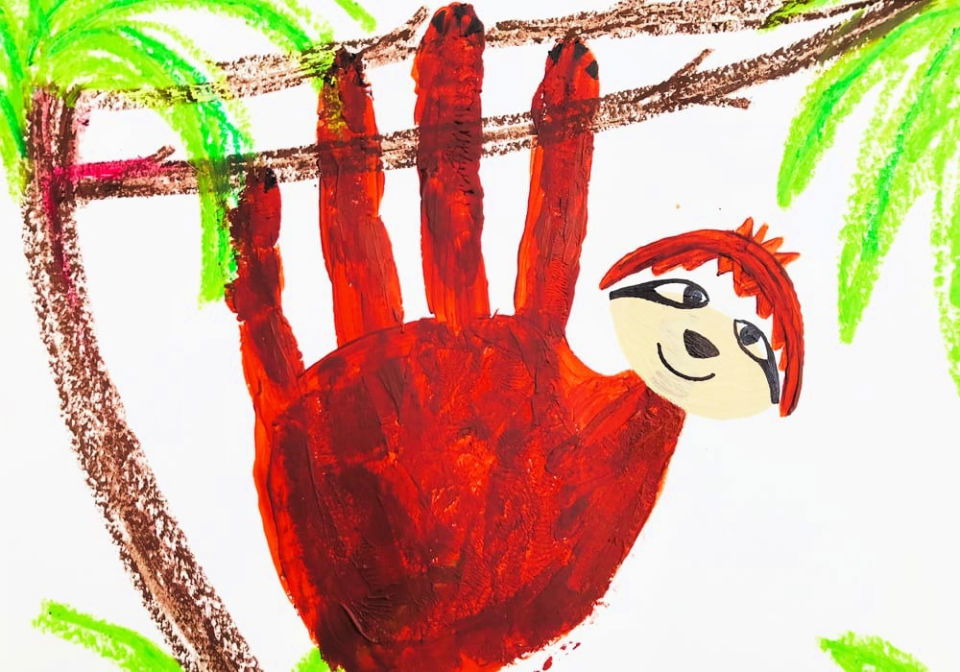 Make this fun super sloth craft in minutes with a handprint and a few quick details! Perfect for all toddlers to big kids, it's easy peasy, and all you need is paints (brown, white & beige), paper, crayons or oil pastels, a black Sharpie & white paper plate.
Hang this adorable painting on the walls to show off your little one's creativity, or simply have fun getting messy printing! Great way to spend time together! masandpas
19. DIY Sloth Pencil Toppers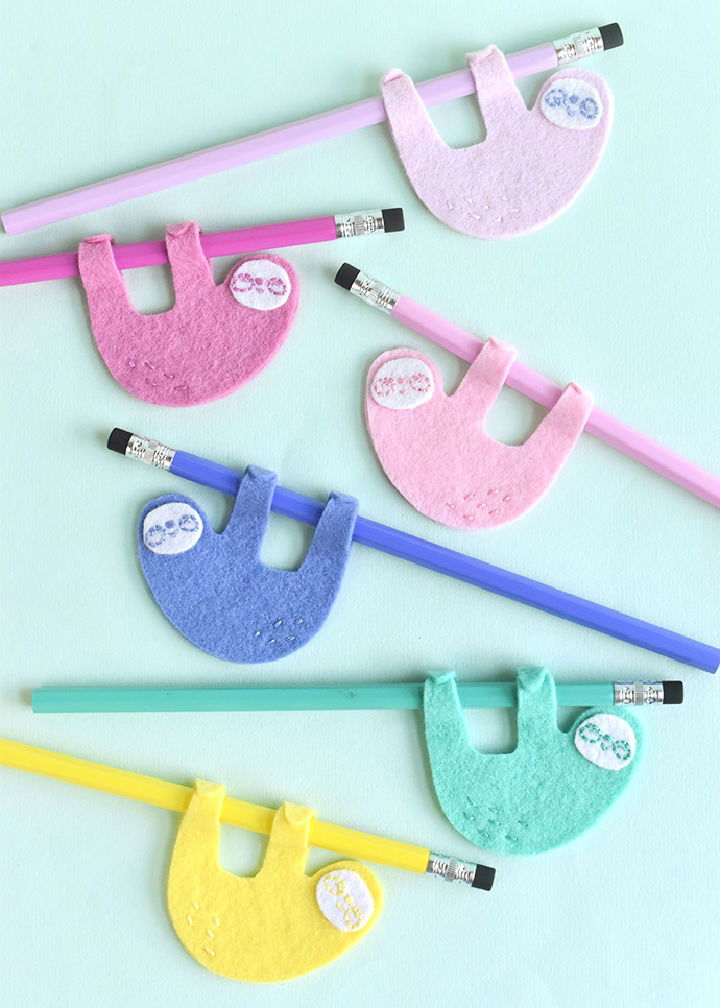 Liven up your workspace with a cute and cuddly sloth pencil topper! It's easy to make these slow-moving friends with felt in light and dark colors, freezer paper, iron, embroidery floss, a needle, craft glue, and a printable template. Plus, you may even find yourself inspired by their presence!
Whether you choose pastel shades or something more natural – add the sweet factor of sloths to your next jotting down session. handmadecharlotte
20. How to Make a Sloth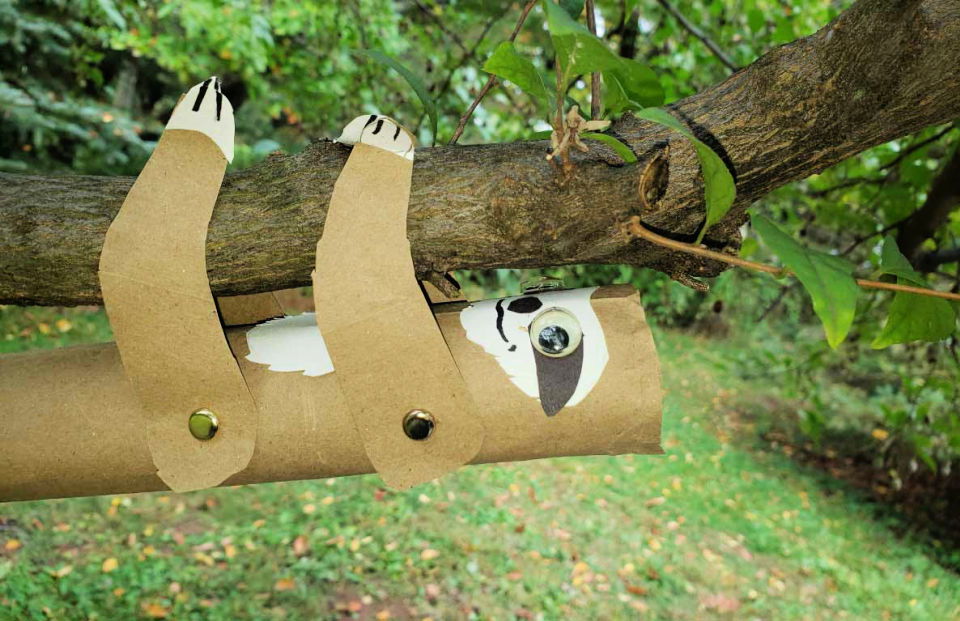 Craft an adorable and unique decoration for your home with this super cute sloth DIY!
All you need is a paper towel roll, brown construction paper or paper bag, black and white construction paper, googly eyes, metal fasteners, a marker, a pencil, and a glue stick.
With these items, your child will have so much fun bringing the little sloth to life! Hang him up anywhere in your house to bring a bit of nature's sweetness indoors. Get crafting today – he'll look amazing on any wall! toysrus
21. Free Printable Wrapping Paper Sloth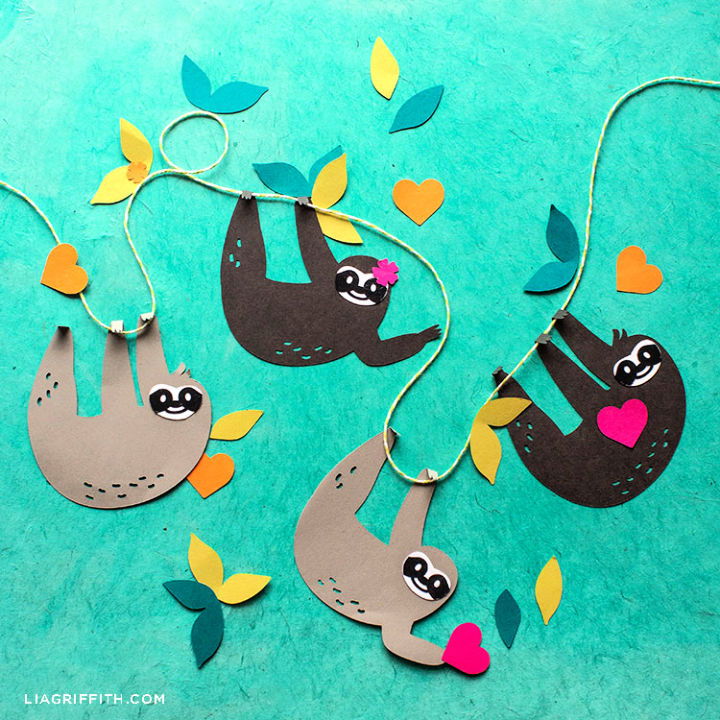 These charming papercut sloth gift tags are perfect for sprucing up any present! With a cutting machine, you can quickly and easily cut out the intricate details of the patterns.
If you don't have a machine, this DIY also includes a pdf template to use scissors or a craft knife to finish the job. The tags come in either cardstock for a heavier feel or text-weight paper for something lighter.
And With a cricut explore Air 2, low-temp hot glue gun, adhesive dot roller as tools, and baker's twine or ribbon as material, these delightful sloths will be ready to surprise your friends and family with their cheeky smiles! liagriffith
22. DIY Sloth Heart Valentine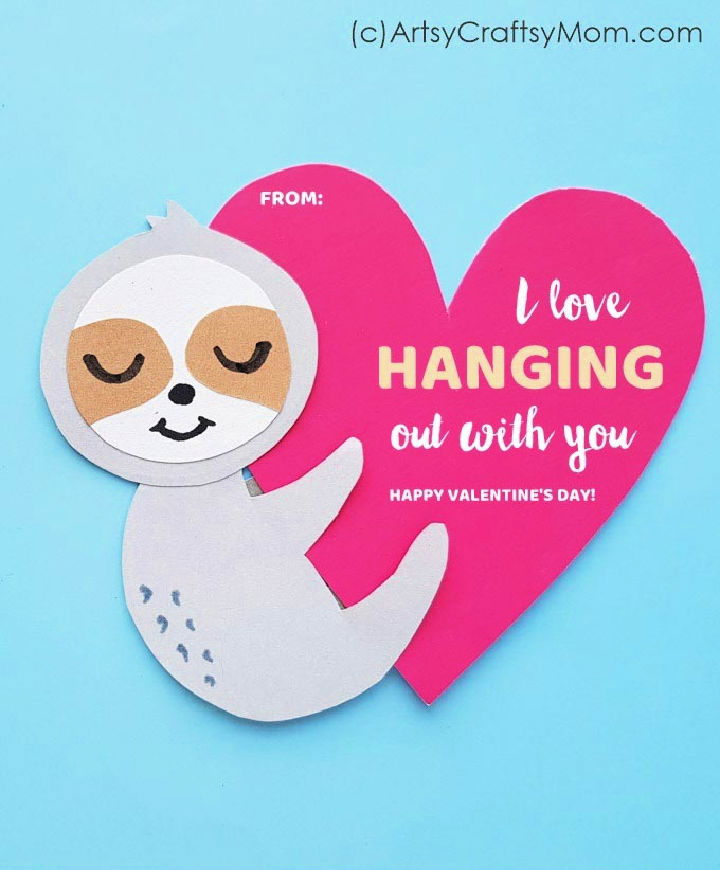 Spread the love this Valentine's Day with a special sloth heart craft that will show your affection! This easy-to-follow project requires simple supplies, like thick craft paper in various colors, markers, scissors, glue, and pencil.
In no time, you can make an adorable sloth that will tell your beloved exactly how you feel. Let them know they have your heart by crafting this unique valentines gift today! artsycraftsymom
23. DIY Sloth Heart Valentin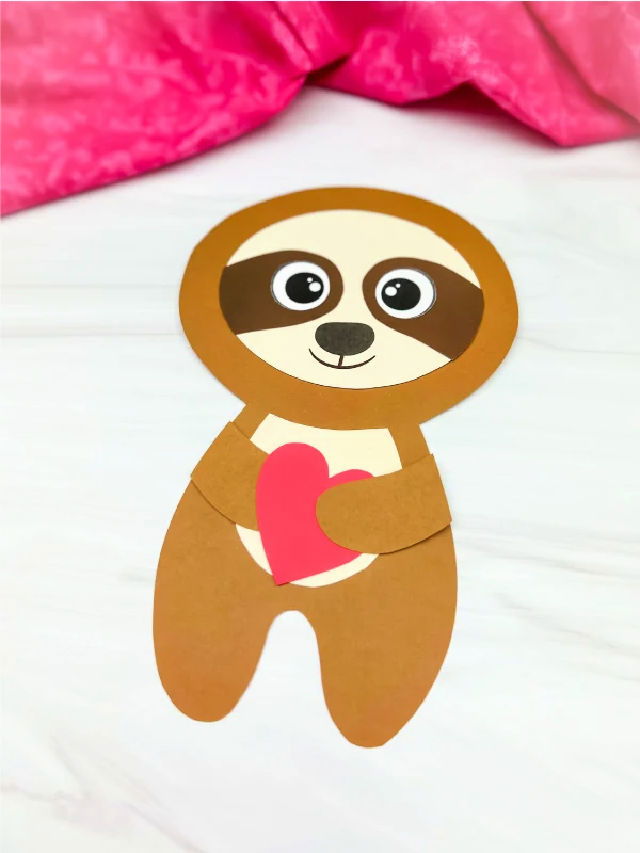 Show the kids how much you love them this Valentine's Day with a fun and easy craft. With this free sloth template, you can make an adorable sloth Valentine craft together to keep your little ones entertained while they express their creativity.
Perfect for young children in preschool, kindergarten, and elementary school, hang up the finished product on February 14th for everyone to see!
All you need are some colored cardstock or construction paper, a glue stick, and the free sloth template – it couldn't be simpler! simpleeverydaymom
24. Popsicle Stick Sloth Arts and Crafts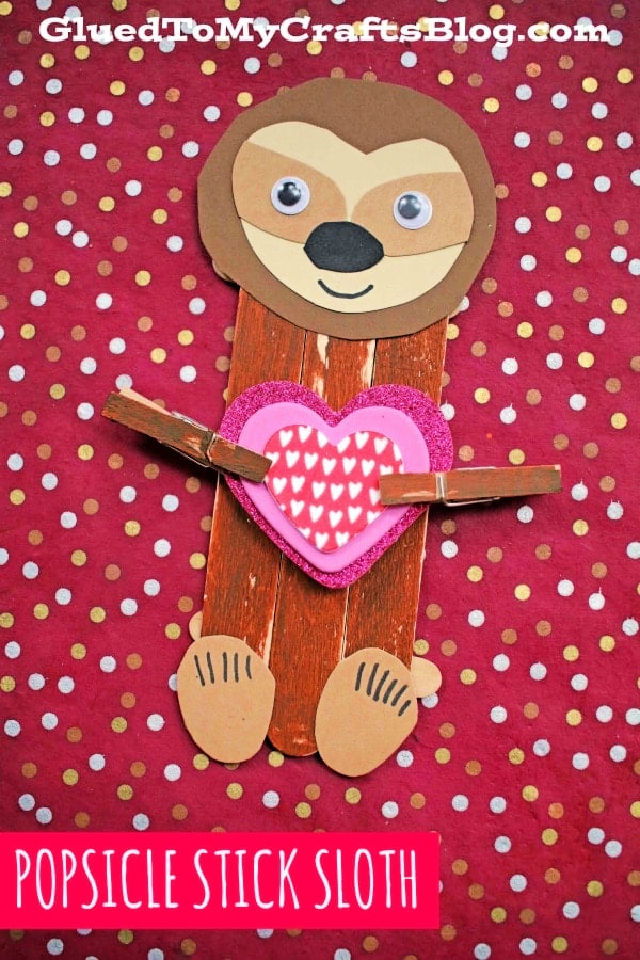 Make a unique Valentine-inspired art project with this tutorial for a popsicle stick sloth!
You can easily bring your sloths to life using jumbo and mini popsicle sticks, mini clothespins, a low-temperature glue gun, cardstock paper, craft paint, paper plate, foam hearts, and small wiggle eyes.
This project provides step-by-step instructions so you can make your own adorable popsicle stick sloth in no time – perfect as an activity with kids or to add playful decor to any space! Get creative and show off your latest masterpiece! gluedtomycrafts
25. DIY Sloth Paper Plate Animal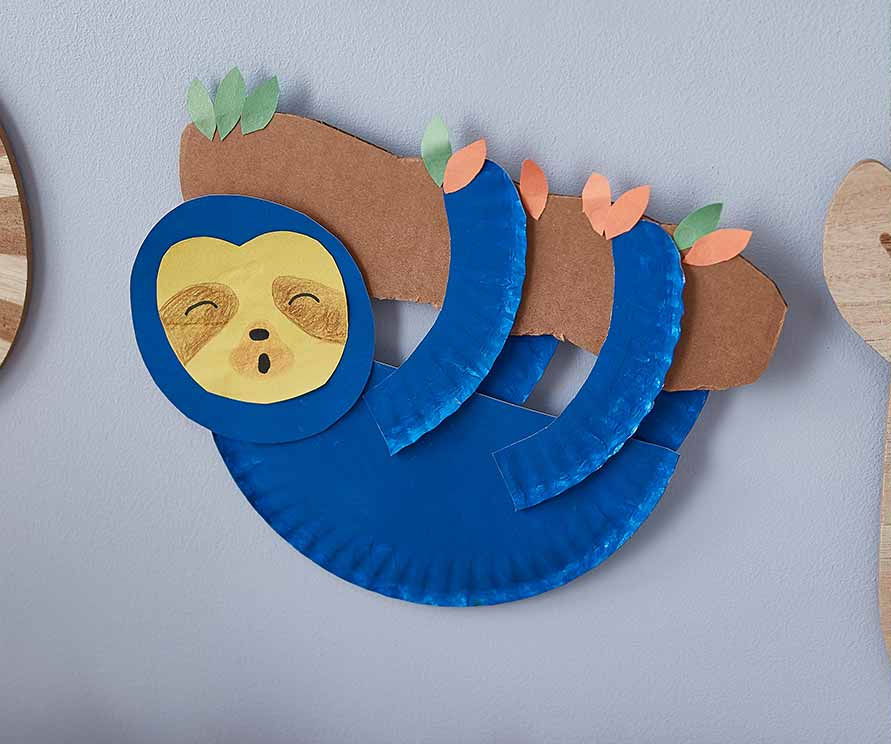 Bring a tiny sloth to life with your imagination and Crayola supplies! Get the kids involved in this fun craft project!
With simple materials, such as washable paint, construction paper, colored pencils, markers, and glue, your little ones can make their own cute and cuddly sloth. Everyone has a new friend they can hang out with – get creative and start crafting today! crayola
Conclusion:
In conclusion, these fun and creative sloth crafts and activities for kids are great ways to enjoy. From coloring pages to paper crafts, jigsaw puzzles to word searches, there is something for everyone. These activities not only provide a fun and engaging way for kids to learn about these fascinating creatures, but also help to develop their creativity, imagination, and problem-solving skills.
So why not embark on a delightful adventure into the world of sloths with our 25 fun sloth crafts and activities for kids? Let your child's curiosity and creativity flourish as they discover the wonders of sloths through hands-on experiences. Get ready for unforgettable moments of laughter, exploration, and joy!