Seashells are more than just souvenirs from the beach; they are also sources of inspiration for creative crafts. Whether you want to decorate your home with a coastal theme or make thoughtful gifts for your loved ones, you can find 25 easy seashell crafts and art ideas below that will turn ordinary seashells into extraordinary creations. From elegant diy salt dough seashell pendants to cozy beachcomber seashell candleholder decorations, these crafts with shells offer a variety of ways to express your artistic flair. By following these sea shell crafts and ideas, you can find a project that matches your skill level and personal taste.
There is no limit to what you can do with seashells, as these seashell projects demonstrate. You can make diy seashell coasters with resin for a classy look or try shell frame with handprint art keepsakes for a sentimental touch. You can also make seashell crafts for adults, such as the stunning coastal seashell wreath, that will add a splash of seaside charm to any room. Or you can have fun with your kids and make seashell turtle crafts or jellyfish seashell crafts that are both entertaining and educational.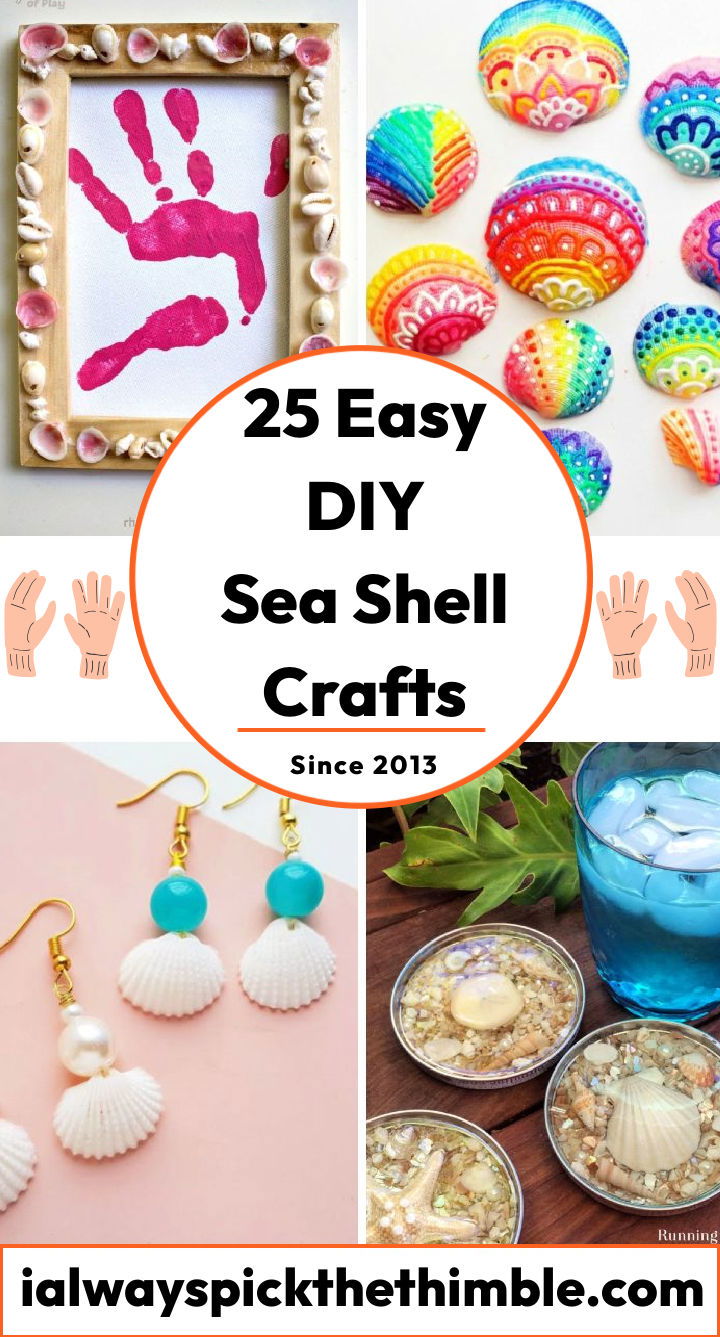 Seashell art is not only about beauty; it is also about capturing memories and celebrating nature's wonders. The underwater seashell candles project, for example, will make you feel like you are exploring the ocean floor, while seashell planter crafts for adults will give your succulents a new lease of life.
Whether you choose a simple seashell craft idea or a more complex sea shell craft project, every piece will reflect your love for the ocean. So, next time you come back from the beach with a bunch of seashells, don't just toss them away; use them to make some amazing seashell crafts and arts.
1. DIY Seashell Coasters Made With Resin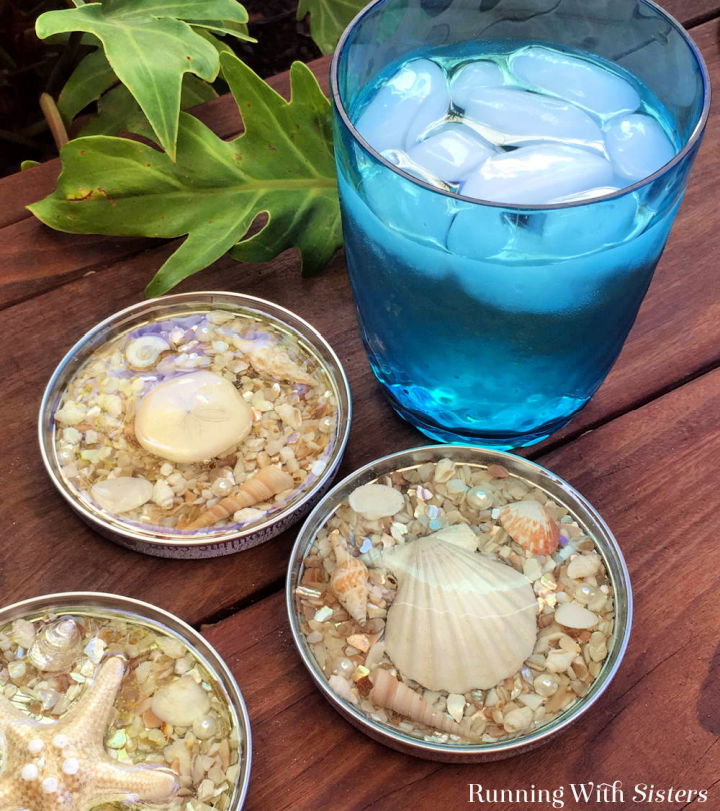 This step-by-step guide will teach how to make beautiful and unique DIY seashell coasters with resin. Gather your supplies, including seashell chips, a large shell, small shells, pearls, and Envirotex lite pour-on finish, and follow along with the instructions to make stunning coasters that will remind you of the beach all year round.
This tutorial includes a video on mixing and pouring the resin and helpful tips for avoiding bubbles and achieving a professional finish. The perfect DIY project for any beach lover or summer enthusiast. runningwithsister
2. Beachcomber Seashell Candleholder Decoration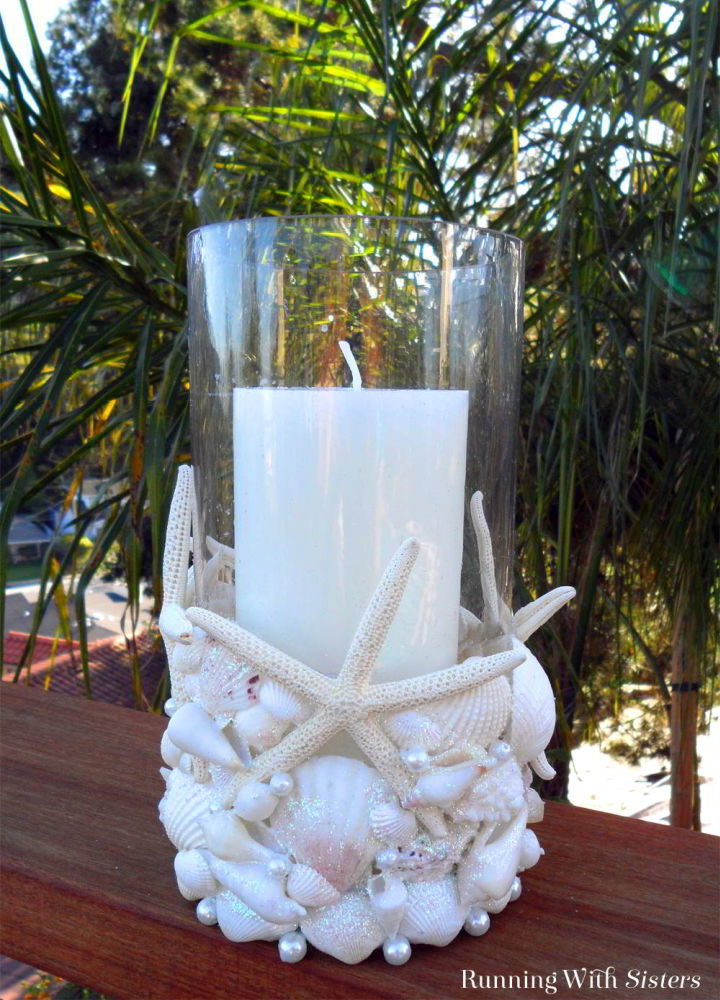 Seashells crafts are a great way to bring the beach into your home and create unique, coastal-inspired decor. Transform your home into a coastal retreat with a stunning DIY seashell candleholder! This project is easy to make and doesn't require a trip to the beach.
Gather materials such as a glass candleholder, starfish, pearls, and 60-75 seashells to get started. Follow the step-by-step guide to make beautiful decor that is perfect for any room. Add some iridescent glitter to give your candleholder a unique and elegant finish. Check out the video tutorial for helpful tips and tricks. Get creative and make your seashell candleholder today! runningwithsisters
3. Creative Coastal Seashell Wreath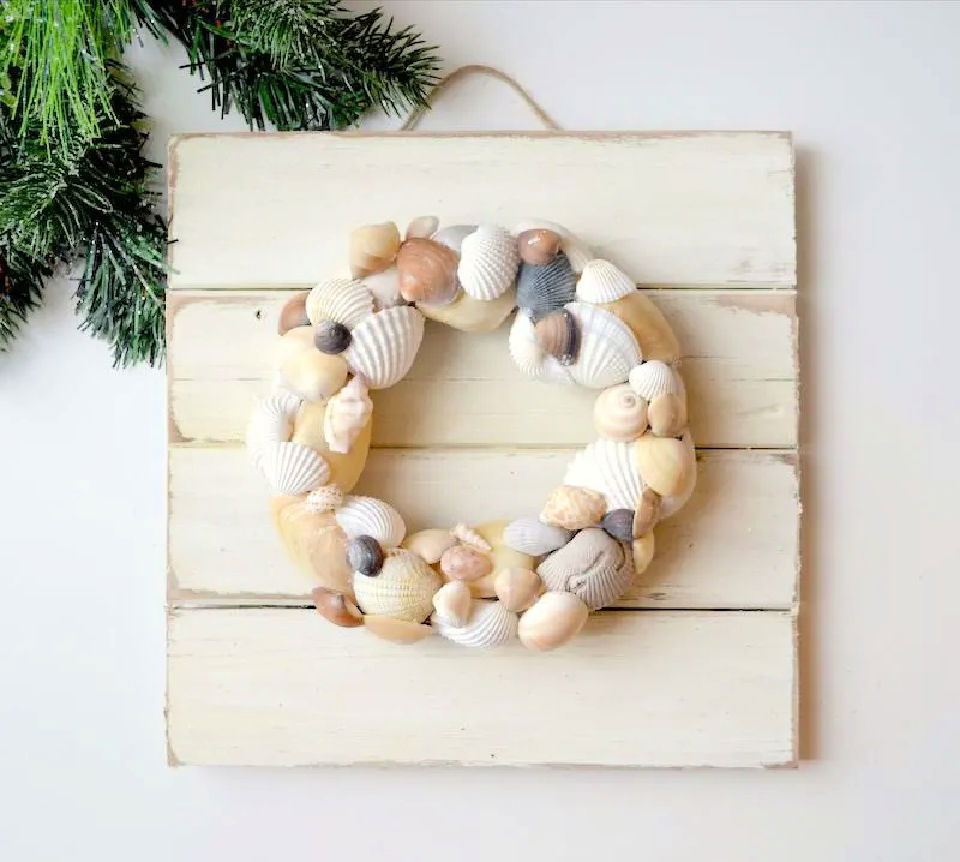 Make a unique DIY coastal seashell wreath with this easy guide, perfect for beach lovers. Use materials like a wooden sign, grapevine wreath, seashells, and chalk paint to make a beautiful distressed look. Sort your seashells and glue them onto the wreath, then glue the wreath to the center of the sign. This DIY project is perfect for holiday decor and can be used year-round in a beach house or any home. With every unique shell, this wreath is a creative and one-of-a-kind addition to any space. Check out this tutorial to get inspiration for this craft! amylattacreations
4. Shell Frame With Handprint Art Keepsake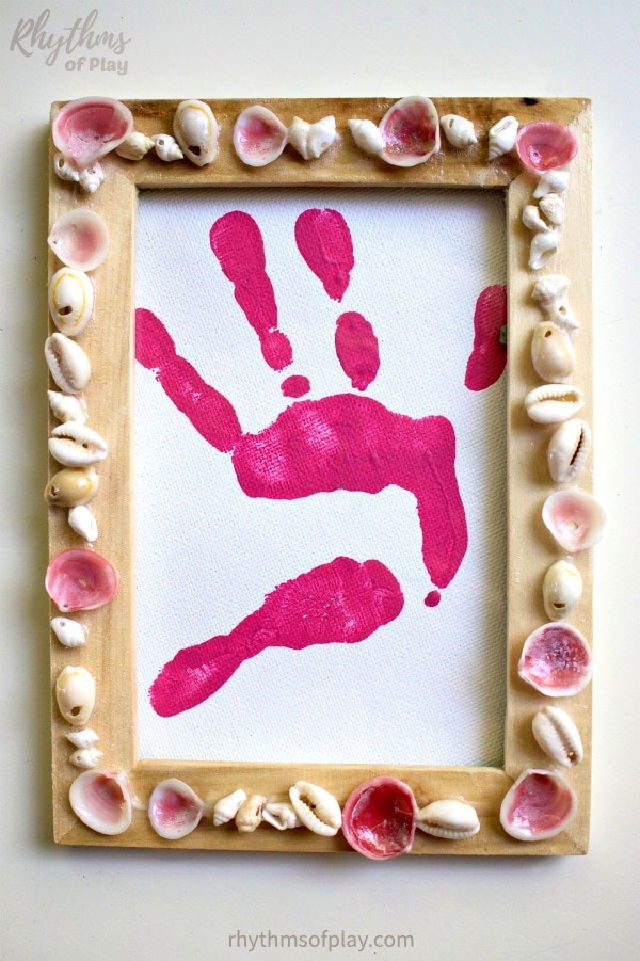 Looking for a unique and creative homemade gift idea that kids can make? A simple seashell craft idea is to glue shells onto a picture frame for a beachy touch to your photos. Consider making a DIY shell picture frame decorated with shells from family vacations or daily nature hunts. This step-by-step tutorial provides all the needed materials and easy-to-follow instructions to make a unique keepsake craft.
Whether for Christmas, Mother's Day, Father's Day, or a birthday, these shell frames make the perfect gift for parents and grandparents.
Fill the frames with handprint art, footprint art, children's artwork, or a photograph to complete this unique nature craft gift idea. rhythmsofplay
5. Simple DIY Salt Dough Seashell Pendants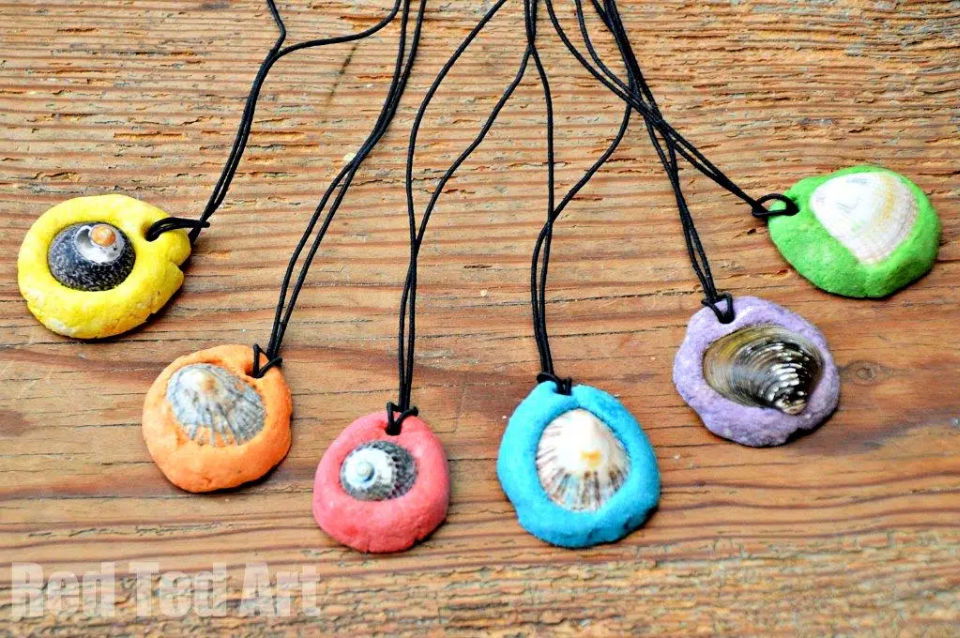 Make easy and unique summer crafts for preschoolers with this DIY salt dough shell pendants project. Use shells collected from beach trips to make a lovely keepsake with a colored salt dough recipe that's simple to create.
The step-by-step guide includes small shells, flour, salt, water, and food coloring or paint. The method involves forming little salt dough balls, pressing a shell into it, and letting it dry.
Kids will love wearing handmade sea shell pendants all day, making it an enjoyable and creative summer activity. Check out this easy tutorial for making this summer craft idea and get some seashell inspiration. redtedart
6. Make Your Own Fun Shell People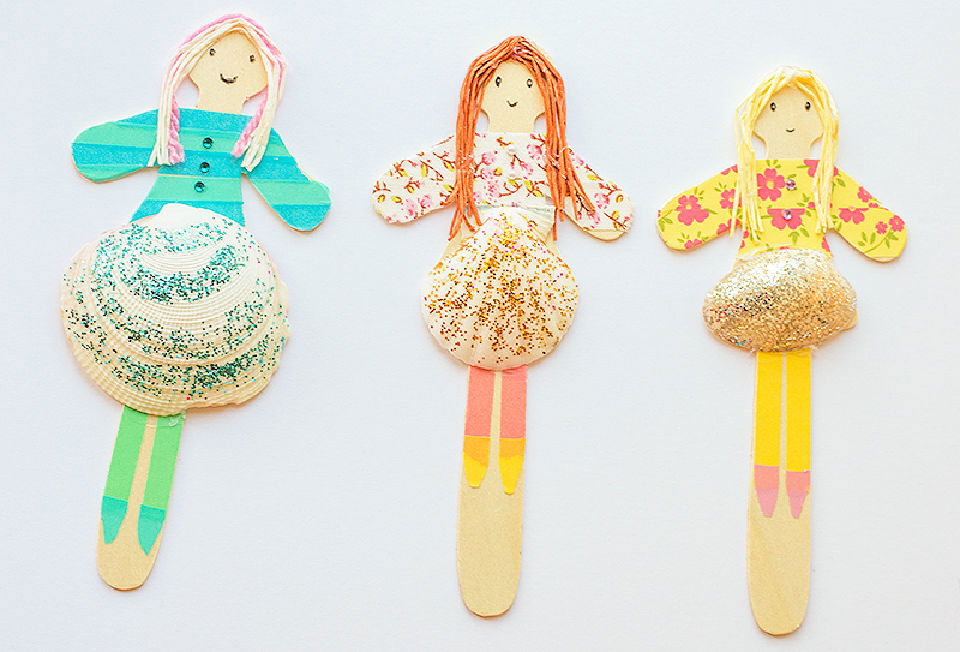 Get creative and crafty this summer by making these adorable and easy-to-make DIY shell people. You only need shells, lolly sticks, string, washi tape, glitter, pens, shiny button stickers, and a strong glue gun. Follow the simple instructions to make the perfect hair and outfit for your shell people, and then let your imagination run wild as you make your unique characters.
These puppets are perfect for playtime and will provide hours of entertainment. So stock up on some shells and get crafting! This article has been featured on Fun Craft Kids. somethingcrafty
7. How to Do a Sea Shells Necklace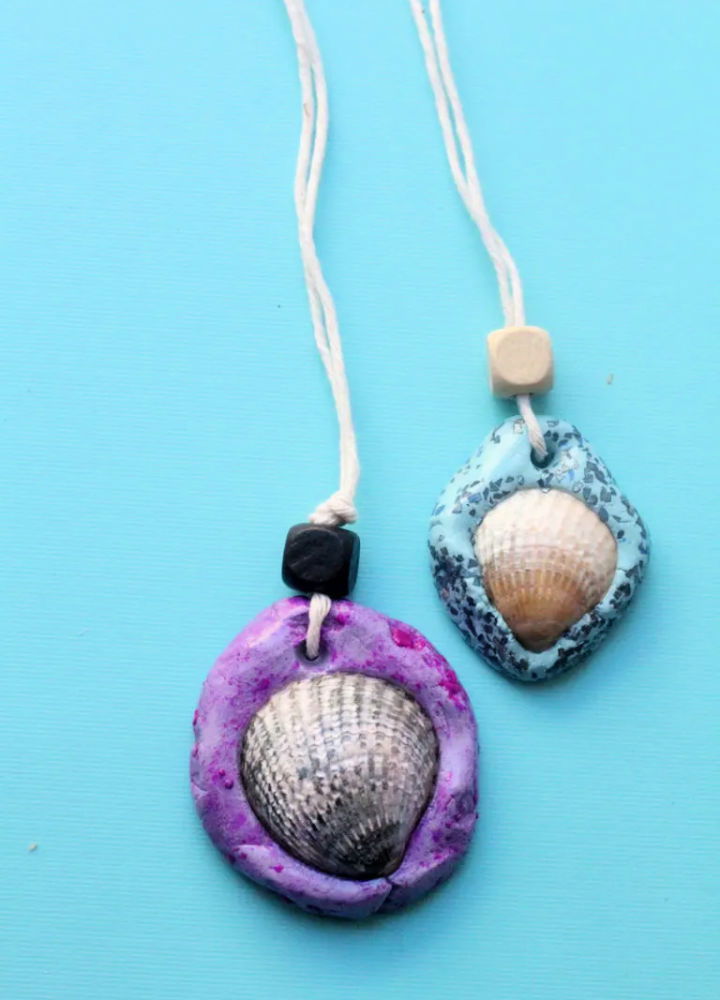 Learn how to make your DIY seashell necklace with air dry clay and a few simple supplies. Experiment with different textures and colors to make unique variations perfect for summer camp, beach parties, or fun.
This open-ended craft is suitable for all ages and is an inexpensive way to customize your jewelry collection. Follow the step-by-step instructions to make your seashell necklace with clay, paint, glitter, and shells.
Dress it with beads and a chain for a more mature look, or keep it casual with cotton twine and wooden beads. Follow this easy guide to make a beautiful piece of jewelry. momsandcraft
8. Underwater Seashell Candles Project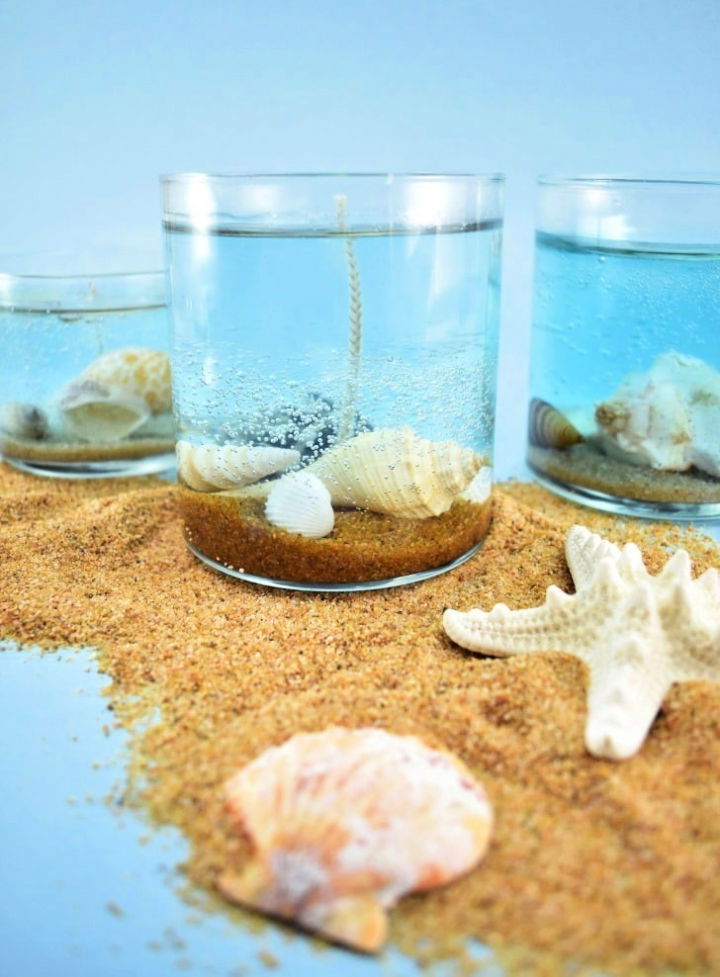 Easy seashell crafts include making jewelry, wind chimes, or using them as decorative accents in a vase or bowl. Make adorable DIY underwater seashell candles with this informative guide. You can make beautiful, unique candles that look like the ocean floor using seashells, sand, and clear gel wax.
While this project may seem challenging initially, this easy guide makes it easier to make your perfect candle. You'll need specific materials, such as wicks made of gel wax and a fragrance oil with a high flashpoint to avoid explosions. Follow the step-by-step instructions and enjoy making beachy candles for a relaxing ambiance. dreamalittlebig
9. Easy Seashell Turtle Craft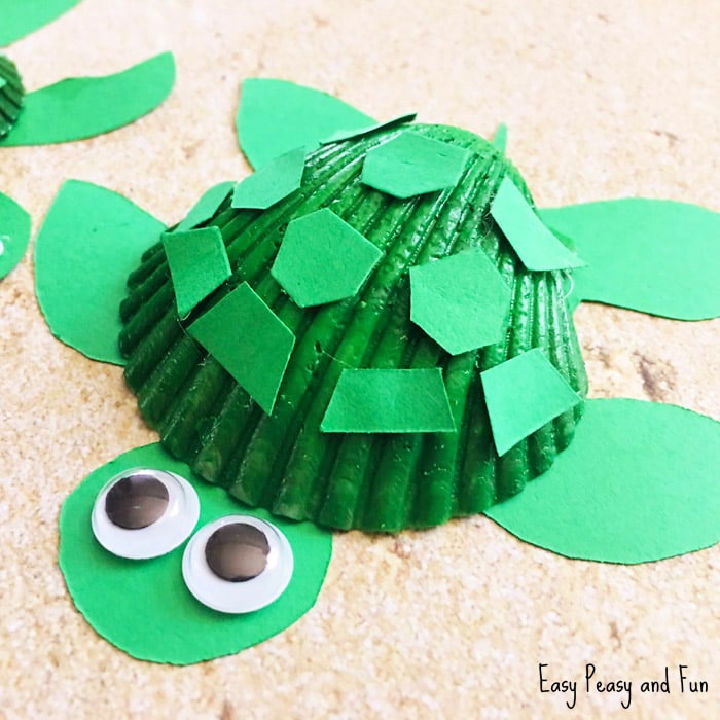 Are you looking for a fun and innovative activity with your kids after a seaside vacation? Look no further than this DIY seashell turtle craft! With just a few supplies, including seashells, green construction paper, and googly eyes, you can turn those empty shells into adorable works of art. Plus, this craft is perfect for making fridge magnets or giving them as gifts to family and friends. Follow this easy step-by-step guide to make your seashell turtle. easypeasy
10. Seashell Planter Craft for Adults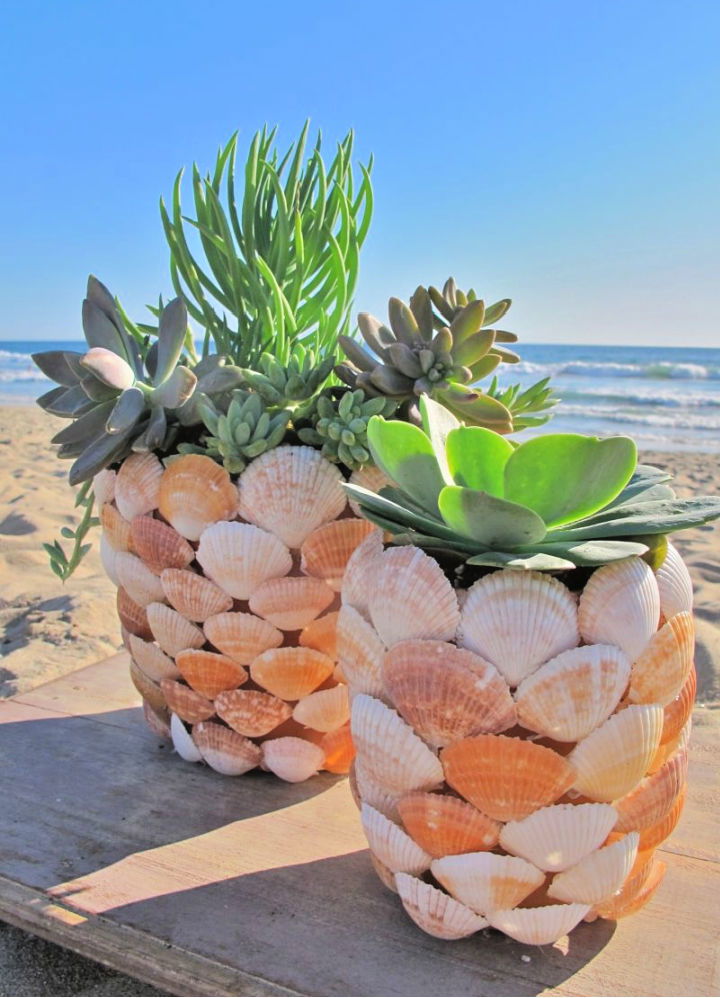 Transform your succulents into a beachy masterpiece with our easy-to-follow DIY seashell planter tutorial. Gather some seashells, terra cotta pots, and a glue gun to make this unique and creative planter. This step-by-step guide provides instructions on arranging and gluing the shells onto the pot, then planting your succulents. This project is fantastic for anyone looking to add a touch of the beach to their home decor. billabong
11. Jellyfish Seashell Craft for Kids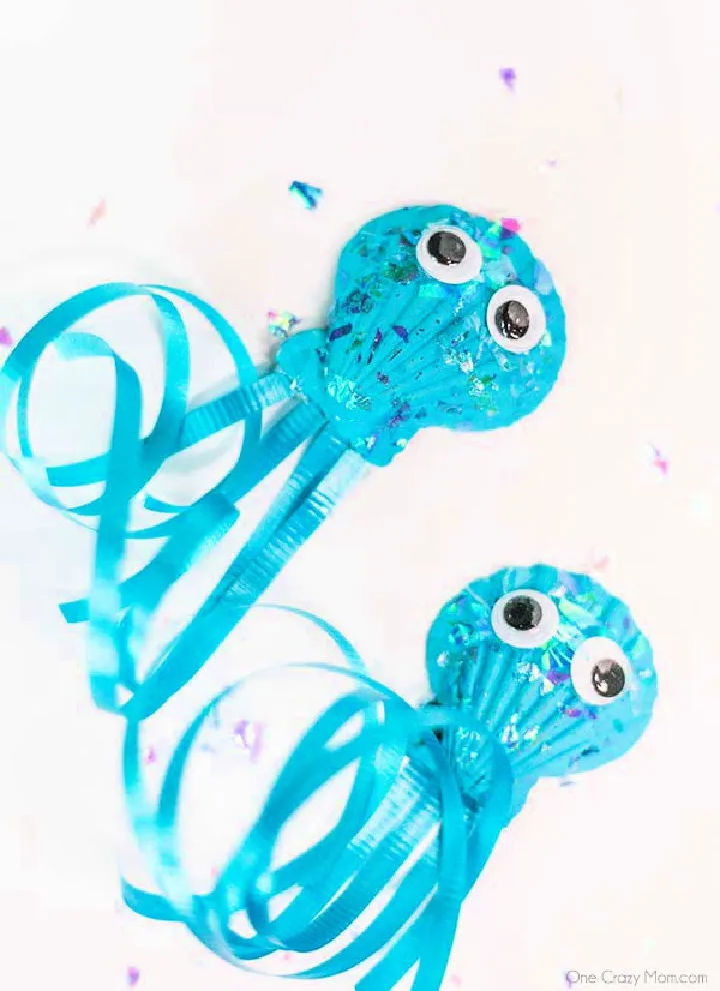 Looking for a fun and easy summer craft to keep the kids busy? Try making this DIY jellyfish seashell craft using inexpensive supplies like seashells, paint, confetti, curling ribbon, and googly eyes. This step-by-step guide will direct you on turning ordinary seashells into adorable jellyfish that your kids will love. Plus, it's a great way to use those seashells you collected on your beach vacation! So, gather your supplies and prepare to make memories with this simple and creative seashell craft. onecrazymom
12. DIY Seashell Frame Art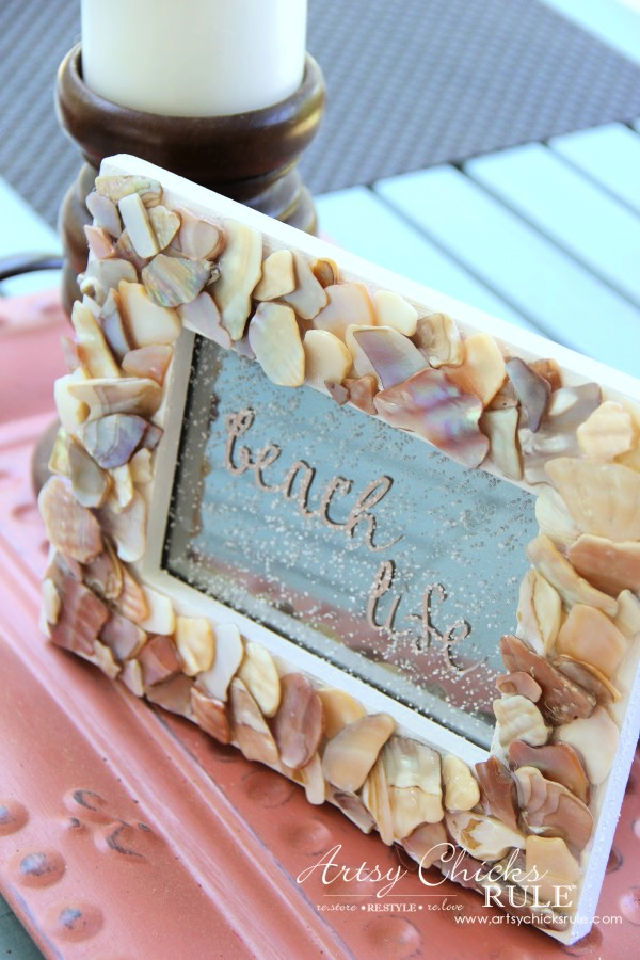 Make a lovely and unique piece of art with this DIY seashell frame tutorial. Using pretty shell pieces and a painted white frame with a sandy texture, this project is perfect for beach-loving individuals who want to bring a touch of the ocean into their homes.
Follow the step-by-step instructions to layer shells around the frame and transform it into a mirror using glass spray paint. Add your touch by painting "beach life" on the glass or inserting a photo inside the shelled frame. This is the perfect handmade gift for your friends or family who love the beach. artsychicksrule
13. Seashells Mermaid Wand for Preschoolers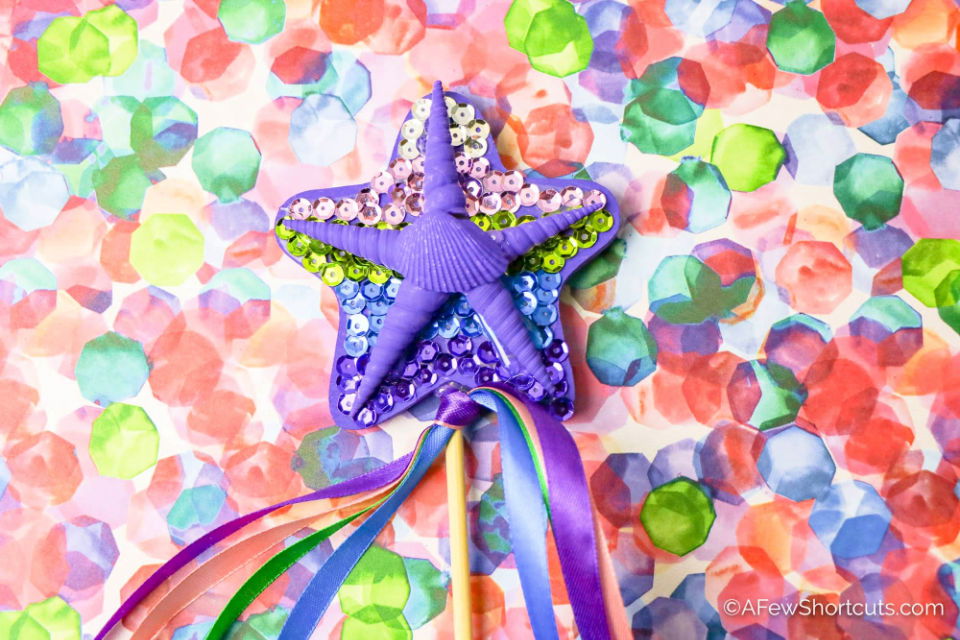 Make a splash with this delightful and easy DIY mermaid wand kids' craft! Bring your little mermaid's dreams to life with this simple yet stunning craft project that is perfect for beach-loving girls.
With just a few inexpensive supplies, including wooden star wands, acrylic paint, sequins, and seashells, you can make a magical wand that's sure to delight you.
Whether you're looking for a rainy-day craft or planning a mermaid-themed party, this fun and creative project is a great choice. So grab your supplies and get ready to make some mermaid magic! afewshortcuts
14. DIY Handprint Shell Keepsake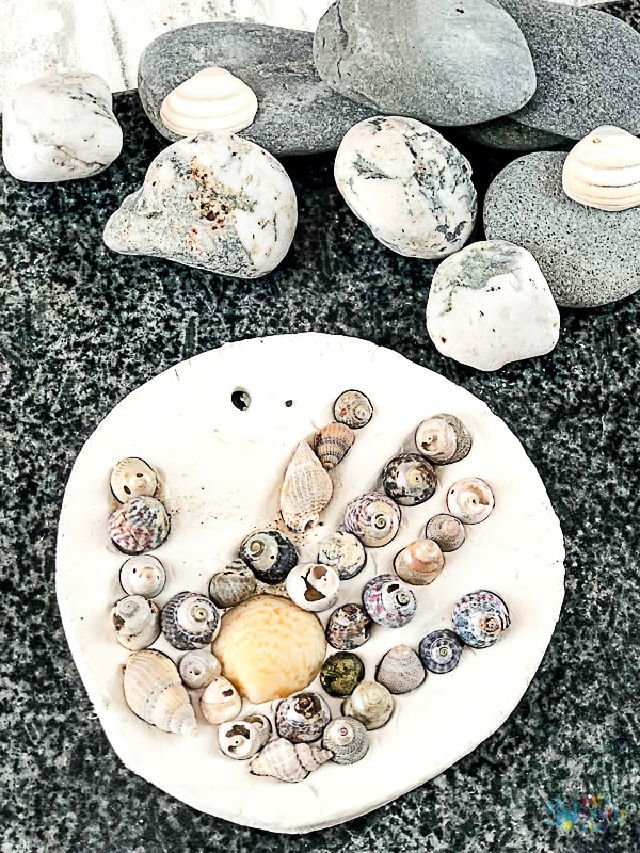 Capture your child's exploration and memories with this DIY Handprint Shell Keepsake craft. Using materials such as das white air dry clay and shells, make a plaque of your child's handprint filled with shells that they collected.
This craft not only preserves their hard work and natural curiosity but also invokes memories of a moment when time didn't matter, and you were in the moment with your child.
Follow this step-by-step tutorial to make a unique and memorable keepsake that will bring a warm and fuzzy feeling inside every time you glance at it. artycraftykids
15. DIY Painted Sea Shells With Puffy Paint
Seashell crafts for adults can range from sophisticated home decor to fun and whimsical projects like shell-covered planters. Add some summer vibes to your home décor with this DIY Painted sea shells using puffy paint.
This tutorial provides step-by-step instructions and a list of materials to make stunning shell designs, including a galaxy design. You can purchase shells or collect them on the beach.
Get creative with simple lines and dots or more complex designs using a variety of colors. Check out this easy guide with a video tutorial, and start your summer crafting project today! colormadehappy
16. Modern DIY Seashell Door Hanging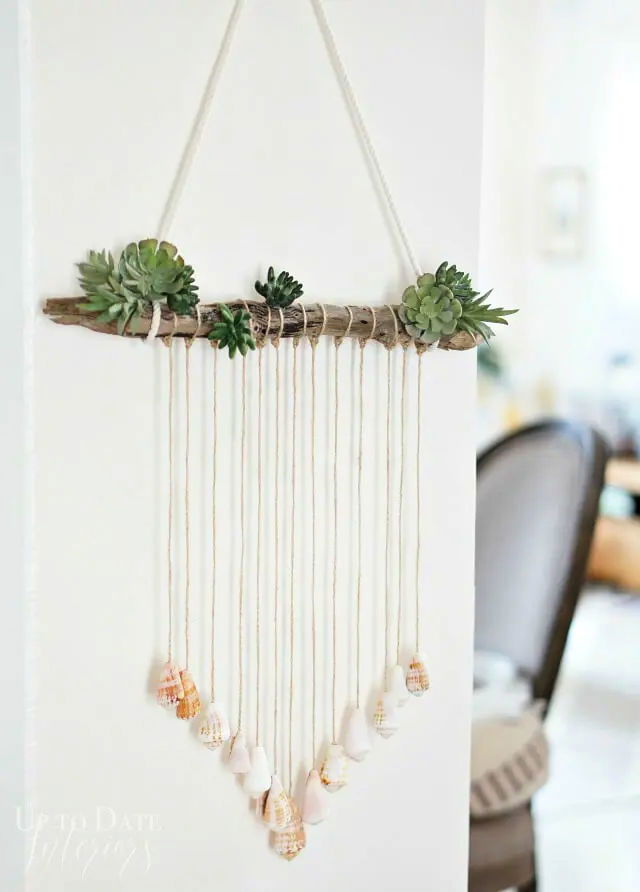 Check out this DIY Seashell Door Hanging tutorial if you want a unique summer project. You can make a beautiful coastal decoration for your home using simple materials like driftwood, seashells, and hemp twine. The step-by-step guide includes tips on hanging the seashells and adding faux succulents for extra creativity. This lovely Seashell Hanging adds a charming coastal touch to any space, perfect for greeting guests in your foyer or hanging on a new front door. homemade
17. Make Your Own Oyster Shell Mirror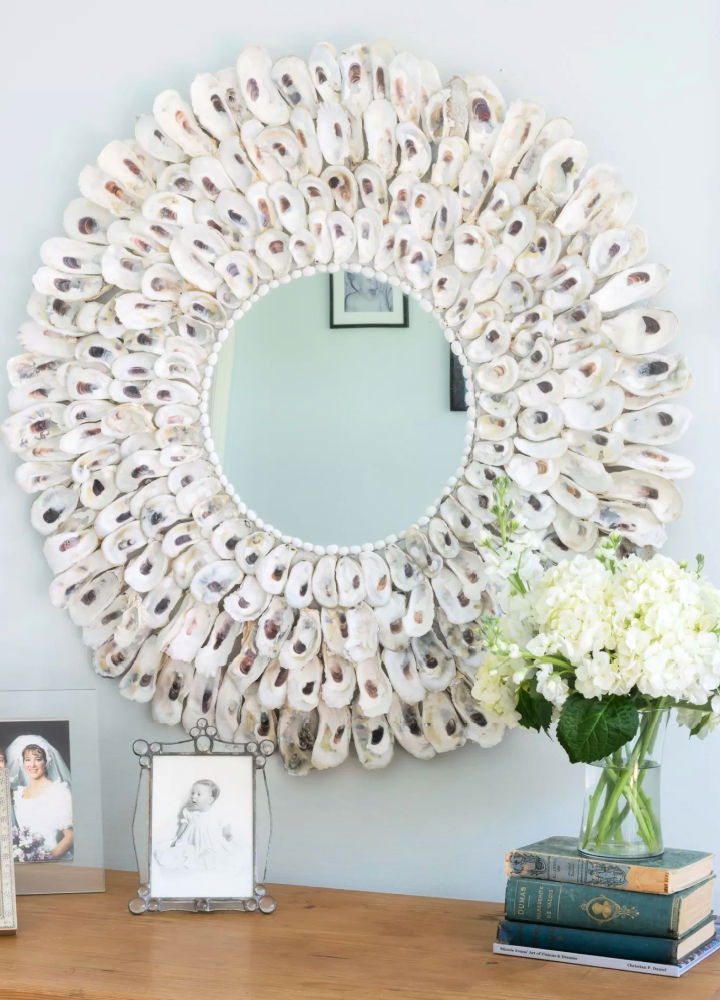 Seashell crafts are not only fun to make, but also add a touch of coastal charm to any room in your home. Learn how to make a stunning DIY oyster shell mirror with this informative and creative guide. Discover the best glue for seashell mirrors and find out where to source oyster shells for free.
Using just a few materials and tools, you can easily make your coastal decor piece that adds a sea touch to any room. Follow the step-by-step instructions in this tutorial to make a beautiful oyster cluster mirror with this unique and cost-effective DIY project. Enjoy the fun of putting the puzzle together and choose the perfect shells for your mirror. nourishandnestle
18. Painted Seashell Pups Craft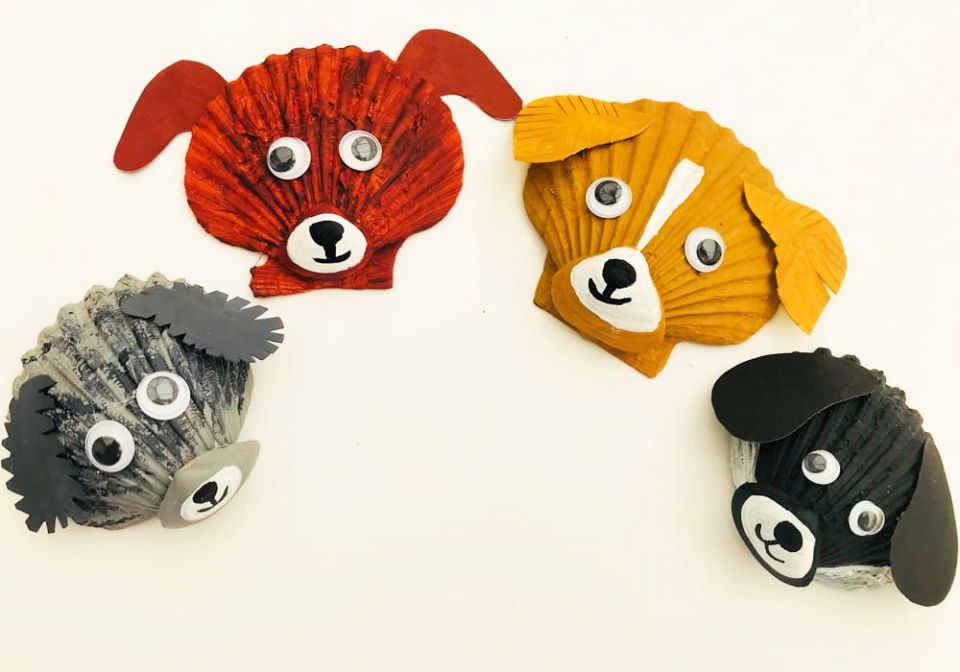 Transform your collection of beach shells into adorable decorations with this easy seashell craft for kids. These DIY Painted seashell puppies are made with shells, paint, card, and googly eyes. Gather some shells on a coastal walk, glue on a tiny shell for the nose (optional), paint the shells to mimic fur, add ears and googly eyes, and you've got a pack of seashell pups!
This fun summer craft is perfect for little kids to tweens and takes only 15 minutes to complete. Get creative and make a unique and beautiful decoration for your home. masandpas
19. Beautiful Seashells Pots Plants Tutorial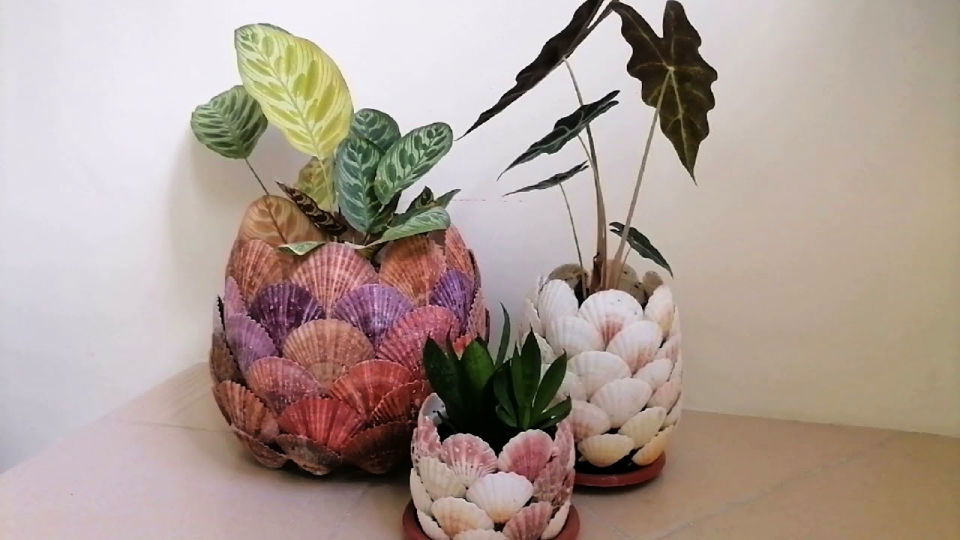 Make beautiful and unique pots for your plants with this DIY tutorial on making seashell pots. You can make stunning pots that impress you using only scallop seashells, plastic bottles, and a glue stick. This step-by-step guide will take you through making these aesthetically pleasing pots, perfect for any plant enthusiast looking to add a creative touch to their home decor.
20. DIY Scallop Shell Ring Dish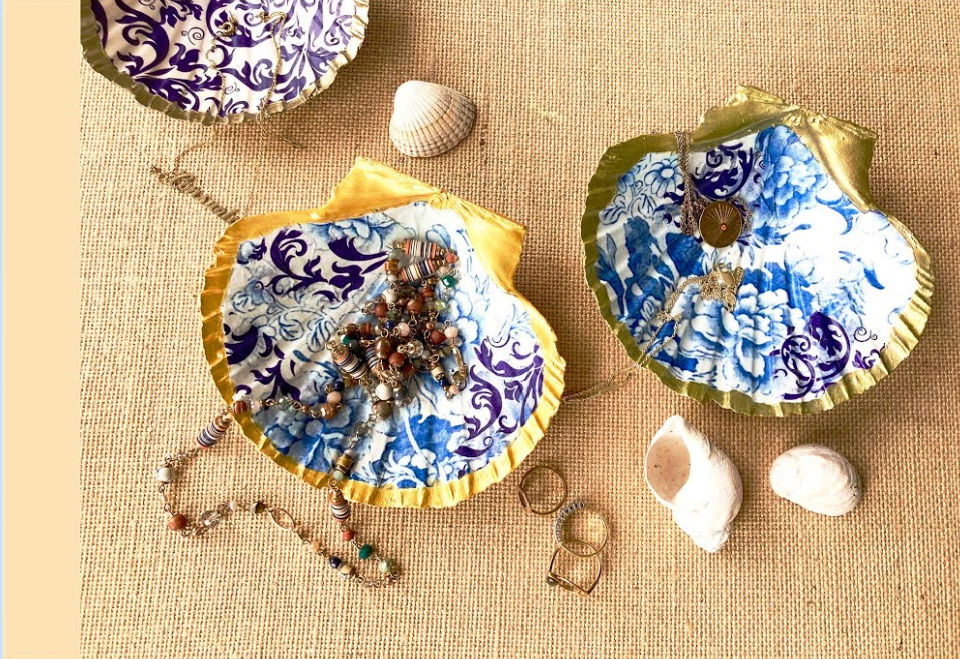 Do you want to do a unique craft project? Look no further! This informative and creative DIY scallop shell ring dish tutorial will walk you through making a stunning gold bronze finish decor piece using easy-to-find materials and supplies. Whether you're a seasoned crafter or just a newbie, the tutorial's step-by-step instructions and helpful tips will guide you through the preparation and creation process. So grab your supplies, and let's get crafty!
21. Decorate Bathroom Accessories With Sea Shells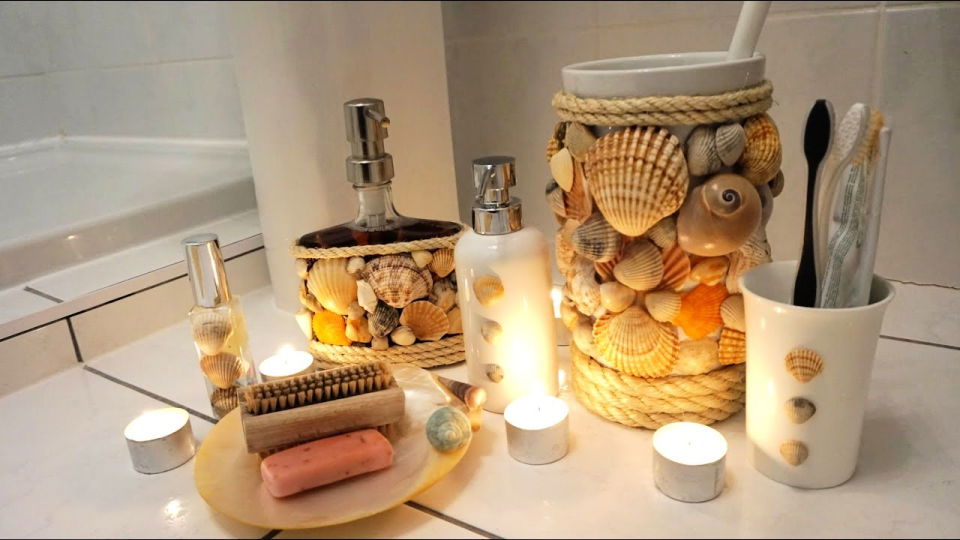 With crafts with seashells, you can create beautiful and functional pieces such as candle holders, mirrors, and wreaths. If you want an easy and affordable way to upgrade your bathroom? Look no further than this DIY sea shells bathroom accessories décor project!
With just a few simple materials like glass bottles, rope, a hot glue gun, and sea shells, you can add a beachy vibe to your bathroom accessories in no time.
This guide will show you how to creatively decorate and transform your everyday bathroom items into beautiful, decorative pieces that will impress all your guests. Get inspired and let your creativity flow with this easy and fun DIY project!
22. DIY Seashells Bottle ART
This easy-to-follow tutorial turns any waste glass bottle into a beautiful DIY coastal decor. It is perfect for beginners and adds a unique touch to home decor. You only require simple materials such as seashells, tissue paper, glass bottles, glue and more.
With this helpful guide, you can make a beautiful, unique home decoration that is perfect for beginners. This DIY project is cost-effective and helpful, with a creative twist that will showcase your creativity.
Get creative and learn how to transform trash into a stunning home decoration with this tutorial and add a touch of elegance to your living space.
23. Picture Frame Using Seashells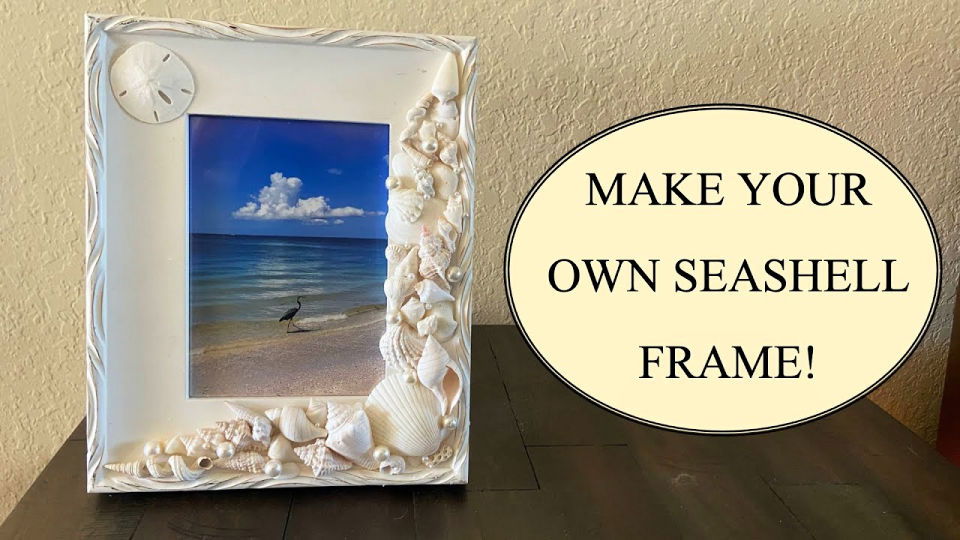 Learn how to make a DIY seashell picture frame with this easy tutorial. Collect your seashells and a frame from a thrift store to make a unique and personalized piece. Use clear E6000 glue and store-bought pearls for a touch of glam. This project is perfect for beach lovers and makes a great gift. Follow along with this step-by-step guide and make a beautiful beach-inspired display and décor piece.
24. DIY Sea Shell Earrings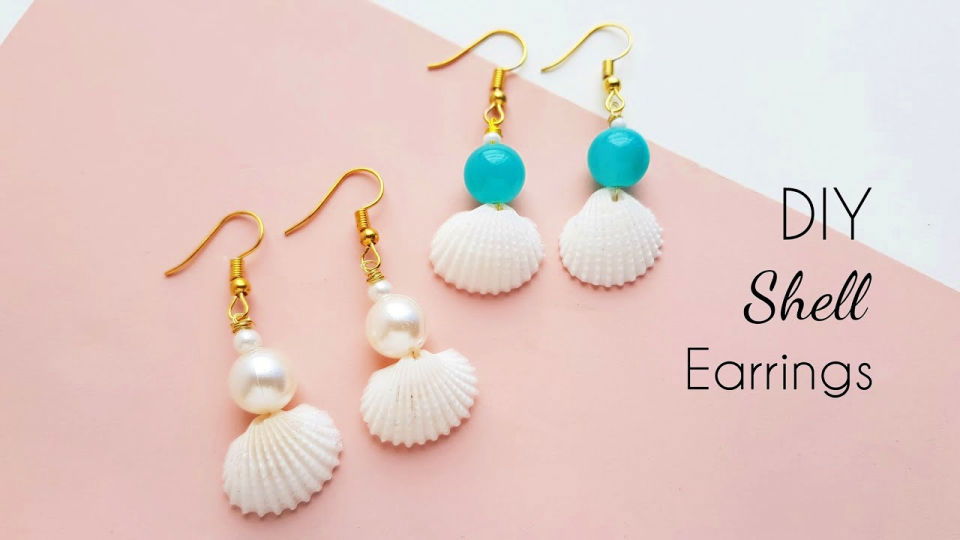 Craft beautiful and unique DIY sea shell earrings with this simple tutorial. You can make stunning earrings perfect for any occasion using just a few supplies, such as beads, shells, earring hooks, jewelry pliers, and wire. This tutorial is perfect for seashell collectors and craft enthusiasts of all skill levels to make beautiful earrings that are both unique and cost-effective. Follow along with the easy-to-follow instructions and get creative with your unique designs.
25. Handmade Butterfly Seashell Art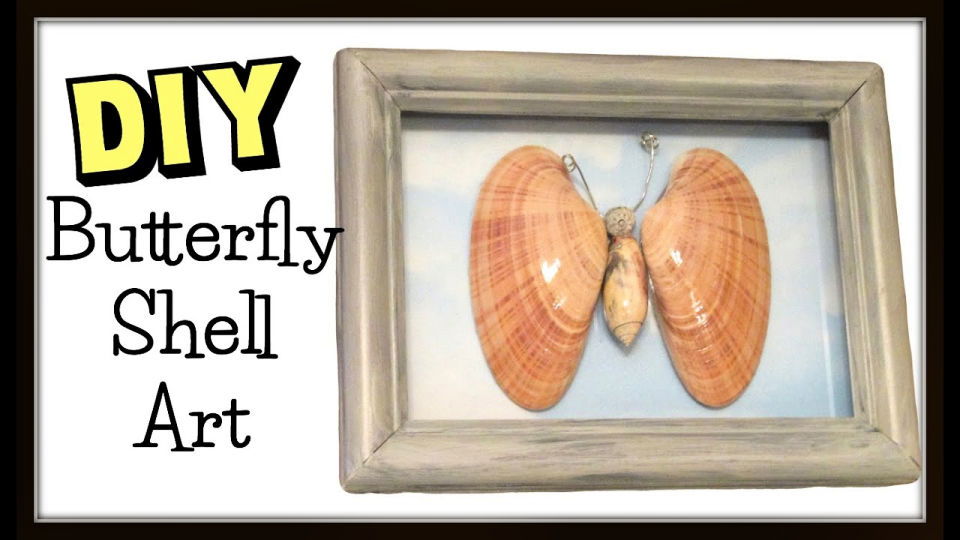 Are you looking for a fun beach craft? Stop looking around! Learn how to make easy DIY butterfly shell art using old frames, cloud paper, seashells, wire, glue, and paint. Check out this step-by-step tutorial and the written directions to make your unique and beautiful piece of art. This project is perfect for all ages and adds a touch of the beach to your home decor. Get ready to shimmer, and grab your glue gun and glitter for this fun and affordable craft. Don't miss out on this craft!
Conclusion:
Seashells are beautiful natural treasures that can be used to create a wide variety of fun and creative craft projects. With these 25 easy seashell crafts and ideas, you'll have plenty of inspiration for what to do with seashells. From seashell picture frames to seashell wind chimes, there's something for everyone in this collection of seashell craft ideas. So why not gather your materials and start fun and creative things to make with seashells today?