Rainbow fish crafts are a wonderful way to combine art and imagination while developing skills that are essential for young children. We have 25 fun and easy rainbow fish crafts and art projects you can try with your kids using our free printable templates and easy-to-follow instructions. You will find a variety of rainbow fish crafts, from the simple paper plate rainbow fish inspired by the popular book to the original rainbow fish scribble art project. Our free printable rainbow fish templates are handy and versatile, so you can use them for different crafts.
If you have younger kids, you might want to start with the handprint rainbow fish craft or the tissue paper rainbow fish craft. These crafts are fun and simple, and they help improve fine motor skills and creativity.
If you have older kids, you might want to try more complex projects, like the 3D paper plate rainbow fish or the dry clay rainbow fish craft. These crafts are more challenging and require more skills and patience. Our guides will show you how to make them, with clear steps, pictures, and tips.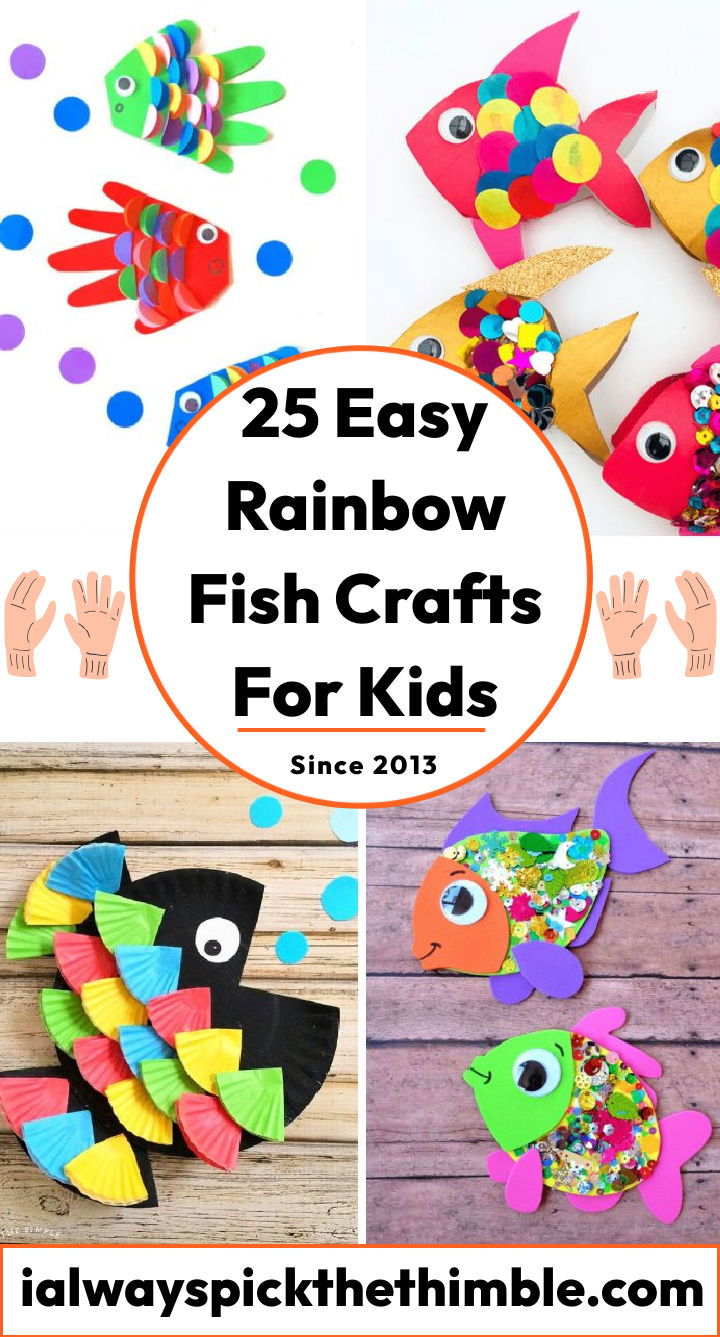 Rainbow fish crafts are a great way to spend some quality time with your kids, while learning and creating something beautiful. You can do them as a hobby, a summer activity, or a rainy day project.
Rainbow fish craft ideas will bring color and joy to your life, and teach your kids valuable lessons. So, grab your materials and dive into the amazing world of rainbow fish crafts with your kids today. Don't forget, it's not just about the end result, but also the fun and learning along the way!
1. Classic Book Inspired Paper Plate Rainbow Fish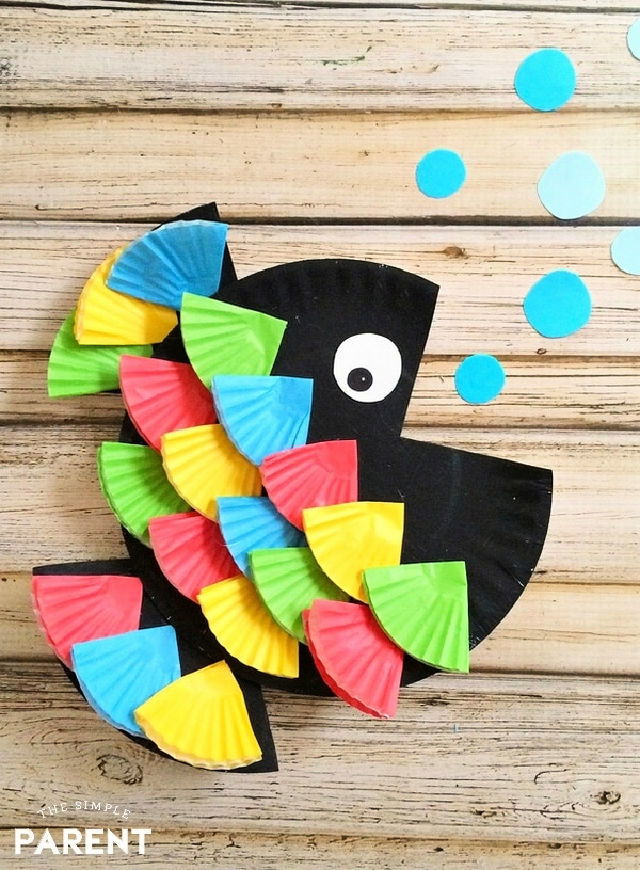 Make a fun rainbow fish craft with your kids inspired by the classic book the rainbow fish by marcus pfister!
You only need 2 paper plates, chalk paint, mini cupcake liners (blue, red, yellow, and green), glue, and a black marker. Your little ones will love bringing this beloved character to life as they use their creativity to make something special.
Get ready for lots of laughs and smiles when they show off their unique rainbow fish craft that you can proudly display in your home or classroom! thesimpleparent
2. Beautiful DIY Cupcake Case Rainbow Fish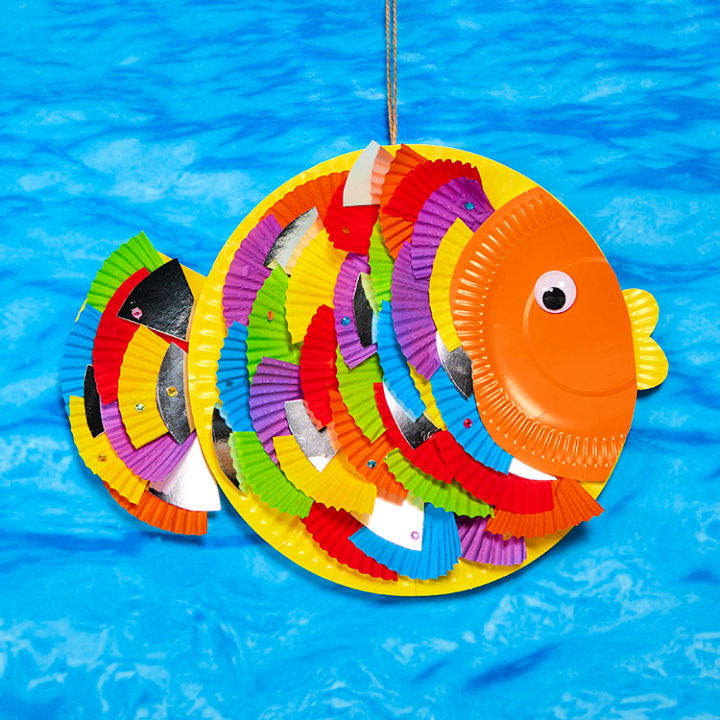 Make a magical underwater world on your wall with this fun cupcake case rainbow fish craft! It's perfect for kids of all ages and the perfect way to bring bright colors into any room.
With just paper plates, cupcake cases, and 30 minutes, you can make a fish that looks straight out of an aquarium. Adult supervision is needed since cutting is involved, but the result will be worth it.
So gather your supplies and explore your creative side by crafting this beautiful cupcake case rainbow fish! bakerross
3. Paper Plate and Tissue Paper Rainbow Fish Craft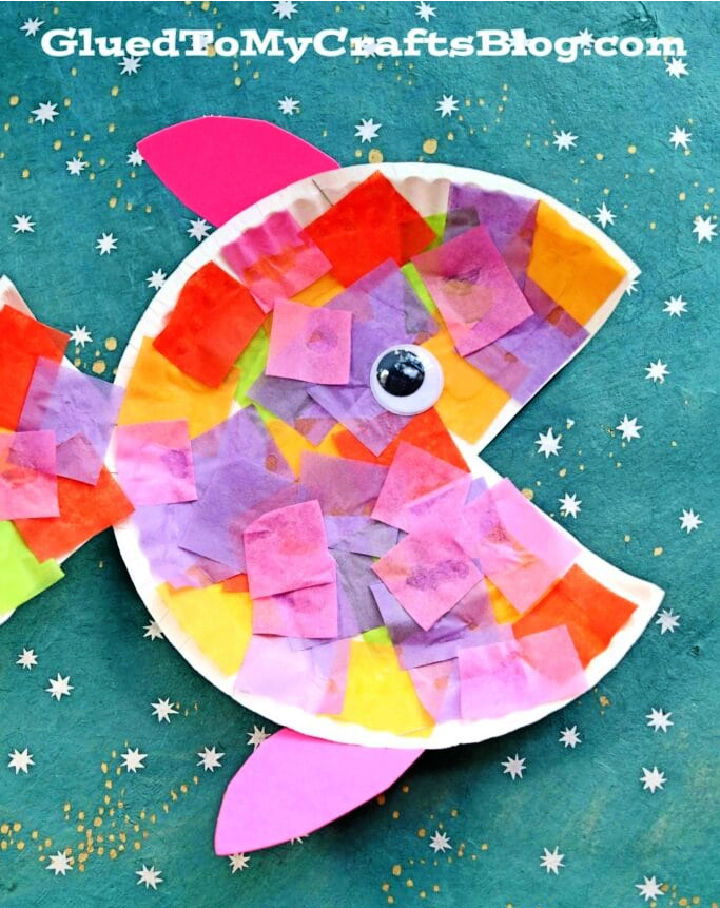 Bring the beauty of the ocean into your home with this stunning rainbow fish paper plate craft!
All you need are simple supplies like a large paper plate, scissors, a stapler, colorful tissue paper, white school glue, and wiggle eyes! Using these supplies, you can easily make this craft in minutes.
Hang up your finished fish on the wall or refrigerator for all to see & admire! With vibrant colors of tissue paper & googly eyes, this craft will turn heads and bring extra life into any room it hangs in. Get creative with this easy project today! gluedtomycrafts
4. Coffee Filter Rainbow Fish Arts and Crafts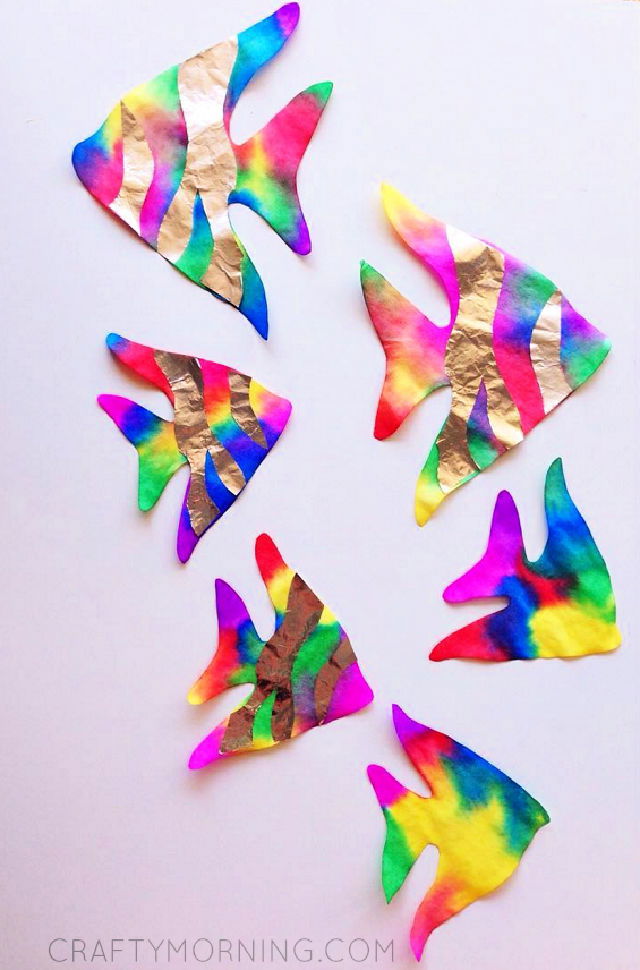 Looking for a fun and creative way to spend time with the kids this summer? Look no further than coffee filter rainbow fish!
You only need coffee filters, food coloring, aluminum foil, glue, and a water dropper. With these simple materials, your kids can easily craft colorful rainbow fish!
Not only is this activity great for bonding, but it's also perfect for developing creativity in your little ones. So don't wait – get started now crafting beautiful rainbow fish with your kids! craftymorning
5. Making a Paper Plate Rainbow Fish for Kids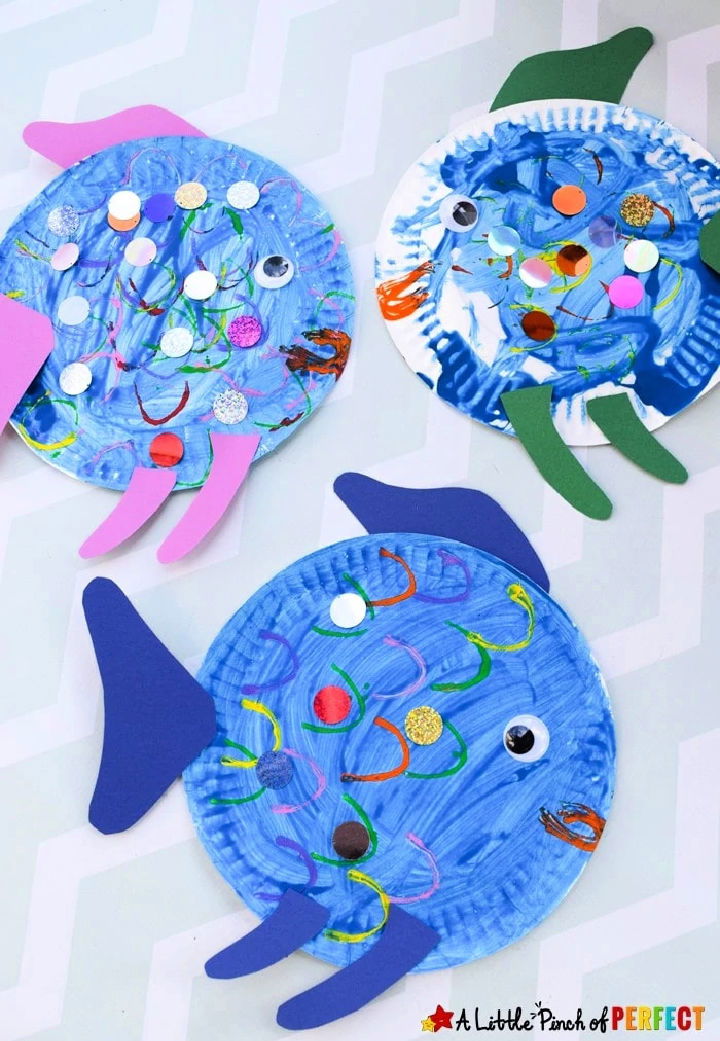 Let your kids make an adorable paper plate fish craft inspired by the character from the rainbow fish book.
All you need are some basic supplies – paint, circle sequins, googly eyes, glue, and craft paper. With a toilet roll for the fin and scissors to cut out shapes, they can make their rainbow fish and let their imaginations swim wild!
Perfect for an ocean-themed craft or summer project. Get creative with this easy-to-do paper plate fish craft today! alittlepinchofperfect
6. Popsicle Stick Fish Craft for Kindergarten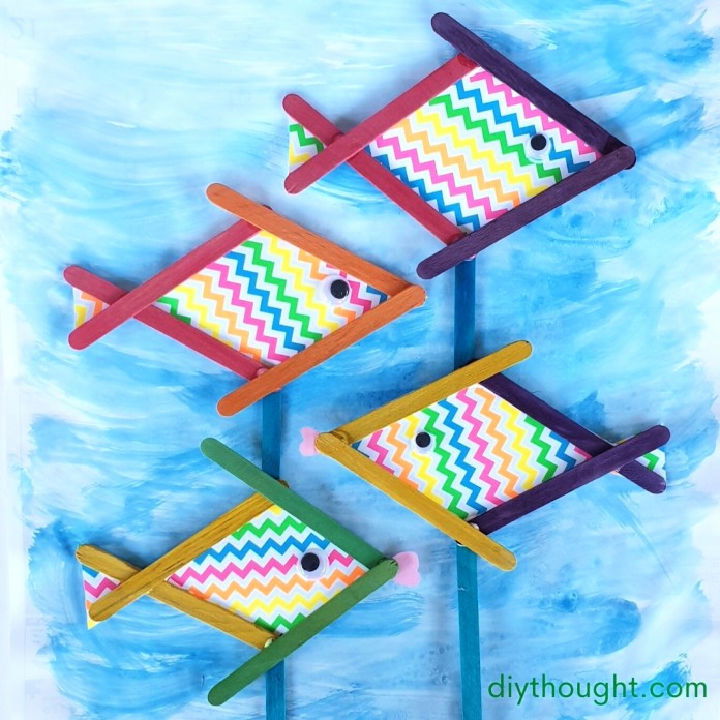 Make this easy and fun popsicle stick fish craft with your kids! All you need are 4 popsicle sticks and additional craft supplies like paper, glue, and pens. Plus, 1 extra popsicle stick to turn it into a puppet!
Great for all ages, older children can do the entire project while younger ones will require help. Get creative and decorate the backdrop or use your imagination to make something unique – follow the instructions to find out more. diythought
7. 3D Paper Plate Rainbow Fish for Preschoolers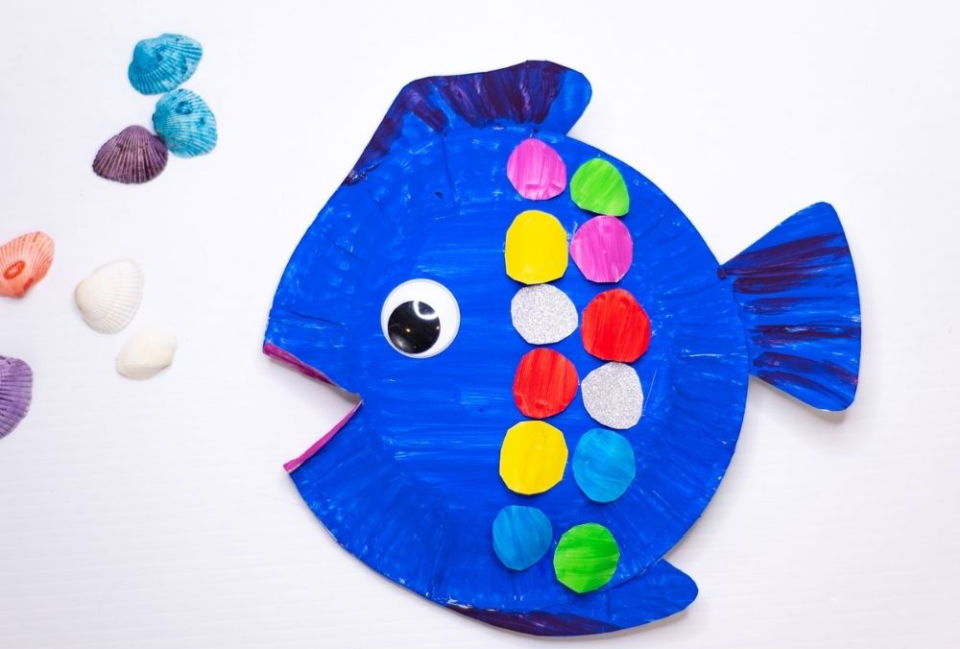 Get the magic and sparkle of "the rainbow fish" to your home with this unique 3d paper plate craft! This fun and easy summer activity suits preschoolers, kindergarteners, and school-age kids.
It only requires three paper plates, googly eyes, paint, pencils, pva glue, and silver glitter paper.
Watch your little one's face lights up as they bring their version of the iconic rainbow fish to life! Make a beautiful masterpiece that can be hung in any room or given to friends and family as a special gift. craftsbyria
8. Handprint Rainbow Fish With Free Cut Outs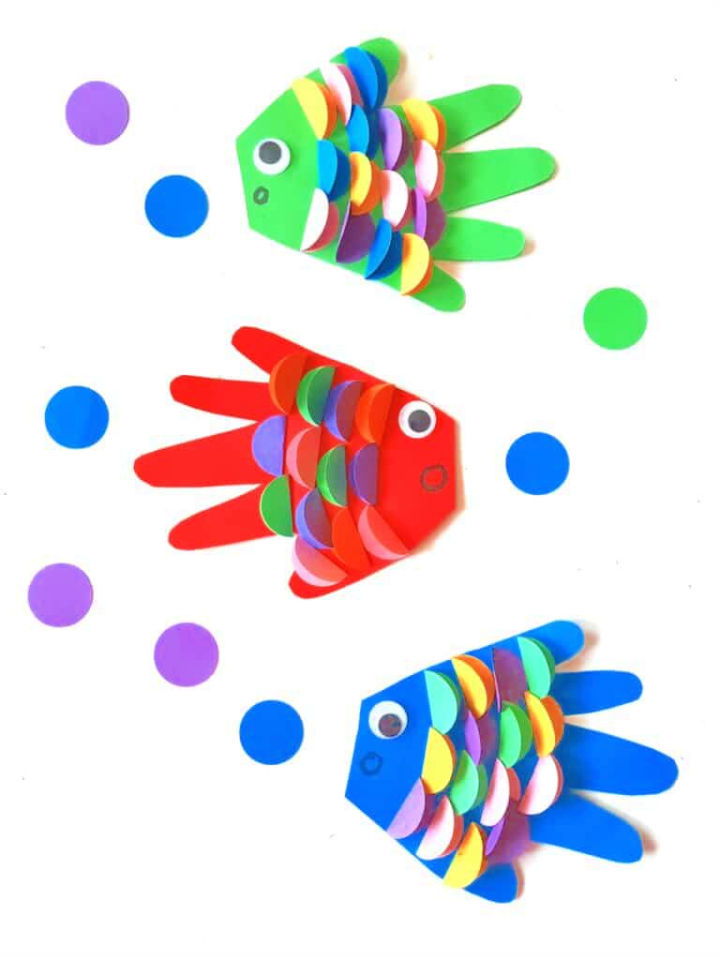 Let the kids dive into creativity with this easy and fun handprint fish craft! All you need is some cardstock in bright colors, a 1″ circle paper punch, googly eyes, a black marker, and glue.
The kids will enjoy makingthese adorable fish using their handprints. Plus, it's an educational activity focusing on color recognition while strengthening fine motor skills. Get ready to reel in the fun with this easy craft your little ones will love! hellowonderful
9. Contact Paper Rainbow Fish Activities for 1st Grade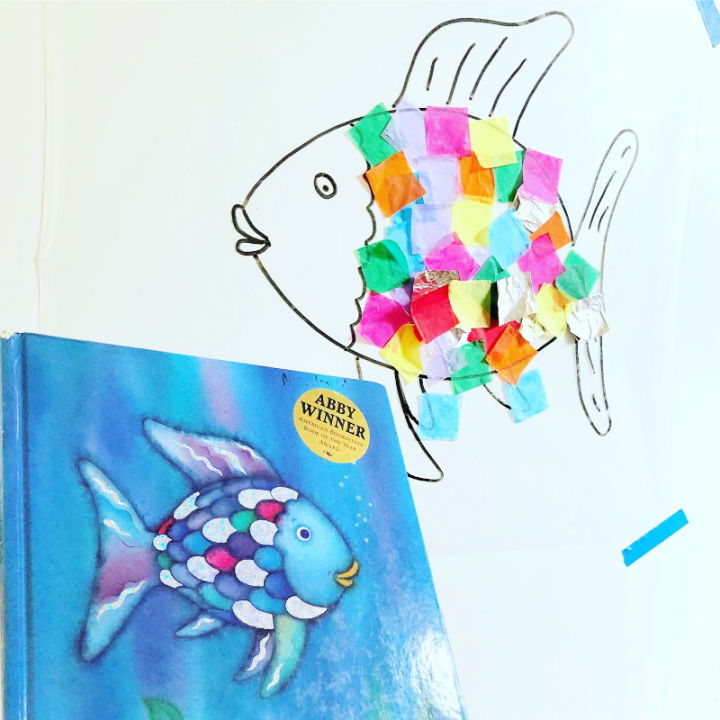 Craft a unique and beautiful rainbow fish with your toddler using contact paper, tissue paper, a dry-erase marker, tin foil cut into squares, and an ice cube tray!
Let little ones explore their creativity as they make creative shapes from different materials. With this fun craft activity, kids can enjoy spending time together while making something special that will last forever! findthelittlemind
10. Cute DIY Paper Plate Rainbow Fish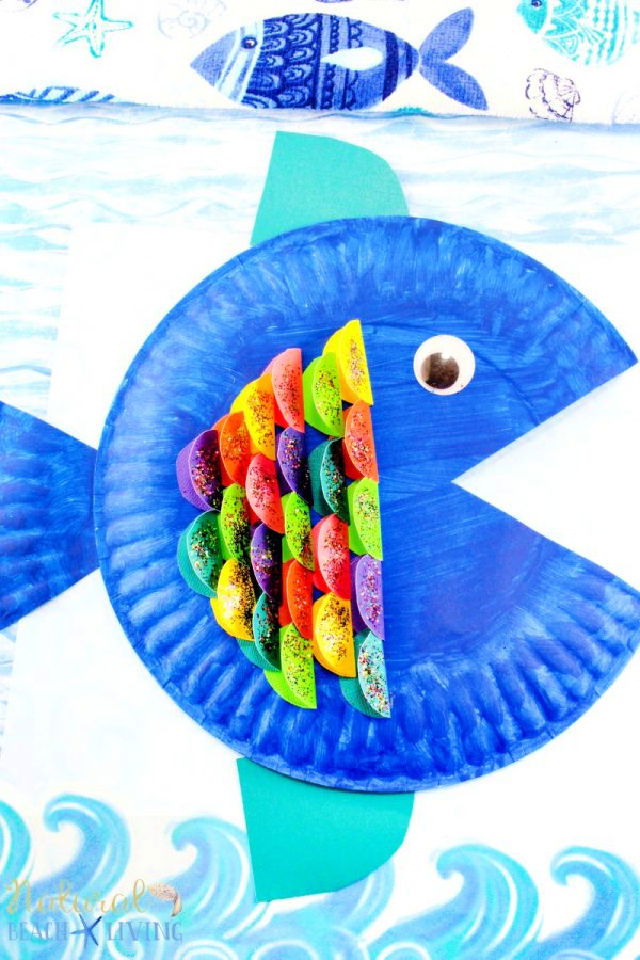 This super cute paper plate fish craft is perfect for kids! Inspired by the book the rainbow fish, it's a great way to add some fun to an ocean or under-the-sea-themed preschool.
You only need 1 white paper plate, blue paint, cardstock paper in multiple colors, glue stick, glitter, and 1 googly eye.
Make this simple craft with your kids and watch their smiles light up as they proudly show their unique creations. Get started now on makingthis adorable fishy craft! naturalbeachliving
11. Free Printable Rainbow Fish Templates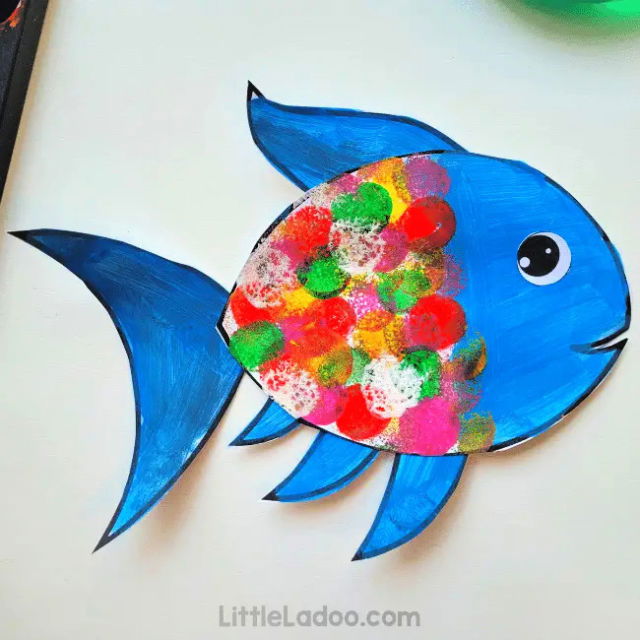 Unlock a world of color and wonder with this enchanting rainbow fish craft! Perfect for preschoolers, this craft comes with a free printable template that can be colored using Crayola colors, cut out, and pasted onto cardstock.
You'll need a round sponge brush set and glue to complete the project – it's sure to bring hours of creative fun. Get your kids crafting today with this amazing rainbow fish craft template! littleladoo
12. Colorful Rainbow Fish Fine Motor Activity for Summer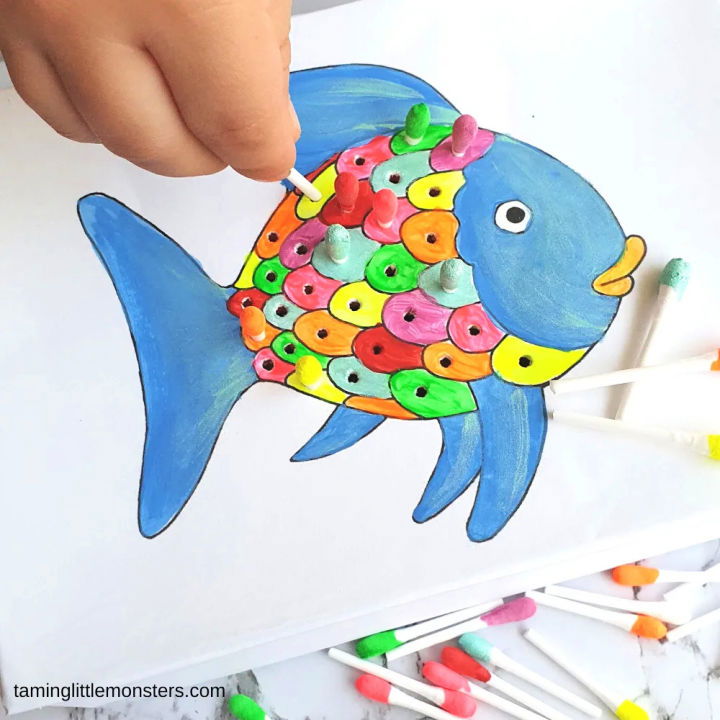 Searching for a fun and engaging summer activity to help your toddler or preschooler develop fine motor strength and hand-eye coordination? Try this rainbow fish fine motor activity!
With just an empty cardboard box, white paper, paint, q-tips, and a Sharpie – you can craft the rainbow fish story with your kiddo. As they place Q-tips into the holes on the rainbow fish's scales, they will practice color matching in this posting activity.
Perfect for those hot summer days when you need something quick and easy to keep them busy! taminglittlemonsters
13. Unique Rainbow Fish Scribble Art Project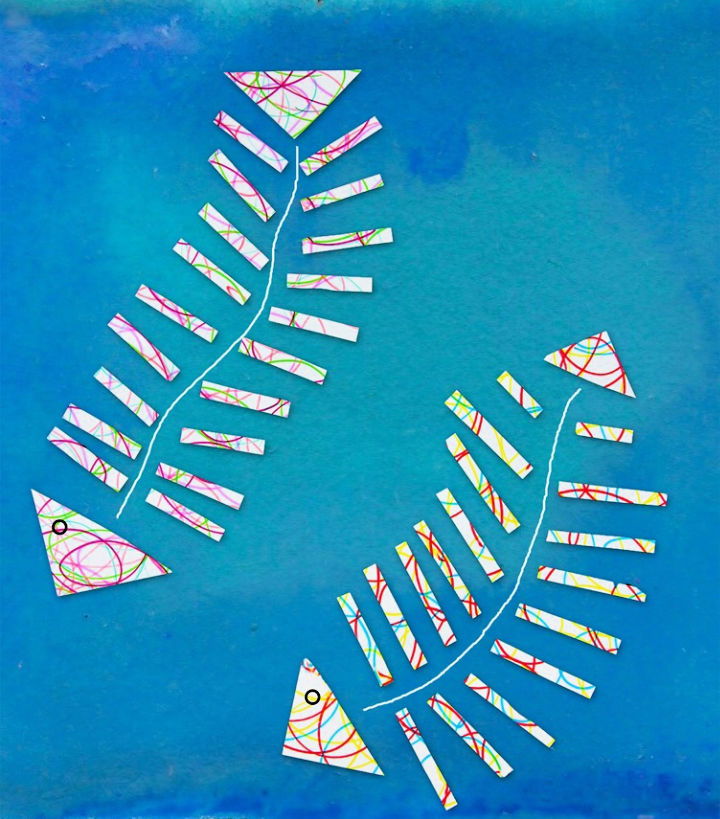 Make a beautiful scribble art rainbow fish with marker paper, markers, and glue! Let your imagination go wild as you draw, cut out and assemble the shapes needed to make this stunning masterpiece.
With its bright colors and simple scribble art design, it's sure to be a hit in any home or classroom. Get creative, get messy, and have fun doing it!
Add some personality by using different colored markers for each fish shape. The result is an eye-catching piece that will bring joy for years. mamamiss
14. Make a Paper Plate Rainbow Fish for Toddlers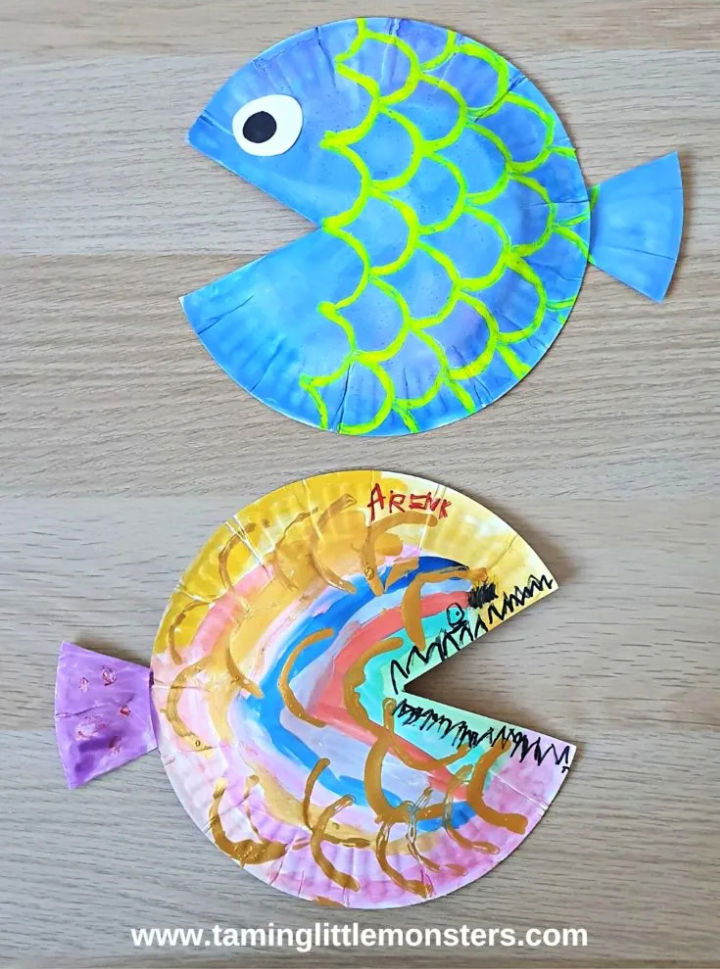 Bring the fun and creativity of an underwater scene to your classroom walls with this easy paper plate fish craft for toddlers and preschoolers!
With just a few simple materials like paper plates, paint, toilet rolls, construction paper, and a black marker, young children will enjoy painting their colorful fish.
A great activity for any kind of art class or even at home with parents – make your unique sea creature in no time! taminglittlemonsters
15. Confetti Covered Rainbow Fish Art and Craft
Today, the waters of possibility will be filled with excitement as your child's imagination swims free with this confetti fish craft!
With the included template pdf, they can make their cute rainbow fish with craft foam sheets, school glue, google eyes, and colorful confetti.
This easy activity is perfect for young kids and adults – all you need is some black marker to finish the look! Let everyone get creative and bring color into their day with this cheerful fish craft today. dinedreamdiscover
16. Paper Plate Rainbow Fish Craft for Preschoolers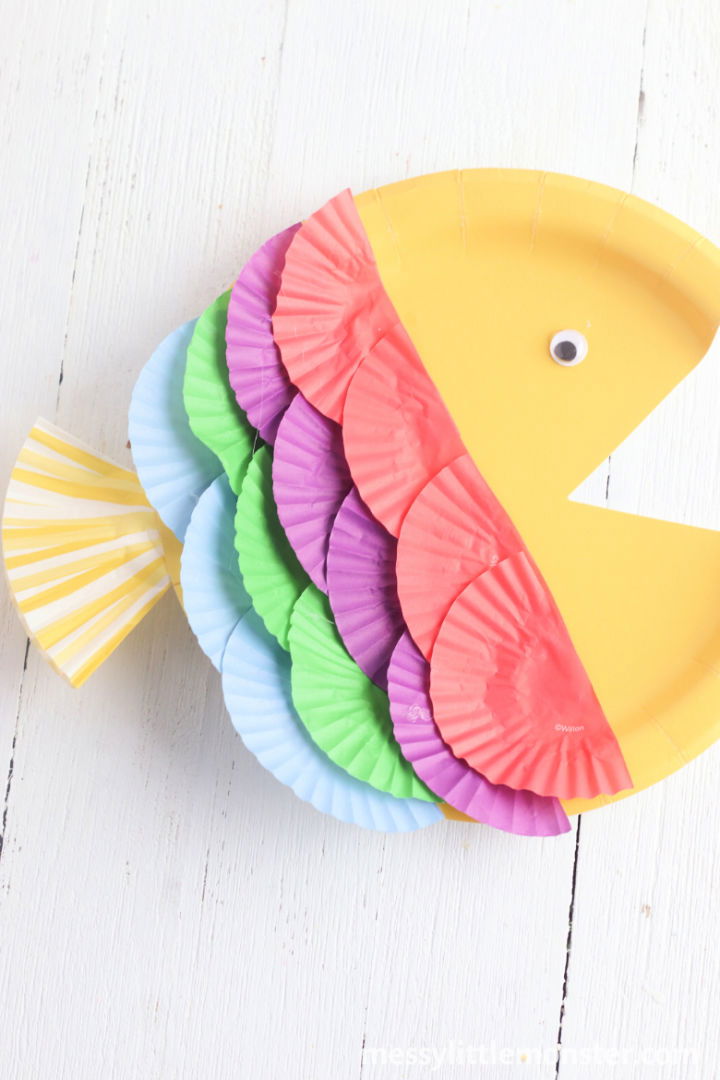 Make your kids smile with this super fun rainbow fish paper plate craft! Perfect to go alongside the book 'the rainbow fish' by marcus pfister or for an ocean-themed art project, all you need is 1 yellow paper plate, 1 full-size cupcake wrapper, and 2 mini cupcake wrappers each in red, purple, green, and blue.
Add a googly eye and some glue to get creative! Let their imaginations run free as they make an adorable fish craft that will look brilliant on display. Get crafting today! messylittlemonster
17. Free Printable Rainbow Fish Outline Templates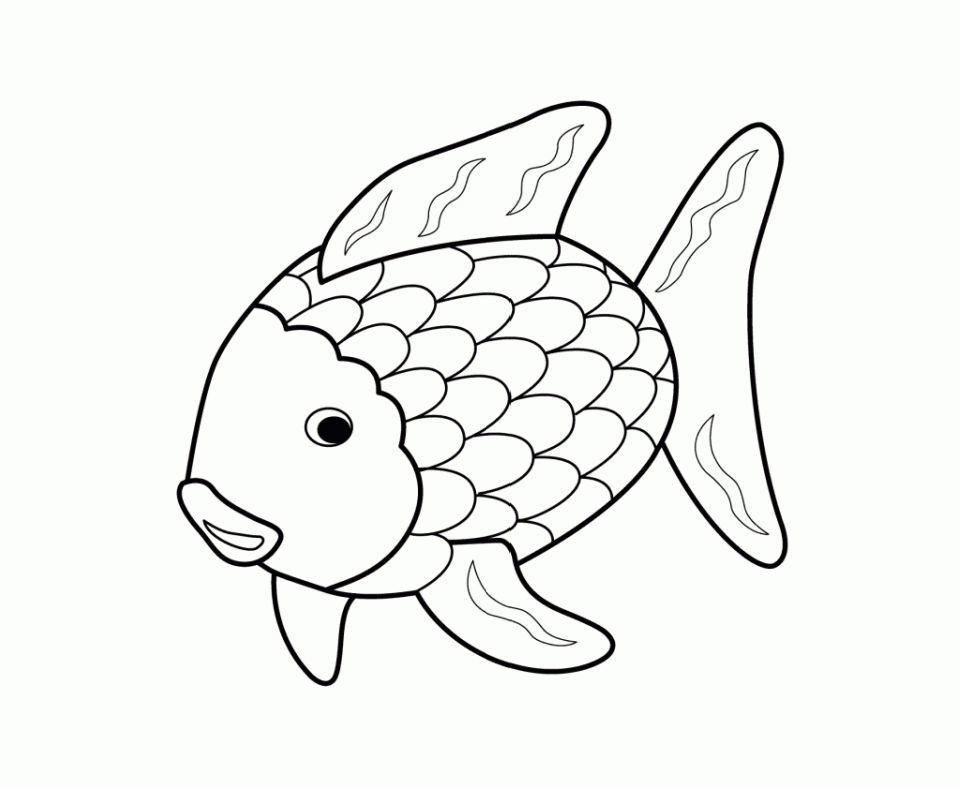 Download and print these rainbow fish template coloring pages for free! This fun activity is perfect for kids of all ages and will help develop their creativity, focus, motor skills, and color recognition.
Ideal either as a standalone activity or as part of an art project in school or at home, these free printable coloring pages are guaranteed to bring hours of creative play and enjoyment. Get your copy today, and get ready to unleash the rainbow power! coloringhome
18. Adorable Rainbow Fish Art Activities for Kids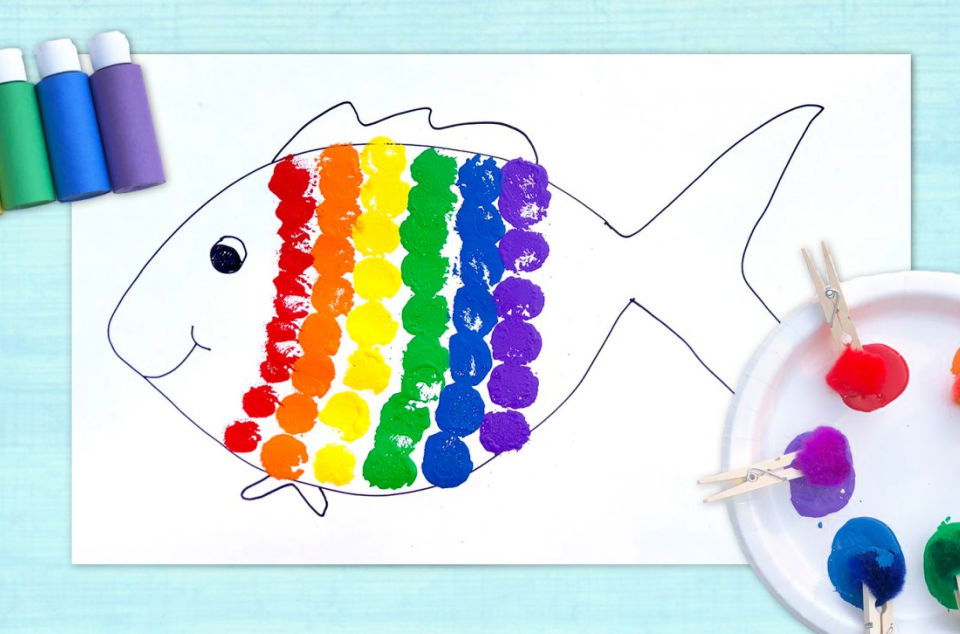 Celebrate world oceans day with a fun and creative rainbow fish craft! You only need simple household materials like paint, cotton balls, clothespins, paper plates, and black Sharpies.
Get your family involved to learn about the importance of the oceans and get creative with colors. This activity is perfect for use in the classroom or home – try it today! mothergooseclub
19. Easy DIY Rainbow Fish Suncatcher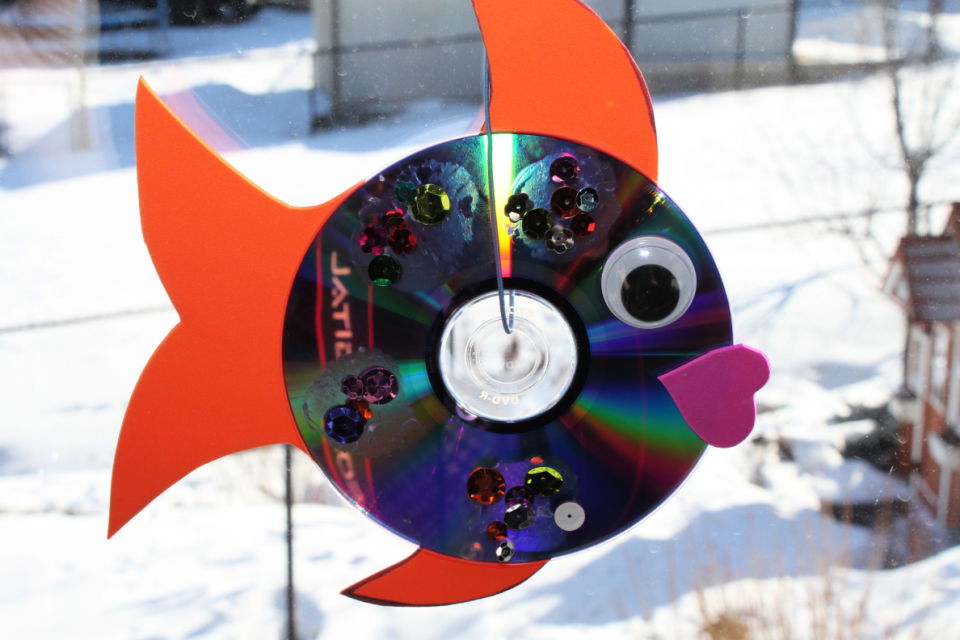 Transform ordinary DVDs into a beautiful rainbow fish suncatcher with this fun DIY craft project.
This easy-to-make suncatcher is based on the beloved children's book, the rainbow fish, and features glorious rainbow colors that reflect when struck by sunlight. Let your creativity shine and upcycle old or used DVDs to make a stunning piece of art perfect for any window.
Add an extra touch of shimmer and sparkle to brighten your day! Enjoy the magical reflections of rainbows every time you catch sight of this unique home decoration. busybugs
20. Glitter Rainbow Fish Activities for Kindergarten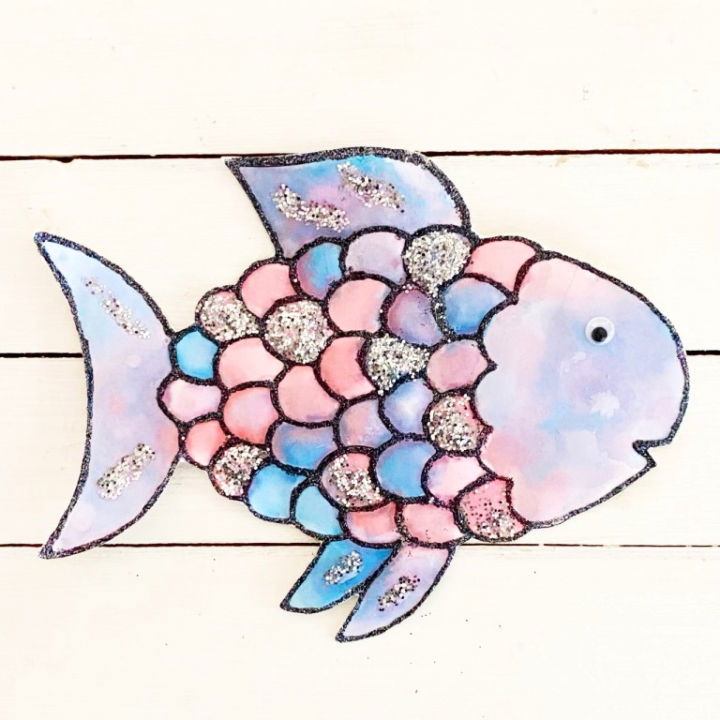 Sparkle and shine with this easy rainbow fish craft! Perfect for kindergarteners, this activity is fun to do and can be completed with minimal setup.
You'll need Elmer's school glue, cardstock paper, black glitter glue, silver glitter, and wiggle eyes to get started. Plus, a free printable of the rainbow fish!
Add neon food coloring or liquid watercolor paint to make a unique fish that will shimmer and shine. Get creative – make your version! asprinkleofpink
21. Toilet Paper Roll Rainbow Fish Craft for Toddlers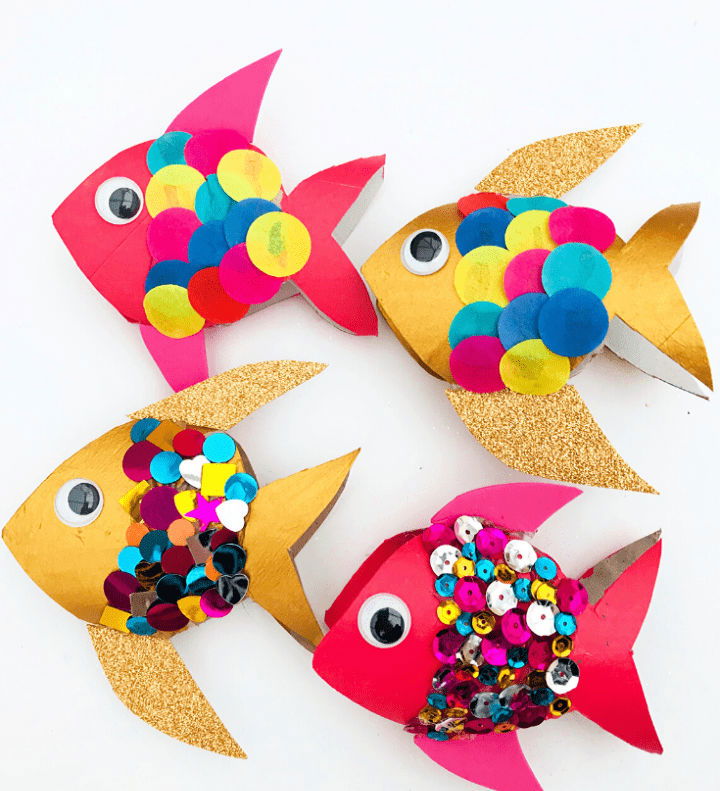 Turn empty toilet rolls into beautiful rainbow fish with this fun and easy craft! Perfect for toddlers to little kids, crafting these colorful creations will take no time at all.
Encourage your child's creativity as they choose their paint colors and patterns to make each fish unique.
Gather the supplies: paper toilet roll, acrylic paints, paint brushes, colored card or foam sheets, and glue. In 10 minutes, you'll have a new pal swimming in the sea of your kid's imagination! masandpas
22. Free Printable Black and White Rainbow Fish Templates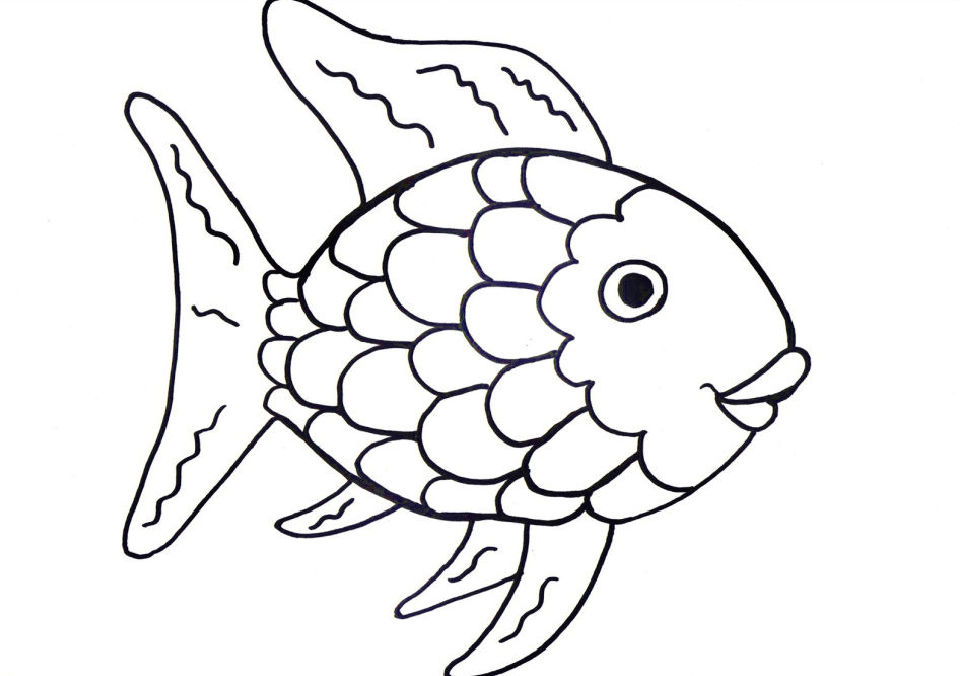 Nothing to copy
23. Tissue Paper Rainbow Fish Craft for Preschoolers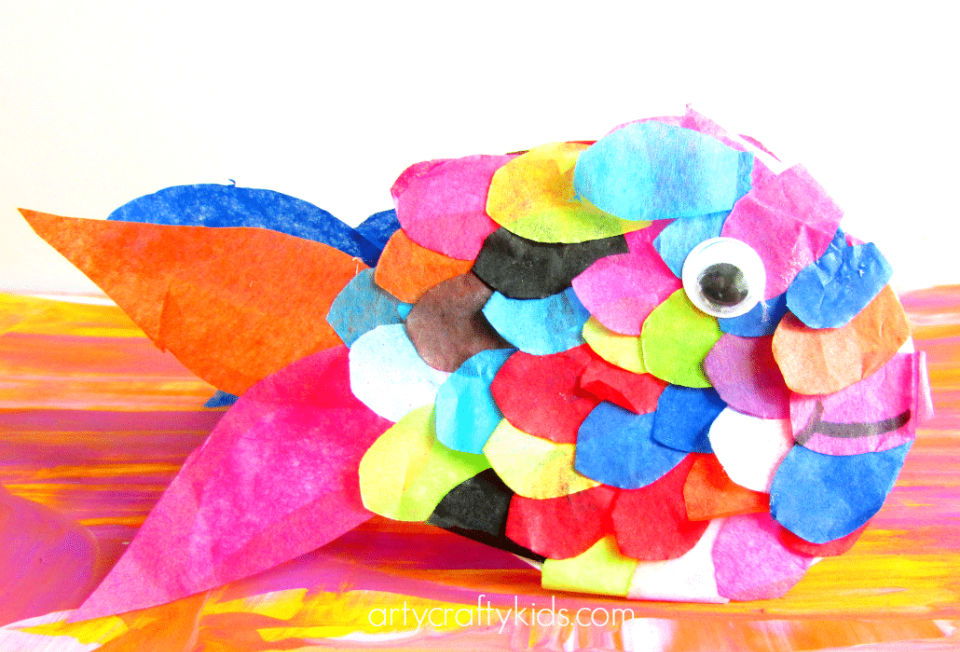 Bring beautiful under-the-sea creatures to life with the tissue paper rainbow fish craft! With its simplicity and easy setup, this is perfect for anyone crafting with a group of children.
They'll love cutting and sticking to make their unique fish, which will help develop their scissor and fine motor skills.
All you need is some tissue paper, a card (or recycled box), googley eyes, and a glue stick, so start makingyour rainbow fish today! artycraftykids
24. Make a Rainbow Fish Suncatcher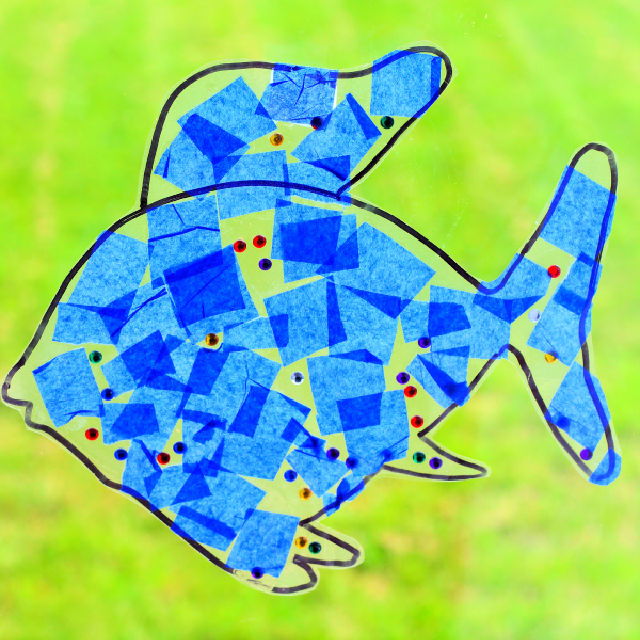 Make a beautiful and fun rainbow fish suncatcher craft with your kids! This activity is perfect for those who are not so crafty.
The materials needed are simple: a clear shelf liner, rainbow fish template, blue tissue paper, sequins, and a permanent marker. Your children will love makingtheir masterpieces, which also serve as great fine motor practice.
Get your supplies ready and bring the rainbow fish story alive in this fun-filled activity! funlearningforkids
25. Dry Clay Rainbow Fish Craft for Kids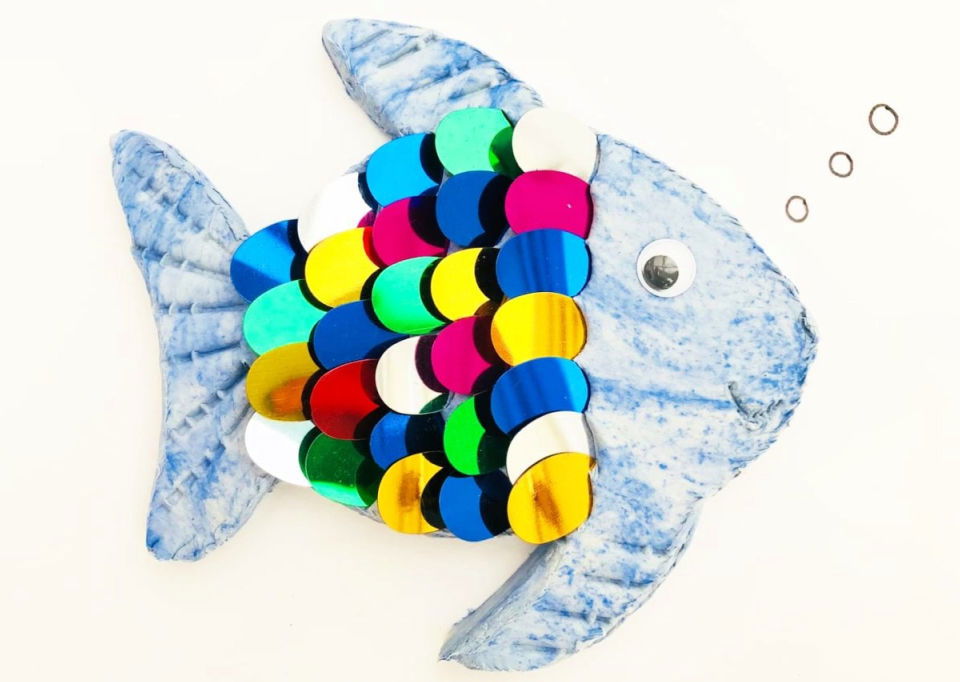 Let your little ones explore their inner artist and have fun with this quick rainbow fish project!
To start, you only need air-drying clay, acrylic paint, a rolling pin, large colorful sequins, and googly eyes. With the guidance of an adult, little kids can easily make their rainbow fish adorn their room or showcase with pride in just 20 minutes!
Tweens can also join the fun and experiment by adding designs or patterns. Get ready for a wonderful time full of creativity and laughter as you explore this simple yet charming craft together! masandpas
Conclusion:
In conclusion, there are many creative and fun ways to make Rainbow Fish crafts and art using printable templates. These crafts are inspired by the beloved children's book "The Rainbow Fish" by Marcus Pfister, which teaches valuable lessons about sharing and kindness.
With the help of free templates and easy-to-follow instructions, children can explore their creativity and create their own unique versions of the Rainbow Fish. These rainbow fish crafts are perfect for preschoolers and kindergarteners and can be used as a companion activity for a study or lesson plan on the book. So why not try making your own Rainbow Fish craft today?