Knit your own set of stylish coasters to add a touch of cozy warmth to any home. These knit coasters can add unique color and texture to your home decor. Find 22 free coaster knitting patterns for beginners! Whether you're a novice or an advanced knitter, you'll find knit coasters pattern to suit your skill level with this collection of coaster patterns. From citrus slices and strawberries to rainbows and sunflowers, these coaster knitting patterns will brighten up any space.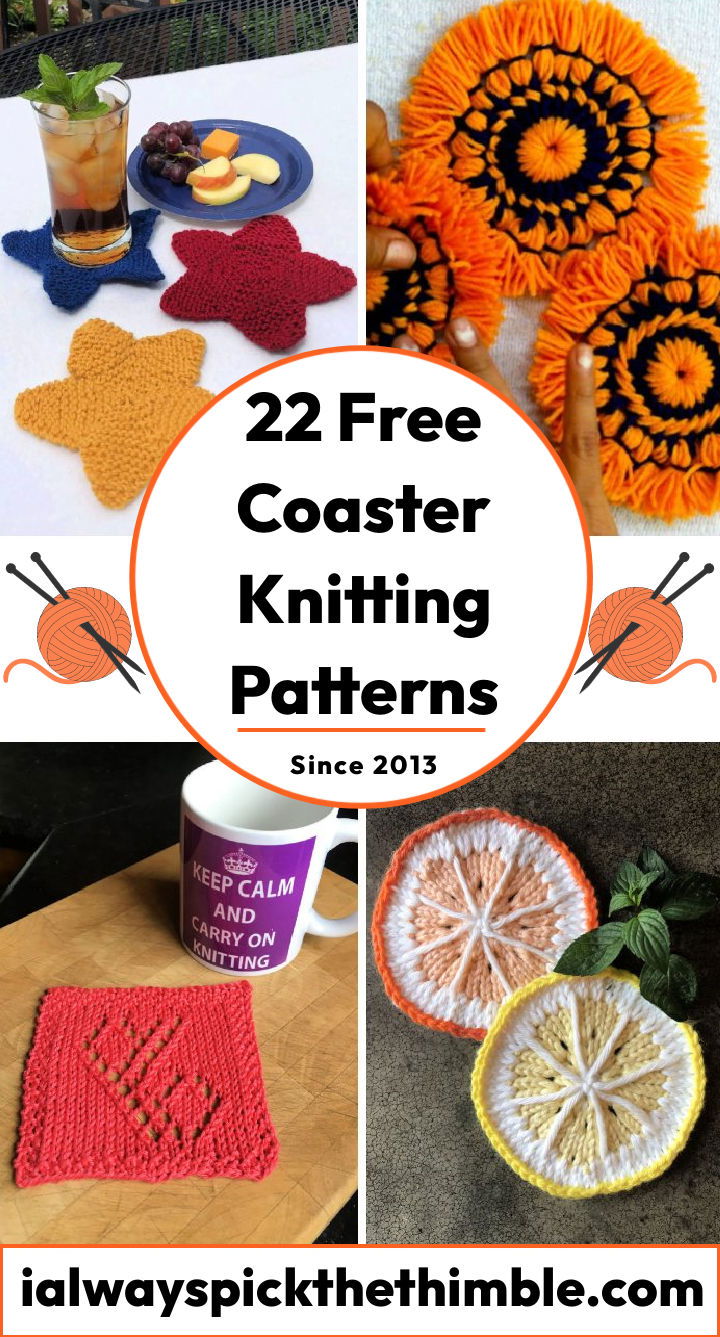 With step-by-step instructions and detailed visuals, even a beginner can easily learn how to knit a coaster. Plus, with so many different designs, you'll never run out of ideas for new coaster patterns. These coaster knitting patterns also make great gifts for friends and family, or a perfect way to add a handmade touch to your own home. So grab your knitting needles and favorite yarn and start your knit coasters pattern today!
1. Slice of Citrus Coaster Knitting Pattern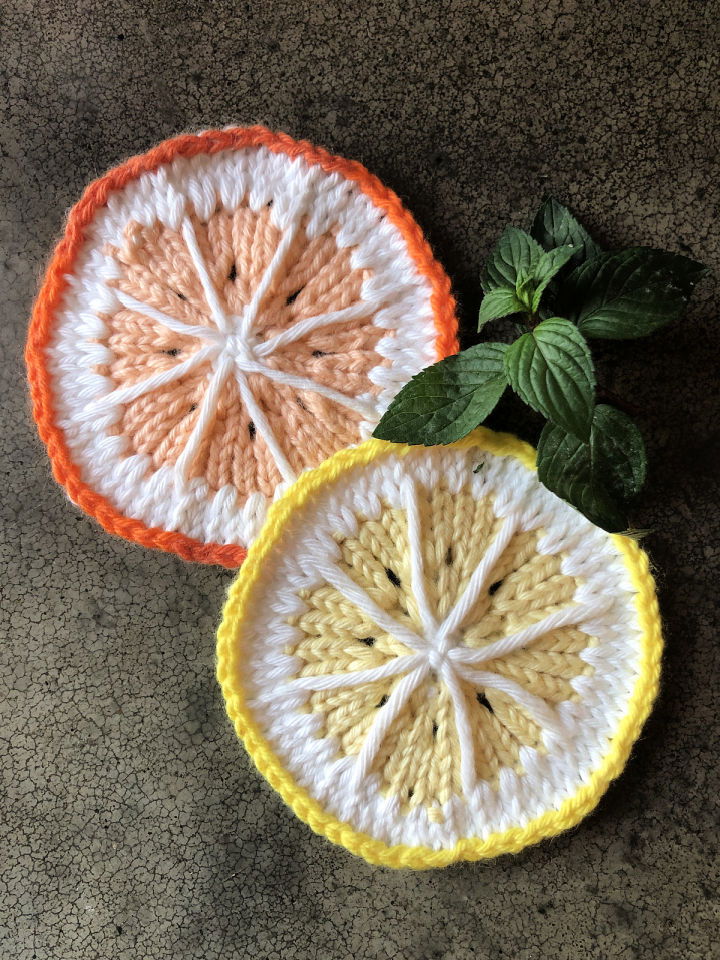 Create a unique piece of home decor with the slice of citrus coaster knitting pattern! This project is perfect for using up those small scraps of DK-weight yarn. With this fun and easy pattern, you can make coasters in any citrus fruit shape and color – from lemon to blood orange! Knit these coasters with US 5-3.75mm or US 7-4.5mm needles, let your creativity shine and create a one-of-a-kind set for yourself or as a gift for someone special. Get stitching today to add some zesty flair to your home! ravelry
2. Free Round Rug Coaster Knitting Pattern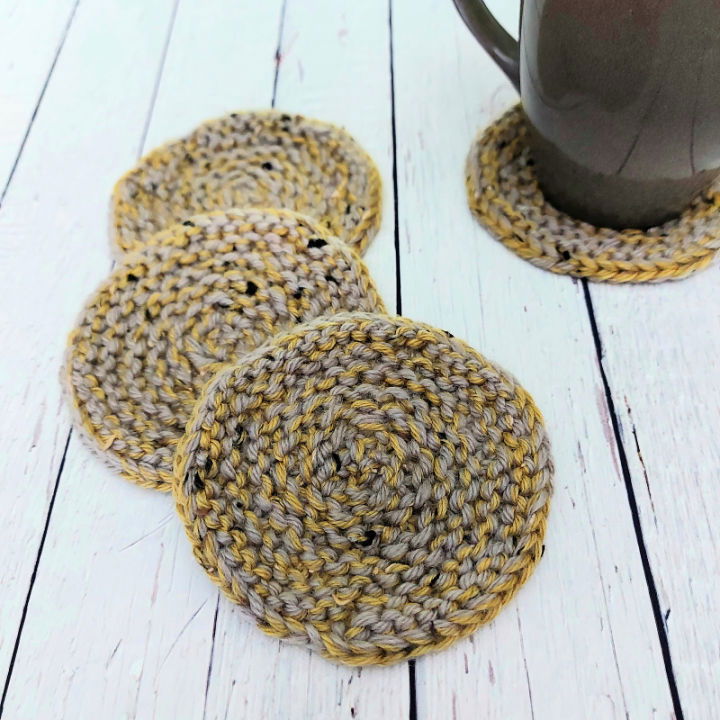 Looking for the perfect accessory to keep your furniture looking its best? Round rug coasters are here! These circle coasters make great last-minute gifts and can be knitted in 12 rounds. Crafted with wool, they absorb moisture quickly and easily, so you don't have to worry about spills.
Choose from bulky or worsted-weight yarn to match any decor style – modern farmhouse, hedge, bohemian, shabby chic or cottage core. Perfect for US 9 (5.5mm) double-point needles, these coasters require a gauge of 1″ = 4 stitches in garter stitch, making them fast and easy to create! handknithugs
3. Knitted Strawberry Coasters Pattern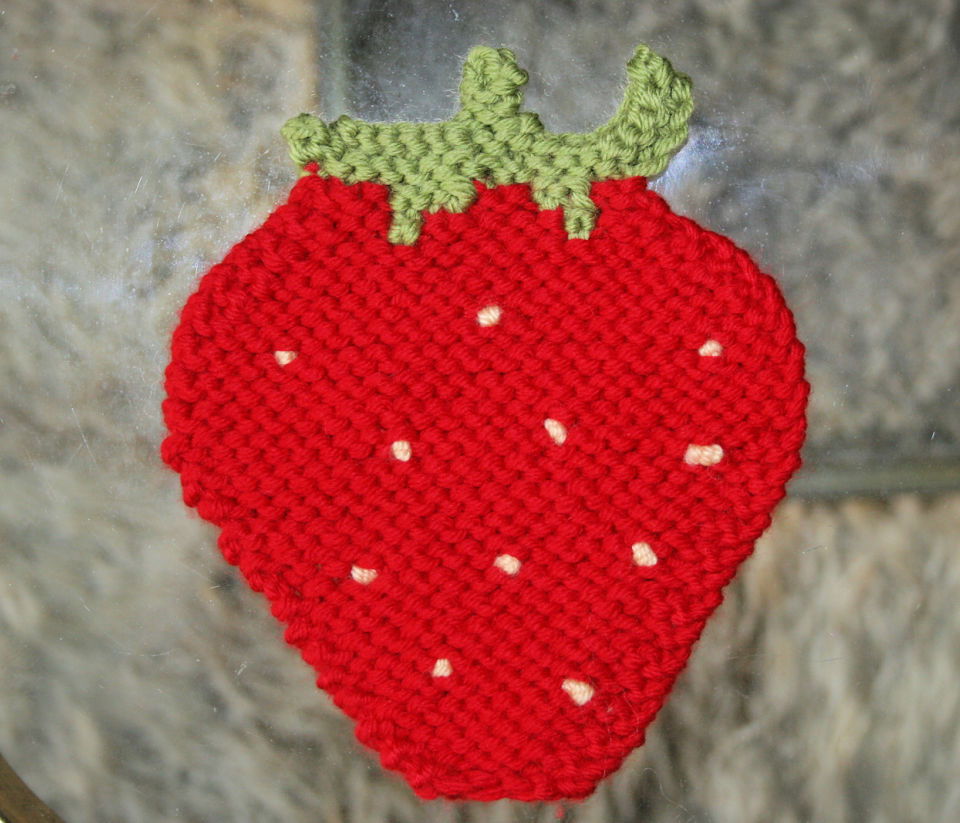 Add some whimsical flair to your home décor with this strawberry coaster! This DIY project is perfect for beginners, as it can be easily knitted quickly. You will need DK weight yarn and a US 6 – 4.0 mm needle for the 20 stitches and 39 rows of the garter stitch pattern. With just a few supplies and simple instructions, you'll have an adorable strawberry-shaped coaster that looks great on any table or countertop surface! Get the necessary supplies today to start knitting this fun coaster immediately. ravelry
4. Free Knitted Leaf Coaster Pattern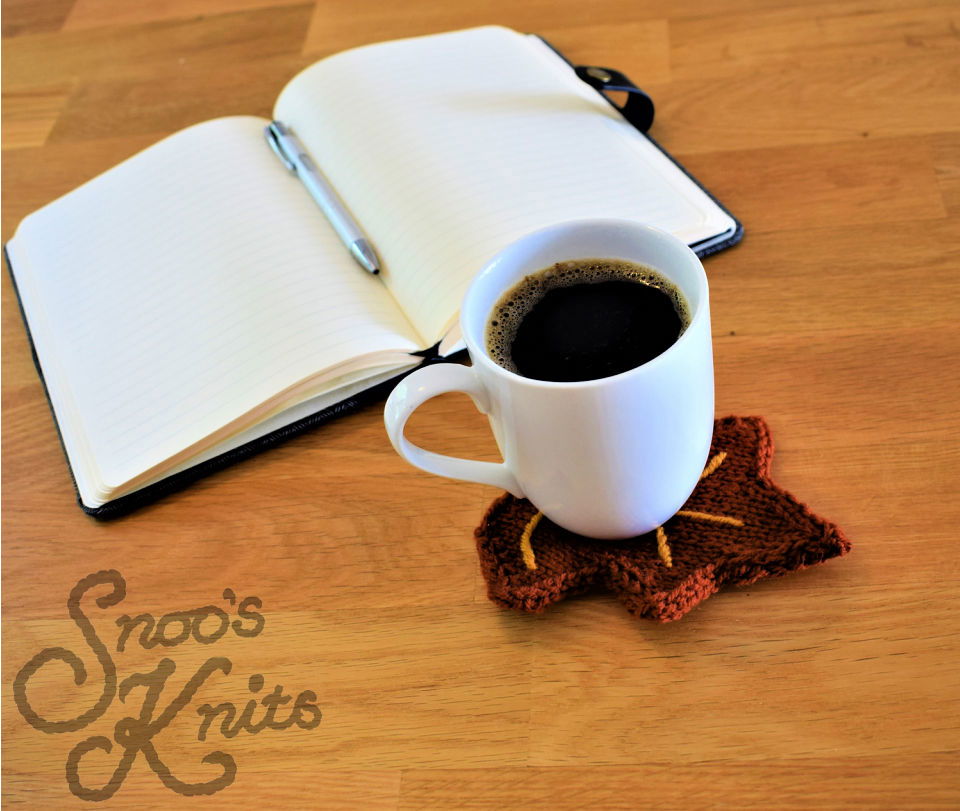 Bring a taste of nature to your home with this unique leaf coaster! This crochet pattern is easy to make and will give your cup of tea the perfect cozy touch. For spring and summer vibes, use light worsted yarn in shades of green – or any color you choose! The pattern calls for UK size 11 (3.0mm, US size 2.5) needles, creating an impressive 24 stitches and 32 rows = 10 cm gauge. Make these leaf-shaped coasters today to add style to your next tea break! ravelry
5.Knit Rainbow Coaster Pattern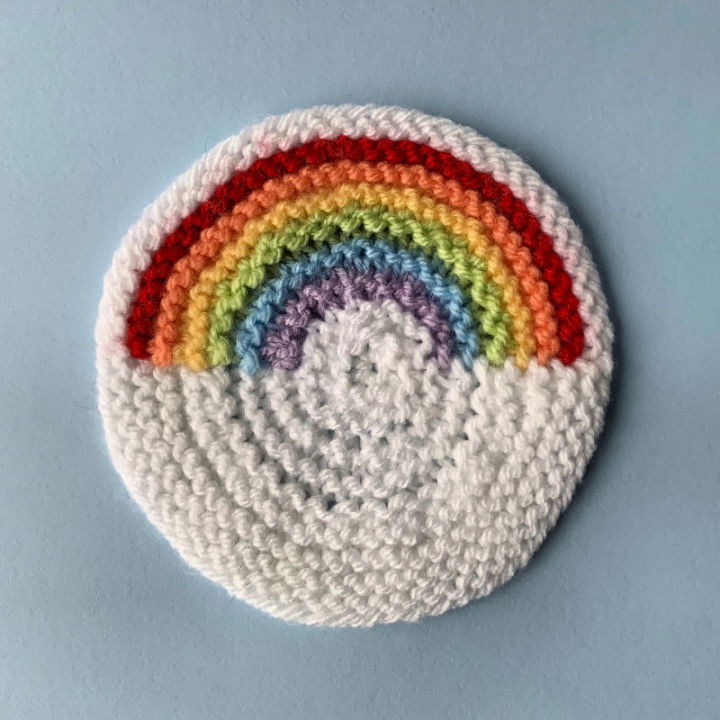 Knit a beautiful rainbow coaster for your morning coffee with this easy pattern! Using 3.5mm single-pointed knitting needles (US 4) and light worsted weight yarn, create a colorful garter stitch color-work design. With 24 stitches = 10 cm in garter gauge, you can make a bright and cheerful addition to your table setting. Grab your supplies and get started on your stunning rainbow coaster today! ravelry
6. Knitted Heritage Coaster – Free Pattern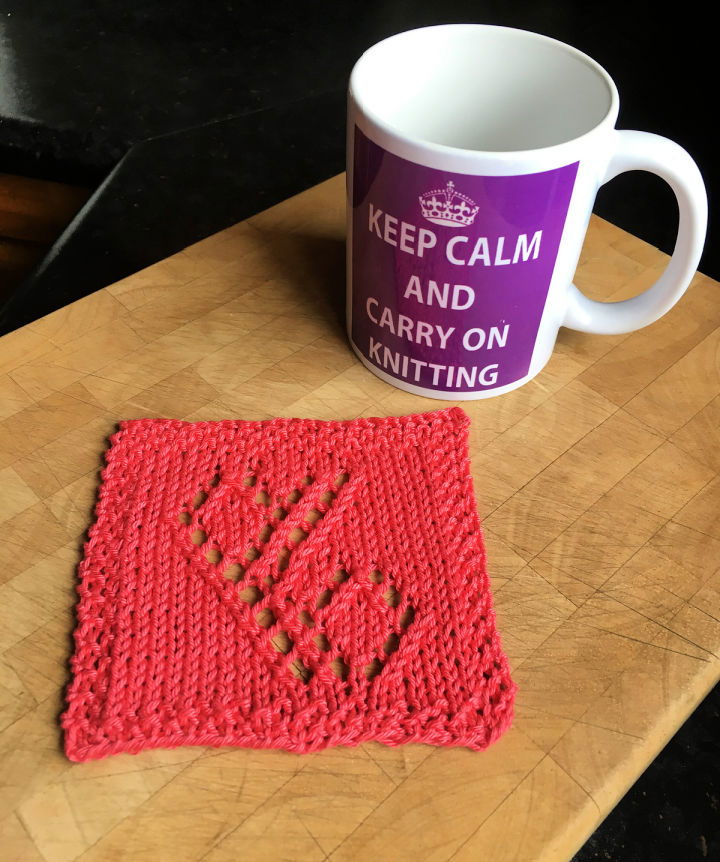 Warm up your coffee table with the heritage coaster! This beautiful, dainty lace coaster is crafted from DK weight yarn. The old shetland lace motif in its center gives the coaster a modern twist. Knitting this item is simple and quick, using US 6 – 4.0 mm needles. Give your living space an extra charm – add the heritage coaster today! ravelry
7. How to Knit a Color Coaster – Free Pattern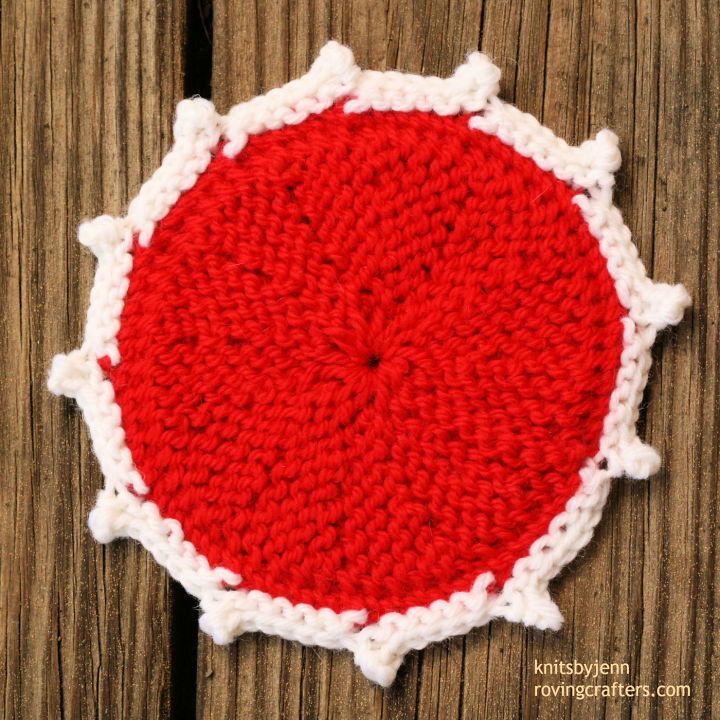 Let your home shine bright with a vibrant splash of color from these coasters! This easy-to-knit project is perfect for beginners and experienced knitters alike. With worsted weight yarn, US size 6 (4mm) needles and these clear pattern instructions, you can make the perfect 5-inch (13 cm) coasters without knit-whoopsies! Get your needles clicking today and add this unique touch of style to your home décor. rovingcrafters
8. Double Knitting Love Coaster Pattern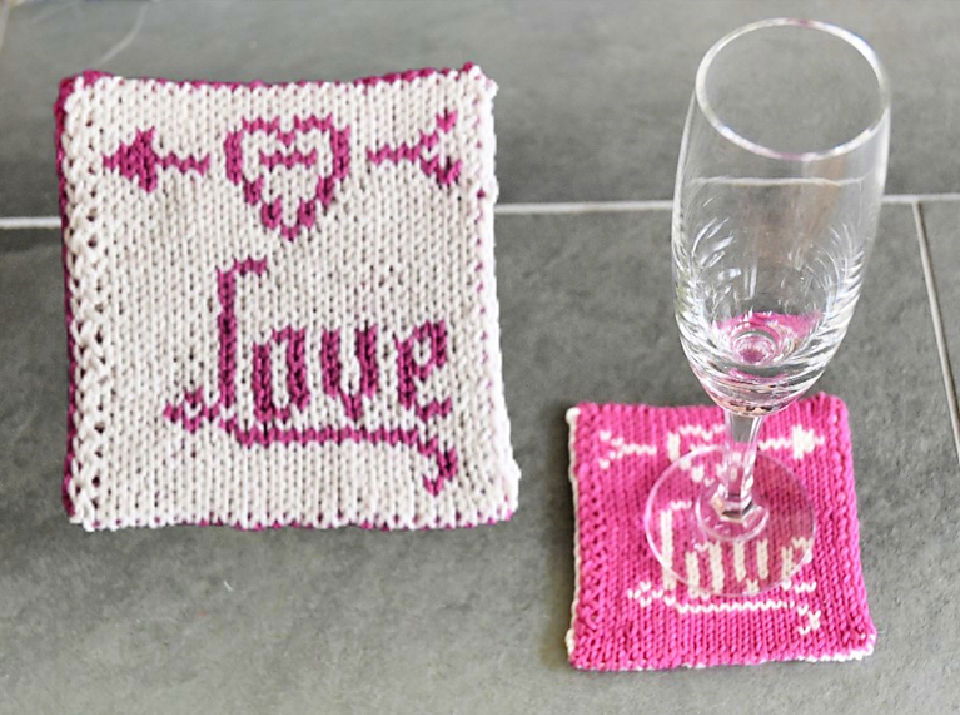 This double knitting pattern for a coaster "love" is perfect for the special people in your life! Make it out of schachenmayr Catania yarn to create two-colored, unique coasters that will make every cup of tea or coffee special. The gauge for this lovely creation when double knitted with both colors is 22 sts x 34 rows = 10 x 10 cm, and it can be accomplished quickly with just 2.5mm circular needles. Perfect as a gift to remind someone of your love! crazypatterns
9. Easy Knit Painted Lace Coaster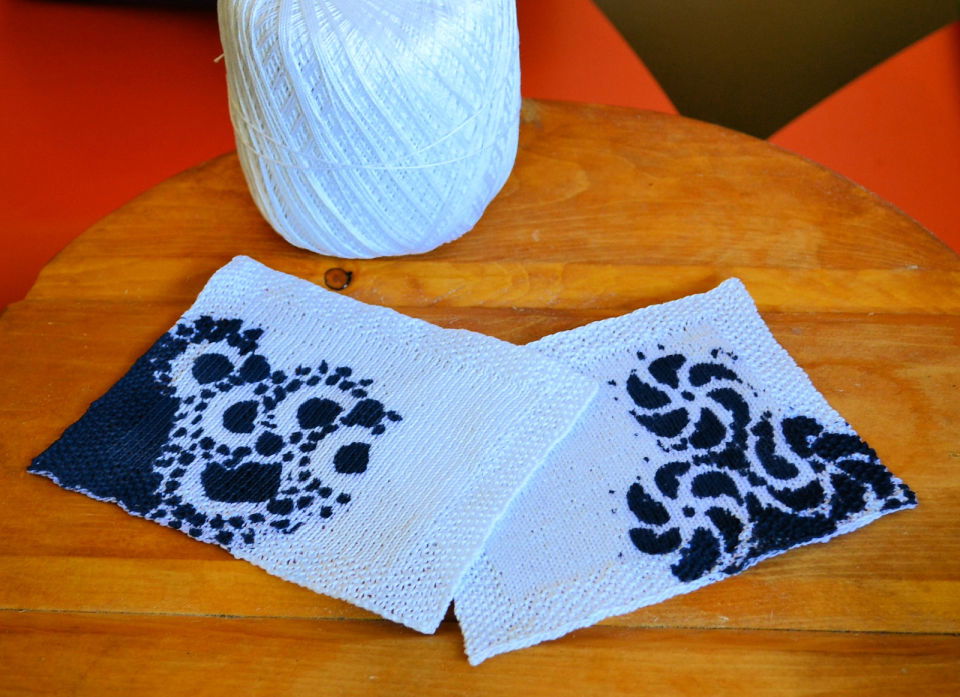 Capture the fancy of your home with crochet thread-painted lace coasters. Size 1.75 mm knitting needles will create the perfect look for these navy blue fabric ink coasters. With 19.25 stitches x 30.25 rows = 2 " x 2″ in stockinette stitch, you can rest assured your furniture won't get stained or damaged, as each coaster measures 5.5" Wide x 4.5" tall when finished! Today, give your home an eye-catching and artistic flair with these painted lace coasters from crochet thread! gridmammalcrafts
l10. Free Star Coasters Knitting Pattern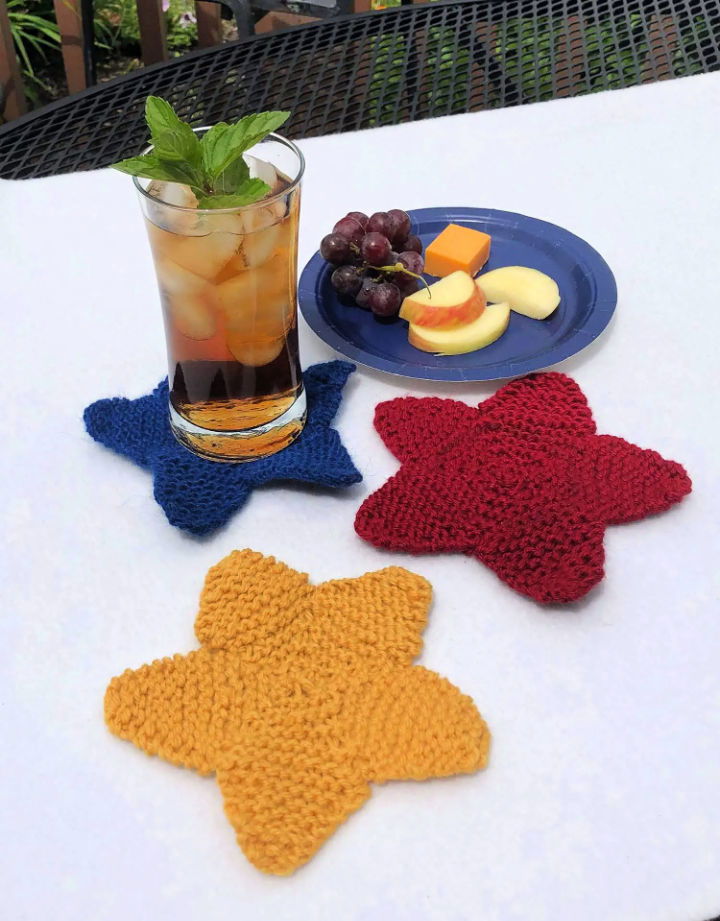 These twinkling star coasters will bring a sparkle of joy to your tablescape! Perfect for holiday decor, birthday parties, independence day or any time you need a smile. This project is perfect for beginners as it teaches new skills using US size 8 "5 mm" knitting needle and worsted weight yarn. The gauge of 20 sts and 18 rows makes 4 inches [10 cm] in garter stitch, giving finished dimensions of approximately 6 inches [15 cm] tip-to-tip. Get ready to bring some cheer into your home with these adorable star-shaped coasters! edieeckman
11. How to Knit a Vinyl Disc Coaster – Free Pattern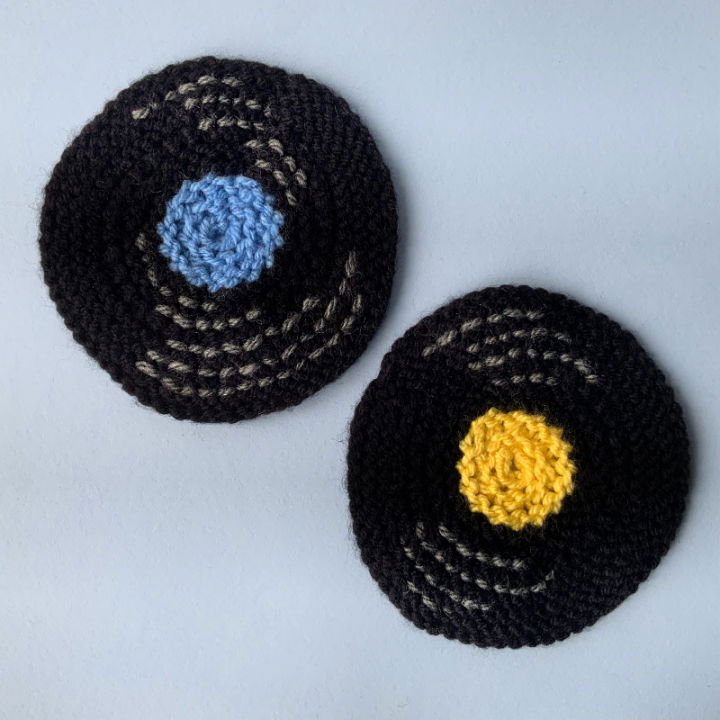 Discover a new way to revamp your home decor with the vinyl disc coaster! Perfect for music lovers, this coaster is knitted in a garter stitch with grey highlights embroidered after knitting. With 3.5mm (US 4) single-pointed knitting needles and light worsted weight yarn, you can easily achieve 24 stitches per 10 cm gauge. Creating the perfect combination of practicality and style, this vinyl disc coaster will be an eye-catching addition to any coffee table! ravelry
12. Knitted Cabinesque Coasters Pattern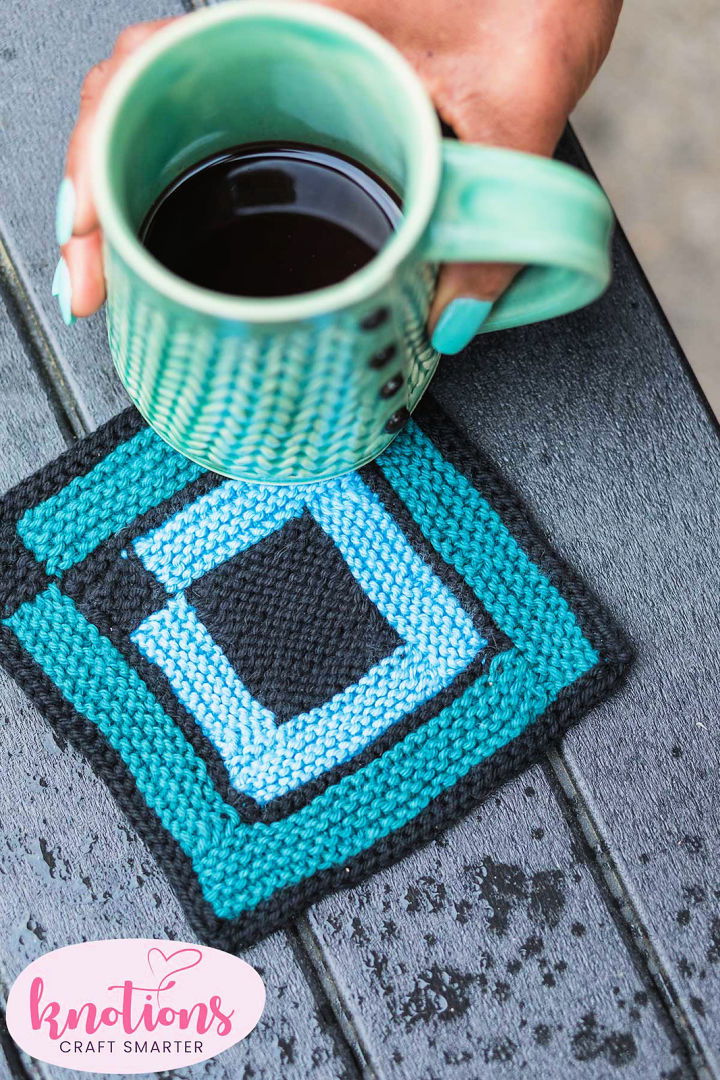 Experience the thrill of a lifetime with a cabinesque coaster! This coaster is made with knit picks shine sport yarn and sized with US 2 (2.75mm) needles. With a gauge of 20 sts and 26 rows per 4″ (10cm) in stockinette stitch and 20 sts and 40 rows in garter st after blocking, this coaster measures 5″ x 12 cm when finished. Perfect for any knitting or crocheting project, try out the cabinesque coaster today! knotions
13. How to Knit a Fruit Pie Coaster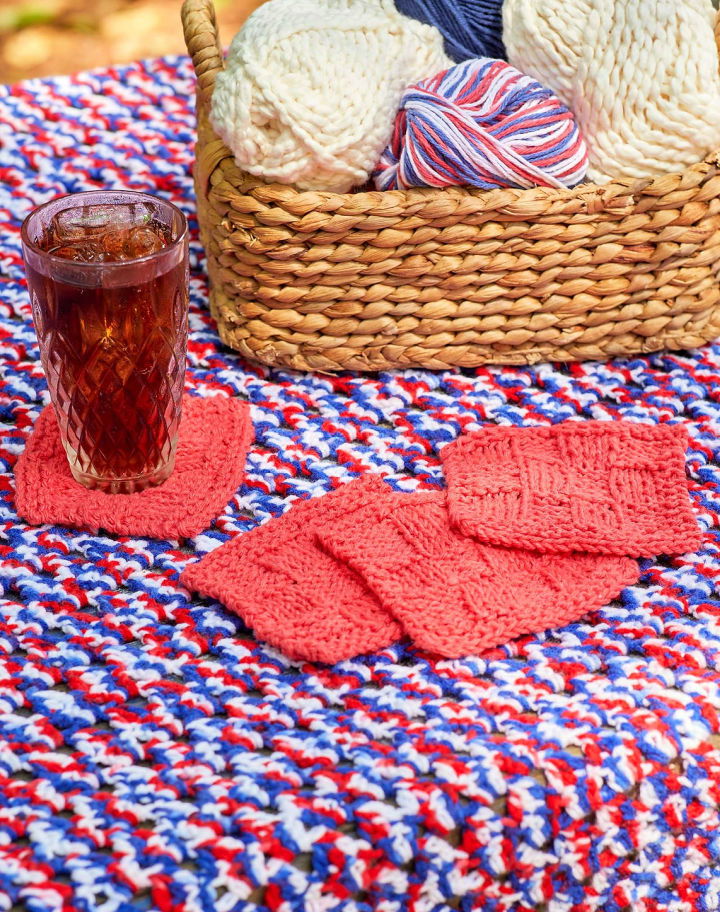 Fruit pie coasters are the perfect way to bring fun into your home. These unique coasters are worked flat from end to end with a simple plain pattern, using aran weight yarn and US 7-4.5mm needles for a gauge of 18 stitches and 22 rows = 10 cm in garter st. Brighten your tablescape with these playful coasters that protect surfaces from hot drinks and make clean-up easy! Add some extra color to any room in your house by making it now a fruit pie coaster. ravelry
14. Free Knit Striped Felt Coaster Pattern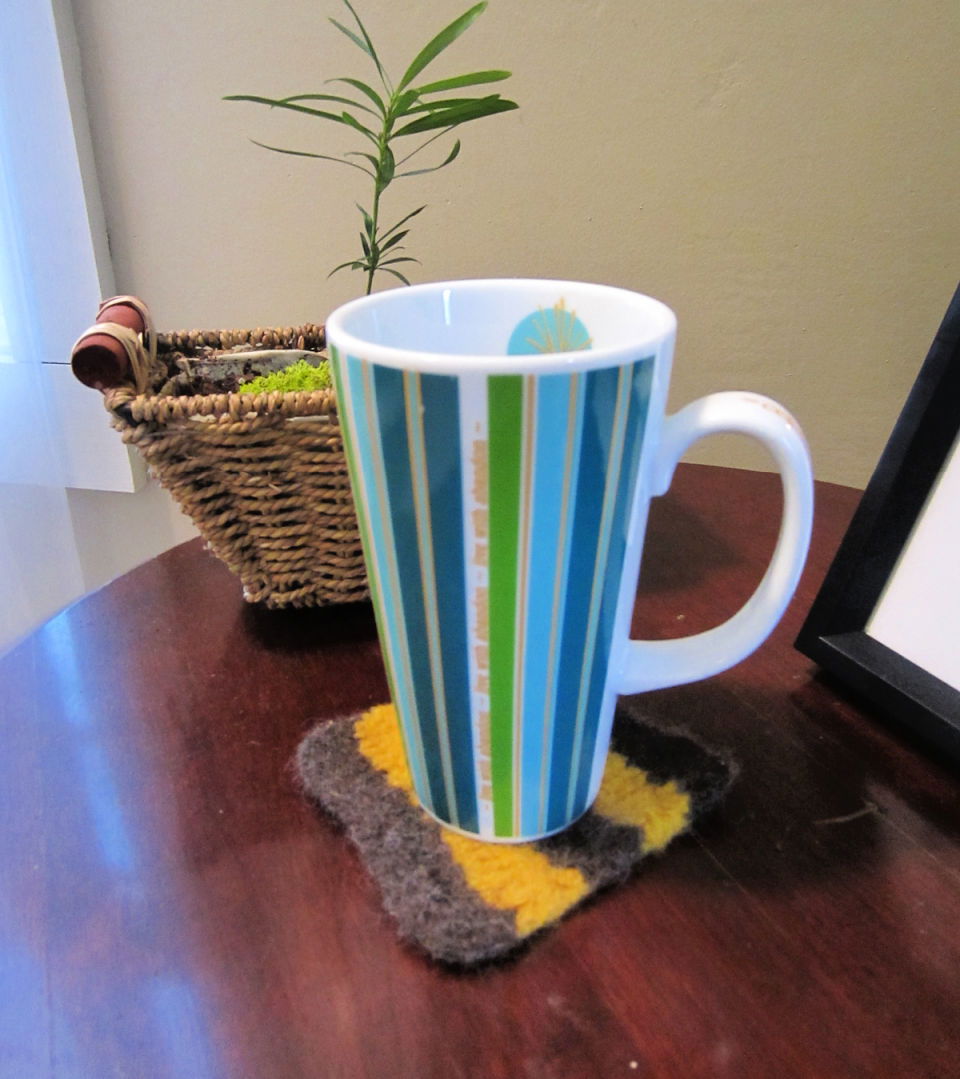 A random coaster is a perfect way to spruce up any living space on a budget. Using your used yarn, you can create exciting custom coasters that add character and charm to your home. Whether you want something more refined or wild and colorful, a random coaster makes it easy for anyone to design beautiful and unique pieces in no time! With these money-saving DIY tips, let's start making random coasters today! yarnfusion
15. Easy Leaf Coaster Knitting Pattern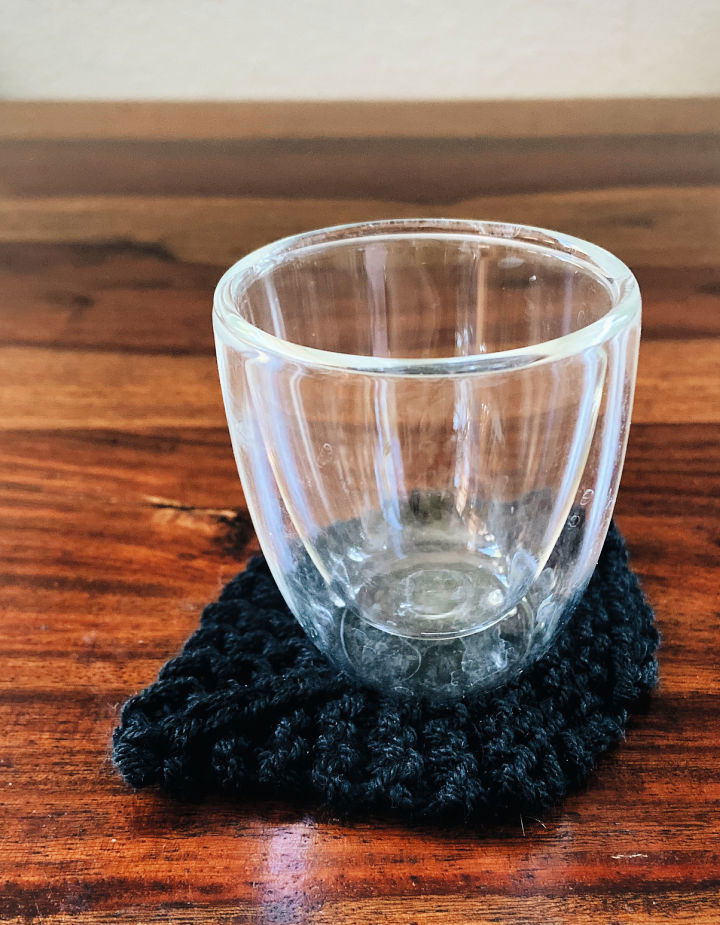 The easy leaf coaster knitting pattern is perfect for simple yet meaningful last-minute gifts. An ideal project for anyone, this pattern is simple enough, making it a great choice for beginner knitters. All you need to start knitting are US 10/6 mm needles and fingering-weight yarn! These coasters measure 4 inches in diameter when done. Get started today, and make an adorable coaster with an easy leaf coaster knitting pattern! ariannafrasca
16. Lacy Knit Coaster Pattern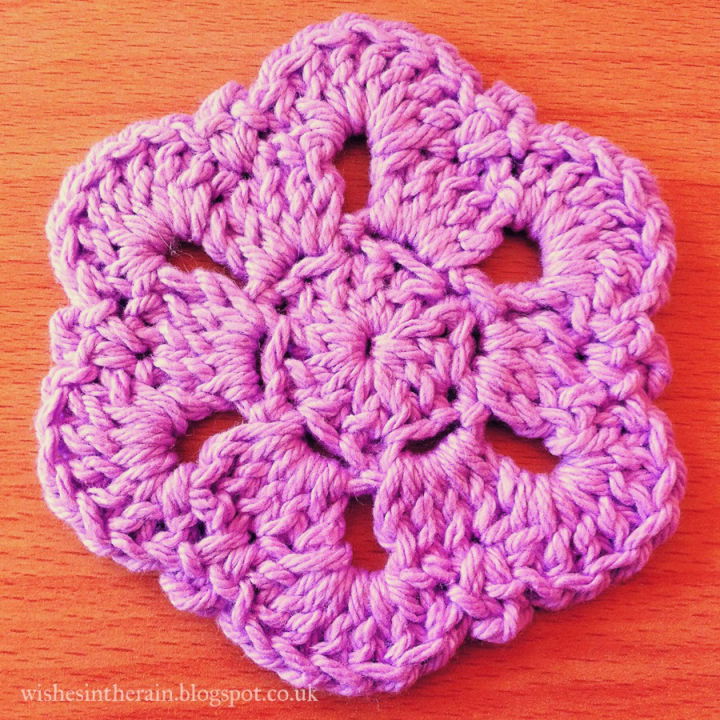 Make your surfaces cozy with these beautiful lacy coasters – an easy crochet pattern that adds a touch of elegance. Perfect for any home, these coasters measure 11cm across and are made with worsted-weight yarn and a 5mm (US size H) hook. All you need to do is crochet in the back loops, and you'll have charming additions to any plain surface! Download this free crochet pattern and start making your cozy coasters today. wishesintherain
17. How to Knit a Coaster for Beginners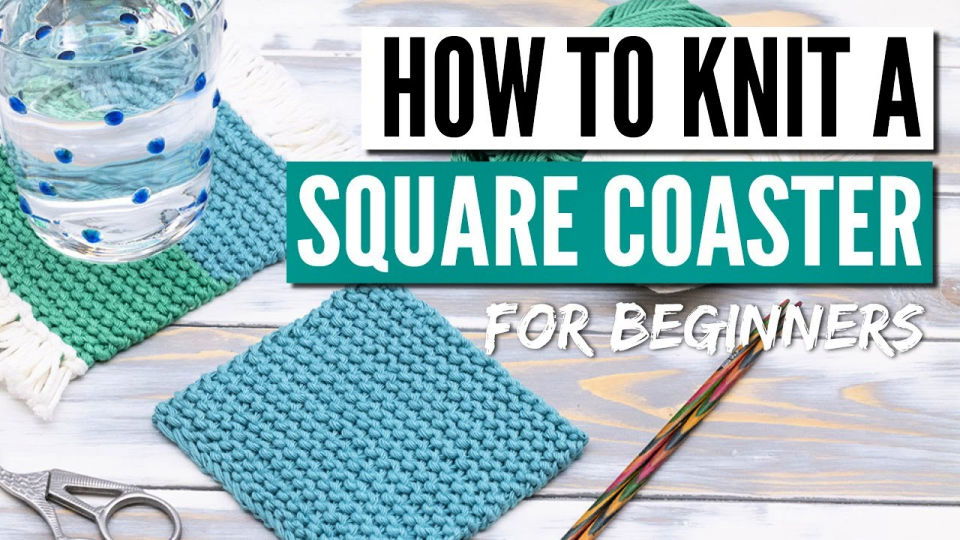 Start making your square coaster with this easy-to-follow step-by-step tutorial! Perfect for beginners, you will need some cotton yarn and needles size 4.00mm or US size 6. Start knitting the coaster following the instructions, and depending on what you want to create, add fringes with a crochet hook and scrap yarn at the end – transforming it into a mug rug in no time! So why not make one today?
18. Simple Knit Coaster Tutorial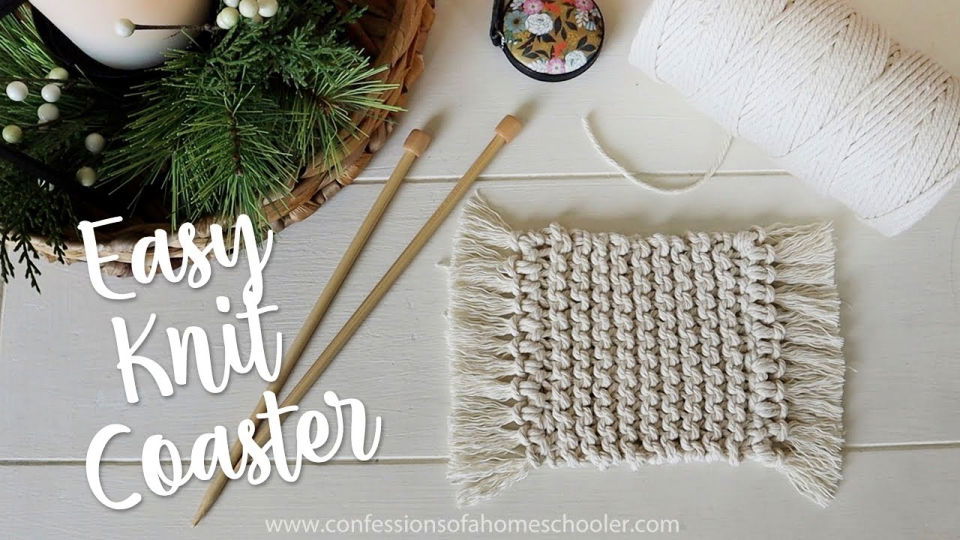 Learn the basics of knitting with this easy, beginner-friendly tutorial. Create beautiful coasters for your home that are both practical and decorative. This pattern is perfect for absolute beginners – no prior knowledge is necessary! You only need 3mm macrame cording and US 10/6mm bamboo knitting needles. Add a fringed edge to these handmade pieces for extra decor – an effortless project that adds a personal touch to any space!
19. Loom Knitting Round Coaster for Dining Table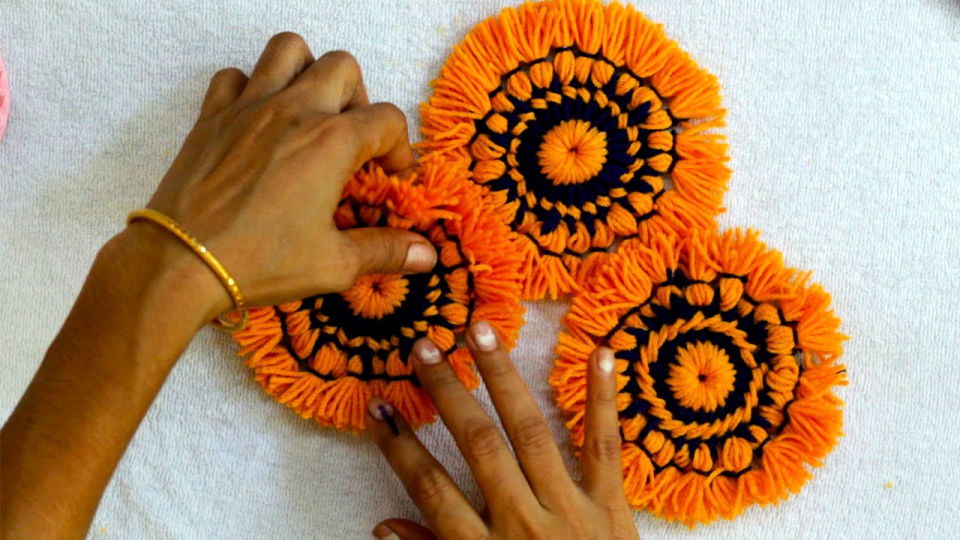 Learn how to create lovely table coasters using a loom knitting technique. This creative DIY project only requires a few materials and is perfect for those who love knitting. Using a round dining table coaster pattern, you can easily create beautiful and functional coasters that add style to your home decor. Follow the easy-to-follow instructions, and you'll have your very own custom-made coasters in no time. Watch the video tutorial now and get started on this fun and unique project today!
20. Easy Knit Coaster With Written Instructions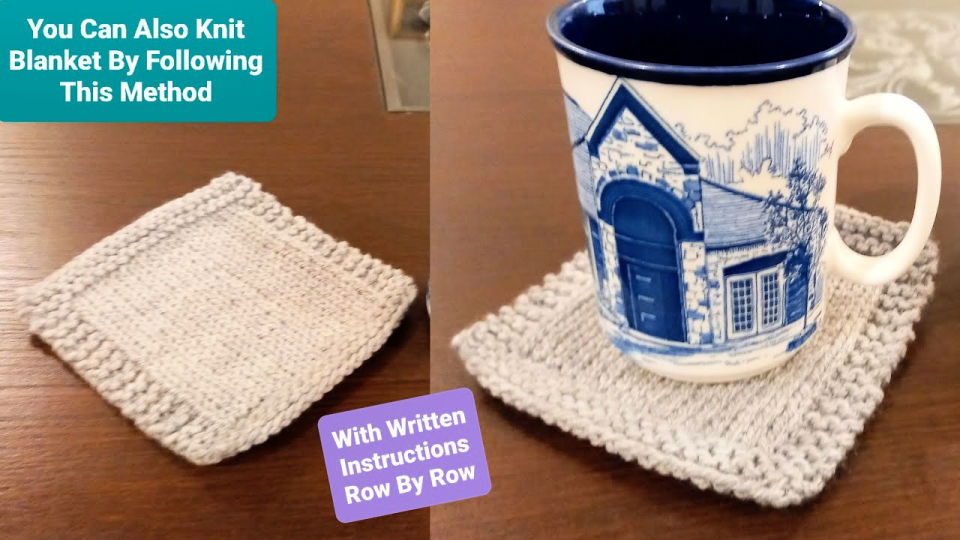 Knit your glass cover with this easy-to-follow tutorial and protect your things in style! With just 5mm needles and 3ply yarn, you'll have a beautiful cup mate glass cover perfect for dinner parties. The written instructions provide detailed guidance to help you get the look of a professional knitter. Add fun colors or patterns, then display them proudly on your countertop as a unique home decor piece. Get creative and make something special with home decor knitting today! youtube
21. Easy to Knit Coaster Pattern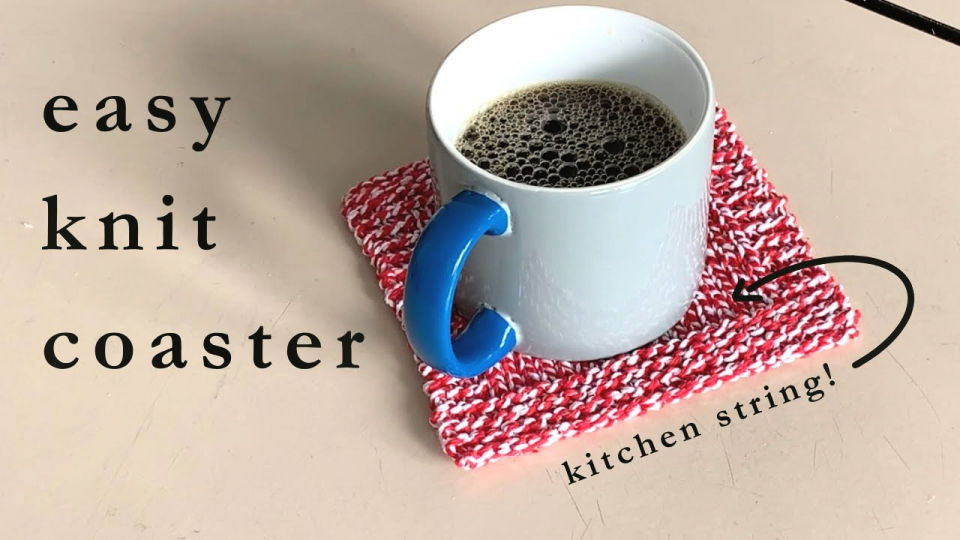 This easy and beginner-friendly knit coaster pattern is made of kitchen string, also known as butchers' or bakers' twine, and follows the same basic steps you need to make a stockinette stitch gauge swatch. Perfect for making your unique coasters! It's an ideal way to learn a new skill that will come in handy on any knitting journey – plus, it looks great too! Try this easy knit coaster pattern today for a fun and creative way to spruce up your home décor.
22. Loom Knitted Sunflower Coasters Pattern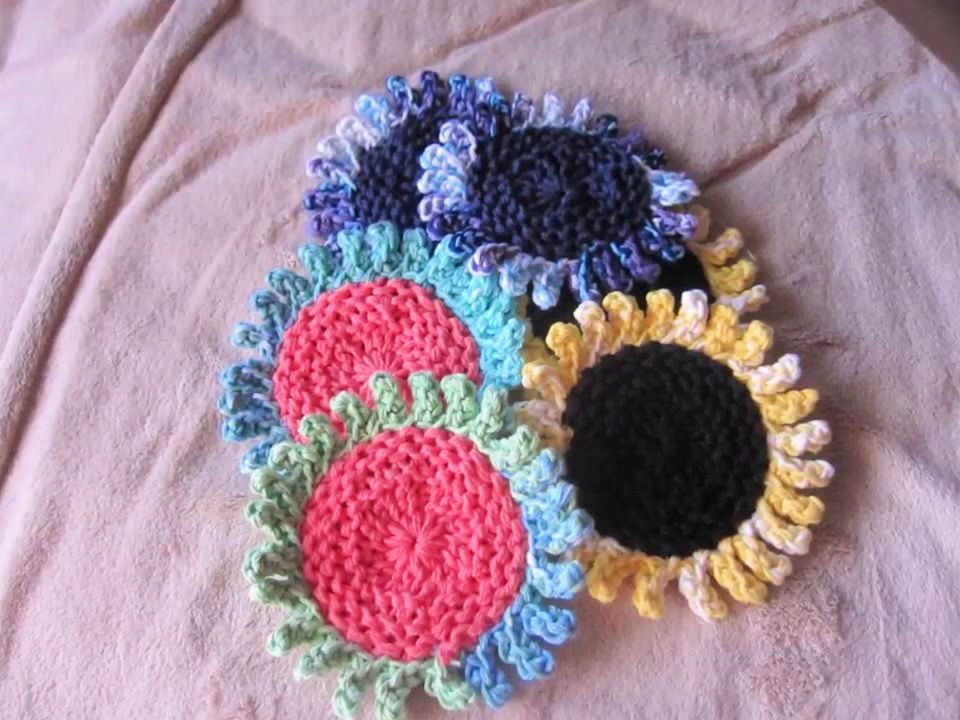 Add a splash of color to your home with these charming, loom-knitted sunflower coasters! Each coaster is handcrafted using bright, vivid colors that will make any room pop. These eye-catching coasters can be made quickly and easily in the comfort of your home for a unique piece that will bring some extra sunshine into your life. Make them as gifts or keep them yourself – you won't regret it either!
Conclusion
In conclusion, these 22 free coaster knitting patterns are perfect for beginners looking to improve their knitting skills or experienced knitters seeking new and exciting designs. There's a knitting coaster pattern for everyone, from fruity motifs like strawberries and fruit pies to colorful and intricate designs such as rainbow coasters and the cabinesque pattern. Additionally, the knitting coaster patterns range from easy to complex, so beginners and advanced knitters can find a project to suit their skill level. So gather your yarn and needles and create stunning and useful coasters for your home with these free knitting patterns.