Discover these 25 fun and easy jellyfish craft ideas for kids of all ages. Download the printable template and engage toddlers, preschoolers, and kindergarteners in creative play. These jellyfish craft ideas are a great way to spark your kids' creativity and imagination, and with our clear step-by-step instructions, they'll have a blast creating their own jellyfish arts and crafts.
We've included free printable jellyfish templates to help you achieve the perfect craft result. Our templates range from simple cut-outs to complete jellyfish crafts, and some of our ideas even use recycled materials like old CDs and ribbons, making them not only fun but also eco-friendly.
These jellyfish craft activities are perfect for screen-free time and are suitable for kids of all ages, from toddlers to kindergarteners. So why wait? Let's get crafting and immerse your children in the educational and enjoyable world of jellyfish crafts today!
1. Paper Plate Jellyfish Craft for Kids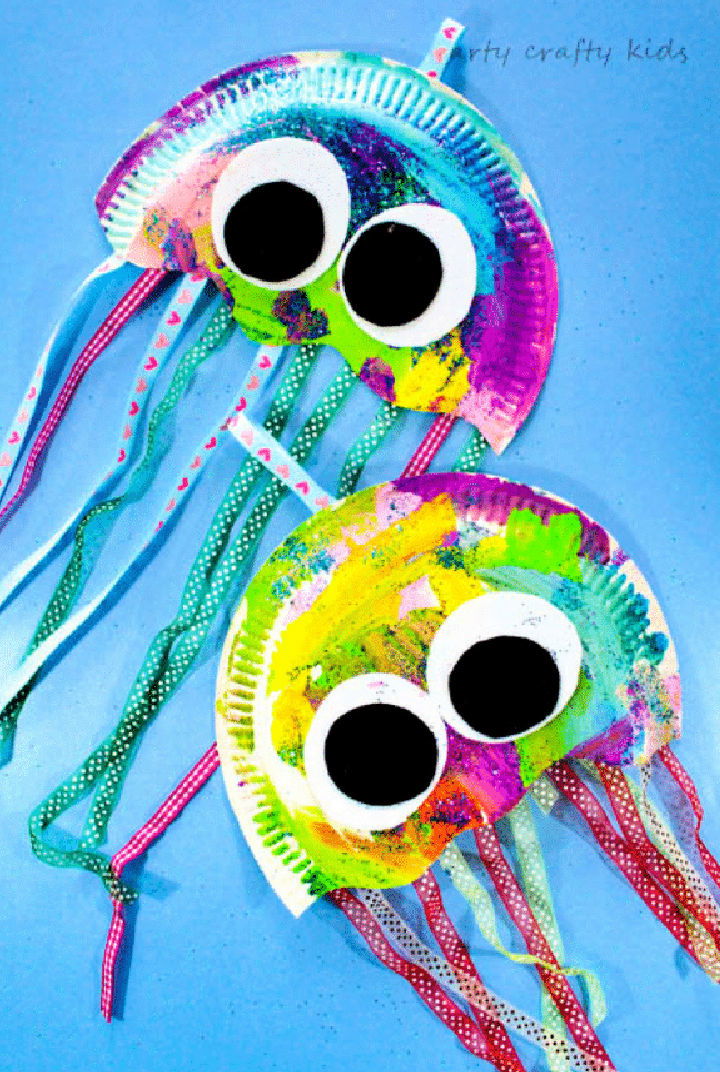 This paper plate jellyfish craft is a great activity for kids to learn and have fun! Your child can make an amazing jellyfish craft with washable, kid-friendly paint, glitter shaker pots, ribbon, felt, and pva glue.
Your little one will love the creative play in this fun activity that teaches valuable fine motor skills like cutting practice – plus, it looks fantastic when finished!
Get ready for your kids to be amazed by their homemade ocean masterpieces. artycraftykids
2. How to Make a Colorful Paper Bowl Jellyfish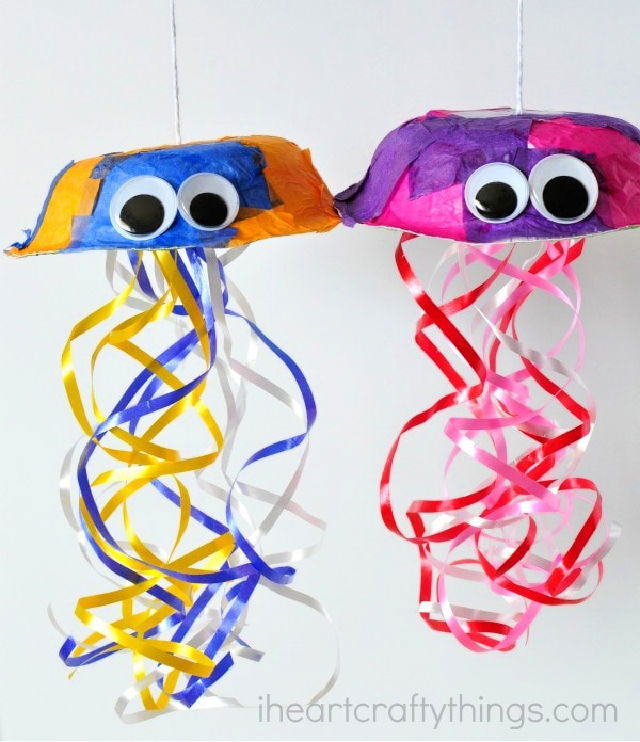 Make this colorful jellyfish craft with your kids and explore their creative side! It's easy, mess-free, and requires no paint.
You only need a small paper bowl, tissue paper, a self-adhesive curly gift bow, googly eyes, white string, and school glue. Let your children marvel at the beauty of these jellyfish as they make them!
Ideal for summer fun activities or to add an extra touch of color to any room in the house! Get inspired by the mesmerizing underwater creatures – let your kids have fun crafting their colorful jellyfish today! iheartcraftythings
3. DIY Paper Jellyfish With Free Printable Templates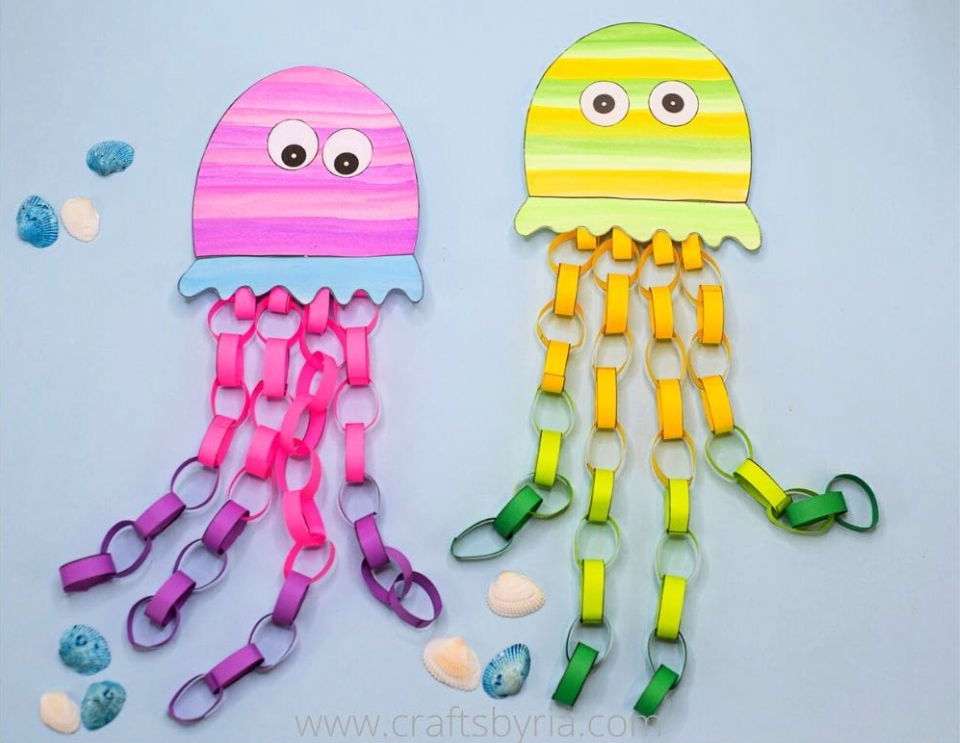 Keep your kids entertained with this easy and fun paper jellyfish craft! Perfect for preschoolers, kindergarteners, and school-age children alike.
The jellyfish's colorful tentacles are made of paper chains that little ones will love to wiggle around – or make a loop using yarn to hang them from the ceiling! All you need is a jellyfish printable, a4 cardstock, construction papers in various colors, watercolors/paints (optional), glue stick, yarn & clear tape.
So what are you waiting for? Gather your materials and get crafting today! craftsbyria
4. Making a Cardboard Tube Jellyfish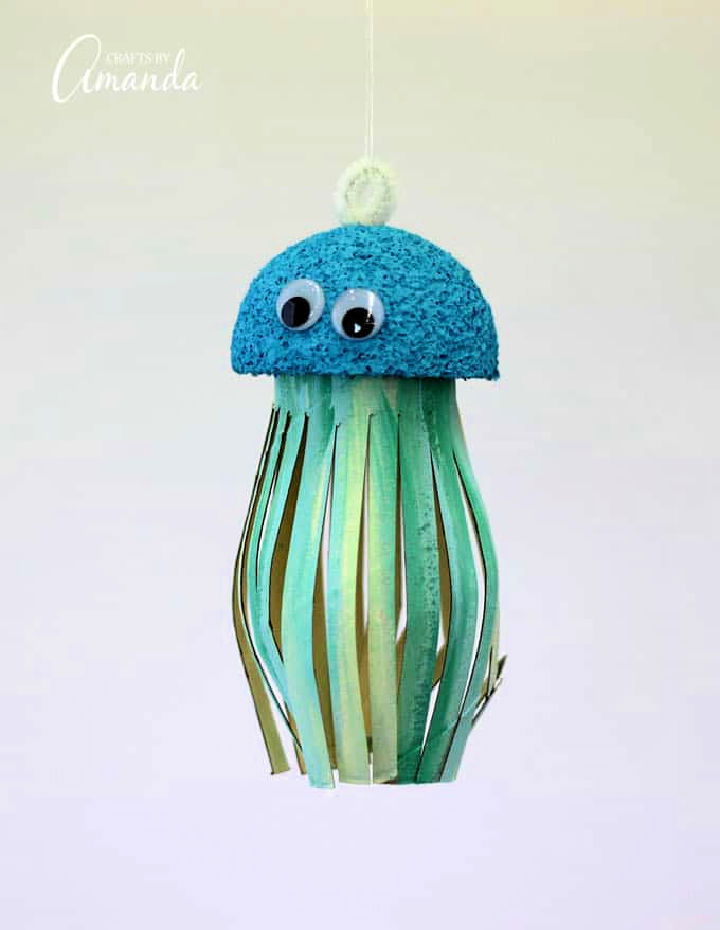 Make your unique ocean-themed craft with this easy cardboard tube jellyfish! This kid's activity requires only a few materials, including a styrofoam ball, cardboard tube, acrylic paint in light blue, ivory/cream, light green, and two googly eyes. Pipe cleaner and craft glue complete the fun project.
Turn ordinary items into amazing works of art that will bring smiles all summer! With just a little creativity, you can make these cute jellies to decorate any room or give them as gifts.
Remember to take pictures of your masterpiece when it's finished! Make memories with this simple yet adorable cardboard tube jellyfish today. craftsbyamanda
5. Easy Paper Plate Jellyfish Craft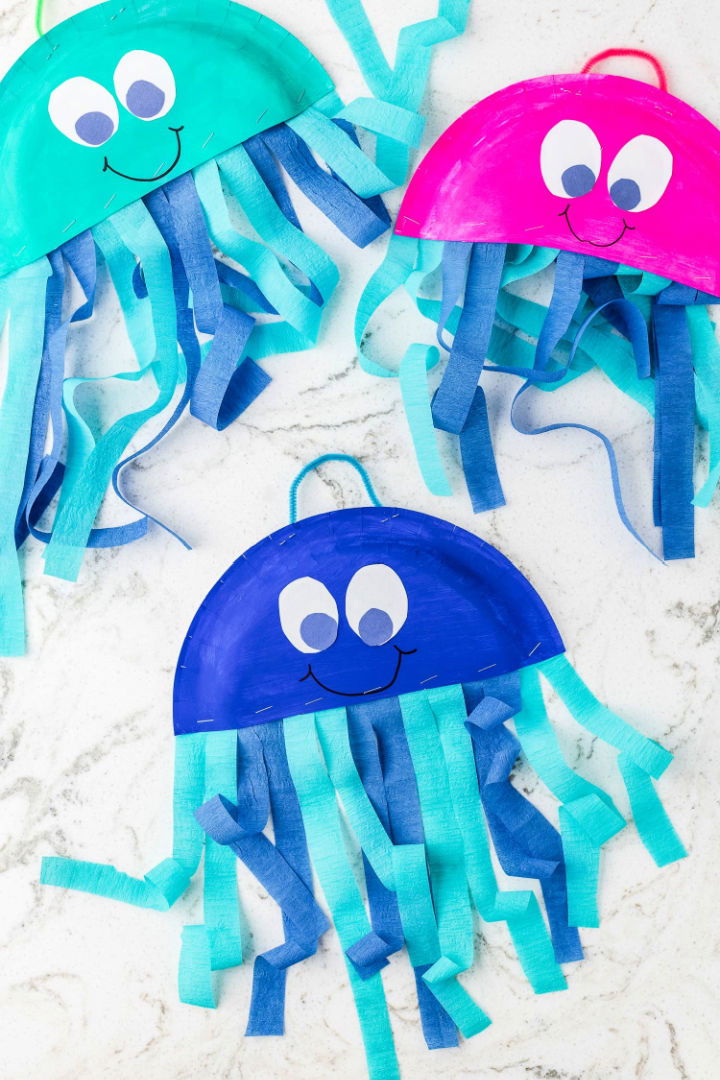 Let the waves of imagination take you away, and explore a new world with this paper plate jellyfish craft! Kids will love crafting these bright and cute jellyfish from paper plates, craft paint, construction paper, marker or pencil, glue stick, crepe paper streamers, and pipe cleaners.
It's an easy kid's craft requiring only craft supplies you probably already have in your house – making it perfect for any occasion! Let the little ones express their creativity while makingsomething that will brighten up your home when they hang or display them.
Get ready to make a splash with this fun paper plate jellyfish craft! kidsactivityzone
6. Paper Plate Jellyfish Arts and Crafts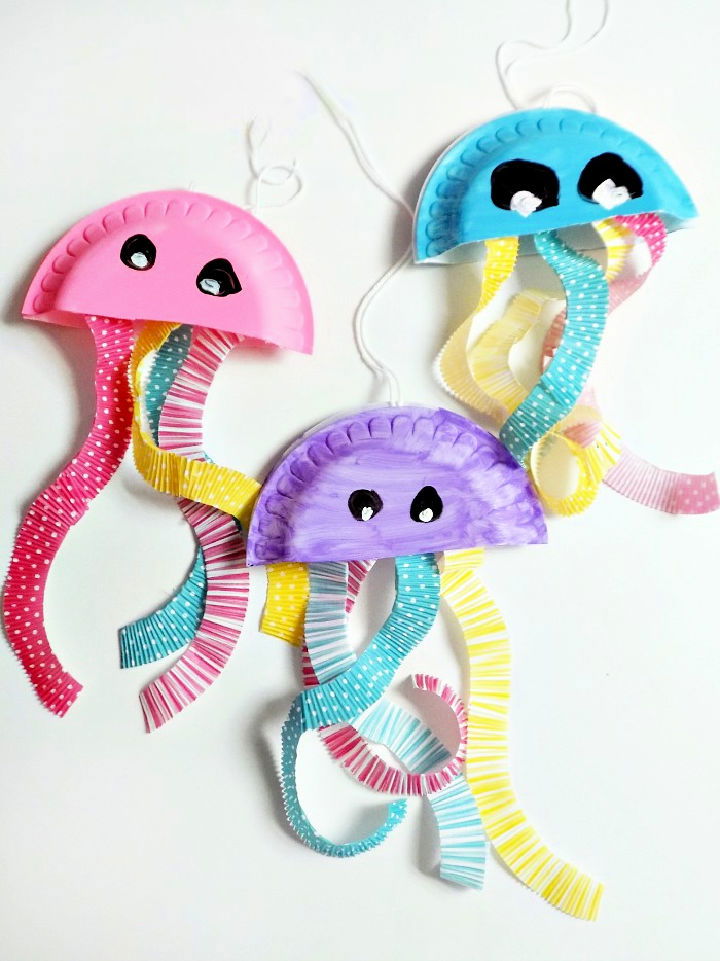 Set sail on an exciting journey and discover the wonders of a paper plate jellyfish craft! You only need some paper plates, cupcake liners, assorted acrylic craft paints, a piece of yarn or string, and more.
It's an easy and creative way to keep the little ones busy on hot summer afternoons. Get creative with craft glue, clear tape, and paint colors for maximum enjoyment. Let their imaginations soar on their very own jellyfish masterpiece.
Remember to take a picture of your masterpiece when it's done! Make lasting memories today with this simple yet enjoyable activity. aboutamom
7. Easy to Make a Scissor Skills Jellyfish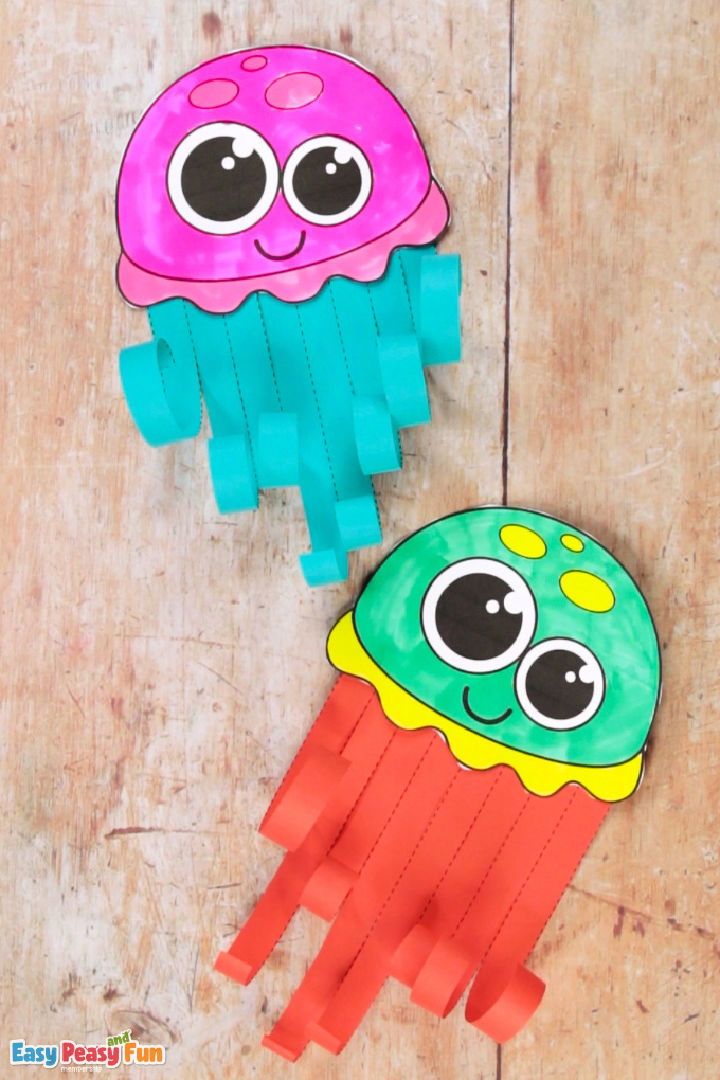 Bring some fun into your kids' summer with this creative and colorful scissor-skills jellyfish craft! It's perfect for rainy days, summer camps, or classroom activities.
Get a printable template and white construction paper to color in, or use already colored paper, scissors, and glue – everything you need to make unique jellyfish figures!
This craft helps kids improve their scissors skills while having tons of fun at the same time. easypeasyandfun
8. Free Printable Paper Jellyfish Templates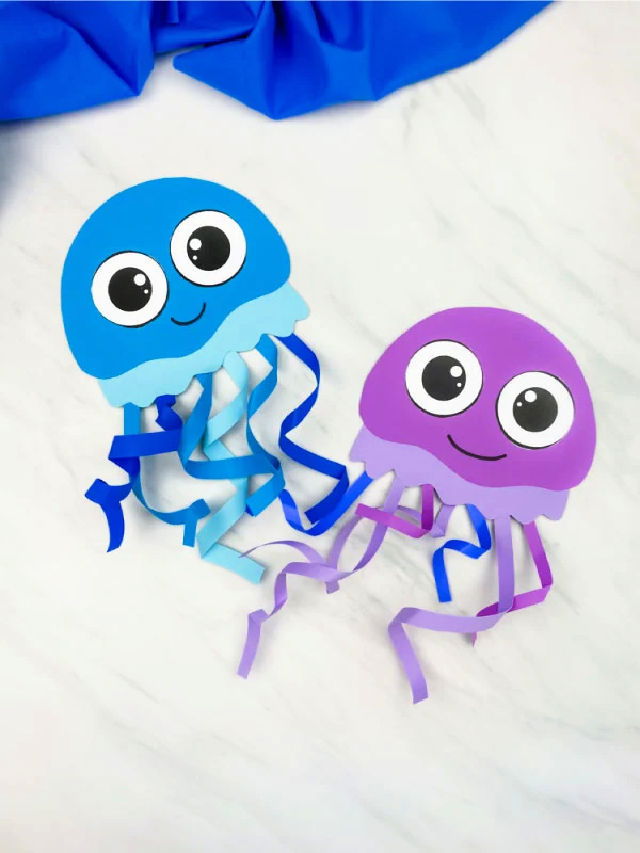 Dive into the deep blue sea and bring home a colorful jellyfish friend! Perfect for preschoolers, pre-k, and kindergarten children, paper jellyfish fun activity requires a few supplies: colored cardstock or construction paper, white cardstock, black marker, and a glue stick.
Download the free template and watch your little ones make beautiful jellyfish in no time! Start today's crafting session and help them learn more about these amazing underwater creatures. simpleeverydaymom
9. Upcycled CD and Ribbon Jellyfish Craft for Kids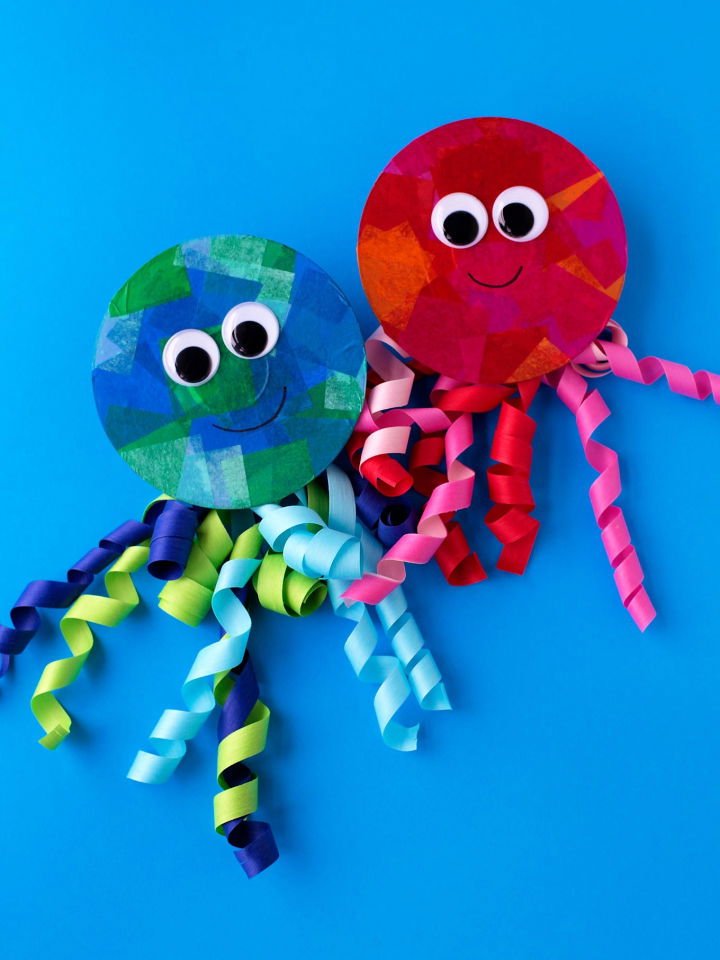 Kids of all ages will love making this upcycled cd and ribbon jellyfish craft. It's the perfect boredom buster for summer!
Get creative with old CDs, layers of tissue paper, ribbon, glue, wiggly eyes, and a black permanent marker.
Use curly ribbon to finish off your jellyfish, and it's ready for display or use in a preschool ocean unit or beach trip. This easy craft is fun for everyone – try it today! firefliesandmudpies
10. Make Your Own Paper Bag Jellyfish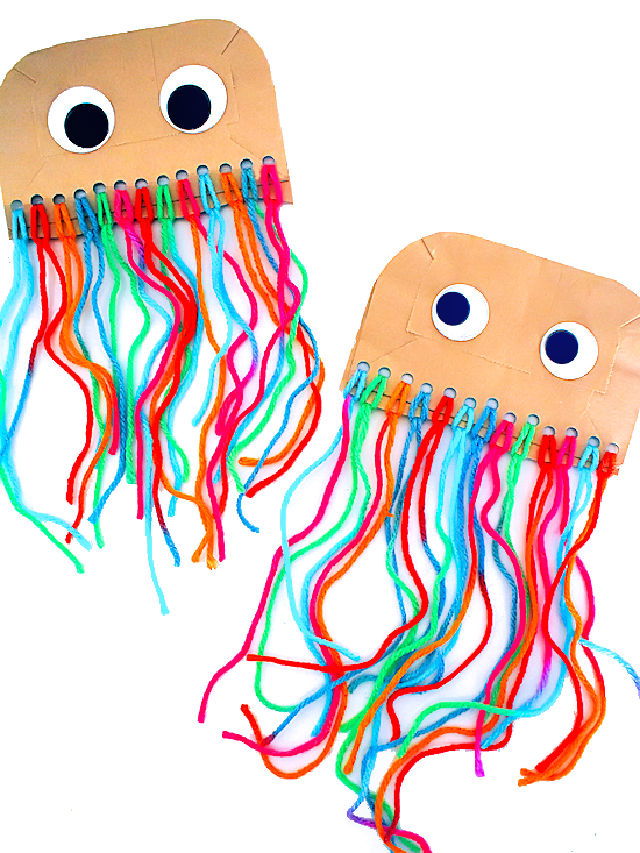 Design a one-of-a-kind jellyfish decoration with this paper bag jellyfish craft! This simple and fun craft is perfect for little hands, as it helps develop hand/eye coordination.
All you need are a paper lunch bag, multicolor yarn, single hole punch, googly eyes, and glue stick – that's it! Brighten up your summer days with this cheerful craft project – no mess or fuss involved in the making.
With an easy step-by-step tutorial and materials easily found around the home, make your unique jellyfish today for a splash of color underwater. ourkidthings
11. Fun and Easy DIY Paper Jellyfish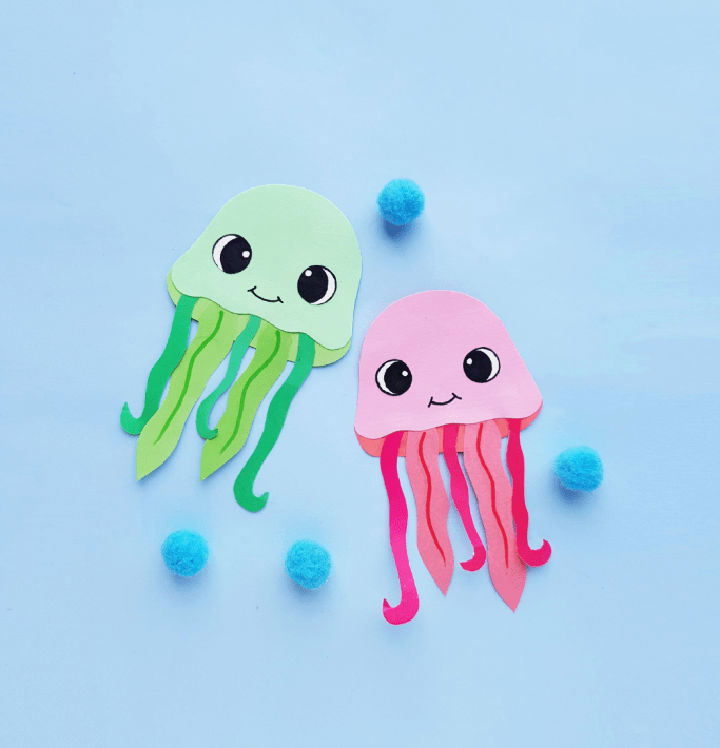 Get the beach to your home with this simple and fun papercraft jellyfish! Perfect for kids to express their creativity, you need some colored paper, craft glue, a Sharpie pen, and a pencil.
Once completed, it makes for an adorable keepsake perfect for memories. Let your children practice great skills by constructing this papercraft jellyfish and engaging their imaginations!
Get them crafting today and make lasting memories with ease. frostingandglue
12. Simple Plastic Medicine Cup Jellyfish Craft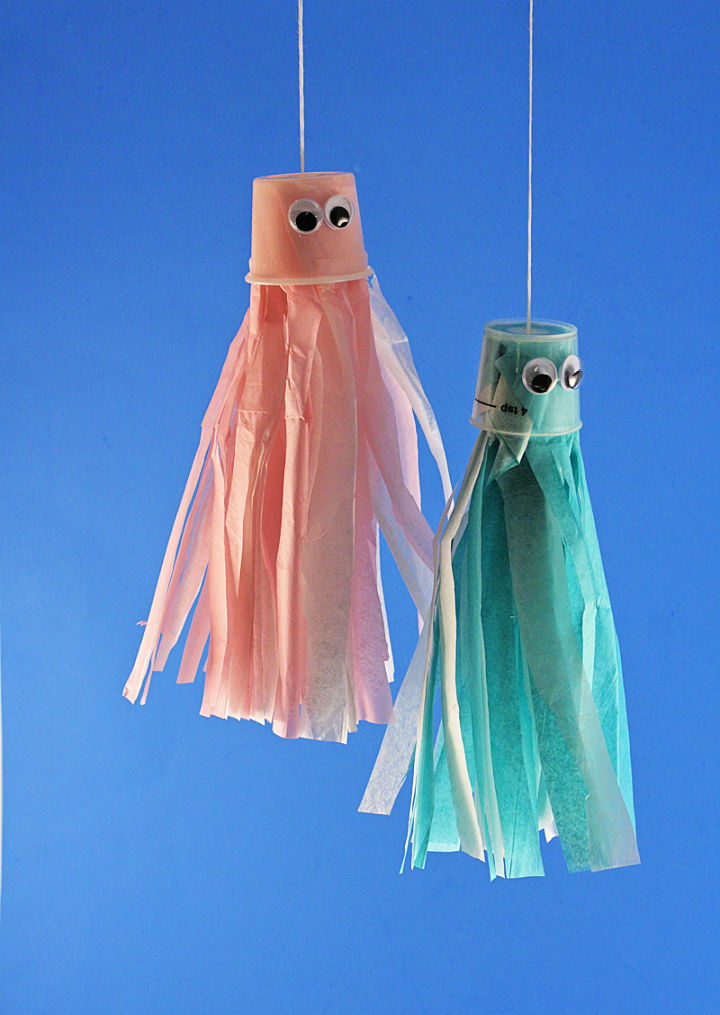 Transform a boring, plastic medicine cup into an adorable jellyfish! Make the perfect addition to your child's room or an ocean-themed birthday party.
You only need a recycled medicine cup, a button, tissue paper, two googly eyes, embroidery floss, a needle, and glue. Make these fun little sea creatures easy and add color to any occasion.
They'll be sure to bring smiles as they hang from the ceiling for all to admire – and best of all, it is made from that not-so-fun medicine cup! Bring life into your decor today with plastic medicine cup jellyfish! kixcereal
13. Make a Cupcake Liner Jiggling Jellyfish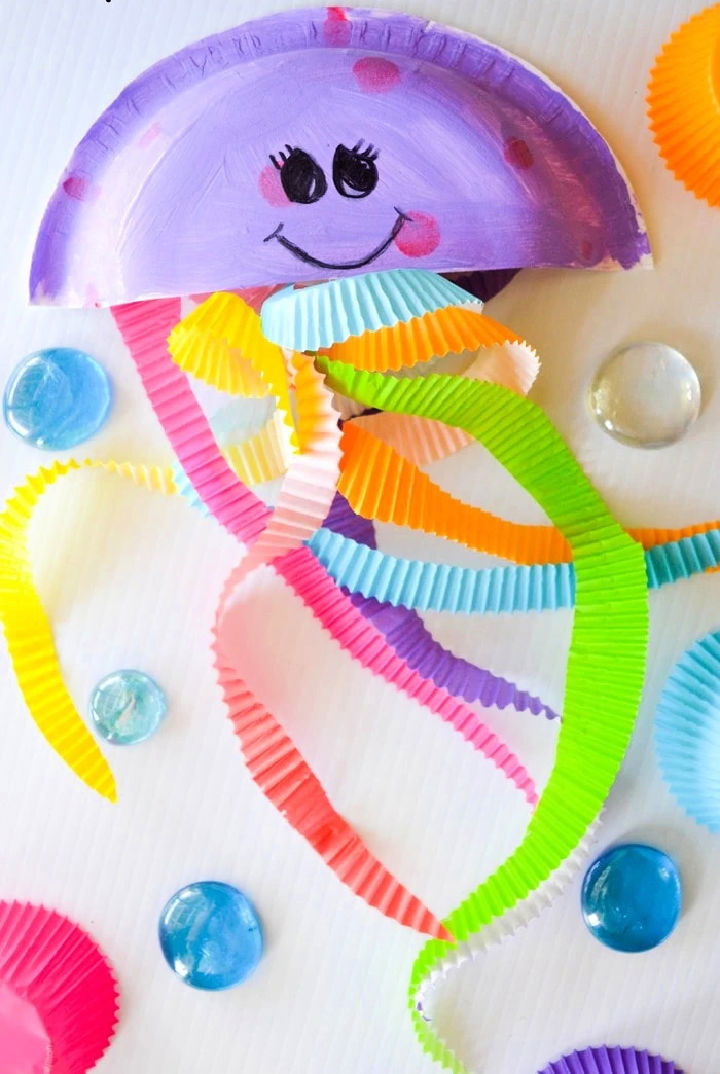 Be mesmerized by the funny jiggly bodies of jellyfish with this jiggling jellyfish cupcake liner craft for kids!
Make an underwater adventure and practice scissor skills while learning about ocean animals. With paper bowls, cupcake liners, craft paint, and tape, you only need to let your creativity flow and make these easy and relatively mess-free crafts.
Make room for a real-life-like jellyfish in your home today! alittlepinchofperfect
14. Stunning DIY Construction Paper Jellyfish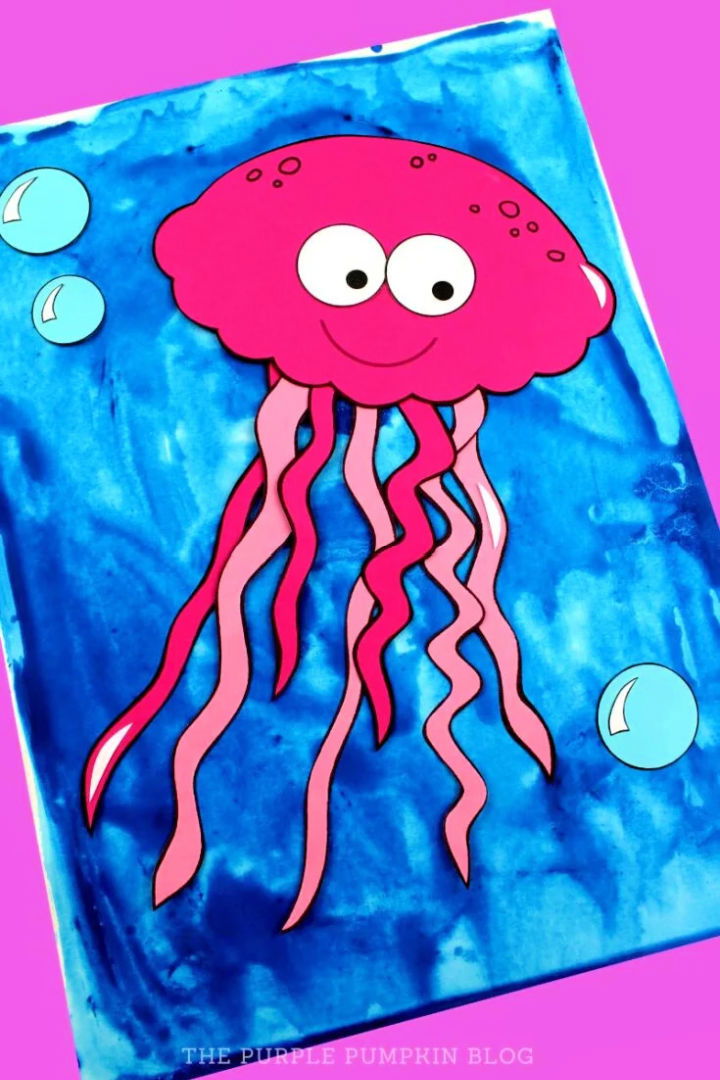 Show a spark of color to your home with this adorable jellyfish paper craft!
Perfect for getting kids involved in makingfun activities on rainy days, you can easily make this enchanting jellyfish using construction paper, a glue stick, and the printable template.
Kids will love roleplaying with their creation or learning about the creature by reading neat facts. Use it to build an aquarium scene or hang from the ceiling – however you choose to use this craft, it'll surely bring smiles all around! thepurplepumpkin
15. Paper Plate Jelly Fish Art Project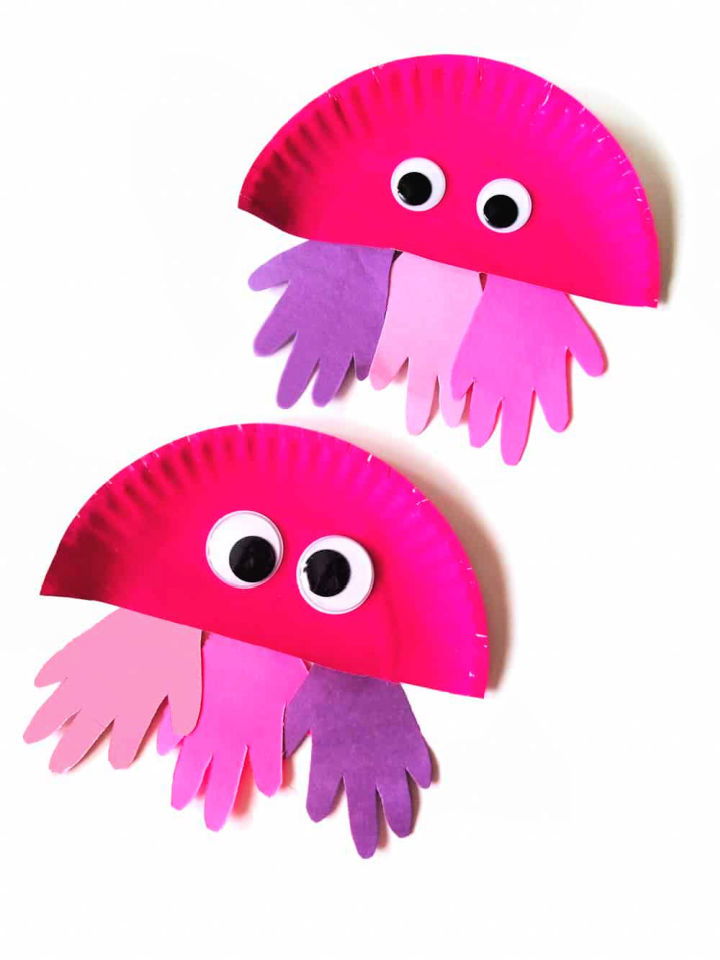 Explore the wonders of the ocean with this DIY paper plate jellyfish guide! This fun activity will transform simple materials into whimsical decorations, perfect for kids' crafting activities, school projects, and family time.
Let your little crafters dive into a memorable adventure as they make their paper plate jellyfish! All you need are some paper plates, cardstock in assorted colors, acrylic paint to match your child's color, googly eyes, and glue sticks.
Get ready for some quality bonding sessions and oodles of creative fun! madewithhappy
16. Paper Jelly Fish Activity With Free Cut Outs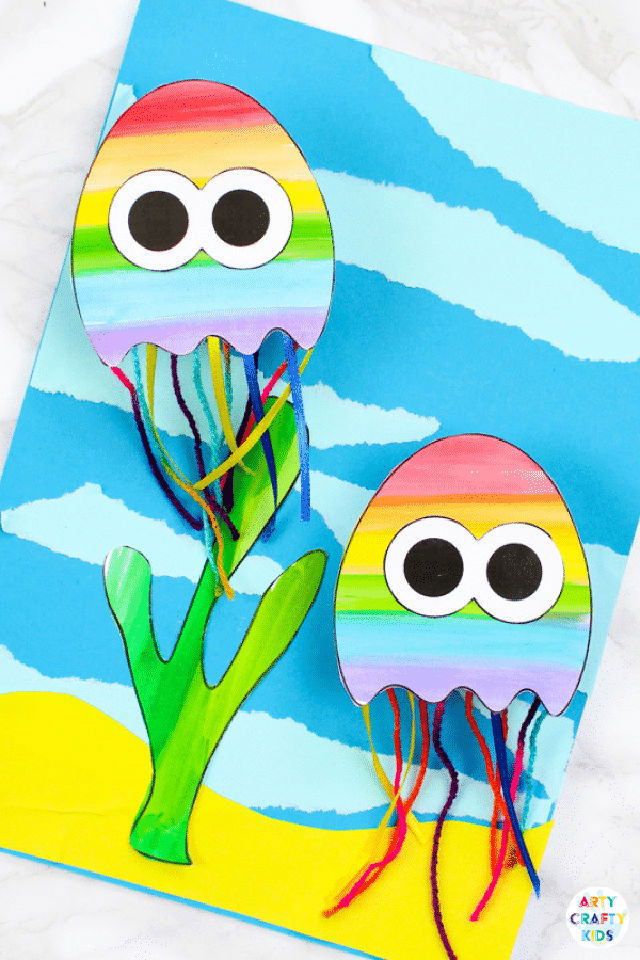 Take a journey into the boundless world of creativity with this enchanting printable paper jellyfish craft for kids! Perfect for summer, kids will love tearing, sticking, folding, and cutting their jellyfish that will pop from the page!
All you need is white & blue card stock, blue & yellow paper, paint, yarn ribbon, and a glue stick – perfect for exercising fine motor skills with some adult supervision needed in certain areas.
Add an extra splash of color to your classroom or home by getting creative with these lovely paper jellyfish! artycraftykids
17. How to Make a Fruit Loops Jellyfish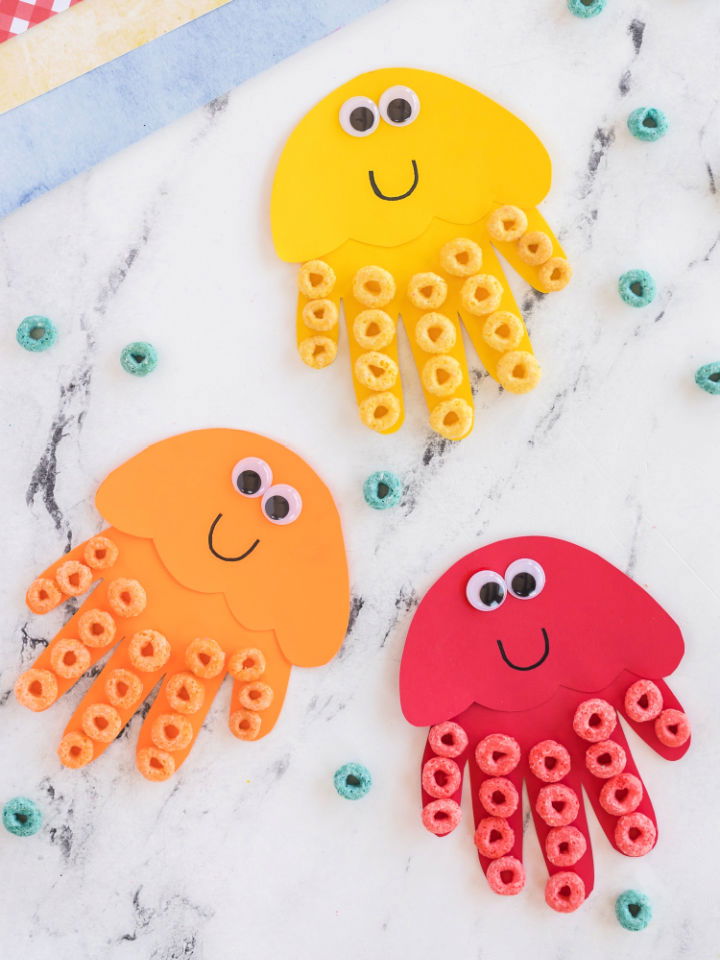 Make a fun and easy fruit loops jellyfish craft with your kids! Perfect for practicing fine motor skills, counting, and learning about jellyfish.
All you need is cardstock in orange, yellow, and red; googly eyes; fruit loop cereal; jellyfish template; glue; a black marker to make this cute ocean creature. Find all these materials at the grocery store or local supercenter, and you'll be ready to make this colorful art project!
Kids will love using their creativity while having a delicious snack – the perfect combination for an afternoon of crafting fun! madetobeamomma
18. Paper Plate and Tissue Paper Jellyfish Craft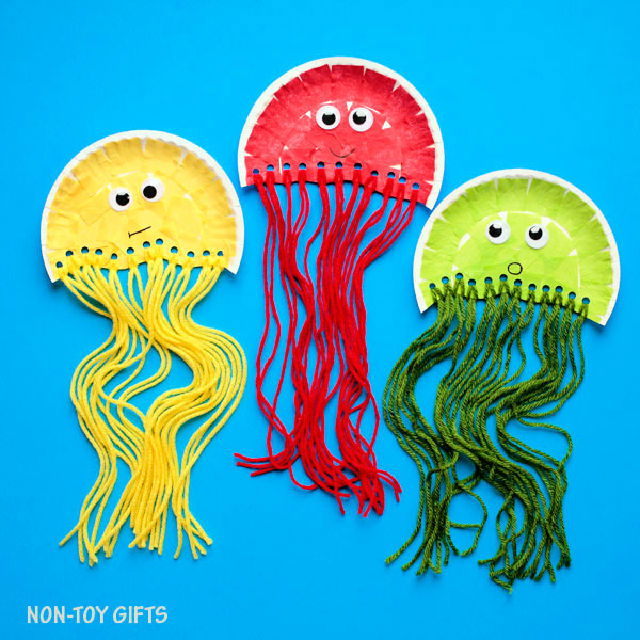 This fun and creative paper plate jellyfish craft is a great way to bring the ocean into your home! Perfect for preschoolers or older kids, this craft will help them learn about these amazing sea creatures while practicing fine motor skills.
You only need basic supplies such as paper plates, tissue paper, glue, hole punch, yarn, googly eyes, and black markers. With just a few simple steps, you can make an adorable jellyfish that'll bring life to any room in your house.
Your little ones will enjoy makingthis beautiful craft and learning about these fascinating ocean animals! nontoygifts
19. Paper Bag Jellyfish Craft for Preschoolers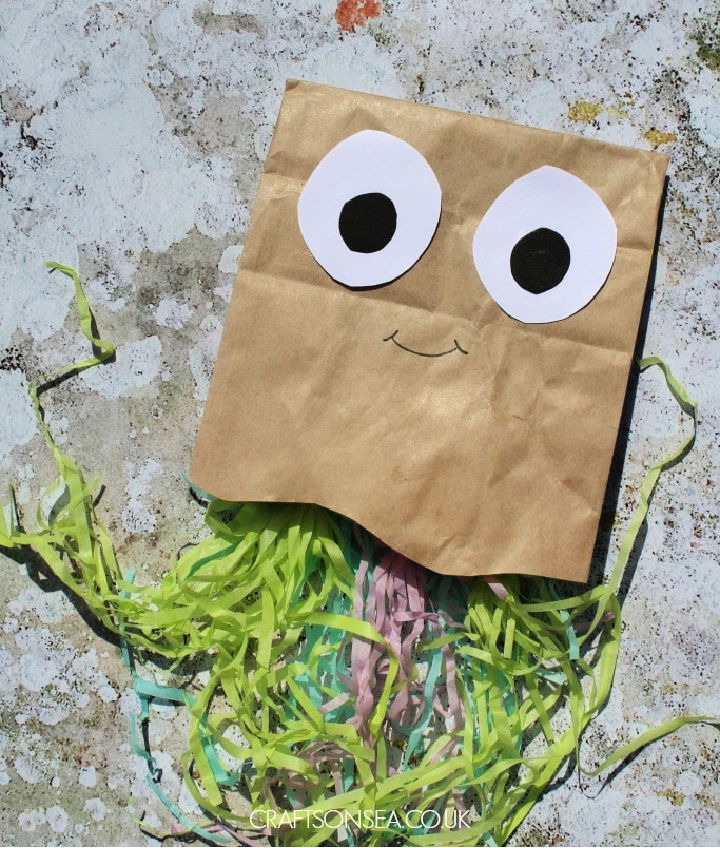 Dive in and explore the depths of imagination with this simple paper bag jellyfish craft!
Perfect for kids, this simple craft is made from recycled materials such as black pen, shredded tissue paper, black card, white card, and sellotape. Glue the parts together to make a cuddly sea creature that can be used as a puppet or decoration!
Try this paper bag jellyfish craft today as a cheap and creative way to learn about marine life while having fun! craftsonsea
20. DIY Coffee Filter Jellyfish With Written Instructions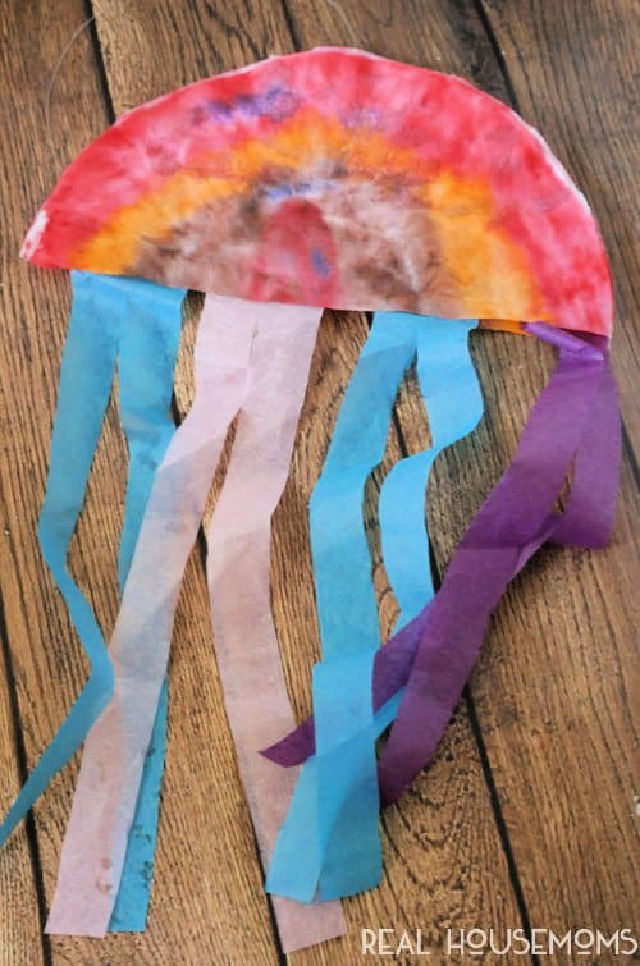 Bring the beauty and mystery of the ocean to your home with this dazzling jellyfish craft. This project is perfect for kids as it's inexpensive and simple.
All you need is coffee filters, markers, a spray bottle filled with water, paper towels, crepe paper or ribbon, and glue/tape.
With these materials, you can easily transform plain coffee filters into colorful jellyfish decorations that bring ocean fun to your home! Get creative and start crafting today! realhousemoms
21. Make Your Own Paper Jellyfish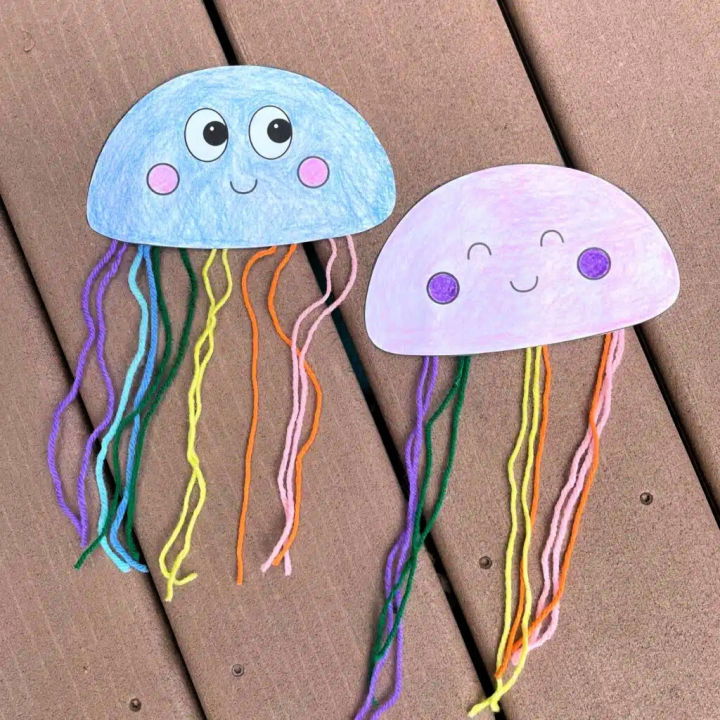 Introduce your kids to the amazing world of sea creatures with this easy jellyfish paper craft! Perfect for preschoolers, this free printable jellyfish template is easy to color and fun to make.
Grab some crayons in different colors, tape, and yarn, and you're all set. They'll be fascinated as they construct their unique jellyfish that can be proudly displayed afterward!
Get creative with colorful yarn for the tentacles and let them explore the wonder of these incredible creatures from the ocean. simplyfullofdelight
22. Paper Plate Jelly Fish Craft for Kindergarten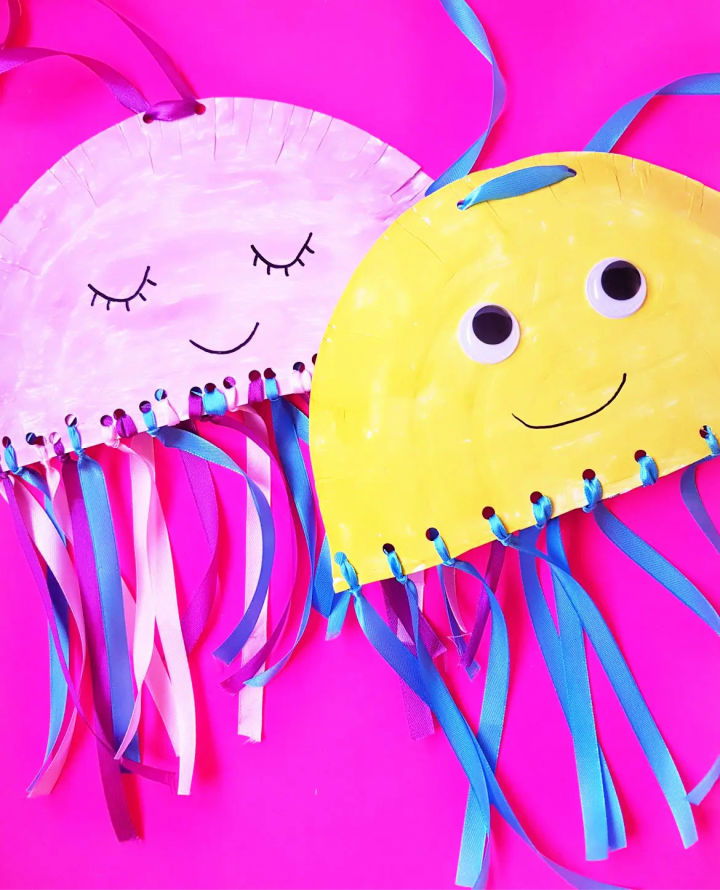 Get the ocean to life with this whimsical paper plate jellyfish! With just paper plates, paint, ribbons, and a hole puncher, you can make these easy-to-make jellyfish in no time!
Kids will have fun customizing the colors of their jellyfish with paints and adding bright ribbons as tentacles. This craft is perfect for inspiring creativity and learning about marine life simultaneously!
Add this simple yet creative project to your next family activity – you won't be disappointed! artcraftandfun
23. Making a Lacing Jellyfish – Step by Step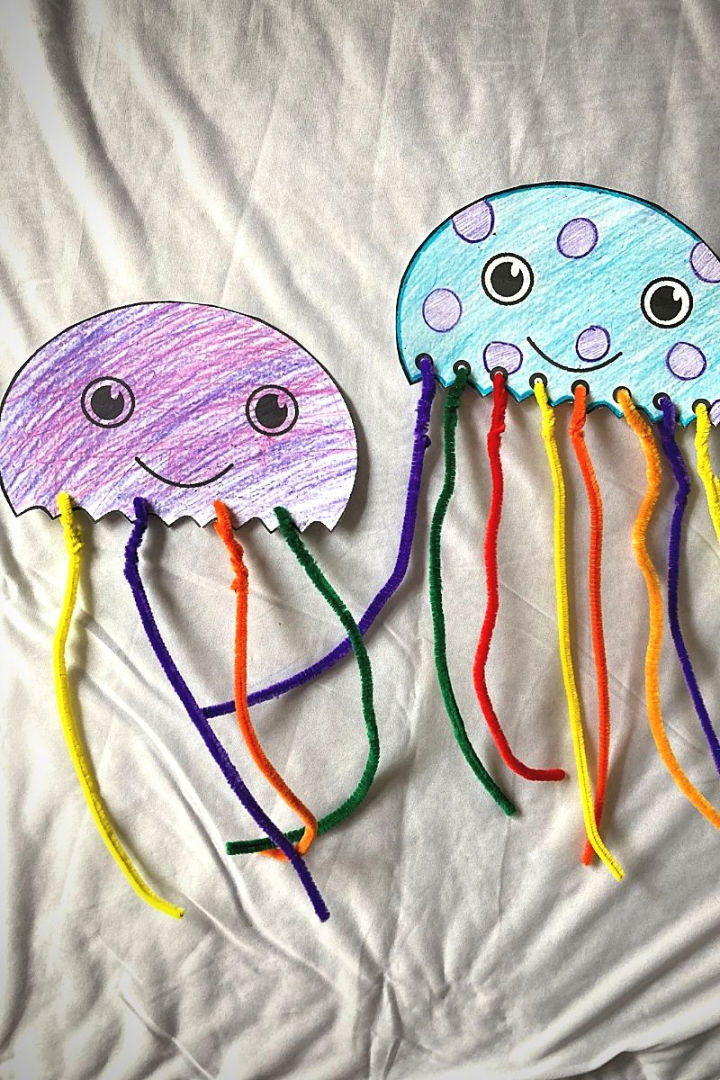 Explore the wonders of the deep blue sea with this fun jellyfish craft for kids! With the free included jellyfish template and easy-to-follow instructions, kids ages 2 up to 10+ can learn to color, cut, and lace.
This craft is also easily adaptable – it can be seen as a jellyfish or an octopus craft. All you need is some white cardstock, crayons in various colors, pipe cleaners, beads, and a hole puncher – plus foam stickers, glitter glue, and sequins (optional!) To make your unique creation. Download now and start crafting today! mamaofminis
24. J for Jellyfish Cupcake Liner Craft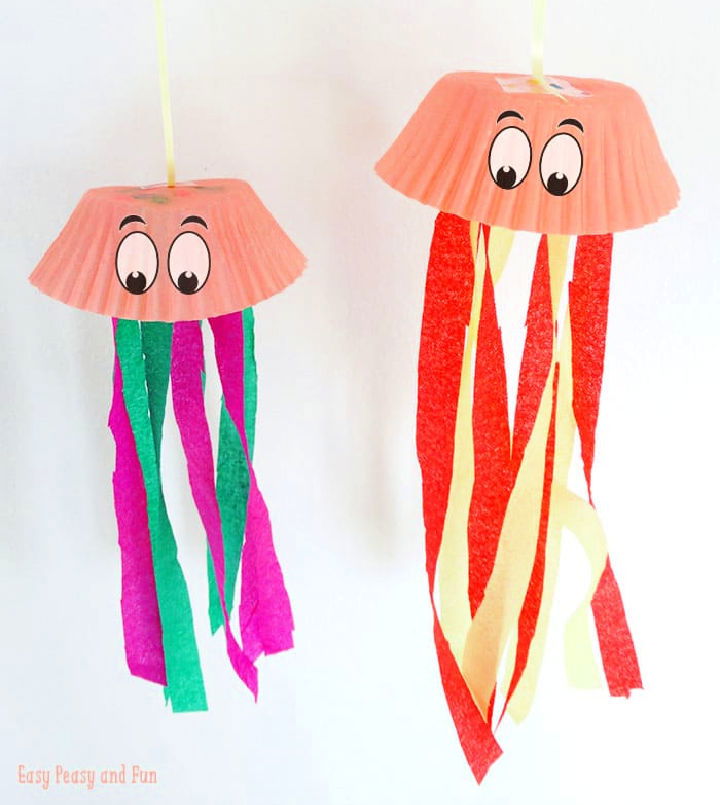 Add creative fun to your craft project collection with this easy and delightful jellyfish cupcake liner craft! You'll need two cupcake liners, tissue paper, glue, duct tape for the jellyfish's body, tentacle string, and googly eyes to give it character.
It's simple enough that children can help make these mesmerizing little creatures. The best part? You already have all the supplies right in your cupboard!
Get creative with colors or mix-and-match materials; no matter what you choose, these cute jellyfish crafts will surely bring a smile to everyone who sees them. easypeasyandfun
25. Easy DIY Jellyfish Drawing Tutorial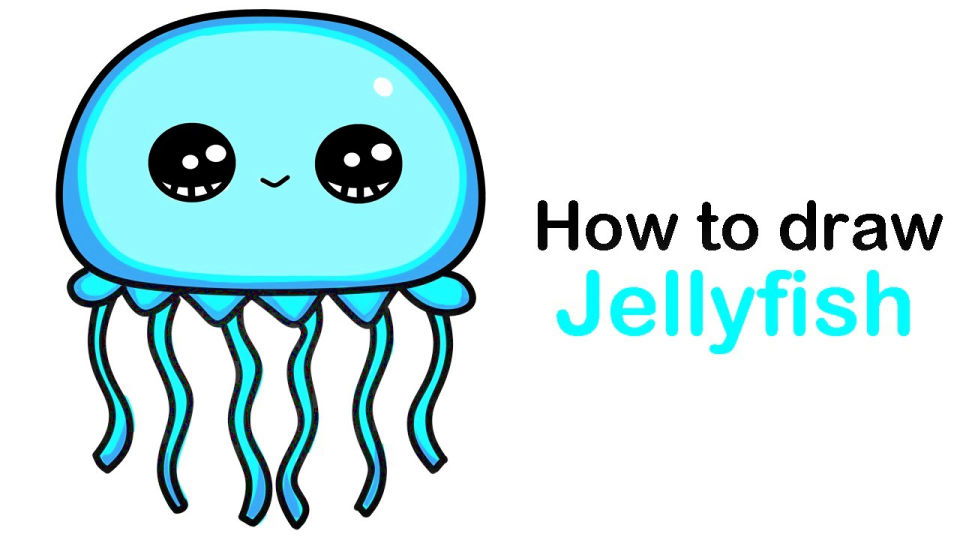 Design a stunning jellyfish drawing easily with this step-by-step guide! It's perfect for girls and kids looking for cute, creative drawings.
Start by sketching out the head and tentacles of your jellyfish. Next, use pencils and paints to add details like eyes, texture, and color.
Finally, outline your creation for that extra special touch! With this help, you can make an amazing jellyfish drawing in no time – explore your creativity today!
Conclusion:
In conclusion, these easy and fun jellyfish craft ideas for kids come with printable templates. These jellyfish craft ideas are perfect for keeping kids busy on a lazy summer day and are great for preschoolers, kindergarteners, and school-age children. They provide an excellent opportunity for kids to work on their scissors skills and fine motor skills while having fun creating something beautiful.
With so many different ways to use the free printable jellyfish template, the ideas are endless. From creating jellyfish windsocks to making jellyfish puppets, these 25 easy jellyfish craft ideas for kids will provide hours of entertainment and creativity. So why not give them a try today?