If you love DIY projects and want to add some flair to your everyday items, you will enjoy these 25 fun and easy hot glue gun crafts. This article gives you a variety of hot glue gun crafts to choose from, each with clear instructions and assembly guides that suit crafters of all levels.
You can make beautiful paper flower wall art or colorful DIY yarn-wrapped vases with your hot glue gun, or spice up your desk with a chic pencil holder. You can also find some adorable Mickey Mouse coasters and some festive ideas like no-carve pumpkin decorations and tiny gourds wreath for your home.
But hot glue crafts are not only for home decor. You can also use them to make special occasions more memorable with a DIY confetti heart cake topper or a handmade birthday cake topper. The list also has some fun and easy ideas like neon sharpie hair bows, glue gun flowers art, and glittery leaves, that will help you improve your crafting skills.
Hot glue gun crafts can also help you make your own jewelry and engagement rings if you want to have some personalized accessories. Other crafts featured include bookmarks for kids, a rainbow wreath, and even a stunning waterfall from a glue gun and a small pot. These hot glue projects are great for solo or family fun, and will keep you entertained for hours.
So, don't hesitate. Grab your glue gun, some materials, and your creativity, and start making these awesome hot glue gun crafts today!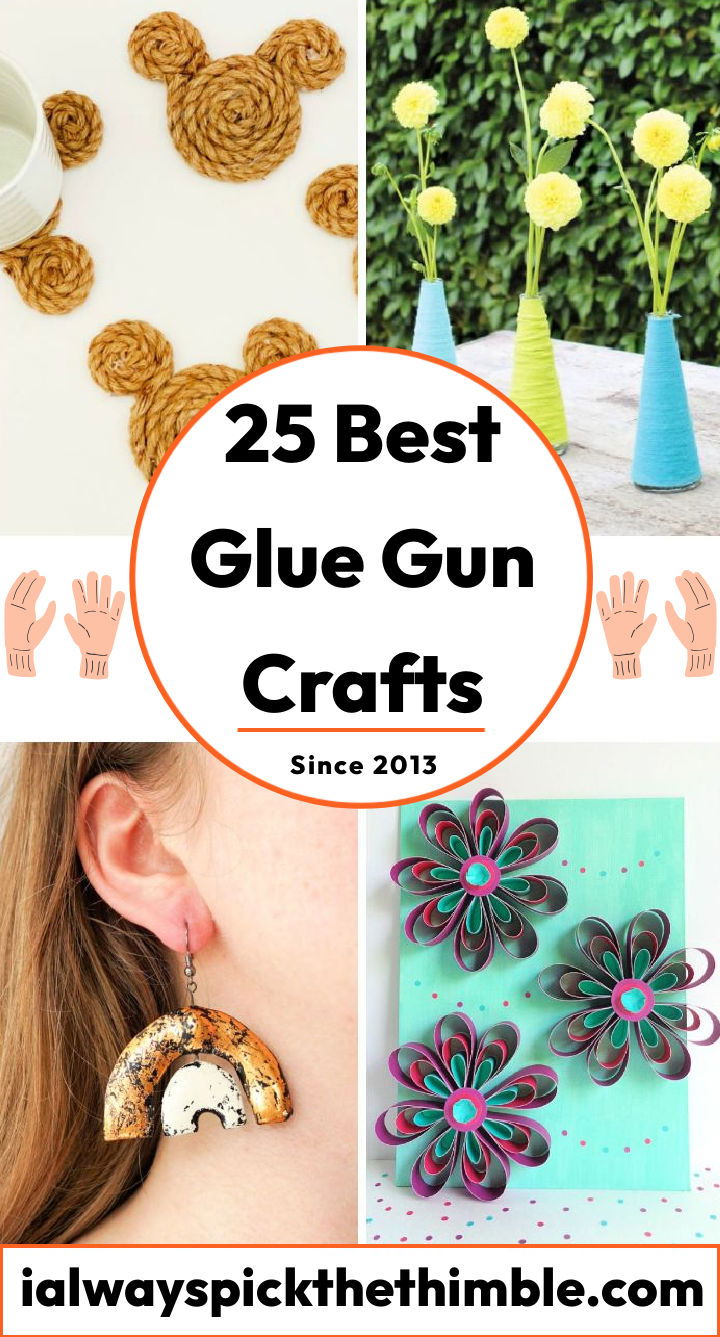 Hot Glue Gun Crafts for Beginners
Hot glue gun crafts will help you unleash your creativity and make amazing things with simple materials. Whether you want to decorate your home, make gifts for your friends, or just have fun, hot glue gun crafts are easy and fun to do.
In this article, I will guide you through everything you need to know about hot glue gun crafts, from how to use a hot glue gun, what materials to choose, how to avoid common mistakes, how to fix any problem, and why you should try hot glue gun crafts. I will also give you a simple and fun tutorial to start your first hot glue gun craft today and ideas to inspire you for more projects.
How to Use a Hot Glue Gun for Amazing Crafts: A Beginner's Guide
A hot glue gun is a device that melts glue sticks and allows you to apply the hot glue on various surfaces. Hot glue is strong, flexible, and quick-drying, making it ideal for crafting. To use a hot glue gun, you need to follow these steps:
Plug in the hot glue gun and let it heat up for a few minutes. Make sure the nozzle is pointing away from you and any flammable materials.
Insert a glue stick into the back of the gun and push it until it stops. You may need to insert more glue sticks as you use up the glue.
Squeeze the trigger gently to release the hot glue. Be careful not to touch the nozzle or the glue, as they can be very hot and cause burns.
Apply the hot glue on the surface you want to attach. You can use a toothpick or a craft stick to spread the glue evenly.
Press the other surface on top of the glued surface and hold it firmly for a few seconds until the glue sets.
Cut off any excess glue with scissors or a craft knife. You can also peel off any unwanted glue once it cools down.
The Best Materials for Hot Glue Gun Projects: What to Choose and Where to Find Them
One of the best things about hot glue gun crafts is that you can use almost any material you have at home or can find easily. Some of the most common materials for hot glue gun projects are:
Fabric: You can use fabric scraps, old clothes, ribbons, lace, felt, or any other type of fabric to make flowers, bows, appliques, coasters, pillows, or anything else you can imagine.
Paper: You can use paper of different colors, textures, and thicknesses to make cards, envelopes, bookmarks, origami, paper flowers, or paper mache.
Wood: You can use wood pieces, popsicle sticks, toothpicks, skewers, or wooden beads to make frames, signs, ornaments, jewelry, or toys.
Plastic: You can use plastic bottles, caps, spoons, straws, or beads to make vases, planters, wind chimes, lamps, or sculptures.
Metal: You can use metal cans, lids, wire, nails, or clips to make magnets, candle holders, wall art, or jewelry.
Glass: You can use glass jars, bottles, cups, plates, or beads to make lanterns, terrariums, mosaics, or coasters.
You can find these materials in your own home by recycling or repurposing items you no longer need. Also, buy them from craft stores or online shops. Mix and match different materials to create unique and interesting effects.
Avoid These Common Mistakes When Crafting with a Hot Glue Gun: Tips and Tricks
Crafting with a hot glue gun can be fun and easy if you follow some simple tips and tricks. Here are some of the most common mistakes people make when using a hot glue gun and how to avoid them:
Using too much or too little glue: If you use too much glue, it can create lumps, drips, or strings that ruin the appearance of your craft. If you use too little glue, it may not hold your materials together well enough. To avoid this, use just enough glue to cover the surface you want to attach and squeeze the trigger gently and evenly.
Not working fast enough: Hot glue dries very quickly, so you need to work fast when applying it and attaching your materials. If you wait too long, the glue may harden before you finish your craft. To avoid this, have all your materials ready before you start gluing, and work on one section at a time.
Not cleaning your nozzle: If you don't clean your nozzle after each use, it may get clogged with dried glue or dirt that can affect the flow of the glue. To avoid this, wipe your nozzle with a damp cloth or a cotton swab after each use, and remove any stuck-on glue with tweezers or a needle.
Not storing your hot glue gun properly: If you don't store your hot glue gun properly, it may get damaged or cause accidents. To avoid this, unplug your hot glue gun and let it cool down completely before storing it. Store it in a dry and cool place, away from children and pets. Do not leave any glue sticks inside the gun, as they may melt or leak.
How to Fix Any Problem with Your Hot Glue Gun Craft: A Handy Guide
Sometimes, things may not go as planned when you are crafting with a hot glue gun. You may encounter some problems such as:
Your craft falls apart: If your craft falls apart, it may be because you did not use enough glue, you did not press the materials firmly enough, or you did not let the glue dry completely. To fix this, you can re-glue the parts that came off, adding more glue if needed and holding them in place until they set.
Your craft looks messy: If your craft looks messy, it may be because you used too much glue, you did not spread the glue evenly, or you did not cut off the excess glue. To fix this, you can trim off any lumps, drips, or strings of glue with scissors or a craft knife. You can also peel off any unwanted glue once it cools down.
Your craft is stained: If your craft is stained, it may be because you used colored glue sticks, you spilled something on your craft, or you touched your craft with dirty hands. To fix this, you can try to remove the stain with a damp cloth or a mild detergent. You can also cover the stain with paint, glitter, or other embellishments.
Why You Should Try Hot Glue Gun Crafts: The Benefits of Creative Crafting
Crafting with a hot glue gun is not only fun and easy, but also beneficial for your well-being. Here are some of the benefits of creative crafting:
It boosts your mood: Crafting can help you relax, reduce stress, and increase happiness by releasing endorphins, the feel-good hormones in your brain.
It improves your skills: Crafting can help you improve your fine motor skills, hand-eye coordination, spatial awareness, and problem-solving skills by challenging you to manipulate different materials and shapes.
It enhances your self-esteem: Crafting can help you express yourself, showcase your talents, and achieve your goals by creating something unique and beautiful that you can be proud of.
It connects you with others: Crafting can help you bond with your family, friends, or community by sharing your ideas, experiences, and creations with them.
Easy and Fun Hot Glue Gun Crafts for Beginners
If you are looking for more ideas to start crafting with a hot glue gun, here are 25 easy and fun hot glue gun crafts that you can try:
1. Glue Gun Paper Flower Wall Art and Craft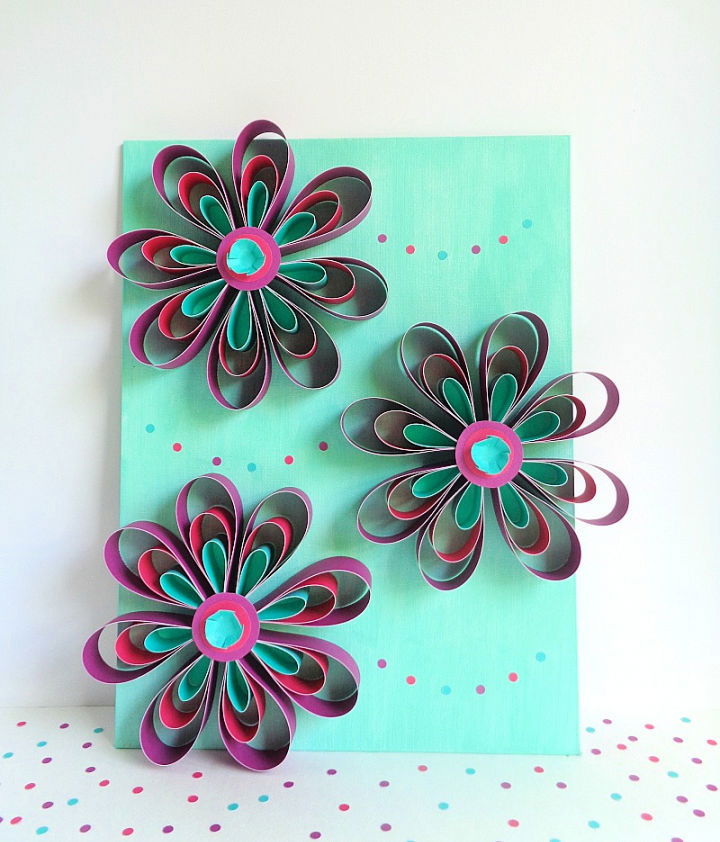 Craft the perfect decor addition to your home with this glue gun paper flower wall art and craft! This easy-to-make wall art is designed for all levels, from beginner crafters to experienced paper flower makers. With a glue gun and some colorful craft paper, you can make stunning wall art to enhance any room in your house.
The supplies are affordable and easy to obtain, so you don't have to worry about spending too much. Whether it's an indoor or outdoor display, add personality to your walls with these beautiful handmade pieces today! runningwithaglue
2. Cool DIY Glue Gun Yarn Wrapped Vases
Transform a simple vase into an eye-catching display with this cool DIY glue gun yarn-wrapped vases tutorial. With only a few supplies like yarn, scissors, an adhesive glue gun and sticks, mini dahlias (or other flowers), water in the vase, and a floral knife or clippers, you can craft this unique decoration for your home. This project is easy to customize by changing out the colors of wool and flower selection to match any style aesthetic. Follow these steps for creative fun that will last all year round! hwtm
3. Make a Pencil Holder With Glue Gun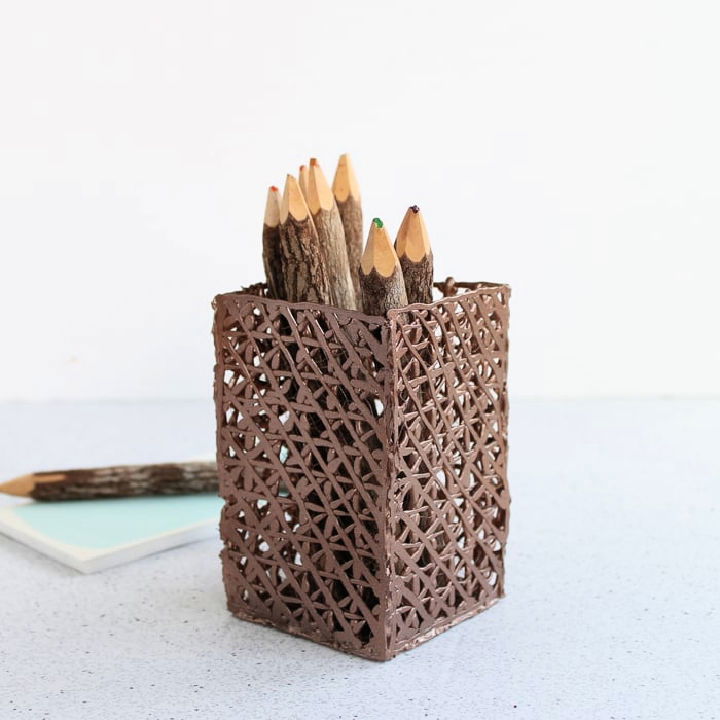 Add a creative and functional touch to your workspace with this DIY pencil holder made from a glue gun! This project is easy, fun and relatively fast. All you will need is glue gun (with precision tip), regular glue sticks, a non-stick mat, a ruler, spray paint of your choice and optional but handy – glue fingertips. Start by measuring the size of the container that will hold your pencils or pens, and then cut 4×5 inch pieces out of it using the ruler. Next, use the glue gun to stick each piece together to form the holder's box shape. Finish up by spraying it with the color of your choice for an extra personalized look! thecountrychic
4. Cute DIY Glue Gun Mickey Mouse Coasters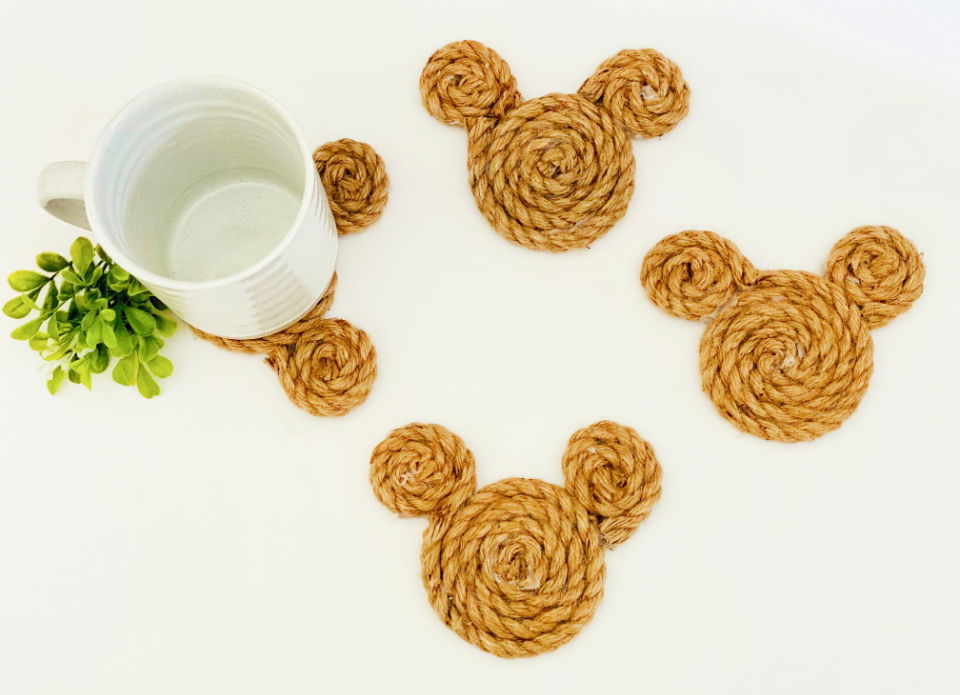 Make a set of four Mickey Mouse coasters to brighten up your home with this cute DIY project. Start with 24-inch pieces of jute rope and eight 8-inch pieces. Line the bottom of one 24-inch rope section with glue, curling the rope while making sure not to apply all at once as the glue may dry before completing the full circle. Make a small tight circle in the middle, then continue curling around it until you have achieved a bigger outer edge. Add glue when needed, repeating for each coaster head. Your guests will be amazed by these charming homemade decorations! kimandcarrie
5. No Carve Hot Glue Gun Pumpkin Decorations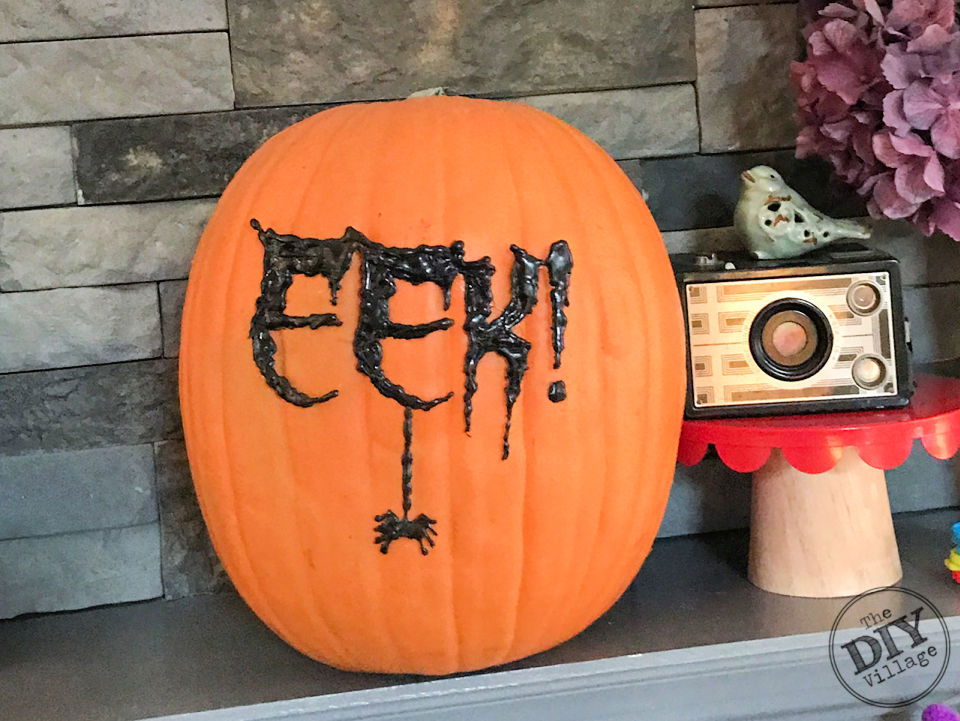 Bring your pumpkin decorating to the next level with no-carve hot glue gun decorations! Ideal for any crafting enthusiast, this set includes parchment or wax paper, tape, an EEK printable, a hot glue gun and sticks, a paintbrush, craft paint and scissors. Simply choose a real or fake pumpkin to get started – then use the included supplies plus some creativity to add eye-catching designs without ever picking up a knife! For even more inspiration, head over to the link. Get creative with no-carve pumpkin decorations today! thediyvillage
6. Easy DIY Glue Gun Confetti Heart Cake Topper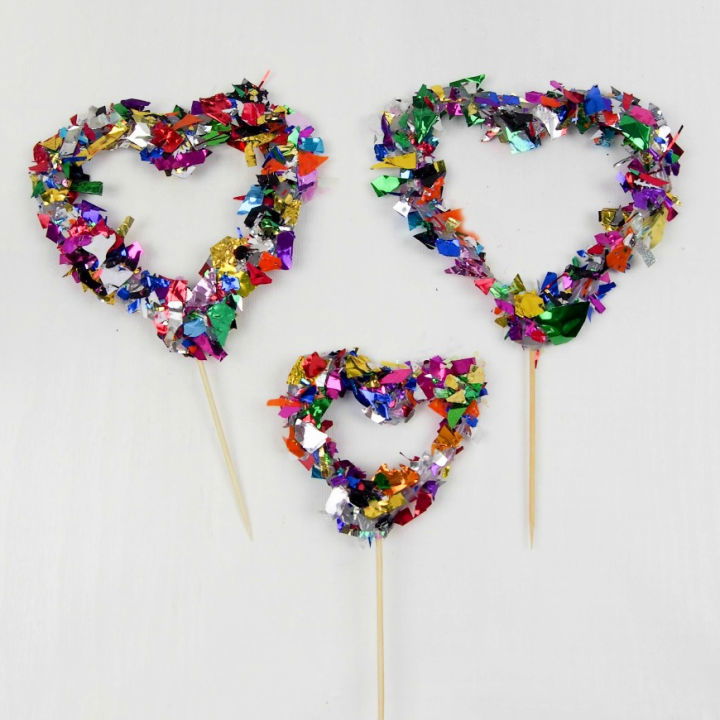 Transform your special occasion cake with this easy DIY glue gun confetti heart cake topper and make a truly gorgeous and one-of-a-kind dessert. This topper is perfect for any special occasion, from birthdays to weddings. It's easy to make using your glue gun, confetti of your choice and felt in the color you like best! Just follow these simple step-by-step instructions to make a beautiful cake topper that will wow your guests. With its vibrant colors and festive look, this cake topping will take your celebration up a notch! Make it now for an extra special touch at your party. muminthemadhouse
7. Hot Glue Gun Kool Aid Dyed Yarn Plant Pot Project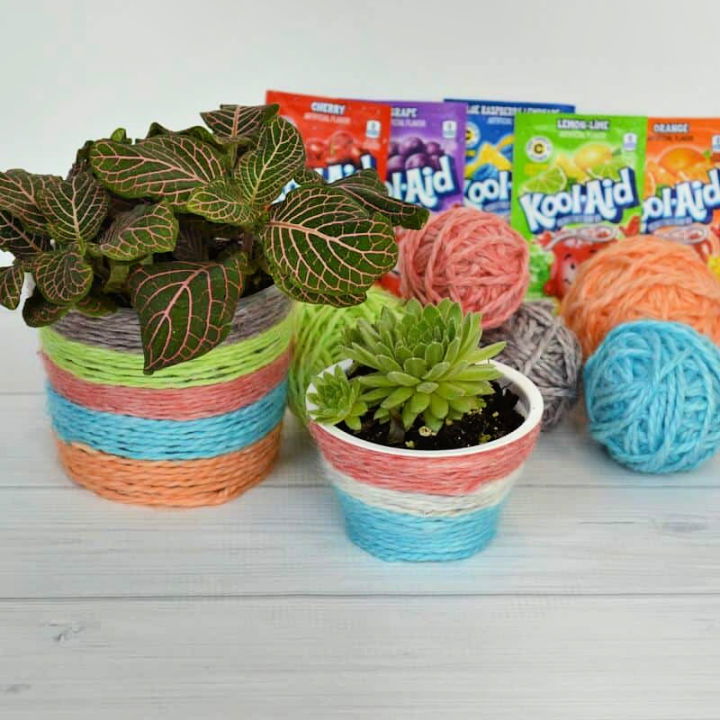 Liven up your home with this easy and fun hot glue gun kool-aid dyed yarn plant pot project! Use wool or alpaca yarn for the best dye take-up, recycled plastic containers like yogurt and feta cheese containers, a hot glue gun and double-stick tape to make beautiful planters in any color you choose. Follow this step-by-step guide and use your imagination to come up with unique designs. Get creative today with this hot glue gun craft! organized31
8. Making a No Sew Rope Basket Using Glue Gun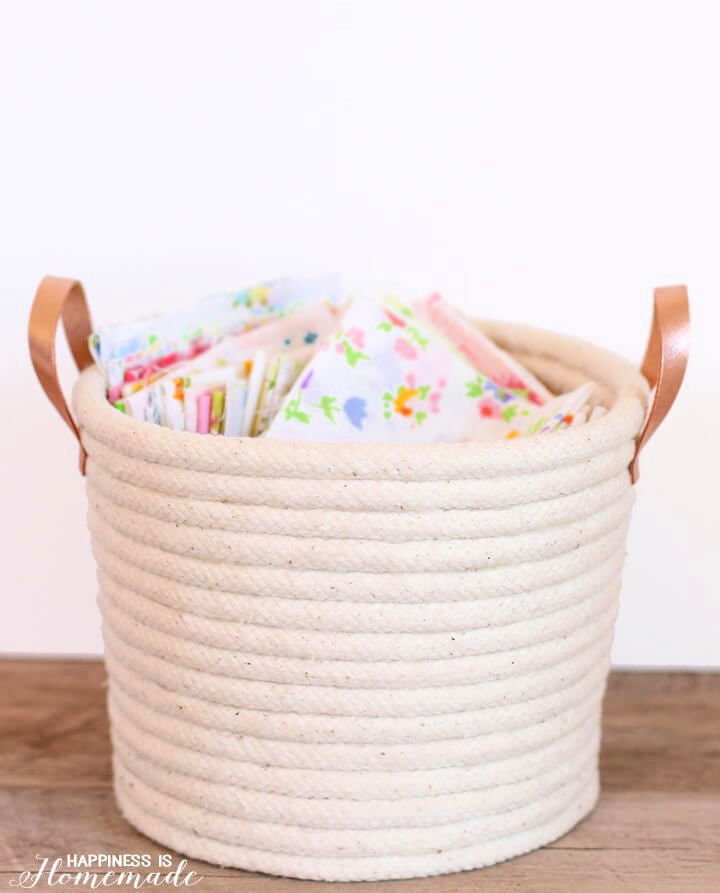 Rope baskets are now yours to craft; no need for a needle and thread! With a glue gun, you can easily make a low-cost and attractive storage solution. You'll need some thick cotton rope and a few other supplies to complete this project. Start by wrapping the rope around an old jar or can to form your basket mold and secure it in place with glue. Then continue spiraling the rope around itself until the entire basket has been formed. Finally, use more glue to secure all of your ends in place for a finished look that is both stylish and practical. Get creative and try out different colors for added flair! happinessishome
9. Creative Glue Gun Tiny Gourds Wreath for Home Decor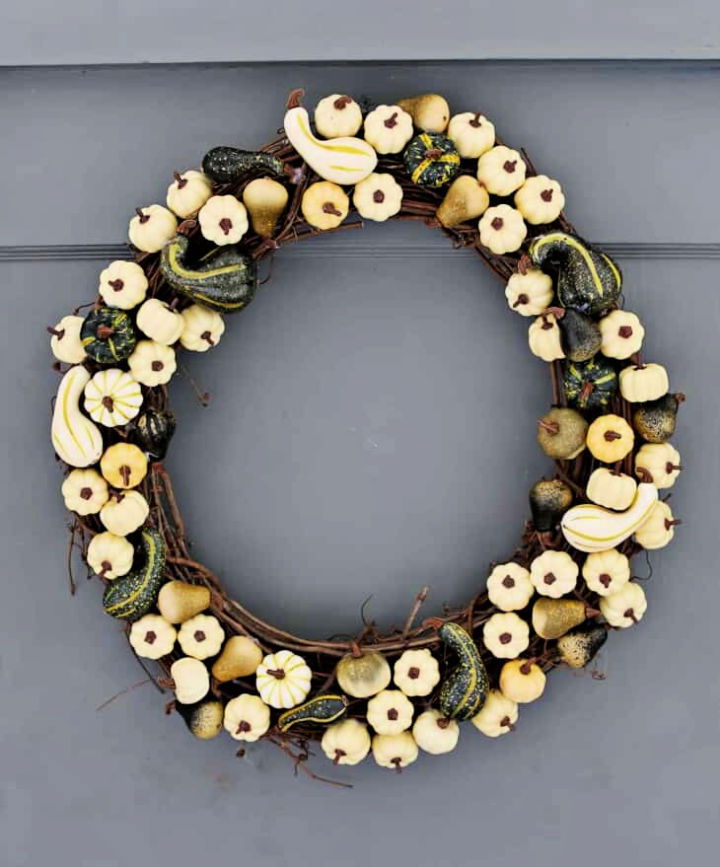 Welcome to our creative glue gun tiny gourds wreath for home decor. This creative wreath is the perfect addition to your home decor and a great way to add some rustic charm. This glue gun crafted wreath features tiny gourds for an eye-catching look, plus it's easy to make with these step-by-step instructions. Whether giving it as a gift or keeping it for yourself, this beautiful wreath will make any room more inviting! Get started now! abeautifulmess
10. DIY Bookmarks Using Glue Gun for Kids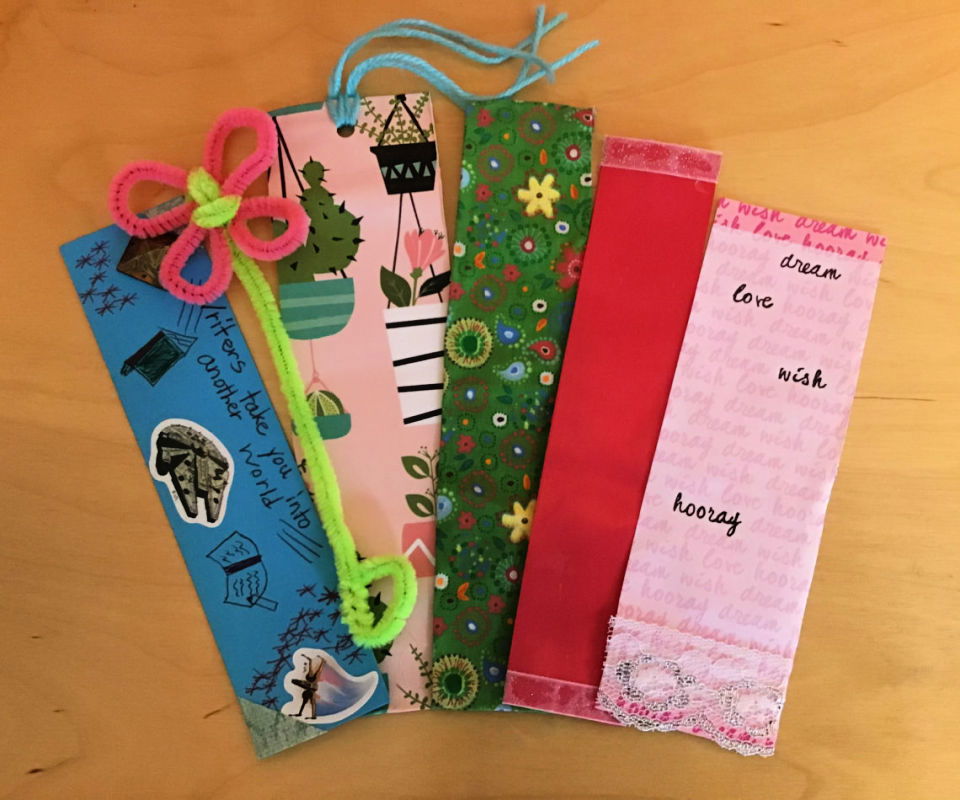 Make your next reading experience extra special with these DIY bookmarks! This easy project requires just a few materials: scrapbook paper, construction paper or decorative gift bags, glue gun/school glue, pencils/pens, scissors and a ruler.
Add some creativity by using stamps, stickers, pipe cleaners, ribbons and other decorations to make it your own. Even if you don't have craft supplies on hand – all you need is a hole puncher (optional) to add even more flair! These homemade bookmarks are perfect for kids of all ages who want something unique from their next read. Get creative and enjoy the fun of making these one-of-a-kind DIY bookmarks using a glue gun for kids! teenwritersnook
11. How to Do Hot Glue Gun Rainbow Wreath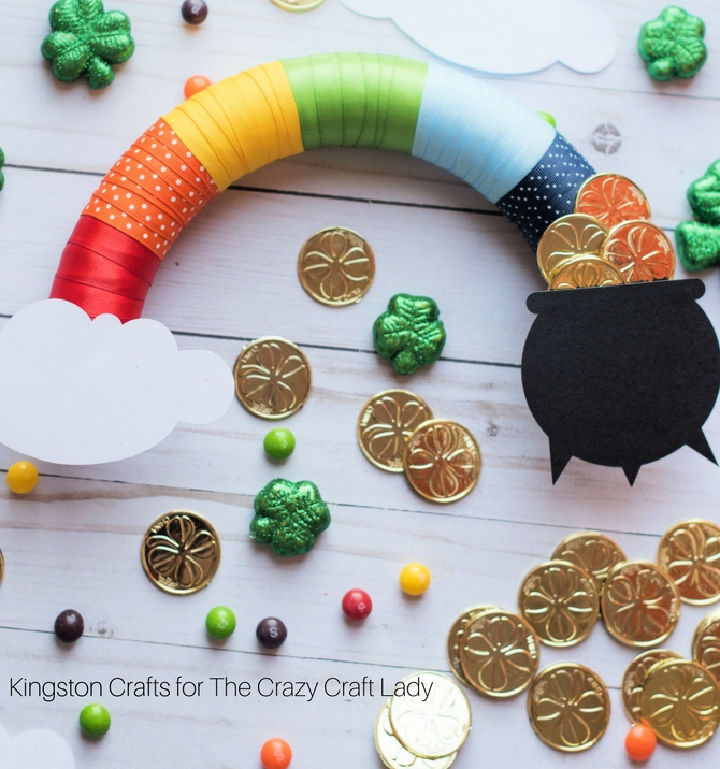 This tutorial will show you how to make a unique and stunning rainbow wreath using a glue gun. This glue gun craft is simple, fun, and perfect for all levels. You'll need basic materials like a foam wreath form, colored craft paper or felt pieces in various colors, scissors or knives to cut the shapes out, and your trusty glue gun.
Start by cutting out individual shapes of different sizes from your craft pieces. Arrange them around the circumference of the wreath form in varying patterns. Then use your glue gun to secure each piece until you have gone around the entire circle with beautiful rainbow designs! Hang it up on any wall or door as an eye-catching decoration that will surely add bright color and life to any room! thecrazycraftlady
12. Glue Gun Neon Sharpie Hair Bows Craft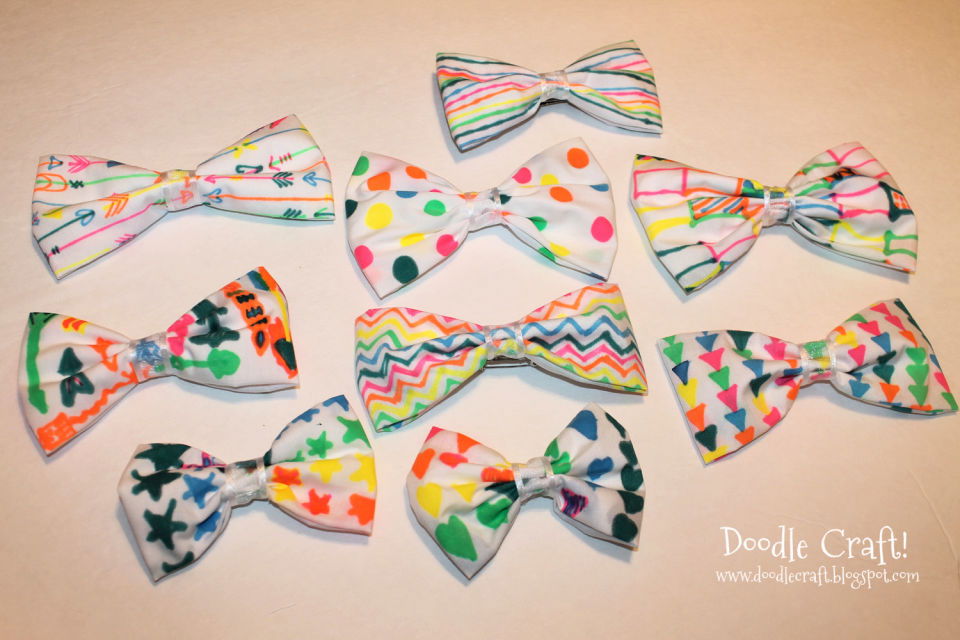 Bring out the artist in you and make stylish, one-of-a-kind hair bows with this glue gun neon sharpie hair bows craft! With this craft, you can make dazzling hair accessories that are sure to get you noticed. Just grab your glue gun, some neon sharpies, and colorful ribbons for a truly personalized accessory.
In no time, you will have created a beautiful piece of art that everyone will love. Make these eye-catching bows with friends or alone – either way, they're sure to turn heads! Get creative and add glitters or beads for extra pizzazz! Show off your skills with this glue gun craft today! doodlecraftblog
13. Butterfly Art With Watercolors and Hot Glue for Beginners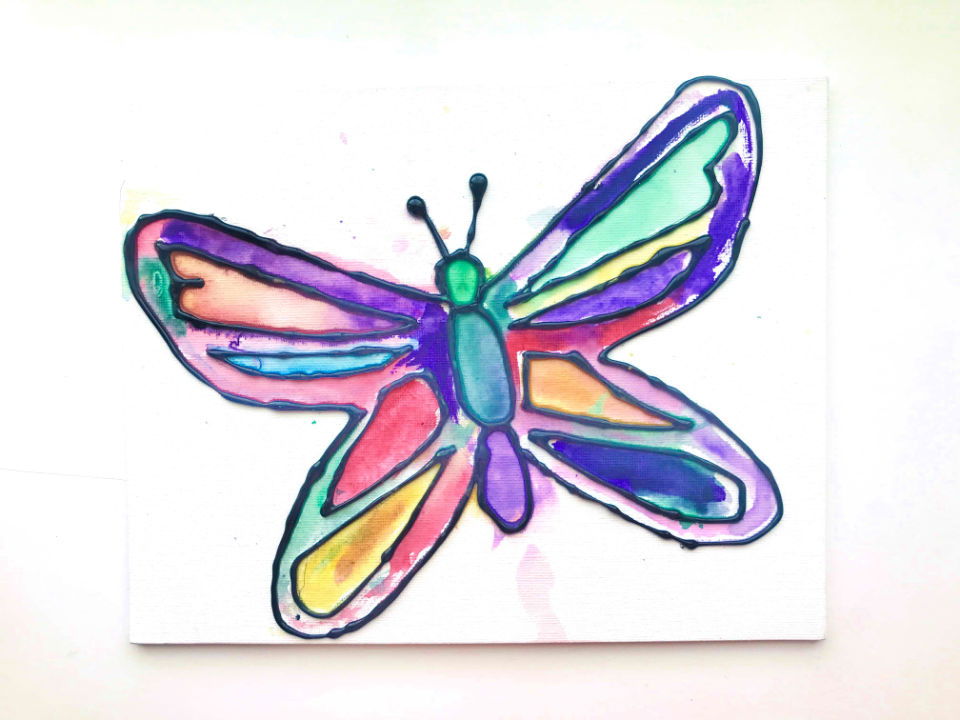 Bring art to life with this easy-to-follow tutorial on makingbutterflies with watercolors and hot glue! This step-by-step guide is perfect for beginners who are interested in art but have yet to have the chance to try it out. With simple instructions, you'll be able to craft beautiful butterfly artwork ready to show off – all you need is basic materials like watercolors, hot glue, and blank paper. Get creative and have fun while learning the basics of painting with colors! Whether you're a beginner or experienced artist, these techniques can help make stunning results every time. icanteachmychild
14. DIY Glue Gun Flowers Art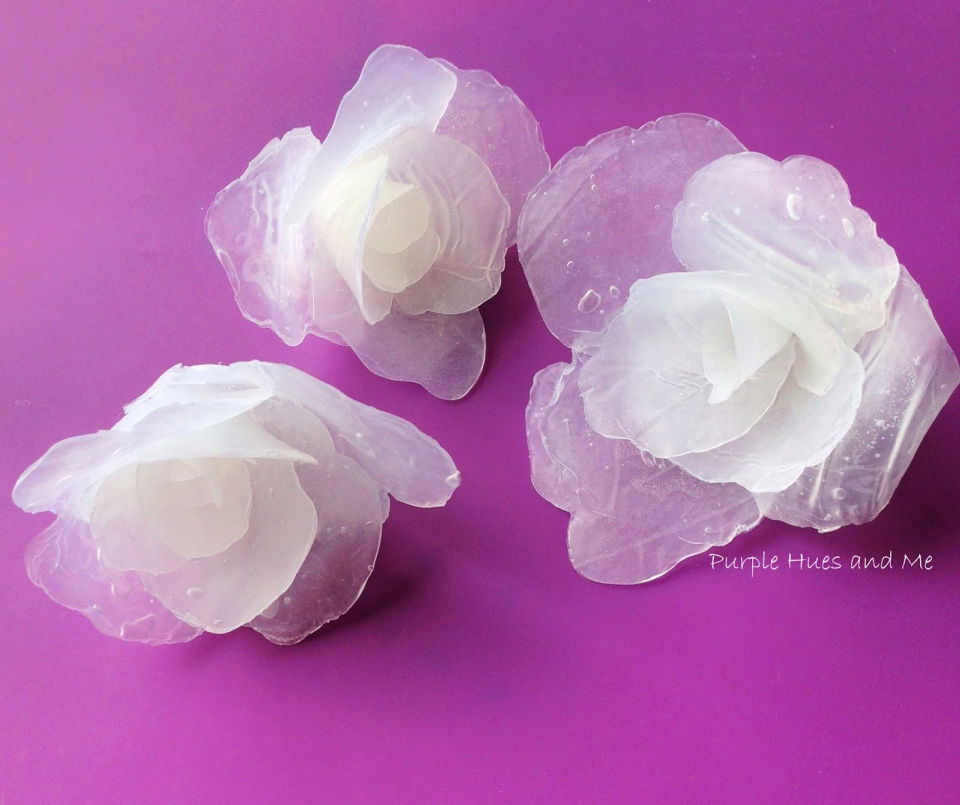 Discover a world of beauty with DIY glue gun flowers for your wall art! This easy-to-follow tutorial will show you how to use a glue gun to make beautiful 3D flower designs that can be applied directly onto any surface. The possibilities are endless, from walls and window frames to furniture and vases! With just a few simple tools, some creativity, and a bit of patience, you'll soon have lovely floral decor pieces that look like they were created by a professional artist. Discover the world of DIY glue gun flower art today! purplehuesandme
15. Make Your Own Glue Sequin Suncatcher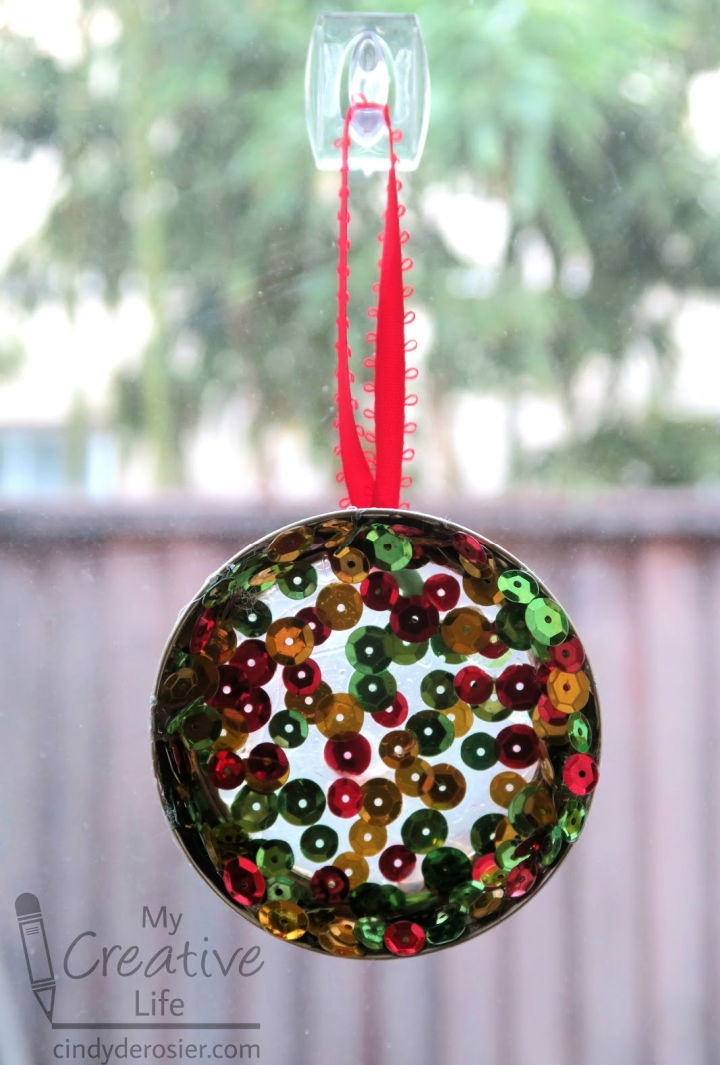 Adorn your space with a dazzling sun catcher from glue and sequins! You'll need a mason jar ring, sequins of any color, a silicone mat and tool for positioning the pieces, and a glue gun to attach the sequins. Finally, tie it up in ribbon for an extra touch of charm! This craft project is perfect for adults and kids – so get creative today and make your own glue sun catcher. cindyderosier
16. Glue Gun Farmhouse Decor Idea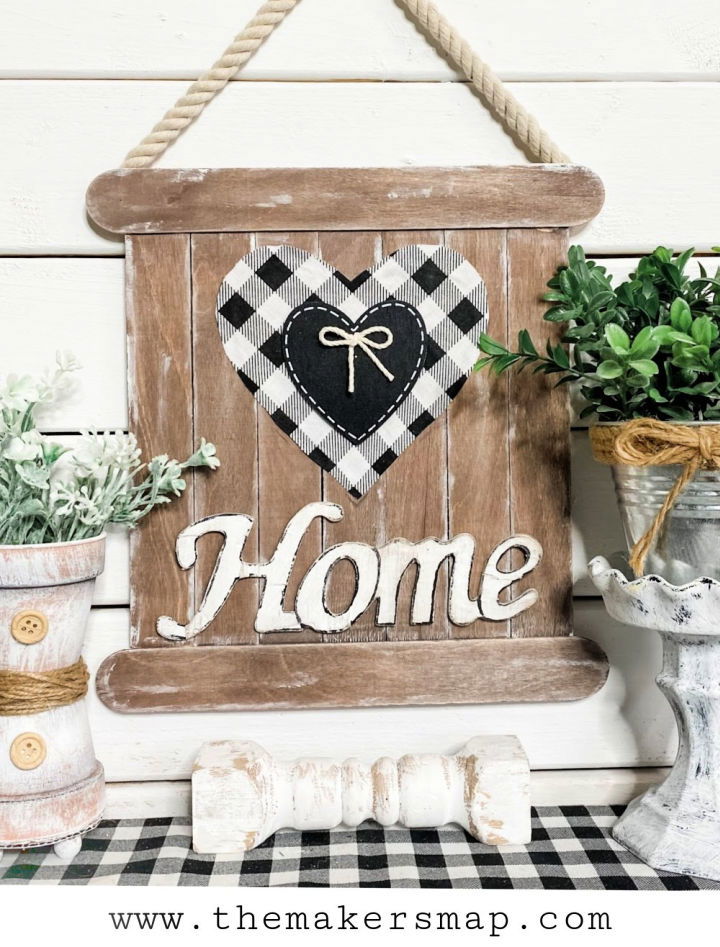 Transform any space with this simple yet stunning farmhouse décor DIY project. All you need is a sure bonder glue gun and sticks, Dollar Tree wood rectangle, apple barrel burnt umber acrylic paint, apple barrel white acrylic paint, jute twine and a drill.
Begin by painting the wood rectangle using the two colors of paint in alternating stripes. Then use the glue gun to attach jute twine designs around the outside of your artwork. Finish up by drilling holes through your art so that you can hang it on a wall or door! Clean off any excess glue with wet wipes for an easy and mess-free décor idea. themakersmap
17. Quick and Easy Jewelry With Hot Glue Gun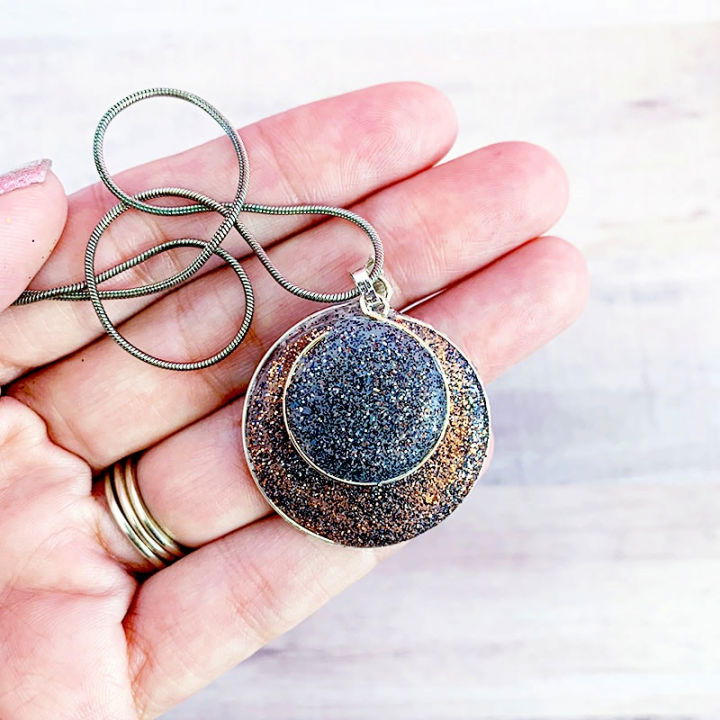 Time to transform ordinary items into extraordinary jewelry in no time with a hot glue gun! From earrings to necklaces, you can make custom pieces that are unique and stylish. These step-by-step tutorials will show you how easy it is to use hot glue to design beautiful jewelry that won't break the bank. Best of all, you will have tons of fun trying this idea. Get creative and start crafting today with this quick and easy jewelry with a hot glue gun! 100directions
18. How to Make Glue Gun Earrings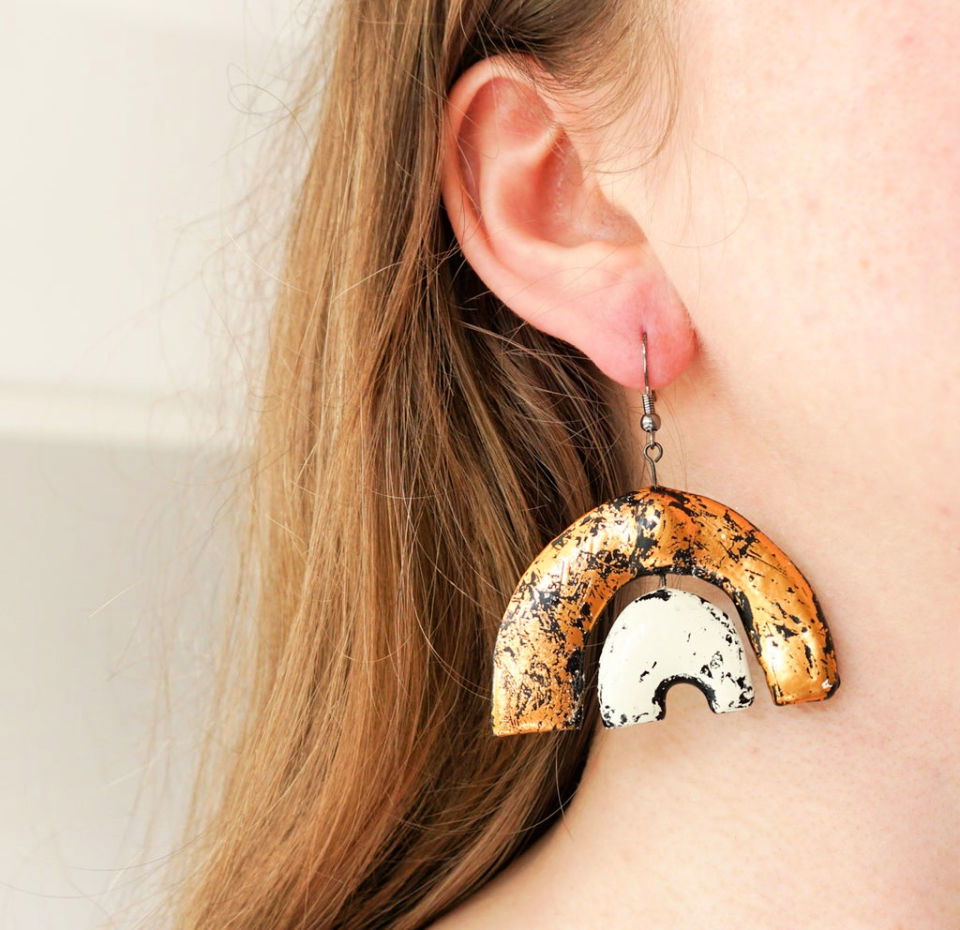 Express yourself with a glue gun, and design your own earrings! This simple and easy-to-follow tutorial will show you how to make beautiful and creative earrings at home. You can customize them to any shape or color that you'd like.
All you need is a glue gun, some metal hooks for the earring backs, and craft materials of your choice, such as beads, buttons or fabric. Follow these steps to make one-of-a-kind earrings perfect for any occasion: heat up the glue gun; apply the glue onto the back of each metal hook; attach whatever design elements you desire; let cool before wearing. With this DIY guide, you can now make beautiful custom jewelry pieces in no time! instructables
19. Fun Hot Glue Gun Art
Unleash your inner artist with a glue gun, glue sticks, Arches paper (or any other!), watercolors and brushes – make unique works of art! You only need to heat up the glue gun and start makingamazing designs. Cut shapes out of the paper with the help of your glue gun, and watch as they come alive with vibrant colors when you paint them with your watercolors.
Once finished, go ahead and frame it or hang it on a wall to bring life into any room in your home. Get started with this glue gun craft, as it will not only bring joy but also add personality to your décor! instructables
20. Homemade Glue Gun Glitter Leave
Transform your craft projects with this homemade glue gun glitter leaves kit. This fun and simple craft activity includes a glue gun, glitter leaves, and all the accessories you need to make beautiful decorations for home decor, scrapbooks, or cards. The high-quality materials provide durable adhesion that won't peel off over time. Get creative with sparkly patterns, or use them as accents on wreaths or garlands. Have hours of fun makingDIY masterpieces with this unique craft! craftyourhappiness
21. Best DIY Hot Glue Gun Showpiece
Let your creativity flow with the best DIY hot glue gun showpiece! Perfect for arts and crafts beginners or even advanced artists, this easy-to-use hot glue gun is a must for making unique showpieces. It comes with adjustable temperature control plus extra-long 4-inch nozzles that make it perfect for working with all sorts of materials, from fabrics to paper. Make beautiful home decorations, gifts and more – stick any type of material together safely and securely in minutes! With its ergonomic design, you'll have a comfortable grip while crafting, so you can focus on makingwonderful works of art in no time. Get creative today – order the best DIY hot glue gun showpiece now!
22. Unique DIY Waterfall From Glue Gun and Small Pot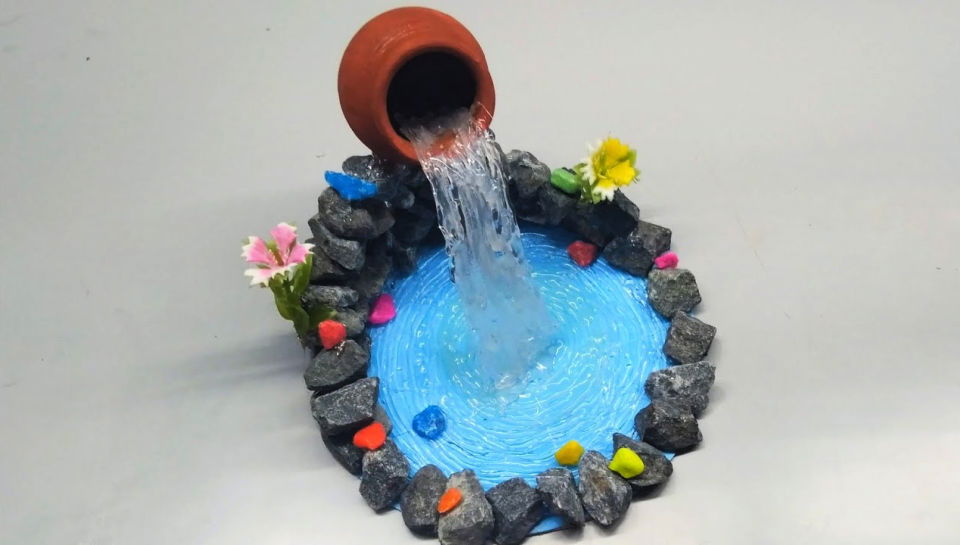 Flaunt a unique DIY waterfall from everyday items. You will need a glue gun, a small pot, and some rocks. Start by using the glue gun to attach the rocks to the outside of your pot in whatever design you desire. Next, fill the pot with water and let it run over your rock formation for an easy-to-make waterfall that is sure to delight any onlooker. This fun project can be easily customized with different sizes of pots and a variety of rocks or pebbles of various colors to make an eye-catching display that looks professionally designed but at a fraction of the cost!
23. Decorate a Mirror With Glue Gun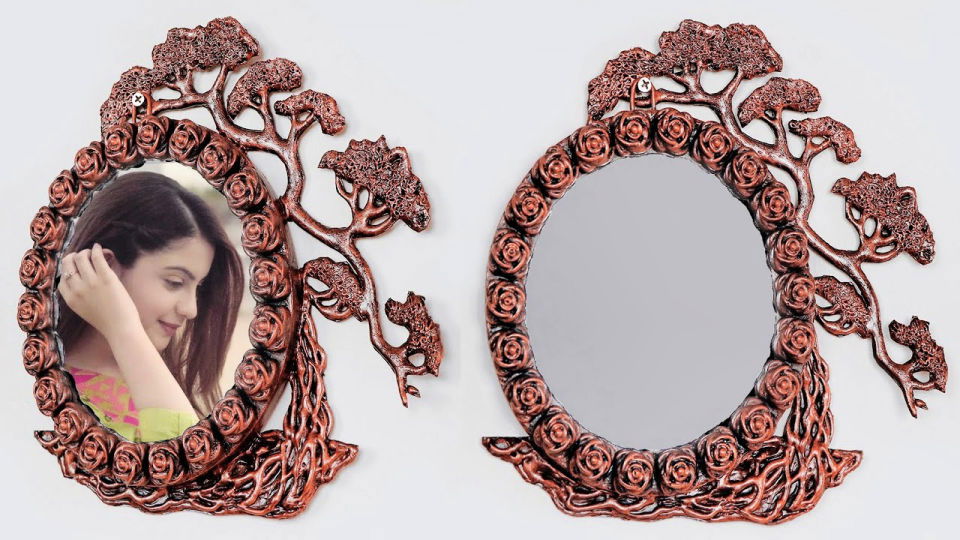 Transform an ordinary mirror into a beautiful, custom-made showpiece with just a glue gun. With our simple step-by-step instructions, you can easily decorate your mirror with decorative embellishments like rhinestones and gems.
All it takes is some imagination and creativity – the possibilities are endless! Discover how to give an old or plain-looking mirror an incredible makeover at home without spending too much money or time. Get creative and learn how to use a glue gun to craft something unique that will catch the eyes of any room or hallway. Make your own dazzling personalized design today!
24. Simple DIY Engagement Rings With a Glue Gun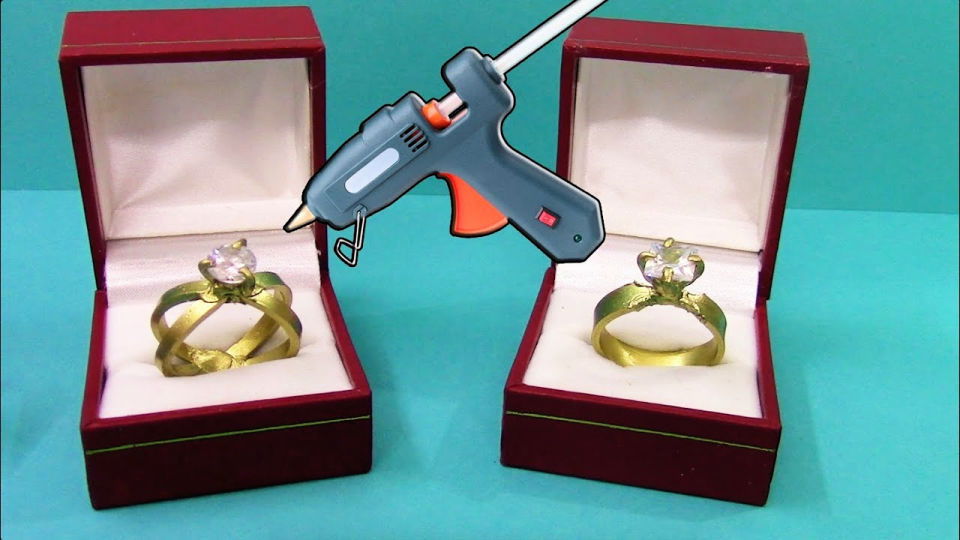 Are you looking for a unique and budget-friendly engagement ring? Look no further than simple DIY engagement rings with a glue gun! Make your custom design using this easy craft method, which involves melting the material into place for an eye-catching effect.
With just some basic supplies like glitter and colored beads, you can make your own stunning piece of jewelry that will be sure to impress. Make it more special by adding personal touches such as engravings or charms. Adding this extra touch will ensure your partner knows how much thought you put into their gift. Show them how much they mean to you with these fun and creative DIY engagement rings!
25. Handmade Hot Glue Gun Birthday Cake Topper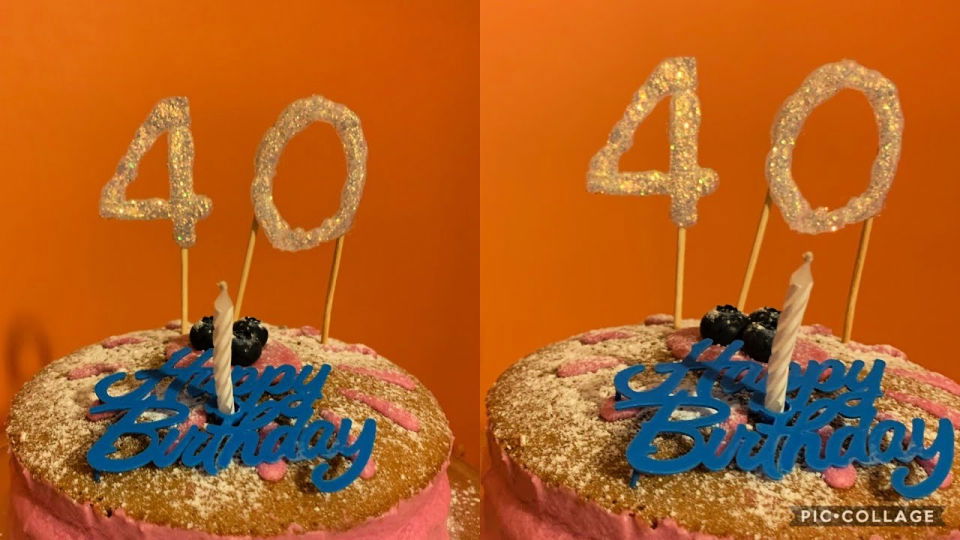 This handmade hot glue gun birthday cake topper is the perfect addition to your special celebrations! Made with love, this one-of-a-kind piece will be the talk of the party and sure to make any cake look amazing. Crafted using premium quality hot glue, it's guaranteed to last for many years no matter how much celebrating you do! With its unique design that adds a fun touch of personality to any cake, this birthday decoration is sure to bring smiles all around. Get yours now and make every celebration extra special!
Conclusion:
These 25 fun and easy hot glue gun crafts are a great way to unleash your creativity and make something amazing. Whether you want to decorate your home, accessorize your outfit, or celebrate a special occasion, you can find a hot glue gun craft that suits your needs and style.
You can also enjoy these hot glue gun projects with your family and friends, and have a blast making them together. All you need is a hot glue gun, some supplies, and your imagination, and you can create stunning crafts that will impress everyone. So, what are you waiting for? Grab your hot glue gun and start crafting today!