Fairy crafts are a wonderful way to let your imagination soar, as you enter a world of magic and wonder. Try these 25 easy fairy crafts with your kids using materials you probably have at home. You will find instructions for making beautiful paper fairy gardens, cute paper cone fairies, and many more. All you need are some popsicle sticks, paper, and cupcake liners, and you are ready to create your fairy masterpiece.
Kids love fairy tales, because they are full of amazing characters and adventures. DIY fairy crafts let you bring those stories to life, by turning ordinary things into something magical. Imagine how much fun it would be to make a fairy garden in a teacup, or a glittery magic wand. You can also make adorable fairies out of clothespins and cupcake liners, or stick and cupcake liner fairies. There are so many different kinds of fairy crafts to choose from, like toilet paper roll fairy houses or dollar store fairy door garden crafts. You will surely find a fairy craft that suits your taste.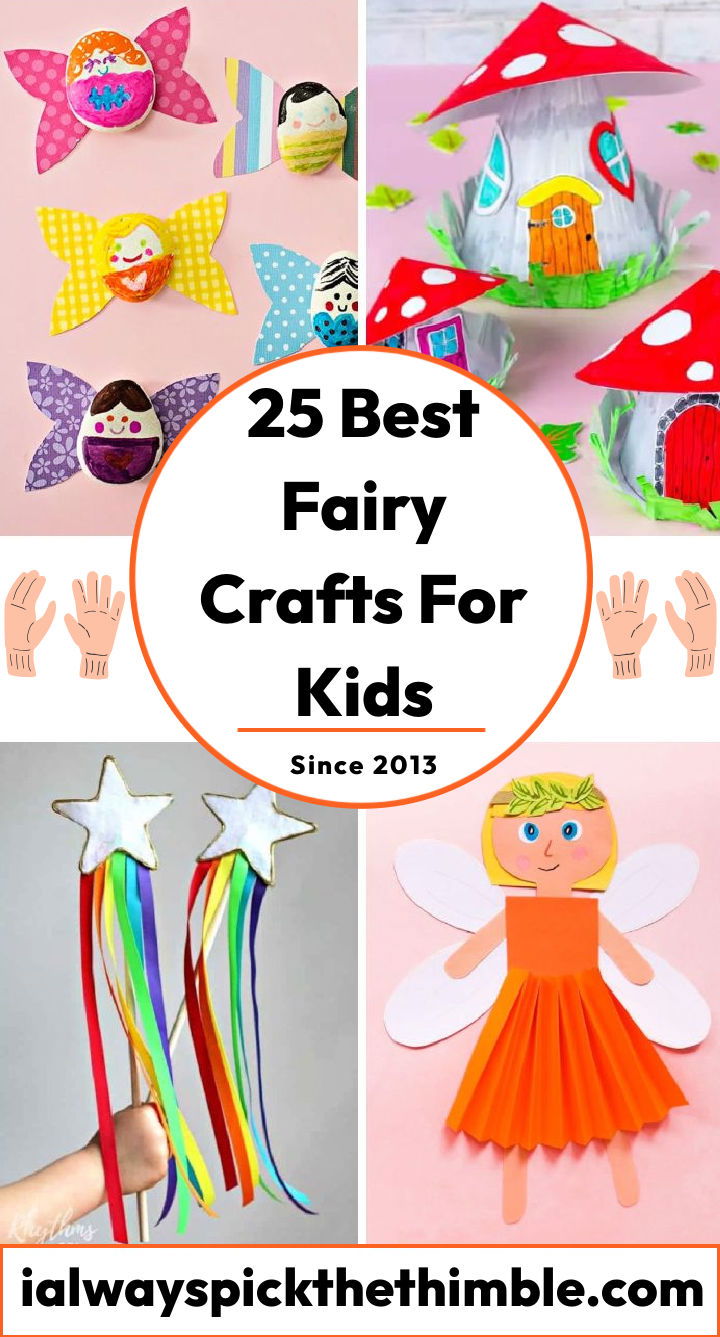 Fairy crafts are not only fun, but also educational. They help kids of different ages to improve their fine motor skills and unleash their creativity. They also teach kids how to use different tools and techniques, like cricut vinyl for making a magical fairy house planter. Fairy crafts combine art and learning in a playful way, making them the perfect activity for curious and creative kids. So, grab your supplies, pick a fairy craft from the list below, and start your magical crafting adventure today
1. DIY Flower Fairy With a Popsicle Stick
Bring your imagination to life and transform a popsicle stick into an enchanting flower fairy! You can make the perfect fairy With simple supplies like jumbo craft sticks, acrylic paint in various colors, faux flowers, butterflies, and pom poms.
Use a hot glue gun and sticks or craft glue stick for adhesion as well as a paintbrush, black fine-tip marker, pencil & scissors to craft this delightful project. Get creative while making your very own Flower Fairy with these easy-to-follow steps – it's sure to be fun for all ages! rufflesandrainboots
2. How to Make Sparkly Magic Wands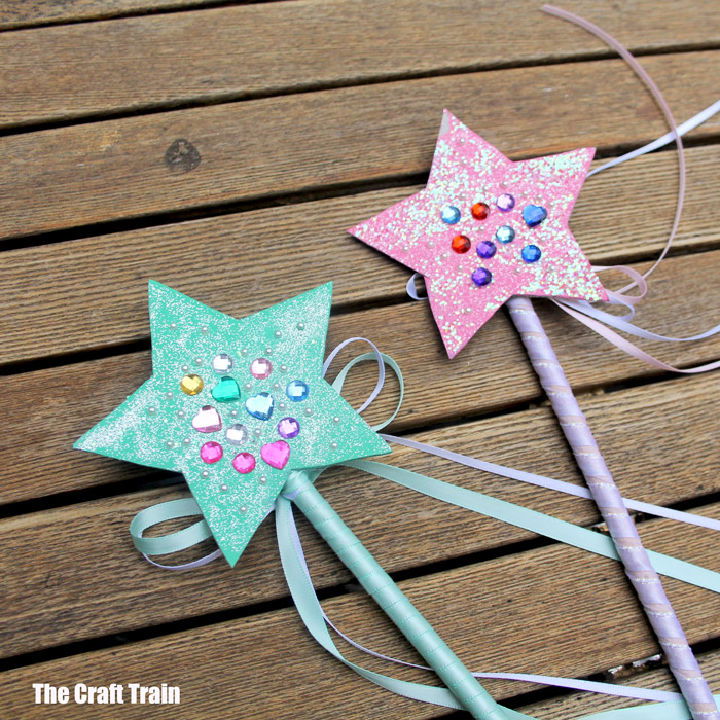 Get creative with these enchanting fairy crafts that are sure to delight and inspire. Transform simple materials from your craft closet into an enchanting, shimmering magic wand! With dowel rods, lengths of ribbon, heavy cardboard, and more, you can make this magical toy.
Start by cutting the dowel rod to your desired length, then cut out star shapes in the cardboard and paint them with acrylic paints. Attach each star to one end of the rod using craft glue. Work in sections, gluing down ribbons along the length of the rod, then use laundry pegs to keep everything securely in place while drying overnight. When finished, you'll have a beautiful sparkly wand that will make all your wishes come true! thecrafttrain
3. Whimsical Paper Fairy Garden Craft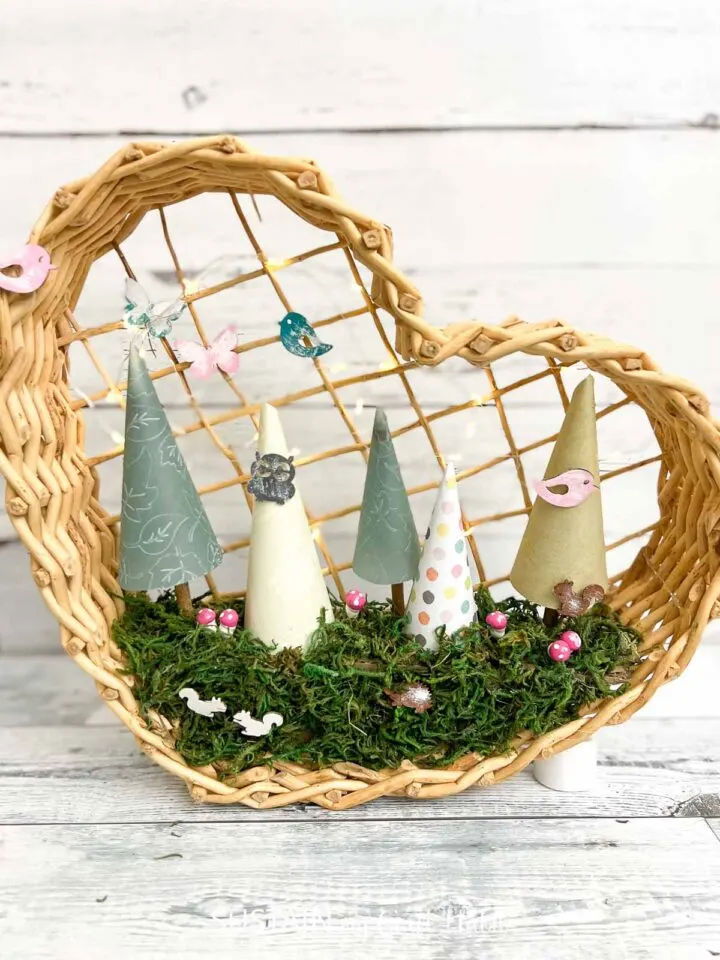 Have a look at this adorable magical paper fairy garden craft made with this whimsical DIY fairy crafts plan! Start by forming a wicker basket or wreath in the shape of a heart. Then decorate your garden with wooden cut-outs in woodland-themed shapes and decorative craft mushrooms. Add decorative paper, cardboard, and moss for texture and visual interest.
Use a wooden stick or ¼″-½″ dowel to make stems for the decorations. Finish off your creation with paint, small twinkle lights, and a hot glue gun to secure all pieces in place! Bring this charming craft to life and enjoy it as part of your home décor! sustainmycrafthabit
4. DIY Toilet Paper Roll Fairy Houses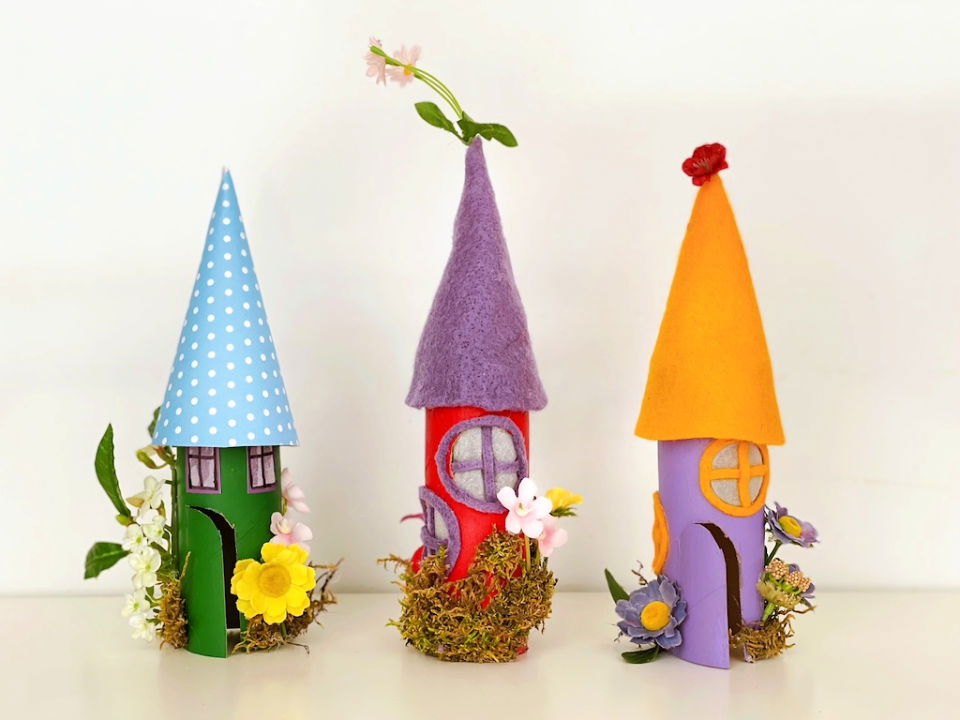 Bring a touch of magic to your home with these easy and fun DIY fairy crafts. Make your own DIY toilet paper roll fairy house! All you need is a toilet paper roll, small sharp scissors, acrylic paint, a paintbrush, light cardstock or paper/felt for the roof and walls, tracing paper or plain paper for windows, a pencil to draw out the door, and window shapes. Then use a black medium-point felt tip pen (like Sharpie) to trace them.
Adhesive tape can be used if using paper for the roof. Further, customized with artificial flowers cut down with wire cutters and dried moss. Finally, secure it all in place with a low-temperature glue gun and white school glue like Elmer's! Get creative and make magical houses fit for any fairy! callmegrandma
5. DIY Stick and Cupcake Liner Fairy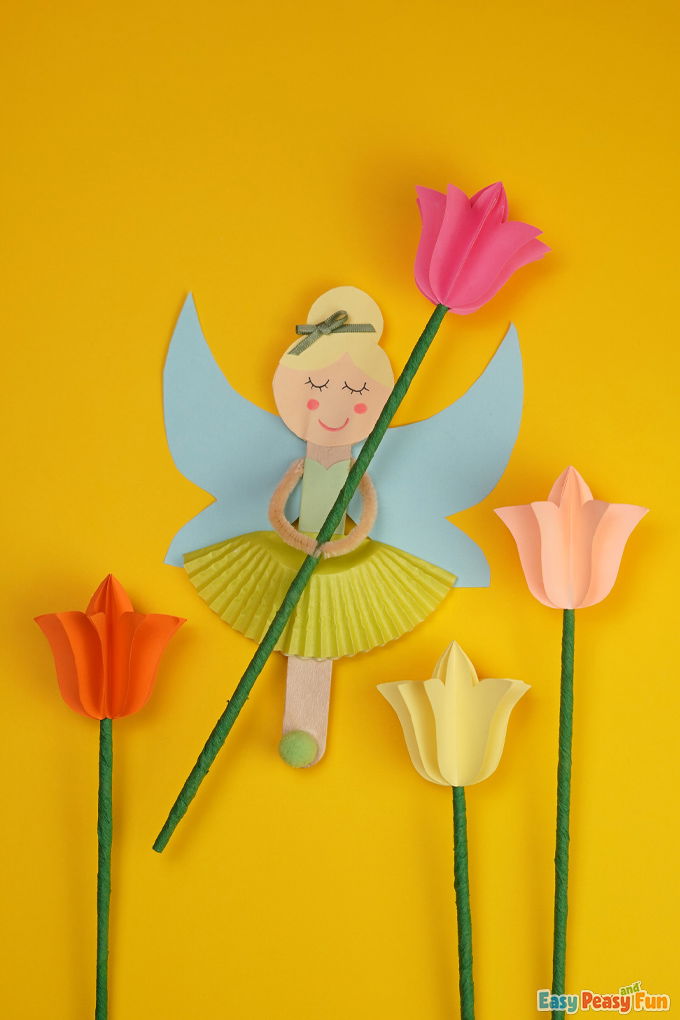 Unleash your imagination and bring to life a one-of-a-kind fairy using nothing but some simple items like a stick and cupcake liners with this DIY stick and cupcake liner fairy! All you need are scissors, a glue stick (pink and black) marker, a pencil, a popsicle stick, muffin paper, green pompom, green silk ribbon body-colored pipe cleaner, as well as body-colored, green, blue, and yellow papers.
With these materials, you can craft an adorable little handmade fairy perfect for any special occasion or to decorate your home. Let your imagination run absolutely wild in makingthe perfect little cupcake liner fairy! easypeasyandfun
6. How to Make a Teacup Fairy Garden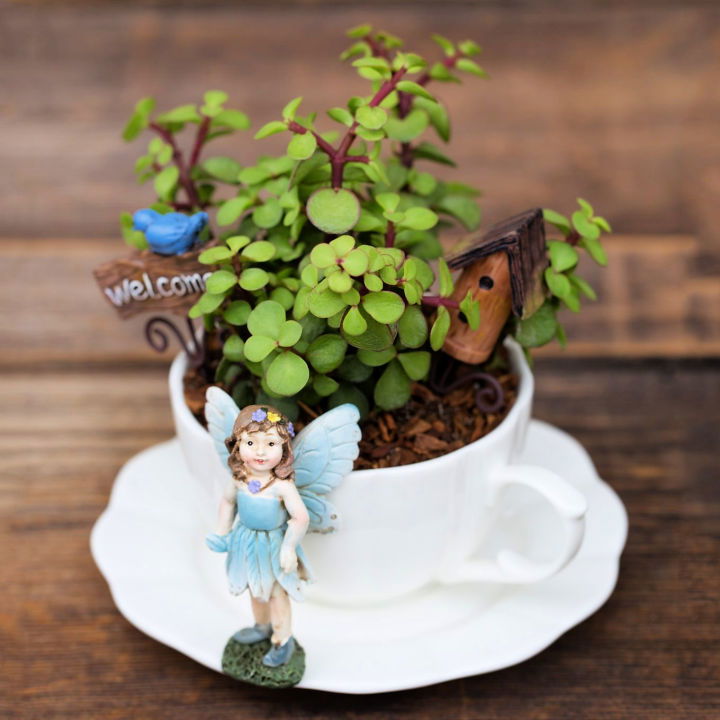 Bring the magic of a fairy garden to life in your own teacup! Start by covering the bottom of your cup with pebbles or stones to ensure proper drainage for the soil. Plant a small succulent and dress it up with moss or mulch, then add whimsical fairy garden embellishments for added charm. With just these few simple steps, you'll have an enchanting teacup fairy garden in no time! firefliesandmudpies
7. DIY Mushroom Fairy House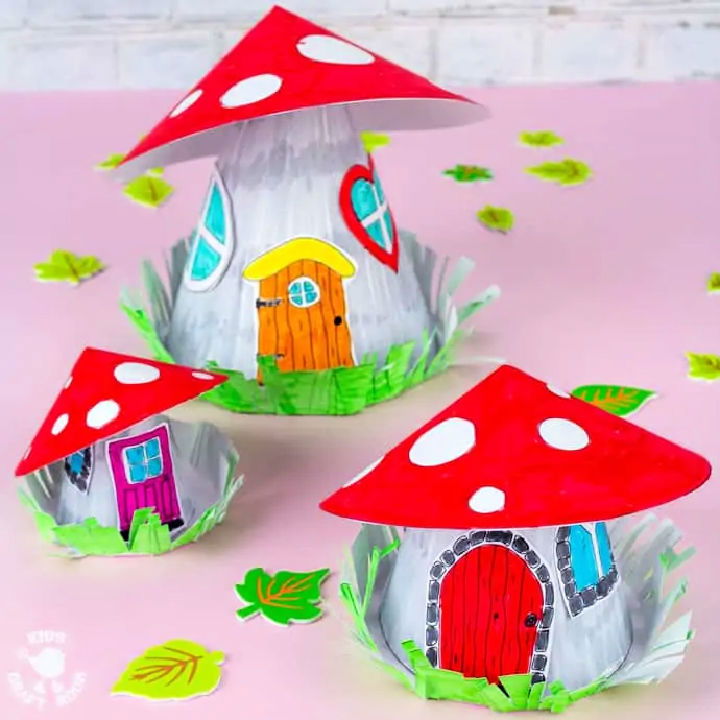 From fairy gardens to fairy wings, there are plenty of fairy craft ideas to choose from. Spread a touch of magic to your garden with this DIY mushroom fairy house project. Download these free printable templates and get creative as you color in the black-and-white version, adding doors and windows for a personalized design. Once you have cut out all the pieces, roll the mushroom stalk into an open-ended cone before gluing it into place.
Finish off by attaching your chosen doors and windows – then wait for the fairies to come! Try this easy craft for hours of fun today, makinga magical home perfect for little ones everywhere. kidscraftroom
8. Paper Fairy Craft for Kids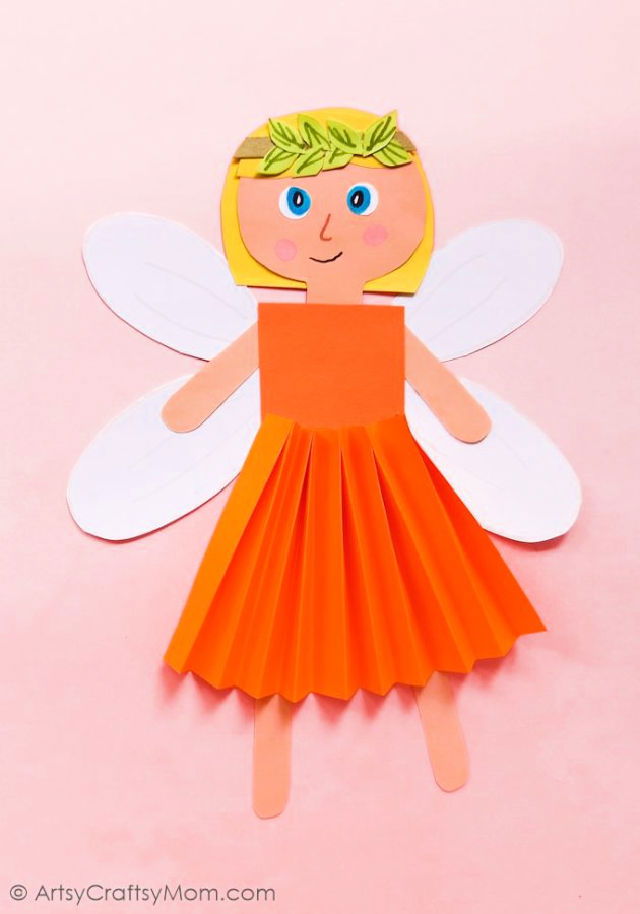 Spruce up beautiful paper art with the paper fairy craft for kids! With craft paper in different colors, colored markers, scissors, and a glue stick, you can download the pattern and trace the parts of the template onto craft paper.
Fold it in an accordion style to make a 'pleated' skirt, then stick pieces behind the head and on the torso part. It's an easy way for kids to discover their creative side and make something special they'll be proud of! artsycraftsymom
9. Mushroom Fairy Garden House for Preschoolers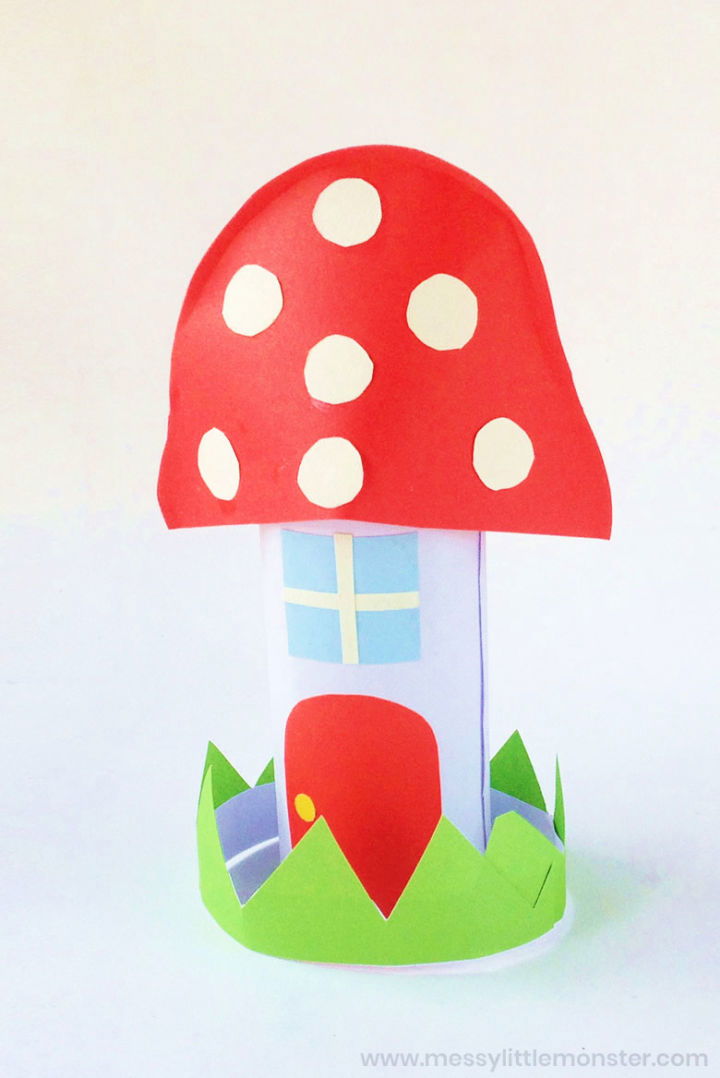 These fairy crafts for preschoolers are perfect for developing fine motor skills and encouraging creativity. Enter an enchanting world of fairies and have fun with this mushroom fairy garden house craft! Perfect for preschoolers, this easy-to-make craft is sure to delight your little ones. Gather the supplies – a foam ball, moss, glue, rocks, paint, and other decorations – then follow these step-by-step instructions to prepare the base of your fairy house.
Next, make the roof using twigs or nuts and glue them together. Finally, accessorize your fairy house – add mushrooms or flowers to make it truly magical! Make lasting memories with this whimsical and creative activity. messylittlemonster
10. DIY Magical Paper Cone Fairies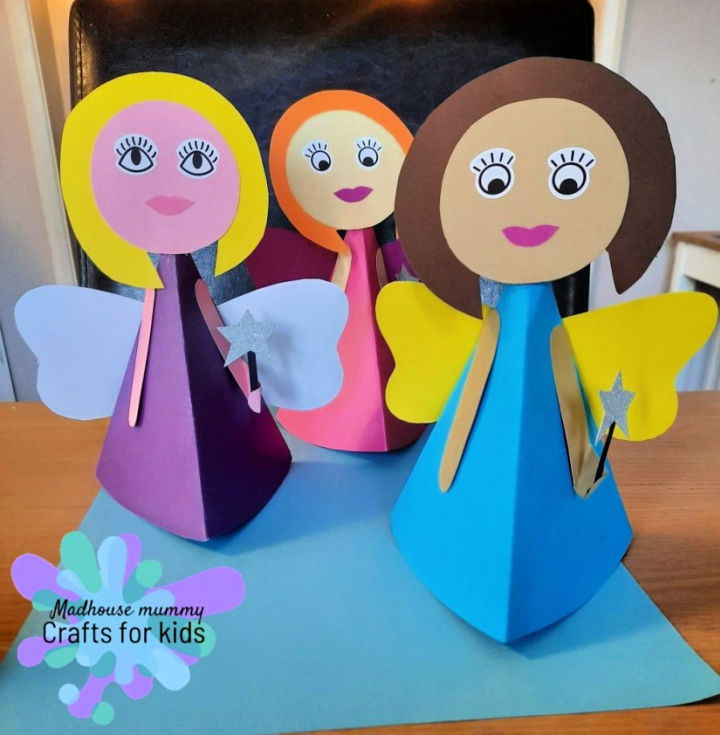 With the help of this tutorial, make your own magical paper cone fairies! All you need is colored craft paper or a card, scissors, and glue. Add some sticker eyes to add more personality to your creations!
This fun DIY activity is perfect for anyone who loves crafts – from kids to adults. Get creative and make your own whimsical little fairies today – they are sure to bring a smile to everyone's face! thiscraftyfamily
11. Dollar Store Fairy Door Garden Craft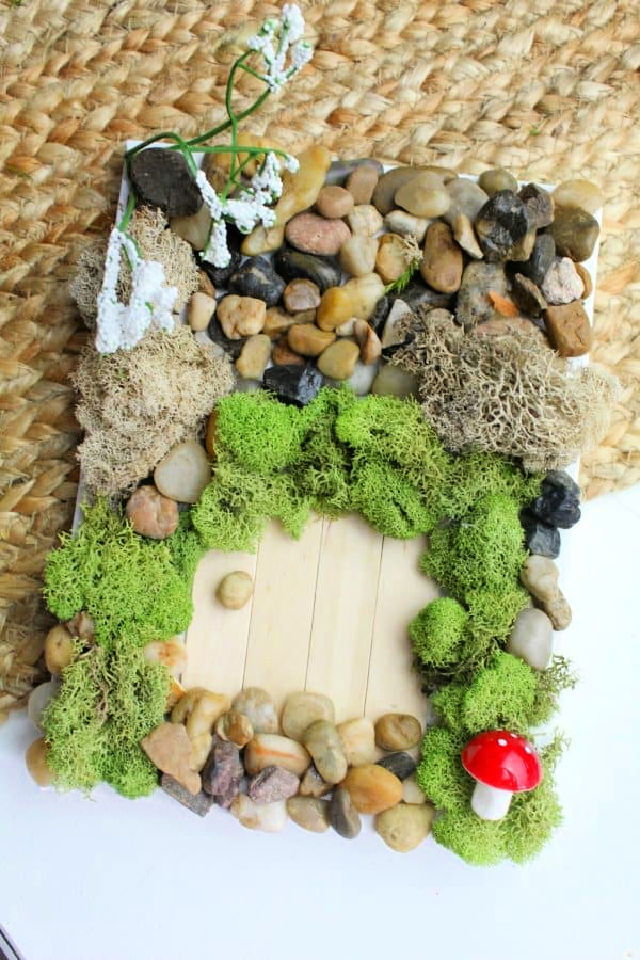 Unleash yourself with these beautiful and intricate fairy crafts for adults. Unlock your imagination and transform ordinary supplies from the dollar store into a magical fairy door garden! Start out with a small rectangular canvas and add wide wood craft sticks for an instant arbor gate. Add crafting moss, small crafting stones, and faux flowers of choice to make your own magical scene.
Finish off your project with hot glue or a glue gun and scissors to complete the look. Make something special that will bring beauty and enchantment to any room in the house! thehomespunhydrangea
12. Fairy Garden Small World Ideas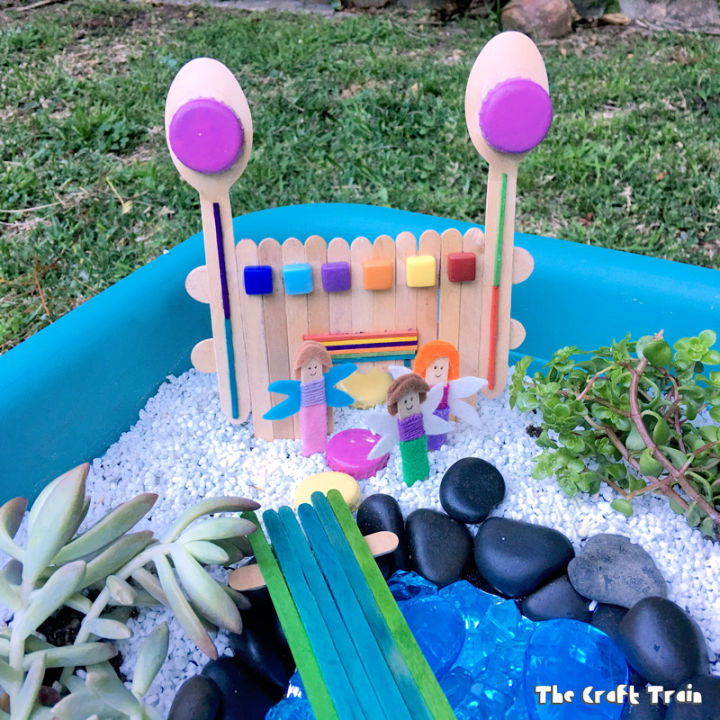 Keep your kids entertained with these magical and enchanting fairy crafts for kids. Sow a charming and unique fairy garden small world of your own with these creative ideas! Start by filling the pot with soil, then roughly plan out where to add plants, decorations, and even a little gem pool. Dig a hole and line it with alfoil for extra sparkle, then poke some holes for drainage so that water won't fill up in bad weather.
When you're finished, your enchanting mini-world will be ready for fairies to explore! Make your very own magical haven today – perfect for any nature lover's outdoor space or indoor windowsill. thecrafttrain
13. Making Magical Paper Cup Fairy House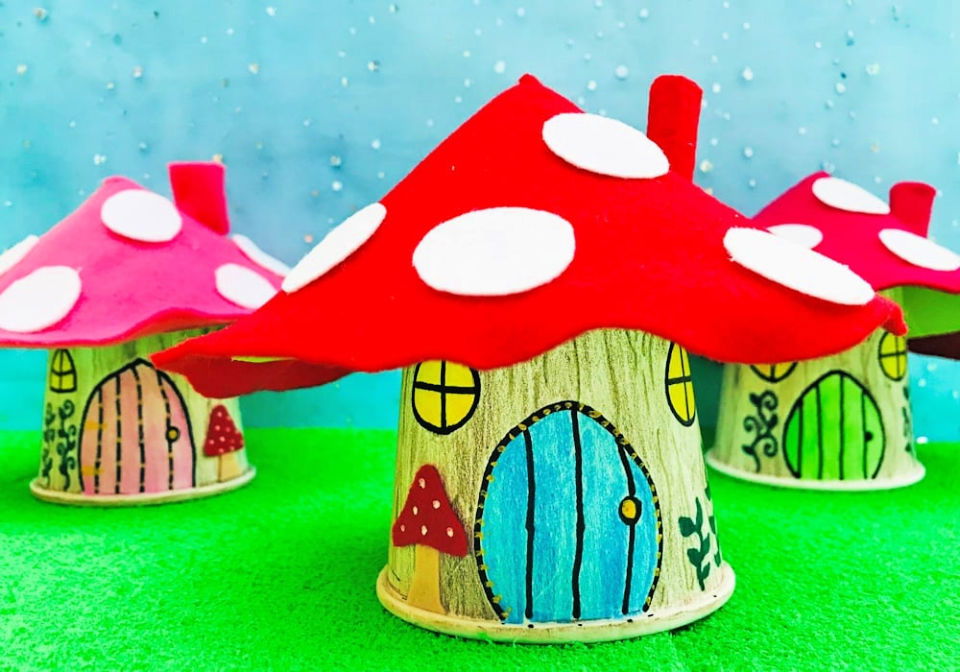 With just some basic supplies, make a unique and magical paper cup fairy house Start by drawing on the door and windows – use your creativity to add detail and color! Cut out circles of card for the roof, then cut out felt to cover it.
Glue down the felt securely, ensuring you trim off any excess edges before adding some special spots. With a few simple steps, you can make an enchanting paper cup fairy house that will bring delight to all ages! masandpas
14. Adorable Clothespin Fairy Craft for Kids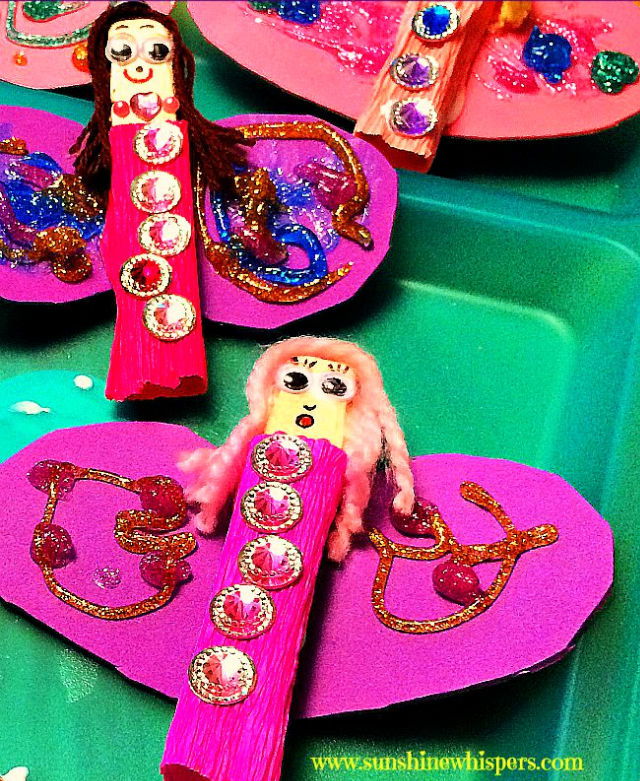 Let your little ones show off their creativity with this adorable clothespin fairy craft for kids! This craft set includes no-roll slotted clothespins, foam sheets of various colors, yarn for the hair in various colors, crepe paper or fabric or felt for the fairy dress, mini tubes of squeezable glitter glue, jewel and pearl stickers of varying sizes and colors, scissors, black sharpie marker, red marker.
And last but not least – two small googly eyes and craft glue to complete this perfect fairy design. Let your kids explore their imagination with this fun and easy-to-assemble kit. Get it now! sunshinewhispers
15. Make a Magical Fairy House Planter With Cricut Vinyl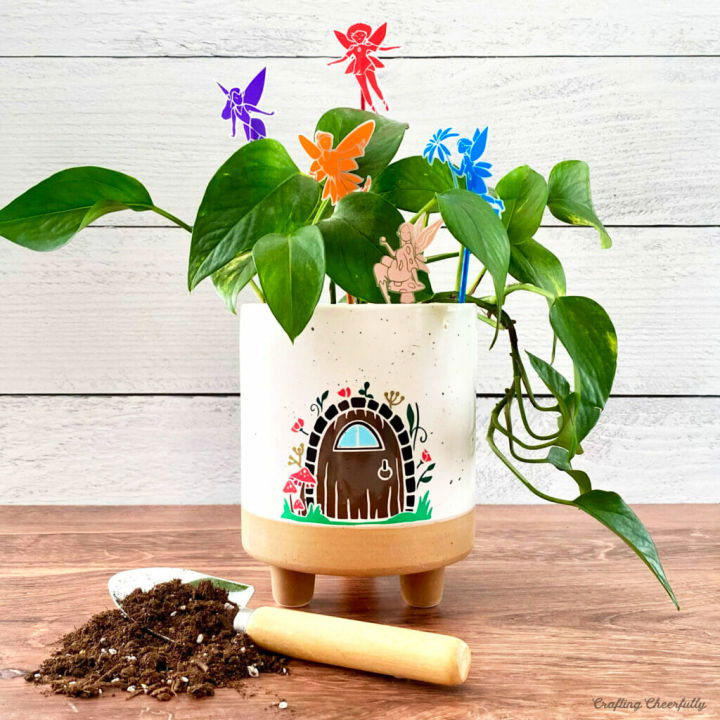 Build a magical fairy house planter with Cricut vinyl and make your outdoor space look amazing! Cut the fairy door from vinyl, weed your design, and layer it together. Then simply apply it to any standard-sized planter for a unique decoration that will have your friends in awe. This is an easy way to bring some extra charm into your home in no time at all.
Get creative with this easy project by using different colors of vinyl to paint a beautiful scene on the side of the planter or adding additional accessories like butterflies or stars for even more enchantment! craftingcheerfully
16. Making Popsicle Stick Garden Fairies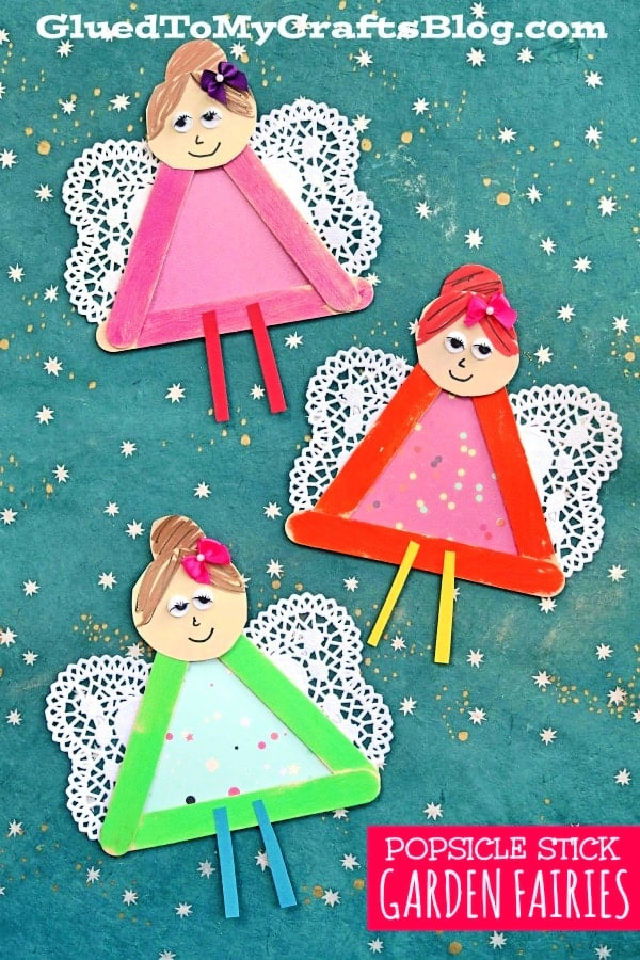 Bring the garden to life with your own handmade popsicle stick garden fairies! All you need is jumbo popsicle sticks, craft paint, a small paintbrush, and a paper plate for a base. Add scrapbook paper, card stock paper, and heart doilies for details.
Use craft scissors and sharpie markers to make wings or any other beautiful designs. With these supplies, you can make multiple fairies that will bring smiles to everyone in your family or friends circle. Get creative while having fun – start making your unique garden fairies today! gluedtomycraftsblog
17. Felt Fairy Crown Craft for Adults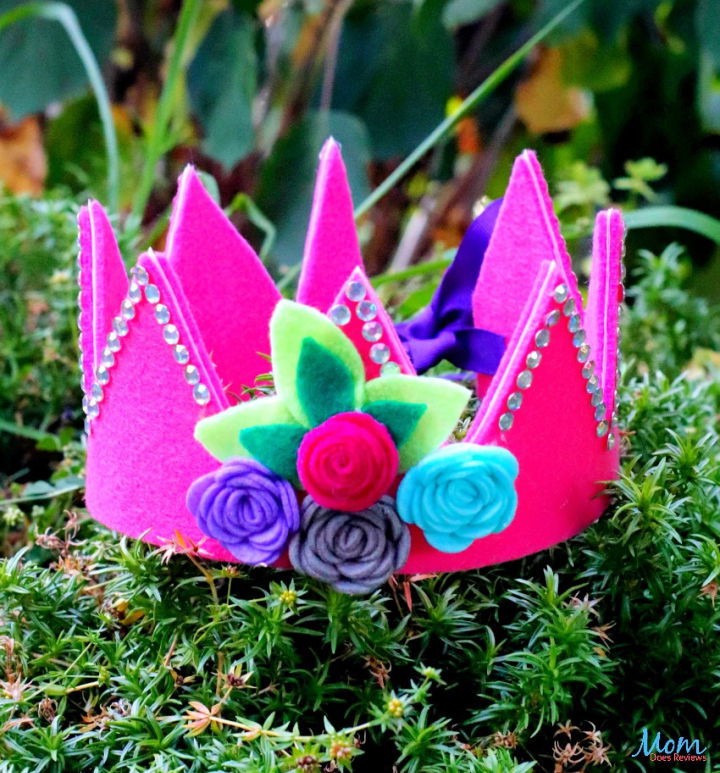 Feel like a princess with a beautiful felt fairy crown craft and become a fairy princess! Start by printing two copies of this template, taping them together, then measuring your head and subtracting 1". Cut out your template to size.
Next, cut two pieces of felt and interfacing and iron the interfacing onto the felt. Place one template on top of the felt side up, clipping or pinning it in place before you cut out each piece. Follow these instructions to make an enchanted crown fit for any fairy princess! momdoesreviews
18. Plastic Bottle Fairy House Night Lights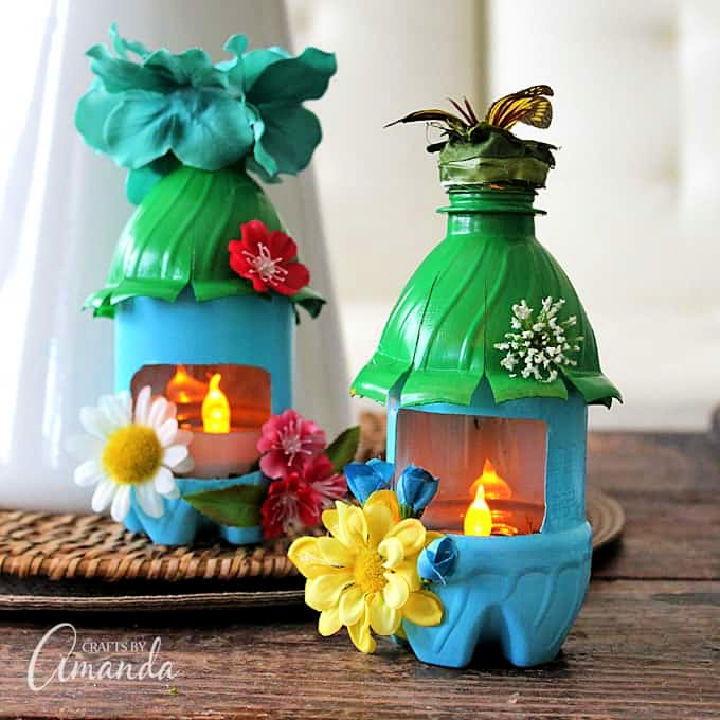 This is how you can make your home come alive with the unique and environmentally friendly plastic bottle fairy house night lights. This set includes a recycled plastic bottle, multi-surface craft paint, LED tea light, silk flowers, moss, and all the tools necessary to make your masterpiece: a hot glue gun, craft knife, and scissors.
With these supplies, you can make a one-of-a-kind fairy house nightlight that will bring warmth and charm to any space! Not only are these lights beautiful, but they help reduce waste by using recyclable materials. Transform an ordinary bottle into a magical fairy house with this plastic bottle fairy house night light! craftsbyamanda
19. Magical Paper and Rock Fairies for Kids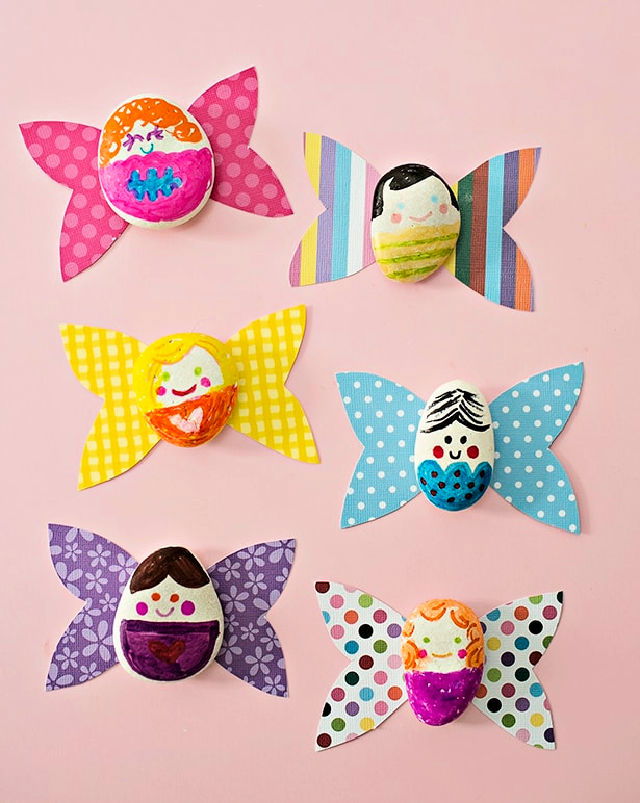 Let your little ones unleash their creativity with magical paper and rock fairies for kids! This fun, easy-to-follow activity requires only a few supplies, such as white rocks (or gray rocks that you can paint white), paint markers or regular markers, patterned cardstock, a hot glue gun, and scissors.
With these materials in hand, your kids will get to design colorful fairy sculptures sure to spark joy. Join them today and explore the world of paper craft fairies perfect for any age! hellowonderful
20. DIY Lavender Fields Fairies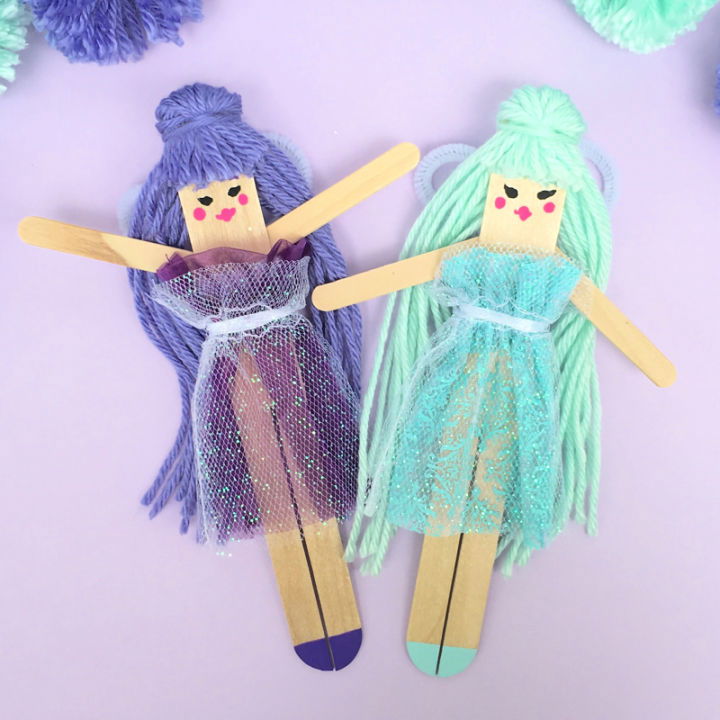 Cherish the beauty of a lavender field to life with Aleene's tacky glue and other craft supplies – make your own fairies! Make unique fairies from tongue depressors, mini popsicle sticks, yarn, tulle treat bags, pipe cleaners, and acrylic craft paint.
Craft knife not included for safety purposes; adult supervision is recommended when crafting. Let your imagination run wild as you make these darling lavender field fairies that are perfect for gifting or home decor! aleenes
21. Rainbow Ribbon Magic Wand for Kids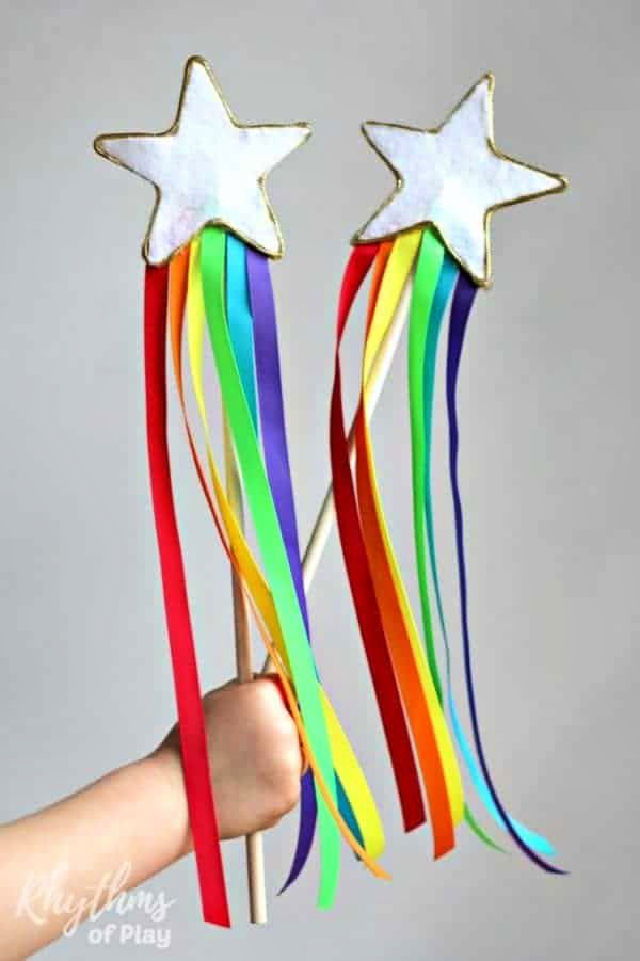 Maximize your child's imaginative play with this DIY rainbow ribbon magic wand for kids! This fun craft project will help inspire your little one's creativity and unleash their inner fairy godmother. Using wooden dowels, bright-colored felt stars, and colorful ribbons, you can easily make two magical wands that are perfect for pretend play.
Simply cut the felt stars and ribbon into desired shapes, then glue them onto the wood dowel. Then attach a second star to complete each wand craft. Your children will have hours of fun pretending to cast spells with these charming rainbow ribbons magic wands! rhythmsofplay
22. Easy Doily Fairy to Make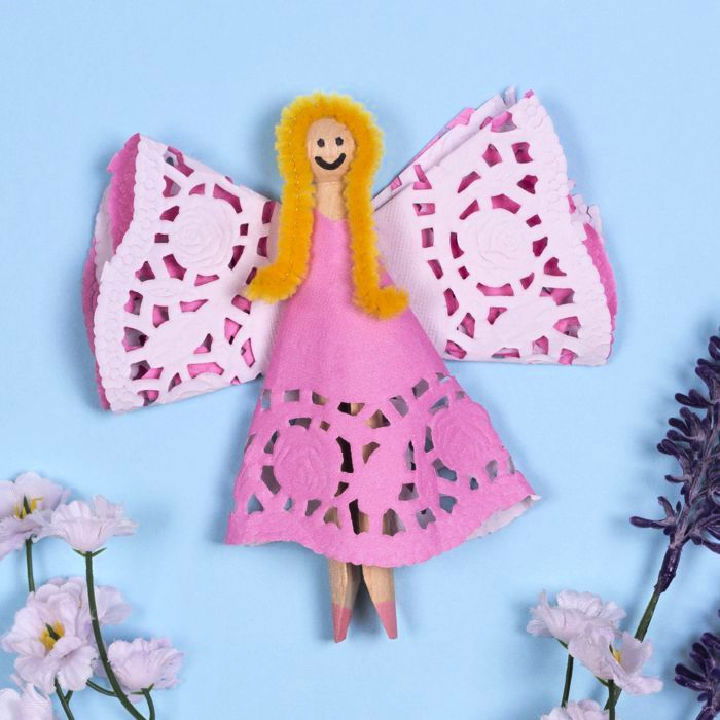 Get ready to bring your own fairy to life with ease! Make a cute doily fairy using a pink paper doily, a wooden peg doll, and some other craft materials. Cut the doily in half and wrap it around the wooden peg to make the dress, fold two halves of another light pink doily for wings, then glue it onto the back of the peg.
Wrap yellow pipe cleaner (or any other color) over the head for hair before drawing a face on the front with a black pen and coloring ends in pink as shoes. This easy fairy craft project is perfect for both kids and adults! bakerross
23. Fairy House Art Project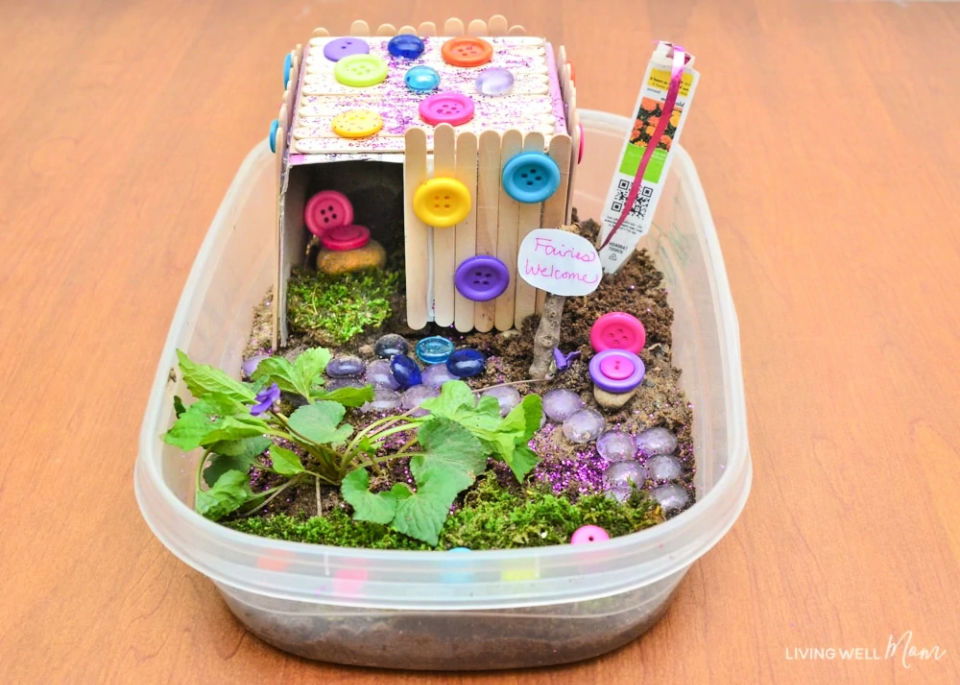 Spruce up a magical fairy house with this fun art project! All you need is some craft sticks, a small plastic container, colorful buttons, stones, and a hot glue gun to put it all together. Make sure to use an old container that can't find the lid for – a great chance for upcycling!
The cardboard box and sticks will make your Fairy House look more realistic. Add your own personal touch by choosing different colors of buttons and stones so you can make something truly unique. Have fun building your very own masterpiece! livingwellmom
24. Mini Fairy Garden Activities for Kids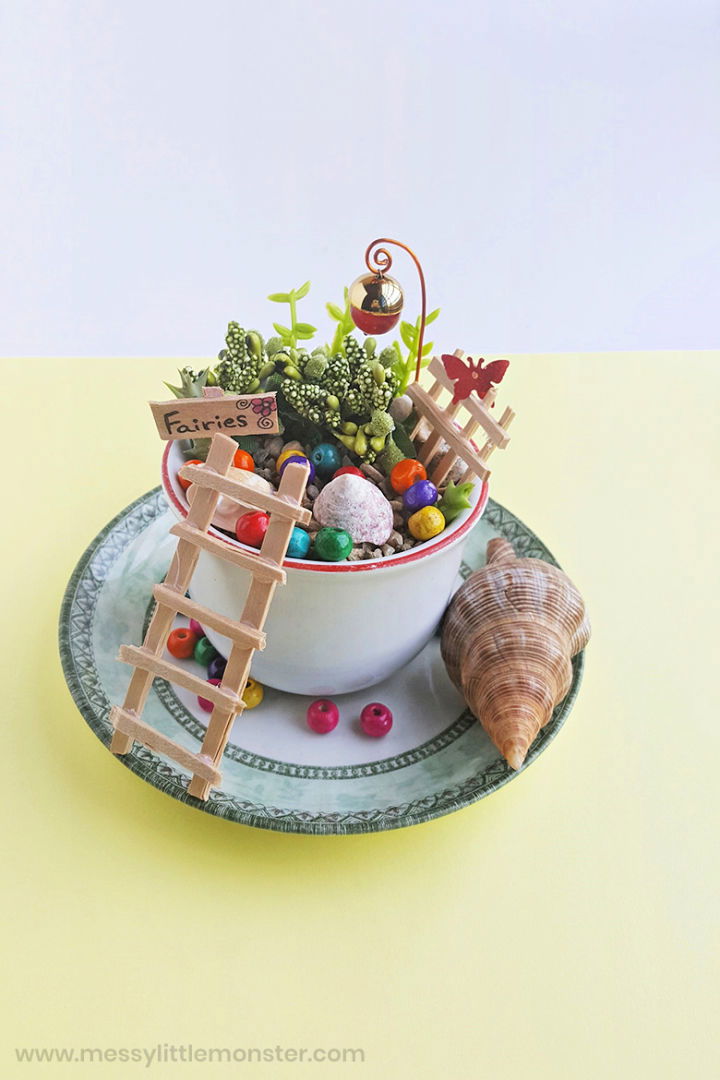 Kids will love makingtheir own magical mini fairy garden. With some simple supplies and a few easy activities, they can bring the outdoors indoors with this fun project.
Start by prepping the sticks for your ladder, fence, and sign. Then assemble each piece to make a unique structure that brings charm and whimsy to any space. Finally, make your mini-fairy garden complete with an adorable lamp post! This activity is sure to provide endless hours of imaginative play as kids explore their own enchanted kingdom. messylittlemonster
25. Fairy Garden Nightlight Art Craft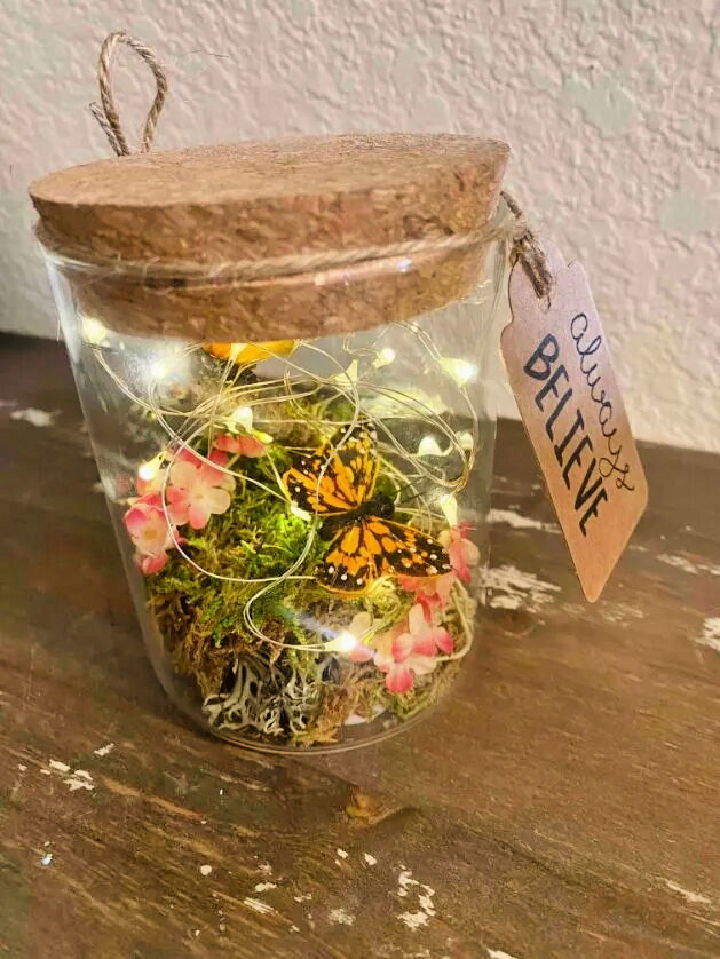 Change your home into a magical wonderland with this enchanted fairy garden nightlight art craft! Perfect for kids or adults to express their creativity, this craft involves unraveling fairy lights, covering the battery pack with moss and fake flowers, and attaching a butterfly.
With just a hot glue gun, you can make your own special night light creation that will be admired by everyone who sees it. Get creative today – start making your very own fairy garden nightlight art craft! thehowtomom
Conclusion:
Fairies are mythical creatures that capture the imagination of children and adults alike. With these 25 easy fairy crafts for kids, children can make their own magical friends to play with or display. From simple paper fairies to more complex sculptures made from clay, there's something for everyone in this collection of fairy craft ideas. So why not gather your materials and take flight on fun and creative fairy crafts today?