Making a homemade taco holder is an engaging and straightforward project that anyone can undertake. Explore 15 homemade DIY taco holder ideas with complete and detailed instructions that suit every taste and need. From crafting a wooden taco stand to utilizing recyclable materials like water bottles, these taco holder ideas range from simple hacks to full-fledged DIY projects. Get creative and make your own taco holder with readily available materials, ensuring that your next taco night is an absolute success!
If you're planning to host a taco-themed party, a DIY taco holder can add a personal touch to your setup. Among the 15 homemade taco holder ideas, some notable ones include making an acrylic taco holder, building a maple taco holder, or even utilizing a foam egg carton as a makeshift taco holder. These DIY taco holder ideas are easy to follow, with step-by-step guides that enable you to assemble a taco holder with clear visual illustrations and video tutorials.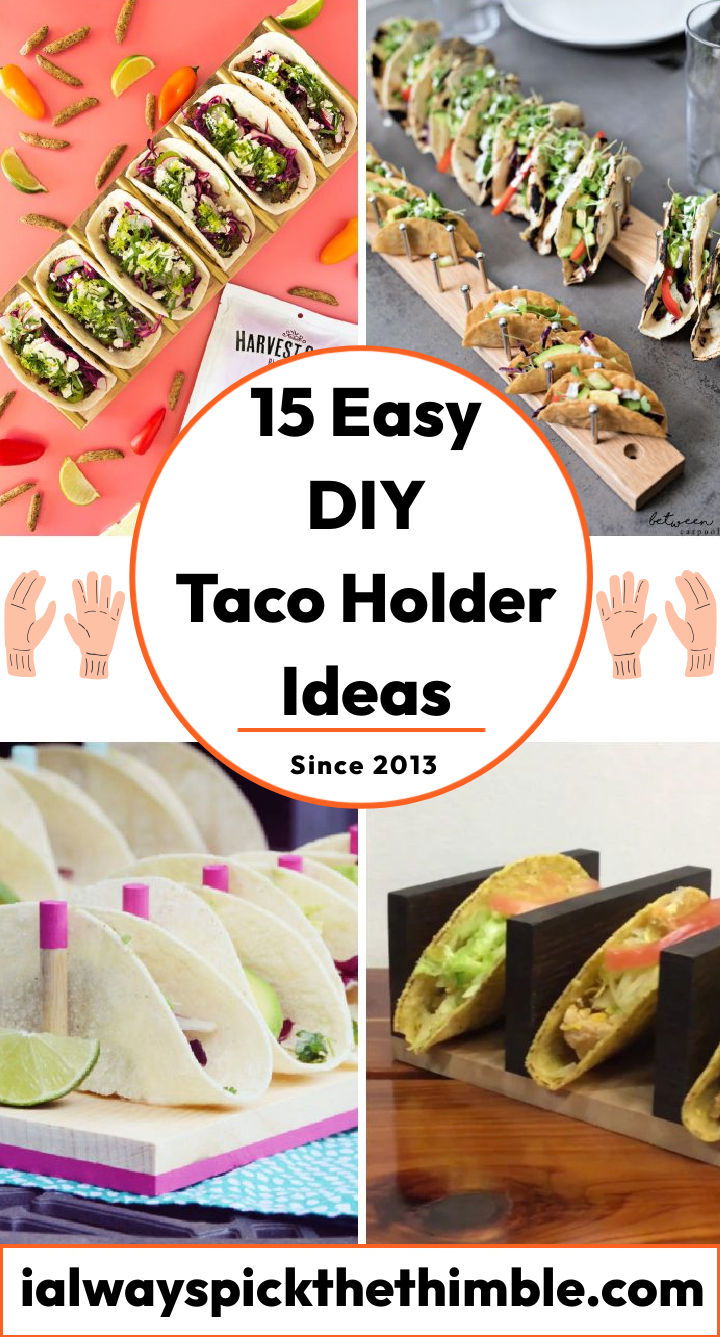 The convenience and creativity of a homemade taco stand or holder can't be overstated. From a quick and easy taco holder hack with an egg carton to the elegance of a handmade wooden taco shell holder, these DIY taco holder ideas are versatile and practical. With these innovative and free guides, crafting your own taco holder has never been more accessible or more fun. So start your DIY taco holder project today and make your next taco feast an unforgettable experience!
1. Homemade Wooden Taco Stand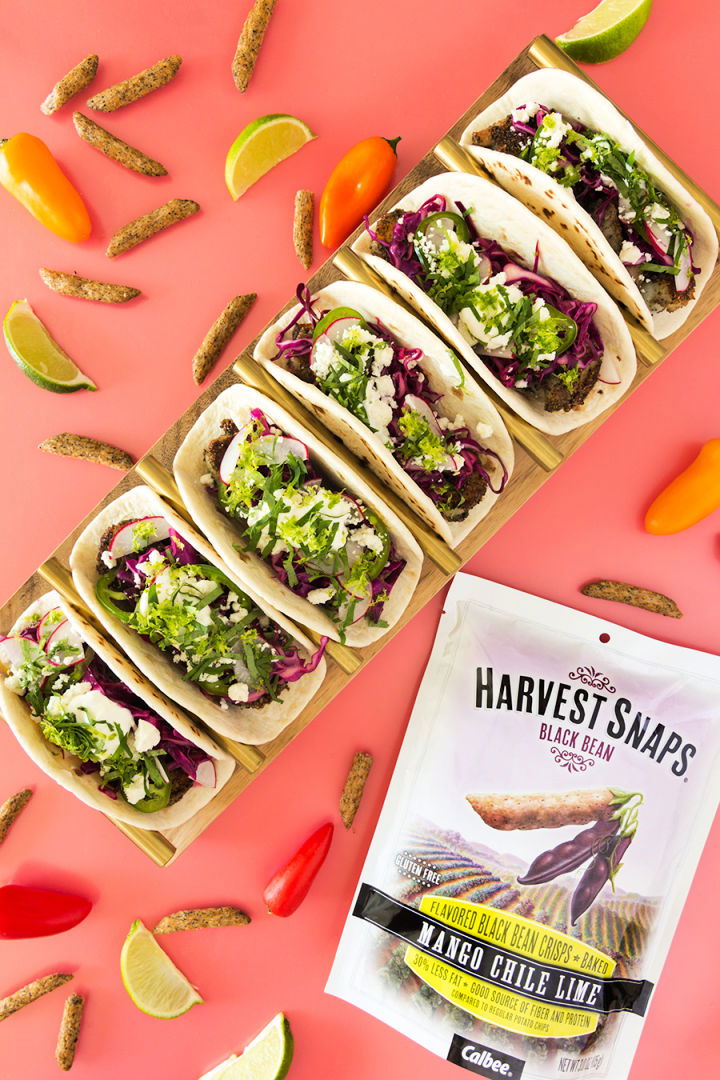 Tacos are a great dinner option that everyone can agree on! Try this easy and delicious crispy shrimp taco recipe with a DIY taco stand. Not only is it yummy, but you'll also be satisfied to make your own stylish taco stand for any party or get-together. So don't wait – spice up your next meal with this simple yet flavorful dish, and impress your friends too! sarahhearts
2. How to Make a Wooden Taco Holder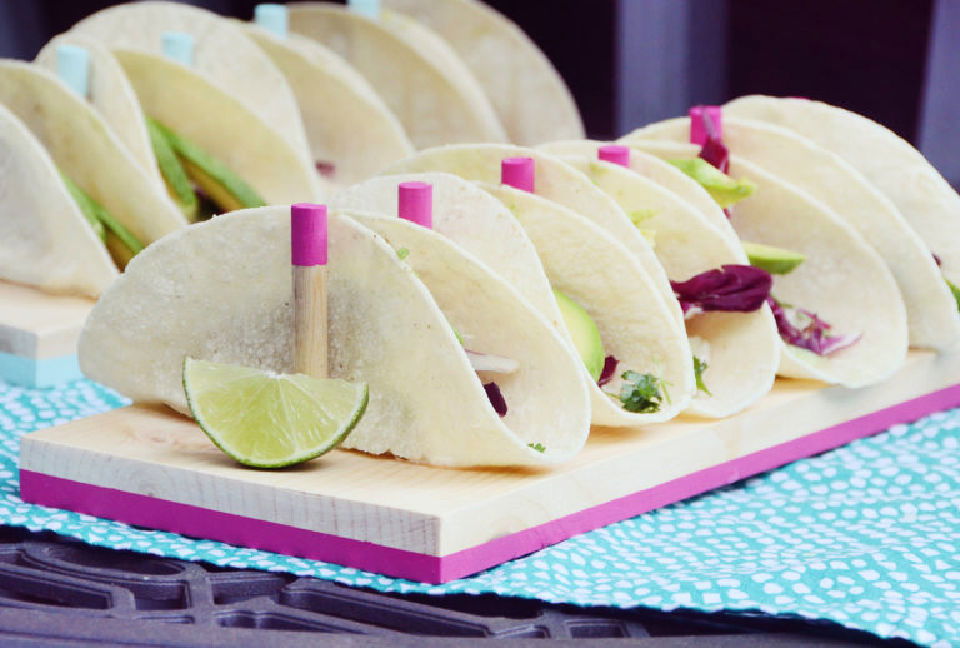 Serve tacos like a pro with this easy, DIY wooden taco holder! With just a 13 x 5 ½ x ¾ inch piece of wood, wooden dowels, wood glue, acrylic craft paint, and washi tape, you can make an attractive holder to prevent your tacos from flopping everywhere. This is a great way to add a touch of style to taco night or any get-together where tacos are involved. Get creative with different colors and designs for an extra fun twist on traditional taco holders. curbly
3. Adorable DIY Taco Stand Idea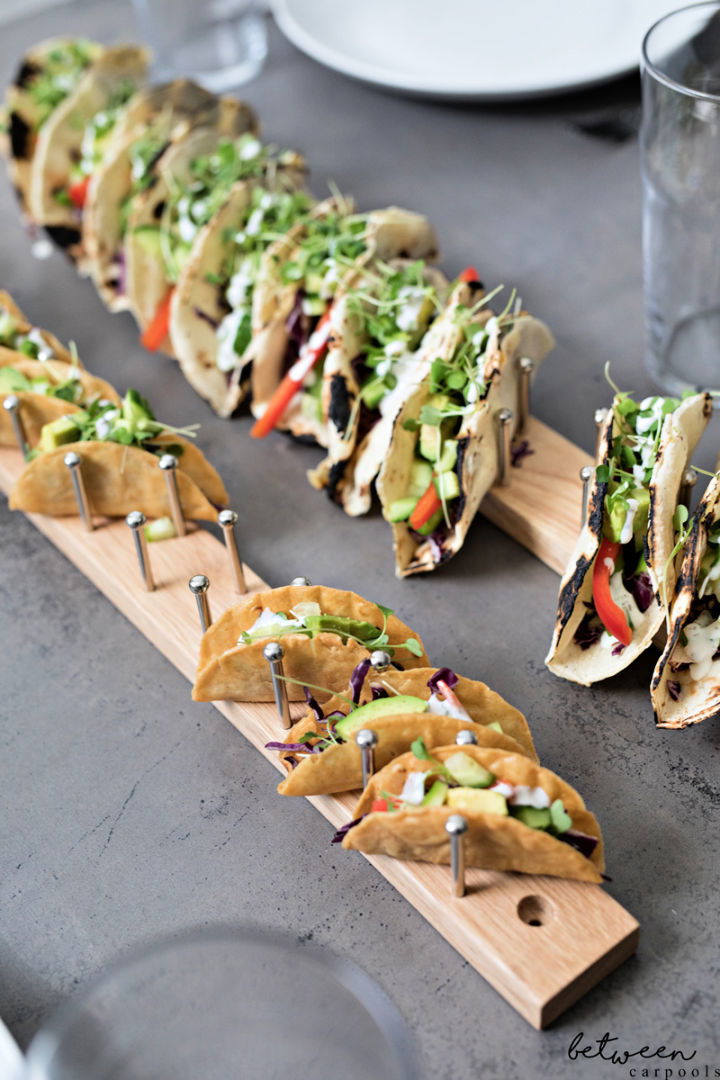 The falling taco days are over! This DIY offers taco bars as a great way to impress your guests. These taco shells are handmade, so you can fill them up, and they will stand on their own – no more worrying about spilling all of the delicious fillings! Add some extra flair to any event with these tasty tacos that won't disappoint you. Don't miss out on this fantastic solution for easily filling up your shells. Enjoy the convenience of having no-falling tacos at home or at an event today! betweencarpools
4. DIY Taco Holder With Free Printable Sign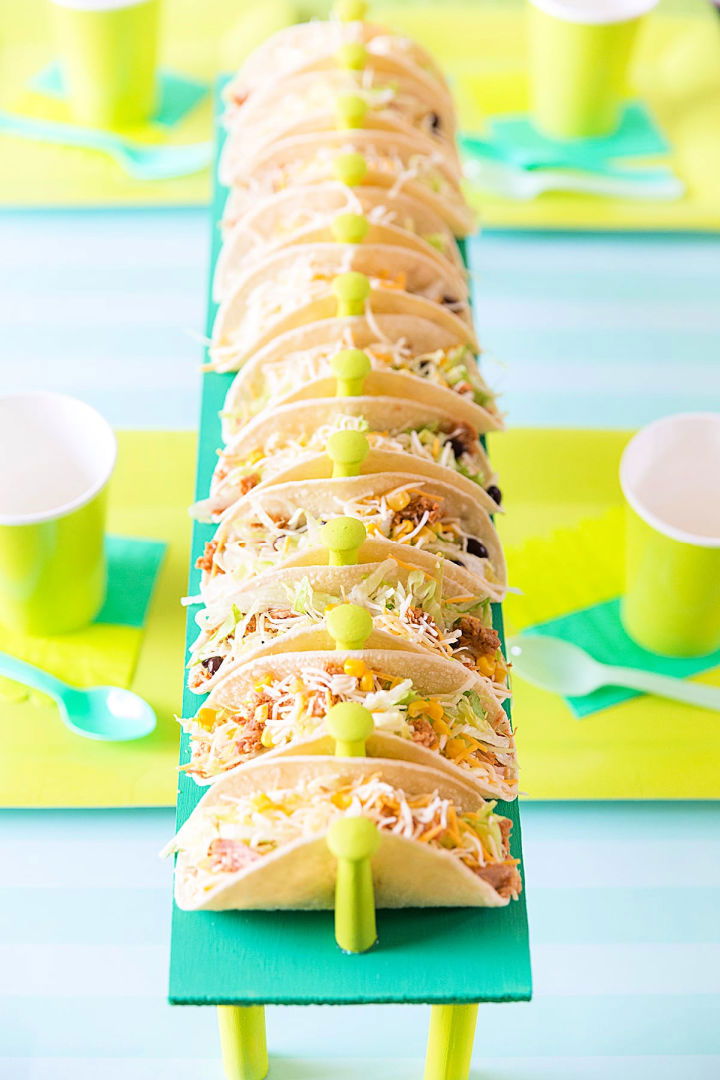 You can enjoy tacos without the mess with the DIY taco holder and free taco party printable sign! This festive little DIY is easy to make with a wooden board, wooden dowel, acrylic paint, measuring tape, and wood glue. Whip it out for taco night parties or family dinners – no more shredded lettuce and cheese all over the floor! With this free printable sign, you can spice up your next fiesta in style! Make it part of your pantry or cabinet, so you're always prepared when taco cravings hit. Enjoy mess-free tacos with friends and family today! pizzazzerie
5. Quick and Easy DIY Taco Holder With Egg Carton
Introducing a quick and easy way to make your homemade taco holder using an egg carton! Don't have a taco stand? No problem – simply turn over an egg carton, place your tacos between the grooves, and you're ready. It's that simple! Perfect for those who want to add a creative touch to their Mexican-style dinners, this homemade taco holder is sure to impress. Plus, it's cost-effective and requires no special tools or materials – what could be better? Enjoy tasty tacos with friends and family on any occasion – all thanks to this ingenious DIY hack. splashofsherri
6. Making an Acrylic Taco Holder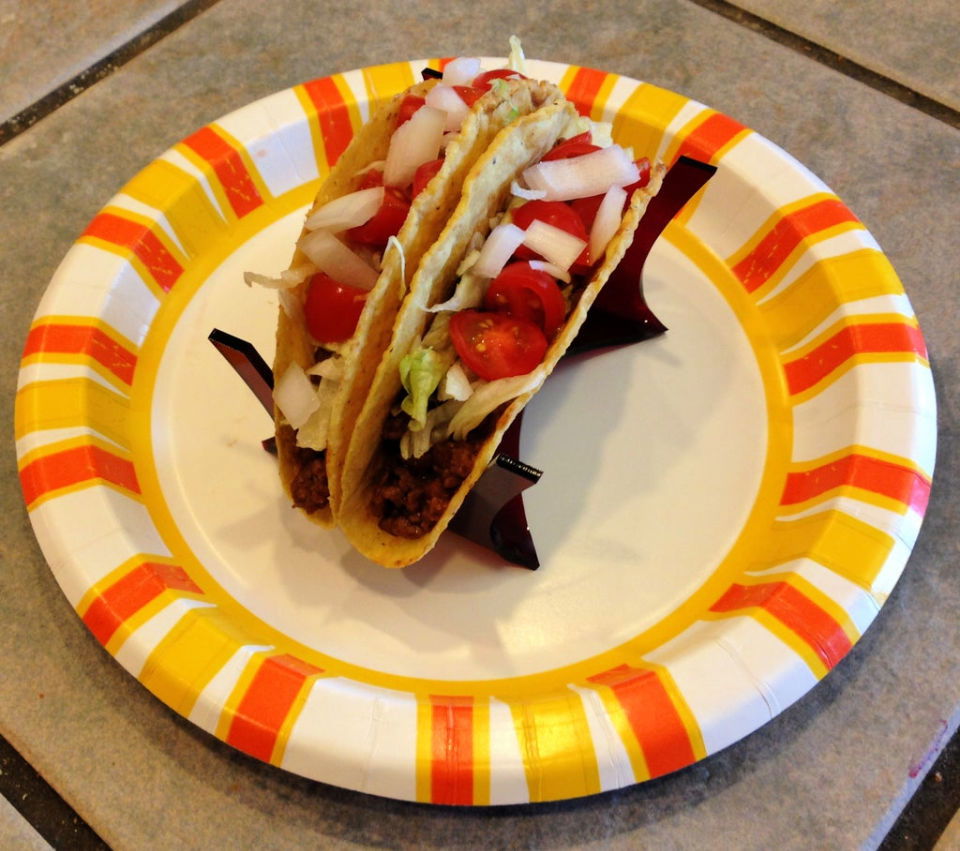 Tired of your tacos falling over when making them? This acrylic dual taco holder is the perfect solution! Made with vector drawing software and a laser cutter, the high-quality ⅛″ acrylic sheet will never let your tasty tacos suffer. With an acrylic strip heater and folding tool, you can easily assemble this taco holder, so you won't have to worry about it tipping or spilling again. Get yours today, and never let your tacos fall again! instructables
7. Building a Maple Taco Holder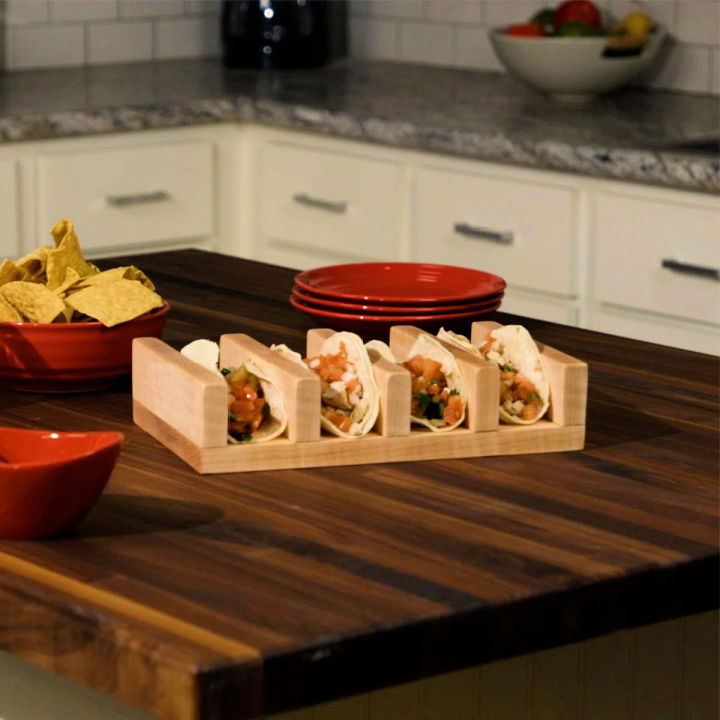 Make a unique and stylish taco holder with this easy-to-make project to liven up any meal. Crafted from hardwood, food-safe glue, and a natural oil finish, this maple board creation will be sure to make an impression. With only 1 x 7-¼″ of maple board, water-resistant wood glue, sandpaper, and cutting board oil needed, you can have your taco holder in no time! Transform the look of your dinner table today by building one for yourself or as a gift. familyhandyman
8. Recyclable Water Bottle Taco Holder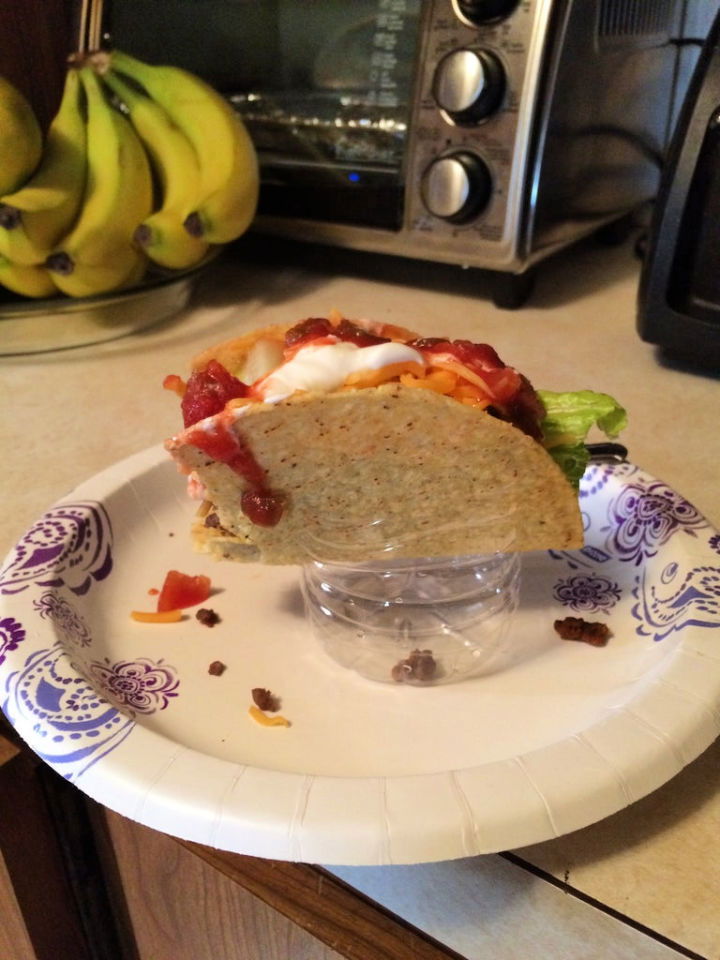 This quick, recyclable taco shell holder is an easy and eco-friendly way to enjoy tacos. You can make the perfect holder for your taco shells with only a water bottle and scissors! All you have to do is cut off the middle top so it's just a flat base – leaving a high base for snugly fitting your shell inside. To ensure it fits, try eyeshotting how big the shell is before cutting into it and makinga deep yet not too wide grove so it won't fall over. Enjoy delicious tacos in no time with this recyclable taco shell holder! instructables
9. Handmade Wooden Taco Shell Holder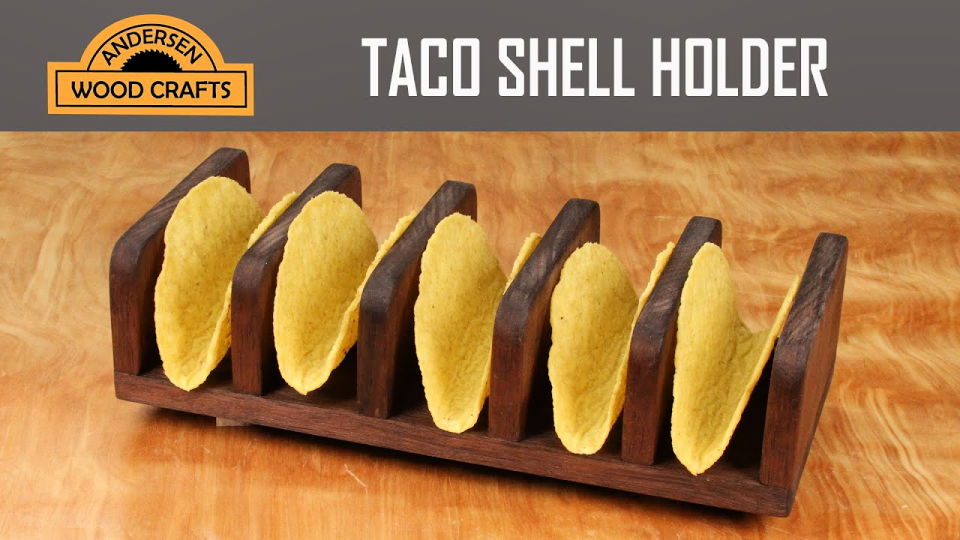 Here is this DIY wooden taco shell holder that makes taco-building a breeze, and it's so easy to make! All you need is some wood, like walnut planks, and you'll have your taco shell holder in no time. It helps keep tacos safe from falling on the floor and will surely be a hit with friends and family. Whether you're making tacos for lunchtime or a dinner party, this holder will help make building tacos easier than ever before. Grab your supplies today and start makingthis DIY wooden taco shell holder!
10. How to Build a Taco Holder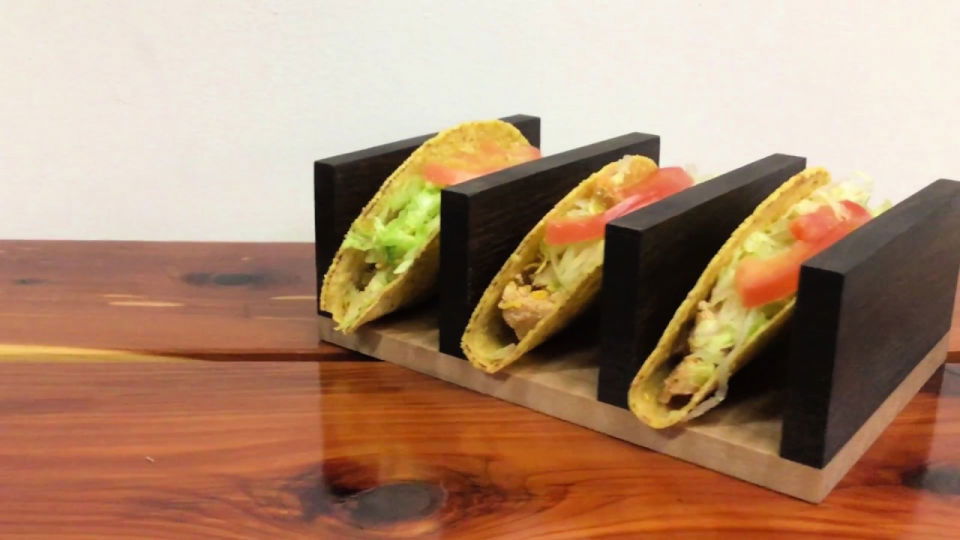 Make the perfect taco holder for Tuesday with tools from the grizzly shop! This is a great way to take your taco serving to the next level. Whether having dinner with friends or hosting a party, this DIY taco holder will ensure everyone gets their deliciousness. With easy-to-follow instructions and access to quality machines, you'll have unique and stylish taco holders in no time! Upgrade your taco Tuesday by making these fun and functional taco holders – guaranteed to impress all guests!
11. Amazing DIY Taco Rack Tutorial
Bring the fiesta to your kitchen with this awesome taco rack tutorial! Using materials you can easily find around the house, you'll make a practical and attractive taco rack in no time. Keep tacos organized on the table for guests to grab their own – what better way to make an unforgettable impact at your next gathering? With minimal effort and a few simple steps, you can make the perfect taco holder to wow your friends and family. Get creative and show off your culinary skills!
12. Make Your Own Wooden Taco Holders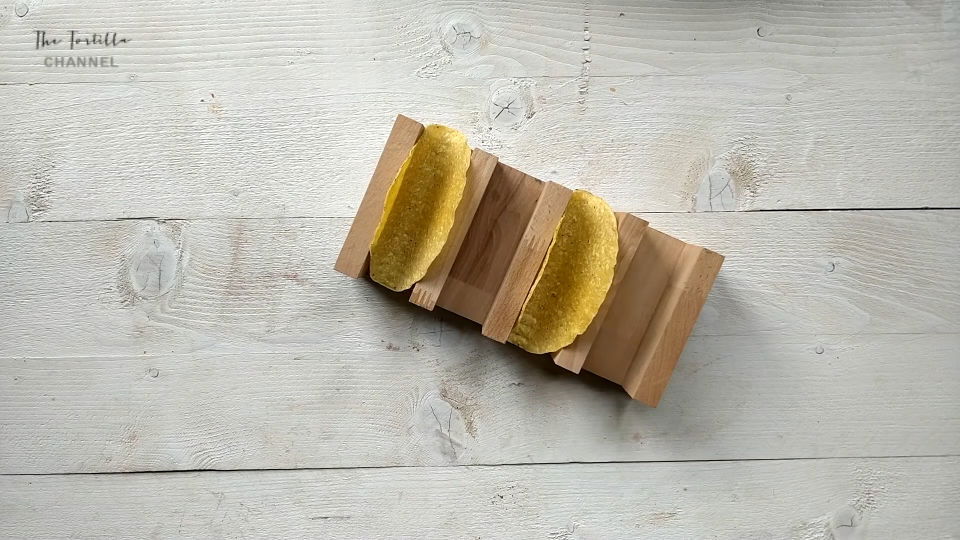 Gather around for a taste of elegance – wooden taco holders make your dinner table shine! Learn how to make them easily and quickly, so you can enjoy the perfect presentation of tacos at home. With just a few materials, make these practical yet stylish holders that will keep your tacos in place. Not only will they look great on any tabletop, but they'll also make eating tacos enjoyable and less of a mess! Follow this step-by-step guide to making beautiful wooden taco holders – it's easy enough for beginners too. Have fun makingthese unique kitchen essentials today!
13. Makeshift Taco Holder Out of a Foam Egg Carton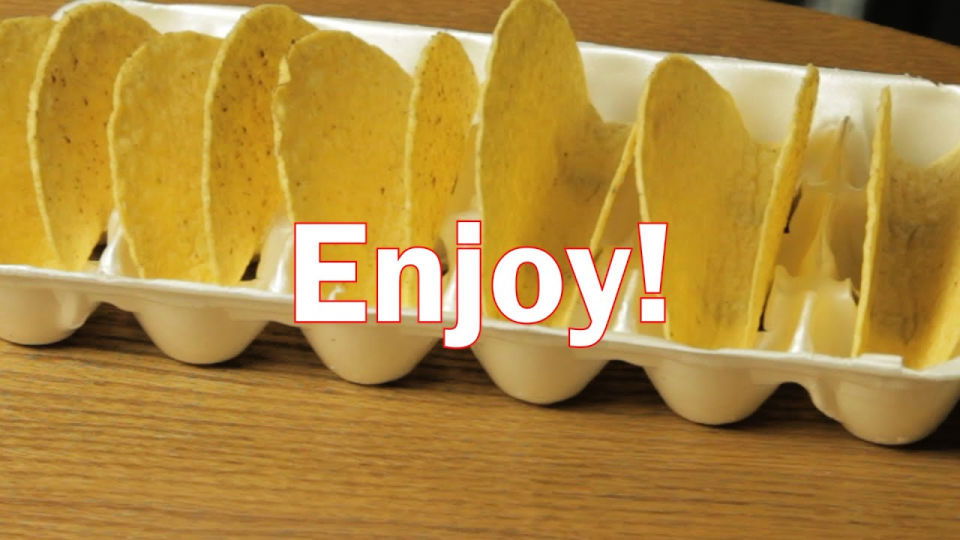 Design your DIY taco holder with just a foam egg carton! Save money and impress guests at your dinner table. Making this stylish taco holder in the comfort of your home takes only minutes. No need to worry about spending extra on tacos holders when you can easily craft one yourself. Make an unforgettable experience for everyone at the dinner table with your very own DIY taco holder today!
14. Simple and Cheap DIY Taco Holder
Craft your taco holder quickly and cheaply with this easy DIY project! With just a buttercup that may already be lying around at home, you can make a functional tacho holder in seconds – no tools or special materials needed. Make your tacos even more enjoyable with this simple yet effective homemade holder today!
15. 10-Second Taco Holder Hack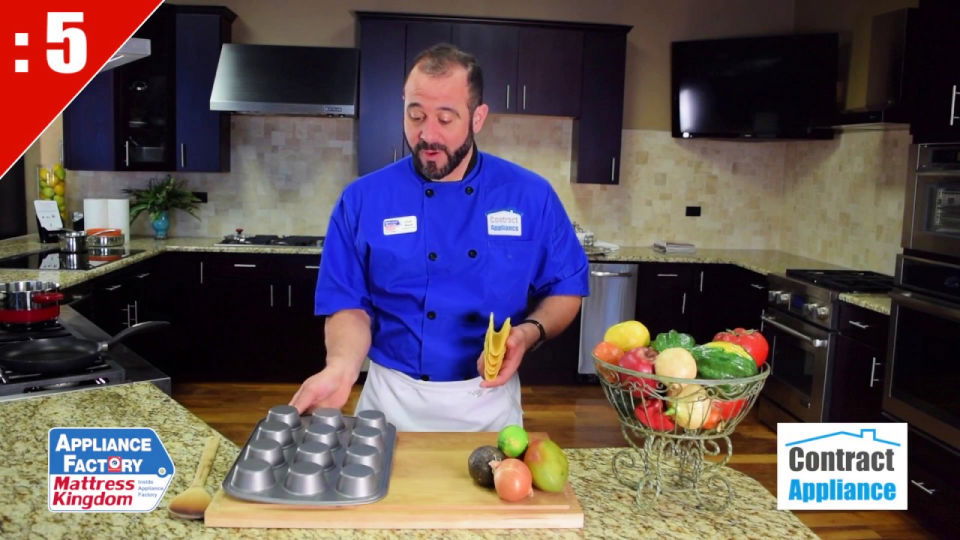 Are you always making a mess with your tacos? Stop the taco chaos with this 10-second taco holder hack! Get organized quickly and save yourself the hassle of dealing with a large, messy spread. With these quick and easy tips, you'll be able to get the most out of your kitchen while keeping food on your plate instead of all over the table. Grab some tacos, follow the simple instructions, and enjoy an organized meal every time!
Conclusion:
In conclusion, Taco Nights can elevate to new heights with these homemade DIY taco holder ideas tailored to your style. The creative spectrum ranges from a DIY acrylic taco holder to a recycled water bottle variant. Handmade wooden taco holders add an aesthetic touch, while simple and cheap DIY versions offer practical solutions. A taco holder hack that lasts 10 seconds is the quickest resolution. Embrace these DIY taco stand ideas for enjoyable, mess-free taco feasts. All it takes is a bit of creativity, and your taco nights will never be the same!