Do you want to make a sock snowman? It is a fun and easy craft that will brighten up your home in winter. This fun activity shows you different ways to turn socks into adorable sock snowmen. Learn how to make a sock snowman with 25 different DIY sock snowman craft ideas, from no-sew to handmade ones. You can use any socks you have, like tube socks or odd ones, and follow the simple instructions and guides to make a cute sock snowman. Also, you can make your snowman more special with different materials, like rice for a rough texture or cheap supplies for lovely decorations. Making a sock snowman is a great way to have fun and be creative.
There are many DIY sock snowman projects for you to try, so you can find one that fits your skill and style. Whether you prefer a simple or a fancy sock snowman, you can follow the tutorials that have pictures and explanations to help you along the way. Some of the projects are free and easy, so anyone can start making a sock snowman right away.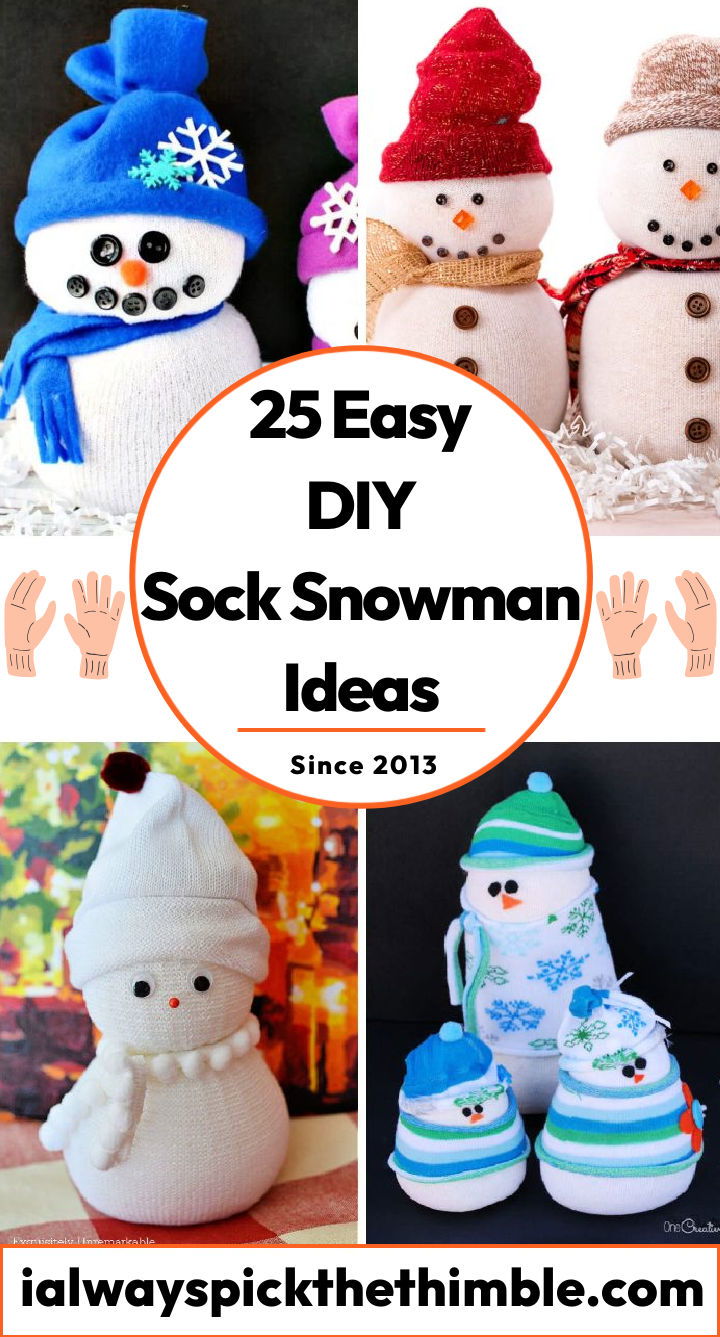 Making a sock snowman is not only a creative hobby but also a smart way to use old socks. This sock snowman guide gives you everything you need to know to make different kinds of snowmen, from a no-sew option to a tube sock version, or even a rice-filled one. With the help of the tutorials and instructions, you can easily create a sock snowman that will add a whimsical touch to your winter home. So grab your socks and get ready to make your own sock snowman today!
1. No-Sew DIY Sock Snowman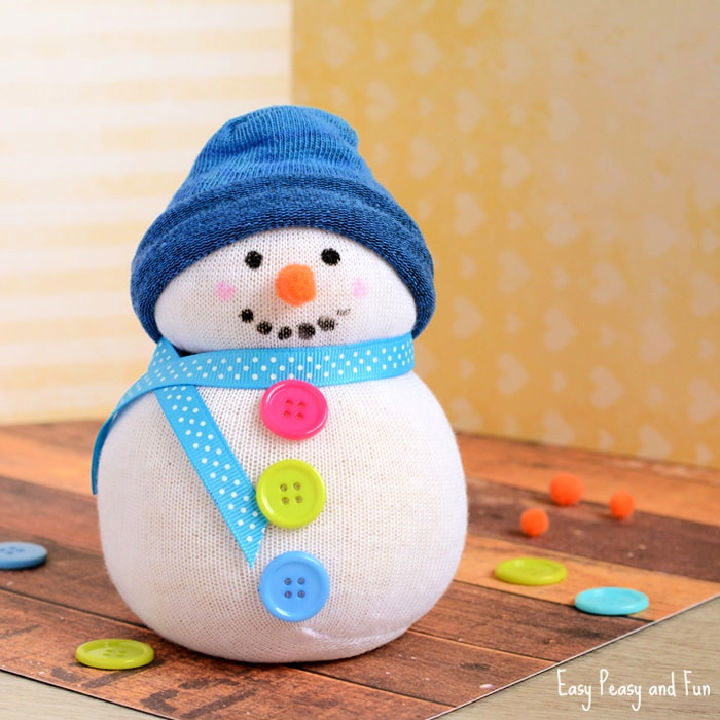 This no-sew sock snowman craft creates a special gift or unique door stopper! With all the odd socks, now you know what to do with them.
All you need is a white sock and any colored one that will be used for the snowman's hat. To complement it, get some rice, rubber bands, colorful buttons, ribbons, a glue gun, markers/paint, and orange pom poms.
This craft is easy enough for everyone to make as no sewing skills are required – follow these step-by-step instructions and enjoy making your masterpiece! easypeasyandfun
2. Handmade Sock Snowman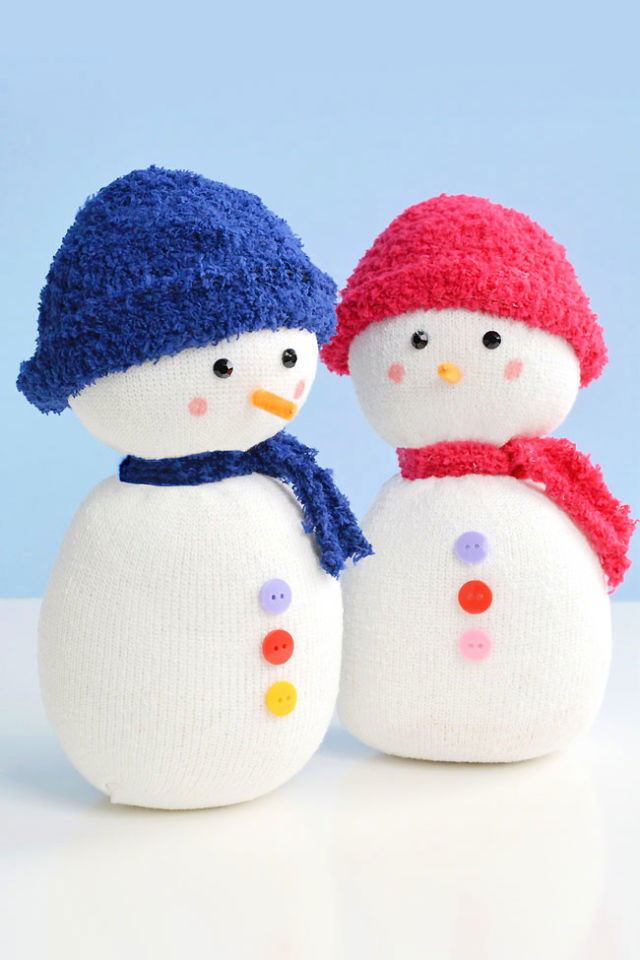 Make this winter extra special with an adorable no-sew sock snowman! This easy craft is great for kids of all ages and requires only a few simple supplies.
Get white socks, one colored fuzzy sock, rice, fiberfill stuffing, small elastics, orange pipe cleaner, black rhinestones, button stickers, and a pink Sharpie marker to bring your snowman to life. It's perfect for holiday decorations or as a homemade gift.
Enjoy the season by crafting your sock snowman today – it'll surely put you in the festive spirit! onelittleproject
3. DIY Tube Sock Snowman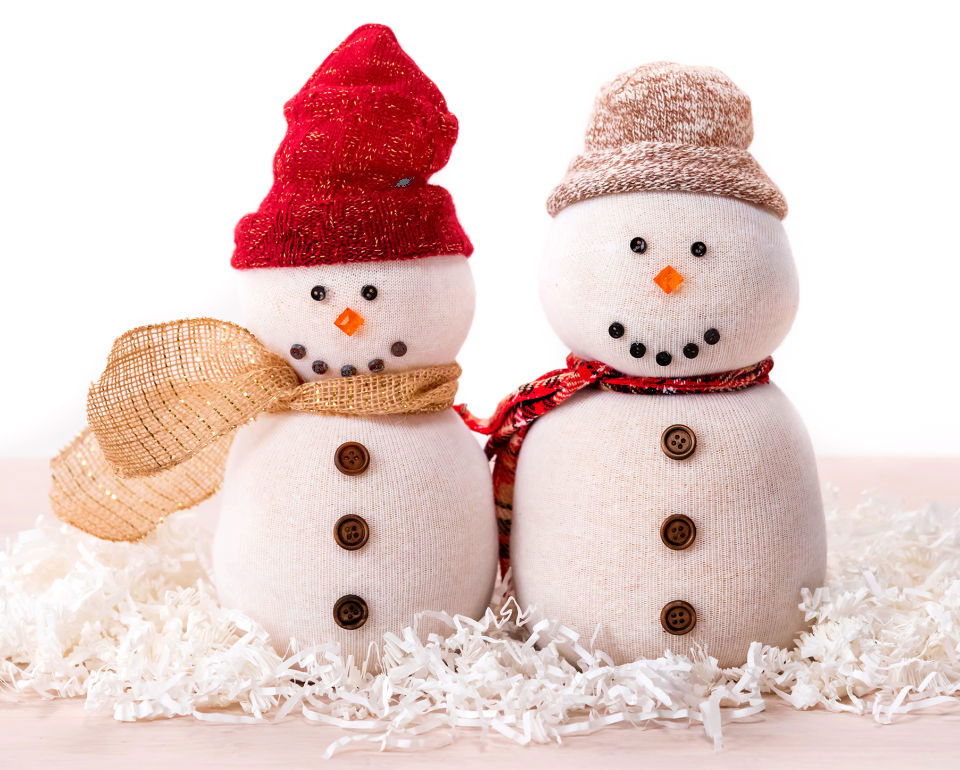 Transform your lone tube socks into charming snowmen with this easy craft project!
With just a few supplies – white and colored tube socks, rice, rubber bands, buttons, a hot glue gun, diamond-shaped plastic beads, and burlap – you can make a festive piece of holiday decor to display in your home.
Plus, these make great gifts for friends or teachers or could be popular fundraiser items. Follow these steps to get started on making your unique snowman today! makeitgrateful
4. Make Your Own Sock Snowman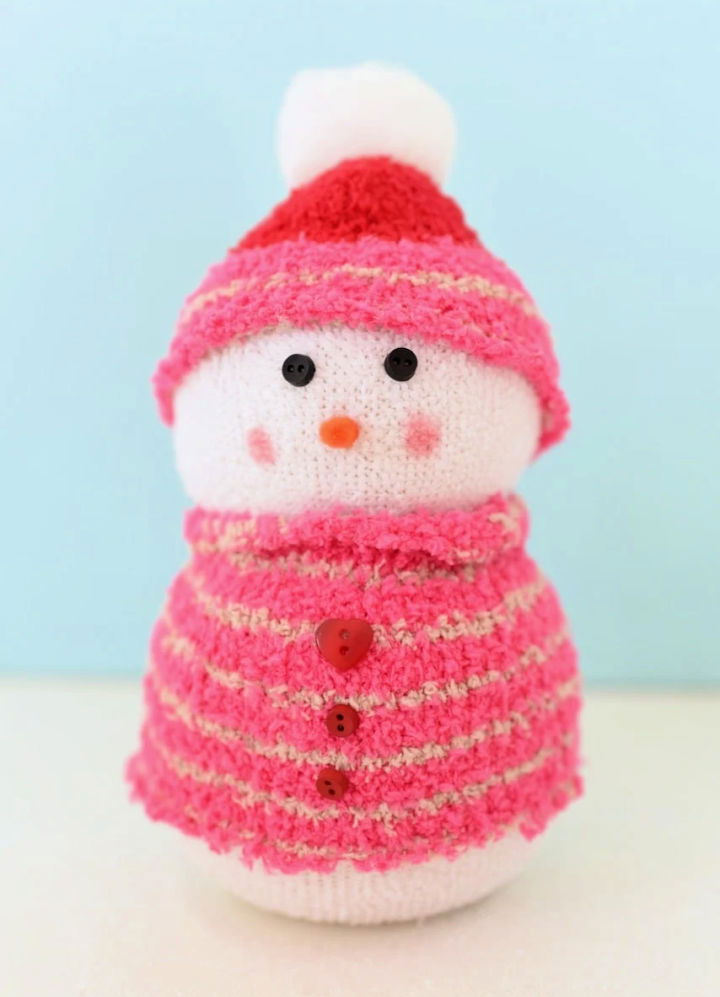 Assemble the cutest sock snowman in minutes with this easy Christmas craft tutorial!
All you need is a white and patterned sock, rice, rubber bands, tiny black buttons, an orange pipe cleaner, and accent buttons for decoration. In 10 minutes, you'll have the sweetest little snowman face, wearing a colorful hat and sweater with tiny buttons down the front.
Add pom-poms and pink blush to finish it off – your finished snowman will be too cute not to admire! makelifelovely
5. Spare Sock Snowman Craft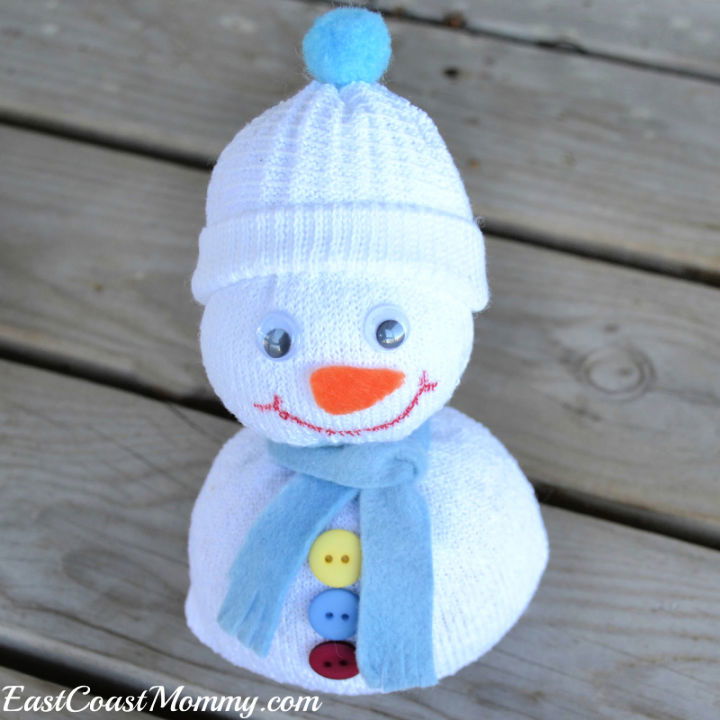 Make a cute winter decoration with just one sock and some basic supplies! This spare sock snowman is an easy project that adults and kids will love.
With this step-by-step tutorial, you can make your snowman in no time. From cozy home decor to seasonal craft fun, this simple snowman will bring smiles all around this holiday season! eastcoastmommy
6. Sock Snowman With Dollar Store Supplies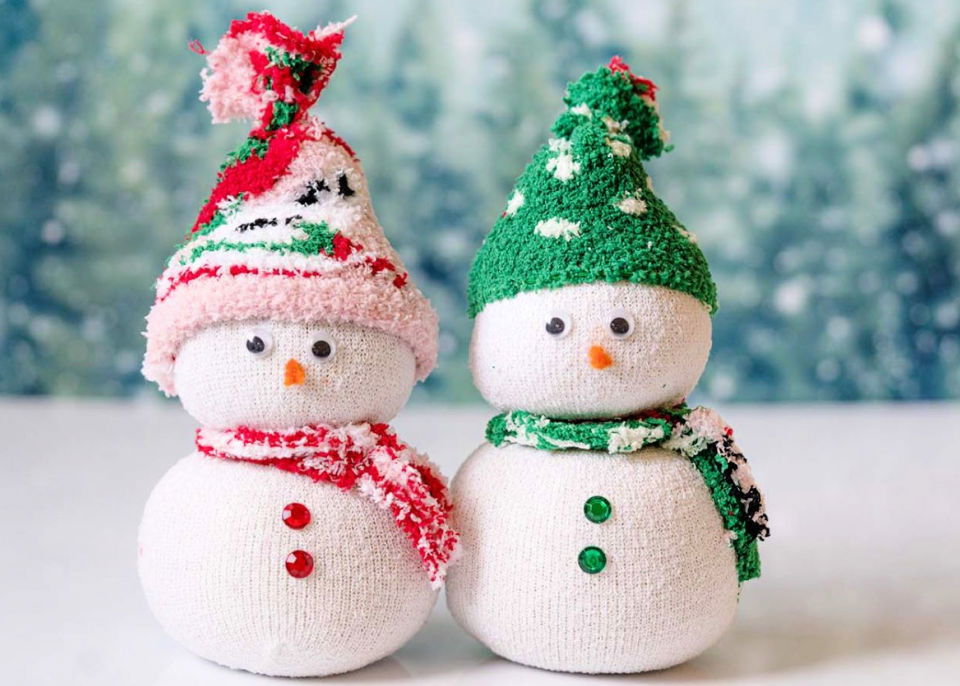 Gather your supplies and experience the joys of crafting together with a sock snowman!
Get everything from your local dollar store – white socks, rice, googly eyes, orange pipe cleaners, rubber bands, and decorations like stickers and buttons. With just a little bit of glue or a glue gun, you can bring these snowmen to life in no time!
It's an easy way to entertain the kids on their holiday break while making something beautiful they can be proud of. annmariejohn
7. DIY Sock Snowman From Old Socks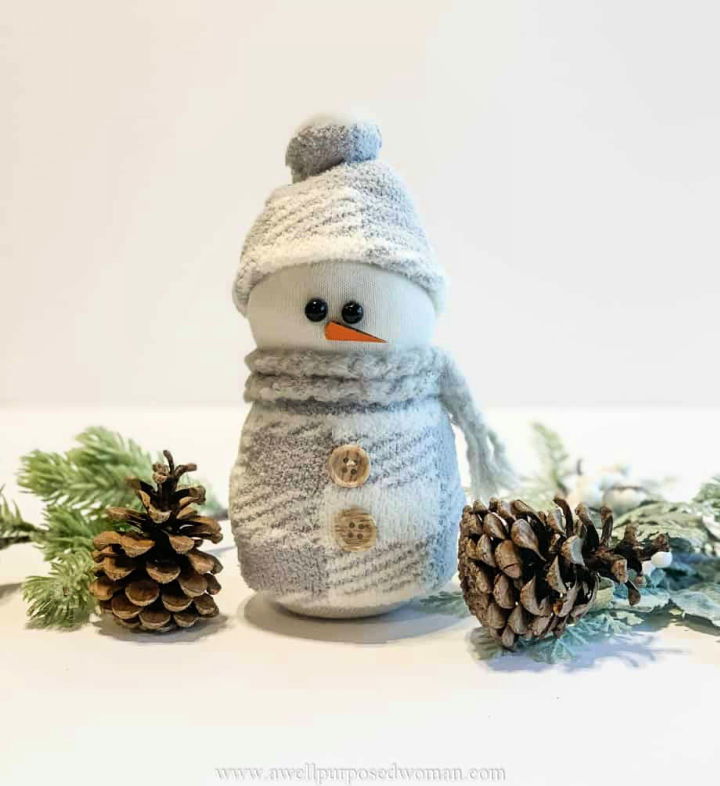 Weave some magic into those socks and watch a new friend appear! With this tutorial, you can make an adorable sock snowman in minutes.
All you need is two white and one colorful socks, buttons, black beads, a toothpick, rice, polyfill stuffing, rubber bands, and a cotton ball. Finally, use a hot glue gun and glue sticks for adjustments.
Get your creative juices flowing and have fun making the unique sock snowman that will bring smiles to everyone around you! awellpurposedwoman
8. Easy Sock Snowman Craft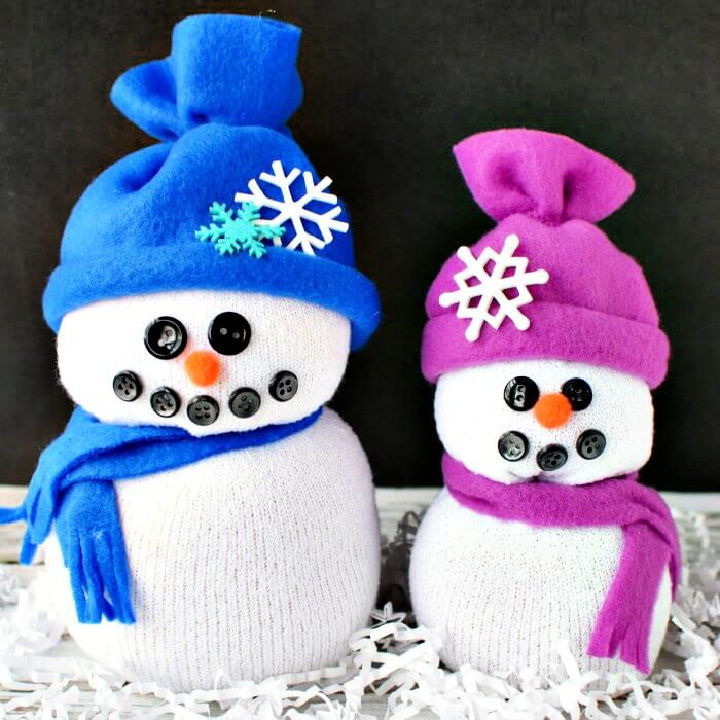 Bring some festive cheer to your Christmas break with this easy DIY sock snowman craft! This craft is perfect for children of all ages and will keep everyone entertained during the holidays.
You only need simple materials like white adult and child-size crew socks, rice, ribbon, black buttons, orange pom poms, small paper plates, fleece fabric, and foam snowflake stickers. Remember a hot glue gun for assembly. Kids will love makingtheir unique sock snowman by attaching the pieces using hot glue!
This creative project will fill up an afternoon in no time – resulting in an adorable homemade decoration perfect for giving as gifts or decorating your home. Get ready to have fun crafting with this easy DIY sock snowman craft! onecrazymom
9. Homemade Sock Snowman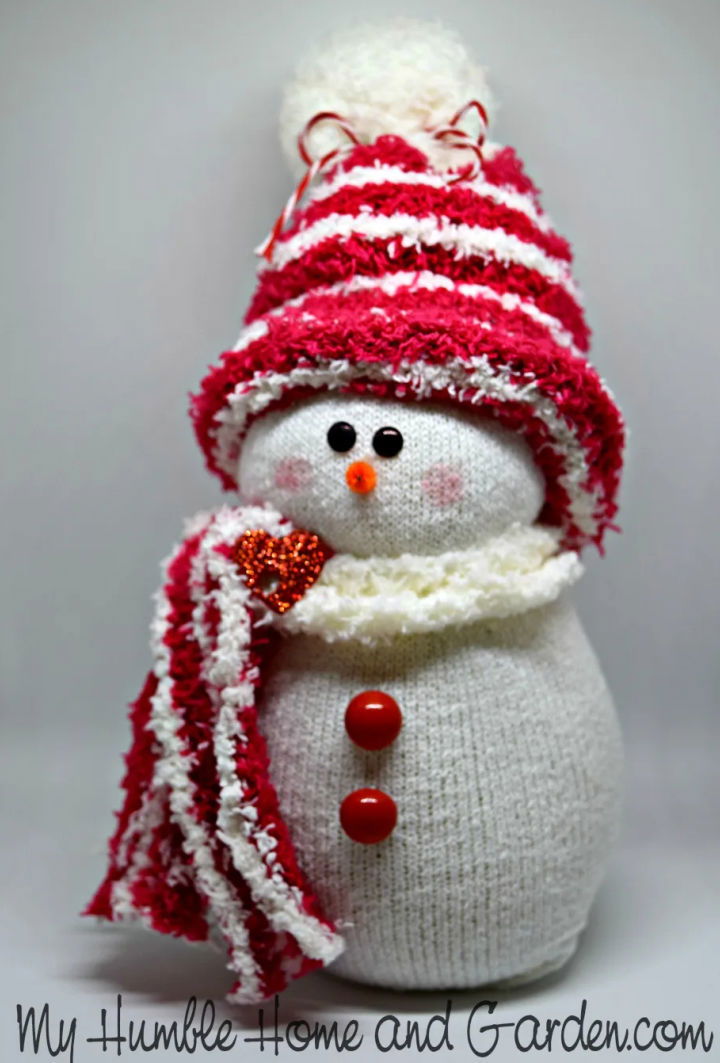 Let the chill of winter bring a sparkle of joy with an adorable sock snowman! You can transform plain white crew and decorative socks into cute little snowmen with just a few craft supplies.
You will need white rice or poly-pellets, string, orange pipe cleaner, rubber bands, a hot glue gun with glue sticks, black enamel dots, buttons, and poly-fil cluster stuffing to fill the bottom of the glass with a heavy base.
Valentine's Day is coming up – why not make these sweet snowmen as decorations? They're sure to be conversation starters! Get creative and make your unique version of this adorable winter decoration. myhumblehome
10. DIY Snowman Using Sock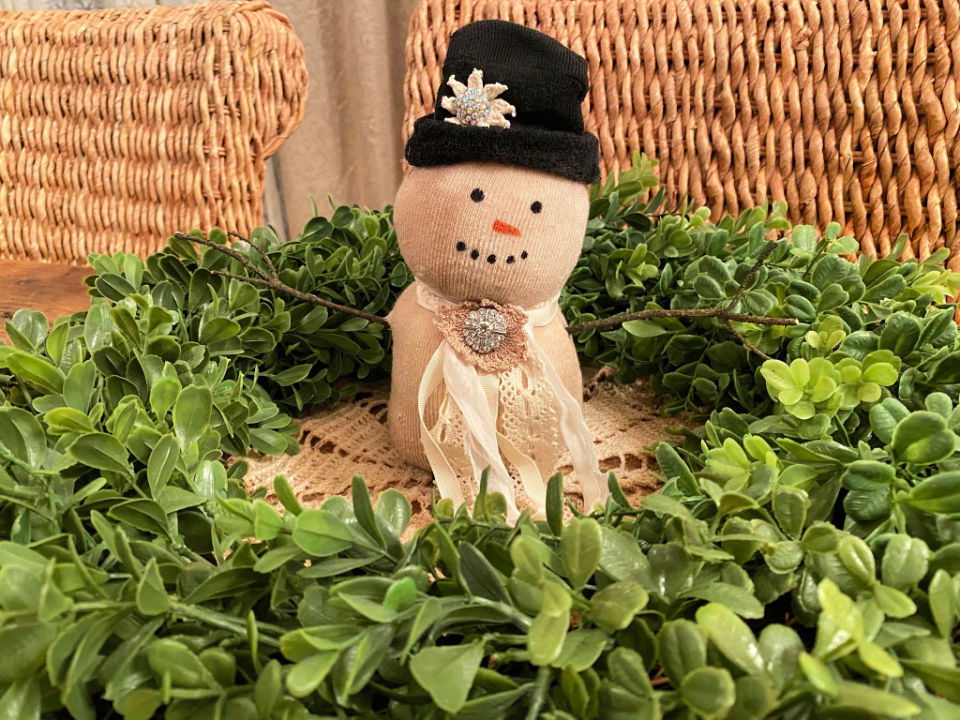 Change a plain white sock into an adorable DIY snowman with just a few craft supplies!
This fun project requires a long sock, fish tank gravel, polyester fiberfill, black and orange paint, hot glue, twine for the scarf, rubber bands to keep it in shape, small doilies and bling for decoration, and sticks for arms. Kids will love makingunique snowmen they can proudly display around the house or give as gifts this winter.
Get creative with your personalized touch of ribbons and colorful embellishments to make your handmade snowman one-of-a-kind! theshabbytree
11. How to Make Sock Snowmen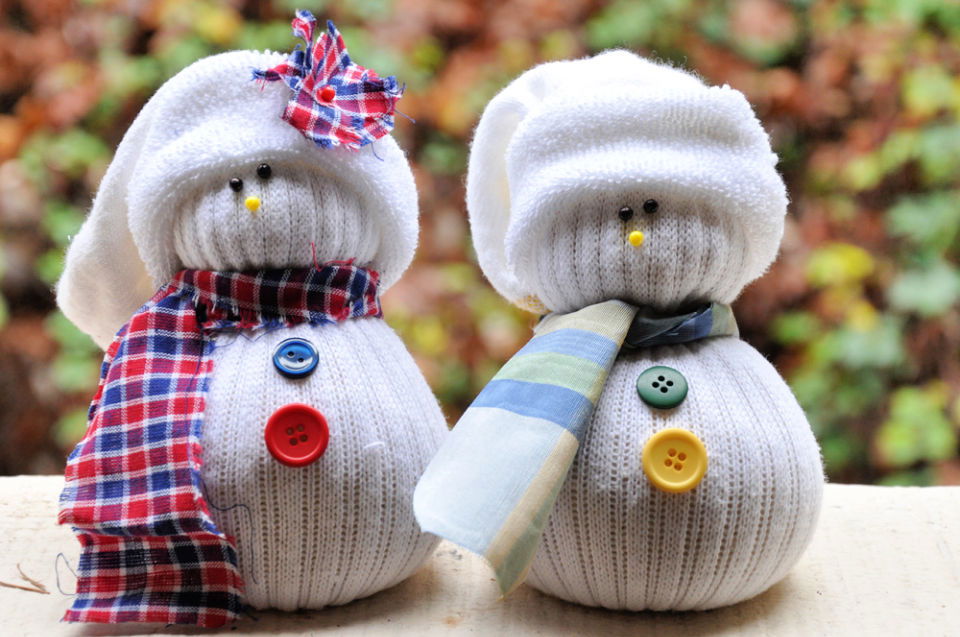 Are you looking for a winter-themed craft to bring festive cheer to your home? Look no further than DIY sock snowmen!
These charming snowmen are easy to make and require very few supplies: all you need is a sock, rice, and decorations like a scarf or buttons. Fill the sock with rice and tie it at the top before adding your accessories of choice.
With these cute little snowman family members in your home, there's sure to be plenty of smiles this season! darkroomanddearly
12. DIY Sock Snowman Without Rice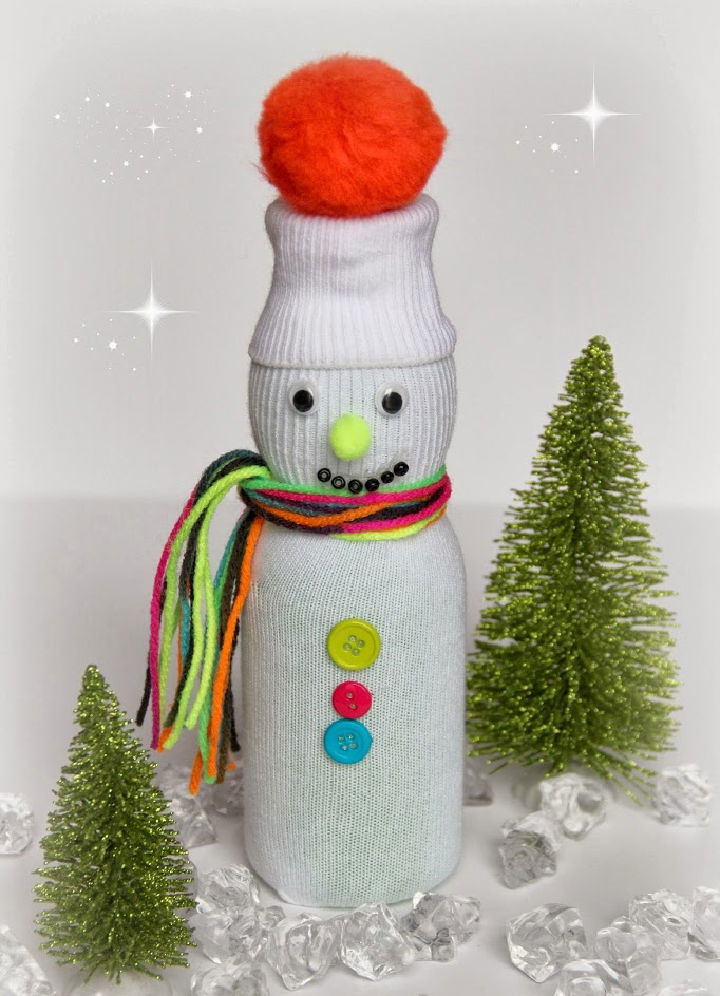 Craft your frost-proof snowman with this DIY sock snowman project. It's a fun and simple craft, perfect for kids and adults alike!
All you need is a plastic bottle, colorful yarn, various sizes of pom poms, toddler/youth-sized socks, buttons, black beads, googly eyes, and your trusty glue gun or craft glue. When finished, he will bring lots of smiles from those you share him with – plus, he never melts!
So grab all the supplies needed to make this adorable DIY sock snowman today and have some winter crafting fun. bitzngiggles
13. Simple DIY Snowman With Sock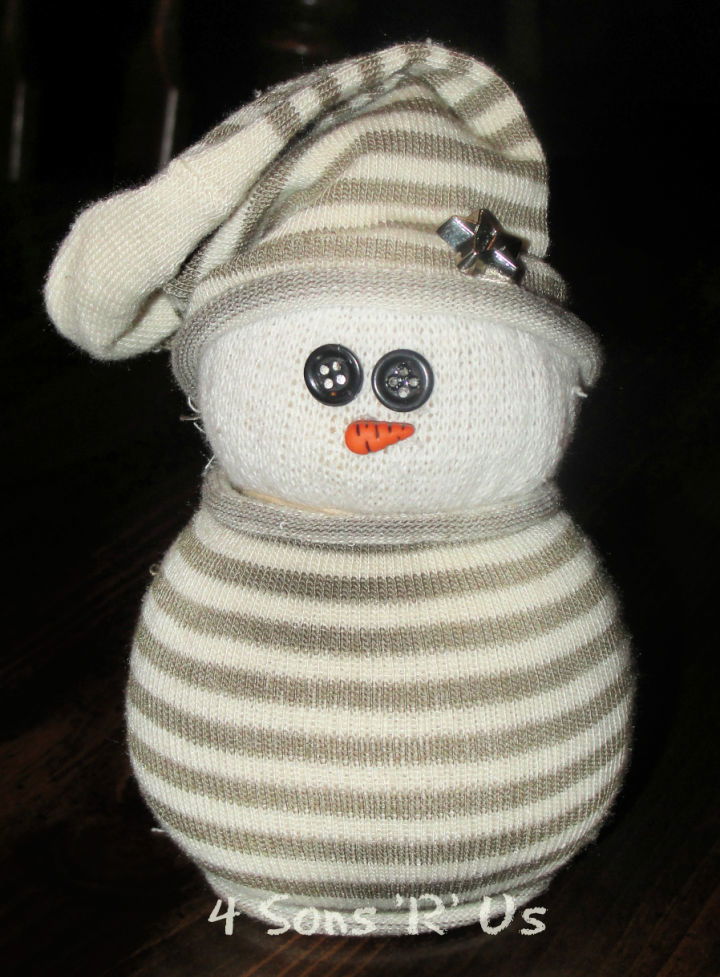 Introducing the sock snowman! These adorable little creatures are great for kids to make and are sure to put a smile on their faces.
You only need one white tube sock, decorative socks, rice, rubber bands, and buttons to make your snowy friend. Let the fun begin as they craft these creative snowmen that will bring winter joy until springtime comes around again.
This easy DIY project will be a hit with everyone in your house, perfect for decorations or gifts. Get ready to make some magical memories with the sock snowman today! 4sonrus wordpress
14. Make Your Own Sock Snowman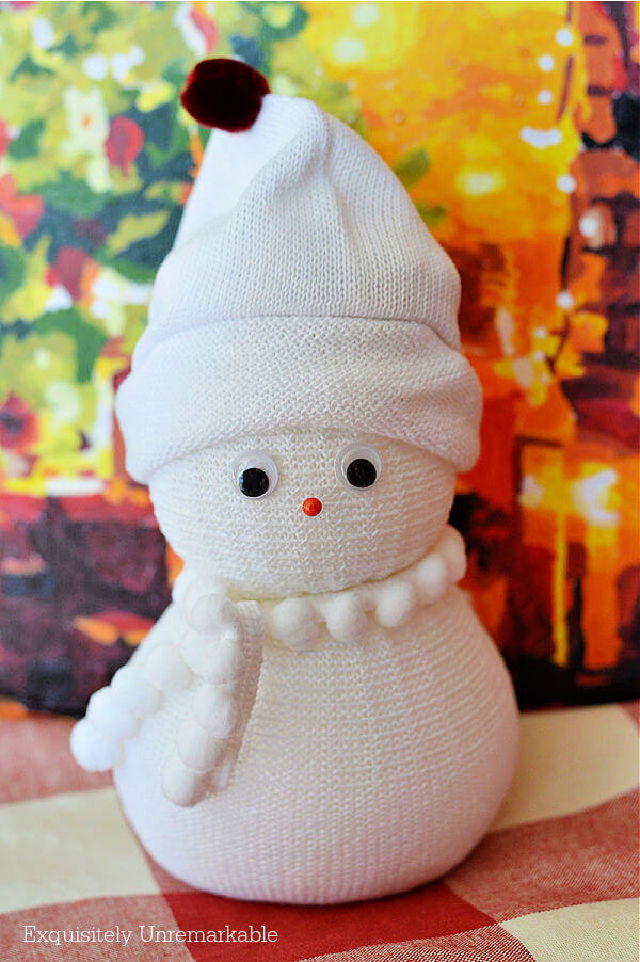 This super easy sock snowman DIY is perfect for snow-loving kids of all ages!
With no painting, sewing, or even much gluing required, this project requires just a few simple ingredients – one large sock, string, glue gun, poly-pellets or rice, and wiggle eyes. Making your own super cute snowman couldn't get any easier than this!
Get creative with the decorations and enjoy making your unique winter pal that you can use to decorate your home or give away as a gift! exquisitelyunrem
15. Making a Snowman Out of Sock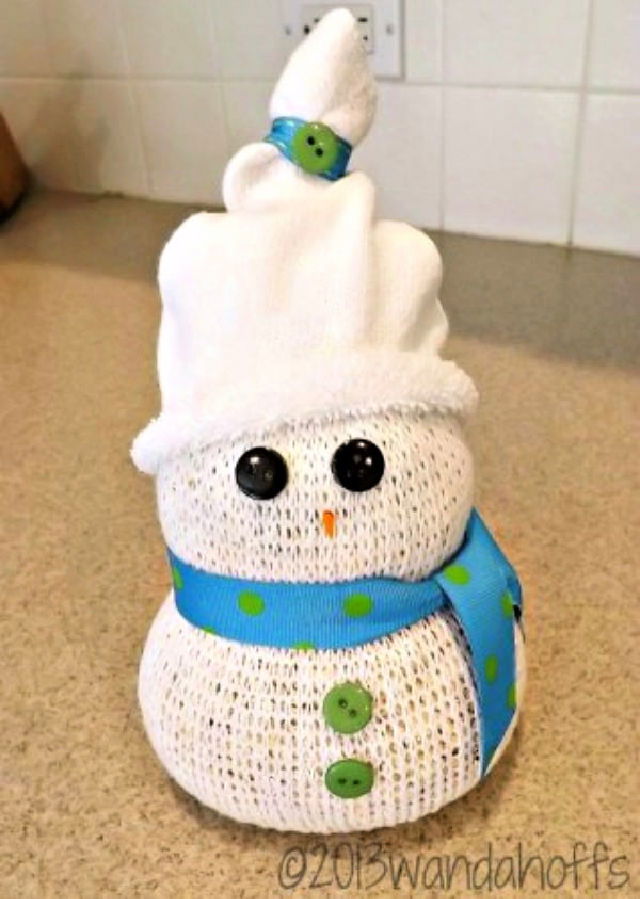 Make a sock snowman in minutes! This fun and easy DIY project is perfect for kids of all ages.
You only need white tube socks, oatmeal (rice, beans, or sand), ribbon, rubber bands, buttons, and something for the nose. You can assemble your snowman in minutes with no mess – fill the socks with oatmeal and use hot glue to secure them together.
Finish off your creation by adding ribbon for a scarf and buttons for eyes. Make this Christmas season special with your handmade sock snowman craft! premeditatedleft
16. Quick DIY Sock Snowman
Design a cute snowman with just a few supplies! This quick and easy craft is perfect for kids and adults – all you need are socks, stuffing, marbles, rice, twine, yarn felt, hot glue & glue gun.
Add the finishing touches with small black buttons for the eyes & nose to make an adorable DIY gift or no-sew decoration ready in under 15 minutes! Put those unmatched socks to good use by making this fun and festive project – grab your supplies today for an unforgettable winter craft experience. thecountrychiccottage
17. Sock Snowman Project for Adults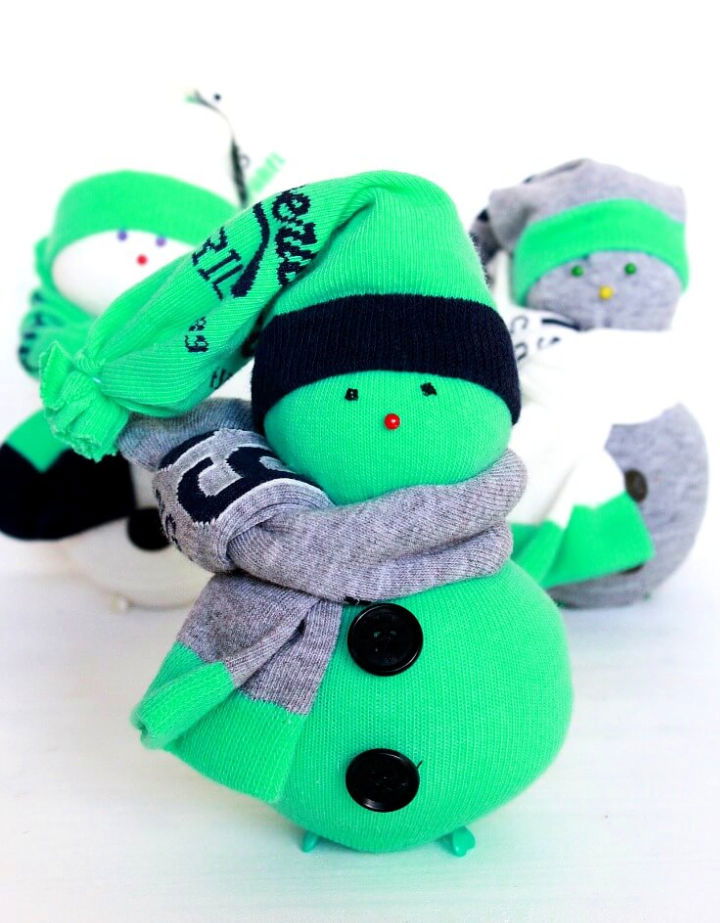 Make an adorable DIY sock snowman with upcycled socks and a few basic craft supplies!
This no-sew Christmas ornament is quick and easy to make, taking only minutes to create. You only need socks, thread, polyfill or rice, needle, buttons, and pins. The final result looks so cute that it can easily become part of any home decor.
Enjoy the festive season by crafting this fun project that is perfect for last-minute holiday decorations! theseamanmom
18. Making Your Own Olaf Sock Snowman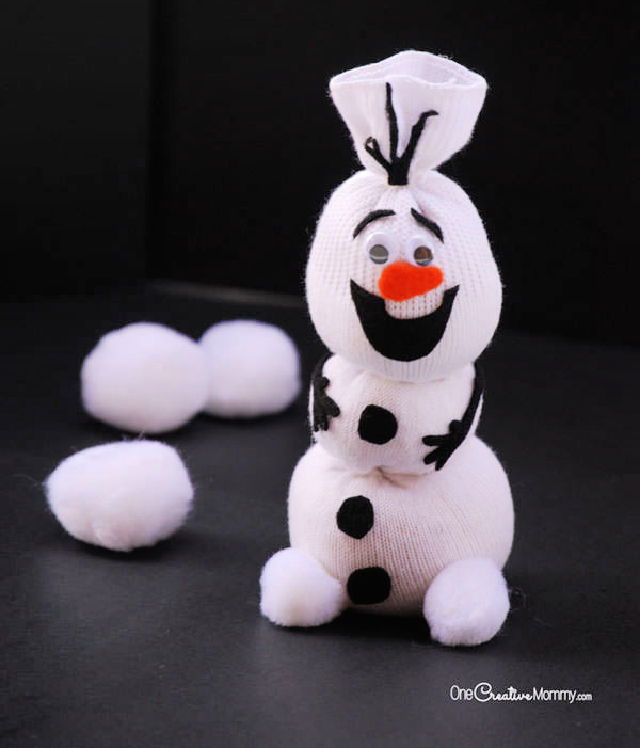 Show the sparkle of arendelle to your home with this delightful old sock snowman project! It's perfect for parties, as each guest can make their own!
You only need some bobby socks, rice, white pom poms, orange felt, large googly eyes, adhesive-backed black felt, a hot glue gun, and clear hair elastics. Plus, free Olaf features are printable, so your snowman will look like the real thing!
With these steps, it won't take long before your guests' adorable old sock snowmen are ready to come alive! onecreativemom
19. Cute DIY Sock Snowmen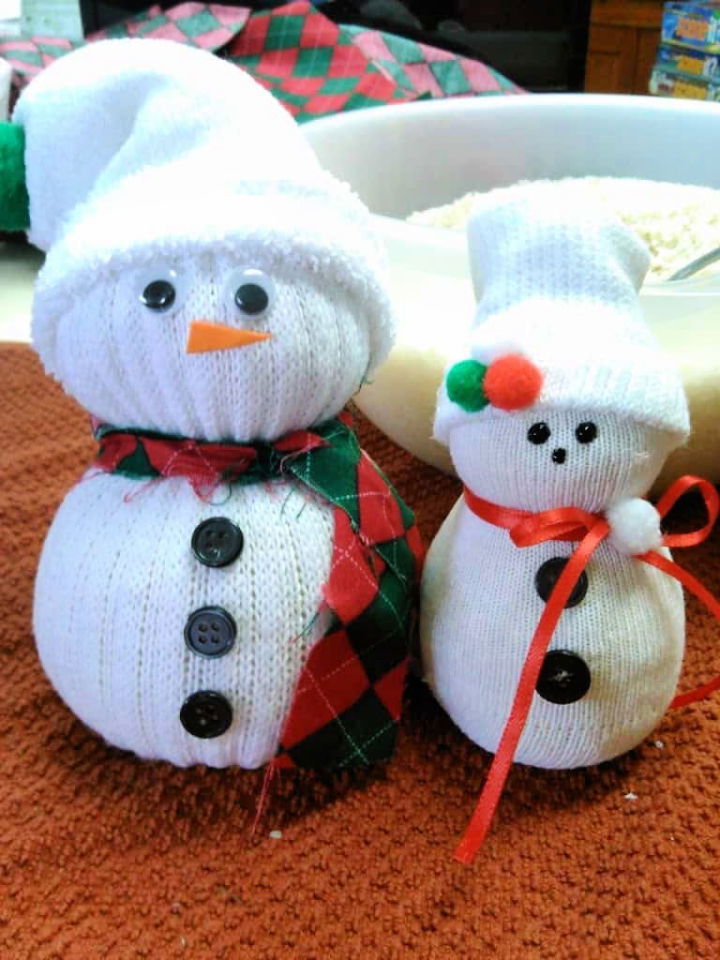 Add a unique, handmade touch to your holiday gifts this year with these cozy & cute sock snowmen!
You only need crew socks, white rice, rubber bands, hot or tacky glue, and decorative accents like buttons, googly eyes, ribbons, pom poms, and paint. These adorable little snowmen are the perfect way to bring smiles to faces throughout the holidays – you can even dress them up to match whoever you're giving them to.
Get craft fair-worthy creativity with these cozy snowmen this season! dailydiylife
20. Easy DIY Sock Snowman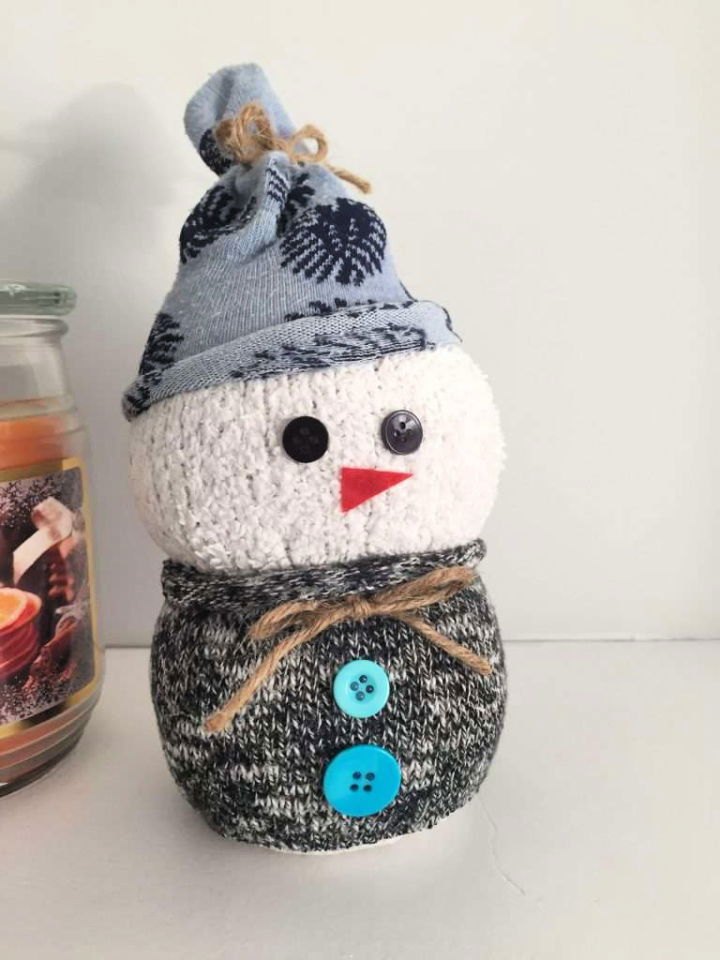 Let the festive season begin with this cute and cozy sock snowman craft! Use single unmatched socks, buttons, red/orange felt, jute twine, rubber elastic, rice, and hot glue to make your snowman in 20 minutes or less.
Start a tradition of making one (or three!) Every year with the kids or grandkids – it's the perfect way to get everyone into the festive spirit.
Never worry about losing that odd sock again; turn them into something special instead! thispixiecreates
21. How to Make a Silly Sock Snowman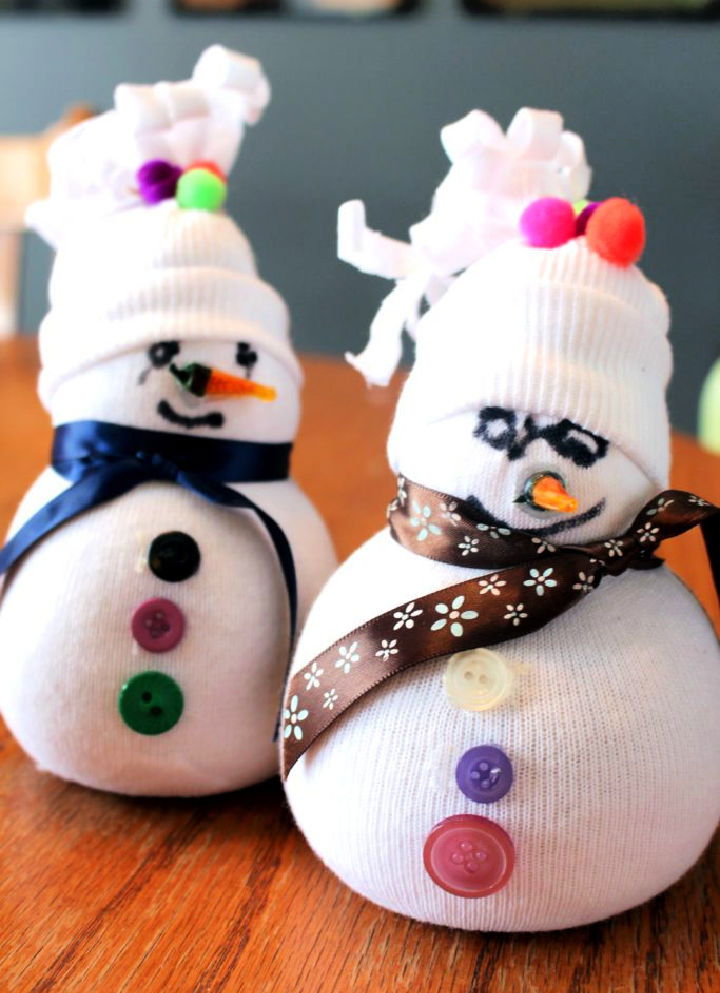 Why not warm the cold winter days by crafting a jolly sock snowman? It's easy and perfect for a craft on a cold day!
All you need is one white sock, rice, colored sock, rubber bands, ribbon, buttons, black marker, and orange felt. To make the snowman, stuff the white sock with the rice and tie off the top with a rubber band.
Finally, use an orange felt for his carrot-like nose and draw it on with a black marker. Now you have yourself a unique, silly snowman that will surely bring cheer to all who see him! welcometonanas
22. DIY Snowmen Out of Sock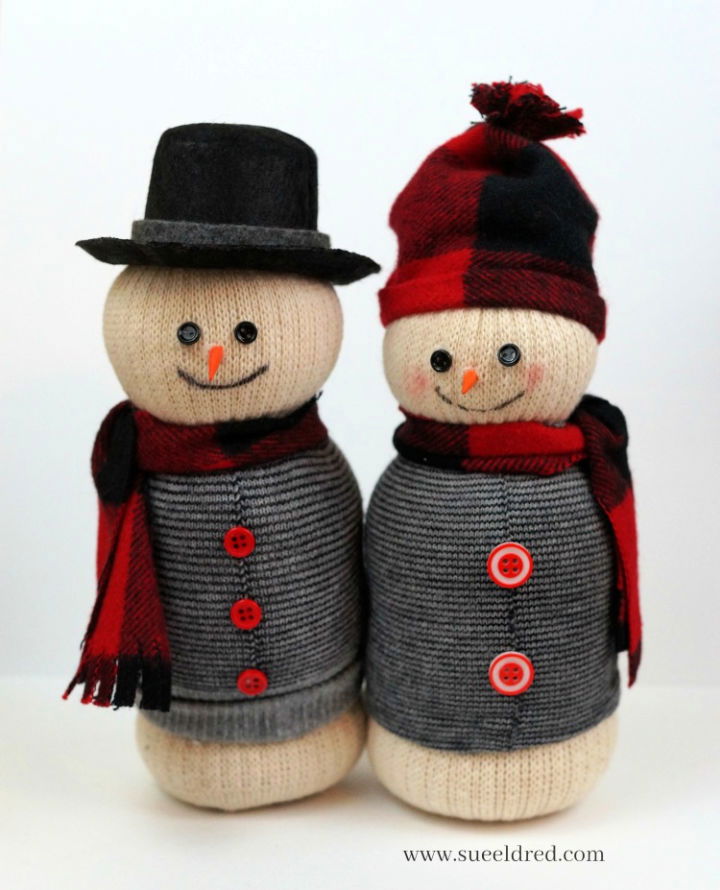 From the snowman's hat to his toes, sock snowmen will bring joy wherever they go! You can make these cute snowmen as personalized gifts or simply festive decorations with just a few simple supplies.
Gather men's white socks, decorative women's socks, small buttons, bamboo skewers, an orange paint marker, Fairfield poly-fil premium polyester fiber, rice, and rubber band for stuffing the snowman body, plus a flannel scrap for his scarf, and red/white bakers cotton twine.
Follow this easy step-by-step guide to make a sock snowman this season! sueeldred
23. How to Make a Festive Sock Snowman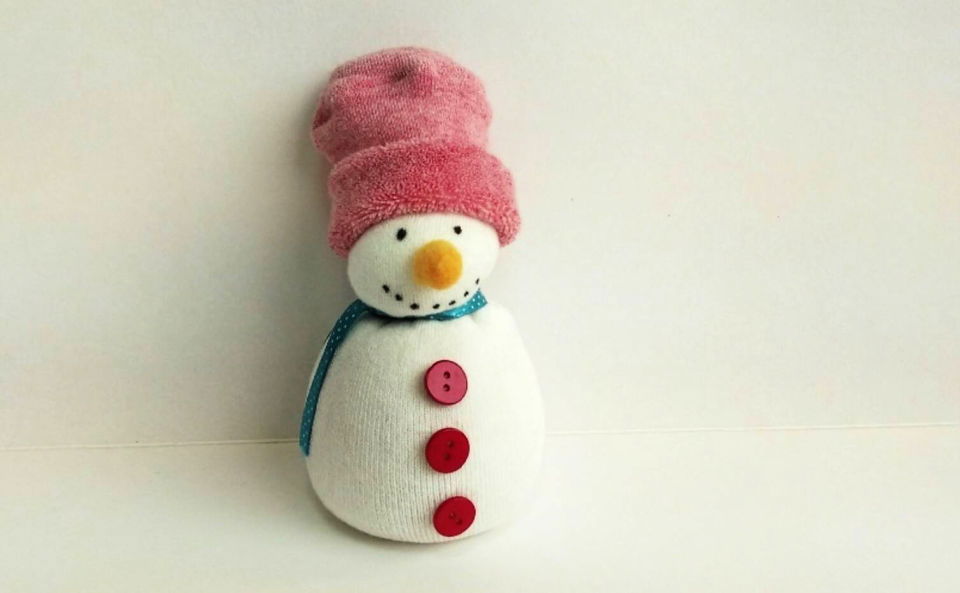 Bring the winter season into your home with this easy DIY festive sock snowman! All you need is a white sock, a colored sock, colored buttons, rubber bands, an orange pom-pom, rice, a black marker, a glue gun, and a ribbon.
It'll take only minutes to assemble your snowman then it's ready to decorate! Add details like eyes or lips with a black marker to make a festive hat.
Letting kids join the fun makes it even more memorable, so why not make one together? Enjoy your festive sock snowman at home today! timeout
24. Sock Snowman Craft for Winter Decor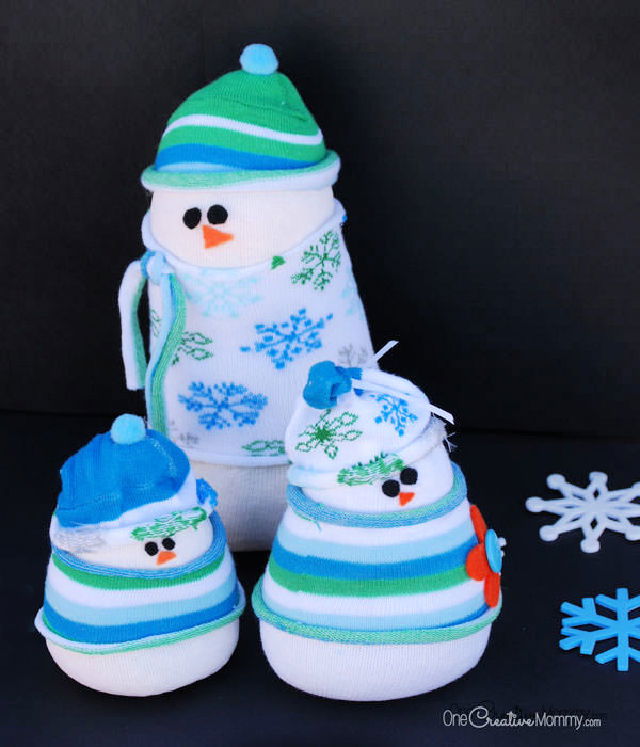 Let your imagination sparkle and build a winter wonderland with these adorable sock snowman kids! This simple craft uses just a few items – rice, a child's white sock, adult Christmas/winter socks, rubber bands, and small black and orange felt scraps.
Make an entire snowman family to bring cheer to your home in no time. Plus, you can use buttons, pom poms, or ribbon to add festive touches like sweaters and hats.
Don't let the cold weather stop you from having fun – try making adorable sock snowman kids today! onecreativemom
25. Sock Snowman Step-by-Step Instructions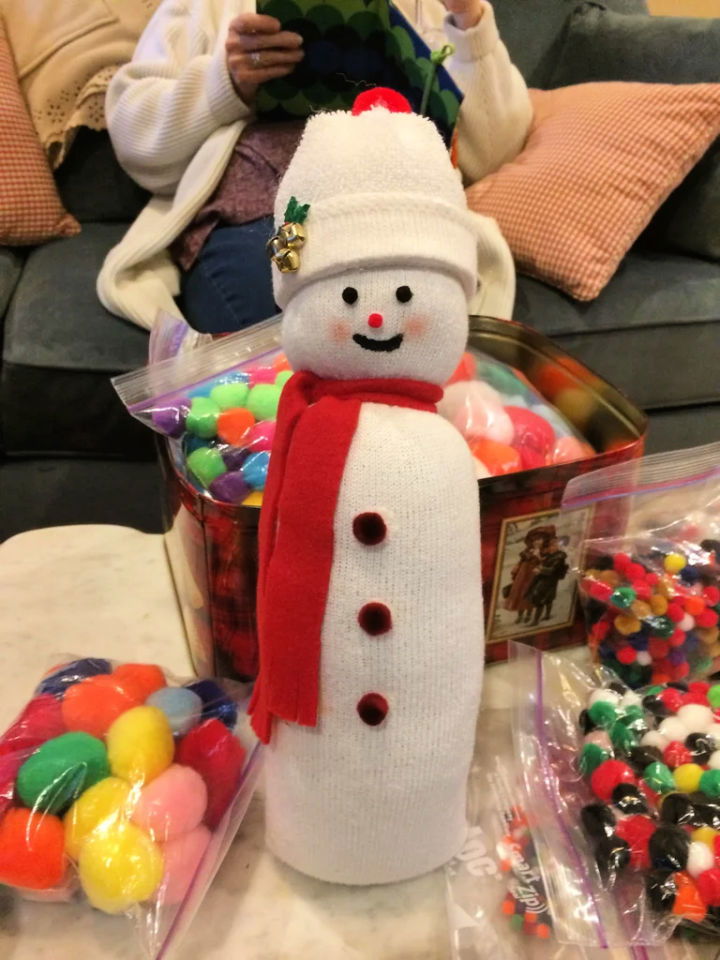 This winter season spread smiles around with these festive sock snowmen! These unique wintertime decorations come together quickly and easily, making them a great holiday activity or gift.
You only need tube socks, stuffing, bead filling, string, glue, and miscellaneous decorations to bring these snowmen to life.
So have some fun this season making a couple of sock snowmen for your home or office and add some cheer to your holidays! instructables
Conclusion:
In conclusion, making sock snowmen is a fun, cost-efficient, and creative activity that craft lovers of all ages enjoy. Through these DIY sock snowman craft ideas, such as no-sew DIY sock snowman, DIY sock snowman without rice, and making your own Olaf sock snowman, crafting enthusiasts can take their passion to a whole new level. Making sock snowmen not only promotes recycling old socks but it also offers a cozy indoor activity for winter months. This unique DIY sock snowman project will surely add a cute and festive touch to anyone's home decor.