If you want to build a DIY loft bed, you are in for a fun and satisfying adventure. You can learn how to build a loft bed with 20 free DIY loft bed plans that are easy to follow. These plans cover different sizes, from twin loft bed plans to full size loft plans for adults. They also have clear instructions, helpful pictures, and complete material lists to make sure you don't miss anything. You can choose from various styles, such as a diy castle loft bed or a loft bed with bookshelf ladder. So get ready with your tools and materials and start building your dream loft bed today.
You can unleash your creativity and imagination with DIY loft bed plans. Build a loft bed for adults or customize it for kids with fun features like a sliding barn door loft bed project. You can also make a DIY twin loft bed or add storage with DIY loft bed with storage plans to make it more convenient. Whether you want a cheap diy wooden loft bed or something more fancy, these loft bed blueprints will guide you to build a loft bed that matches your needs and tastes. Have fun with the process, and be proud of the result of your work.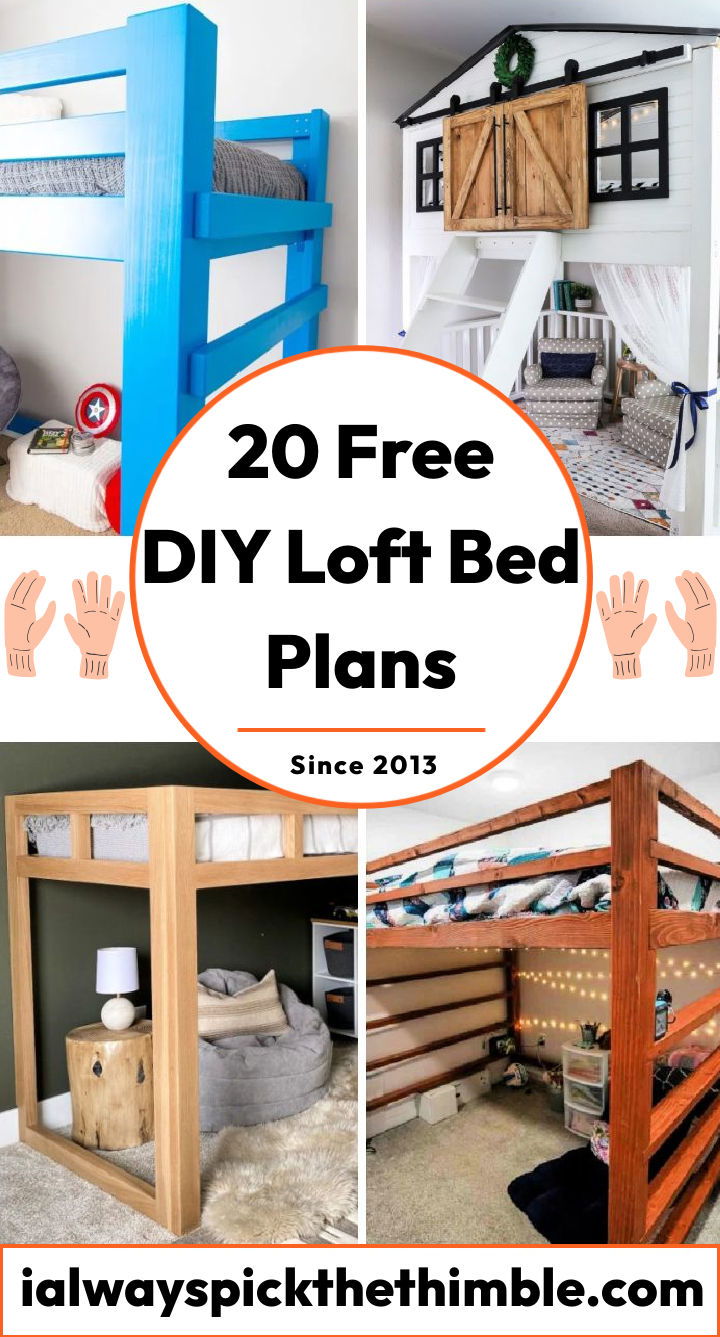 Free DIY Loft Bed Plans
Loft beds are useful and a great way to save space and add personality to a room. Building a loft bed can be an enjoyable and rewarding project for both beginners and experts. With these 20 free DIY loft bed plans, you have many options to pick from, including different sizes, styles, and added features. Whether you want to build a simple loft bed or a more complex design with extra storage or decorative elements, you will find the ideal plan for your needs. Follow the simple step-by-step tutorials and build your loft bed today!
1. DIY Castle Loft Bed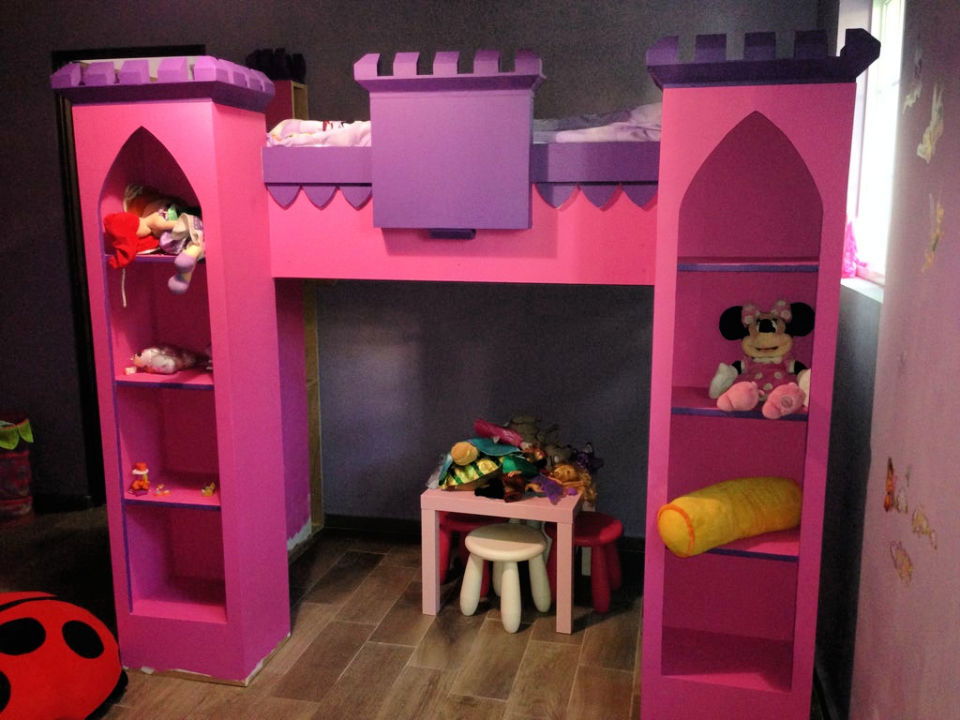 The perfect addition to any kid's bedroom is the castle loft bed! This build looks complex but is easy to assemble with simple tools. As a bonus, you can customize your chosen paint color to match your room perfectly! It's made from high-quality wood and designed for durability, ensuring your child will enjoy it for years. With its elegant design and classic charm, this loft bed will make any childhood dream come true. Get ready – your kid will love sleeping in their castle! instructables
2. How to Build a Loft Bed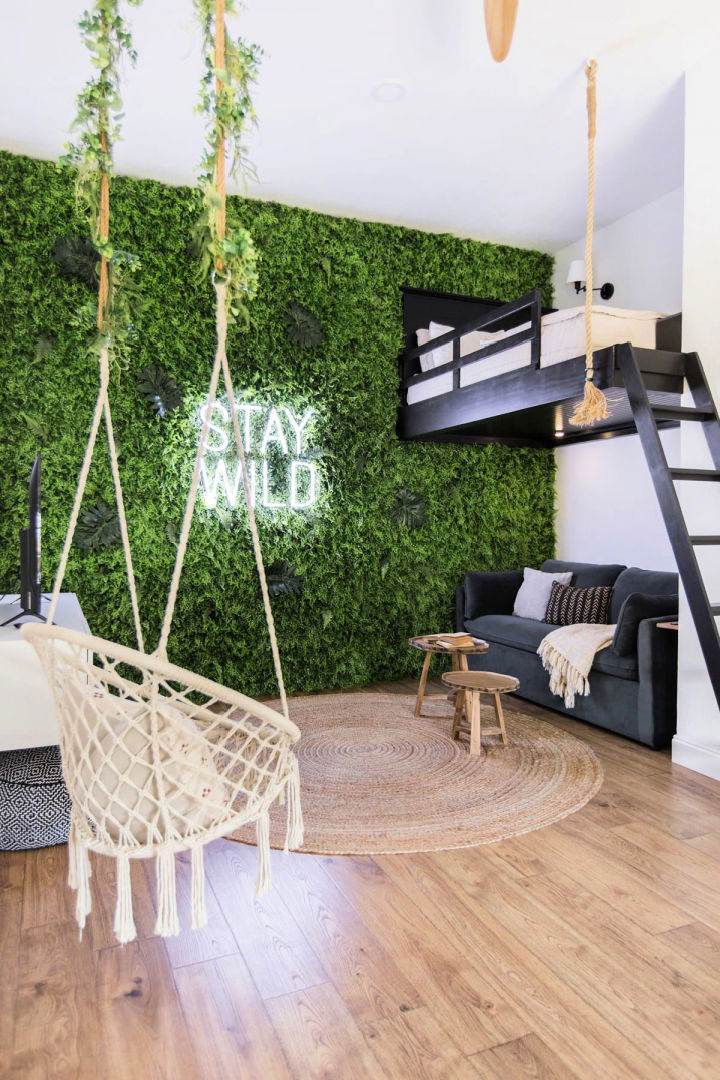 Transform your unused downstairs space into a cool hangout spot for kids with this easy-to-follow guide on building a loft bed! With just 2x4x8 and 2x6x8 lumber, you can have an awesome DIY full-sized bed ready to use quickly. The nook below the bed frame is perfect for sleeping or adding a sleeper sofa. It's the perfect project for anyone looking to maximize their home's space without breaking their bank account. Follow these simple instructions and make something special that will last years! jennasuedesign
3. Homemade Wood Loft Bed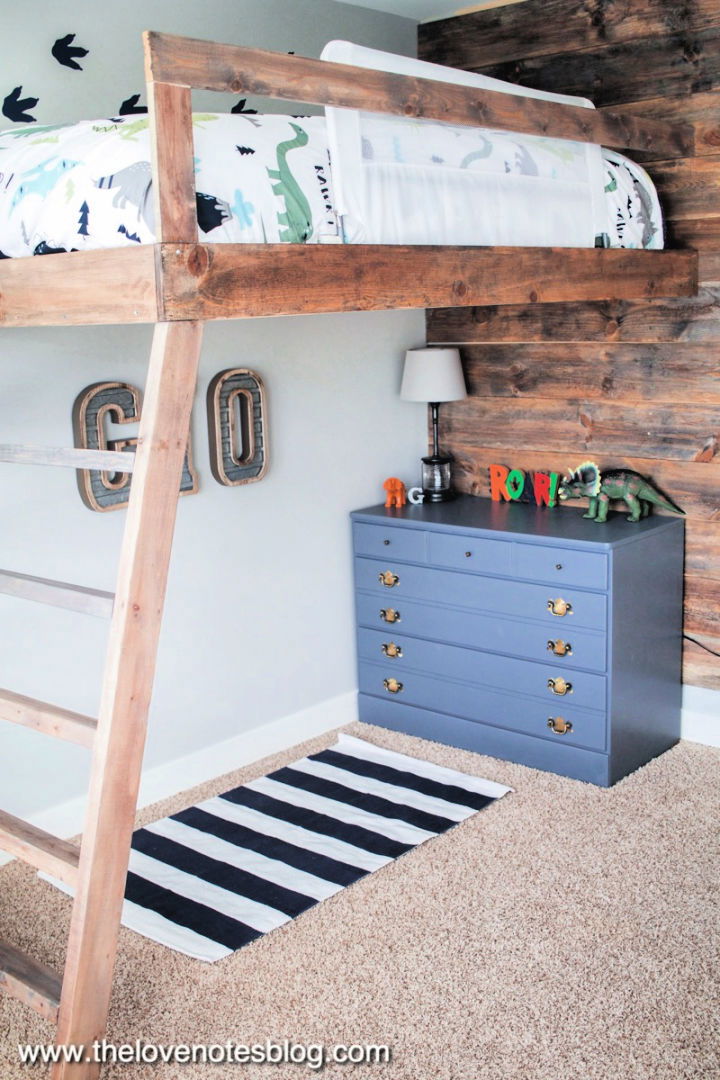 DIY loft bed – Make an extraordinary look in your room at a fraction of the cost and materials! With this DIY loft bed, you can easily construct a stylish hanging bed. Minimal lumber is required to make this dreamy piece of furniture that will add charm and style to any bedroom. All you need are basic tools and wood stain for the finishing touches – it's so easy! Get creative with this project for a truly unique addition to your home. Enjoy better sleep quality today with this incredible DIY loft bed! thelovenotesblog
4. Build Your Own Loft Bed
Are you looking to build a loft bed on a budget? This DIY Loft Bed is the perfect project! It only requires some basic tools and around $300 in lumber. Plus, it lets you make three pieces of furniture in one – what's not to love? Get started right away with these free plans and step-by-step instructions. With minimal hassle, you can make this beautiful wood-frame loft bed for your bedroom or living space. All that's required is 4″x48″x96″ hardwood plywood, 2x10x8, and 2x4x8 framing lumber – get everything you need today! shanty 2 chic
5. How to Build a Loft Bed – Free Plan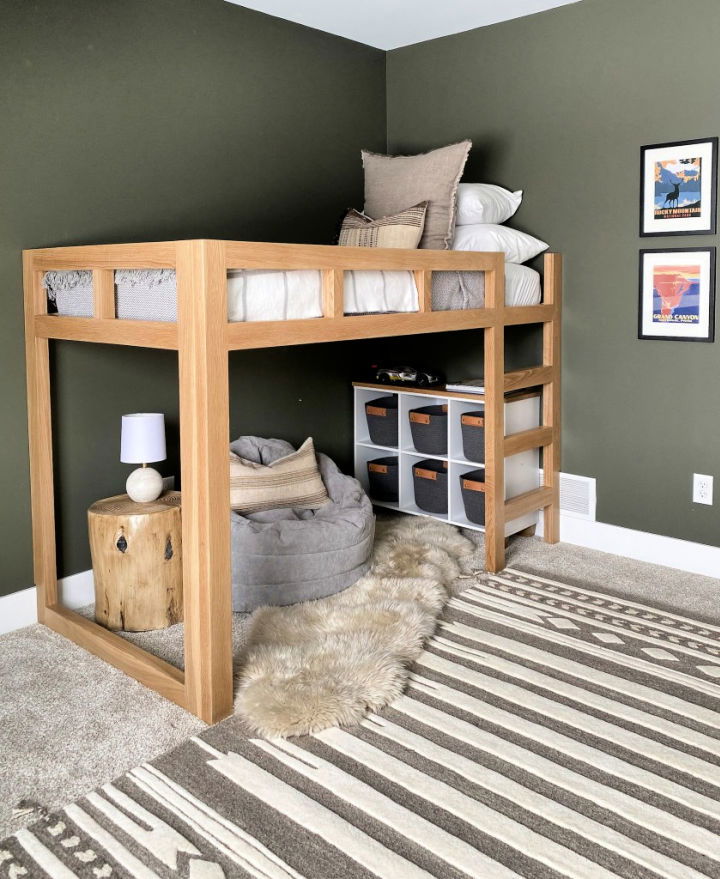 Maximizing small space doesn't have to be a daunting task! These free plans are designed for building a loft bed perfect for adults and kids alike! This plan will allow you to customize the height of the bed, giving you maximum flexibility. All you need is some white oak lumber and plywood to get started. You can also convert this plan into a bunk bed by adding a mattress and wood on the floor. Get creative with the DIY instructions today and build something unique that fits all your needs! joinerydesignco
6. Sliding Barn Door Loft Bed Project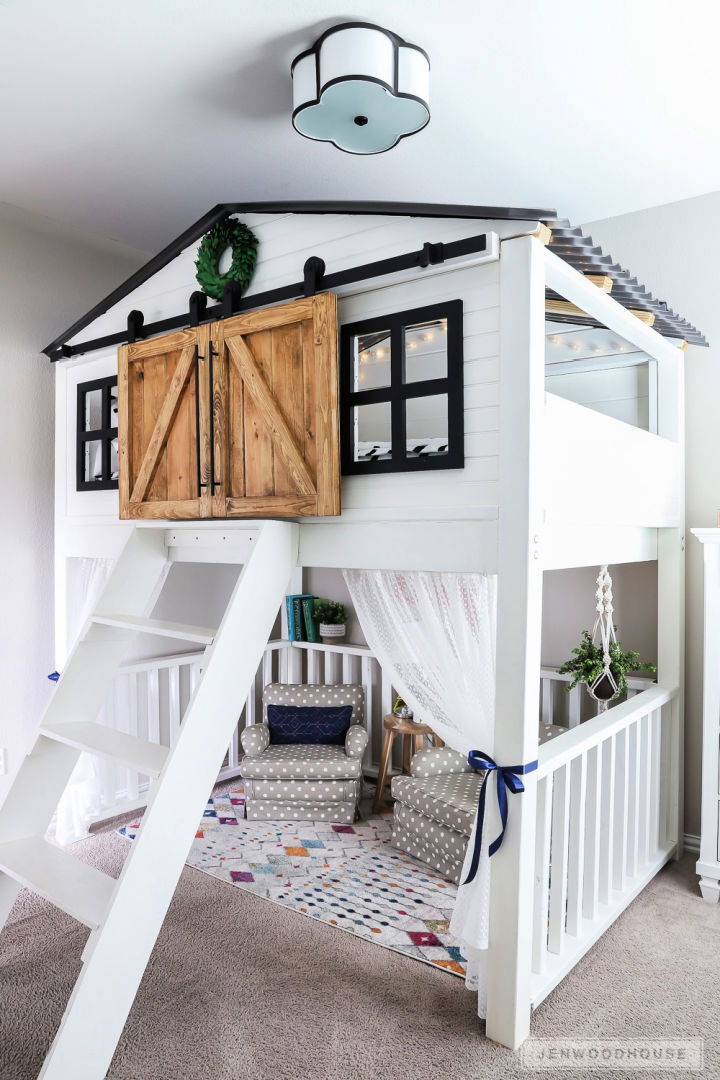 Make a style statement with this modern and chic DIY sliding barn door loft bed, perfect for your home space! This plan fits a full-size mattress and can be built with 2×2 lumber, off-the-shelf 2×4 studs, and 2×2 balusters. The total cost is approximately $550.00 – an economical solution to your bedroom needs. Take advantage of the unique design that adds value to any room without cost! Add a touch of elegance to your home as you impress friends and family with this beautiful loft bed. jenwoodhouse
7. Loft Bed With Bookshelf Ladder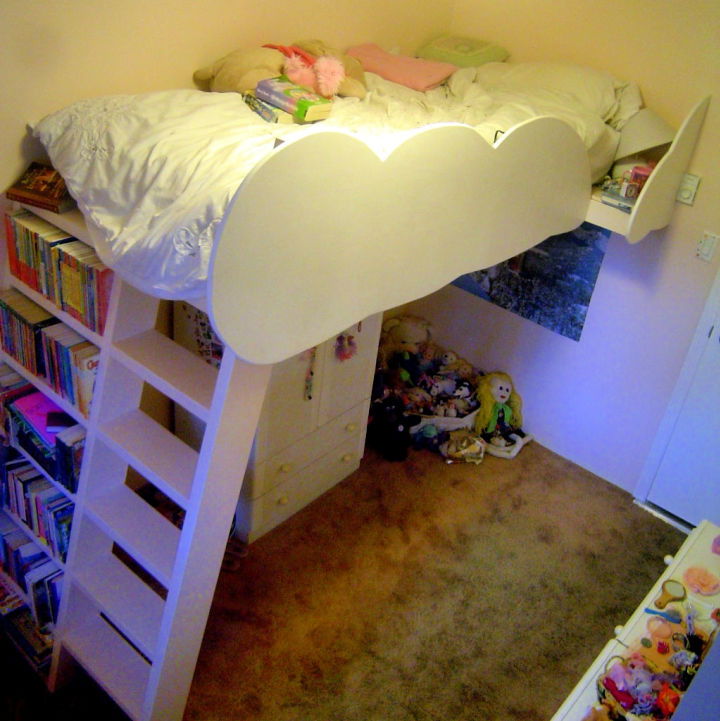 Climb your way to a whole new bedroom experience! This stylish, functional design saves space and makes a modern look. Constructed using simple joinery of 2×4 and 2×6 construction lumber and plywood, this bed is incredibly solid yet affordable at only $150. The heavy-duty combination ladder/bookshelf provides superior durability and optimal support while still being comfortable to climb even when you're an adult. Make your bedroom look like a floating cloud with this loft bed with a bookshelf ladder! instructables
8. Cheap DIY Wooden Loft Bed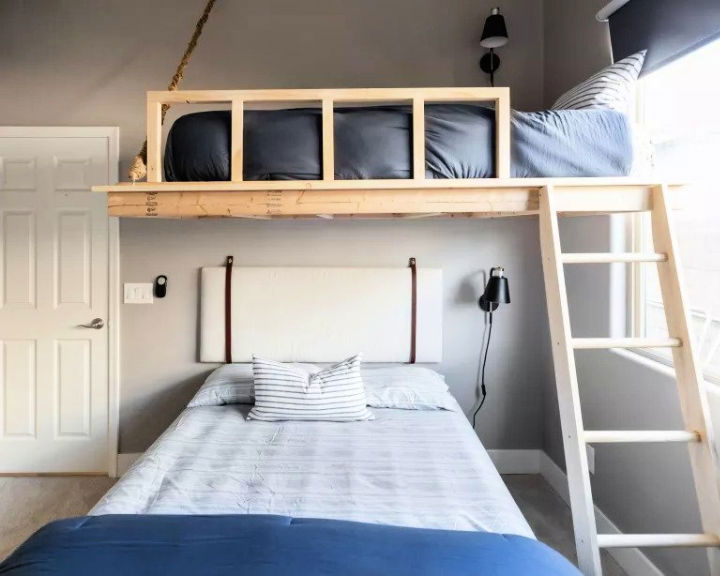 Reach new heights and make the most of your living space with this easy-to-follow guide to building a DIY loft bed! You'll be able to make a stylish and functional loft bed perfect for kids' bedrooms or any room needing an extra sleeping area. You only need basic materials like 2×4 lumber, 1×6 lumber, and airline cable wire. Follow along with easy instructions and transform your living space into something more dynamic today! realhomes
9. Making a Loft Bed for Bedroom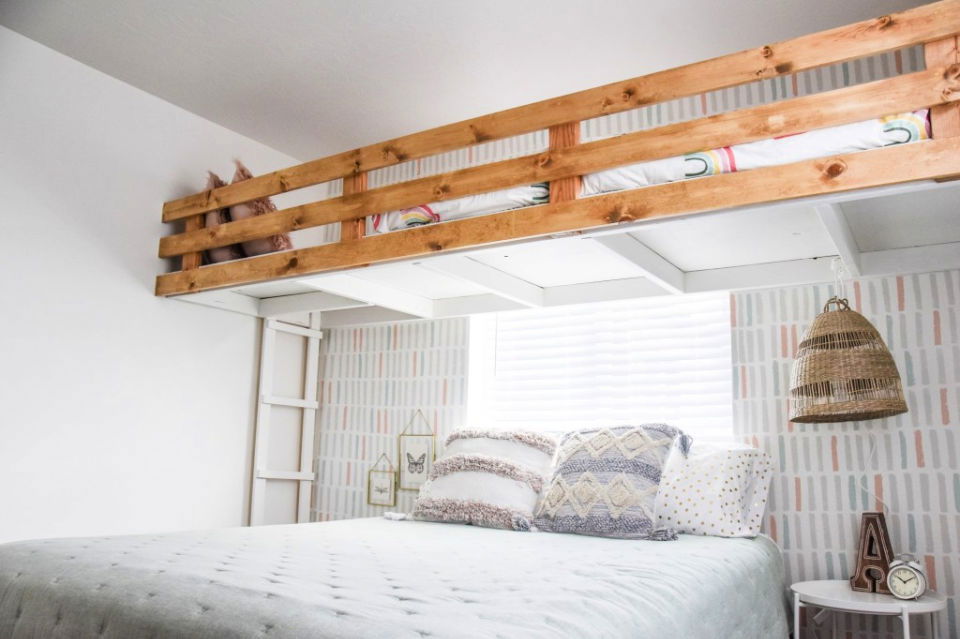 Construct your small bedroom into a cozy oasis with the perfect loft bed – maximize floor space and relax comfortably. Get creative with 2×4 lumber and design an easy-to-climb ladder to reach your cozy nook. No need to stress over perfection; make sure your twin mattress fits snugly for those lazy Sunday mornings! With beefier wood and careful crafting, you can make the perfect DIY loft bed fit for any style or budget. myhappysimple
10. DIY Full Loft Bed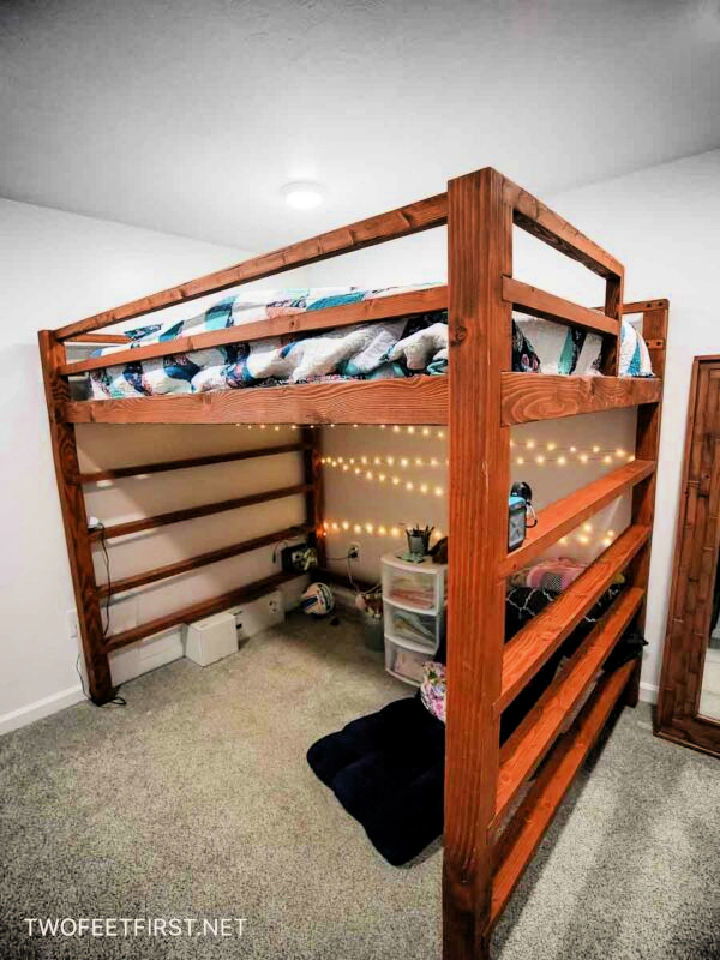 This DIY full loft bed creates the perfect space for your growing child. Featuring a cool, elevated design that gives your child more space below, it's a great way to utilize your room. Constructed using 2×4 and 4×4, and 1×4 boards, this loft bed is easy to assemble with just basic tools – so even if you're new to woodworking, you'll be able to build this beautiful and sturdy structure in less time! Your kid will love their one-of-a-kind loft bed built with their needs in mind, especially when they get to show it off at sleepovers or family gatherings. Get started today on ensuring your child has enough room while they grow! twofeetfirst
11. Build a Wooden Loft Bed with Desk and Storage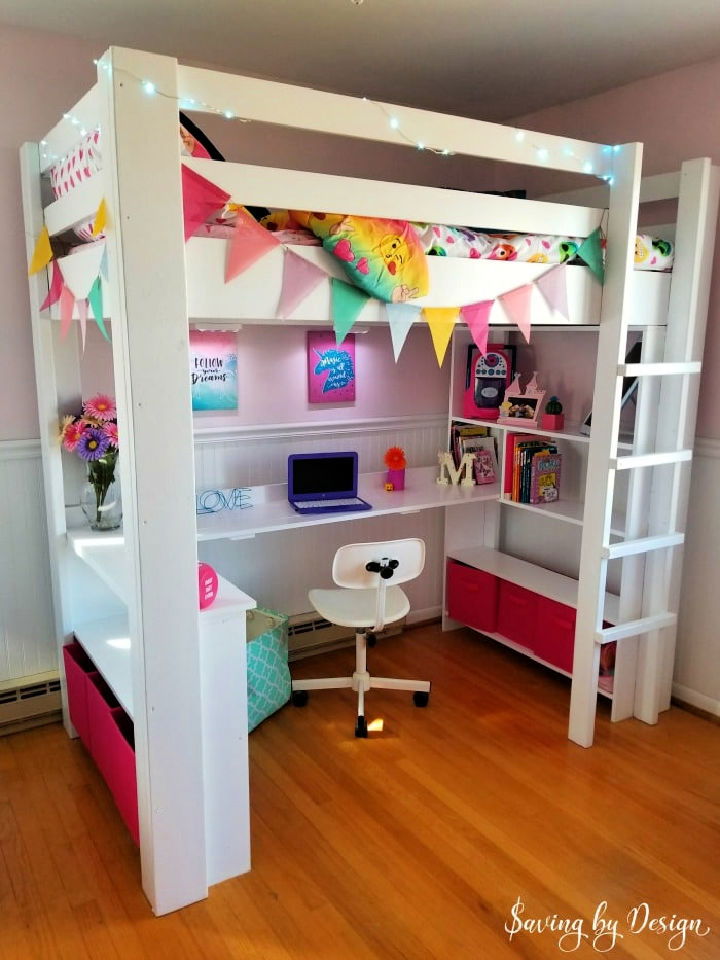 The DIY loft bed will give your child the perfect sleeping and studying environment! This fun and functional bed solution is great for those short on space. These plans are perfect for boys, girls, tweens, and adults. All you need is one 4×8 sheet of plywood, 2x4s, and 2x8s to build this amazing loft bed with desk & storage – all for only $350! Get creative with colors & patterns, or make it match the existing room décor. Make something special that both kids and adults will love – start building your loft bed today! savingbydesign
12. DIY Loft Bed – Download the PDF Plan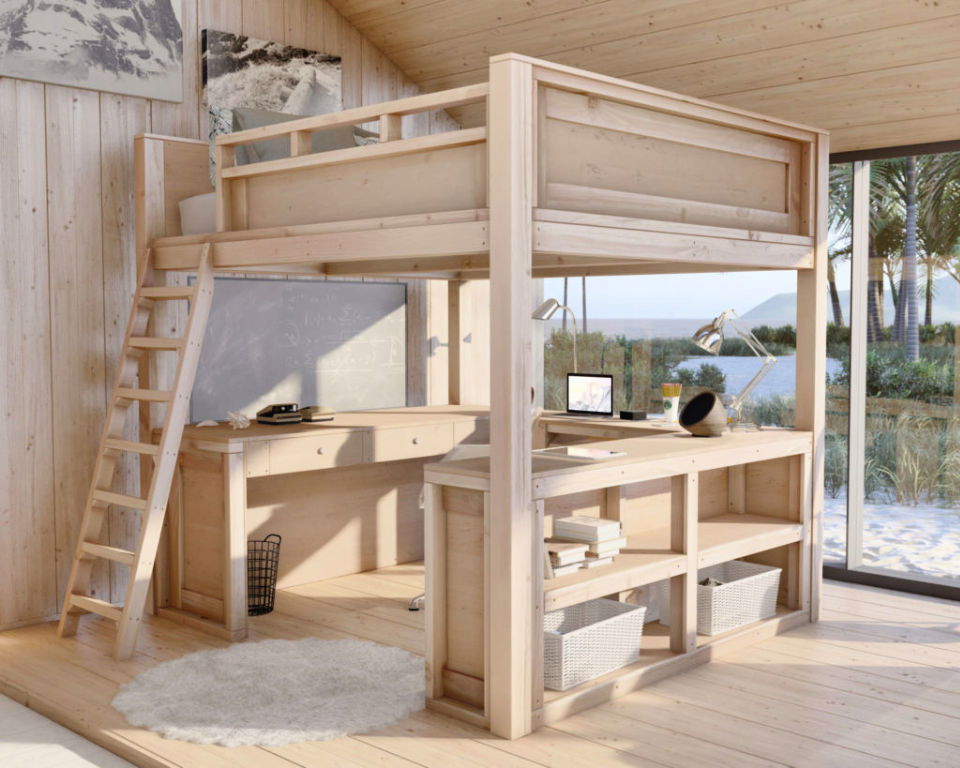 A DIY loft bed Sleep & Study is a great solution for any small bedroom, as it takes up less space than traditional beds while still providing style, function and plenty of storage. Constructed from several components assembled in the room, the design is sturdy and built to handle a fair amount of weight. And its elevated off-the-ground look makes it an attractive piece of furniture that adds vertical space to the room – perfect for adding personal style. With this DIY loft bed, you can have all your desired features, including extra storage, a sleeping area and a study nook in one stylish package! gooddiyplans
13. DIY Loft Bed for Boys Room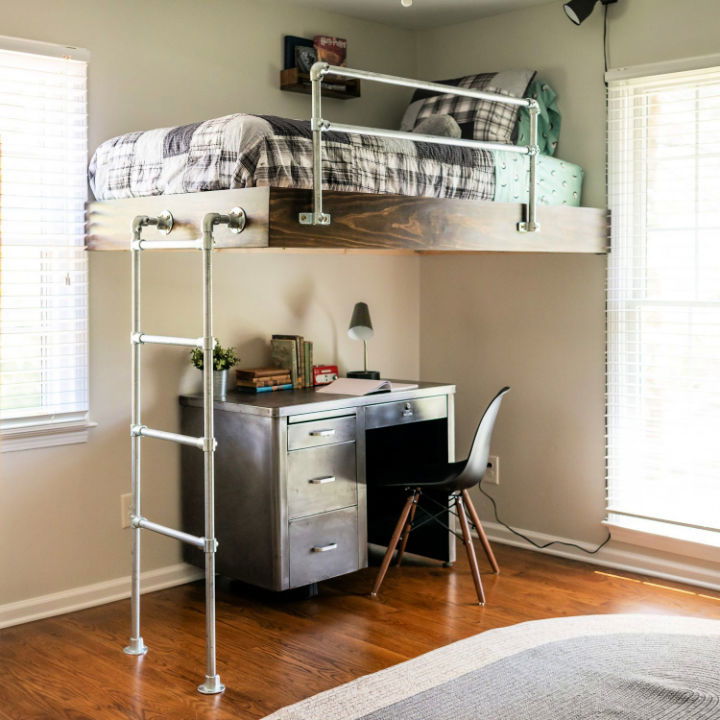 Imagination is the key to unlocking a world of possibilities, and a loft bed can help you bring that vision to life for your child's bedroom. With wood and pipe elements, you can make the perfect setup to maximize space while providing plenty of storage. The bottom level is perfect for studying or relaxing in a comfortable chair with good lighting and all office supplies within reach. The compact desk ensures productivity by keeping your work area tidy and comfortable. Get creative today and give your child the bedroom they will love! youcanman
14. Kid's Clubhouse Loft Bed Design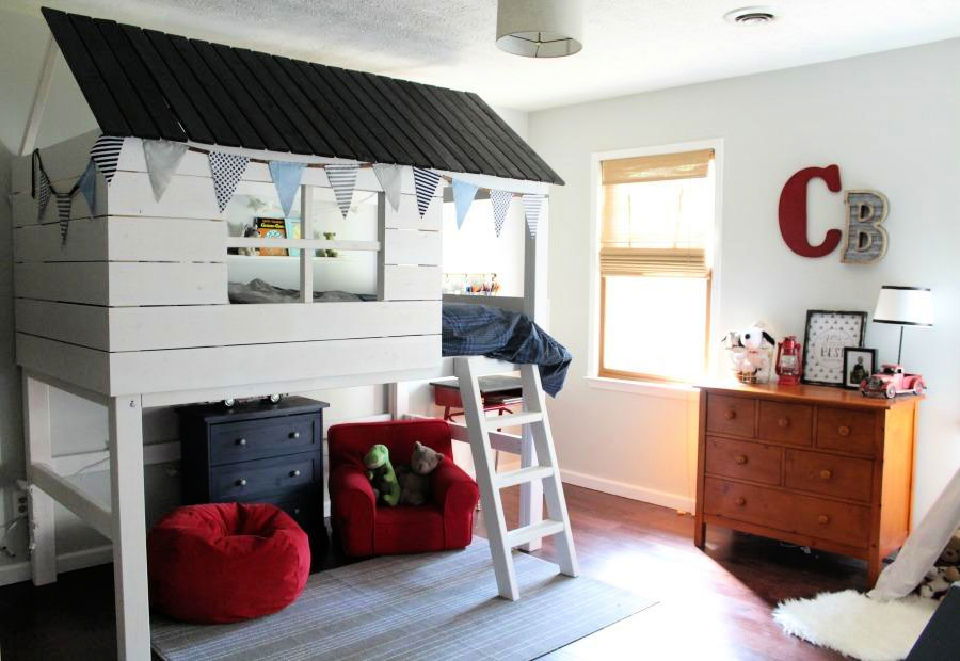 Introducing the perfect combination of playtime and sleep time: the kid's clubhouse & loft bed! This twin-size bed offers a unique style with its upper loft, providing ample space for your little one to enjoy their favorite activities while also having a place to catch some zs. The bed's lower area is ideal for storing toys and books, making it easier than ever for kids to access all their most precious items in one convenient spot. With this kid-friendly design, you can rest easy knowing they'll stay entertained while making memories that will last a lifetime. kregtool
15. Loft Bed With Lego Storage Work Space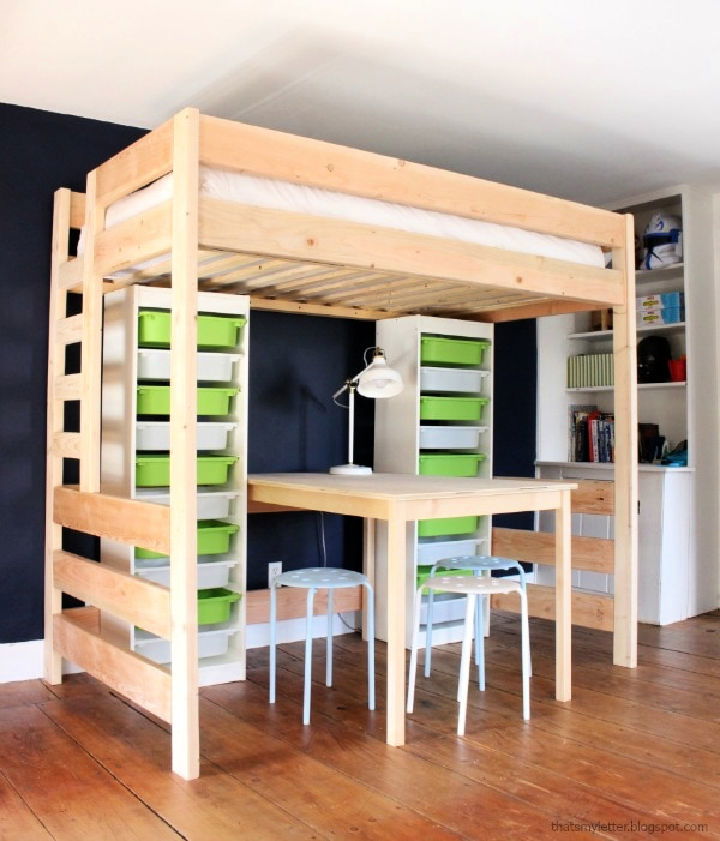 Organize your kid's legos with the perfect DIY solution – a loft bed with lego storage and work space! This 32″w x 48″ custom-built construction is made of 2x4s, providing enough room for sleep and play. The extra area underneath the loft provides ample workspace to build their favorite Lego creations or do some homework. It's also great for storing books, toys, blankets, and more, making this useful piece of furniture one you'll love! Get creative today and make this amazing DIY loft bed with lego storage & workspace in your home! jaimecostiglio
16. Build Your Own Loft Bed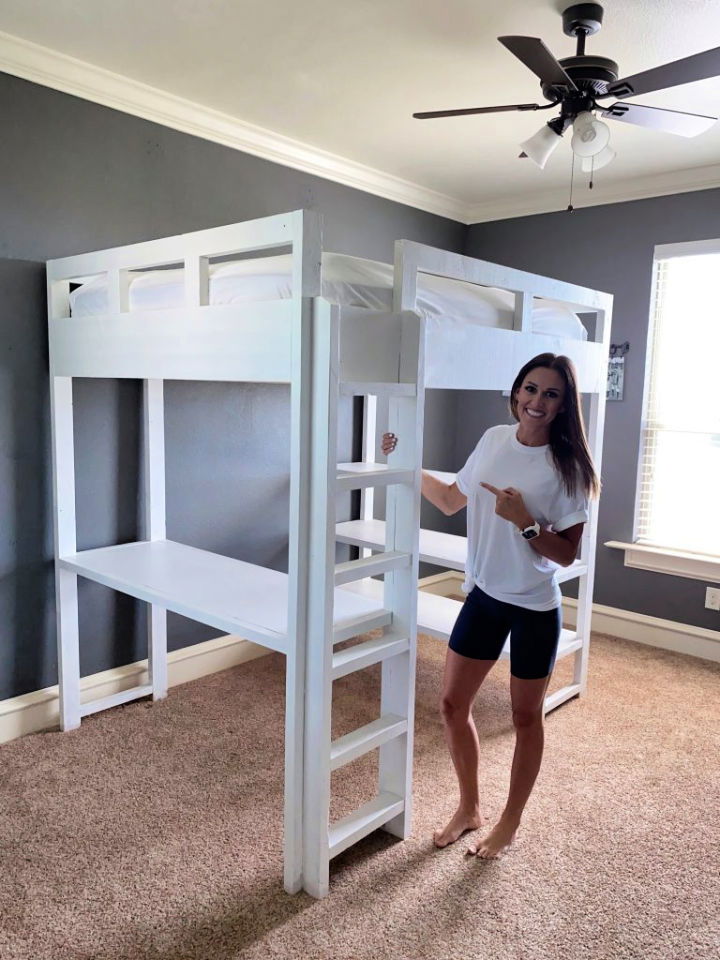 Assemble the perfect loft bed for your home with this DIY project! This unique piece of furniture packs a lot into one design – a bed, desk and set of shelves all in one, with the right lumber, 2x4x8, 2x2x8 framing timber, 1x4x8 pine or common boards and 4″ x 48″ x 96″ hardwood plywood. You can make this great piece at an amazing price of under $300. Perfect for any bedroom space! shanty 2 chic
17. DIY Loft Bed for the Pre-teenager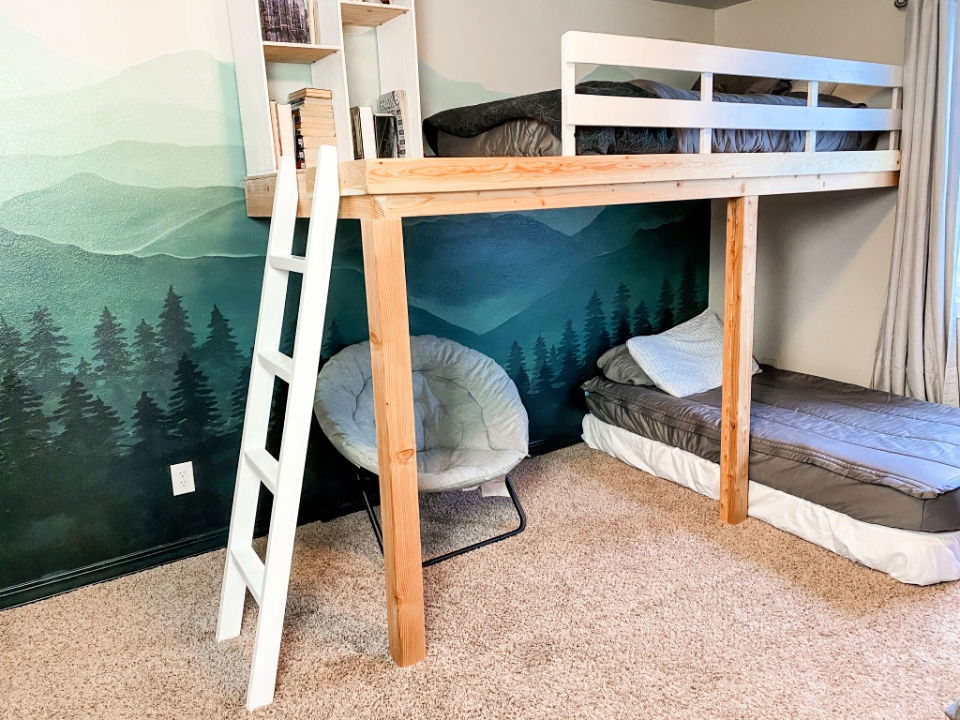 This DIY loft bed project is perfect for the pre-teenager in your life! It's a challenging yet rewarding experience as you figure out solutions to all the problems that arise along the way. You'll be able to make something special with just wood and white paint – giving your loved one an amazing gift they can treasure forever. With this project, you're sure to make something truly unique and unforgettable! chelsiebrady
18. Free Loft Bed Building Plan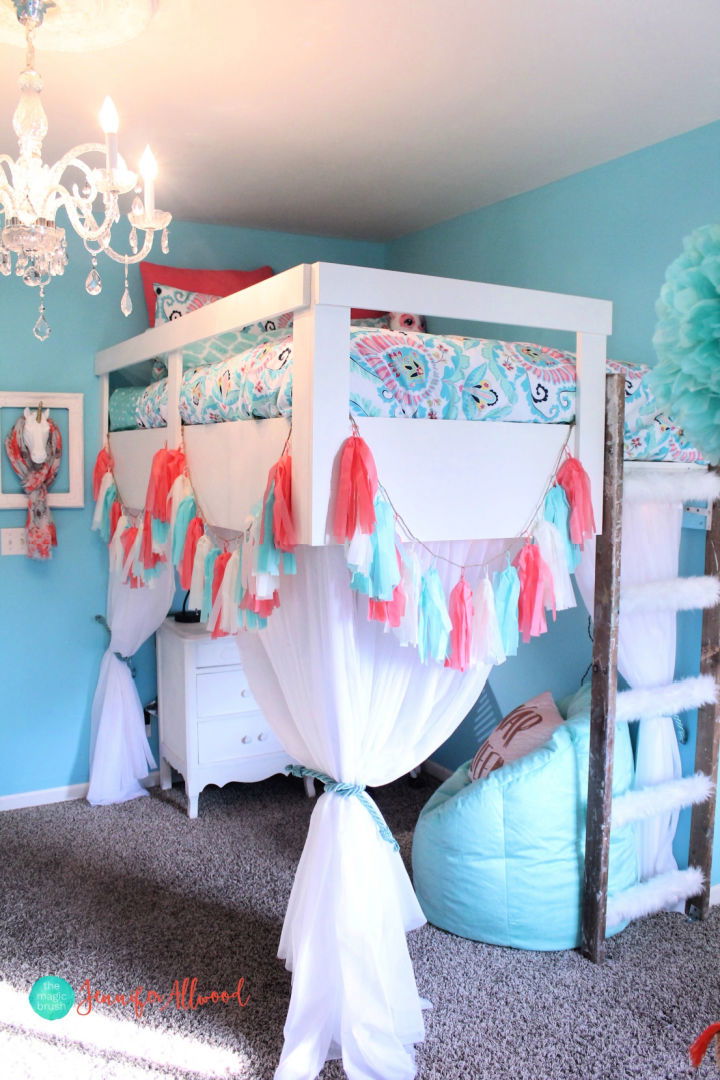 A loft bed is a great way to maximize your child's bedroom space. This DIY project provides an elevated sleeping area, and under the bed, there is ample room for playtime or storage of toys, clothing and other items.
You can customize the look of your loft bed with wood construction and white paint accents that match any décor. Follow the step-by-step instructions for building a beautiful and functional loft bed to make your little one feel like they're in their castle! This simple project allows you to make extra space while meeting your child's needs. jenniferallwoodhome
19. How to Make Twin Loft Bed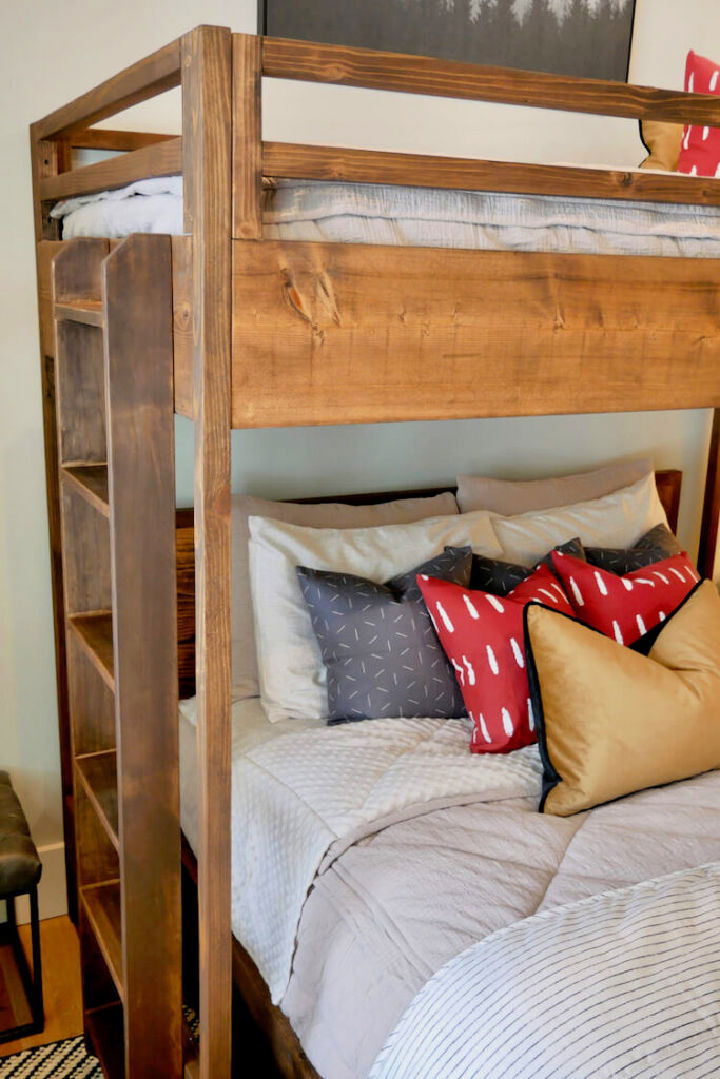 Looking for a space-saving bed that won't break the bank? This twin loft bed is perfect for you! Made from construction-grade lumber, this bed will only cost around $200 to build. It's two completely separate beds – so if you're ever done with the loft, it can be easily removed and leave a queen platform bed behind! With 2 x 8 x 10′ dry boards, 1 x 4 x 8′ common boards and 1 x 4×8 select pine boards included, you'll have all you need to make an affordable and creative sleeping solution. Get your twin loft bed today! rogueengineer
20. DIY Loft Bed for $75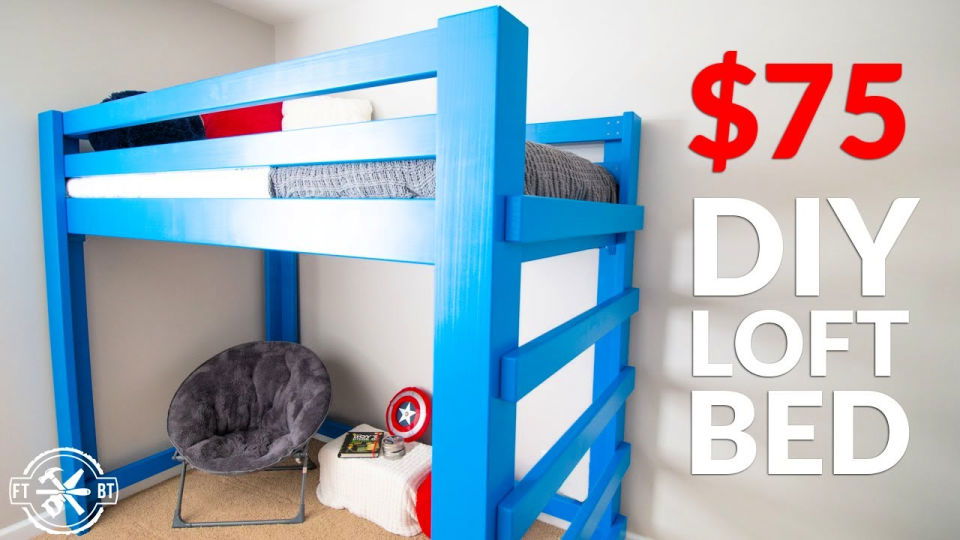 Break free from the chains of conformity and unleash your true potential! Make the perfect space-saving bed for any room! This easy-to-build DIY loft bed is made with affordable construction-grade lumber (2×4 and 2×6), which can be cut down from 2×12 boards if you want a nicer look while saving money. Perfect for a kid's bedroom or dorm room, this DIY project will give your family plenty of extra storage and sleeping space without taking up too much floor area. Get creative and make your child's dream bedroom today!
Conclusion:
In summary, building a DIY loft bed not only proves cost-effective but also allows for personal customizations. From full size loft bed plans to twin loft bed plans, these DIY loft bed plans enliven your living space. DIY loft beds for adults and children alike, along with inventive designs like a castle loft bed or a loft bed with a bookshelf ladder, offer creative solutions. By picking any of these free DIY loft bed plans and blueprints, you can easily build loft beds or even a complete loft bedroom!