Building a DIY office desk can provide a personalized and functional workspace that fits your specific needs. Learn how to build a desk with these 25 homemade DIY desk ideas that cater to various preferences, from modern DIY industrial desks to transformable hairpin leg desktop plans. Each DIY desk idea comes with step-by-step instructions, detailed guides, and visual illustrations to make the assembly process easy and clear. Engage in building a DIY office desk that reflects your taste, whether it's a DIY fold-down wall desk or a herringbone L-shaped corner desk tutorial.
Dive into these DIY office desk ideas that provide creativity and efficiency, with options ranging from a DIY computer desk to innovative designs like an IKEa desk hack under $60 or building a pallet and sawhorse desk. These desk ideas offer flexibility, allowing you to customize the size, material, and features, including additions like DIY desk with shelves. Don't be limited by store-bought desks; find the perfect homemade desk that suits your home office or study space with these exciting DIY desk ideas.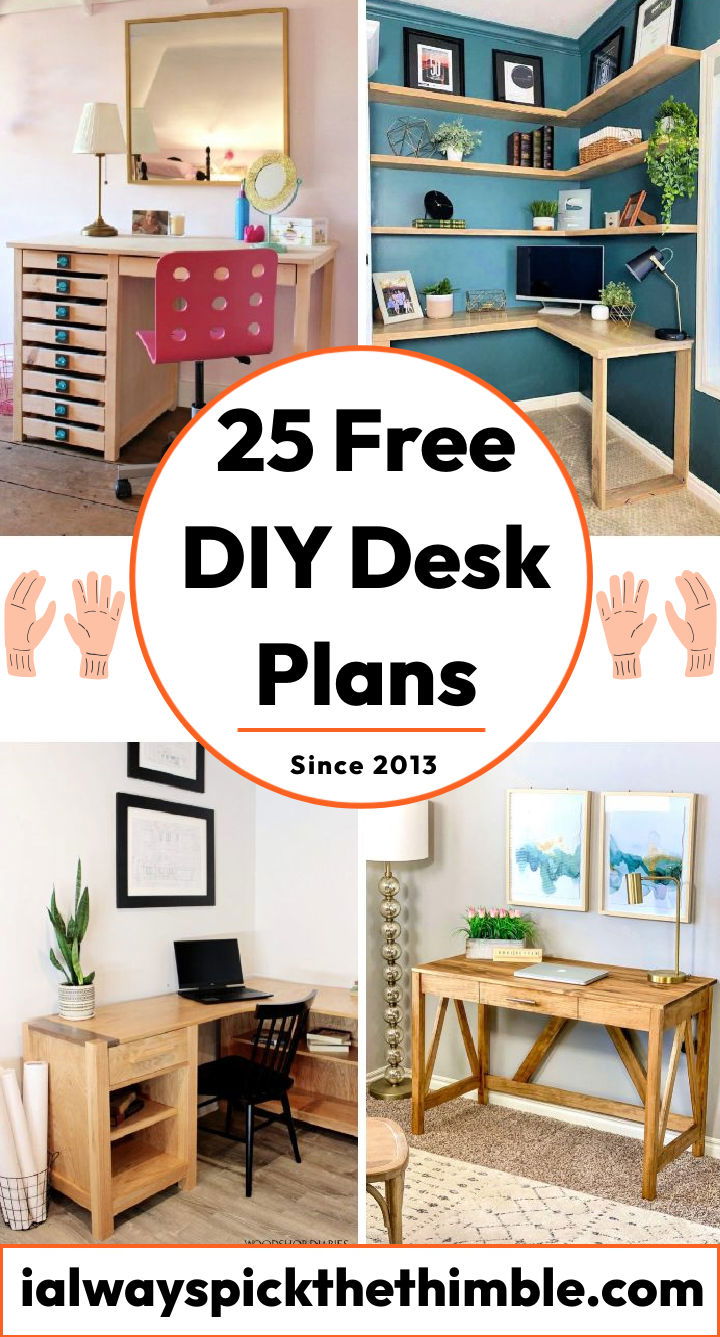 Whether you're looking to make a desk for your home office or seeking playful options like a DIY house frame kids desk or a plywood desk for kids, these DIY desk ideas are a valuable resource. The process of how to build a desk becomes an enjoyable and rewarding experience, with comprehensive tutorials and detailed instructions. You can even take advantage of your existing materials with options like a DIY work desk from repurposed materials. Embark on a journey of creativity and functionality, and start building your homemade DIY desk today!
1. DIY Fold Down Wall Desk
Do you dream of having an office space but don't have the room for a hefty desk? You don't have to give up your dreams! Make a stylish and functional fold-down wall desk with just 1 x 6 boards, 1 x 2 ′ board, ¾" x 3′ square dowel, 4 x 4′ sheet ¾" birch plywood, pegboard, and pair gas struts.
Perfect for small homes and apartments with limited space. Not only does this piece look artful when out of use, but it also offers invaluable functionality when folded down. Make it unique by adding decorations or paint finishes to personalize it. This is a great build, even if you're a beginner, and it promises to help you design your own home office in no time! diyhuntress
2. Herringbone L Shaped Corner Desk Tutorial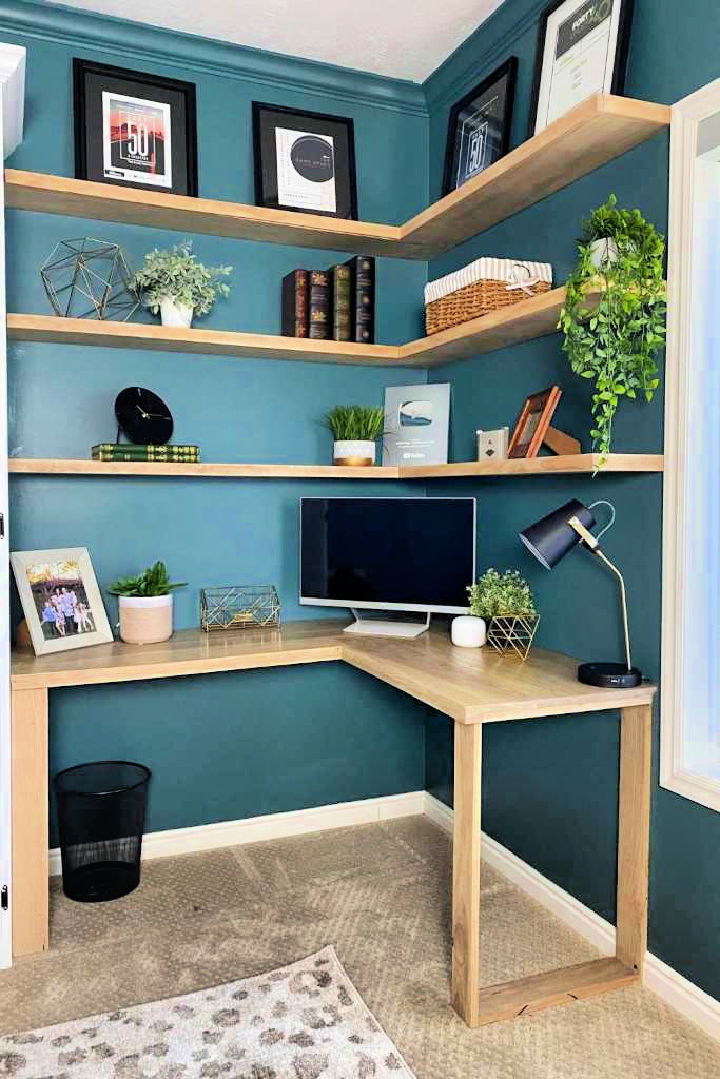 Are you looking for the perfect desk? Get ready to transform your workspace with this herringbone l-shaped corner desk! It doesn't have to look cheap, even if you have a limited budget.
You only need 1×8 boards, wood glue, tack cloth, and plastic wood filler for maximum customization and durability. Plus, you can attach it to the wall for a built-in look or opt out of legs and customize it your way. It's simply an all-in-one solution that'll make any workspace special. Try this DIY desk tutorial right now and get crafting! honeybuilthome
3. IKEA Desk Hack Under $60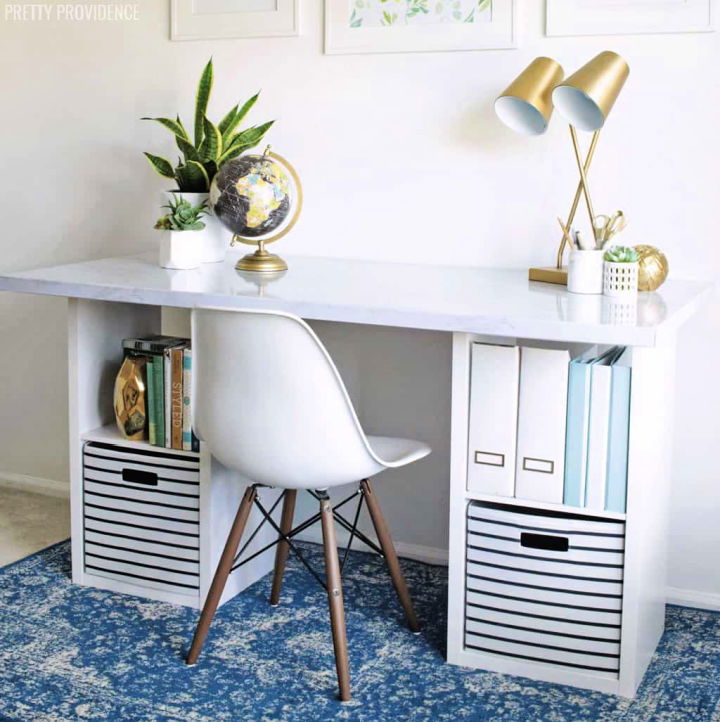 Here is this DIY Ikea hack to get an instant workspace! With this hack, you can make the perfect home office, virtual learning area or crafting station with just a few simple steps. Begin with a linnmon desktop and two storage cubes from Ikea. Then get creative and add your touch of style with a roll of marble contact paper. This convenient desk solution offers the perfect balance of functionality and style for any small space – without breaking your wallet! prettyprovidence
4. Building a Pallet and Sawhorse Desk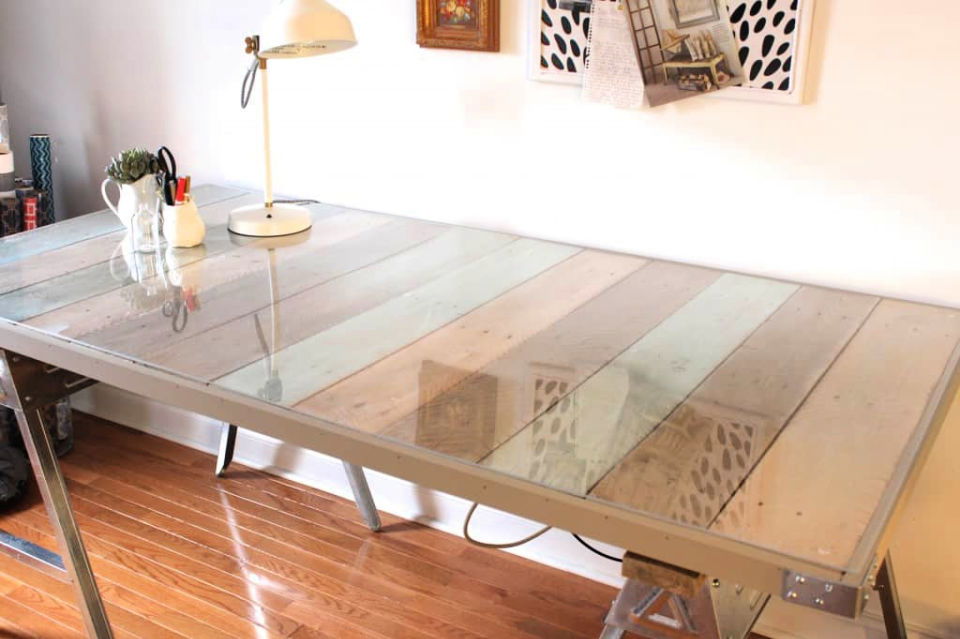 You have come to the right place if you dream of a desk that suits your style. Follow this simple DIY pallet and sawhorse desk tutorial to make it happen! Start by finding pallets, two galvanized steel sawhorses, corner brackets, 36″ x 72″ plexiglass sheets, 1″x2″ pine boards and wood shims. Then use the provided steps to build your unique desk with ease. Have fun designing the look and feel that best suits you, and when it's done, take a moment to admire your perfect creation – made all by yourself! simplestylings
5. Transformable Hairpin Leg Desktop Plan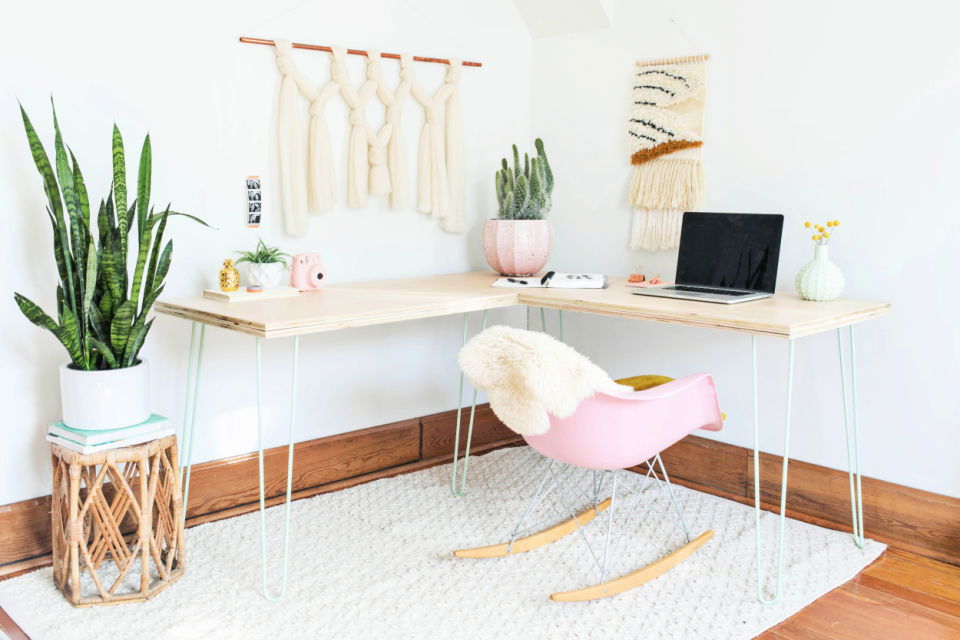 Make a practical and stylish desk with this easy, DIY transformable hairpin leg desktop plan. You will need one ¾″ x 4′ x 8′ sheet of purebond plywood, six powder-coated hairpin legs, and varathane triple thick polyurethane in semi-gloss or your preferred sealer. Plus, it's customizable to fit your unique space and style! Get creative and make the ultimate workspace at home. abeautifulmess
6. Modern DIY Industrial Desk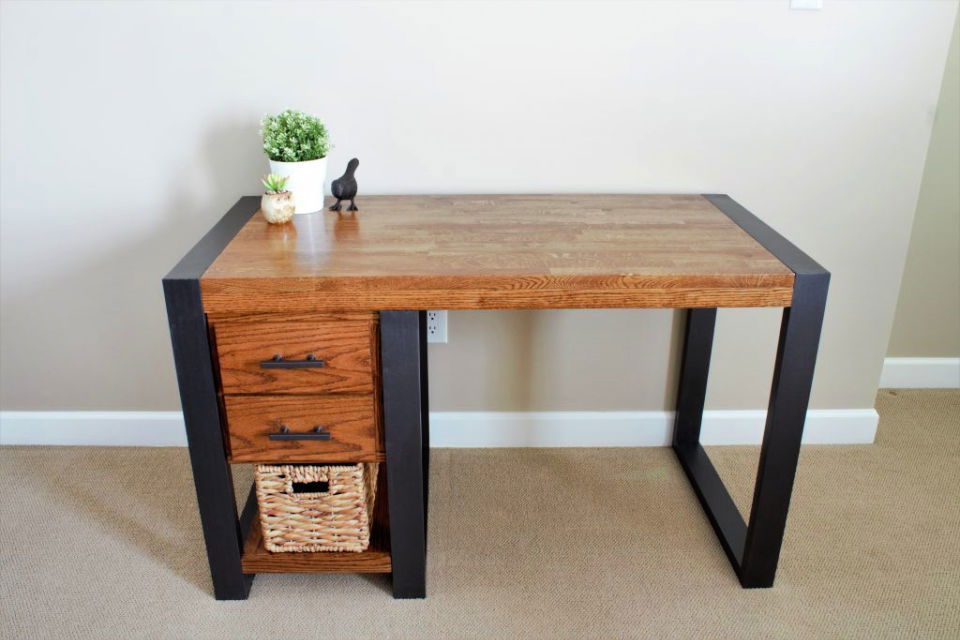 Are you ready to craft a modern industrial desk? This easy DIY desk offers a raw look without draining your bank account. You'll need 2×6, 2×4, 1×6, and 1×2 boards and a 2′ x 4′ plywood sheet for the desktop. Get creative by applying paint in any color you want! Give your space an upgrade that conveys luxury with an effortless design—your modern industrial desk is just steps away. handmadeweekly
7. How to Build a Desk
DIY desk ideas for creative and budget-friendly workspaces at home. Make a custom desk that fits your every need with a custom easy desk! This project helps you choose the right top, materials, and support to build a beautiful yet durable desk. Choose any size and texture for the top – from budget-friendly plywood sheets to wooden boards and hardwood options. This desk is made of  5 red oak boards 1×10, ensuring your desk looks exquisite! Let us help you build an innovative new desk with a custom, easy desk! ifonlyapril
8. DIY A-Frame Wooden Desk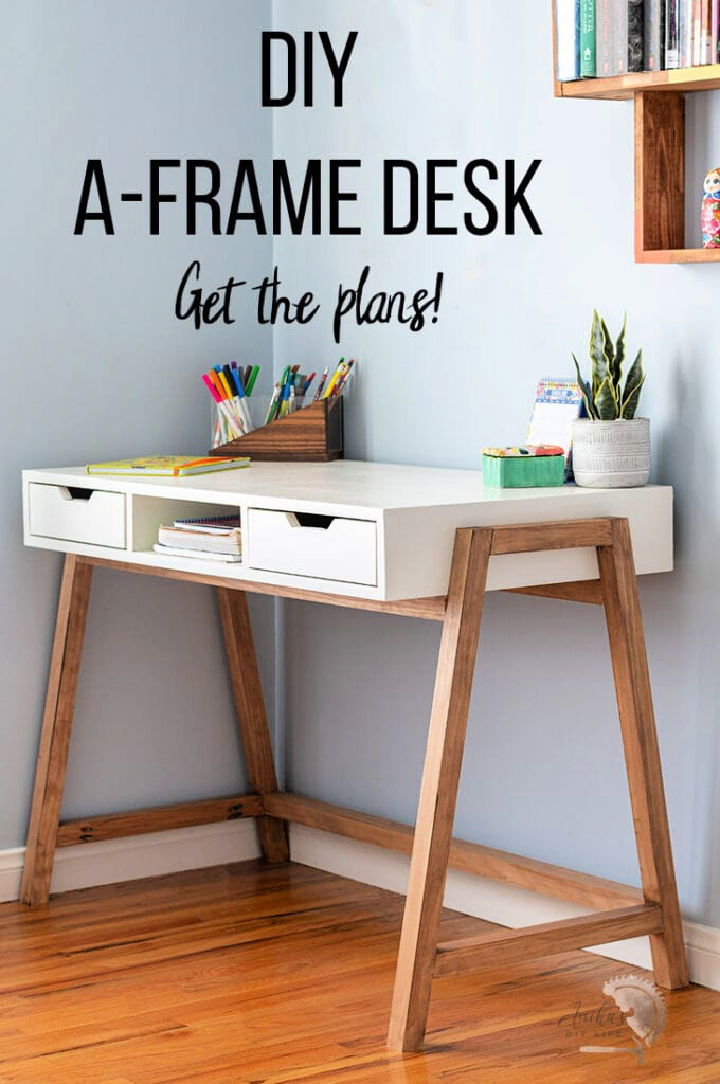 Make your home office stand out with this stylish DIY a-frame desk. It only requires 4 power tools and affordable materials to make. With a step-by-step guide, you can quickly make yourself a beautiful desk with drawers that will look stunning in any interior style! The cost of building it is only $100. So don't miss this great opportunity to build your a-frame desk now! anikasdiylife
9. DIY Desk for Home Office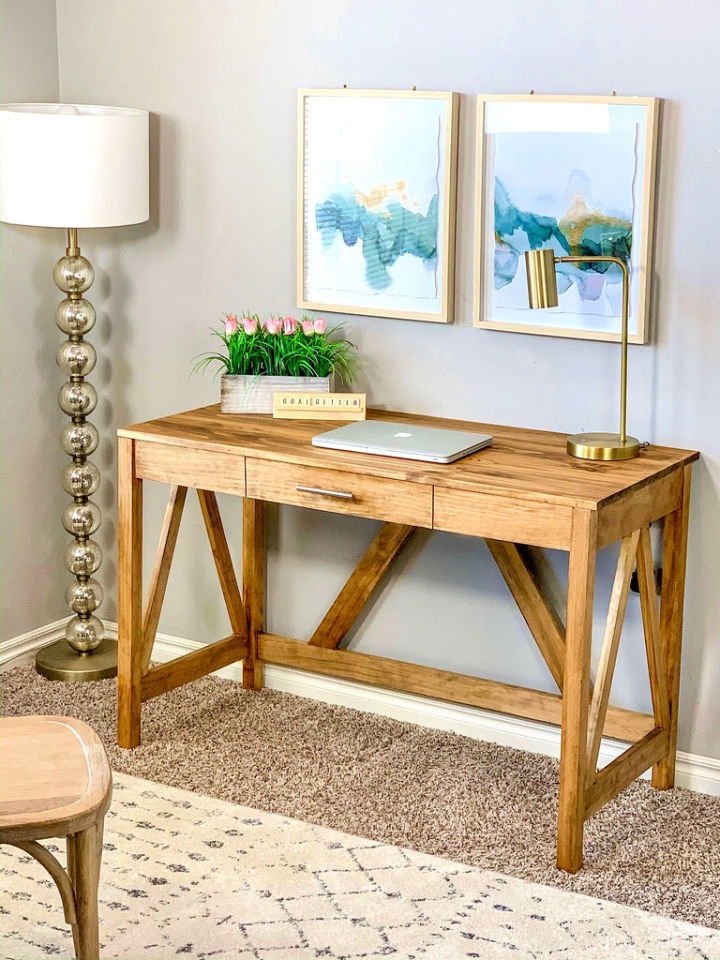 Get ready to build an amazing desk perfect for your home office – all under a budget of just $100! With 2×2 select pine, 1×4 and 1×3 boards, plus a 24 x 48 project panel and wood glue, you can easily construct a desk all on your own. Staining with varathane gives the piece a timeless, timeless finish that will last years. Stop putting off setting up a beautiful workspace – make your DIY desk today! handmade-haven
10. DIY House Frame Kids Desk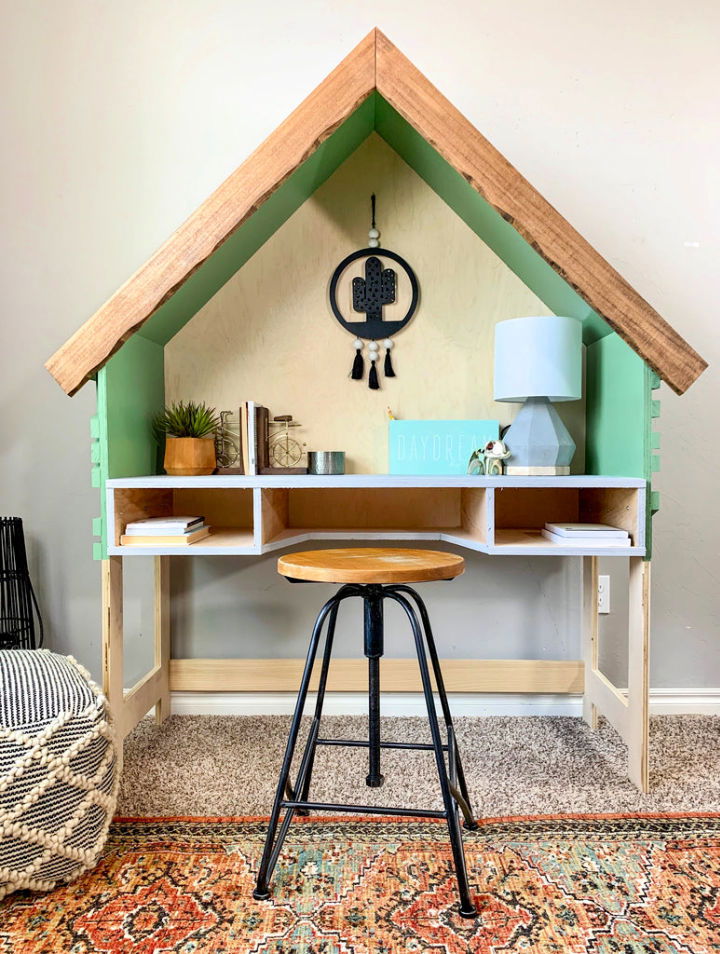 Let your child's creativity overtake you with this DIY house frame kid's desk. Transform an ordinary ¾″ sheet of plywood, 1×4 board poplar, and 1×2 board select pine into a personalized house frame desk for your children. Add a finishing touch with varathane stain in special walnut so your kids can be proud of their newly created desks. With quick assembly, you'll have this modern kid's desk ready for fun and work in no time! handmade haven
11. Build a Small Computer Desk With Pipe Legs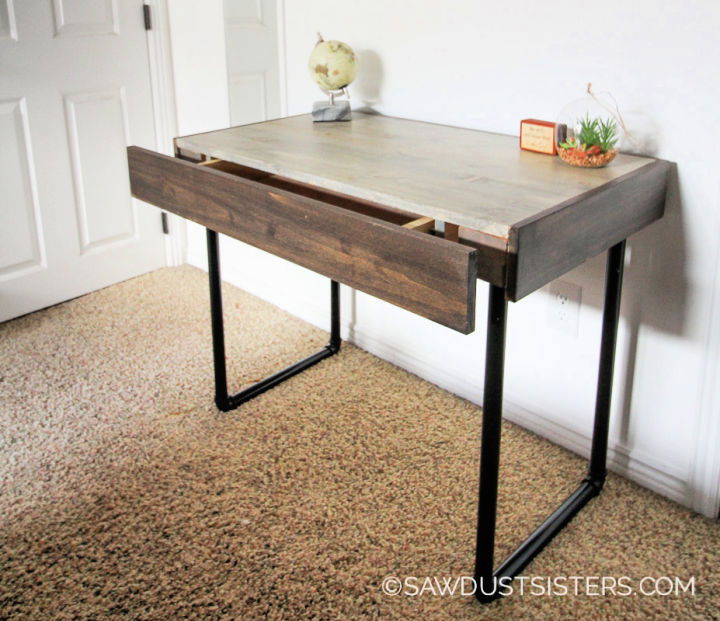 Are you searching for that perfect small computer desk but unsure where to look? Look no further! Building your own is an affordable and creative solution that will also show off your design skills. With a few tools, this free plan, and simple instructions, you can craft an ergonomic desk with pipe legs and a hidden drawer that fits your unique style and needs. It will be the envy of everyone who works from home! Make building your dream deck a reality today! sawdustsisters
12. Make a Plywood Desk for Kid's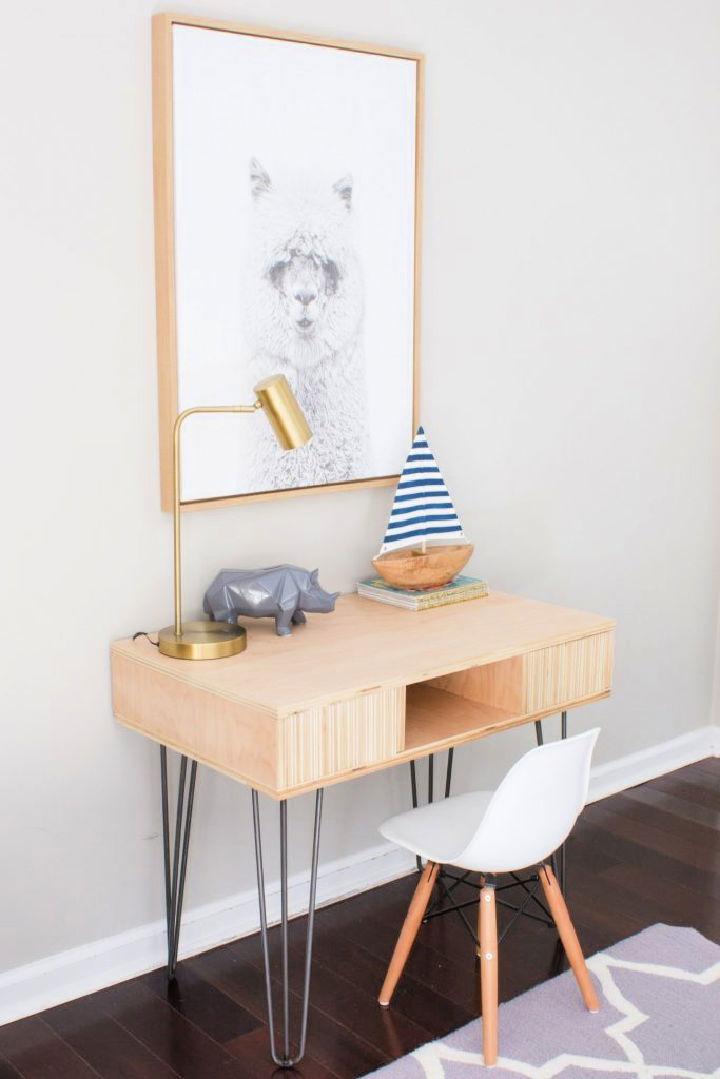 If you want a unique and stylish kid's desk that is easy to make, you have come to the place. This DIY plywood kid's desk needs ¾″ purebond plywood, small magnets, hairpin legs and Minwax polyacrylic.
All you need to do is assemble these pieces for a sturdy, well-crafted desk your kids will love! Not only does this desk have an attractive aesthetic, but it stands up to years of use with its high-quality materials. So why not get creative and make something special for your kids? Save time and money and still get the perfect desk they'll love! erinspain
13. DIY Lap Desk From a Live Edge Slab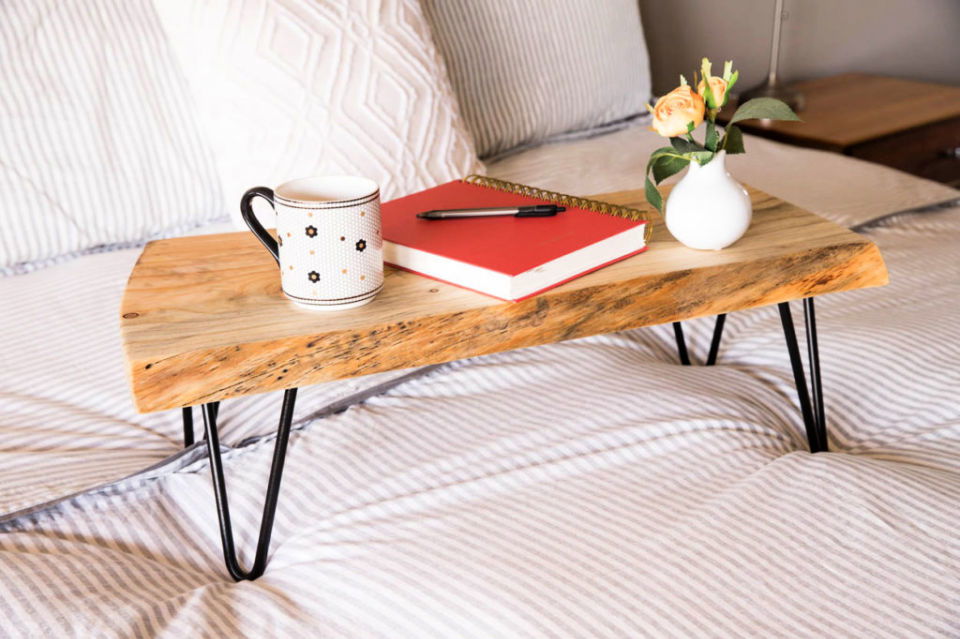 Bring the outdoors into your workspace with a live edge lap desk. Make a one-of-a-kind piece you'll look forward to using daily – it's easier than you think! The detailed tutorial will help you make your desk from start to finish, giving you all the tips and tricks. All you need is a live edge slab, some hairpin legs and your choice of finish, then get ready to work away – in comfort – from the best spot in your home. addicted2diy
14. Custom Industrial Wooden Desk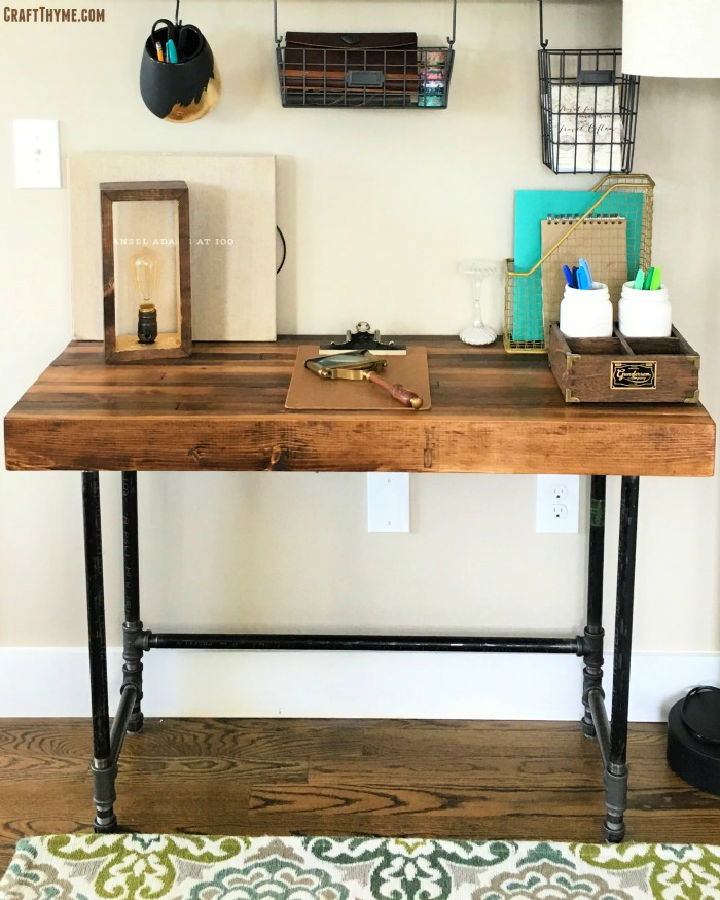 Make your modern and eco-friendly workspace with this custom industrial wooden desk build. Crafted from 2″ x 4″ untreated lumber, 120″ x ¾″ black iron pipe, ¾″ black iron floor flanges, ¾" black iron tees, 12″ x ¾″ welded steel nipples, and finished off with polished ¾″ black iron caps and a protective coat of polyurethane – this customizable solution is perfect for any office. Get crafty and make your ultimate workspace today! craftthyme
15. DIY Vanity Desk With Modern Hardware Pulls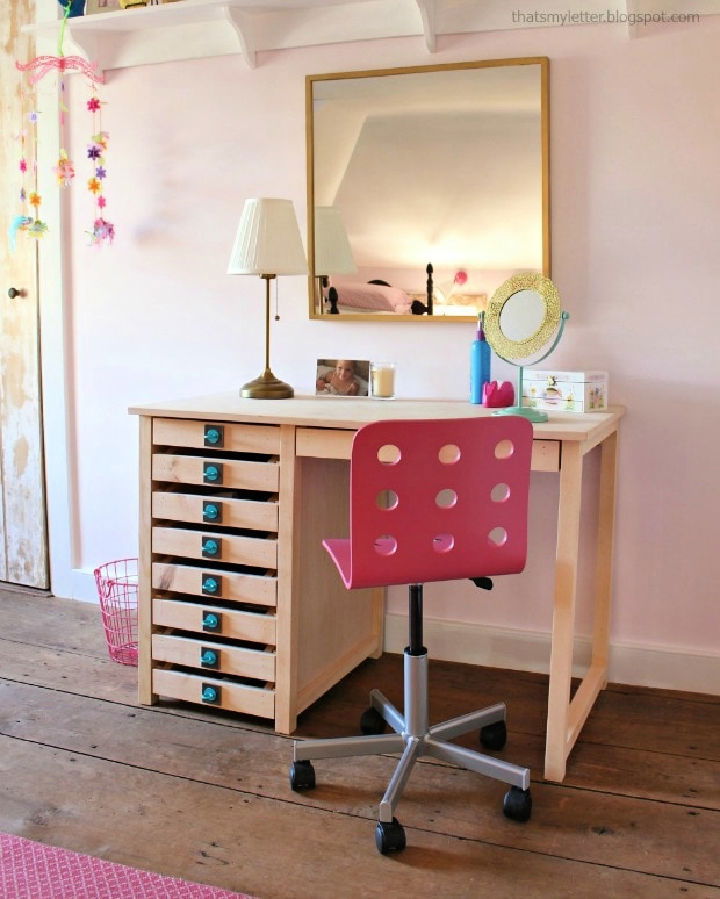 Calling all DIY-ers! This tutorial is perfect for you — build the trendy vanity desk of your dreams. With plenty of drawer storage, this desk is great for those looking to add a modern touch with the hardware pulls. Conveniently sized, neither too small nor too big, this project promises to become a staple piece in your home. Show off your craftsmanship and make tidying up really easy with this marvelous vanity desk. jaimecostiglio
16. Build Your Own Campaign Desk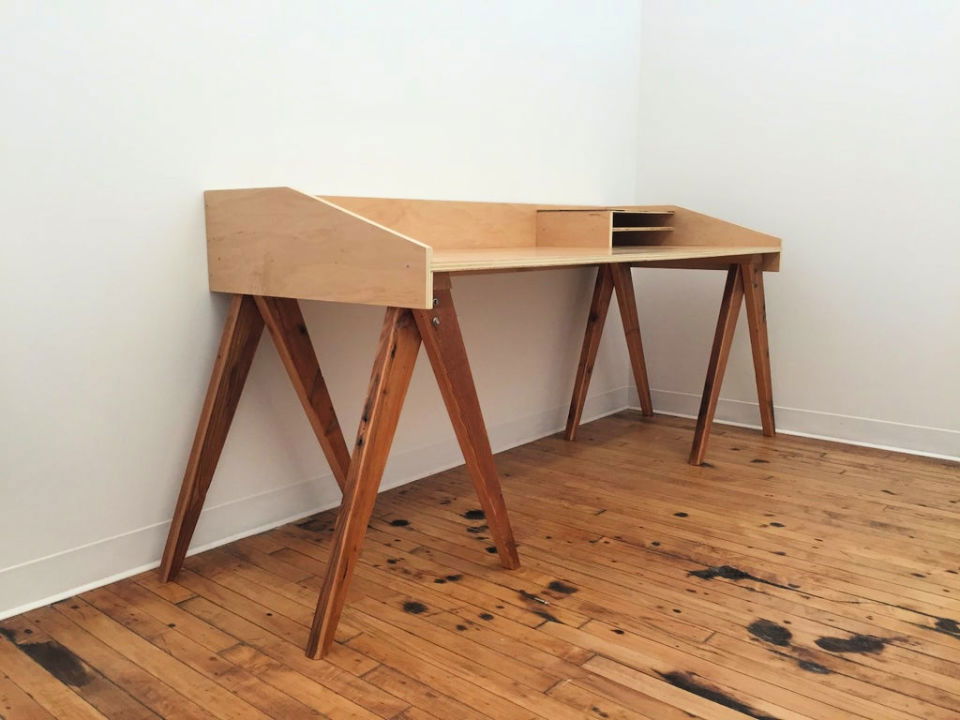 The campaign desk is perfect for all knowledge workers who want a contemporary and practical workspace. This desk provides an extensive surface area with ample space to accommodate your king-sized monitor, laptop or scanner. For just under $50, you can get a ¾″ by 4×8 sheet of premium birch plywood, reclaimed 2×4 material and furniture wax for putting together this wonderful desk. Imagine having the freedom to mold the structure as per your taste and style! Upgrade your work quickly with a campaign desk! instructables
17. DIY Wall to Wall Floating Desk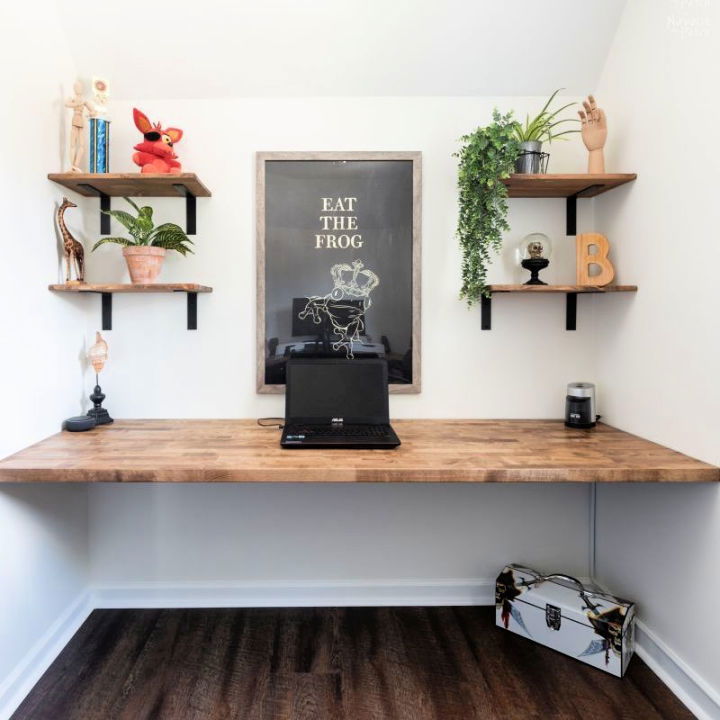 How to choose the best DIY office desk ideas for your productivity and comfort. Making a workspace in your home doesn't have to be a hassle! DIY wall-to-wall floating desk, made with a butcher block countertop, is the perfect solution for making a beautiful workspace while saving space. It's sturdy enough to support all your work and study needs while adding an attractive touch to your home. Make it part of your everyday routine and get busy being productive! thenavagepatch
18. How to Make a Plywood Desk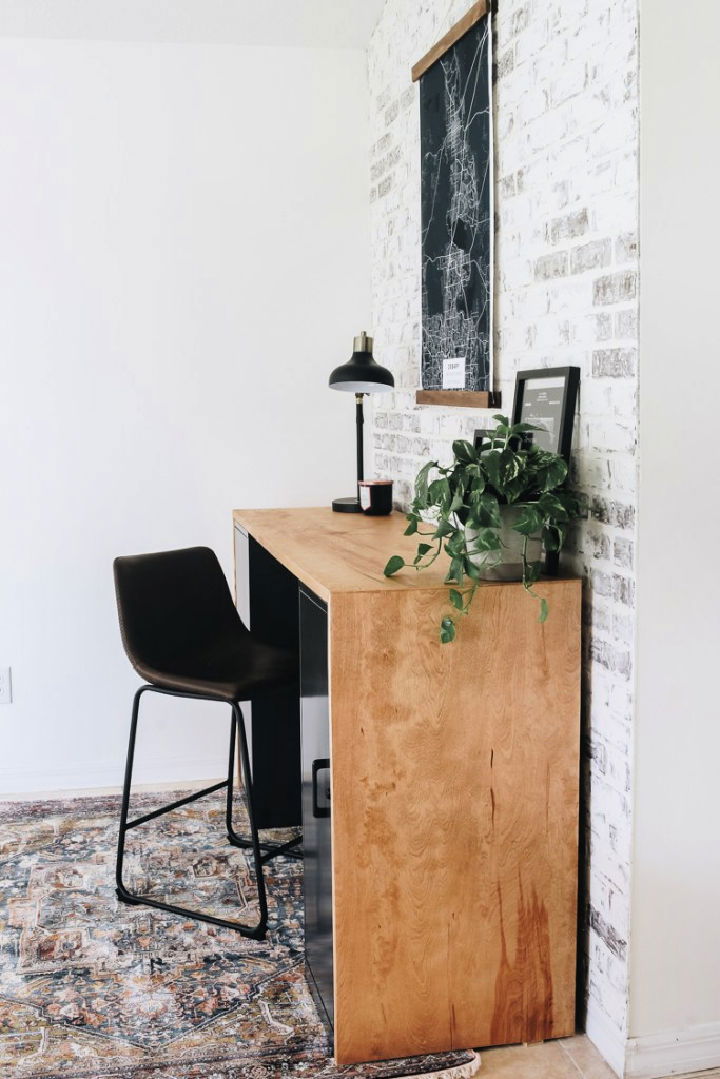 With just a 4 x 8 standard sheet of plywood, a 4 x 8 sheet of birch plywood, birch laminate edging, some extra wood for strips, corner brackets, and a finish of your choice – you could make this stunning DIY plywood desk! Total cost? Just $ 75! It's an easy build that will significantly impact any space. So get creative with your design – the possibilities are boundless! withinthegrove
19. DIY L Shaped Desk With Shelves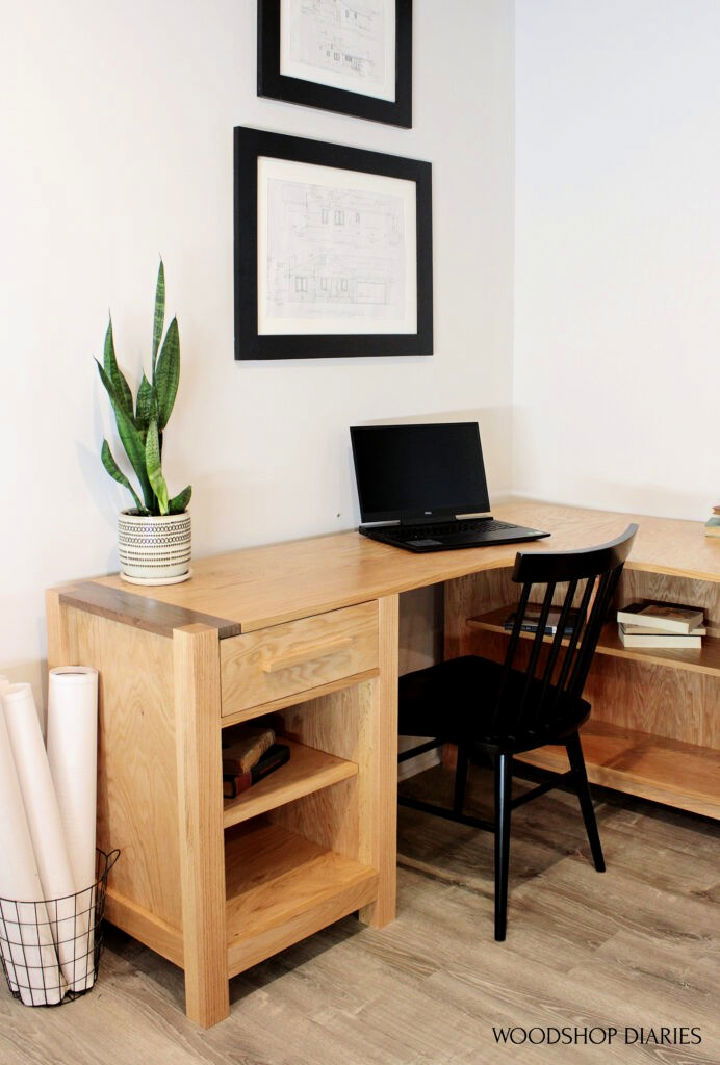 Looking for an affordable, stylish DIY project? Look no further than this beautifully l-shaped desk with shelves! Crafted from sturdy red oak plywood, with solid oak used for the legs and a few trim pieces, you can rest assured that this desk will last you for years. Simply purchase the sheets of ¾" plywood, ¼" sheet of plywood, 1×3 boards, dowels, corner brackets and flat brackets to get started! With just a few tools and some handy work, you'll have your one-of-a-kind desk quickly. woodshopdiaries
20. Modern Homemade Wooden Desk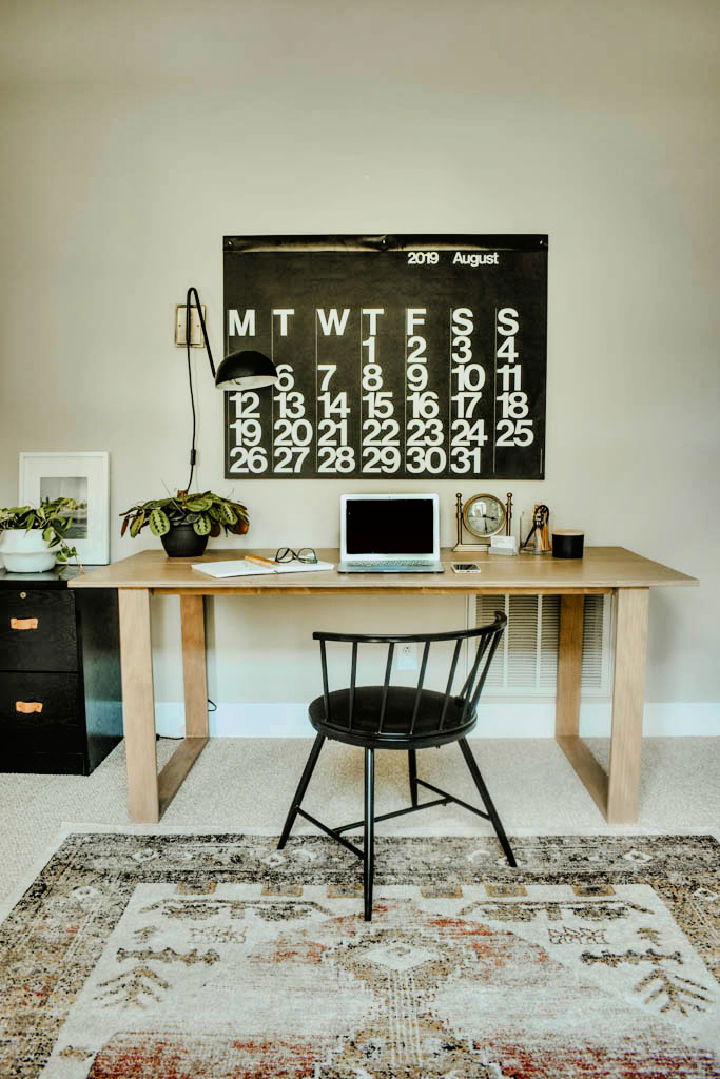 DIY Home office desk ideas that will inspire you to work from home in style. This DIY modern wood desk is the perfect way to express your creative side, and it takes no time to build! With minimal effort, you can make this larger-than-average desk in no time! Its modern design and solid construction will serve you for many years.
Building your own desk is an easy and inexpensive way to make a space to work from home or do distance learning. The tutorial covers all the details of building this desk, so don't be intimidated by the task: just follow the steps, and you'll be proud of the end product! houseonlong
21. Solid Wood Desk Top Building Plan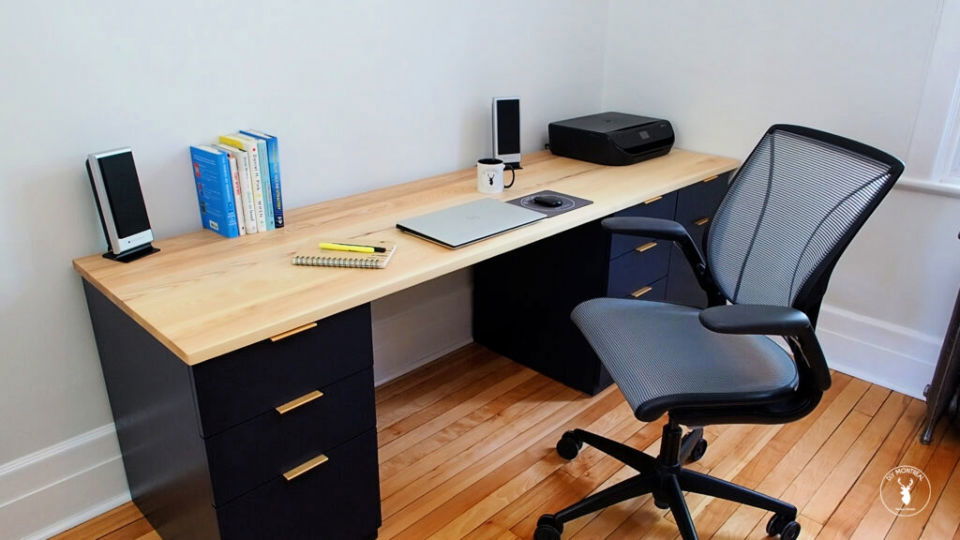 With this DIY desktop build tutorial, you can finally have the perfect desk for your home. This tutorial shows you how to make an incredibly spacious solid wood desk top from rough-sawn ash wood. Since it's over seven feet long, you'll have plenty of leg room and storage space to bring your projects or study sessions up a notch. Say goodbye to expensive desks, and save money – and time – with this helpful tutorial! diymontreal
22. DIY Hunter Patchwork Desk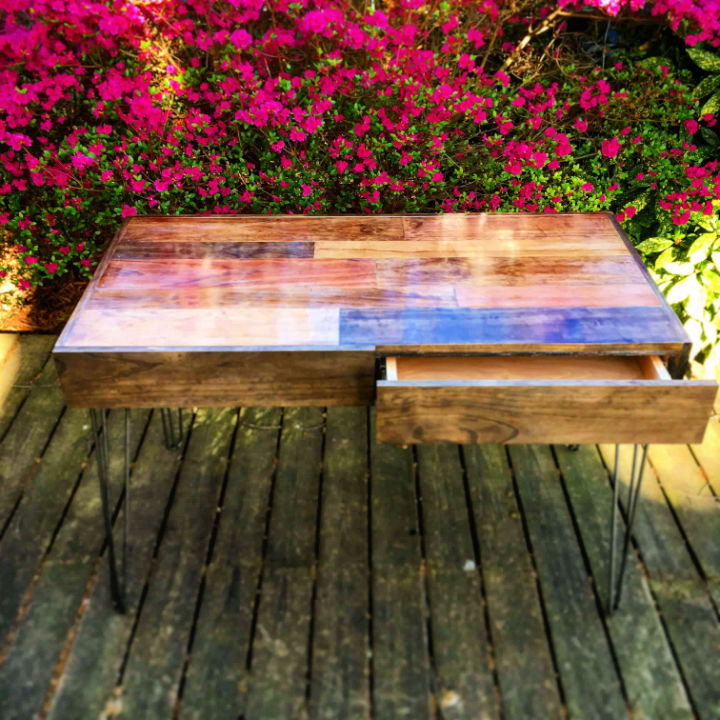 Dare to be creative with your workspace with the hunter patchwork desk. This gorgeous piece of furniture features a 2'x4′ ¾" plywood project panel, a 2'x4′ ½" project panel, and a 2'x4′ plywood underlayment. The desk includes a 1×6 board, 1×4 board, soft close drawer slides, and three rod hairpin legs that add to its modern allure. Perfect for making an inspiring workspace in small rooms, this desk is alluringly one of a kind. lazyguydiy
23. IKEA Rast Desk Hack With Minwax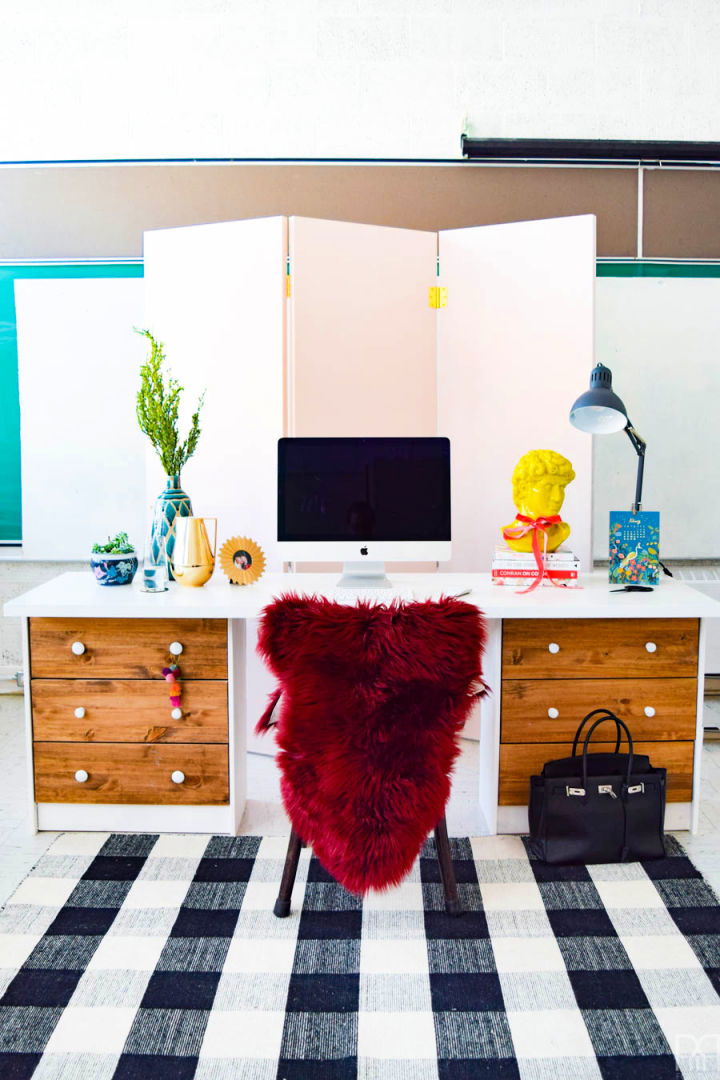 DIY Computer desk ideas to suit your needs, preferences, and budget. Creatively upgrade your office space with ikea rast, linnmon desks, and Minwax wood stain. You will need two ikea rast desks, an ikea linnmon top, Minwax wood stain, cotton staining rags and some white paint to get started. Partially assemble the desks according to instructions, then lay 1×8 knotty pine over the top for that extra stability and style. Then pick your stain color, and apply it generously with the cotton rag for that warm finish. When you're done, add white paint to all sides of the desk and allow it to dry overnight! pmqfortwo
24. Cheap DIY Desk at Home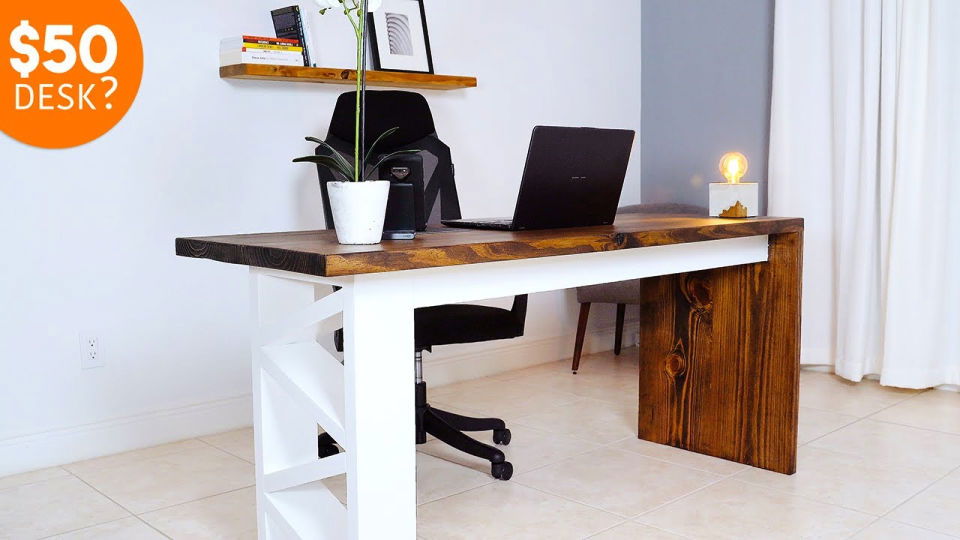 DIY Home desk ideas for small spaces and multipurpose rooms. Ready to take your DIY game up a notch? Build an amazing desk with just a few items found at your local home improvement store. With some 2×12 southern yellow pine, 2×6 pine boards, 2×4 pine boards, ½-inch dowels and your choice of finish, you can make a stylish and stunning desk for less than $50.
25. Handmade LED Floating Desk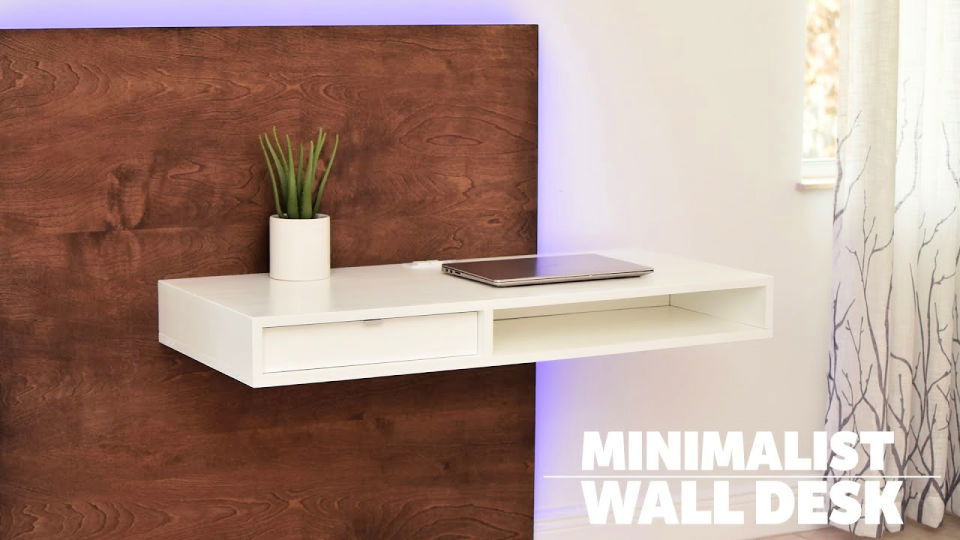 Do you want to give your home office or study a modern makeover? Take a shot at making a DIY led floating desk! The ¾″ birch plywood provides the main content of the minimalist wall desk, with the option of adding ¼″ or ⅕″ plywood for a unique twist. Attach rf led strip kit for a beautiful finishing touch. Finish with drawer slides to hide away items that don't need to occupy valuable real estate in your work space. This space-saving desk allows you to free up some room and enjoy an aesthetically pleasing look. Show off your creative building skills today with this project!
Conclusion:
In conclusion, embarking on a DIY desk build project is a fantastic way to infuse personality into your workspace. The wide range of styles, from a transforming hairpin leg desktop plan to an inexpensive IKEA desk hack, ensures there's a home office desk idea suitable for your specific aesthetic preference and skill level. So, whether you opt for a fold-down wall desk or a modern homemade wooden desk, building your own DIY office desk style can result in an inviting, comfortable work environment.